Last Updated on August 31, 2020 by Celeste
Once you get to know Kythnos, you will realize why its name is derived from the ancient Greek verb 'keftho', which means 'hidden'. So much hidden beauty and authentic Aegean character here, and so close to Athens. Read on about this beautiful and serene island in this story of our recent family vacation in Kythnos.
In June of 2019, I travelled to Guardiero Luxury Appartments on the beautiful island of Kythnos together with my friends Callie and Katerina from Anthomeli. With a total of three moms and five kids all close in age, this trip felt more like a happy field trip. Here is our review of our fun family vacation!
Family vacation in Kythnos
After a 2-hour ferry boat journey from the town of Lavrio and another half-hour drive from the Kythnos port, we arrived at the heavenly landscape of Agios Stefanos Bay. Wild bare mountains, a deep blue sea and a unit of with-washed houses on a sun-drenched beach. We had arrived at Guardiero in Kythnos.
Guardiero Family Hotel
Guardiero is hidden away on Kouri beach in Agios Stefanos Bay. A quiet bay that can only be reached by a sandy road. Here we were welcomed by the lovely Katerina Zotou, the owner of Guardiero. Katerina is a passionate local resident of Kythnos who has made her dream come true by offering guests an unforgettable experience of her island.
Guardiero in Kythnos are units of traditionally built houses at the beach. There are in total 7 houses which accommodate up to 27 people. Three family apartments for 4 / 5 persons. One room for 4 persons, one room for 3 persons and finally, two rooms for 2 persons.
Family Rooms
I much enjoyed staying at the Blue Room, in my opinion, the nicest house of the group because it was the last one in the row, guaranteeing the most privacy. The Blue Room is a two-room house in minimal lines with large spacious verandas overlooking the garden and the sea. I loved waking up in the morning and opening the wooden shutters to enjoy the morning view of gardens, mountains and sea. The large veranda's and spacious garden completed the feeling of freedom and privacy.
Our two-room apartment was of build according to traditional Cycladic architecture. It had typical island-style build-in stone beds, bathrooms and kitchenette. Although stone, the beds had comfortable mattresses and cushions. The benches in the living room were used as beds for my kids.
The interior design was minimal with cool colours and island details. The kitchen was well-equipped and the en-suite bathroom was entirely made of stone. It was very convenient that the rooms each had their separate entrance. An iron board, blow-dryer, and lots of cupboard space for more comfort. Compliments for the aromatic shower gel and shampoo!
There is free Wi-Fi in all rooms and a large parking area. Although all houses at Guardiero in Kythnos have a kitchen, I doubt you will be spending much time there. The dining/lounge area with its open spaces for our kids to run around at, was where we spent our most relaxing moments.
Family vacation in Kythnos: excellent Food
The menu of Guardiero is small but excellent. We ate breakfast at the lounge each morning. The breakfast menu has a good variety of Greek and international choices made of fresh local products – some organic – and the portions were huge. My kids loved the chocolate covered pancakes, and my poached eggs were perfect! Great coffee too and all this in a relaxing atmosphere overlooking the beach.
We had lunch and dinner in Guardiero in Kythnos most of the days. The food was very fresh and very well-prepared. The Guardiero menu offers traditional local Greek cuisine, kid-friendly choices such as pasta, schnitzel and burgers and each day there are specials. We also had the delicious Kythnos version of fried cheese-balls which were called sfougatto. Delicious slow-cooked beef, soft meatballs in tomato sauce and appealing salads are some things that I much enjoyed. There is a wine list with a good selection of local wines.
Beaches at Guardiero
The rooms at Guardiero in Kythnos are 50 meters from the beach. The beach has sand and small pebbles. There are sunbeds and umbrellas free to use on the beach and on the grass area. The sea does not go deep fast. There are some rocks on the bottom but you can see them easily through the crystal clear water. The sea is calm and safe, we even had a night swim! Some days, it can be windy in the Cyclades and there can be a bit of a wave.
In the bay next to Guardiero, another beautiful long beach was hidden. We only needed a 10-minute hike over an easy path to reach this beach. On one windy day, we found this bay better protected from the winds. The sandy beach was secluded, unorganized and away from the crowds. We brought our own food and snacks and had a marvellous day.
In our time, especially people living in the city have lost touch with nature. Our children know the animals only through books, television and generally in theory. Our goal here at Guardiero is to create an environment that we can not live and see in our everyday life in the city. We want to offer you the best family vacation in Kythnos.

Guardiero
Exactly that is what we found at Guardiero. Every day, my kids were safely playing at the grounds, climbing the trees, looking for shells and petting the dogs at the gardens. If you want a carefree quality family vacation on the beach, relaxing times and feel close to nature, Guardiero will not disappoint you.
Activities at Guardiero for kids
Although serene and quiet, there is a lot to do in Guardiero. A long list of activities focussed on culture, outdoor sports and holistic living was presented in the room. We opted for these two kids friendly activities.
Our children first tried supping. The calm waters at Guardiero are perfect for SUP beginners. Secondly, they also had a chance to challenge their skills at Archery in the garden of Guardiero.
You can also go scuba diving, visit archaeological sites and ancient thermal springs with a local guide, participate in cooking lessons or join a pottery class. Have a look at the website for a complete list for your family vacation in Kythonos.
Family vacation in Kythnos review
Guardiero is located on a traditional Cyclades island near Athens, it is spread out on a private, quiet and safe beach, it offers excellent self-catering family accommodations with excellent food options and outdoor activities.

Beautiful beaches, crystal clear waters, scenic villages, classic Cycladic stone walls make Kythnos a special destination. If you are looking for an idyllic kids and pet friendly place to spent time far away from the noise and the crowds with great food and comfortable accommodations, I recommend wholeheartedly Guardiero.
How to get to Kythnos
From Athens, the Piraeus–Kythnos ferry route connects Athens with Cyclades Islands. Currently, there is just the 1 ferry company operating this ferry service, Zante Ferries. The crossing operates up to 7 times each week with sailing durations from around 3 hours 10 minutes. Easier is from the port of Lavrio port with a 2-hour ferry boat trip. From whatever port you travel, you arrive at the Kythnos Merichas port. (From here, you need to drive for 12 km to reach Guardiero.) If you do not bring your own car, it is wise to rent a car on the island in the port of Merichas. There are no good public transport services on the island and you may want to go and explore.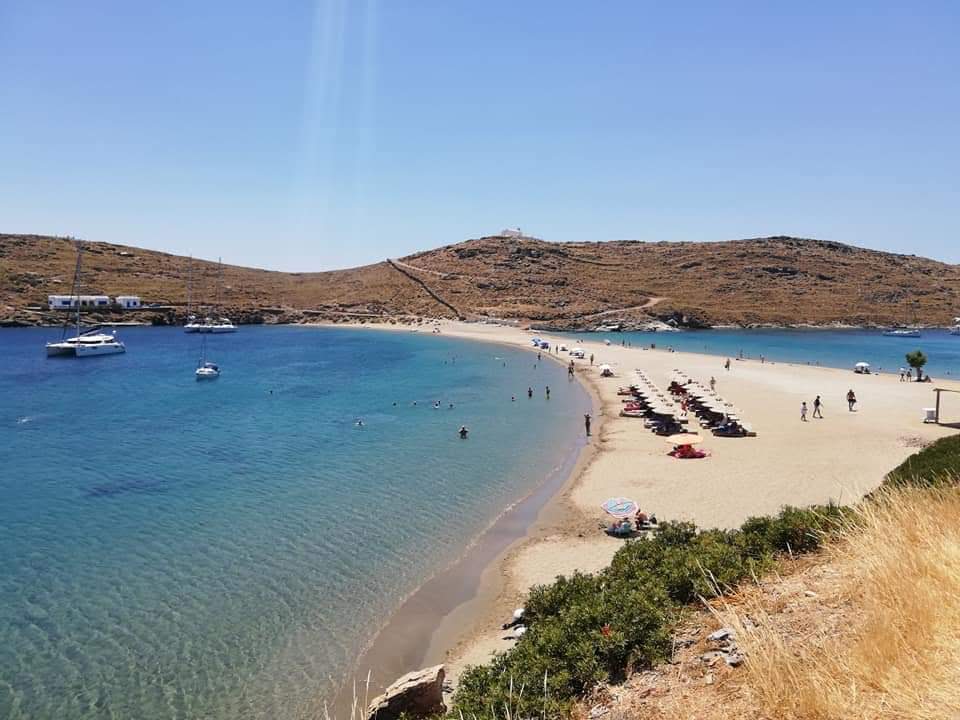 About the island of Kythnos
Kythnos is located at the western part of Cyclades islands. It is a 12-months destination for family vacations, outdoor activities, archaeology lovers, weddings and active travellers. Here are some main attractions of the island:
Kolona is a narrow strip of land that connects Kythnos to the islet of Agios Loukas
Vryokastro archaeological site
Skouries archaeological site
Katekefalos castle
Loutra hot thermal springs
Kythnos town with its folklore museum, traditional cafes and restaurants and beautiful narrow alleys and picturesque streets
Stay tuned to this blog for a family-friendly guide to Kythnos island!
If you want to see some more stunning photos of our family vacation in Kythnos and our stay at Guardiero, have a look at Family Travel Blog Anthomeli and their story of our family trip (Greek language)
Pin it for later!
Thank you Katerina and Guardiero Luxury Accommodations, for inviting us. Your kindness, warm hospitality and great passion for Kythnos has made our family vacation in Kythnos very memorable. We look forward to visiting again! We also thank the Kythnos municipality for inviting us to their island and for arranging our transport.
** Disclaimer: We were invited to Guardiero in Kythnos Luxury Accommodations. All opinions reflected in this post are entirely my own **