When a new restaurant in culinary Athens wants to set itself apart from all the others, it has to offer top notch quality, novelty and excellent service. Uniqko group in the Zeas marina on the Athens coast offers all these. Acclaimed chef and owner Nikos Marinos pays tribute to New York City with his recently opened Uniqko Brunch Steak and Sushi concept.
I met Nikos two years ago in Byzantino, the famed restaurant of the Athens Hilton where he spoiled me with his gastronomic skills (read the review here) Together with an American expat/native New Yorker friend, I headed over to his recently opened restaurant Uniqko, waiting to be surprised again. Here is my experience at this new addition to the Athens Food scene.
Located in the Zeas Marina in Piraeus and overlooking luxury yachts and the sea, Uniqko opened end of March 2018. We visited right after Easter, a challenging time when most Greeks leave the city and head over to the countryside.
The Uniqko interior design is hip towards minimal with bold colors, lots of wood and soft velvety chairs. It could be a small club as well as a fancy sushi place. There is a bar with stools at the kitchen area and tables suitable for both romantic dinner dates and groups. We headed to the dining room upstairs, cozy and clean. The walls are painted a deep blue-green, the floors are wood and there is a big window with a great panoramic view over the bay. At night, the walls light up from panels giving the space a club feel.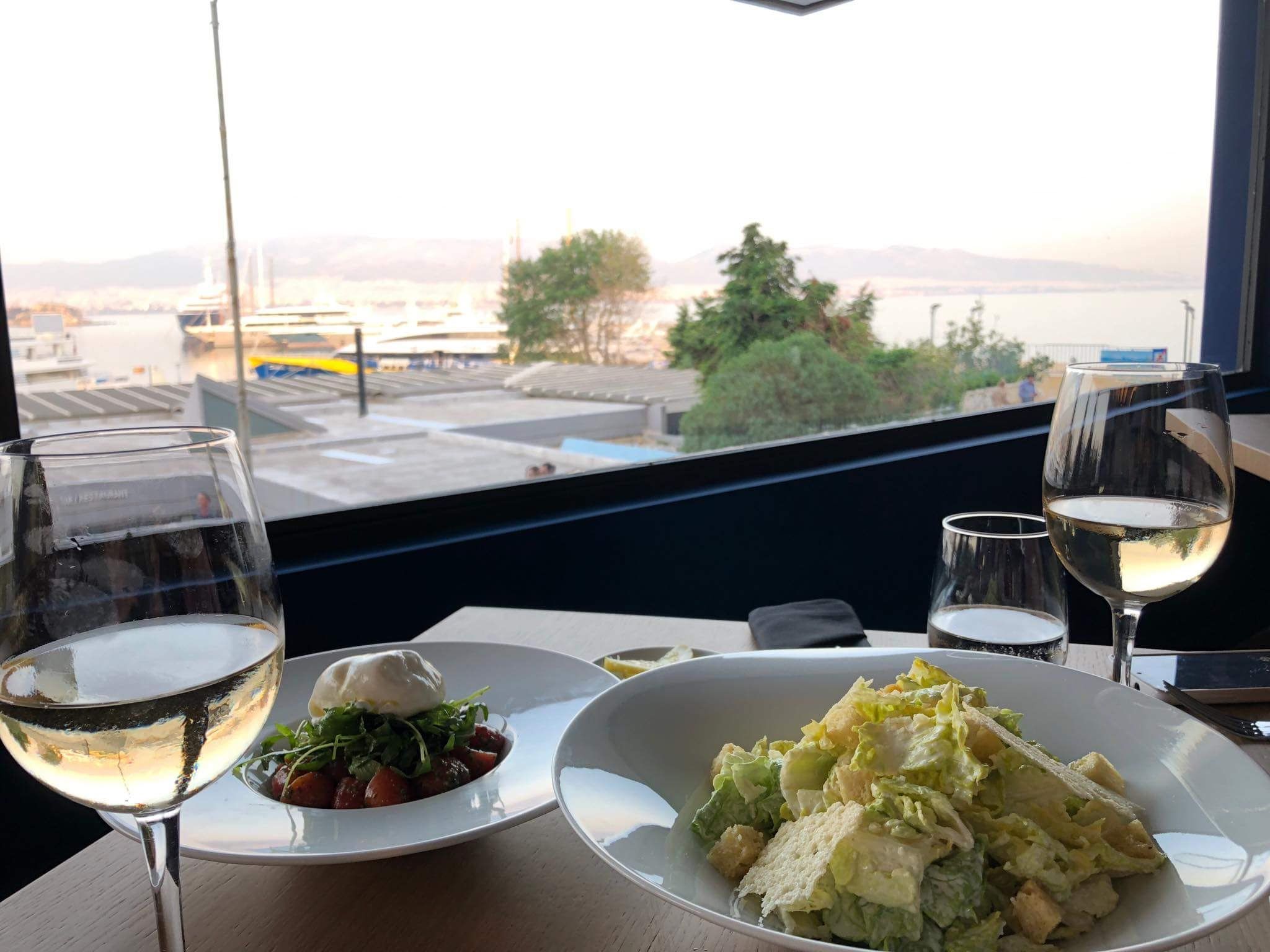 After taking wine orders (we choose the house wine which was excellent!) our kind waitress showed us around the menu. Funky names such as Hudson Iceberg and Empire State Burger prepared us for the New York City influenced food that we were about to try. We start off with the Madison Square Ceasar (8 Euro) and a second salad called Cherry Tomato & Burrata Mozzarella (10 Euro). Nikos explains the secret of the perfect Ceasar salad: the baby Gem lettuce leaves! The Ceasar and the soft burrata mozzarella (a cheese made of fresh Italian buffalo milk cheese with solid mozzarella on the outside and stracciatella and cream or butter on the inside) are divine.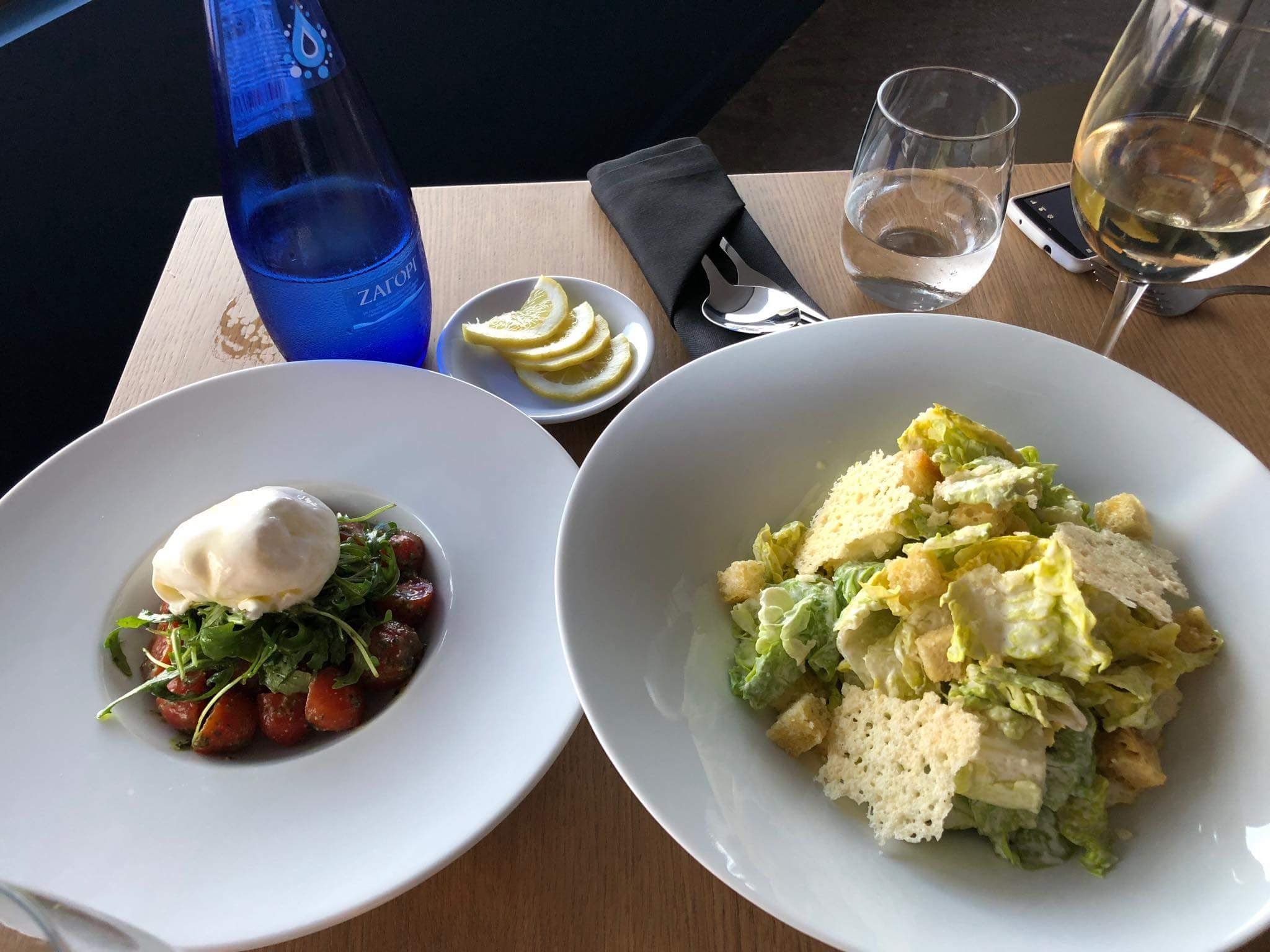 For our next course, we ask Nikos to prepare a selection of sushi. The sushi (10 Euro) have the same exciting names as the rest of the menu: Union Square, Lower East Side, West Side Highway, Central Park and more. Our platter with a selection of Uniqko's sushi was most impressive and arranged with exquisite attention to detail: on one side, beautiful clean sushi with all the right flavors and textures. On the other side, Grand Centra Sushi Burger Sliders, a fun and different way of eating sushi. The hollowed-out lemon, the nice bottle with soy sauce, the prawns and singer flower, it was a feast for the eye and mouth.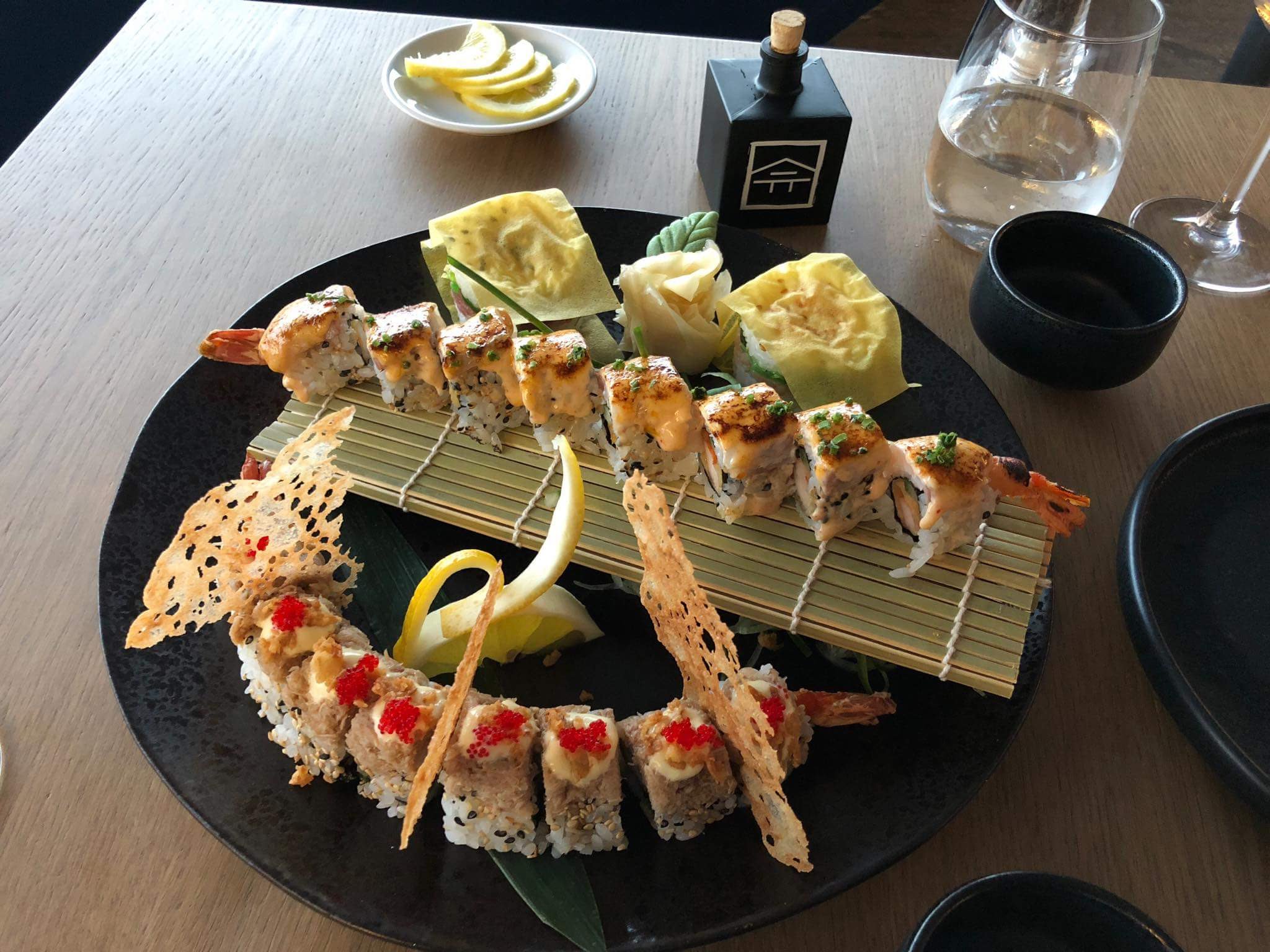 Already satisfied with the perfect sushi, we did not expect the food that was next: the best steak possible with sides; creamed spinach, steak fries, buttery mashed potatoes and veggies such as cherry tomatoes and asparagus. The Uniqko menu lists Rib-Eye, Striploin, and Tendreloin from the European and USA market at two different price levels (all between 23 – 38 Euro). The meat perfectly grilled, juicy and tender, it melted in our mouths like butter, seasoned to perfection! The steak fries were thick and soft inside, roasted to crispy perfection. The creamy mashed potatoes with butter, cheese, the fresh chive and addictive creamed spinach, this was a meal not easy to forget.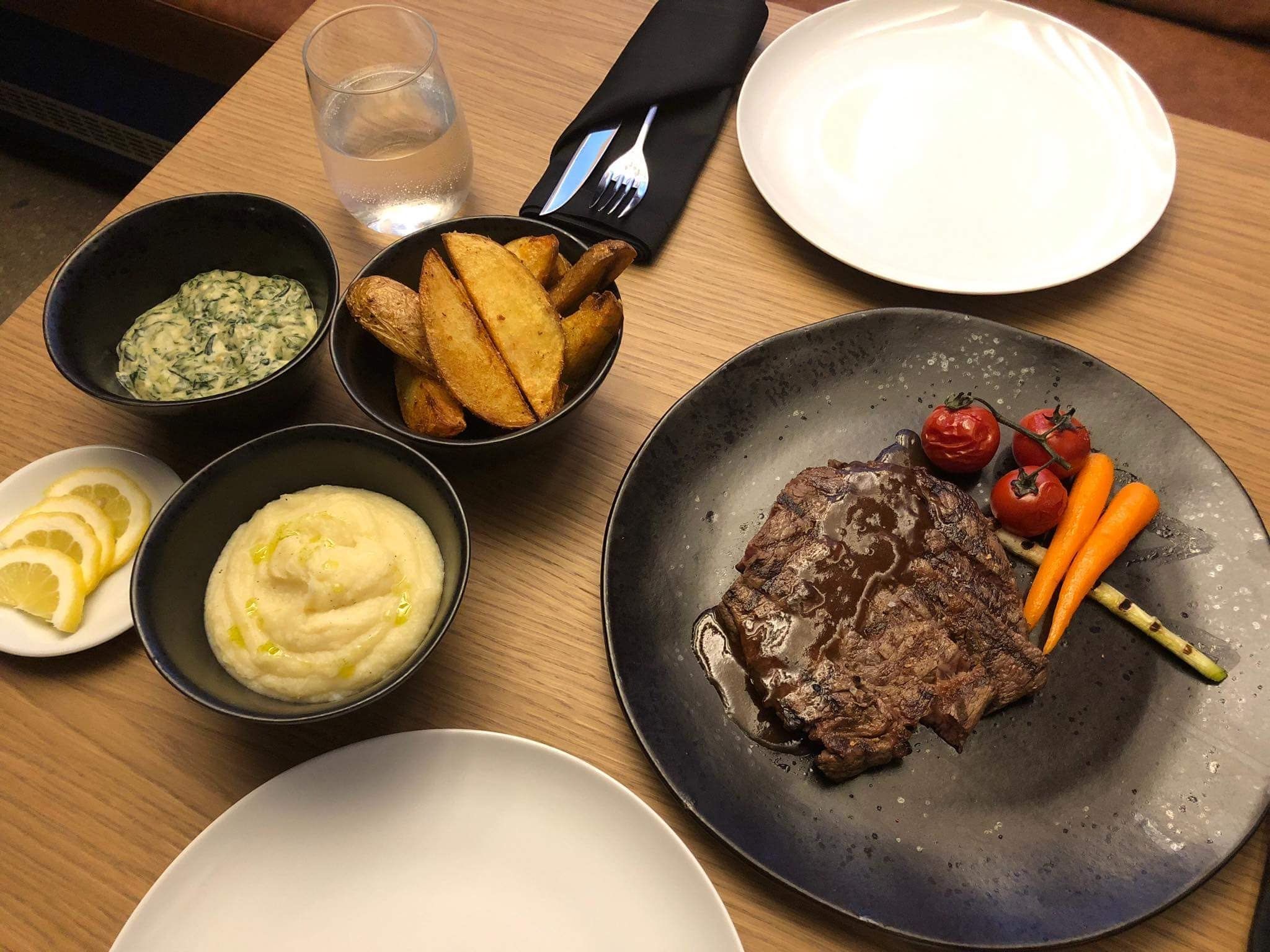 Nikos enthusiasm in talking about food and showing us his menu was not yet finished. Desserts were next! Bronx Big Apple Pie, Queens Bread Pudding, Staten Island Brownie Cheesecake are just a few of the typical American desserts at Uniqko. We had the Brooklyn Cheesecake and The City Milk and Cookie, a giant real American chocolate chip cookie baked and served in a skillet with warm milk. Whilst my cookie was being soaked in the milk, my friend told me that this is the way a American Cookie should taste!
If you miss the Big Apple and need some New York inspired comfort food or if you want to eat a real Ceasar salad in Greece, enjoy amazing sushi & steak, find excellent service in a casual but chic setting, than Uniqko is the place that you should visit. Brunch is an option too at Uniqko; think of Steak and Eggs, Country Brioche French Toast, Silver Dollar Pancakes and Quaker Oatmeal. Not in the mood for sushi or steak? Penne a La Vodka, burgers, fish, New Zealand lamb rack and Free Range Chicken breast are also available. I will certainly go back again, the perfectly paced service and the great food is too much of a draw not to return.
A+ for food, ambiance, and service!