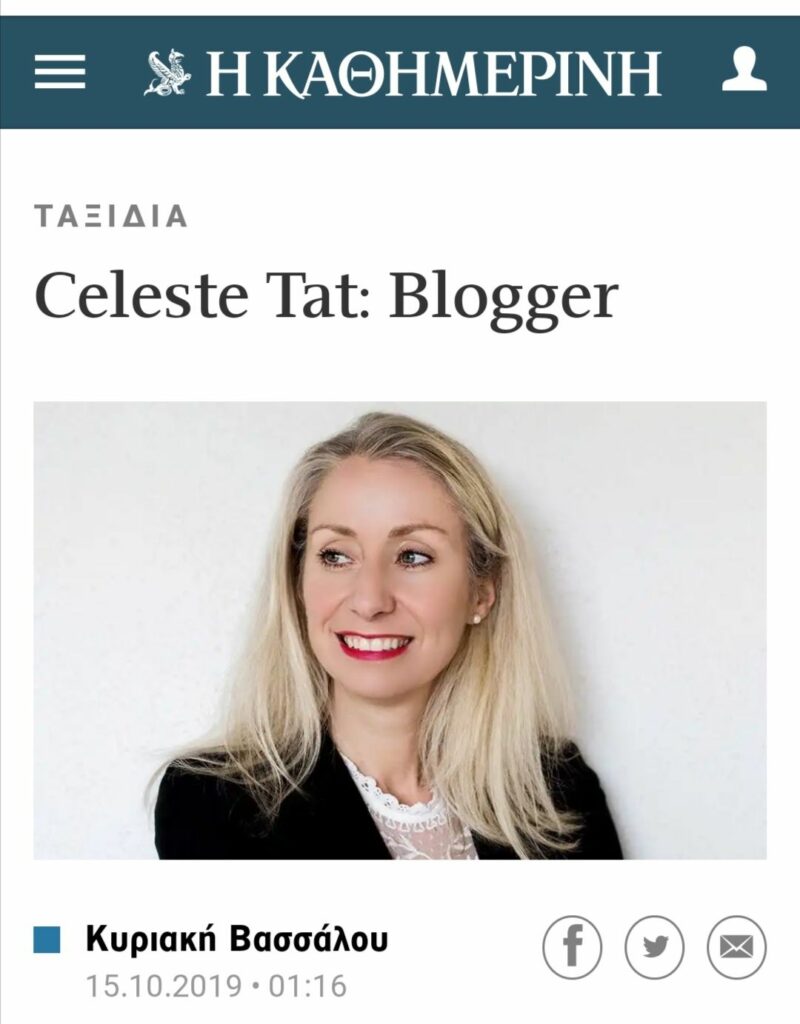 Half Dutch and half Italian, Celeste Tat came to Greece two decades ago. She loved it and stayed. Along the way she got married, had two daughters and since then they all travel together as a family. When, as a new mom, she realized the difficulties and the lack of information in the field of family vacations in our country, especially for foreign visitors, she created the blog familyexperiencesblog.com and started writing her experiences. In the conversation we had with her, she explained to us why our country is suitable for family trips, what are the best places for holidays with children in Greece and what should not be missing from our luggage. We follow her advice and get ideas.

To read this article in full, please visit: https://www.kathimerini.gr/k/travel/1046986/celeste-tat-blogger/
Tourism and Press Travel Bloggers Greece Celebrates Four Years of Promoting Greece
March 15, 2019
 0 Comments
The first professional blogger network in Greece, Travel Bloggers Greece (TBG), gathered at the Thermae Sylla Wellness Hotel to mark its fourth year of promoting Greece as a year-round destination. The historic Thermae Sylla spa, a Greek tourism landmark, hosted the weekend.
Thermae Sylla Spa and Wellness Hotel was a wonderful location to celebrate the anniversary. Travel Bloggers Greece is particularly dedicated to promoting the authentic pleasures of Greece in every season.
"Being in a quiet corner of Greece, in a month with little tourism, we experienced genuine Greek hospitality and the highest level of service at a historic, five star spa hotel. There is so much more to Greece than the sun and the sea. For instance, do many people think of Greece as having some of the very best therapeutic thermal springs in the world? Or of visiting a historic five star hotel in this quiet town in Evia? That's the amazing thing about this country. There are these world-class experiences that not everyone knows about. That is our goal- to share these experiences, to promote the authentic Greece we have the privilege of exploring," says Elena Sergeeva of the blog Passion for Hospitality, and co-founder of Travel Bloggers Greece.
Celebrating Four Years of Teamwork
Travel Bloggers Greece's goal is not only to reveal Greece's most authentic, high quality experiences, but also to share different aspects of the experience. The group travels as a team, and collaborates on projects. But each blog offers a unique coverage. Some of the blogs promote family destinations, others luxury travel. Wellness destinations, experiences of nature, and culture and cuisine are all among the group's diverse interests, shared with diverse audiences worldwide.
"Sharing our perspectives with each other, we sharpen or appreciation of the uniqueness of Greece, and ways to effectively promote that with our growing audiences." Says Tzina Varotsi of Tzina Varotsi, The Lifestyle of a 50+ Traveler Blog…
…Greece as a Paradise of Thermal Baths
Thermae Sylla is a unique destination, combining a historic five star hotel with magnificent indoor and outdoor thermal pools, a state of the art spa and beauty treatment facility. It is no wonder that the spa has hosted so many illustrious guests over the years. Travel Bloggers Greece experienced Thermae Sylla's comprehensive menu of therapeutic and beauty treatments including mud baths, aromatherapy jet baths, Rasul, and facial massage.
"What's so astonishing about Greece is that it offers such a diverse range of definitive experiences. At Thermae Sylla, we did not just have a luxury experience; we had a profound experience of the elemental power and drama of nature. Having traveled to historic spas all over Europe to write on authentic spa culture, I found this to be an extraordinary destination. In terms of both the measurable quality of the natural resources – it's rated among the world's very finest waters – and the excellence of the facilities, Thermae-Sylla belongs to a very small and select group of spas worldwide. If you add the drama of the natural setting and the grandeur and history of the hotel, the experience is truly without peer. People don't often think of Greece as being a spa tourism destination, but a stay at Thermae Sylla is reason alone to visit Greece." – Amber Charmei, Provocolate
What Travel Bloggers Greece members during their stay was that, in fact, Greece was known for spa tourism far before it was a destination for beach holidays and island hopping:
"After Thermae Sylla first opened its doors at the end of the 19th century, it quickly became a premier spa destination for people from all over Europe. We're dedicated to preserving this heritage, and the elegance of the original building, while making this a state of the art contemporary experience. Our spa is the heart of everything we do: Thermae Sylla is first and foremost a spa – a spa with a hotel, and not the other way around. Wellness is central to our mission – harnessing the waters' therapeutic benefits and offering targeted therapies and treatments. That mission of wellness and rejuvenation guides the entire Thermae Sylla experience, from the elegant tranquility of the lounges, to the completely renovated rooms with their well-appointed baths, and our wholesome, locally sourced fine cuisine" – Voula Karatziou-Anastasopoulou, Public Relations Executive at the Thermae Sylla Wellness Hotel.
One thing that impressed Travel Bloggers Greece was Ms. Anastasopoulou's commitment to the whole region, and her efforts to make the waters and the spa facilities accessible to everyone, not just guests of the hotel. It is this kind of commitment to the natural and cultural heritage of Greece that makes this country such a worthwhile destination: behind the beauty, there are values. This is what TBG is dedicated to promoting.
For Travel Bloggers Greece, this was a happy reunion. The organization's first anniversary was also celebrated at Thermae Sylla Spa and Wellness Hotel. The rooms looked out onto the strait of Evia, with a snow covered Mt. Parnassus across the way in the distance. Outside, thermal waters surged steaming from the earth, filling natural pools as it flowed into the cold sea. The elegantly stylish lounge was ideal for meetings and cocktails. Some guests were enjoying champagne and hors d'oeuvres, straight from enjoying the waters of the spa; they were still wearing their plush bathrobes. It is exactly this sort of unpretentious luxury that makes Thermae Sylla special.
The highlight of the weekend was a festive banquet created by Thermae Sylla's chef. The cuisine was as authentic and elegant as the rest of the experience. The menu included elegant meze, fresh and bountiful salads of local produce, and fresh-caught fish. Thermae Sylla has its own label of excellent organically cultivated wine.
The weekend was luxurious. The season- a stormy late February – affirmed the group's mission- promoting Greece as an ideal destination in all seasons. The location, this beautiful quiet corner of Evia, reaffirms that Greece is endless in its charms, and rewards those who seek out the rare and unexpected.
About Travel Bloggers Greece – TBG: TBG is the first blogger networking group established in Greece. The members are Greeks and International residents of Greece. They are all dedicated to promoting Greece as a travel destination in its various aspects: culture, nature, adventure, family travel, luxury travel. Several languages are represented and the blogs each have diverse audiences. Members abide by ethical and professional standards. TBG works with businesses worldwide to help promote authentic travel and increase awareness of Greek and international travel destinations. For more information, please visit: http://www.travelbloggersgreece.com
About Thermae Sylla Wellness Hotel:
Located two hours from Athens in Edipsos, on Evia Island, the Thermae Sylla Wellness Hotel's neoclassical historic complex dates back to 1896. The area's spa culture dates back much further- to ancient Greece. The Spa is named for the Roman General Sylla, who was cured here. Today, Thermae Sylla combines the latest technologies and medical expertise with the unique benefits of its therapeutic thermal water. This is one of the leading spa and wellness hotels in the world. For more information, please visit: http://www.thermaesylla.gr
Current TBG Members:
Family Experiences Blog, Passion for Greece / Passion for Hospitality, Provocolate, Love for Travel, Travelpassionate
International Members:
The above article was published by Tourism Press. All right reserved to Tourism Press. More about Travel Bloggers Greece in the press: https://travelbloggersgreece.com/press-2/
NPO RADIO 2 Interviews
Celeste Tat interviews at the Dutch national radio channel NPO Radio 2 for Thank God it is Sunday.
About Carnival and Clean Monday or Kathara Deftera:
About Halloween in Athens, Greece: