Last Updated on February 15, 2023 by Celeste.
The Greek carnival period ends with Clean Monday or Kathara Deftera. Let's look at one of the tastiest Clean Monday traditions in Greece; the lagana.
Clean Monday Traditions in Greece: lagana

The most important of all foodie traditions on Clean Monday is the lagana. Bakers make this special flat oval-shaped bread only once per year on 'Kathara Deftera'. Traditionally, they used to prepare this bread unleavened, thus without the yeast. However, leavened Lagana is nowadays more common. Sesame seeds are the most common topping on Lagana and often fresh or dried herbs such as thyme, oregano or rosemary are added for more flavor.
What is Lagana
The most characteristic of this flatbread is the fingertip impressions or carvings. The baker will dip his hands in olive oil and with the tips of his fingers form some small holes on the surface. The name of this bread is derived from the Greco-Roman pastry dough word Lagana, which is also the origin of the word 'lasagna'. As a type of bread, its characteristics are quite similar to the Italian focaccia.
Enjoy Lagana with bloodless seafood like calamari, shrimps, octopus, oysters, and mussels or with the famous Clean Monday culinary delight called taramas. On Clean Monday, it is tradition to tear and not slice your loaf of lagana to avoid bad luck.
Inside the Greek bakery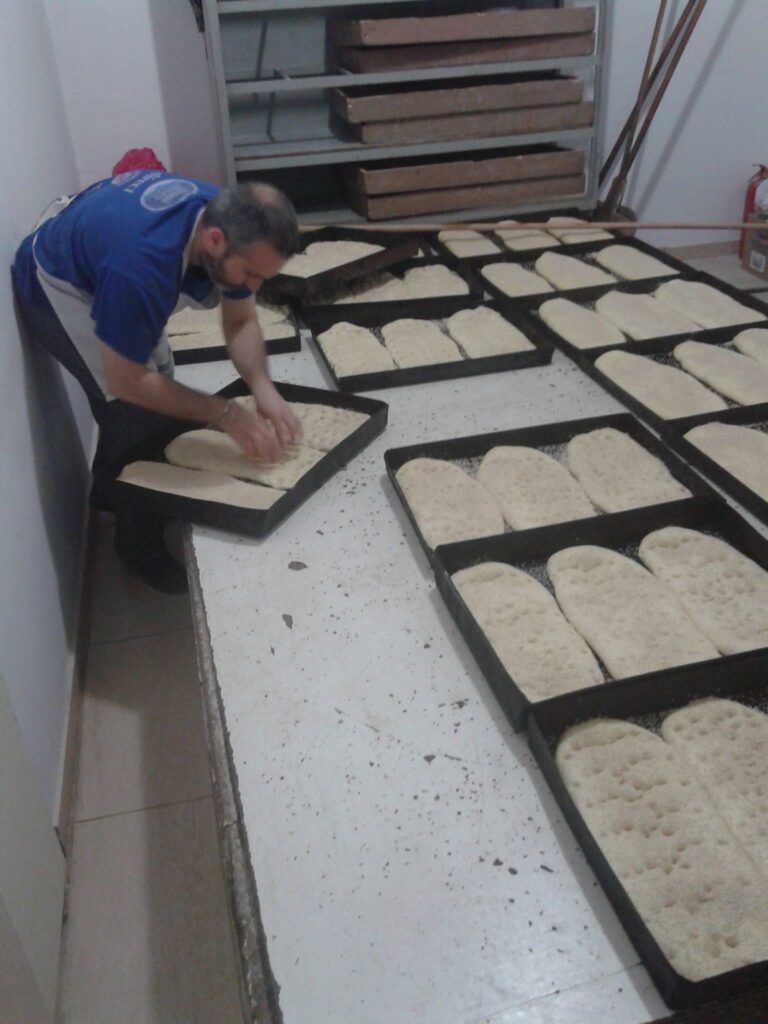 My kids and I had a chance to look inside our local bakery called Ο φούρνος του παππού and learned more about this Clean Monday tradition.

Other Clean Monday Traditions in Greece
On Clean Monday, many Greeks travel to the countryside to fly a kite in nature and to enjoy a (picnic) meal together. This is called Koulouma. But Athens is great for Clean Monday too. The Athenians gather at the Philopapou hill opposite the Acropolis to fly their kites and in the areas just outside Athens. Taverns in the city centre and in the harbours such as Mikrolimano and Piraeus are packed with people. Make sure you make an early reservation if you want to enjoy Clean Monday in a tavern or restaurant!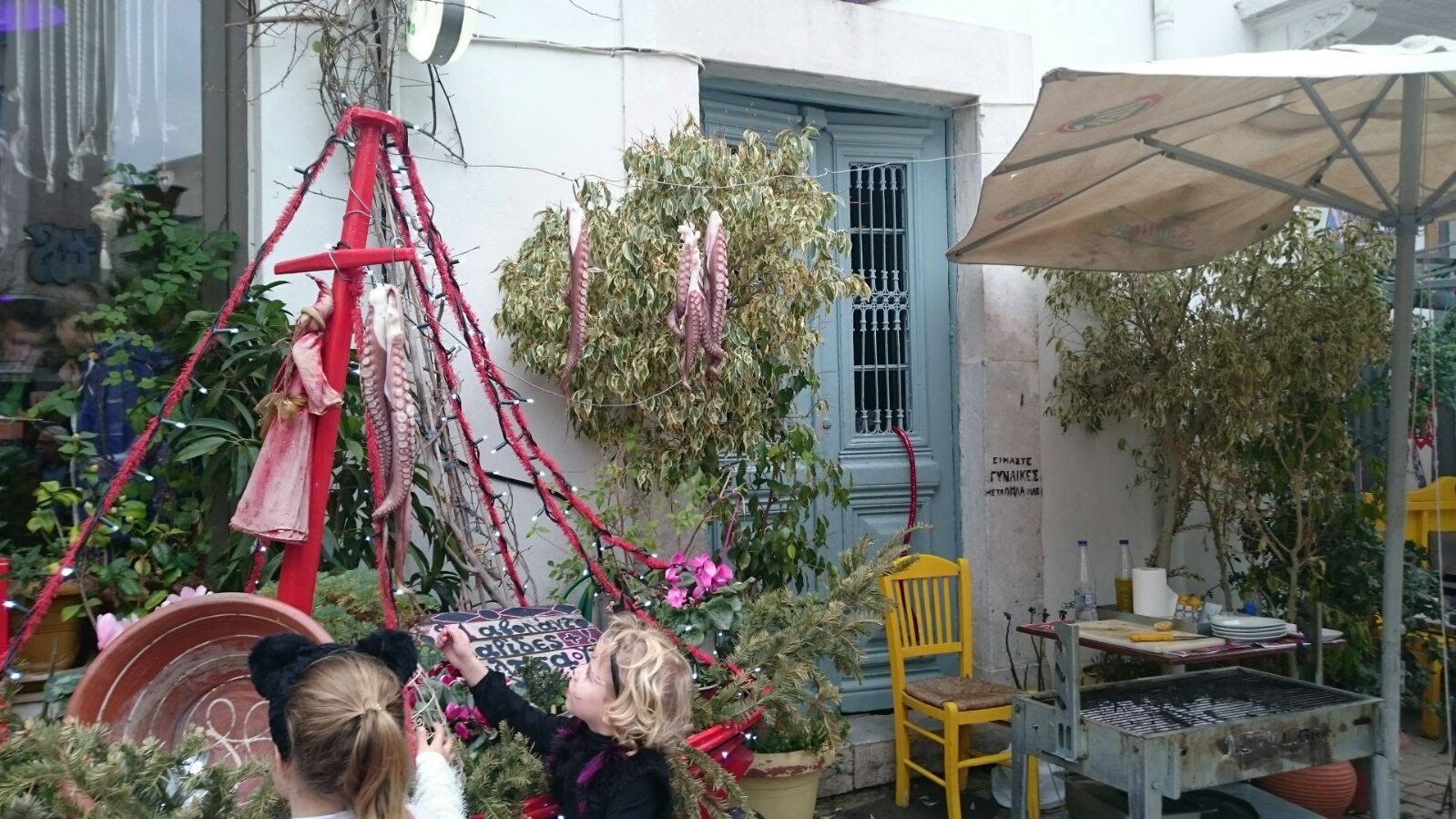 Some taverns in Greece show their Clean Monday dishes to potential customers outside their business such as the below restaurant that we found in Mikrolimano with lagana bread, octopus, shrimps, taramosalata and fava on display. We had lunch in Mikrolimano and tried the most important foods of this day; lagana, taramas and halvas: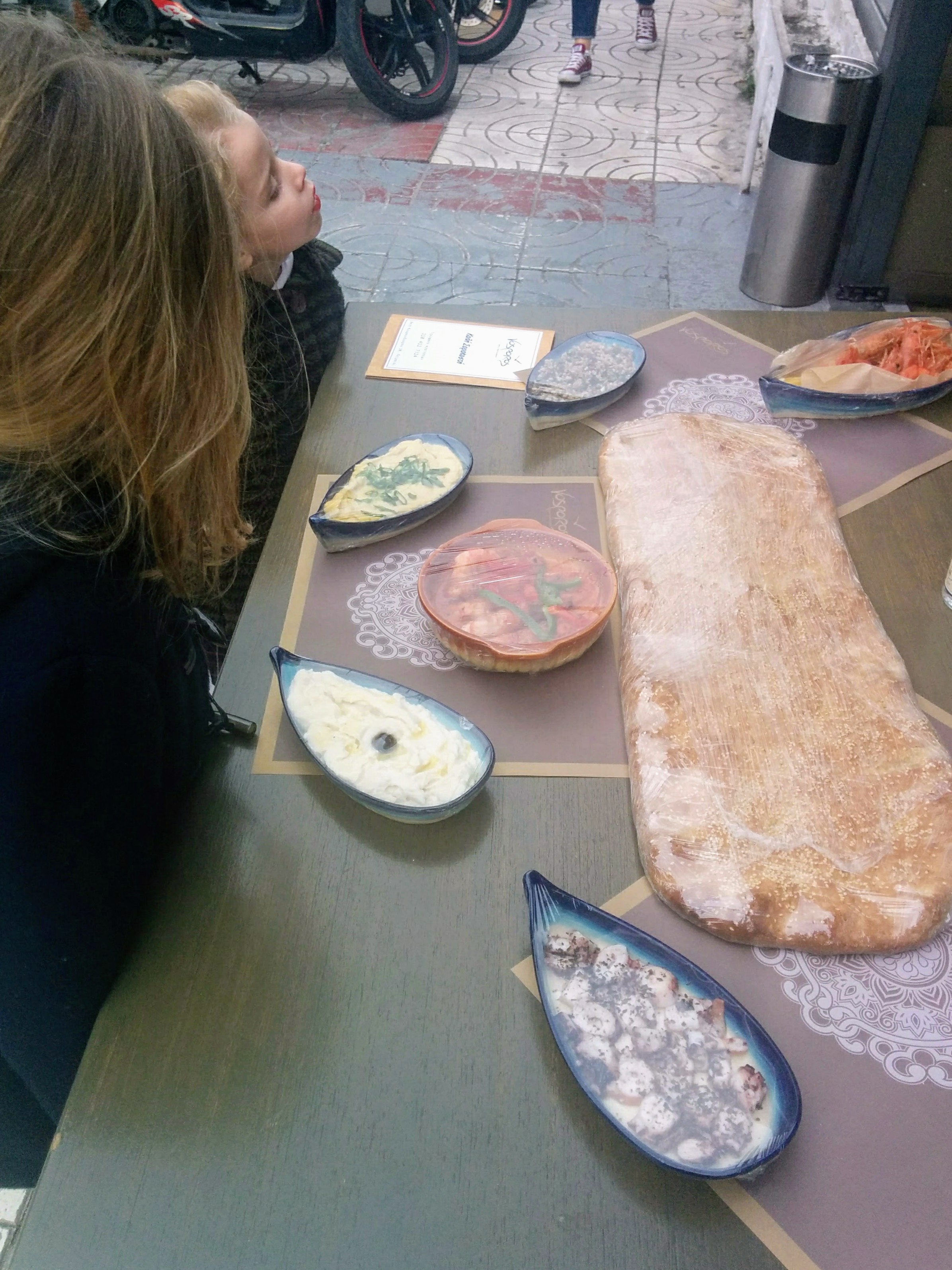 Read More
Clean Monday is a real family day. It is about sharing food, spending time together and…flying a kite! For more Greek family traditions, read on about Carnival in Greece or Lent traditions such as Lady Lent aka Kyra Sarakosti (pictured above)
Have a great holiday or as they say in Greece: Kalo Koulouma!