Last Updated on January 24, 2023 by Celeste.
Kid Friendly Restaurants in Athens | Top family-friendly restaurants & cafés in historic Athens | Best restaurants in Athens with a view of the Acropolis | Good places to eat in Athens with the family
If you have kids, the struggle of dining out is real. If you are like me, you'd need to find the right mix of comfort, great food, and a child-welcome atmosphere. When you are on vacation, that perfect place is not always easy to find. Luckily in Athens, where family meals are an essential part of everyday life, there are plenty of options.
I have never had any problem finding great places with my family in Athens. From simple and comforting Greek dishes in a tavern to fancier places. Many hotels do family brunches and lunches too.
Recommended restaurants by parents
In this list, we have described and divided kid-friendly restaurants in Athens according to several criteria (location, view, play area). We have visited most of them ourselves. Some were recommended to us by other parents. We've also added some places where you can have a coffee or drink while the kids run around freely (and safely). Because at the end of the day, when kids have a good time, so have the parents!
Kid Friendly Restaurants in Athens
One of the best things about a vacation to Greece is the food. There are restaurants and food places everywhere. Food is essential to Greeks, and you will never be hungry during your Greek holiday. Combine that with warm hospitality and a welcoming attitude toward kids, and you have the perfect recipe for a family meal.
Athens is a busy city and there is lots of choice in food places. Especially around the main tourist attraction, it is easy to find taverns, restaurants, 5* hotels and fast-food restaurants. What is especially great in Greek taverns is that kids can often see the food on display. That way, they can pick out their own meal, and they know what they are ordering.
Children Menu's in Greece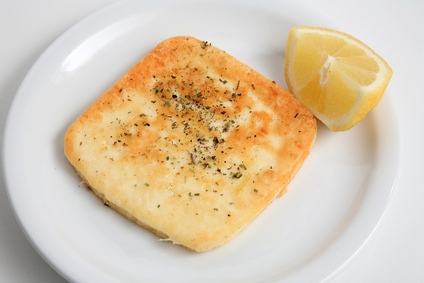 Often visitors ask me for restaurants with kids' menus in the center of Athens. I understand the request as outside of Greece, children's menus are very common. In Greece, however, the food is already very family-friendly. Most restaurants are flexible in their portions, and you can always share your plate with each other. That is why there are not many restaurants with a kid's menu. Here are some kids' favorites:
Greek appetizers: mezze
Burgers on the grill: bifteki
Fries: patates tiganites
Greek salad: horiatiki salata
Fried feta cheese: saganaki
What food to order with Kids in Greece?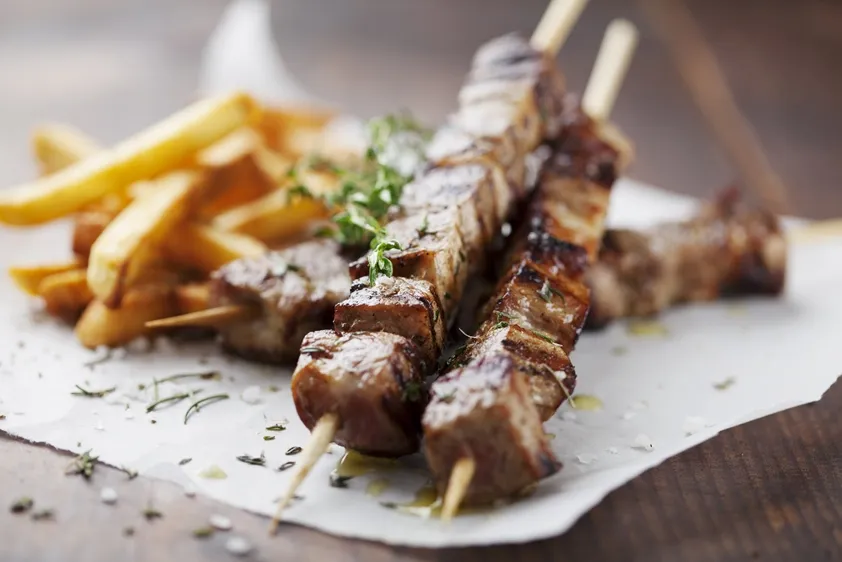 In most taverns and street food places, you can try souvlaki (pictured above), which is roast chicken or pork on a skewer, usually with some roasted bell peppers thrown in as well. You can order a pita gyro, which is pork or chicken meat wrapped in a pita with tomatoes, onions, potatoes, and tzatziki. I guarantee you that the kids will love it!
The same goes for burgers, which often come with french fries or potatoes baked in olive oil and lots of garlic.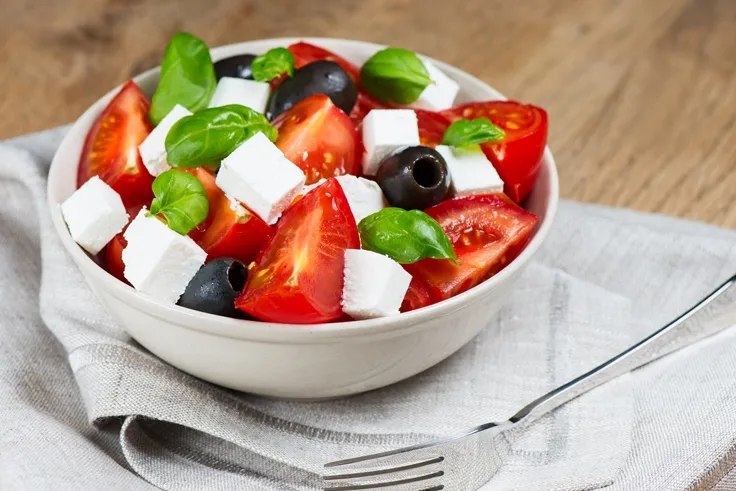 For extra vitamins, add a Greek salad. A Greek salad has cucumbers, tomatoes, and green bell peppers chopped up with a piece of feta on top, and lots of olive oil for dunking bread. More daring, but definitely a favorite with my own kids, are keftedakia (fried meatballs) or calamari (fried squid).
Where to eat in Athens, Greece with Kids?
For home made authentic Greek cuisine, I would recommend you to find a tavern around the Varvakeios Market and in Psyrri. But also go to the pedestrian areas of Monasteraki and Plaka for authentic, and affordable Greek food. Although touristy, most restaurants in these parts of town offer fresh products and good food. And you get great scenery on top of that!
Best restaurants in Athens with Acropolis view
In the list of restaurants in Athens with a view of the Acropolis, the Acropolis Museum Restaurant should be on top. Here you can have breakfast, coffee, lunch, or dinner while enjoying a panoramic view of the Acropolis. The museum restaurant has a kids' menu and for the parents, there is a wide choice of brunch items, traditional Greek dishes, and desserts. The Acropolis Museum Restaurant also serves traditional Greek breakfast and seasonal Greek dishes with a modern twist.
The Grande Bretagne Hotel Roof Garden is another place with a suburb view of the Acropolis. You can have breakfast, lunch, and dinner. The menu is Mediterranean, and you'll have uninterrupted views of the Acropolis, Lycabettus Hill, and the Parliament. The GB Roof Garden is an expensive and elegant restaurant with a smart casual dress code.
Related: The Best Family Hotels in Athens
The Saint George Lycabettus Lifestyle Hotel is located in the posh and lush Kolonaki area. It has a kids club, a kids' cinema, family brunches, and more. Dinner at their Balcony restaurants is a family affair! You will enjoy undisturbed panoramas of the entire city whilst savoring a delightful lunch or dinner in a family welcome but elegant and luxurious environment.
Herodion Hotel is located at the back side of the Acropolis Museum with a very close view of the Parthenon. Its rooftop area is kids-safe and they will feel that they can touch the Acropolis. The restaurant opens in April and offers high-quality dishes and service. For the kids is a kids menu with chicken souvlaki, fish & chips of french fries with cheese from Naxos Island.
Related: Family Brunch at Saint George Lycabettus Lifestyle Hotel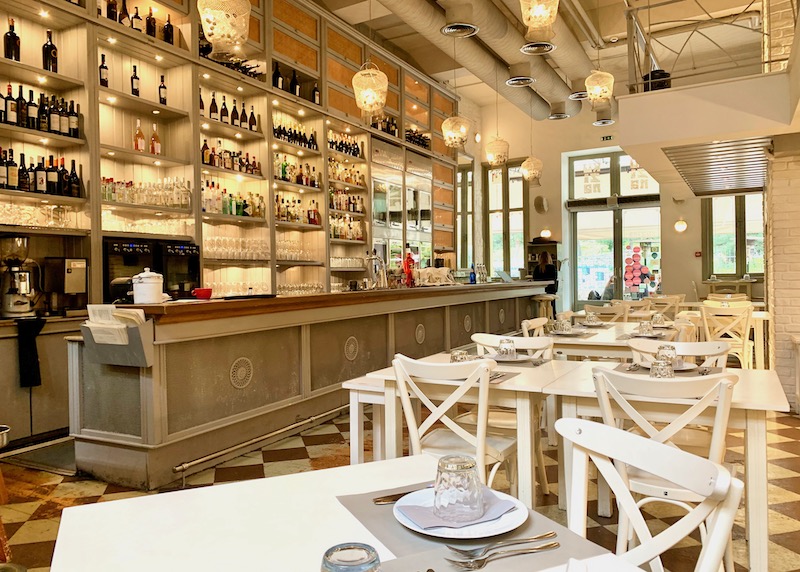 You do not need to eat at a rooftop restaurant to have a view of the Acropolis. Kuzina is cozy and casual and lies in the heart of Athens under the shade of the temple of Hephaestus. It serves modern Greek cuisine with a great view. Kuzina restaurant.
Family Friendly Restaurants in Athens
Around Syntagma Square and the Greek Parliament Building in the center of Athens are many family-friendly restaurants. Other neighborhoods with a large choice in family-friendly options are Plaka, Anafiotika and Monsteraki. Here below we listed some of the best places in the city center. This list of kid-friendly restaurants in Athens will constantly be updated, so check in once and again!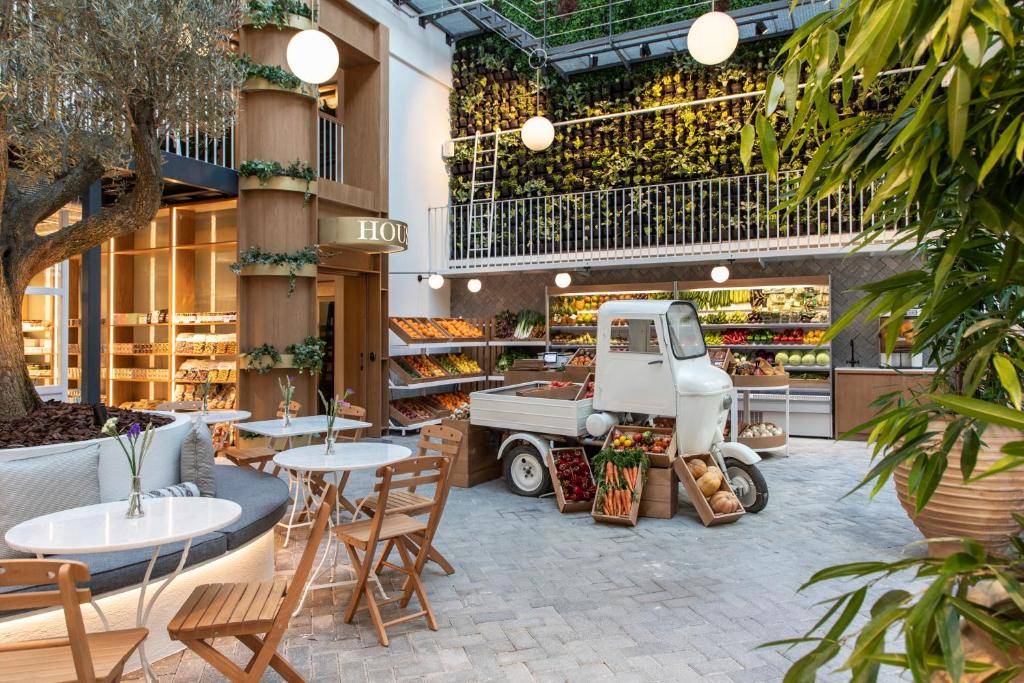 Ergon House is located in the golden triangle of Monastiraki, Syntagma, and the Acropolis and a stone's throw away from Plaka. We love Ergon House because it combines a casual kid-friendly concept with a hotel, a shop, and a food hall experience. In fact, Ergon House is more than just a kid-friendly restaurant in Athens, it is a food experience.
Kids will love the olive tree inside the marketplace (AGORA) and be amazed at all the meat, fish, and other Greek products of this Greek deli. Kids will admire the vertical orchard growing seasonal aromatic herbs, as well as lettuce and other vegetables. Ergon House's menu is simple yet refined with Greek and Mediterranean flavors. You can opt for a private table or a sit at the bar. I recommend the burgers and risotto.
Lots of museums and cultural institutions in Athens have a café and/or kid friendly restaurant and most of them are suitable for families. We love the Ilisia Restaurant at the Byzantine and Christian Museum because there is just so much space for the kids to walk around. The restaurant has large family tables and serves kids' favorite such as toast, burgers and dinner dishes too.
After your meal, you can walk around the beautiful gardens of the museum. Seating areas are provided under the fruit trees, surrounded by aromatic herbs and fountains. Three small themed exhibitions of historic and archaeological interest are presented in the gardens (free of charge).
Read also: Our visit to the the Byzantine and Christian Museum in Athens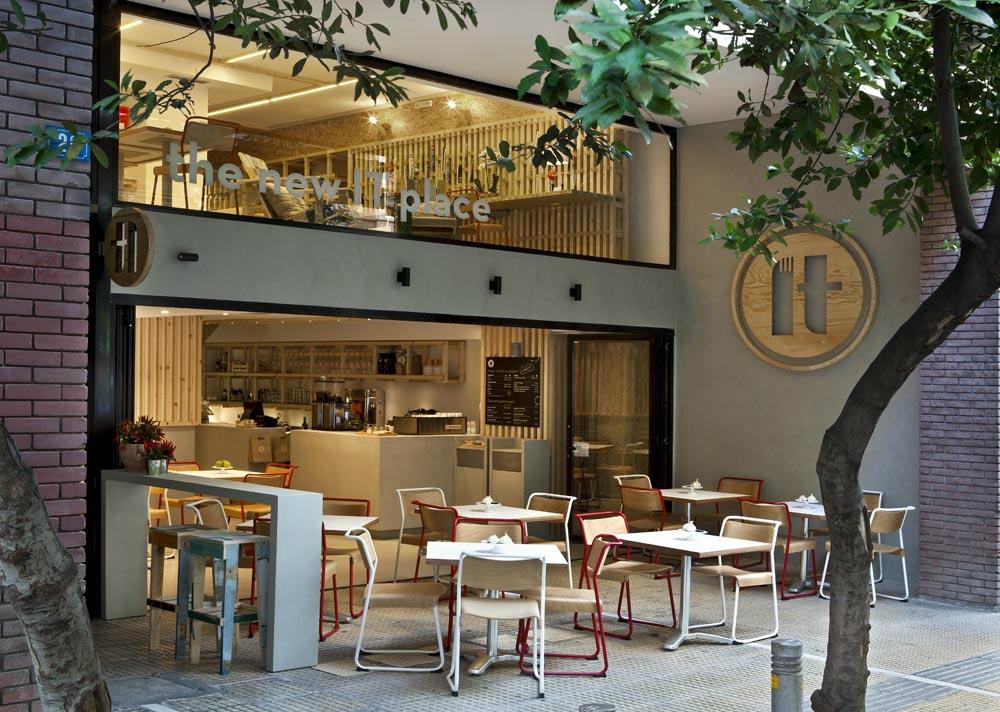 Another family favorite in Kolonaki is IT Restaurant. What we like at this modern and unpretentious spot are the fresh products, the clean environment and the casual vibe. IT is open all day and a great place for coffee or lunch with the kids when you are in Kolonaki.
Aegli Restaurant and Café
Aegli Restaurant and Café at the Zappion gardens is ideal because of its car-free surroundings and open spaces. With a magnificent view of the Acropolis and Lycabettus hill, Aegli enhances popular Greek tastes and aromas, inspired by local traditions, in a new menu with high quality and reasonable prices. In summer, I choose kid friendly Aegli, for the open space where my children can roam safely. In winter, I love the large family tables and quiet corners inside. Whatever time of the year, kids will love the pizza's, club sandwiches, burgers, pasta, and ice cream.
After your lunch, head over to the National Gardens and find beautiful play areas including this wooden playground (at a 5 min walk distance from Aegli)
Update: Aegli is currently closed for renovations.
A favorite Athenian concept since, Tzitzikas kai Mermigas serves traditional Greek food prepared with local produce of authentic producers. It is located on the central and most famous Mitropoleous street. Kids will love the fresh chips and parents will appreciate eating as the locals do.
To Kafeneio is a traditional tavern that travels you back in time. They are open from 10 o'clock in the morning until 1 o'clock at night and have a special mezzedes menu. The friendly staff will make you feel like family with its fresh quality products! A Greek place with an international crowd, described by The Guardian as one of the nice spots in Athens!
For Plaka, we recommend the famous traditional Greek Thanassis restaurant. An all-time favorite for both Athenians and tourists, this is probably the best-known street food place in Athens. Famous for its souvlaki and kebab, Thanassis is also great for real Greek meat dishes. PS. if you find yourself downsouth, head over to Nomsy in Glyfada (featured photo). From the same family that owns Thanassis tavern, Nomsy offers a great selection of meat and vegetarian dishes.
You will like Lithos taverna for its welcoming atmosphere as well as its rustic, cozy interior. Listen to Greek folk music with the locals, while you enjoy delicious Greek dishes and Greek mezze for the kids. In the summer, kids can explore the neighborhood while parents enjoy a dinner under the stars.
Ama Lachei is a charming tavern in a neoclassical building. Fully renovated in 2014, it shed its old-school feel to emerge as a stylish restaurant beloved by both locals and visitors. A beautiful, spacious courtyard with its trailing bougainvillea is like an oasis to escape to in the middle of the hot summer. Kids will find plenty of space to occupy themselves while the adults enjoy a drink before their meal.
The food is traditional tavern fare with some stand-out stars like the mussels with ouzo, pork sausage with orange juice, and smoked aubergine with yogurt.
Try also Krasopoulio tou Kokora, another popular tavern in Psyrri. You will appreciate home-cooked meals at this little tavern. All dishes are based on traditional recipes dating back to 1850. It's cozy for the children and has great homemade desserts.
Ydria on central Adrianou is an experience to classy historic Athens with great fresh food and prices. The restaurant is open all day and ideally located near all the important tourist sites.
Urban hipster place Six Dogs may not classify as a family restaurant, but I urge you to check it out. It has a lovely outdoor space, excellent food with many kid favorites, and large tables. It is a project place that turns into a club at night, but open all day for coffee, food or drinks. A mix of young and old, this place is fun for kids and parents alike.
Smile Restaurant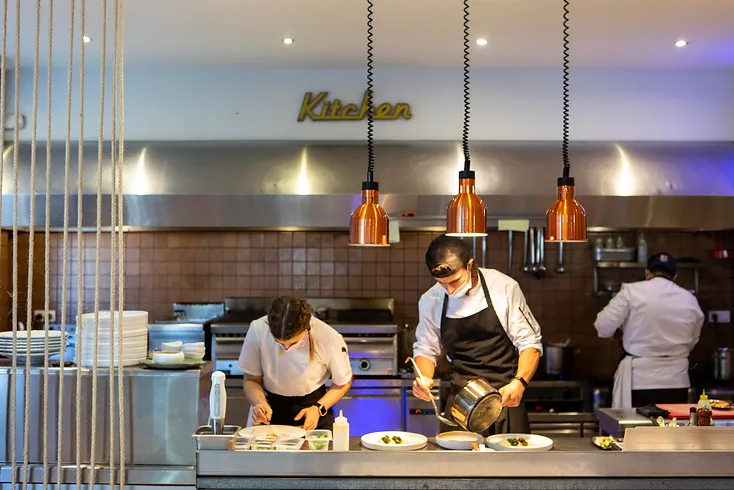 Smile restaurant in Thissio is located, in the heart of Athens, right under the Acropolis. With quick and yet friendly customer service, the restaurant offers delicious Greek cuisine, cooked with traditional recipes. The staff prepares half portions for children/ babies. The restaurant offers family facilities such as a changing area and high chairs as well as an outdoor space.
Athens does have its share of fast-food restaurants too. If your kids are craving chains, you can go to the Hard Rock Cafe, Mc. Donalds, Goody's or TGI Fridays. I would recommend the last one. I like the ones in Flisvos Marina, Kolonaki and Kifissia (Northern Athens) Fridays also hosts innovative events and happenings in a party atmosphere and have great cocktails for parents.
La Pasteria in Kolonaki is great for families because of its family facilities, its food (all kids love pasta), and fresh dishes at affordable prices. There is even a kids' menu in La Pasteria! This family-friendly pasta gem can be found at several locations in Athens, including The Athens Mall in Marousi and in Palaio Faliro.
Best Vegetarian & Vegan Restaurants in Athens
The great thing about Greek food is that it's packed full of vegetables. You can eat a totally vegetarian (or even vegan) meal at almost any restaurant without missing out on any flavor. On top of that is the influence of Greek religion that holds several periods of fasting. During these times, there is an abundance of vegan sweets, snacks and food available.
If your kids are not crazy about the greens, considering ordering Greek foods that have 'hidden vegetables'. My kids love the fried kolokythokeftedes (fried zucchini balls). These mezze are made of healthy zucchini, but they taste nothing like vegetables. These fried zucchini balls go great with tzatziki, the famous Greek yogurt sauce. It is a healthy spread as it contains garlic and cucumber.
Although many restaurants in Athens have vegetarian and vegan options, there is one restaurant in Athens that gets it all right.
At this famous wholesome vegetarian café, all the ingredients are organic, seasonal, and cruelty-free. The menu ranges from veggie burgers to rice bowls and macrobiotic noodles. Anyone with dietary restrictions and food intolerances is bound to find something on the menu.
There's often a wait for tables downstairs. Instead, head upstairs, where cushions are scattered around low tables. They do fantastic smoothies and juices, and their vegan, raw, sugar and gluten-free chocolate tart are much tastier than it sounds. Right next door is one of the best organic stores in Athens.
Family Friendly Cafés in Athens
Themed café Little KooK is maybe the most kid-friendly in town with a great choice of cakes and savory snacks. Little Kook is a fairytale wonderland where children's books come to life by the fantasy decor and dressed-up staff. Have a coffee or ice cream in one of the themed rooms and feel like Cinderella or Alice in Wonderland.
Little KooK is very popular with both locals and tourists, and it gets very busy during the weekends. It is not possible to reserve a table so you may have to wait in line. Parents will also love the Little KooK themed wine bar next door.
Read also: Little KooK themed Café
Ellyz Café Athens is so pretty, kids will be mesmerized. My girls love the pink decor of flowers and Parisian vibe. Ellyz café in the center of Athens is one of the most Instagrammable part of the city. With flowers mushrooming from walls and ceilings, it looks like it came from a fairy tale.
It is a great place for coffee or brunch. Do you want eggs, pancakes, waffles with Nutella or ice cream? In short, enjoyment at its best. They are located in Monastiraki, Glyfada and Chalandri too.
Melina's coffee shop is the perfect stop for a coffee, snack, or dessert.  Enjoy sitting on the veranda or choose the cozy inside. Your kids will love the choice of ice creams, and parents will be impressed by the large selection of exquisite beverages. We recommend you try the Cuban hot chocolate with rum & whipped cream or a Greek iced coffee. Melina's is in Plaka, one of the most famous areas and most picturesque in Athens.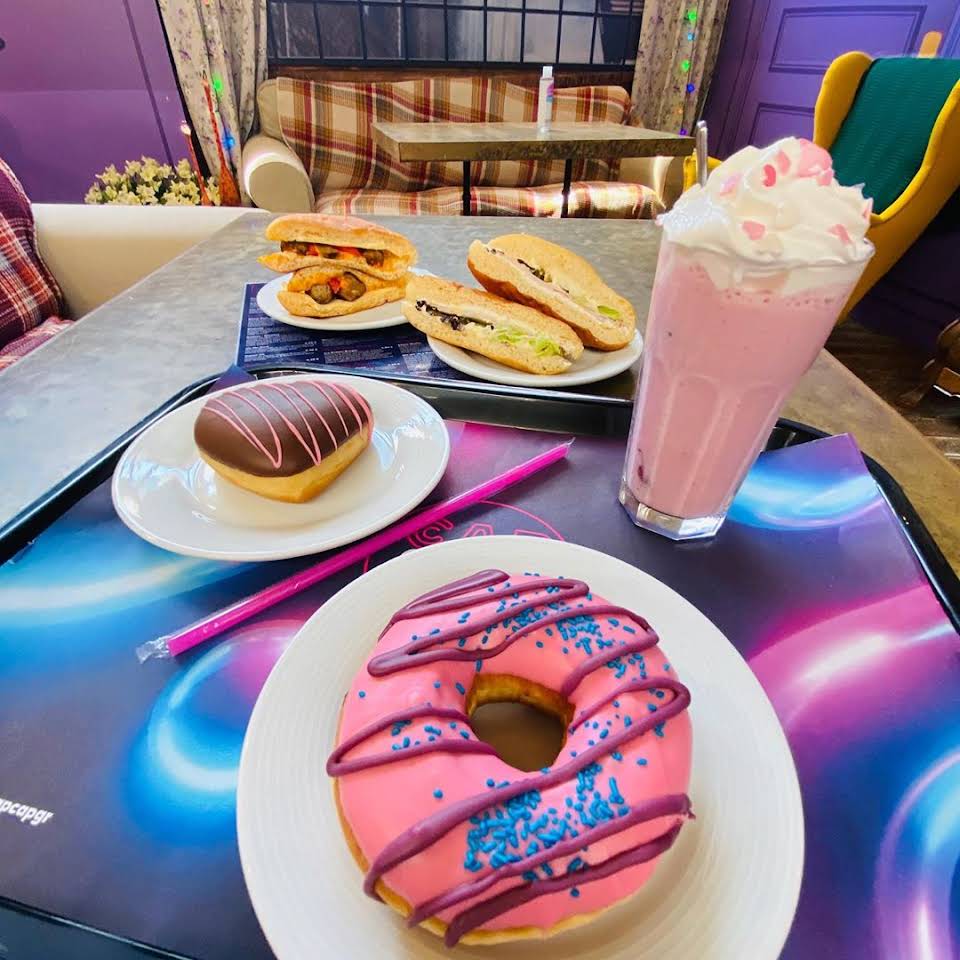 Cap Cap Corner is near the Ellinikon Experience Park in south Athens. It's a sweet shop and café with its theme dedicated to the popular 90s TV show 'Friends'. Cap Cap Corner serves delicious desserts, cookies, milkshakes, and savory snacks. Be careful, the portions are big! 
Restaurants with a play area
Indoor and outdoor play spaces make Glyfada-based Oliver Family House super kid friendly. A chalkboard wall is perfect for tiny artists in the making, while colourful art and surroundings serve as inspiration. The carpeted outdoor corner with a garden café is filled with playhouses and toys. Inside, tots can easily pass the time making their own sweets during baking classes, engage in dance and theatre games or let go of their energy during a treasure hunt. Parents can read a magazine, chill out or enjoy from a large variety of coffees, smoothies, cocktails, health food, burgers, and more.
FunFamily Eat, Drink and Play is a café and restaurant in Marousi. The venue has a wonderful play area and family-friendly dishes such as pasta, burgers and fresh salads. Cocktails and coffee too!
Family Friendly Restaurants in Northern Athens
Wagamama is located in the Golden Hall, of the capital's nicest shopping malls. If you find yourself in this part of town, Wagamama is your best choice for lunch with the kids. Asian food obviously dominates (several vegan options), and the restaurant offers smart activities, building blocks, and drawing pads for the kids. The menu includes fresh juices and ice cream. Wagamama is very convenient when dining with young kids. Now that my kids are older, it proves to be a great place for teens too. Golden Hall shopping mall offers a children's play area as well as good baby care facilities.
Il Barretto is also in Golden Hall. Other locations are the Ellinikon Experience Park and Mac Arthur Glen Designer Outlet. You can find brioche, panini, and warm dishes such as pizza and pasta. The kids' menu features delicious chicken nuggets and club sandwiches, as well as fresh juices and sweets. Great for a glass of wine after shopping too!
Telis – Palaia Penteli
Telis is an all-time favorite for those mums in the Northern suburbs including myself. The tavern is ideal for carefree Sundays out with friends, relaxed lunches and comfort food such as quality steak and fried potato chips. Telis is a restaurant at a lush setting in Palaia Penteli, northern Athens, that serves meat dishes and a range of other selections. Children can have a carefree time at the restaurant's playground with swings, slides, and a roundabout, all by the tables at which delicious food is served. You can combine your lunch at Telis with a nice walk around the Penteli Monastery that is right across.
Same concept as its restaurant in Syntagma; fresh traditional Greek food, creative cooking, delicacies, Greek and Mediterranean food, baby facilities, and excellent service. Combine the traditional tavern food wtih a walk around posh Kifissia and end with ice cream at the square.
From brunch to dinner, the organic restaurant Nice n Easy in Kifisia is a favorite because of its vegetarian options and its healthy choices. I like the tea selection and the casual vibe too, and on Sunday it is a good place for a healthy family lunch in a nice decor. Nice n'Easy has two more restaurants; one in Kolonaki and one on Mykonos island.
Back in the 1960s, this family-run restaurant was a grocery store that did a sideline in meat soup. The soup was so popular that the owners decided to open a taverna and named it vrasto, which loosely translates as "broth." The vibe is homely and familiar, just like the menu of Greek comfort food.
Children are well looked after here; there are high chairs, baby-changing facilities, and an outdoor playground. In the warmer months, meals are served in the courtyard. Try the orzo with shrimp or the homemade cheese pies.
Are you ready, inspired by my list of kid-friendly restaurants in Athens? Having I have been to most, often more than once. So if you have any questions about the food or the location, just drop me a comment below or email me. I am happy to share my recommendations! Whatever place you choose, I am sure you will enjoy your family time in the Greek capital.
Related