Last Updated on January 26, 2023 by Celeste.
Cosmopolitan Mykonos is known for its party scene and its rich and famous crowd. It is also an island with world-class family facilities, excellent hotels, and safe beaches. The Cyclades island has a rich history and there is lots to see and do. It is one of my favorite islands in Greece and these are my top things to do in Mykonos with kids.
Go to the beach
Mykonos features some of the best beaches in Greece. Many of them are sandy with warm shallow crystal clear waters. My favorite kid-friendly beach in Mykonos is the golden sandy beach of Kalo Livadi. The beach is located on the southeastern shore of Mykonos. It has excellent facilities with a great restaurant and alluring crystal-clear turquoise waters. Other excellent beaches are Platys Gialos, Psarou Beach, and Ornos. Ftelia and Panormos beach are also very nice beaches.
Explore Ancient Delos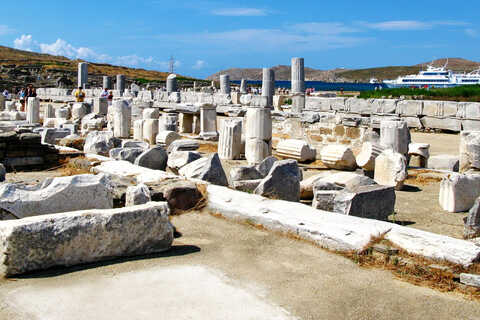 Ancient Delos is one of the most important archaeological sites in Greece. It can only be reached by boat because Delos is located on a small island near Mykonos. If you want to make the most of your visit to this important part of Mykonos' history, I recommend a guided tour to the excavations and the museum.
Click here to book a guided tour to Delos
Meet Petros the Pelican
Petros the Pelican is Mykonos' most persona. The pelican is an integral part of the island of Mykonos and rightfully it has become the mascot of the island. You can get a glimpse of the cute creature as it strolls leisurely in own unhurried pace through the city's many alleyways and the harbor area.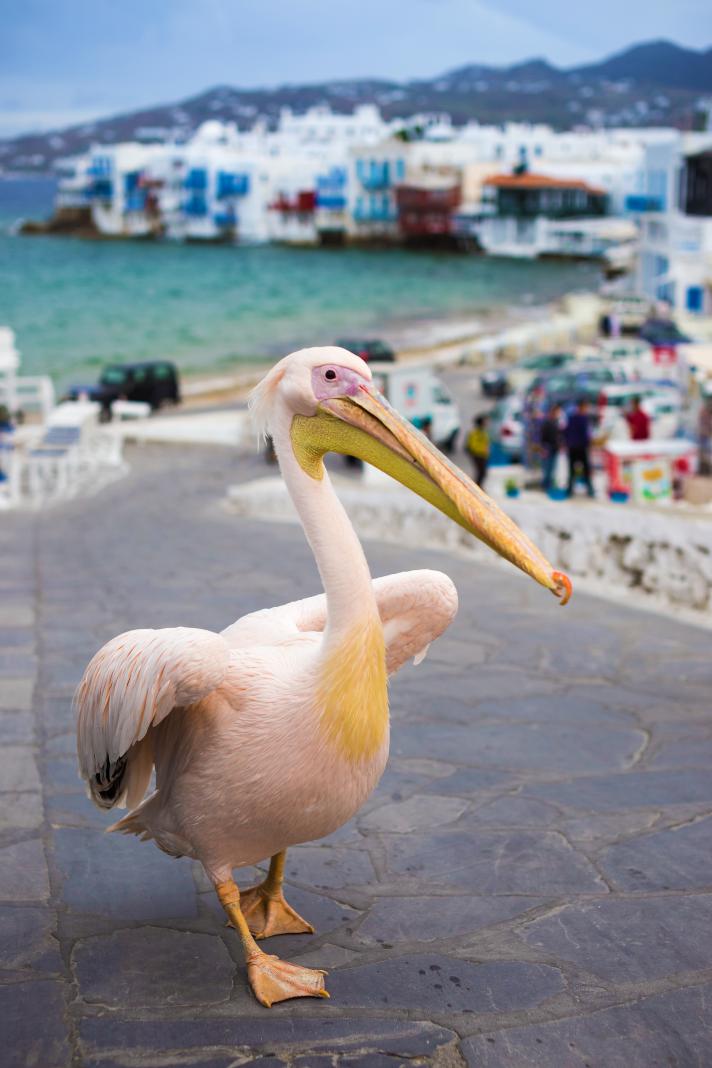 Hike together in Mykonos
A Guided Hiking Adventure in Mykonos through the countryside of the island, is an ideal choice for active families who don't just want to lounge on the beach all day. Discover a different side to one of the most glamorous islands of the Aegean on a hike with panoramic views. Bring some comfortable footwear, a hat and some sunlotion and set your adventurous spirit free!
Click here to book a hiking tour in Mykonos
Join a Sailing trip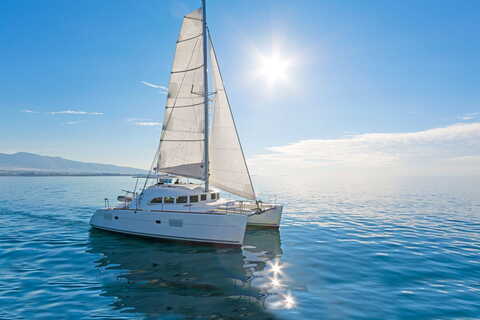 The waters of beautiful Mykonos are ideal for boating. Cruising around the island is an experience that everyone should do try when in Greece. A sailing trip on a catamaran is especially comfortable with kids. Combine this with food and drinks and you have an excellent day out on the water!
Click here to book a small group half day catamaran cruise
Top Things to do in Mykonos with kids: Mykonos villages
There is more to Mykonos than its pretty town. Beautiful villages, kid friendly farms, remote beaches, windmills and lighthouses. Mykonos is a true gem and it is worth spending a day exploring the island.
Click here to book a sightseeing tour with a local
Little Venice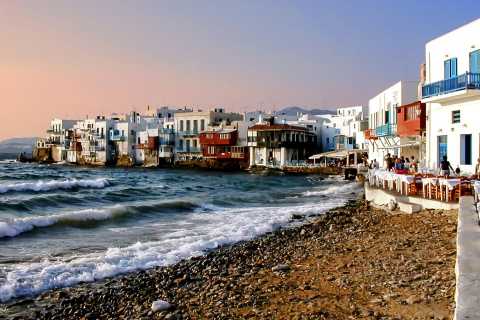 Beautiful Little Venice is located on the western part of Mykonos Town and it is a row of buildings that have been constructed right on the sea's edge. Look how close the balconies of the houses are to the water! Your kids will love to hear that Little Venice was a great spot for the loading and unloading of goods by pirates during the 16th and 17th centuries. Little Venice is the best place for your family vacation picture!
Wander the streets of Mykonos Town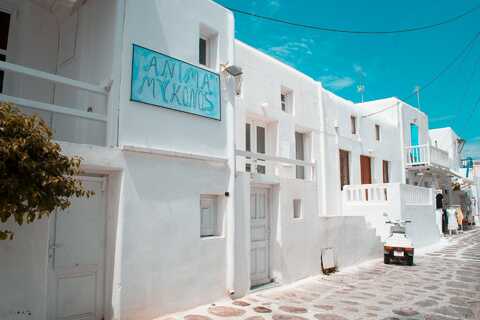 Mykonos has one of the most picturesque old towns in Greece. It is a great place to wander around and be lost in the narrow alleys. Make a stop at the Archaeological Museum to discover an interesting collection of jewelry, figurines, funerary statues, and pottery of thousand of years old. You can also take the kids to the Aegean Maritime Museum, where they can see a wide range of nautical instruments and ancient vessels. Mykonos town has many lovely souvenir shops and boutiques.
If you are interested to learn more about Mykonos' island history, you can opt for a guided walking tour. Click here to book a Mykonos walking tour
Admire the iconic windmills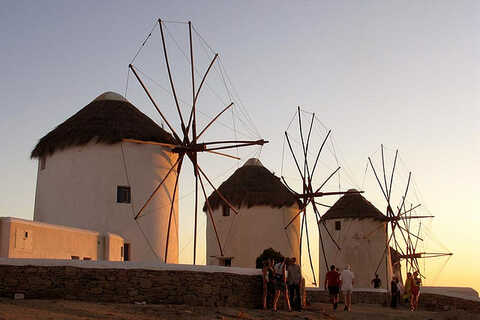 The windmills of Mykonos are the most recognized landmarks of Mykonos. These picturesque windmills are positioned in the western part of the town and serve as a remembrance to the island's wheat and bread industry, which spanned many years ago. A great place to take a photo for your album and a romantic spot to visit at sunset!
Visit a farm in Mykonos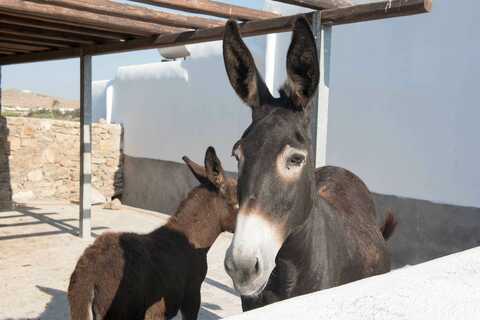 All kids love farm animals and in Mykonos you will notice many farms. I love this evening farm visit activity. It will bring your kids closer to the traditional organic agriculture of a Mykonian farm. They will also learn about how the farm operates, with the option to lend a hand on the property included.
Click here to book your Mykonos farm visit
Mykonos' Famous monuments
Worth visiting is the Paraportiani church, widely featured in many books and postcards. The Paraportiani church is the most unique due to its construction of different architectural styles; Byzantine, vernacular, traditional and western style. If lighthouses fascinate your kids, you should visit the one at Armenistis. Located only 7 km north-east of Mykonos Town, this lighthouse of Mykonos is built at a majestic place.
Join a family-friendly Olive Oil Workshop
Mykonos has a rich culinary history. Artisans produce local specialties like louza (spicy cured pork) and kopanisti (spicy soft cheese). Mykonos is also famous for its fresh fish and of course its olive oil. If you want to learn more about olive oil, I recommend a family friendly olive oil workshop.
Click here to book an olive oil tasting workshop
Have you been to Mykonos with kids and what is your favorite activity?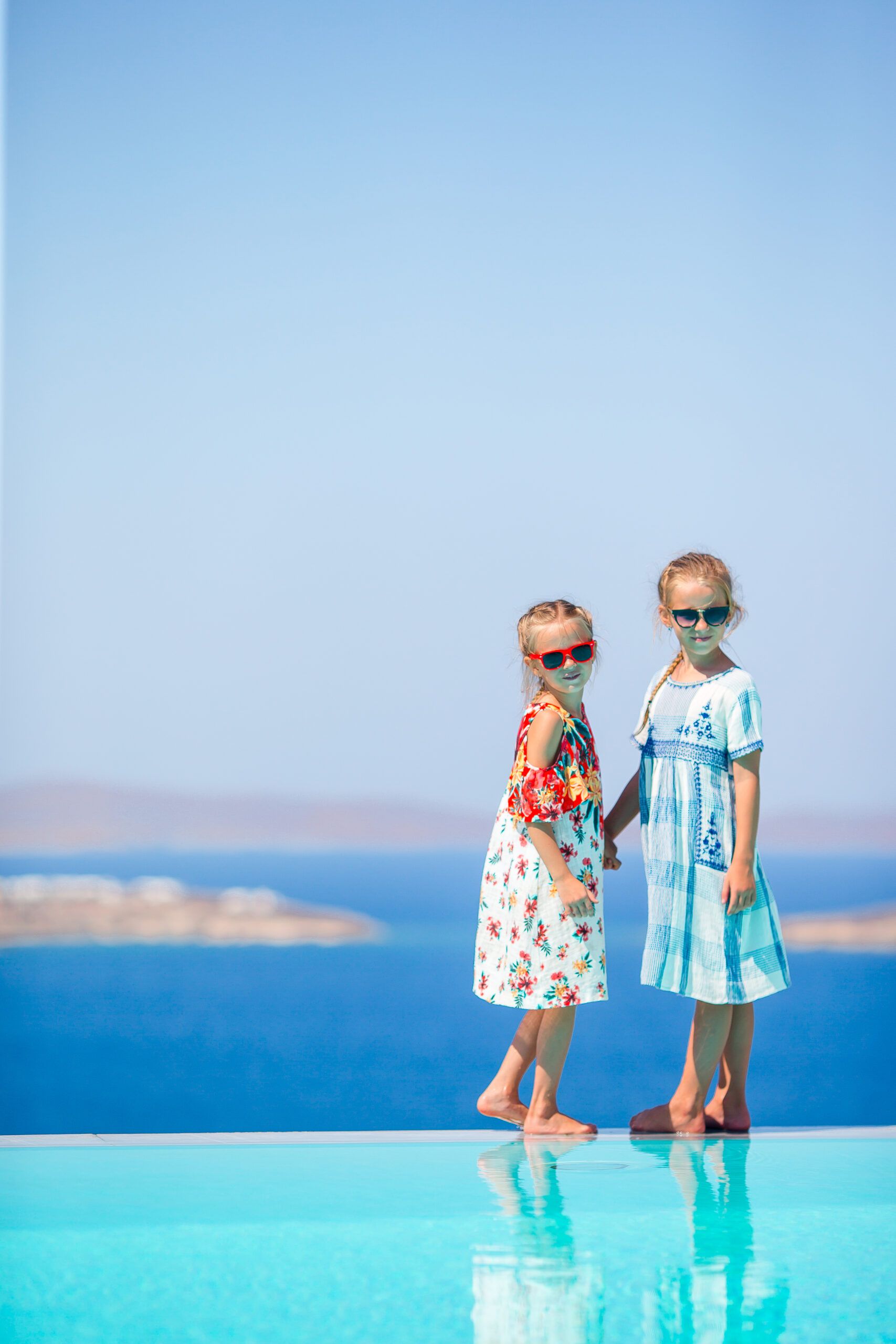 Related posts: Santorini with Kids
Disclaimer: This post contains affiliate links. This means that should you click on certain links, and then subsequently purchase a product we will receive a small commission. It costs nothing extra to you but helps us keep the site running. Thank you for supporting our website in this way.