Last Updated on July 7, 2023 by Celeste.
Family Hotels in Athens, Greece. Family Hotels Athens, family-friendly hotels in Athens, luxury family hotels in Athens, hotels with family rooms in Athens, family hotels near Athens airport, and the best family hotels near Athens. Includes information on which area to stay in Athens is best depending on the type of family vacation you have planned.
The Best Family Hotels in Athens
There are many amazing hotels in Athens to choose from. Some of these are considered the best in the country. But every family has different needs when it comes to hotels, so it's always a tough question to answer which hotels are best for families. Are you interested in a certain location or price, more important than facilities? This guide to the best places to stay in Athens will help you decide where to stay. I have divided the list into different categories.
We start with the best family luxury hotels in Athens. Whether you are about to explore the ancient sites or combine culture with a stay at the Athenian Riviera, these are the absolute top luxury family-friendly hotels in Athens.
The three best hotels in Athens according T+L
Travel + Leisure (T+L) magazine recently revealed the "10 Best Resorts in Greece" for 2022, as voted by its readers during this year's World's Best Awards survey. The Hotel Grande Bretagne tops the list with a score of 93.72 points, while its sister property, the King George Hotel, ranks third with 91.50 points. The Four Seasons Astir Palace Hotel Athens is in the second spot with 93.14 points.
Luxury hotels in Athens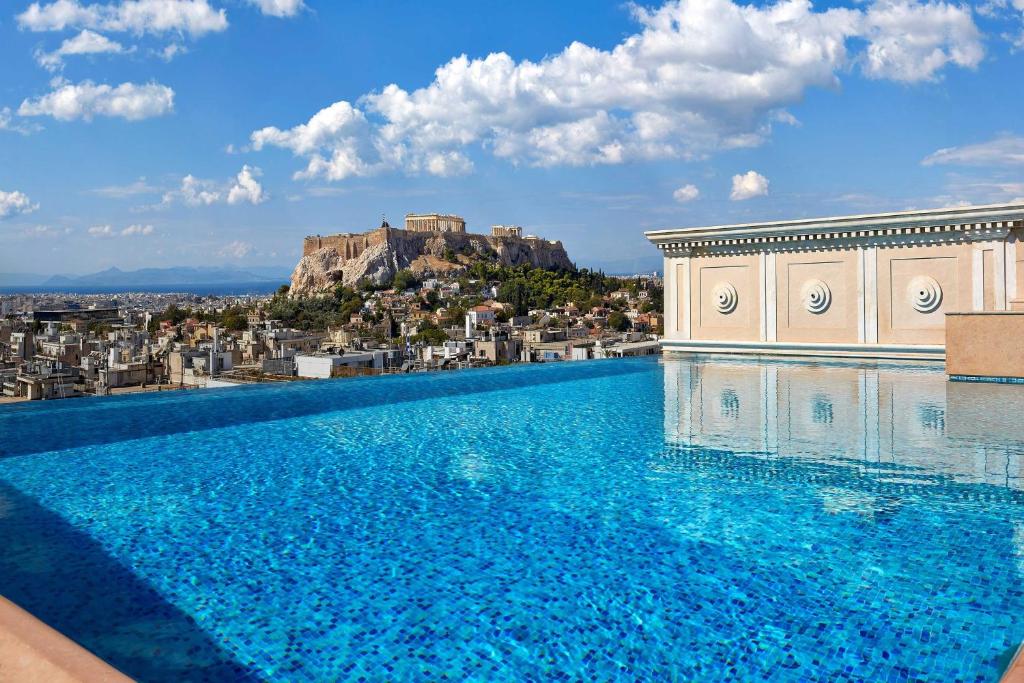 The Grande Bretagne Hotel is one of the most luxurious hotels in Greece as well as in Europe. It is located in the very heart of Athens at Syntagma Square (across from the Greek parliament where you can see the famous changing of the National Guard) The Acropolis and all the other important monuments are within walking distance. This iconic and historic hotel is part of the 'Luxury Collection' by the Starwood chain.
Grande Bretagne Hotel features 320 different types of top-notch rooms to choose from, ranging from classic rooms to Royal and Presidential suites (some with butler service). The interconnecting rooms are perfect for families. Among the hotel's facilities are rooftop restaurants and bars with amazing views of the Acropolis. There are also 2 pools, a fitness center, a piano bar, and a superb gift shop. The Grande Bretagne Hotel Spa is (in my humble opinion) the best in Athens.
The hotel also offers kids' menus, high chairs, bed railings, and babysitting services. The hotel staff will go out of their way to offer impeccable service, and the concierge can take care of any last-minute requests. Kids will love cooling down in the pool during the summer, and parents will much appreciate the grandeur and classic setting of this European gem. If you are looking for top-notch luxury with old-world glamour in Athens, the Grande Bretagne Hotel is your best option.
Click here for more information and to check the latest prices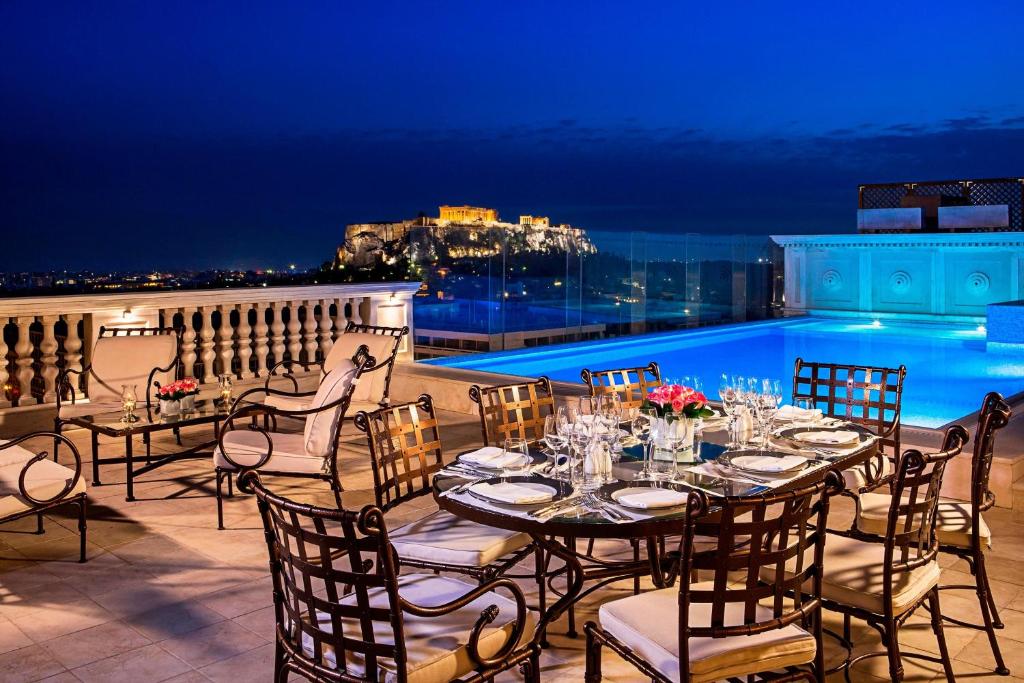 King George Hotel is part of the 'Luxury Collection' of the Marriott BonVoy chain and is located right next to Grande Bretagne Hotel on Syntagma Square. It belongs to the best luxury hotels in the city. The classic King George boutique hotel is near all the important monuments and has incredible views of the Acropolis. King George Hotel features rooms, suites, and penthouse suites resembling the hotel's rich legacy and distinguished heritage.
All 102 guestrooms and suites are fitted with a private patio or balcony, oversized windows, hand-picked antiques, classic wooden floors, and plush silk drapes. For kids, the hotel provides bed railings, high chairs, and disposable bottles. Childcare and babysitting services are also available, as are kid-friendly menu options. The King George Hotel further features the famous Tudor Hall restaurant, a rooftop pool, a business center, a well-equipped fitness studio, and a great cocktail bar. It is a great and luxurious base for exploring Athens.
Whilst you can get easily around the historic center of Athens on foot, families with younger children might want to make use of the metro system that is right next to the hotel on Syntagma Square.
Click here for more information and to check the latest prices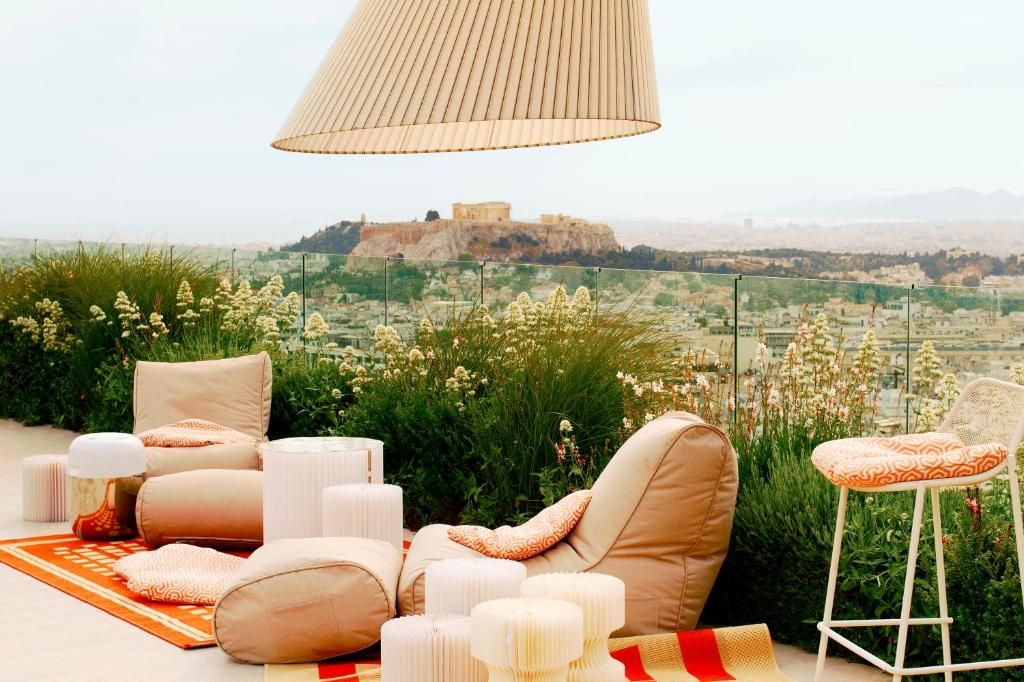 St. George Lycabettus Lifestyle Hotel is an iconic five-star luxury hotel located on the green foot of Mount Lycabettus overlooking the Acropolis and the city of Athens. This classic hotel may offer the best view in town as it looks out as far as the sea and the islands near Athens. The area is considered one of the best shopping districts in Athens, full of designer stores, high-end boutiques, and art galleries as well as Greek deli stores. St. George Hotel offers family rooms for small and larger families, including connecting rooms.
The hotel also features a spa, an outdoor pool, a fitness center, a movie theater, an art gallery, a multifunctional kids' space, and a top-notch sunset restaurant with an excellent menu. Parents will enjoy a cocktail or BBQ dinner with an Acropolis view or be spoiled at the Vertigo Pool Club on the rooftop. Whereas the kids will love the new Kid 's Corner – playroom where they can play under supervision and watch kids' movies with popcorn. The hotel organizes Sunday family brunch and other family-friendly events and has a great gift shop too.
Click here for more information or to check the latest prices
4-Star Family-Friendly Hotels in Athens
There are not a lot of hotels in Athens with XL suites large enough for big families (5+). There it is wise to book early to get the large rooms available. If the above luxury hotels are fully booked, here are more good places to stay for families in Athens.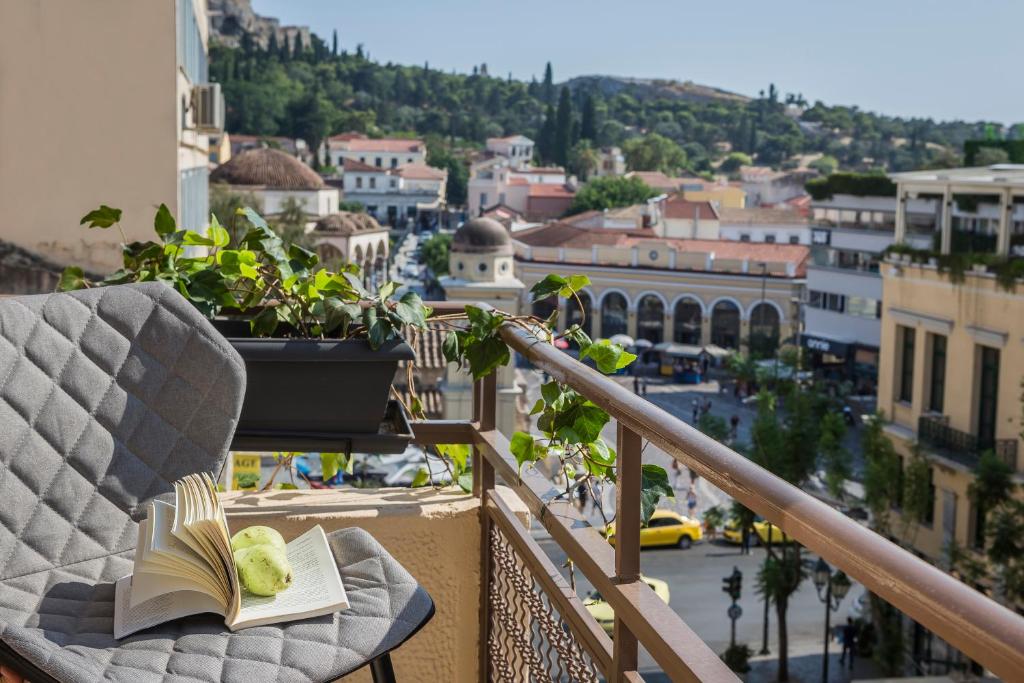 The Royal Hotel in Athens is a 4-star family welcome hotel. This new addition to the Athenian hotel scene is housed in a building that dates back to 1935. The hotel features 27 rooms and suites, a lobby, a restaurant, and a roof garden with an amazing view of the Acropolis and Monastiraki Square. Its large terrace with high fencing is excellent for a family lunch or brunch. The Superior Rooms are recommended for families with a child. The rooms are spacious and a perfect choice for short or long stays.
Interior doors can connect superior and standard rooms together to host an entire family in a spacious and flexible family room. The Executive rooms are spacious enough to host families with small children, and the King Suite can accommodate a maximum of 5 persons and is the ideal choice for families with children. Parents will love the Molton Brown amenities and kids will serve themselves at the buffet breakfast. The hotel is next to the Monastiraki metro station, making it a great base to explore historic Athens.
Click here for more information and to check the latest prices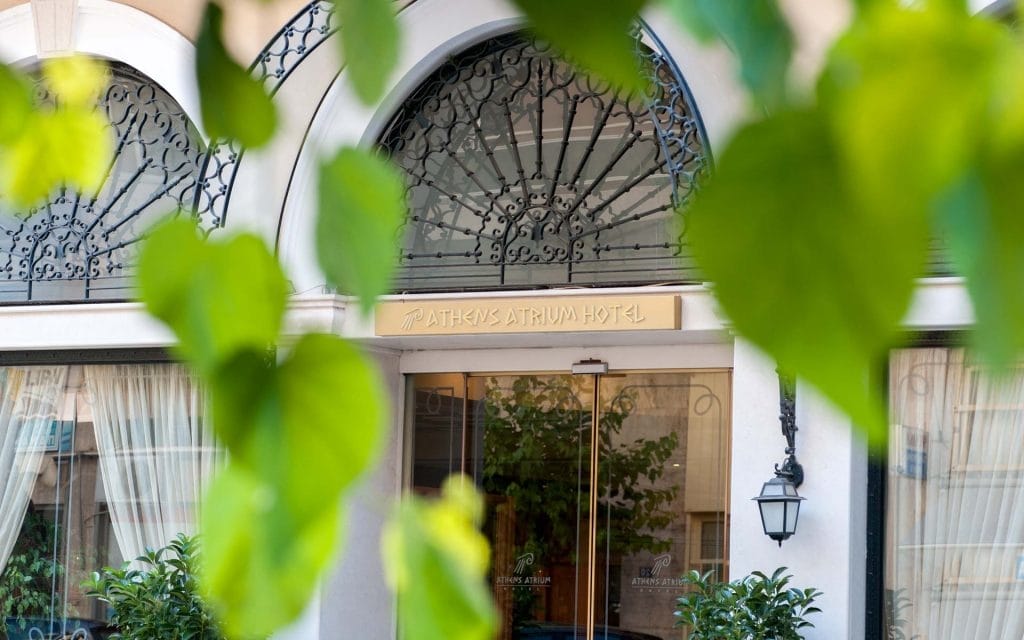 The Athens Atrium Hotel is a 4-star family business located on Syngrou Avenue near the Acropolis and 3 km away from the Athenian Riviera. The hotel has 56 rooms; executive and junior suites. The rooms are large and can accommodate a family with 2 or 3 children (maximum capacity). The hotel chef is willing to cook for any special request, and families will also appreciate the 24-hour reception desk for any last-minute requests. Due to its location, the Athens Atrium Hotel is a great place to explore Athens and the beaches nearby.
Click here for more information and to check the latest prices
Family-Friendly Boutique Hotels in Athens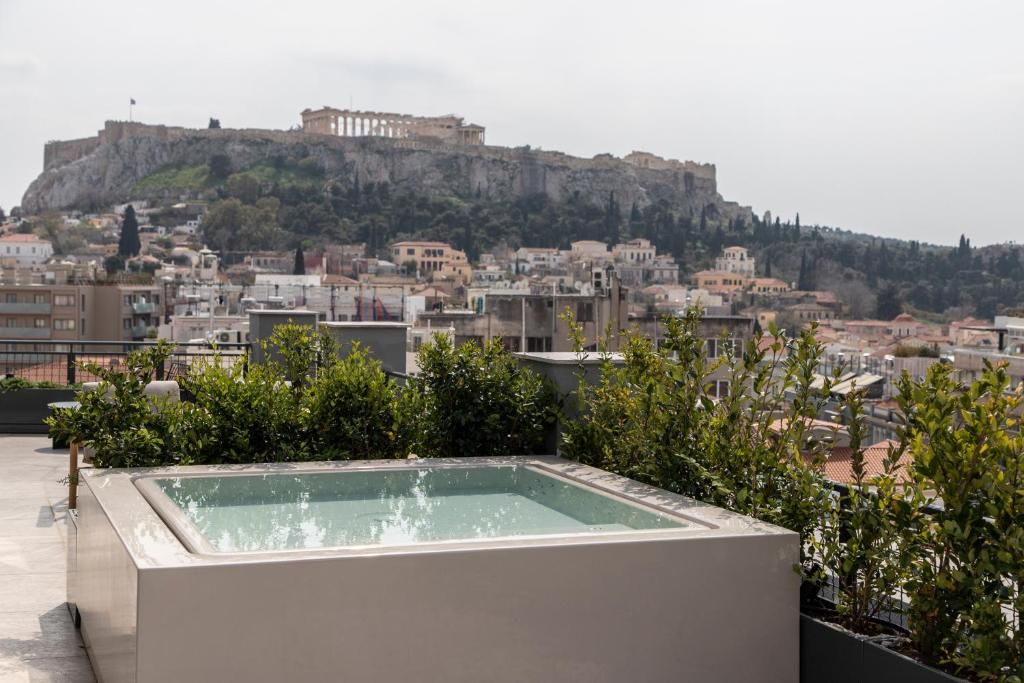 Perianth Hotel is not a family hotel as such, but there is a penthouse suite with pool that is great for a family. There are also two rooms connected by a private hallway (for families with older children). And because this gem is at such a nice location for families, I decided to include it in my list. Perianth Hotel is a boutique hotel located on Aghia Irini Square. A car-free area with lots of food and ice cream options is located within a few minutes walking from the Acropolis and the Little Kook Café.
Parents will love the playful decor of the hotel, designed by the country's hottest design firm, K-Studio. The interiors are inspired by the Athenian modern movement, the building's streamlined art deco facade reveals rooms with stunning Acropolis views, and curated artworks by contemporary Greek artists are on proud display both in the rooms and the public spaces. The hotel also shares its space with the Zen Center Athens, a unique institution devoted to meditation, martial arts, yoga, and Eastern philosophy. The hotel is pet-friendly and serves a great breakfast!
Click here for more information and to check the latest prices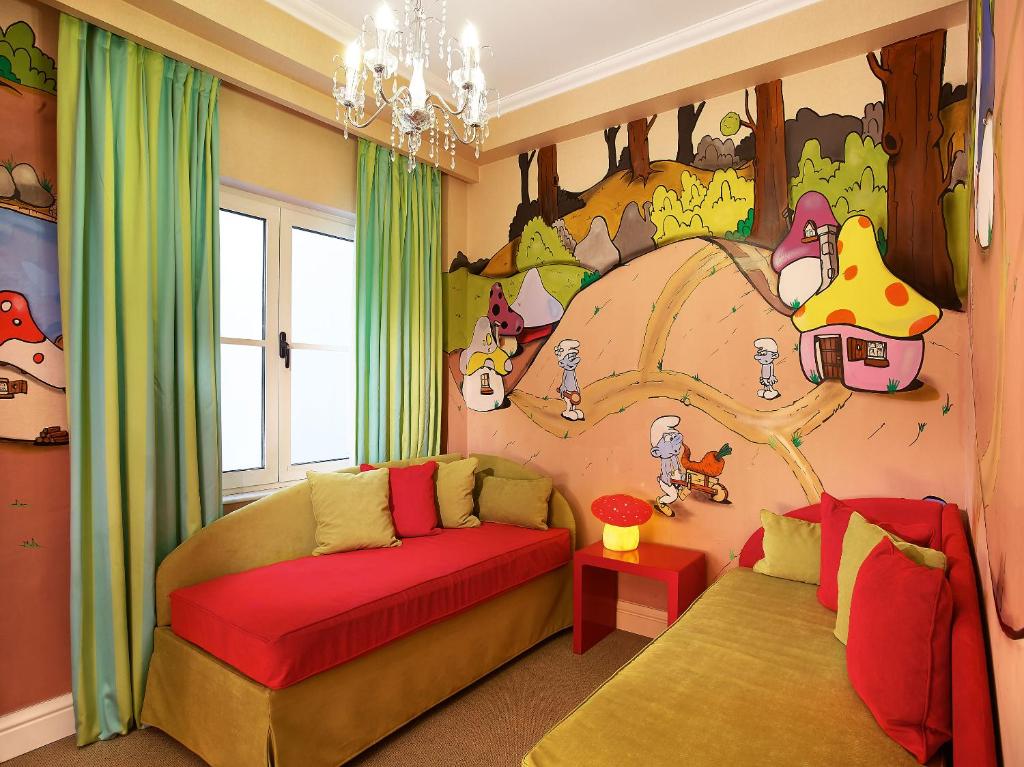 Grecotel Pallas Athena avant-garde boutique hotel is ideally located in the city's historical centre, next to Athens Town Hall just a short walk away from Acropolis and the Acropolis Museum, and the old city of Plaka. The hotel is funky, and the rooms have original Wall Artwork. Grecotel Pallas Athena features playful family suitable guest rooms of which the Family Graffitti Guest room, suites, and lofts XL are the largest with space for 4 family members.
There are also interconnecting rooms available. The hotel has kids' menus, highchairs, cots, and everything else that you may need for a city stay with the family. Finally, two Athens metro stations are nearby: Monastiraki Station (Green & Blue lines) and Omonia Station (Green & Red lines). 
Click here for more information and to check the latest prices
Family Hotels Athens Riviera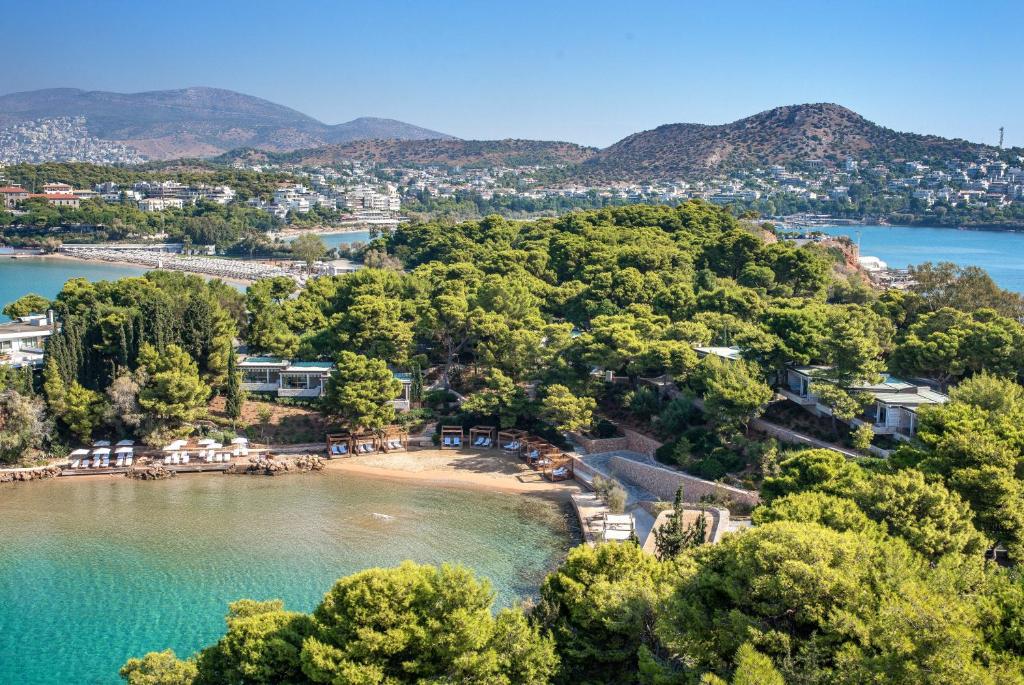 Four Seasons Astir Palace Hotel is the perfect choice for families who want to visit Athens but stay away from the center of Athens. The hotel is located at the Athens Riviera on its own private green peninsula, and it has 3 private beaches, and pools while still being only a 30-minute drive from the center. There are family rooms, suites, and bungalows at Four Seasons Astir Palace Hotel, all brand new and of luxury quality (the hotel opened in 2019). The rooms include sea-view options with balconies. The hotel also features spa facilities and restaurants and bars.
Sport-loving families can enjoy kite and windsurfing, tennis, private jogging trails, sunset sailing trips, and a nearby golf club. "Kids for All Seasons" is the kids club for the youngest guests of the hotel and operates daily for children from 0-12 years old. This hotel is recommended for families who are looking for a laid–back luxury seaside escape with easy access to the historical city center.
Click here to read more and to check the latest prices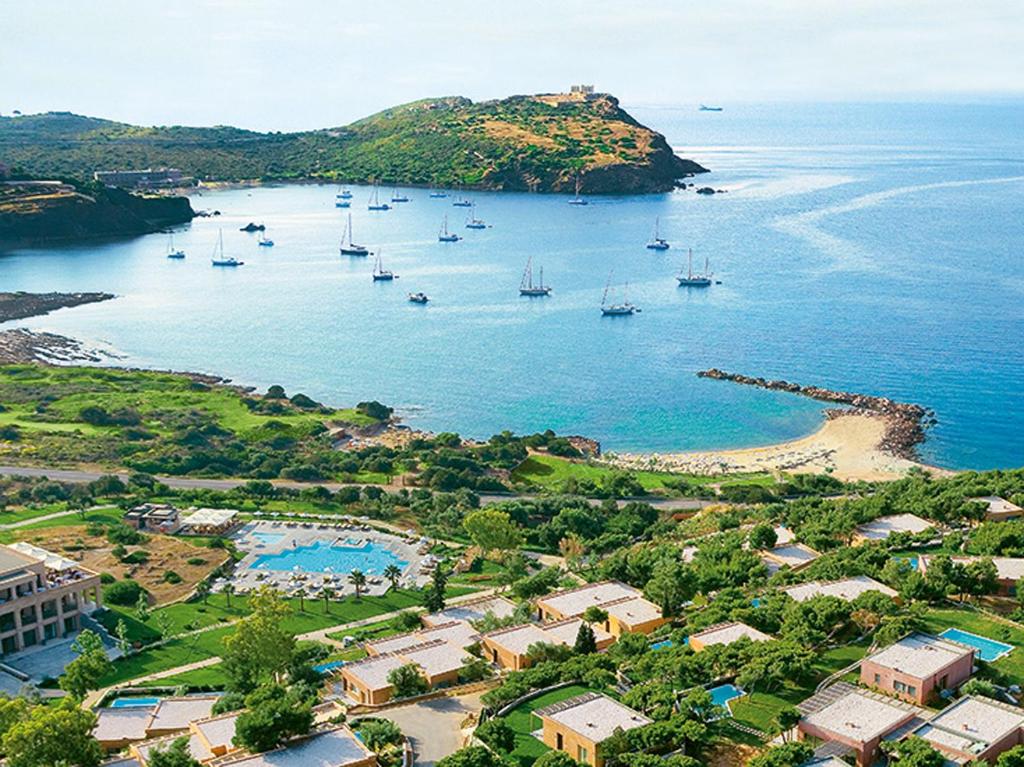 Cape Sounio Grecotel Hotel and all other Grecotel kid-friendly hotels and resorts in Greece have been creating unforgettable luxury vacations for families, from grandparents to newborns. There is something at Grecotel Resorts for every member of the family, and specially designed programs, kids clubs and first-class amenities make a stay at Grecotel resorts a truly family-friendly holiday.
This Grecotel is in Sounio, far enough from Athens to get the real Greek island feel, and yet close enough to spend days exploring the city. The resort is named after the famous Cape Sounio with its Poseidon temple near the hotel.
Click here to read more and to check the latest prices
Family Hotels near Athens Airport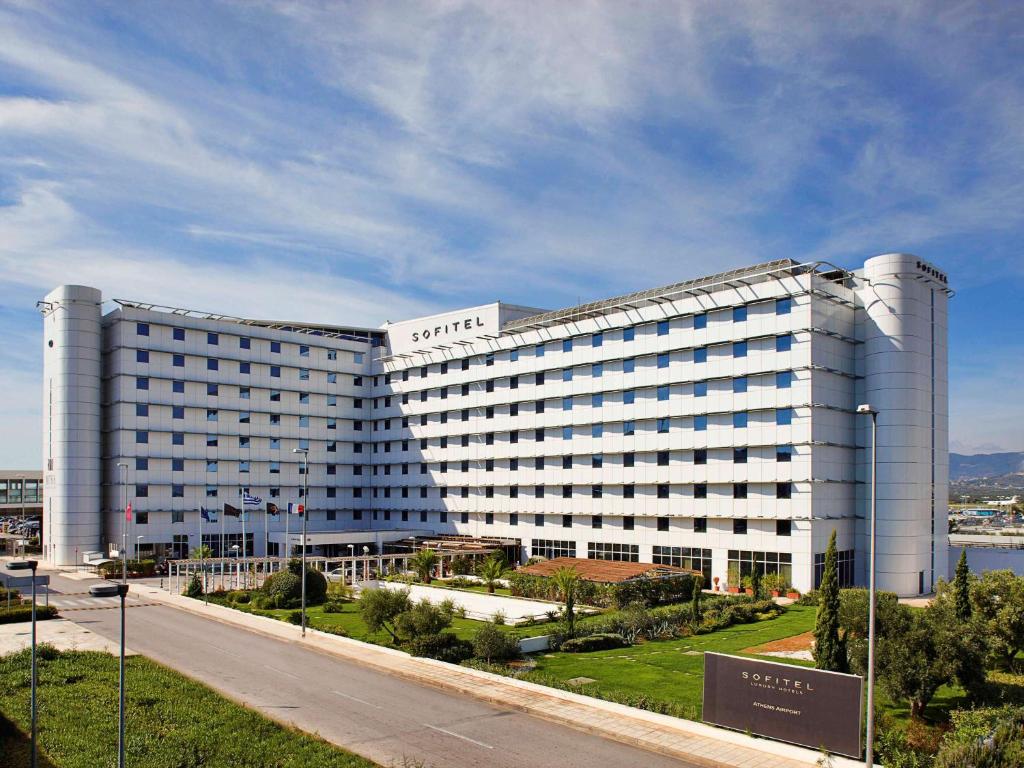 Sofitel Athens Airport is a luxury five-star hotel located right outside the arrival area in Athens airport. It is, therefore, a great place to stay while in transit from Athens to the islands. Or, for instance, when your family has to catch an early morning flight or after a long day of travel. The hotel is a 2-minute walk from airport, and s the only hotel in the airport area. It is also next to the metro for an easy ride straight into central Athens.
All suites are suitable for families, with the Prestige Suite being the largest room. The renowned French hotel features a great restaurant, a spa, an indoor pool, and fascinating views over the mountains and landing strip. Sofitel Athens is a great choice for families who are looking for comfort in the airport area.
Click here for more information and to check the latest prices
Family Hotels near Athens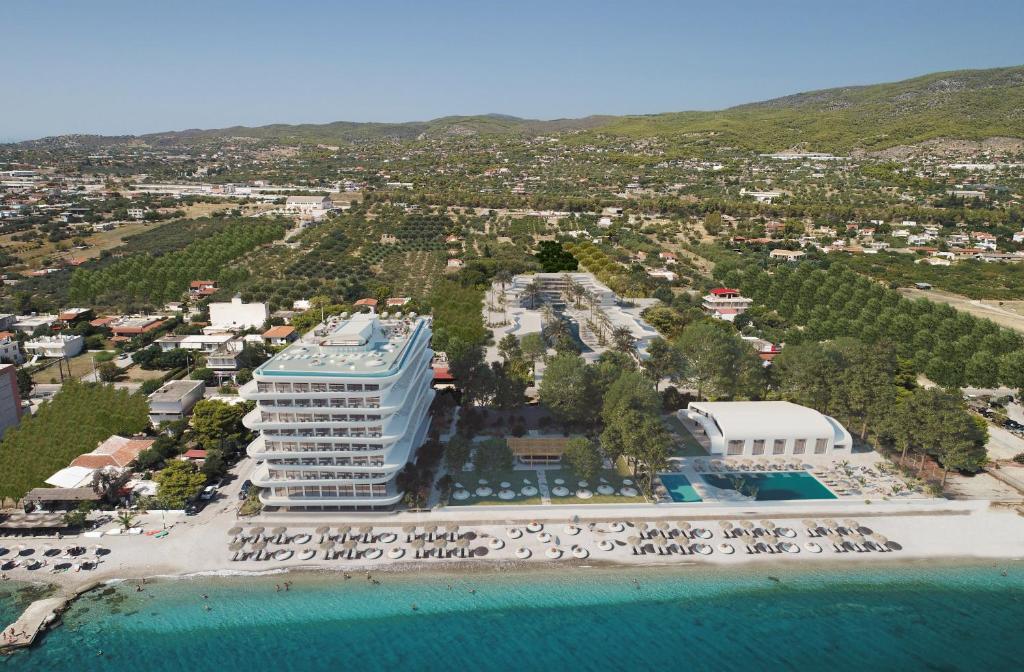 Located in the town of Agioi Theodoroi, near the city of Corinth in the Peloponnese, the in 2022 opened Brown resort features 166 luxury rooms and suites. Set in a beachfront location, the Isla Brown Corinthia offers restaurants of traditional and modern gastronomy, leisure spaces, a gym, an outdoor bar, a children's park and water sports facilities. There are several family suites available. This hotel is great for people who want to explore Athens but also spent time on the beach away from the city.
Click here for more information and to check the latest prices
How did we choose these Athens hotels?
Over the years, we have stayed in most of the listed hotels with our kids. You can find individual reviews of these stays on this blog. In some hotels, we had family dinners and attended events or other functions. In these hotels, we've had a tour of the rooms and their facilities. We are therefore confident to say that we handpicked this list!
Did you find this post useful? You can find more information about hotels in Athens here:
Photo credits: Courtesy of Hotel Grande Bretagne / Booking.com
This post contains affiliate links. Should you make a booking through such link, we receive a small commission.