Last Updated on October 16, 2023 by Celeste.
Luxury Family Resorts in Greece. Family holiday resorts Greece, top family resorts Greece, Greece family resorts 5-star.
Here are five of the luxurious resorts in Greece that live up to the name. And I don't think that after seeing them, anyone will be inclined to argue. We have personally visited these resorts and wholeheartedly recommend them for families with (young) children.
Luxury Family Resorts in Greece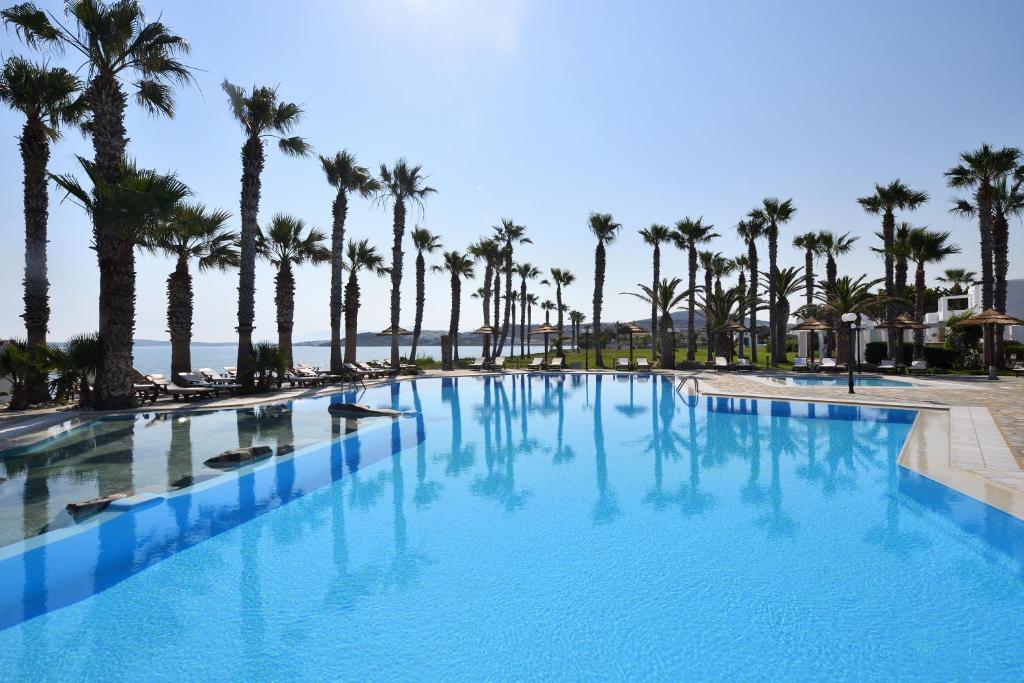 Dreaming of a perfect vacation in Greece? This guide to the best Luxury Family Resorts in Greece will help you pick the most exclusive place to stay. I have described the 3 key family-friendly factors of each resort: its accommodation, its family facilities, and its activities for kids or families. We have visited several of them (Costa Navarino, Sani Resort, Elounda).
For more information, please click on title or highlighted names of each resort.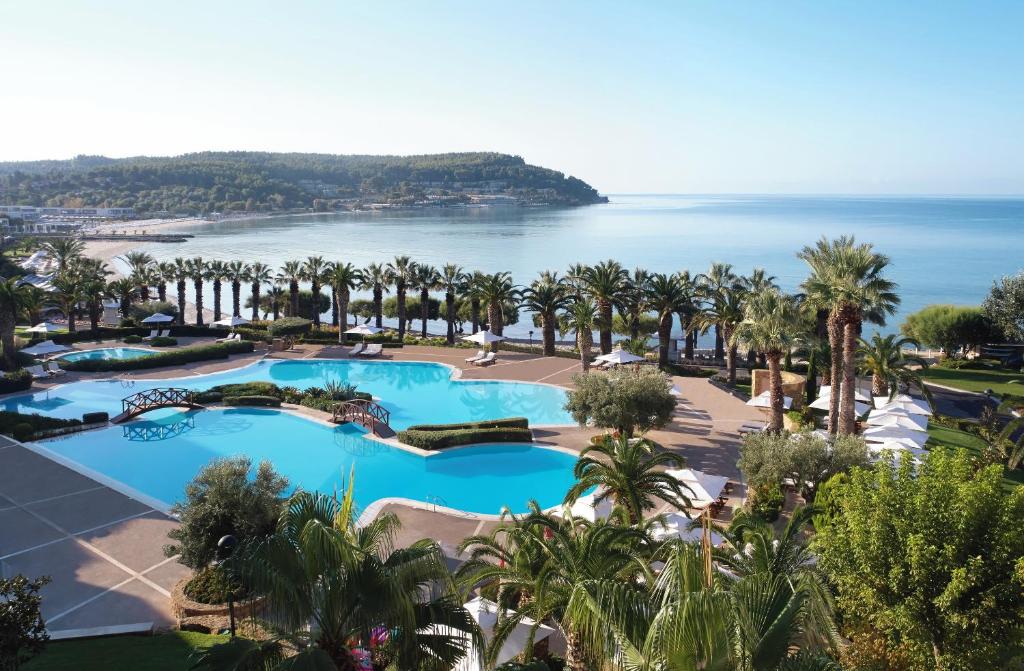 I choose Sani Beach first on this list because it has been around for the longest, but it is still one of the most original and exclusive. Sani is an enchanting natural paradise in Halkidiki, Northern Greece located on the Agean Sea coastline between pine forests and wetlands.
The 5* resort combines five unique hotels. Though usually Sani Beach Club is recommended as the family hotel within the Sani Resort complex, you could also look at Sani Asterias Suites. The suites are more intimate and ideal for an exquisite family stay.
Family Rooms
With 57 superbly refurbished and spacious suites with luxury bathrooms, comfortable bedrooms, and roomy living areas, Sani Asterias is truly impressive. Families can choose from Junior Suites, all the way up to 3-bedroom, 3-bathroom suites with private pools. There are at least five different room types ideal for families. Depending on your budget, choose the one that suits you. Most of the suites have direct access to a beautiful soft sand beach with shallow waters, perfect for children.
The beach has lifeguards and there is even "babewatch"…the babysitting service that the hotel offers on the beach, with the first 30 minutes free of charge! Other family facilities include baby equipment (from sterilizers, strollers, and cots to bibs and kids size bathrobes and slippers) baby food, bathrobes for toddlers, toiletries, and special healthy menus. There's a pick-up service from Thessaloniki airport to the hotel with appropriate car seats.
Kids activities at Sani Resort include the Chelsea FCF Football Academy, for children 4yr – 16yr to practice their football skills. If they like tennis, Sani has a brand new Rafa Nadal Tennis Centre Players for all ages. A treetop adventure park complete with zip wires and located in the forest behind Bousoulas beach and there is also a Bear Grylls Survival Academy.
For teenagers, Sani offers spa services; a junior spa menu is offered for all clients between 12 and 16 years old. Kids will love the entertainment program including activities such as face painting, outdoor theatre, swimming lessons, football matches, and more. Sani is known for its family-friendly staff and kid-friendly atmosphere, so you could go wrong if you are looking for the perfect family vacation!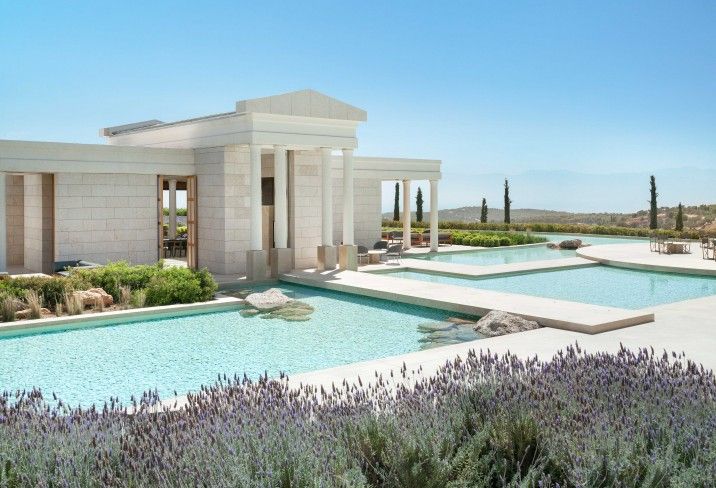 According to The Telegraph, 'Amanzoe is an ultra-exclusive resort with an emphasis on health and wellbeing. Though undeniably glossy, this is not really a resort in which to see and be seen – some guests only emerge from their pavilions to watch the sunset or to borrow a book from the 1,000-volume library'
In the resort are just 38 freestanding pavilions, each with its own fragrant garden, large tiled terrace, and private pool. The family pavilions can accommodate two children up to 12 years, sharing with their parents. Pavilions also interconnect via their terraces. The outside space is safe and generous. The contemporary décor combines marble, local stone, and wood.
There is a toddlers' splash pool at the resort and a children's pool at the Beach Club. You will also find dedicated children's menus and seats at all restaurants. Baby care essentials are available around the clock.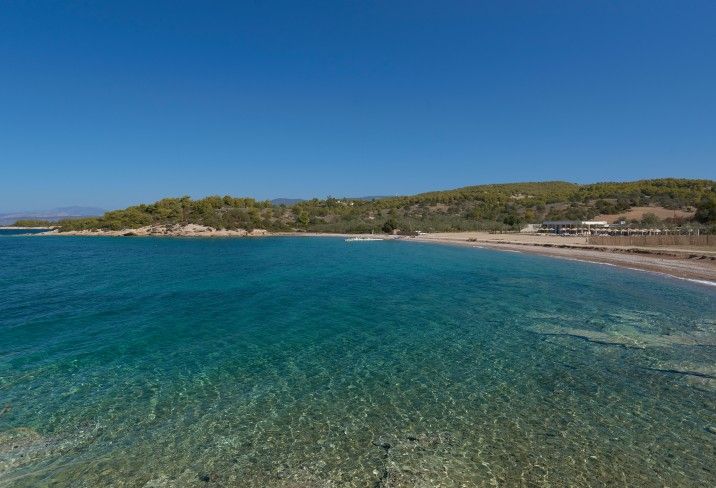 Family activities include junior yoga sessions, tennis lessons, and Watsu therapy. An enthusiastic and experienced children's host coordinates daily activities for younger guests during the summer months. Based at the Pool and Beach Club, the kids club includes arts & crafts related to the history and cultural traditions of Ancient Greece. Think of threading shell necklaces, making mosaics, or creating myth-inspired masks.
Amanzoe's games room has an extensive collection of books, puzzles, board games, and other forms of entertainment. The screening room offers a broad range of movies, TV series, and documentaries for those wishing to escape the sun.
Family Activities nearby
Its location is great too. In the Peloponnese, on a safe and clean beach near to many important archaeological sites such as Epidaurus and Mycenae, making it a great base for young Greek mythology fans too. The hotel also organizes family activities such as visiting local farms and beekeepers. This exclusive top-notch resort will impress every well-traveled family!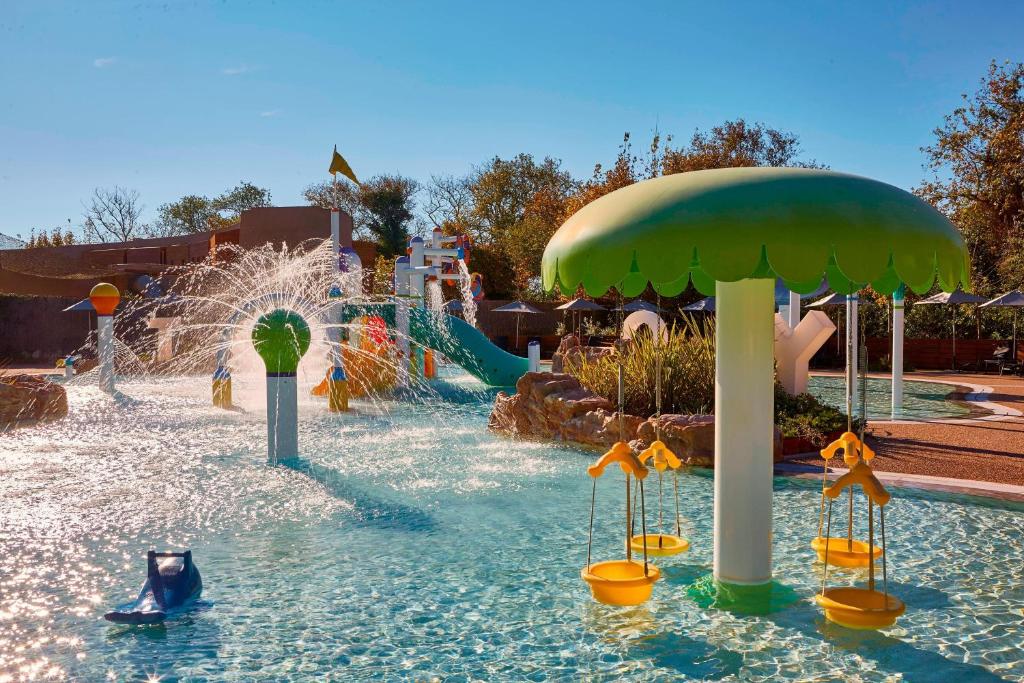 The Westin Resort, Costa Navarino is located in the Peloponnese region, on the gorgeous Ionian Sea. The resort lies on its own endless golden sand beach.
Costa Navarino offers multiple accommodation options to cater to your family's needs. There is a wide selection of family rooms and suites with connecting options, ranging from 39m2 to 80m2. You will find private infinity pools at the ground floor units.
Kids Clubs
There is lots to do for kids and teens at the Westin Resort, Costa Navarino. For tiny tots, there's the Cocoon Care Centre (ages 4 months – 3 years). For bigger kids, there's the Sand Castle, with different activities (tailored to ages 4-7 and 8-12). You can choose from half-day, full-day, and even overnight-stay programs. Children in the Sandcastle can participate in activities recreating life in ancient Messenia; construct their own ancient costumes or explore the great outdoors, following in the steps of Heracles.
The hotel also organizes family excursions to the region's cultural and historical highlights. Sports fans will appreciate the water sports like kitesurfing, windsurfing, and stand-up paddling, or the mini-tennis, badminton, table tennis, and golf.
The Westi Resort also offers a Recreational Park; the Aqua Park boasts waterslides, waterfalls, and multiple swimming pools. Kids will also find Playstation 3 consoles, pool tables, a bowling alley, and all kinds of indoor sports in this fun paradise.
Read also: The Best Hotels with Water Parks in Greece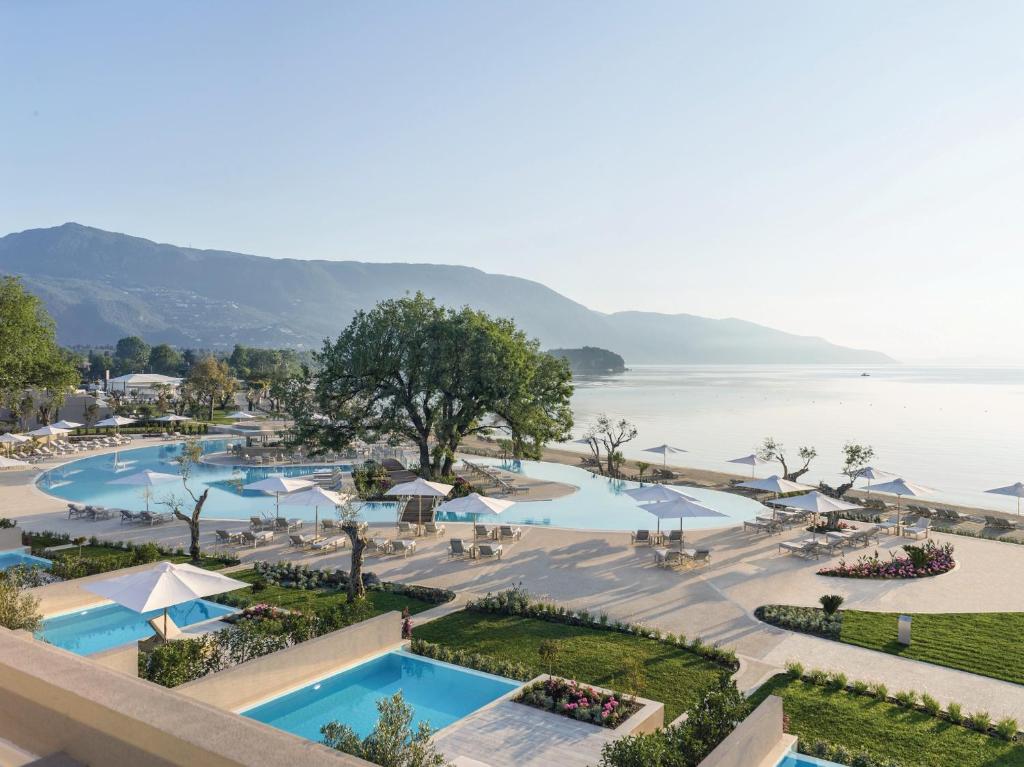 Ikos Dassia Corfu is a 5* luxury all-inclusive resort on the Ionian island located on a long golden sand beach. Recently opened, Ikos Dassia is a favorite for families looking for high-end luxury experiences, tailor-made services, family facilities and a sophisticated all-inclusive concept. This family paradise is only a short drive from the airport (20 minutes) and the historic Corfu Town is 15 minutes away.
Ikos Dassia includes 411 spacious rooms, suites, and low-rise bungalows and villas. The design is comfortable, contemporary, and minimal, with neutral colors. All accommodation styles have spacious balconies, private gardens, some individual pools. Large families can opt for a stay at a deluxe three-bedroom villa with a private heated pool.
With an exclusive beachfront location, these luxurious, ultra-spacious two-floor family villas feature three separate bedrooms, an outdoor jacuzzi, and a large private garden with an outdoor dining space and heated pool.
Kids will love the heated outdoor children's and baby pools as well as the soft sand of the golden beach. There are also beautiful playgrounds at Ikos Dassia. Family facilities also include the Heros Crèche (at extra charge) for kids as young as 4 months up to 4 years. Childcare from 4 years+ is free as well as the Heros Kids Club for ages 4-12 years and complimentary Just4Teens for ages 13 +.
The resort also organizes sports events such as the WK Football Academy for ages 5 – 14 (at extra charge) and WK Tots Football Academy for ages 18 months – 4 (at extra charge) All kids clubs are operated by Worldwide Kids, a professional UK childcare company. In addition to the kids' clubs, there is also babysitting at the beach for parents who want to have some relaxing beach time for themselves. (included 30 minutes complimentary/ 4 yrs and over).
Although all-inclusive, the beautifully designed Ikos Dassia offers high-quality luxury with five-star services, excellent kids programs, playgrounds, and (private) pools. Families love the comfort of knowing they will have nothing else to pay and can relax and spend family time!
Best luxury family resort Crete
Blue Palace Luxury Collection Resort and Spa is quite simply one of the best 5-star luxury hotels for families to stay at in Crete. This Marriot Bonvoy resort is located on the beautiful coast with the pebble beach of Elounda in East Crete, overlooking the famous island of Spinalonga. This hotel is popular with families, due to the supervised kids club and water sports facilities.
There are 251 suites and bungalows at Blue Palace Luxury Collection Resort and Spa. Each room has a king-sized bed (twin beds optional), a sea view, marble style bathroom, and a balcony. Many of the rooms also have a plunge pool. The top of the line is the 3-bedroom Royal Blue Villa.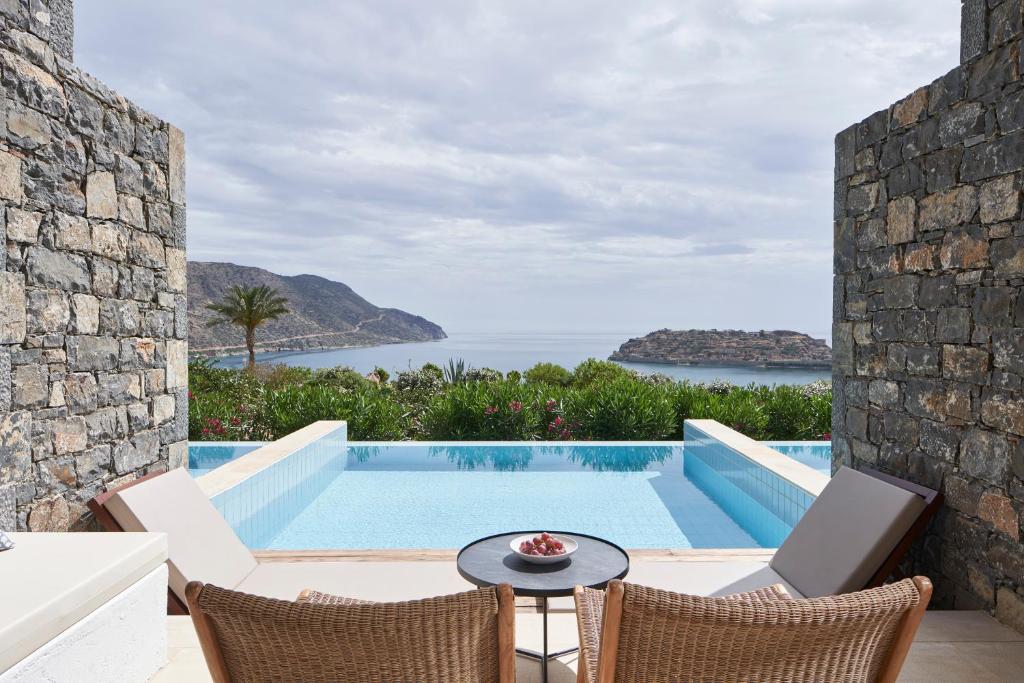 The Blue Palace Elounda with its kid-friendly staff offers a private beach, infinity pools, a kids club, tennis courts, a spa, a water sports center, a fitness center, endless kids activities, and entertainment for families. Other family-friendly facilities are high chairs and kids' menus.
Famous Attractions nearby
Families will also enjoy excursions outside of the resort because there are plenty of things to see and do in the surrounding area. The island of Spinalonga is just a short trip away, and the village of Plaka can easily be reached on foot. Other places of interest are the Lassithi Plateau and Cave of Zeus.
Kids are always warmly welcomed and looked after in Crete, but the Blue Palace Luxury Collection Resort and Spa takes Greek hospitality to the next level!
More Luxury Family Hotels and Resorts in Greece:
Featured photo above this post: Copyright Ikos Dassia