Last Updated on February 15, 2023 by Celeste.
Grecotel Olympia Oasis Review
Family holiday time…When you have children, your priorities, and therefore the criteria you choose your travel destinations often change. Each family's choices and preferences may be different, but there are some basic facts that will always guarantee a smooth family holiday. These are children's amusement, comfort, kids friendly dining options and of course safety. Time for family moments and fun time together is the ultimate goal. With all this in mind, we were eager to visit the family luxury resort.
For more information on prices and booking, please click here: Grecotel Olympia Oasis in the Greek Peloponnese.

Location Grecotel Olympia Oasis
The Olympia Oasis hotel is part of the Grecotel Riviera Olympia Resort. A mega-resort on a 500-acre wooded estate along a 2 km golden beach consisting of the 4 star all-inclusive concept at Olympia Oasis, the exclusive luxury Belle Epoque-inspired Mandola Rosa Suites & Villas, the 5 star luxury spa resort of Riviera Olympia Thalasso and the smaller accommodation of https://www.booking.com/hotel/gr/grecotel-olympia-oasis-amp-aqua-park.en.html?aid=1526412&no_rooms=1&group_adults=2. The resort also host a spa, a convention center and a state of the art Olympia Aqua Park, the largest in a resort in Greece.
Riviera Olympia is located in a stunning natural setting with sand dunes and pines near Kyllini, a port town on the Ionian Sea coast in the Peloponnese across from the Ionian islands of Zakynthos and Kefalonia. The resort is 45 minutes away from the international airport of Araxos near Patras (there is an airport shuttle by the resort). You can also fly into Zakynthos and take the ferry boat across to Kyllini. We drove ourselves from Athens, it took us 3 hours to arrive via the new highway from Athens. The last part of our route that took us through beautiful green hills and dunes. The beaches on this side of the Peloponnese are incredible and there are several places of interest nearby such as Ancient Olympia. A stay at the resort can be combined with exploring the antiquities in the Peloponnese or a trip the nearby Zakynthos.

This post is also available in Dutch
Accommodation
Olympia Oasis is the family hotel in the Olympia Riviera Resort. It was here where I spent our family September-getaway. The Olympia Oasis has been build in 2004 and has recently undergone major renovations. The hotel has double rooms, family rooms, family bungalows and family beach villas. The rooms start from 30m2, there are open plan room bungalows but also rooms with separate bedrooms. All room types in the hotel have been built around the swimming pool and garden area and have a sea view or side sea view.
The ground floor bungalows at the garden area are ideal for families with small children. There are also beach villas at Olympia Oasis. They are located on the outsides of the resort on a large sandy beach with many palm trees. Ours was called Beach Villa Oasis. I would suggest to check out the detailed floor plans on the Grecotel Olympia Oasis website and see what works best for you and your family.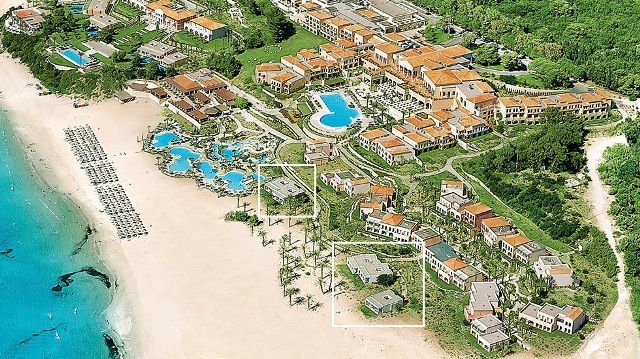 Beach Villa
The villa was close enough to all the facilities yet private enough to relax, enjoy the view on Zakynthos island from the sunbeds in our garden, listen the sound of the waves in the evening and watch amazing sunsets. We immediately felt at home at the villa. The atmosphere was relaxed. The furniture luxurious yet comfortable. The layout of the villa is inspired by by ancient Olympian architecture. This means that the living spaces are built around a large canvas covered patio. Entering the villa from the front door, we first found a large hallway and the covered patio area.
On each side of the patio was a large bedroom and bathrooms. The patio connected to the living area overlooking the veranda and the sea. The indoor space of the beach villa is 105m2. Each bedroom had their own large marble bathroom with shower and bathtub. The veranda of the villa is 30m2 and provided a sitting area, outdoor shower, and a private gazebo on the beach. Parents can easily relax in the sitting area from kids bedtime onward. It is very practical that the children have their own bathroom and toilet.
A welcome drink with canapes was waiting for us upon arrival as well as complimentary traditional Cretan raki liquor with Greek sweets and chocolate. There was also a bottle of wine and a plate of fresh fruits. Snacks and juices for the children are also part of the hospitality in the luxury accommodations at the Olympia Riviera resort.
My kids loved running outside of the house each morning to jump in the pools or sea. I liked the homegrown lavender in my wardrobe and the tranquility and sense of space – there are 313 rooms in Olympia Oasis, but from the villa, you'd never know it. It was very calm and peaceful.
Family Facilities at Grecotel Olympia Oasis
The beach and pools, the Aqua Park and most of the Grecoland activities are part of the all-inclusive packages. The list of features and facilities at Olympia Oasis seems endless a provides all you need for a family holiday.
We liked the bike path through the forest and the biological garden. The mini market and shopping center had lots of stores for families and everything you need for your vacation. There is also an amphitheater, a TV/Video room, a recreational room with electronic games, a hairdresser and guest laundry room.
Below are some images of the Lobby Lounge, the Lobby Bar and the Seasons restaurant – photo courtesy: Grecotel.
Beach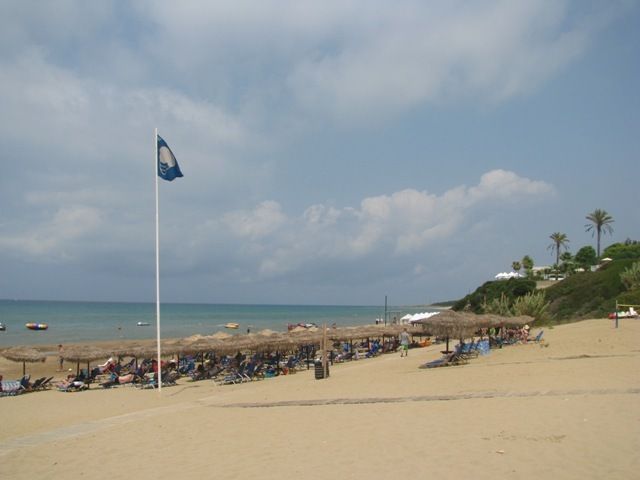 The golden sandy beach of Olympia Riviera resort is 10km long and has shallow turquoise waters; safe for very young children and great sand to build sandcastles. The beach has the Blue Flag qualification with lifeguards, watersports, diving, a beach bar, football fields on the beach and showers. A kiosk for beach/ pool towels is located in the middle of the pool area. There are plenty of sunbeds on the beach. There is a separate and more remote section for the private gazebos.
I found the beach very impressive and larger than I expected from the hotel website. Despite the size of the resort, the beach was never crowded. Thanks to its length and width, the beach was perfect for a long stroll and many hours of sand and water play.

Make a Splash!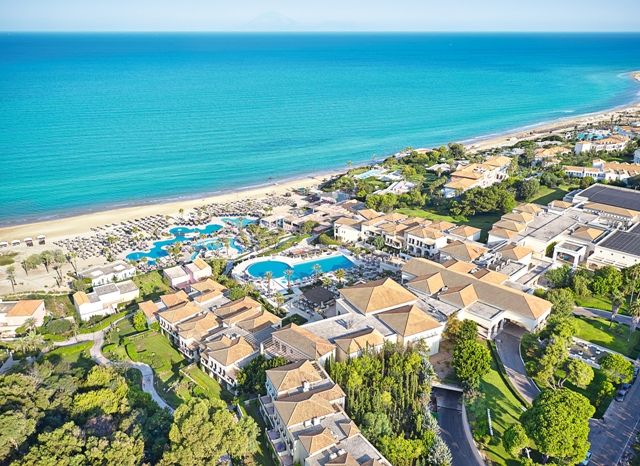 As seen from the above photo, there is a large 'quiet' freshwater pool by the main building overlooking the sea. This one is great for relaxation (don't bring the kids!). Towards the beach in between a landscaped garden is an adventurous freshwater pool with lazy river and slides, a seawater pool, a splash pool for the little ones plus smaller pools for games (one with a basketball game). Inside the hotel is also a freshwater pool. Games and activities take place in some of these pools at specific hours. Aqua Aerobics was fun! My girls loved going down the lazy river and hiding in the 'cave'.
Olympia Aqua Park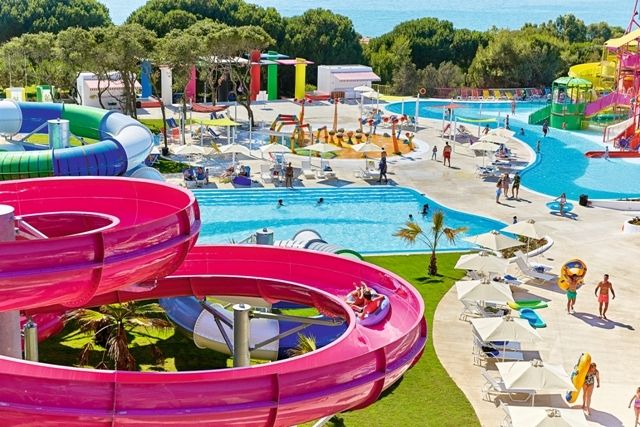 Not enough pools for your kids? Head over to the newly opened Olympia Aqua Park. It takes about 10 minutes by feet from the hotel lobby but you can also use the resort train to get to the water park. It is open daily between 11am and 6 pm. The Aquapark is suitable for all ages; there is a water play park and water spray game for little children but also heart stopping, adrenaline pumping water slides, rides and aqua towers. The park offers enough games for a whole family fun day out. Thankfully it closed at 6 pm or else my kids would have never left the park! You can read our experience here.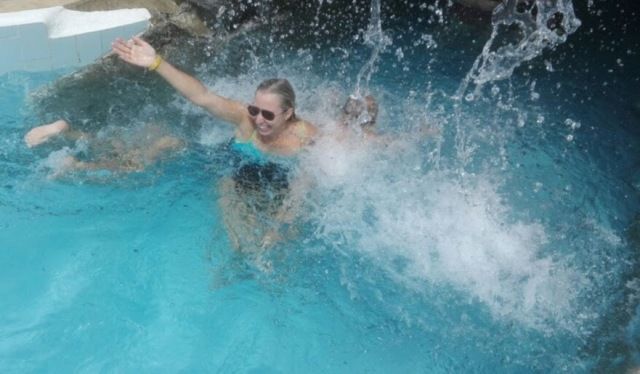 Family Pampering at Elixir Thalassotherapy Center
The Grecotel Olympia Riviera features a 4,500m2 Elixir Thalassotherapy Center. A must visit for anyone holidaying in the resort. Beautiful white Ancient Greek-inspired temples, therapists in traditional Indian clothing providing Ayurveda based treatments and five-star pampering. The spa also offers special (Ayurvedic) treatments for children. My kids and I enjoyed an afternoon of spa treatments together. Read all about it in this post. You can also leave your kids at one of the many supervised activities of the Grecoland Club programs and have some alone time.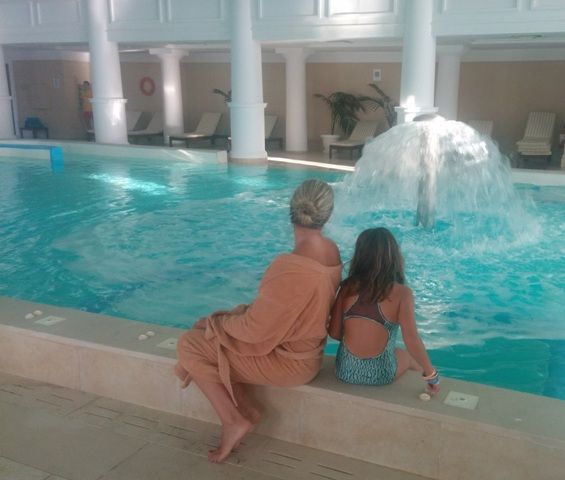 Click here for more information, prices and booking
Food & drink at Grecotel Olympia Oasis
The all-inclusive program of Olympia Oasis includes drinks, snacks, and meals throughout the day at no extra charge. To be more specific: full-board breakfast, lunch & dinner plus snacks, ice creams, alcoholic & soft drinks, hot & cold beverages. Water, soft drinks, beer, and wine are included at lunch and dinner.
The Olympia Riviera features both all-inclusive buffets and a la carte dining options, with a total of 11 restaurants and bars. A la carte restaurants inside Olympia Oasis are La Strada (Italian) and Platanos (Greek). Reservations are needed for the a la carte restaurants.
Buffet
The main restaurant of the Olympia Oasis is the exotic looking Seasons Restaurant at the main building. It serves breakfast, lunch, and dinner. We tried breakfast and dinner here. The restaurant is large and has plenty of space inside and outside. There are large comfortable tables and there are more relaxed bamboo chairs outside overlooking the pools and beach.
Breakfast included hot and cold dishes, fresh juices and smoothies, a wide choice of fresh fruits, sweets, freshly prepared pancakes and omelets and a bread section as large as a bakery. A special coffee corner shows traditional Greek coffee making during breakfast on the outside veranda. Although it was busy during breakfast, there was plenty of personnel around and their service was very friendly. Our cans of fresh coffee, tea, water, and milk were served as soon as we sat down. Even though we came late one morning, we never felt rushed. People took their time to eat, the staff was patient and helpful.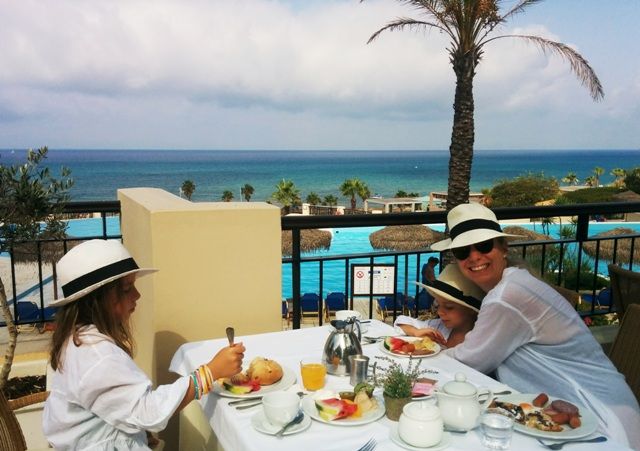 We loved our family breakfast overlooking the sea and pools
The evening buffet was rather extravagant. Large tables full of beautiful decorated dishes everywhere. An impressive large choice of Greek and International food and some freshly cooked while you wait; I loved the pasta corner where sauces were prepared on the spot. It was a culinary experience instead of an all-inclusive resort buffet. A wide selection of hot and cold dishes, traditional Greek foods, seafood, meat and fish, plenty of fresh fruits, salads and sweets.
A Cretan buffet corner during breakfast, lunch, and dinner with goodies and dishes represented the Cretan heritage of the resort and the background of the Grecotel founders.
All Inclusive Kids Dining
What I loved most about the Seasons restaurant was the family section with its playful decor, happy colors, high chairs and family tables. The children buffet represented kid's favorite foods such as fries, nuggets, and fish fingers but there were also healthy options like pasta, boiled vegetables, and meat. The baby food corner had with boiled veggies, steamed meat and blenders to make your own baby puree. I wished that I had discovered Grecotel Baby Dining when my kids were babies. There is also a salad bar and a sweets bar in the kid's buffet. They are represented in a very attractive way: served on stuffed animals and toys. Families will love the special Kid's Party Night with burgers, French fries, hot dogs, pizza, popcorn and more, while a team of clowns, fairies, heroes and face painting artists entertains them.
We also tried the buffet dinner at the five-star luxury Riviera Olympia Thalasso. Inspired by Greek ancient white temples and statues with Colonial decor accents, the Riviera Olympia Thalasso offered us a classy dinner under the stars. It happened to be Sunday; Greek night at the Riviera Olympia Thalasso buffet: traditional Greek dishes and a bbq on the veranda were on the menu. Besides the typical 'Mousaka', stuffed vegetables, and other famous Greek foods, there was fish, seafood and here too: a kids buffet. Advised by Grigoris, the hospitable host that evening, I tried 'apaki' a traditional Cretan smoked pork dish. It was freshly prepared with risotto at the buffet, a feast to the eye and mouth.
A la carte options
We loved dining at the new Orient Express. An Asian inspired a la carte restaurant with large wicker chairs and romantic candle lanterns. The tables face the Ionian Sea and are romantically lit at night. The impressive décor with palm trees and corals created the perfect background for savoring some amazing flavors and delicacies. The decor inside is also worth a visit; beautiful vases, bowls and lamps. Dining here was a great way to end our Ayurvedic spa afternoon, it was an evening of fantastic food and fun.
We were welcome by Yana with prosecco and an alcohol-free cocktail for the children. We ordered a selection of the menu because it was impossible to choose. We especially liked the salmon tataki and salmon tartar, the salad with mango and nuts. We also tried the large variety of sushi, sashimi, tempura, and makizushi. Noodles with chicken was my little one's choice. After dinner and dessert we had more sweets followed by Asian inspired drinks and fortune cookies!
Food kiosks and Beach buffet restaurant
Part of the all-inclusive concept is the colorful pop-up food kiosks and a Mediterranean buffet-style restaurant on the beach near the pools. Here you can find unlimited kids menus and food all day long. For lunch, this food area was our favorite. It reminded me of a traditional Greek village square/ bohemian island with olive trees, ethnic pillows, and white taverna chairs. The fast food corner had french fries, burgers, toast and much more. The burgers grilled on the spot. The Greek Souvlaki kiosk and the cute traditional Greek coffee house 'Kafeneion' honored Greece in a lovely way.
The coffee house had traditional sweets and old tools and utensils. Almost like a little folkloristic museum. Very cute! For all day ice cream, crepes and drinks we went to the traditional 'Gelateria'. Besides the fast food for afternoon snacks, we liked the buffet restaurant here. Comfortable near the beach, no need to change or dress up after swimming. The buffet had a basic but very fresh choice of dishes including fried anchovy, steamed fish, several kinds of pasta, a salad bar, a large selection of bread, cheeses, and sweets. There is a large bar with lots of choice in (alcoholic) beverages. I really enjoyed my salad with a cold glass of good wine overlooking the beach.
Family To-Dos
Where to start? When we arrived, we received no less than 6 different print-outs with weekly activity programs. The first two schedules for my children, each with their own age-appropriate to-dos. The Sport & Fun listed sports on the beach and in the pool. The Family Entertainment was suitable for all of us with beach games, boccia, archery and for the evening music, theatre or cinema nights, family disco theater and more. The Fitness & Wellness list included yoga, stretching, dancing, and exercises.
Greek traditions are shared via folklore festivals, dance, and food. The activities are held in the pools, conference rooms, theater, the forest and the activity park. There is a golf cart train taking you around the resort. Concluding, there is something to do for everyone in the family at any given time of the day in the categories Fun, Active, Family, Culinary, Creative and Wellness. The Space Party was a big hit. My girls also loved the Kids Beauty Evening at the romantic Spa garden. They made facial masks, tried nail polish and braided their hair. On Saturday eve we joined the family disco, complete with light show and smoke machine!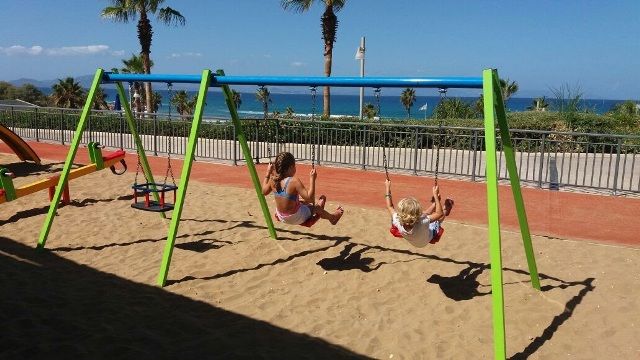 Kids Club
I was impressed with the Grecotel Olympia Oasis family programs.
A holiday for all! At Grecotel we cherish your family, from grandparents to newborns. There is something special for every member of the family at Grecotel…Families who choose Grecotel know they are getting first class service and amenities for their children, whether they have babies, toddlers, small children or teenagers in tow. And everyone knows, happy kids make for happy parents!

Source: www.grecotel.com
I found out that the Grecotel family philosophy covers Grecoland Kids clubs, Discovery Adventure programs for Juniors, Tasty Corners with kids buffets, summer camps, and family accommodations. The Grecoland Kids clubs offer separate programs and concepts for babies, juniors, and teens. I have copied the below from the Grecotel website:
Grecoland Kids Club Program
Children at Grecotel Hotels enjoy a dedicated holiday programme so the adults can relax. You'll find: colourful playgrounds and villages, toys and facilities made from environmentally safe materials, qualified personnel, free discovery adventures, creative activities with fun and games, teenager programme with the emphasis on sports, shows for children and teenagers.

GrecoBaby (0-3 yrs)
The solution to travelling with babies & tots! The new GrecoBaby has baby equipment including: cots; high chairs; trainer steps; potties; buggies; changing mats; training seats; bottle warmers; baby bathtubs; bouncy chairs; listening devices(some items incur nominal charge). Requests for GrecoBaby equipments should be made directly to the hotel prior to arrival. Some equipment is limited in availability.

GrecoKids (3-6 yrs)
GrecoKids is all about having fun in combination with the Greek culture, its history and its natural environment. Six days a week, GrecoKids can enjoy arts & crafts, water activities, team games, theme events, environmental days, treasure hunts & gardening fun – all at Grecoland.

GrecoJuniors (7-12 yrs)
From the new Discovery Adventures to parties & discos, there is something to occupy them from morning to night. Grecoland organizes sports, team games, water activities, creative crafts and whilst playing they are learning about their planet.

GrecoTeens (13 + yrs)
From morning to night, there is plenty to keep teens occupied. From beach volleyball, watersports, tournaments, hip hop dancing, Greek dancing, internet surfing, parties and dances. (Mid. June – mid. September
Grecotel also offers summer camps. There is an Arsenal Soccer Academy, a program with adventure activities (with the wonderful name Discovery Adventures), Make-up Courses, Be a Model Courses, English lessons, Dance lessons, Photography classes & excursions and even a DJ Course. (all at Olympia Oasis but not the Make-up and Photography) The summer camp program is not included in the all-inclusive price of the resort.
Source: www.grecotel.com
To Conclude
Kids Loved…The Olympia Water Park and the kids evening parties
Parents Loved….Bonding with the kids whilst having fun and Parents-day-off; a weekly opportunity for parents to have a some alone time whilst kids are entertained at Grecoland
Must try….Spa and the a la carte restaurant Cap Voyage. Visit the ponies at the Equestrian Stables and plan a horse riding tour by the beach
Olympia Oasis is a paradise for families, with everything that you need on-site for a comfortable fun beach holiday. Cozy atmostphere, excellent kids clubs plus childcare for some adult time alone. For the little ones, there is a sandy safe beach with shallow waters, a splash pool and (water) playgrounds. For older children a safe waterpark, watersports and discovery adventures. A family program for everyone in the family to join. Family spa treatments. A good choice of quality restaurants with Greek and international flavors. A full inclusive concept guarantees no worries about where and when to eat or and what to do. The wonderful hospitable staff is very organized and make you constantly feel at home. Olympia Oasis made us relax, re-charge and fully live precious moments together.
Booking and prices at Grecotel Olympia Oasis Family All-Inclusive Resort
For more information, prices and booking at Grecotel Olympia Oasis, please follow this link!
Pin it for later!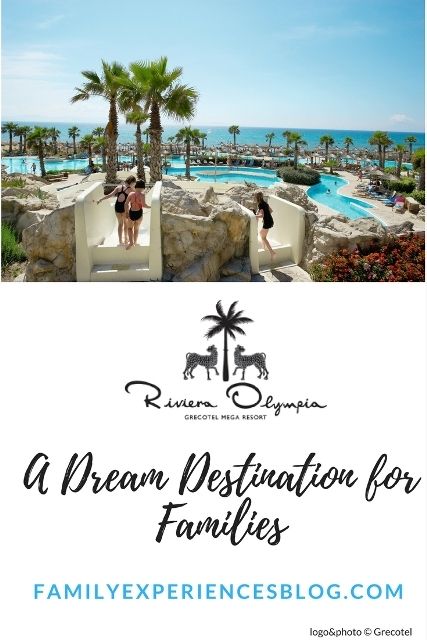 *I was a guest of Grecotel Olympia Oasis, as always thoughts and opinions are my own*

Interested in other Grecotel resorts? Earlier this year, I wrote a post about family-friendly Easter at Cape Sounio Grecotel Exclusive Resort 2017. If you want to read other recommended tried and tested Grecotel LUX ME resorts, have a look at my post: Luxury Made Easy at Daphnila Bay Dassia in Corfu island. For quiet holidays with babies, take a look at the newly opened Grecotel Casa Marron in the same district. If the Greek islands are your family's favourites, I recommend the earlier mentioned Grecotel Daphnila Bay Dassia resort in cosmopolitan Corfu. This resort also offers the LUX ME concept with fine dining concepts. If you are in Corfu, do not miss a trip to Grecotel's own Danilia Village. This historic Corfiot village is the film set location of the famous TV series The Durrels!

Updated in July 2019: My most recent trip was to Rhodes island where I reviewed Grecotel Lux Me Rhodes.

This post is also available in Dutch.

**Photos credits featured photo above the post title: A celebration of the senses Grecotel Olympia Riviera Resort © Grecotel **

[/vc_column_text][/vc_column][/vc_row]