Last Updated on February 15, 2023 by Celeste.
A Grecotel family-friendly resort! Over the years we had a chance to visit several resorts of the Greek Grecotel luxury hotel chain. Last summer we went to Grecotel Olympia Riviera Resort and more recently to LUX Me Daphnila Bay Dassia in Corfu. The resorts of Grecotel have never been disappointing. At the end of this summer, we wanted one more relaxing escape before school would start. One more old-fashioned beach holiday – somewhere to stay, relax and spend quality time together. It had to be close to our hometown Athens and fun for all of us. We found this at the new Grecotel Casa Marron.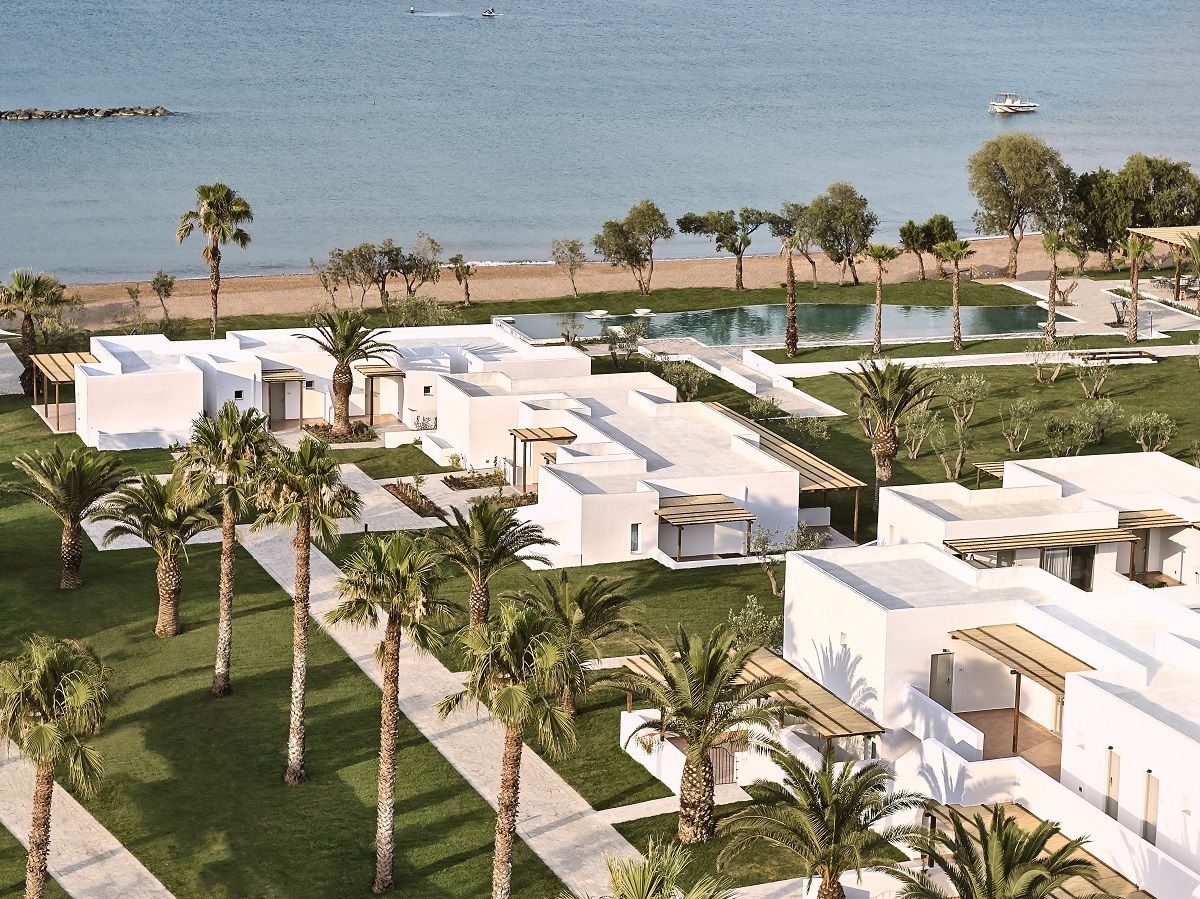 A Review of Grecotel Casa Marron
Grecotel Casa Marron resort is located on a fertile plain in the North Peloponnese on the sandy beach of Lakopetra, exactly 2,5 hours away from Athens. For those who haven't been there, the Peloponnese is one of Greece's most unspoiled regions, renowned for its archaeological treasures such as ancient Olympia and its natural beauty. This peaceful area offers forests, stretched beaches, crystal clear waters, and a reliable Mediterranean climate.  
Getting to Casa Marron Resort
To reach guaranteed family fun, we drove from Athens via the new Olympia highway to Kato Achaia. From there onward, we followed meandering roads passing through small villages. We saw roadside stalls selling pumpkins and watermelons and glimpses of the sea sparkling in the distance. With such a short travel time, the resort was ideal for our long weekend escape. 
If you travel by plane, the nearest airport is Araxos Airport located at a distance of a mere 10 km. During the tourist season, Araxos Airport flies to many European destinations with scheduled and charter flights. Patras city and its international port with ferry boat arrivals are half an hour away. 
As we pulled into the impressive white gates of the Casa Marron Resort in the early afternoon, a sense of calm descended. I could definitely feel our holiday getting closer and breathe a little slower. We saw tall palm trees lined up symmetrically and lots of blue sky and views. Before I knew it, my car was being parked and my luggage was taken care of. We checked into the resort from a quiet sitting corner in the lobby overlooking the pools and enjoying a welcome drink.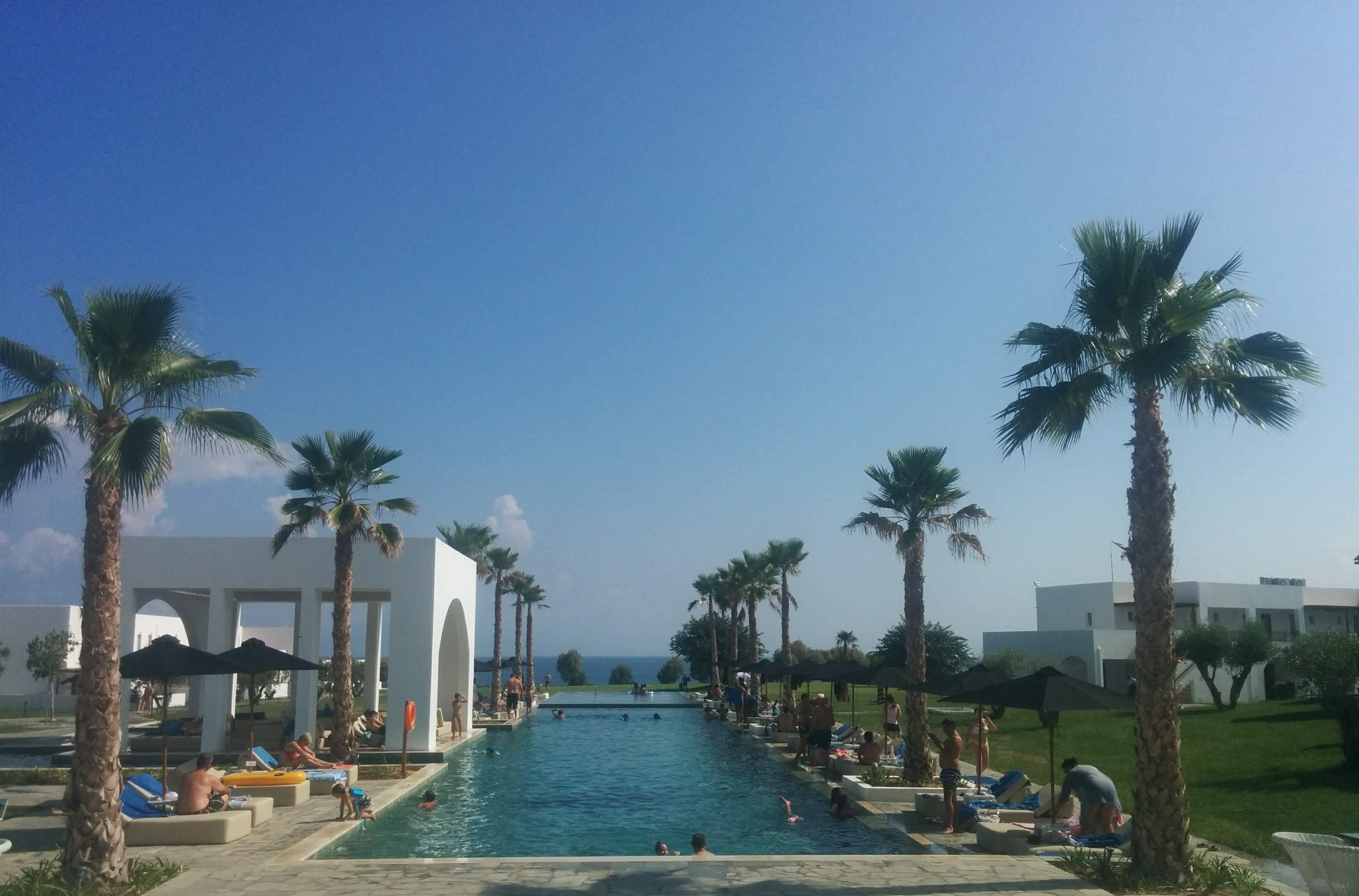 The resort looked exactly as I had seen on the hotel website. Sprawled over an 80,000-square-meter estate, this place was comfortable and had a bohemian feel. Friendly architecture, use of natural materials, and many whites, blues, and greens.
Generally speaking, the resort consists of two parts. The first part hosts the main building and the hotel lounge as well as the large main square with restaurants and bars. The second part of the resort is concentrated next to the beach with more pools, a bar, and restaurants. As you can see in below picture, they are connected by wide paths and units of bungalows stretched out over flat landscaped gardens and grass.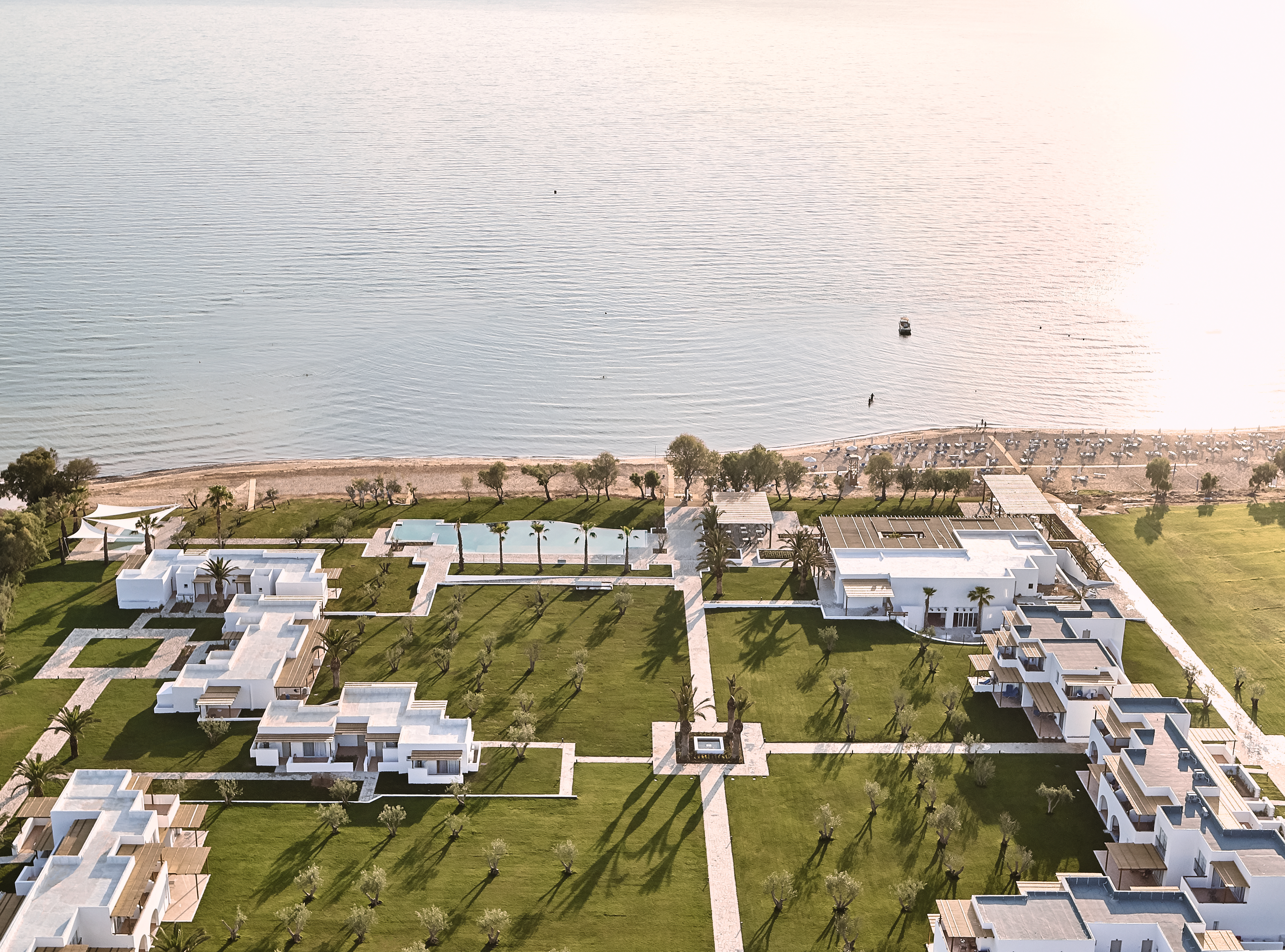 Casa Marron seafront location with panoramic sea ©Grecotel Hotels & Resorts
The setup and open areas of Casa Marron have resulted in a great sense of space. It never felt busy, despite being full, during our visit. With its large fields and stroller-friendly walkways, Casa Marron is great with young kids. It is a very tranquil location with olive trees, colorful flowers, and herb gardens full of butterflies. The resort made us feel relaxed throughout our stay.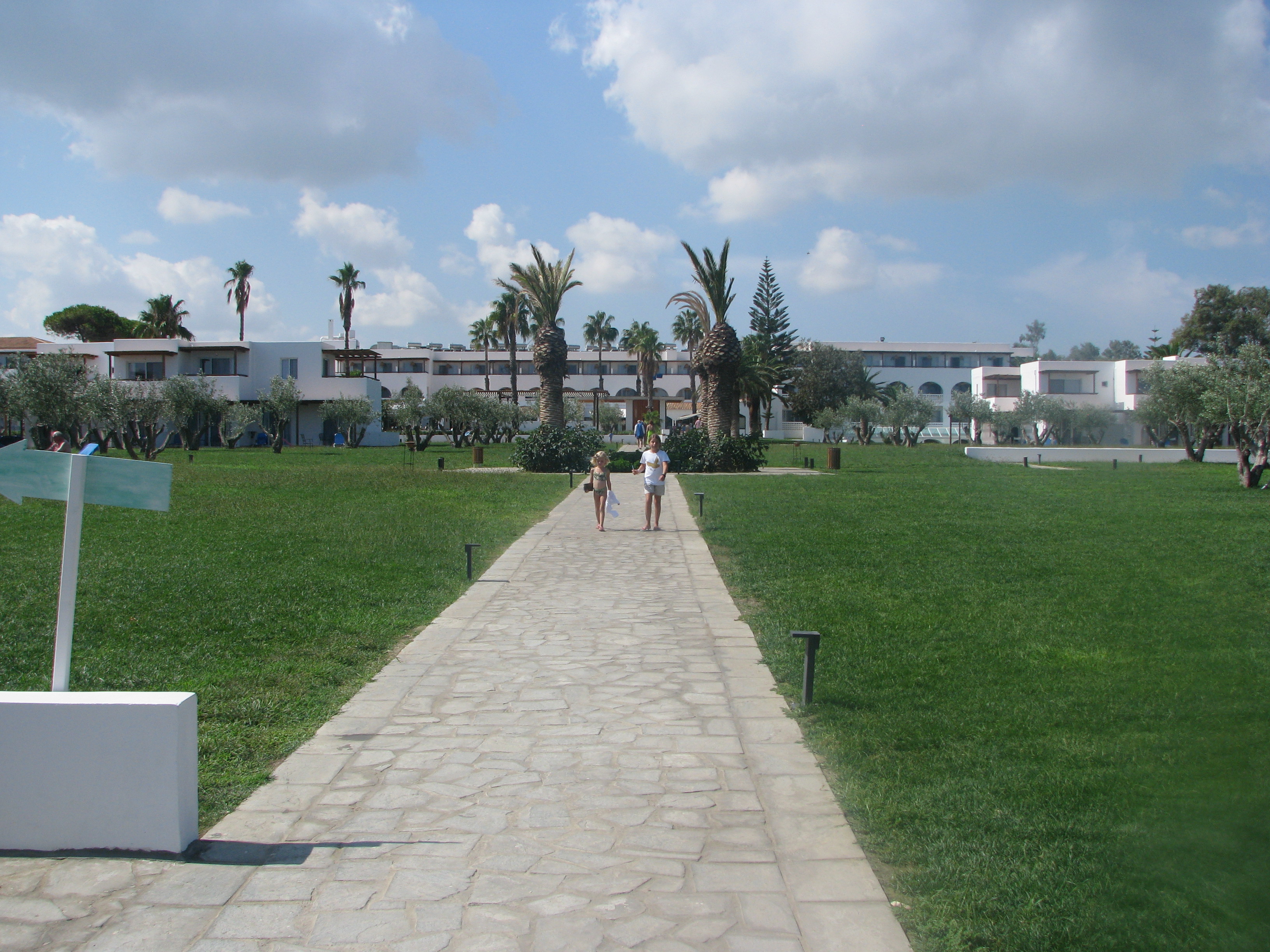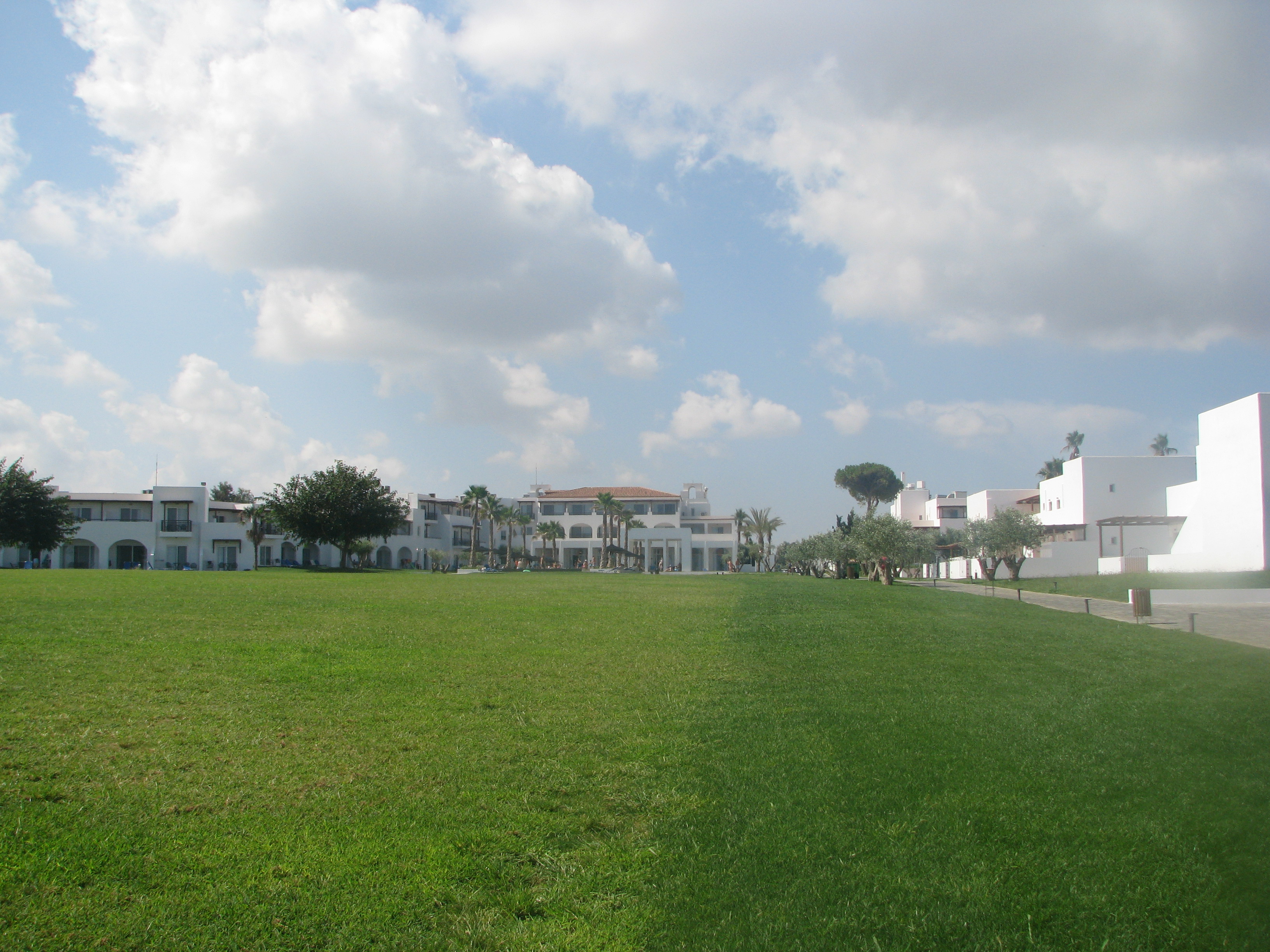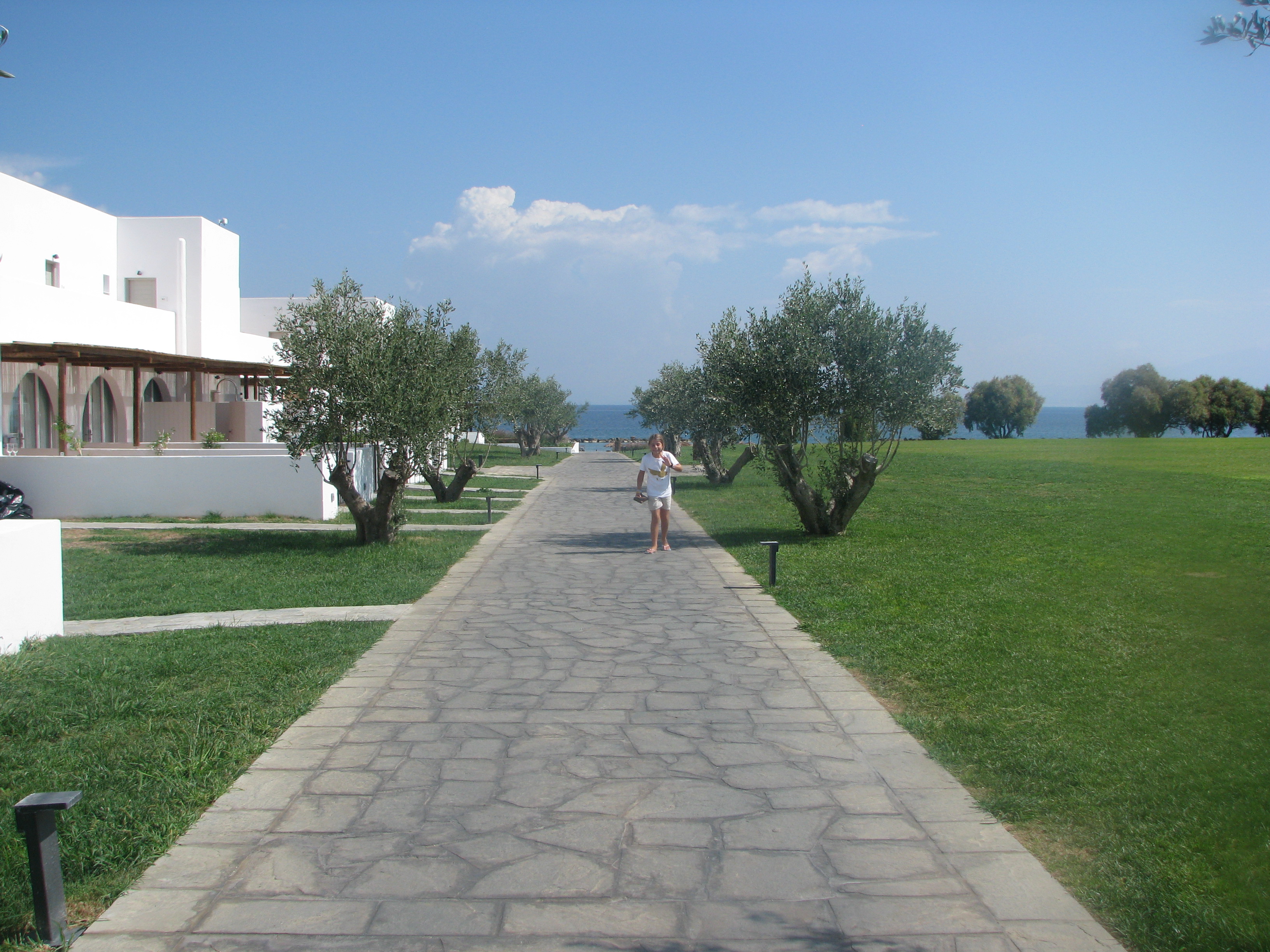 Staying at Grecotel Casa Marron
Whichever of the resort's rooms you will stay in, you'll find everything you need and more. But I would absolutely recommend the ground floor family bungalows. There are four types of Casa Marron Bungalows of different sizes, some with separate bedroom(s). The family bungalows have outdoor terraces at the shared gardens, some have an enclosed patio ideal for preventing babies and tots to escape. Some bungalows come with their own outdoor shower. All rooms are decorated in muted earth tones and whites. One of the most exciting bungalow options is the 3-bedroom family bungalow for big families or friends sharing a holiday.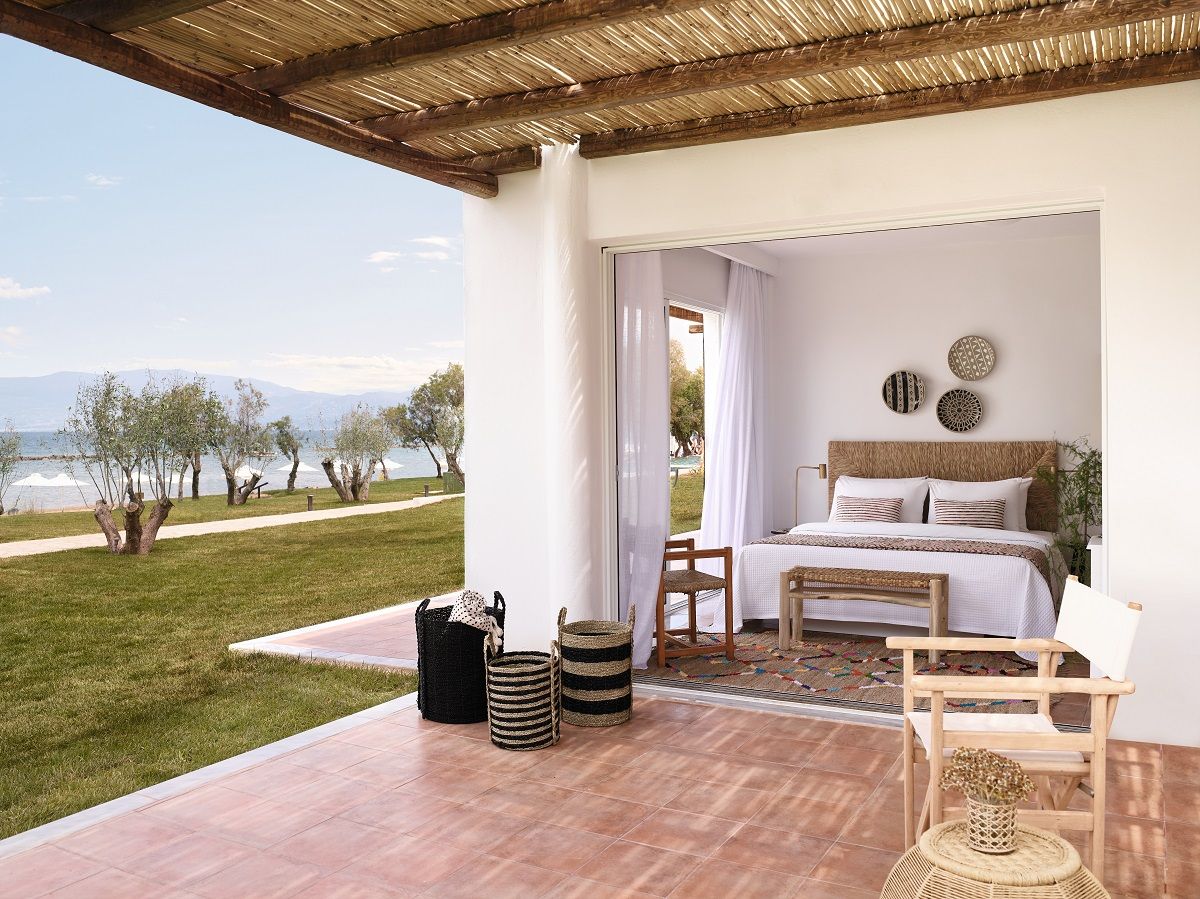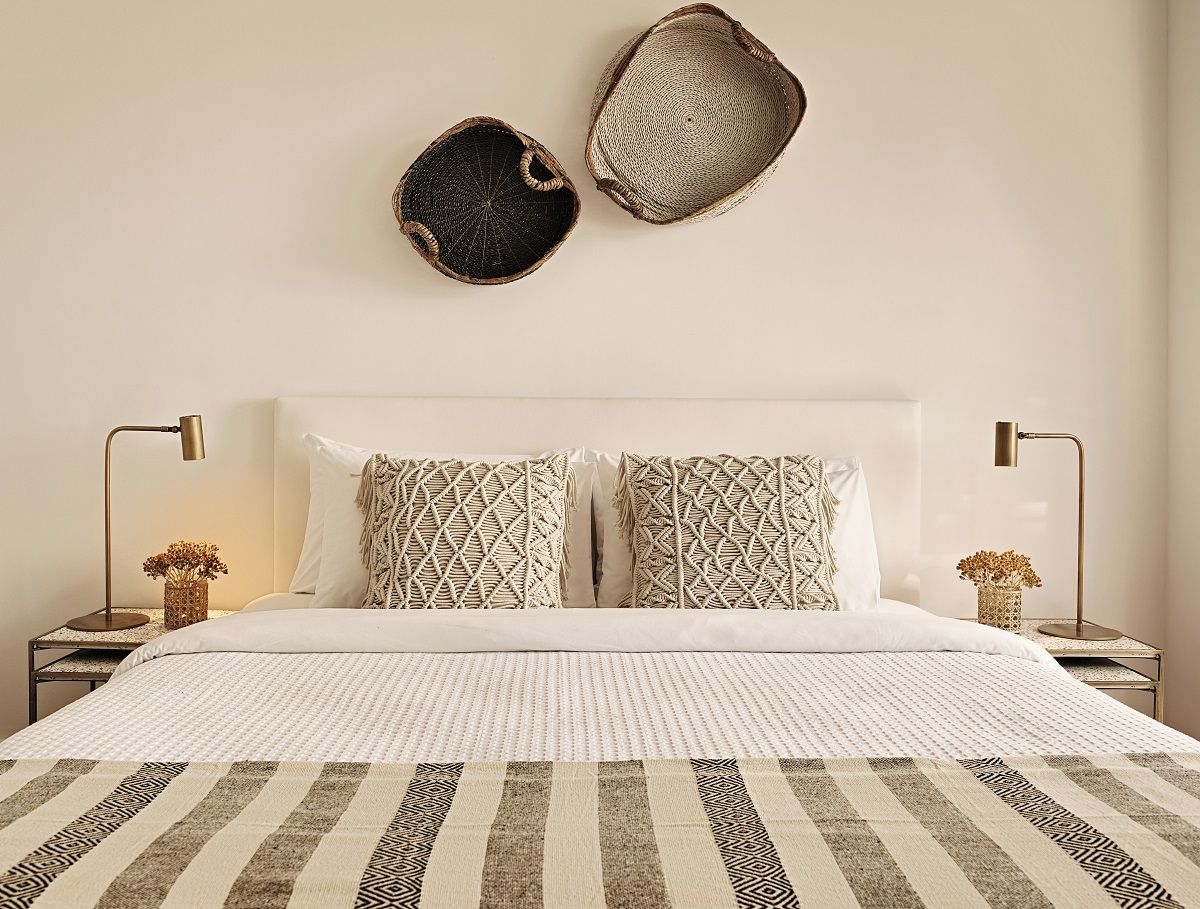 Our Casa Marron Family Bungalow
Our family bungalow was located in a quiet corner of the resort. The set up of the bungalow was spacious with two large bedrooms located on each side of the central entrance hall and bathroom. The master bedroom had both sea- and garden view and access to both sides via sliding garden doors. The bedrooms were light and airy with floor to ceiling windows and lots of daylight. Below pictured are the front and side of the bungalow.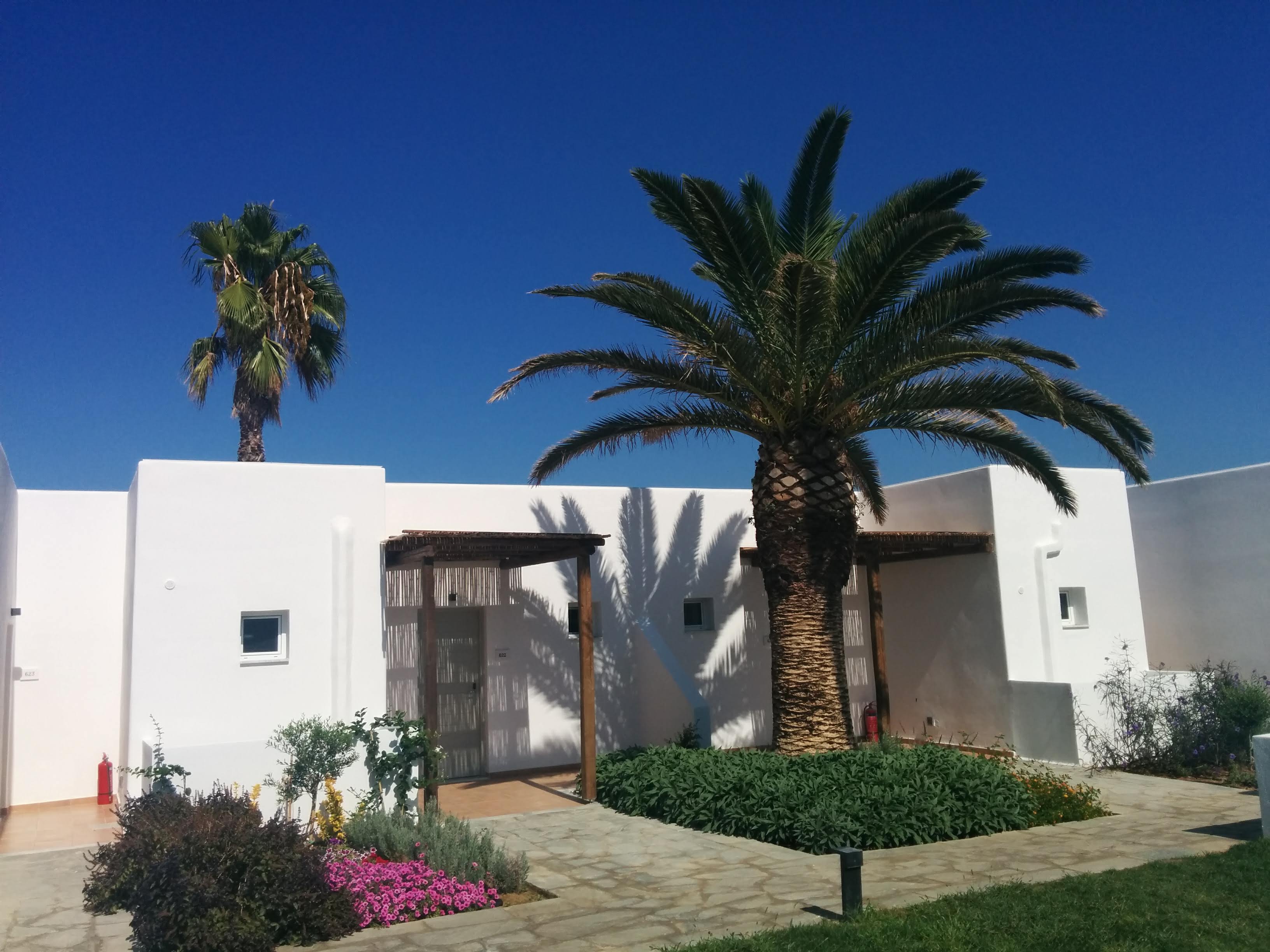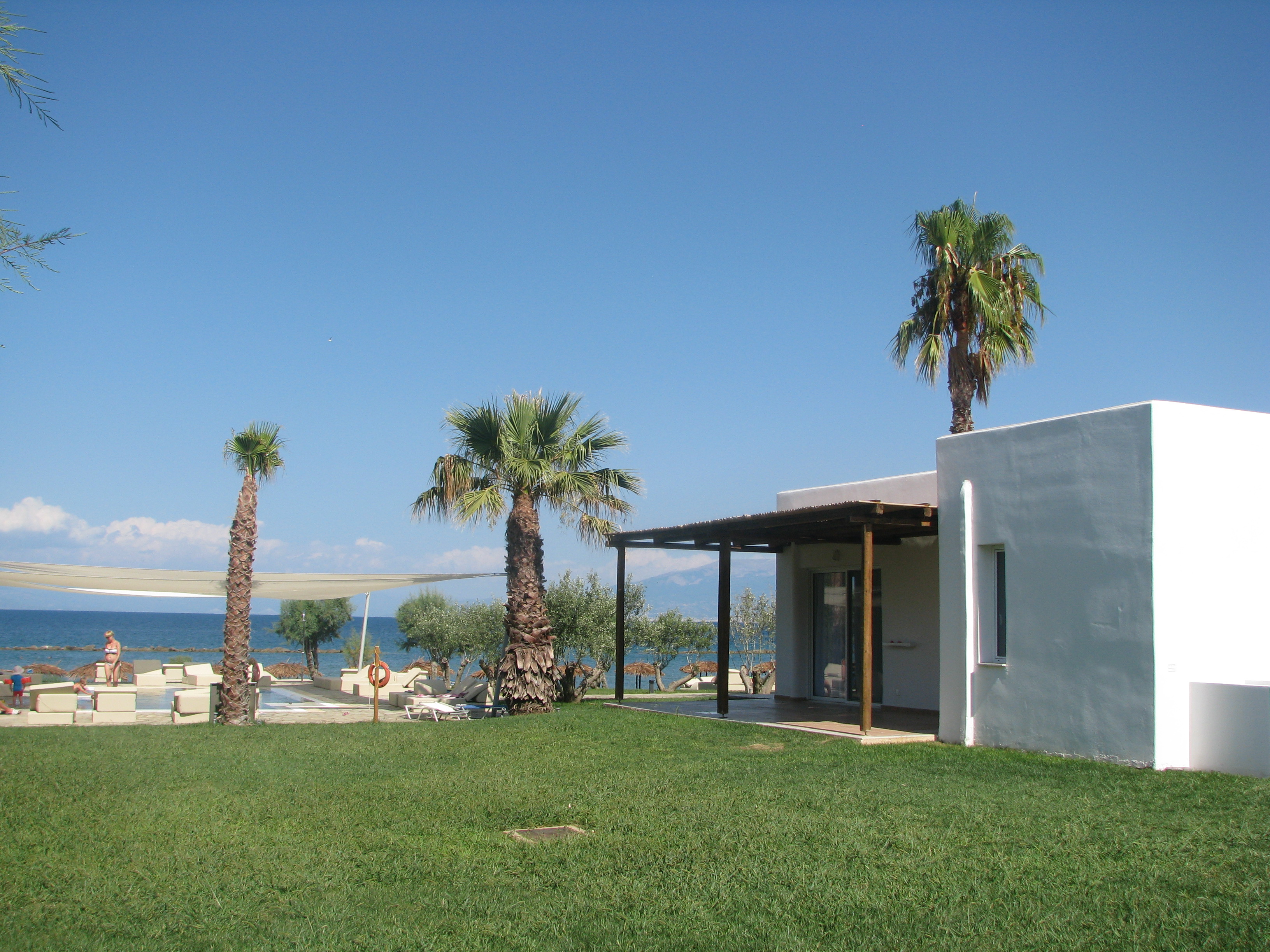 Both bedrooms had queen-sized beds equipped with excellent mattresses and pillows. There was lots of closet space, a sitting corner with tables, chairs and lounge chairs on the patio. The bathroom was a large and open plan, with a regular and a rain-shower. Flowers, fruits, wine, and Greek delicacies were waiting for us in the room upon our arrival. I loved the decoration of cute baskets, artful lamps, and desks. Both bedrooms had stylish textiles and rugs, handwoven fabrics and Mediterranean style tile floors.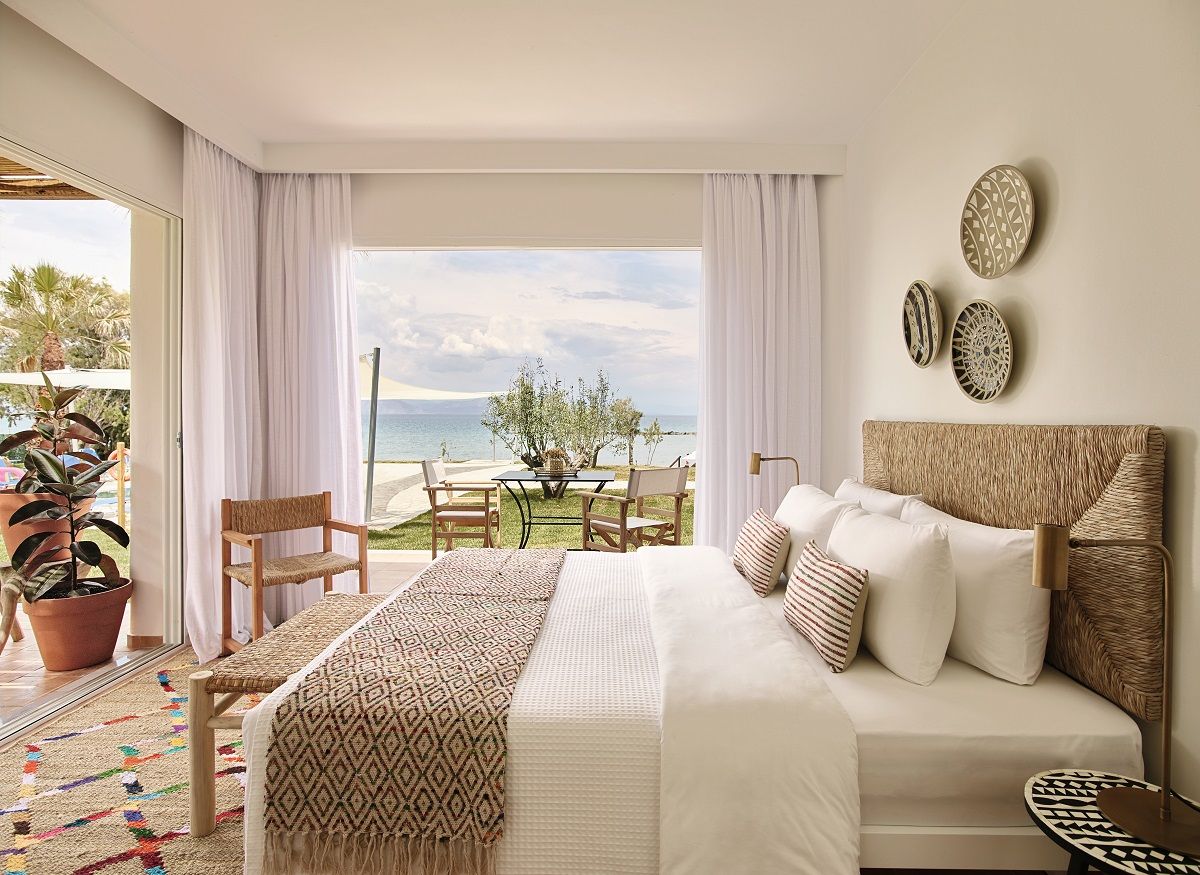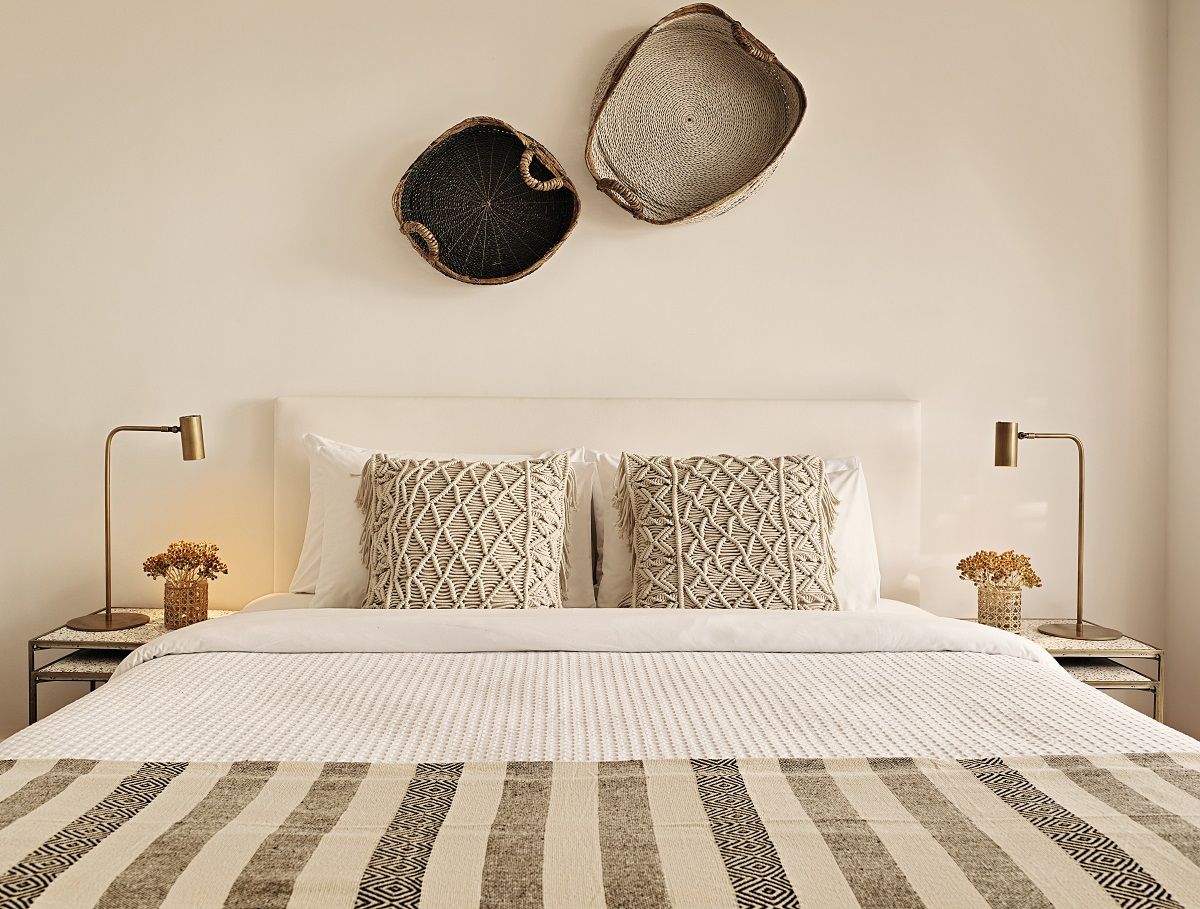 The girls shared a large bedroom with a double bed and an extra single bed. Their room was overlooking the garden and had its own entrance to the veranda. Perfect for napping in the afternoon, we would not disturb each other. When the kids are having a siesta, it is possible to sit outside and enjoy a book with the kids' bedroom in full vision. All in all, everything felt new, modern and fresh. Although our bungalow was the last one in its row, everything at the resort was relatively close by. Unlike at some other resorts, it was easy to walk the entire place with my kids.
The Grecoland Kids Club at Casa Marron
The Grecoland Kids Club at Casa Marron is located downstairs from the Plaza Marron beach and pool restaurant. This is very convenient because if you are going to spend the day on the beach, you will be very close to your little ones in the kids club. If you've read my other family resort reviews you'll know by now that I love a resort with a kids club because it gives me some much needed time for myself. The employees at Grecoland are international and always professional and caring. In the Casa Marron Grecoland are corners to play games, puzzle, relax, draw or craft. The children can also eat lunch with the Grecoland team at the Tasty Corner in the main restaurant.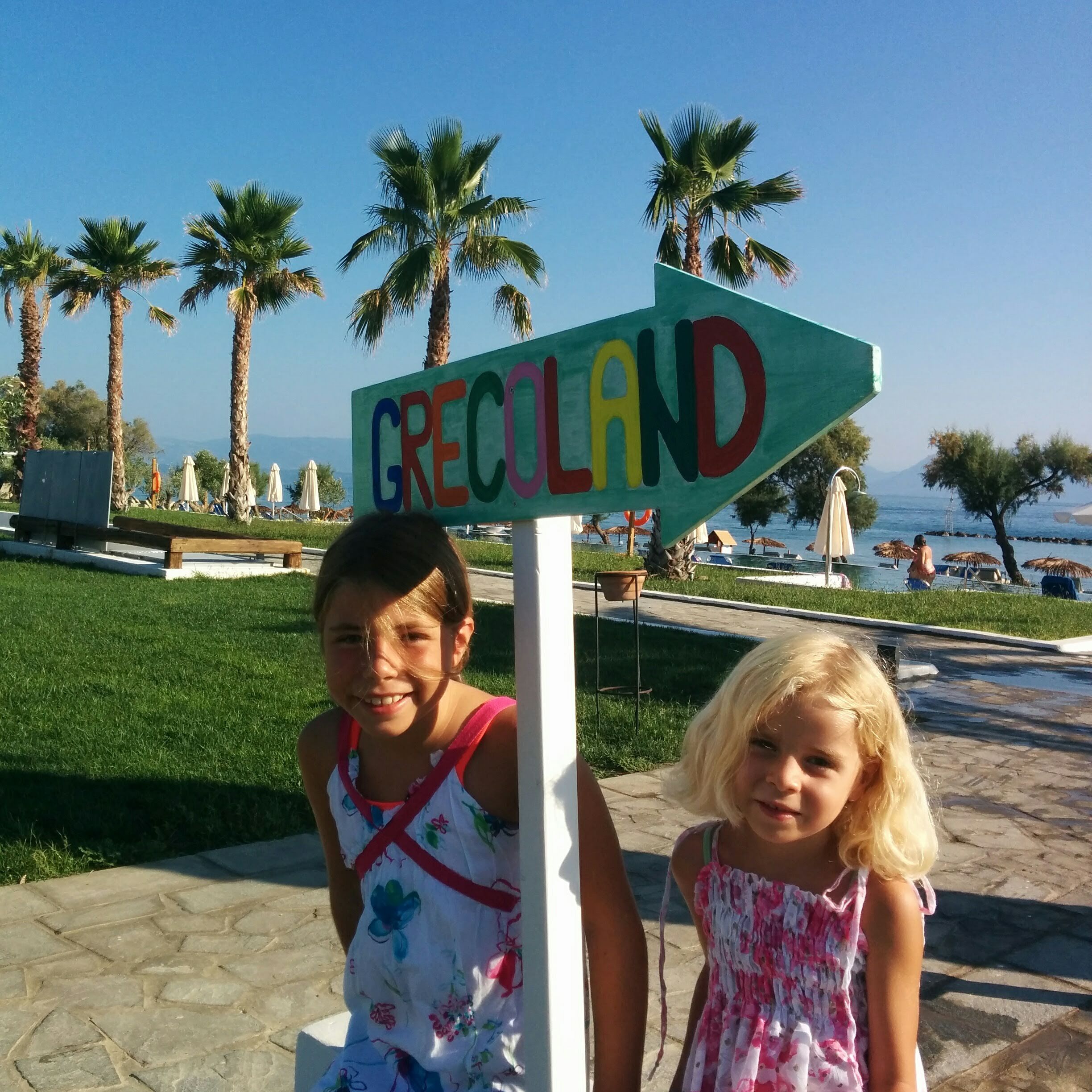 Besides a calm and safe place to play, Grecoland Kids Club offers a six-day per week activity program. The Grecokids (4- 6 years old) can participate in activities such as gardening, arts & crafts and water activities. For older children, up to 12 years old are also sports, team games, and creative crafts. Teens (13+) can play volleyball, tennis, basketball, mini football and participate in tournaments. All these activities are free of extra charges. My kids joined an archery lesson, a quiz and a theatre play in the outdoor amphitheatre. We also spent time at the enormous playground at the sports park.
Family Facilities at Casa Marron
Sports enthusiasts will be delighted with the variety of activities on the menu. Everything from football to outdoor personal training can be experienced at Grecotel Casa Marron. With such easy access to and shallow sea, a lot of activities take place inside the seawater. The resort boasts a long list of challenging water sports, from windsurfing and water skiing to diving, banana boat rides and even fly board. The use of the tennis courts is included in the all-inclusive program. While we didn't get up to too much while staying at Casa Marron, it's safe to say there is plenty to do if you have older children or you are the kind of person that likes to keep busy while on holiday.
The main building hosts a Wellness Center with a fitness club, a yoga studio, and a spa. The spa offers massages and beauty treatments, a sauna, and a pool. I was lazy. Although I was very impressed with the top-notch equipment in the gym, I decided to spend some quiet time in the spa while my kids played at Grecoland. Family spa and wellness together? Kids are also allowed in Casa Marron spa.
And then there is a long list of daily entertainments programmes with musicals and shows at the open-air Garden Theatre and open-air cinema.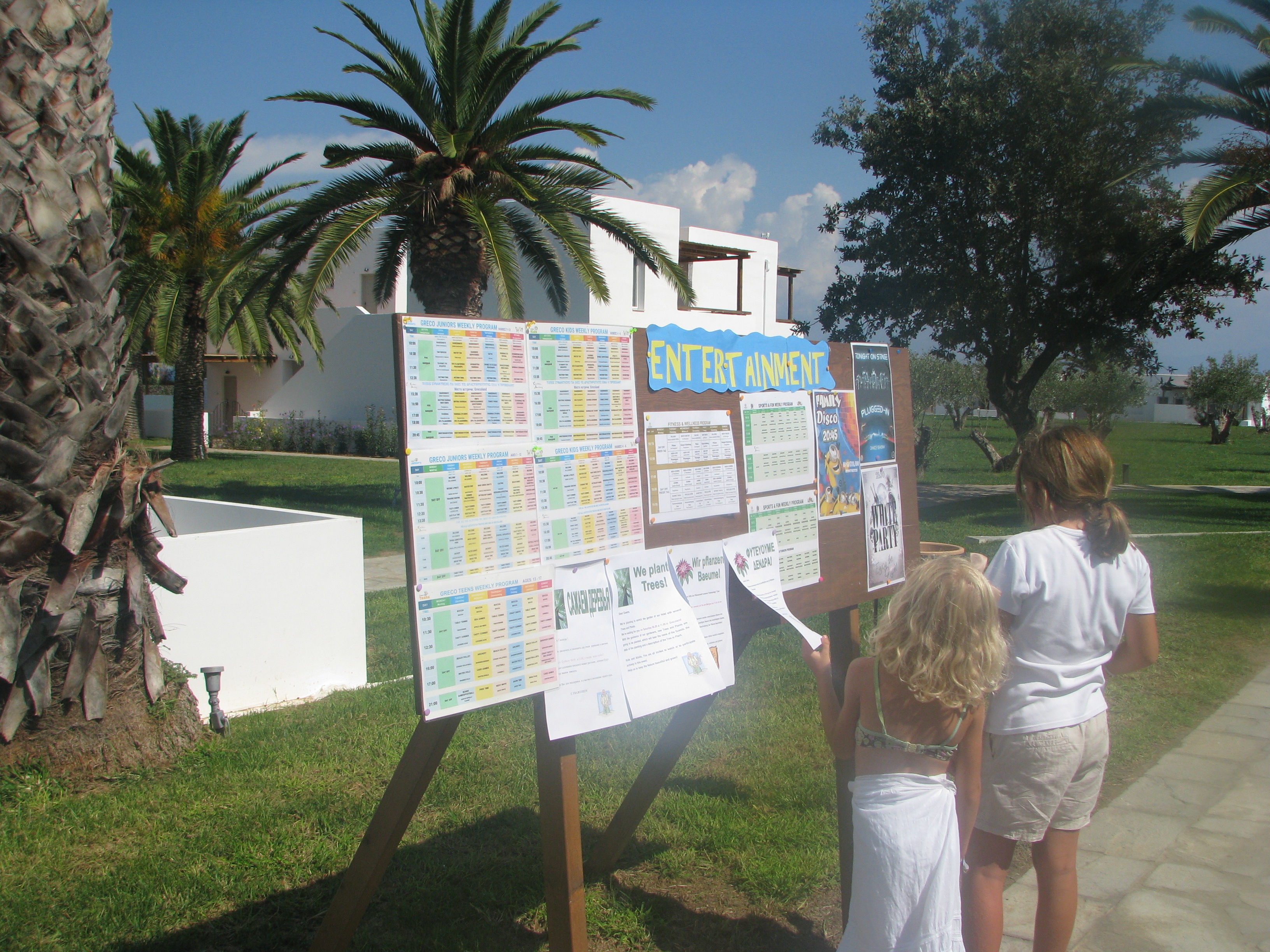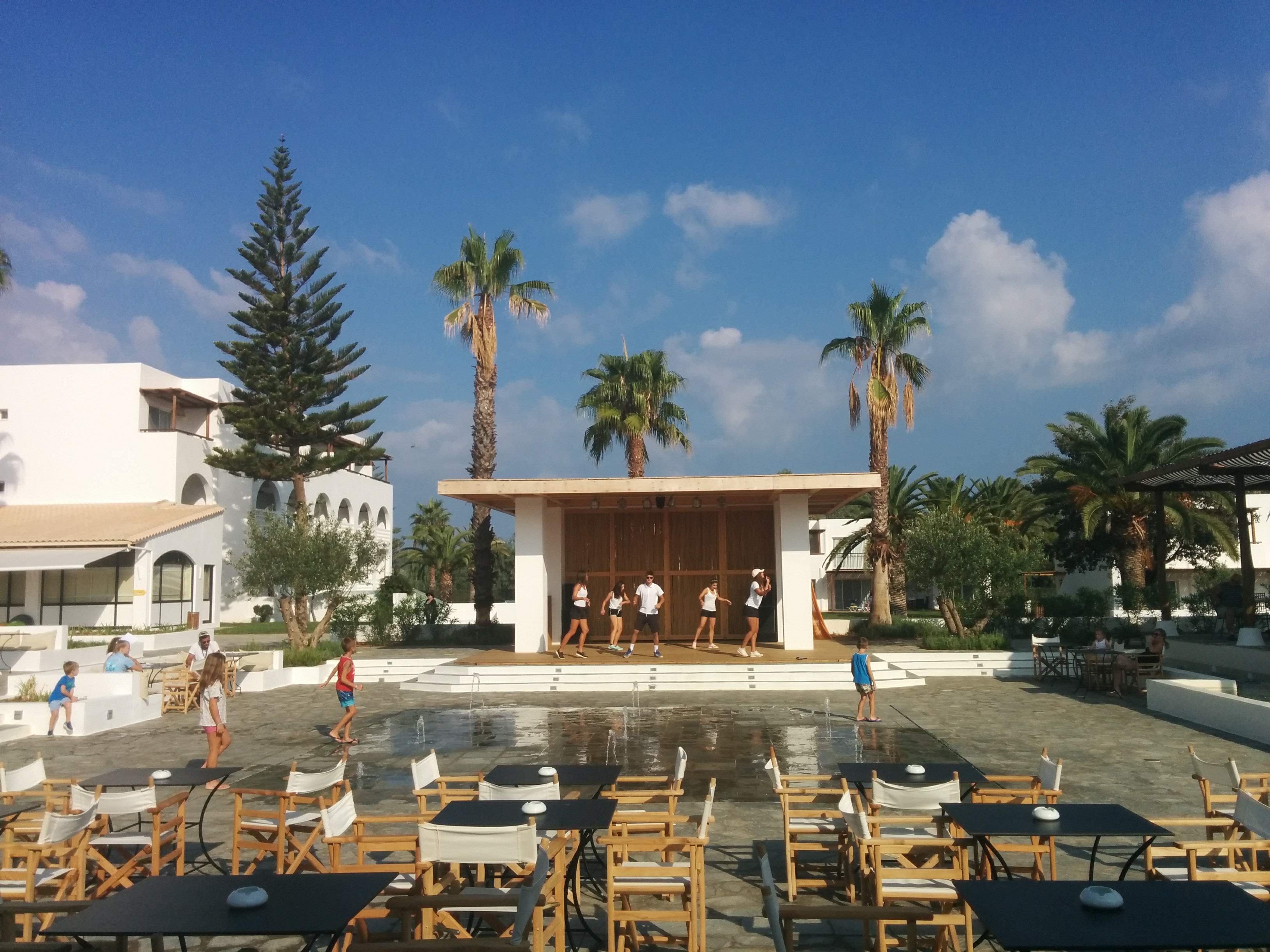 The evening activities take place on a stage at the main courtyard. This courtyard resembles a Greek island village square where everyone gets together at night. The square is decorated with fountains, comfortable sitting corners, romantic olives, candles, and lounge sofas. It is flat without dangerous steps or sharp corners thus very safe for young kids. One evening we watched a very nice ballet show followed by a group dance with all the young kids on the stage. It was nice to see children (and parents) dance around and have fun together. Not a fan of resort entertainment? Have a drink at the quieter seafront bar at the beach.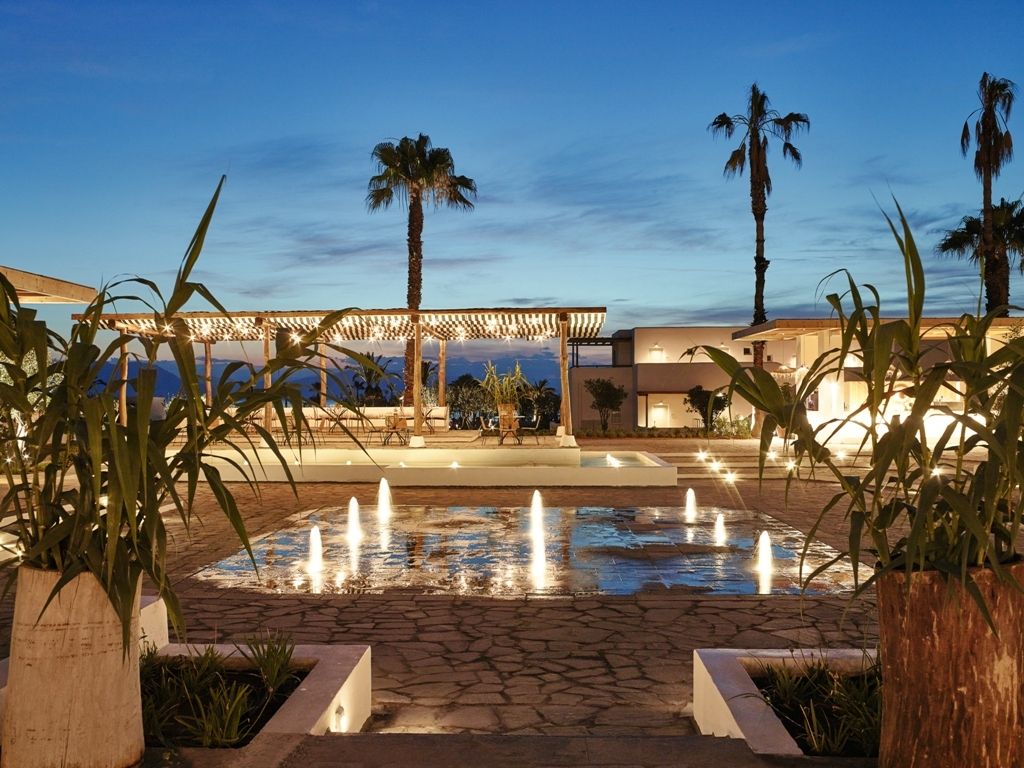 Seducing night at the lit courtyard by the restaurant @ Grecotel hotels & resorts
Pools
While I could spend all my holiday relaxing at my beautiful bungalow, Grecotel Casa Marron offers many places to unwind. Take a dip in one of the many pools for example. The most impressive being the pool the main building surrounded by palm trees and a huge modern version of a floating white Greek temple (see it pictured below). This pool has a separate kiddy pool. At night the 'Greek temple' changes into a romantic sitting corner.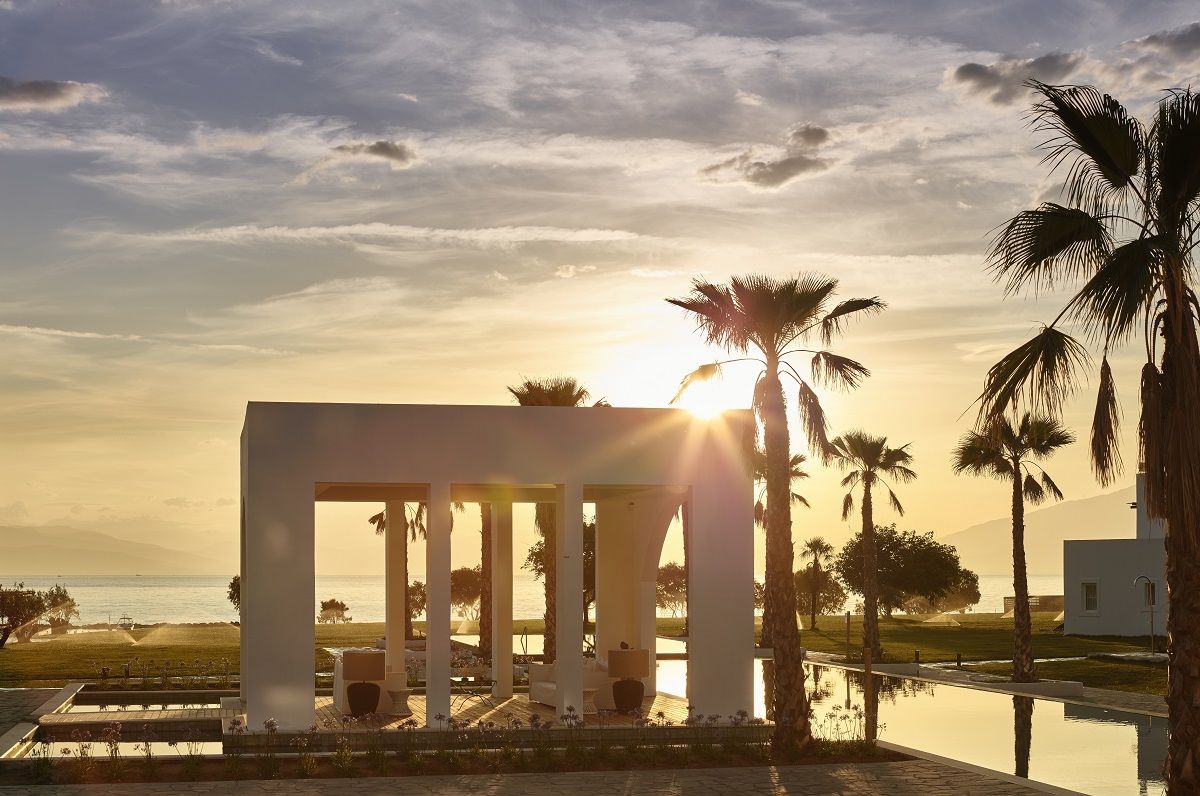 Besides the above pools near the main building, there is an indoor pool at the spa. Closer to our bungalow and located on a large grass field was our favourite pool. This pool had a beautiful view over the sea, a shallow part to play or sit on and again a separate kids part. Although there were plenty of sunchairs directly around the pool, I loved sitting on the soft lounge chairs on the grass and watch the kids. Beach towels are provided for.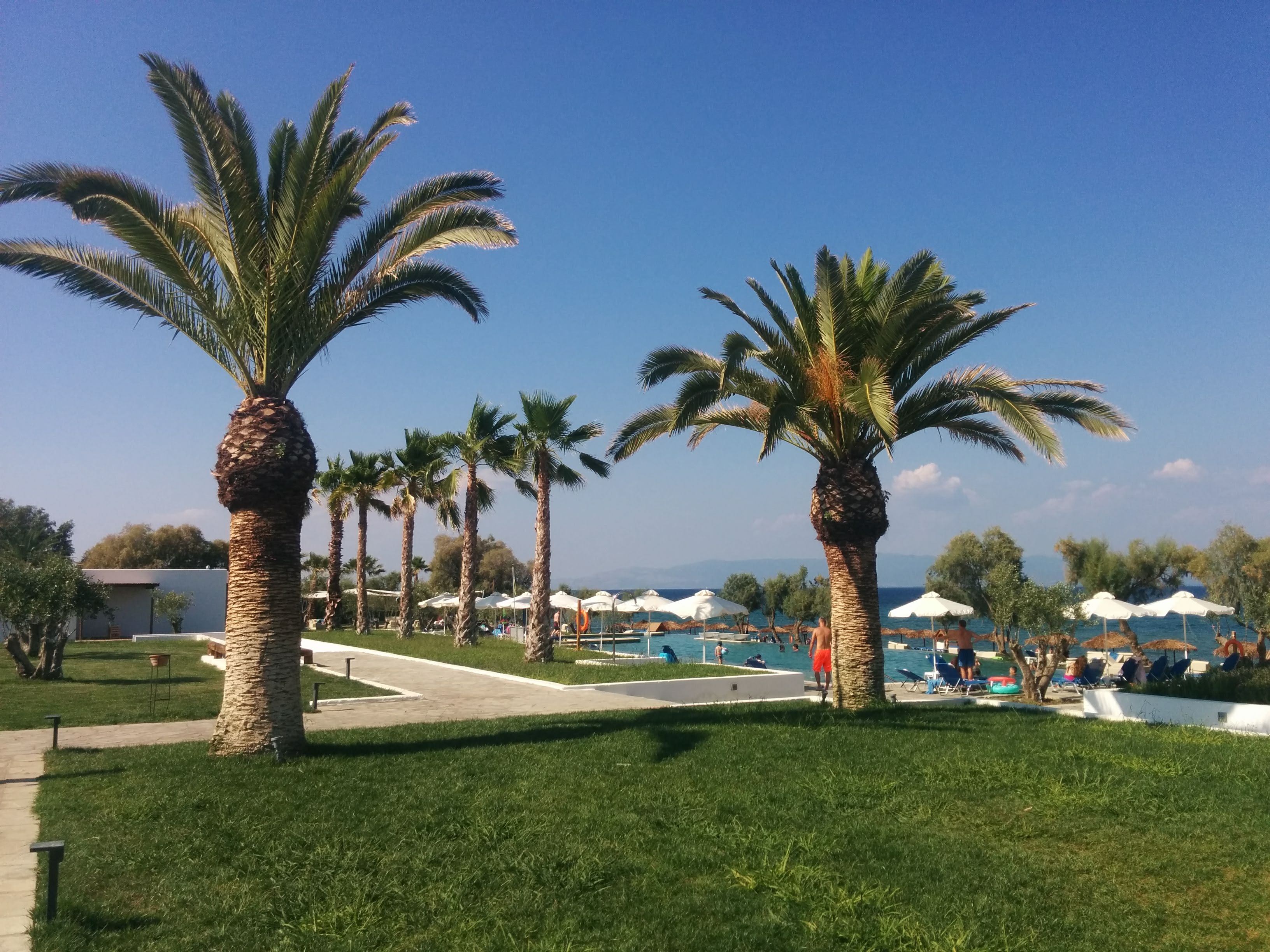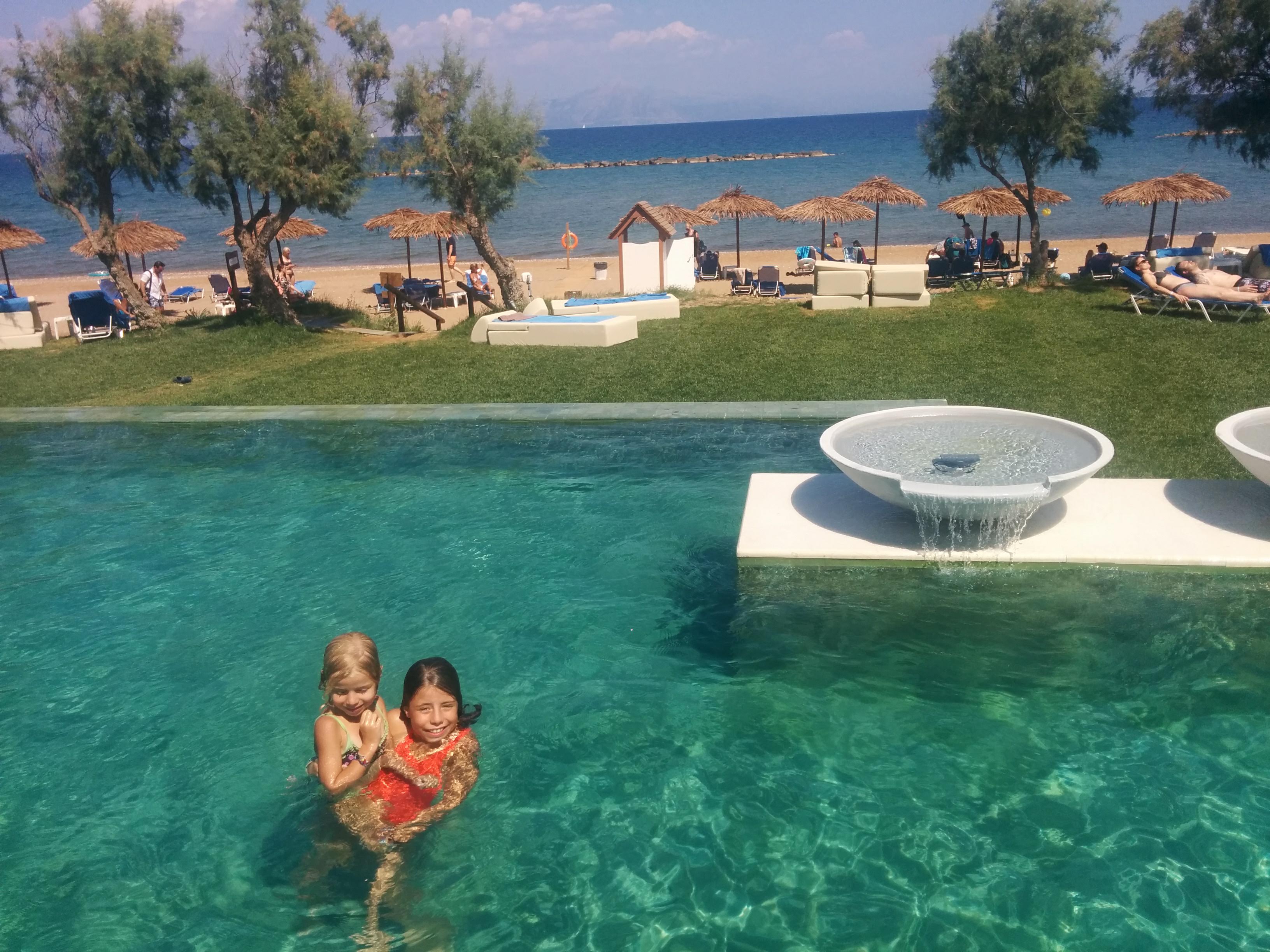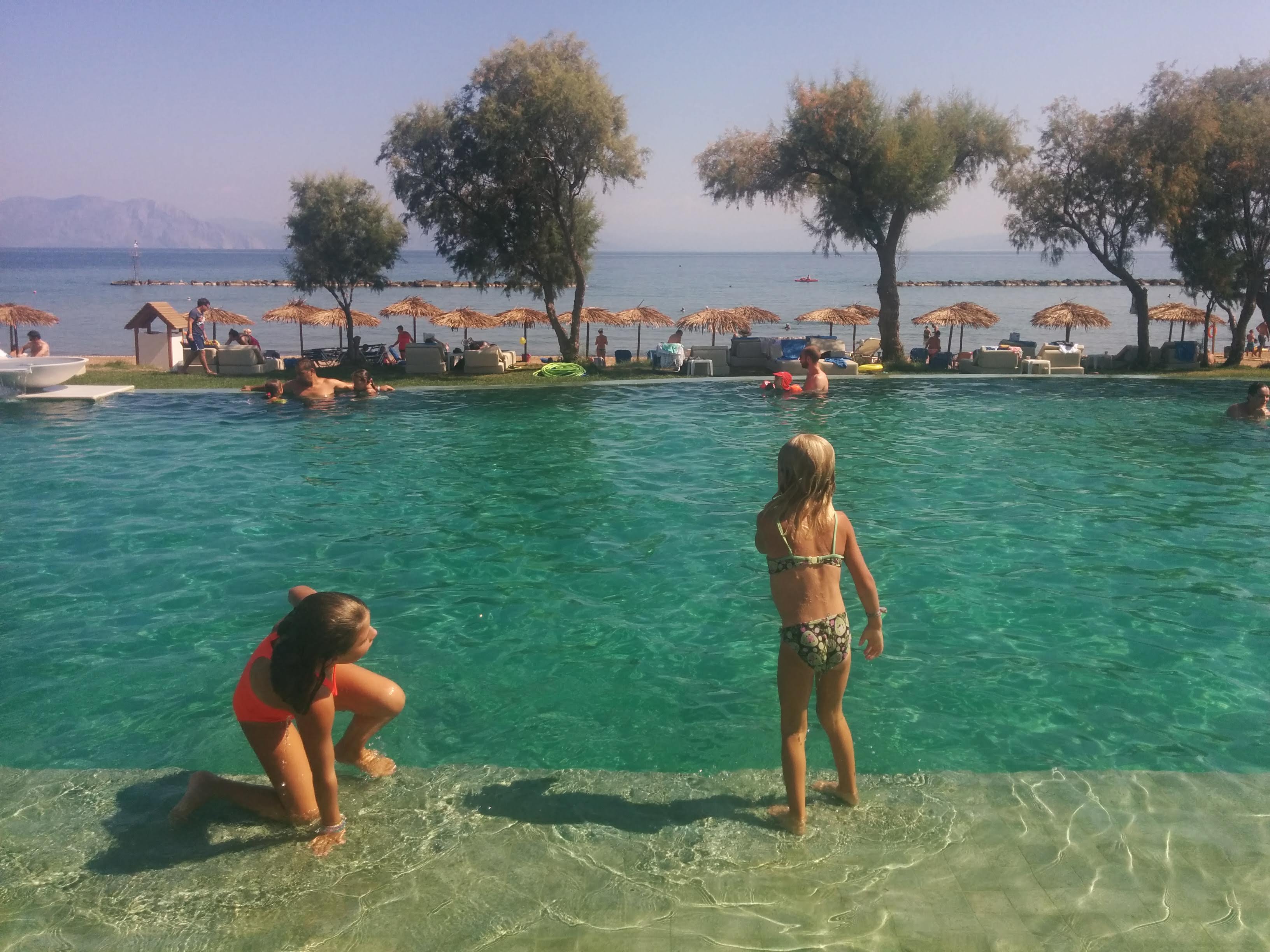 Probably one of the best assets for a carefree holiday with young kids is the secluded pool at the quiet corner of the resort. This large baby pool is covered by tents for shade and surrounded by comfortable loungers for the parents. This pool is exclusively for the youngest ones making it safe for them to explore the water whilst their parents are watching over them. It has a great view so parents can actually enjoy and find some much-needed relaxation at the same time. Watching the strollers heading over to the baby pool in the early morning hours reminded me of those difficult first years when my kids would wake up before the crack of dawn.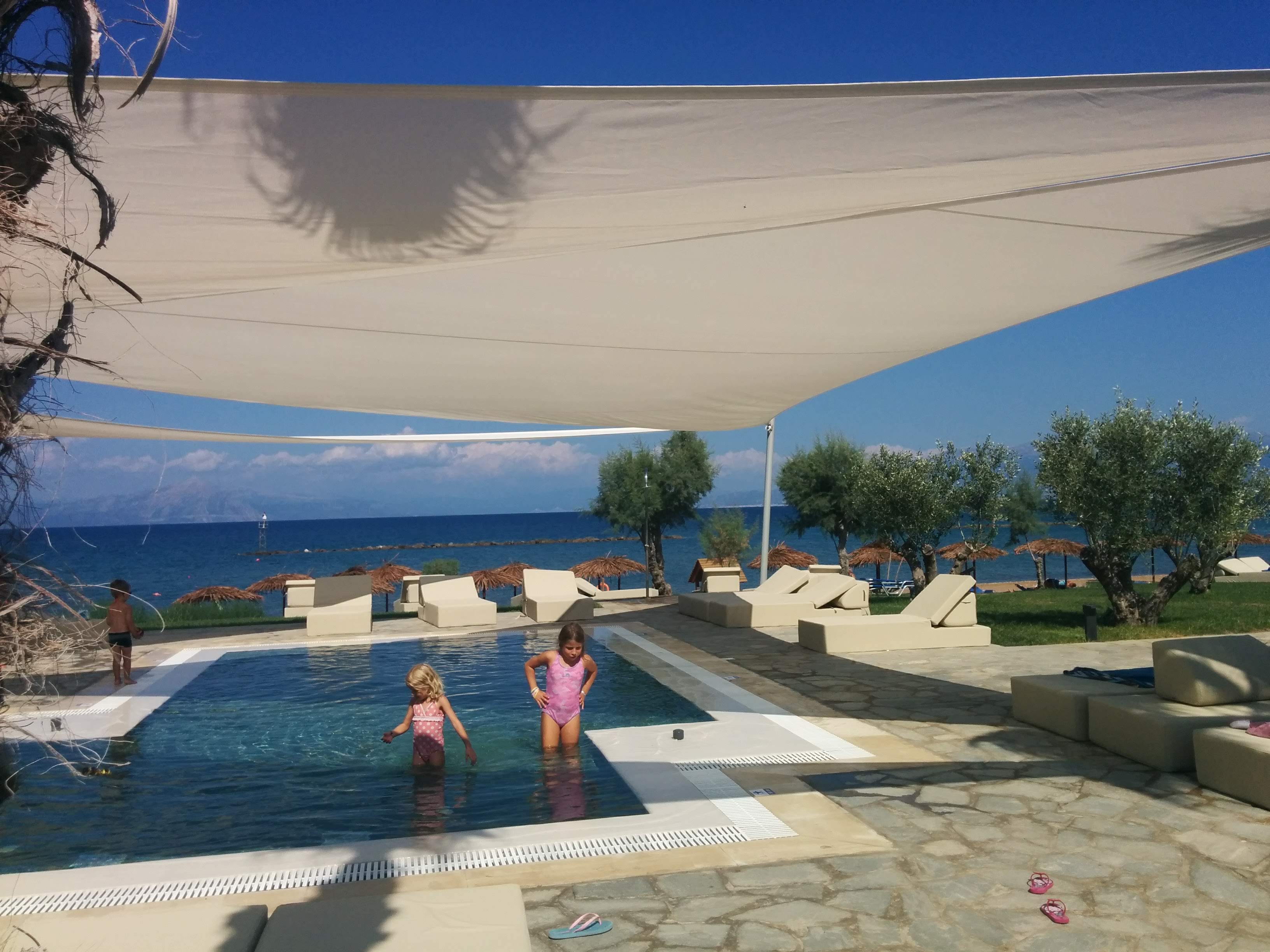 The Casa Marron Beach
Just a stone's throw away from the pool is the Casa Marron private beach. The beach lies on the Gulf of Patras and offers impressive views over mainland Greece and the famous Rio-Antirrio bridge. The beach received the Blue Flag eco-label and is made of that sticky sand ideal for making sandcastles and mudpies. At some parts, there are small pebbles on the beach and in the water. The sea has shallow waters which go out quite far before getting deep. Due to the location, the sea here is calm and warm. Beach facilities include showers, watersports, and lifeguards. If you are taking your baby on its first beach holiday, this place will give you a safe and stress-free beach experience.
All-Inclusive Dining at Grecotel Casa Marron
The full-inclusive program of Casa Marron includes all meals – breakfast, lunch, and dinner, as well as snacks, ice creams, drinks, soft drinks, wine and beers, hot and cold beverages in 10 restaurants and bars. With several of these open on any given time of the day, your kids are unlikely to go hungry. On the main square are the Cassa Maron restaurant, a BBQ House and a bar. But also a Greek coffee house for traditionally prepared Greek coffee.  This 'Kafeneion' is a cute laid-back hang out in between olive trees with white taverna chairs and lots of sunshine.
Casa Marron is the main restaurant with classic tastes of the Greek and international cuisine during breakfast, lunch, and dinner. Although the restaurant was very big, the service was fast, we never had to wait. There are different sitting options both inside an out, including a dedicated family corner. Do you prefer a romantic breakfast in the shade under the olive trees or do you sit conveniently near the multiple buffets? Here it was all possible. I loved the open-plan setup with lots of daylight and the original presentation of the food in the restaurant.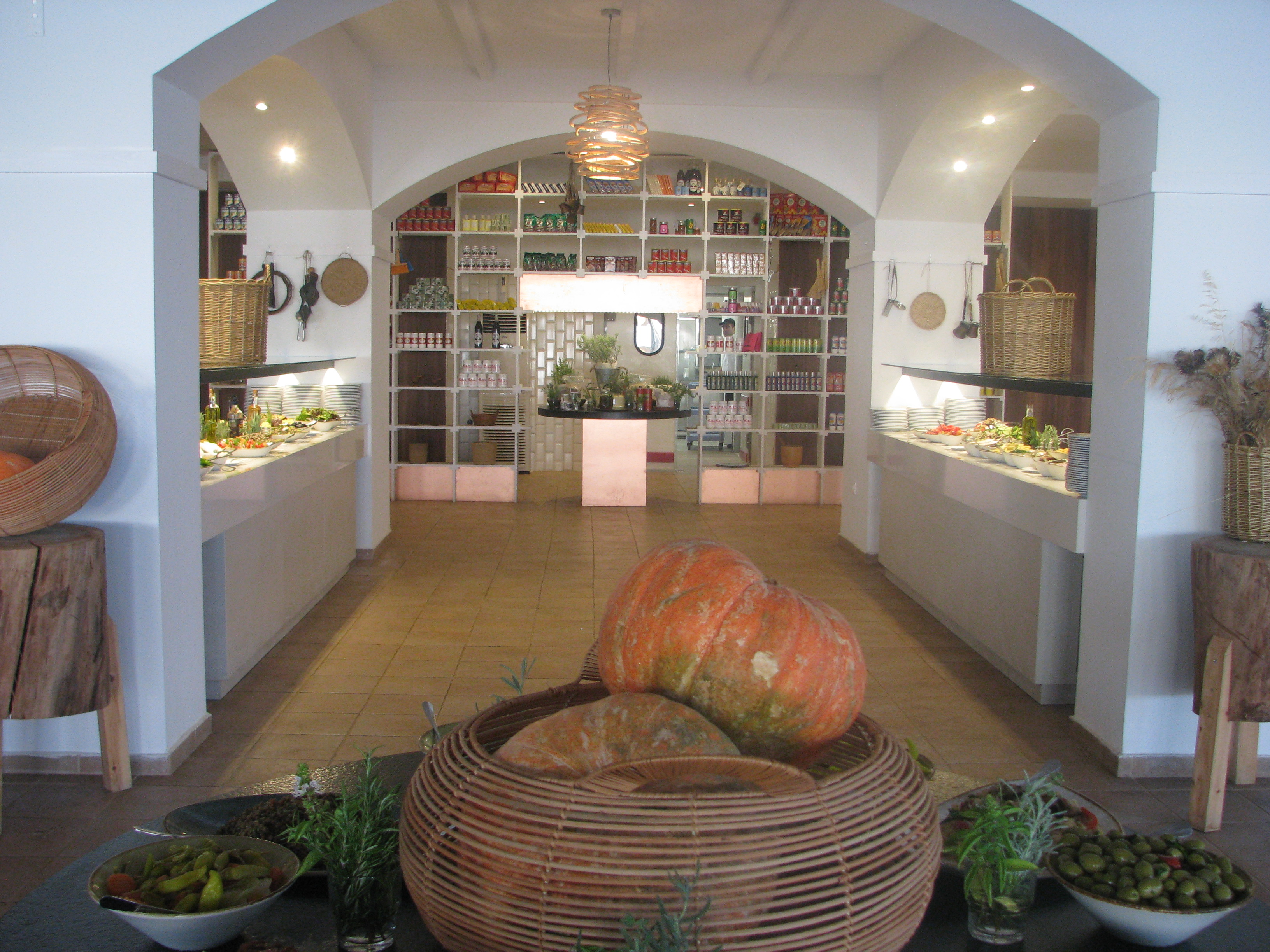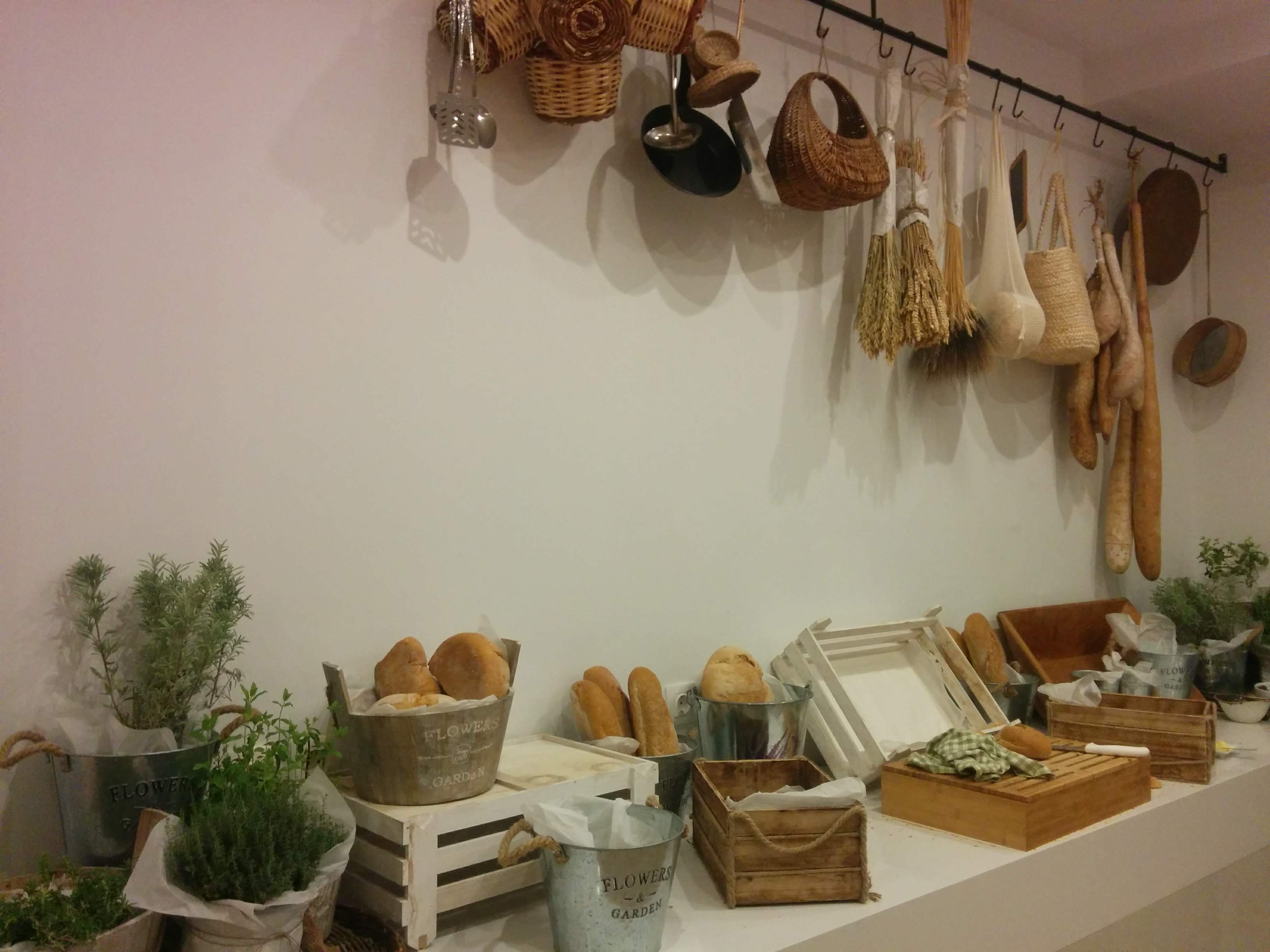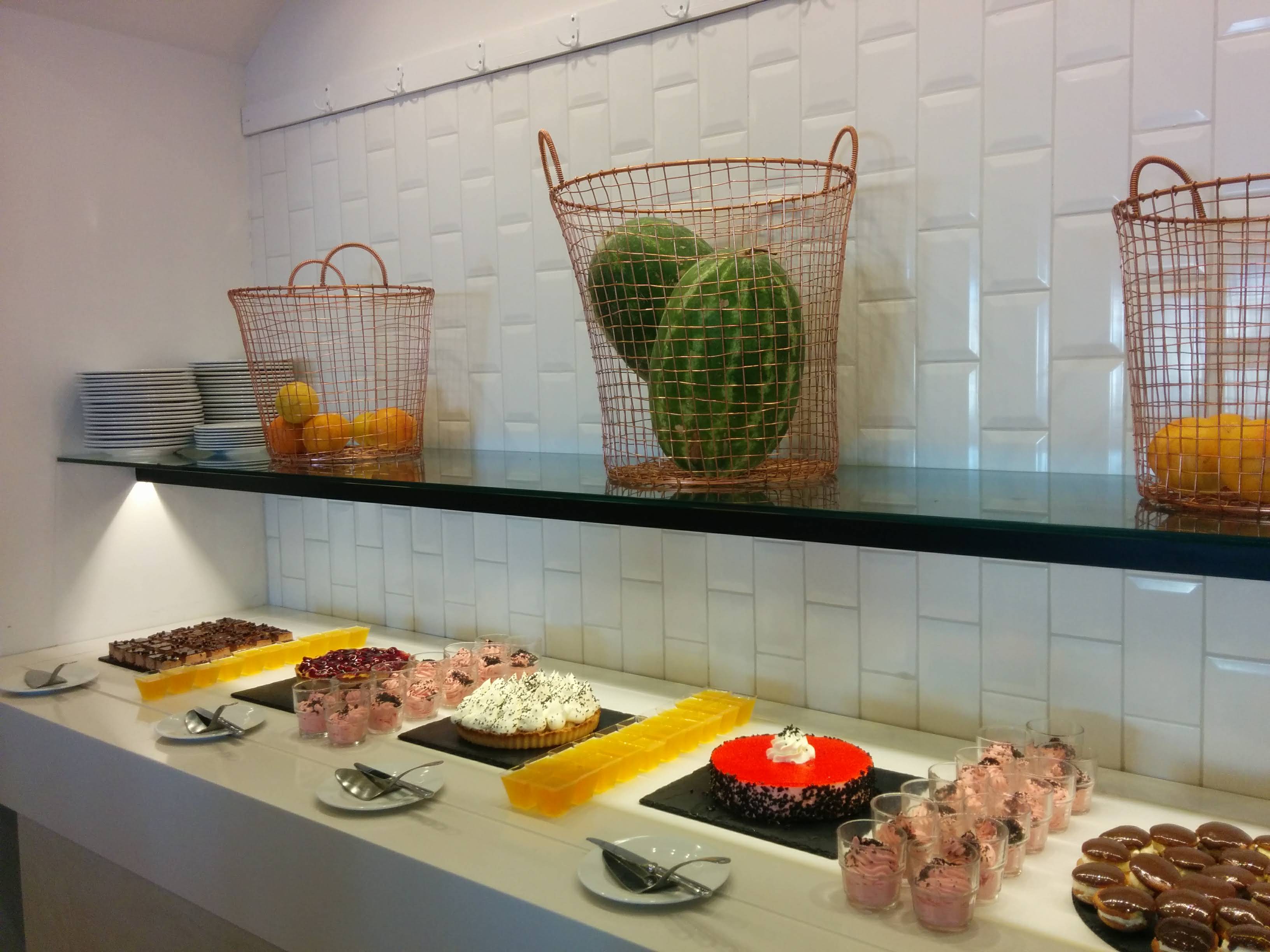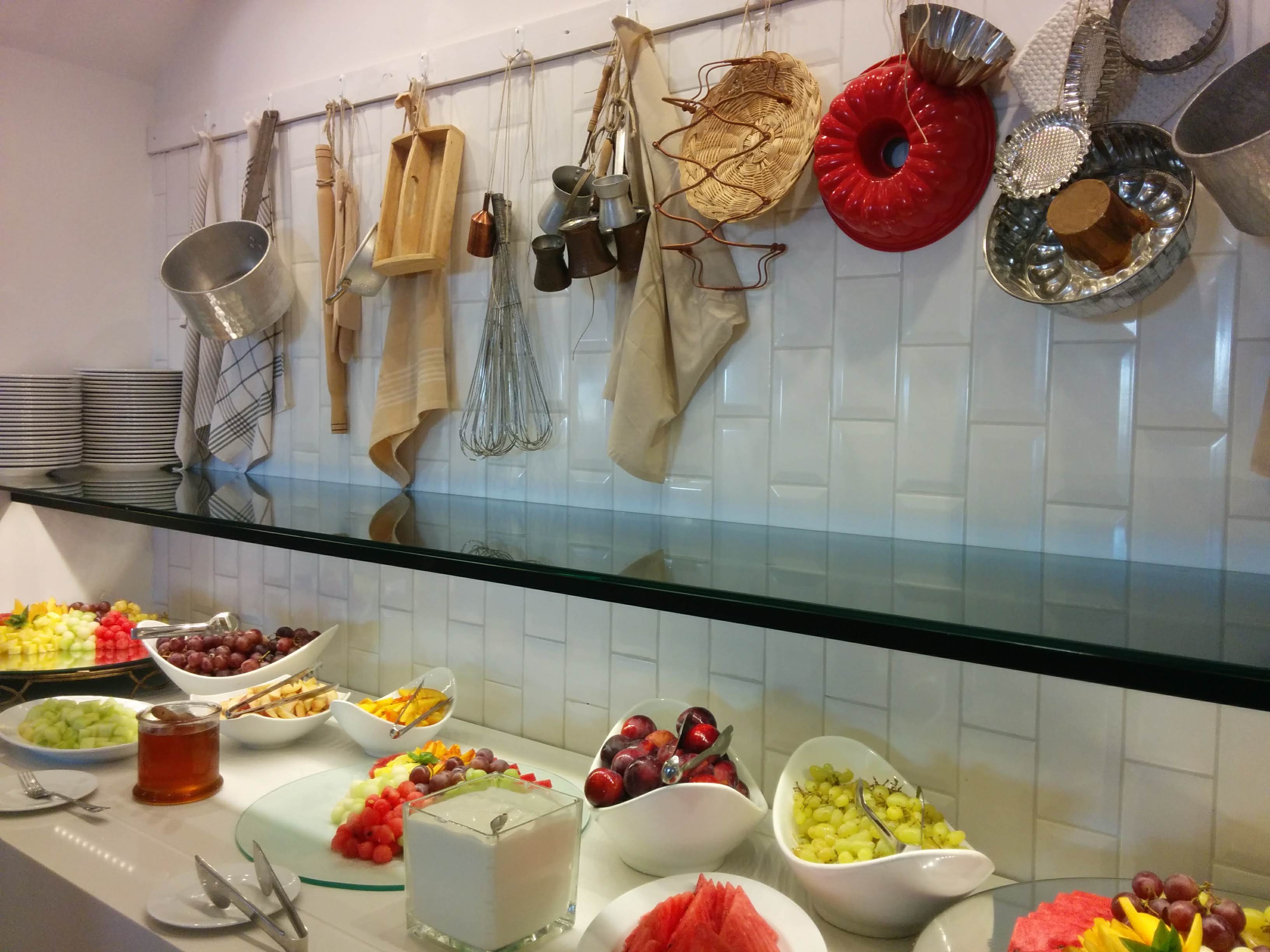 Casa Marron serves breakfast from as early as 7:15; a huge spread with several types of coffees and teas, mueslis and fresh fruit juices, cakes, jams, and Greek pies made every which way with hams, cheeses and more. Multiply all you can think of by five and you're halfway there.
The main restaurant also serves a rich lunch and evening buffet of soups, gorgeous looking appetizers, and salads, main dishes cooked in an open kitchen, and a very inviting desserts presentation that looked more like a fairy tale designer store than the typical resort buffet.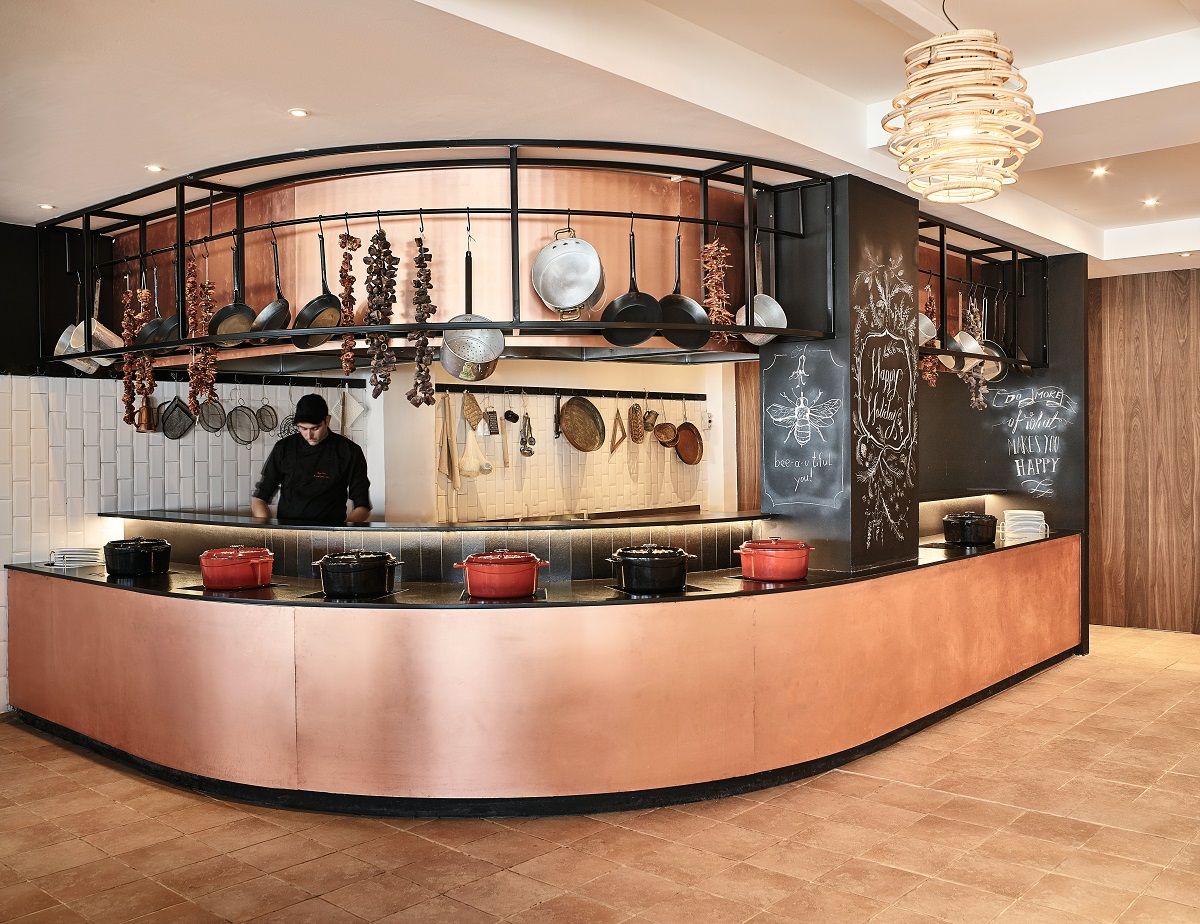 Tastes are international flavors with local cuisine touches and thematic buffets. There is a special section with children's meals as well as a baby corner with boiled veggies, meat, and purees.
On our first night, we sat outside near the buffet and had a comfortable early dinner with lots of fresh salads and grilled meat. On our second night, we got dressed up and started our dinner with a welcome drink based on ouzo and pomegranate (virgin for the girls!) We loved the fish & seafood buffet that evening. I had a plate of freshly cooked mussels spaghetti accompanied by a nice bottle of local wine and my girls choose their favourite of grilled anchovies and sardines. The much enjoyed the live cooking shows in the open kitchen.  After dinner, we continued for cocktails at the bar and watched a ballet performance on the main square. The most indulgent meal of our holiday was the Greek-inspired menu from chef Andreas Pliatsikas; he re-created several Greek classics such as a Cretan Rusk Salade inspired pie and presented colourful Greek appetizers and slow cooked food. I particularly liked the Moussaka.
The Casa Marron BBQ House serves breakfast, lunch, and dinner and makes use of a Robata grill. Robata is short for robatayaki, or "fireside-cooking" in Japanese, and refers to a healthy method of cooking at varying speeds over hot charcoal. Here my daughter tried fresh omelets and pancakes in the morning and we had grilled fish and meat in the evening.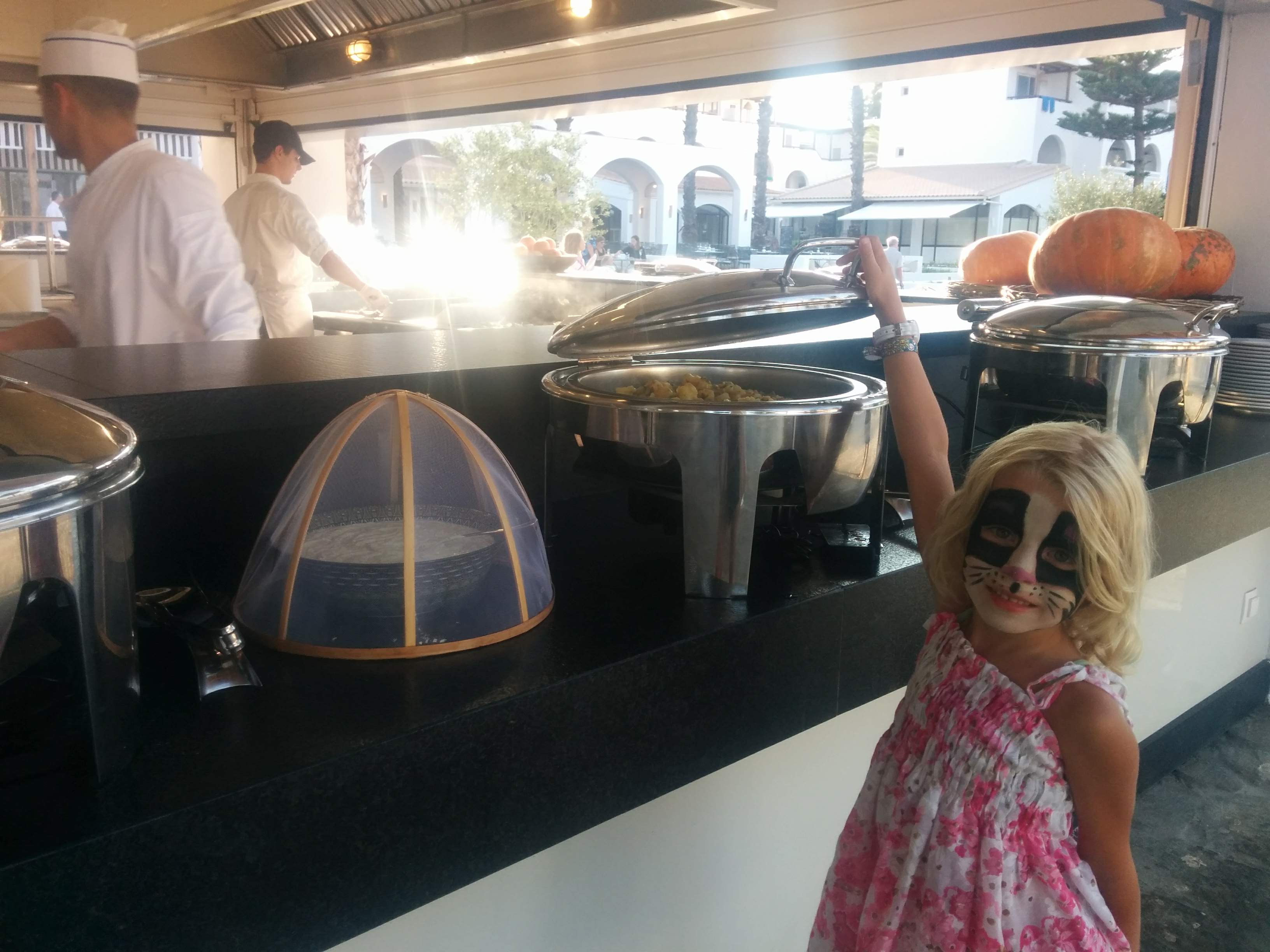 Our favorite food part at the resort was the beautiful Plaz Marron next to the beach.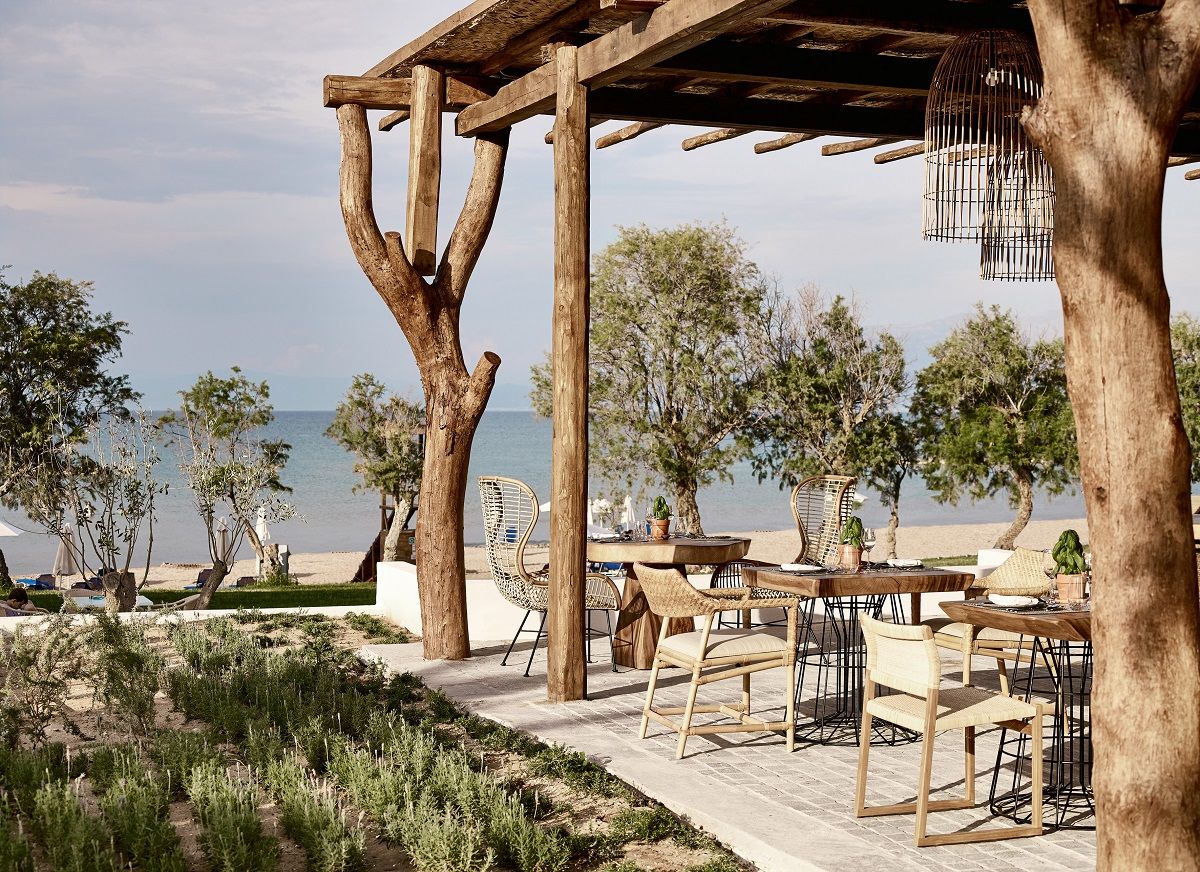 Surrounded by large herb gardens on the beach and at one side overlooking the seaside pool, the Plaz Marron is a foodies world of colorful kiosks and a bakery. From a Pizzeria and Tratorria with handmade pasta to a romantic seafront a la carte restaurant with a menu degustation. The style is in harmony with the environment; relaxed and airy with lots of herbs, natural stone, warm wood, bamboo, wicker baskets, and light.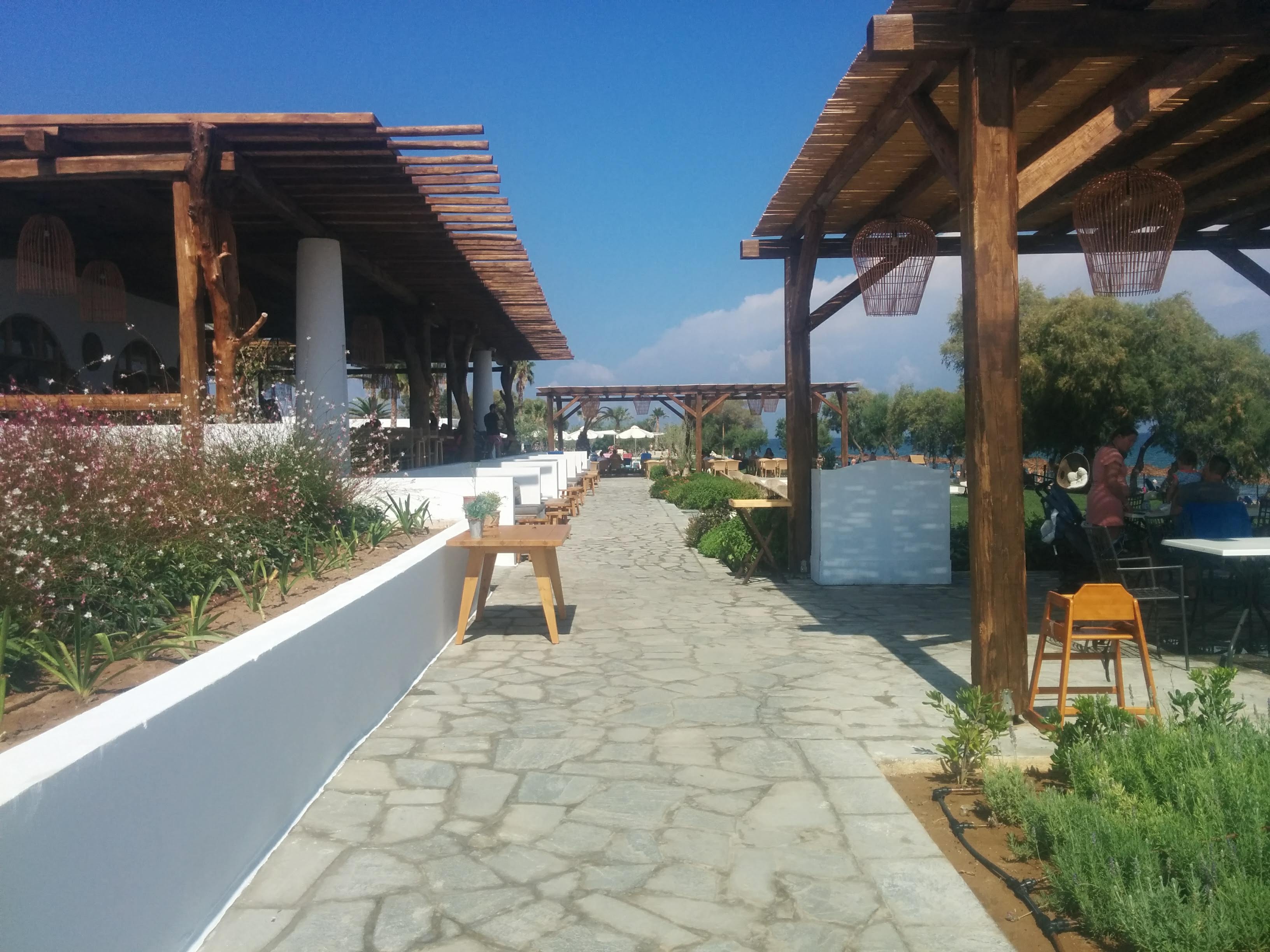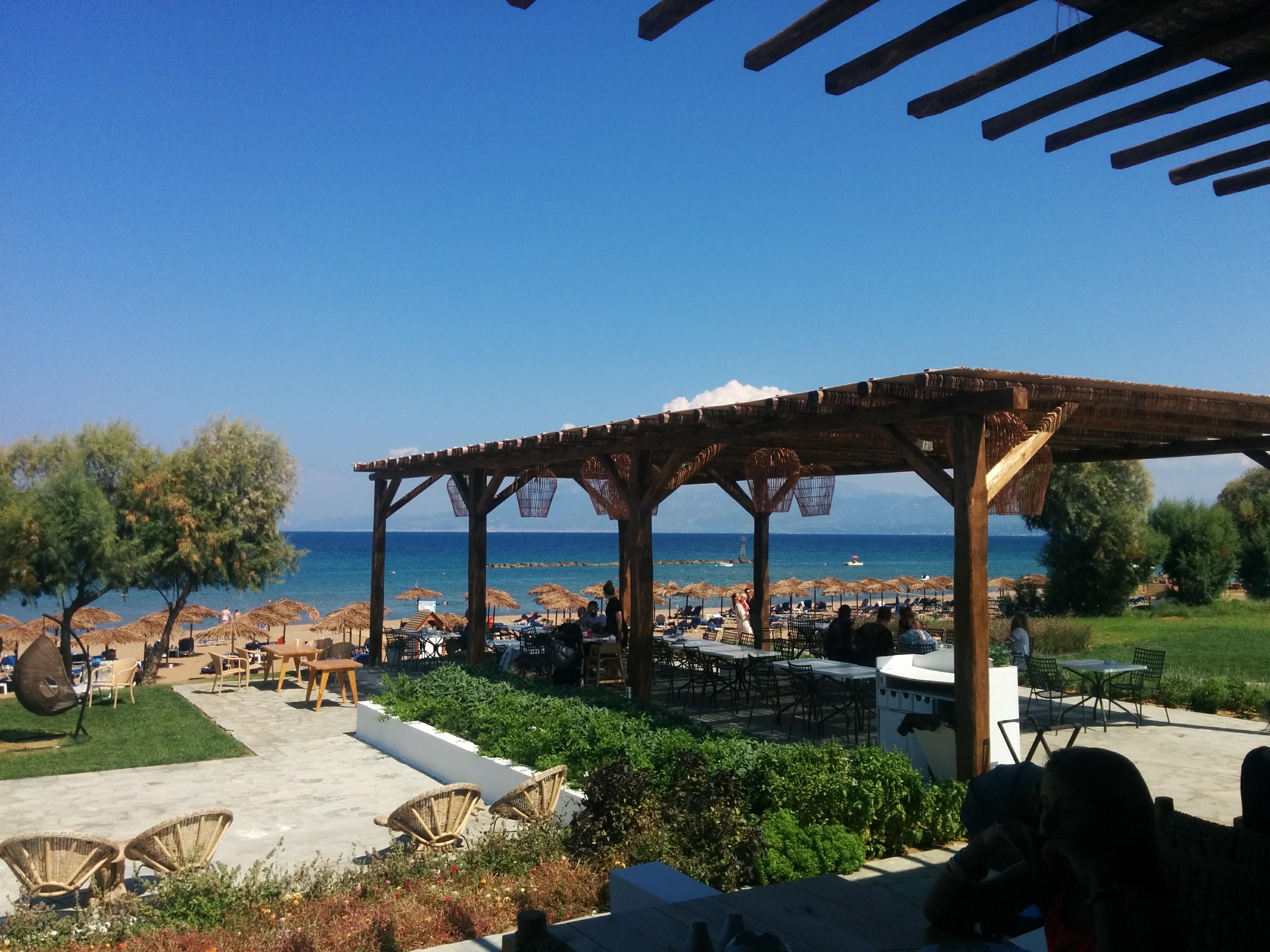 This restaurant had a different daily menu, a kids menu and again lots of sitting options. We had lunch here every day of our vacation and I usually choose the fish option with a green salad – lots of fresh produce from farms nearby – and a cold glass of wine. My children loved the pizza, burgers, french fries, and the Greek souvlaki. Needless to say, they could not stay away from the all-day open Gelateria and Creperie! In front of the Plaz Marron restaurant is a large grass field with wooden swings. A perfect place for my kids to 'hang out' while I was finishing my lunch.
Other services
During our stay, we made use of the Grecotel Guest Portal tool. This online application provides you with up to date information about the resort, the weather, excursions etc. You can also make reservations for restaurants, spa treatments or order room service, and baby food. I used it to look up the dinner times and the kids club events. It is also possible to access information via scanning of QR codes. There was a good free WIFI connection at all locations in the resort.
Nearby to do for families
Not a beach person? There are several attractions nearby the resort such as the beautiful Strofilia forest or the forest of Foloi. With older children, you can go mountain biking or participate in a full-day mountain bike excursion. The Peloponnese is full of UNESCO heritage sites. These sites include Ancient Olympia and the Temple of Apollo Epicurius. You can also visit the Odontotos rack railway or the city of Patras.
What we loved about Casa Marron
Although it is not a small enterprise, Grecotel Casa Marron manages to feel very personal and small scale. This was, primarily, down to the wonderful staff. Always so kind and smiling, they would generally go out of their way to help – meaning we never felt like 'just another guest'. Logistically too, they made it very easy for me to navigate the place with two young kids in tow. Greek hospitality at its best!
I loved Casa Marron for its blend of family-friendly style and relaxed luxury. The whole resort was geared up for everyone to have comfortable holidays, but with plenty of options to keep kids busy and even adults active- if they wanted. My kids favorite part was the pool. There did not seem to come to an end to their energy jumping in and out of the water. My little one needed her alone time and often headed to the beach for some sand and water play. And I just loved watching both of them comfortably from my sun bed.
If you've been reading my blog, you'll know how marrying luxury travel with family-friendly destinations in Greece is something I used to think was impossible. But I am slowly building a list of stylish and luxury-focused resorts that have just as much appeal and entertainment for young children, and I can absolutely add Casa Marron to this. I would whole-heartedly recommend the Casa Marron resort for your next family luxury escape!
What other parents said. Via Facebook: Hi Celeste. I want to thank you for your last year recommendation(for Casa Marron).We are here and we like it very very much.
Information and Prices
For more information, accommodation types, and bookings at Grecotel Casa Marron, please click here.
If you want to read more about other Grecotel family-friendly luxury resorts in Greece, check my reviews of Grecotel Olympia Oasis, the Olympia Riviera Aqua Park, Luxury Made Easy at Daphnila Bay Dassia, Fine Dining in Corfu Daphnila Bay Dassia, Kids Spa Treatments at Grecotel Luxury Resort and Easter at Cape Sounio Grecotel. If you are planning to visit Rhodes, have a look at my post about Grecotel Lux Me Rhodes.
Featured Photo above this post 'Dusk Landscape Of Casa Marron': Photo Courtesy of Grecotel Hotels & Resorts * Disclaimer: I was invited by Grecotel Casa Marron to review the new hotel. Thoughts and opinions are entirely my own*