Last Updated on July 12, 2023 by Celeste.
Over the past 12 years, we reviewed many family hotels and resorts in Greece. A good family hotel should offer that perfect blend of relaxation opportunities, a safe beach, and kid-friendly activities. Families and family time are an important part of Greek culture, and when combined with a luxury resort, you can't go wrong! We've brought together the best family resorts in Greece, guaranteeing the perfect family vacation. We focus on the beachside hotels and resorts as well as those in Athens. Get ready to book your summer vacation with this list of the best family hotels in Greece!
In this article, we have summarized our favourite tried and tested places. You can read our full review for each hotel and resort under the Family Hotels Section of this blog, or scroll over to the links for hotels reviews at the end of this blog post.
The best family hotels in Greece
Many of the best family hotels in Greece listed in this article are internationally recognized by quality labels and others. Such as the Travel + Leisure (T+L) magazine recently revealed the "10 Best Resorts in Greece" for 2022, as voted by its readers during this year's World's Best Awards survey. "The Greek Islands have a way of captivating travelers from the moment they disembark the ferry — so much so that many visitors choose to return to the archipelago repeatedly over the years," T+L says.
Family Hotels on the Greek Islands
Mykonos Blu Grecotel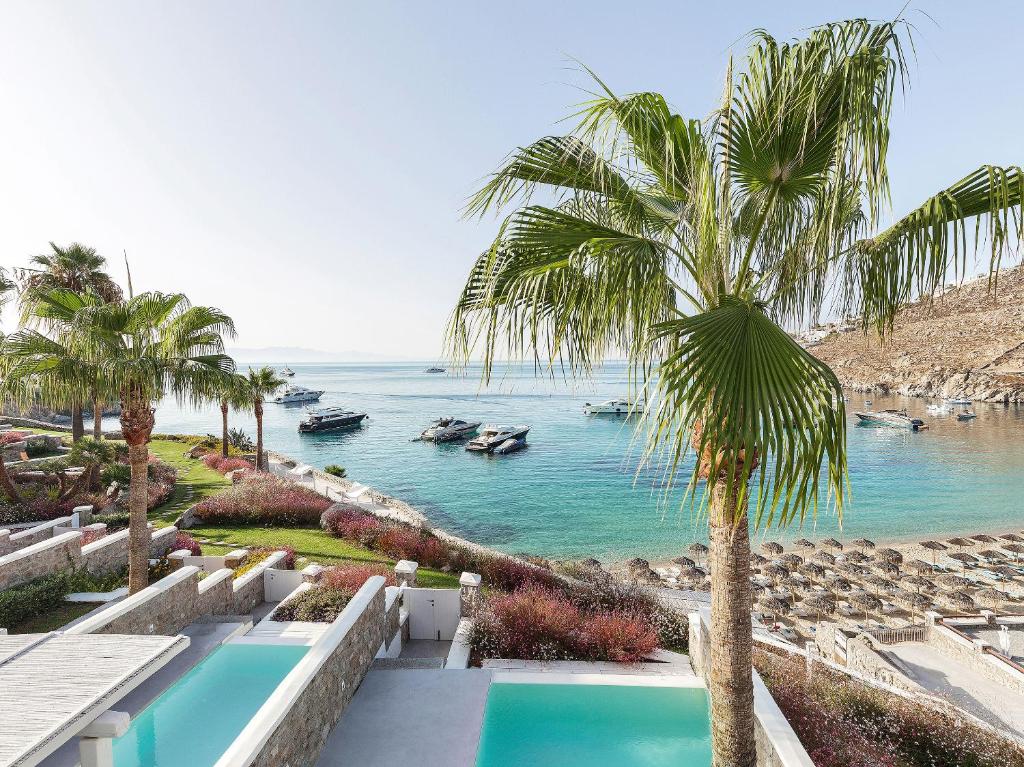 Many of the best family hotels in Greece are located in Mykonos and Santorini. The world-class Mykonos Blu Grecotel is one of them. Located in Psarou, the Mykonos Blu is an exclusive resort offering high-quality luxury and service. With its own private kid-friendly beach, it has an incredible position on one of the most popular islands in Greece. Families can enjoy the island and its impressive views whilst enjoying the top-class facilities. The accommodation ranges from family rooms to private villas. The resort also hosts a wellness center, several restaurants, and babysitting services.
Click here to find the latest prices and more details
Mykonos Grand Hotel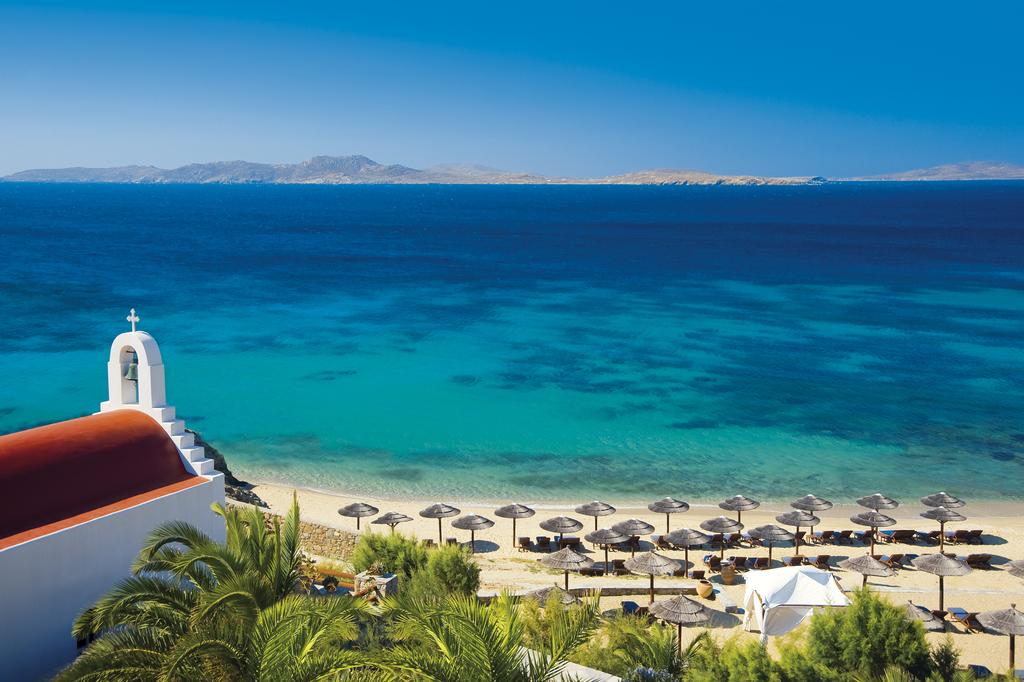 Mykonos Grand Hotel & Resort is a five-star beachfront luxury hotel in a secluded calm bay on the sandy beach of Agios Ioannis, just 4,2 km away from Mykonos town. Mykonos Grand offers the perfect setting for a safe and private, luxury and personalized service. The hotel is part of the Small Luxury Hotels in Greece. It features a spa, a fitness centre, tennis and squash courts, beach water sports, a seawater pool, and yoga and pilates lessons.
Click here to find the latest prices and more details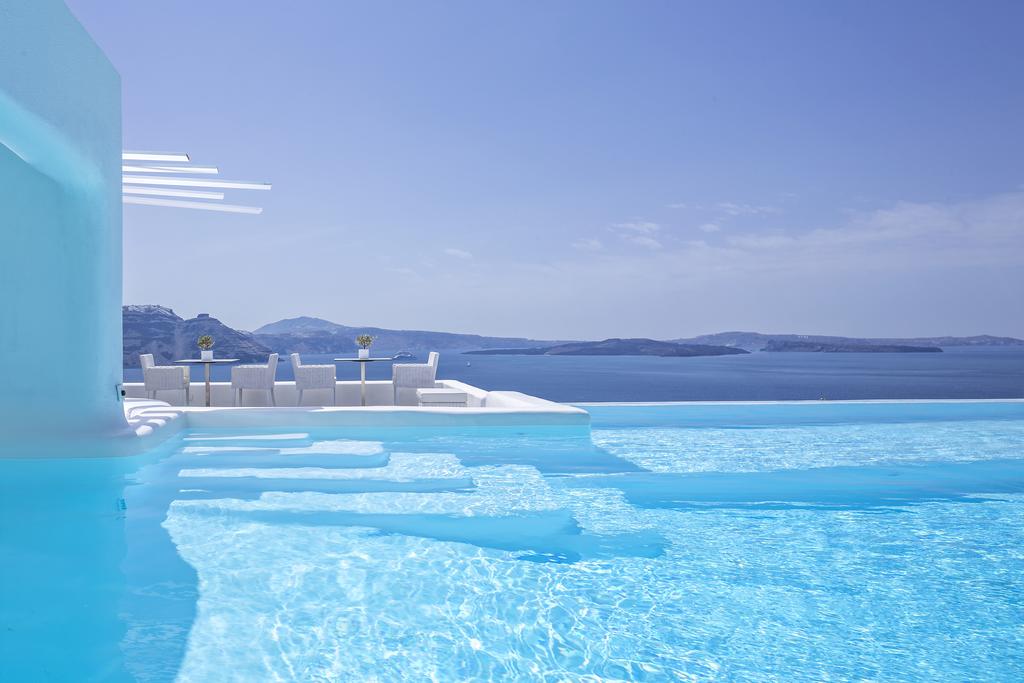 Your trip to Santorini may be a once-in-a-lifetime experience, so deciding where to stay on the island is an important decision. When you want to visit Santorini with the family, especially with young kids, the right hotel is very important. The multiple-awarded Canaves Oia Santorini is a collection of hotels, suites, and villas for people who are looking for the ultimate exclusive luxury experience and is possibly the best accommodation on the island.
Private dining options, a spa, Santorini experiences, and more guarantee an unforgettable vacation. Canaves Eden Villa or Epitome are the best choices for families because they are private villas with safe gardens and or private pools. Best for older children and (groups of) families who are seeking privacy and comfort. Click here to find the latest prices and more details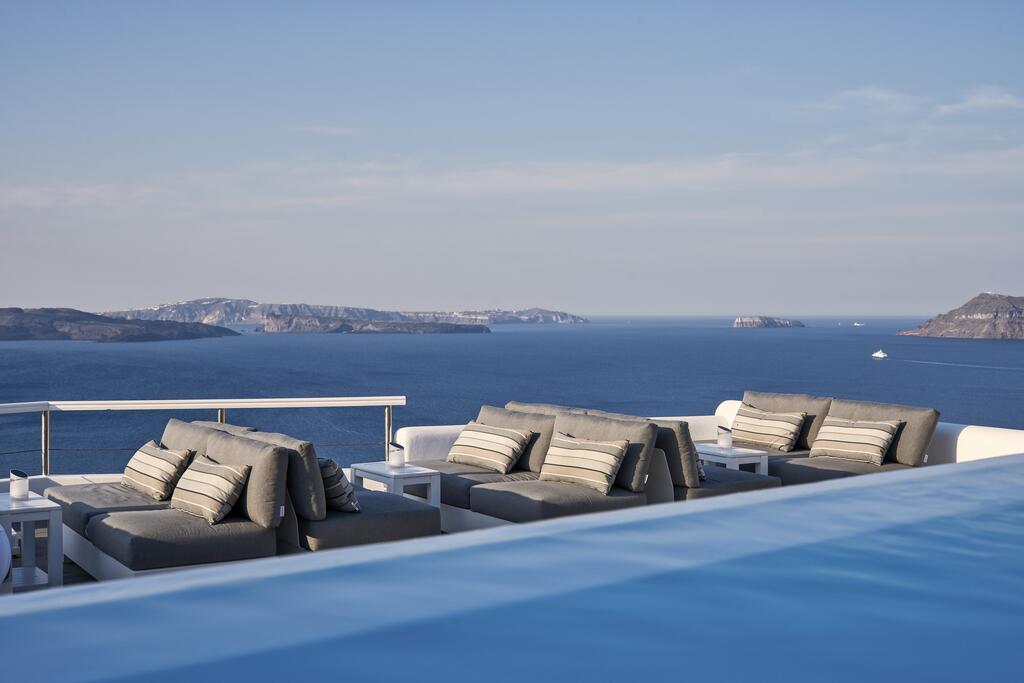 For more hotels and resorts in Santorini, head over to Best Family Hotels in Santorini with Kids
Corfu Imperial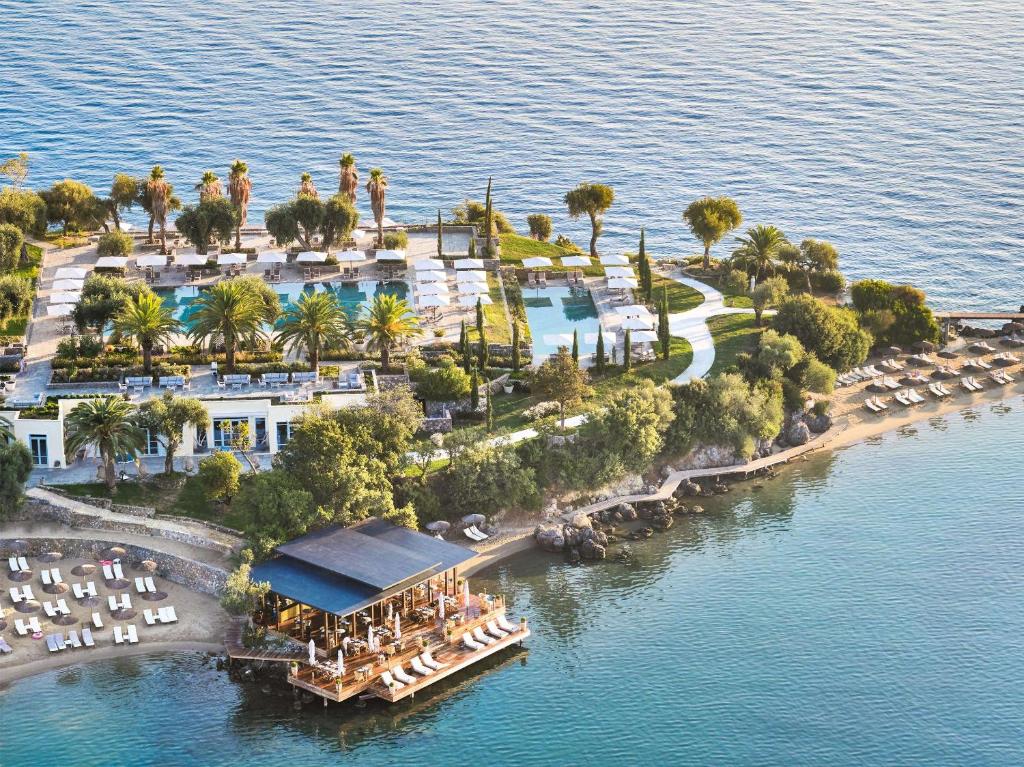 Corfu Imperial and Lux Me Corfu Daphnila Bay are part of the Grecotel resort located on the private green Kommena peninsula in Corfu. Both feature golden sand beaches, safe and clear turquoise waters, pools, and excellent family villas, bungalows, and hotel suites. Corfu Imperial features a brand new Grecoland, a spa, many high-class dining options, and choices of unlimited ice cream and sweets. The resort is very near the historic town of Corfu, making it a magnificent base for a stroll around what feels like palaces of the Italian Renaissance.
Click here to find the latest prices and more details
Ikos Dassia Corfu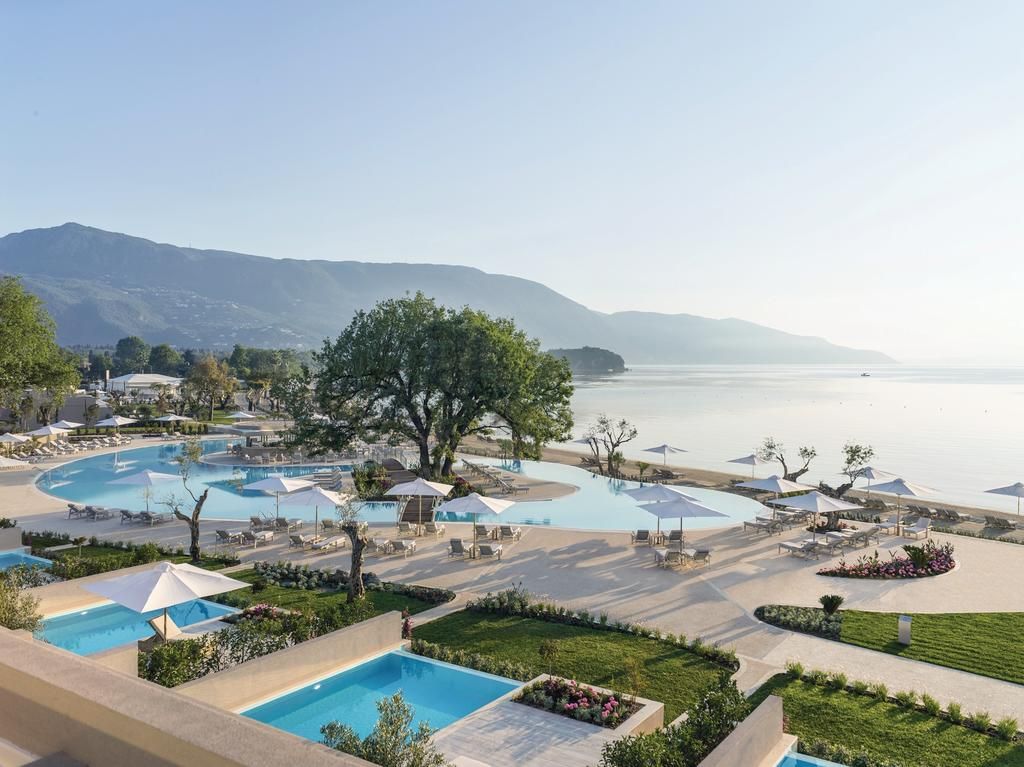 With an incredible set of family accommodation, pools, and a beautiful private sandy beach in the secluded bay of Dassia, Ikos Corfu is a dream resort for families with (young) kids and teens. Ikos Dassia opened 3 years ago and has quickly become a favorite for families looking for high-end luxury experiences, tailor-made services, family facilities, a small water park, and gourmet menus. Close to the Corfu airport and the historic Corfu Town, the resort is an excellent choice for families looking for an all-inclusive experience.
Click here to find the latest prices and more details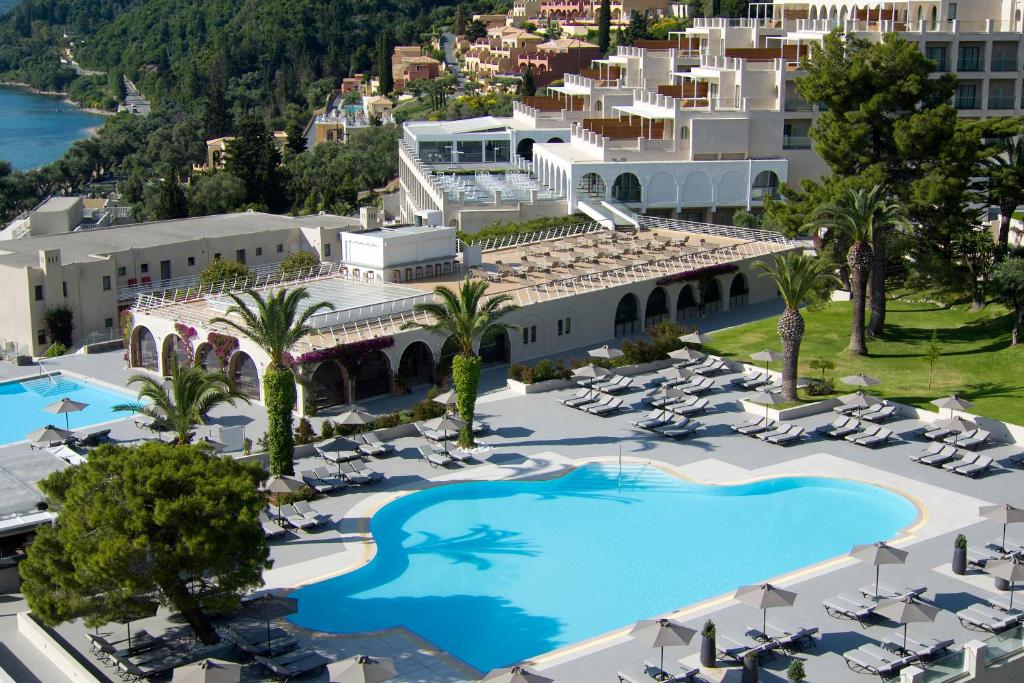 MarBella Corfu offers world-class service at an excellent location on the organized beach of Agios Ioannis Peristeron. MarBella Corfu is a MarBella Collection Hotel and features 2 pools and a spa center. Its family rooms and suites offer spectacular views of the Ionian Sea or the hotel's lush gardens. The main town of Corfu is 11 mi from the resort. Corfu International Airport is a 30-minute drive away. MarBella Corfu has its own aqua park, the first one with water slides in Corfu! Click here to find the latest prices and more details
Crete Elounda Gulf Villas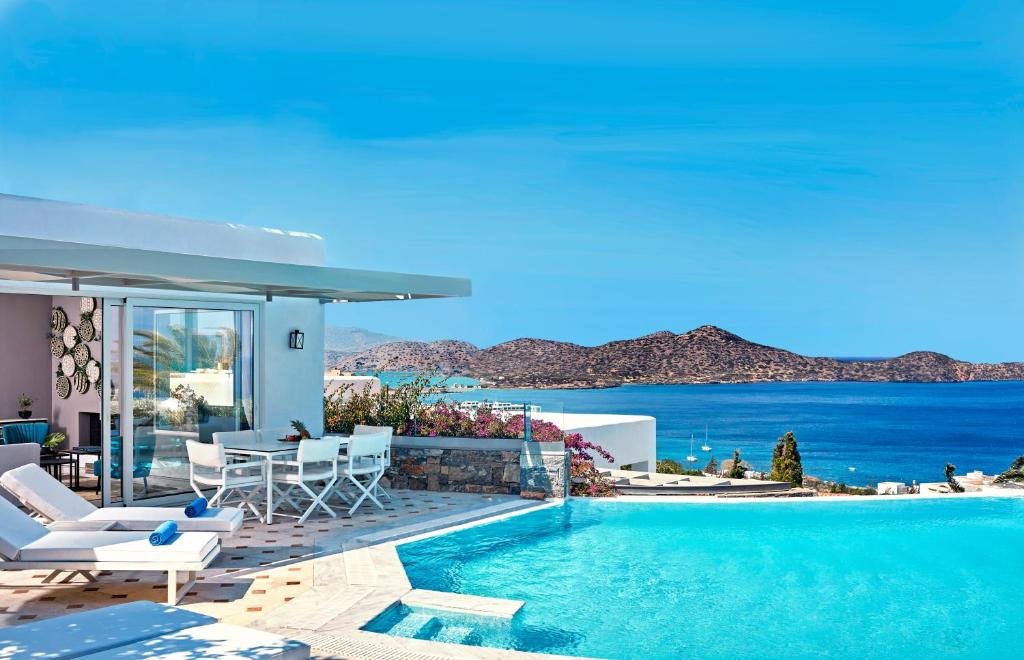 A spacious resort in Crete with villas and suites, Elounda Gulf Villas is designed for families who want to combine an elegant luxury vacation with kid-friendly features. With an extensive program of family activities and fun for teens, the kids' activities include swimming lessons, water sports, biking, tennis lessons, riding, Arts & Crafts, movie nights, and more. Safety goes first, so transparent fences can be placed around the villa's private pool for extra safety for babies and toddlers.
The hotel can provide extra items and equipment to ensure children are totally comfortable. Elounda Gulf Villas also hosts the EVG Cool Crèche & Kids' Club, by expert childcare specialists "Worldwide Kids", under the UK Ofsted standards. Click here to find the latest prices and more details
Crete Domes of Elounda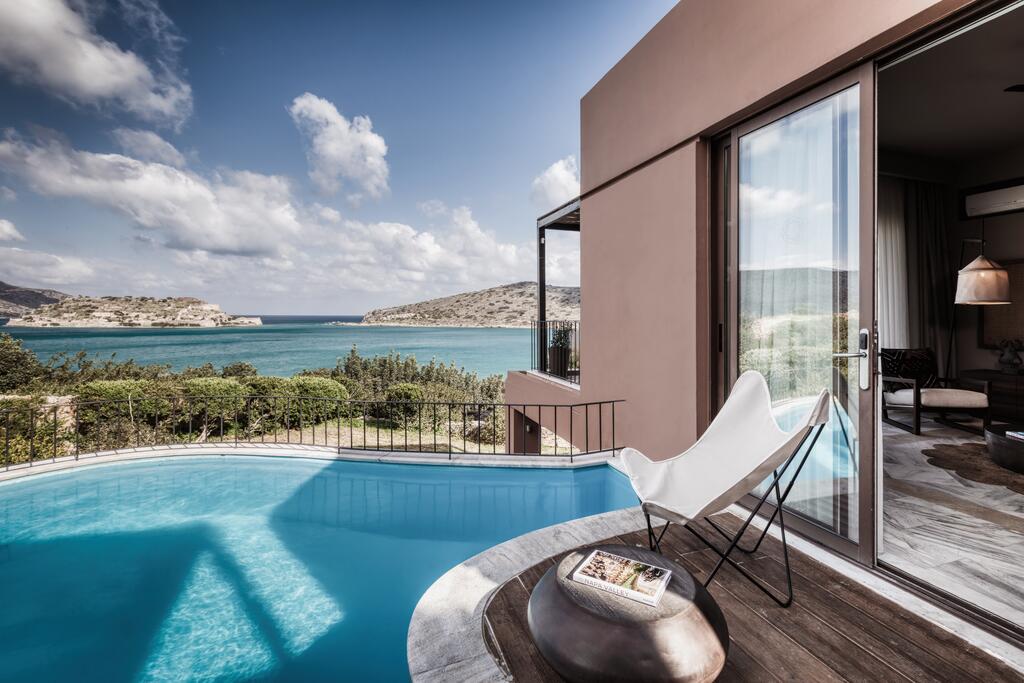 Domes of Elounda is a family-focused suites and family villas-only resort. It features several accommodation options varying in size, extras and some with private pools, and every single one has been crafted with gusto and contemporary design. Domes of Elounda has put families first by offering them a state-of-the-art Family Activity Zone including a teen video room.
Kids will love the creative eco kids club, the games, the climbing wall, cinema, and the sandy beaches. If you're planning to be in Crete with your toddler, or teen, or in Crete with kids in general, Domes of Elounda is a great choice! Domes of Elounda is part of the Mariott Autograph Collection of hotels. Click here to find the latest prices and more details
Avra Imperial Hotel in West Crete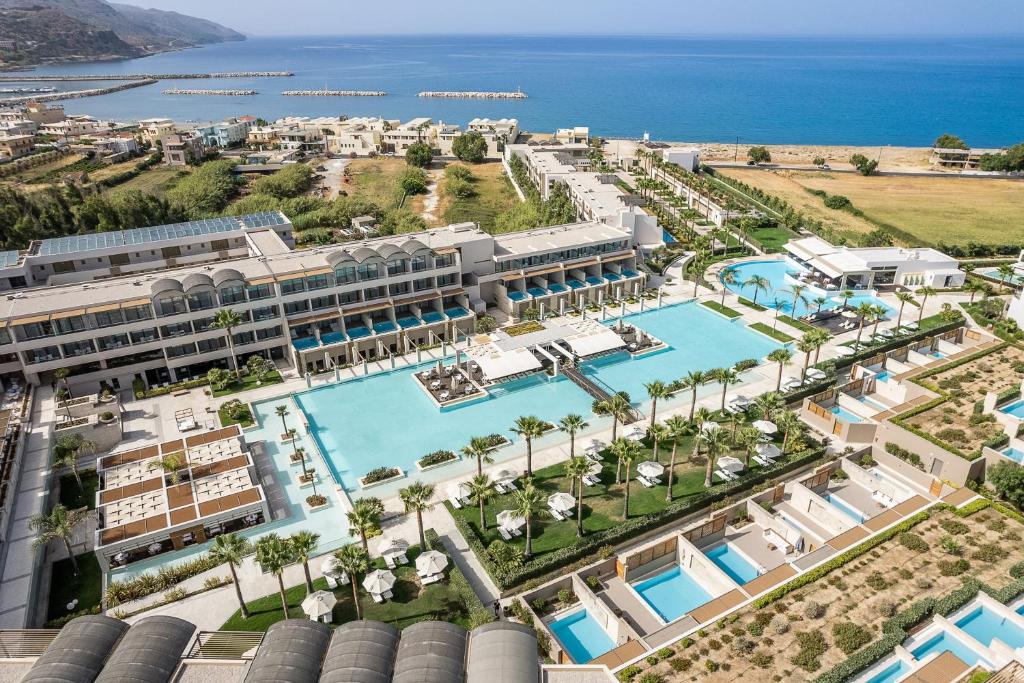 The Avra Imperial Hotel is your choice if you are looking for the best family hotels in the West part of Crete. This stylish and modern build hotel in a quiet corner near Chania town and the International Airport of Chania is located on a private sandy kid-friendly beach and offers a spa and an impressive range of family facilities.
There are a crèche and mini club for the little ones, including plenty of activities for older children and teenagers. Worldwide Kids child carers follow Ofsted standards and strict standard operating procedures to ensure your kids receive the highest standard of care. They organize unique activities such as arts and crafts, sports, cooking, water sports, swimming, treasure hunts, and games. Click here to find the latest prices and more details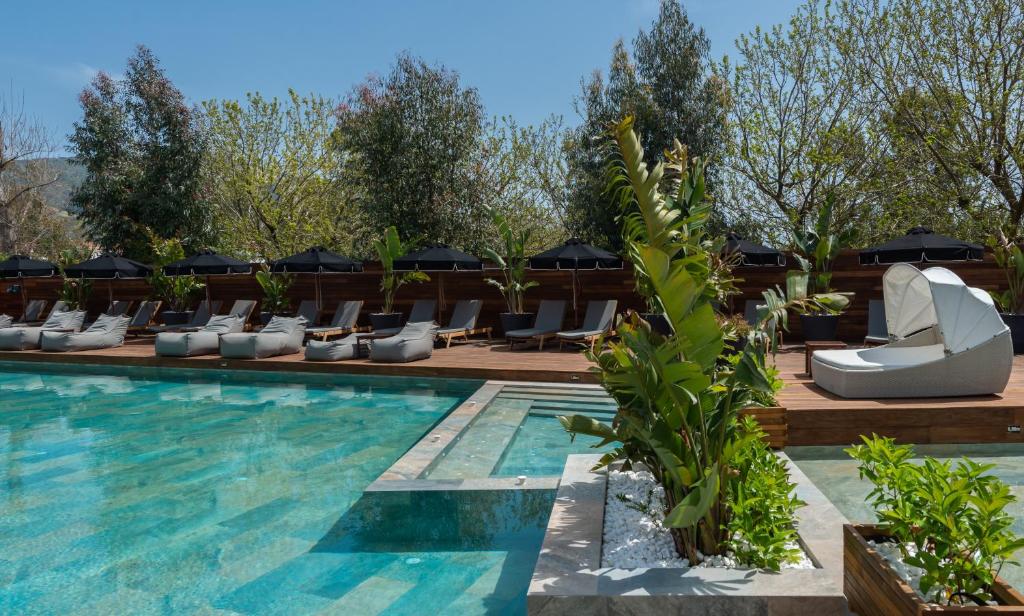 The four-star Bitzaro Palace Hotel is THE place to be with kids in Zante (or Zakynthos) and the Ionian! A beautifully designed hotel with family rooms, playground, a children's pool and lots of fine and safe spaces. This hotel is a 2-minute walk from the beach.
Click here to find the latest prices and more details
Best Family Hotels in Greece | Peloponnese
Grecotel Riviera Olympia & Aqua Park
The Grecotel Riviera Olympia mega-resort lies on an estate along a 2 km sandy beach facing the Ionian Islands, near ancient Olympia in the Peloponnese. It features the largest resort water park in Greece, something that every family will appreciate! With a large variety of family accommodations in different price categories, restaurants, swimming pools, and kids' activities, this may be one of the best luxury family resorts in Greece.
The sandy beach, the family bungalows, choice of sports camps, Grecoland, kids clubs for every age group plus the warm Greek hospitality make Olympia Riviera and Aqua Park an ideal place for family holidays. The water park is located next to the hotel and is one of the best I have visited in Greece.
Click here to find the latest prices and more details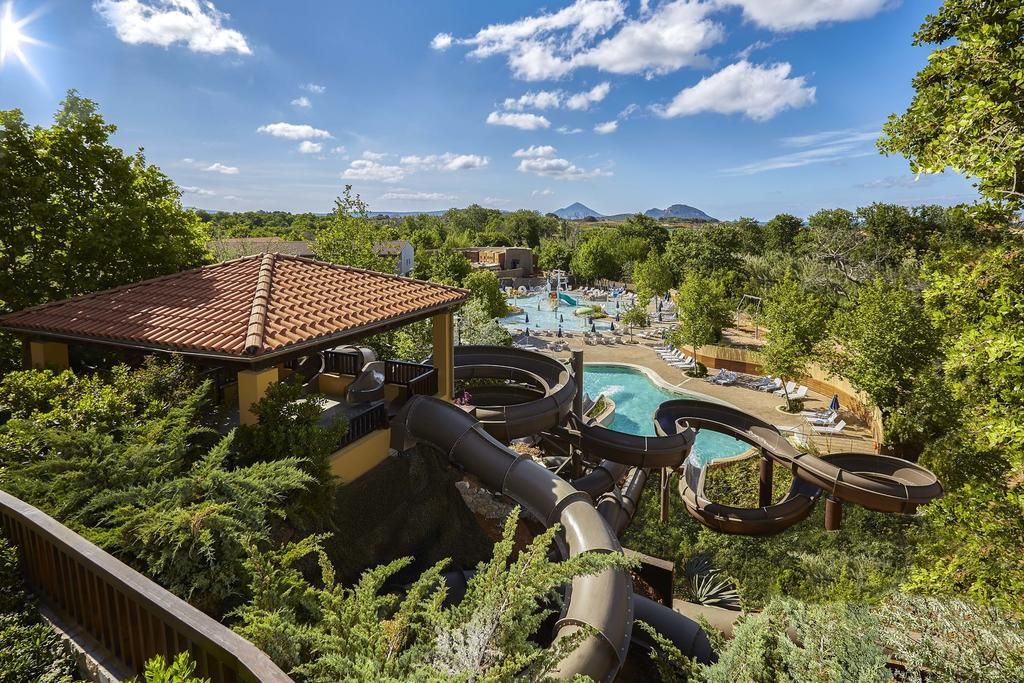 Many will agree with me that the Westin Resort Costa Navarino is one of the best family hotels in Greece. I visited the hotel in 2016 and consider it an ideal location for a family experience in the Peloponnese. In 2017 the resort has been voted among the Best Resorts in Europe in Condé Nast Traveler Reader's Choice Awards. It features an amazing selection of deluxe rooms, family rooms, and suites in a privileged seaside location on a green hill offering golf courts, sea, and pool views.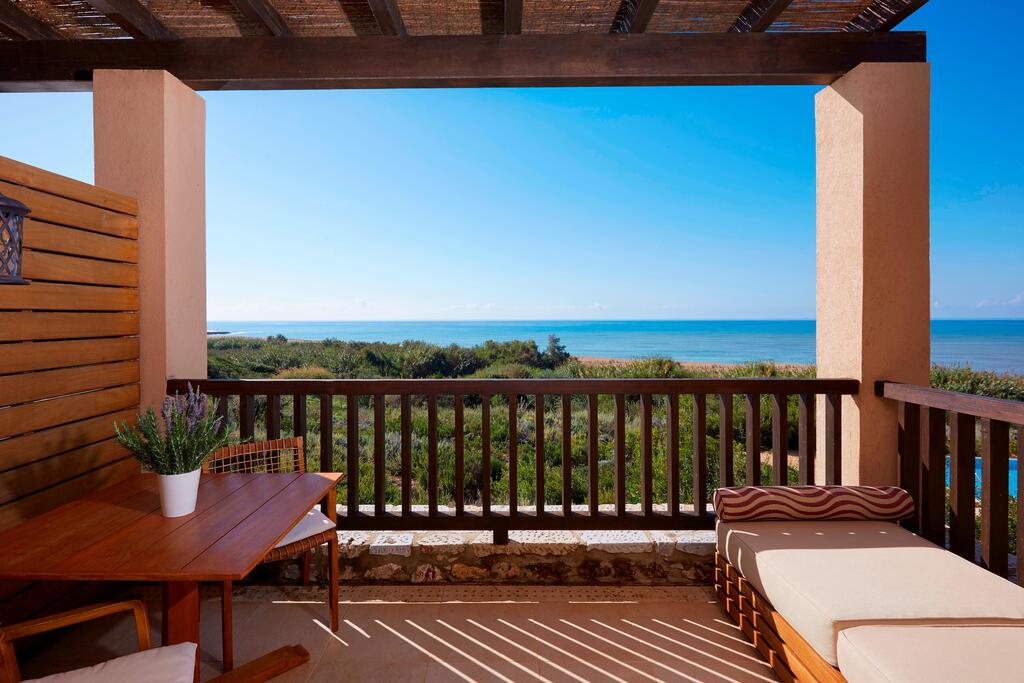 Families can stay at Family suites with connecting room options, and enjoy the aqua park, the beautiful long sandy beach, swimming pools, and state-of-the-art playgrounds, as well as the climbing wall, tennis and golf, go-karts Speed Experience, and Anazoe spa. Costa Navarino also designed a special youth hub for infants and toddlers from 4 months to 3 years old as well as for children aged 4-12, offering exciting recreational and educational programs.
Click here to find the latest prices and more details
Luxury Family Holidays in Halkidiki Greece: Sani Resort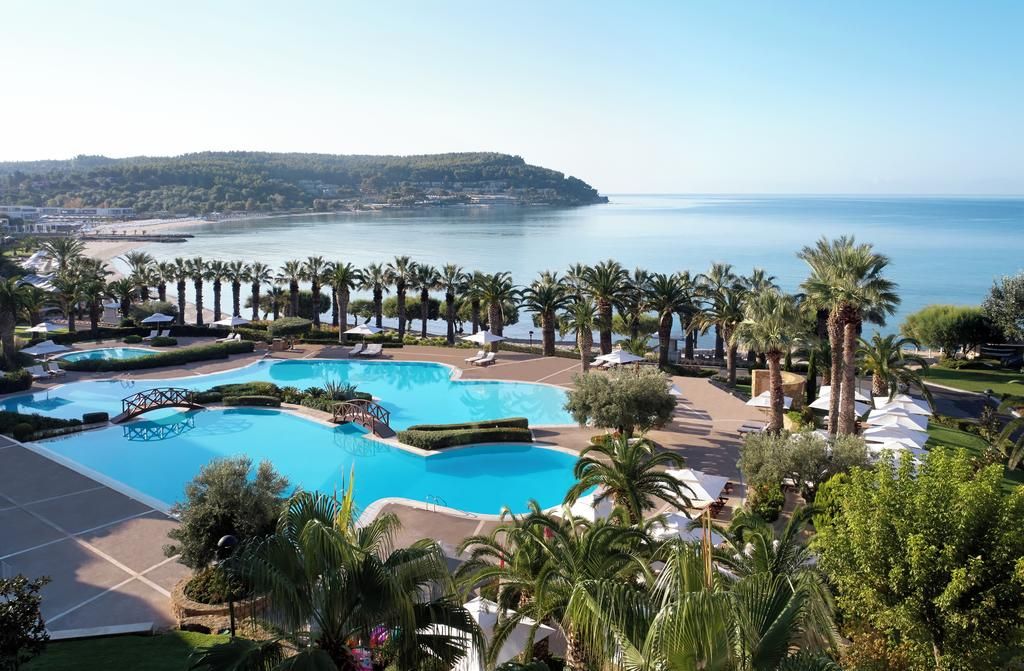 Sani Resort is an award-winning collection of luxury 5-star hotels and private vacation villa's in Halkidiki, Greece. Superbly located by the breathtaking Cape Sani, Sani has been catering to families who want top-notch, personalized concierge services and luxury vacations for many years. In fact, it was probably the first resort I visited in Greece many years back. Sani has been innovating constantly and is currently one of the most successful resorts in Greece.
Families will enjoy the awarded Sani Beach with its lagoon-style swimming pools, the spa center, shops, and family-friendly buffet restaurants with international flavors. A great choice for families looking for a resort in North Greece. Kids' activities include baby swimming, dance lessons, football camps, and sailing classes. The entire resort is very easy to navigate with a stroller and the staff is outstanding.
Click here to find the latest prices and more details
Family Hotels in Athens
The Grande Bretagne Hotel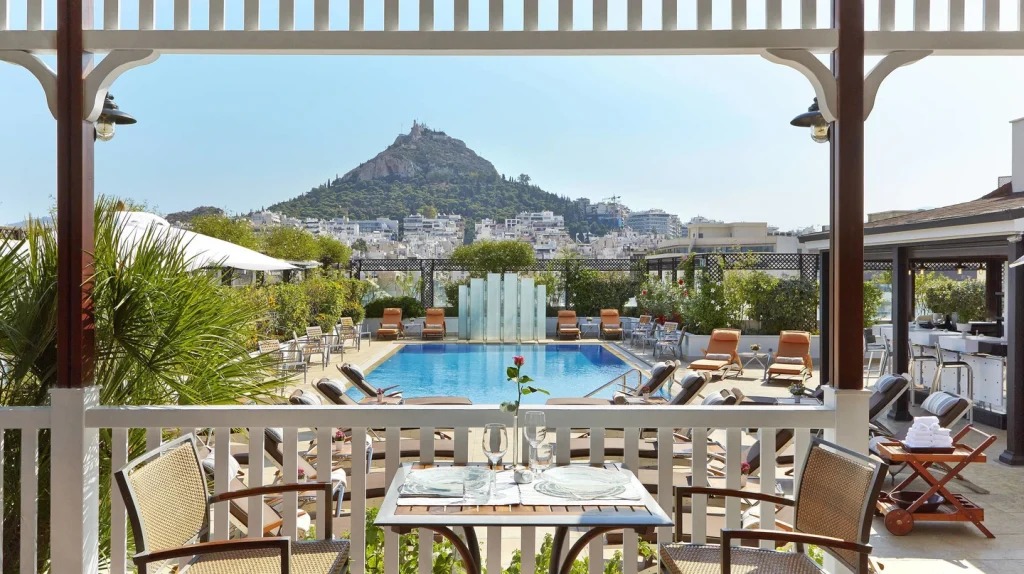 The most iconic hotel in Athens, the historic Grand Bretagne Hotel cannot be left out of this list. The beautiful hotel is located in the heart of the city. Families with younger children will also be pleased with the childcare services available. The Grande Bretagne Hotel in Athens welcomes children of all ages, and they have high chairs, bed railings, babysitting services, and kid-friendly menus. This luxury hotel offers breathtaking views of the fabled Acropolis, regal Syntagma Square, and the Parliament. Staying at the Grande Bretagne Hotel is an experience by itself.
Click here to find the latest prices and more details
King George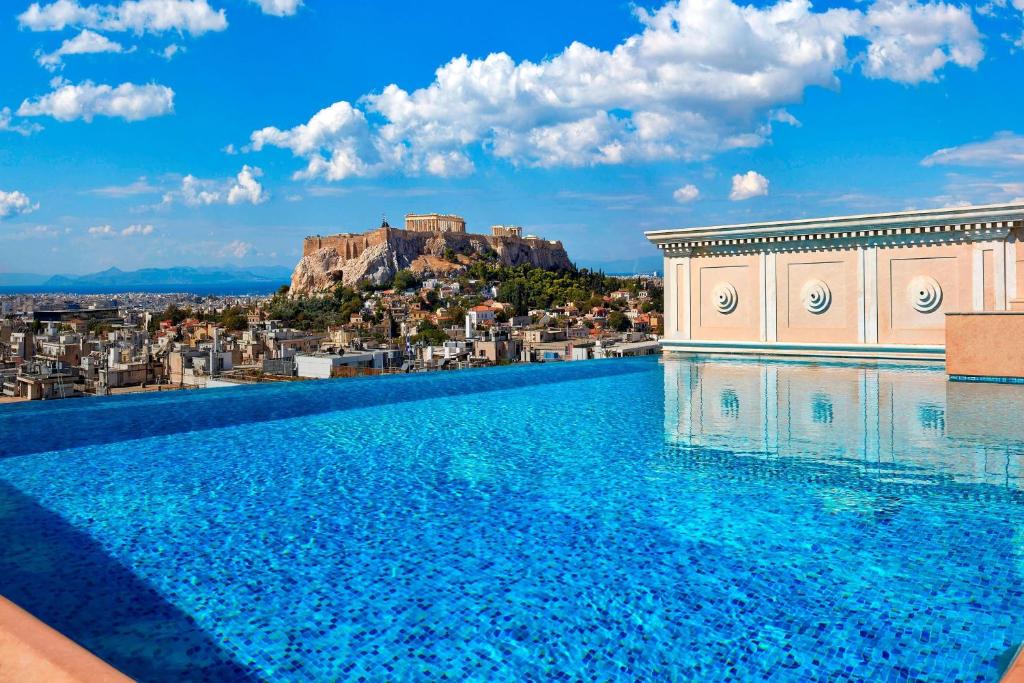 Located on Syntagma Square, King George has everything you need to ensure your family's stay there will be a pleasant and relaxing one. The hotel welcomes children of all ages and provides bed railings, high chairs, and disposable bottles. Other childcare and babysitting services are also available, as are kid-friendly menu options. A great choice if you are planning a city vacation in the Greek capital.
Click here to find the latest prices and more details
St. George Lycabettus Lifestyle Hotel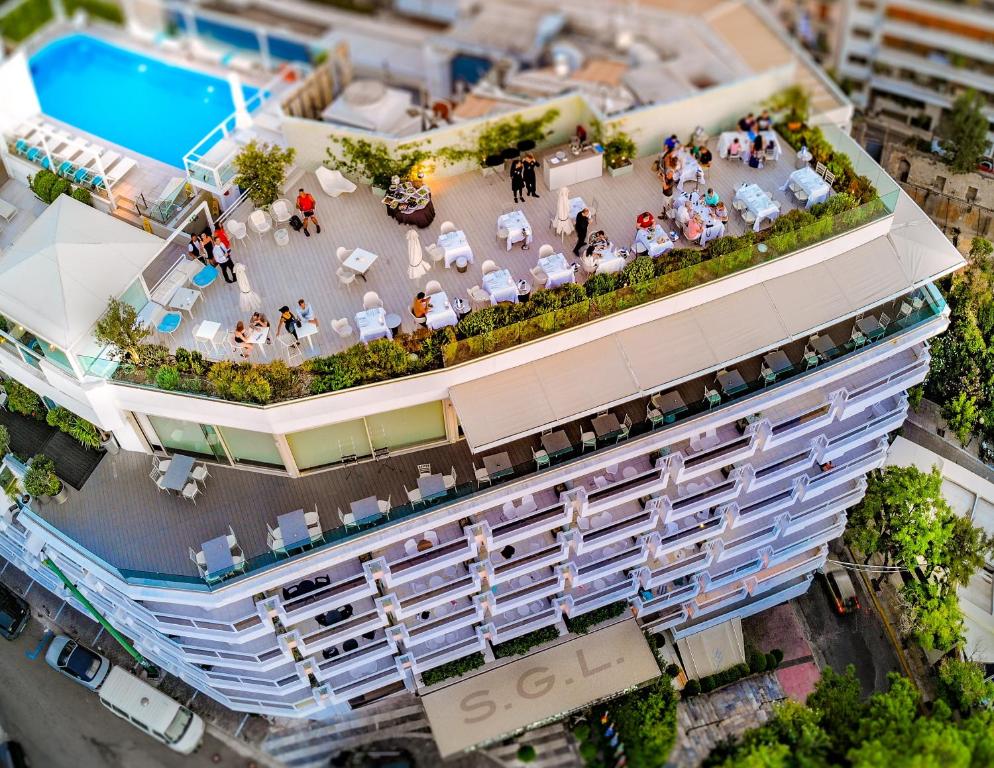 One could say that we are regular guests at the St. George Lycabettus Lifestyle Hotel. This is a hotel that loves family and children. Besides a kids' playroom, family rooms, and a kids' cinema, St. George Lycabettus Lifestyle Hotel organizes Family Brunch, specially designed to give both parents & children the opportunity to spend some quality time together. Add to this an amazing rooftop pool with bar and BBQ restaurants, and you have a winner for a family vacation in each season of the year!
Click here to find the latest prices and more details
Grand Hyatt Athens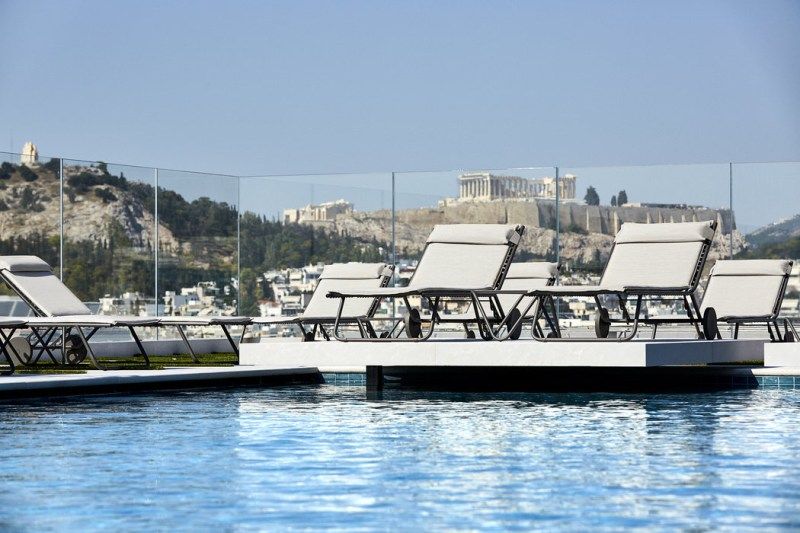 The incredible service and the rooftop pool with a view of the Acropolis make the Grand Hyatt Athens one of our family's favorite hotels. The hotel is a great base for exploring the city and its world-famous monuments, while also having the chance to relax at the pool or to cool off after a day of sightseeing.
Click here to find the latest prices and more details
Athenian Riviera Family Resorts
Four Seasons Astir Palace Hotel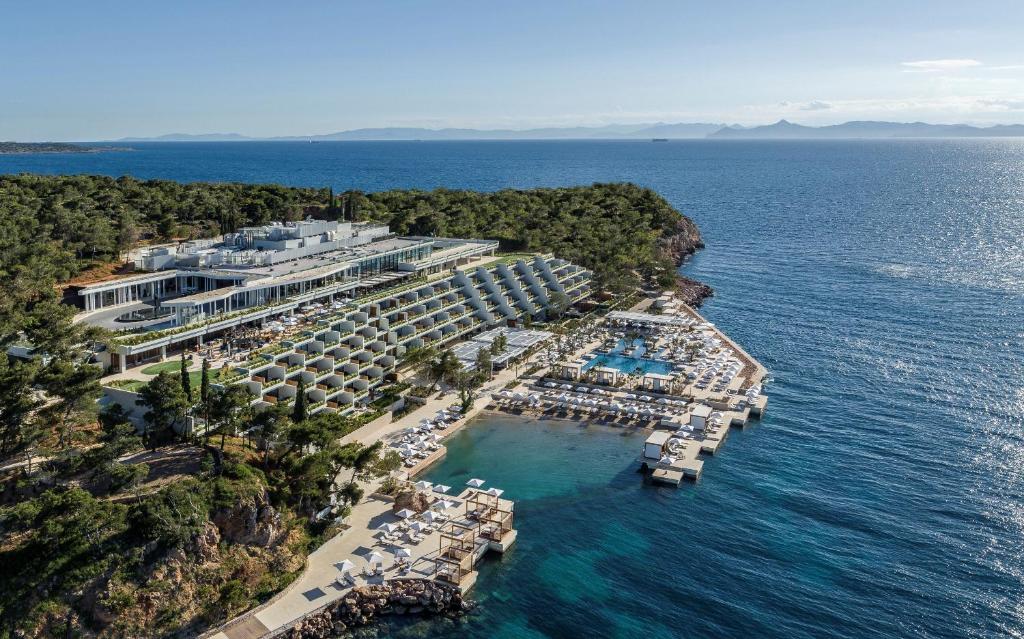 The Four Seasons Astir Palace Hotel Athens on the sophisticated Athens Riviera offers families the best of both worlds: a laid-back seaside escape just 30 minutes from the historical city center. It is truly one of the very best family hotels in Greece. Do you want to visit Athens and combine this with summer vacation? This is your hotel! Discover the ancient monuments of Athens and visit the Acropolis with your kids, then return to Four Seasons to unwind and relax on the beach.
Click here to find the latest prices and more details
Cape Sounio Grecotel Exclusive Resort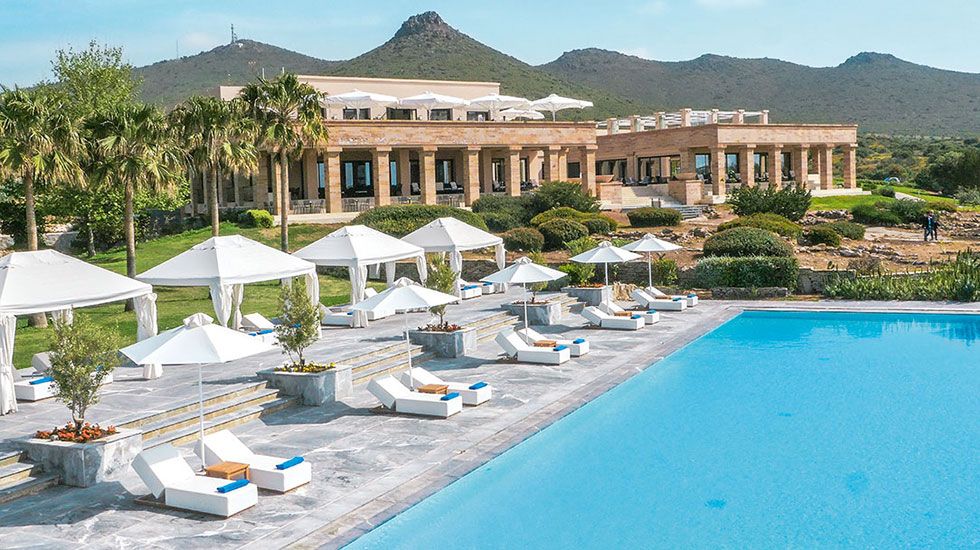 Cape Sounio Grecotel Exclusive Resort is located just 10 miles south of Athens, on the Athens Riviera. This is a luxurious resort built among pine trees, overlooking the majestic Temple of Poseidon in Sounio. Cape Sounio Grecotel Exclusive Resort is the ideal luxury seafront resort for families who want to visit Athens but do not want to stay inside the city.
Click here to find the latest prices and more details
It is our passion to test and find the best family hotels in Greece. And we love to share our experiences with other parents. In fact, it was the reason this blog came to life. Should you have any comments on the reviewed hotels or if you want to add one of your own favorites, do not hesitate to leave us a comment or mail us!
Related posts about the best family hotels in Greece:
At Family Experiences Blog, we independently select and write about stuff we love and think you'll like too. Family Experiences Blog has an affiliate partnership with Booking.com, so we get a small commission from your booking. Readers never pay more for products or reservations. This way we support the blog, run the site and engage with this community we truly love. Thank you for reading!
Credits featured photo above this post: Luxury Family Resort – Olympia Riviera and Aqua Park Grecotel Hotels & Resorts. Photo credits also for MarBella Corfu