Last Updated on by Celeste
Zakynthos has a special place in our hearts. Part of our Greek family lives there and this is the reason that we often visit. Zakynthos has some of the best blue bays in Greece and is world-famous for its shipwreck beach. Here are the reasons why we love Zakynthos so much.
Zakynthos island with kids
From personal experience, I can say that Zakynthos island or Zante, is great for a family summer holiday. Zakynthos' landscape with its massive cliffs, green flat areas with pine tree forests and olive groves, caves, and bays offer all sorts of beaches on all sides of the island. Zakynthos is not very big and it is recommendable to hire a car (check my post with travel tips for renting a car in Greece with kids on holiday) and drive around. The most famous part of Zakynthos is the west coast with its 'Shipwreck Beach' or 'Navagio', the most photographed beach in Greece, pictured above. 
Beaches Zakynthos
Zakynthos island with kids is best at its beaches. The east side of the island is the most suitable for families because of the sandy beaches and shallow calm sea.  Here are sandy beaches at Tsilivi (good for windsurfing too), Alykes, Vassilikos, and Ambala. The south of Zakynthos hosts busy international resorts with accommodation for all budgets. Many of the  (all- inclusive) hotels and airbnb's here are located directly on the beach. These beaches are organized and sandy. The sea is mostly shallow and good for very young children. The beach resorts of Laganas and Kalamaki are the most popular to foreign visitors arriving with charters and in groups. These busy but organized beaches offers much for a family holiday: toilet facilities, beach bars, water sports, and restaurants. Gerakas is considered the most beautiful and peaceful beach in the south. The shallow waters are warm and the water is very calm for young swimmers. You can rent sunbeds and umbrellas here and the beach is stroller accessible via a ramp. Older children will love the cliffs and beaches at Porto Limnionas (some climbing is necessary to reach the beach), Porta Roxa and Porta Vromi.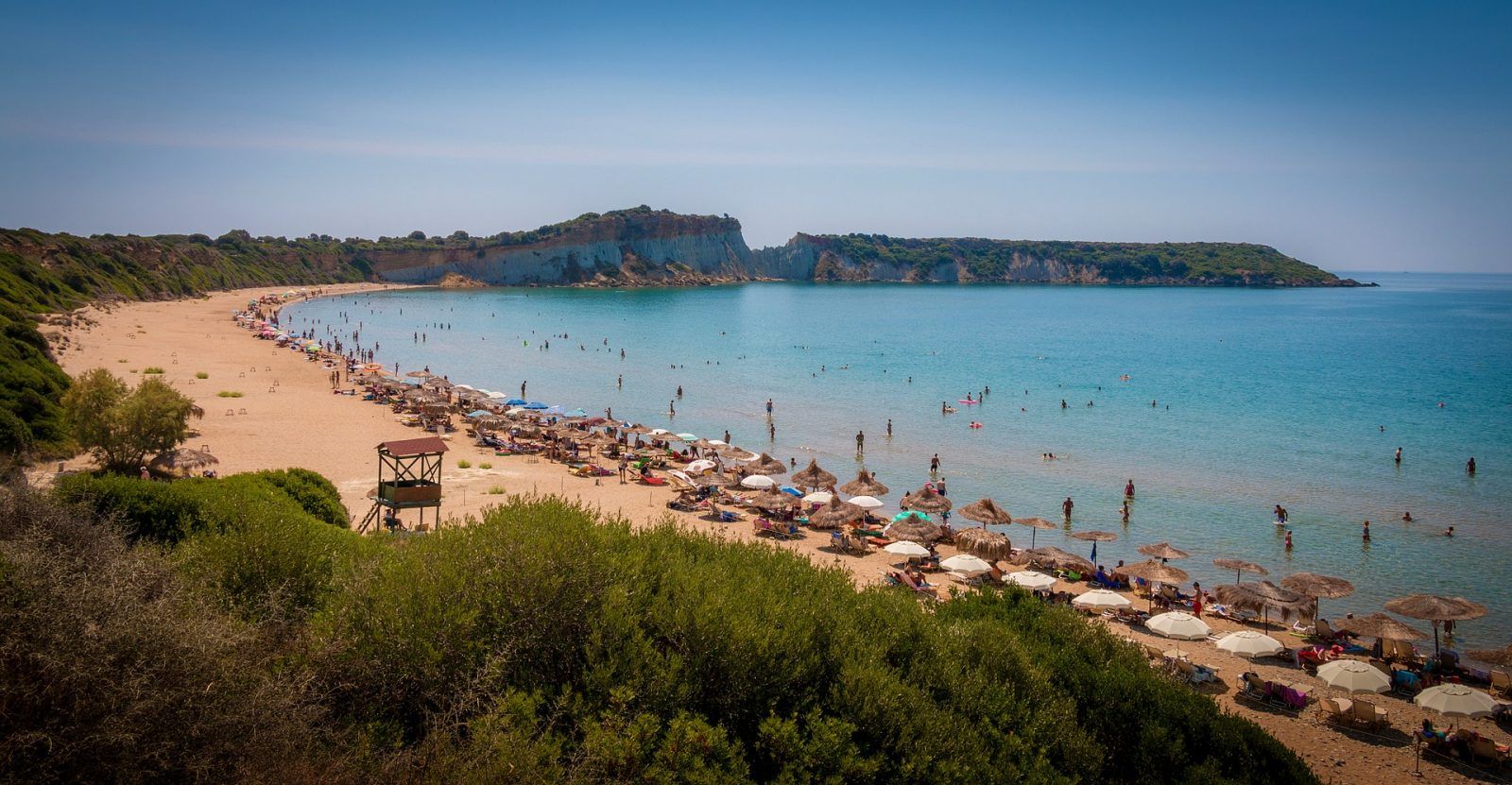 To do in Zakynthos island with kids
Old Town
Besides beautiful beaches, there is a lot more to see and do with children in Zakynthos. The island has a rich history and much of it is still to admire in and around its picturesque Old Town. This Venetian capital is ideal for a morning or afternoon stroll. The large central square and some of its streets around it are car-free and the Venetian Kastro on the green Strani hill is an impressive landmark that kids will enjoy. It is a well-maintained castle and offers a beautiful view over Zakynthos city. We love just strolling around the town and sit down for souvlaki in one of the taverns.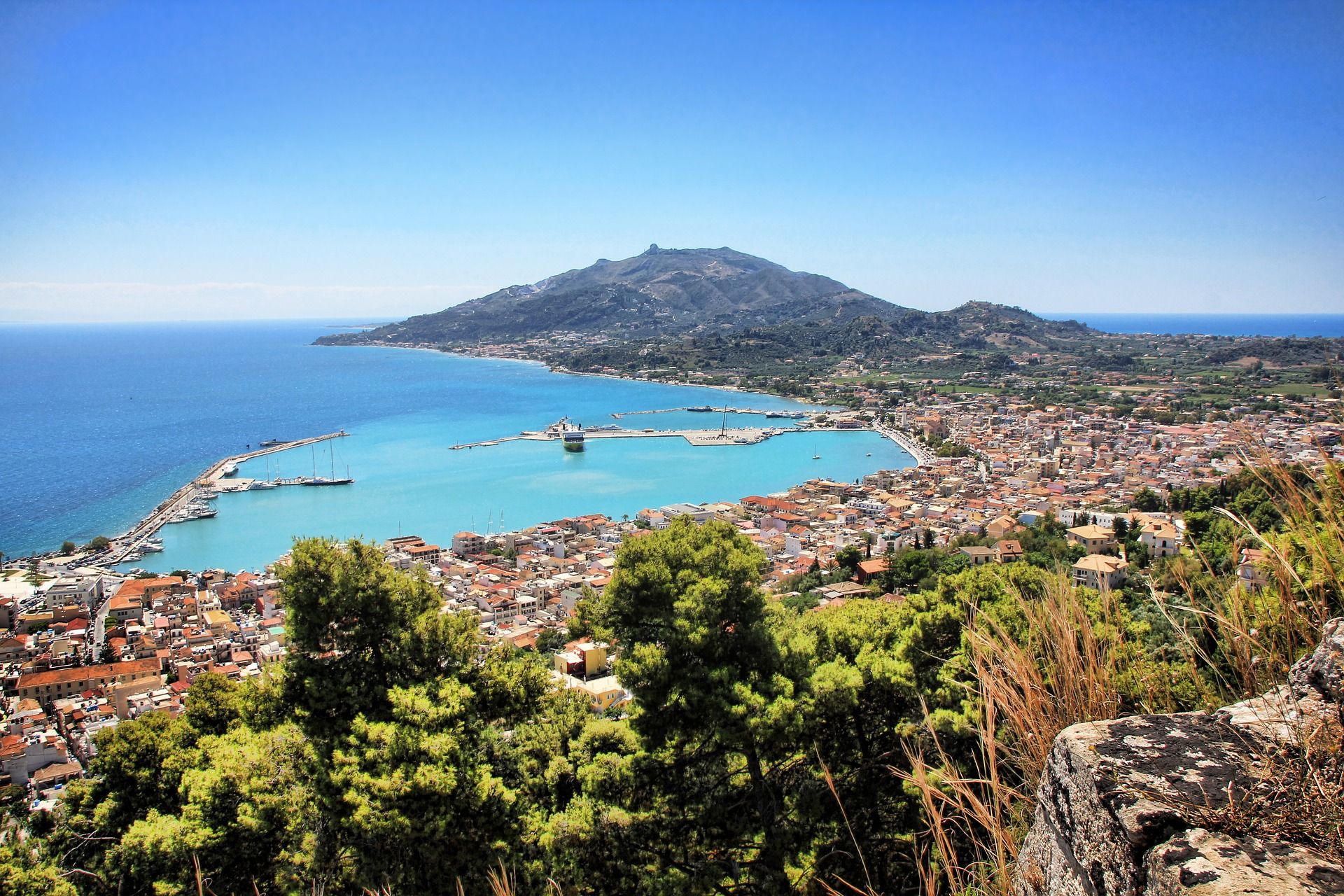 Keri Caves and Marathonissi
The coastline of Zakynthos is rocky in many places and there are many caves. The best-known caves are the 'Blue Caves'. These are one of the island's main attractions and especially suitable if you are visiting with older children. Marathonissis is a must visit and you can go from the most northeaster village of Agios Nikolaos with an organized boat tour. It is a small islet with tropical beaches and sea caves located just outside Keri Beach (Limni Keri) inside the bay of Laganas. We rented our own boat and visited the caves. It was a mind-blowing experience.
Turtles and Dolphins
Zakynthos island is famous for its turtles. In fact, the Loggerhead Turtles or 'Caretta Caretta' are the most famous residents of the island. These amazing creatures have been nesting on Zante's beaches for thousands of years but sadly, they are now endangered. Several tour companies organize turtle spotting tours. They usually start by sailing to Marathonisi (Turtle Island). One of its beaches is a favourite turtle-nesting spot. Besides turtles, you may also see dolphins in the waters of Zakynthos.

If you and your family decide to visit the turtles in an organized setting, I can recommend the Boat Trip to Keri Caves and Loggerhead Turtle Watching tour. This excursion is accompanied by an English-speaking guide and includes a family-friendly boat trip from Zakynthos (Zante) to the Natural Marine Park of Zakynthos, the Keri Caves and the place where they lay their eggs on Golden Beach in Marathonisi. 
For more information and booking the family friendly Boat Trip to Keri Caves and Loggerhead Turtle Watching Tour, please click here.
Navagio Beach 
Zakynthos with kids cannot exclude its major attraction: the Zakynthos Shipwreck Beach or Navagio Beach. This ship stranded in the Northwest in 1982 and is now one of Greece's most photographed sites. You will encounter it on many postcards and calendars. Due to a recent cliff-slide event, it is temporarily not possible to swim and stay at the Navagio beach. If you are visiting Zakynthos, check on the current regulations before you visit at any tourist agency. You can currently only visit the Navagio Beach by organized boat tours. You can find a selection of such boat tours to the Navagio Beach here.
If you want to see the Navagio shipwreck from close, I recommend the Navagio Shipwreck Beach and Blue Caves Full-Day Tour. This tour is suitable for families with older children and includes a hotel pick up by an English-speaking guide and an 8-hour tour by small speedboat to the Blue Caves, the shipwreck and the  rusty shipwreck.  
For more information and booking the Navagio Shipwreck Beach and Blue Caves Full-Day Tour, please click here.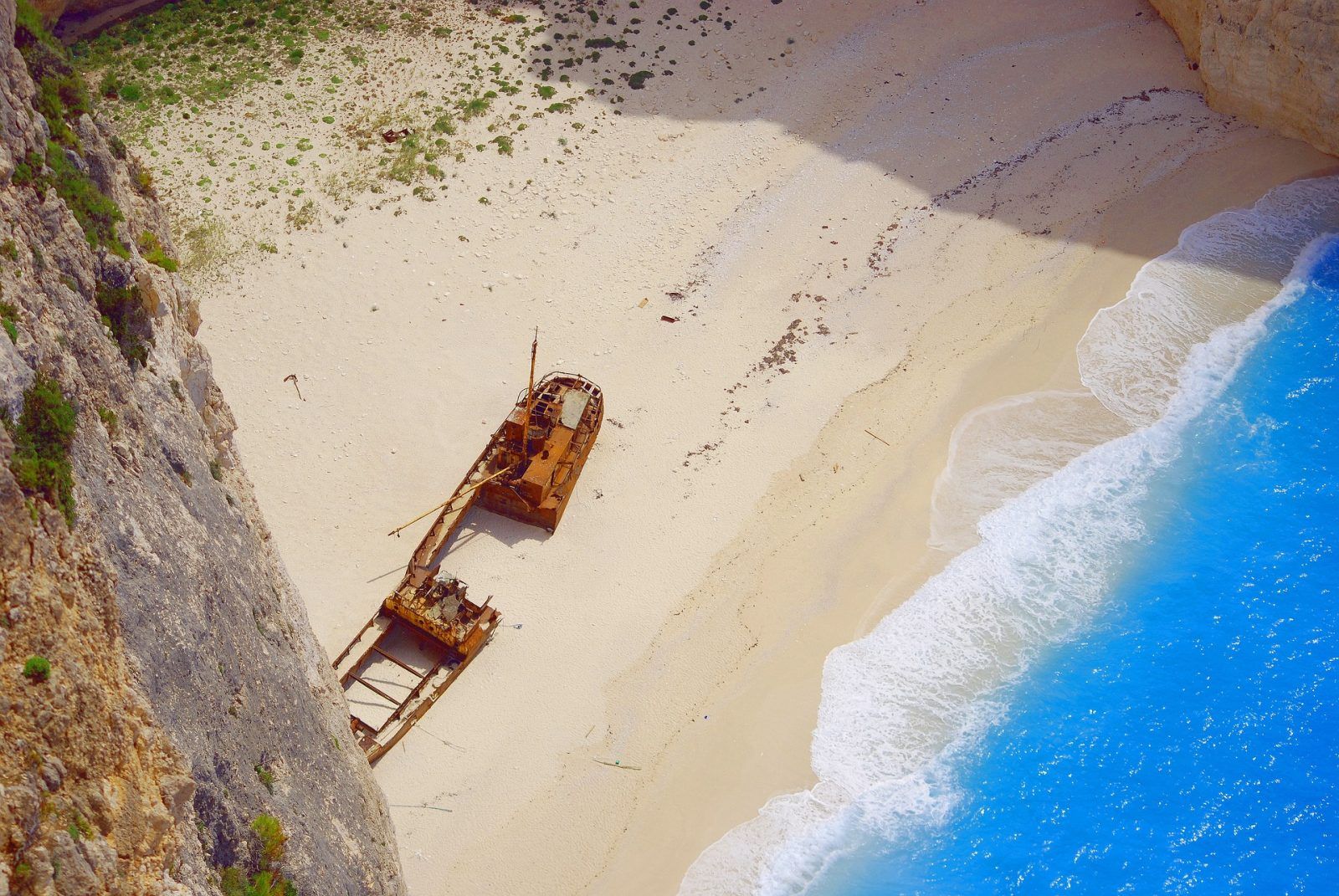 For families with young kids I recommend a 3-hour visit to the Navagio such as the From St.Nikolaos: Boat Cruise to Navagio Beach & Blue Caves Tour on a glass-bottom boat. This smaller boat is offers a more intimate experience. 
For more information and booking the From St.Nikolaos: Boat Cruise to Navagio Beach & Blue Caves Tour, please click here.
Tip! If you want to see this famous beach from land, you can go from Agios Nikolaos to the top of the cliff for a panoramic view about 250 meters above the turquoise blue water and the shipwreck. 
Water parks
If you want a break from the beaches, head over to the water parks. There are two in Zakynthos island; Tsilivi Water Park located on the sea-side has with slides, many swimming pools, restaurants and playgrounds. Zante Water Village is smaller and very suitable for young kids and is located in the mainland.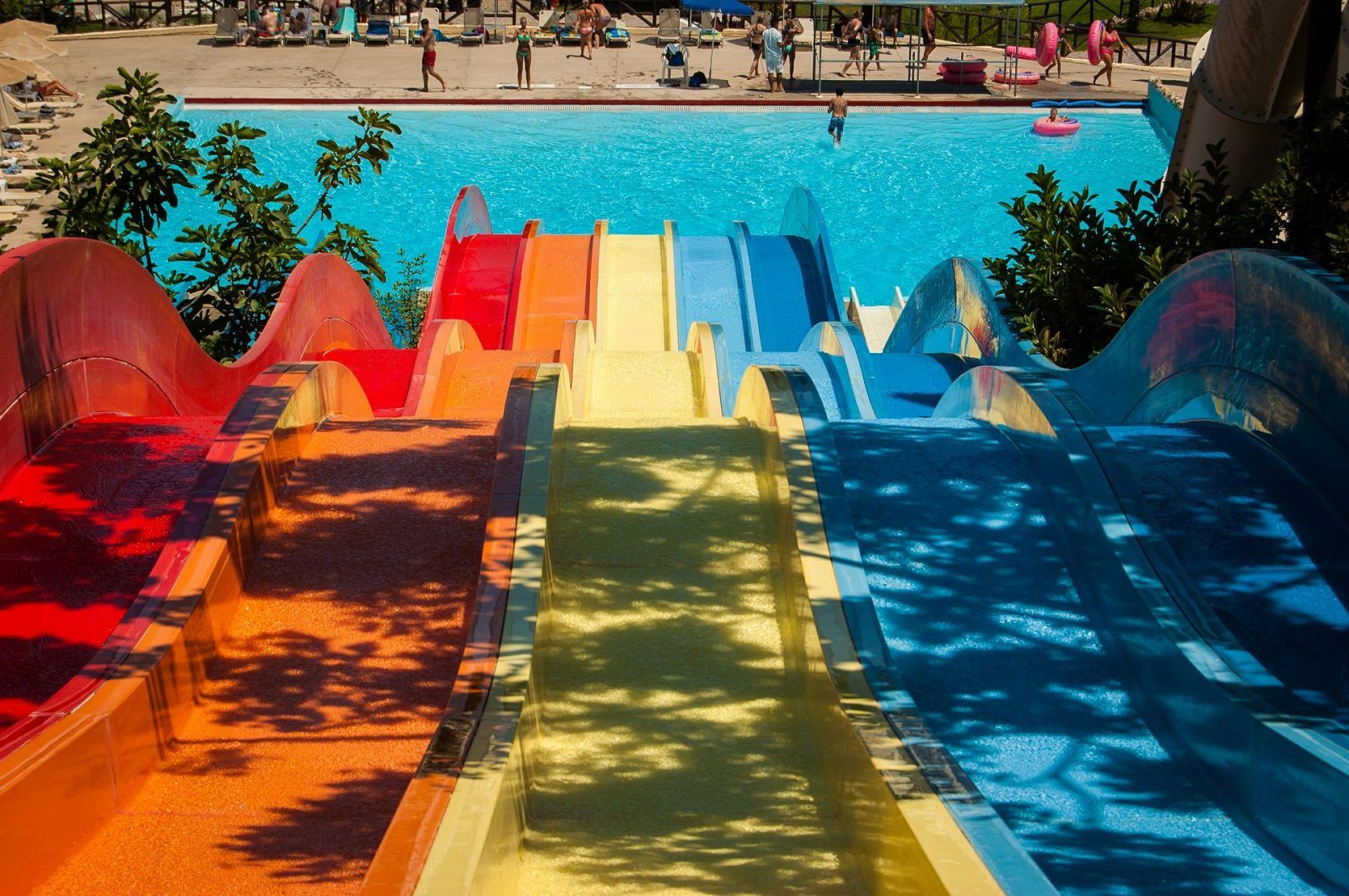 Traditional Zakynthos island with kids
Zakynthos island with kids becomes all the more joyful if you rented a car to explore the island. Giri on the west coast is the highest village of Zakynthos and has beautiful old windmills. Kambi is a small village in the mountains on the west coast where you can enjoy the best sunset of the island. Keri village is famous for its original style. It is the southernmost village in Zakynthos and is a traditional mountain village. I love driving around in Zakynthos, things are relatively close and there are some beautiful farms and views to explore.
Zakynthos Island Tour and Olive Factory Visit
If you choose not to drive yourself but sit back and relax during a family friendly guided tour, I recommend the Zakynthos: Island Tour and Olive Factory Visit. This 6 hour tour includes a tour of the beautiful landscape of the island, idyllic mountain villages, a visit to a traditional olive factory and spectacular views over the caves and the old town. Kids will love learning more about the famous Greek olives and see how the fruits of the most common tree in Greece is turned into oil. 
For more information and booking the Zakynthos Island Tour and Olive Factory visit, please click here.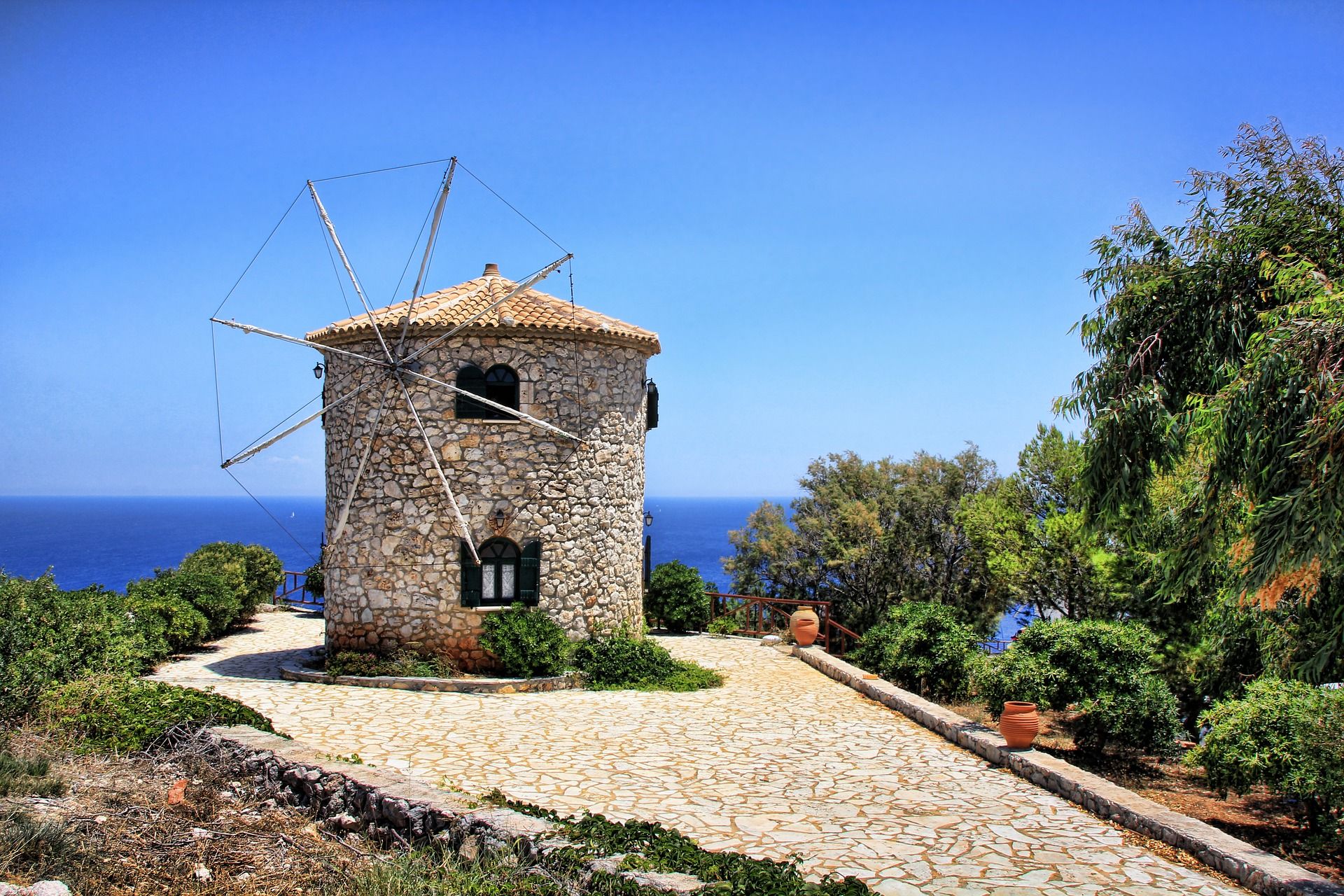 Audio Tours for Zakynthos
If you are looking for exciting stories about the shipwreck or the history of the island, have a look at the Self Guided Audio Tours for Families by Clio Muse. Navagio Beach tour is a walking tour about the shipwreck and Zakynthos: the dancing island is about the history of the island. A Family Audio Tour is a great and affordable way to experience a destination. Here are the benefits of an audio tour for families: Self Guided Audio Tours for Families.
PS. A 15% discount on all audio tours applies for readers this blog. For prices and for more information on how to get the discount, have a look here.
Have you been to Zakynthos island and what is your favourite place on the island? Let me know in the comments!
Pin it for later!