Last Updated on February 15, 2023 by Celeste.
Travel Zakynthos island Greece with kids and discover turtles, caves, stunning nature and more! Discover why Zakynthos -also called Zante – has a special place in our hearts. Part of our Greek family lives there and this is the reason that we often visit. The island has some of the best blue bays in Greece and is world-famous for its shipwreck beach. Here are the reasons why you should travel to Zakynthos island in Greece with kids!
Travel Zakynthos island Greece with kids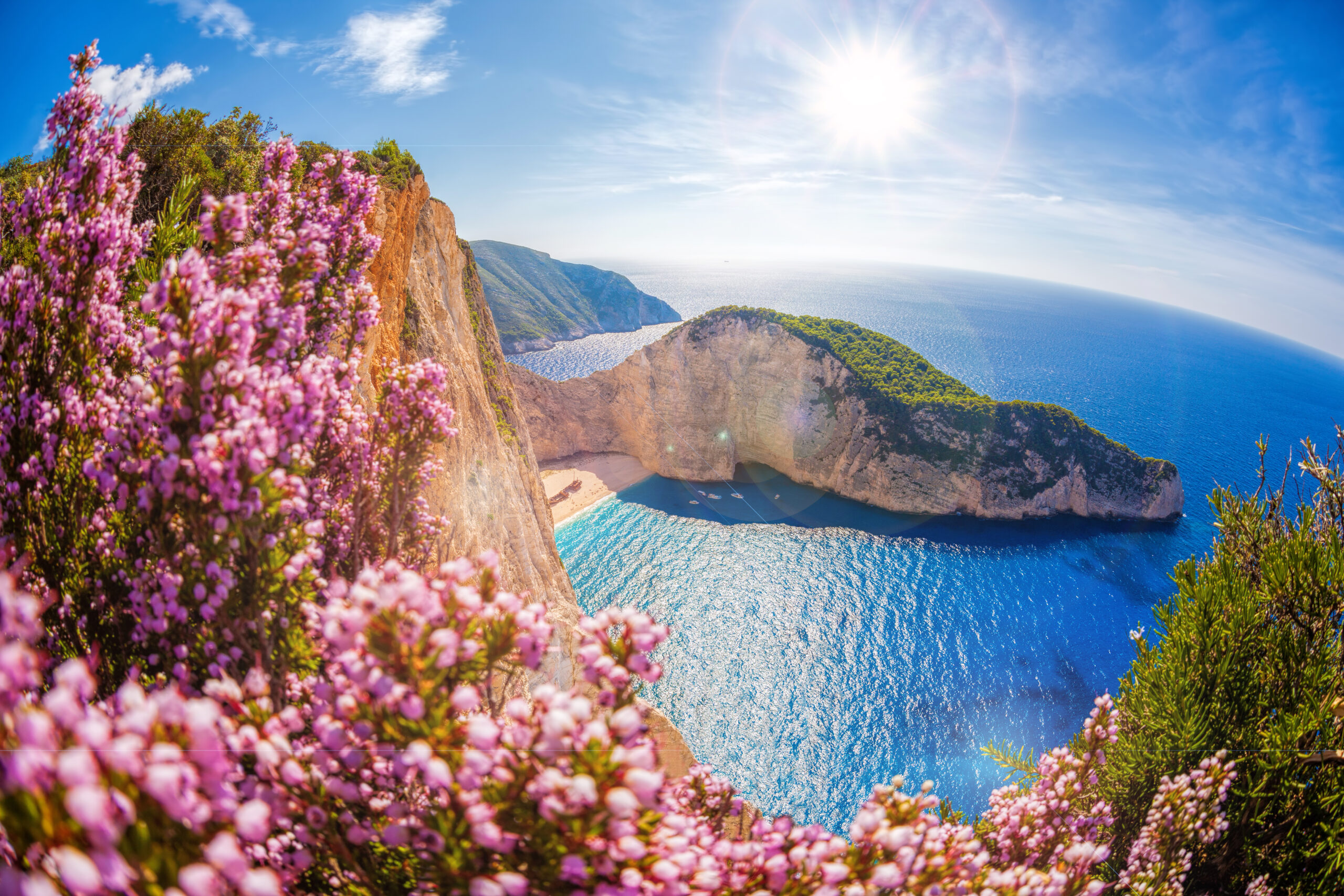 Having been many times, I can say that the Greek island of Zakynthos island is great for a family vacation. Zakynthos has a landscape with massive cliffs, flat green areas, pine tree forests, and olive groves. On the island, you will also find caves, bays, inhabited islands, picturesque villages, and more!
Zakynthos is not very big and it is recommendable to hire a car (click here for renting a car in Greece tips) and drive around.
Best Beaches in Zakynthos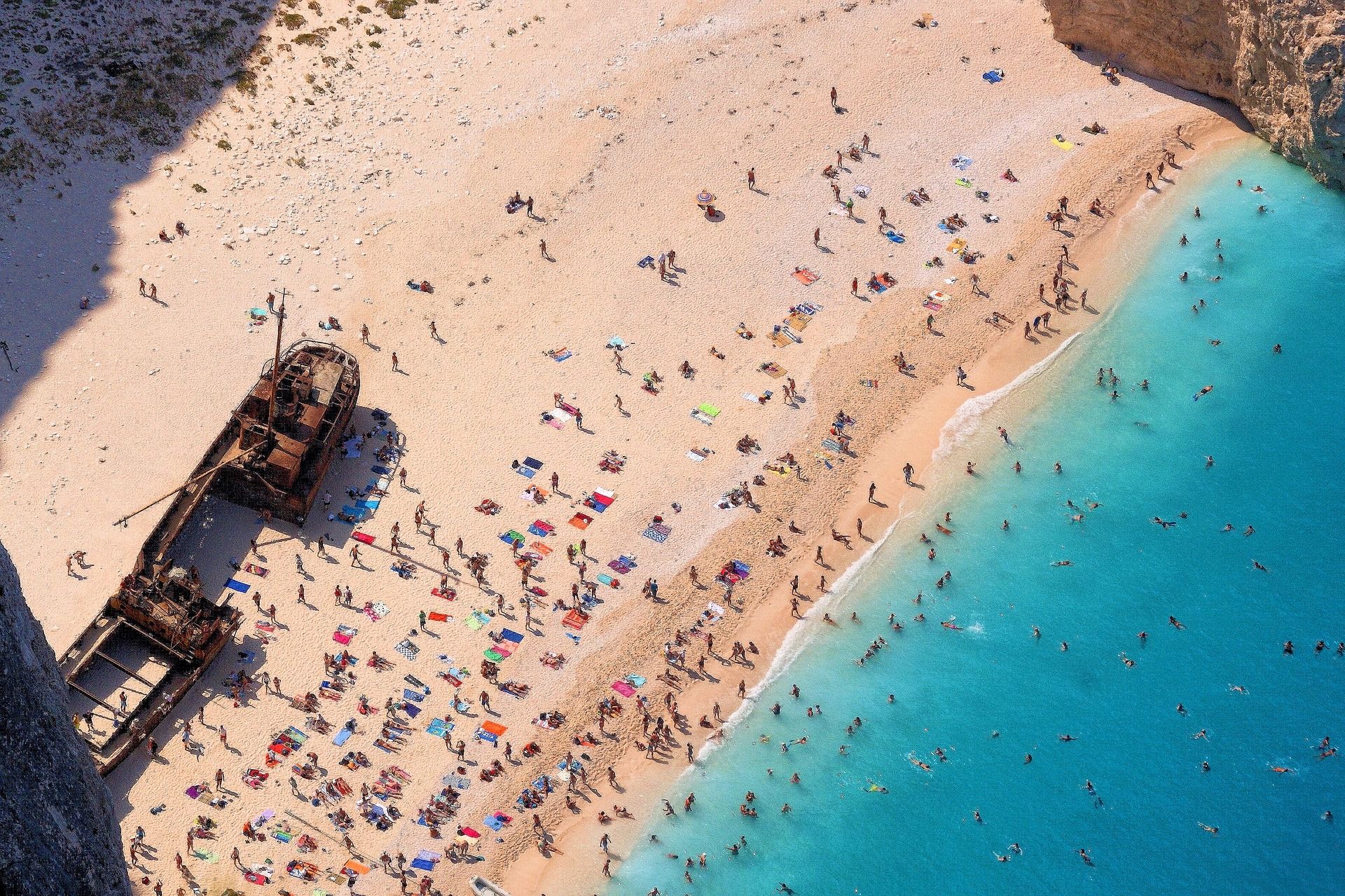 The most famous beach of Zakynthos is on the west coast. Shipwreck Beach or 'Navagio', the most photographed beach in Greece.
However, the east side of the island is more suitable for a family beach day. On this side of the island you will find sandy beaches and shallow calm sea. I recommend the beaches at Tsilivi (good for windsurfing too), Alykes, Vassilikos, and Ambala.
The south of Zakynthos hosts busy international resorts with accommodation for all budgets. Many of these (all-inclusive) hotels and Airbnb's here are located directly on the beach. These beaches are organized and sandy. The sea is shallow primarily and good for very young children.
Laganas and Kalamaki are the most popular resorts for foreign visitors, arriving with charters and in groups. These busy but organized beaches offer much for a family holiday: toilet facilities, beach bars, water sports, and restaurants.
Gerakas is considered the most beautiful and peaceful beach in the south. The shallow waters are warm and the water is very calm for young swimmers. You can rent sunbeds and umbrellas here and the beach is stroller accessible via a ramp.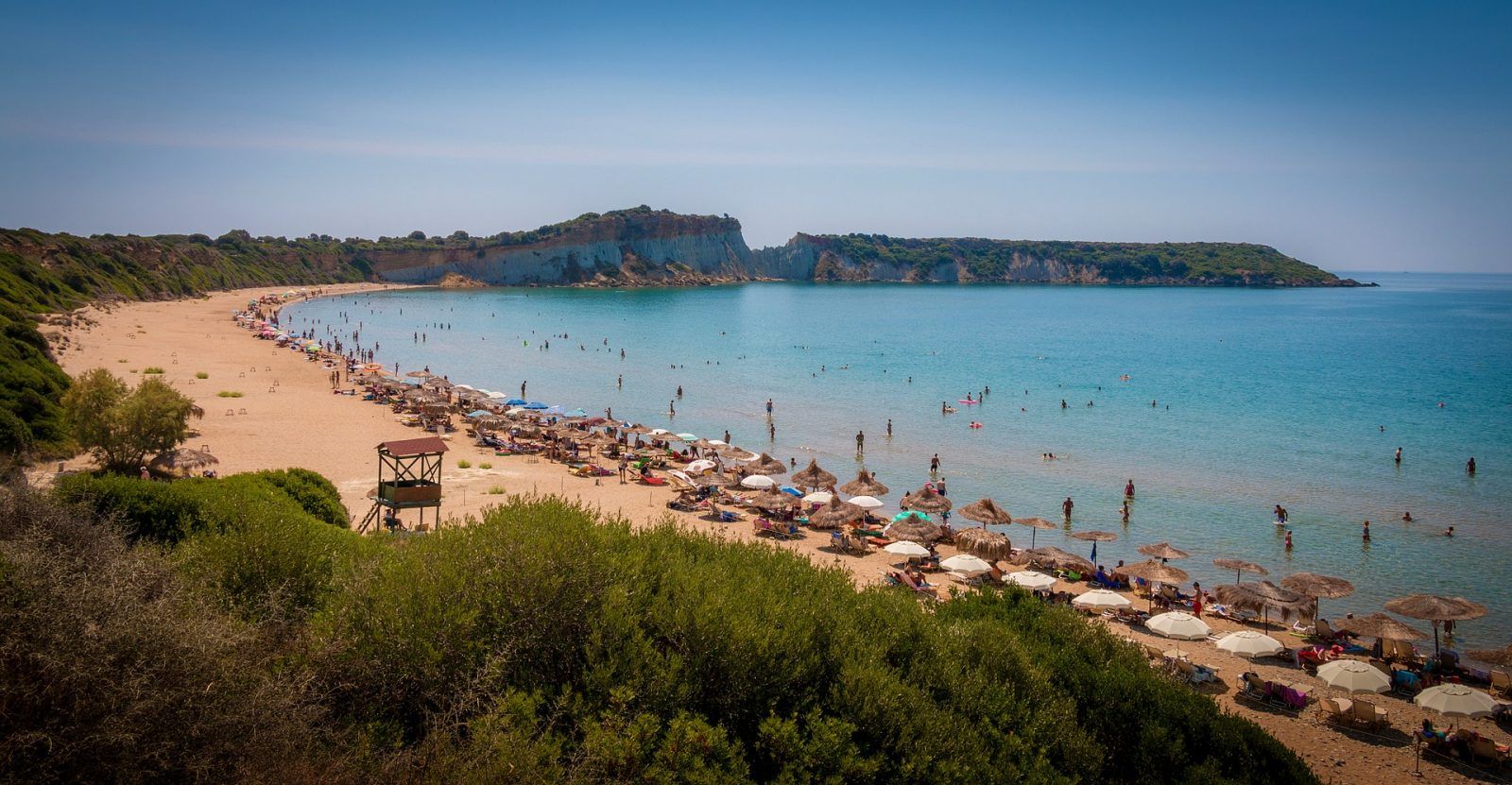 Older children will love the cliffs and beaches at Porto Limnionas (some climbing is necessary to reach the beach), Porta Roxa, and Porta Vromi. 
Family Hotels in Zakynthos
Porto Zante Villa & Spas
Five-star luxury private villa resort Porto Zante is a Small Luxury Hotels of the World resort located on its private sandy beach. The luxury spa and boutique hotel boast exceptional panoramic views of the nearby island of Kefalonia, the Peloponnese peninsula and the endless crystal blue Ionian Sea. Families will love the spacious family villa's, the beautiful outdoor playground, the Kids Club and the babysitting services. The resorts organise kid-friendly activities such as pool games, horseback riding, mini-golf etc.
Click here for more information and booking Porto Zante Villas & Spa
The Peligoni Club
The Peligoni Club is a family-run beach club in the secluded north of Zakynthos, an island in Greece. It's a members-only retreat for a fun-loving crowd. Small and personal with a focus on quality over quantity, the club will mould itself around your idea of the perfect Greek island holiday. Open from May Half Term until September every summer. The resort is great for families with young kids as well as teens. They can take part in water sports classes – windsurfing, wakeboarding, paddleboarding, and sailing while their parents relax at the infinity pool.
Hotel Bitzaro Palace
If you are looking for a comfortable family-friendly hotel to stay in Zakynthos, we recommend the four-star Bitzaro Palace Hotel. This family-owned hotel in Zakynthos combines elegance and comfort with respect to the traditional Ionian style. The hotel offers family rooms, a children's pool, and a green playground (pictured below). The beach is only 2 minutes away.
Click here for more information or to book your stay at the Bitzaro Palace Hotel
Things to do in Zakynthos for families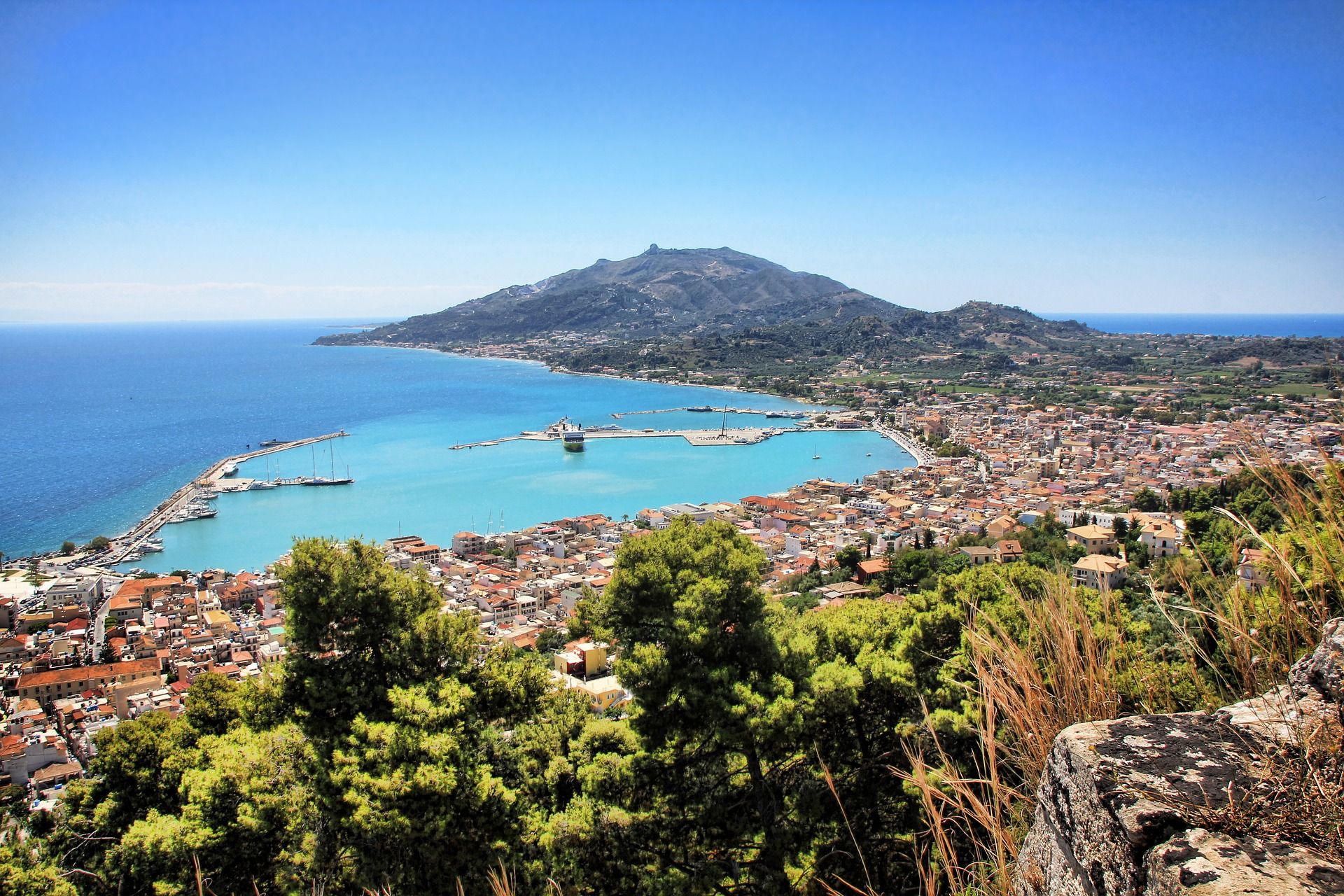 Visit the Old Town
Besides beautiful beaches, there is a lot more to see and do with children in Zakynthos. The island has a rich history and much of it is still to admire in and around its picturesque Old Town. The large central square and some of its streets are car-free. My kids love cycling here. We love just strolling around the beautiful buildings. And we much enjoy sitting down for a Greek meal in one of the taverns.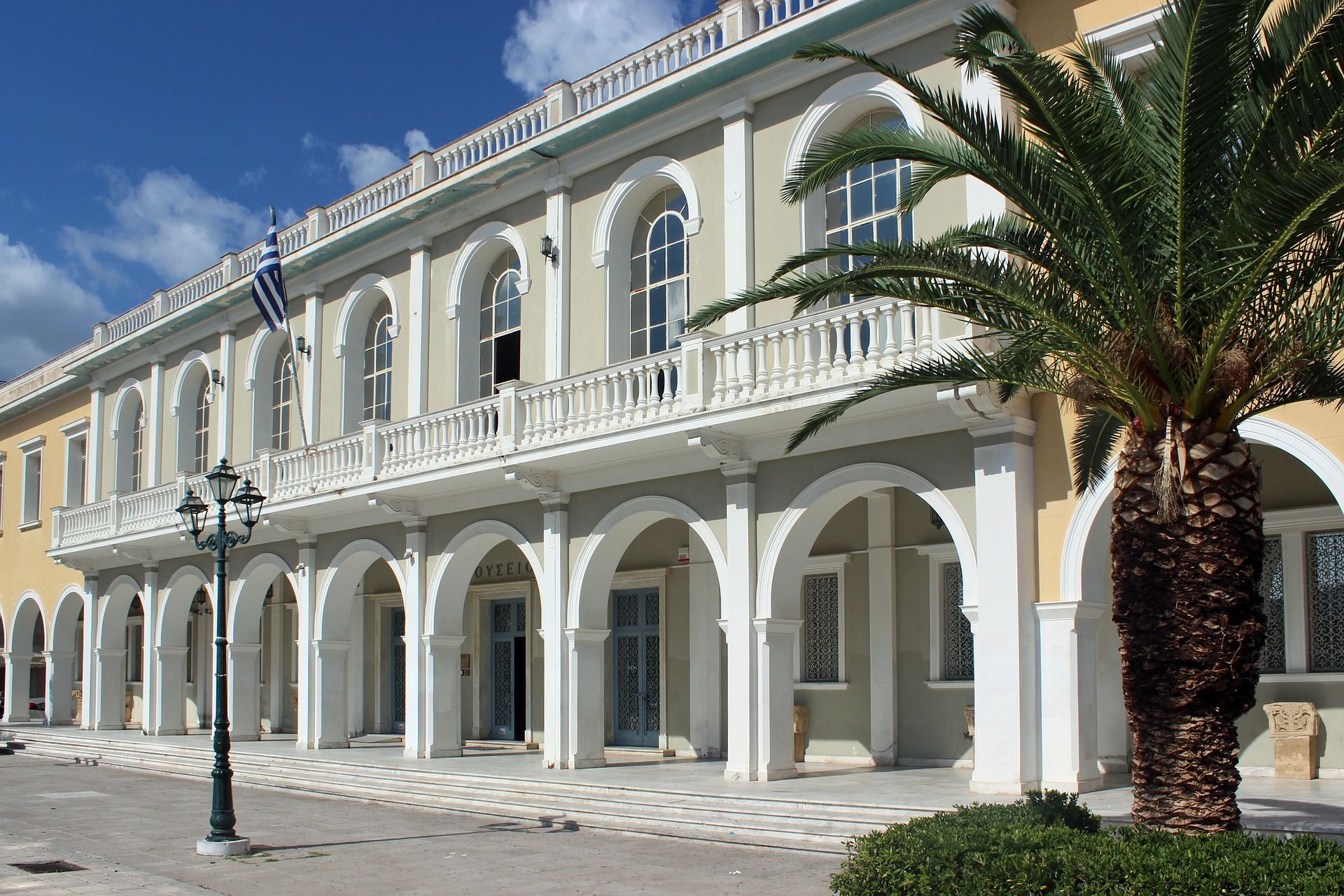 The Venetian Kastro on the green Strani hill is an impressive landmark that everyone in the family will enjoy. This well-maintained castle offers a beautiful view of Zakynthos city.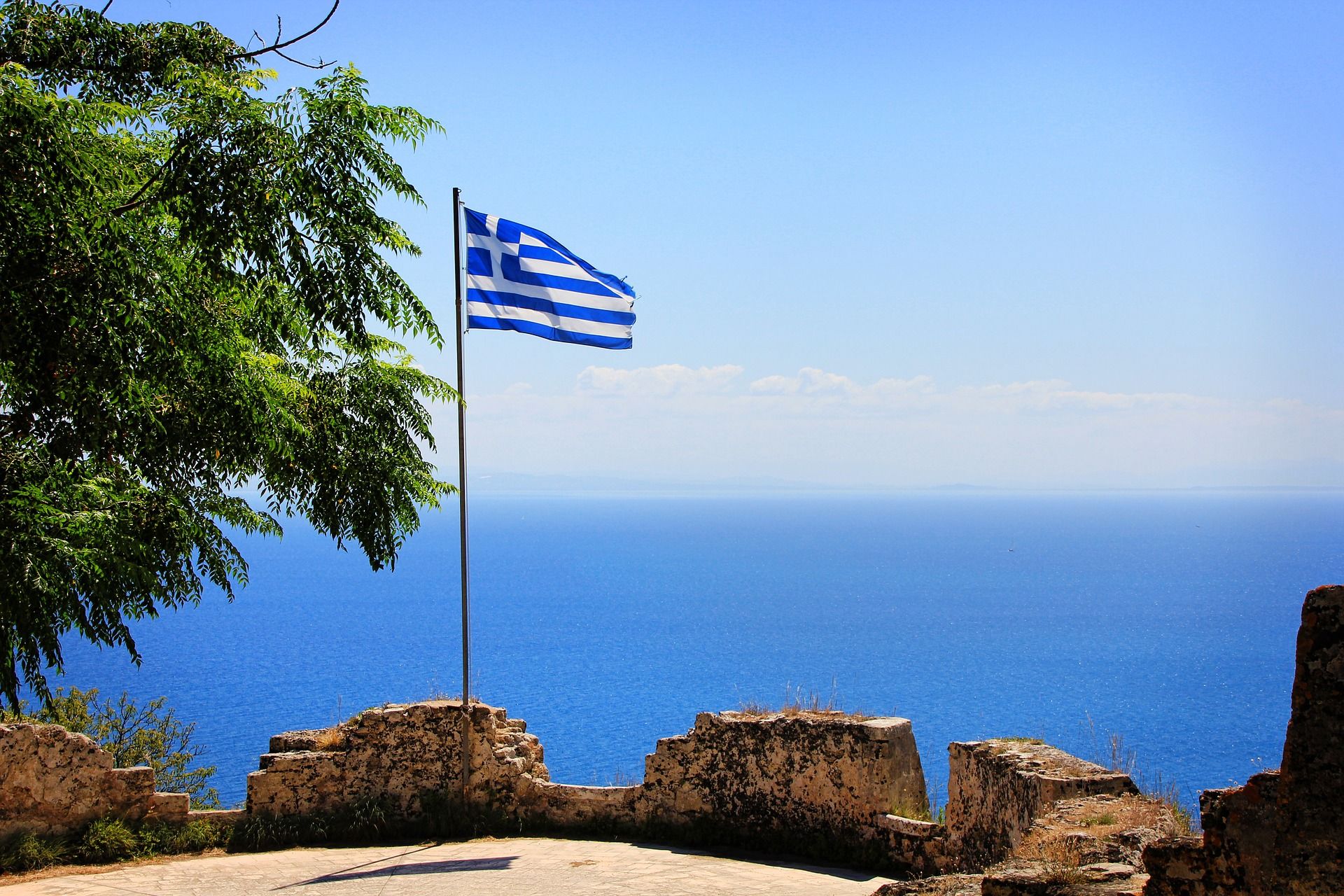 Zakynthos Keri Caves
The coastline of Zakynthos is rocky in many places and there are large caves. Kerì Caves, accessible only by sea with private boats or tourist excursions, develop along the promontory of Marathia Cape, in the South-West area of the island.

Zakynthos Blue Caves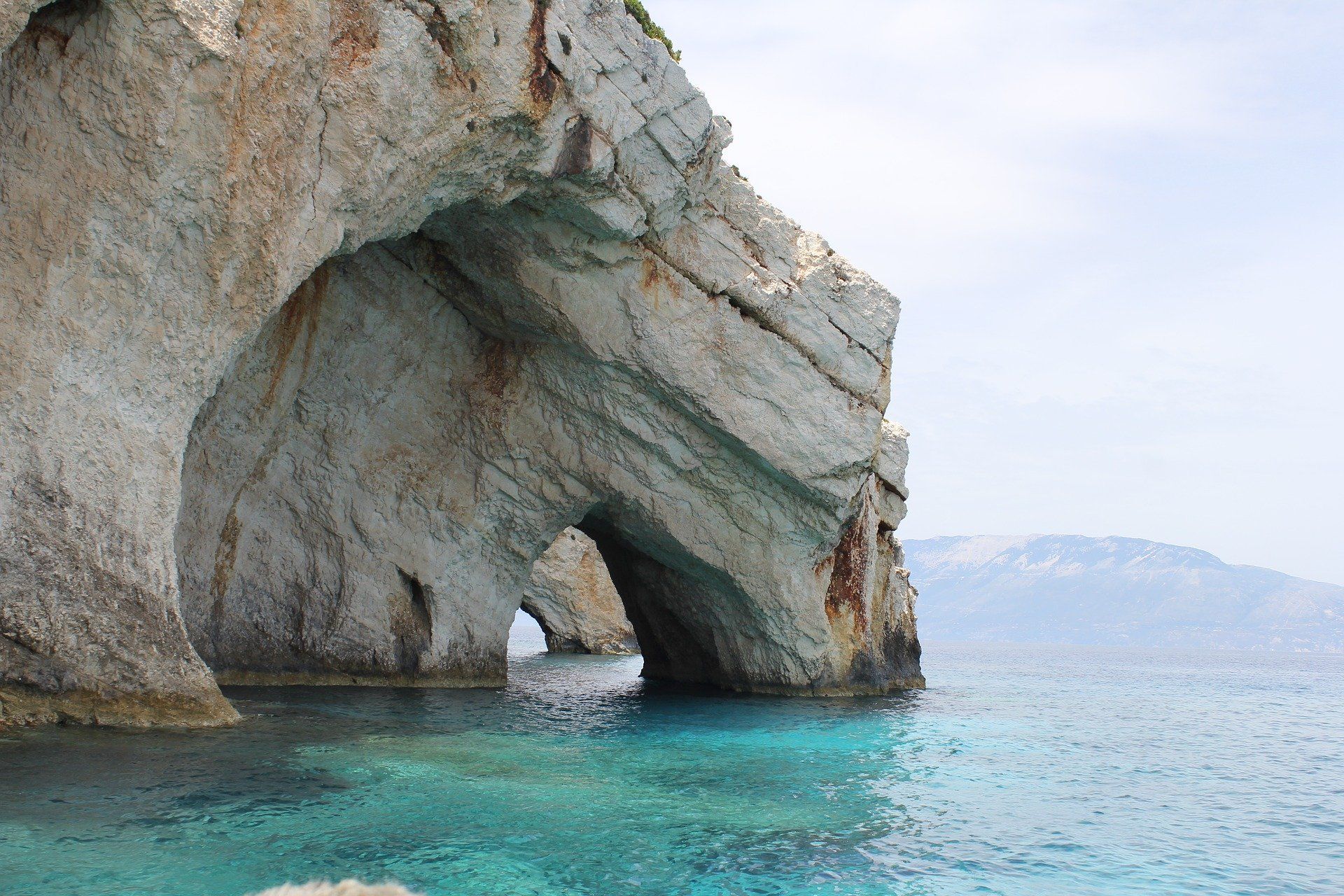 The best-known caves are the 'Blue Caves'. The Blue Caves are one of the most popular and advertised attractions on the island; you can visit them with your own boat or with one of the many organized tours.
The Blue Caves consist of particular geologic formations giving life to a succession of caves along the North-West coast of the island; they start soon after Agios Nikolaos to end near Skinari Cape.
Travel Zakynthos islands Greece with Kids: Visit Marathonissi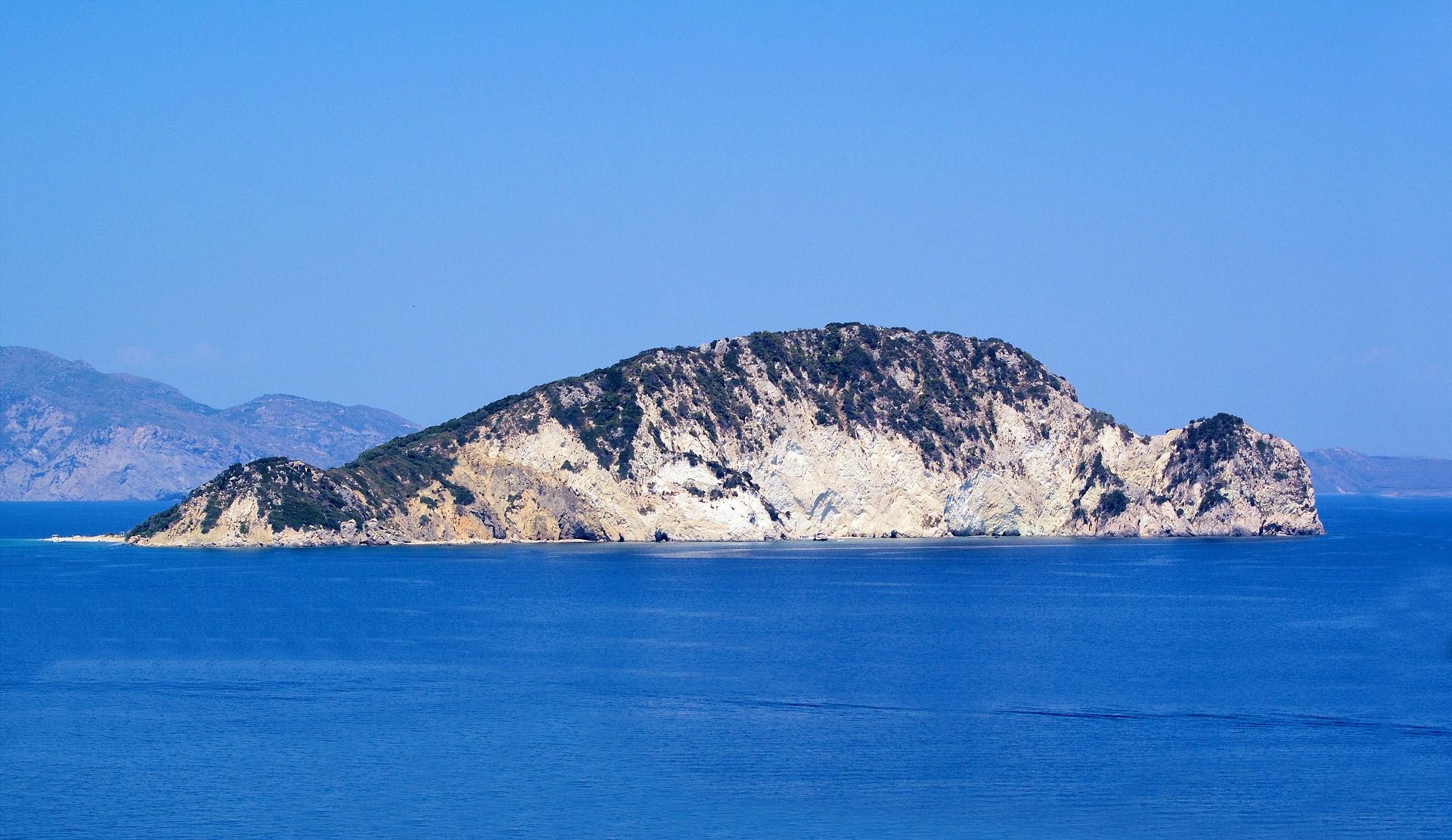 Marathonissi is a small private island in the turtles' bay close to Limni Kerì's beach. Until the second world war the island was lived, today it had neither inhabitants nor buildings. It is now one of the areas where the CARETTA CARETTA turtles go to breed. You can visit the island by private boat or by organized tourists' visits by caique and for the stronger ones, there is the possibility to go by canoes and maybe meet the turtles.
Pay attention that as the island is inside the Marine Park the anchorages it is not legal.
There are two beautiful beaches: one with pebbles, reachable by swimming from a huge cave, the other one is a large sand area smoothly gliding towards the sea.
Caretta Caretta turtle
Zakynthos island is famous for its turtles. In fact, the Loggerhead Turtles or 'Caretta Caretta' are the most famous residents of the island. These amazing creatures have been nesting on Zante's beaches for thousands of years but sadly, they are now endangered. Several tour companies organize turtle spotting tours. They usually start by sailing to Marathonisi (Turtle Island). One of its beaches is a favourite turtle-nesting spot. Besides turtles, you may also see dolphins in the waters of Zakynthos.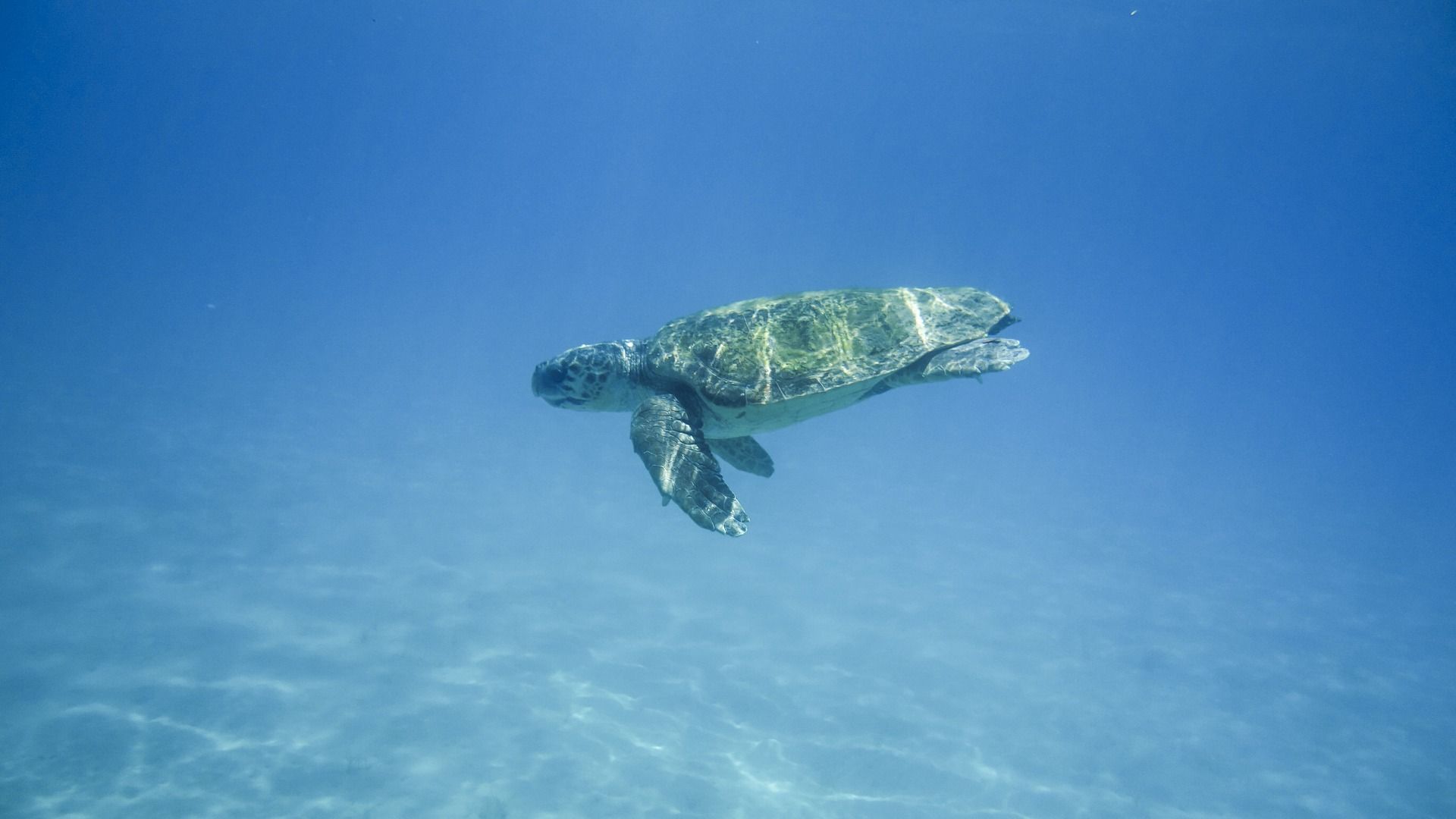 Family-friendly boat trip
If you and your family decide to visit the turtles in an organized setting, I can recommend the Boat Trip to Keri Caves and Loggerhead Turtle Watching tour. This excursion is accompanied by an English-speaking guide and includes a family-friendly boat trip from Zakynthos (Zante) to the Natural Marine Park of Zakynthos, the Keri Caves, and the place where they lay their eggs on Golden Beach in Marathonisi. 
Click here for more information and booking the family-friendly Boat Trip to the Keri Caves and Loggerhead Turtle Watching Tour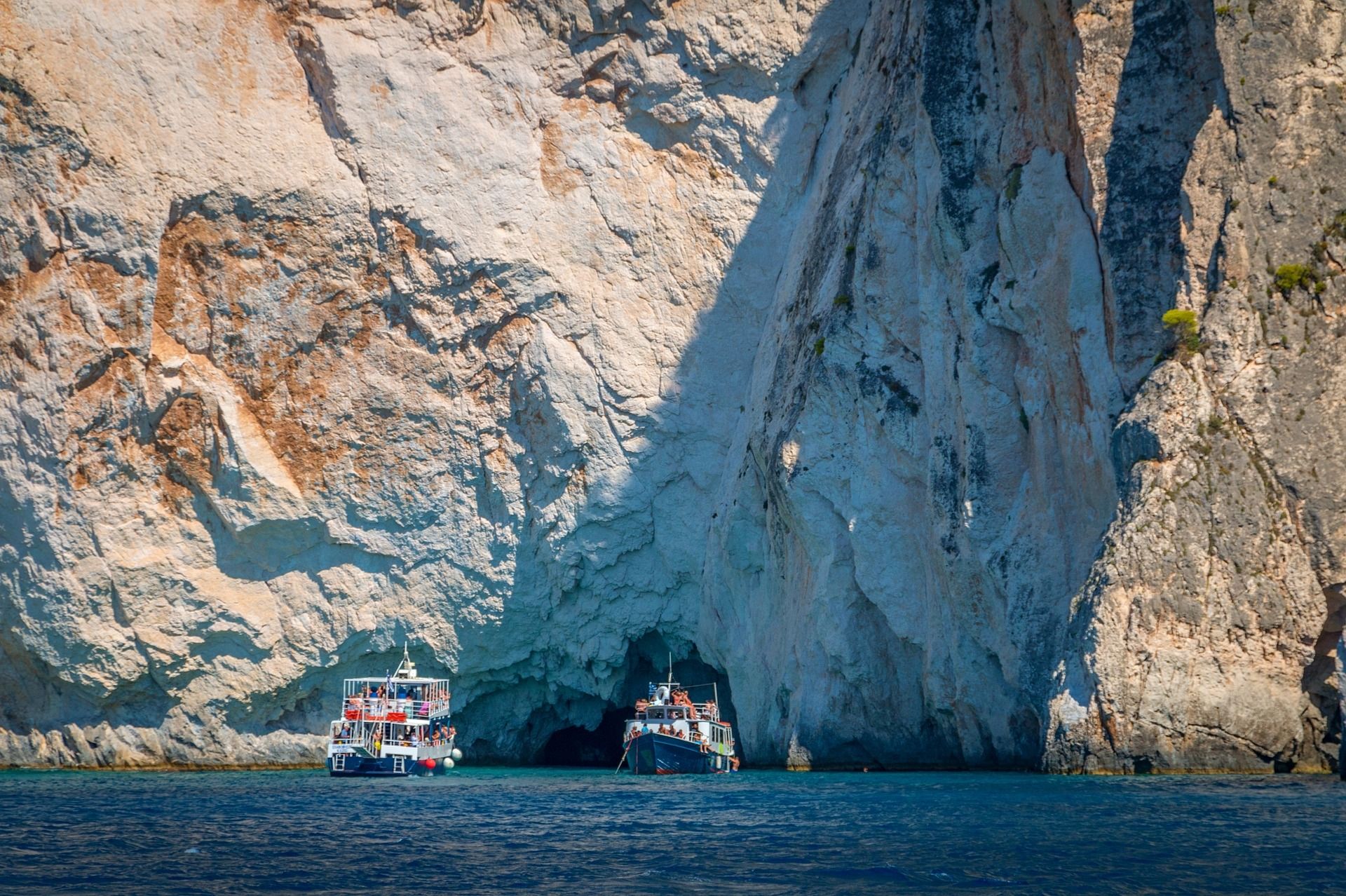 Zakynthos with kids cannot exclude its major attraction: the Zakynthos Shipwreck Beach or Navagio Beach. This ship was stranded in the Northwest in 1982 and is now one of Greece's most photographed sites. You will encounter it on many postcards and calendars. Some years ago, there was a cliff slide causing a temporary ban on visiting Navagio beach. But now you can visit Navagio Beach by organized boat tours again.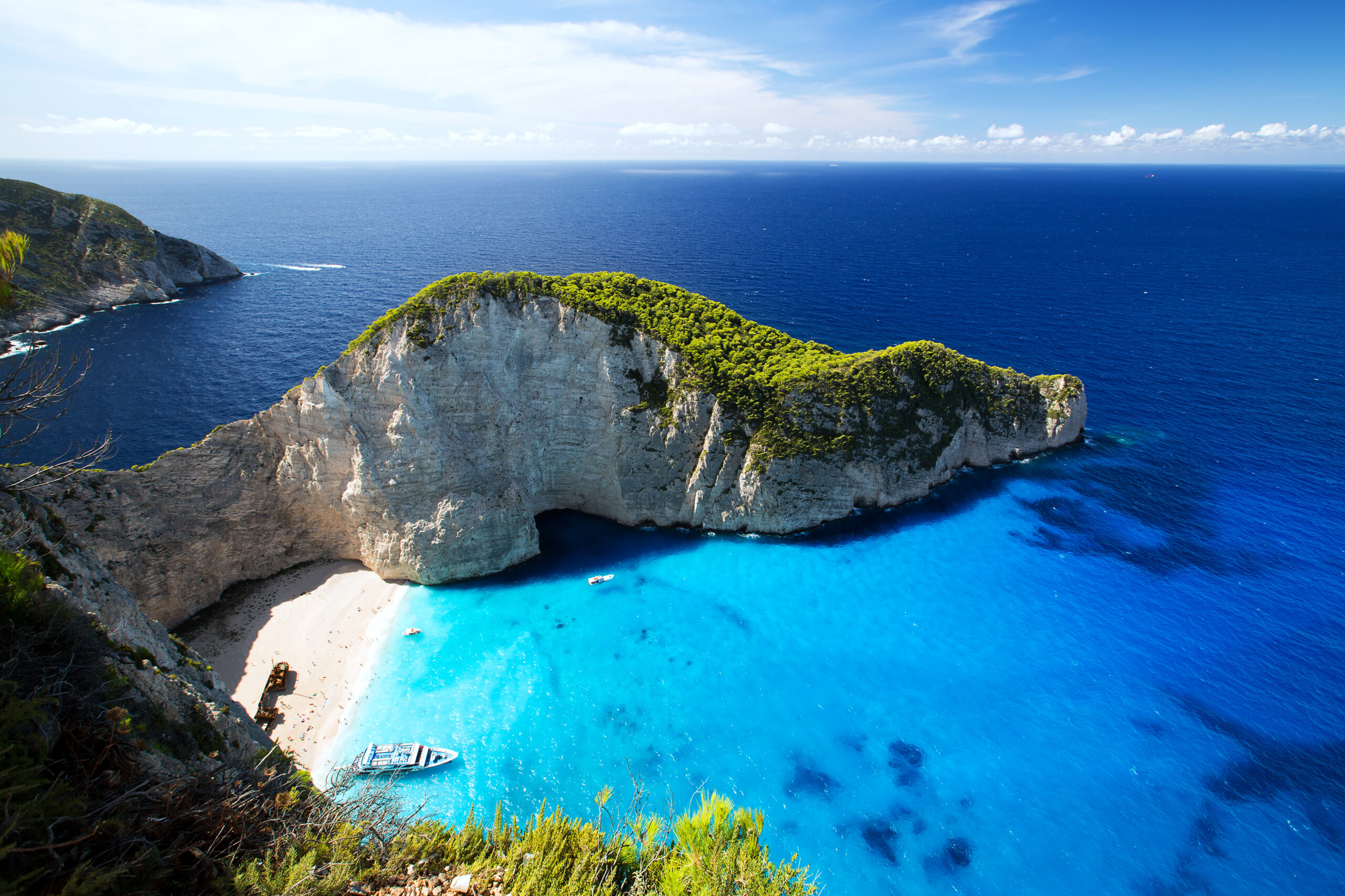 If you want to see the Navagio shipwreck from close, I recommend the Navagio Shipwreck Beach and Blue Caves Full-Day Tour. This tour is suitable for families with older children and includes a hotel pick up by an English-speaking guide and an 8-hour tour by small speedboat to the Blue Caves, the shipwreck and the rusty shipwreck.
Click here for more information and booking the Navagio Shipwreck Beach and Blue Caves Full-Day Tour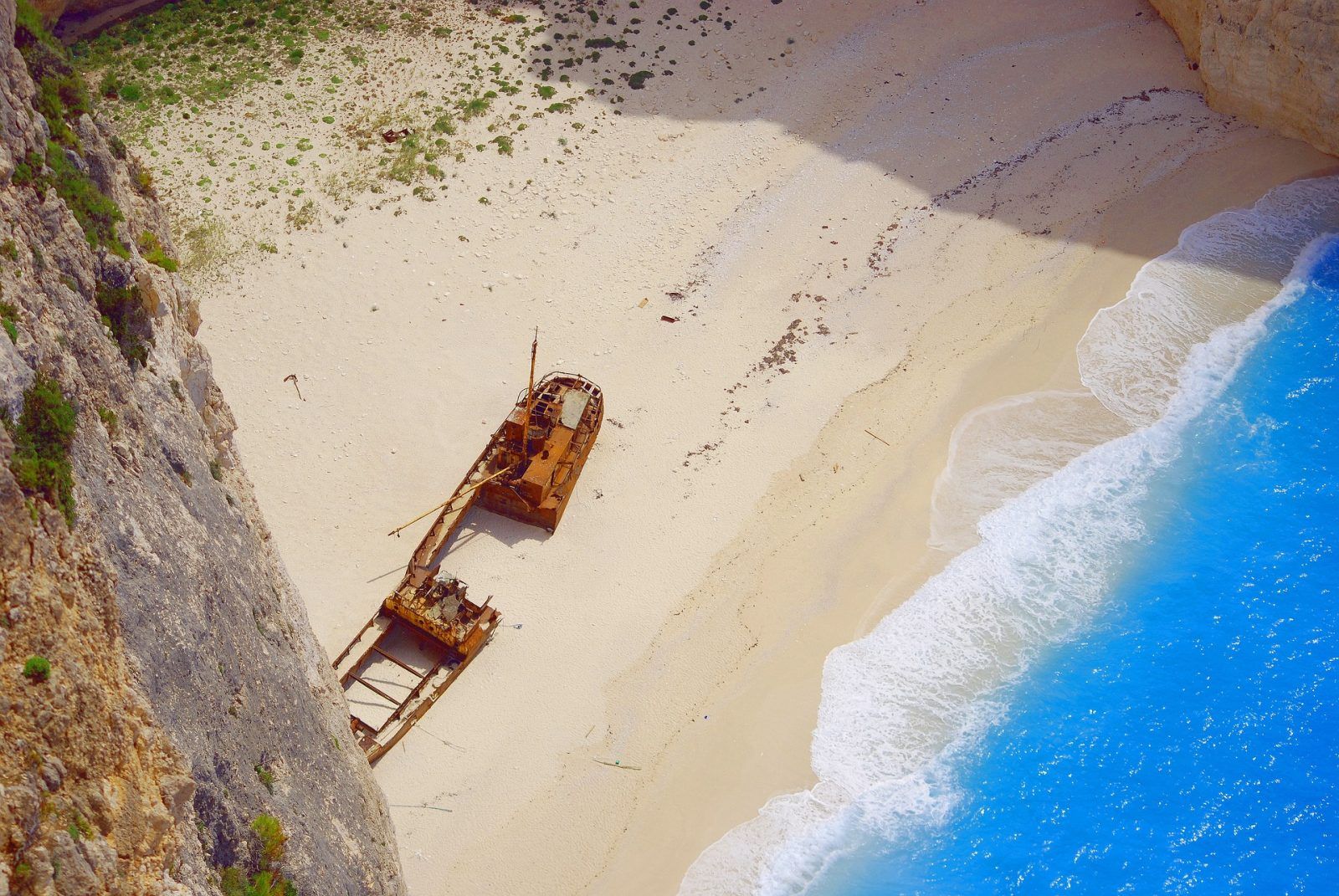 For families with young kids, I recommend a 3-hour visit to the Navagio such as the from St.Nikolaos: Boat Cruise to Navagio Beach & Blue Caves Tour on a glass-bottom boat. This smaller boat offers a more intimate experience.
Click here to book your From St.Nikolaos: Boat Cruise to Navagio Beach & Blue Caves Tour
Insider tip: If you want to see this famous beach from land, you can go from Agios Nikolaos to the top of the cliff for a panoramic view about 250 meters above the turquoise blue water and the shipwreck.
The Little Farm
A reader of this blog and parent of the community mentioned The Little Farm to me. Although I haven't personally visited the farm, I would like to share its website here.
We came across a lovely place "The Little Farm" a petting zoo near Agios Sistos…I would like to recommend you add this place. It has lovely owners who take great care of their animals. Our kid had an amazing time out there cuddling guinea pigs and helping to brush turtles. The girl that owns it is from New Zealand and is lovely. Her husband Gianni is a friend of mine for nearly 25 years. They are a lovely couple and really care for the animals.
Water parks in Zakynthos
If you want a break from the beach, head over to the water parks. There are two on Zakynthos island. Tsilivi Water Park is located on the sea-side and has slides, many swimming pools, restaurants, and playgrounds. 
Zante Water Village in Sarakinado is also suitable for young kids and is located on the mainland. Get your thrills and have fun on attractions such as the 3 octopus slides, Slippery Rabbit and Boomer Bowl. Relax with the kids on the 300-meter-long Lazy River or get an adrenalin rush as you are sucked into the Black Hole. Play spray games and take the kids to the dedicated slides and attractions of the Children's Tower. Newer attractions include the 25-meter-high Mat Racer, where you can slide head first into the water. The multi-racing slides thrill family members who want to challenge each other to a race down a 60-meter slide!
Facilities at the water park include toilets, bars, snack bars, shops, a gelateria, photo shop, safety lockers, free sun beds, and umbrellas. Don't forget your sunscreen and hat! If you want to avoid waiting in the long entrance lines in the hot summer, we recommend you to pre-book your tickets to the water park.
Click here to book your skip-the-line-water park entrance tickets in Sarakinado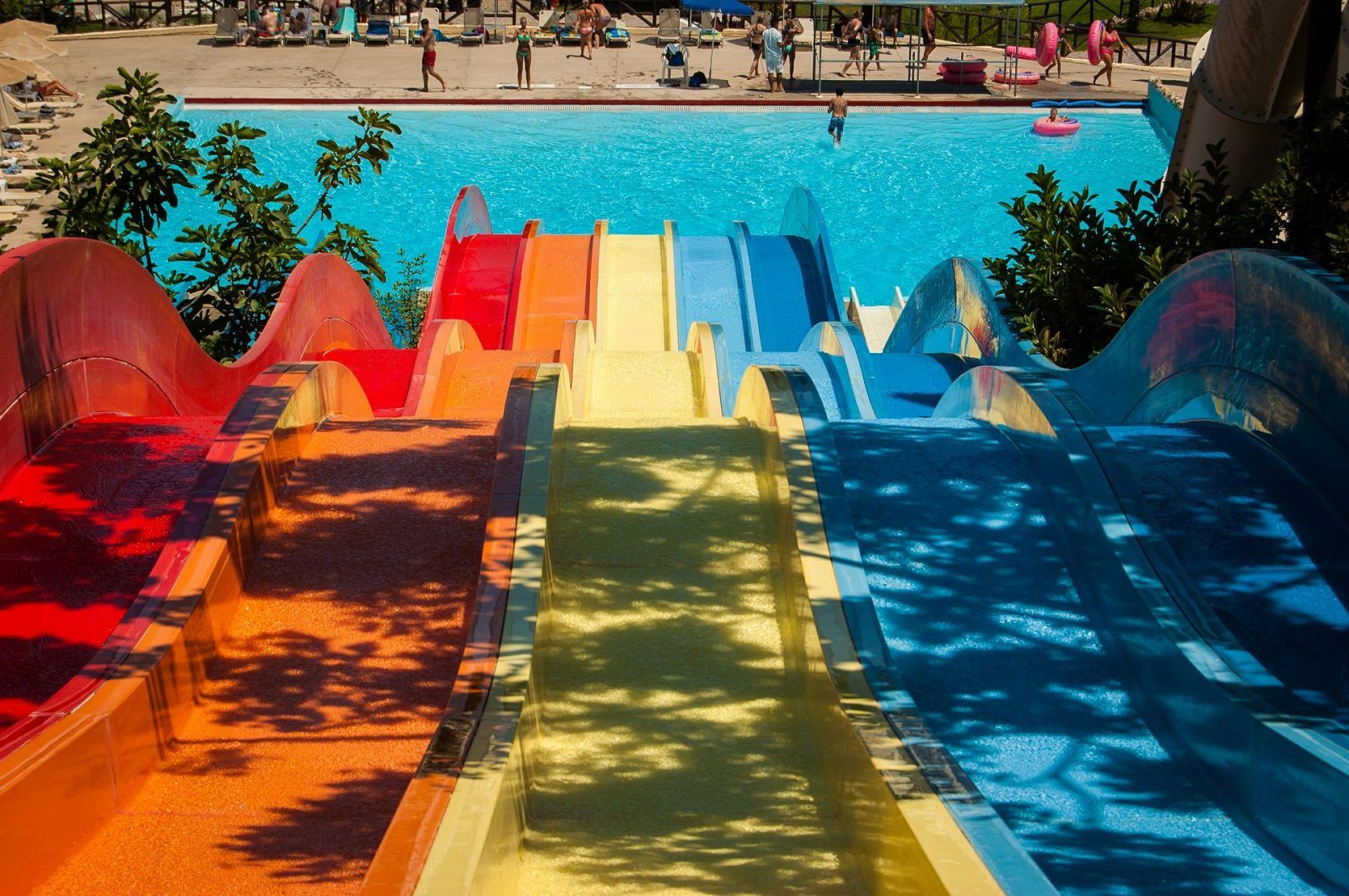 If you love water parks as much as we do, have a look at The Best Water Parks in Greece and The Best Hotels with Water Parks in Greece
Discover Traditional Zakynthos villages
Zakynthos island with kids becomes all the more joyful if you rented a car to explore the island. Giri on the west coast is the highest village of Zakynthos and has beautiful old windmills. Kambi is a small village in the mountains on the west coast where you can enjoy the best sunset of the island. Keri village is famous for its original style. It is the southernmost village in Zakynthos and is a traditional mountain village. I love driving around in Zakynthos, things are relatively close and there are some beautiful farms and views to explore.
The Zakynthos Island Tour and Olive Factory Visit
If you choose not to drive yourself but sit back and relax during a family-friendly guided tour, I recommend the Zakynthos: Island Tour and Olive Factory Visit. This 6-hour tour includes a tour of the beautiful landscape of the island, idyllic mountain villages, a visit to a traditional olive factory, and spectacular views over the caves and the old town. Kids will love learning more about the famous Greek olives and seeing how the fruits of the most common tree in Greece are turned into oil. 
Click here for more information and booking the Zakynthos Island Tour and Olive Factory visit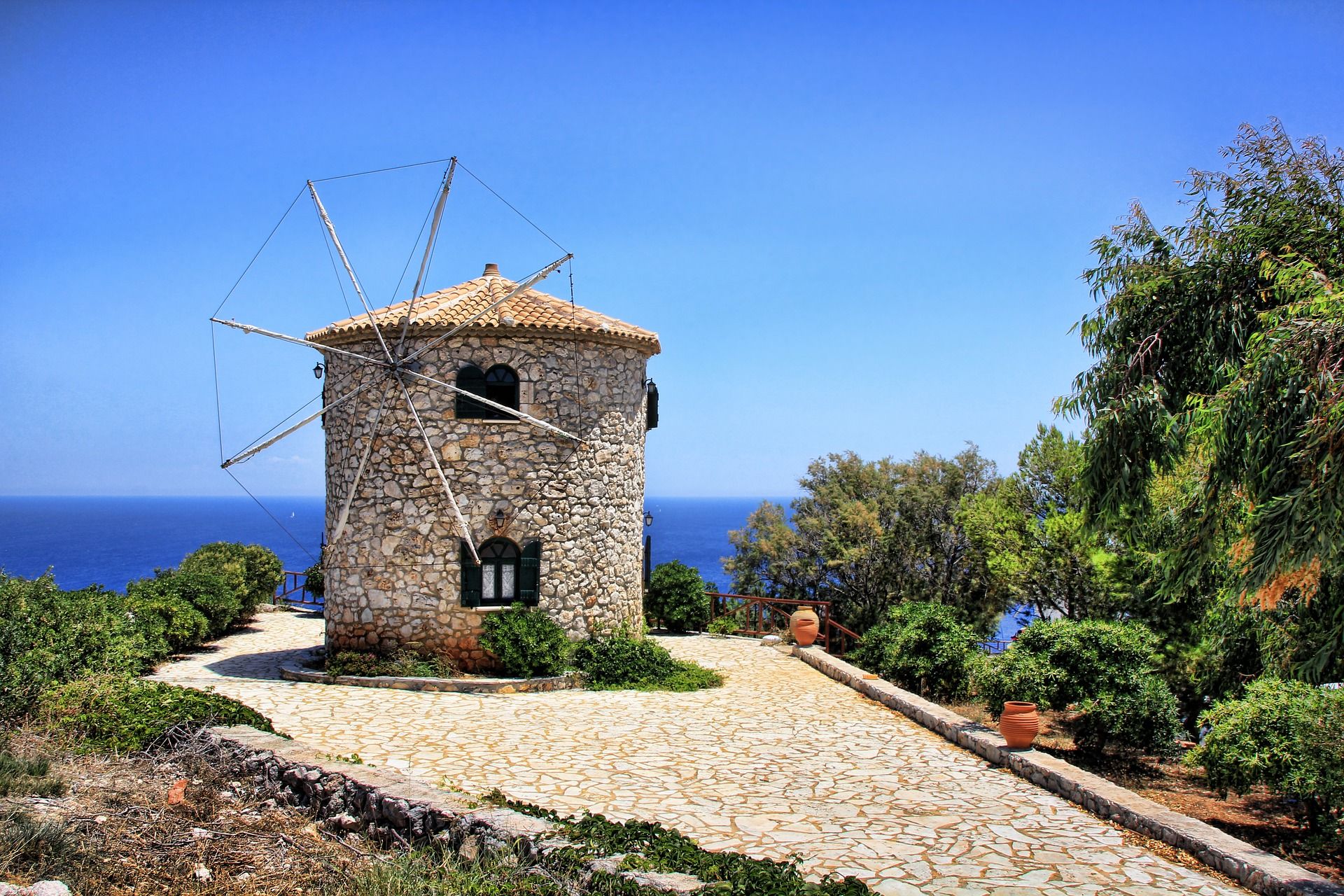 Zakynthos: Private Transfer Service to/from Airport or Port
If you are looking for a safe way to get your family from and to the airport (or port) or to your hotel in Zakynthos, we recommend the private transfer service to/from the airport by air-conditioned minivan. That way you can take the stress out of your trip and get a door-to-door pickup and drop-off service.
Click here for more information and to book your Private Transfer Service
Are you planning to travel Zakynthos island Greece with kids or have you been there already? Let me know in the comments!
Sharing is Caring!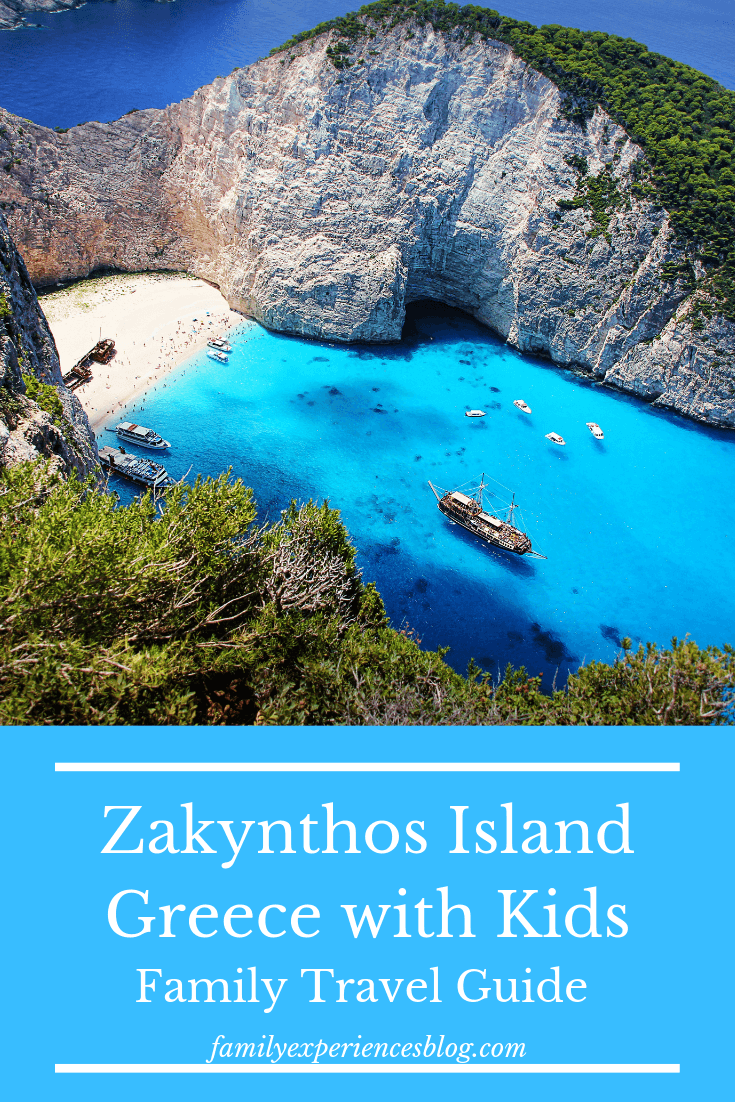 If you love Greek islands, you may also like:
Family vacation in Kythynos
At Family Experiences Blog, we independently select and write about stuff we love and think you'll like too. Family Experiences Blog has affiliate partnerships with Get your Guide, Booking and Amazon. We get a small commission from your purchase from these companies. Readers never pay more for products. This way we support the blog, run the site and engage with this community we truly love. Thank you for reading!