Last Updated on February 15, 2023 by Celeste.
Beautiful Andros is the second biggest northernmost island (374 km2) in the Cyclades. The island is very different from the other Cycladic islands. The locals often call Andros "Rock", both due to its rocky coastline and the islets surrounding it. Andros is unique because of its rich nature, it's particular soil morphology, it's unexpected green areas with springs and waterfalls, its medieval castles and ancient monuments. It's three towns are different and unique too: the port is located in the friendly Gavrio (from Athens you can take the ferry boat to Andros leaving from the ports of Piraeus, Rafina and Lavrio), Batsi is very cosmopolitan and Ándros' capital, also called Chora, is classy and sophisticated.
What to do & where to eat in Adros island with Kids
Andros island with kids is a good combination. Andros island has the advantage of being touristy enough to have organized infrastructure and facilities but without being commercial or loud. There are many beautiful green beaches and villages in a quiet and relaxed ambient. Andros has a vibrant cultural life too and organizes special cultural evenings and events throughout the year. The stately capital and its amount of cultural events and many museums truly set Andros apart from other islands. Andros island with kids has been one of my favourite holidays in Greece.
Beaches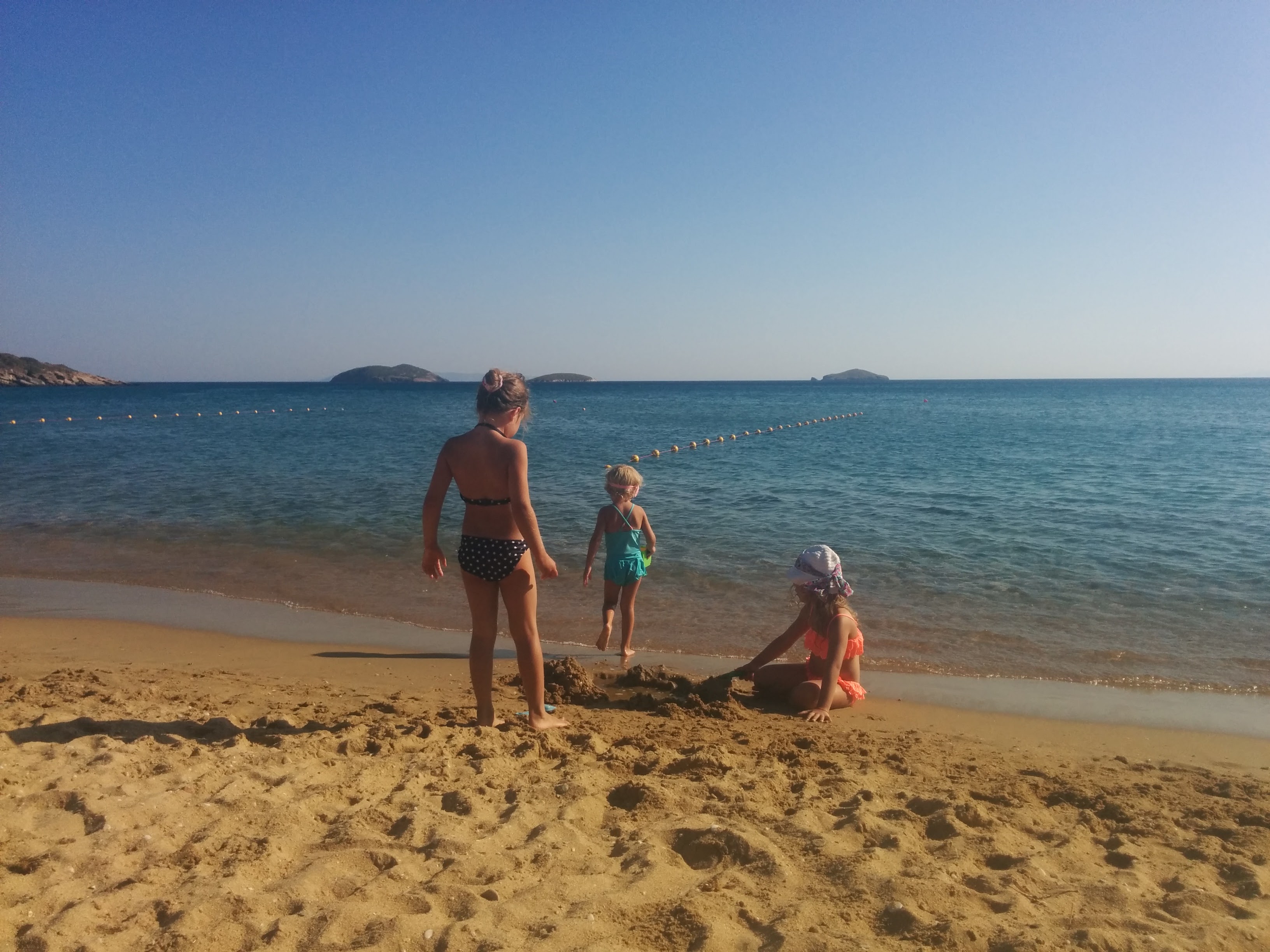 My hot July summer in Andros island with kids was of course all about the beach… In Andros are beaches for every taste. Some are organized and crowded some are rocky and isolated. My favourite beaches in Andros island with kids are the following:
St. Peter's beach club and surf school On Board at St. Peters beach: This big organized blue flag beach is sandy with shallow crystal clear turquoise waters. It reminds me of a tropical beach in the Caribbean. St. Peter's beach club is very well organized with comfortable beach chairs, good service, a pleasant bar with music, a baby changing area, a lifeguard, and water sports. The distance in between the chairs and umbrella's is pleasant and the children had much space to play and swim. Even on windy days, this beach is still safe.
Kolona beach club in Batsi: It is located on the side of the Batsi, away from the crowds and noise. A charming little bay, a small blue flag beach with little wooden beaches houses to relax in. Me and the kids loved these. The beach club serves drinks and snacks.
Fellos or the 'Beach of the Cork': This big beach combines fine sand with pebbles. It is not organized but there are taverns and trees for shade (and for climbing!)
Other beaches for Andros island with kids are Ag. Marina, Ag. Kyprianos, Ahla and it's nearby nature reserve (not organized and with young children best to visit by boat from Chora) and Chrysi Akti.
Eating: To Steki tou Andrea This tavern is located right on the Fellows beach and great for a seafood lunch or dinner after a long day at the beach.
Springs
When you are in Andros island with kids, it is recommended to visit the village of Menites and Mesaria and see the natural springs. Your kids will love the water fountains in the shape of lion heads. The 'Pythara' in the village of Apoikia with the famous spring water of Sariza is also worth a visit. The water of this famous thermal spring has been compared with the worldwide famous Evian water!
Eating: After a day visiting the mountains there is no better place to celebrate the summer at 'Balcony of the Aegean' (Mpalkoni tou Aigaiou) in the mountain village of Ano Aprovato. No better place to watch the sunset but from this location. The family that owns the restaurant also have a farm and many of the vegetables and meat are their own grown. You can eat mostly meat here.
Playground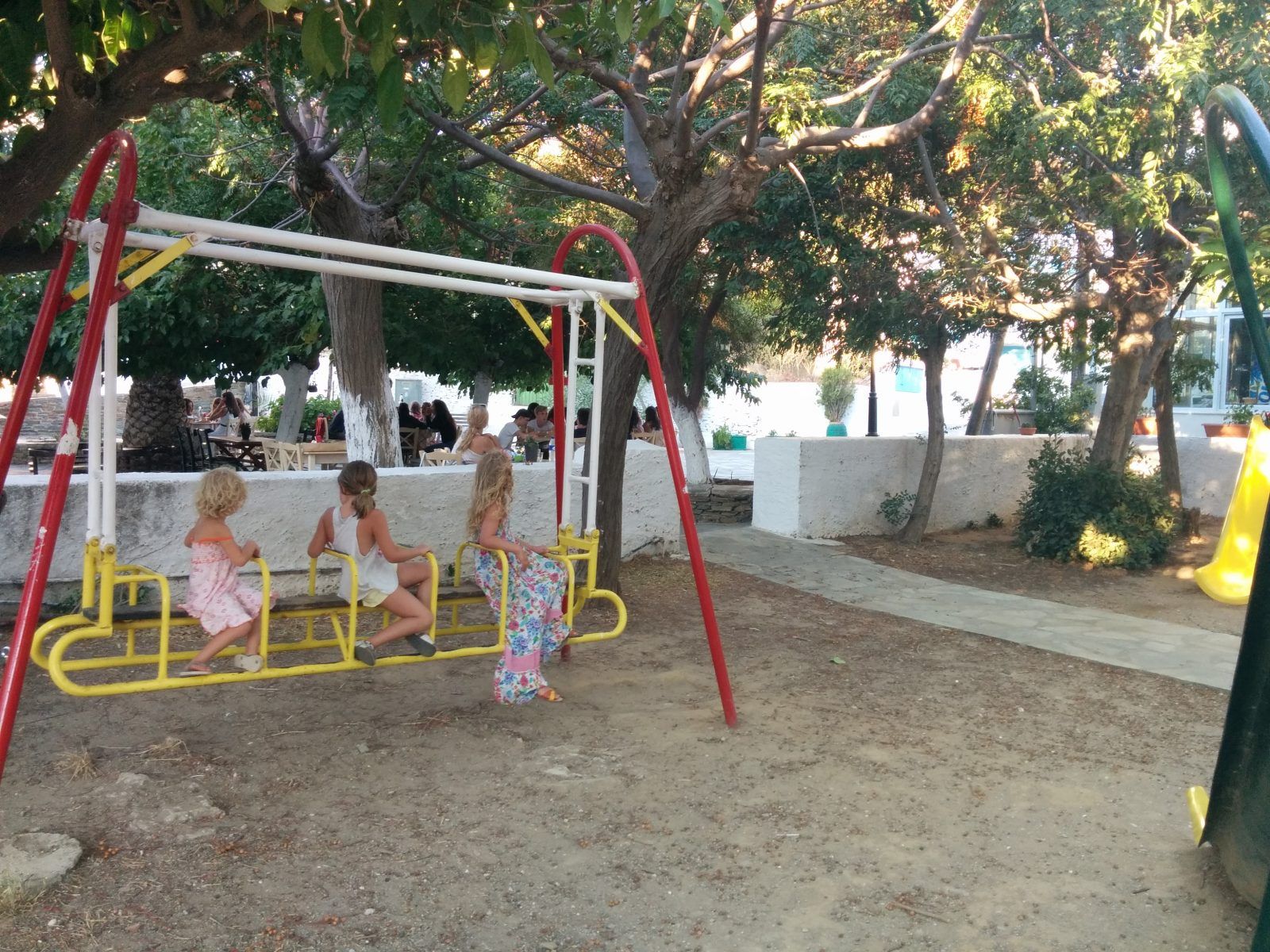 The port of Gavrio is the first place you will visit when you arrive in Andros and your starting point in the birthplace of great captains and shipowners. Gavrio is a typical Cycladic village with whitewashed houses with blue doors and little alleys. You can walk at the seafront and find taverns, nicely decorated bars and meze restaurants but also some beautiful toy and candy stores. But what we loved the most was the square behind the town hall, at a 2 minutes walk from the waterfront. This cute square covered with trees hosts a very nice playground with sand and trees for shade and a lovely trendy cafe/restaurant called Thiriotrofeio.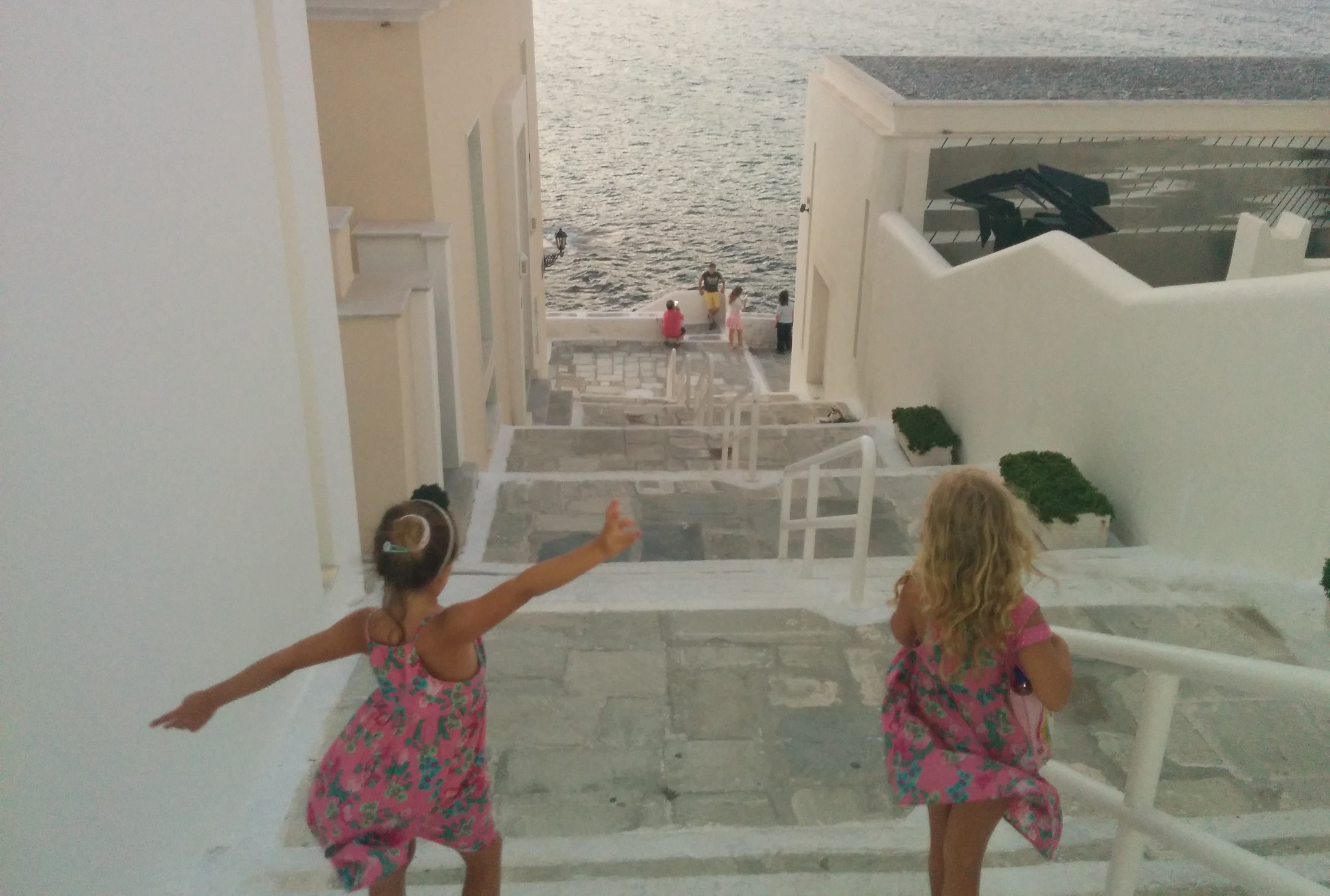 What better family activity than to sit back and enjoy a glass of ouzo or wine whilst the kids can run around safely!
Eating: Definitely the earlier mentioned Thiriotrofeio.
They serve Greek food with a twist and delicious home-made desserts and pies. The kids loved their version of French fries. I much liked the lentil salad. The styling of the restaurant is also worth mentioning with a mix of hip art and vintage decoration. I absolutely loved the little children table outside on the square with toys for even the smallest kids. They also have a large selection of games for bigger children. Thiriofrofeio is nice for coffee in the morning too or ouzo with meze in the afternoon.
Hiking
My kids are too young for hiking but I do want to mention the fact that Andros has great trails and it is worth to discover the island all year round. If your family likes hiking than you should know that there is a well-organized network of paths on Andros. Most trails are medium difficulty and some are easy. Andros is the only island in Europe that has the European quality certification for the trails! There is also a race called Andros Trail Race, scheduled for the first time in October 2016.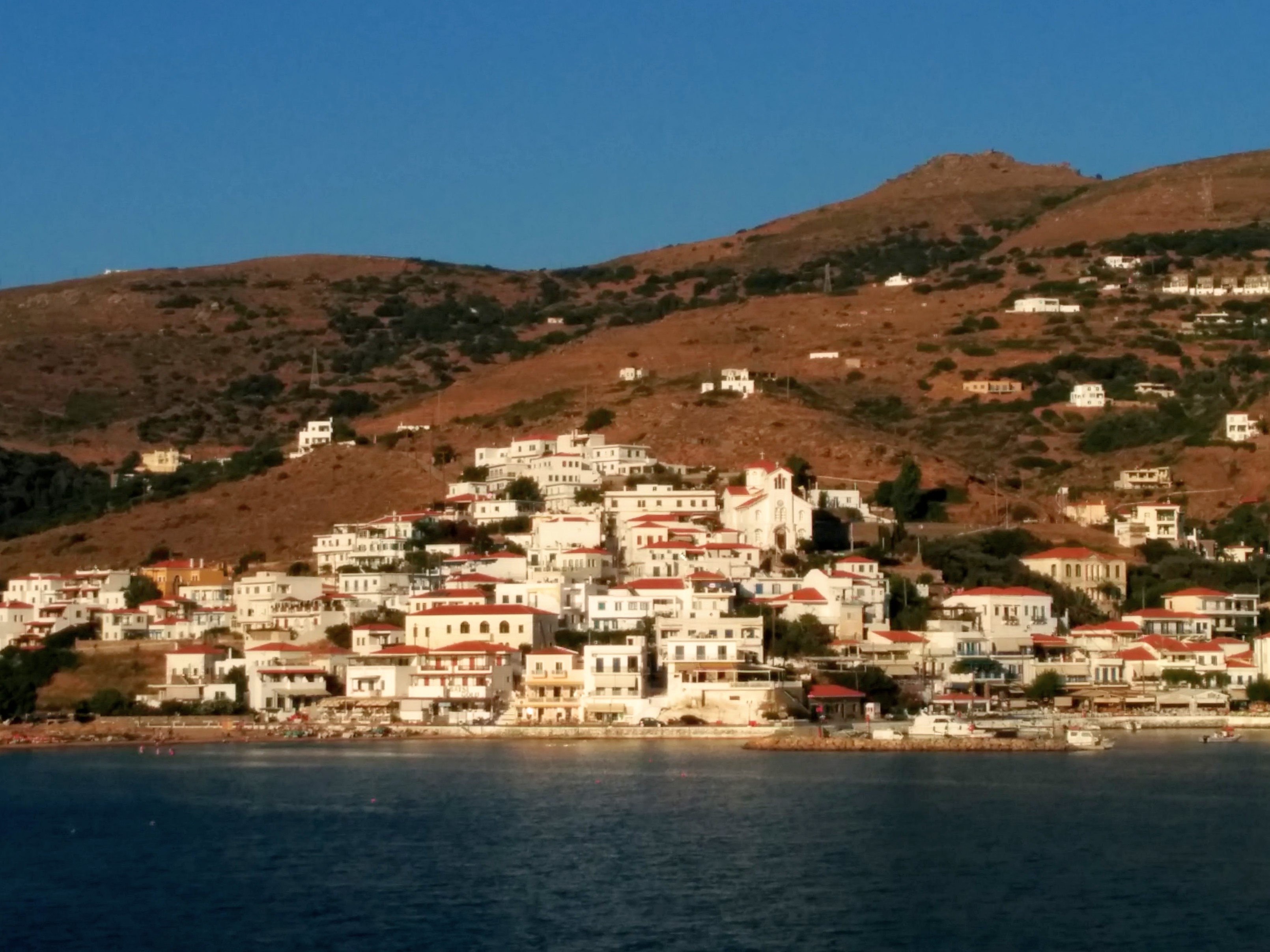 A visit to 'Chora'
The sophisticated capital of Andros also called Chora has so much to offer. You can spend a whole day there with your children. Well preserved public buildings, squares and open spaces, neoclassical houses and spectacular views. I have never seen a 'chora' on a Greek island like the one in Andros. It is built on a narrow peninsula between two bays and sticks out into the sea. Chora is like an outdoor car-free museum. It's past of ship owners and other prestigious personalities from Andros is obvious in its public buildings and rich cultural organizations. Our children loved running through the car-free alleys in the evening and enjoyed ice cream at the vibrant Kairi square in the centre of the town. Andros island with kids is classy and safe.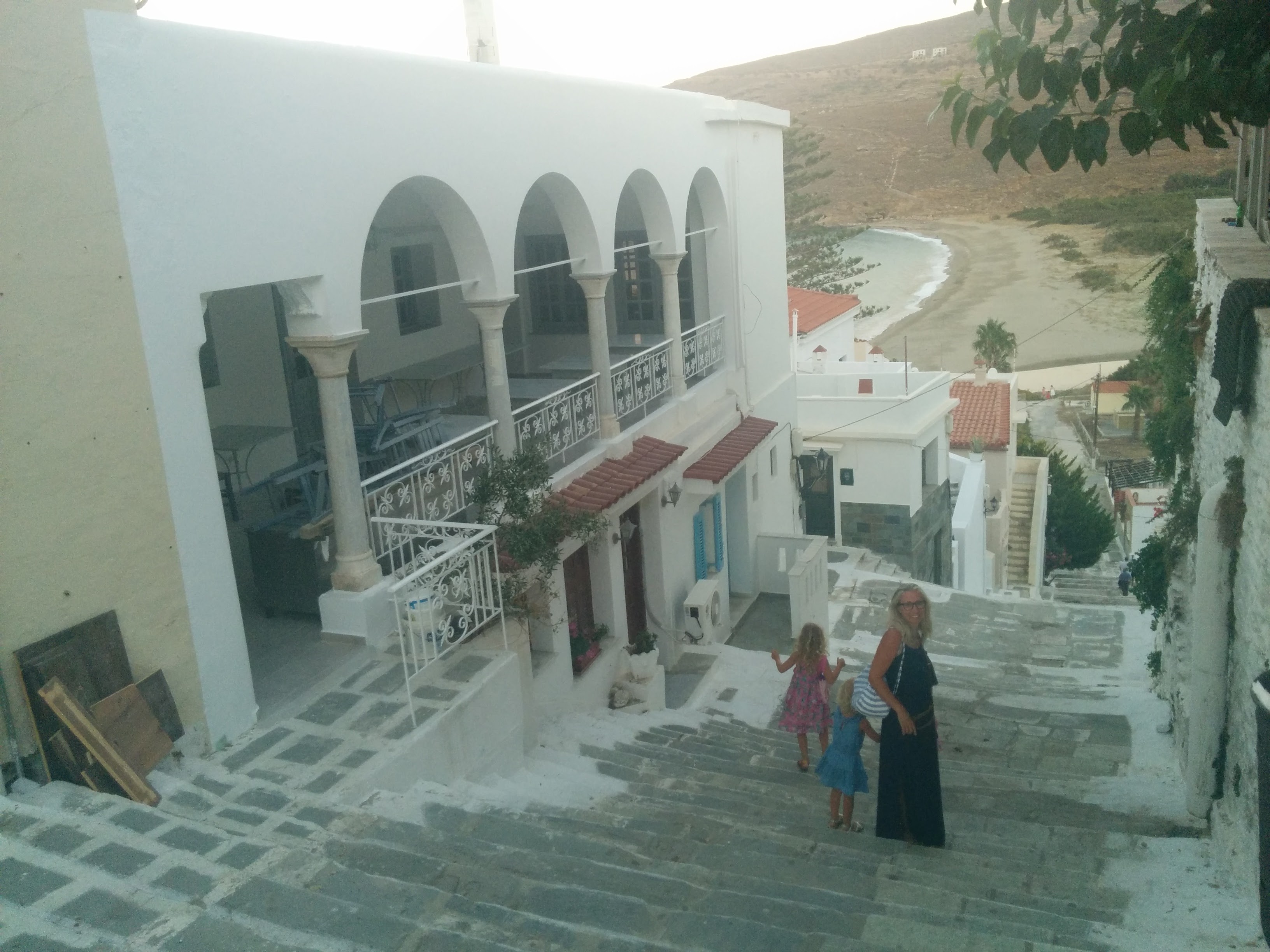 Andros island with kids also offers opportunities for education and culture. We also enjoyed the Goulandris Museum. The museum organizes a variety of children's programmes. Other museums that can be interesting for your children are the Andros Archeological Museum, the Museum of Contemporary Art, the Museum of Folklore and the Maritime Museum.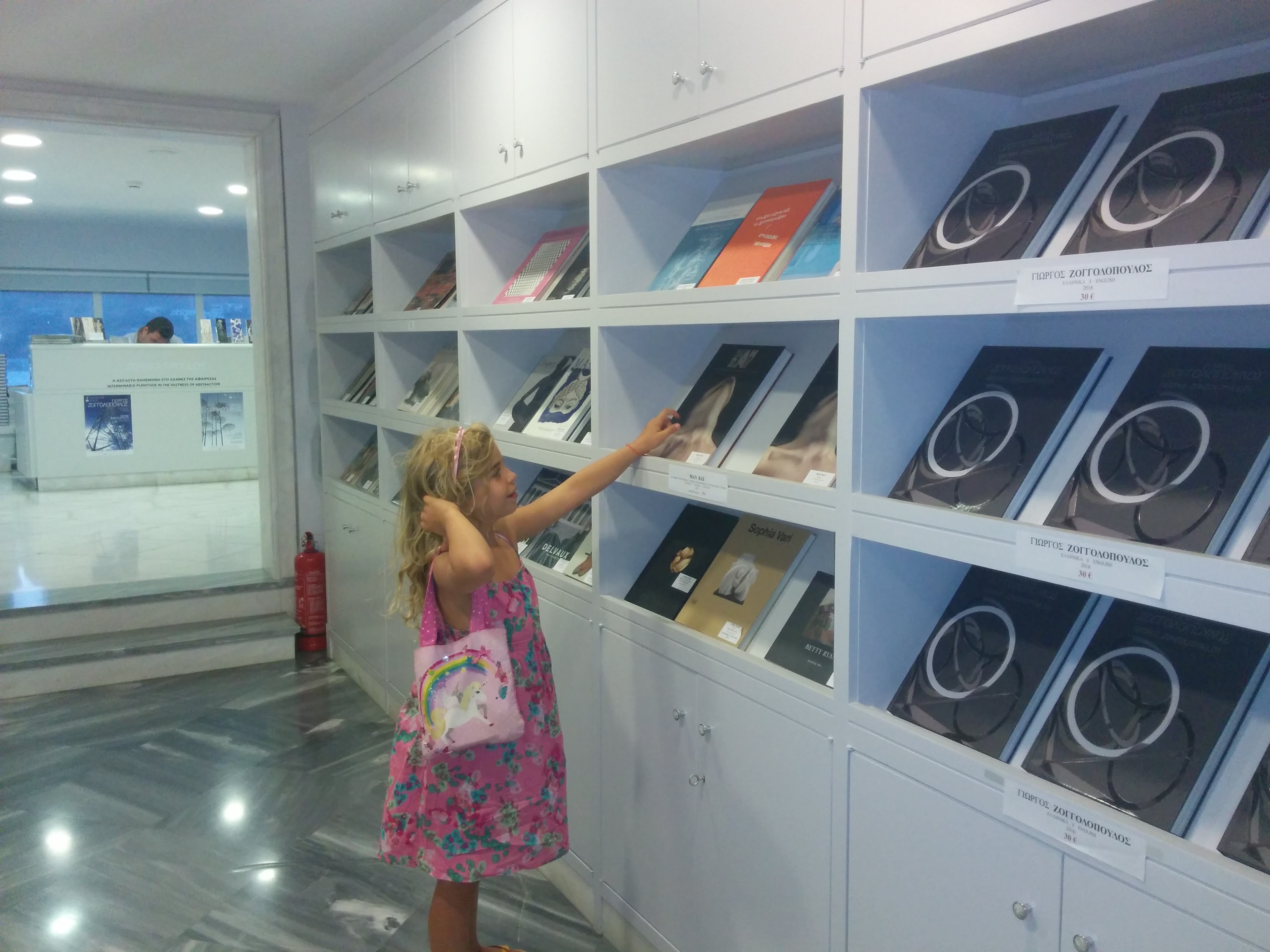 An excursion to Chora must include a visit the Riva square with its enormous bronze statue of the unknown sailor. This statue pays tribute to sailors that were lost at sea.
Across from the Unknown Soldier at the edge of the Chora is another one of my kids' favourites the so-called Kato Castro. At the end of Riva square, at the end of Chora, there is a large vault, a stone bridge connecting the peninsula of the Chora with an island and a Medieval Castle or Kato Castro. It offers an exciting and spectacular view. Don't forget to look down and find a huge white fish drawn on the stones!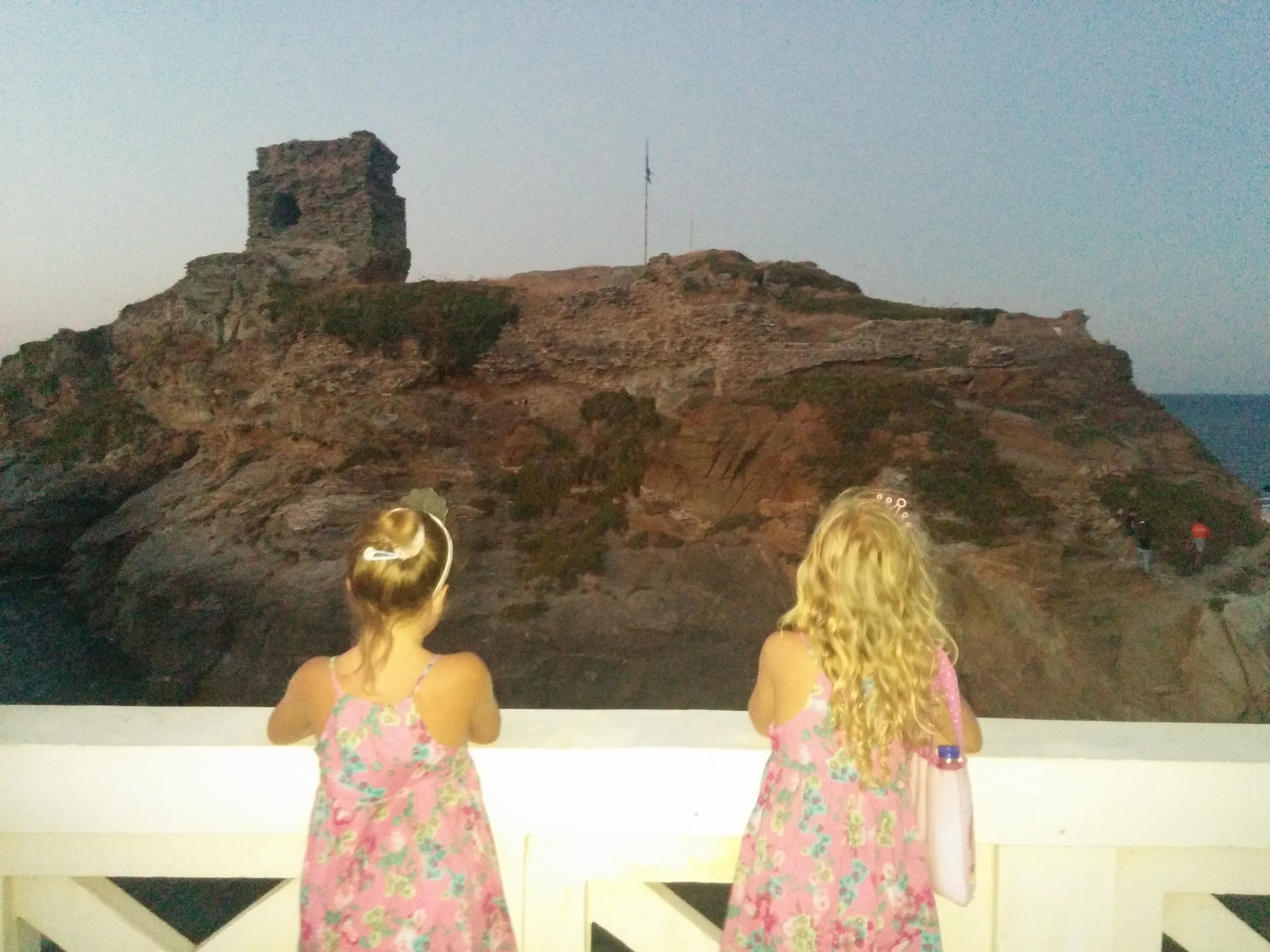 Close to the Kato Castro at the Nimporio bay, you will find another landmark of Andros island: the Tourlitis lighthouse. The current one is a copy of the original that was severely damaged in the war. It is unique in Greece due to its location on a little rock in the sea.
Eating: We loved eating at the famous 'Ta Skalakia' – steps or stairs in English – in Chora. The outside tables are located on narrow white stairs. The gardens, church and colourful lights next to the tables created a fairy tale like atmosphere at night. Inside, the tavern looks like a museum, with a rich collection of bottles, pots, and pans in all shapes and colours. My kids could not get enough of the colourful collection of soap bars in the restrooms. The menu has a few choices but the food was amazing with child-friendly meze like meatballs and Greek sausage. I had pasta with a sauce of ouzo and it was delicious! Very popular place and needs a reservation!
The open-air cinema in Chora. How more to enjoy the summer with your children by watching their favorite movie under the stars!
This museum is on Pitrofos village and it is as small as an olive extraction facility used to be. Owner Dimitris Chelmis bought it in a wrecked state and renovated it. He built his house on top of it but kept the ground floor as it used to be. Dimitris is an amazing storyteller, educated, kind and warm welcoming! The museum is distinguished by Trip Advisor and certainly worth the visit.
Ice cream and afternoon stroll in Batsi
In the sixties, Batsi was a picturesque fishing village and it was the ideal film setting for plenty of Greek movies. Today, Batsi is a cosmopolitan harbour and the most touristic part of Andros island. The whitewashed houses of the village are built as an amphitheatre over the bay (it reminds me a lot of Hydra). Batsi has it all: hotels, restaurants, shops, bars, and cafes. There is also a large organized Blue Flag beach in Batsi. Although Batsi was not very exciting during the daytime, at night, it offers much entertainment and becomes a very charming place. We loved strolling around the marina enjoying beautiful yachts and it was great taking the kids for ice cream and watch the little shops. You can also have a drink or something to eat while your children play at the beach.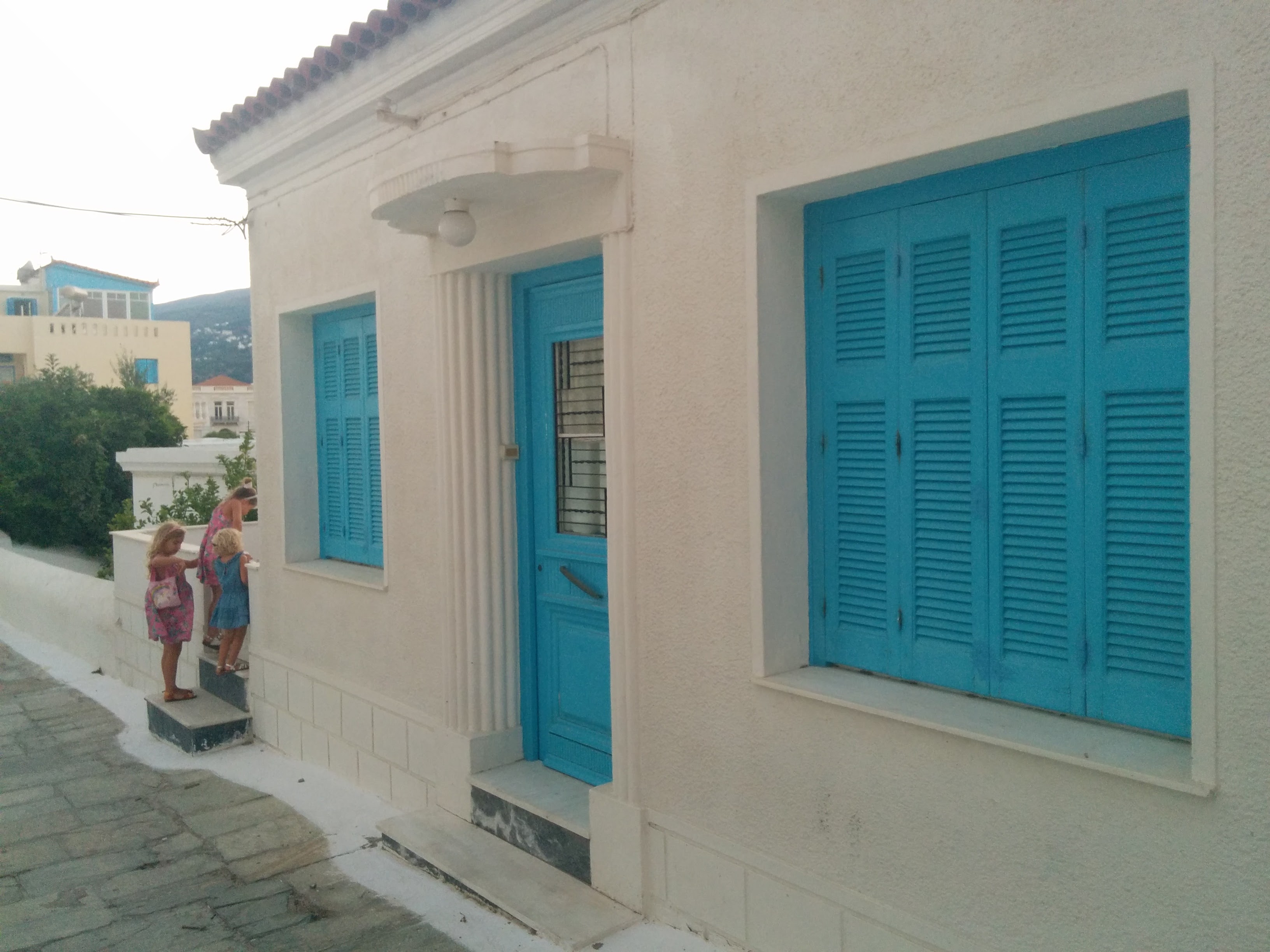 Eating: Oti Kalo. The best restaurant in Batsi overlooking the bay. Traditional Greek food with a bit more finesse. Needs a reservation in the summer weekends!
Whilst it might be tempting to spend as much time on the beaches of Andros as you can, there is so much to see on the island! One of the best ways to visit the highlights of the island is during a sightseeing tour. Not only do you have the company of an expert local guide to drive and show you around the island, you also see all the important places in one day. If you want to get the most of your visit on Andros and familiarise yourself with the area, I recommend an half day sightseeing private tour. The driver-guide will help you make unique and priceless memories to take back home. This tour includes exploring the capital town Chora, a visit to the Pythara waterfalls and the Menites Springs, a walk into the Apoikia village and see the Sariza spring and a visit to the Olive Oil museum.
Find out more here about Andros half day sightseeing private tour
Where to stay
Andros island does not have many 5* hotels or resorts. However, there are several good hotels and holiday villa's. We stayed at a private mansion in Batsi. We loved the location overlooking the bays and many nice beaches were at driving distance. The port was not far either. For the town, we needed a half hour car ride through the mountains. Pick a location to stay depending of your interest (beach with young kids or culture and activities with older children).
We went swimming at hotel Aneroussa Beach. The beachfront Aneroussa Hotel looks over to 2 sandy beaches, just 801m from Batsi in an area of exceptional natural beauty. We loved the sandy private beach of this hotel with crystal clear blue water and impressive rocks. Click here for more information and prices
Parents have also recommended Perrakis Hotel in Batsi. Boasting an outdoor pool, Hotel Perrakis is located in Kypri village of Andros. It offers tastefully decorated rooms opening to a balcony or patio with Aegean Sea views. Guests can start their day with the buffet breakfast served in the dining area. Later, they can enjoy tasty cuisine at Cyclades Restaurant. Scuba diving lessons are also provided by the property. Click here for more information and to book your stay.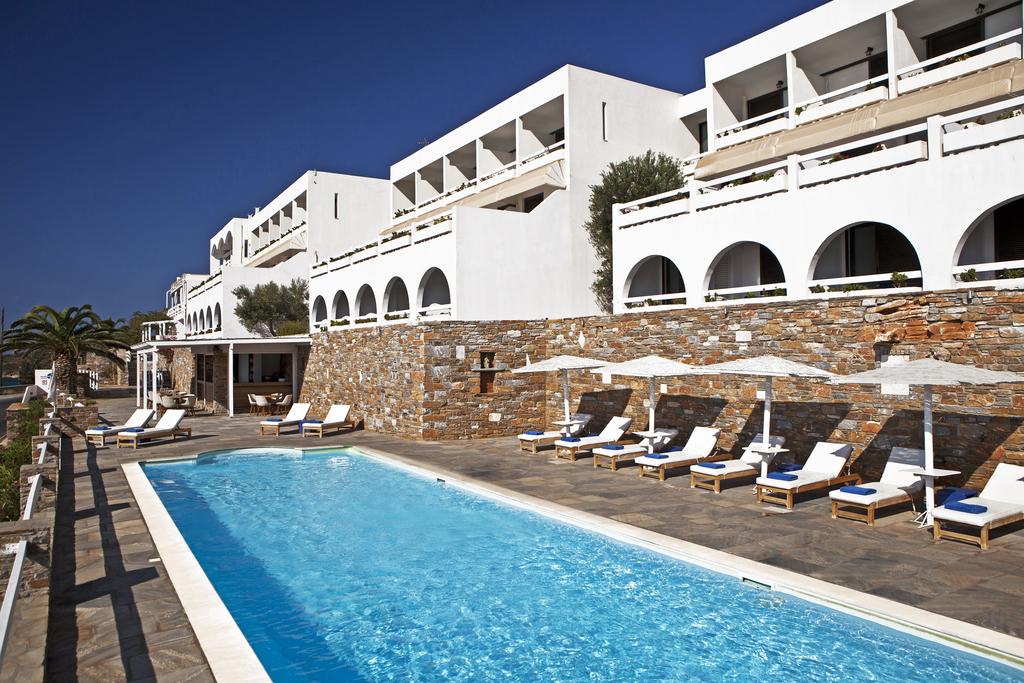 For an overview of all family accomodation in Andros, have a look at Booking.com.
How to get to Andros island
Travel to Andros island, Greece: The island of Andros is easily accessible by ferry from the port of Rafina, on the northeastern side of Attica. There is no airport in Andros but the closest is the International Airport of Athens that receives many internal and external flights.
Flights near Andros
There is no airport in Andros. The nearest airport is the International Airport of Athens, that receives internal and international flights all year round. The airport in Athens is only 30 min by bus from the port of Rafina. All ferries to Andros depart from Rafina, not Piraeus port, and the trip takes 2 hours.
Ferries to Andros
There are no ferries from Piraeus to Andros. All ferries to Andros depart from the port of Rafina, the closest port to the airport of Athens. There are frequent buses from Athens airport to Rafina and the bus trip takes 30-40 min. Ferries to Andros depart 3 or 4 times per day and they also connect Andros with other islands of the Cyclades, such as Tinos and Mykonos. We took the ferry boat to Andros. For tips on ferry boat travel with kids in Greece, have a look at Ferry boat Travel with Kids in Greece.
Here you can find more information about ferry boat schedules to Andros: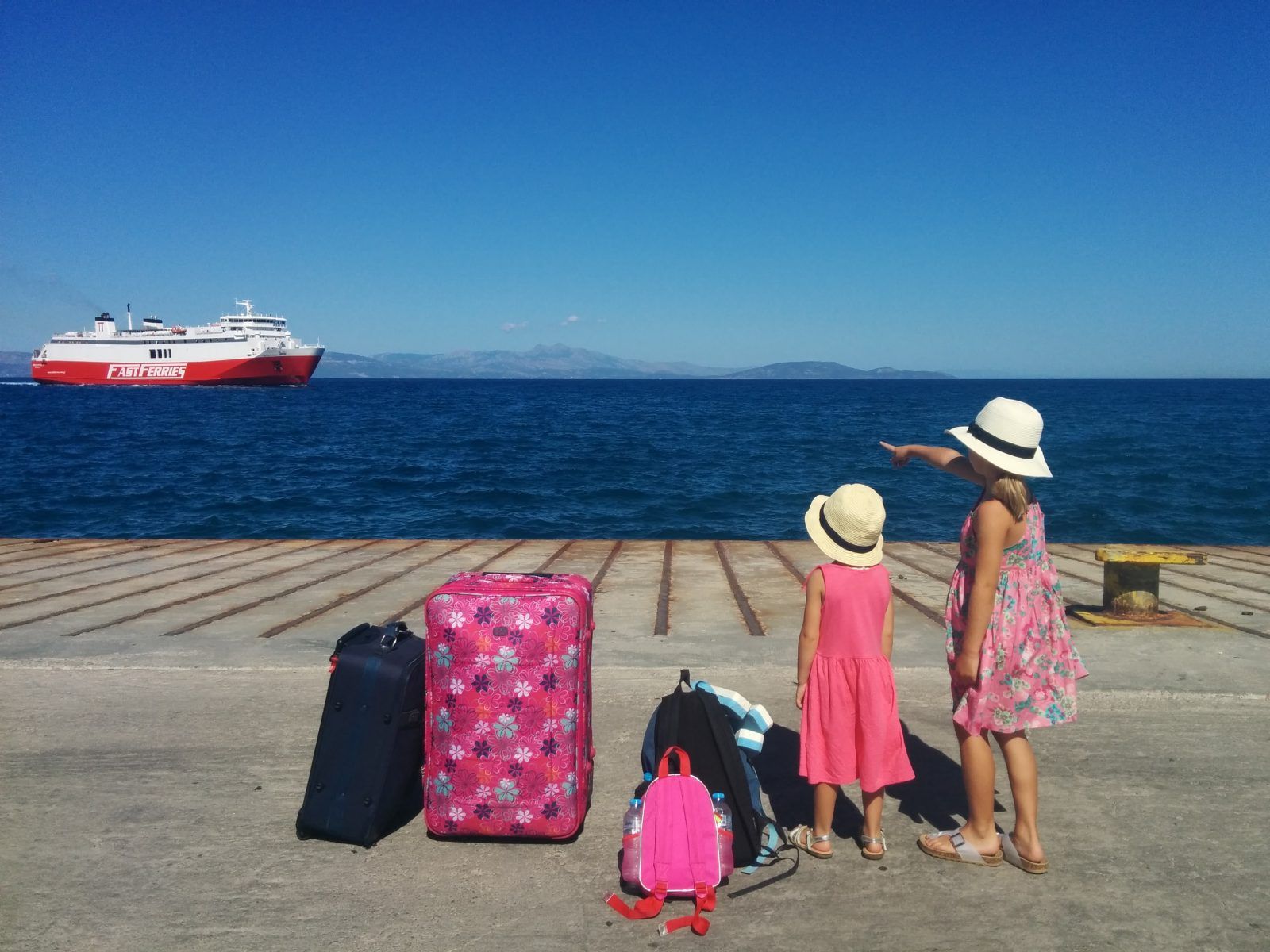 I hope I have inspired you to visit Andros island with kids. Have you been to Andros and what did your family like most?

Like this post? Pin it for later!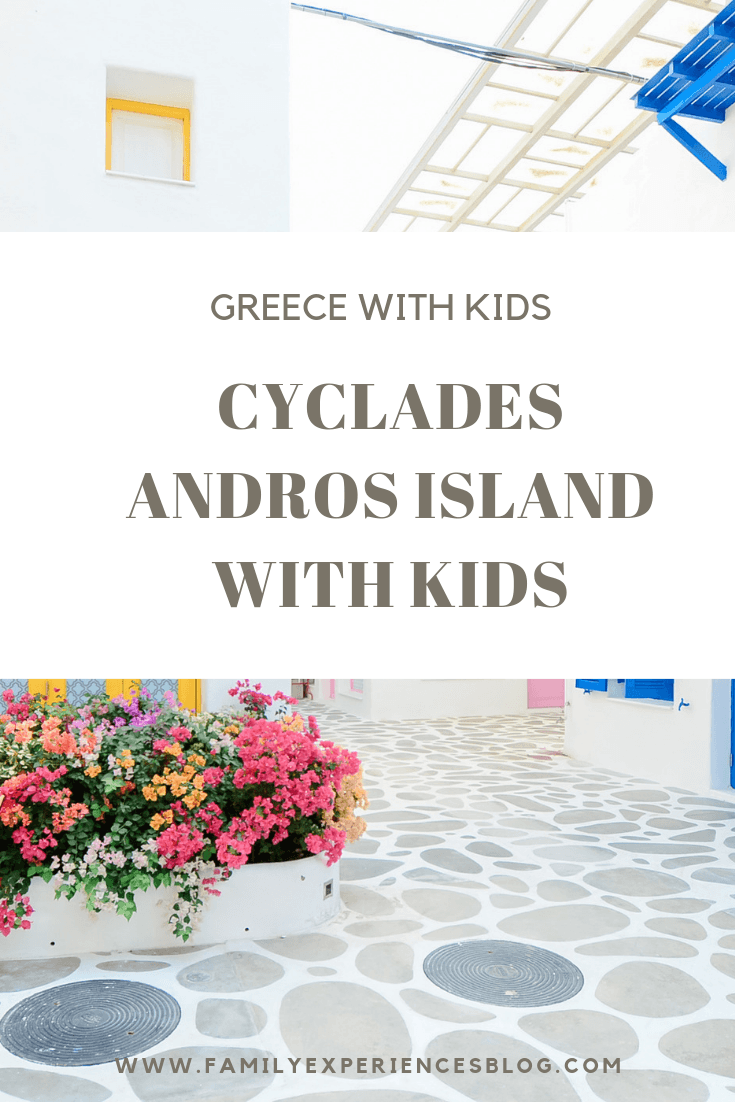 For more information about activities in Andros, have a look here: www.andros.gr, www.festivalandros.gr, www.androsroutes.gr, www.trekkingandros.gr