Last Updated on February 15, 2023 by Celeste.
So often I had heard about the magical sandy beaches of mysterious Elafonissos. Last year, we make a family road trip through part of the Peloponnese and Monemvasia. We also had the chance to finally visit magnificent Elafonissos. The island is famed for its sandy coast and tropical waters and many people visit because they have seen amazing photos. Here is our family experience to Elafonissos island in Greece with kids!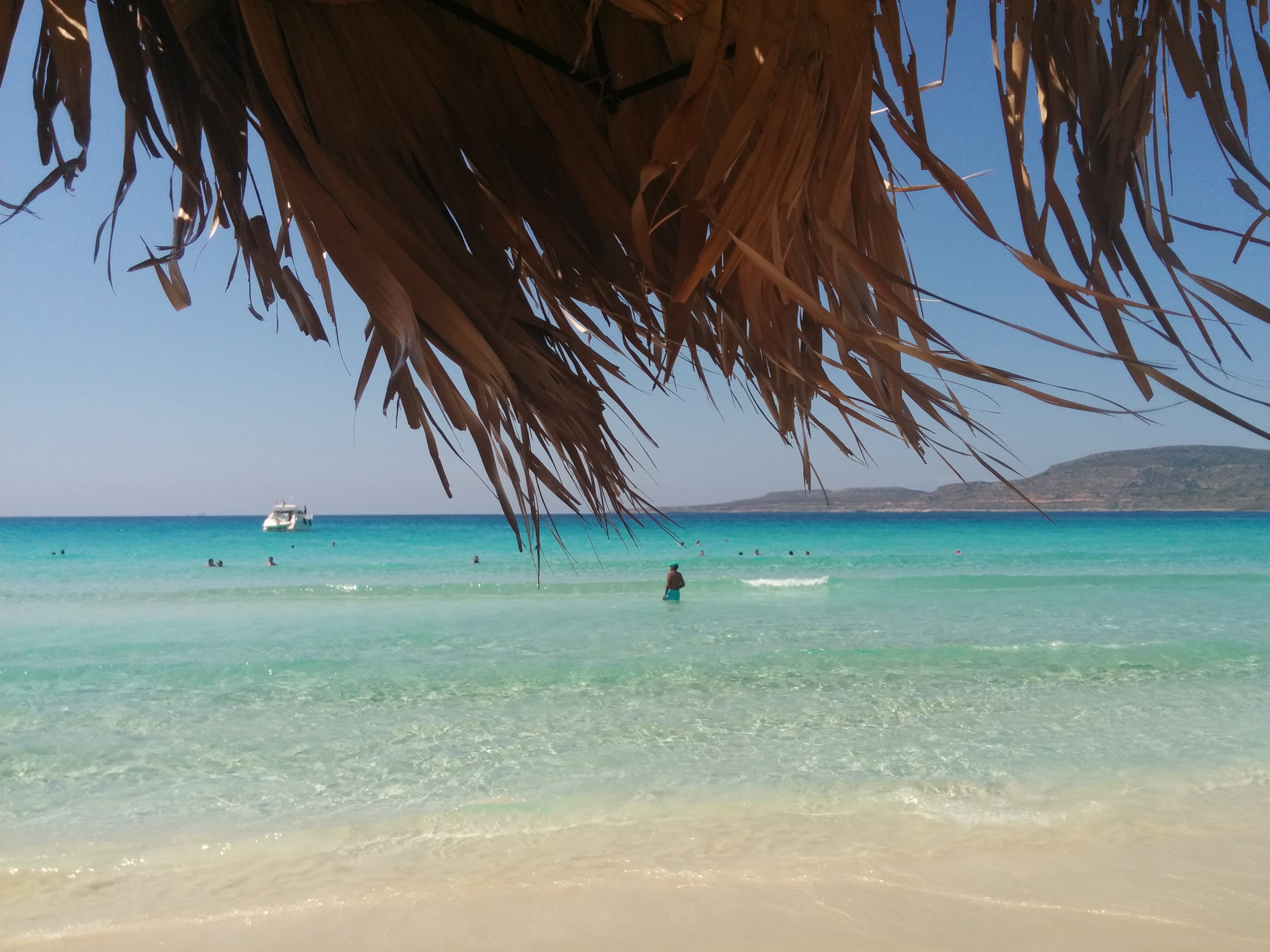 Elafonissos island in Greece
Elafonisos lies on the southeastern tip of the Peloponnese, in Laconia county and boasts an area of 19 square kilometres. In ancient times Elafonisos was not an island but a peninsula 'ONOU GNATHOS,' whose name derives from its shape, as according to Pausanias it had the appearance of a donkey's jaw bone.
The current name derives from the hunting that has existed in the region since ancient times, in particular small and red deer, as mentioned by Pausanias, and there were many temples dedicated to Artemis.
Elafonisos Island
The island which inspired the myth of lost Atlantis
Our trip to Elafonissos island with kids
A vacation to Elafonissos island with kids is a relaxing holiday. Travel in Elafonissos is easy because of its size and distance to the mainland (which is just 570 meters!). I have been avoiding islands with kids because I do not like long ferry boat rides or the hassle to get on- and off. This was different in Elafonissos. Sailing time to Elafonissos is very short, and the ferries (two boats which continually go back and forth) are small and easy to get on and off with the car.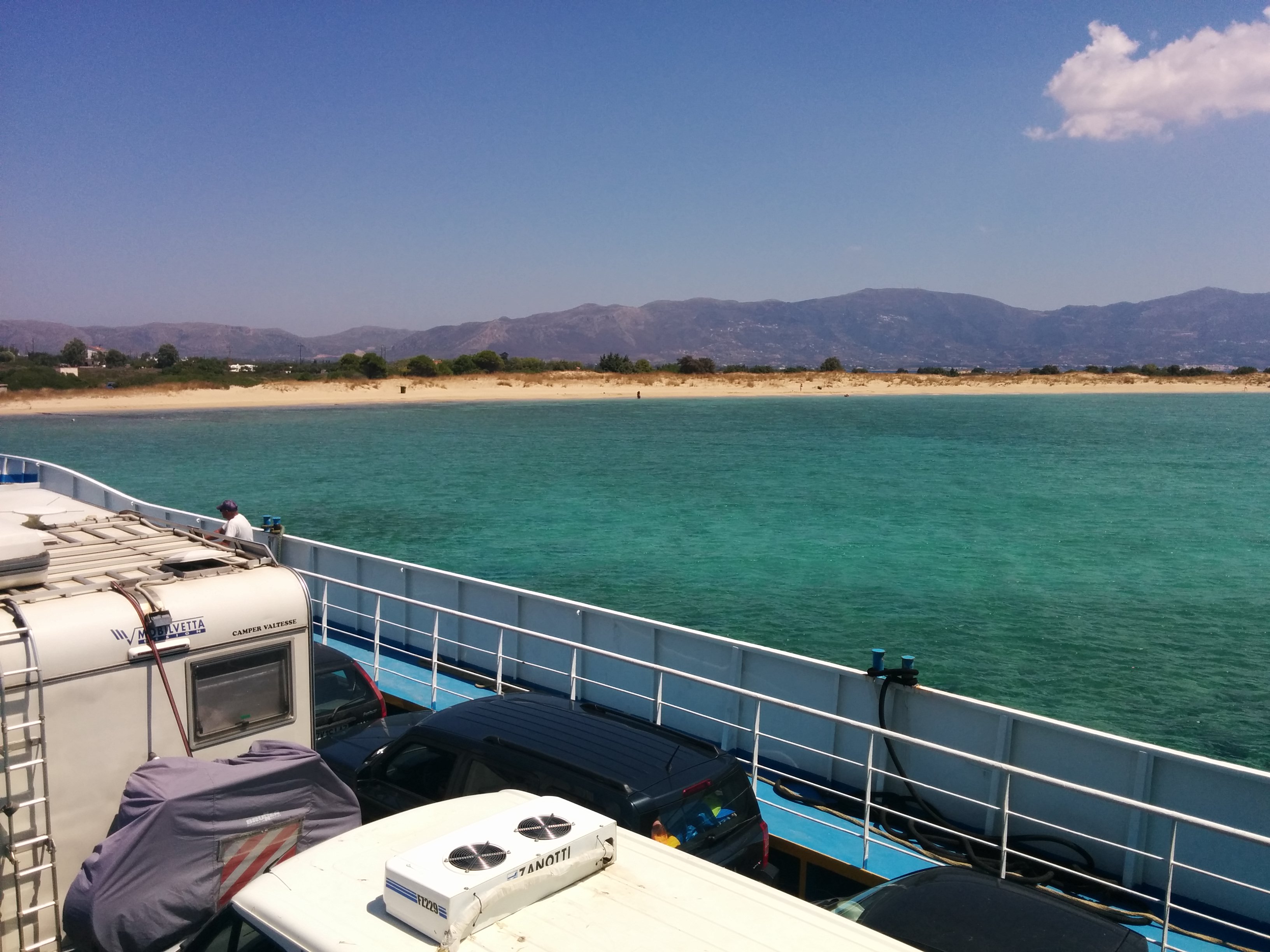 We drove from Athens to Pounta, a port near Neapolis in southern Peloponnese. From this point, you need to embark on the ferry to Elafonissos with your car. The ferries to Elafonissos are very frequent and the trip is only 10 min. The price of the ferry boat tickets was 12 Euro in total (4 persons including a large car). And what a journey it was!
Turquoise water, white beaches, clear blue sky. An unforgettable trip was about to start!
Here you can find up to date ferry boat schedules and prices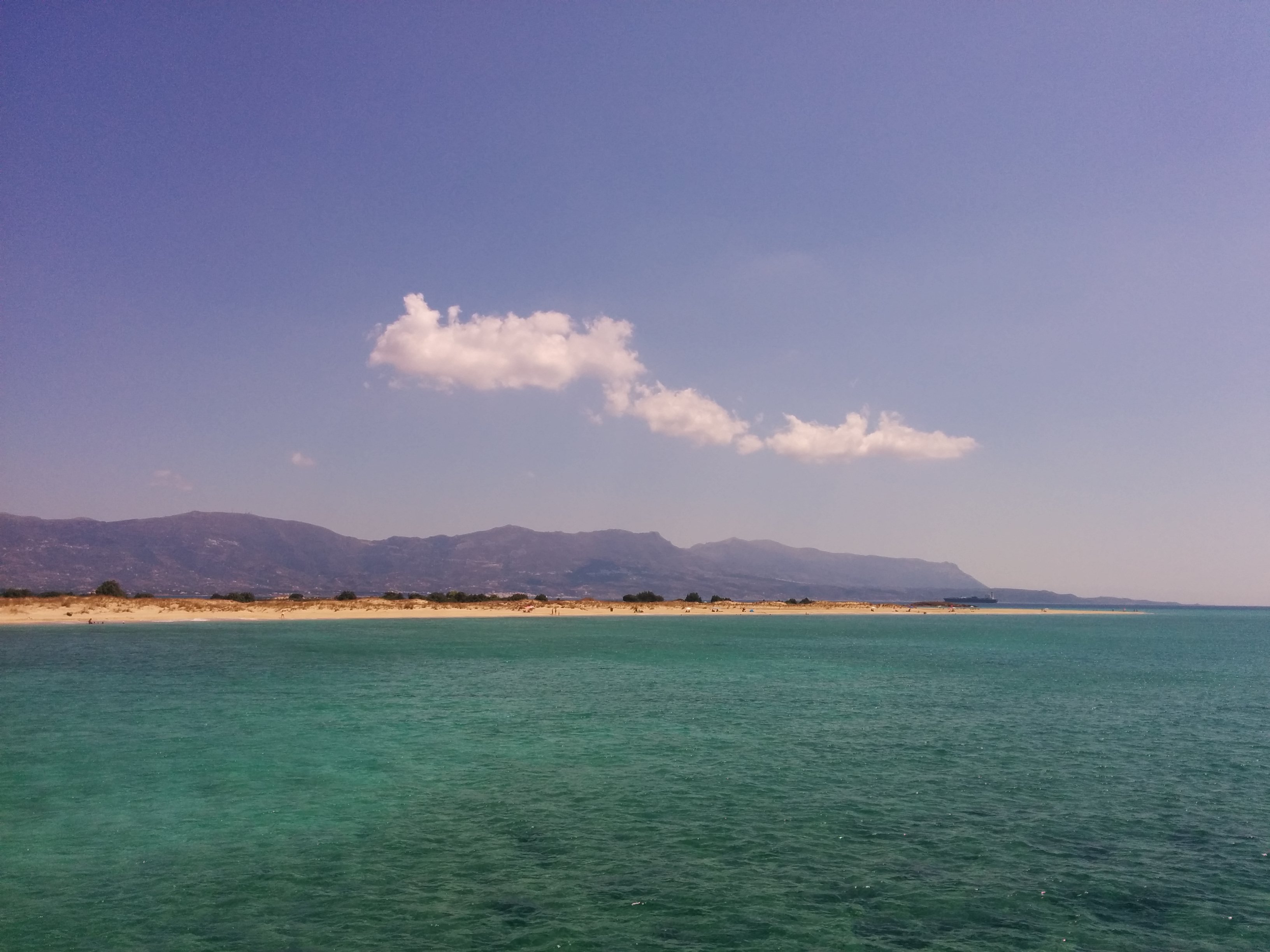 Beaches on Elafonissos Island
The roads to the beaches are safe to drive and it is easy to find your way around, the sandy beaches have shallow seas and the island overall attracts the more relaxed crowd. All the beaches on Elafonissos island have a tropical look and are family-friendly.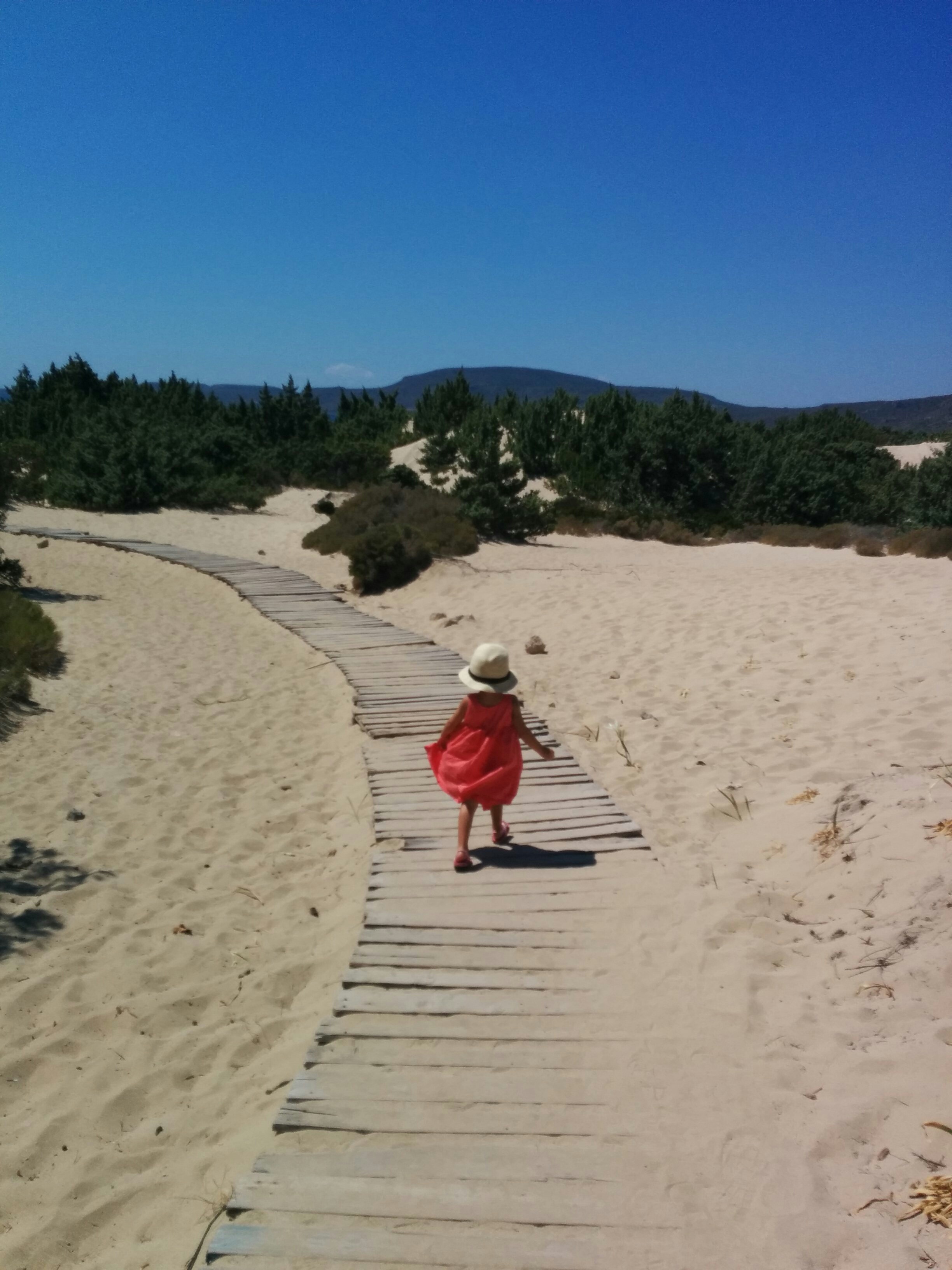 The two most famous beaches are Simos beach and Kato Nissi beach. They are amongst the best beaches in Greece. They have soft fine with sand and turquoise clear water changing colors depending on the time of the day.
Both beaches are absolutely perfect for children because of it's very fine and clean sand, it's shallow clear water and the lack of loud and busy beach bars. There are beach chairs and umbrella's on both beaches but there are no showers and no bathroom facilities. At some parts of these stretched-out beaches are lifeguards during the summer.
Simos Beach
Simos Beach is the trademark of Elafonissos island, thanks to its stunning hues, the crystal sea, the natural sand dunes reaching a staggering height of 10 m, the unrivalled beauty of the sea lilies and the unique combination of earth and sea, in a strip that resembles a path to heaven…
This famous beach is located on the south side of the island, a 10 minutes drive from the port. There is plenty of parking space between the sand dunes and the cedar trees.
We choose the part called Paradise beach. To reach the actual beach, we had to walk a long trail through the sand, impossible for strollers and it may prove a bit difficult for the little ones in the summer heat. We paid 8 Euro for 2 stretchers and a large umbrella. There was some personnel delivering drinks and snacks from the nearby beach bar.
In the afternoon the sea at Simos Beach had a few waves. We loved how the colors of the sand dunes and water changed in the afternoon.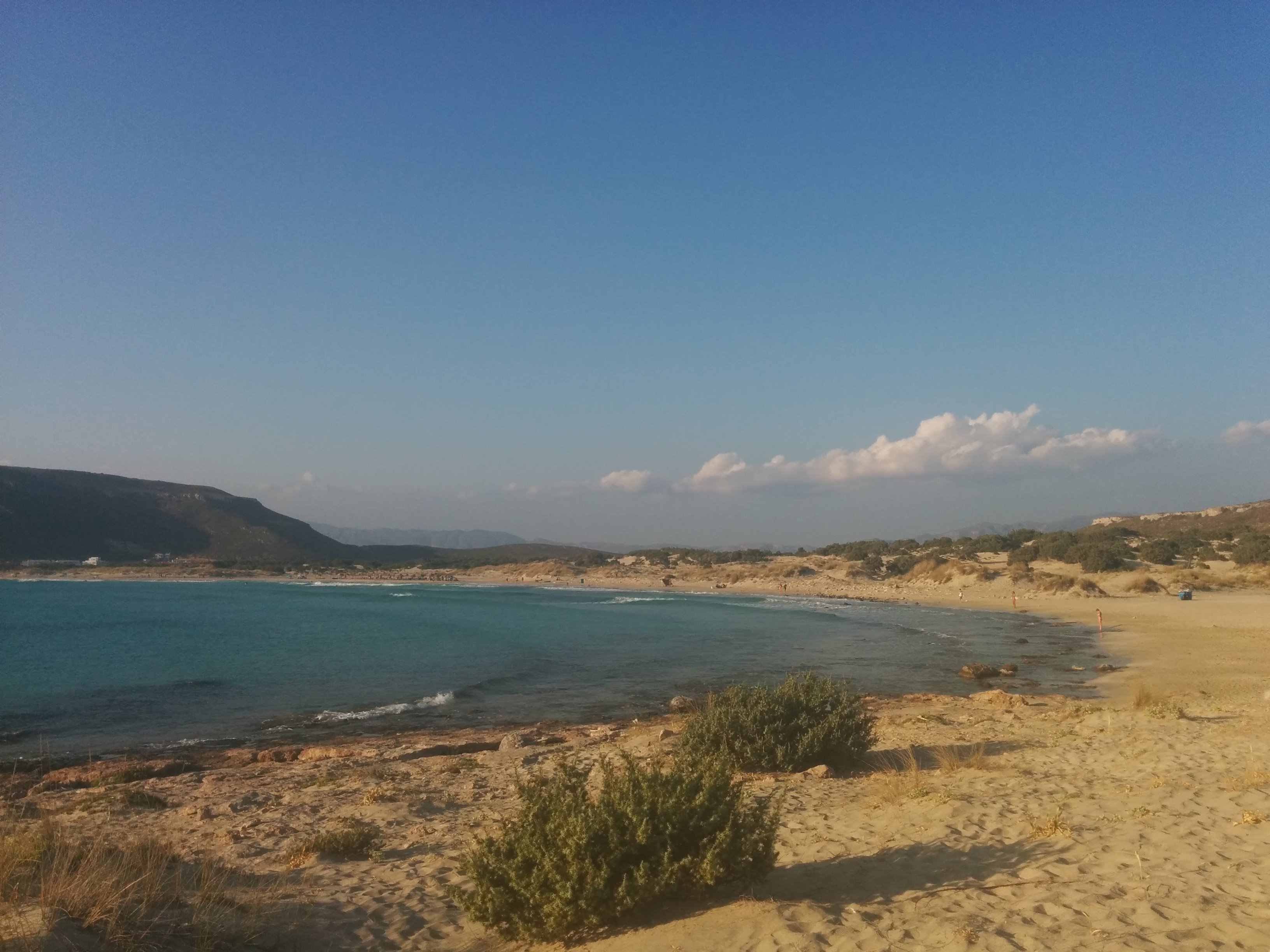 Sunsets at Simos Beach are worth waiting for!
Kato Nisi Beach
The second famous beach on Elafonissos island, the beach at Kato Nisi, was easy to access and has a parking area next to the beach.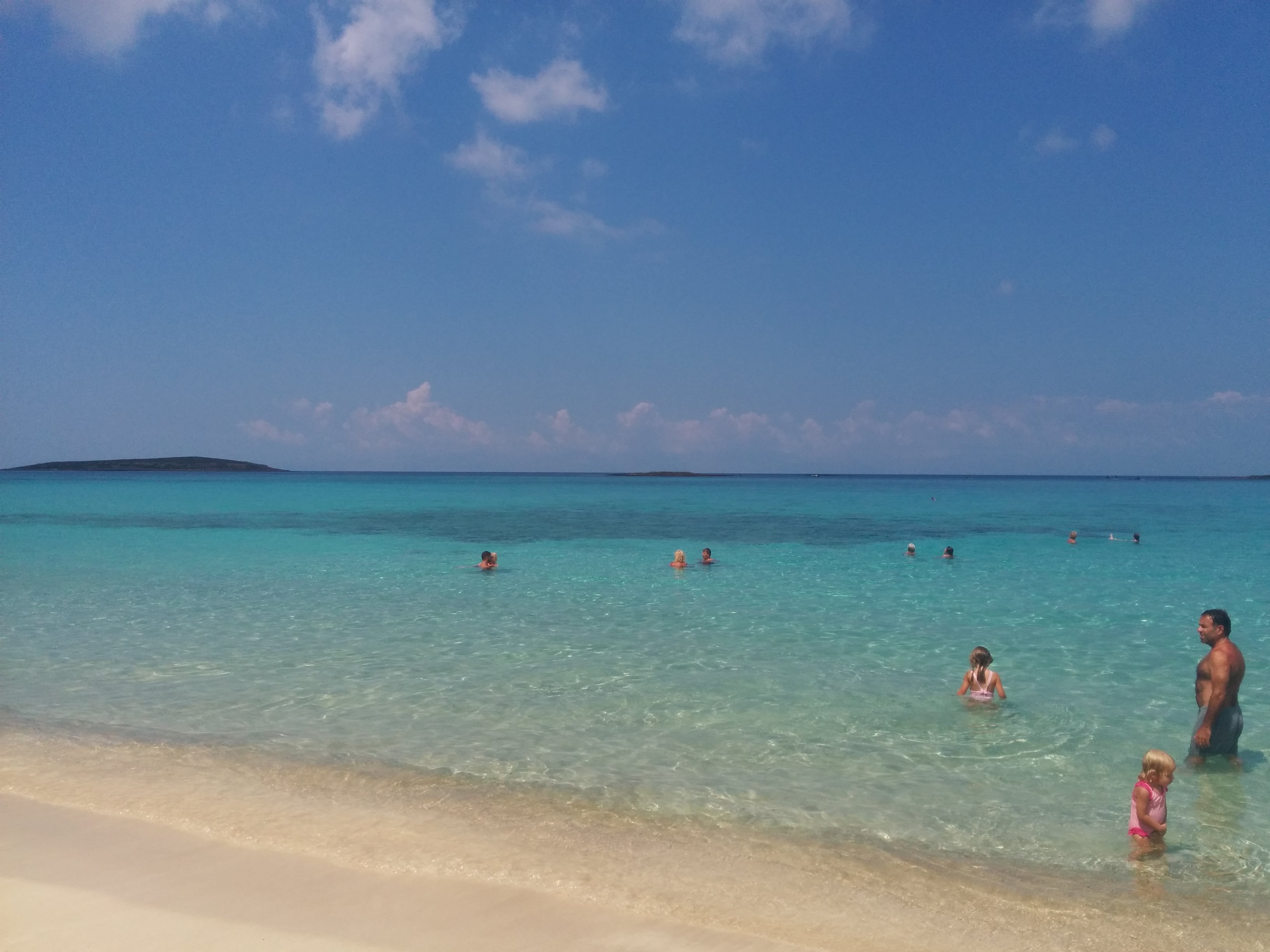 The sea had amazing colors and the beach was pink at some parts. Locals told me that the sea is always calm here, there are no waves.
Where to eat in Elafonissos island with Kids
Although Elafonissos is small, there are plenty of taverns, cafes and ice cream shops – all located in the port or village that is also called Elafonissos. The area is closed for cars at night enabling us to enjoy long strolls down the little shops and restaurants. I liked the many taverns with their tables on the beach. While we were still eating – with our feet in the sand – the children were playing next to us.
Elafonissos island has a large fishing fleet and there is plenty of fresh fish available on the island. We ate at 'O Ntagiantas', famous for its fresh seafood. My kids tried saganaki shrimps, fish soup and lobster spaghetti. I loved to choose our fish and lobster, and they were being prepared on a grill outside. We also ate at: 'Gyrofolia', a souvlaki tavern in the port with clean facilities and a small but delicious menu.
Things to do in Elafonissos
As mentioned before, the distances on the island are small. The port, village, shops and beaches are all nearby.
At the small village of Elafonisos, you can taste local ice cream, indulge on summer cocktails, enjoy a walk in the port teeming with fishing boats and experience the magic of traditional island living.
The kids were riding their bicycles on the street. You can also visit the little church of Agion Spyridon, built on a tiny island and connected with a narrow bridge to the village. We loved the ducks in the port and the small playground.
Leaving Elafonissos we as easy as getting there. Although we left the island on the busiest Sunday of August, there were no waiting lines for the ferry. We simply drove our car back on board and within 15 minutes we were back at the mainland and on our way to our next destination. Elafonissos island with kids is easy and relaxing!
Where to stay in Elafonissos island with kids
We did not make any booking before we arrived at Elafonissos. We arrived on the island with 2 young kids, without a plan in the middle of August. This was a mistake. It was very difficult to find a hotel available. There are no big resorts on this small island but around many middle range hotels. Guesthouses and apartments, however, are widely available. Therefore, I definitely recommend you to book your family accommodation in advance.
Kato Nisi Apartments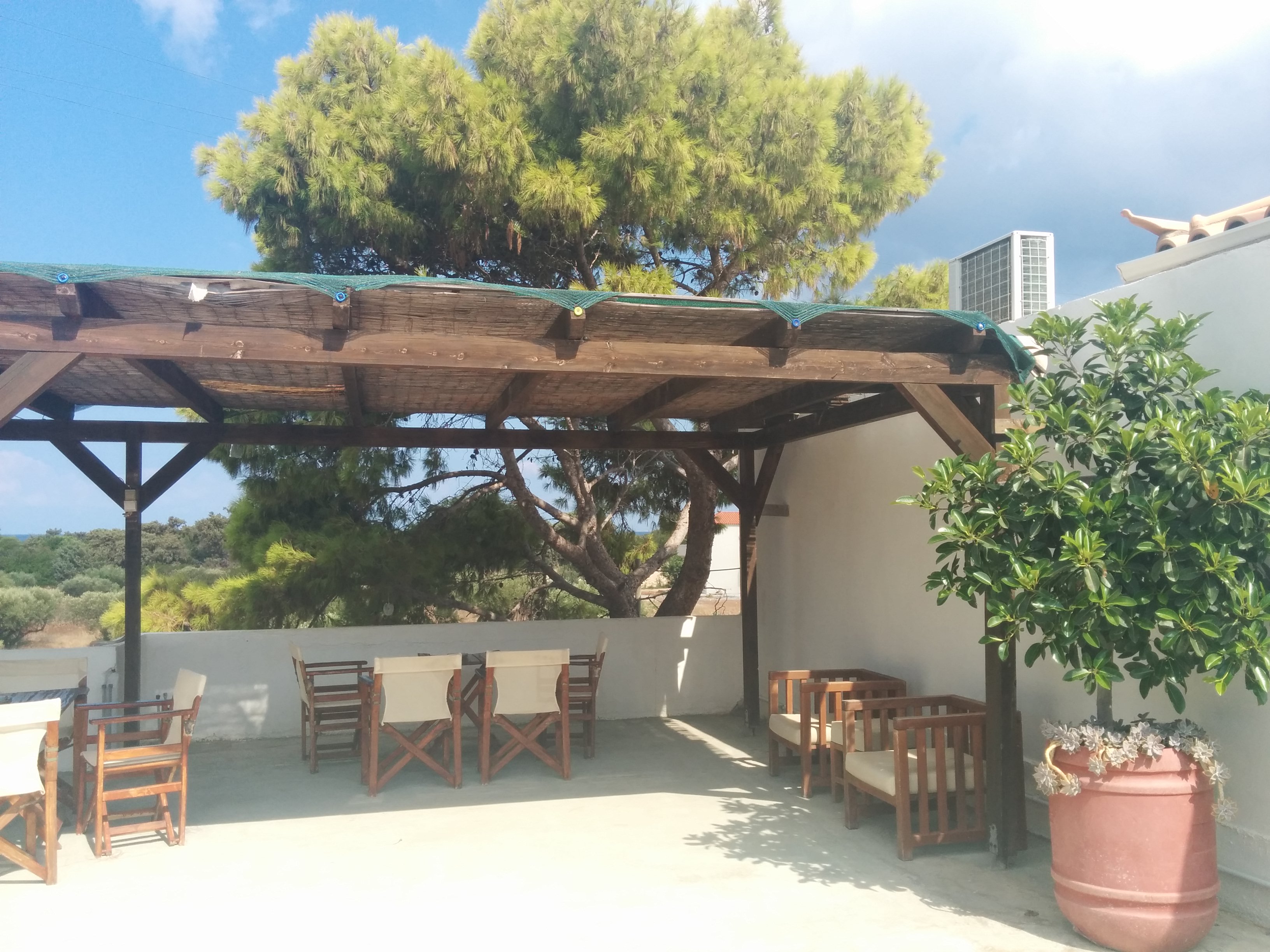 We had to search long before we heard about an available room at Kato Nisi. The plain but clean self-catering Kato Nisi apartments are situated near the Panagitsa area at a 5-minute drive away from the village and port. Simos Beach is 10 minutes away and the beach of Kato Nisi is only 5 minutes away by foot. (be careful, no sidewalk!)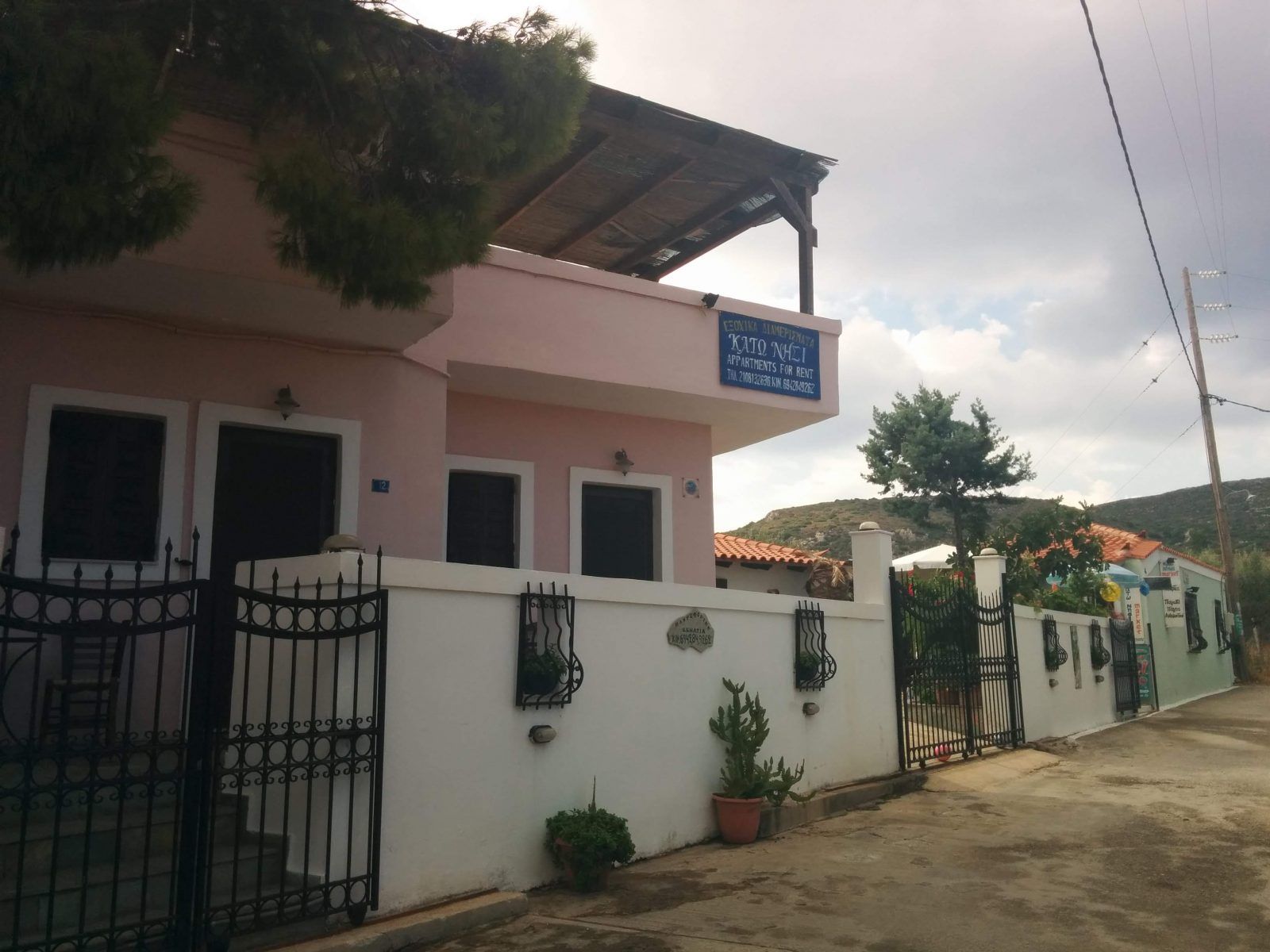 We stayed in a triple room with 2 bedrooms, a small but fully-equipped kitchen, a bathroom and plenty of storage space. The rooms have 2 entrance doors; in the front via the garden and one in the back. Ideal for a family with kids.
We loved the garden of Kato Nisi with its exotic cactuses, plants, flowers, figs and basil. There is lots of space for games and relaxing. There is also a mini-market with family items such as nappies, wet wipes, milk, fresh bread, home-made pies, olive oil and other local products.
Camping Simos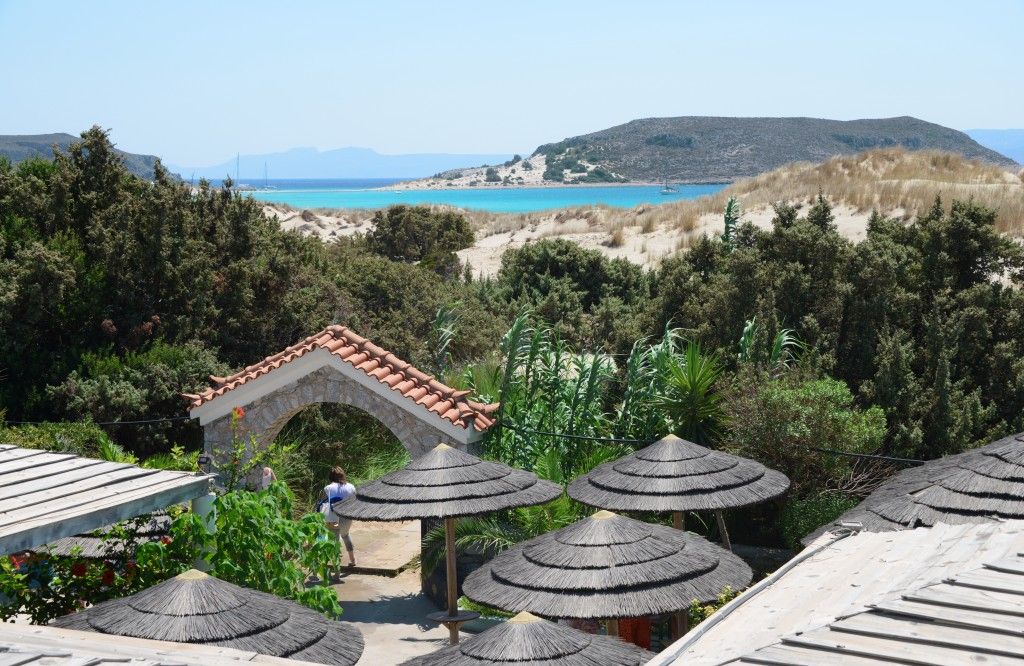 The Simos Camping is one of the most popular campsites in Greece. It is located just 50 meters from the most famous beach of Elafonisos, Simos beach. Kids and adults alike can enjoy the stunning colors of the emerald sea, the sand dunes and sunsets from the comfort of their tent. The camping is pet friendly and organizes activities for kids.
For more information and booking, please click here for the website.
If your family likes camping, consider glamping too. Click here for the benefits of glamping and the best campsites for families here. camping and glamping here.
Family Hotels in Elafonissos
Simosmare Resort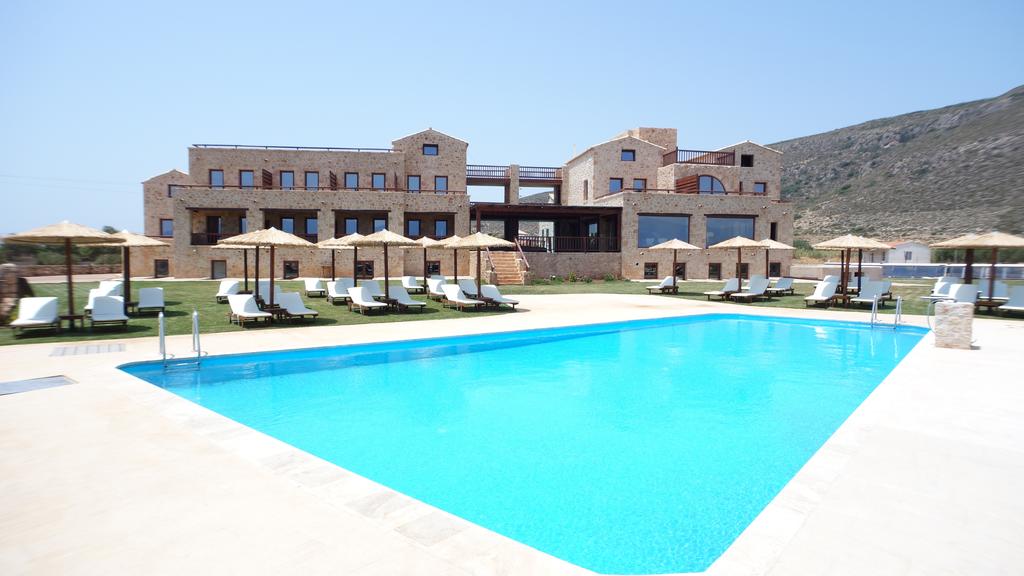 Simosmare is a 4-star hotel great for families. Located right on the beach of Simos in Elafonisos Island, and built of stone and oak, the spacious Simosmare Resort features an outdoor pool and terrace. The resort has a wide sun terrace and beautiful views of the sea.
For more information and booking, please click here.
Elafonissos Resort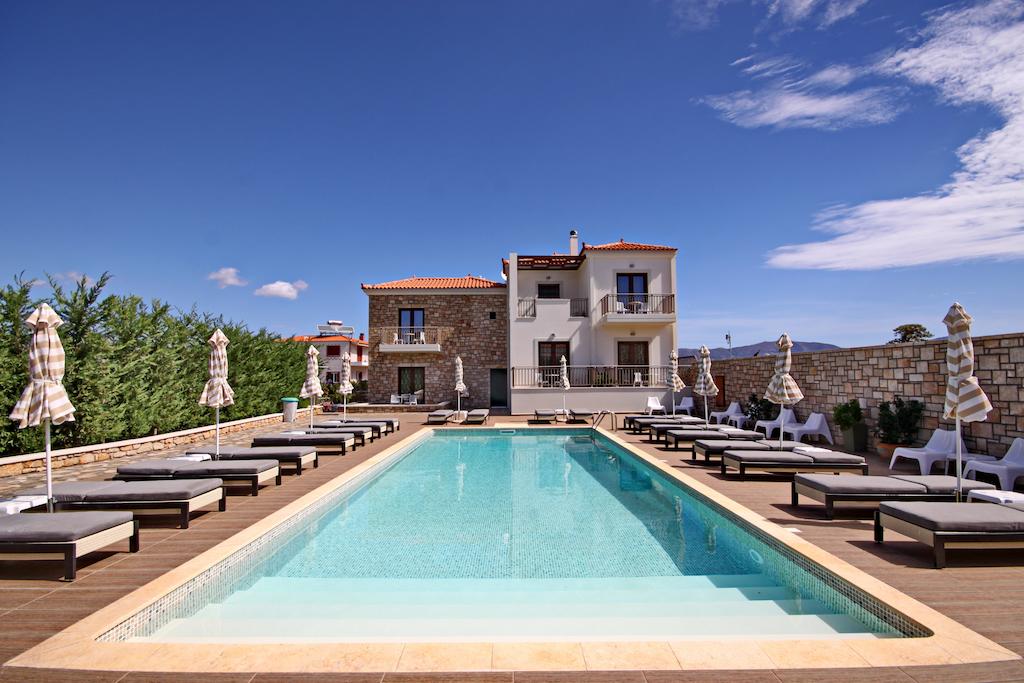 Elafonissos Resort is a charming 3-star hotel with family rooms located in Elafonissos, within 500 m from the beach. This stone-built Elafonissos Resort features a pool, a furnished sun terrace and a modernly decorated poolside bar.
For more information and booking, please click here.
Double Bay Beach Hotel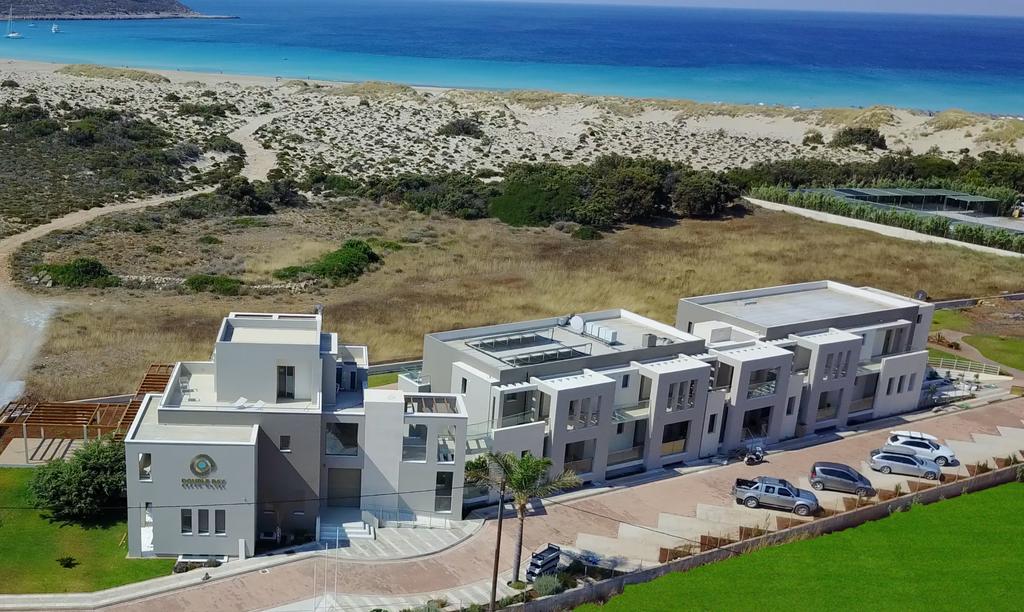 The 4-star Double Bay Beach Hotel is a few steps from Sarakiniko Beach. It is a favorite for families with its kid-friendly accommodations, restaurant, parking, 2 swimming pools and large garden. Great for a beach vacation with kids.
For more information and booking, please click here.
Have you been to Elafonissos? If not, add it to your bucket list and pin it for later!