Last Updated on February 15, 2023 by Celeste.
Monemvasia, a steep rock, a ruined fortress, a fortified city with cobblestone alleys, narrow streets, dramatic scenery… One of our most memorable trips was our vacation in Monemvasia. This beautiful Greek destination has won our hearts forever. Here is our family travel experience with tips on where to stay and what to see & do in Monemvasia in Greece with kids!
Monemvasia with Kids
Monemvasia in Greece is not a famous family vacation destination. However, it is a place that should be added to your Greek holiday bucket list.
History of Monemvasia
Monemvasia (Moni means 'single' and Emvasis means 'entrance') is located on a small island at the Southeast coast of the Peloponnese. The island, or better, the Rock (think Gibraltar!) is connected with the mainland by a bridge called Gefyra in Greek. Monemvasia is a medieval castle town, it is also called The Castro by the locals and was founded in AD 582/3.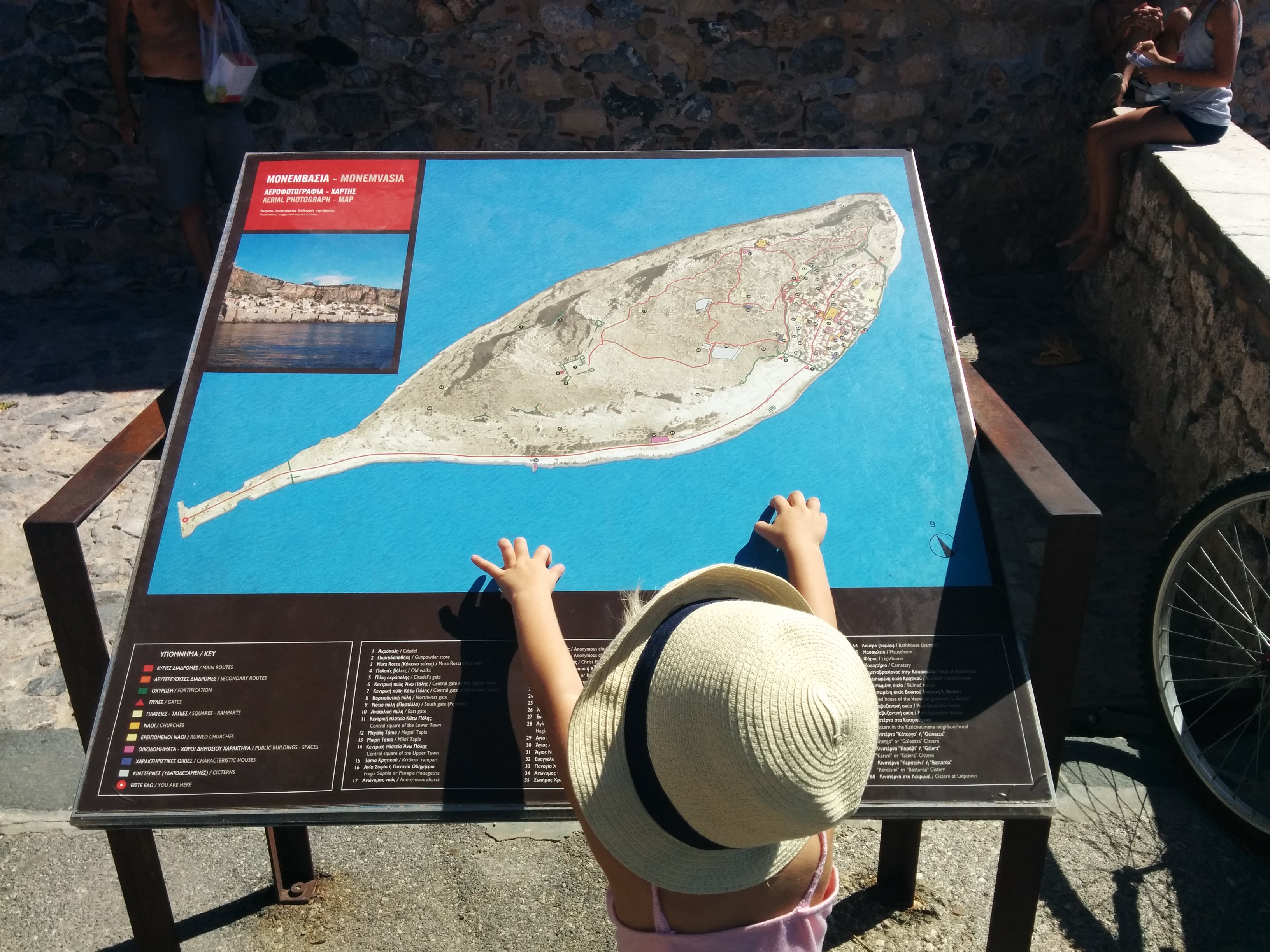 It has been in the hands of the Franks, the Byzantines, the Venetians and Ottomans and their influence is still so present everywhere.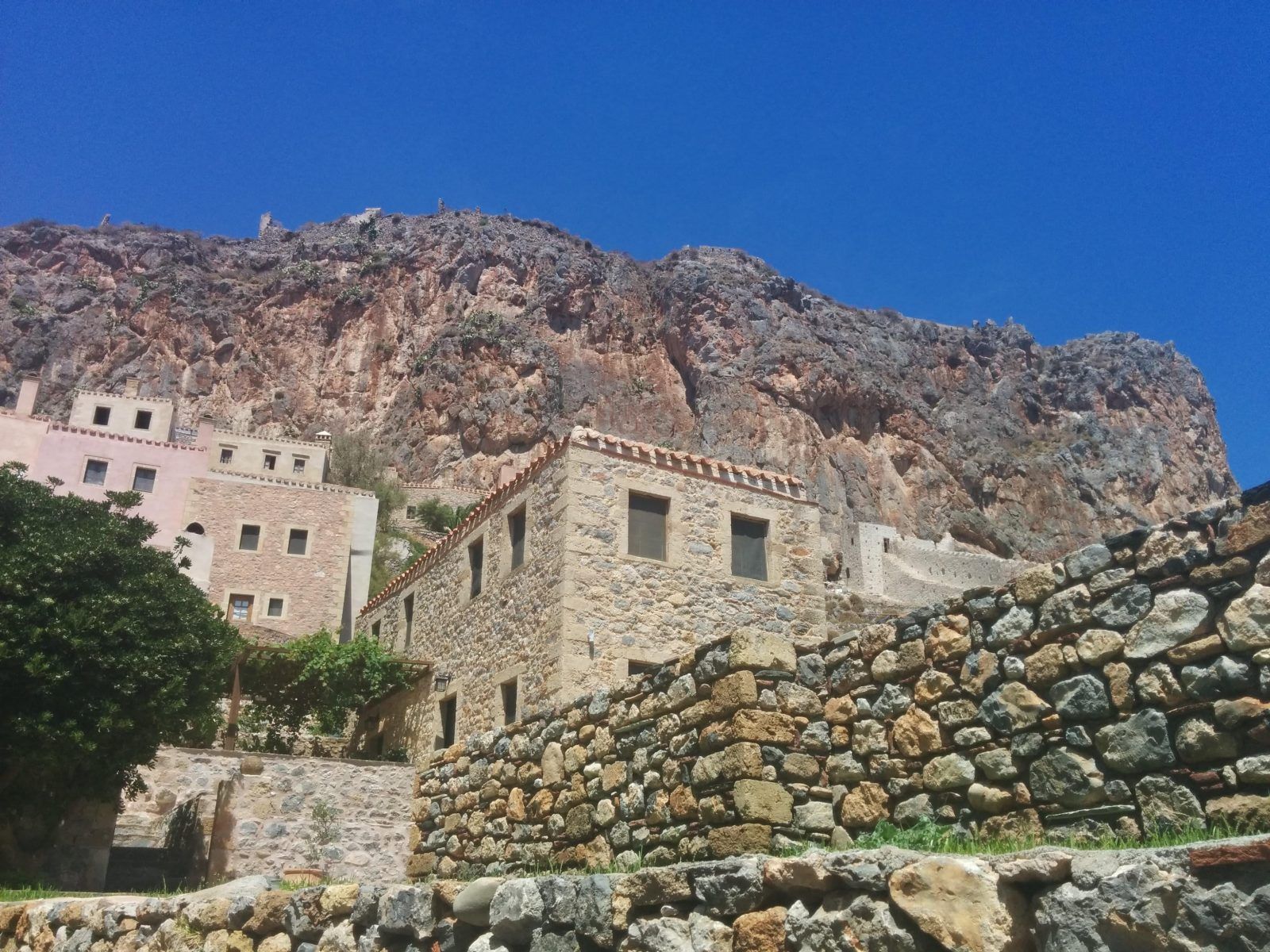 Monemvasia is now an open archaeological site attracting tourists in summer and winter. A good friend of mine and local resident invited us to during a hot Greek summer and showed us the wonders of Monemvasia with kids.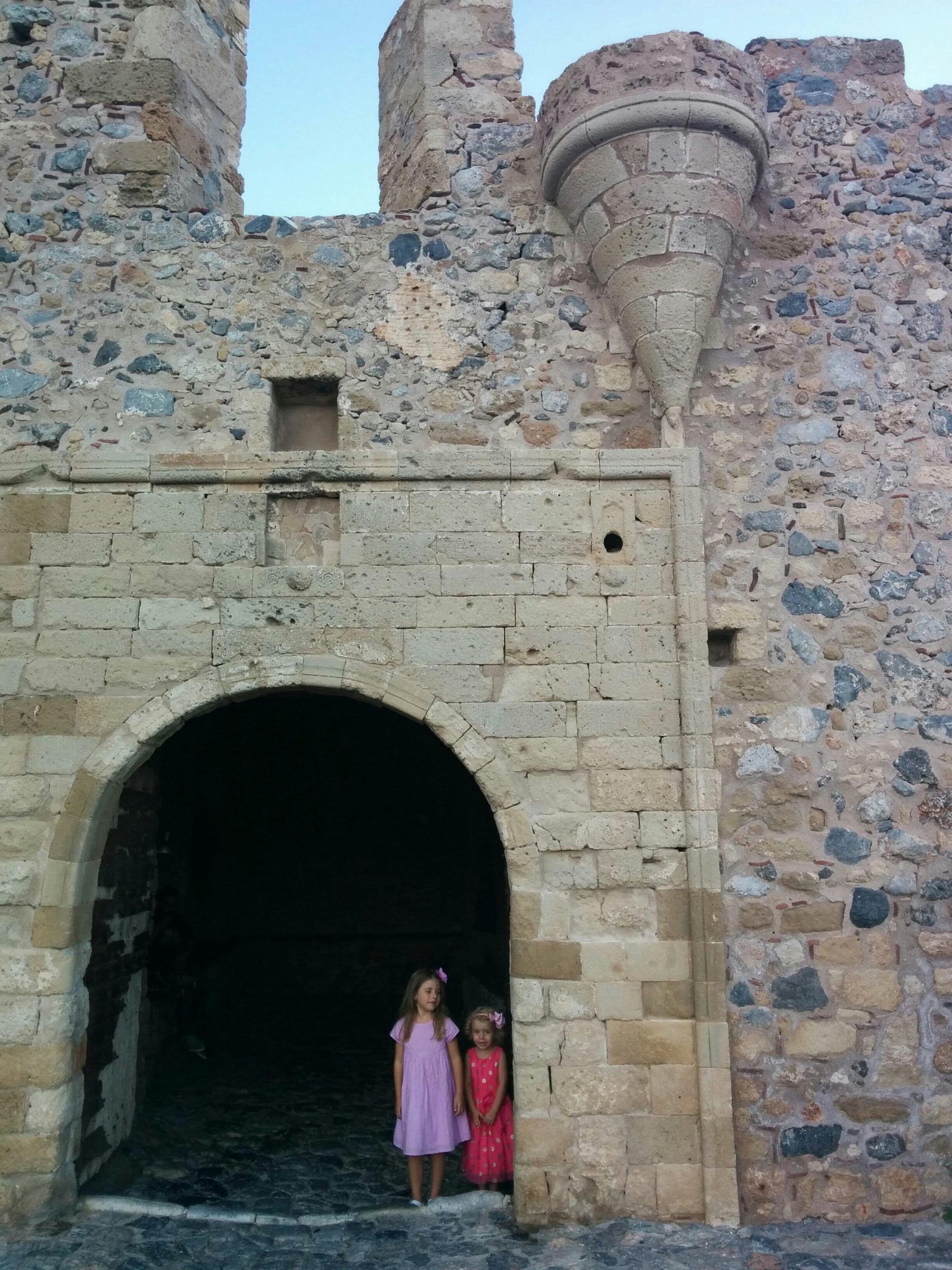 Visiting Monemvasia with Kids
The moment that we passed the dark tunnel entering the castle, we felt that we had travelled back in time.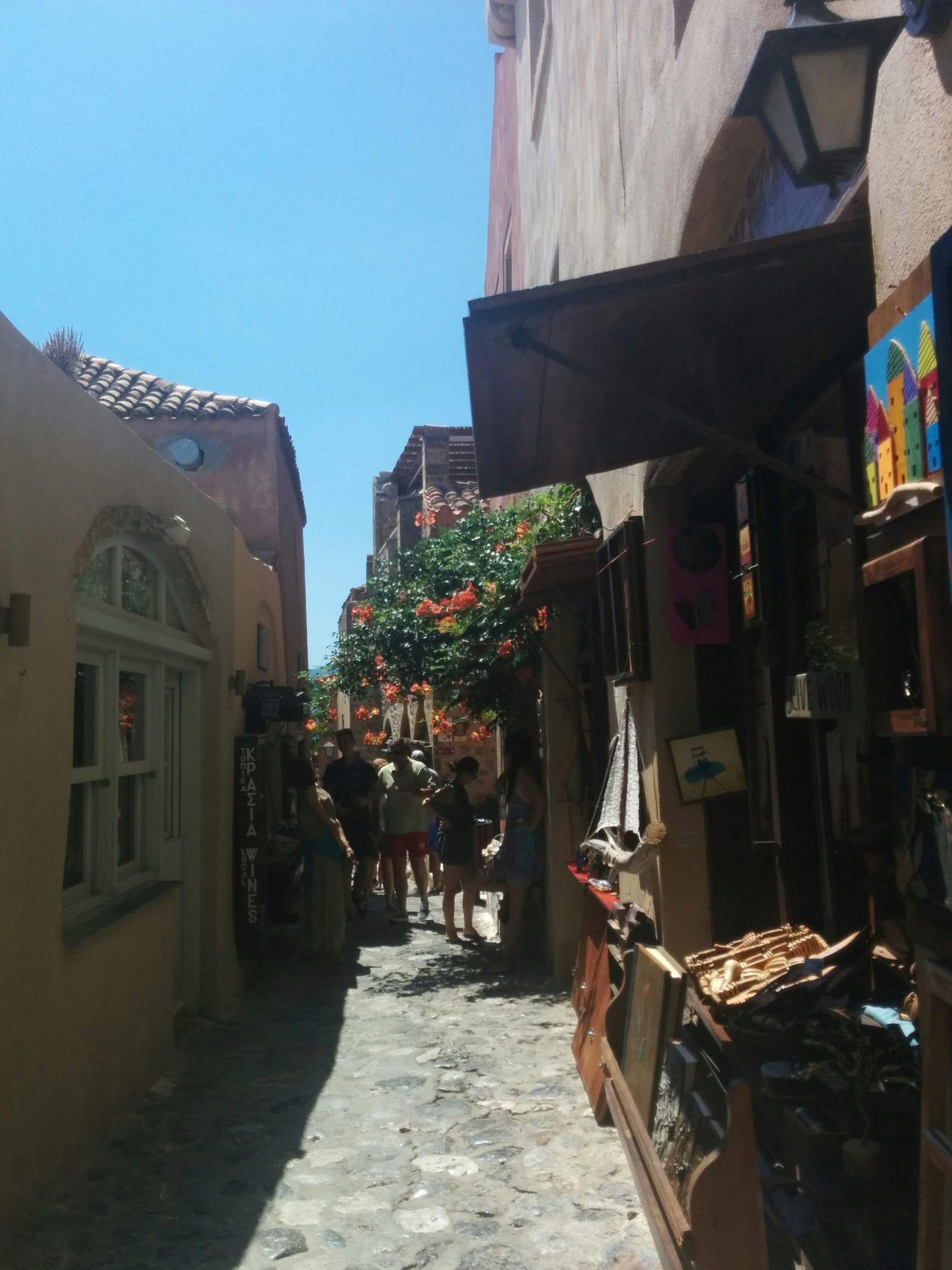 Still blinking our eyes from the bright light, we entered the magical old town. Our Monemvasia with kids adventure had started!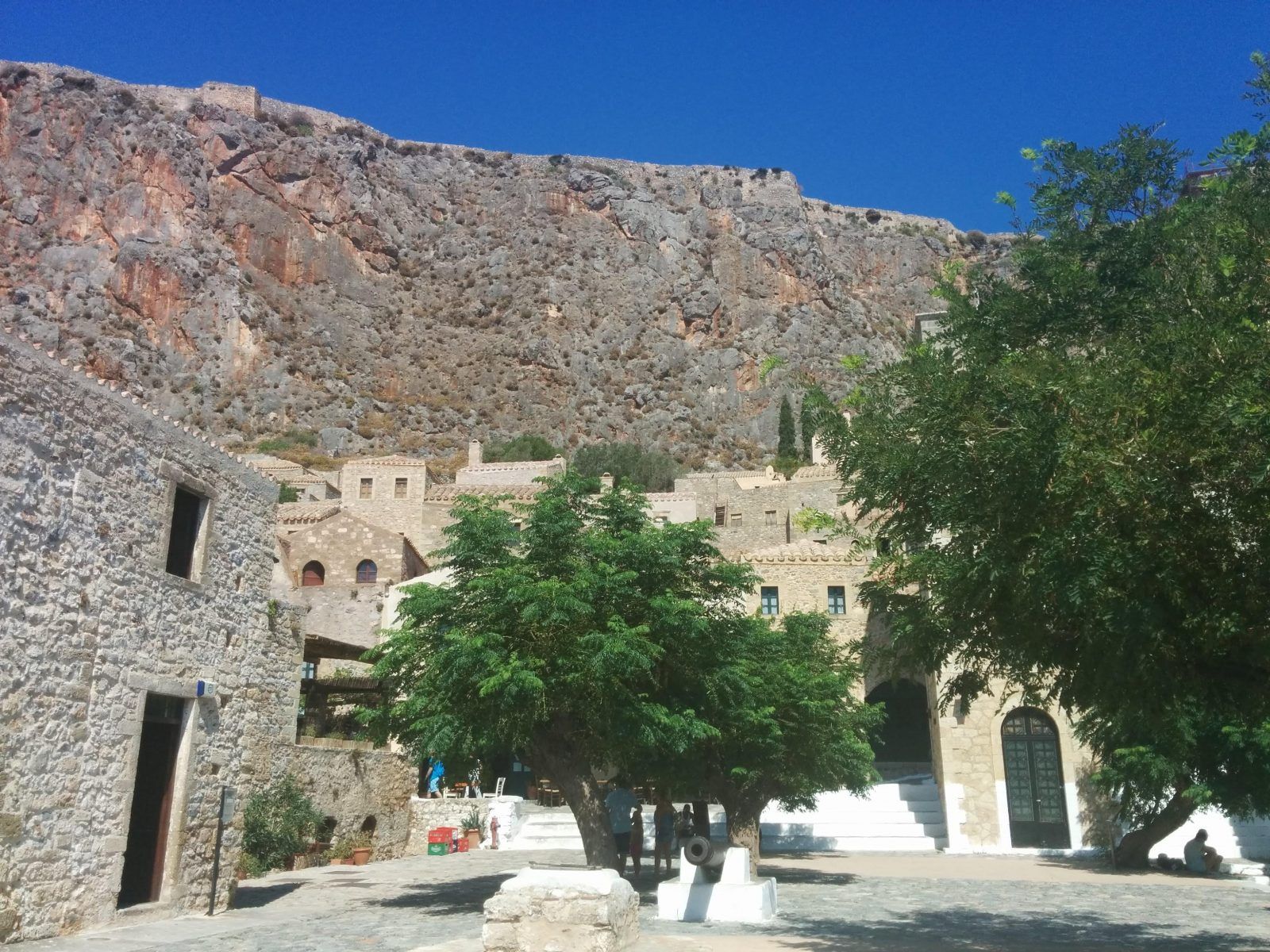 We started our day in Monemvasia Greece with kids by walking through the romantic streets. Beautiful stone buildings with walled gardens and courtyards, pretty churches, impressive towers, and ruins… The kids loved the canon, the mysterious corners and the narrow cobbled alleys. The town is decorated with exotic plants and heart-stopping sea views. After our walk, we all fantasized about knights and kings, pirates and princesses. Our adventure had started!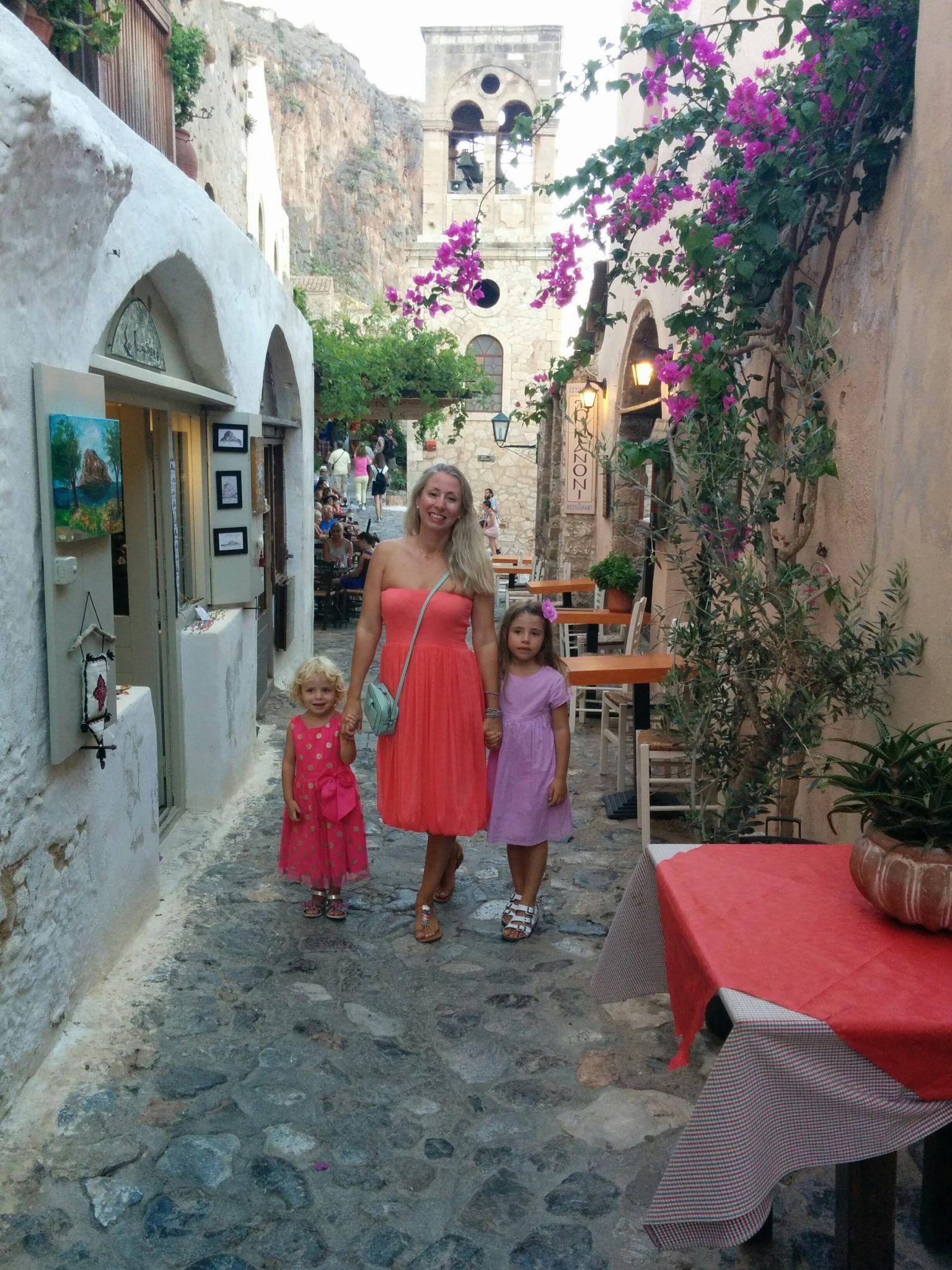 Where to stay in Monemvasia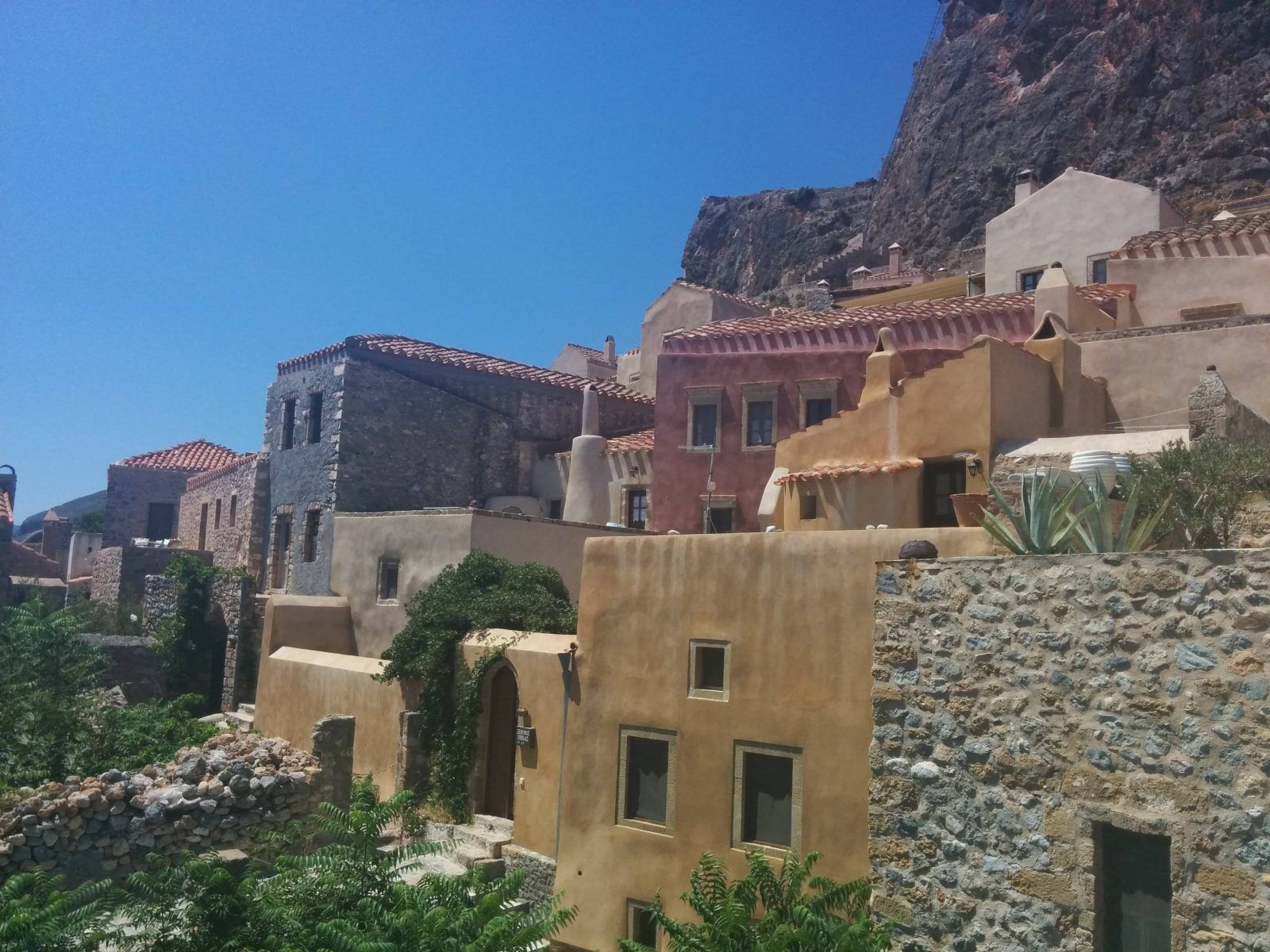 Family Hotels in Monemvasia Greece with Kids
Inside the castle town, or just 'the Castro' are mostly boutique hotels; restored medieval buildings with marvellous (but sometimes dangerous!) stone balconies and old walls. We visited several of them and met with the owners.
All hotel owners showed great passion for their business and for Monemvasia. I checked the rooms and restaurants and recommend the following hotels.
Very centrally located near the main square. Serving an amazing breakfast in their café with very nice Greek food. We also had lovely drinks here in the evening.
Click here for more information and to book your stay.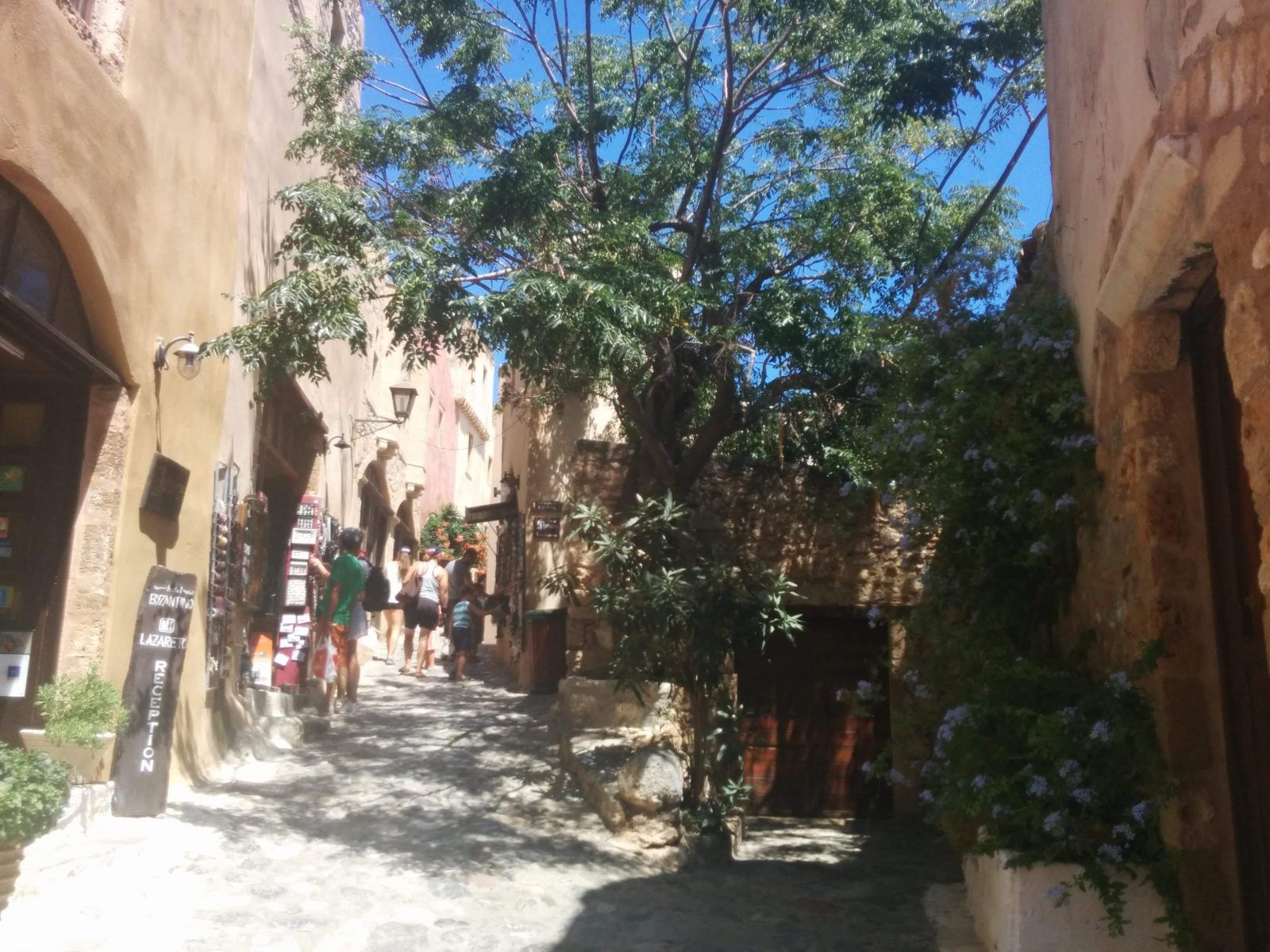 Family rooms, connecting rooms and rooms that share their own entrance from outside as pictured below.
Click here for more information and to book your stay.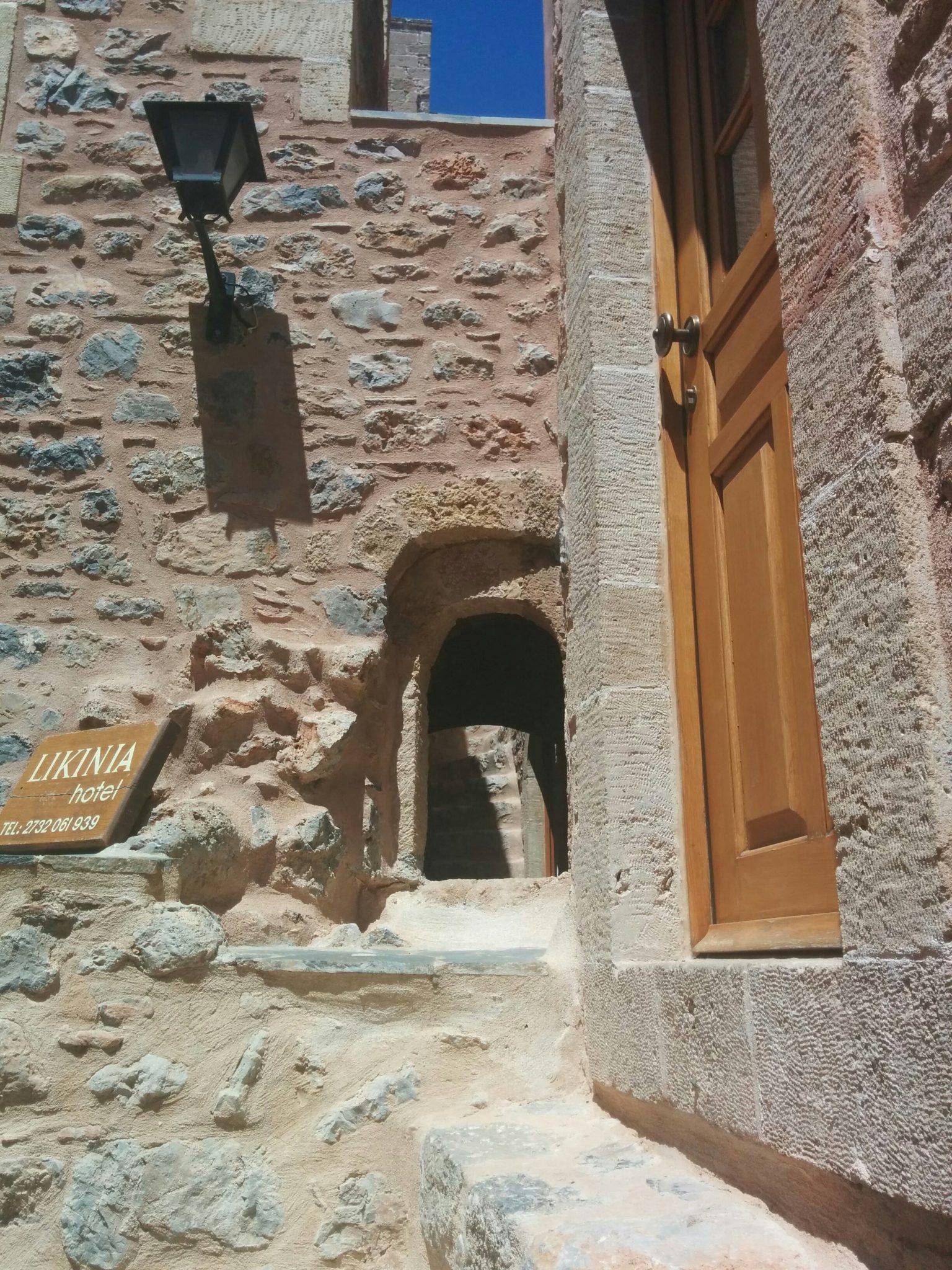 Kellia is famous for its castle decor and winery and very quietly located on a spacious square very safe for children. I loved the lounge for reading and games. You can also try their own wines.
Click here for more information and to book your stay.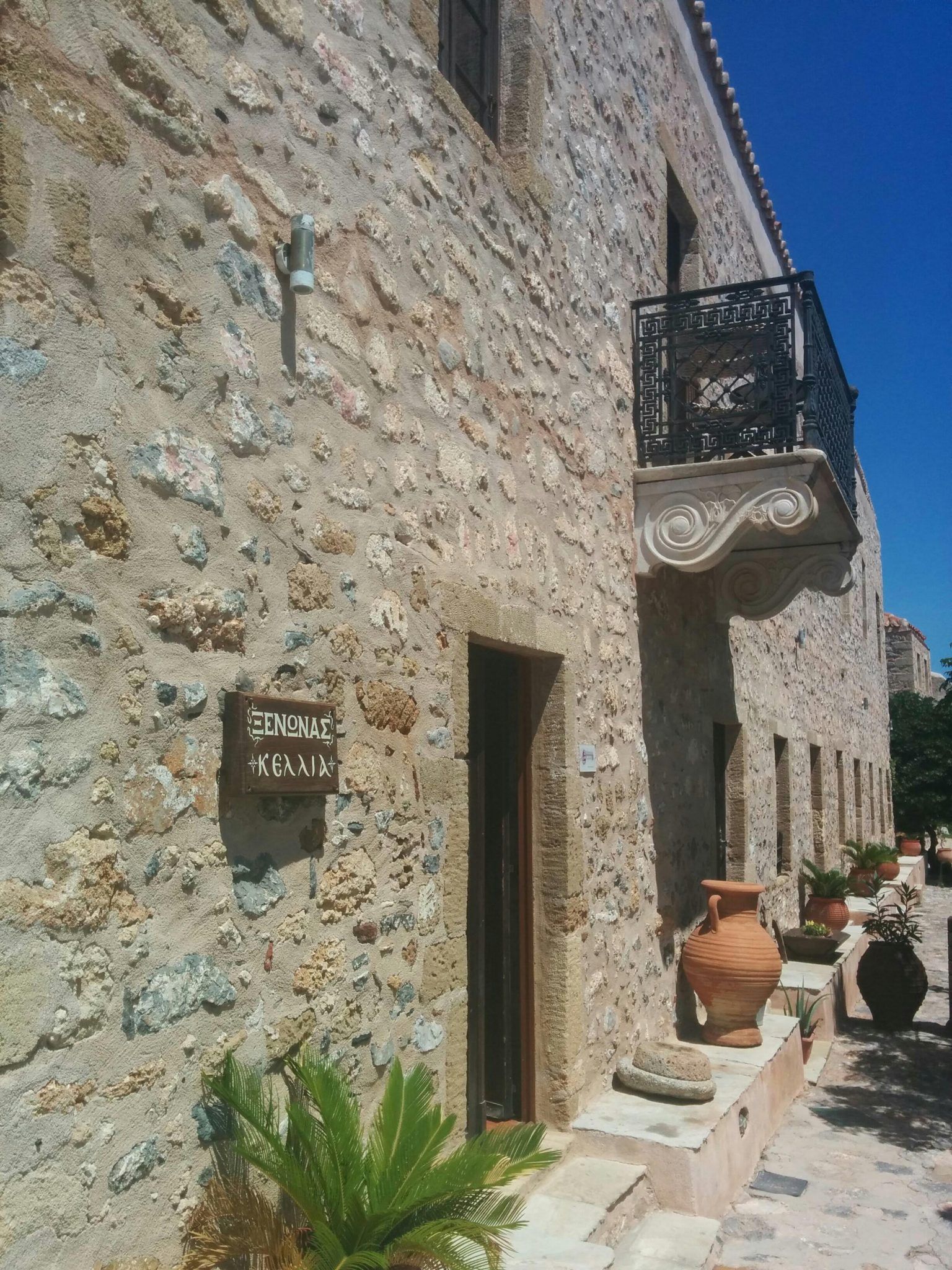 The owner of this guest house, Vasilis Ardamis recommended the following family rooms in Ardamis: 14, 22, 18 and 19. In one of his suites is an ancient marble well. It's covered by a glass plate and lit inside, and you can see the water meters below! The hotel is located in a quiet alley.
Click here for more information and to book your stay.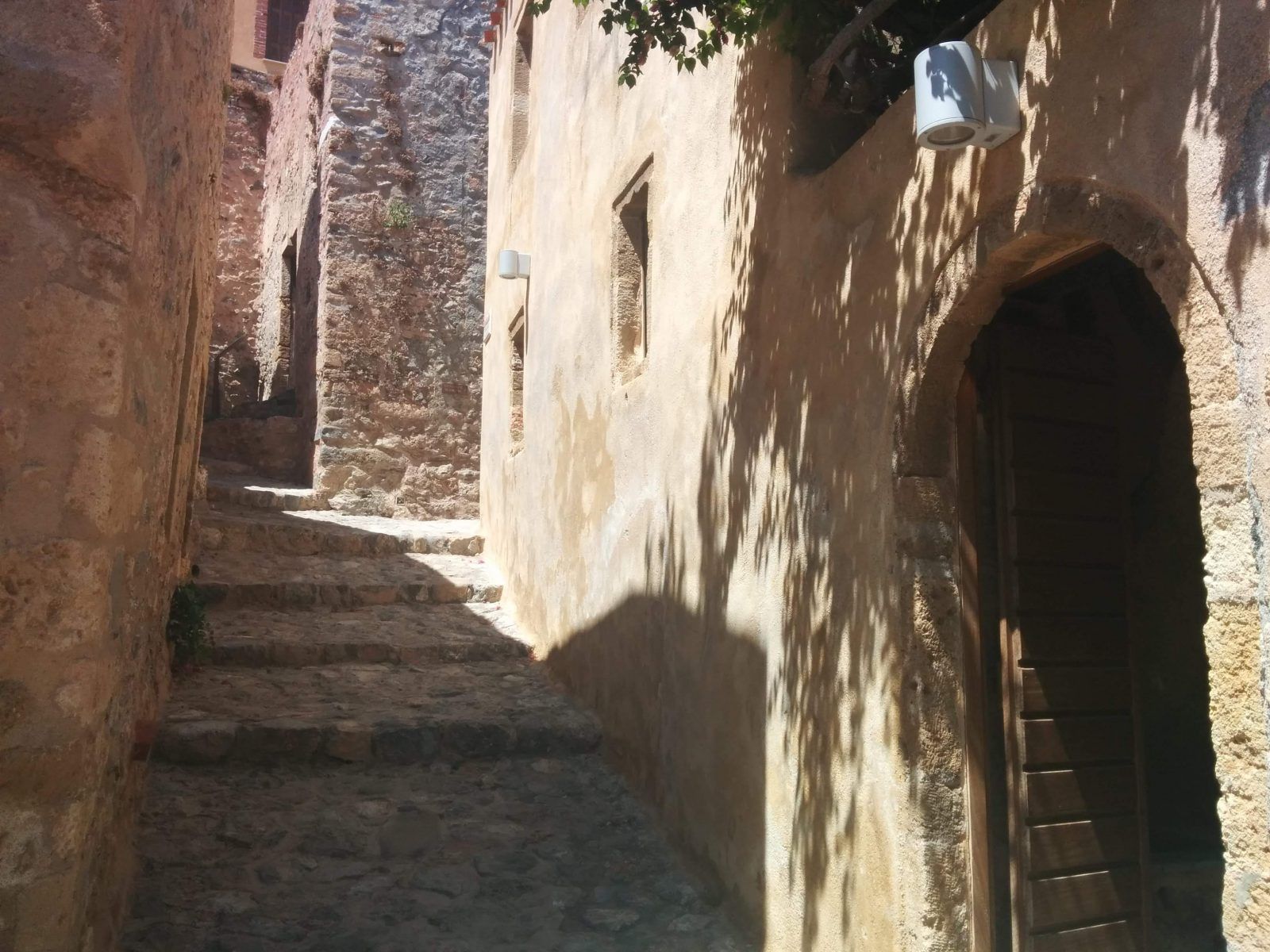 My family was invited to stay at a private mansion in Pori, outside Monemvasia. We drove our car to go to the Castro and back. Some days we would leave the car and park at the parking near Gefyra. We used the air-conditioned shuttle bus to go up to the entrance (shuttle bus leaves every half hour from morning until midnight). On other days, my husband would drop me of with the girls at the entrance and tried to find a parking space nearby.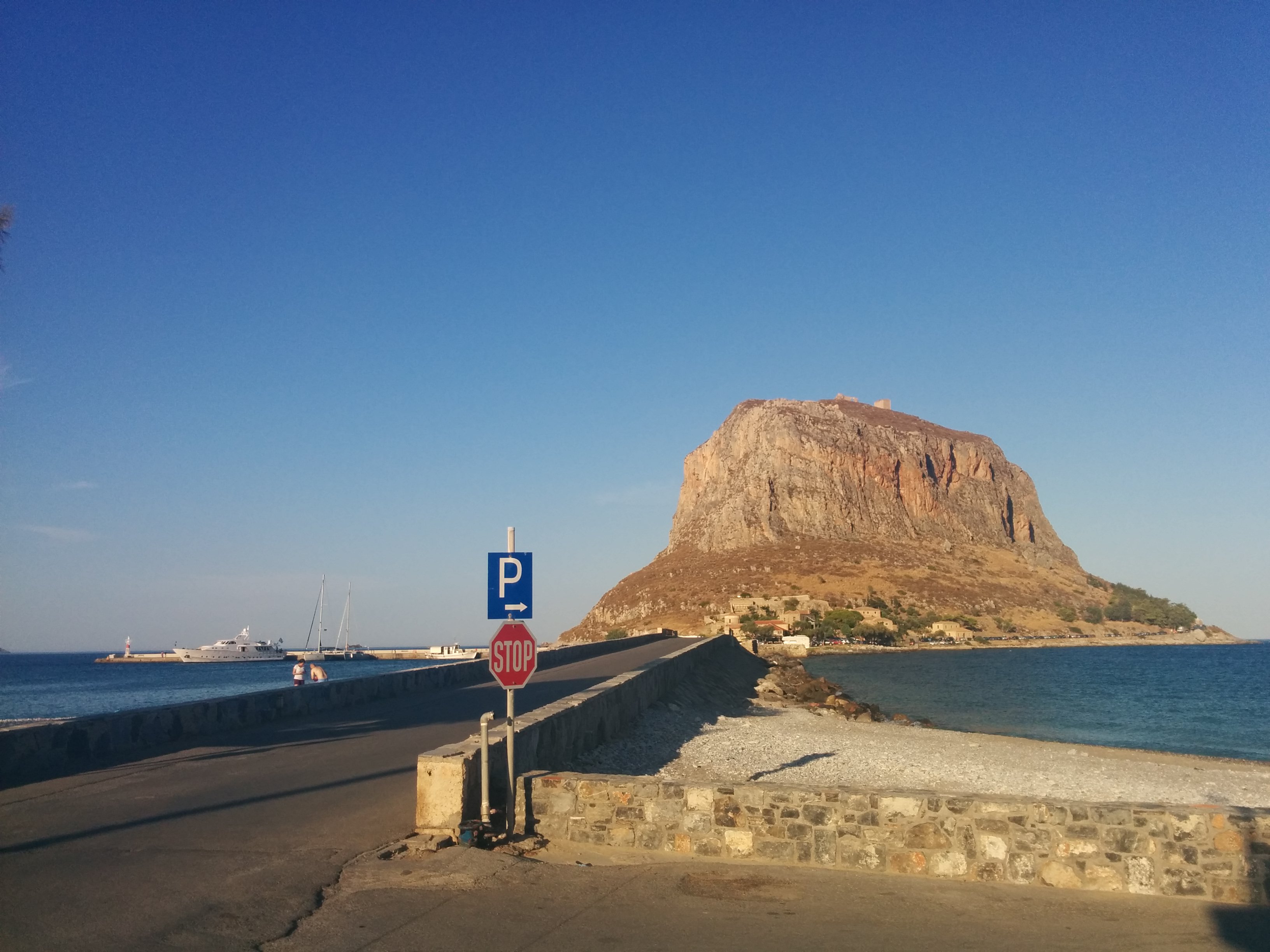 Family Hotels at Gefyra Monemvasia
Gefyra is the center of a developed tourist area with many hotels and apartments. There are budget-friendly options and lots of restaurants, taverns, and tourist services such as pharmacies and shops. There is an organized crystal clear pebble beach in the port as well as a fenced playground. You can also choose to stay toward the north, at Kakavos beach or Pori beach. To the south, the beaches are near the villages of Agia Paraskevi, Agios Stefanos, and Nomia.
A family-friendly aparthotel with a pool, large open spaces, beautiful gardens, family rooms villa's and located at only 400 meters away from the sea.
Click here for more information and to book your stay.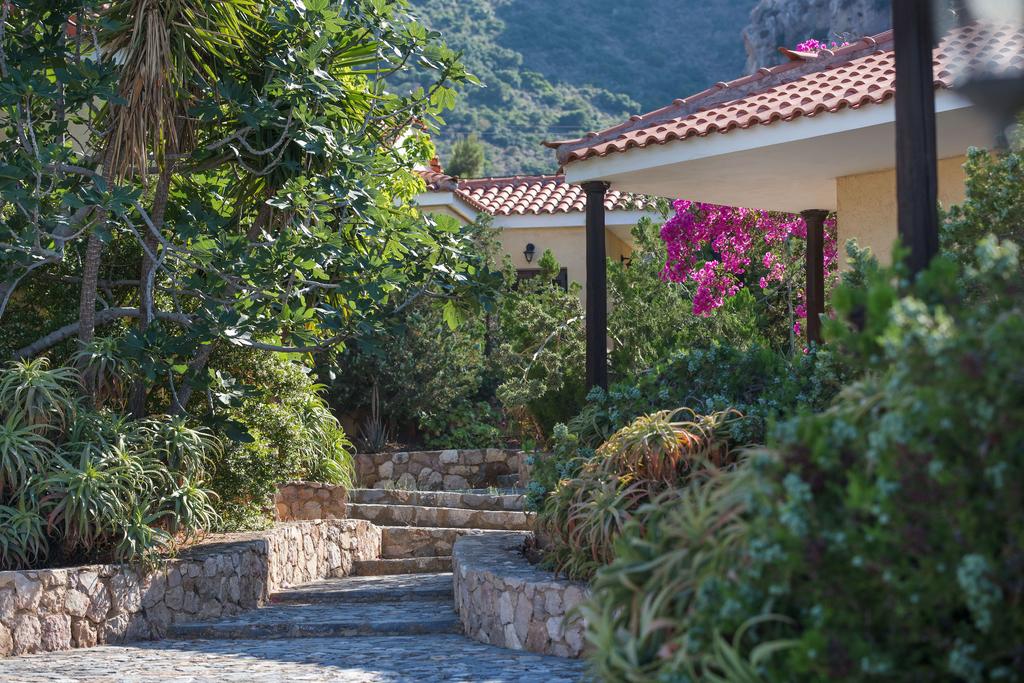 A hotel with triple rooms and is suitable for small families. It is situated only metres from the sea and the Castle's Bridge in Monemvasia in Gefyra, the village opposite the castle.
Click here for more information and to book your stay.
Family accommodation ideal for bigger families. The complex boasts a large swimming pool with hydro-massage section for adults and a separate smaller one for children. All self-catered rooms are equipped with a kitchenette, air-conditioning, and feature a DVD player. Monemvasia Castle is 5 kilometres from Xifoupolis Apartments.
Click here for more information and to book your stay.
Douka Sea Front Residencies is also a favourite with families. 4.4 km away from the castle with self-catering apartments, large family rooms and pet-friendly. Click here for more information and to book your stay.
Gialos Village is further away but located at a beautiful spot surrounded by mountains and sea at 13 km from Castle of Monemvasia. Great with children because of the gardens but note that the beach is pebbled and rocky at parts. Click here for more information and to book your stay.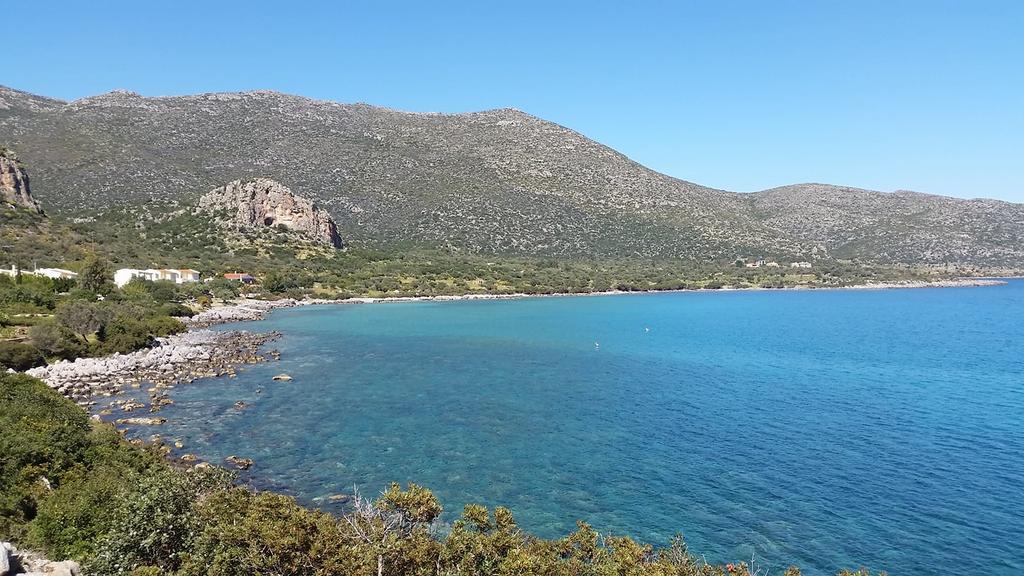 Where to eat with Kids?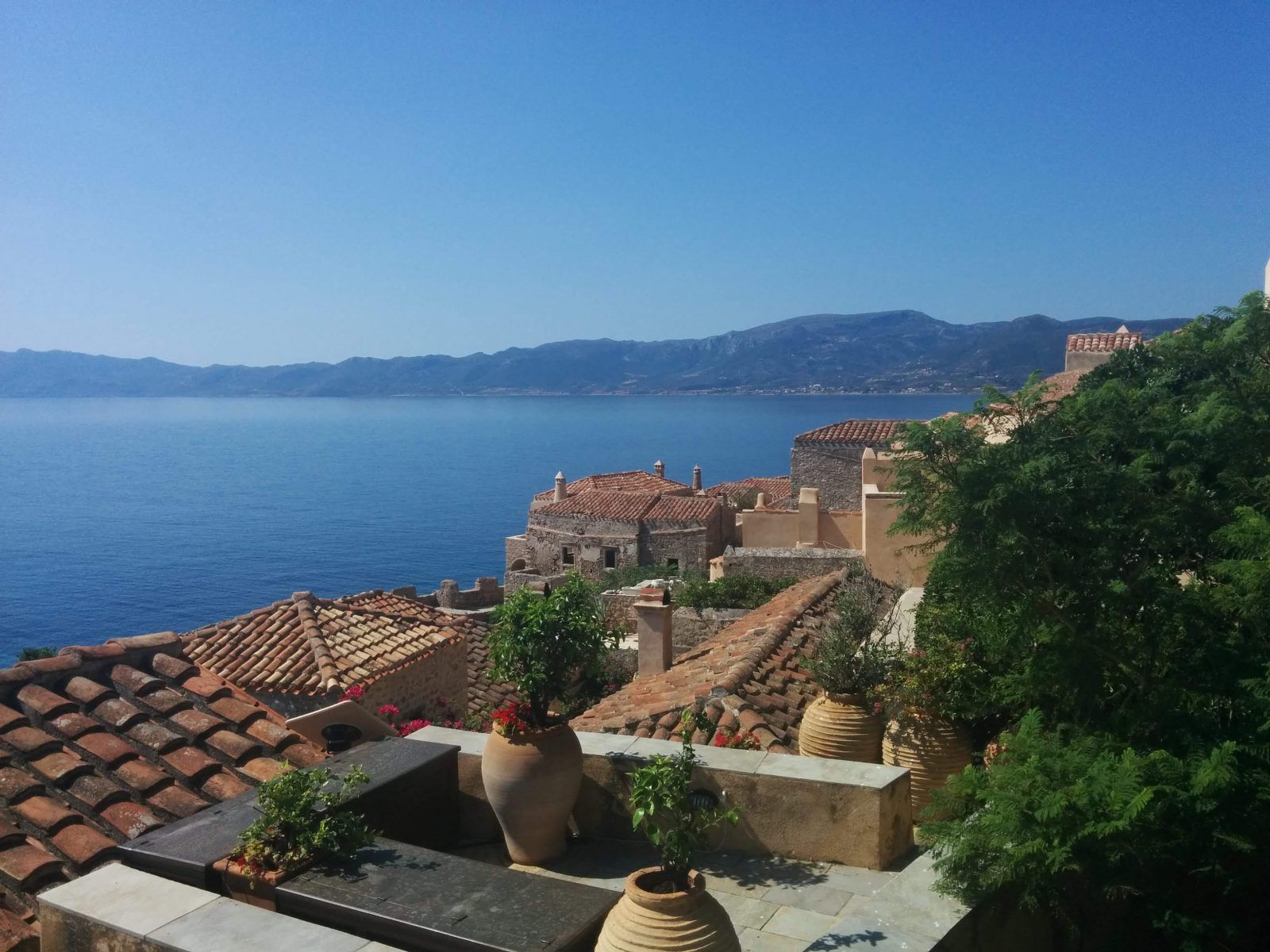 The Byzantino cafe at the central square serves an amazing breakfast with locally produced and home-made delicacies (10E p.p. from 8:30-10:30, daily in August, other months only the weekends). We also had a drink here in the afternoon whilst our kids were running around the square. It is located at the busiest part of the town.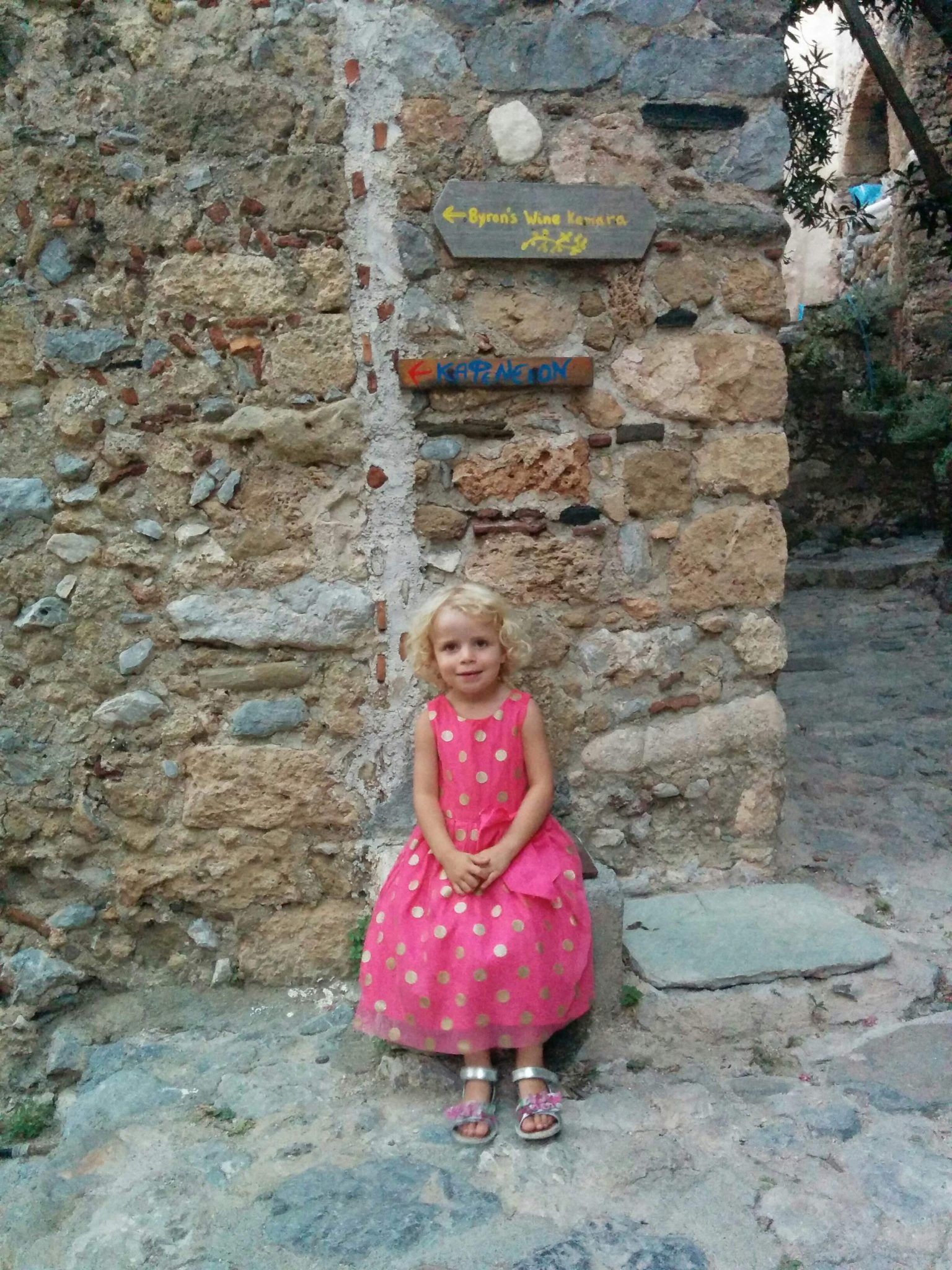 For breakfast, lunch, dinner or cocktail with amazing views, visit Emvasis. We had a relaxing time here with great coffee.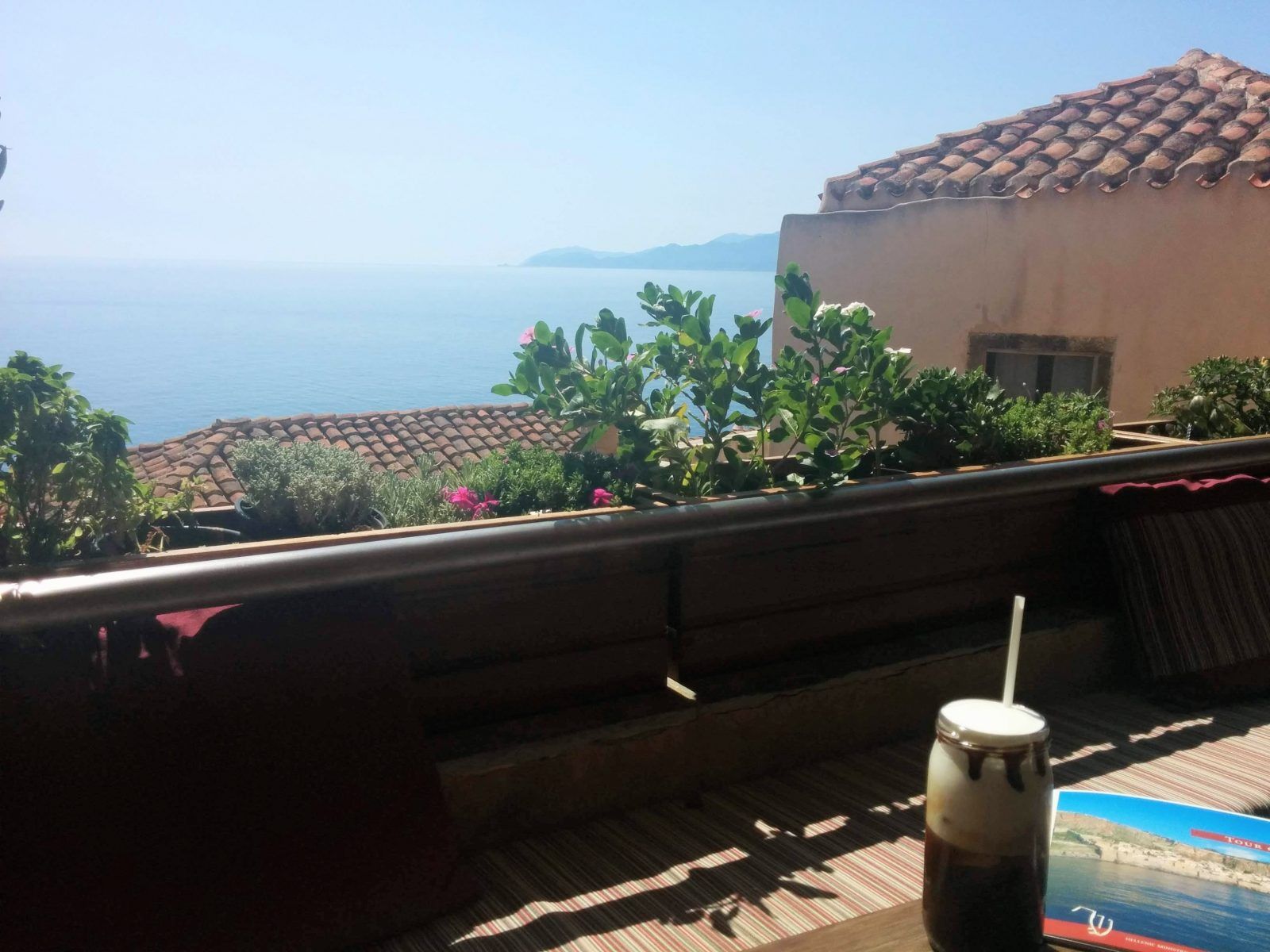 Recommended by my local friends, we ate lunch and dinner at Matoula taverna on the main street. Very friendly staff and again with a stunning view over the sea.
We also ate at Voltes. An amazing place inside mysterious old tunnels decorated with art serving ethnic food with interesting species traditionally prepared. The bread was served in a paper bag and the dishes were easily adjusted to my children's taste.
For relaxing cocktails, I recommend the romantic Malvasia Café & Bar. We had afternoon drinks, listened to classical music while overlooking the endless blue sea. The kids loved it. It was here that we decided that we would definitely come back to Monemvasia!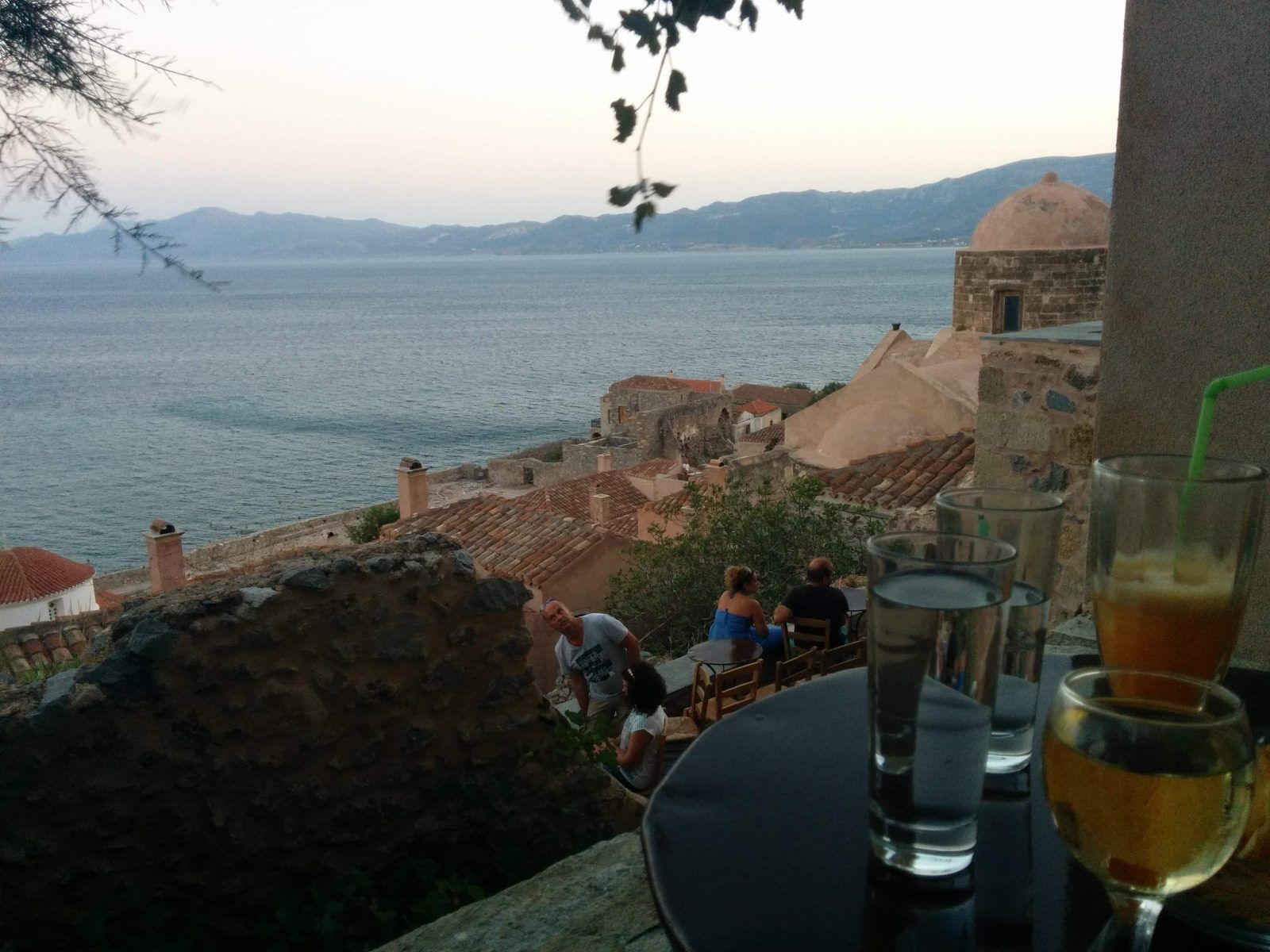 To do in Monemvasia Greece with kids
All children are fascinated by medieval castles, mysterious alleys, and exploration. Monemvasia is definitely the place for that. The Castro is car-free which makes it an enormous open playground. Due to its single entrance and village size, it is also a very safe place. The main square is a perfect area to let your children run around whilst you are having a coffee or dinner. On the other hand, there are lots of high walls, windy stairways, cliffs and dangerous steps so the over-enthusiastic toddler has to be watched.
It is impossible to use a stroller inside the Castro. But you can carry your baby in a sling or carrier. For children that just learned to walk it may be difficult to climb some steps but you can help them there. My youngest just turned 3 and with some sturdy sandals, she managed to walk by herself without much problem.
Monemvasia isn't very big. We spent a week there but also visited beaches around. We needed two mornings and two afternoons to see the most important monuments.
Walk around the castle
We started on our first day with a walk around the old fortifications.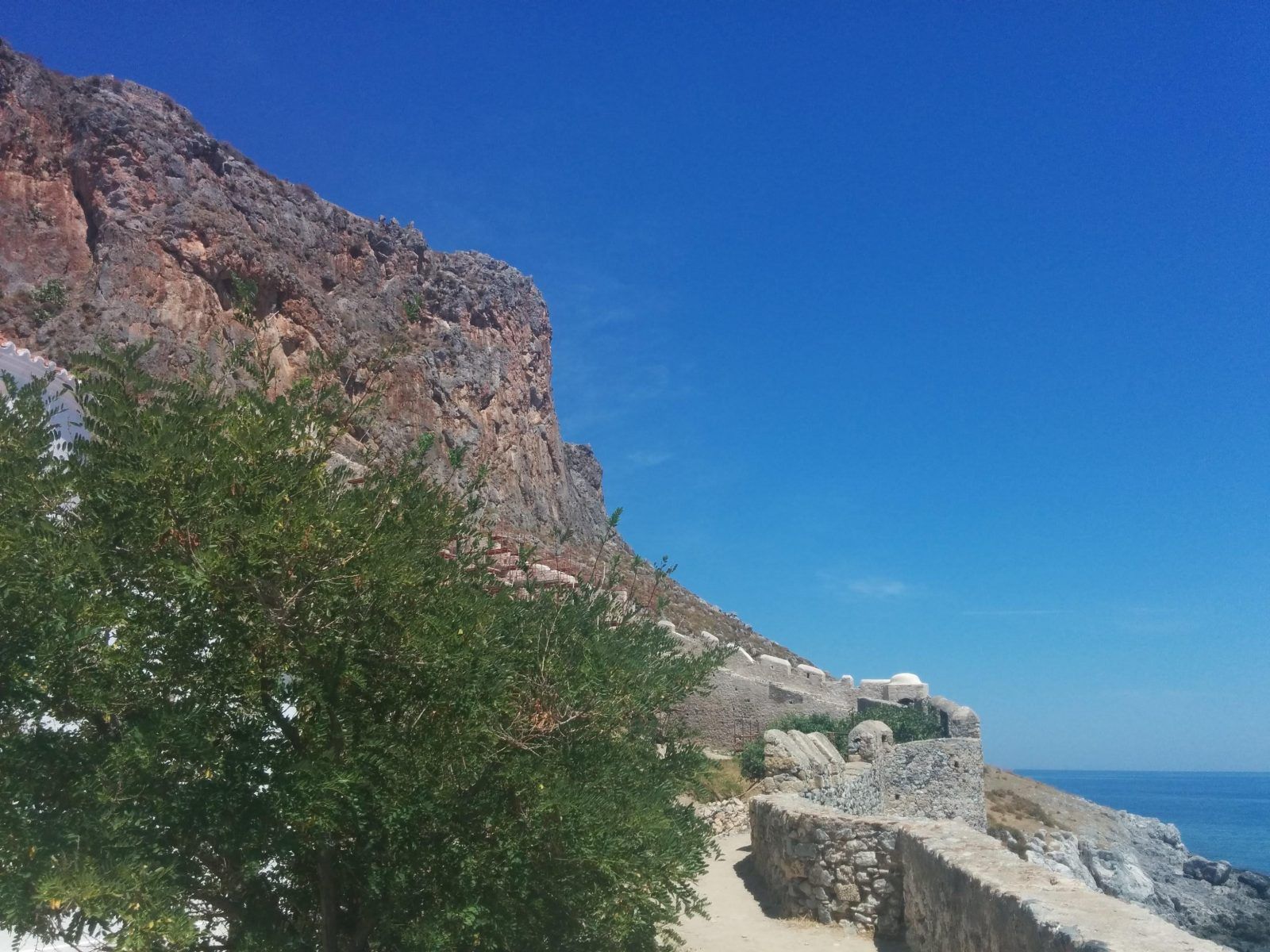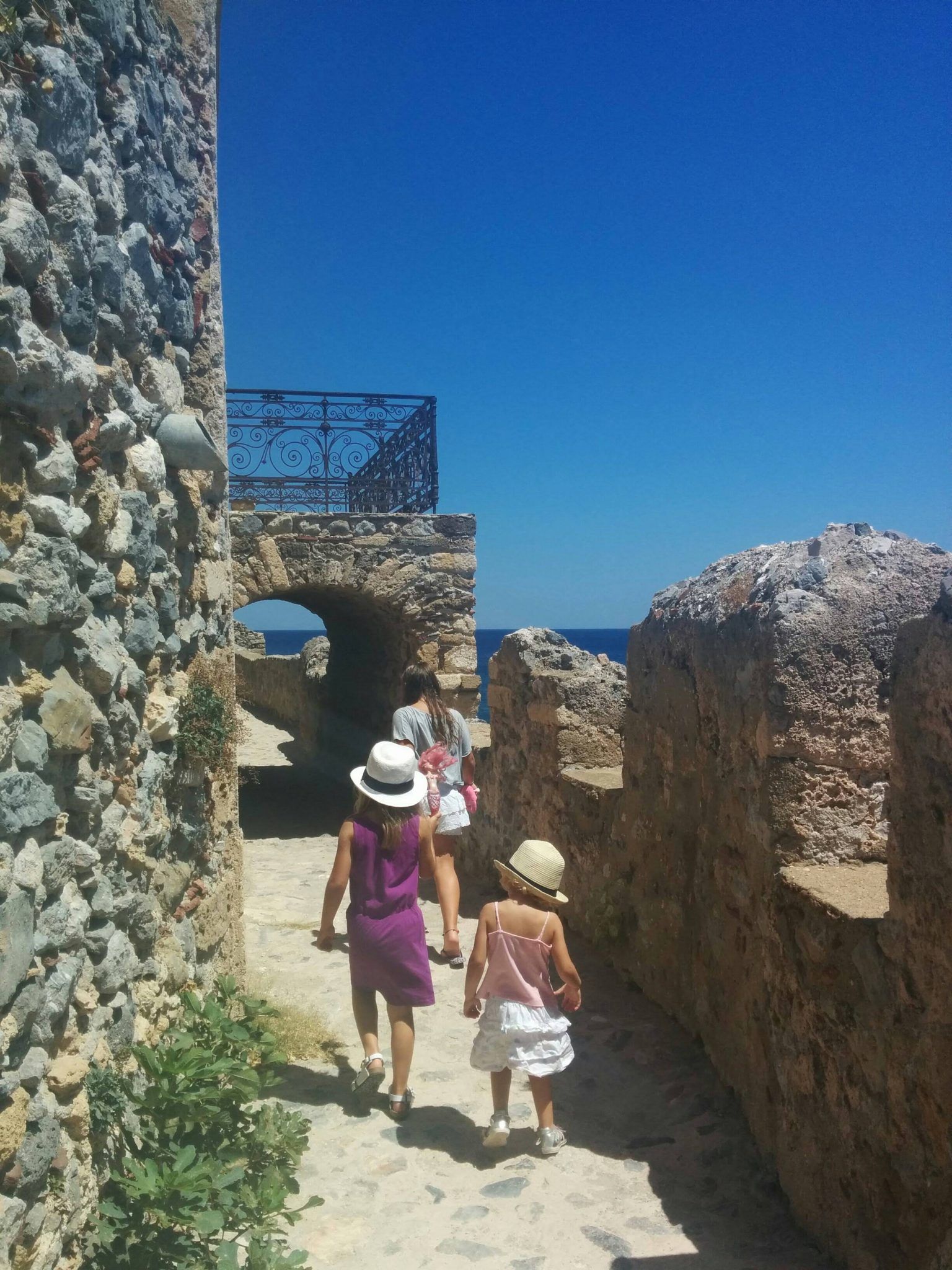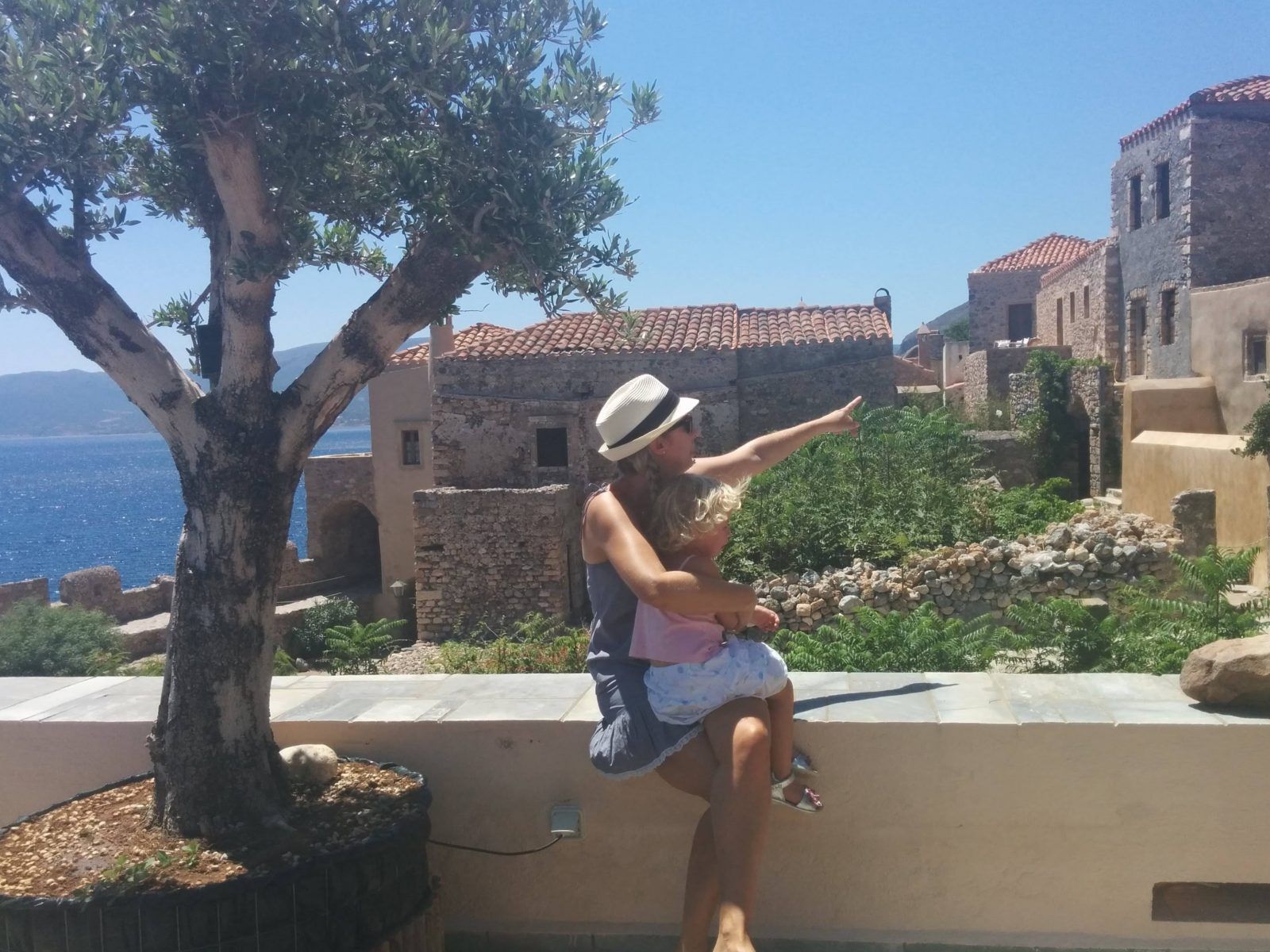 Our route included a visit to the upper town. It's best to do this in the evening. During the day it was very hot for the children. Be careful because some parts here are dangerous and steep. I hiked the path from the castle until the Gefira by myself during the day and I much enjoyed the beautiful views.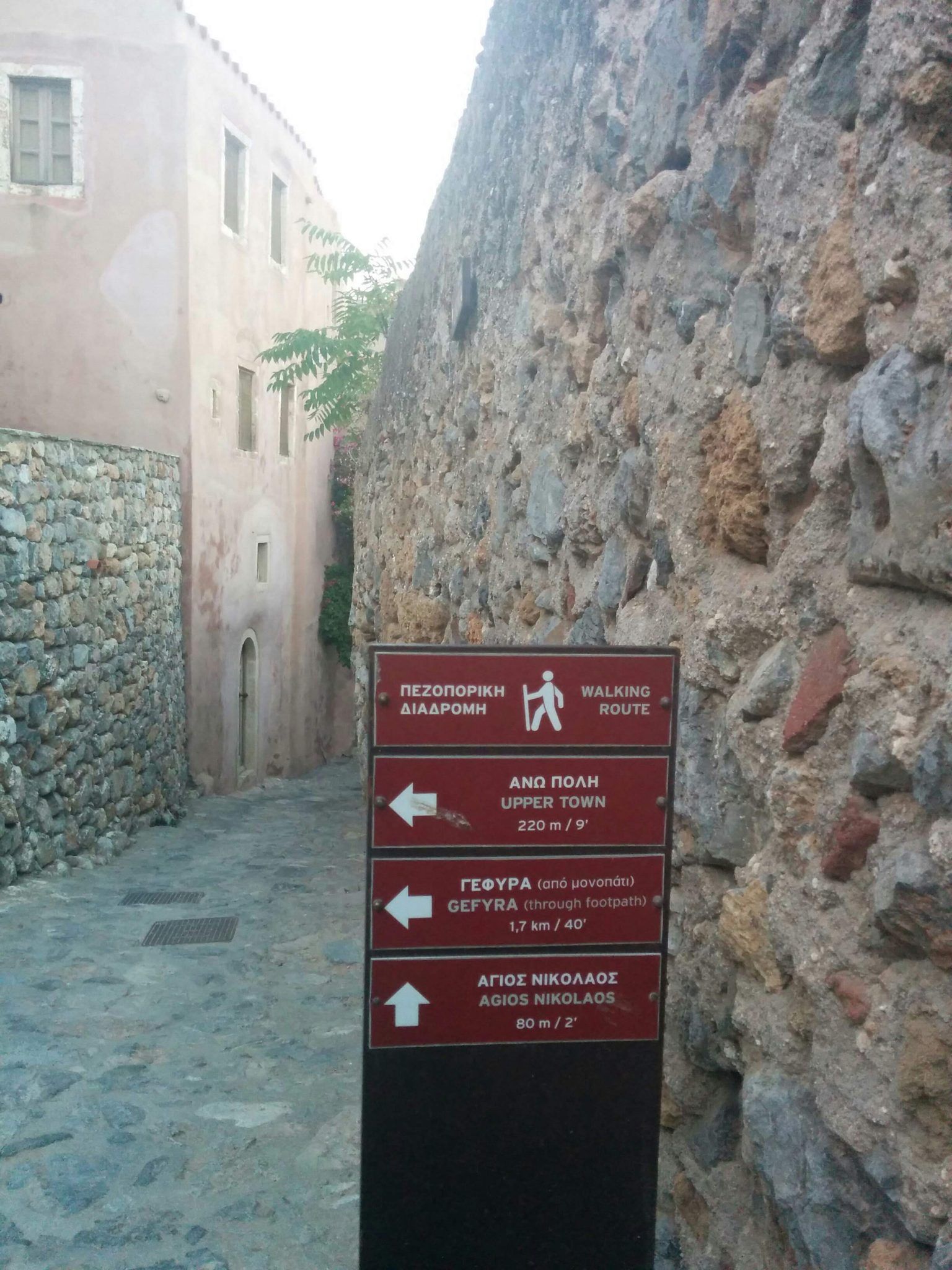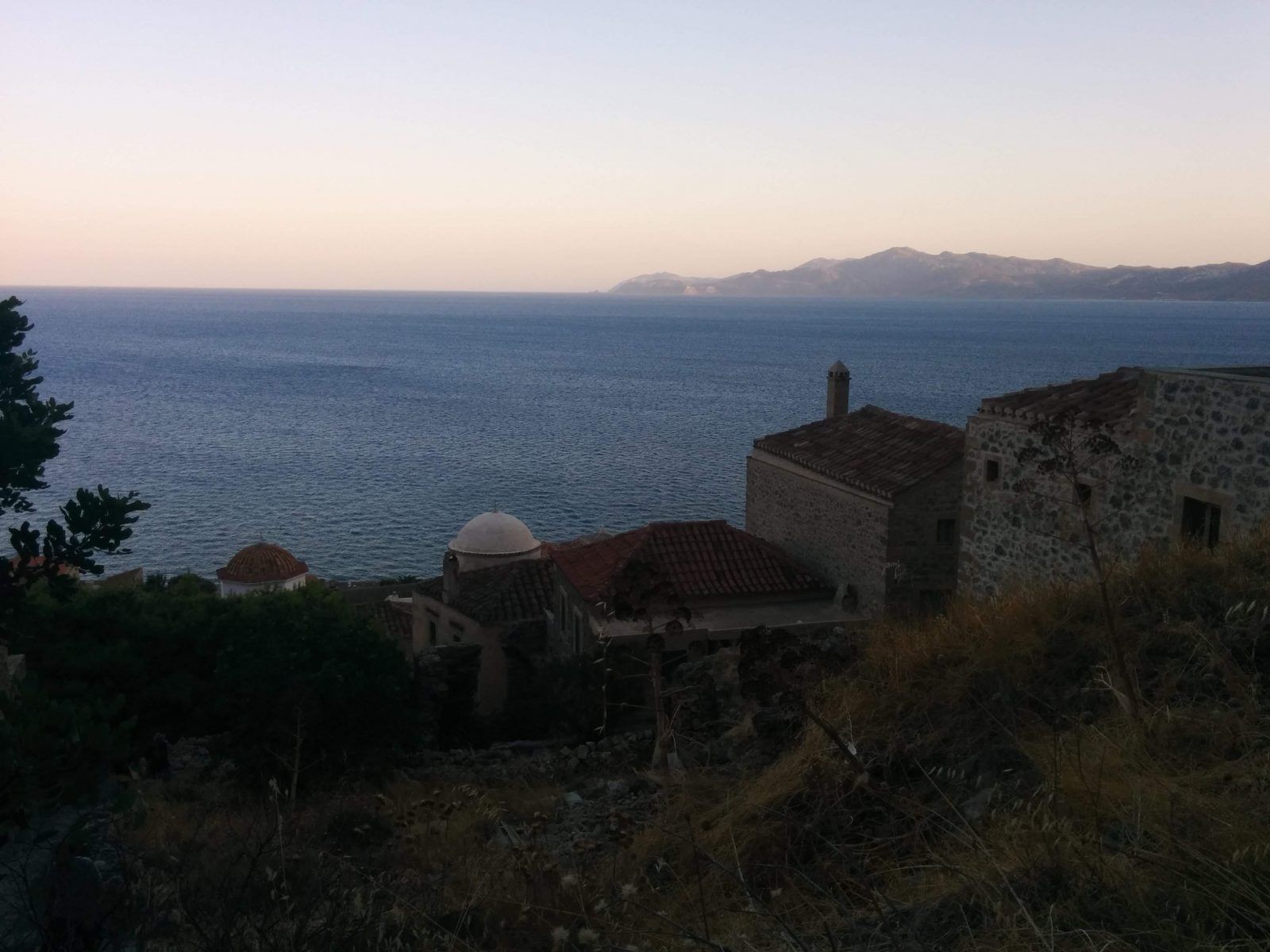 See the churches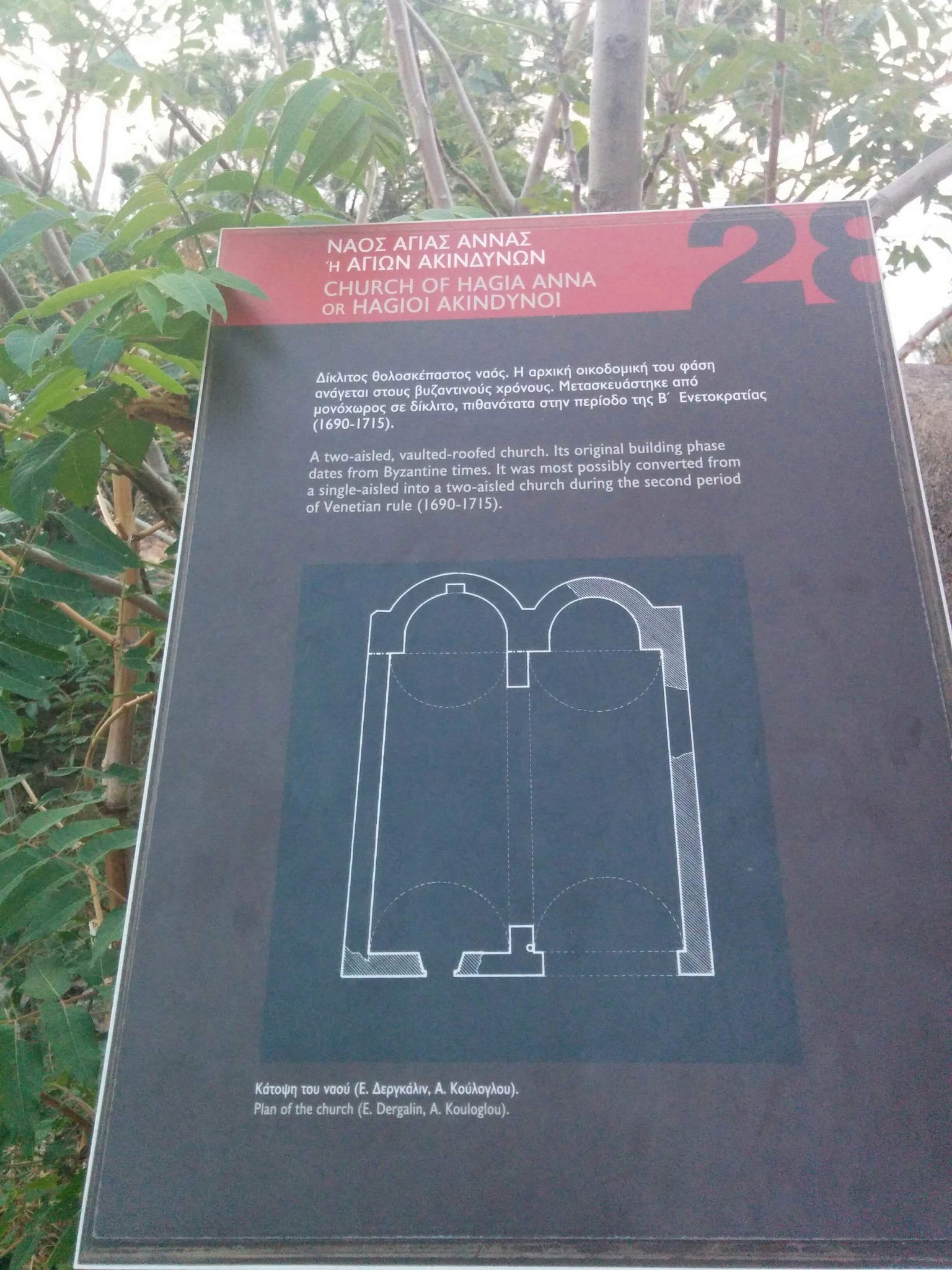 We visited the most prominent churches, the one in the main square being the most impressive with some very old icons.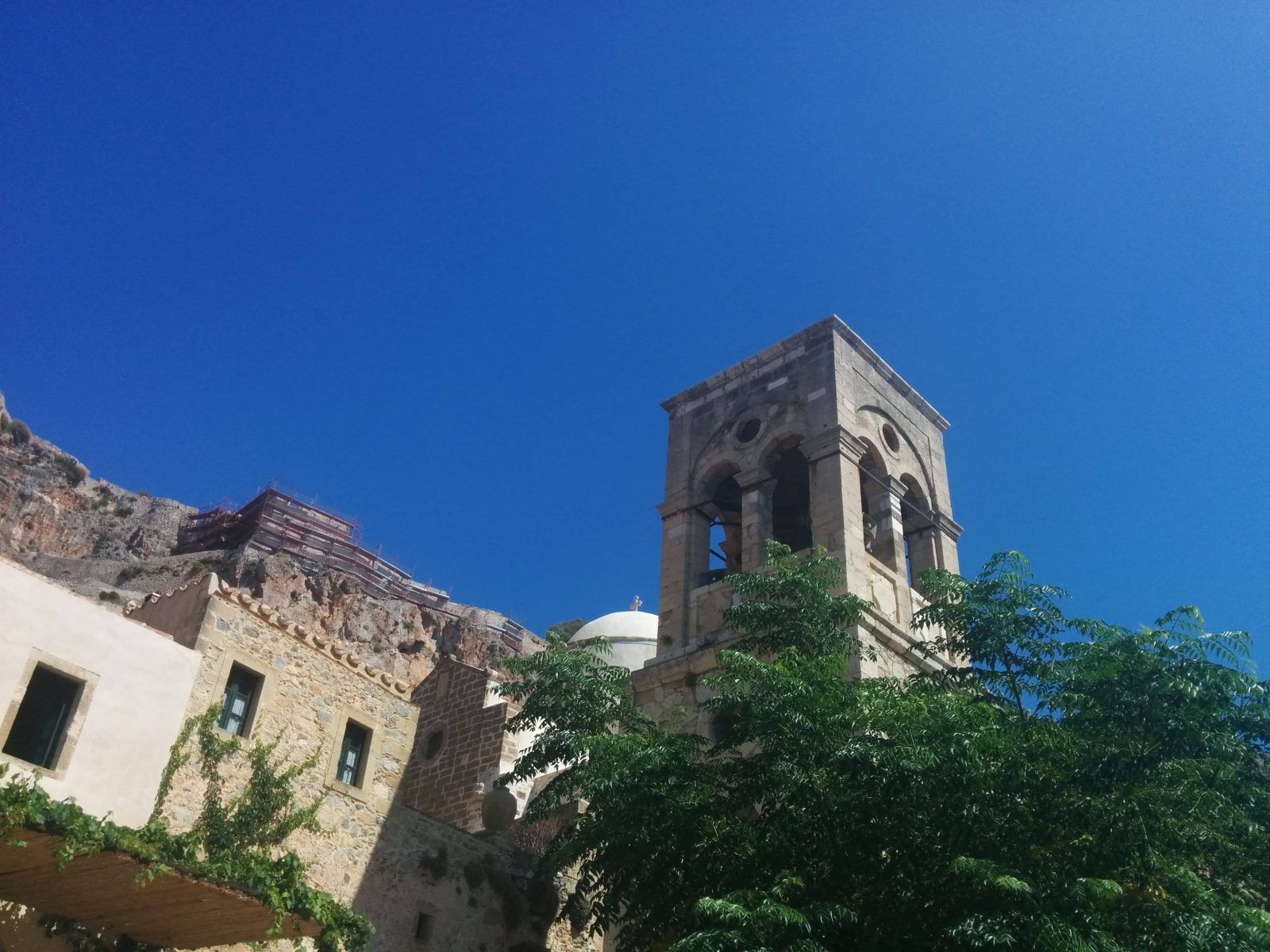 Admire the canons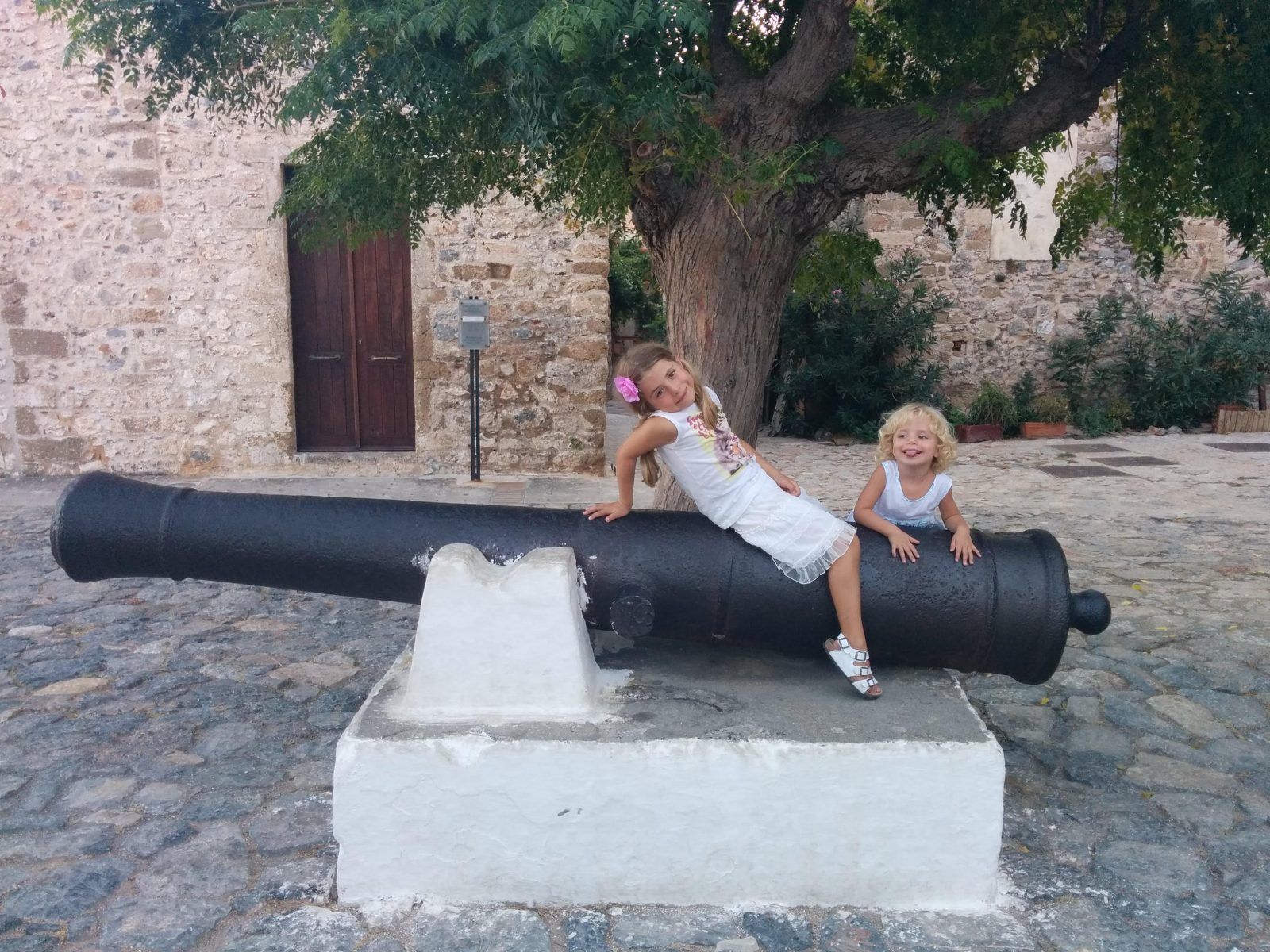 We played at the main square with its canon. This square was the central meeting point and in the evening young and old gathered together to enjoy the sunset and evening breeze.
Souvenir shopping in Monemvasia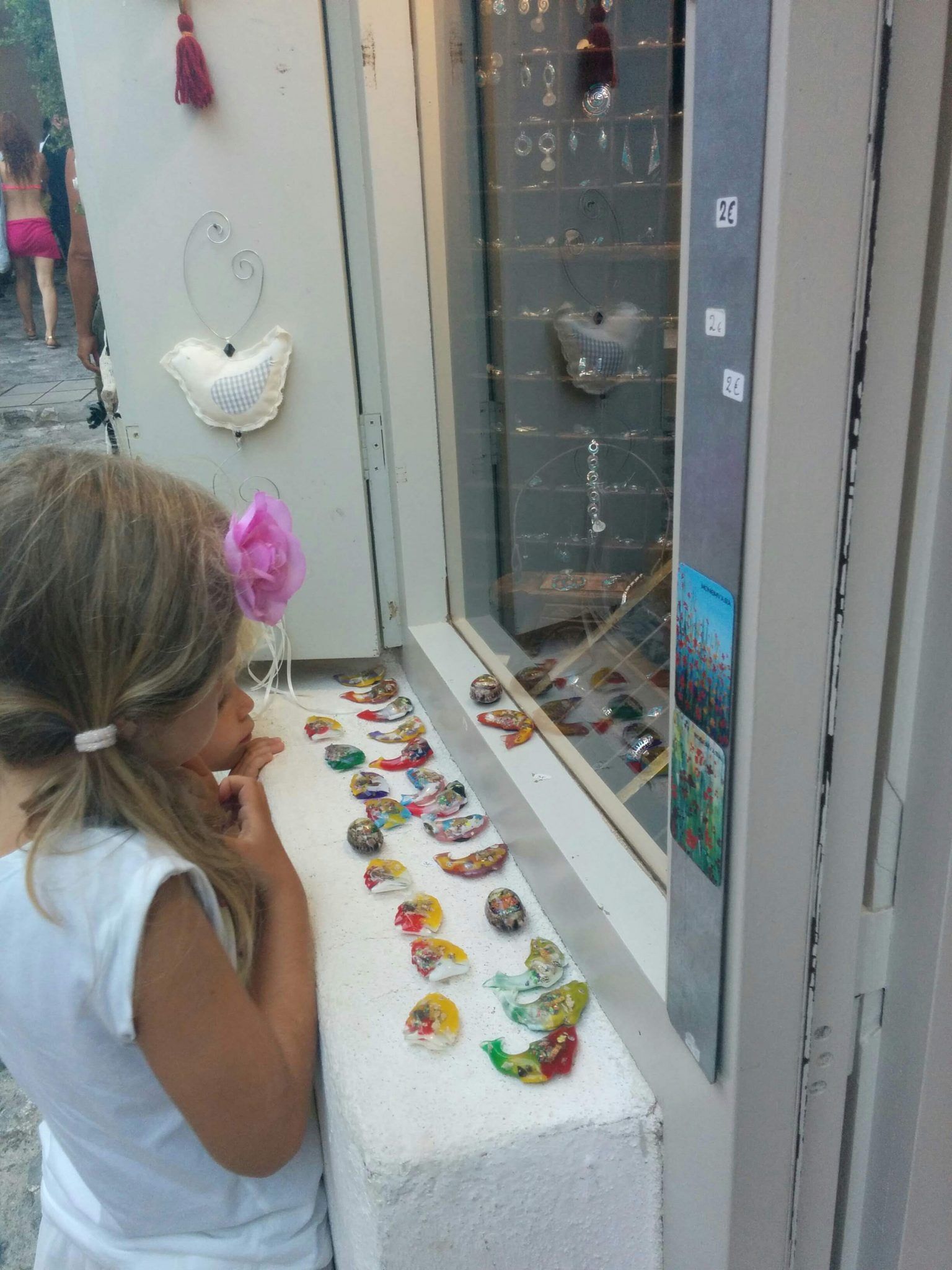 Visit the Archaeological museum
We especially loved the small Archaeological museum in Monemvasia with kids. The entrance fee was 1 Euro for the children and for the adults and it showed just enough objects to keep my children interested and to make them travel in time and to understand how people used to live, eat and drink in the different periods of development in Monemvasia.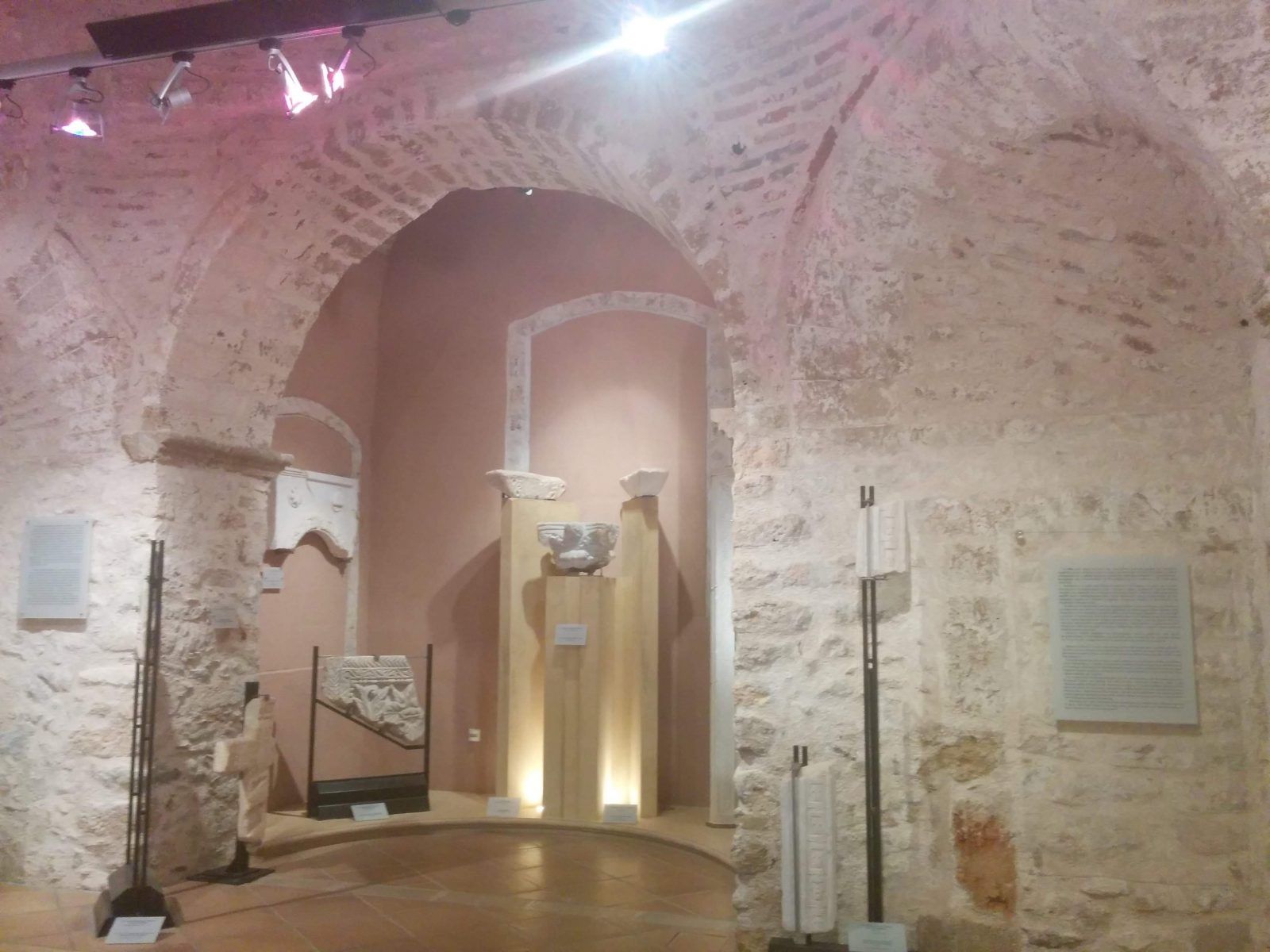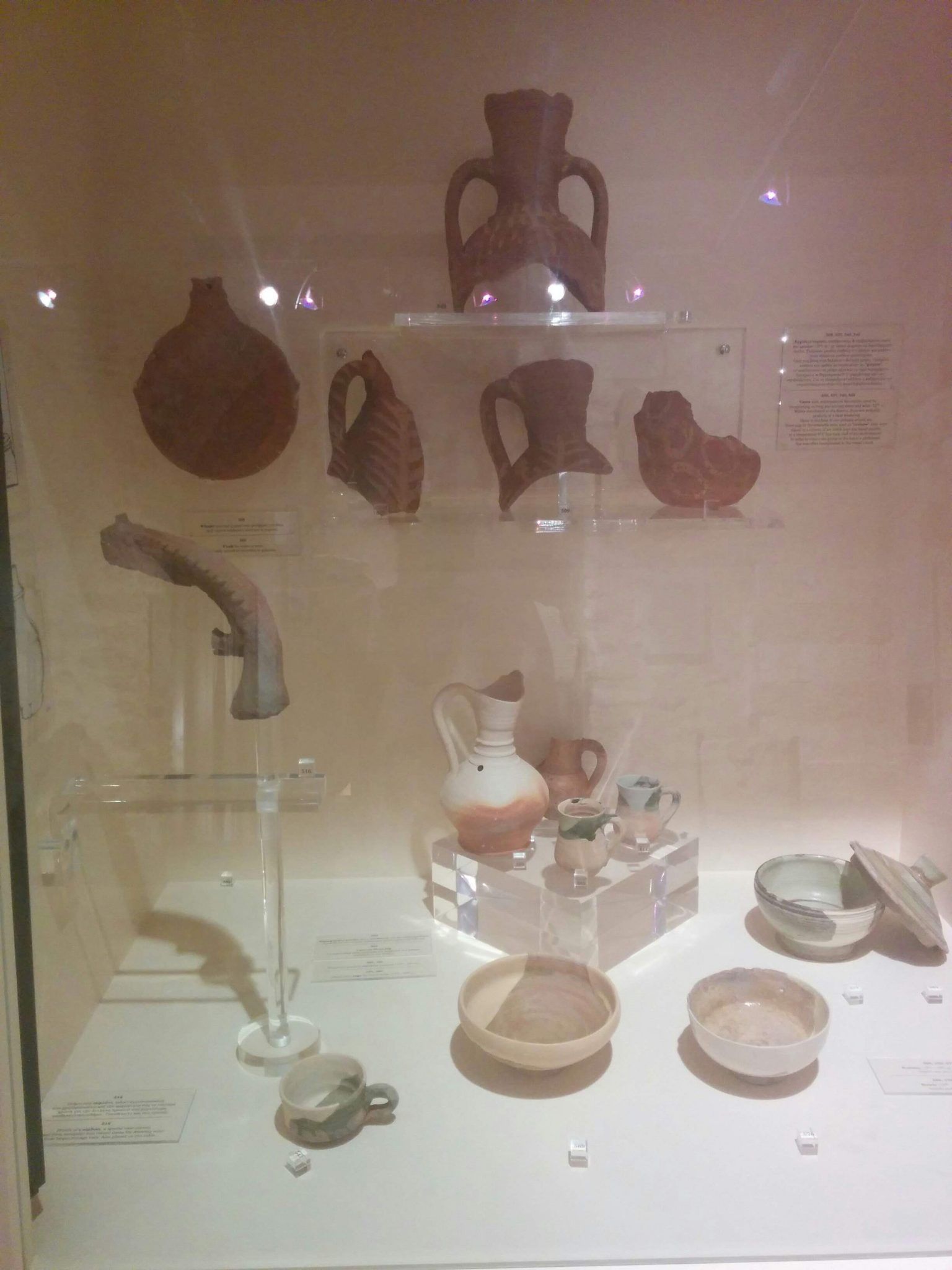 Discover castle architecture
We admired the old stone buildings with unique round windows, wooden panels and secret corners. Courtyards, marble balconies and more testimonials from the Franks, the Byzantines, the Venetians and Ottomans.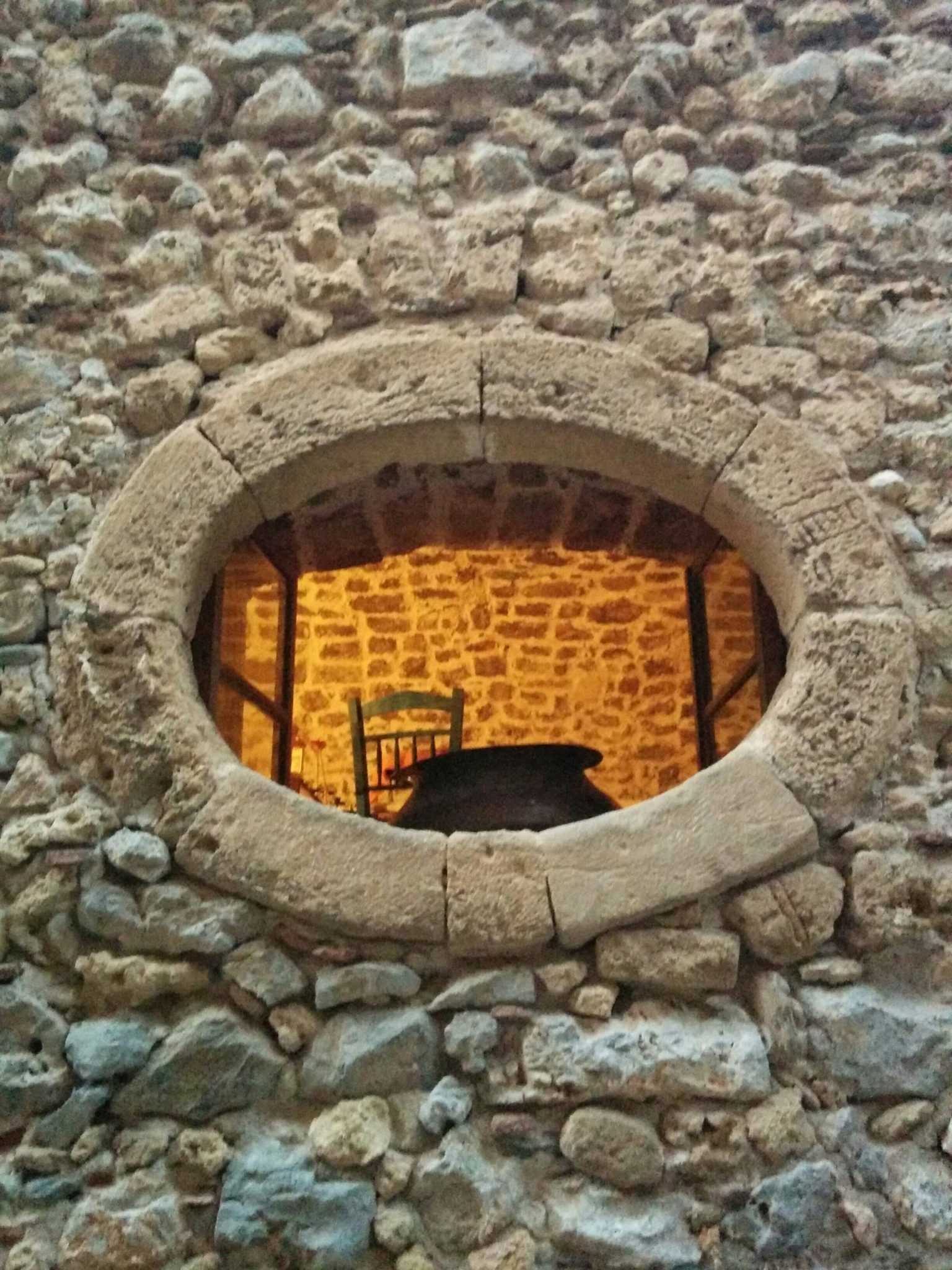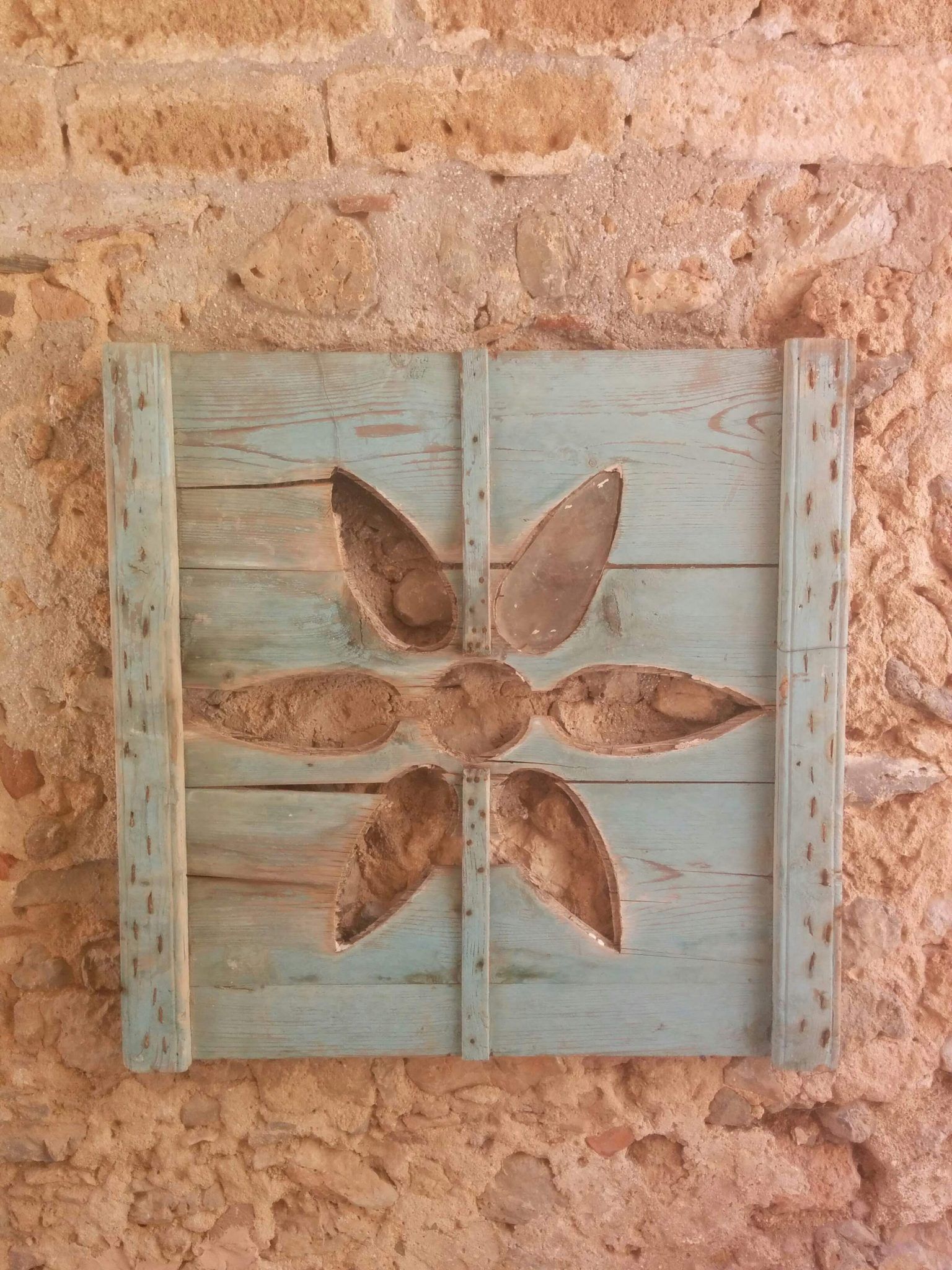 Pet the cats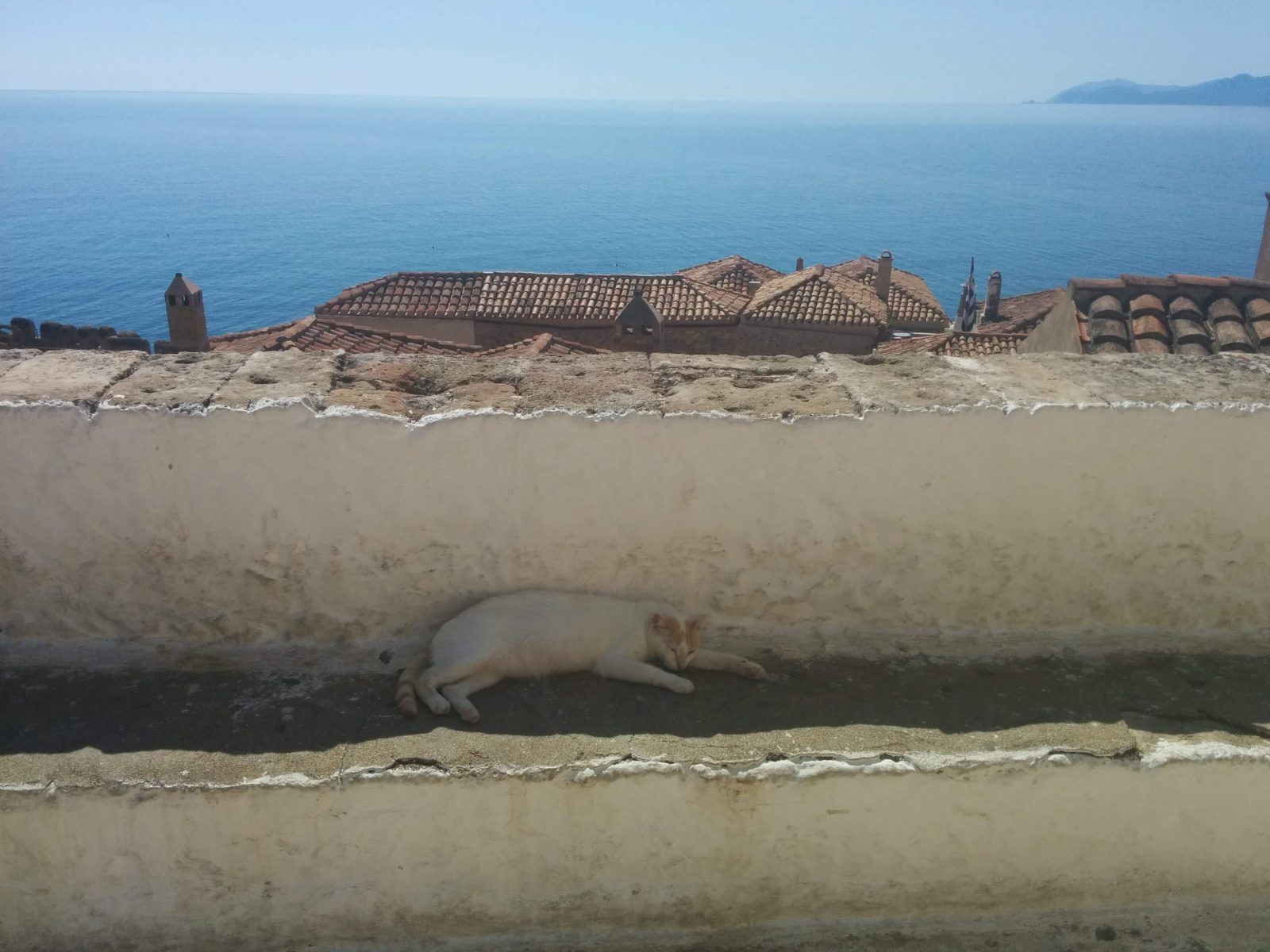 Monemvasia in Greece with kids: Swimming
Due to its archaeological status, there are no swimming pools allowed inside the Castro. So if you are staying in Monemvasia and you want to swim, you can dive off the rocks at the 'Portello' at the old wall: a stone platform with stairs into the sea. This was too difficult for my 3-year old and thus we swam at Pori beach and Ampelakia beach, both a max. 20 min. drive from the Castro. These sandy beaches are not organized so you will need to bring an umbrella. They did have showers and of parking spaces. We had lunch in the taverns nearby Ampelakia.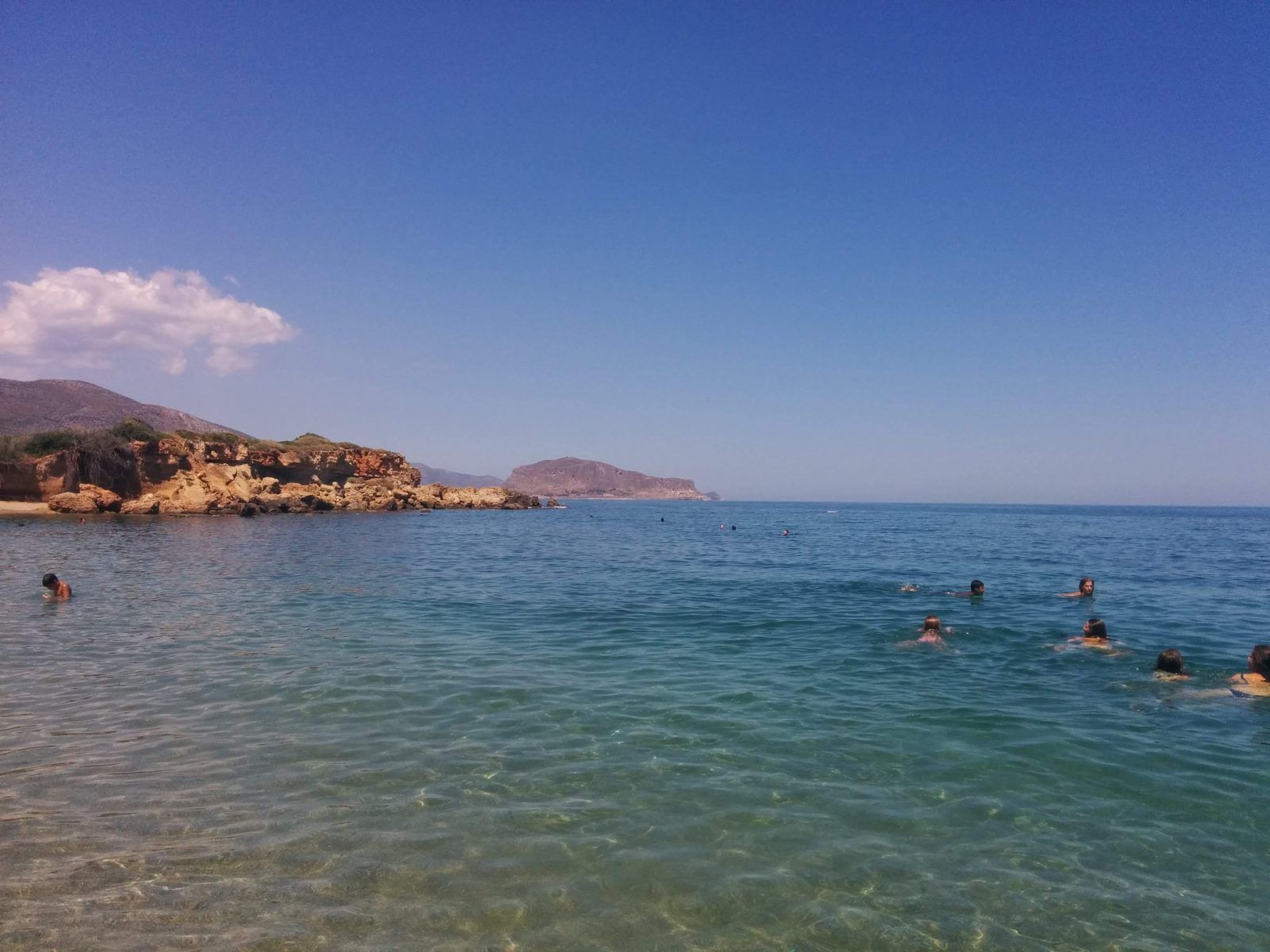 Good to know:
Entry to the archaeological site of Monemvasia is free

Access: By car (but needs to be parked outside the entrance) or shuttle bus or on foot from the Gefyra

It is near to impossible to push a pram or stroller on the cobblestone alleys. People with mobility disabilities will have difficult access too

Wear flat comfortable shoes and a sun hat. It gets very hot inside the castle town in the summer.
How to get to Monemvasia?
We drove from Athens to Monemvasia and made one stop along the way in 3 hours and 45 minutes. We made one stop in Spartis town. Here we found some friendly cafe's and a green park to play around.
There is no airport in Monemvasia. The most convenient airport is the International Airport of Athens, which operates all year round and receives internal and international flights. From Athens, I would advise visitors to rent a car. You can find my tips for renting a car in Greece here. We combined our road trip to Monemvasia with a holiday in Elafonissos island.
Beautiful Monemvasia Memories
Monemvasia has won our hearts forever. I will never forget the sweet scent of the flowers, the earthly Mediterranean colours of the houses and the endless hours of wandering around the small alleys with my family. The big blue sea always close and stunning blue skies never absent. Greece is full of treasures and Monemvasia is certainly one of them. Do not hesitate and plan a visit to this romantic Greek gem!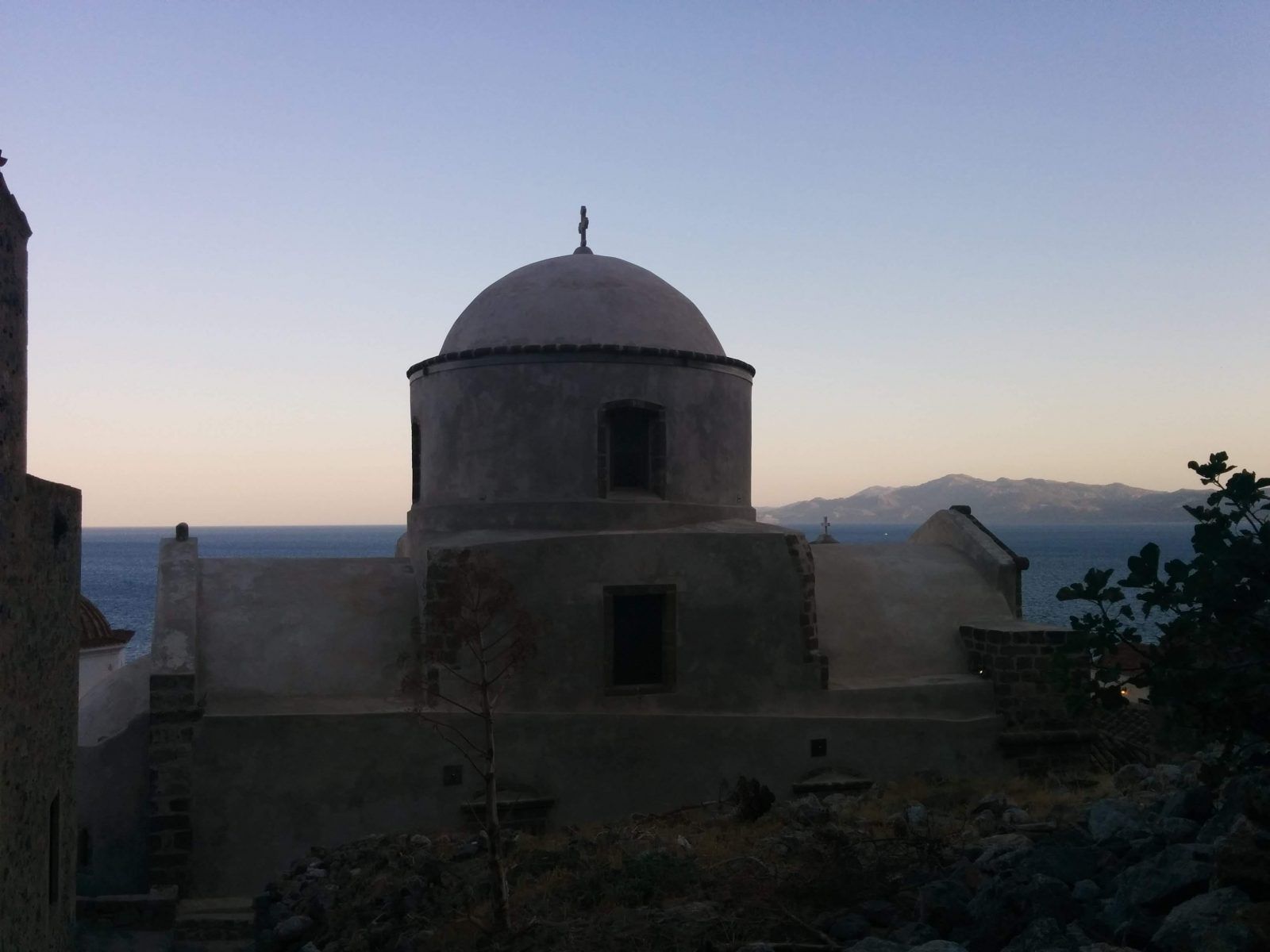 Castles in Greece
Monemvasia is not the only castle town in Greece. This magnificent country has always been a strategic crossroads and the legacy of its rich history is visible in many castles and archaeological sites. Especially the Peloponnese, the land of legends and heroes is the ideal destination to admire castles, fortresses, and archaeological wonders. You can find more about these in my other family travel guides about Nafplion, Nafpaktos and Corinth.
Did you like this post about Monemvasia in Greece with kids? Pin it!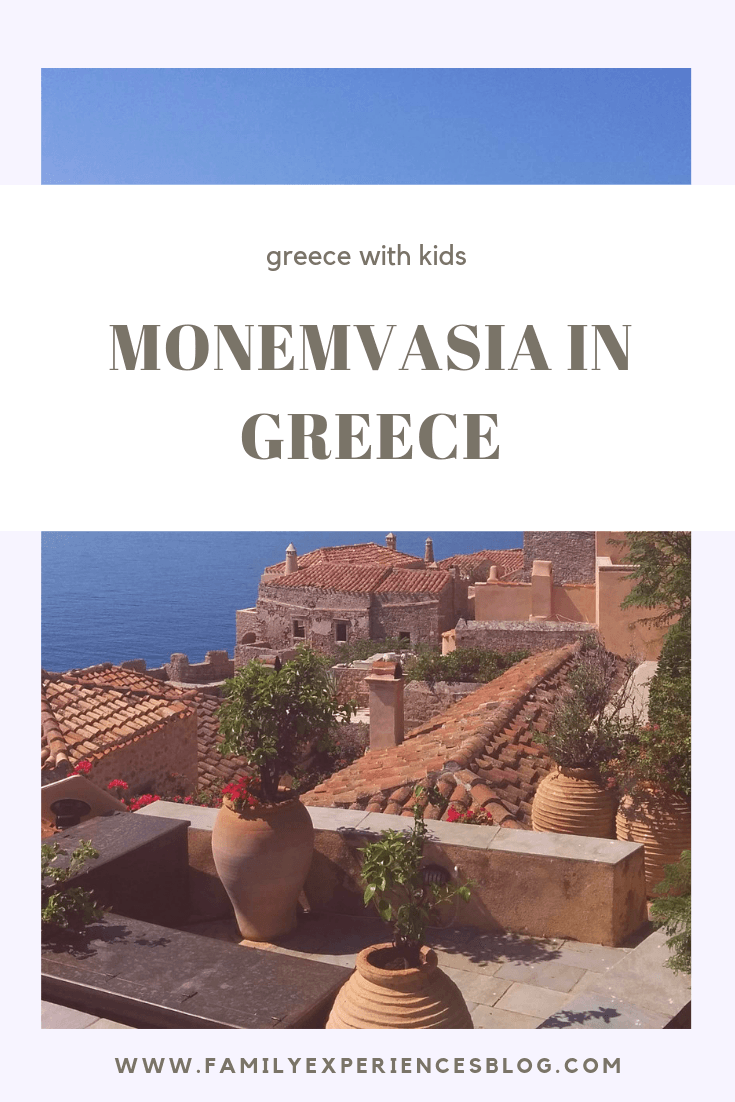 Disclaimer: This post contains affiliate links. This means that should you click on certain links, and then subsequently purchase a product or make a booking, we will receive a small commission. It costs nothing extra to you but helps us keep the site running. Thank you for supporting us in this way.