Last Updated on October 8, 2022 by Celeste.
Every once in a while, spending time in nature and disconnecting from our overconnected world is a necessity. But forgoing all comfort may be a daunting task for many, especially for families with kids. That's why glamping is so great.
There are many benefits to camping with kids. Camping is low budget, children love sleeping in a tent, quickly make friends on the campsite, play outside all day and are close to nature. Glamping takes camping to a new level. Glamping is a form of camping involving accommodation and facilities more luxurious than those associated with traditional camping. They come in many forms and often focus on bio live and sustainability. Glamping is a great option for families in Greece.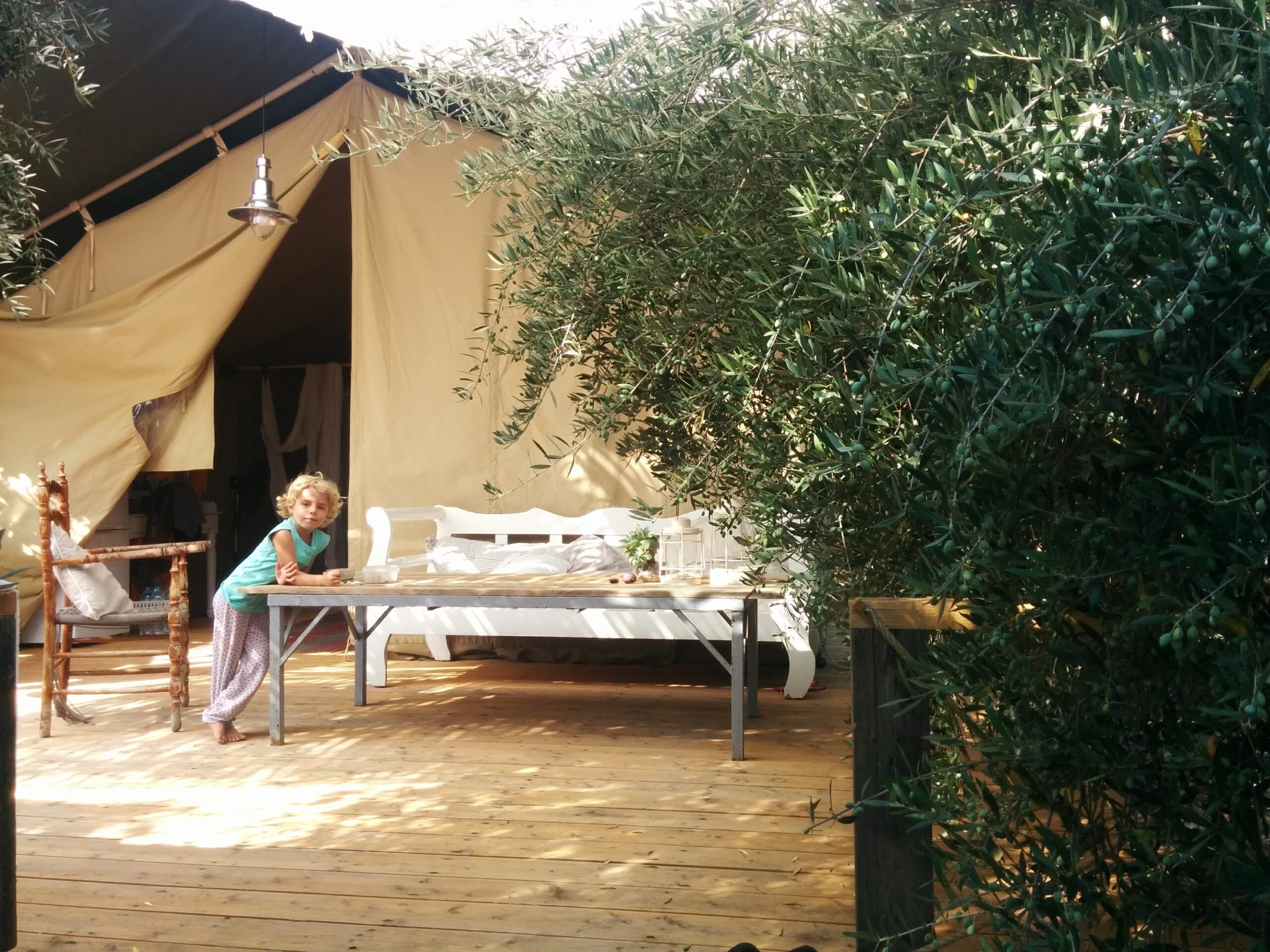 Glamping in Greece
We tried glamping in Greece with kids at Odyssea in Agia Sotira near Poros on mainland Greece. I absolutely loved it. We stayed in a unique canvas lodge (or safari tent), set up in-between the olive trees of a privately owned citrus and olive tree farm, a few hundred meters from the main house, 25 meters from the sea side. The lodge was beautiful as a boutique hotel. And traveled us back to romantic times. Take a look at some beautiful photos on the website of the Odysea glamping here: Glamping Poros: Canvas lodge hidden between treesGlamping.
For things to do around the Glamping location, have a look at Poros Island Greece Holiday with Kids
The weather is always nice but I found out that glamping brings some benefits over regular camping with kids. Curious about which ones? Read on for 3 good reasons!
Benefits of Glamping with Kids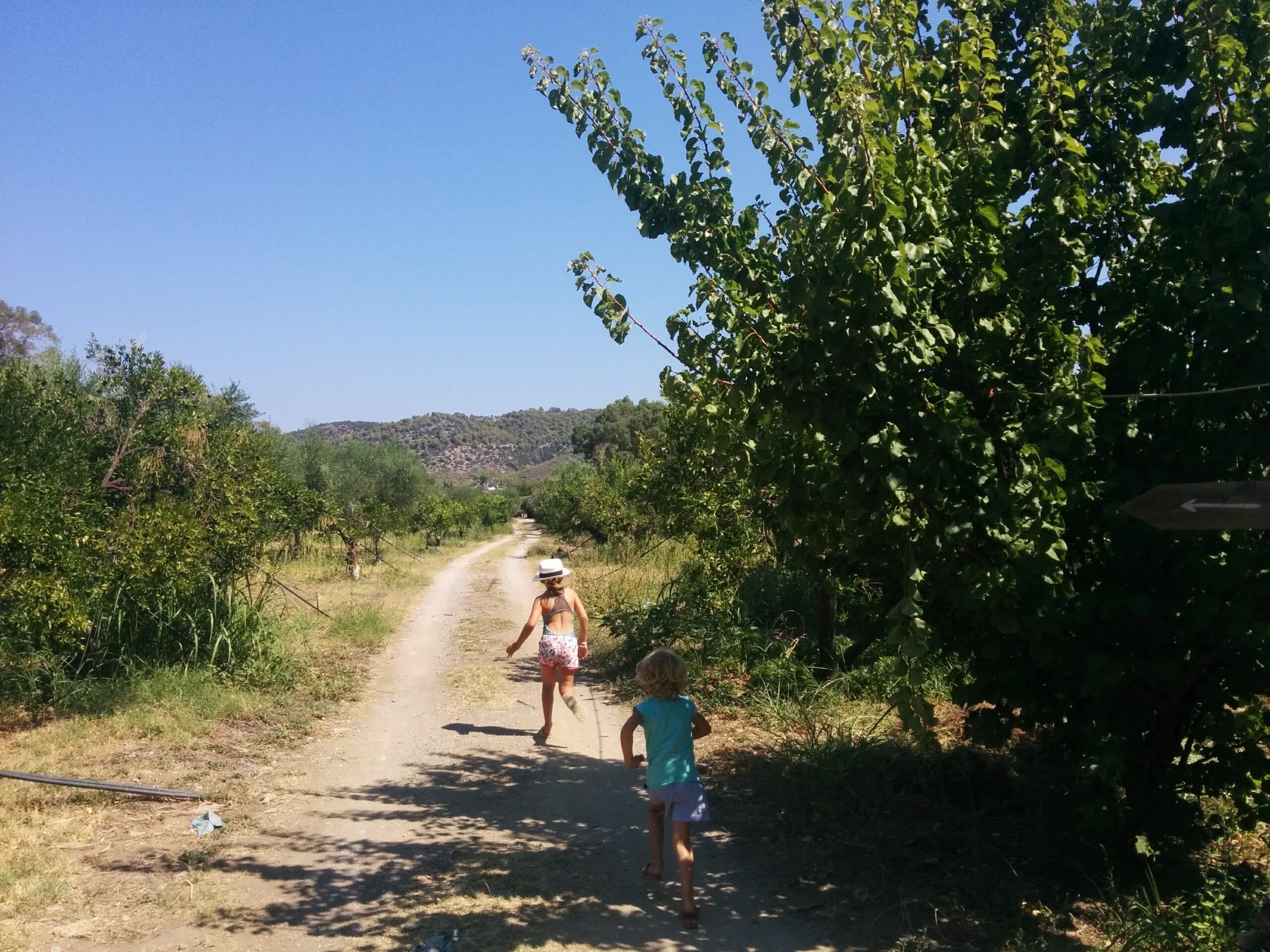 No more crowded car
Customizing and measuring when packing the car is past time. No need to bring that tent, mattresses or sleeping bags. And in many cases, no need to bring kitchenware or toiletries either. That's one of the advantages of glamping. Usually, your luxury tent is fully equipped for you. It's like staying at a family hotel or holiday apartment.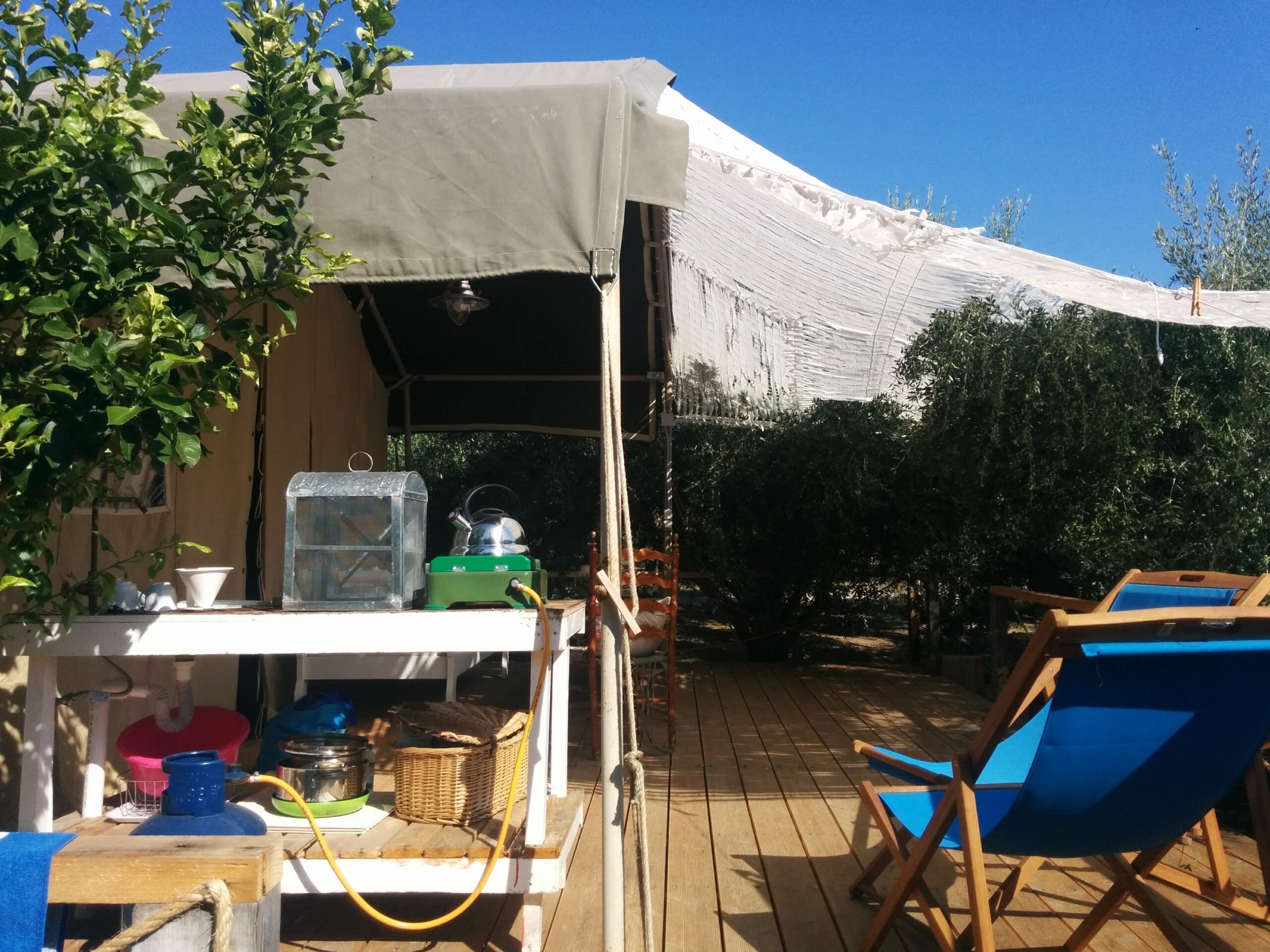 Space and privacy
Another plus to a luxurious glamping tent. The accommodations are often more spacious than an 'ordinary' tent or a caravan. And sometimes more spacious than any budget apartment or hotel room in Greece. Many glamping accommodations have multiple sleeping areas and if you have little children you have enough room for a camping bed next to your bed. Older kids will love having their own sleeping space.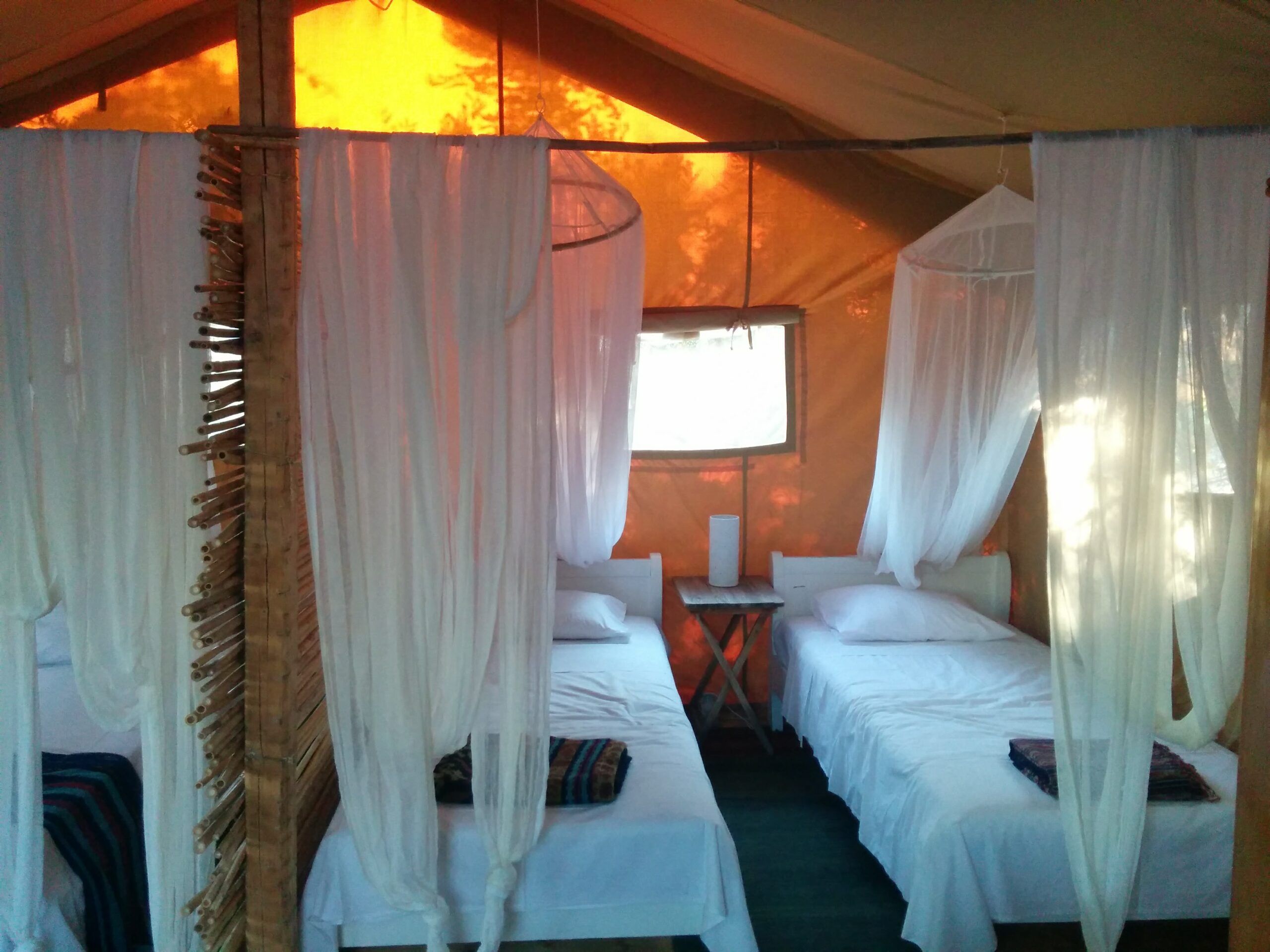 Private sanitary facilities
Now a bathroom in your accommodation is, of course, very nice, but with small children, it is especially useful. No nightly walks to the sanitary building, but just a quick visit to your own toilet. And sleep quickly again in that comfortable bed! Our bathroom was outside our canvas lodge and I felt that it was even better than in a regular hotel room. No need to wake up the whole family for a nightly bathroom visit.
During glamping in Greece you will experience all the benefits and the coziness of the campsite and be one with nature, but with that little extra luxury and comfort.
Best glamping sites in Greece
Glamping Poros
Described in our experience above, this glamping in Agia Sotiria is a dream come true. Conveniently located near Athens, this green gem is great for anyone looking for peace and quiet.
For more information and booking, please click here.
Club Agia Anna, Evia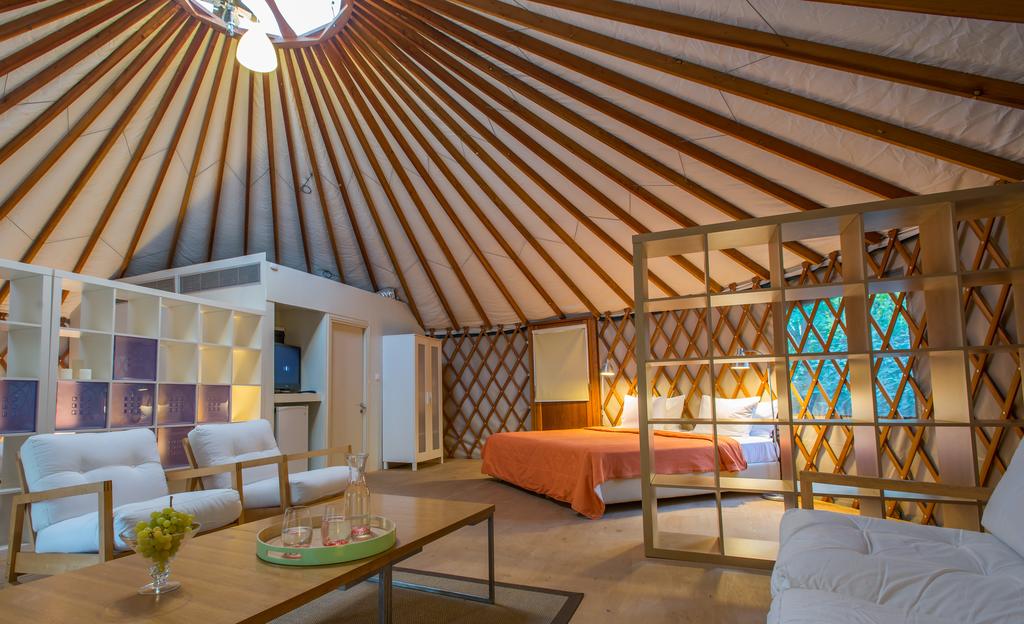 Ideal for families, Club Agia Anna lies on the northeastern coast of the island of Evia. The camping site, which lies by the beach, includes a series of glamping accommodations, including yurts with solid flooring and modern furniture, a luxurious bathroom and a plexiglass roof cap that allows you to sleep under the stars.
For more information and booking, click here.
Surfing Beach Village Paros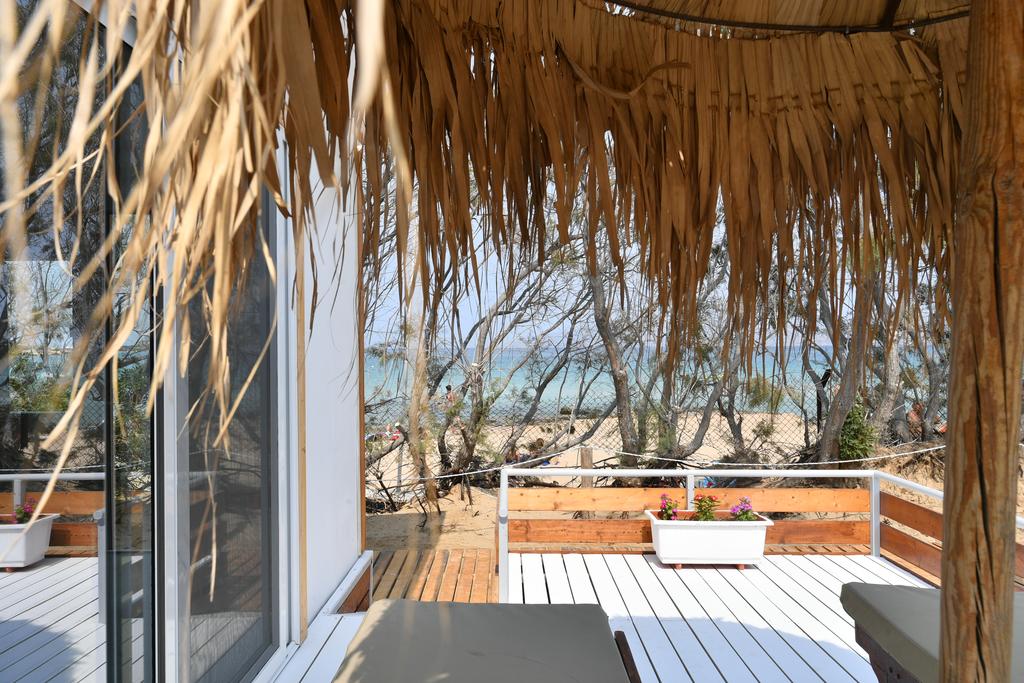 The Santa Maria Surfing Beach Village is a camping complex on the northern side of Paros island in the Cyclades. It offers a variety of accommodations to its visitors, including family apartments and a collection of beach huts in a natural setting. Great for happy moments in nature.
For more information and booking, click here.
Armenistis Camping & Bungalows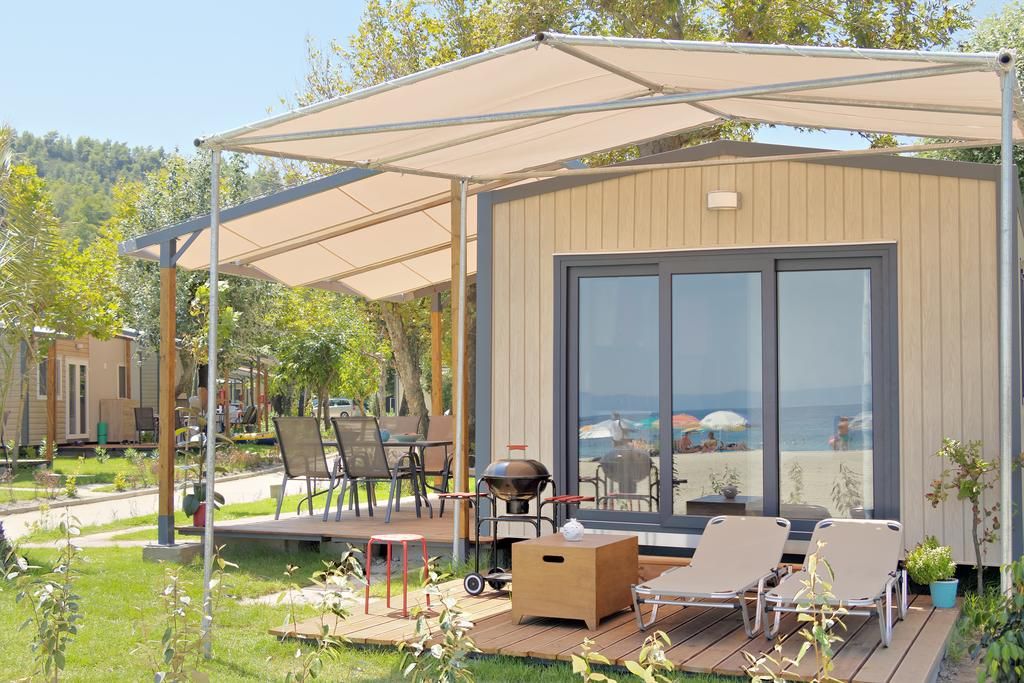 Located in Sarti, in the picturesque region of Halkidiki, Armenistis Camping & Bungalows is located by the beach and boasts a collection of living spaces for all tastes, as well as a restaurant, a café, a bar, and sports facilities. Families will love the luxury safari tent, where you have a private kitchen, spacious living room, bedrooms, private shower, and an outdoor area. But there is also a sea-view tent, equipped with a double bed and a sofa bed or bunk bed, a kitchen, and an outdoor patio with a sea view.
For more information and booking, click here.
Far Out Village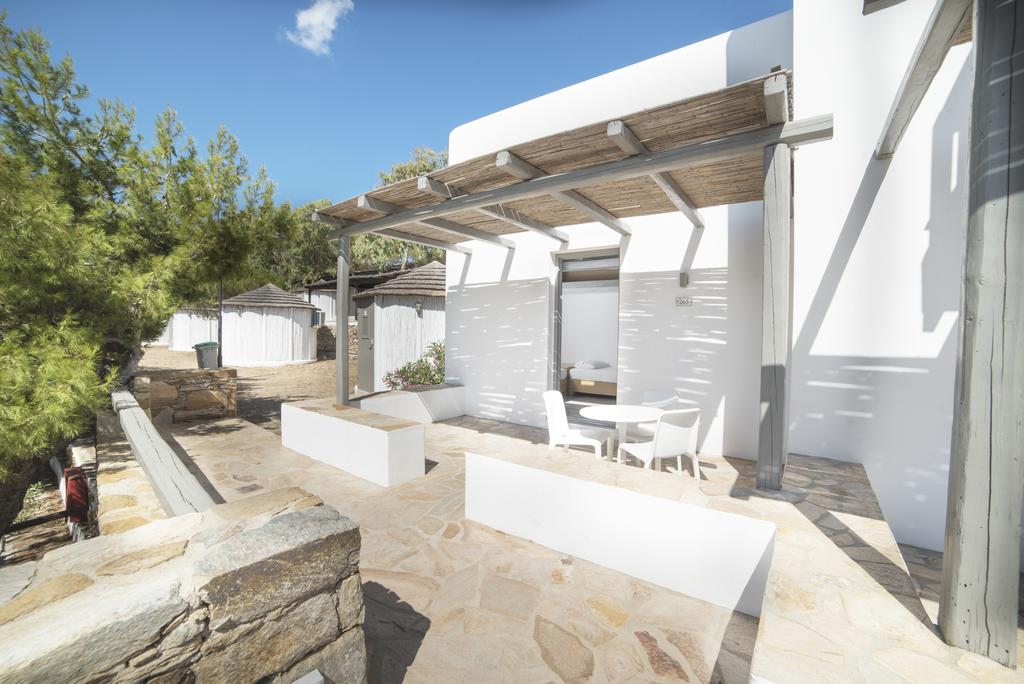 Set on Mylopotas Beach on the beautiful island of Ios, Far Out Beach Resort & Camping is an affordable camping with many options for an adventurous family vacation. The camp, which sits in a vast olive grove, includes a bar and a restaurant, tennis, basketball and volleyball courts, a swimming pool, and a gym, as well as an entertainment area with tennis tables. Families can choose to rent an already pitched tent, canvas safari tent, concrete and wooden bungalows, as well as en-suite rooms with bathrooms and A/C.
For more information and booking, click here.
If you are looking for peace and quiet but glamping is not your thing, you can also consider a holiday rental. For an overview of guest houses have a look here: guest houses around Greece.
Have you been glamping in Greece and what is your favourite glamping site?
Pin it for later!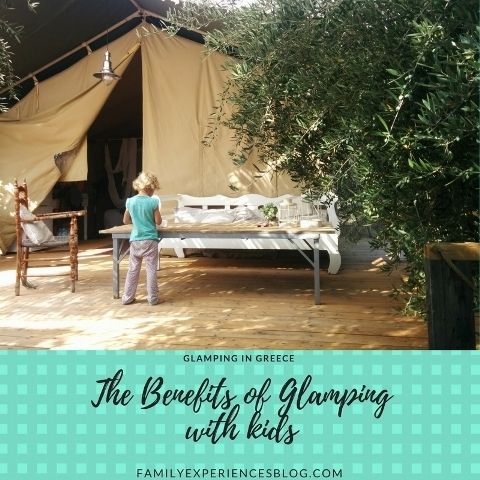 If you are looking for more natural off-the-beaten-path vacation destinations for families in Greece, have a look at the following related posts. These locations are further away from mass tourism.