Last Updated on January 24, 2023 by Celeste.
Pavliani Village may not (yet) be world-famous, but it is one of our favorite activities in Greece. Located near our family's summer house, we visit Pavliani every summer. In this article, I will help you make the very most of your visit to this amazing recreational park and show you impressions from our family visits.
Pavliani Village
Pavliani is a wonderful place to visit for anyone that loves nature, adventure, creativity, and originality! It is also called "the most drawn over village of Greece" because the people of Pavliani village have created drawings, handwritten slogans, poems, and paintings over its walls and common areas. And that's just one of the many creative things that you will get to see there, surrounded by mind-blowing mountains and nature. Pavliani is also a beautiful village with characteristic mountain village architecture, paved streets, and very shaded squares.
Where is Pavliani?
Pavliani is located on the slopes of Mt. Oeta, in the regional unit of Phthiotis, in mainland Greece. It is actually split into two, Ano Pavliani (Pavliani Above) and Kato Pavliani (Pavliani Below). The village is built near the top of the Asopos River.
Pavliani Recreational Park
The amazing Recreational Park of Pavliani is located outside of the village. It has so many surprises and hidden treasures that you may feel overwhelmed during your first visit. If your kids like a fun and adventurous hike surrounded by nature but also filled with different games and creative outlets, then you are in the right place at Pavliani!
Swings and waterfalls
When you enter the park, you will be welcomed by a picturesque swing set. It is the first of many more to come. While you enjoy the view of the lovely waterfall nearby, your kids will be most likely heading to the next 'musical' surprise.
Piano bridge
While following the trail, you will stay cool in the shade of tall chestnut, platan, and maple trees and hear the refreshing sounds of the creeks of the Asopos River. In order to cross this river, you will use a musical bridge. It's a small wooden rope bridge that looks like it's made of piano keys. Every step you take on it will produce a note. The piano bridge is most likely one of the most memorable features of the park.
At the beginning of the park is also a group of traditional houses and the 'Hydrokinetics' Museum. Here you can show your kids various interesting mechanisms powered by the power of water. Because the park is full of water and waterfalls. Don't stay too long, though, because there is much more to come!
Playgrounds, rest areas, and climbing opportunities
Along your path, you will constantly find play opportunities, climbing areas, swings, and hammocks (some even swinging over the river waters). It is recommended to take a rest in these areas because there is plenty more to discover.
If your feet need some pampering, head over to the 'spa' and let them soak in the soothing, but ice-cold, waters of the Asopos river.
You can follow different routes around the park, all marked with wooden signposts on the trees. My kids love following the trail of bad (but invisible) cowboy John 😉
If your children are experienced hikers, the Iron Throne will be your goal. Inspired by the Game of Thrones, the Iron Throne offers wonderful views over the most gorgeous parts of the entire National Park.
Games and treehouses
Throughout the park are lots of areas with activities and ball games for kids such as volleyball, cable cars, and zip lines. Not to mention the amazing number of beautiful treehouses! It is hard to describe the park because you will find elements from fairy tales, pop culture, and literature. Everything Pavliani has been created with a lot of love. There are so many colorful details and handmade signs scattered all around the Park and the village. They are creative, funny, often of tongue-in-cheek satire, and some are a bit scary!
Delicious food in Pavliani village
After your day in Pavliani Recreational Park, head over to the village to enjoy a well-deserved local meal. There are lots of taverns and cafés that serve local delicacies and authentic, fresh food from the land. The locals of Pavliani are involved in agriculture, with top-quality products from meat to legumes (such as the delicious chickpea soup). End your day with a walk down the beautiful square of the village where the kids can play around and make new friends.
On the square of the village, you can also visit the church of St. Athanasios with the tall stone bell tower and beautiful, wooden 19th-century icons.
How to get to Pavliani
You can get to Pavliani mainly by car. The drive technically takes around two hours from Athens. The drive itself is easy and picturesque. You can also go by train up to Bralos station, and then get a taxi to the village. This route will be around 2 hours 30 minutes until Bralos, and then about 30 minutes to an hour, depending on traffic, for the last 35 km to Pavliani by taxi. There are also organised private day trips from Athens to Pavliani. The road through the mountains is curvy but safe. The last part of the drive is through the narrow streets of the village. Driving in Pavliani village is more challenging because of its narrow two-way alleys.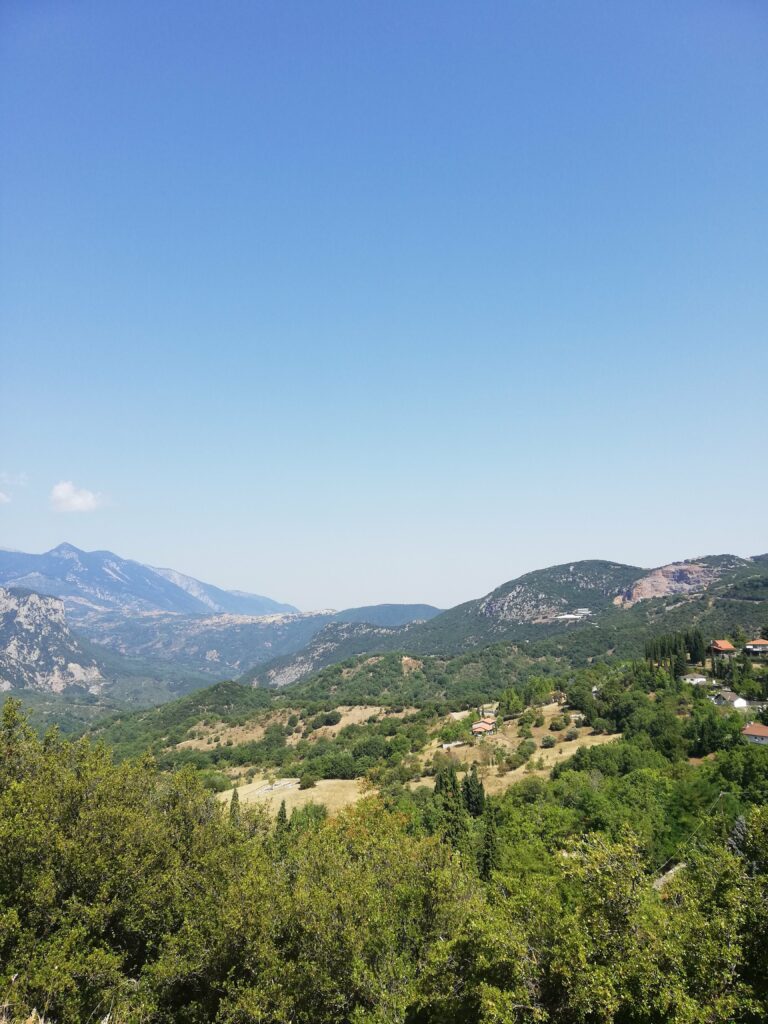 Athens – Pavliani. Distance: 220 km from Varybompi Junction / Duration: About 2 hours
National road (E 75) to Lamia. Right at the BRALOS exit (after Thermopylae). Ascent of Kallidromou for 10′. Right in a bouquet of signs (including a "Paulian" sign). Right on second bunch of signs (including "Paulian" sign). Ascent for 20 minutes, passing the village of Oiti, arriving at Pavliani.
Alternative route:
National road (E 75) to Lamia Right at the KATRO exit. Right at the intersection of Livadia towards Tithorea – Amfikleia. After Amfikleia, turn right in the direction of Lamia at the intersection of Lilia – Polydross – Lamia. At the intersection of Gravia – Lamia, straight towards Ano Bralo Left at a bunch of signs (pauliani sign included). Ascent for 20 minutes, passing the village of Oiti, arriving at Pavliani.
Thessaloniki – Pavliani. Distance: 335 km / Duration: About 3 ½ hours
National road (E 75) to Lamia. Right at the BRALOS exit. Ascent of Kallidromos for 10′. Right in a bouquet of signs (including a "Paulian" sign). Right on second bunch of signs (including "Paulian" sign). Ascent for 20 minutes, passing the village of Oiti, arriving at Pavliani.
Practical Information
For up-to-date information, check PAVLIANIinfo.gr. If you are visiting the park in the summer, it is wise to check if the park is open. In recent summers, the park has been closed on several days due to forest fire risks. Bring a hat, sunscreen, water bottles, and snacks. There is no food inside the park. It is best to wear hiking shoes and light clothing. Be aware that the river water inside the park is cold, even in the summer. So don't just dive in! But no matter when you choose to visit Pavliani, during the summer when it's lush and green, or during the winter, you will have an unforgettable, amazing time!
Places nearby