Last Updated on October 11, 2023 by Celeste.
I am climbing over a big rock towards a cliff… meters above a turquoise river and a pebbled river bank. We have been hiking with kids all day to fairytale-like waterfalls, hidden oases in the forest. I just ventured a wobbly … hanging bridge. Am I seriously doing all this? The earth is meters below. It must be the wild Epirus mountains and the mysterious Greece vibe bringing out my adventurous past. Or is it the reassurance of our local guides being nearby?
Epirus with Kids
It is our first day in Epirus with kids. We are celebrating the 5-year anniversary as Travel Bloggers Greece. Our hosts during this 6-day trip in January 2020 is Epirus Travel, a team of local insider experts. The venue is Northwestern Greece: Epirus. It is a trip of natural beauty and stories. A journey to bygone times that we will remember forever!
Where is Epirus
Epirus is the most mountainous region in Greece. It borders West Macedonia and Thessaly to the east, West Greece to the south, the Ionian Sea to the west and Albania to the north.
Epirus is a traditional region blessed with a lush and soaring landscape, hidden mountain villages, and a gloriously unspoilt coastline. Add to this a densely forested landscape (home to brown bears) lonely clifftop monasteries, soul-stirring mountain vistas, and heavenly ski slopes, and you have a paradise waiting to be discovered.
Discovering Epirus Greece with kids
During our 6 day winter trip, we visited 4 parts of Epirus: the province of Tzoumerka, the villages of Zagori, Metsovo and the city of Ioannina, the capital of the Epirus region.
Tzoumerka
In between Arta and Ioannina is Tzoumerka an area of great natural beauty ideal for nature lovers and families who love outdoor activities. Tzoumerka is sometimes called the capital of water.
For the 10+1 best outdoor activities in Epirus, Greece with Kids, click here.
Never have I seen so many rivers, streams and waterfalls in a place in Greece. Tzoumerka's green scenery reminded me of a magical world of water nymphs and forest fairies. Tzoumerka is also famous for its picturesque villages and great food. Tzoumerka is great for discovering the real Greek village life – still unaffected by tourism.
Top Things to do in Tzoumerka, Epirus Greece with Kids
Here are our tried and tested suggestions for things to do with kids in Tzoumerka.
Exploring Rema Marks
We started our first day in Tzoumerka with a hike near the village of Theodoriana, which is known for its water springs. Our destination was the Rema Marks stream. In order to reach this stream, we followed a path that starts at the village's entrance.
Under the guidance of Epirus Adventures and Trekking Hellas Ioannina, we hiked for 45 minutes to find the most breathtaking little paradise; a spot of rare, wild beauty, with small waterfalls that create green ponds and shiny rocks.
The hike was relatively easy, mostly through dense forest and suitable for families with kids.
Hiking to Souda Waterfall
Epirus Greece with kids is about outdoor activities. Another one is the the Souda Waterfall or Theodoriana waterfall. This amazing twin fall is located outside the village of Theodoriana, between Ambracia and Trikala.
From Theodoriana you can do two things: walk to the waterfall from the village (30-40 minutes) or drive further Northwest onto a dust road and walk for 10 minutes to this amazing waterfall.
Arrived at the picnic viewpoint you see two waterfalls falling over a cliff of approx. 25 meters. The open path was flat with a few rocky spots where our guides helped us. Kids will love getting up close to the waterfalls!
Glistra Hanging Bridge
Epirus Greece for Families
A must-visit in Epirus Greece with kids is the hanging bridge at Glistra. Near the village of Athamanio is the Acheloos River. This river forms small pebbled beaches with crystal clear water ideal for swimming during the summer months.
On one of those beaches lies the suspension bridge called Glystra – Golfari, which joins the two river banks. A great adventure to cross!
Note: Tzoumerka with its mountains and rivers is especially nice for outdoor adventure. The list of activities in this category is long: rafting, canoe, climbing, ice climbing, archery, mountain biking, hiking, ski, snowmobile, it is all possible here. The service provider for our outdoor adventures was Epirus Adventures and Trekking Hellas Ioannina.
Plaka Bridge
Plaka bridge is one of the oldest stone bridges in Tzoumerka, the largest arch-shaped stone bridge in the area and maybe one of the most photographed! This 19th century single-arched footbridge bridge is the biggest of its kind in the Balkans and the third biggest in Europe!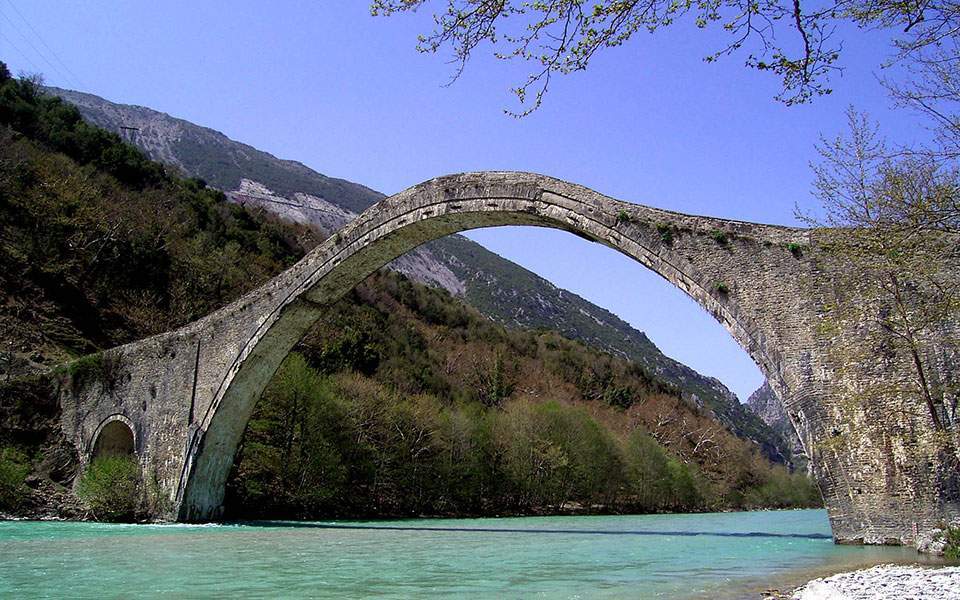 It collapsed during the floods of 2015 and its reconstructions have been a complicated venture. The bridge was still covered by scaffolds when we visited Epirus in January and I could not photograph it. Currently, the bridge is being tested before being opened to the public this year. (Ekathimerini.com)
The river banks of Arachtos river and the scenery surrounding the bridge are breathtaking. A great activity near Plaka bridge is horse riding at the Arachthos Horse riding Center next to the river.
The riding club works with several breeds of horses among others a local Pindos breed, a small horse native to the Pindus mountain range in Thessaly and Epirus. Because of their size, these horses are great for kids to ride.
Visit the Katarraktis Village and the Waterfalls
The highest waterfalls in Tzoumerka are the ones at Katarraktis village, again the scenery is breathtaking. It is relatively easy to reach the waterfalls by driving up close and park by the kiosk. There is a pave path towards the waterfalls.
Visit the Kipina monastery
The rugged scenery of Tzoumerka also took us to the Kipina Monastery. The nostalgic feel of this isolated place as well as the way it is built inside the rocks will impress kids and parents alike.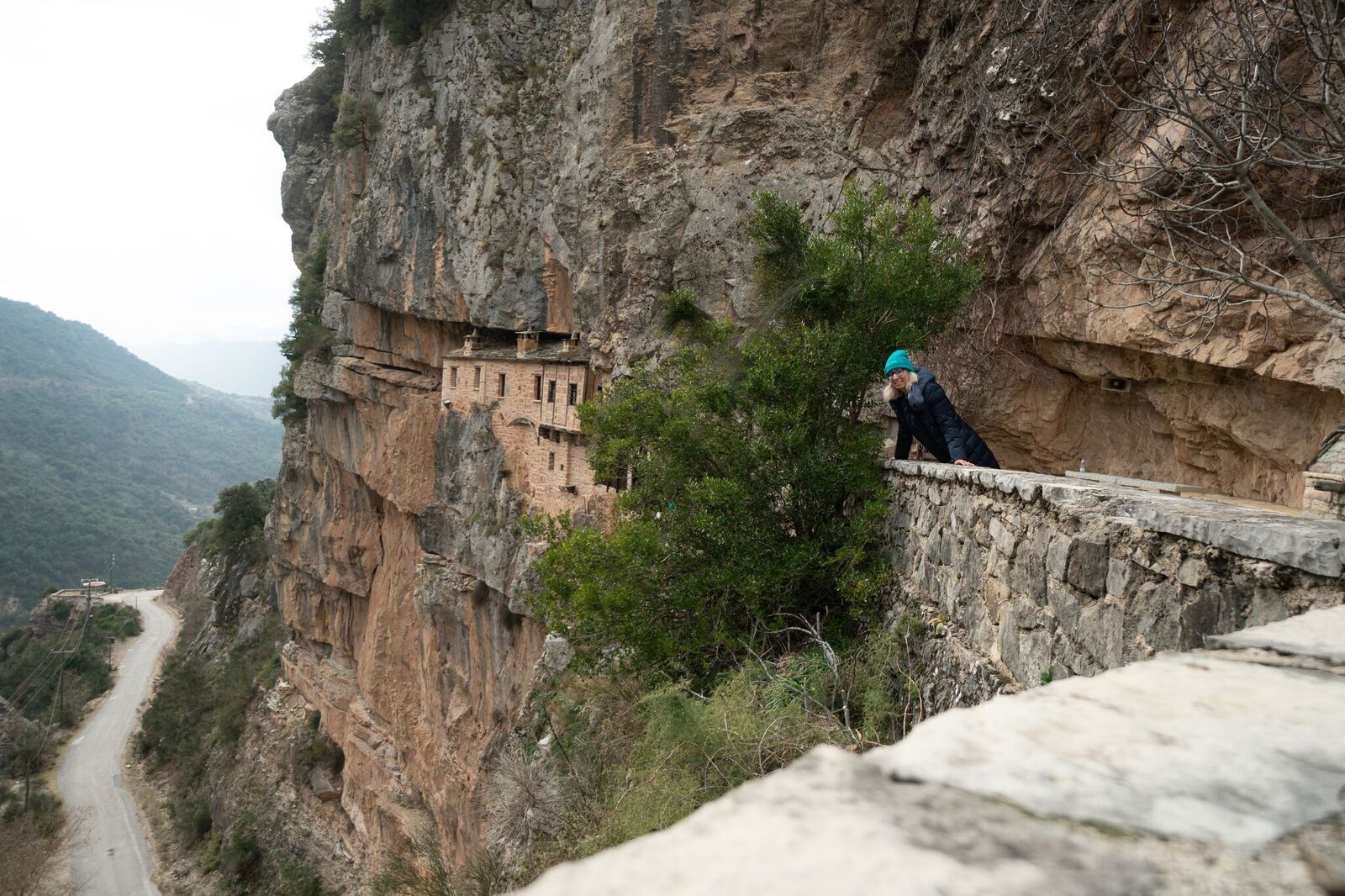 To visit the monastery, you will need to pick up the key at the nearby old-style café. The monastery is literally nestled between the mountains. To get to the monastery you need to follow a path which has been carved in the rocks and cross the wooden bridge to get to the entrance.
Stroll around Kalarrites village
Kalarrites is a legendary and beautiful village at an altitude of 1200 meters in the stunning Epirus landscape. The village has a few inhabitants and is built on the edge of a steep ravine. Its picturesque stone houses and slate roofs are characteristic of the area.
Eat at Napoleon in Epirus Greece with Kids
Visit the only traditional grocery store and kafeneio'/ eatery for a Greek cofee and local dishes. The famous Napoleon Zagklis shop, restaurant, pension and café is an experience that one should not miss out on.
Since the middle of the 19th century, this place housed various professional activities and nothing has changed in this place since.
Kids will love the colorful old shelves, the local products, the friendly cats and the food. I loved the pies, hearty potatoes with chicken and the Greek pork and celery stew.
Visit Vourgareli village
Our base in Tzoumerka was Vourgaleri village. A great starting point for exploring the area. Vourgareli is located in East Tzoumerka (Athamanica Mountains), at an altitude of 800m. The village has shops, a supermarket, taverns and a health centre.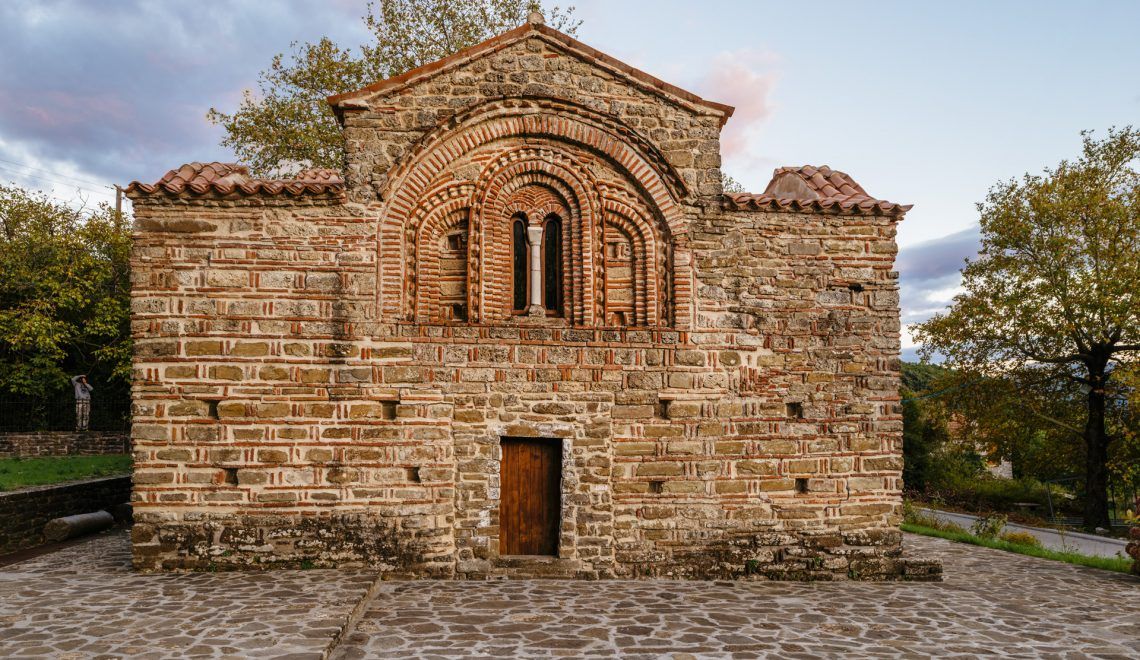 Some of its highlights are the picturesque village square and its beautiful old stone Byzantine church from 1295.
Another special place in Vourgareli is the nostalgic monastery of Saint George with very old frescoes.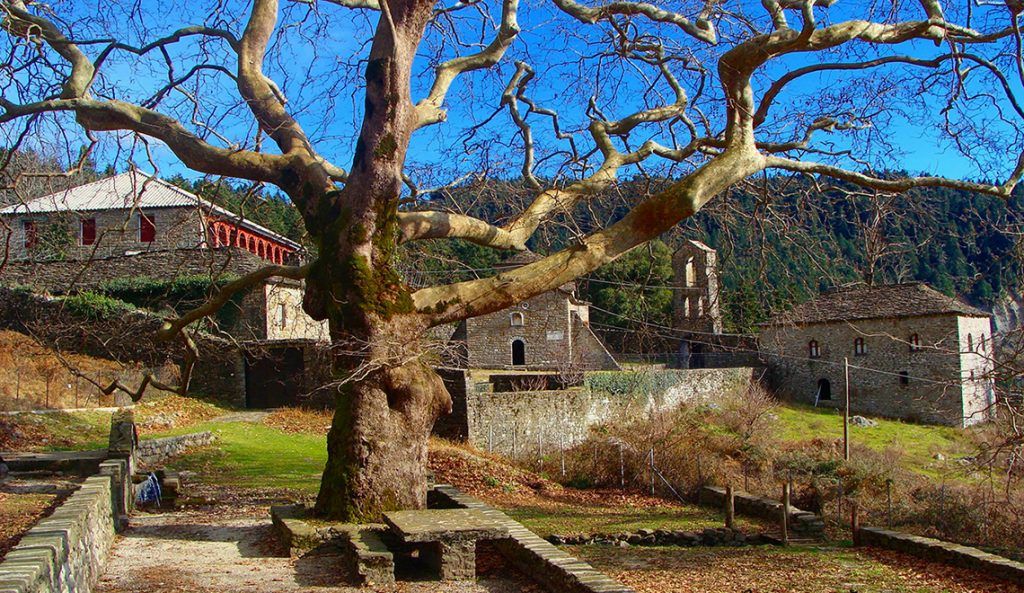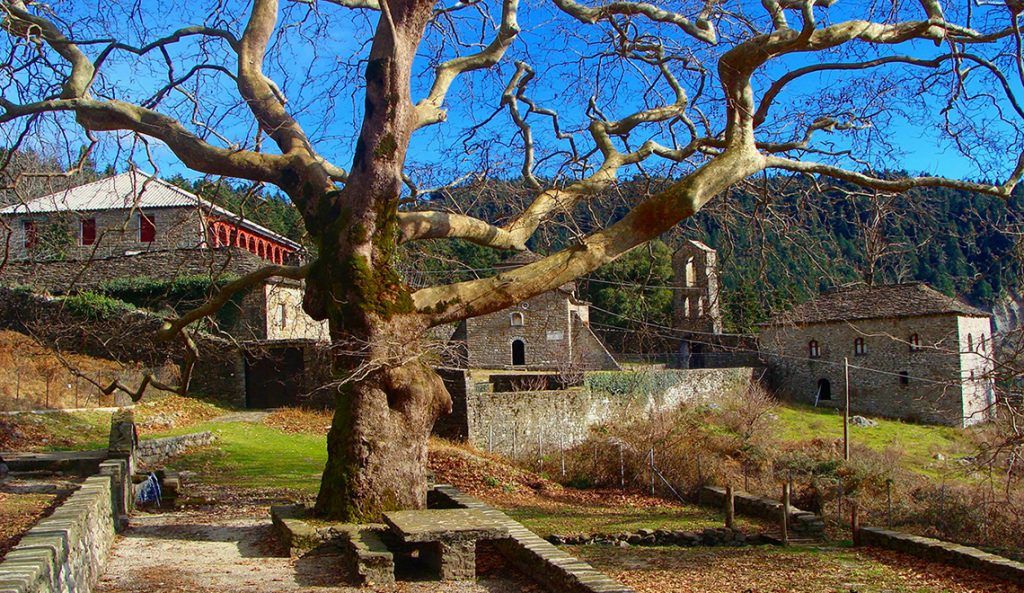 We also visited the local gallery with local folklore and an interesting photo exhibition.
Where to eat in Vourgareli
Go to Taverna Gefira, a basic family tavern with Greek traditional homemade food. There is lots of space for the kids to move around there. We tasted delicious homemade pies, excellent feta, fresh salads, crispy bread, house wine and local meat.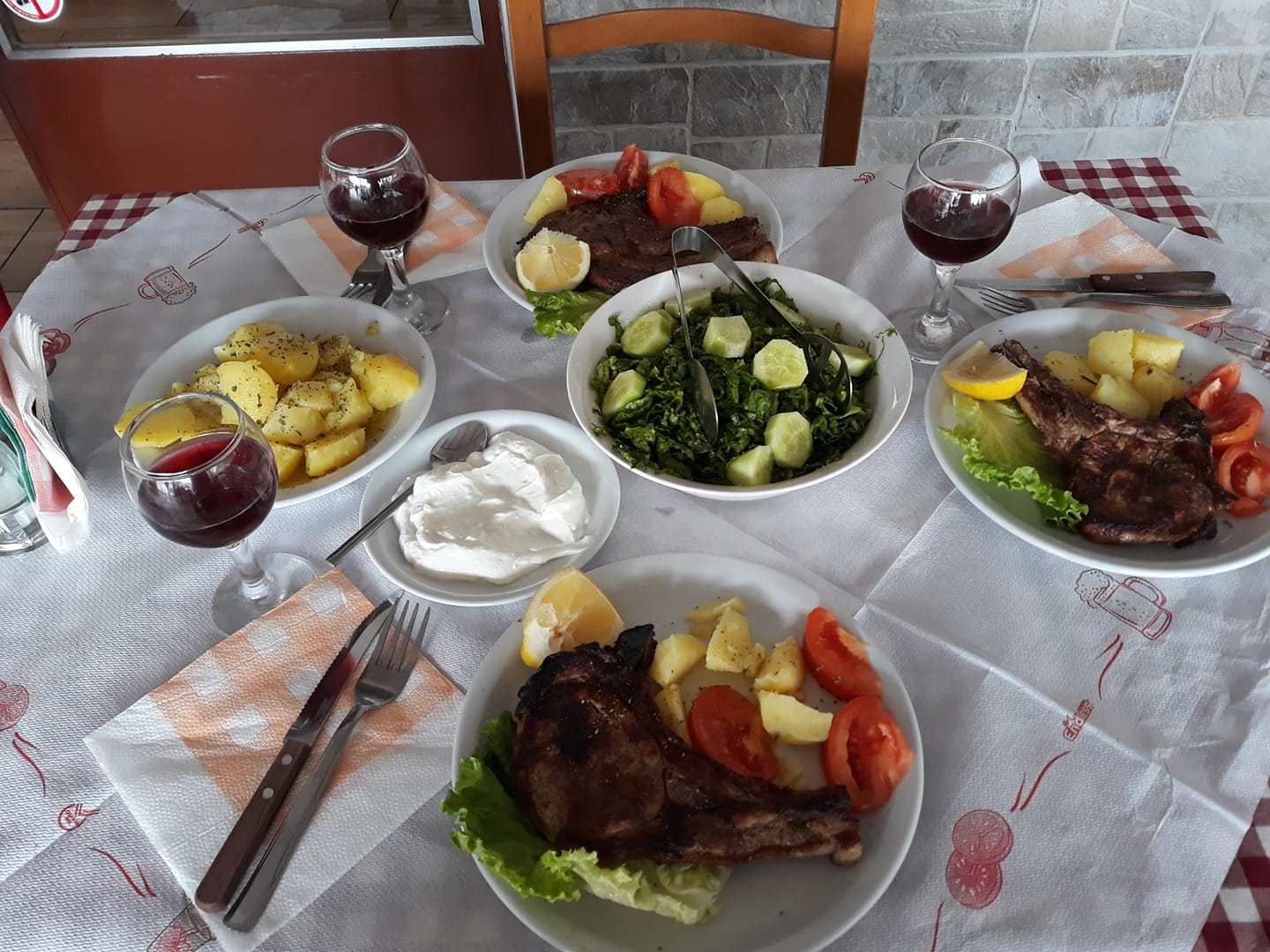 Tzoumerka Activities Center
Need more family fun in Epirus with kids? The Tzoumerka Activities Center is a fun area full of mountain activities an indoor gym for kids and parents. You can also find an indoor climbing wall, a swimming pool, a bike park and an archery field. www.tac.com.gr
Where to stay in Tzoumerka
Our group stayed in Rouista Tzoumerka Resort, located at the village of Vourgaleri at the entrance of the National Park of Tzoumerka Peristeri and Arachtos gorge.
Are you visiting Epirus Greece with kids? Have a look at Family Mountain Hotel Rouista Tzoumerka
The start of the hiking paths was literally a stone's throw away from our comfortable family room. The rooms are in fact, part of small stone units each with a fireplace and balconies overlooking the stunning valley.
Rouista Touzmerka resort is a modern family-run mountain hotel with luxurious and comfortable rooms and with eye for detail. Breakfast is excellent full of local tastes, jams and tartes. I loved the colourful sitting corners with views, the bar with fireplace and the calm vibe. Listen to some jazz music, relax by the fire and be spoiled by the friendly staff.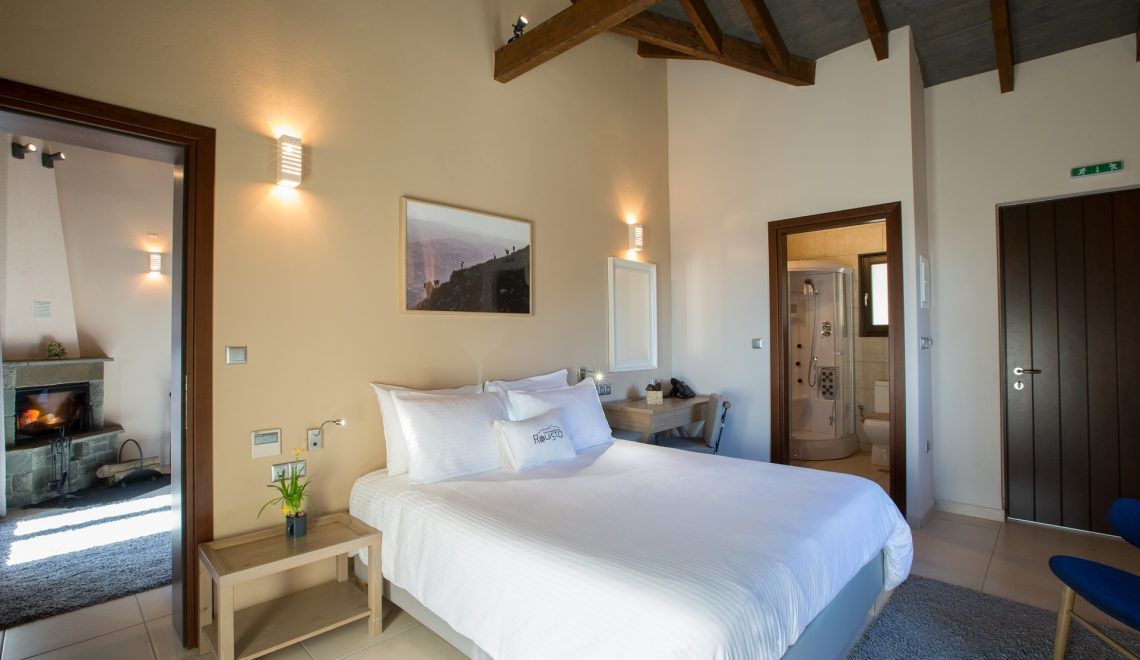 Kids can find games and toys and there is plenty of room for them to play safely outside. The largest family room sleeps up to 5 people.
The hotel is at a walking distance from the village yet secluded without any road or noise nearby. This hotel is a great base for relaxing and for exploring Epirus with kids.
For more information click here.
How to get to Vourgareli inTzoumerka
Vourgaleri is a 4 hours drive from Athens via the modern Egnatia highway. About 1,5 hours from Ioannina and 4,5 hours from Thessaloniki. For flights, you can go to Aktion (PVK) airport near Preveza and then reach Tzoumerka via Preveza city. You can also fly from Athens to Ioannina and continue from there.
Zagori and Zagorochoria, Epirus with kids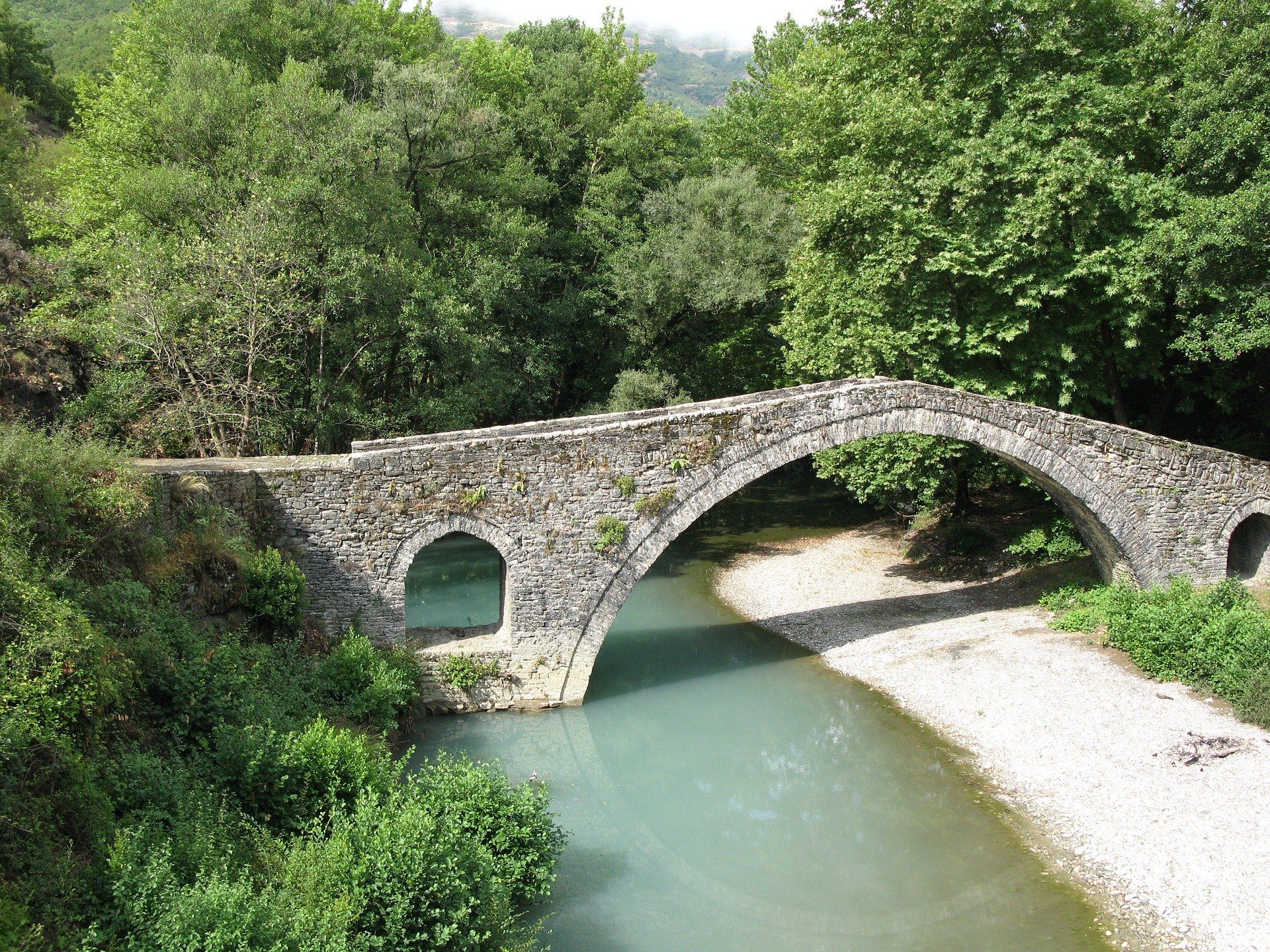 Few places in Greece are known for similar natural beauty as Zagorochoria in the north-west of Greece. The area is almost completely unspoilt. Zagorochoria consists of 48 traditional picturesque villages. The local architecture is defined by stone, wood and slate rock. The area is famous for its many stone bridges.
People are more than welcoming and friendly in Zagori and the traditional food is great! Do not forget to try the famous pies, sweets and meats of the area.
Things to do in Zagori with kids
Zagori is on the UNESCO World Heritage List. The architectural charm of these villages is intricately designed to harmonize with the mountainous terrain. A network of stone-arched bridges, cobblestone paths, and stone staircases interconnecting the villages formed a vital system that served as both a political and social unit, uniting the communities of the Voïdomatis River basin.
Visit Voidomatis River
If you like adventure, Zagori is the right place. After 30 minutes of hiking along a trail from Zagori, you can arrive at the springs of the Voidomatis river, an ideal place for excursions and mountain sports such as hiking, climbing, mountaineering, rafting, canoeing/kayaking and mountain biking.
Note: Trekking Hellas Ioannina specializes in daily activity programs such as Rafting, Hiking, Canyoning, River Trekking, Mountain Biking etc
Visit Kolibithres
Kolibithres are pool like natural ponds between Mikro and Megalo Papigo villages in Zagori. A magical place that is refreshing in summer and great to admire in winter. Kids will love the color of the water and the fairy tale-like rock formations.
Lunch and games at Koukounari Cafe in Megalo Papigo
A gem in Zagori, Koukounari Café is a little paradise where kids can taste vegan delicacies, find eco-friendly toys and gifts or pet the friendly dogs. Run by Katerina and George who serve traditional desserts and savouries as well as vegan and gluten-free dishes.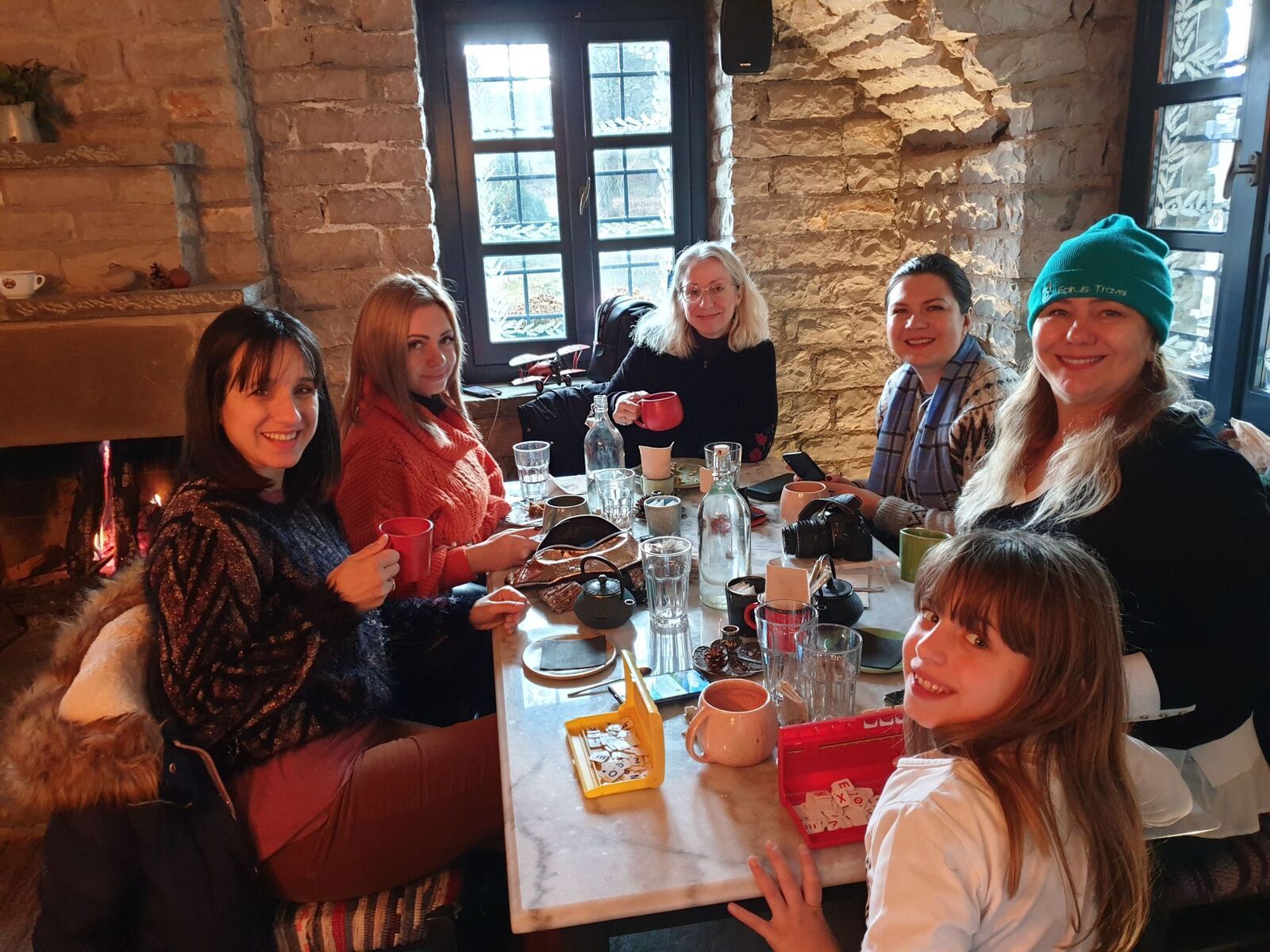 With views over the impressive mountains and warm by the fire, we tried a lovely home-made herb pie sweets and excellent coffee.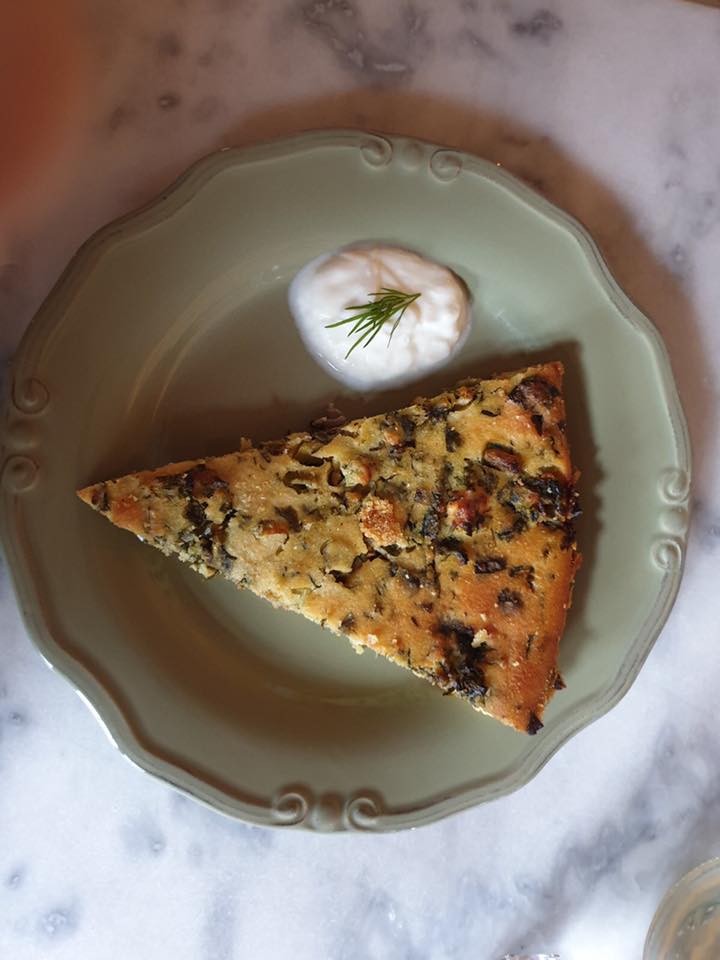 Koukounari (pine cone) is also a country market. Parents will love the artisan products and art objects from local suppliers. I liked the book corner and the nice selection of wines. A mountain café with a modern twist!
Visit Oxia at Vikos Gorge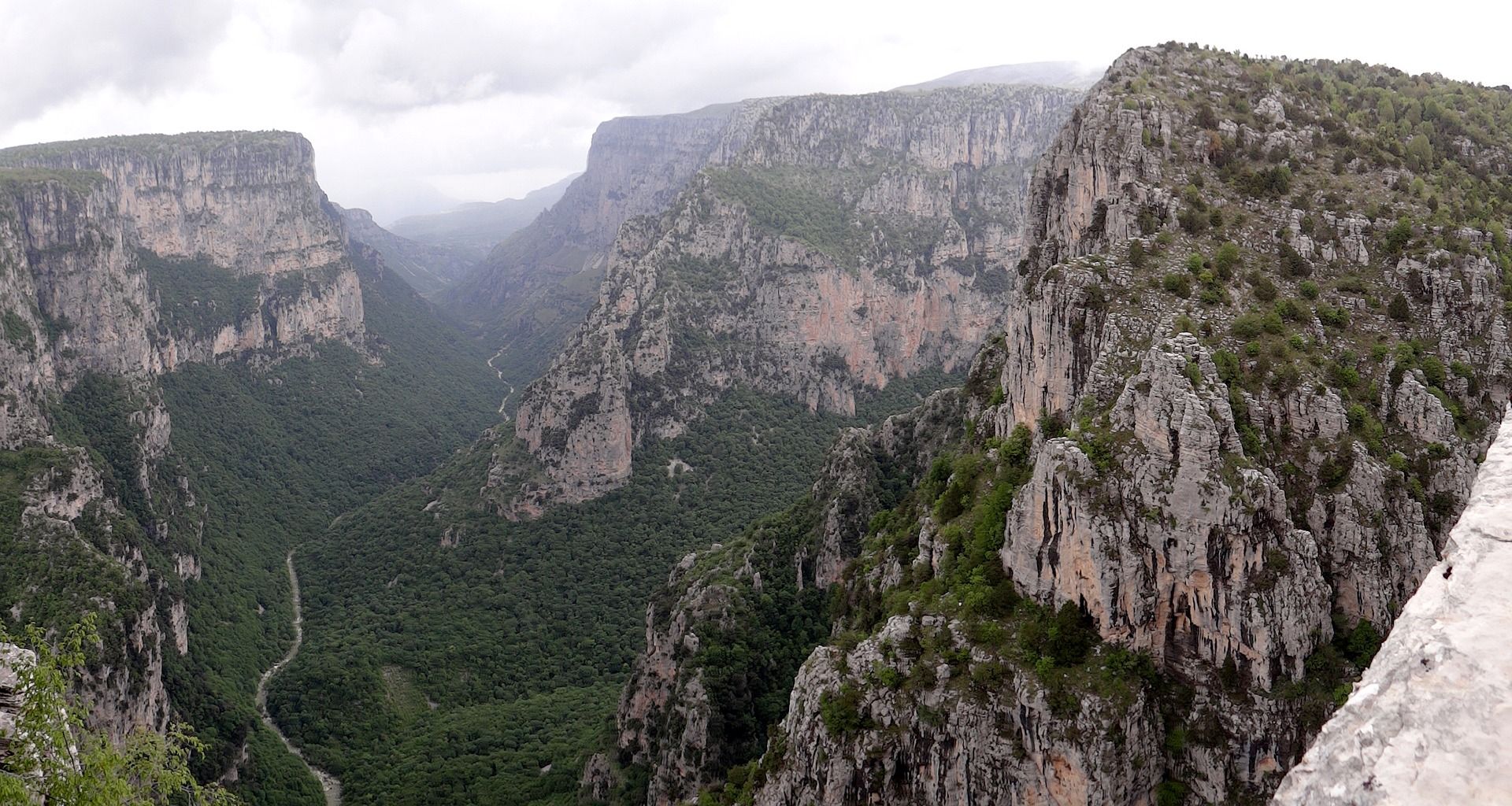 A must-visit in Zagoir is Vikos Canyon: according to the Guinness Book of Records, the world's deepest canyon (Canyon purists question the claim that this is the world's deepest: Guinness's calculations are based on a width-to-depth ratio. Vikos is almost 3,000 ft at its deepest and a mere 10 ft at its narrowest.
The view from certain points along the gorge is breathtaking.
In Oxia there is a natural viewing platform over the deepest part of the gorge. You can sit on the colorful benches here or buy local products and mountain herbs. Oxia is located about 3 km from the village of Monodendri in central Zagori.
There are many 'easy' hiking routes in the gorge that you can take with kids, such as the one that extends from Elafotopos to the village of Vickos, or the route that starts from the village of Monodentri and leads to Oxia.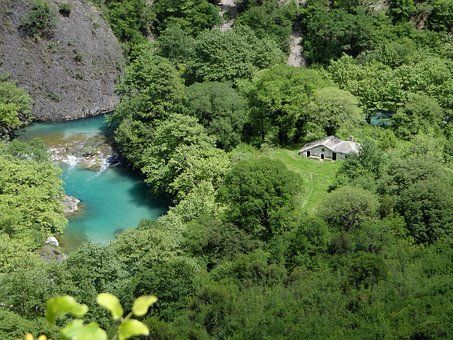 The most famous path starts at the base of Vikos Gorge, you can start at the village of Tsepelovo and finish in the village of Vitsiko. The route takes about 6 hours and is marked with many signs. This route is not suitable for young kids.
Note: We did not hike inside the gorge during our trip in
Epirus with kids but explored Zagori and the breathtaking gorge with Epirus Adventures.
Farms and farm animals
The lands of Zagori make it great for farm animals, and we met a lot of those on our way. Geese, sheep, cows; we even saw some wild horses while driving the area. Some farms are open to visitors. Such as Zinovia's little farm.
The stone bridges of Zagori
A visit to Zagori is not complete without visiting the many stone bridges for which this region is so famous for. Most of them were constructed in the 18th and 19th centuries, some of them built on the remains of much older bridges. Do not miss the important 3-arched Plakida bridge (pictured below!)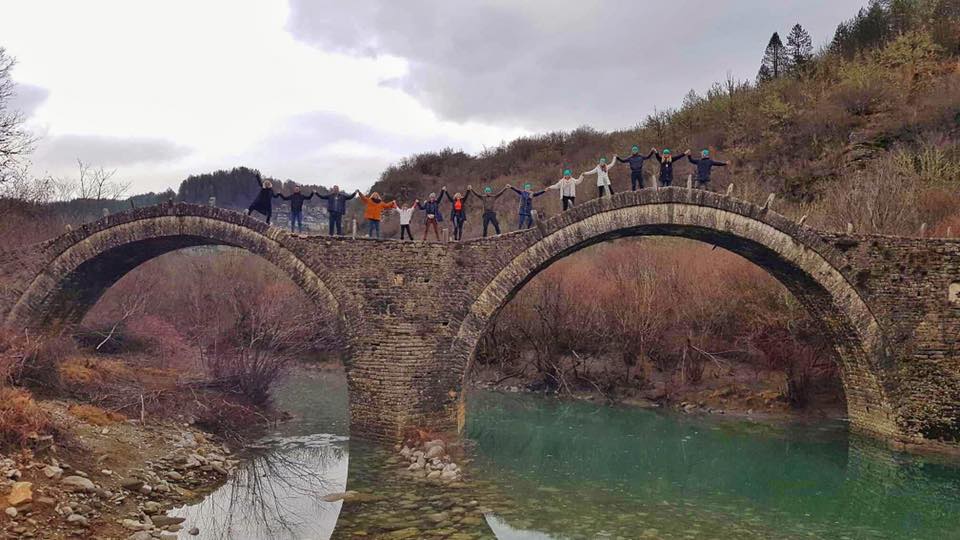 Eat at Montaza in Zagori
Montaza in Asprageli, Zagori, may look like a typical Greek tavern on the outside but it is an actual experience of a mountain restaurant with excellent dishes based on local treasures and stories. After our outdoor fun, it was great to indulge on warming pumpkin soup, fresh winter salads, soft grilled lamb meat and local wines next to the fire place.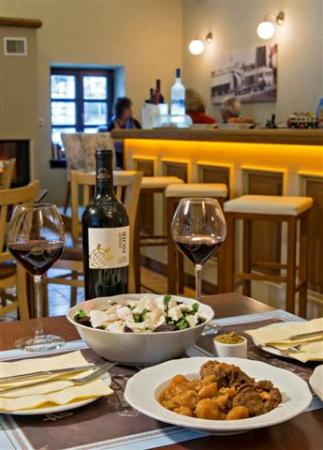 A stylish bistro with original decor, local products and a colorful owner full of passionate stories. The square in front of Montaza is great for kids in the summer. A must-visit when you are in the area, I guarantee you, there is nothing like it nearby.
Where to stay in Zagori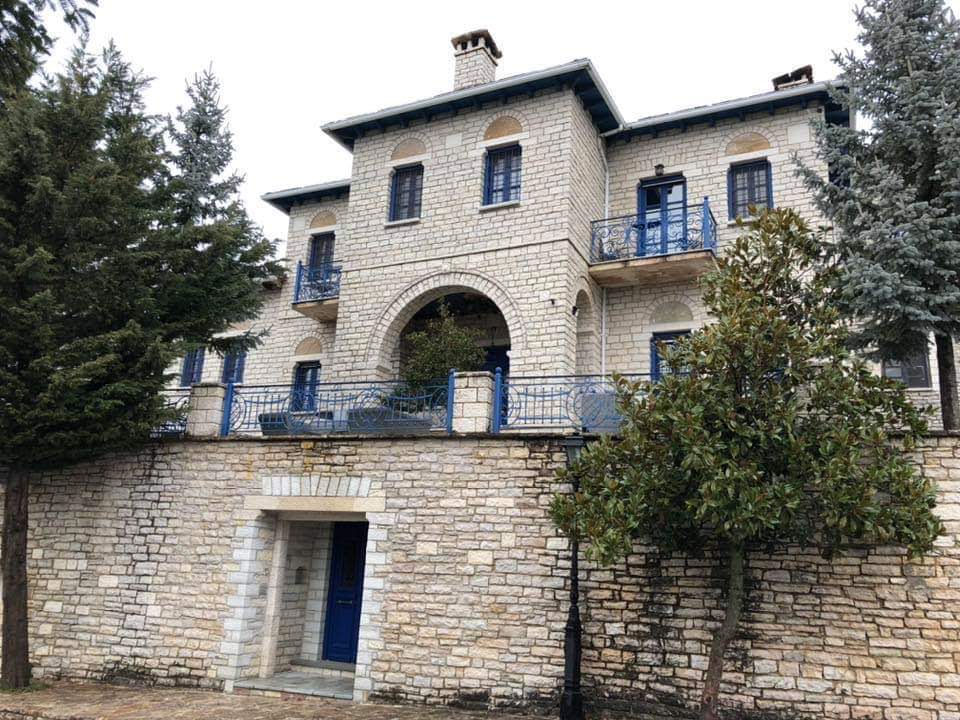 Our base in Zagori was Archontiko Zarkada hotel. This traditional hotel has unique colorful rooms with beautifully decorated wooden ceilings and windows and a fireplace. The largest family room sleeps 4 people. Outside is space for kids to play and the hotel also features an outdoor swimming pool for summer vacations.
For more information, click here.
Metsovo, Epirus with kids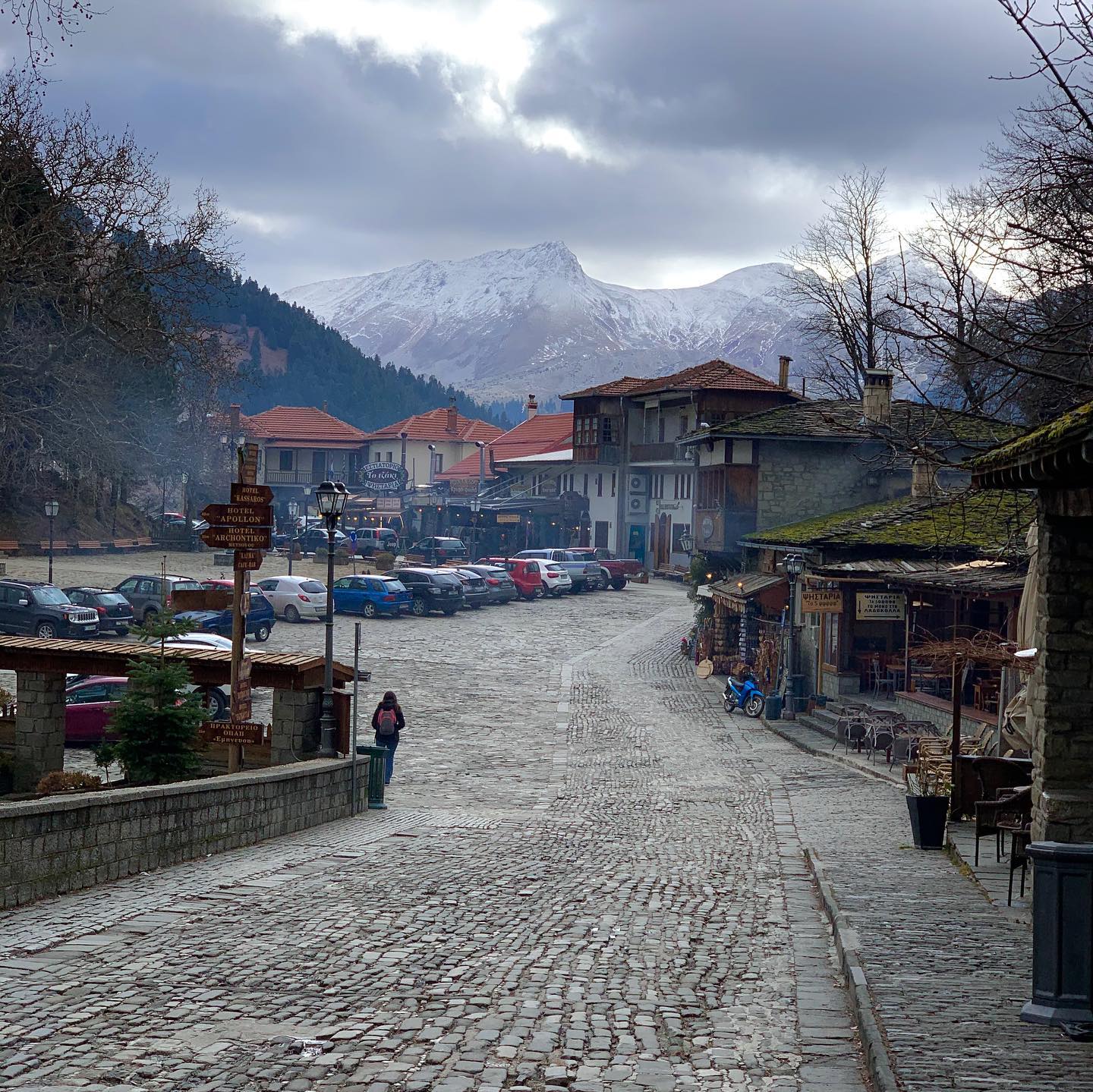 Métsovo is a town in Epirus in the mountains of Pindus between Ioannina and Meteora. It is a small traditional town with grand mansions and stone-paved streets and very popular with Greeks and foreigners for its traditional character.
Metsovo is popular for its great food (cheeses, pies and meat), its nearby ski centres and many outdoor activities.
Things to do in Metsovo with kids
The Tositsa Museum of Metsovo
If I had to pick one activity in Metsovo for families, it would be the Tositsa Museum of Metsovo. To understand how people used to live in the area, as well as to understand Greek history, The Tositsa Museum of Metsovo, which houses the Museum of Popular Art, is the place to be. It has an invaluable collection of old objects: weapons, clothes, costumes, tools, coins and more.
The Museum is open everyday and holidays except Thursdays. Wintertime: 8:30-13:00 and 15:00-17:00. Summertime:8:30-13:30 and 16:00-18:00. For more information: metsovomuseum.gr/en
Walk around Metsovo village
Stroll around the picturesque village and admire the colorful shops with its famous cheese called metsovone, traditional home-made pasta called hylopites, and wood-carved objects and textiles. Metsovo has lots of green and open space and kids will love the impressive trees, stone houses, and car-free alleys.
Visit the churches or the Averoff Garden, with the church of Aghios Georgios. Art-loving families can visit the Evangelos Averoff Gallery, which contains paintings and sculptures by famous Greek artists.
Children's Library of Metsovo
This library contains more than 4.700 titles of children's and adolescent books. You will find from fairy tales and books of art and zoology until historical, literary and a lot of other books.
The Katogi Averoff Winery
Parents with older children can visit the Katogi Averoff winery. Kids can enjoy the oak barrels and the interactive experience of the exhibition with slide shows and light effects while parents get to taste some of Greece's most celebrated wines. The winery is open to the public from Thursday to Monday from 10am till 16:00pm. If you want to arrange a tour in English, you should contact the winery prior to your visit at [email protected]
Note: For wine-loving parents: Katogi Averoff winery has a unique history and is an important part of wine tourism in the northern Greece vineyards. Do check the website of the wine roads of Greece: winesofnorthgreece.gr and wineroads.gr
Join a cooking lesson in a tavern
Epirus Adventures also organised a cooking lesson for us in a local Metsovo tavern. Here, we learned how to prepare a traditional Greek herb/ spinach pie.
Winter sports
If you want to go skiing in Epirus with kids, Metsovo can be your base. It is very close to the Pindos National Park (Valia Calda) and features 3 ski resorts for winter sports enthusiasts. At Anilio Adventure Park (pictured below) kids can join the ski school or participate in all sorts of activities in the now.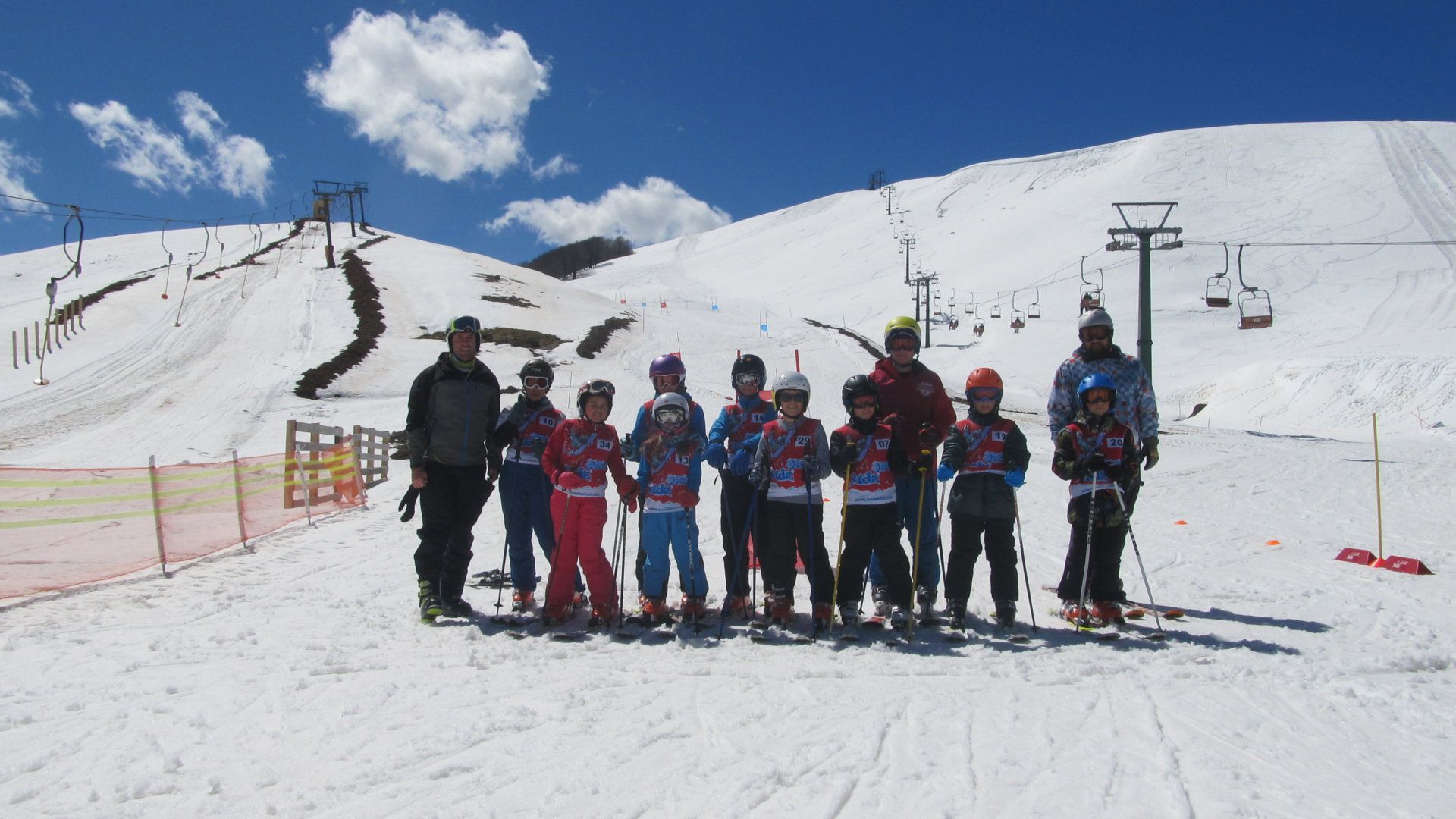 Visit the artificial lake Aoos
Just 20 km away from Metsovo you will find the artificial lake of Aoos springs. The lake stands at an altitude of 1343m. It was created in 1987 to produce energy but has turned into a beautiful and important hydro-biotope. Great for a picnic in the summer or nature walk in the winter.
Where to eat in Metsovo
Metsovo is a foodie paradise. The tavernas in the village's square are famous for its spits roasting all sorts of meats. Enjoy kontosouvli and delicious sausages and many traditional pies! In Metsovo you can also find many stores selling the region's dairy products, of which metsovone and metsovela cheeses stand out and the earlier mention local wines.
We had a traditional lunch with delicious meat, salads, cheese and local meze at Taverna To Tzaki.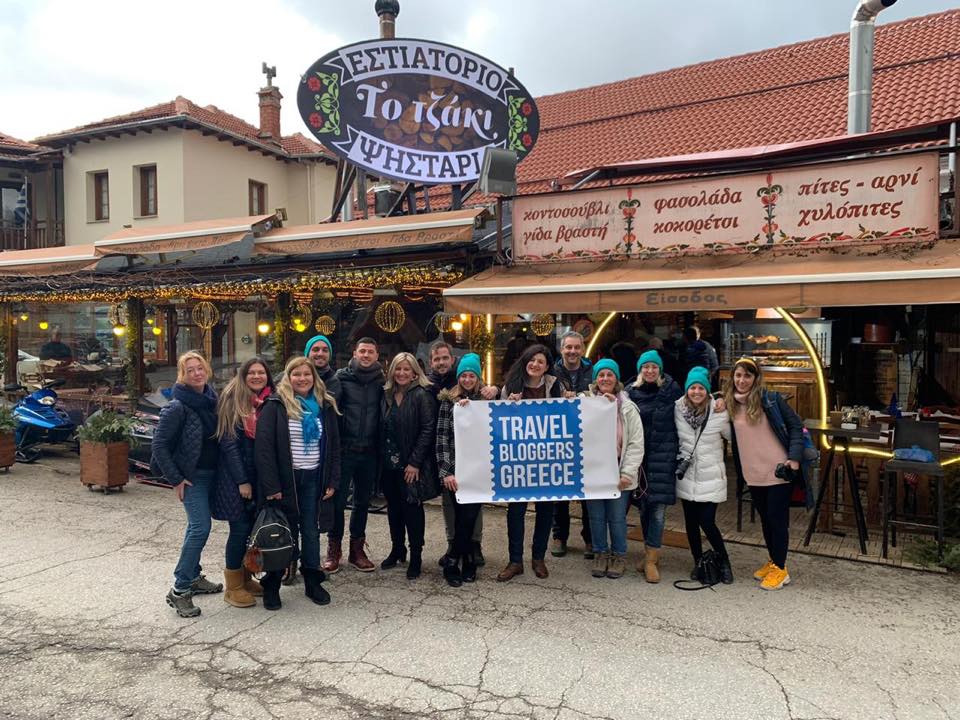 Where to stay in Metsovo
We did not stay in Metsovo but visited the town as a day trip from Ioanna. However, we were welcomed for raki in Hotel Kassaros, a traditional family-friendly hike & bike hotel at 50 m from the central square of Metsovo. Besides a priceless view, this traditionally-styled hotel features family rooms and organizes hike and bike trips in Metsovo.
How to get to Metsovo
Metsovo is located 415km from Athens (via Trikala) and 490 km (via Ioannina). From Thessaloniki it's only a 250 km drive. If distances seem too big, you can also book a flight to Ioannina from Athens or Thessaloniki. The distance Ioannina – Metsovo is just 55 km.
Ioannina city in Epirus Greece with Kids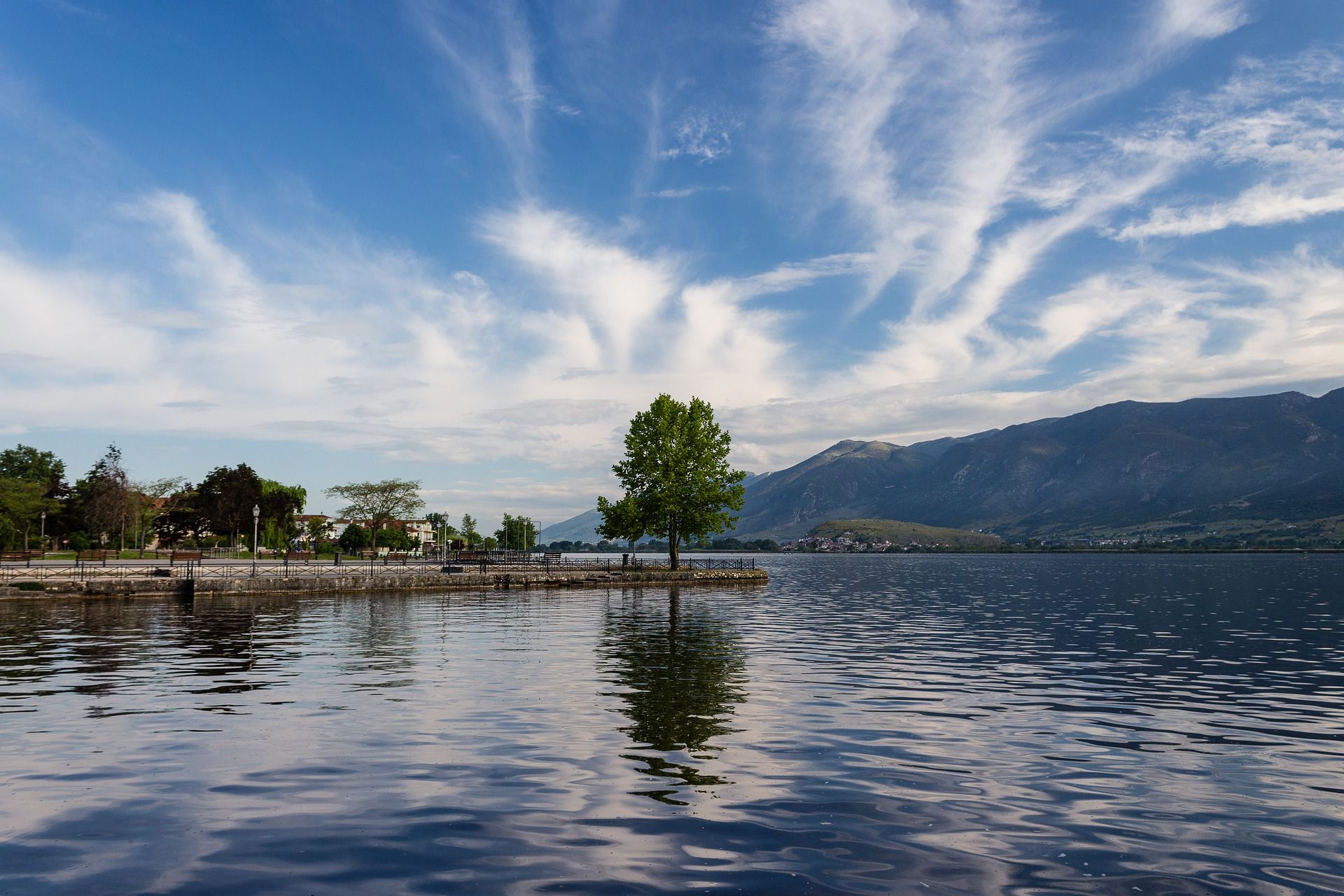 The city of Ioannina is the capital of Epirus. Ioannina is famous for its beautiful Lake Pamvotis that lies at the centre of a 480 metre-high basin.
Epirus Greece with Kids – Ioannina
Natural beauty, historic buildings, lots of art and culture, and a pedestrian-friendly center is what defines the contemporary city of Ioannina. Also called 'the city of Arts and Culture', this city is boasting with galleries and cultural events. We had a great two-day stay and found out that there is a lot to see and do in Epirus Greece with kids.
Things to do in Ioannina with kids
The Lake and the island of Ioannina
Ioannina is famous for its magnificent lake, a must-visit for families! Whether it's strolling on its banks, watching the seagulls, riding a bike or simply enjoying the scenery, the turquoise lake will offer the perfect backdrop for a family outing.
Although there were fog and rain during our visit, we much enjoyed the cruise to the island in the middle of the lake. The island boats leave regularly (every half hour in the summer and every hour in winter) and you can buy your tickets onboard (5 Euro).
With the city at our back, the magnificent Ioannina Castle and the Mosque started to fade away and were replaced with a small green island, under the shadows of the surrounding mountains. On our foggy day, it felt like time travel!
It took 10 minutes to cross to the island and to enter a car-free picturesque fishing village with cobblestone alleys, pine trees and unique stone houses. The island is inhabited by 100 families who are all occupied with tourism and fishing. On the island are many shops with folk art items and restaurants which serve fresh fish, eel, sea food and frog-legs.
The island is also the home of seven monasteries (the third largest group after Mount Athos and Meteora). One of them houses the museum of the legendary Ali Pasha.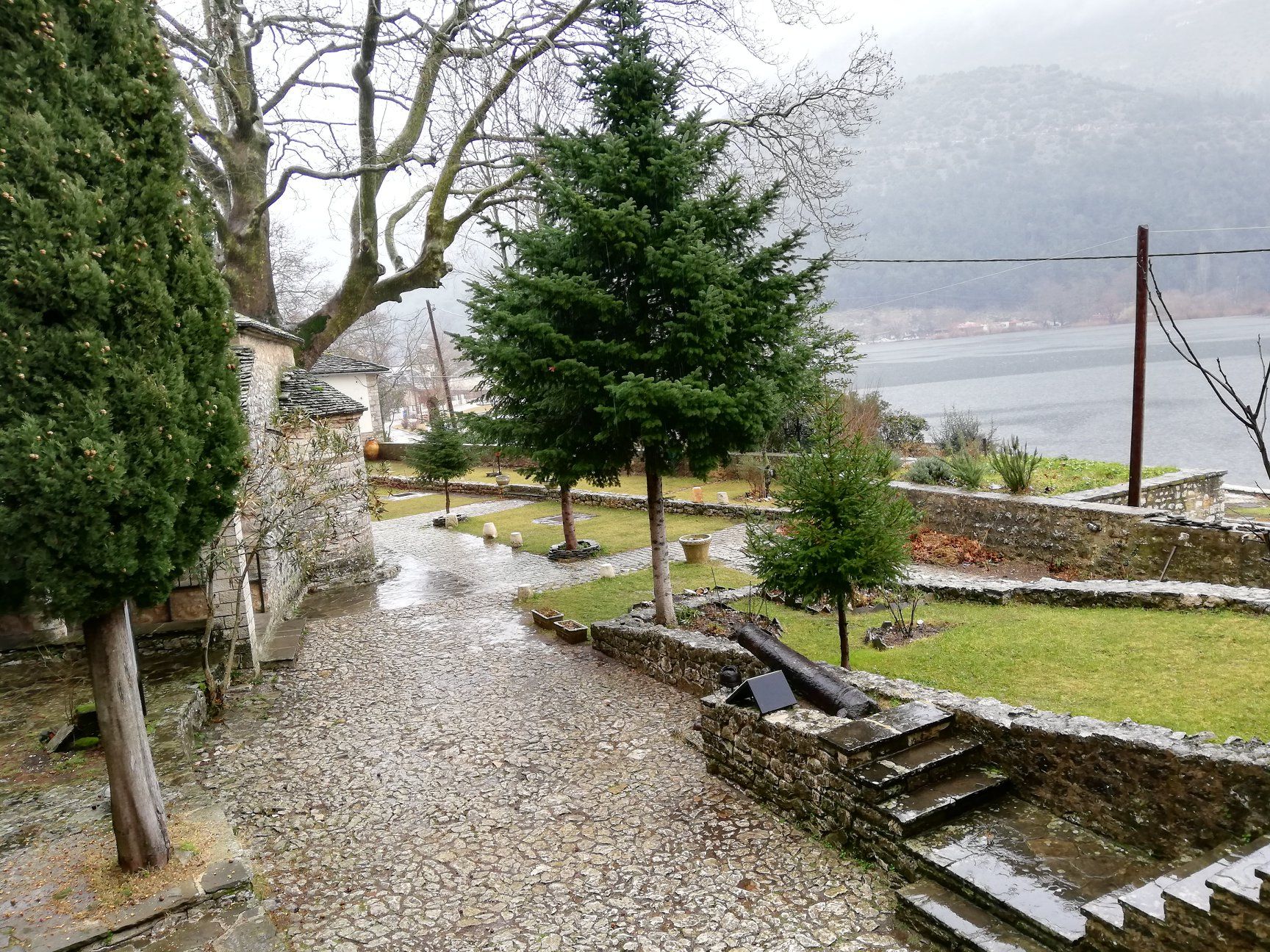 Ali Pasha Museum
Older kids will appreciate the wide collection of costumes, folklore, weaponry, arms and other objects while parents will be fascinated by the fascinating (but cruel) history of Ali Pasha.
The Archaeological Museum of Ioannina
Back in Ioannina, I also recommend the Archaeological Museum of Ioannina with exhibits finds from Epirus ranging from the Paleolithic period to Roman times. They include artefacts from what claimed to be the oldest-known oracle in Ancient Greece in the Temple of Zeus at Dodoni.
Visit the Dodoni Theatre
Show your kids one of the most important archaeological areas of the area at Dodoni, considered as one of the most ancient oracles in the broader area of Greece. For more info see: www.dodoni.gr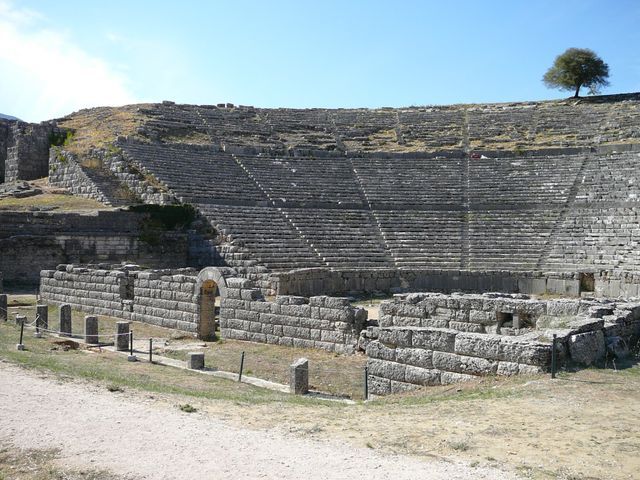 Silversmithing Museum
A must-visit for families with kids in Ioannina is the Silversmithing Museum. A unique interactive museum located in the castle of Ioannina, and more specifically in the western bastion of the north-eastern acropolis (Its Kale).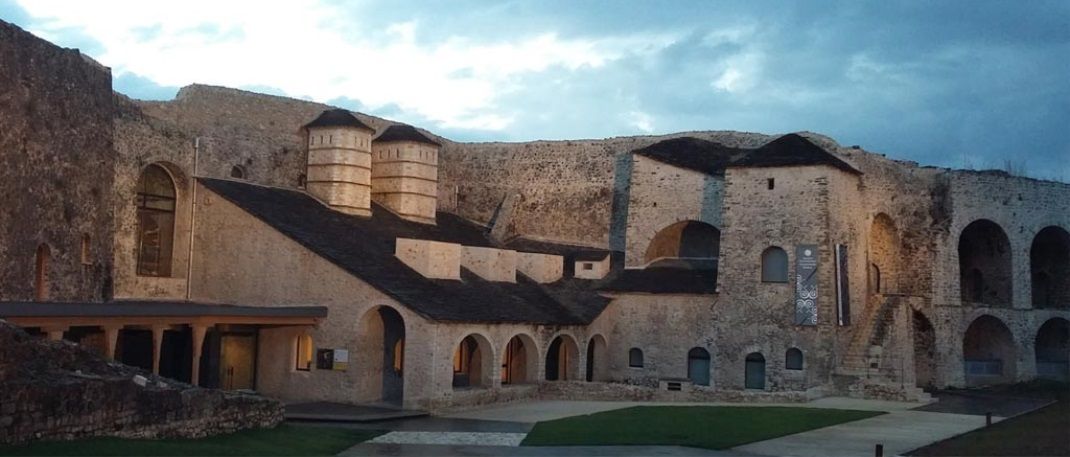 The Silversmithing Museum is located in the castle of Ioannina, and more specifically in the western bastion of the north-eastern acropolis (Its Kale). It occupies the bastion's two levels, as well as the adjacent building of the old cookhouses.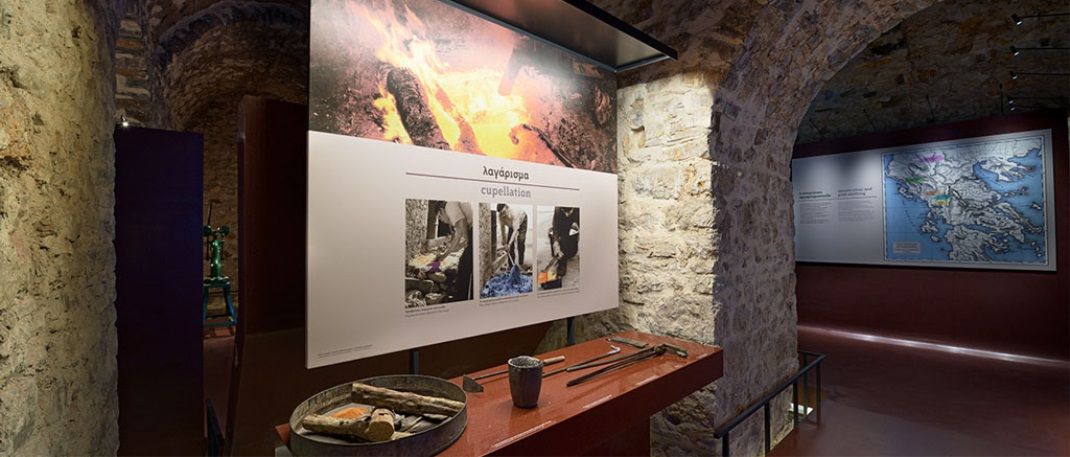 It is a thematic museum about the technology of silversmithing during the pre-industrial period, while simultaneously being a regional museum, focused on the history of silversmithing in the region of Epirus.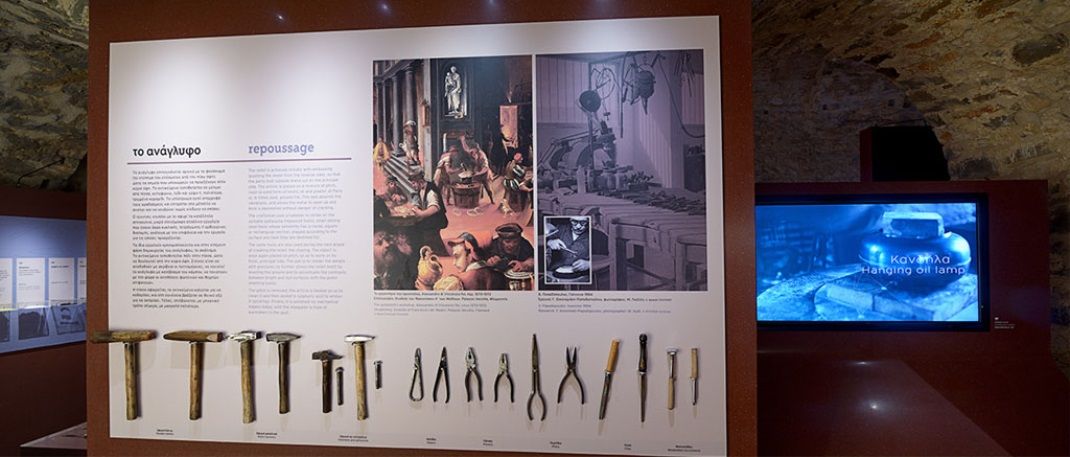 For more information, opening hours and ticket prices, please visit the website here: www.piop.gr.
Center of Traditional Craft-making of Ioannina (KEPAVI)
With older children you could consider a visit to the Center of Traditional Craft-making of Ioannina. This exposition and retail shop of silverware gives customers a chance to have a tour to the workshops of the center, to talk with the craftsmen and to watch the manufacturing process.
Discover the Cave of Perama
One of the highlights of our trip to Epirus Greece with kids was our visit to the Cave of Perama. A three-storey cave in the mountains of picturesque Perama. It consists of 19 kinds of stalactites and stalagmites. We loved visiting the cave.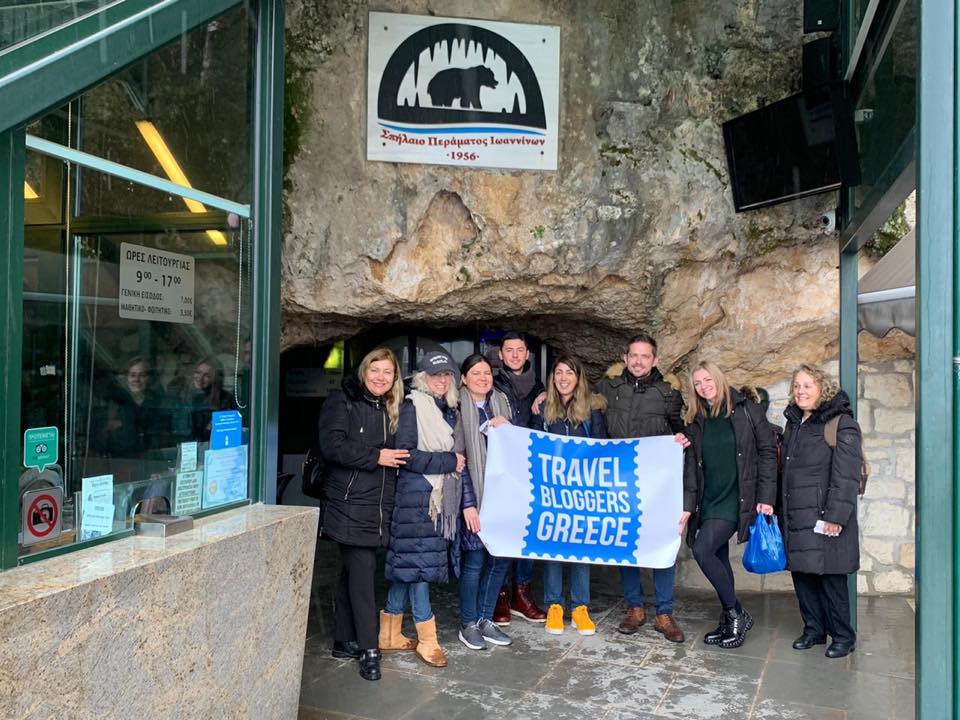 The cave was suitable for kids but there are a lot of slippery steep steps. It is crucial to listen to the guide's instructions. But children starting as young as 6 years old can follow the tour. More information, opening hours and entrance tickets, please visit the website: www.spilaio-perama.gr/en/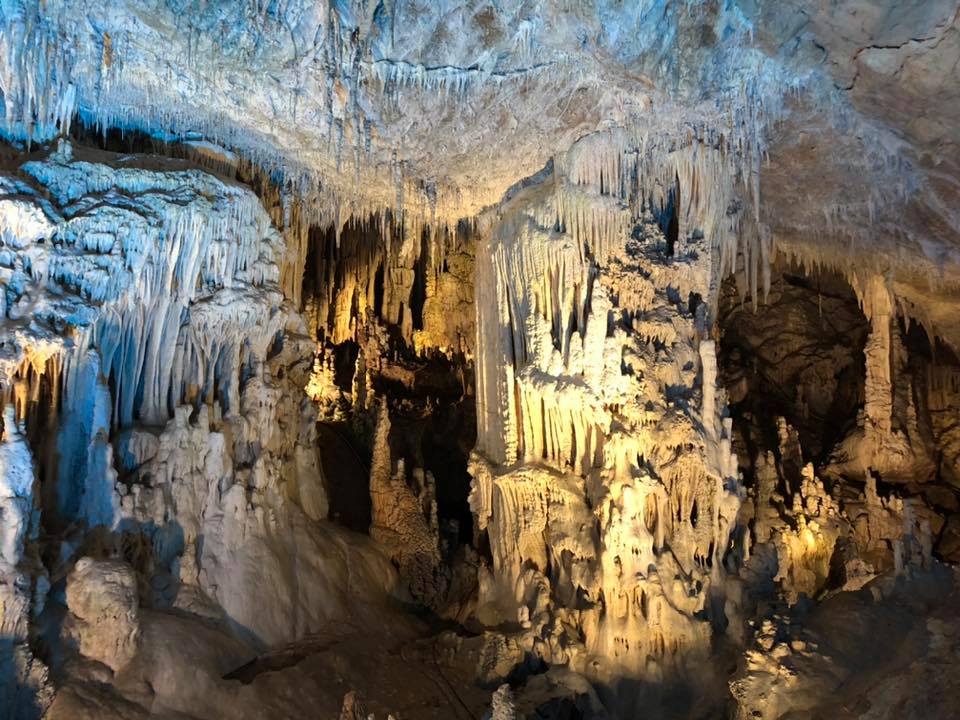 Near the entrance of Perama, opposite the Port, is the Perama Cave Information Center with finds from inside the cave such as the teeth from a rare species of bear, the cave bear.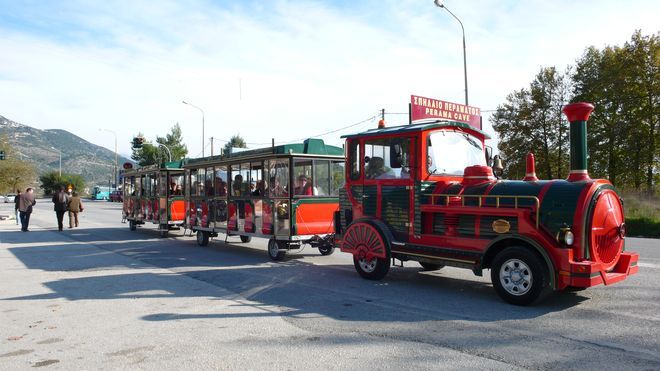 Perama Cave of Ioannina has a tourist train that transports guests from the free central parking of Perama to the cave.
Where to eat in Ioanina
Frontzu Politia
We had a fine anniversary dinner at Frontzu Politia restaurant. We experienced excellent service, good wines and traditional regional recipes combined with modern cooking. Indulging on elaborated dishes of seasonal wild greens, sheep meat with feta, local smoked Metsovone with quince chutney, Zagori pies, kontosouvli, amazing elegant slow-cooked veal, we enjoyed the city lights, lake views and the surrounding pine tree forest.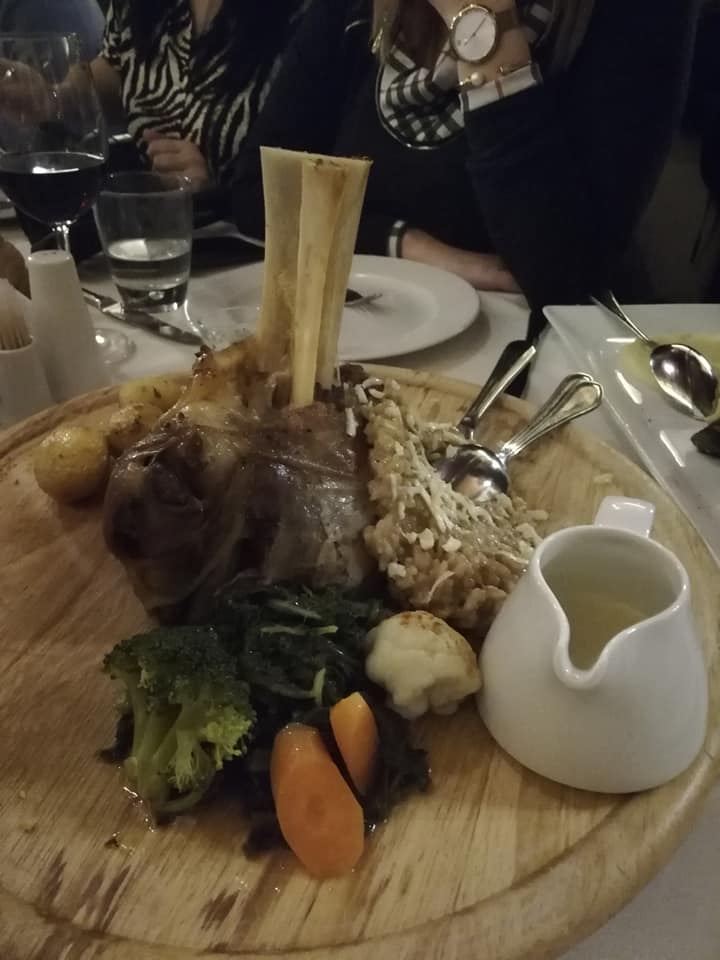 Frontzu Politia is a complex of traditional stone architecture located on a hill featuring a luxury hotel, restaurant, congress activities and a sports club. At the Frontzu Politia playground area, trained staff takes care of your kids, while parents can enjoy their coffee, drinks and food in the specially designed area within the playground. The company started many 'green' initiatives and participates in environmental programs including free bicycles to use for exploring the surroundings and the city center.
Click here to find more information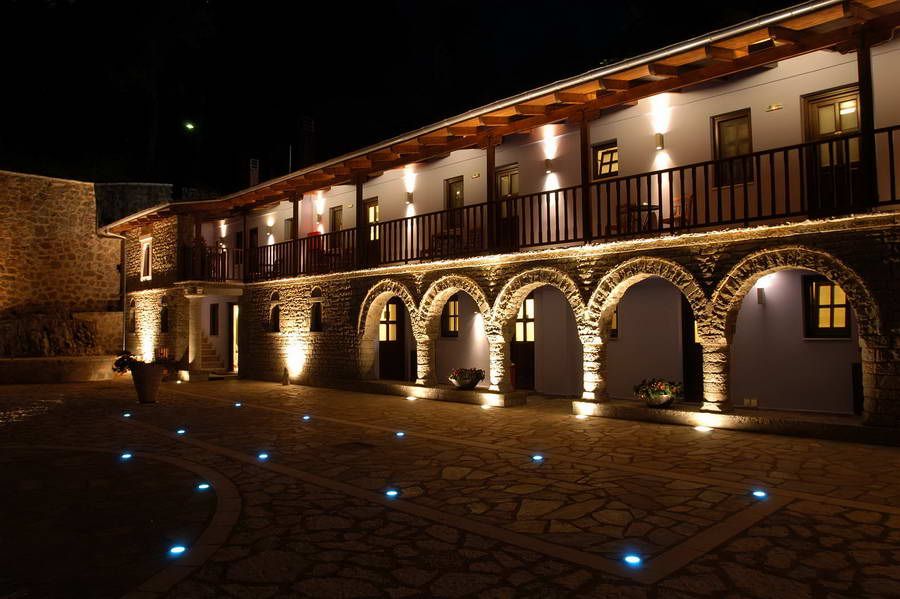 Where to stay in Ioannina
Kamares Boutique Hotel & Spa
Situated in the old centre of Ioannina, the superb Kamares Boutique Hotel & Spa is 200 metres from the castle of Ioannina. The mansion was built in the late 18th century and is one of the few houses saved by the 1820 fire, as the stone masonry of the ground floor reveals. It is considered a masterpiece of traditional architecture as it has all the details of the style of mansions in Ioannina, when the capital of Epirus was at its peak.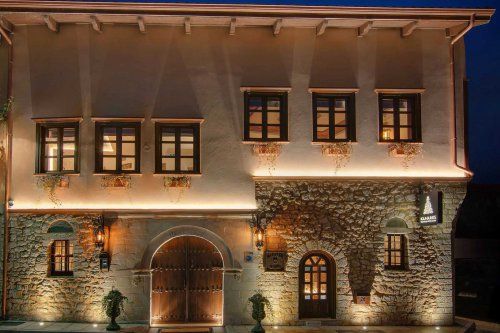 5 * Kamares boutique hotel is almost a small museum with 9 suites, 3 suitable for families. The beautifully decorated rooms, each with the name of an important regional figure, are a testimony to the city's past of opulence. Modern materials were used to refurbish the century-old building to create a clean, sleek atmosphere but with respect for its interesting past.
As a history buff and luxury fan, I absolutely loved the detailed room, the fine decor, the embroidered bedlinen, the state-of-the-art traditional wood carvings, glasswork and elegant comfortable furniture.
All rooms have orthopaedic mattresses, a Nespresso coffee maker and a minibar. The bathrooms are equipped with luxury massage showers, some have a jacuzzi.
We also spent time in the spa.
The breakfast at Kamares hotel is traditional and decadent and the spa facilities were indulging. Did I mention the impeccable service? This hotel is small and elegant, it carries a high aesthetic and above all, warm hospitality. I cannot wait to return!
Click here to find more information
Hotel Archontariki
Hotel Archontariki is a family-friendly 4 * boutique hotel near Kamares. We did not stay at this traditional gem but experienced its warm hospitality and had a tour around the facilities. Archontariki gives guests a unique insight into the customs and life of the past while offering luxurious and modern amenities. If you are in Epirus Greece with kids, you will find this warm hotel very suitable.
For more information, please click here.
How to get to Ioannina
From Athens, Ioannina can be reached from Athens 4 hours by car via the modern Egnatia highway. The distance is 445 km and you will need approximately 4 hours. From Thessaloniki its 261 km and you will need 2 1/2 hours. You can also fly to the airport of Ioannina called King Pyrros with regular flights from major cities. Ioannina is also a great base to visit the villages of Zagori and Metsovo.
Why you should visit Epirus Greece with kids?
We visited Epirus in the winter, but we would love to come back in the summer. Epirus covers a large part of North Greece and is therefore extremely varied in its landscape and wildlife. From summer swimming in rivers, beaches and waterfalls to outdoor activities in spring and autumn to ski holidays in winter.
Summarizing, Epirus Greece with kids is a destination for all seasons. I recommend Epirus for nature-loving families, active families, history buffs and adventure seekers. If you are planning a summer vacation in Epirus, I'd recommend staying a couple of days in the mountain area before or after time spent at the coast. (Consider Parga, with its vibrant seafront lined with pastel-coloured houses, Venetian hilltop castle and bustling tourism, it is a favourite for summer)
Have you visited Epirus Greece with kids?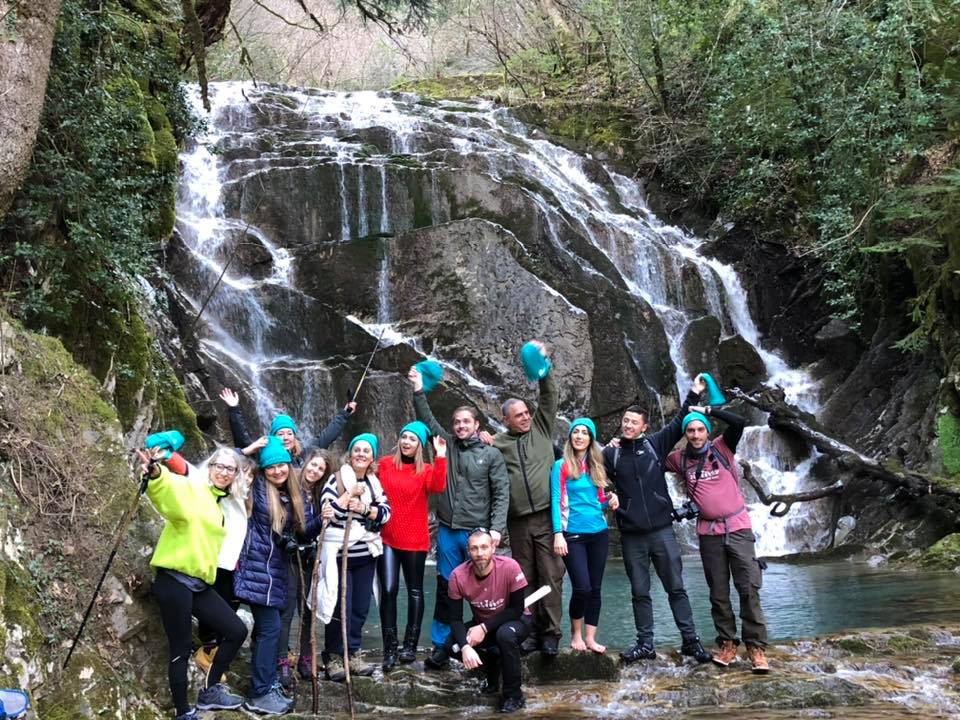 We were invited by Epirus Travel. As always, all thoughts and opinions expressed in this article are my own. A special thanks to Melita from Anthomeli ♥ who helped me to try, test and photograph the family activities in Epirus.