Last Updated on January 26, 2023 by Celeste.
If you are dreaming of a trip to the beautiful mountains of Greece, I have the ideal family hotel in Epirus! Rouista Tzoumerka Resort is more than a place to stay; the hotel provides a relaxing retreat for families with a welcoming vibe, beautiful scenery and kid-pleasing activities.
Family Hotel in Epirus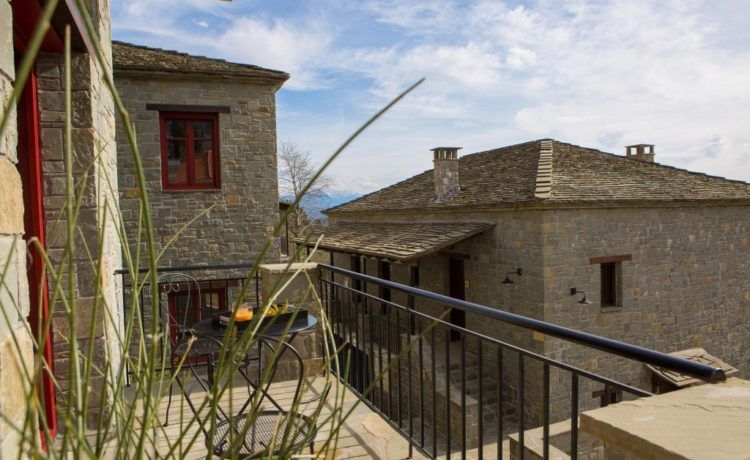 I visited Rouista Tzoumerka Resort at the beginning of 2020 as part of a trip around Epirus with Travel Bloggers Greece.
Click Epirus Greece with Kids for the story of our tried and tested travel experience in Epirus. Found out where to stay, what to do and how to get there with the family.
Rouista Tzoumerka Resort
This family hotel in Epirus is located in Southwest Greece in the heart of National Park of Tzoumerka, Peristeri and Arachthos Gorge, which is part of the EU-funded Europarc Federation for sustainable tourism in protected areas.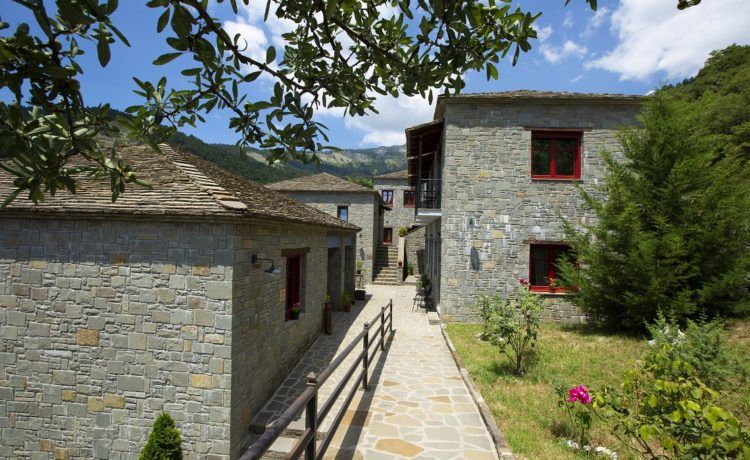 Rouista Tzoumerka Resort is a hotel with stone wall buildings, where local traditional architecture predominates. It combines Greek nature, modern comfort, family activities, enchanting wilderness and the unique beauty of the Tzoumerka Mountains.
Spacious and cozy rooms, with stone and wood elements, an outstanding homemade breakfast with local products, kids activities and spectular views caracterize Rouista Tzoumerka Resort.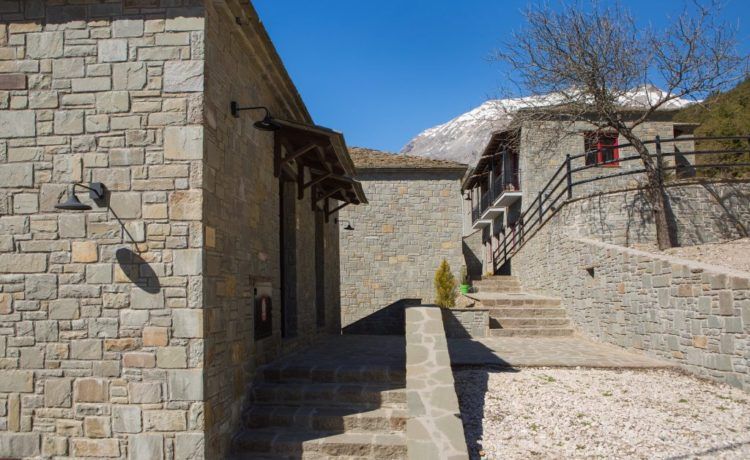 The young and active owners of this family hotel in Epirus, take on the role of the host and will gladly show you the majesty of the nature, its secret hikes and the famous hospitality of the area.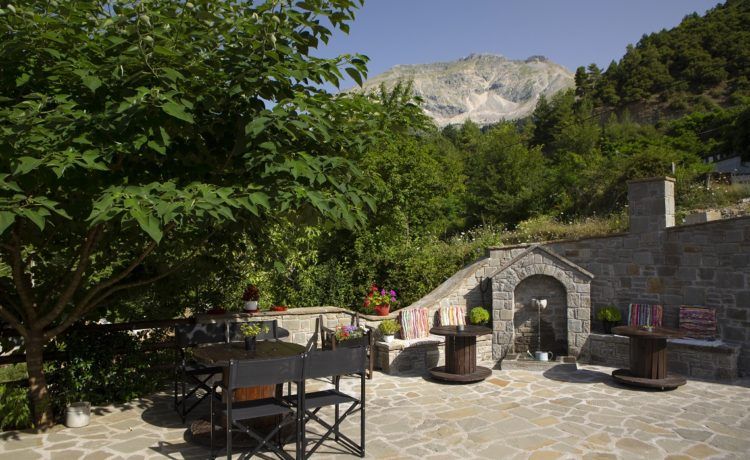 I met with Marina Tyrologou (co-owner of Rouista Tzoumerka Resort and mom of two young boys), and talked about this family hotel in Epirus and Greece with kids.
10 questions with Rouista Tzoumerka Resort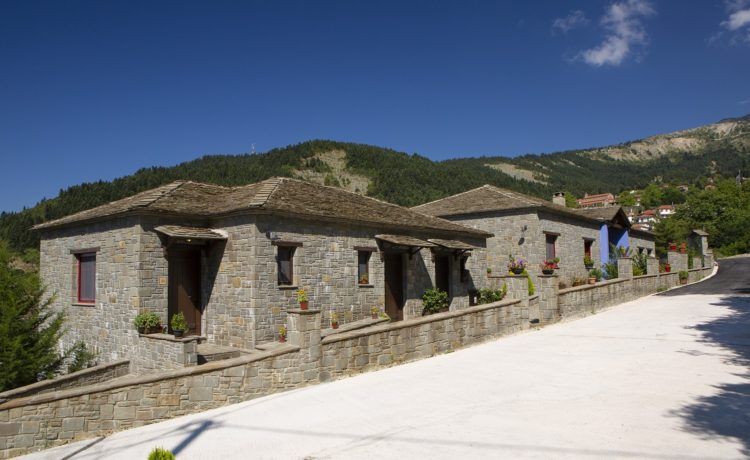 1. What characteristics make a hotel family-friendly?
I strongly believe that travelling with the whole family and especially with kids can be overwhelming and you need to be prepared with essential tips. So, when it comes to choosing a hotel one of the most difficult things is to find a hotel with family-friendly characteristics.
In my opinion and based on personal experience, the most important characteristic is the family room. It must provide comfortable hospitality, privacy for the parents, quality service, cleanliness and carefree vacations.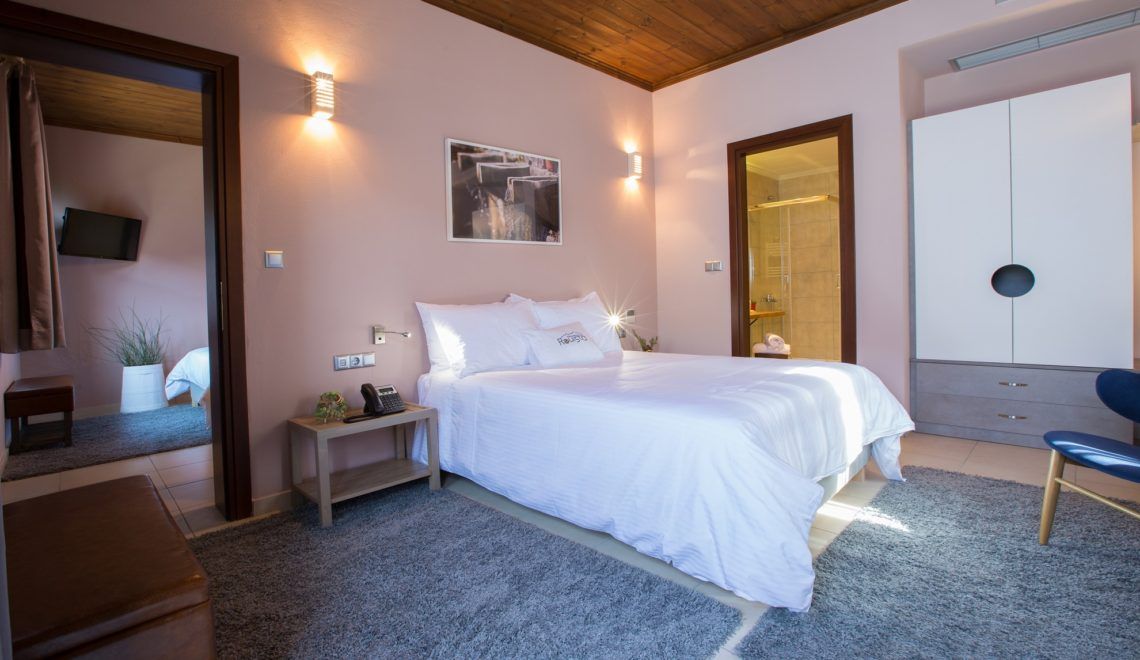 Another is the family activities. It is very important to provide some entertainment for the kids so they can feel free, have fun and of course, it will be something to remember especially if the parents are also participating.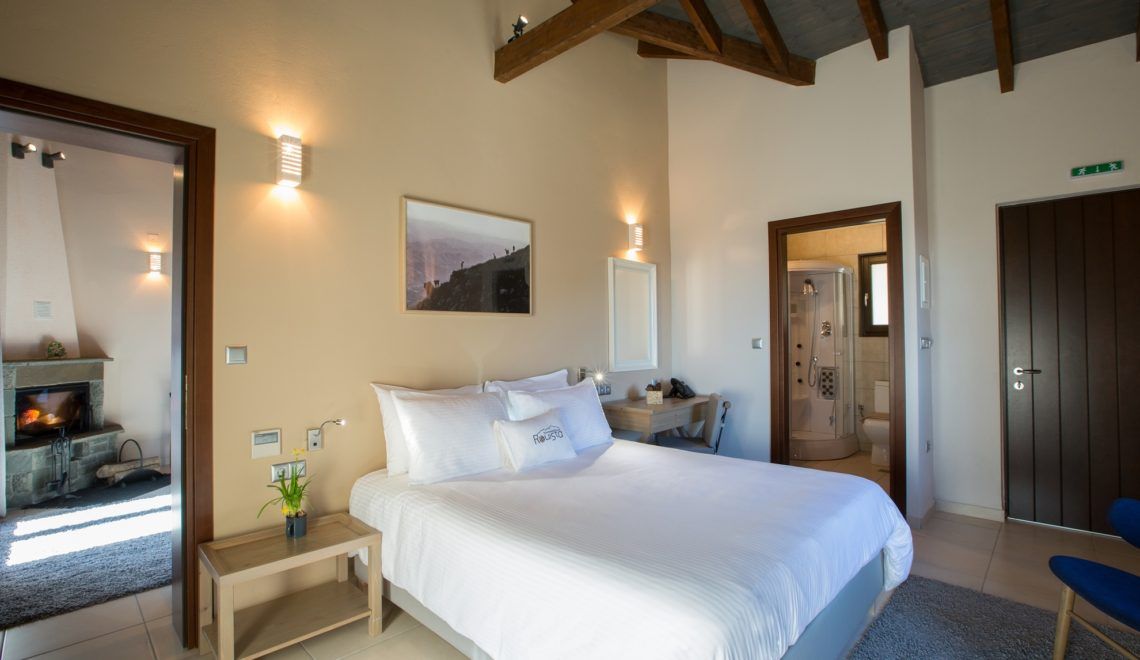 Last but not least is the friendliness of the staff. Every parent wants to feel safe, get special attention and receive sincere smiles. For me, it's very important to feel comfortable and to feel part of a family, rather than feeling just another visitor.
2. Is Greece a family friendly country?
Yes, Greece is definitely a family-friendly country, with many family destinations to choose. It is a safe country with warm hospitality and it is the ideal destination for all-year holidays. Greece combines literally everything!
From islands with amazing beaches to mountainous areas and picturesque traditional villages. From the big cities to the countryside. You can find outdoor activities, archaeological spaces, landscapes,ski resort centres. Anything so you can adapt to your child's age or needs.
And don't forget that the sun in Greece never stops shining even in the winter time and Greeks are always polite and helpful with the children.
3. Why should families spend their vacation in Epirus?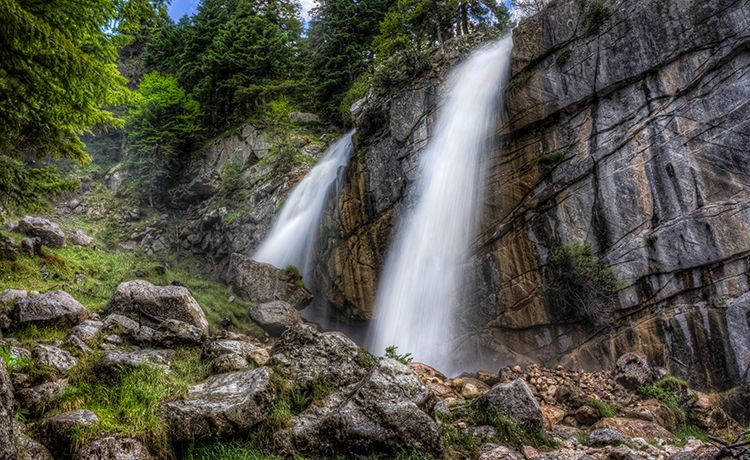 Greece's mainland is a secret treasure that you need to explore! Epirus motto is: the world's smallest continent. If you visit Epirus, you will understand the reason!
In a relatively small area, you can enjoy amazing and different experiences all year long and combine anything! From the forests of the Pindus mountains to the Ionian sea, from beautiful sandy beaches to traditional villages, from famous and other lesser-known villages to mountaintop lakes, waterfalls, ski centres and national parks, historical old monuments, dozens of medieval castles, arched bridges etc.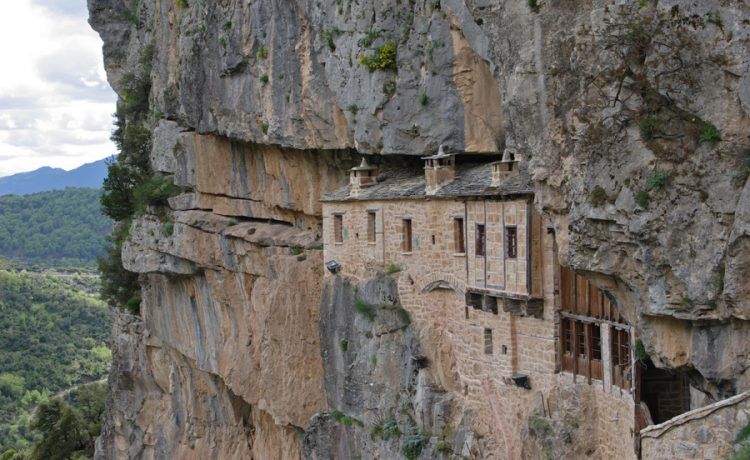 There is always something to see and to do in this hidden side of Greece! And don't forget that in Epirus region you will find a plethora of activities, outdoor and beach fun since it is considered as an ideal place for all kinds of alternative tourism and I must not forget to mention the delicious tasting food!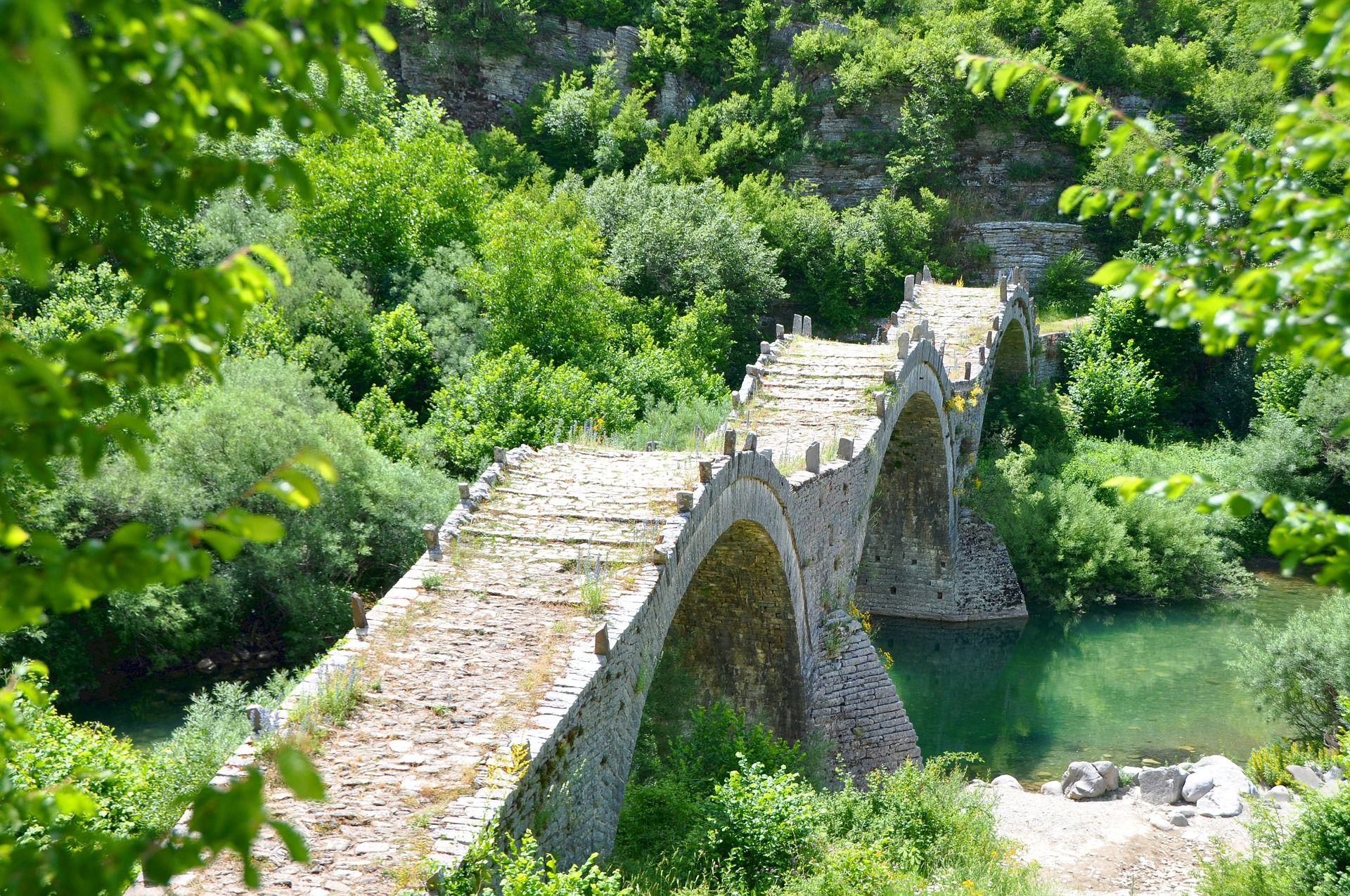 4. How do you define family-friendliness in your hotel?
First of all, our hotel is a family business. As a family, we know the needs of a family and it is our priority to do the best for our guests and especially for our small friends!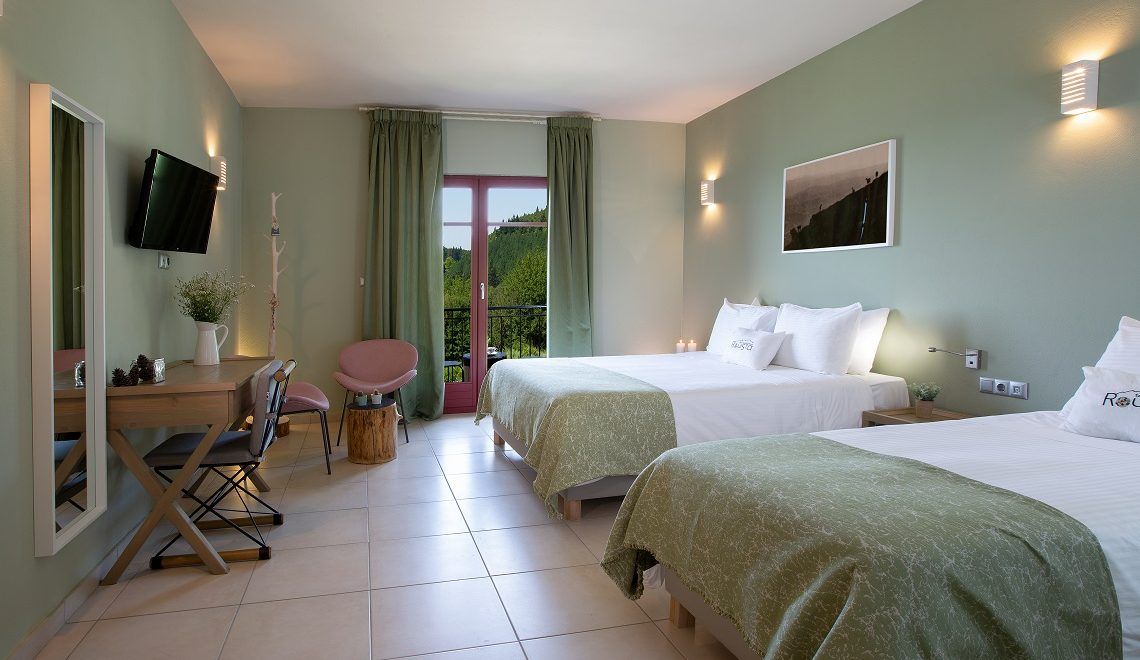 During the hotel's construction, we chose to create some rooms especially for families, even up to 6 people. Known as our family rooms, with comfort and privacy they have everything you need for carefree and memorable vacations, either if you count a few months of life or a few decades!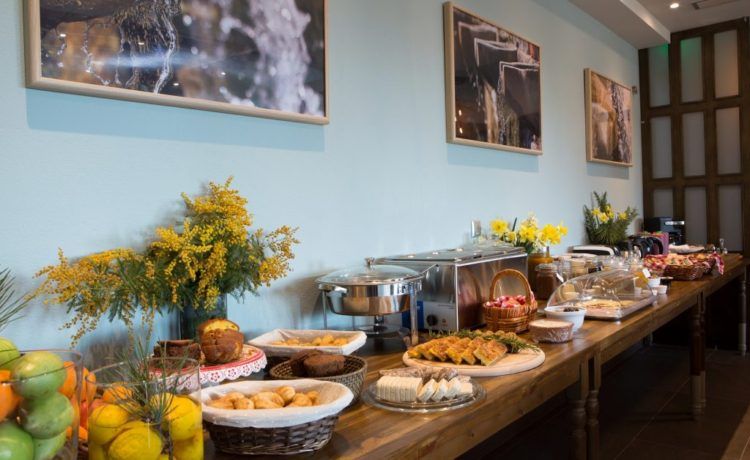 In Rouista Tzoumerka Resort you will enjoy a truly local Greek family kid-friendly breakfast, enriched with homemade savory pies (pitas in Greek), jams and preserves made with fruit from the garden, local cheeses, mountain yogurt, traditional trahana soup and much more, mostly prepared by my mother.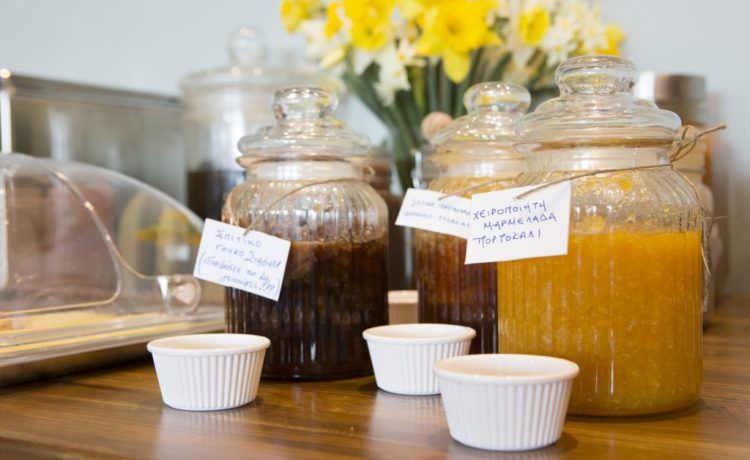 Rouista's team creates experiential stays for families, outdoor activities close to the hotel and special events in order to spend unique moments as a family. We believe that one of the most important things during a visitors stay is the friendly and helpful staff. That's why apart from the staff, we (the owners) take on the role of the host.
5. What do you offer for Multi Generation Travel?
Tzoumerka and our hotel are great for explorations and mini-escapes. Through experiential activities and different kind of experiences, the entire family can share challenging adventures and quality fun time. Our team offers the local culture, history, tradition and cuisine of the area, so each member of the family will be satisfied.
For the 10+1 best outdoor activities in Epirus, Greece with kids, please click here.
6. What do kids and parents love in your hotel?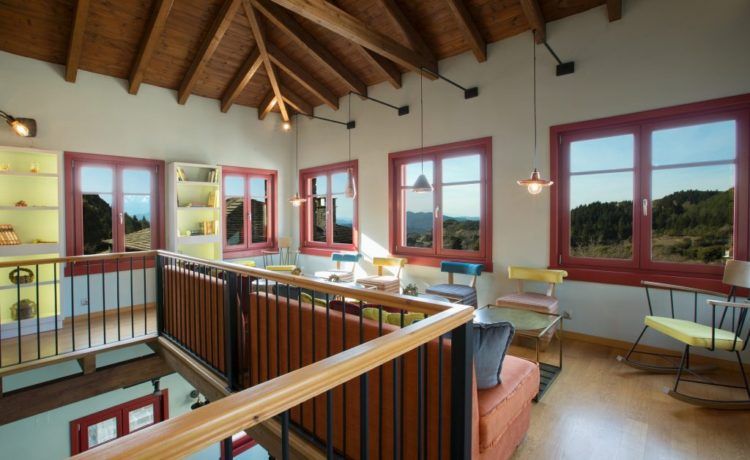 On arrival at our hotel a little surprise is waiting for the guests and specially our little friends!
Rouista's team has created a treasure map with the attractions of the village and hidden gems of Tzoumerka area. This is how kids can explore the area, they love it! AND, the kids motivate the parents to visit as much as more sights!
7. What are three fun facts about the hotel that many are surprised to learn?
At Rouista Tzoumerka Resort we love to organize special secret events and surprises for our guests. It is wonderful to see enthusiastic participation and happy faces all over! Last Christmas, Santa Claus passed by all rooms to distribute invitations for a secret event. What was this all about? Through joyful melodies and a warm atmosphere, Santa and Mrs. Martha, a wellness guru, welcomed the guests through laughter yoga! We had so much fun getting closer to our kids and playing together. We left all our thoughts and concerns behind and focussed on joy and laughter. It was an unforgettable experience!
We often organize hiking trips for our guests to unknown nearby destinations. It is like a field trip! Imagine, inside the forest, someone will be handing out handmade pies handmade by Rouista's mom!
We connect these experiences to a cooking lesson.
Rouista's team is also maintaining some of the old paths in the area. We often ask guests to join us building a wooden bridge or swimming pool, even for the construction of a cobbled road! And this becomes an amazing, fun and such a creative experience with strong connections for all!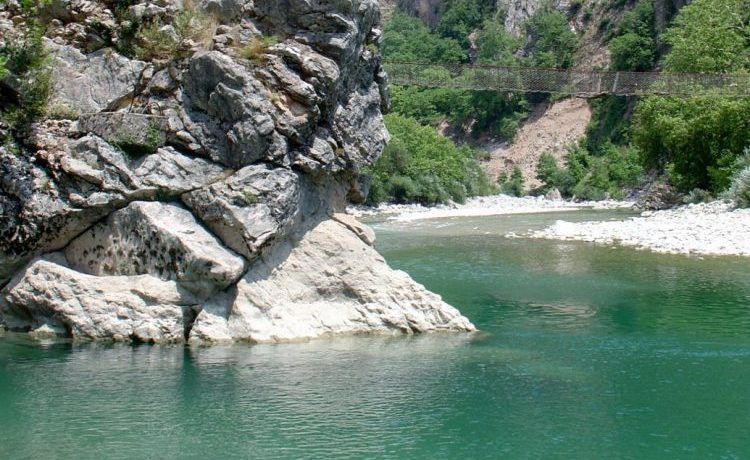 Small wonders of Mother Nature are scattered throughout the region of Tzoumerka. One of them, unknown even to some of the locals, is the "Rema Marks" aka stream of Paradise. A spot of rare, wild beauty, with small waterfalls that create green ponds, taking our breaths away! The sight is breathtaking and during the summer months, a dive into the cold waters is a must. A truly unique scenery that astounds visitors of all ages.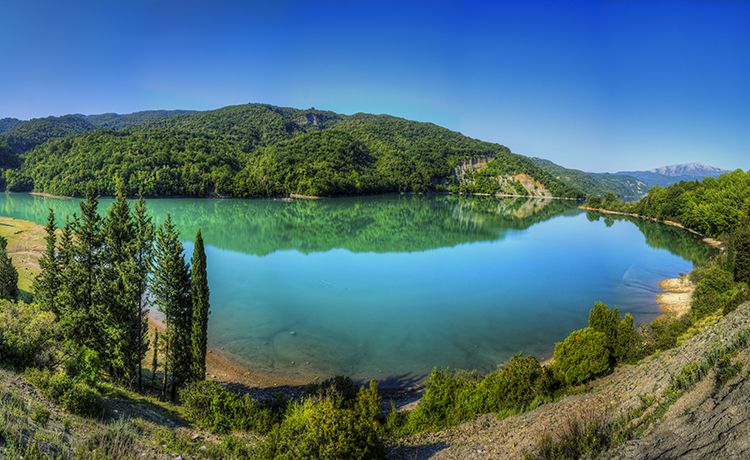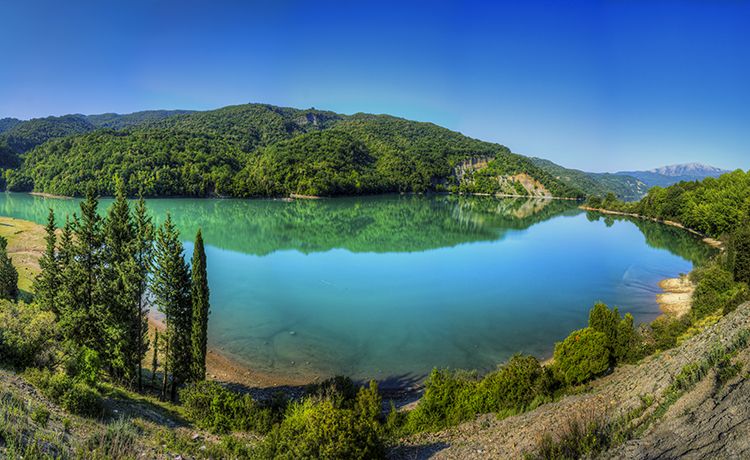 Another hidden gem is Acheloos Beach! Vacations at the mountains usually connote nature, traditional villages and unique pathways…. not beaches. The Acheloos river though, the second-longest Greek river hides quite a few surprises making the Tzoumerka area an ideal destination for summer as well. The beach lies underneath the impressive hanging bridge in an idyllic, virgin setting in a dense forest. Find crystal waters, mud baths and natural spas here, a hidden diamond that was reached, until recently, only with the aid of the locals.
Visit the T.A.C. (Tzoumerka Activities Center). Here you can enjoy outdoor activities such as archery, climbing, mountaineering even canyoning! The center also has a climbing hall, a fitness room, a ping pong room, as well as a canteen where you can also enjoy your coffee. All this under the guidance of experienced trainers.
Or experience Canoe/ Kayak at Lake Pournari. This artificial lake is created by the Arachthos River. The most amazing is that when the dam is open and the lake level has fallen, the old houses come to light. So, you can do Canoe Kayak through the old school or even literally touch the stone build old town hall!
10. What does your family love most about Epirus?
It is difficult to choose what we love most about Epirus. The most wonderful of Epirus is the location! The combination of impressive mountains and charming seaside, the cities and the villages and all this in a short distance between them, makes it ideal place to live!
Thank you, Marina, I cannot wait to visit your lovely resort again!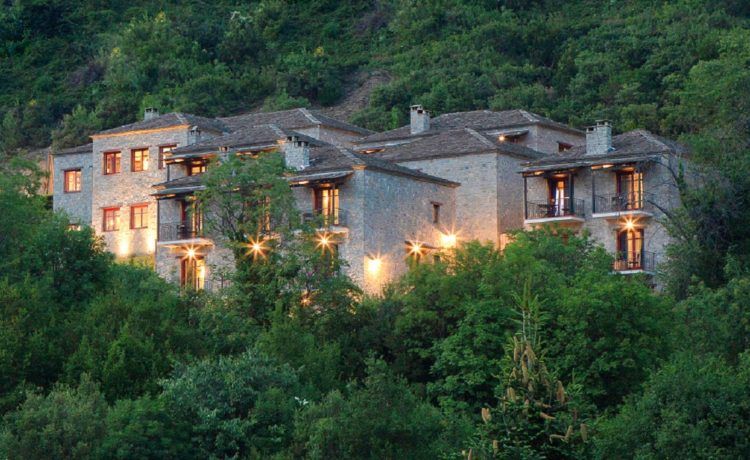 Other recommended family hotels in Epirus
Archontiko Zarkada Hotel, Zagori
Our base in Zagori was Archontiko Zarkada hotel. This traditional hotel has unique colorful rooms with beautifully decorated wooden ceilings and windows and a fireplace. The largest family room sleeps 4 people. Outside is space for kids to play and the hotel also features an outdoor swimming pool for summer vacations. Great for excursions in the area.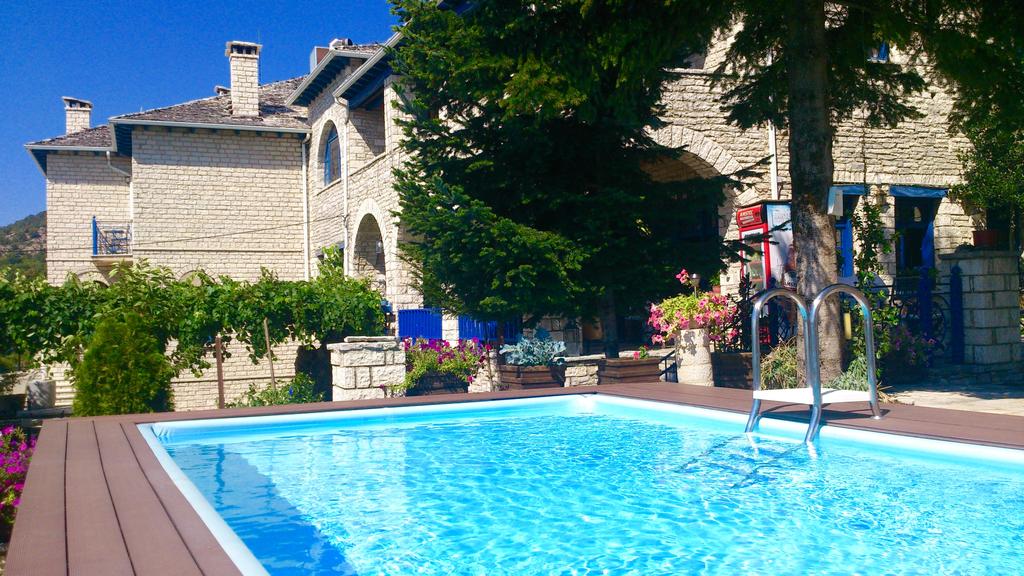 For more information about this hotel in Zagori, please click here.
Hotel Kassaros, Metsovo
Hotel Kassaros is a traditional family-friendly hike & bike hotel at 50 m from the central square of Metsovo. It is decorated in typical Metsovo style. Besides a priceless view, this traditionally-styled hotel features family rooms and organizes hike and bike trips in Metsovo.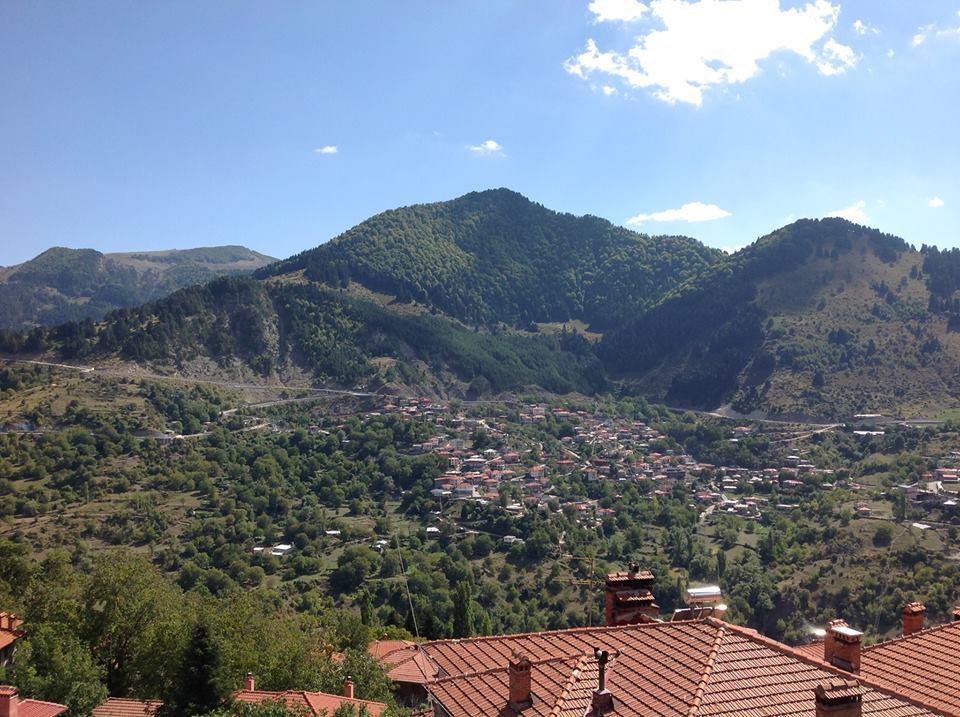 For more information about this hotel in Metsovo, please click here.
Kamares Boutique Hotel & Spa, Ioannina
Boutique hotel Kamares is one of the most beautiful boutique hotels I have stayed at recently. The hotel resembles a small museum with 9 suites, 3 suitable for families. The beautifully decorated rooms, each with the name of an important regional figure, are a testimony to the city's past of opulence. Modern materials were used to refurbish the century-old building to create a clean, sleek atmosphere but with respect for its interesting past.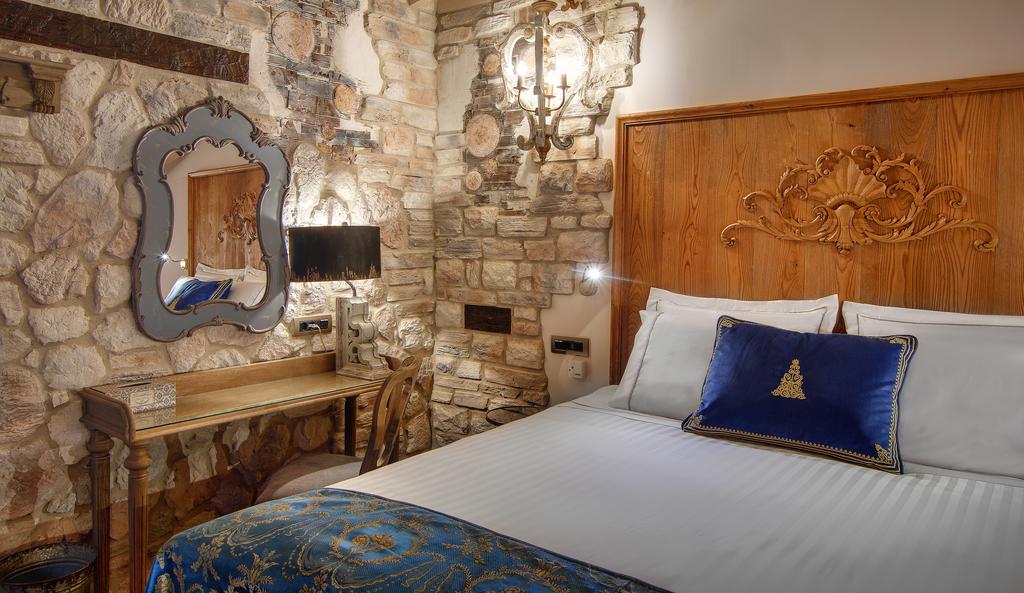 For more information about this hotel in Ioannina, please click here.
Hotel Archontariki, Ioannina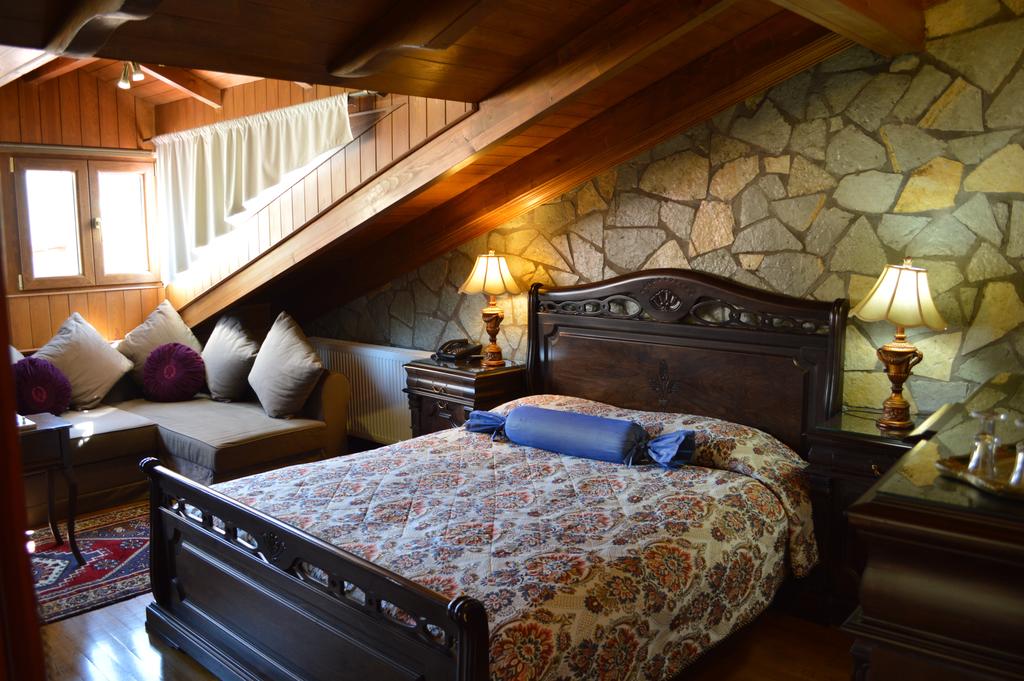 Hotel Archontariki is a family-friendly 4 * traditionally decorated boutique hotel with unique hospitality and 6 beautifully decorated rooms. These rooms do not have numbers but carry a Greek name. "Because our guests are not numbers but part of our family" explained our kind hostess. At a great location for exploring the town of Ioannina.
For more information about this hotel in Ioannina, please click here.
Featured photos at 10 questions with… © Rouista Tzoumerka Resort