Last Updated on July 7, 2023 by Celeste.
When you book your family vacations, do you intentionally create moments of play? After 3 months full of travel, new destinations and writing reviews, it was great to end the summer vacation relaxing together in a place where everything was taken care off. As a family travel writer, I am often working at the resorts that we visit and the majority of the time taking photographs or making notes.
When we received the invite from Miramare Hotel Eretria, I knew I would find the perfect balance of family fun and relaxation. All we needed were some good pools, water slides, a kids club, and home-cooked food. We visited at the end of August 2019 and we were accompanied by some great friends, all with kids from 1 until 12 years old.
Sitting under an olive tree beside the pool, I was enjoying the sensation of the wet swimsuit sticking to my skin, providing some fresh relief from the hot Greek sun. The weight of a damp, fluffy towel wrapped loosely around my legs and waist felt like the gentle anchor of being swaddled like a baby.
My left arm served as an armchair for my sweet seven-year-old girl, who reclined into me, completely still as if asleep. We were awake; we sat motionless listening to the summer songs playing from speakers at the pool bar while my 10-year-old was playing with her friends on the grassy field nearby.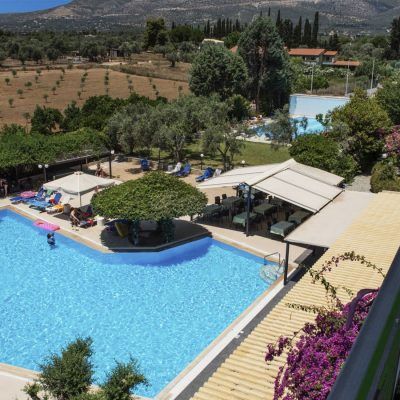 Location Miramare Hotel Eretria
Miramare Hotel Eretria is a 4 * family-run hotel located on the Greek island of Evia. We had been to the hotel in the past, before the opening of its water park. Being familiar with its services, we knew that this would be the ideal end of another long hot summer, and we were sure that it would be a comfortable journey to get there. The hotel is only an hour and a half away by car from Athens and Athens airport. We drove to Eretria over the New Chalkis bridge, a cable-stayed bridge over the Strait of Evripos Evia, near Chalkida. You can also take the ferry to Eretria from the port of Oropou.
Accommodation
Miramare Hotel is a popular choice for Greek families from Athens and from further away. The hotel has a casual and relaxing environment where you can immediately feel free and at home.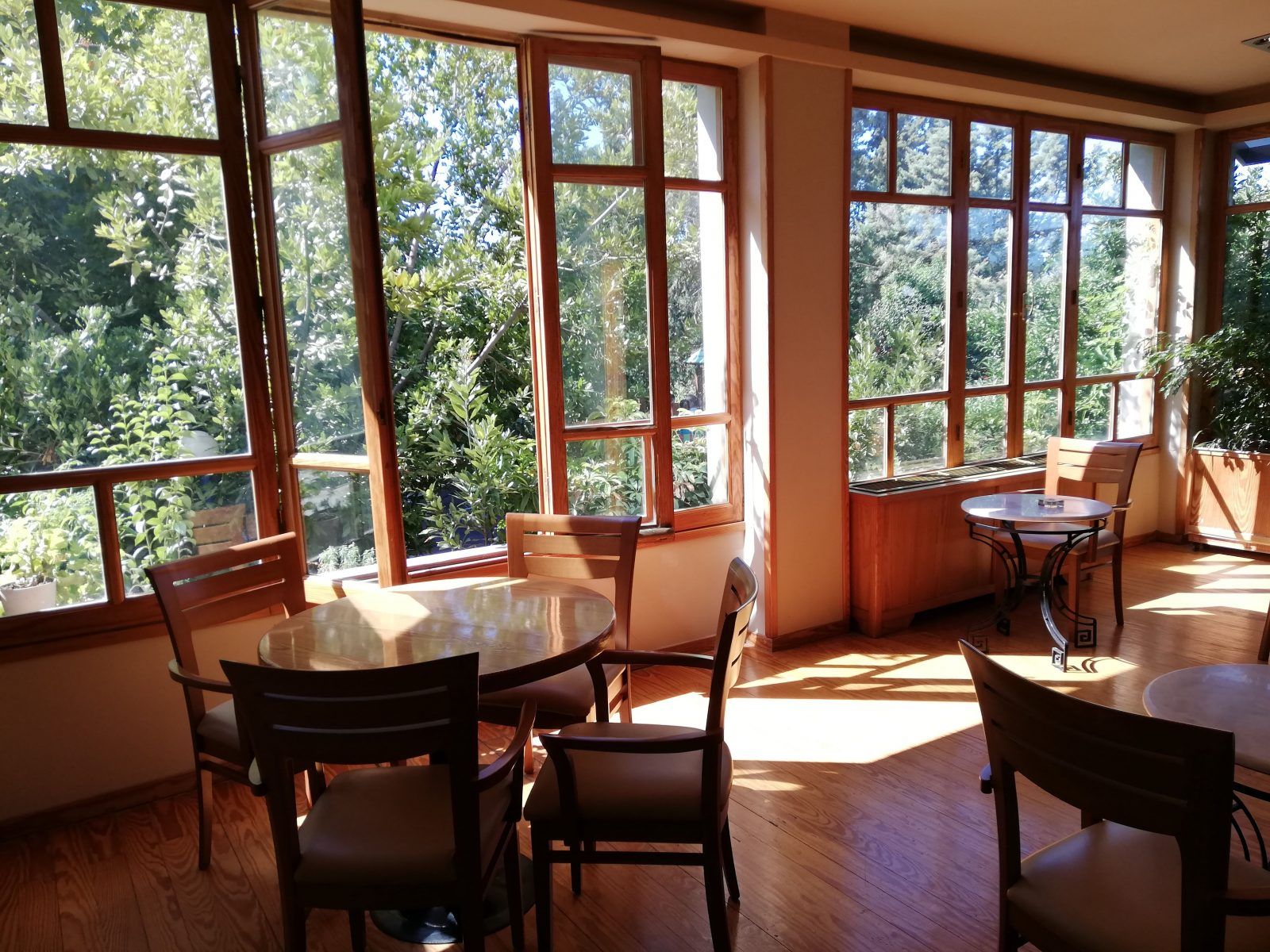 The rooms of Miramare Hotel are located in the central building and 4 annexes, built at beautiful gardens with plenty of vegetation and trees all around. The set-up of the buildings is such that most rooms have an angled view of the sea and plenty of sun for most parts of the day.
We stayed in a Deluxe room of about 50m2 with a King-size bed with excellent pillows and mattresses by COCO-Mat as well as a beautiful marble bathroom with a full-length marble washing area.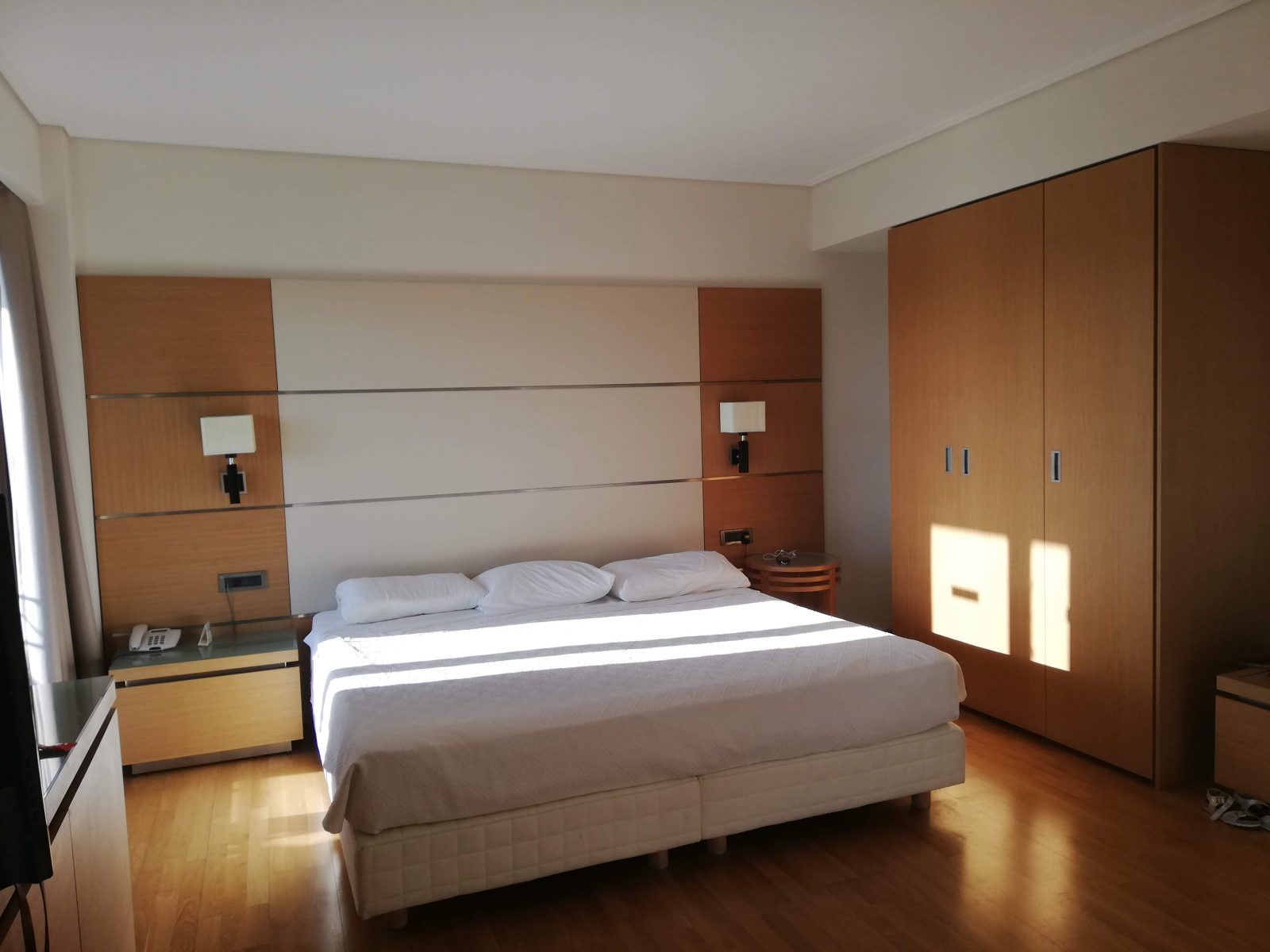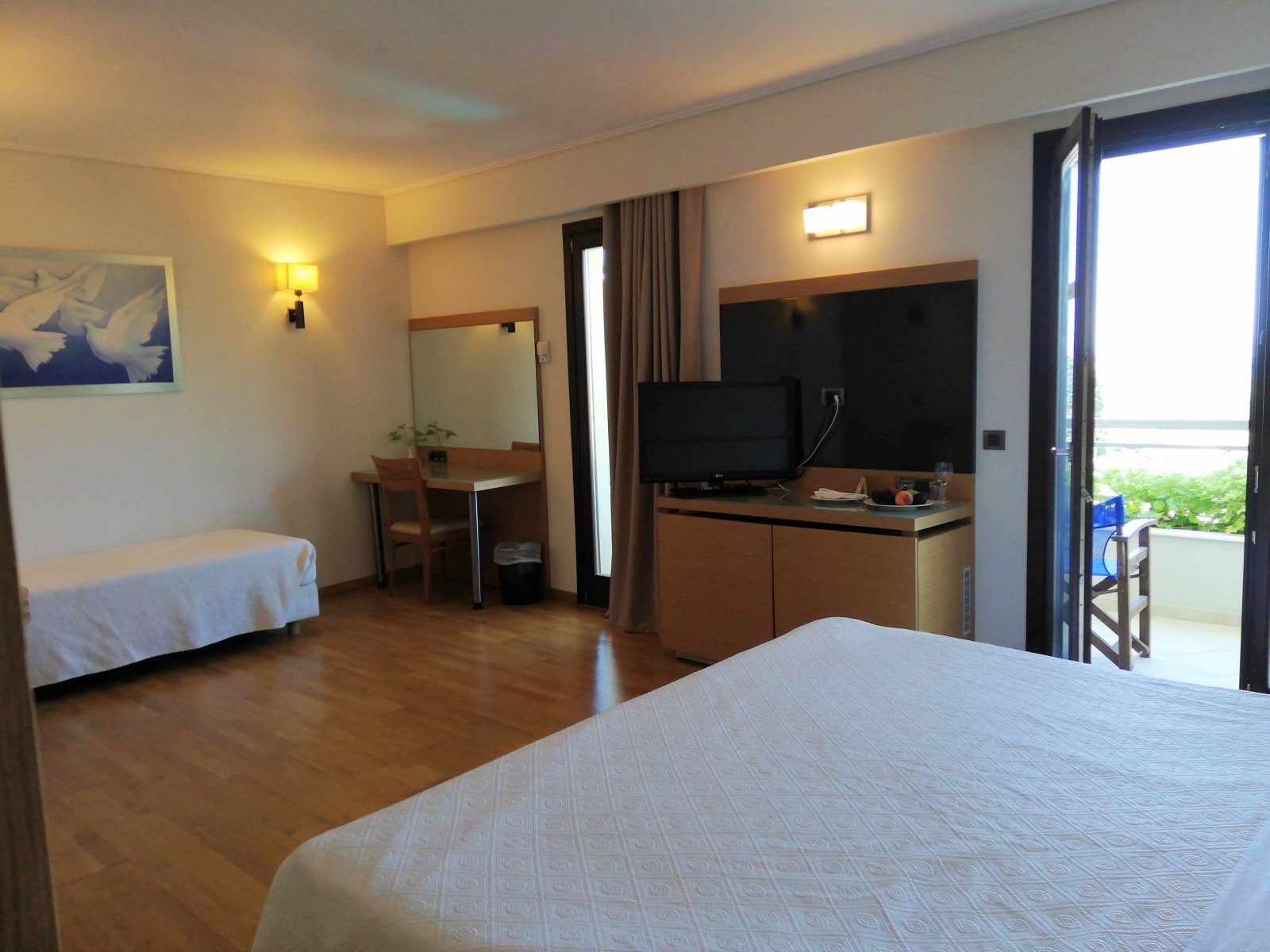 All rooms of the hotel are furnished with wood and natural materials, the floors and windows are also made of wood and all rooms feature marble bathrooms. For exact room styles, sizes and description, check out the website.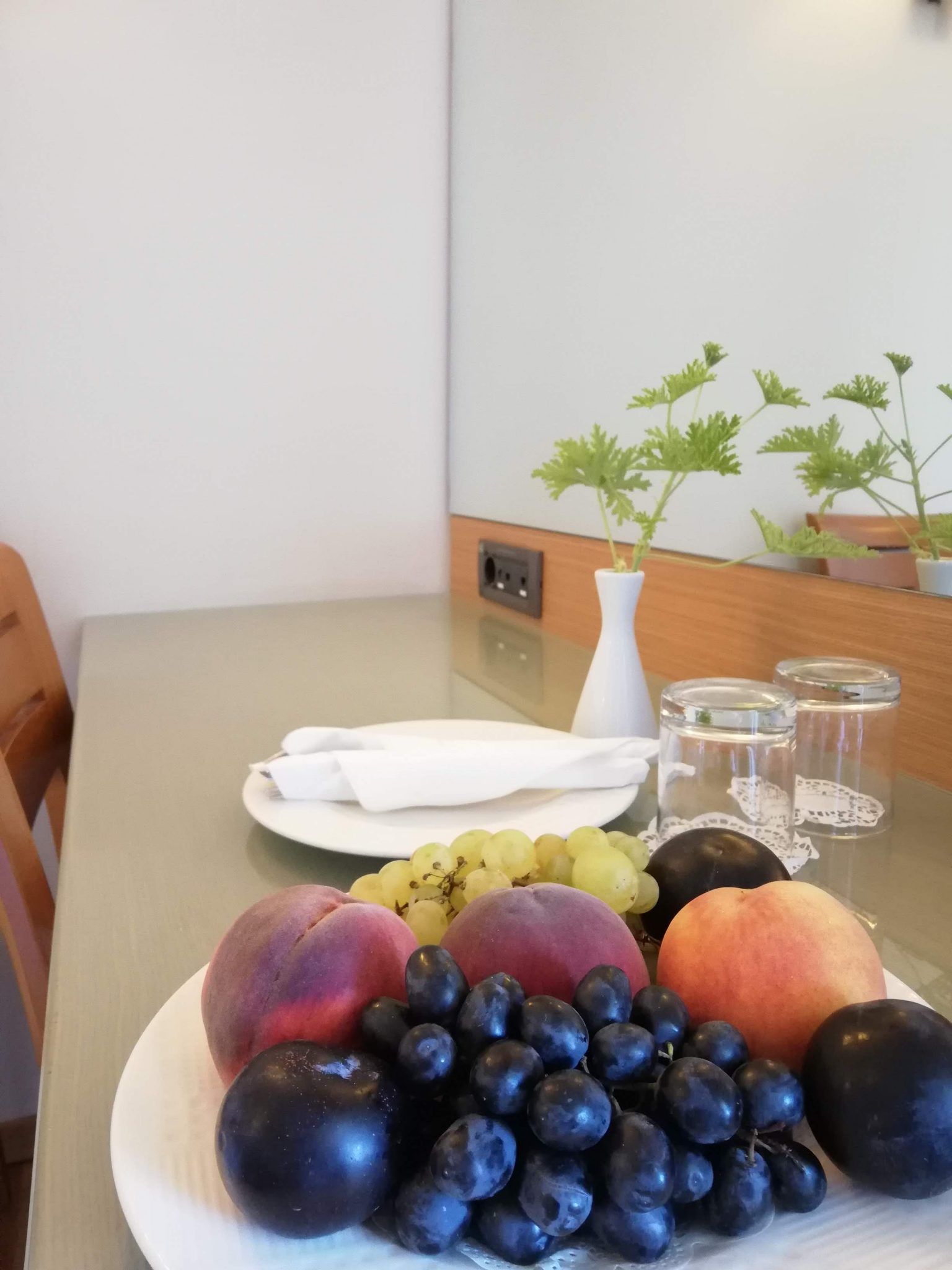 My friends stayed in rooms further away from the main hotel, in the so-called Green building, an eco-friendly building using technology and eco friendly materials in order to minimize energy loss and the energy footprint without compromising on comfort. It was inaugurated in 2013 and consists of 14 rooms and suites.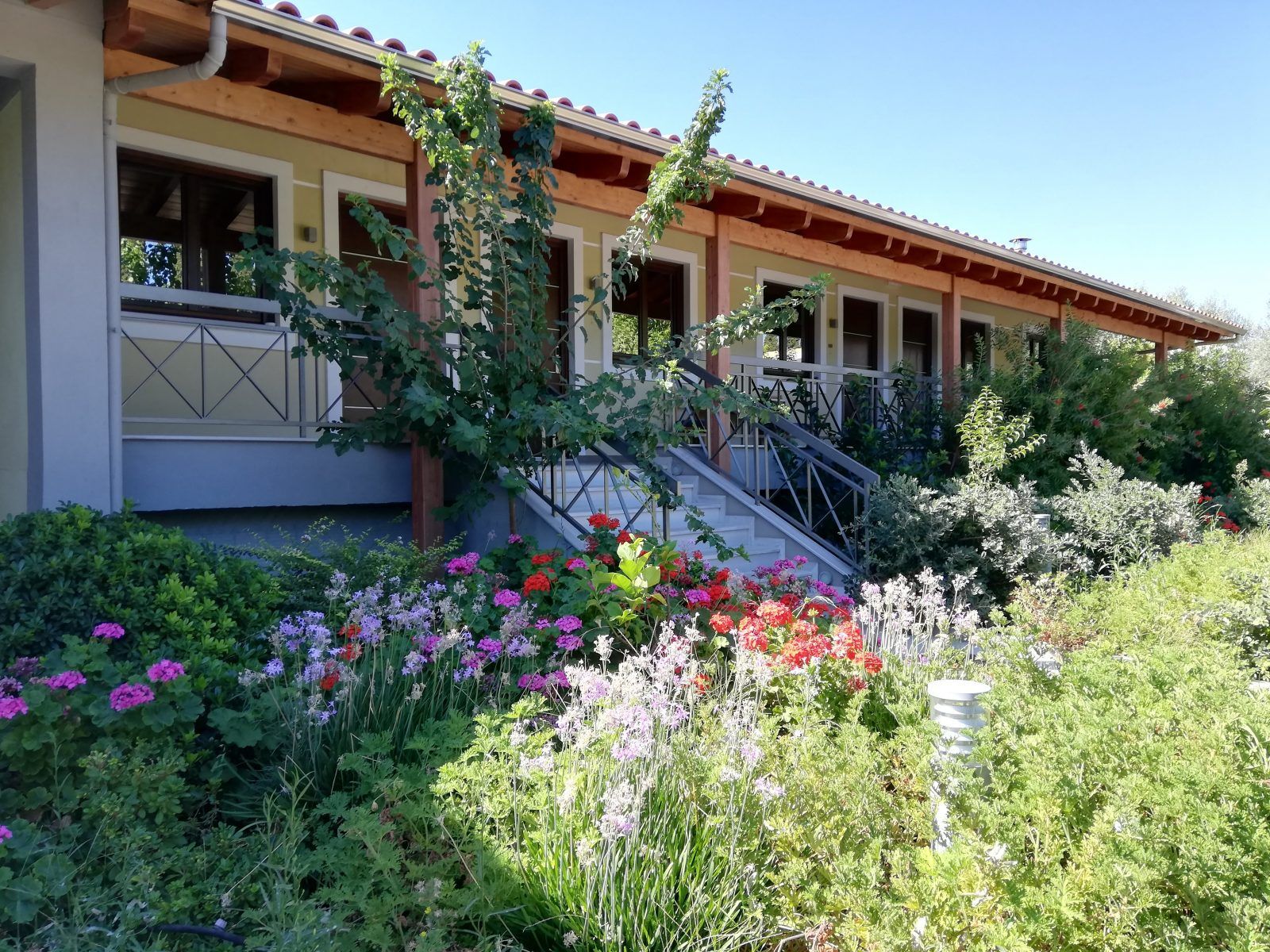 The rooms are more private and are surrounded by large green spaces, close to the sports courts and they have large rooms family rooms.
Some have their own porch and garden. This Green building is ideal for families with young children.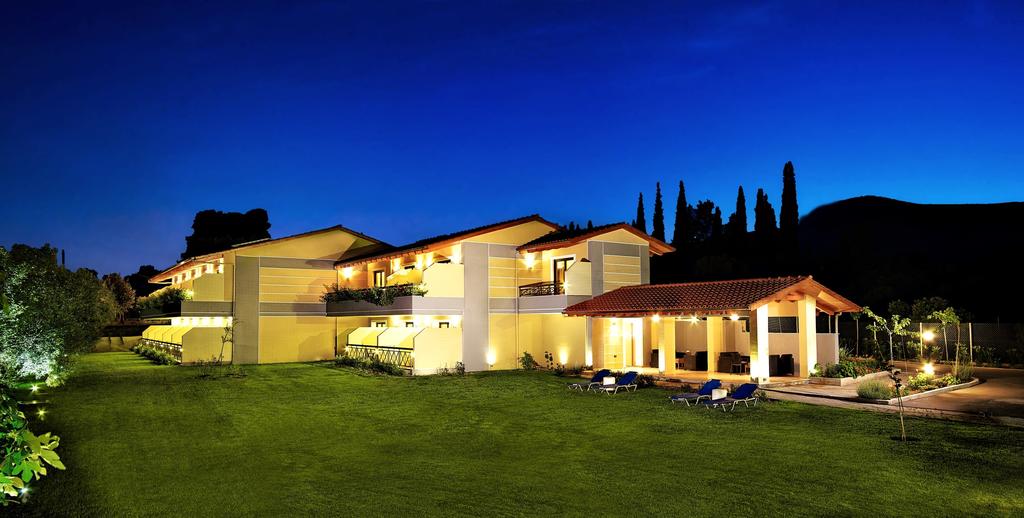 Water park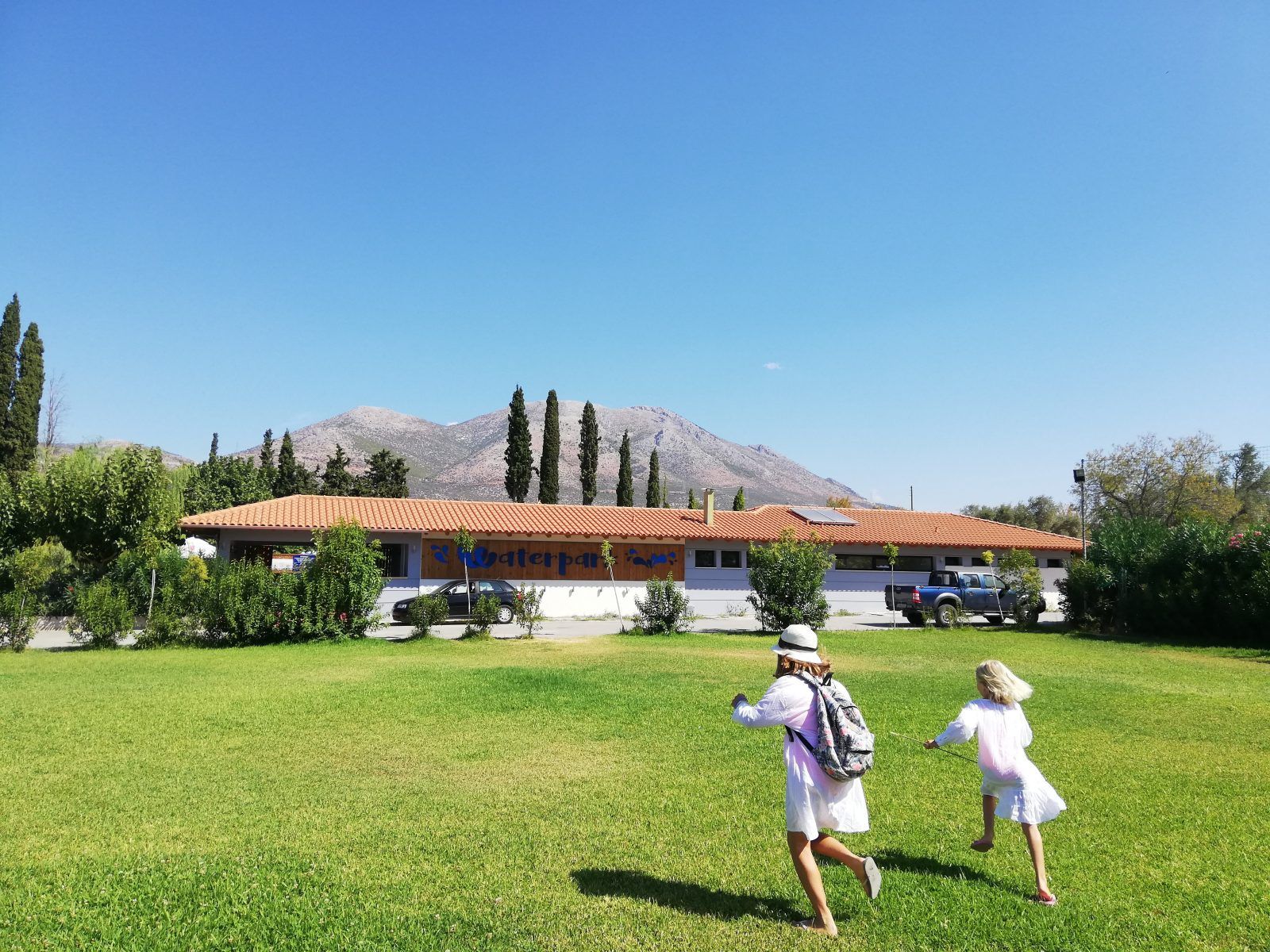 Located in a quiet area of the 22.000m2 private land and surrounded by mountains and tall cypress trees, the relatively new Miramare Water Park offers safe water games for young kids and even babies. Colourful waterslides, huge water buckets, water sprays and cute decor makes this an inviting kids paradise. Although full of kids, it never felt packed when we visited.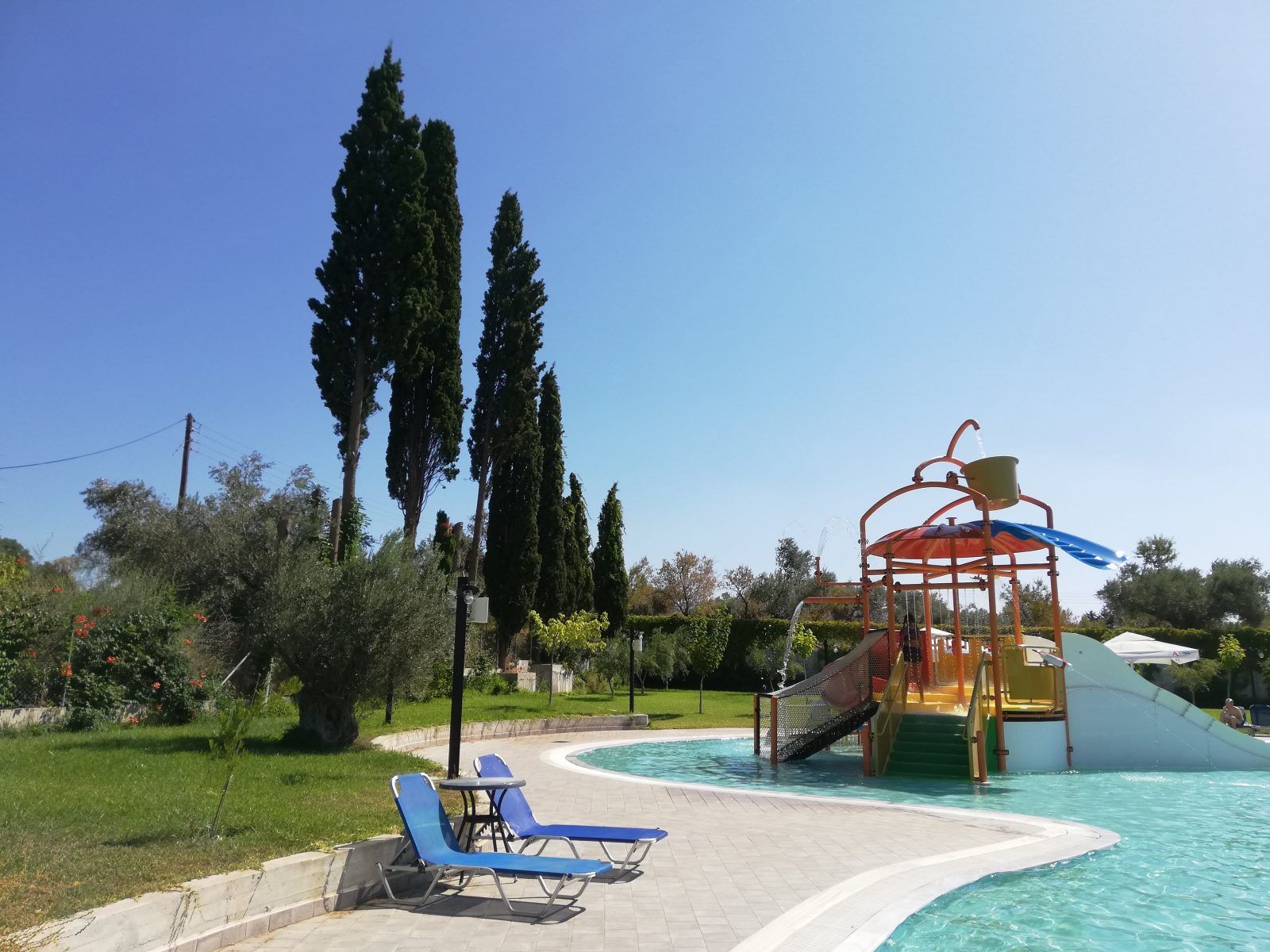 There is space for relaxation on sun loungers in the surrounding garden and there are snacks and refreshing drinks from the bar. The water park is open from 11:00 a.m. – 18:00 p.m. I found the staff and lifeguard responsible and secure and the facilities are safe and clean.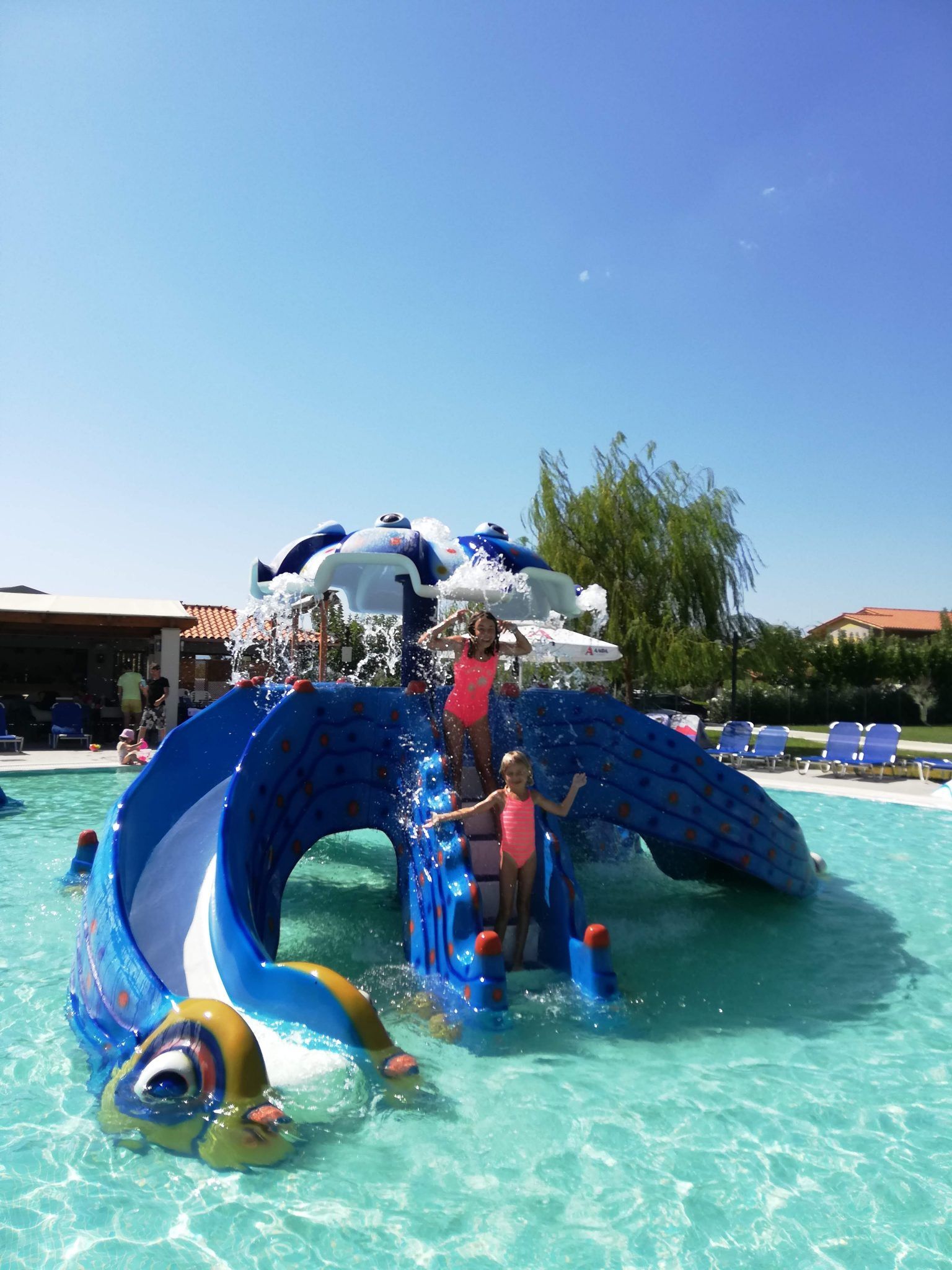 Visitors from outside of the hotel can also use the water park. During the week, children pay a 7 Euro entrance ticket, reduced to 5 Euro for 2 children. In weekends, the prices are 8 Euro and 7 Euro (for 2 kids). It's also possible to organize a kids party at the water park; birthday, name day, baptism, you name it!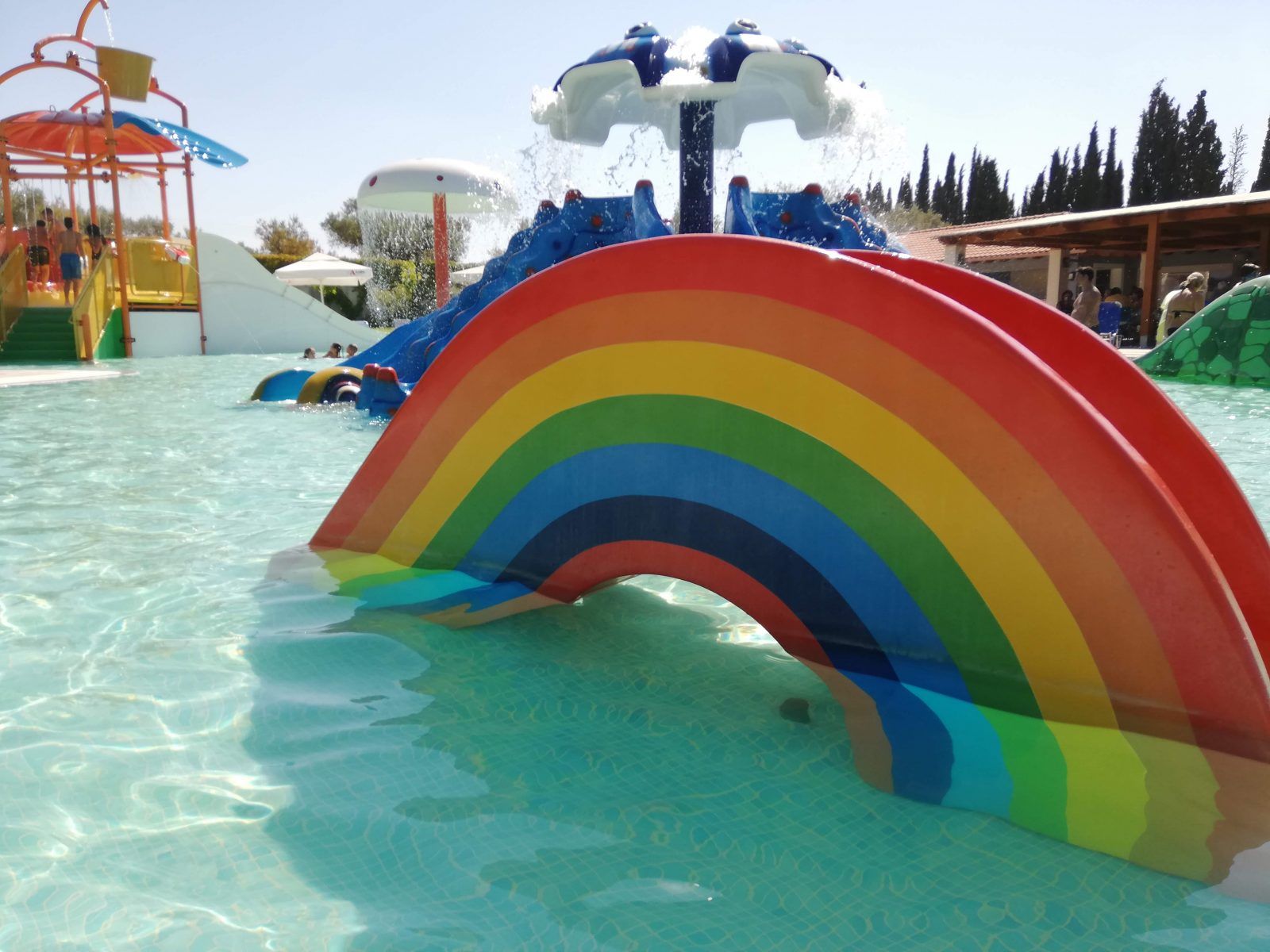 Play is such an important ingredient in happy family life, and especially during family vacations. I loved watching the little ones exploring the water with their parents at the Miramare Water park. With the absence of older children or teens, this place is great for some first-time water park exploring! There is also enough space for play around the pool, my kids loved the table tennis and table football games.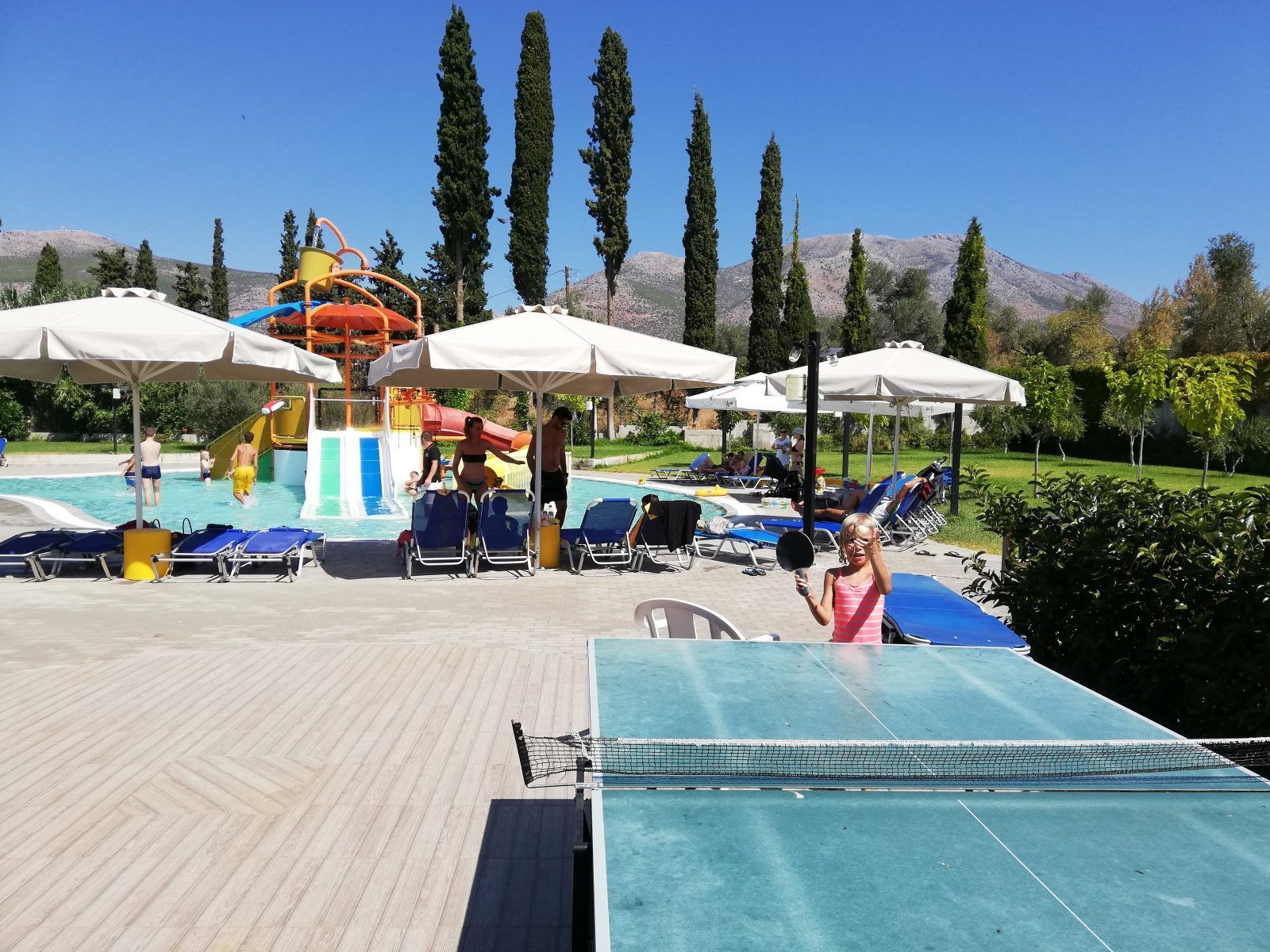 Family facilities
The size and set up of the Miramare property will make kids feel free. They will continuously enjoy themselves because there is lots to do, and they can move around safely by themselves.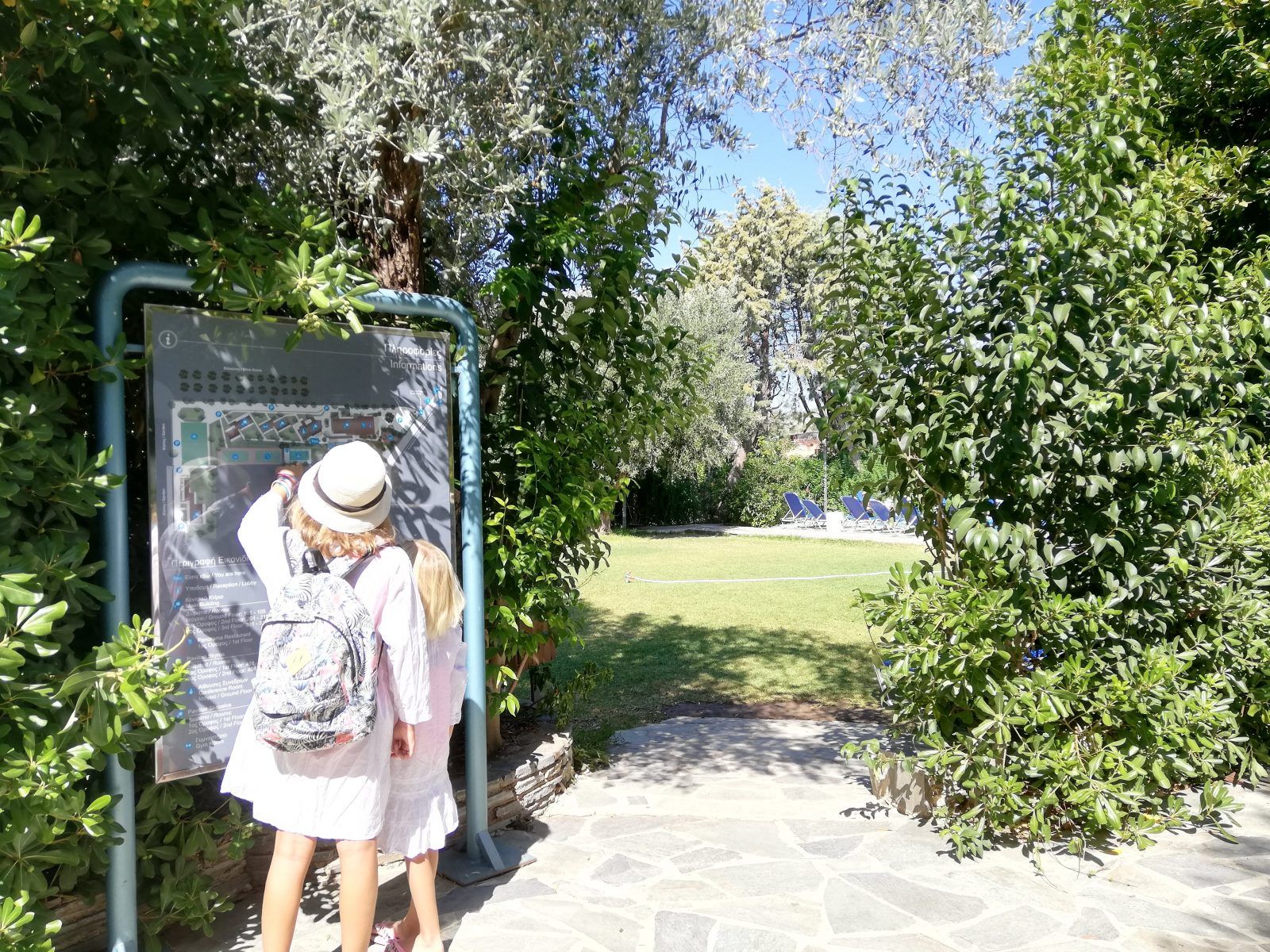 Besides the water park, there are two large outdoor freshwater swimming pools. The first pool is surrounded by a lawn with umbrellas and sun chairs amid colourful flowers, plants and olive trees.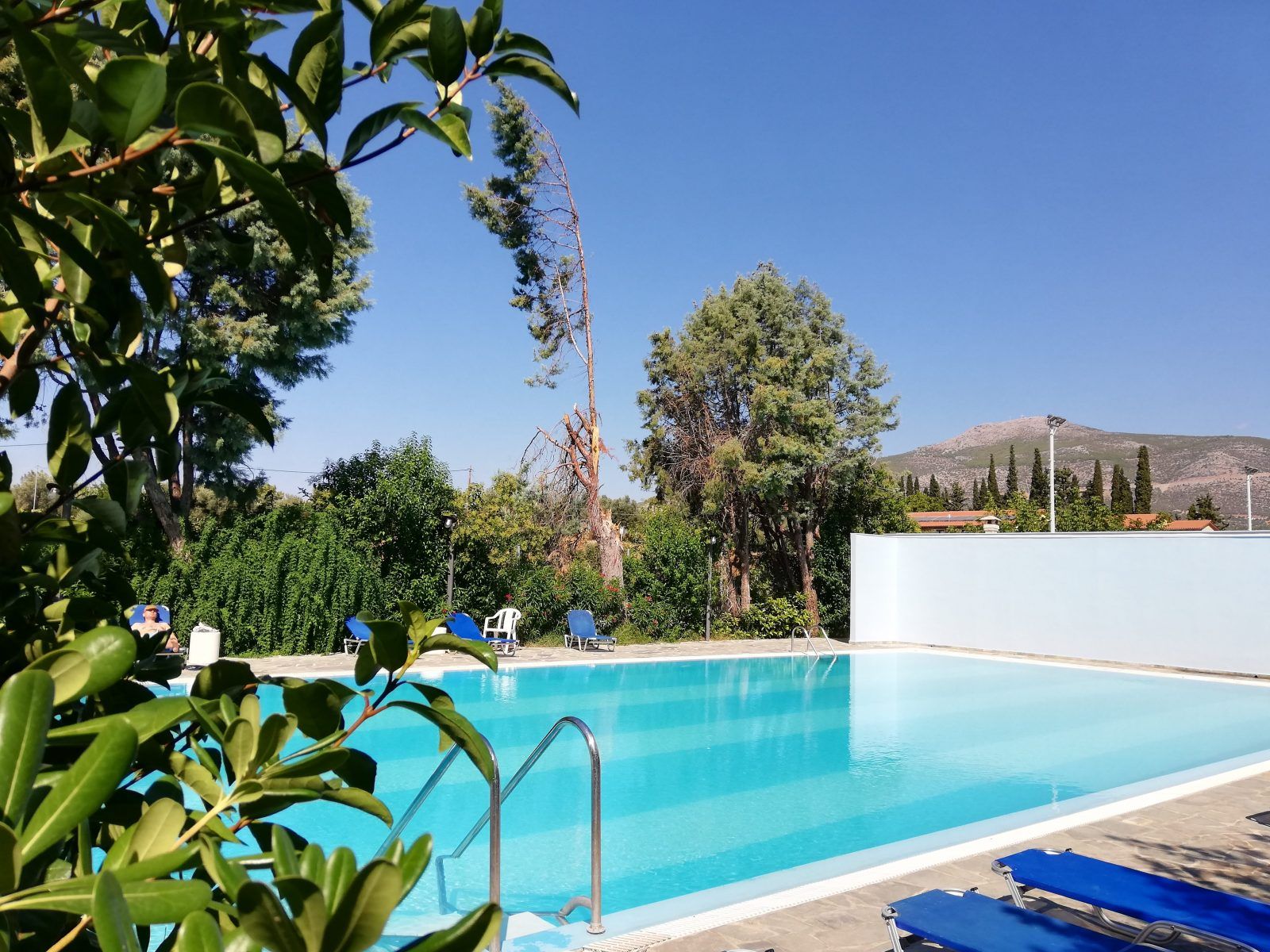 The second pool is surrounded by lounge corners and there is a pergola with tables for drinks or lunch.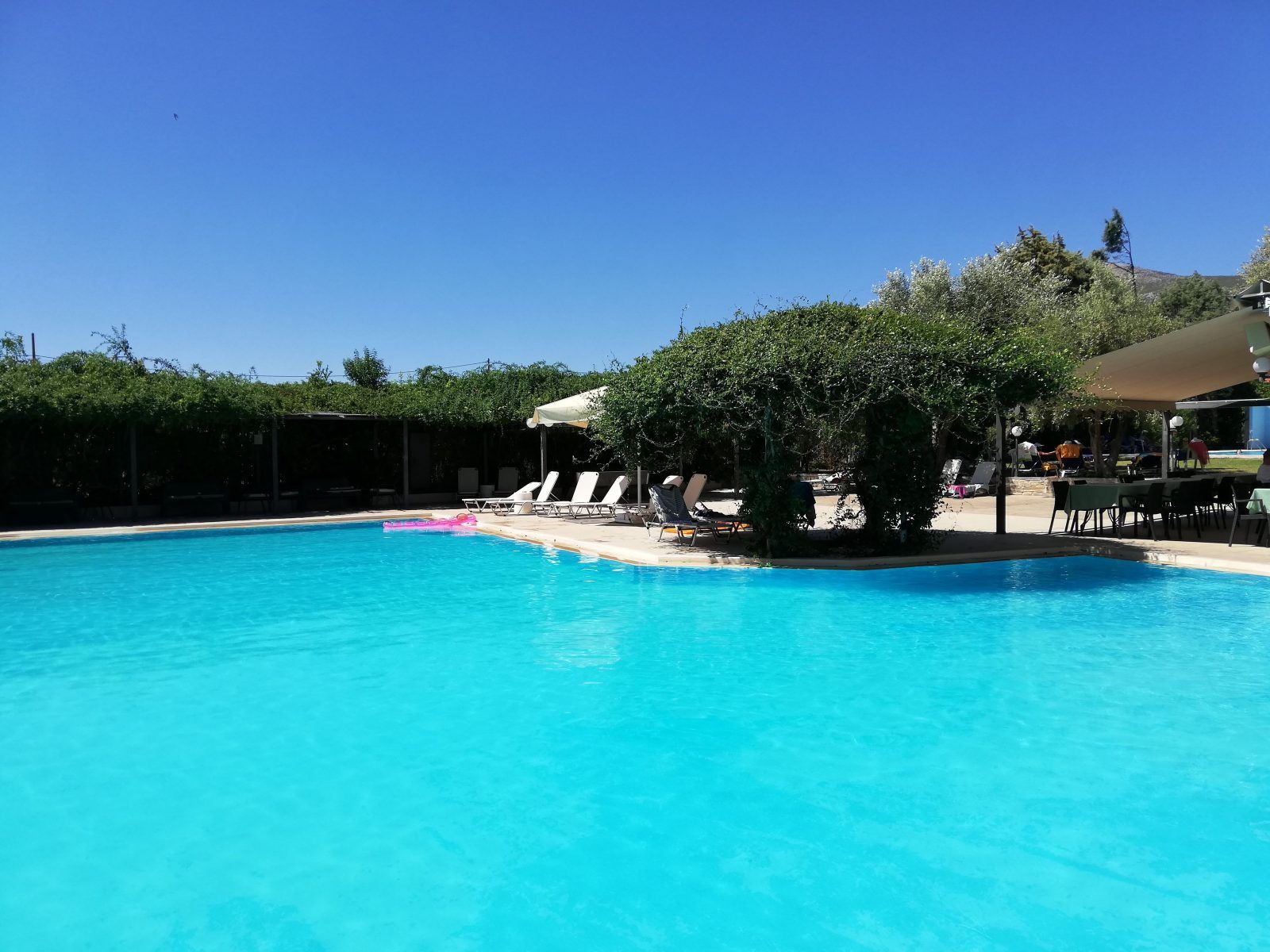 We had great fun at the pools. Miramare is a family hotel and people can enjoy themselves and splash around as much as they want!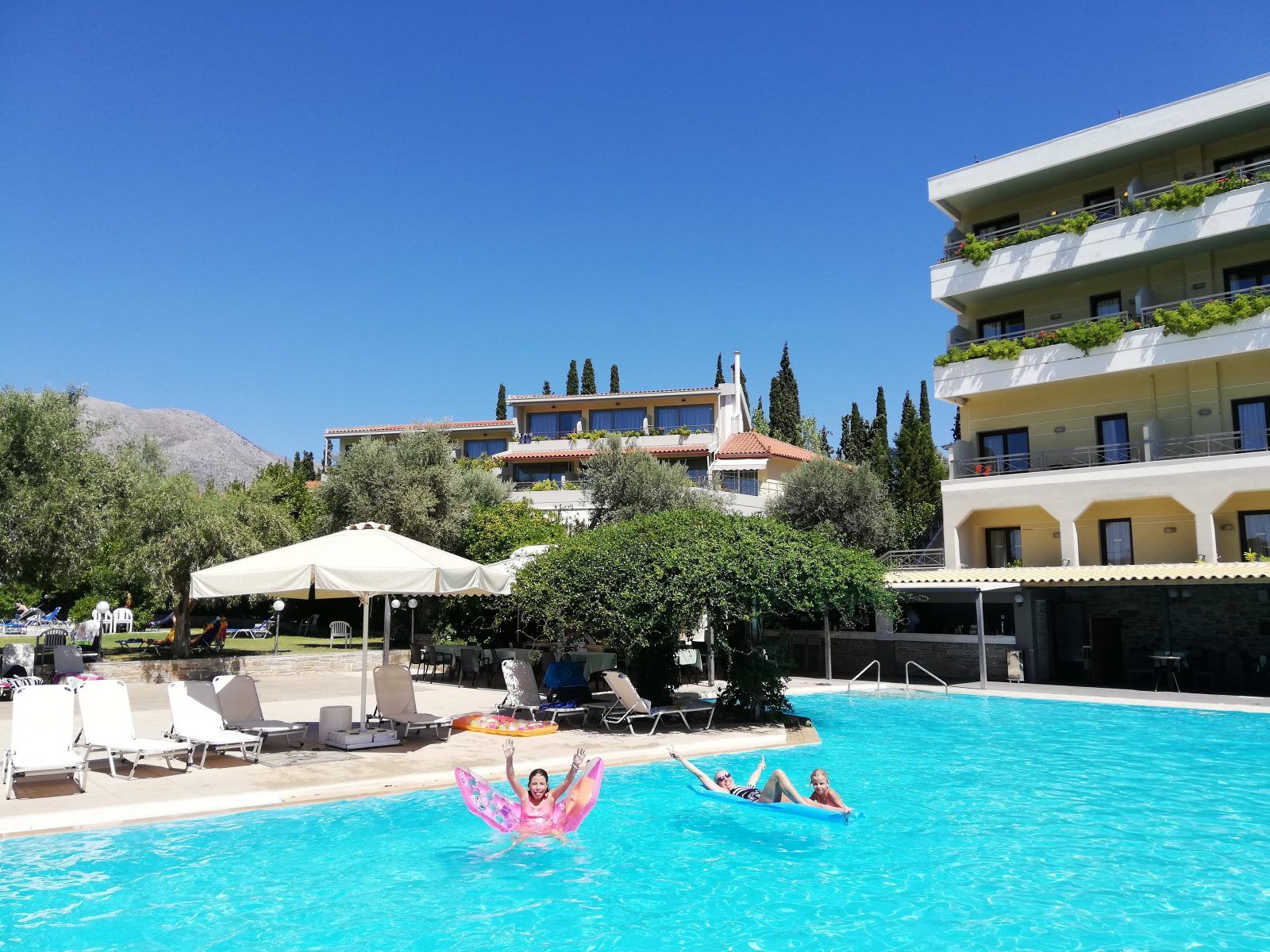 There is lots of place for sports and games too. Basketball, tennis, football, or simply just running around on the grass, it is available.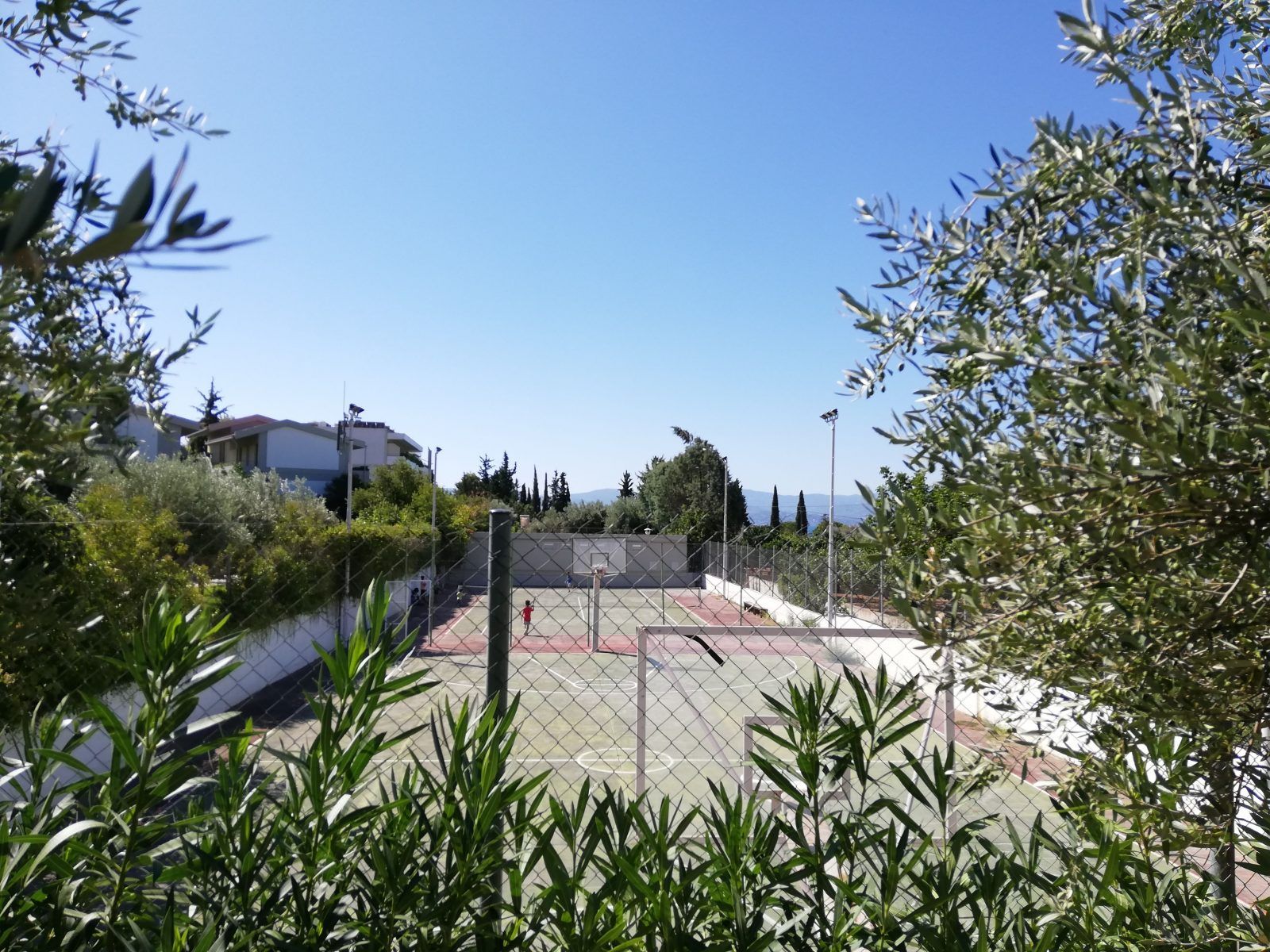 Young children can enjoy at the outdoor playground surrounded by fruits trees or play indoors in the kids' playroom. The hotel regularly organizes entertainment for families during the summer.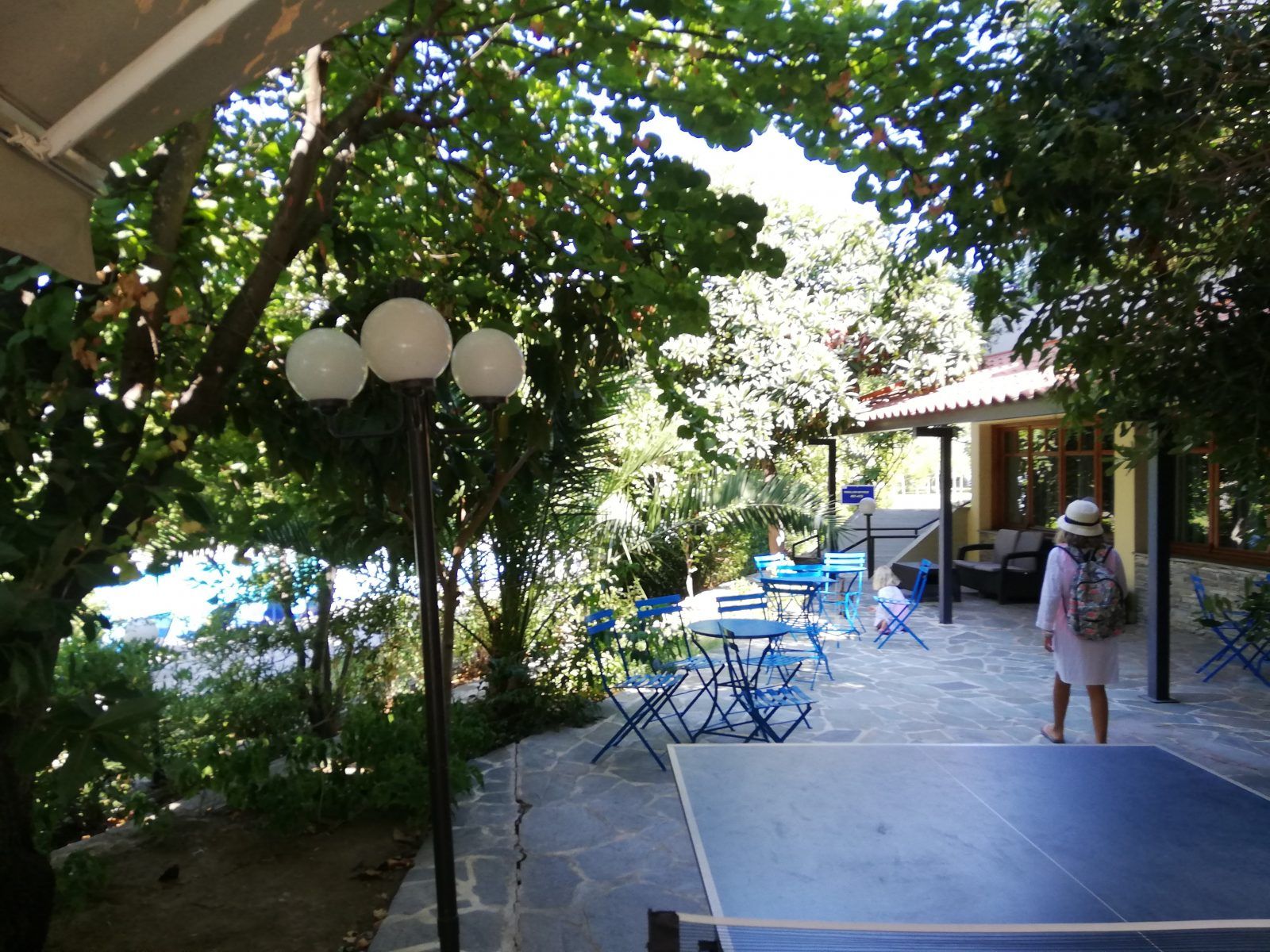 Adults may want to try the fitness room with Technogym equipment.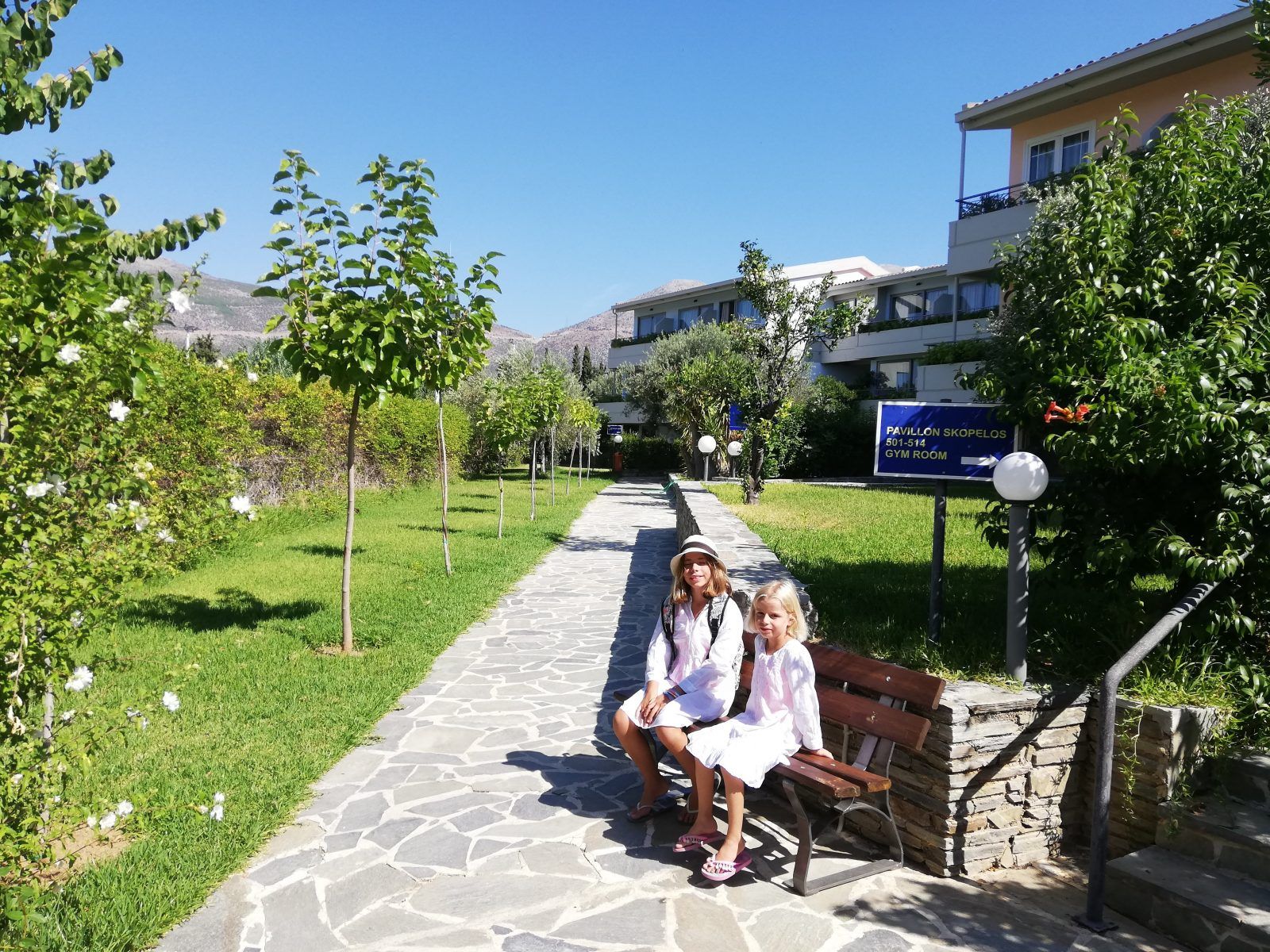 The Beach
The small and narrow sandy beach is 130 m away from the hotel in a picturesque bay. It can be reached by an underground passage within 10 minutes walking. Although there are two sets of stairs involved, I believe it was pretty easy to get to the beach. Umbrellas and chairs are free for hotel visitors. Note that there are no showers, bathrooms or other facilities at the beach. You need to bring your own water/snacks.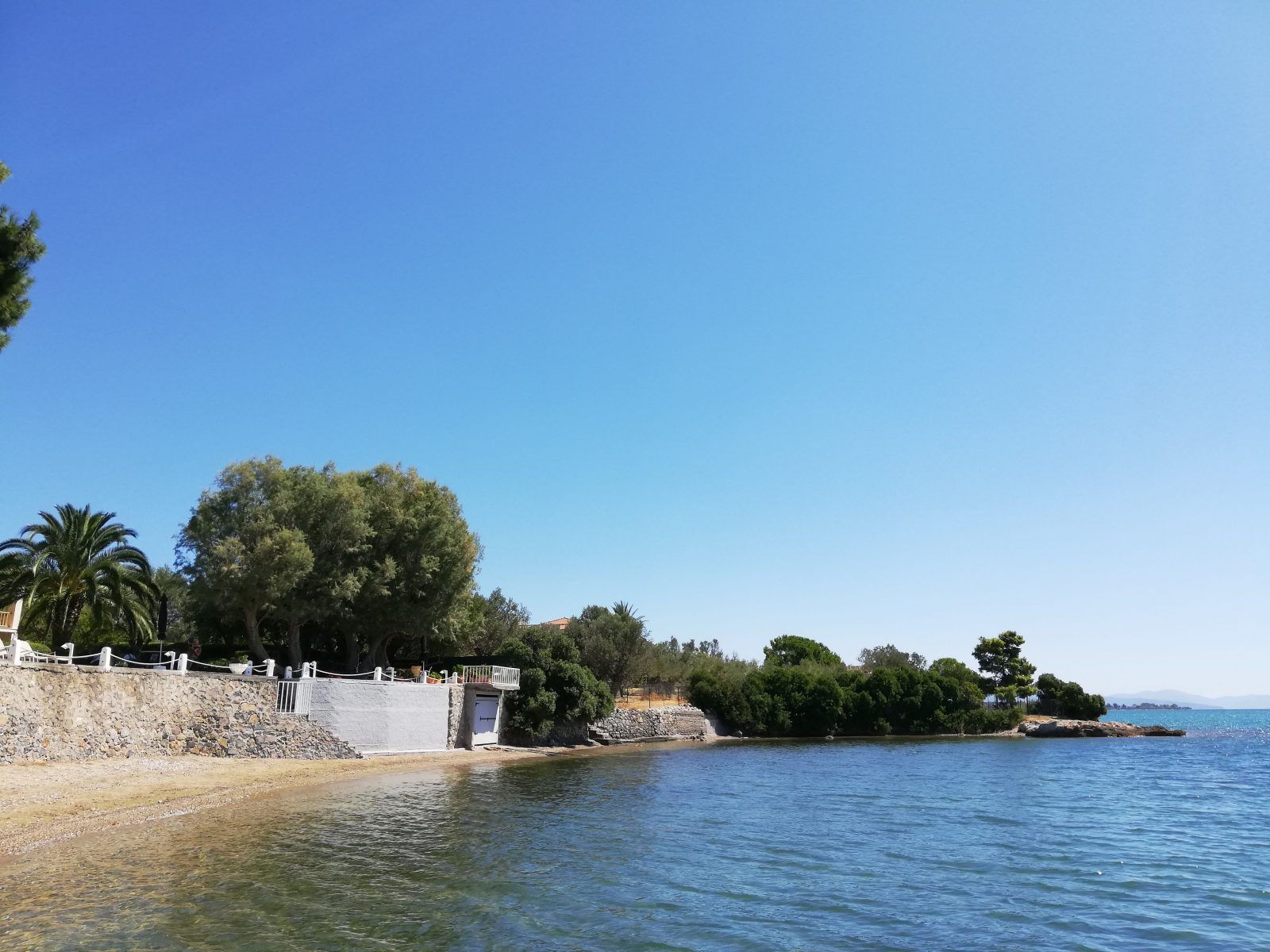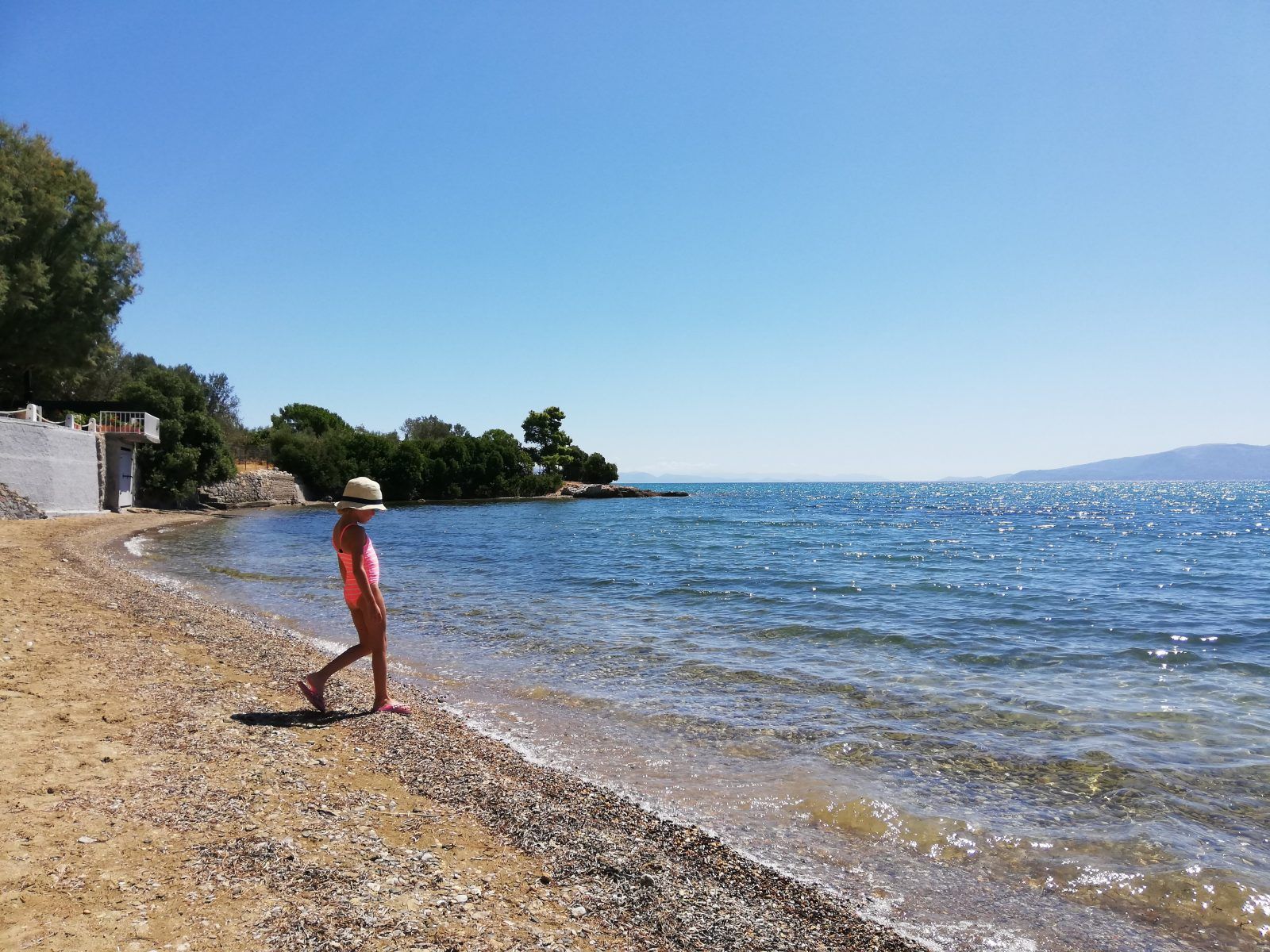 The older kids in our company loved jumping off the pier on the beach.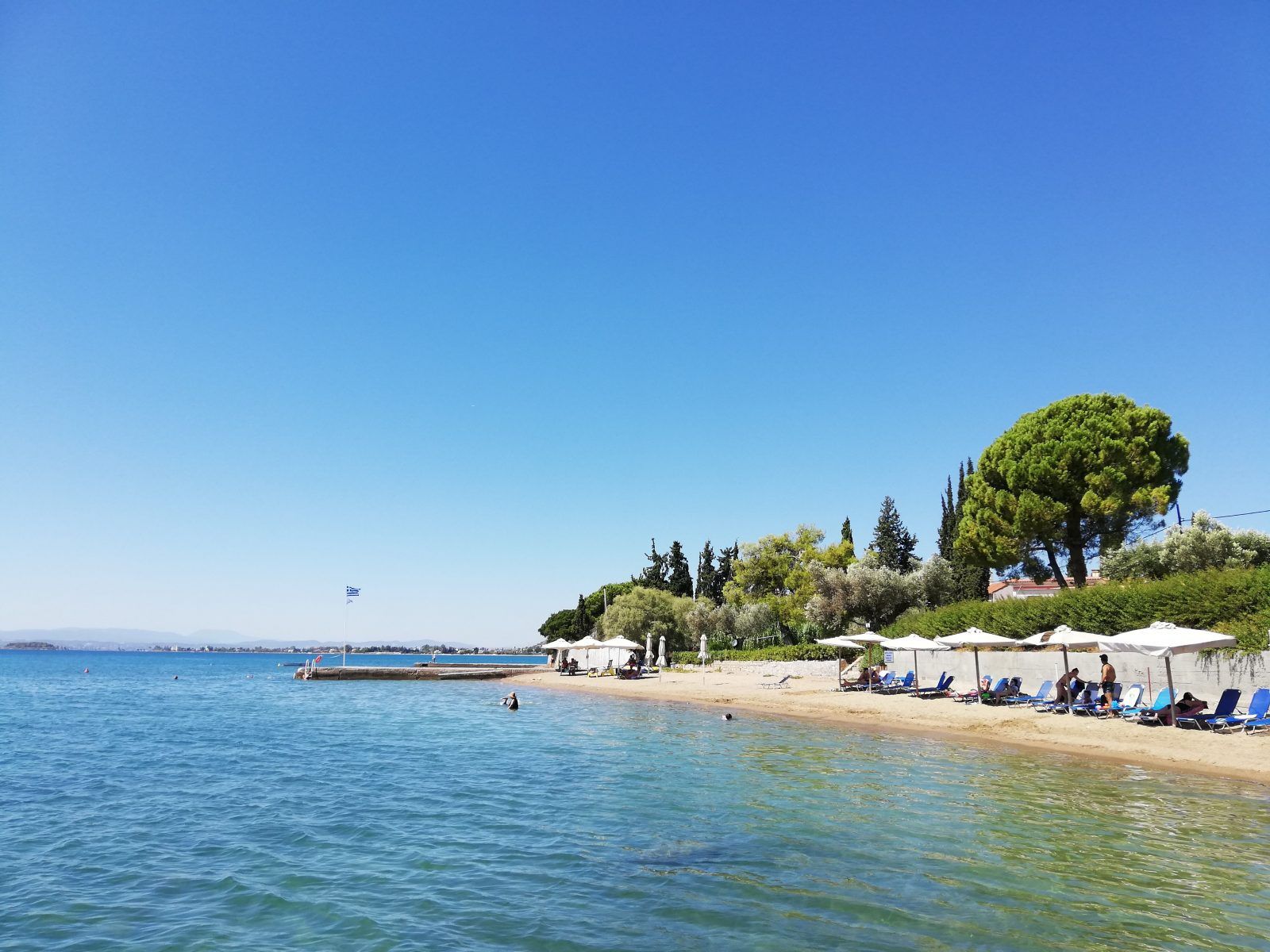 Food & Drink
The main restaurant is on the 1st floor of the hotel overlooking the gardens and surrounding mountains. This restaurant is used for buffet breakfast, lunch and dinner. We had a pleasant breakfast outdoor, during lunch we ate inside conveniently near the buffet and at night we had an outdoor meal at the veranda with our friends.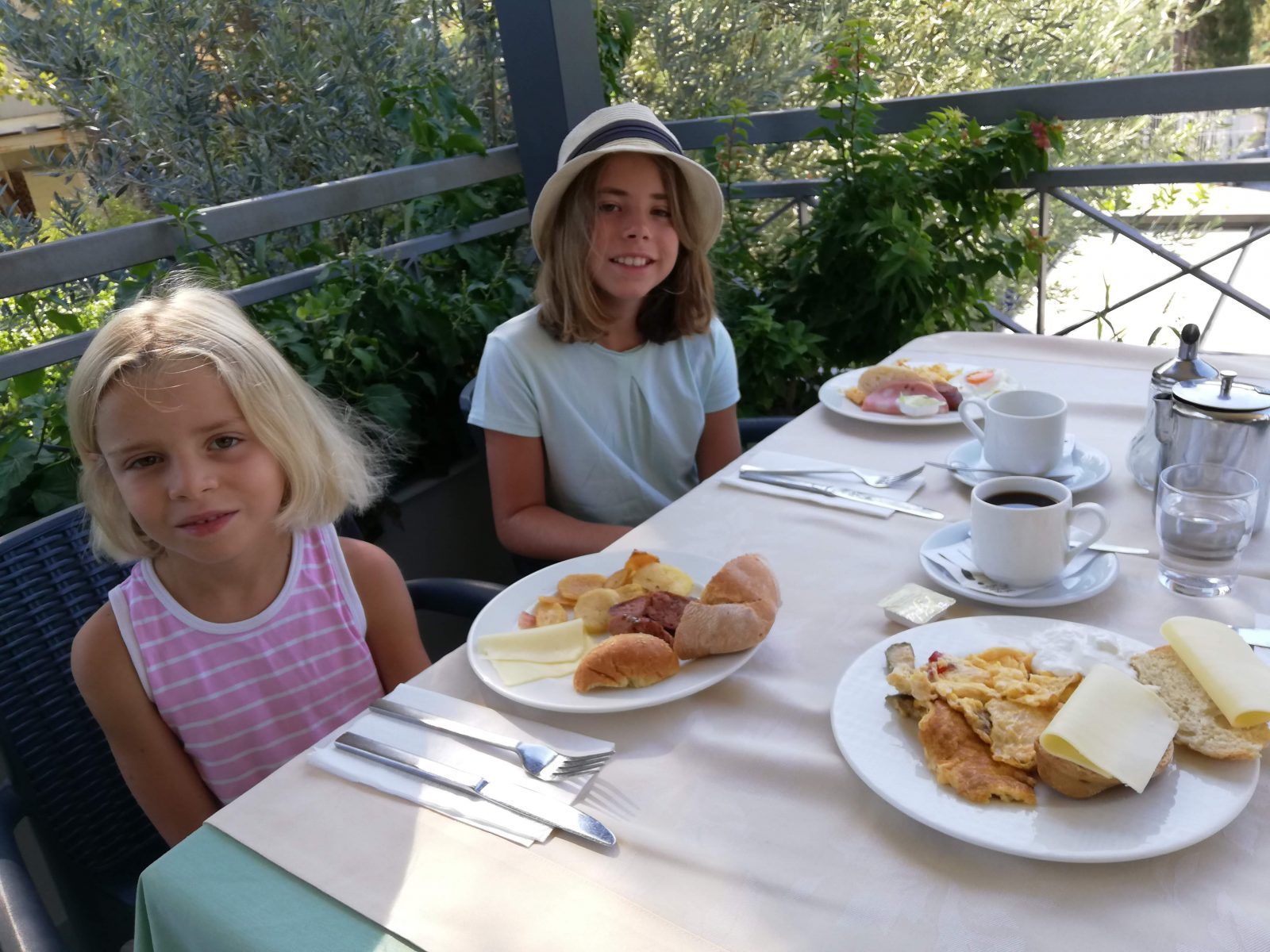 The buffet lunch and dinner was of excellent quality. The small but varied hot buffet had traditional Greek family dishes as a Greek mother would cook them for her family.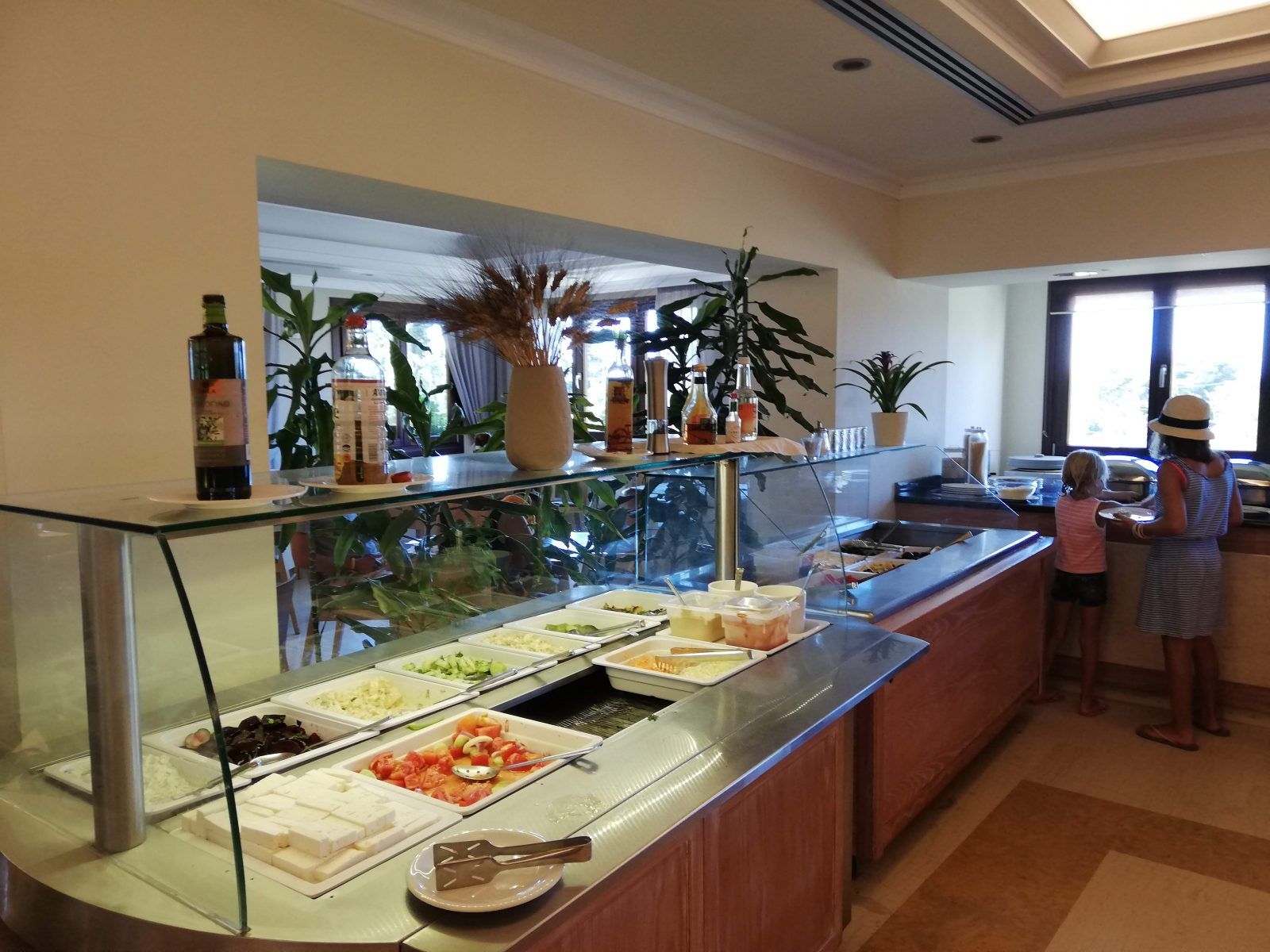 All Greek food in Miramare Hotel is prepared with olive oil and based on Greek traditional recipes. There are also international dishes and kids' favourites such as pasta with meat, French fries, burgers and schnitzel. The salad bar was basic but with a good variety of with fresh salads, vegetables and side dishes. There was lots of fresh fruit and different kind of desserts for each meal. The staff was always helpful.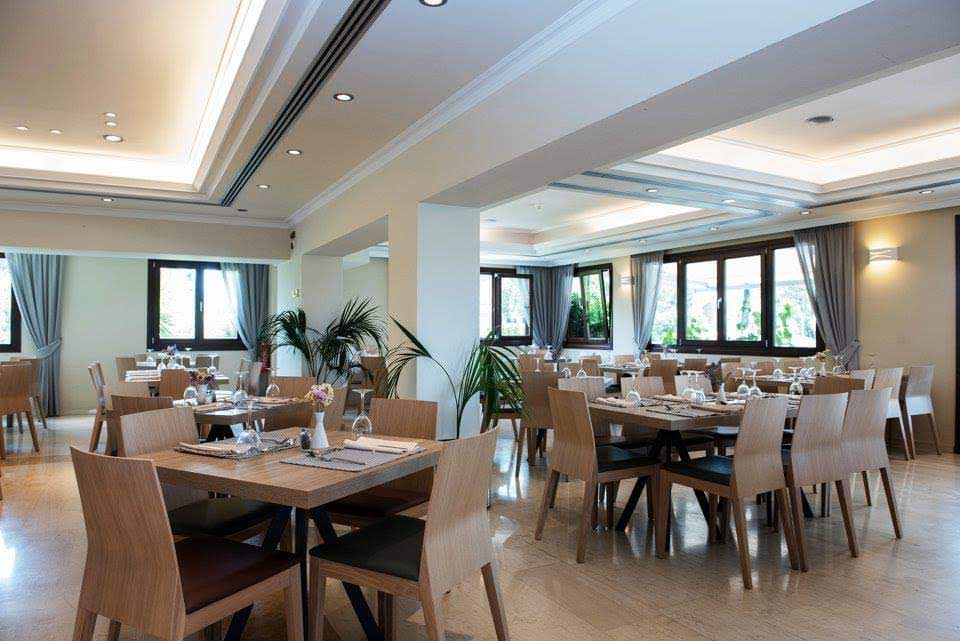 I had a delicious lunch of slow-cooked rabbit stew in lemon sauce with comforting puree. I also liked the stuffed zucchini and the soutzoukakia, homey Greek meatballs in a spicy sauce and mousaka. My kids loved the fried fish and grilled chicken.
Pool Bar Restaurant
We also tried a la carte lunch at the pool restaurant. Besides the standard menu of its Mediterranean cuisine, the pool bar restaurant also serves snacks and Greek dishes. While kids were playing our table was set and they joined me in their bathing suits for a casual lunch outdoors. We had burgers, Greek meat skewers, pasta carbonara and yummie fried calamari.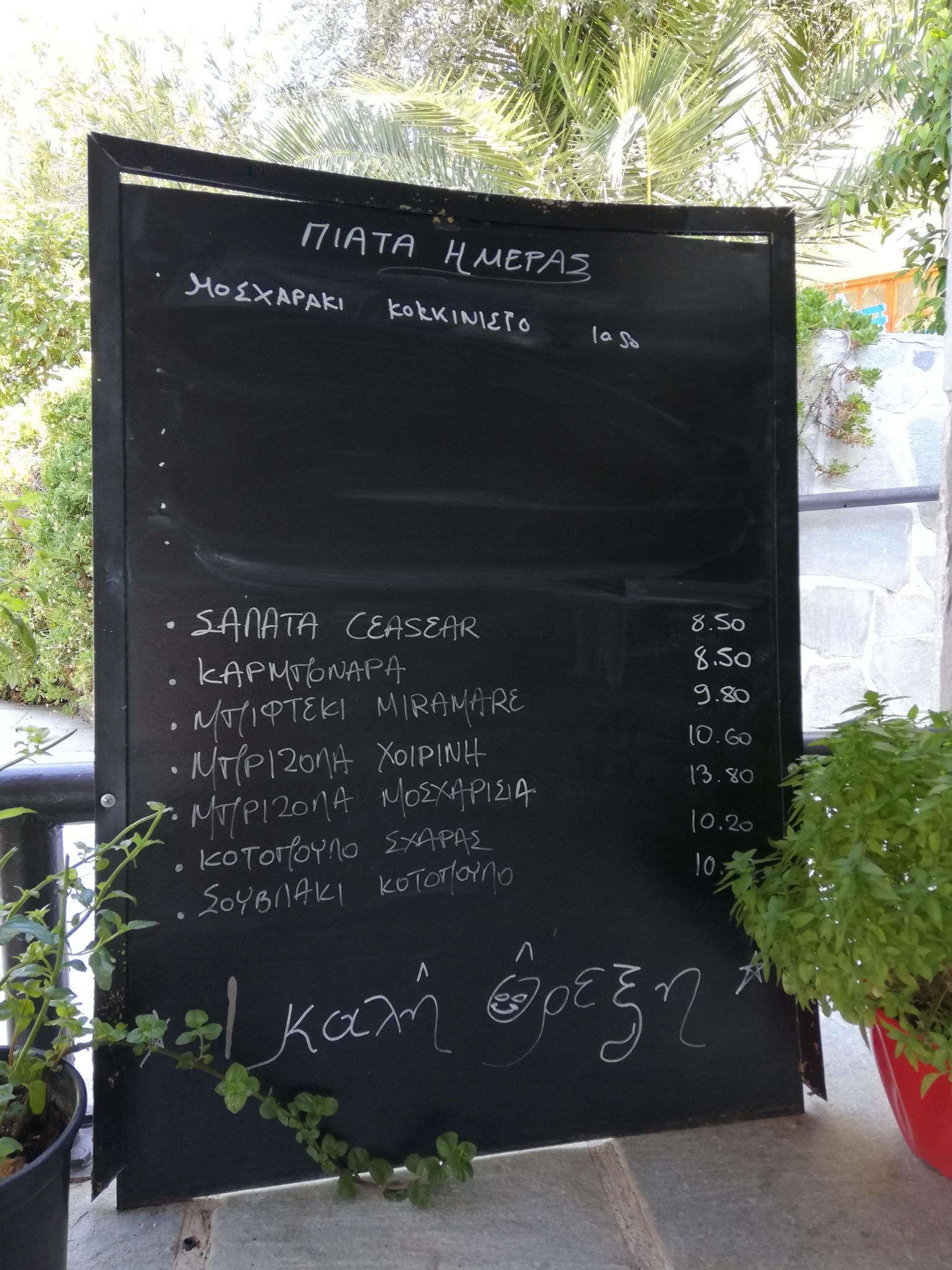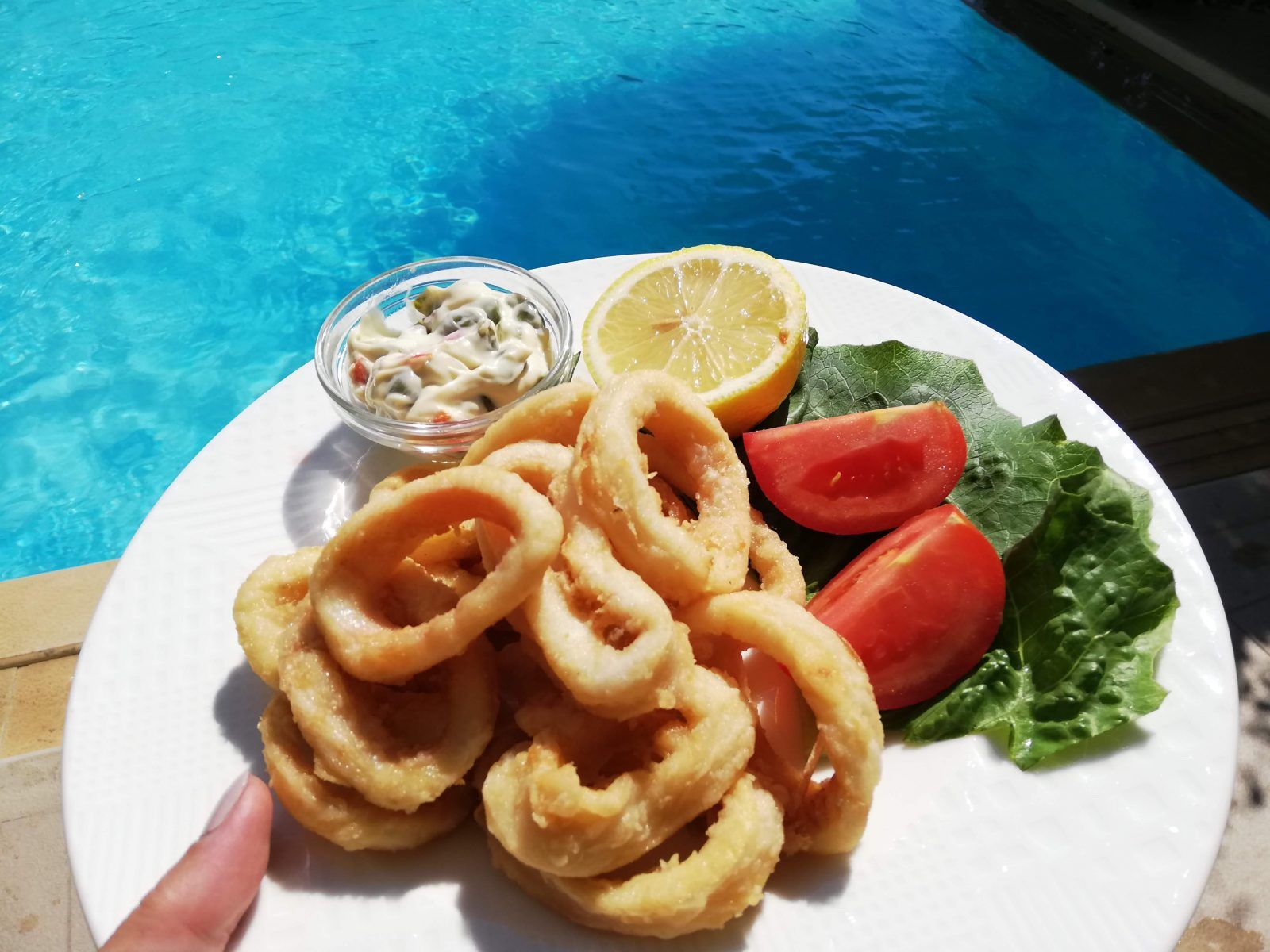 Activities beyond Miramare
There is lots to see and do in Eretria and further away on Evia. Families can visit an outdoor movie theatre, drive the go-carts near Eretria or walk along the boulevard in Eretria town. Teach your kids more about the island's ancient history by touring the Eretrian Acropolis, the ancient gymnasium and the local Archaeological Museum. Beach lovers must visit the famous Kalamos beach. Families will love Chalkida with its impressive Castle of Karababa, the local market and lively boulevard with cafes and shops. For that ultimate island feeling, book a tour to the traditional village Steni located on mount Dirfi in an impressive gorge with running water and caves. The lighthouse of Kakokefali is another interesting attraction.
Our bliss at Miramare Hotel Eretria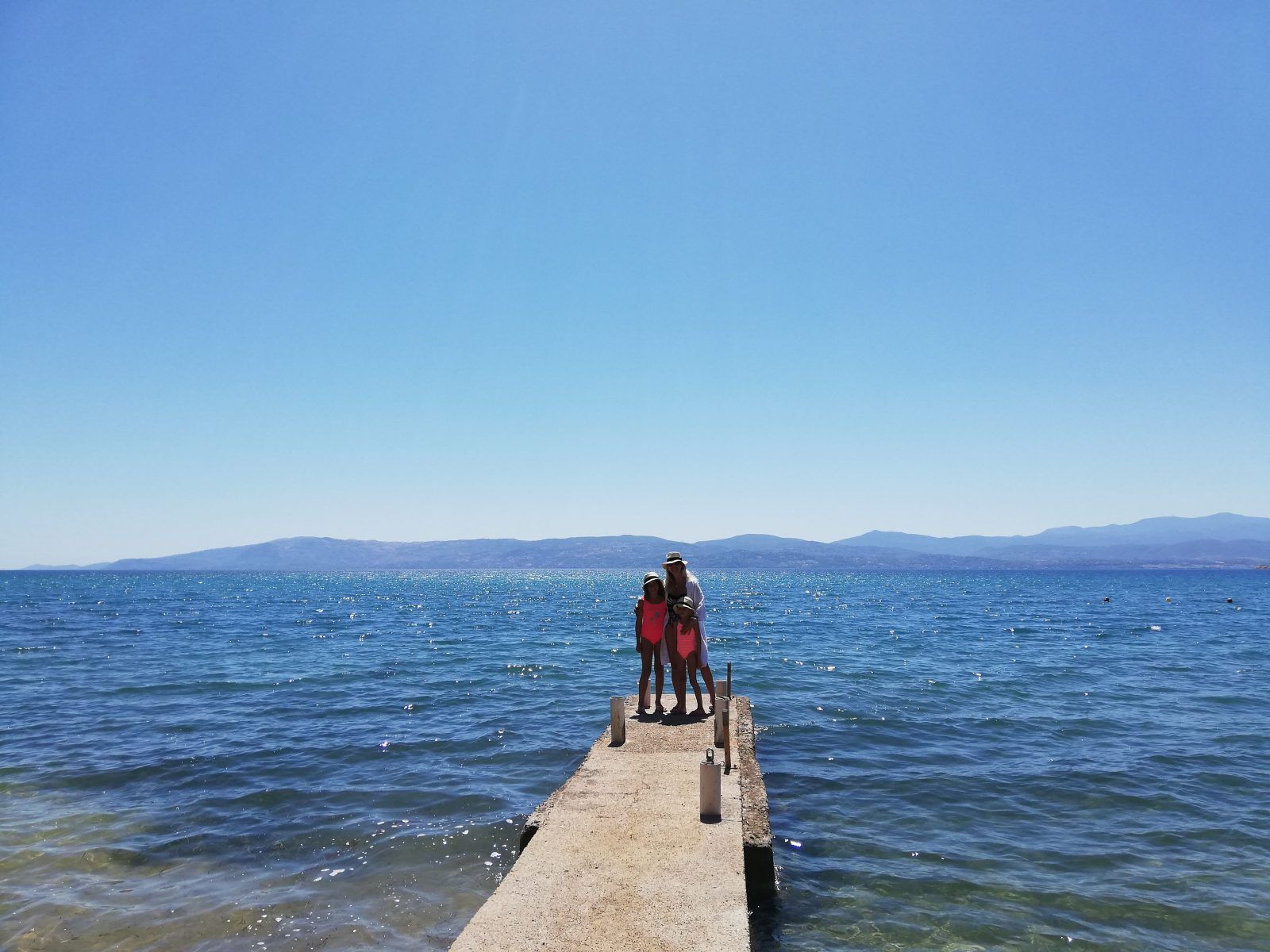 We had a relaxed and worry-free time with friends and family. I recharged my batteries and spent many fun moments with my children in the pools. Our room was spacious and comfortable with nice views over the sea and countryside.

I may have said it many times before, a place is only as nice as the people that you are with. What really distinguishes Negroponte Resort Eretria is the warmth and genuine kindness of its personnel.

Special thanks to Panagiotis and his team for making our stay comfortable and fun!
Information and Prices
For bookings and more information about Miramare Hotel Eretria and its water park, please click here.
Do you like waterparks? Pin it for later!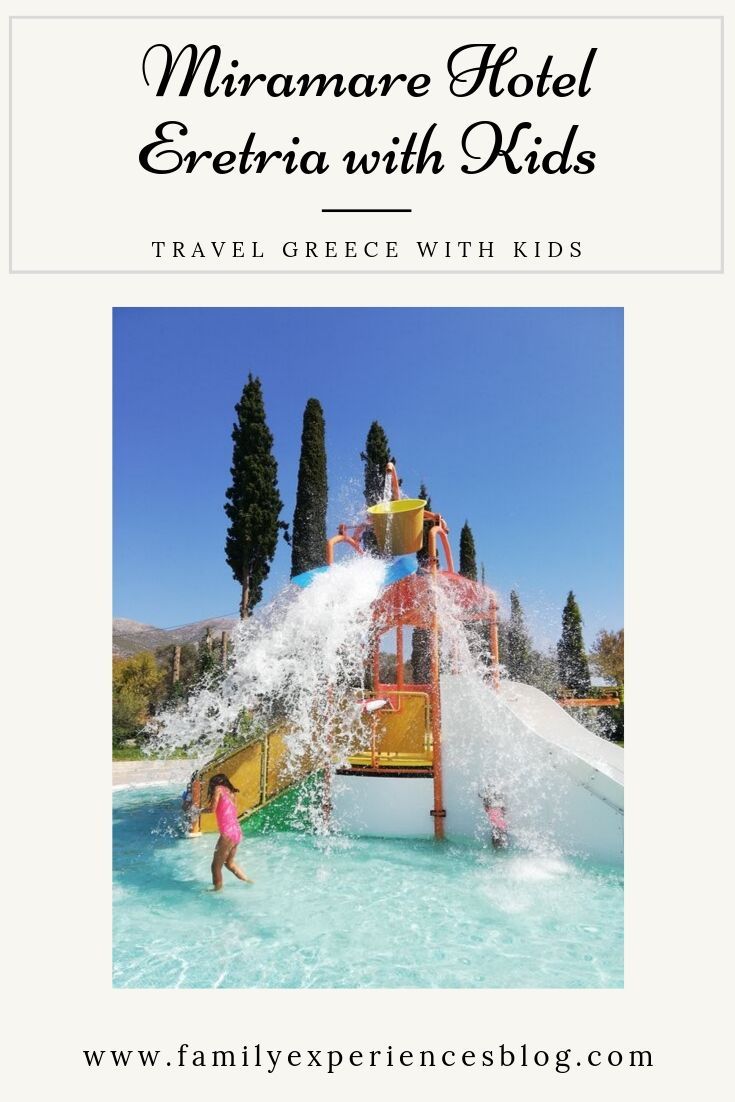 Related post: Negroponte Resort, Negroponte Resort Eretria Luxury Hotel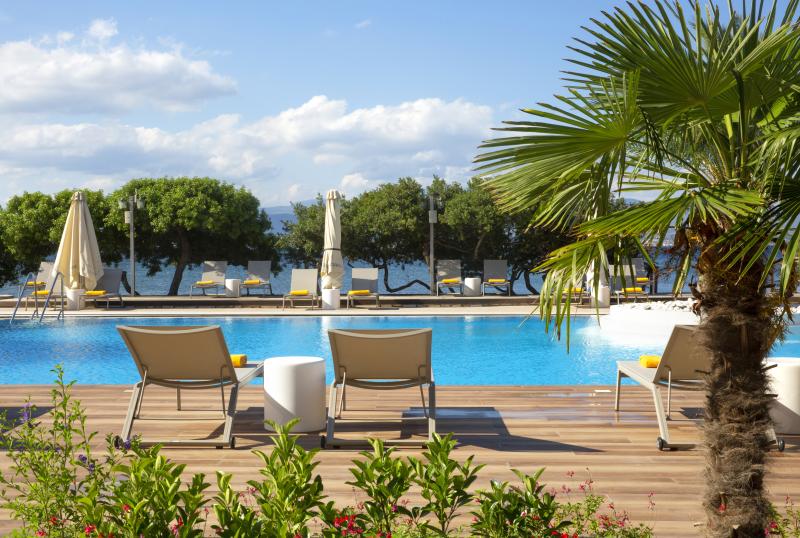 If you want to read other recommended tried and tested family hotels in Greece, have a look at my post: Luxury Made Easy at Daphnila Bay Dassia in Corfu island. For families who like water parks, then check out my review of the Grecotel Olympia Riviera resort in the Peloponnese on the mainland of Greece. The beach resort hosts a brand new Olympia Aqua Park, the largest in a resort in Greece.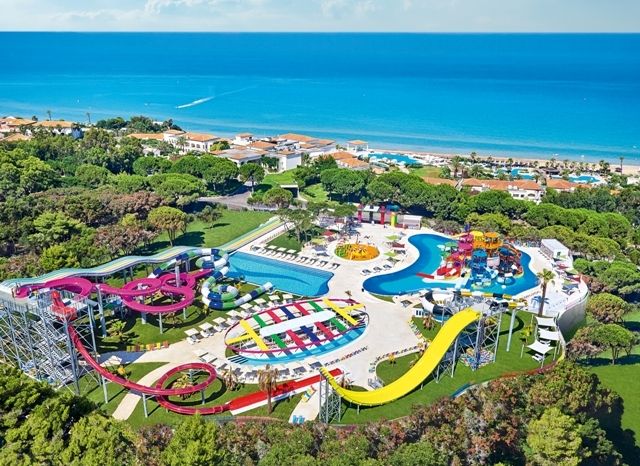 Disclaimer: I was a guest at Miramare Hotel Eretria with my family. As always, the opinions and thoughts expressed are my own. Affiliate Disclosure: Booking.com is my recommended website for booking hotels. It's safe, easy to use, and consistently has good rates. Some hotel links on my site are affiliate links meaning I earn a small fee when you book a hotel. (There is never any extra cost to you for using these links).