Last Updated on July 7, 2023 by Celeste.
Even the most adventurous family travelers have their favorite repeat destinations. Some destinations, though, are just so special that families want to return again and again. One of ours is near Athens in Eretria and called Negroponte Resort!
Update: In 2021 Negroponte Resort expanded its private beach offering a secluded calm bay of golden sand with several rows of sun loungers and umbrellas.
Favorite places
Qualities that make a place worth revisiting are often an emotional attachment to the place through amazing experiences of the past – often with family and friends. People will also go back to the same place to see the families they have met there before.
If you've had a great time at a destination, you will want to return because you know that you will have a good time. This is especially important for a family vacation. You have discovered that certain activities, food or experiences are joyful. With comfort, safety, and less risk in familiar places, your family holiday is going to be a guaranteed success.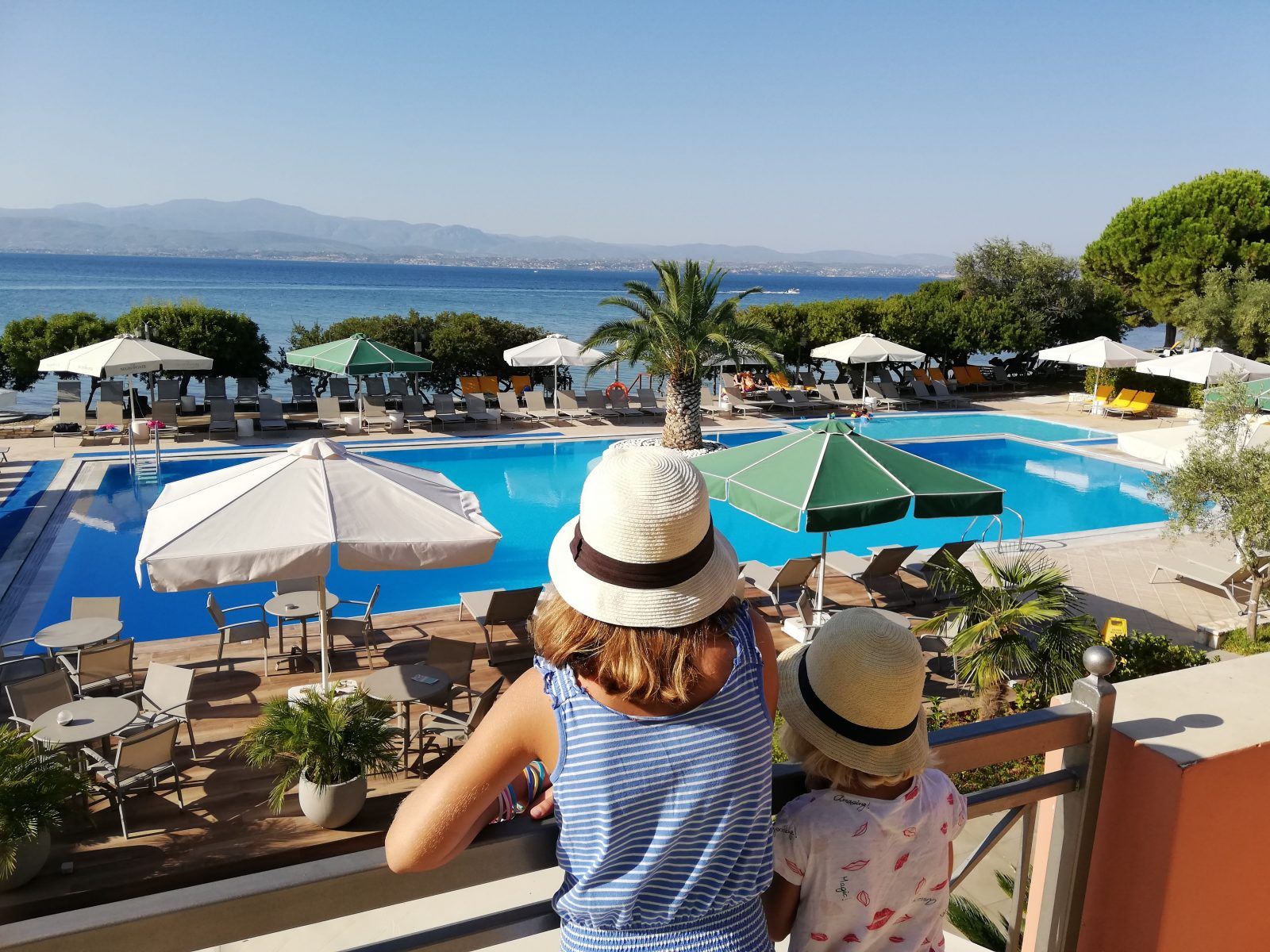 Maybe everyone is attached to the place they went to for the first time with their baby. Negroponte Resort is not new to us. In fact, we have been going there for years. The hotel has undergone some changes. Read on about a great resort with some new additions.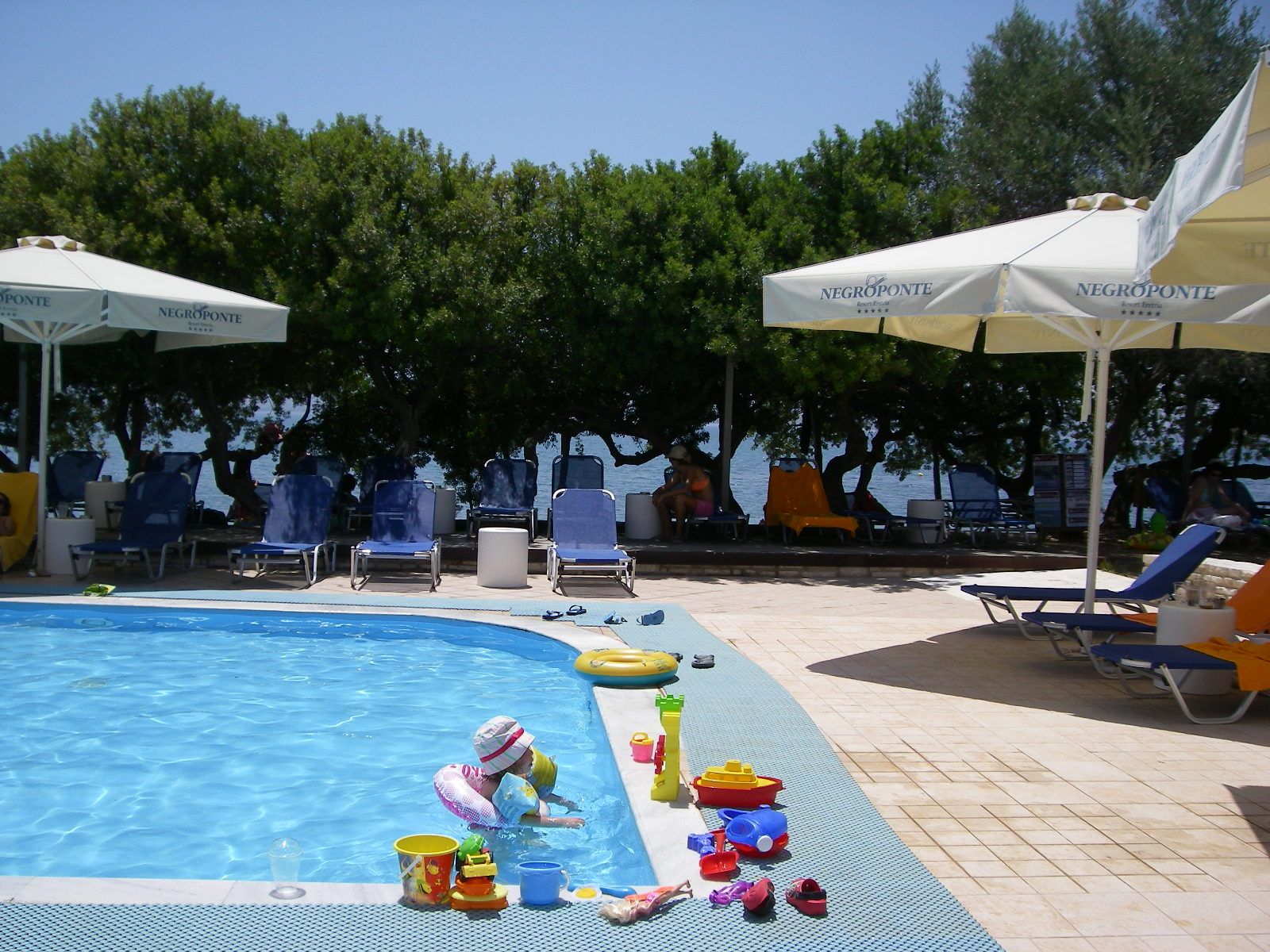 Our first trip as a family was in 2012 when I had just given birth to my second child with our three-year-old in tow. We were looking for a comfortable family-friendly resort near Athens, and we found in it Negroponte Resort. It was such a relaxing vacation. We spent all the days at the beach and in the kiddie pool near our room. At night, we took the pram to the buffet restaurant and had quiet dinners together.
Here you can find my previous post about Negroponte Resort Eretria Luxury Hotel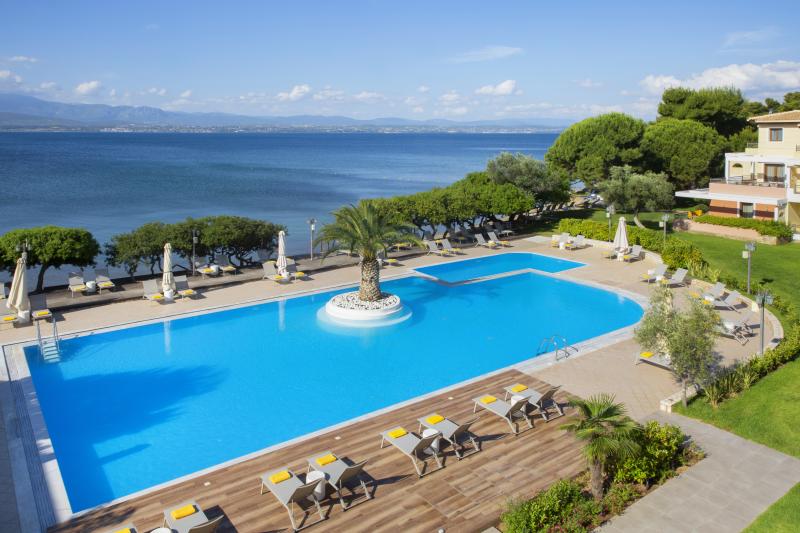 Negroponte Resort location
Negroponte Resort is located on Evia island 2,5km away from the historic town of Eretria about an hour and a half away from both Athens center and Athens International airport. Being connected by a bridge to mainland Greece at Halkida, Evia is one of the few islands in Greece that can be reached by road. Meaning saving families the trouble of getting on a ferry boat to reach the resort.
Should you, however, enjoy a short boat ride, you can also make the crossing at the port of Oropos to the port of Eretria. A resort transport service (transfer) from and to the port of Eretria is free.
The name Negroponte

When Halkida was under Venetian administration, a bridge was built to unite the city and the island of Evia with Central Greece. The bridge was wooden, but iron was also used giving the bridge a black color. So it was called the "Black Bridge City" derived from the Catalan 'negro' (formerly Central Greece was conquered by the Catalans) and the Italian 'ponte'.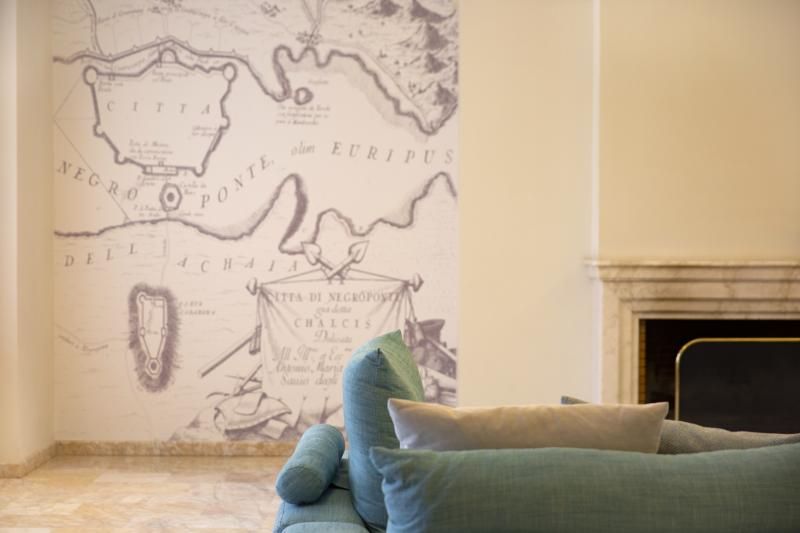 The resort stretches over 25 acres of the Evian beach and includes restaurants and bars, organized conference rooms, playgrounds, seawater swimming pools with jacuzzi, a gym, football pitches, basketball, and two brand new tennis courts, beach volleyball, table tennis, billiard, outdoor movies and more.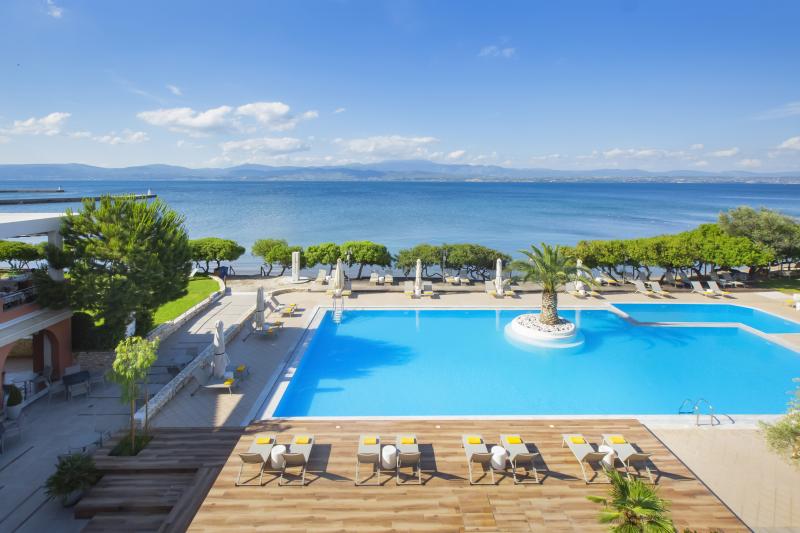 For information about the rooms and prices for booking, please click here.
There is a small chapel for weddings and in the sea garden in front of the resort, you can find interesting sea life. It's great for snorkelling with kids for collecting shells.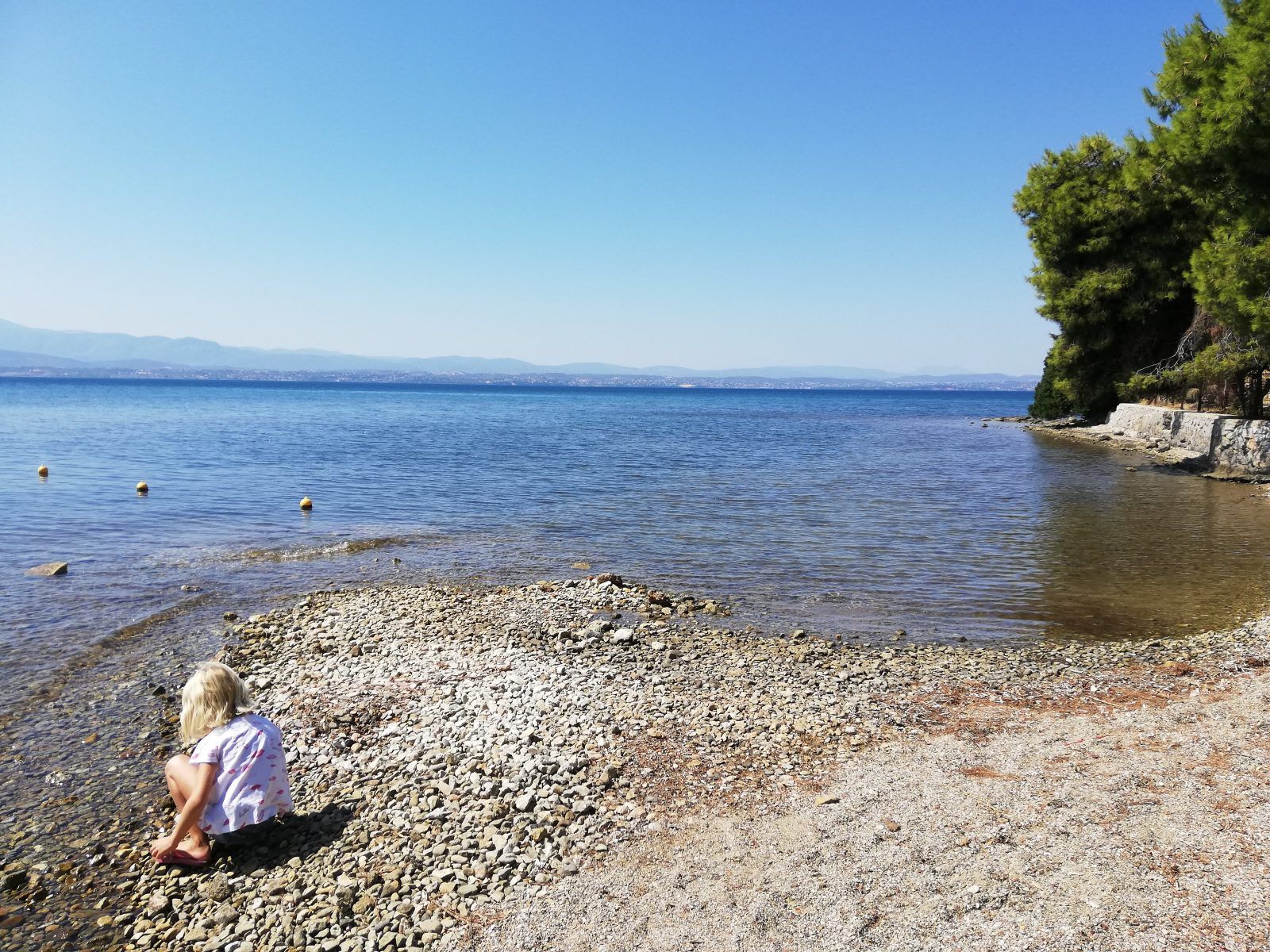 The Negroponte Resort location has several points of interest nearby. Archaeology-loving families can visit the Archaeological Museum of Eretria, the ancient Eretria theatre, the temples of Apollo and ancient baths. Eretria is also great for biking and hiking and has many nearby wine estates.
The Negroponte Resort upgrade

Since I wrote my first review about this resort, Negroponte has upgraded all hotel spaces, rooms and suites resulting not only in a contemporary vibe but also guaranteeing a Green Key certification for the entire resort.
New additions are a library with a reading corner in the upgraded spacious marble lobby.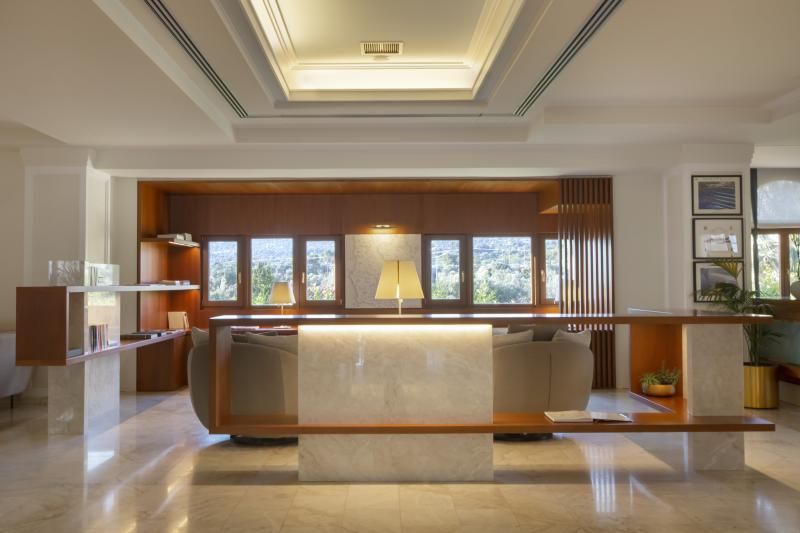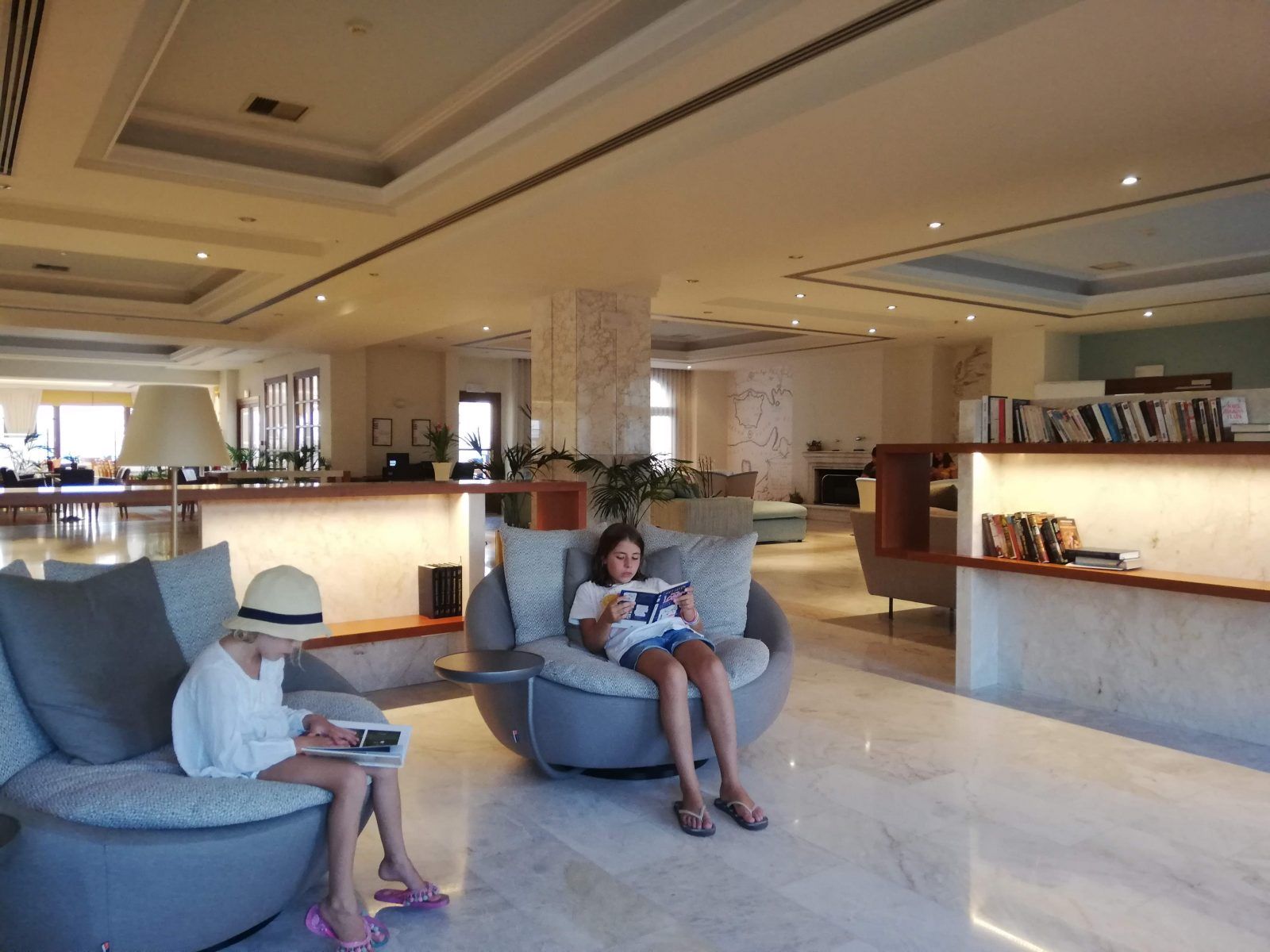 Greek marble has also been used to decorate the newly designed outdoor pool bar and a cocktail bar. The outdoor lounge features fresh fabrics.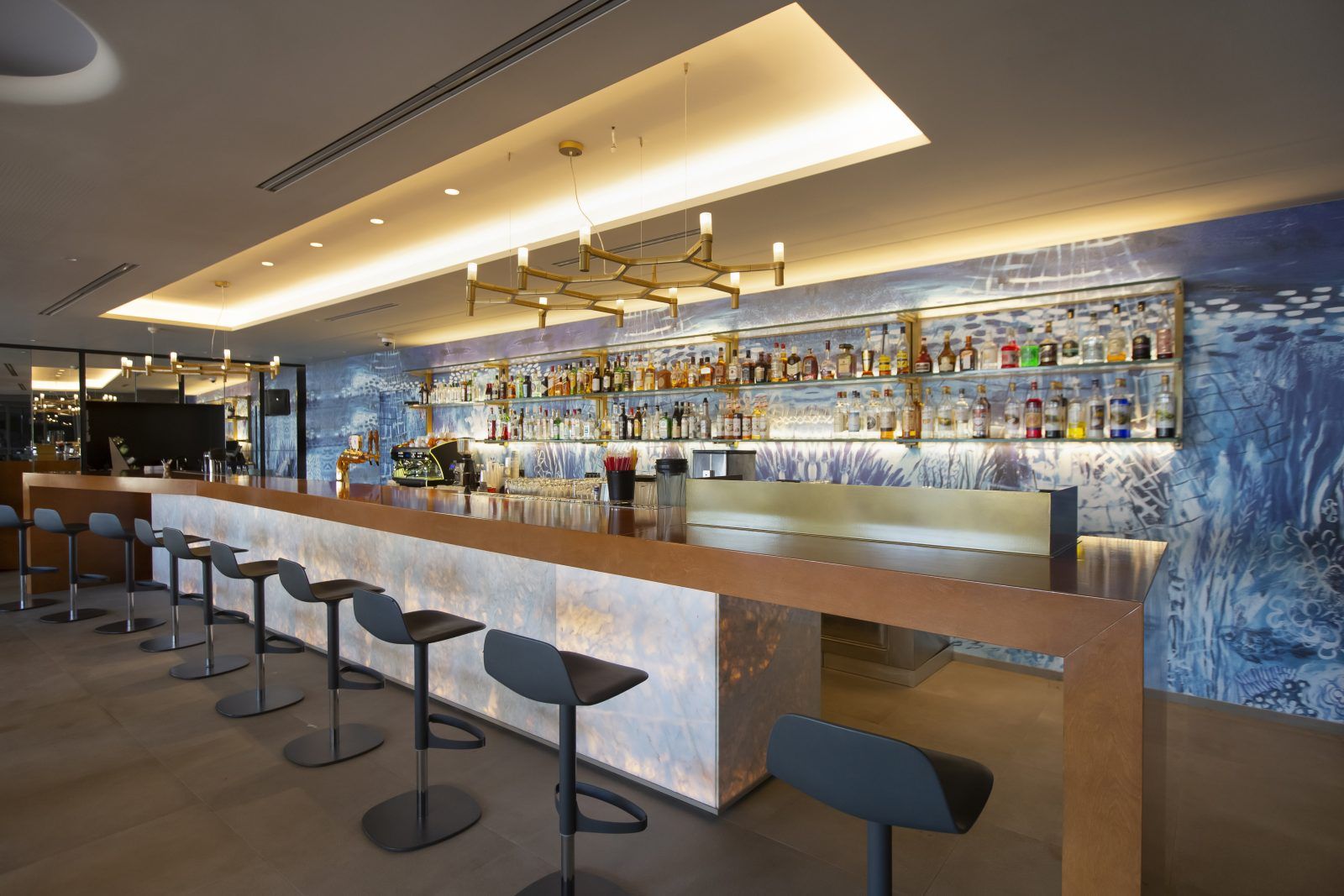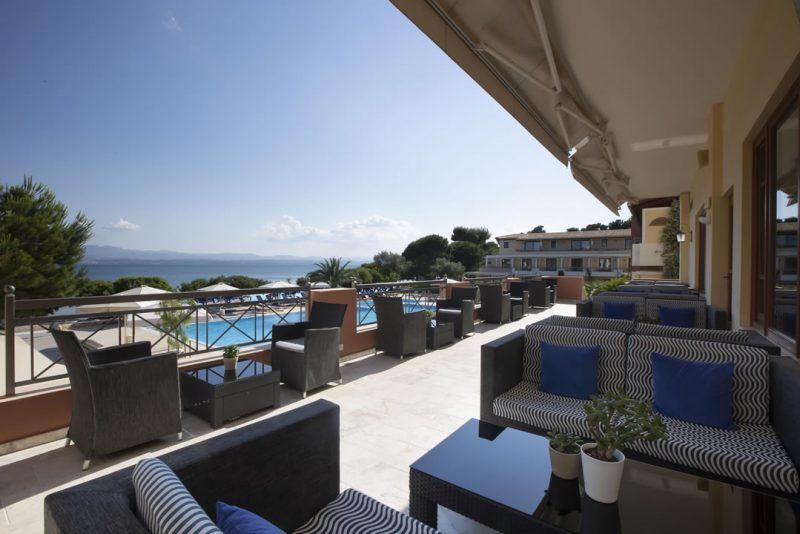 The outdoor swimming pool area also boasts upgraded sunbeds and umbrellas and the pool has been renovated with contemporary building materials and is completely surrounded by a non-slip surface for extra safety.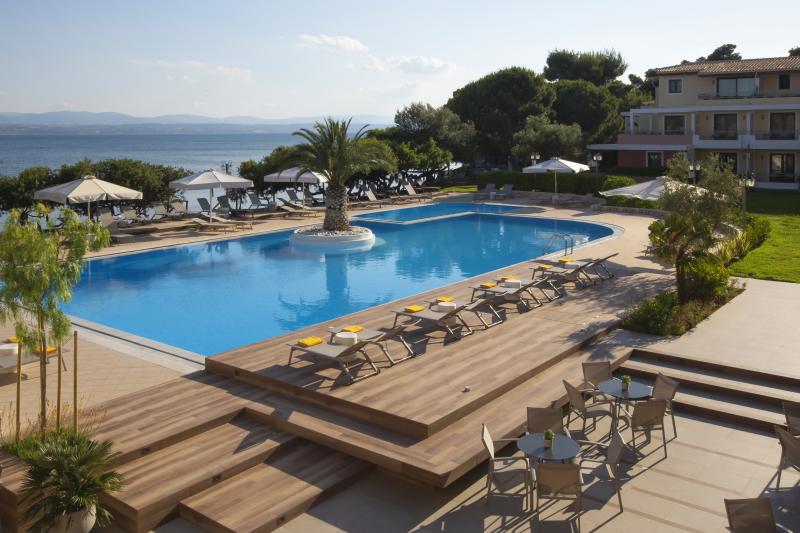 Negroponte Resort features a wide variety of rooms, all of which are airy, bright and spotless. Each room has a king-sized bed (twin beds optional), a sea or mountain view, marble bathroom, and a large balcony.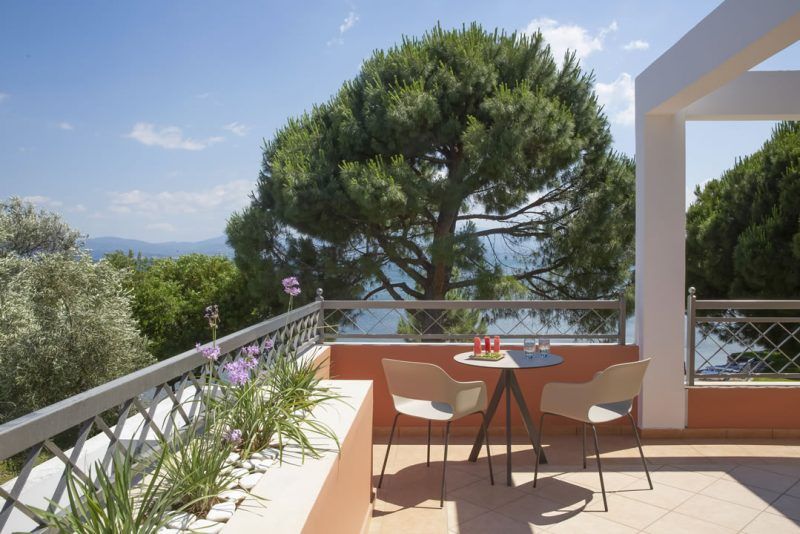 I always loved the second-floor luxury suites with wooden floors and 'Swiss Chalet' type of wooden ceiling. They are good for a winter stay too because they have a fireplace.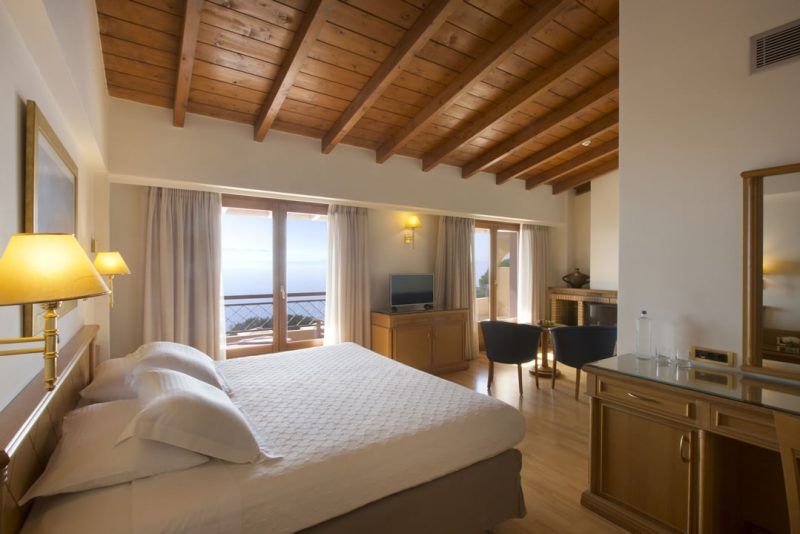 When my kids started walking, the ground-floor garden rooms were more practical. And when our nanny came along, we preferred the connecting rooms and the 2-bedroom suites. My favorite rooms are at the inner planted Atrium with its beautiful flowers where I stayed also this summer.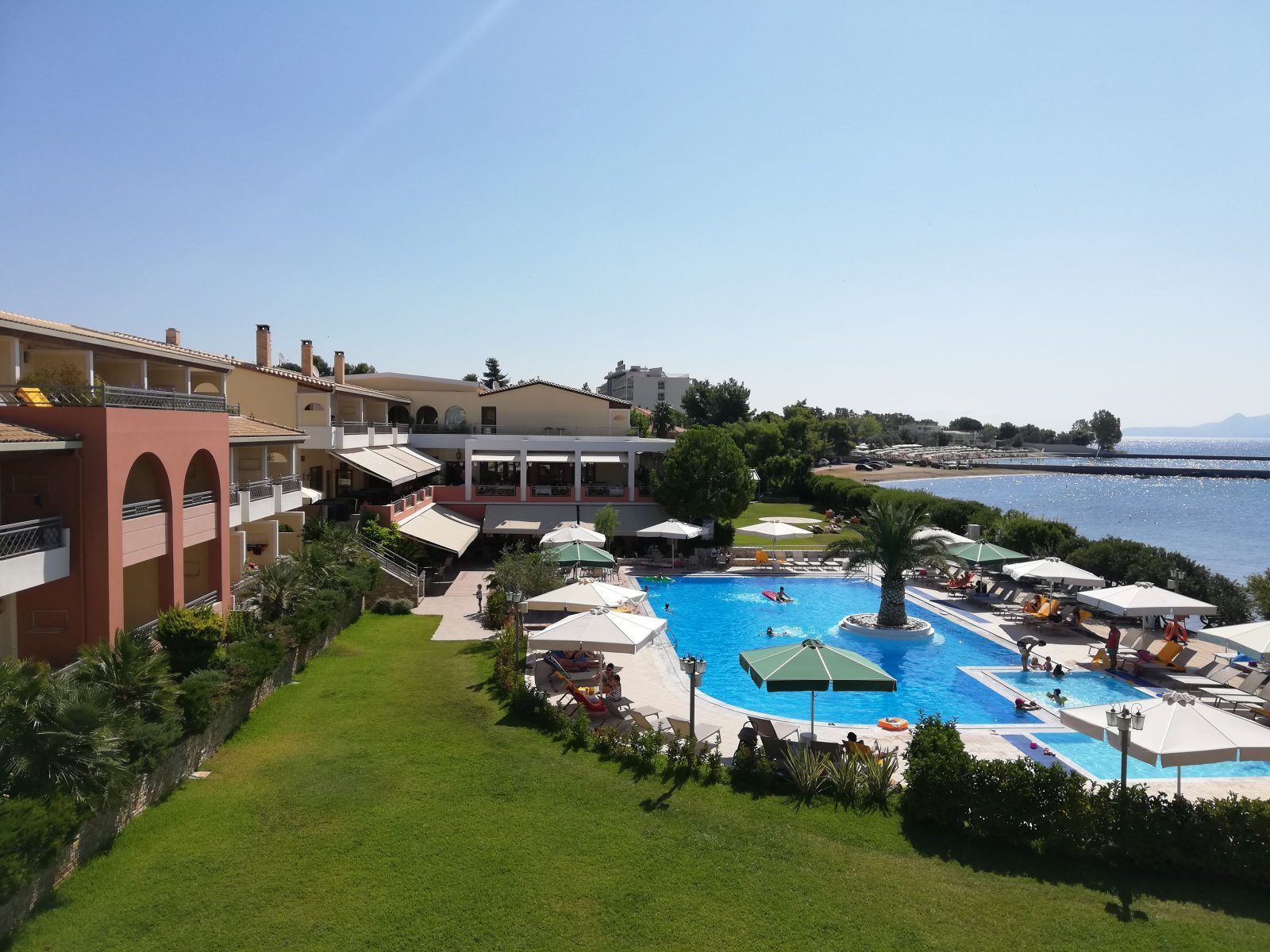 The shades of white, beige, and blue dominate the room décor accented with cheery primary color art. Wooden materials with gold-coloured details give a sense of luxury and Zen. The marble bathrooms feature Zealots of Nature amenities, Greek cosmetics based on bio Greek olive oil, and other all-natural ingredients.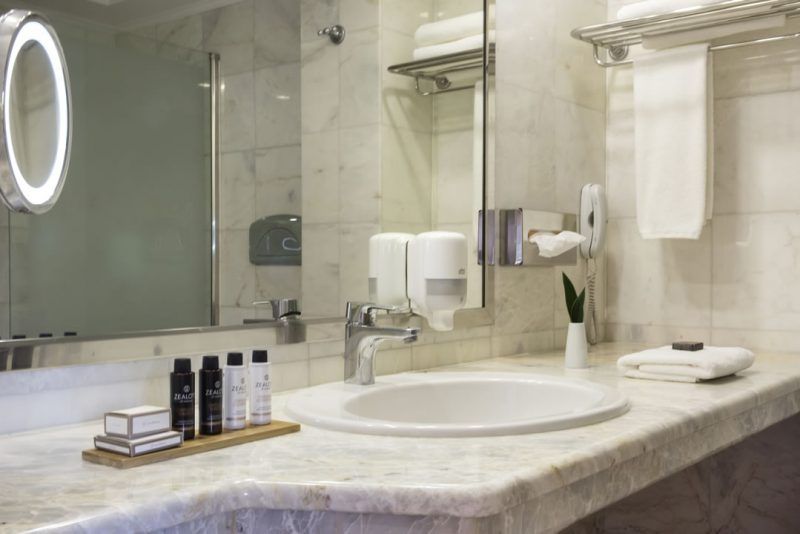 Fitness and Wellness Program
The Negroponte gym of 100 m² has more equipment (by Technogym) and a gym instructor and personalized ergo metric programs have been added.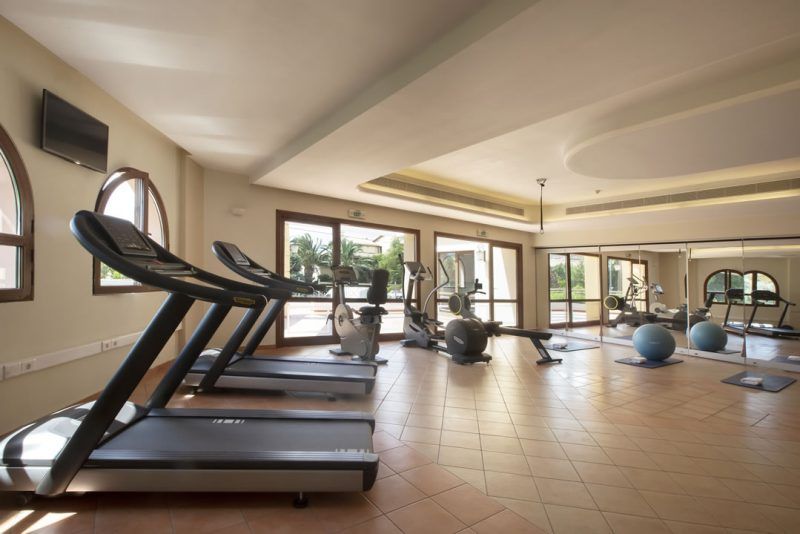 Note that a spa is currently being built and expected to open next year!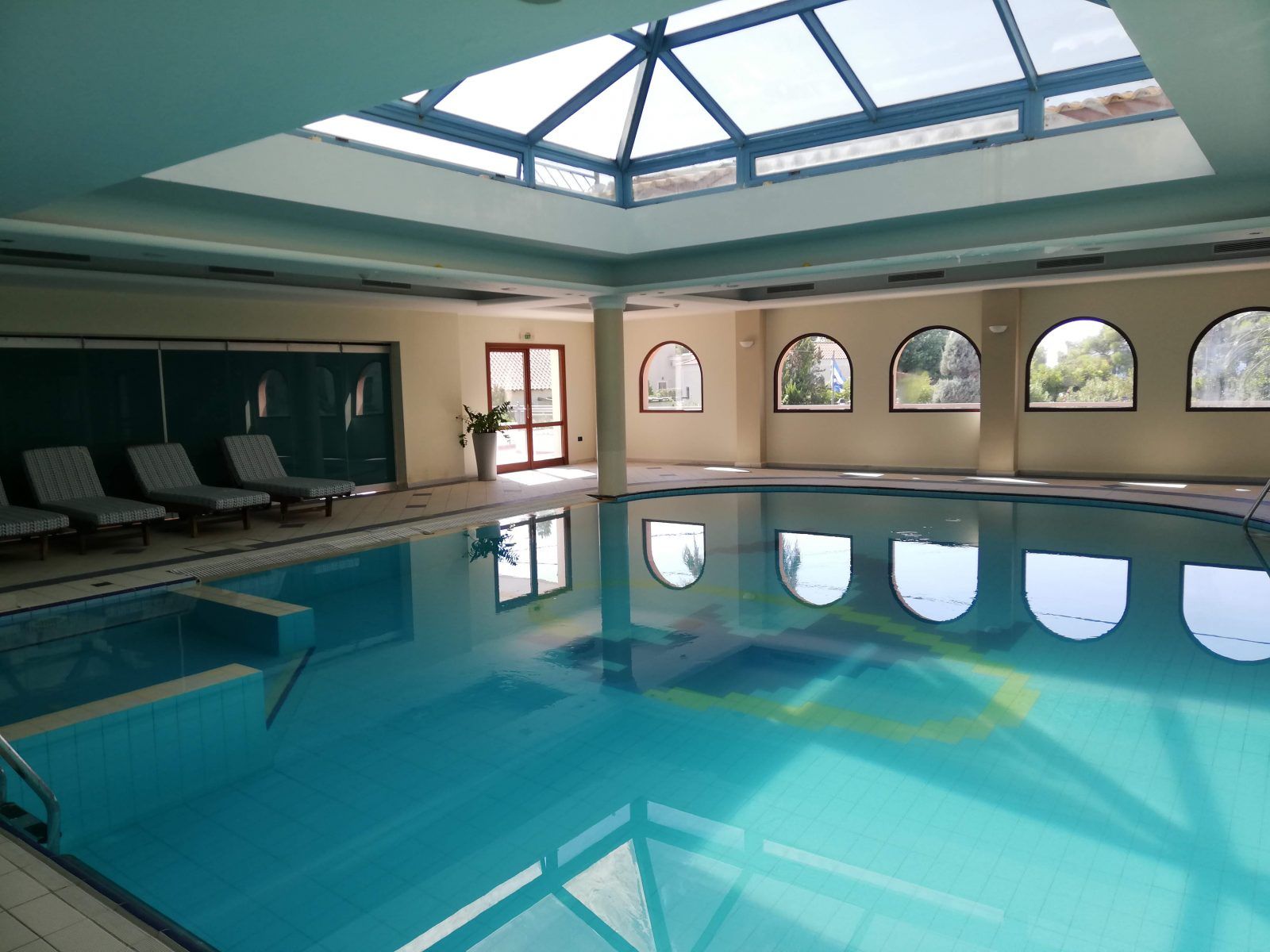 Sporty visitors will also enjoy the new aqua Zumba lessons in the outdoor pool. An upgraded daily fitness and wellness program includes stretching, Pilates, group gym classes, Thai stretching, Tae-Bo, and more.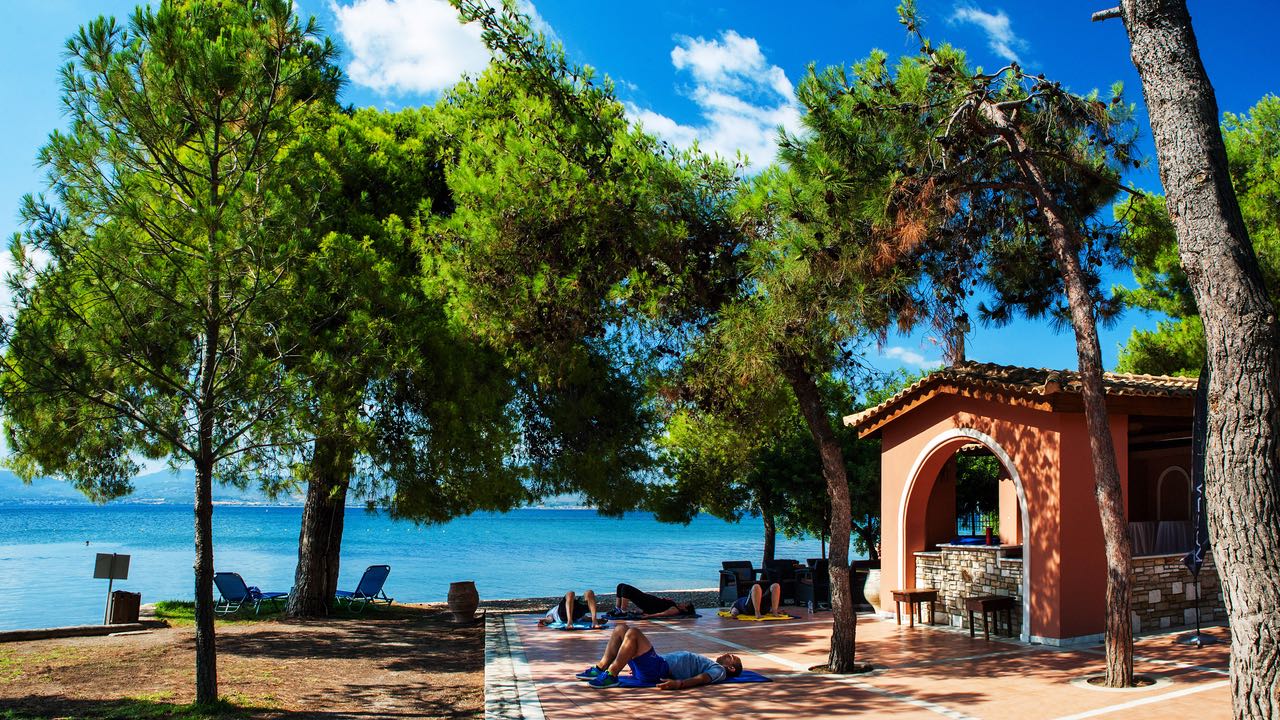 Negroponte Resort Kids Club
The kids club at Negroponte Resort Eretria offers a daily supervised program from 10:00 until 22:30 (with a break between 13:30-18:00) spread over its indoor and outdoor play areas and activity park. Whether your kids like to be active in Survivor games in the activity park/play forest Hakuna Matata or prefer to play board games with their friends inside, it is all possible.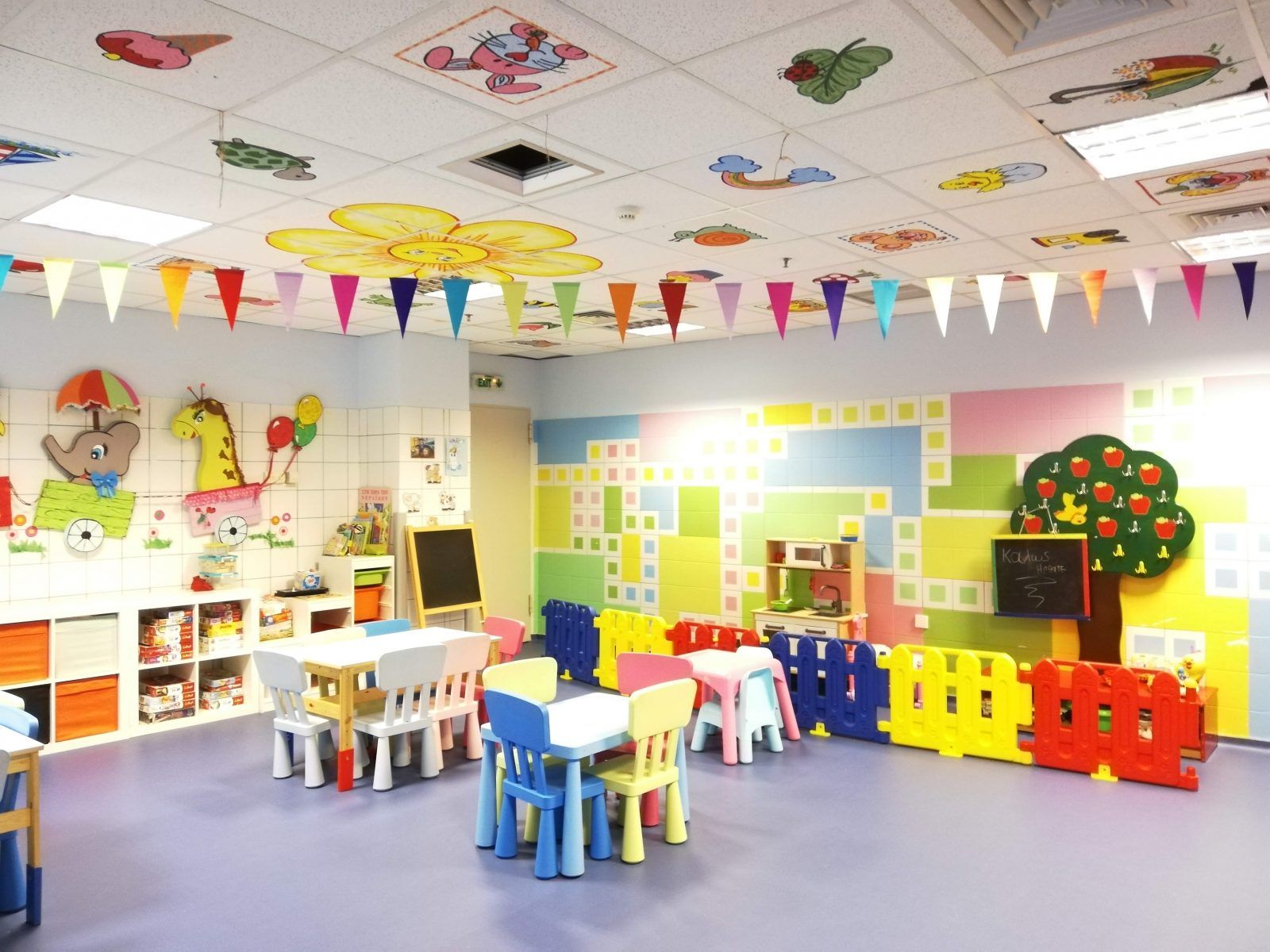 The play forest is open for free play too in case your kids just want to climb the tree house or master the swings and let go of all their summer energy.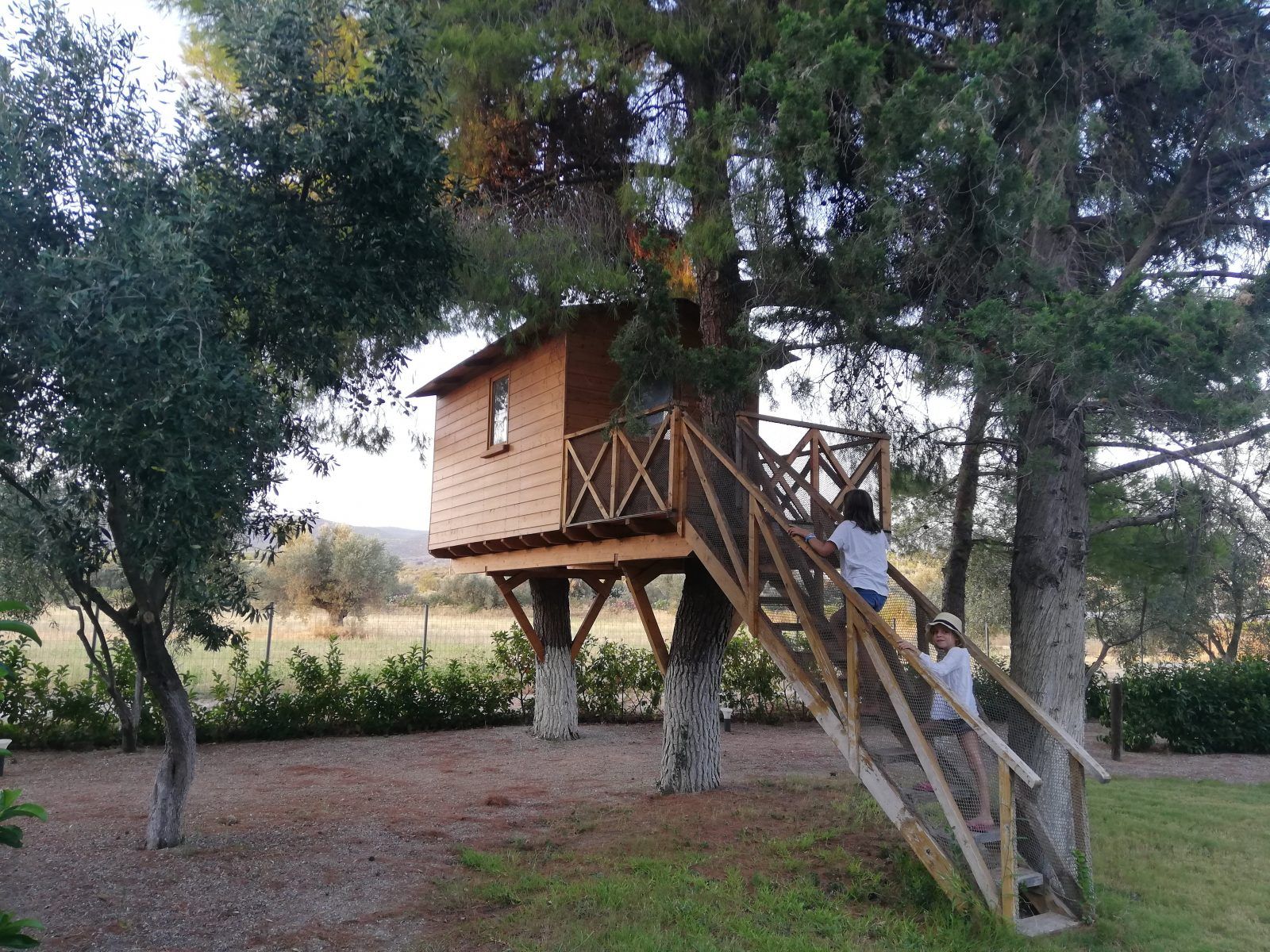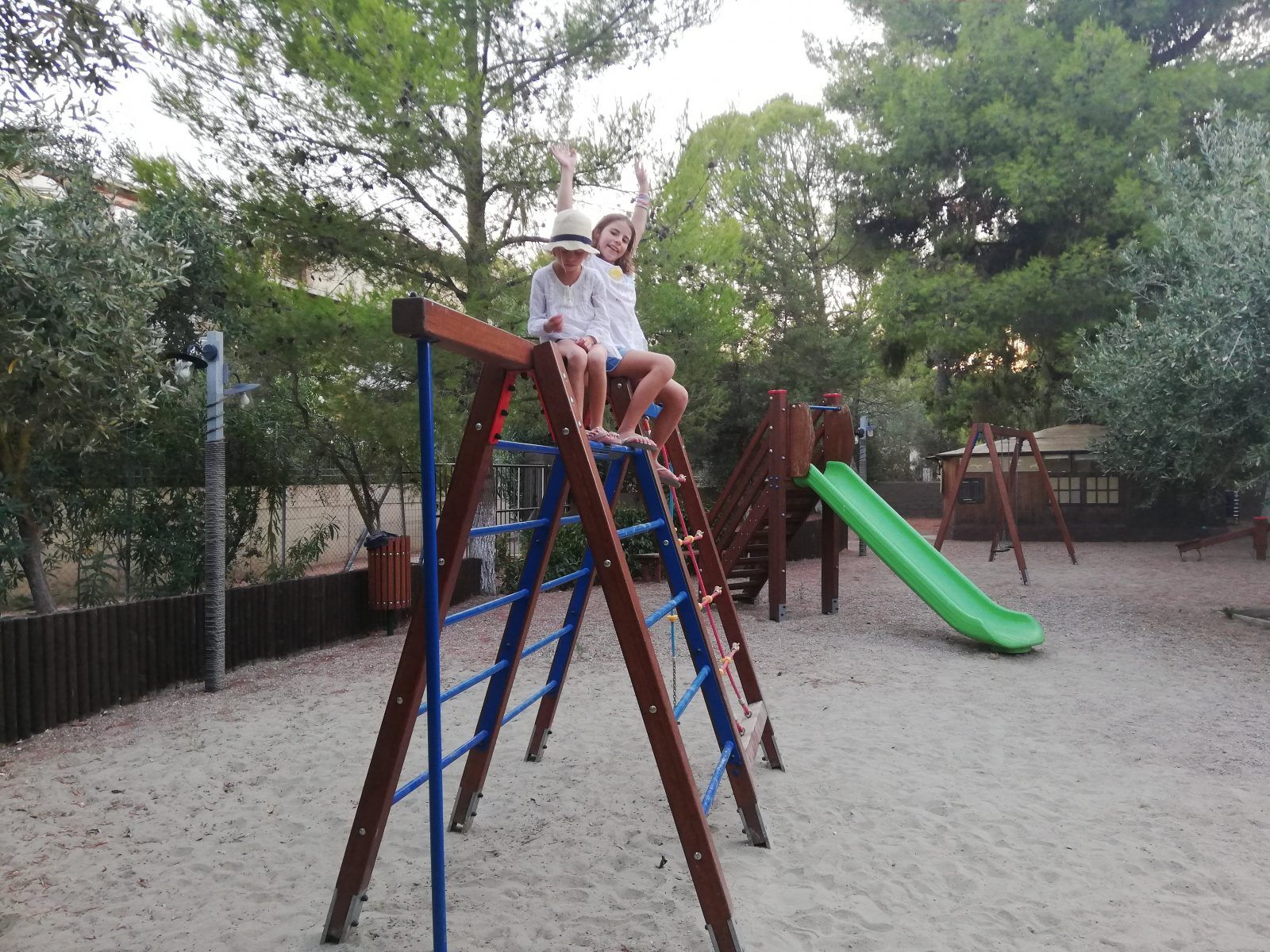 For young kids, I recommend the cozy playground at the back of the resort. Here they will find lots of grass, shady pines, and flowers, little ones will feel safe and happy here.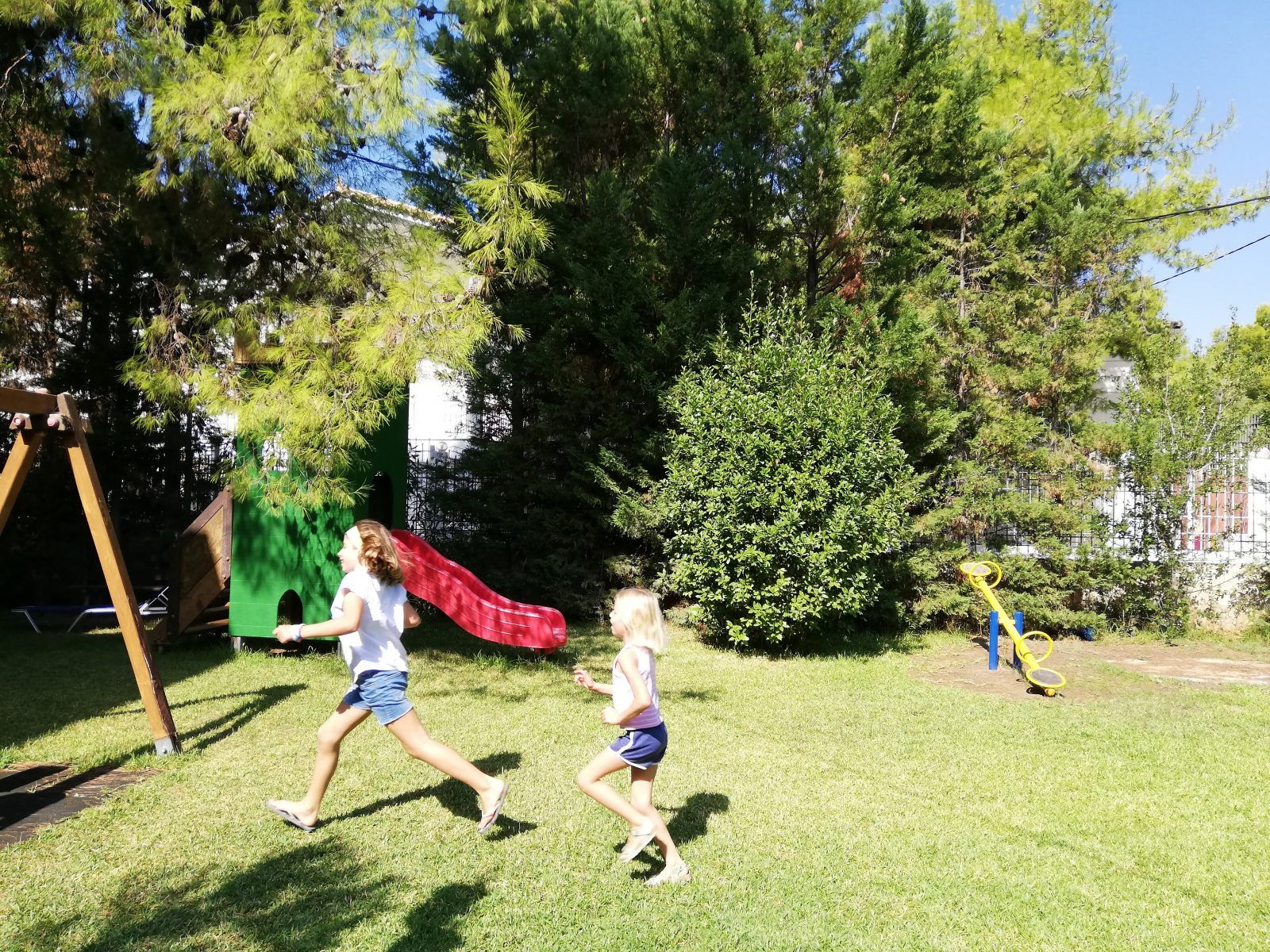 My kids loved playing word games with their friends at the kids club. They also crafted bookmarkers and origami, played Hide & Seek in the Play Forest. The indoor kids' club is a very nice place for juniors to watch a movie, play video games or draw while the parents enjoy date night dinner under the stars at the resort's veranda restaurant.
Making Memories
We spent leisurely days at the pool chatting with other returning families, spent relaxing moments on the beach and quality moments together having fun. PS. The beach is great for babies; calm sea, shallow water and lots of shade.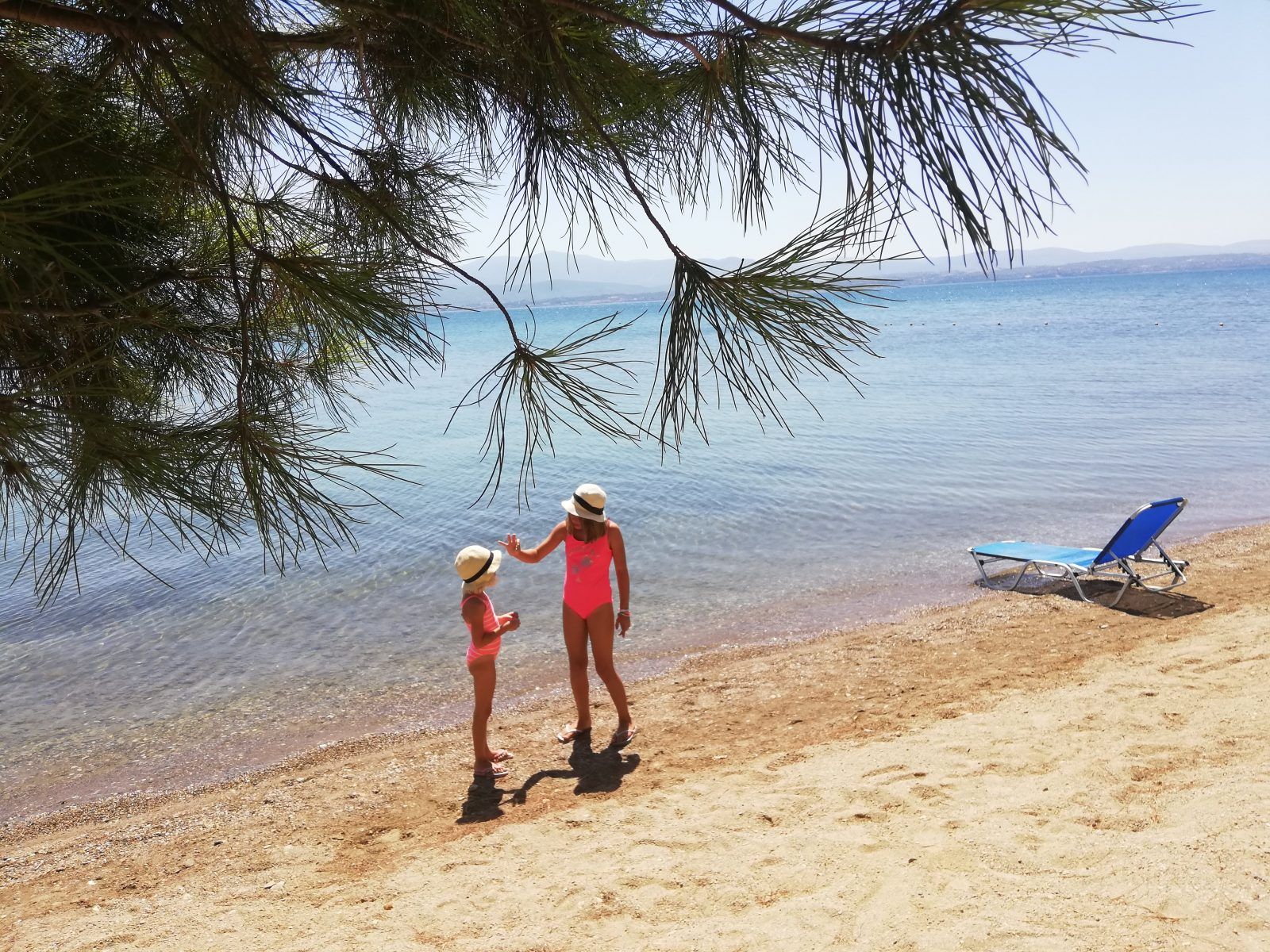 Negroponte Resort always makes us feel so much at home. The resort is an excellent place to spend with kids. But if you do not have them, it is romantic enough to make some! You can even organize your wedding here.
Negroponte Food and drinks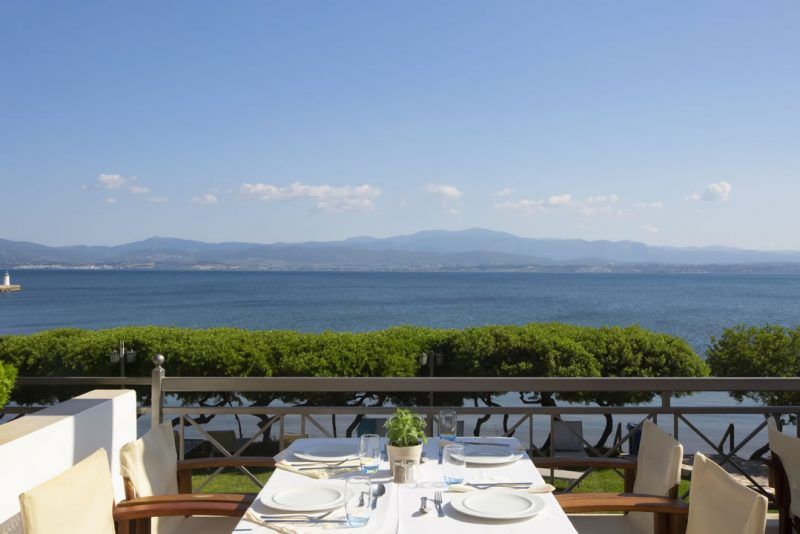 There are two restaurants and two bars at the resort of which the luxurious Levante restaurant is the most important. With a large veranda with a 180ο view over the Evian Gulf, the beach or the pool, here is where you want to spend all your meals.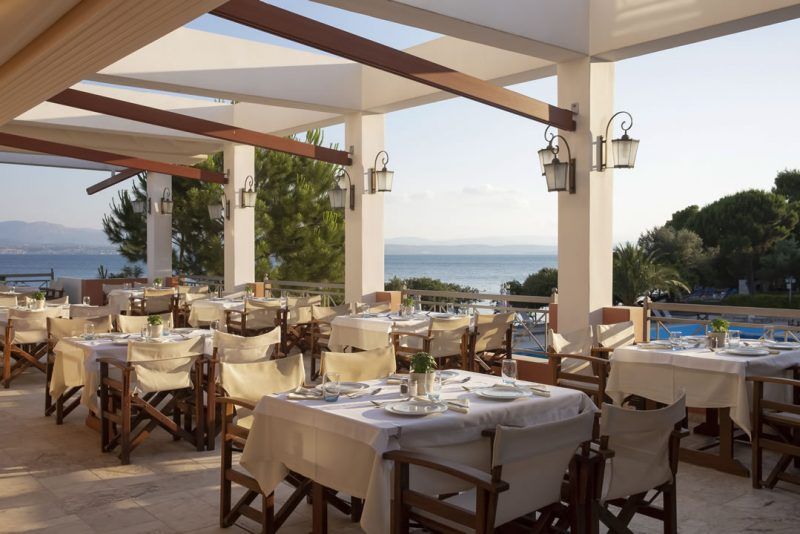 Levante restaurant is the hotel's main restaurant where buffet breakfast, à la carte meals and buffet dinners are served. Negroponte Resort offers BB, HB and FB concepts as well as lunch and dinner à la carte. All meals are freshly prepared and based on local products and virgin Greek olive oil.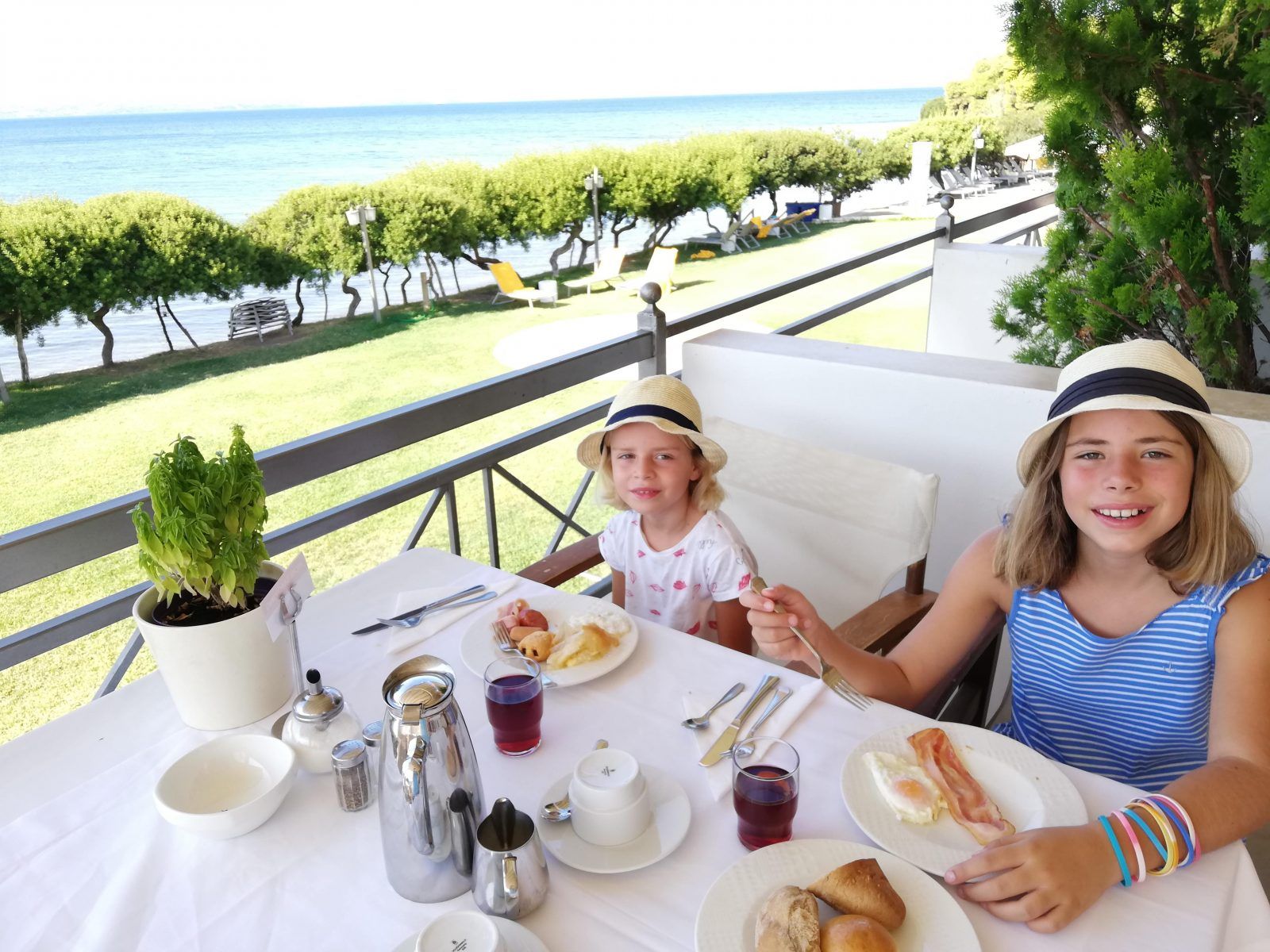 Greek Breakfast
The Negroponte Resort is awarded the Greek Breakfast label. This label promotes the regional culinary heritage of Greece in a program formulated to highlight local specialties and products. This Greek breakfast includes traditionally baked bread, rusks, olive oil, olives, yogurt, honey, dates, figs, and lots of dried and fresh fruit. There is also a good choice of sweets, freshly prepared pancakes and the homemade bread.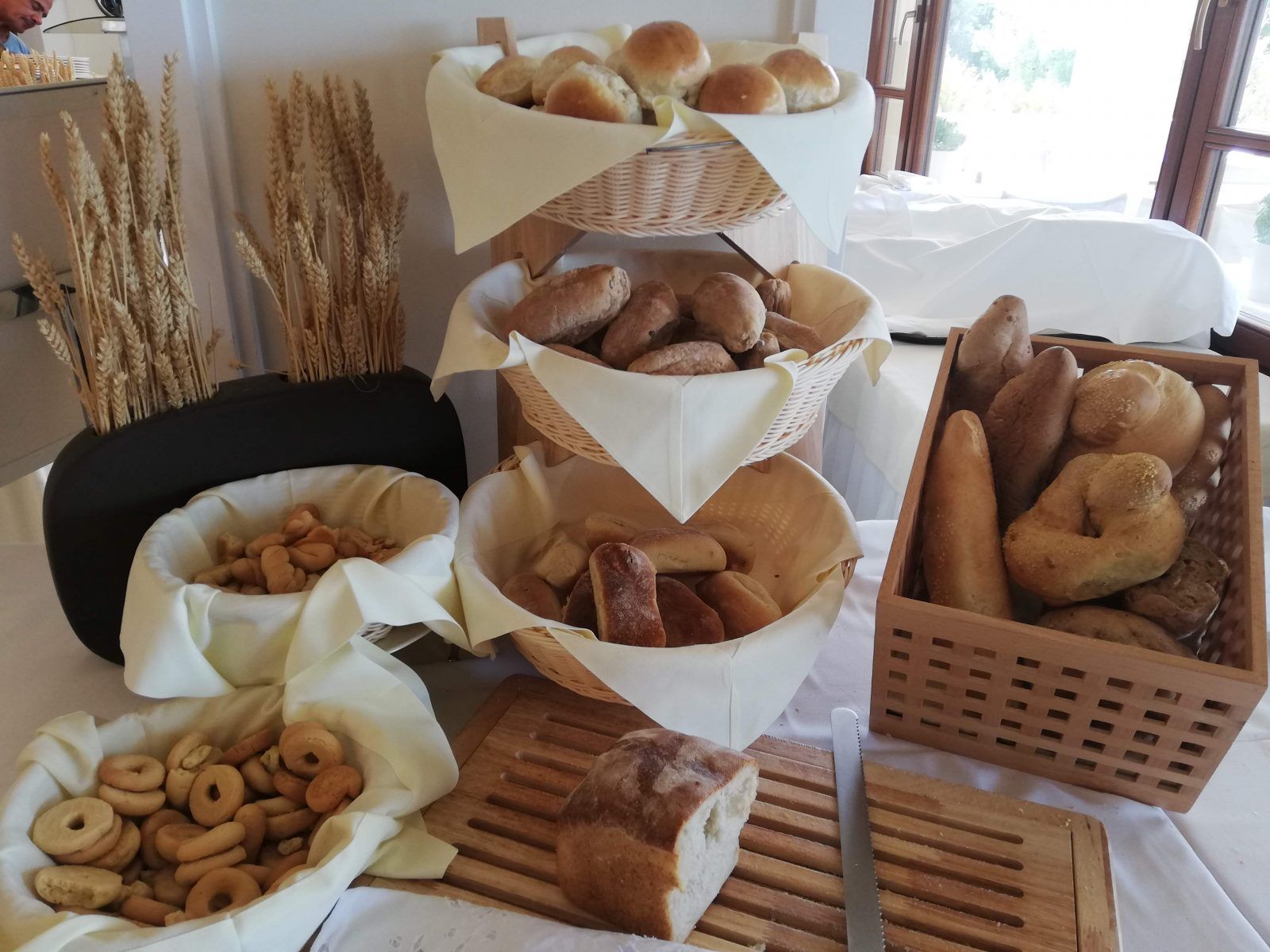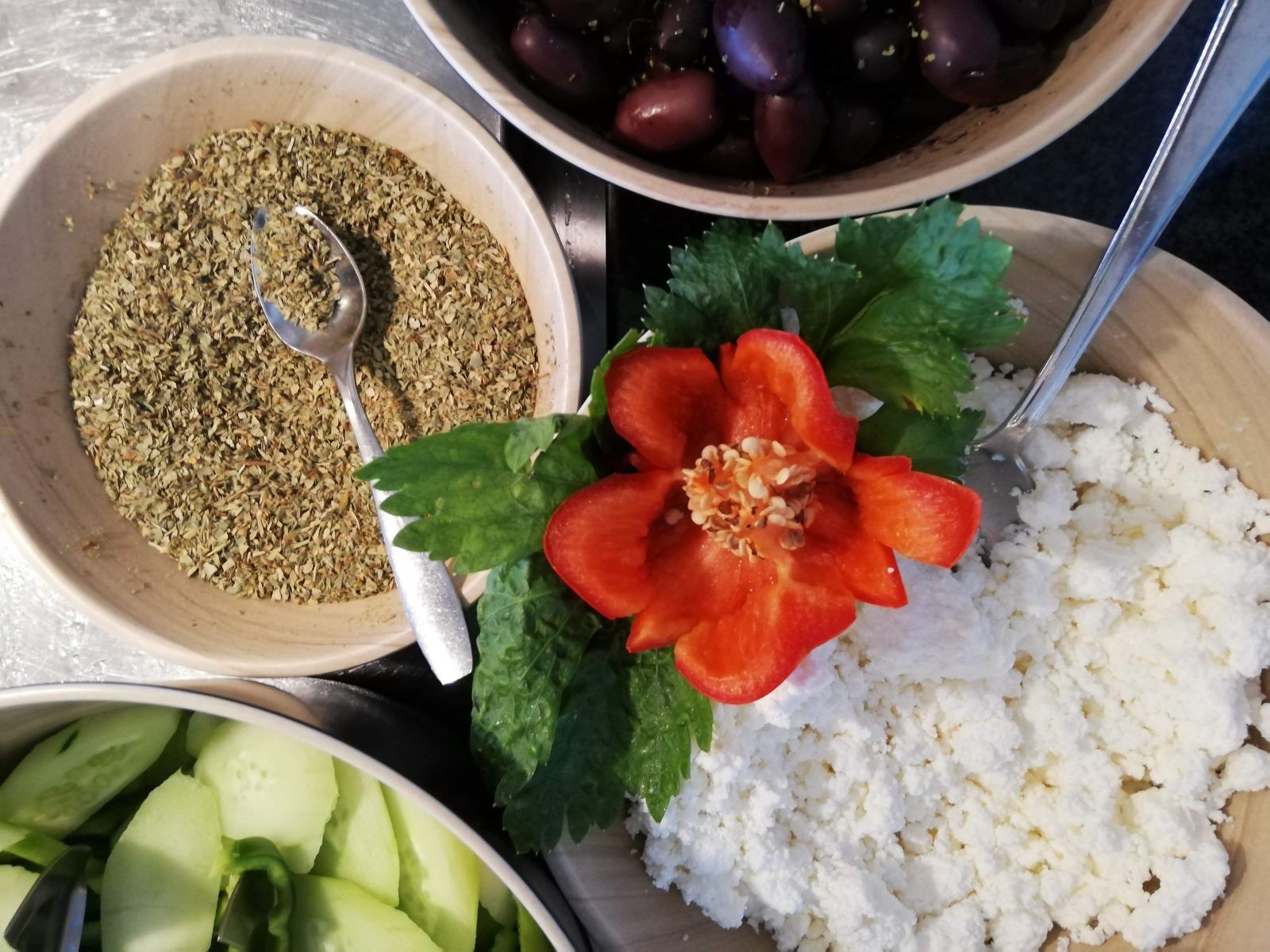 Lunch and dinner buffet
Levante serves authentic Greek and Mediterranean lunch appetizers and dishes such as fried zucchini, pastitio, fresh green beans, and stifado as well as dishes with fish and seafood like octopus, Calamari, and grilled sardines but also outstanding hand-rolled pasta dishes and lots of fresh salads. My kids loved the home-cooked mousaka and I enjoyed the quinoa-based salads with veggies and fruits.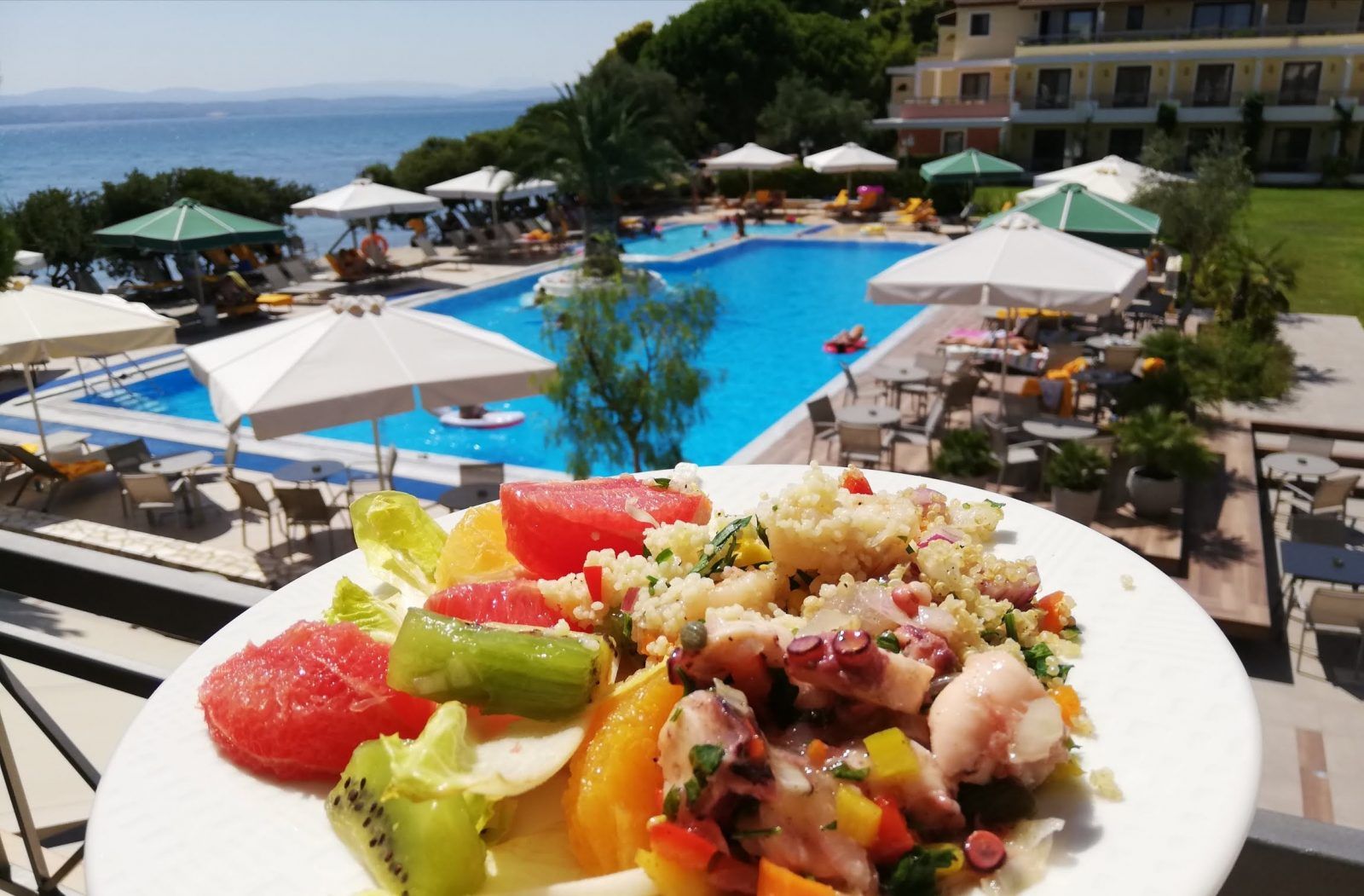 At dinner time, everything mentioned above is repeated and multiplied. Seafood pasta's, boiled, fried, and grilled fresh fish, traditional Greek dishes, vegetarian options, and lots of premium meat dishes.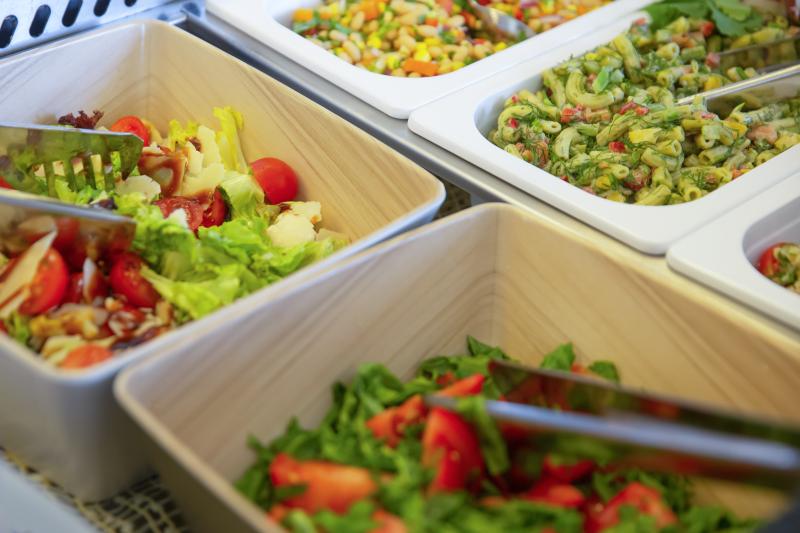 There are fresh soups, gorgeous prepared appetizers, lots of salads based on fish, avocado, or cheese, and many hot buffet dishes are prepared on the spot in the open kitchen. Kids will love the kid-friendly options of French fries, burgers, and ice cream. Desserts in abundance and many fresh fruits and cheese.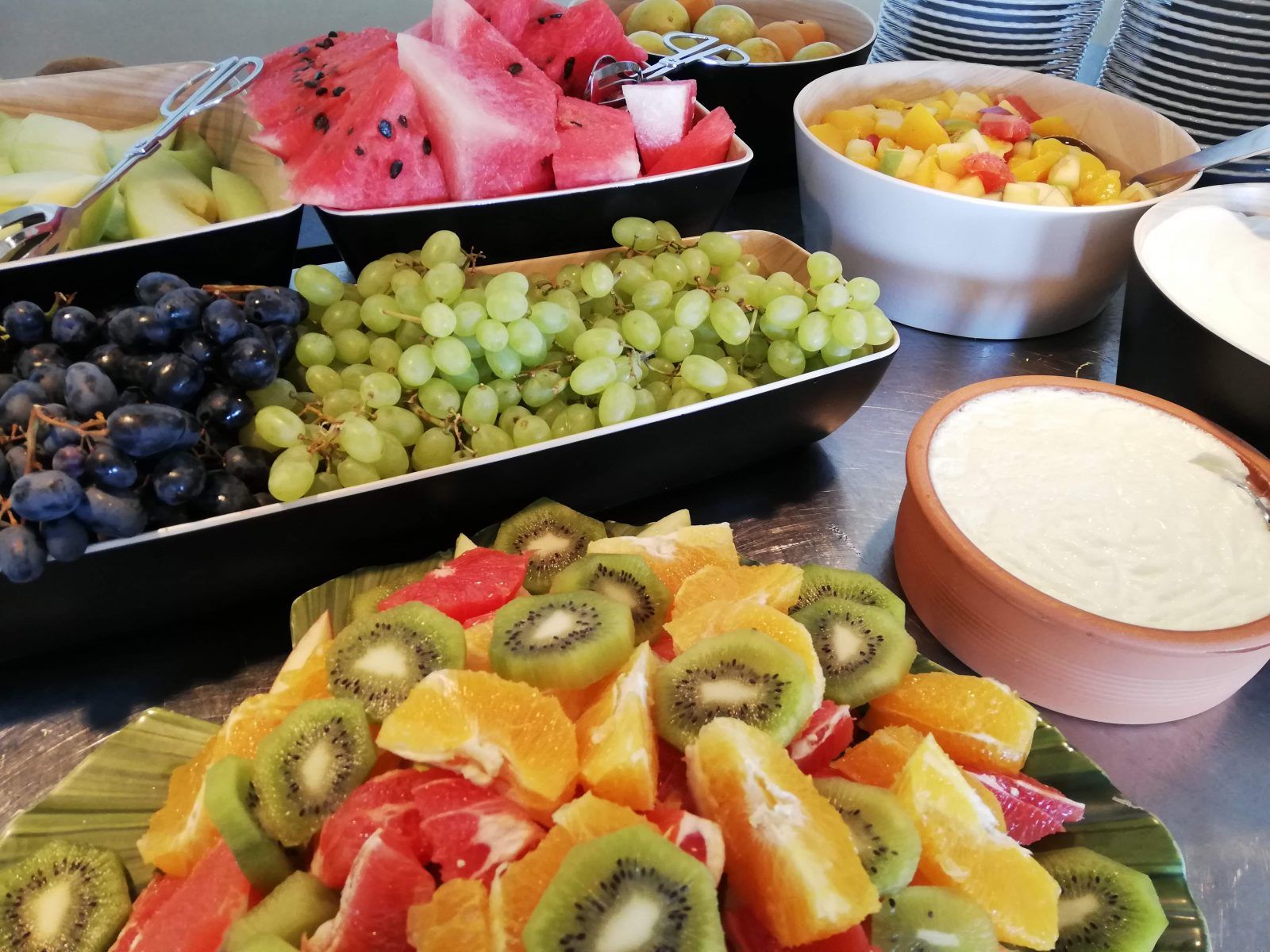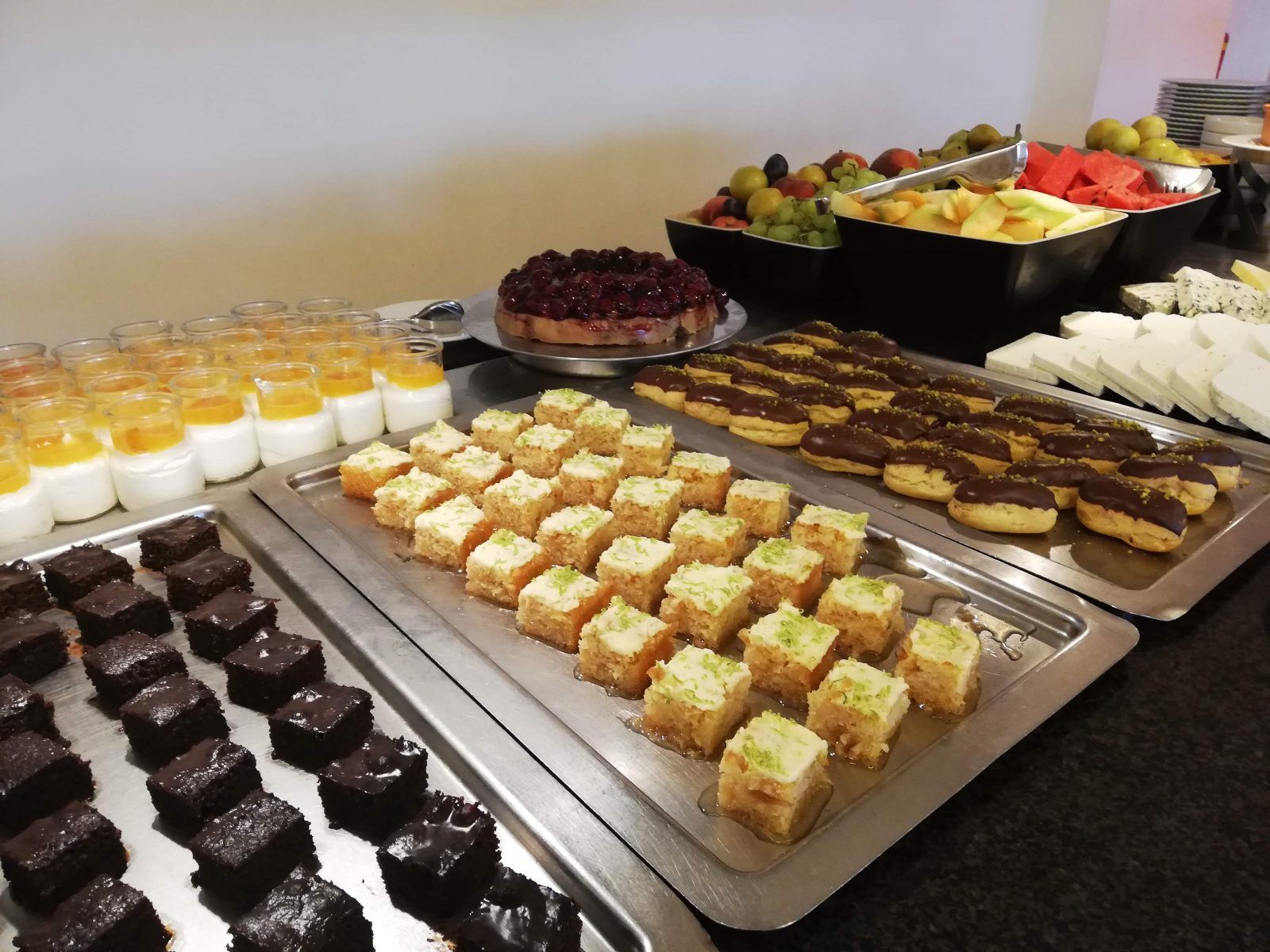 We loved the thematic buffets such as the seafood evening my favorite seafood risotto, varieties of marinated fish, eel, herring, grilled fish, stuffed grilled calamari, cuttlefish in white wine sauce, and delicious salmon gravlax. I also loved the Mediterranean theme with selected classic dishes from Cyprus, Greece, Italy, France, Spain and Morocco. We enjoyed the filled mushrooms, the Mare e Monte pasta with homemade past, and the vitello tonato. My kids voted for the steamed perch and dessert buffet.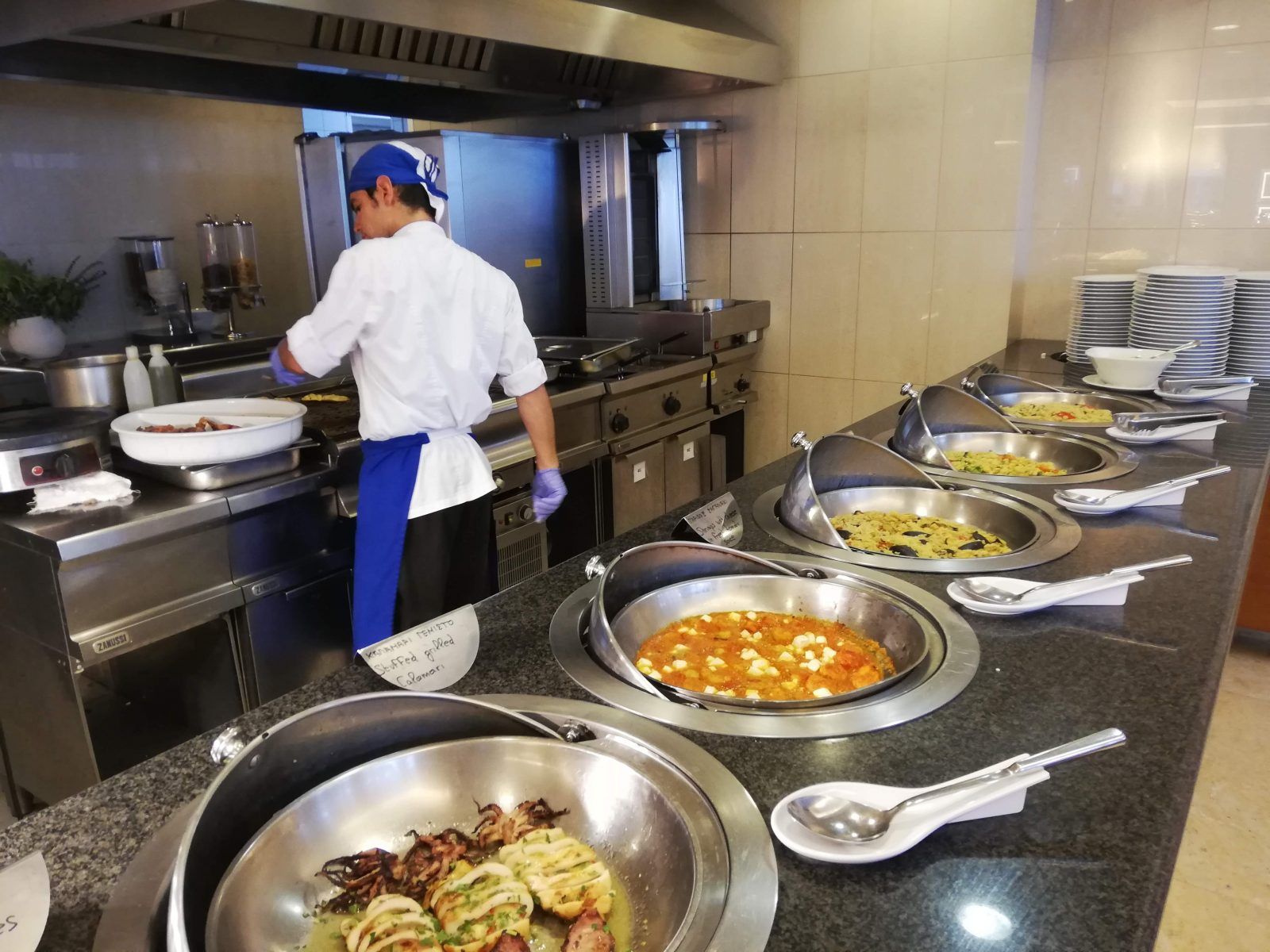 Captivating open kitchen's roaring pans and handmade on-site delicacies are just a few of the many 5* treats at Negroponte Resort.
If you don't like buffets, there is also an a la carte menu with classics such as Sirloin of veal, pork Filet Mignon, grilled shrimps with grilled vegetables, fresh sea bass filet on the grill, and fresh sea bream. Located on a wine-producing Greek island, Negroponte Resort's wine list features some excellent regional wines.
Bar & Restaurant
If you rather stay at the pool during mealtimes, your family can indulge in cold drinks, fresh pizza, salads, and snacks at the pool bar-restaurant or on the go on the beach (reusable cups only!) Don't miss the traditionally made premium gelato with a dazzling array of flavors! At night, the pool bar turns into a cocktail bar with often live music or dancing. Many people have a drink while their kids play happily in the grassy area nearby.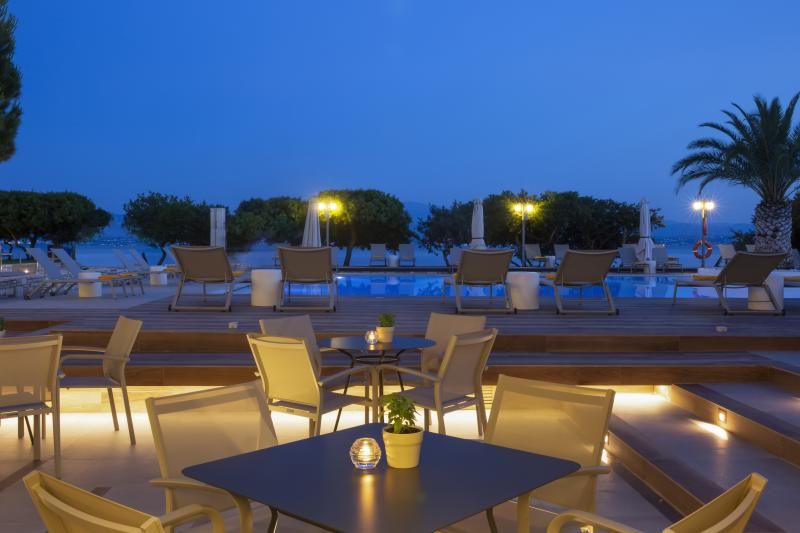 Things to do nearby
Evia is the largest island in Greece and an all-year-round destination. There is a lot to see & do. Negroponte Resort organizes several standard excursions and custom-made tours. Think of wine tastings or cooking classes in combination with a mushroom or truffle hunt.
Learn more about the island's ancient history by touring the Eretrian Acropolis and the Archaeological Museum. Beach lover must visit the famous Kalamos beach and families will love Chalkida with its impressive Castle of Karababa, the local market and lively boulevard with cafes and shops. For that ultimate island feeling, book a tour to the traditional village Steni located on mount Dirfi in an impressive gorge with running water and caves.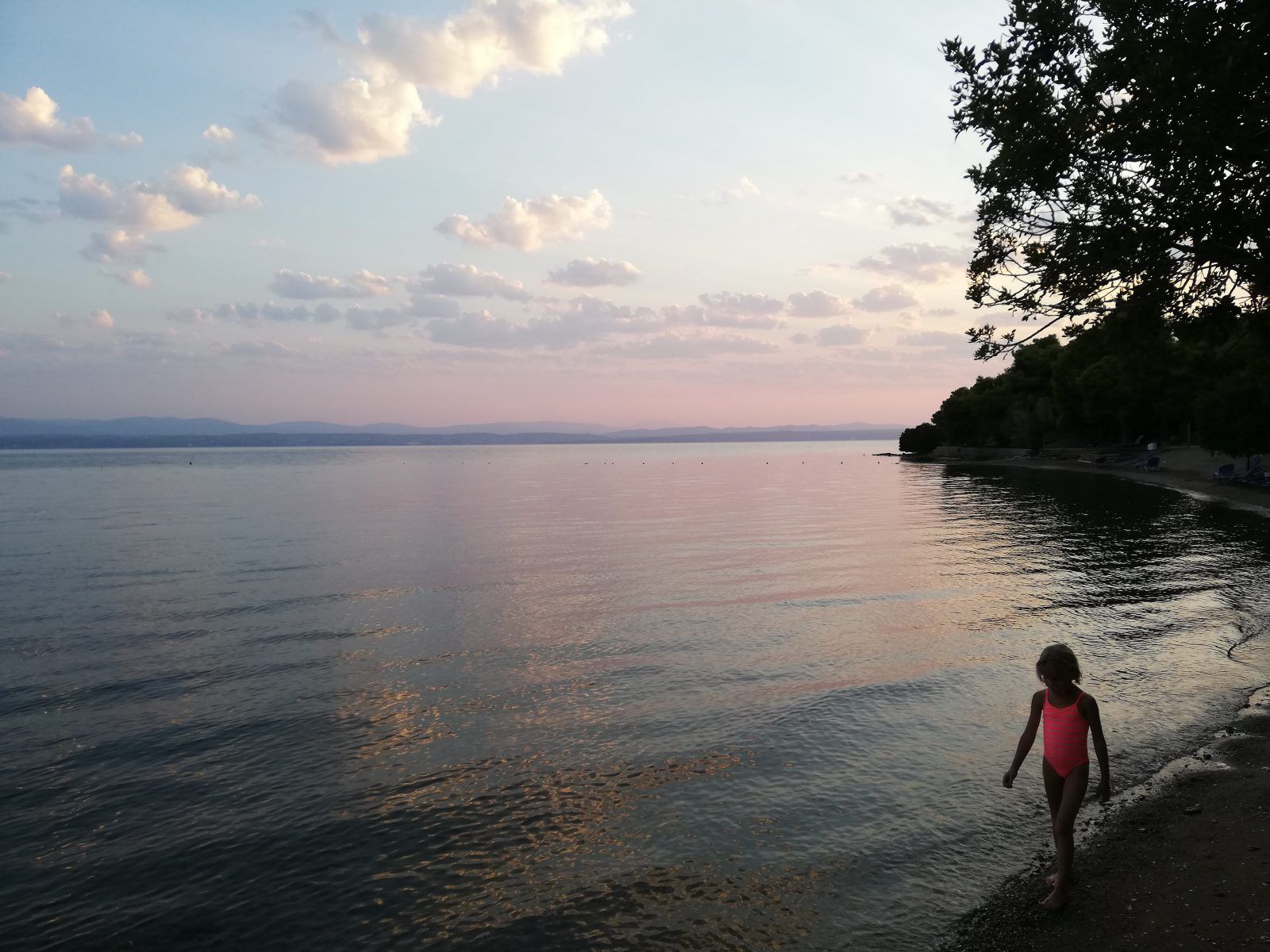 Negroponte Resort is a great choice for families
Negroponte is a nice and humble hotel with great service and family-friendly facilities. The staff embodies the famous warm Greek hospitality and is trained to set the highest standards and make your stay unforgettable. Located near Athens and on a beautiful coastline, the hotel rooms offers breathtaking views, lots of fun in the pool, sport activities and many moments of quality relaxation. What more could you ask for?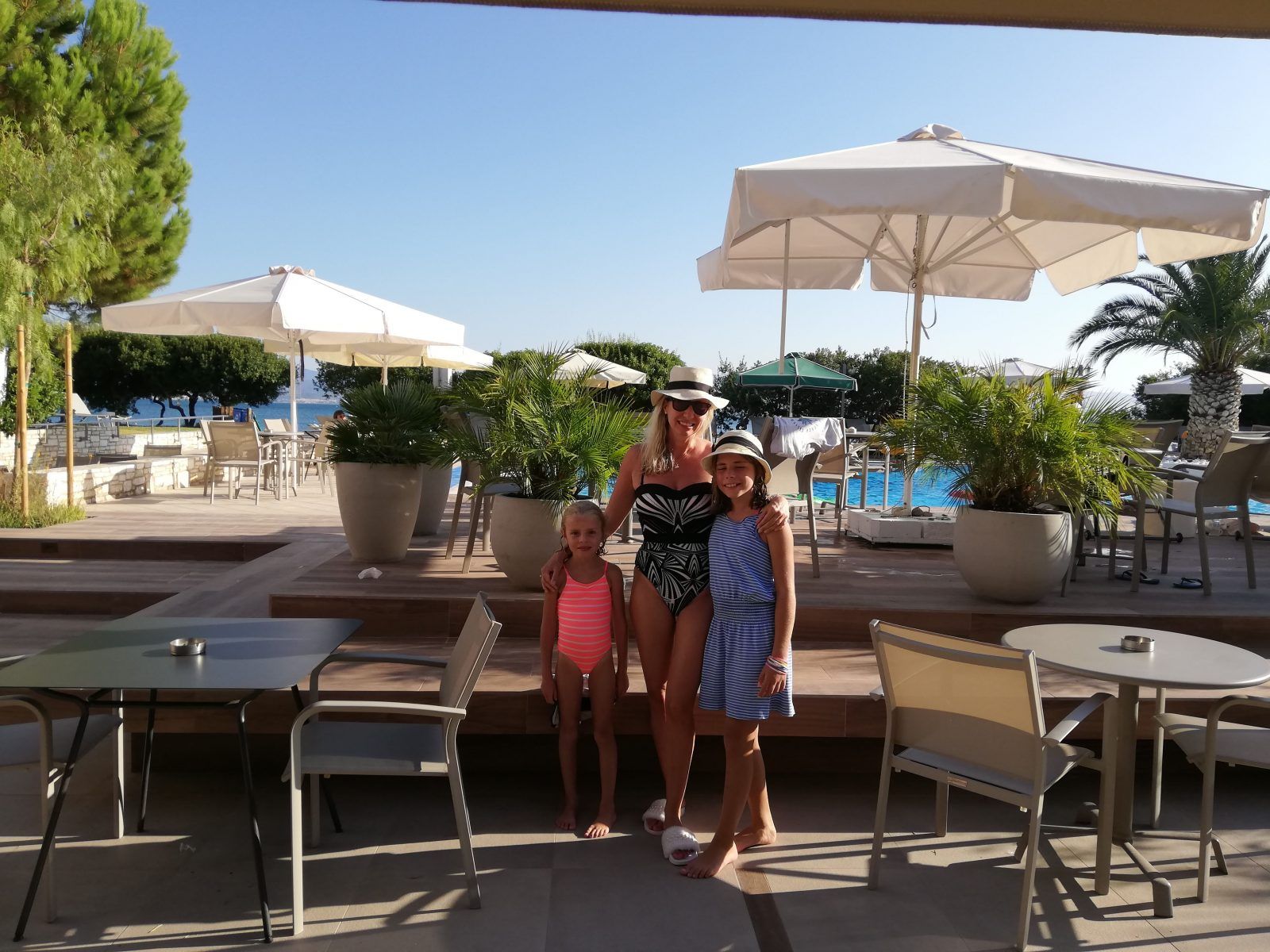 Information and prices
For more information about the hotel and the room types as well as prices and booking, please click here.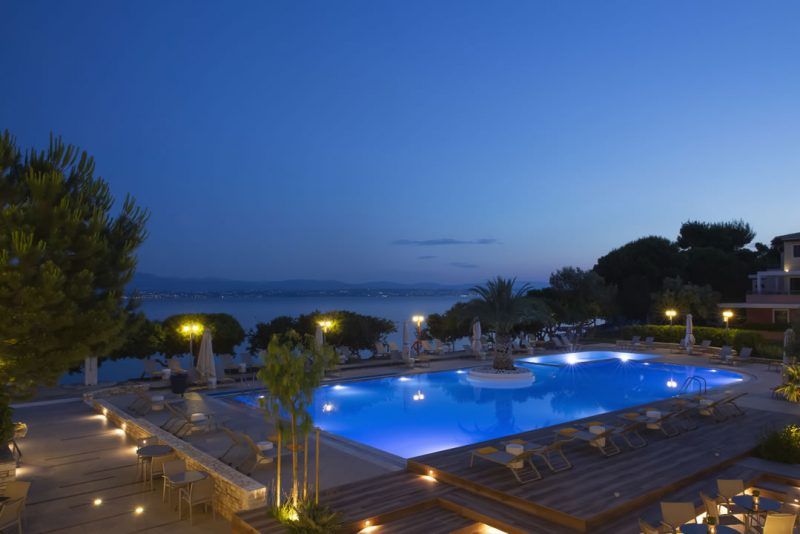 Keep this post for later and pin it!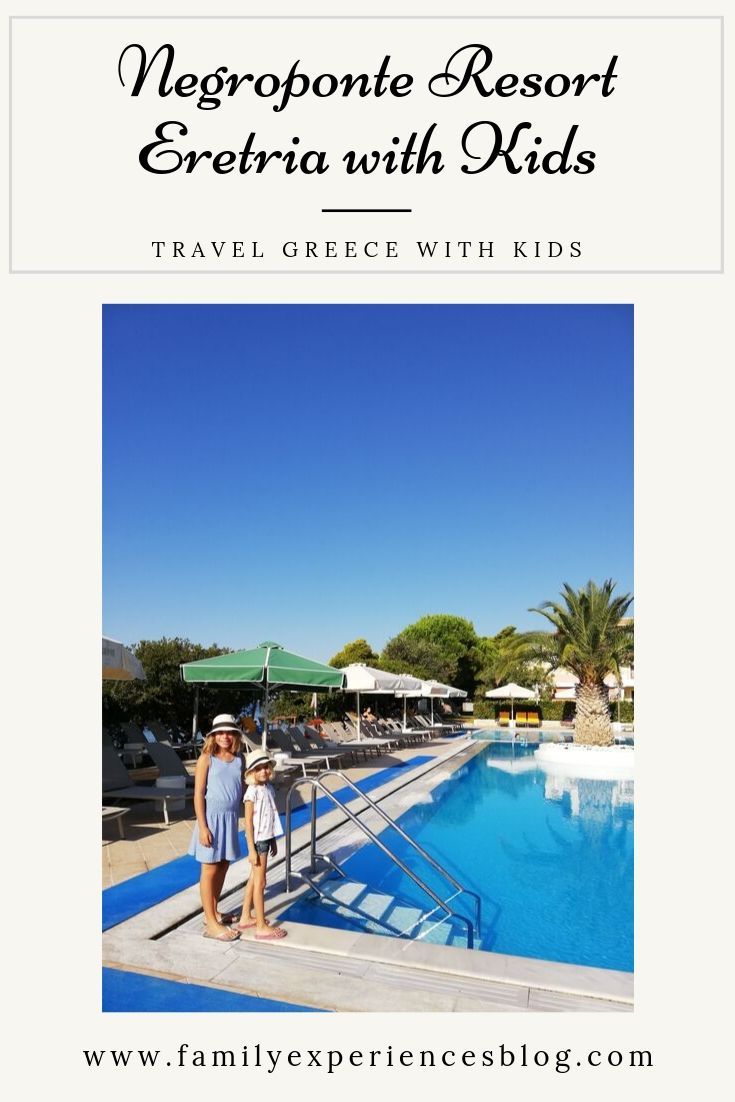 Related posts: Negroponte Resort Eretria Luxury Hotels, MiraMare Hotel Eretria, Thermae Sylla Spa & Wellnes Hotel, and A winter stay at Thermae Syllae Spa & Wellness Hotel.
For more real user reviews of tried and tested family friendly luxury resorts in Greece, have a look at my posts about Grecotel Olympia Riviera Resort, Grecotel Daphnila Bay Dassia, Grecotel Casa Marron, Grecotel Lux Me Rhodos and my post about the best family hotels in Santorini

Although we were guests of Negroponte Eretria Resort, these opinions are entirely my own. We thank the resort for hosting us and for making our stay memorable.
Affiliate Disclosure: Booking.com is my recommended website for booking hotels. It's safe, easy to use, and consistently has good rates. Some hotel links on my site are affiliate links meaning I earn a small fee when you book a hotel. (There is never any extra cost to you for using these links).