Last Updated on August 2, 2022 by Celeste.
The Land of the Centaurs – or where the Gods went for vacation – may have become less pure than it was until the 1980s when it began to be discovered for its lush, dreamy landscapes and the idyllic combination of mountain and sea, yet its singular beauty remains. The peninsula is ideal for families because of its lovely beaches, atmospheric village squares, where kids can play while adults sip their drink, characteristic tavernas and the constant, dreamy soundtrack of running waters.
In January 2017, Travel Bloggers Greece, the professional blogger network organization that I am a member of, celebrated its 2nd anniversary. For that occasion, a winter trip to the Pelion peninsula was organized. We were hosted by Hotel Aglaida Apartments in Tsagarada. During this trip, we had the chance to visit most of Pelion's winter attraction and discover what Pelion can offer to families and kids in wintertime.
Pelion with Kids
Pelion is the peninsula region of Thessaly (Central Greece) and an area relatively unknown outside of Greece. But perhaps it is the only area in Greece where sea and snow can be combined so easily. Pelion is known for its high mountains and its beautiful beaches. Traditional villages are scattered around the mountains and sea. Pelion is a destination for all seasons and for all kinds of holidays. For mountain and beach holidays, for relaxation and outdoor sports. Pelion is one of the most popular Winter destinations for families in Greece. During our visit in January we had a beautiful walk on a sunny beach and a few hours later we were standing in the snow! The nearest city to Pelion is Volos.
Top things to do in Pelion with kids
During our trips, I found out that there is a lot to do in Pelion with kids of all ages and all vacation styles (adventure, culture, relax etc) depending on the season that your family is visiting Pelion.
Visit the traditional villages of Pelion
A must do when in Pelion with Kids is a visit to the traditional villages of the area. The ones of Vyzitsa, Tsagarada, Zagora, Portaria a, d Makrinitsa are among the most popular in Pelion and considered the most beautiful. All villages offer stunning views and have large central squares surrounded by huge trees (lots of shade in summer!).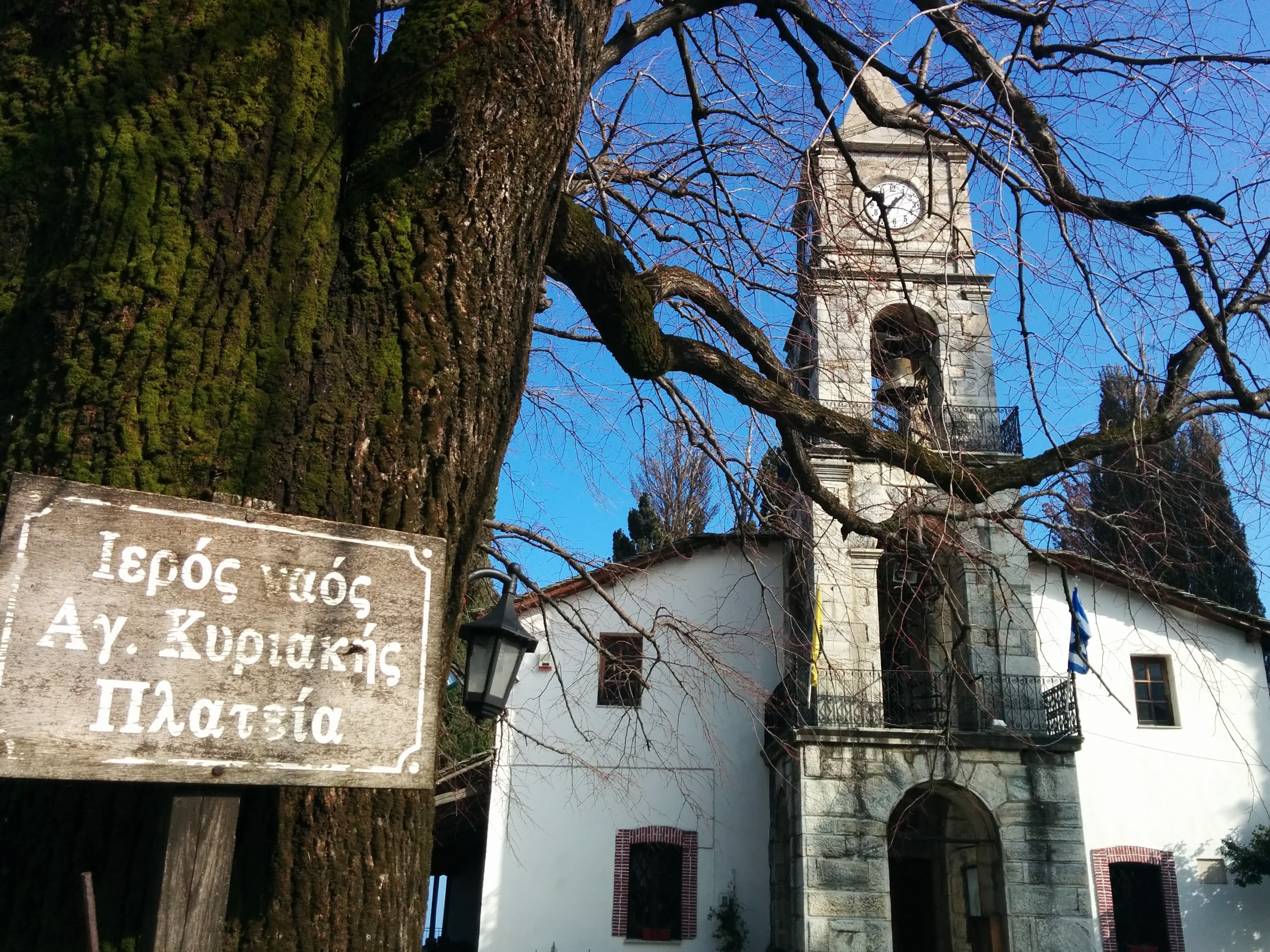 What better activity than to let your kids run around safely whilst you are having a drink or meal at one of the taverns on the square. Visit the beautiful churches of the villages too, especially the ones of Agia MarinainKissos. Yourlittle ones can swing and slide in the playground next to the church on the Agia Kyriaki square. The Taksiarchon Church is located on the main square of Millies and is worth a visit for its frescoes inside.
Woman's Cooperative of Vyzitsa
For history and culture visit the Museum of Folk Art and History of Pelion where you can find art and a folklore collection. In Vyzitsa, I recommend you to visit the Woman's Cooperative of Vyzitsa. Not only can you taste and buy local specialities here, also cooking classes are organized and your kids can see traditional cooking utensils and other tools from the past. In Zagora-Horefto is the Ellinomouseio with its folklore collection and the historical library.
Activities for Winter in Pelion with Kids
In winter time you can ski or snowboard on Mount Pelion in the Ski Center of Agriolefkes in Chania. The Agriolefkes Ski Center has four slopes for downhill ski, these are approved by the International Ski Federation. With older children, you can go on a family tour hiking with Trekking Hellas. Pelion is famous for it's hiking trails. If this is too difficult for your family, you can consider walking the Pelion paths. Pelion is also known for it's many cobblestone trails that have been connecting its villages for centuries. These are not stroller friendly. For more adventure, you can consider Sea Kayaking and Rafting. Mountain Biking is also possible in Pelion with kids. The stunning nature, paths, and beaches make Pelion an ideal destination for horseback riding. There are several horseback riding clubs in the area such as the IFOM in Milies.
Activities for Summer in Pelion with Kids
In summer, Pelion has plenty of beaches to choose from. The best-organized beaches for families are Milopotamos (sand/pebbles/lifeguard station), Fakistra, Papa Nero beach (sand/pebbles/ lifeguard station), Agios Ioannis (sand/pebble/ lifeguard station), Agioi Saranta and Horefto (sandy beach). Agios Ioannis also hosts an organized camping.
The Pelion Train
An adventure for all ages? A ride on the Pelion Train and a visit to the colorful traditional train station. The train operates during the spring and summer and passes by forests, villages and many bridges. More information can be found at the Volos Travel Office and TRAINOSE +30 24210 39723. Return tickets are 18€ for adults and 10€ for kids (prices based on 2017)
Festivals
Visiting in summer or autumn? Take your kids to a local festival such as the Tsagarada Escape Festival. There are also dance festivals and concerts. The International Pelion Festival is organized in July and August. Did you know that Pelion is famous for its fruits, especially its apples. There is even a festival for it: The Apple Festival in Zagora in September. Zagora Village cannot be missed during your stay in Pelion because it is famous around the world for the production of apples. Other fruit festivals are the Cherry Festival in Stagiates (July), the Pear Festival in Milies (August) and the Chestnut Festival in Xourichti (October).
Visit Volos with Kids
The capital city of the region Volos has a beautiful harbour and a nice boulevard with excellent fish taverns and mezze restaurants. Volos is a pleasant city with many facilities but with the charm of a provincial town. Walk at the beautiful port and admire the Argonouts ship replica. You can also cycle on the well-organized bike paths of the city. The Athanassakio Archaeological Museum houses exhibits in a beautiful spacious neoclassical building with a lovely garden. You will have the opportunity to see a variety of findings from different but equally important periods of Greek history. Lots of tools, jewellery, weapons as well as ancient tombs are some treasures at this small but fascinating museum.
Where to stay in Pelion with Kids
During our trip to Pelion with kids, we were hosted by Hotel Aglaida apartments. A budget-friendly family suitable accommodation in the village of Tsagarada. You can find my tried and tested review of Hotel Aglaida here.
Click here for more information and to book your stay.
We also reviewed other hotels while we were in Pilion. If you want to stay near the ski center of Agriolefkes in Chania, the best choice for families would be the Manthos Hotel. This Spa and Sports hotel is great in summer too. I loved the games rooms and the nice outside playgrounds as well as the spa. An excellent hotel for families who want to spend quality time together with a nice luxury spa overlooking the hills.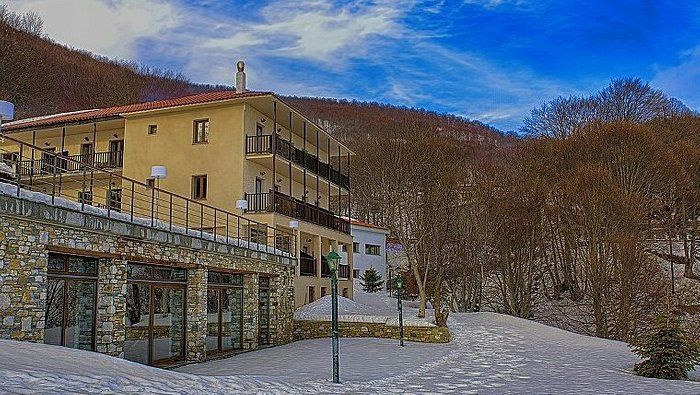 Click here for more information and to book your stay at Manthos Hotel
For Portaria, a good choice for families would be Kritsa Gastronomy Hotel. This hotel is one of the accommodations of the Guest Inn Network: the Greek network for rural accommodations. This hotel offers several kinds of family rooms and is located on a traditional square with lots of safe space to play. The restaurant of Kritsa hotel is famed for its local dishes and Greek gourmet cuisine. My kids loved the fountains and big trees here. I loved the food in Kritsa Hotel, especially its soups and meat.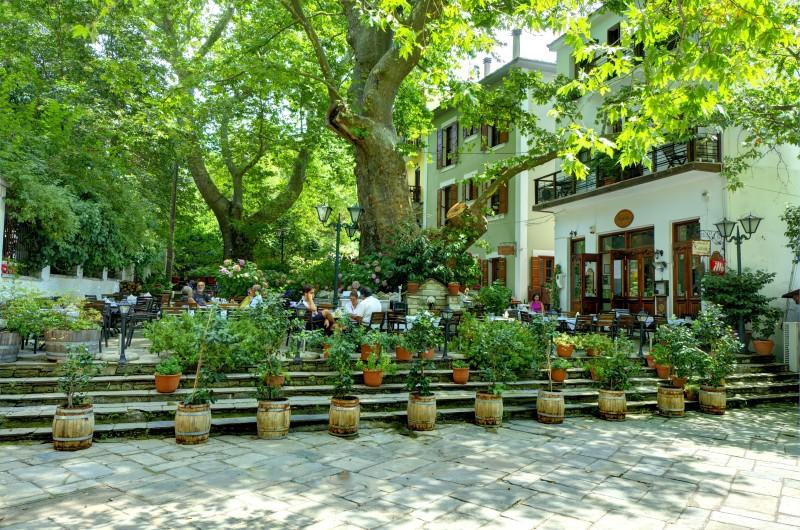 Click here for more information and to book your stay at Kritsa Gastronomy Hotel
How to get there
If you arrive in Greece at Athens or Thessaloniki, you need to get to Volos first. Volos is the capital of the area and the closest city to Pelion. Volos is 326 km from Athens and 215 from Thessaloniki. From both cities, it is a very easy drive on a good quality main road. Once you reach Volos you can start your trip to one of the many villages in Pelion. These roads are often very curvy so keep this in mind if your kids suffer from car sickness. You can also fly into Volos, the Nea Anchialos airport receives international charter flights.
Did you like this post? Pin it for later!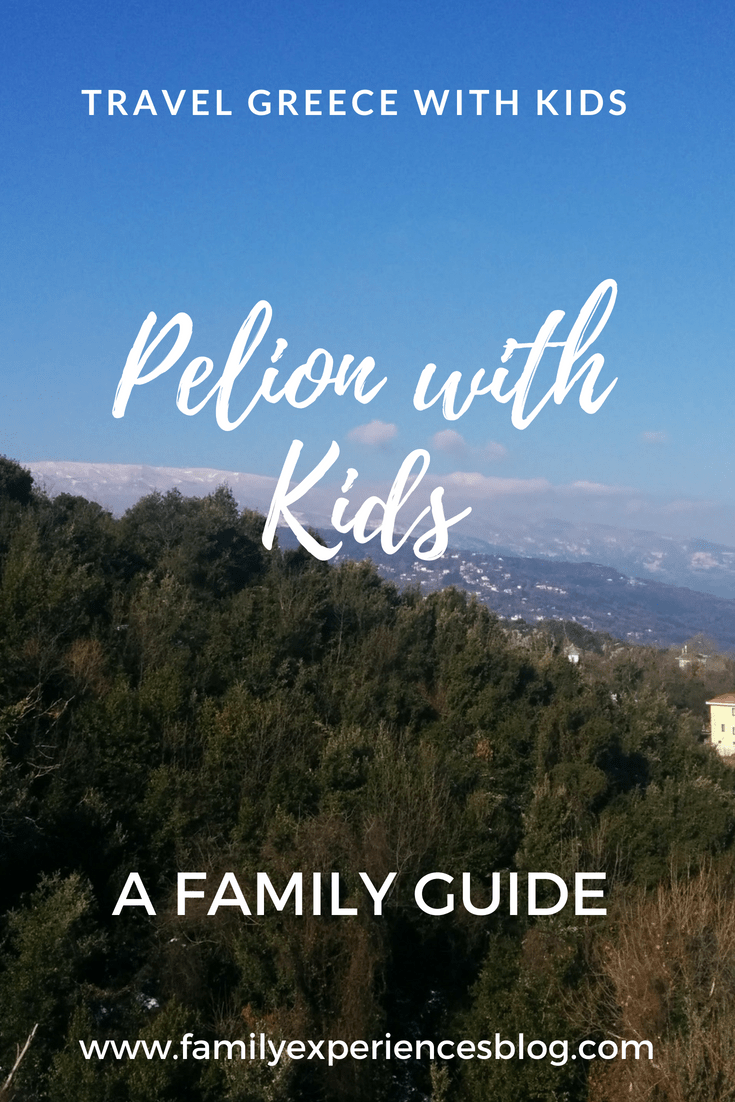 Disclaimer: This post contains an affiliate link. This means that should you click on certain links, and then subsequently purchase a product, I will receive a small commission. It costs nothing extra to you but helps keep my site running. Thank you for supporting me in this way.