Last Updated on January 24, 2021 by Celeste
Greece is not just about golden beaches, blue seas and picturesque sun-drenched islands. Greece is a 365-days per year destination and winter in Greece is wonderful. Ideal for winter sports, hiking, romantic mountain getaways and more. Finally, the word is out and Greece as a winter destination is getting more and more popular. Due to its soft climate, its safety and its kids- friendly atmosphere, the Greek cities are perfect for a winter break. And there are some great ski and snow places too. I have listed some of my best winter destinations for families in Greece.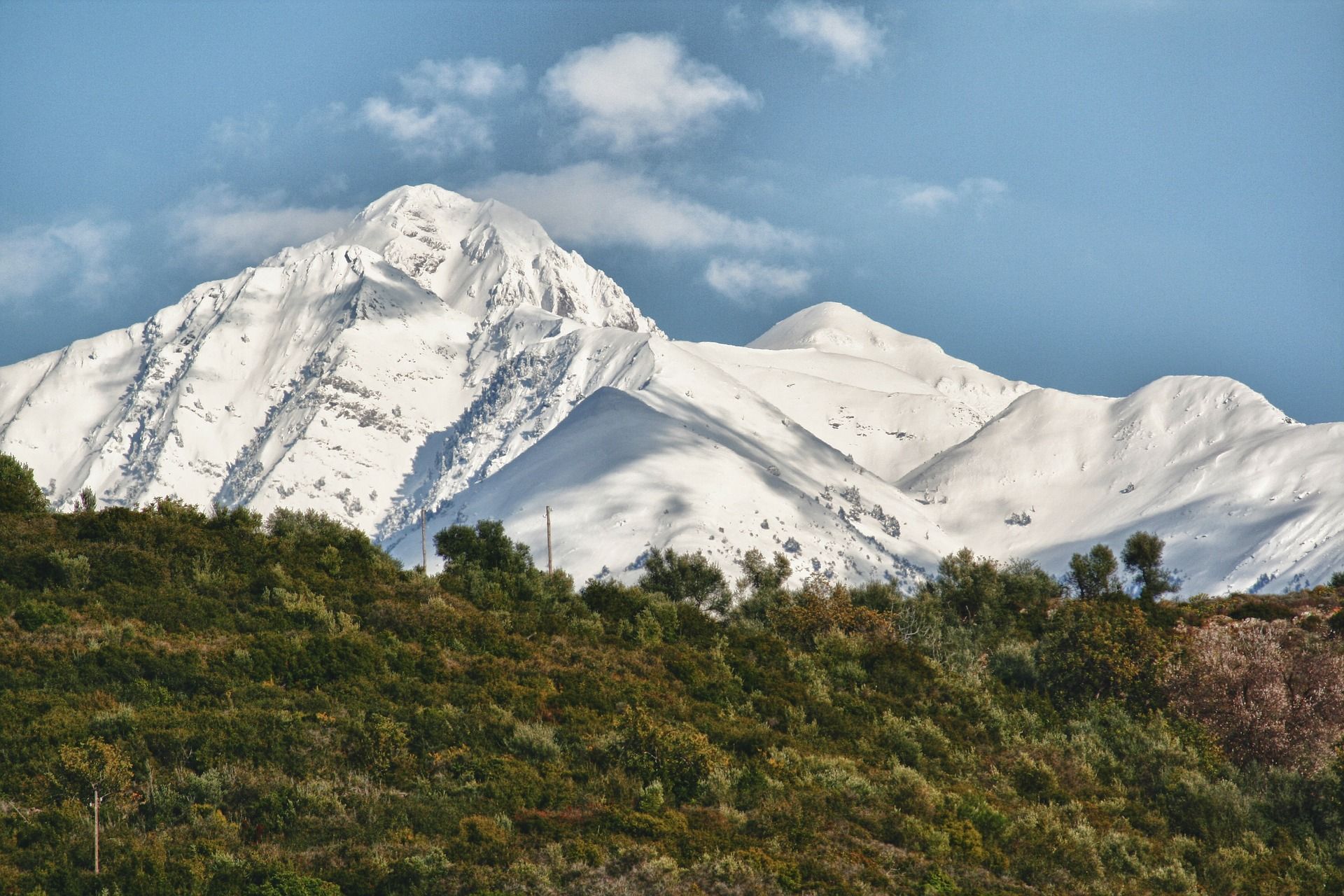 Winter vacation for families in Greece
Here are some great holiday ideas for family winter vacation in Greece. Think of uncluttered ancient sites in cooler weather and pretty towns and villages. Think of the beautiful Greek cities too. They are at their best in winter. The soft sunny weather of Athens and Thessaloniki makes them an ideal winter escape. But there are other cities too: Patras, Naoussa, Veria, Volos, and Ioannina have much to offer in winter. Did you know that the carnival in the Greek city of Patras is renowned throughout Europe? Families can combine a visit to Volos city with a ski vacation in the Pelion peninsula.
Athens and Thessaloniki
The two largest cities in Greece can be visited all the year-round, and there is always plenty to see and do! The main archaeological spaces such as the Acropolis may have slightly shorter opening hours, but the flip side is that there are also far fewer tourists. Explore the monuments and sights without the long waiting lines.
Snow destinations for families in Greece
Perhaps one of the biggest secrets are the ski and snow resorts in Greece. The country is almost completely covered with mountains and has excellent ski centres and mountain hotels. The mainland of Greece has the most popular winter resorts. These are the most popular snow and winter destinations for families in Greece in Greece.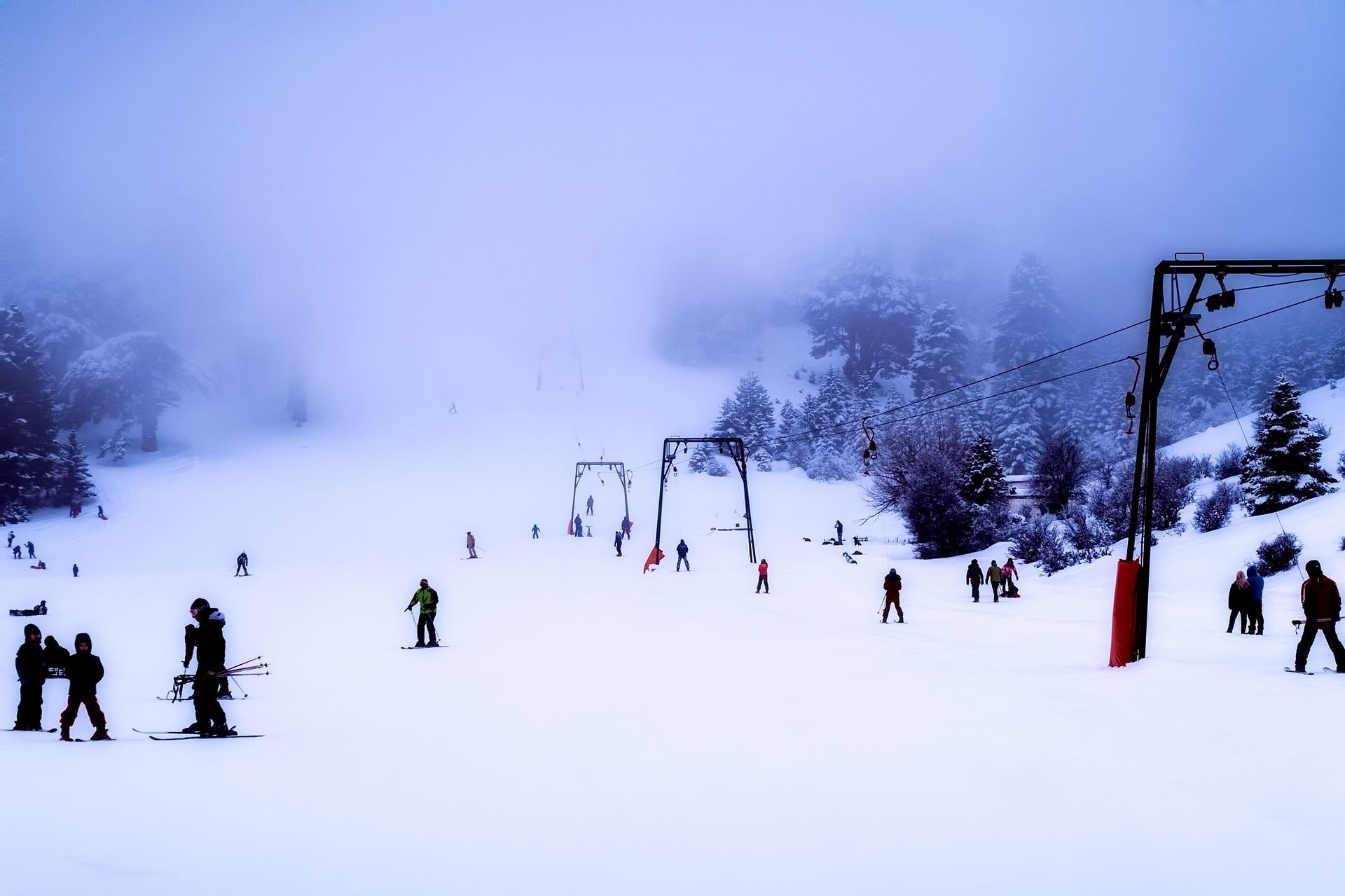 Arachova
Arachova is one of Greece's most popular ski resorts and closest to Athens (180 km). Arachova is a mountain village at the foot of Mount Parnassus in Central Greece. It is a cosmopolitan destination with great food, some nice shops, and family-friendly luxury hotels. Families can combine a winter ski vacation in Arachova with a visit to the world-famous archaeological site in Delphi. The slopes in Arachova are suitable for beginners and advanced skiers. There is also a spa in Arachova and the area is suitable for hiking and walking because of its many natural trails. What I remember most from our stay in Arachova is the fabulous local food.
Where to stay in Arachova with family?
For family-friendly luxury on a top location with family rooms I recommend the Santa Marina Arachova Resort and Spa and the Santa Mariana Hotel. The VIP Suite 4 seasons and Tagli Resort and Spa in the nearby quieter Livadi are also suitable for families. Anemolia Mountain resort is another tried and tested one for families with young children.
I further highly recommend Elatos Resort and Health Club on Mount Parnassos. It is one of the best hotels for families due to its kid-friendly services, close-proximity to winter sports activities, and cool chalets.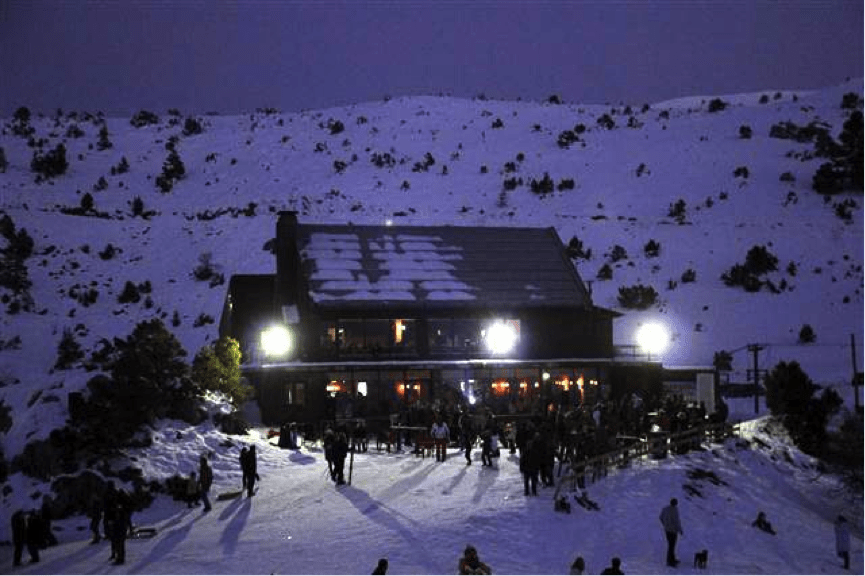 Kalavrita
Kalavrita is a small mountainous town in the West of Greece, at the northwest side of the Peloponnese. It is a very popular winter destination in Greece and excellent for skiing. Its ski centre on Mount Helmos is at an altitude of 2,340m and it is the most important ski resort in the Peloponnese and the second largest ski resort in Greece. The ski facilities are excellent. There are 12 ski runs, snowboarding grounds and other winter games.
Kalavrita has an organized ski school and a first aid station. But there is more to Kalavrita than skiing. You can discover the famous Monastery of Mega Spileo, carved beautifully against the mountains, the historic Monastery of Agia Lavra (Greek Independence was first declared here) or the mysterious Cave of the Lakes. The paths in the gorge of Vouraikos are great for hiking. And last but not least, you can show your kids the wine production process during a cellar tour in the vineyards of Achaia and Katogi/Strofilia.
Where to stay in Kalavrita with family?
When you're thinking about where you should stay in Kalavrita, you might want to consider these 5 child-friendly hotels and accommodations. Mont Helmos Hotel offers an indoor pool, free parking, and a free buffet breakfast. Kalavrita Canyon Hotel & Spa is possibly the most luxurious in the area. Features an outdoor pool, a restaurant, and free parking. Oneiro Resort and To Greki feature a restaurant, free parking, and laundry facilities.
Mainalo ski resort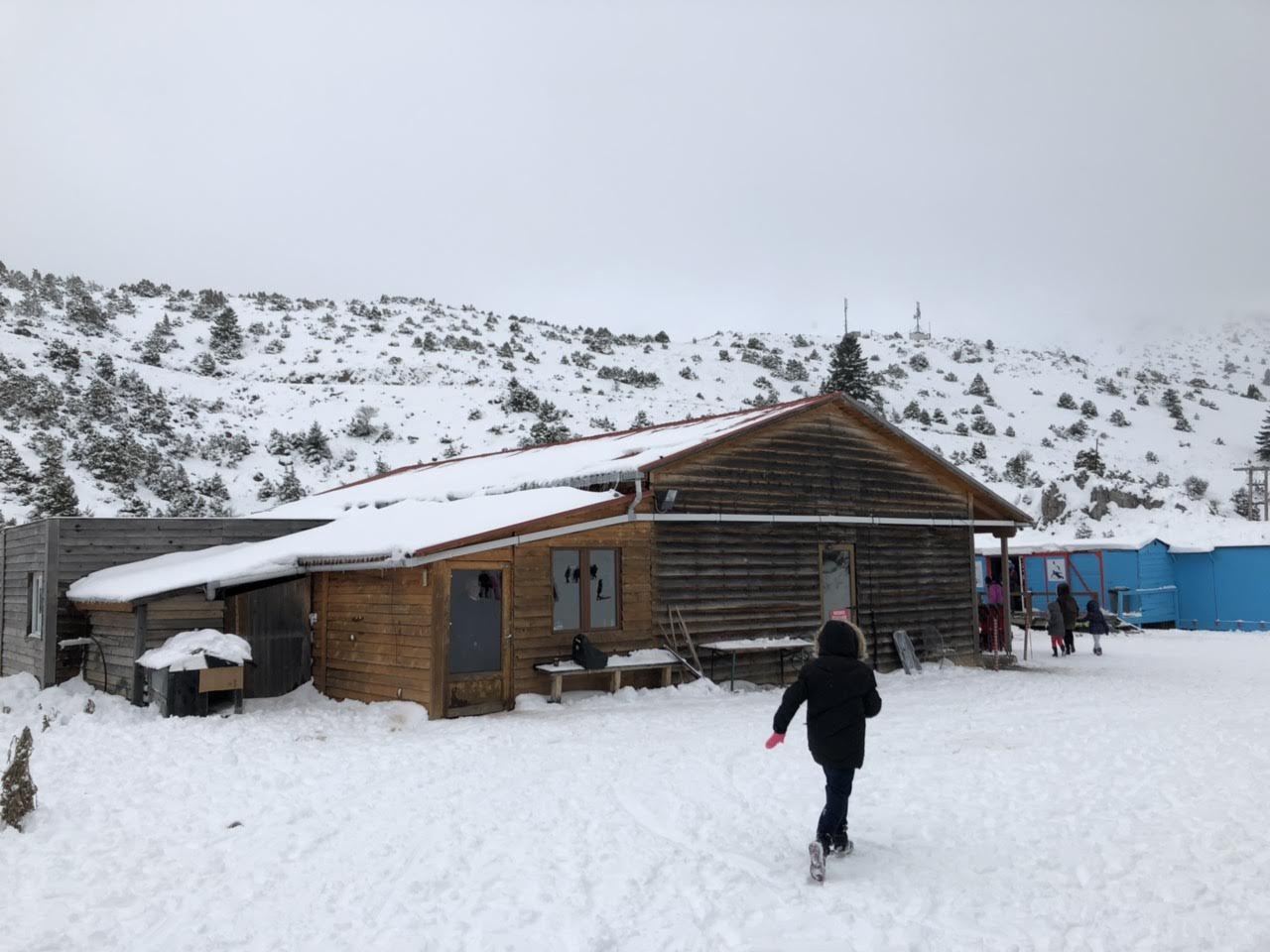 A good option for a snow holiday near Athens is the ski resort at Mainalo. It is only 2 hours away from Athens by the modern motorway. Mainalo is a small ski resort with 3 ski lifts but it is one the of most picturesque. Mainalo has 7 slopes. There are also many freeride paths for perfect powder ski days. You can rent gear by the day and there is no charge to the slopes. A sleigh costs 15 Euro for the whole day.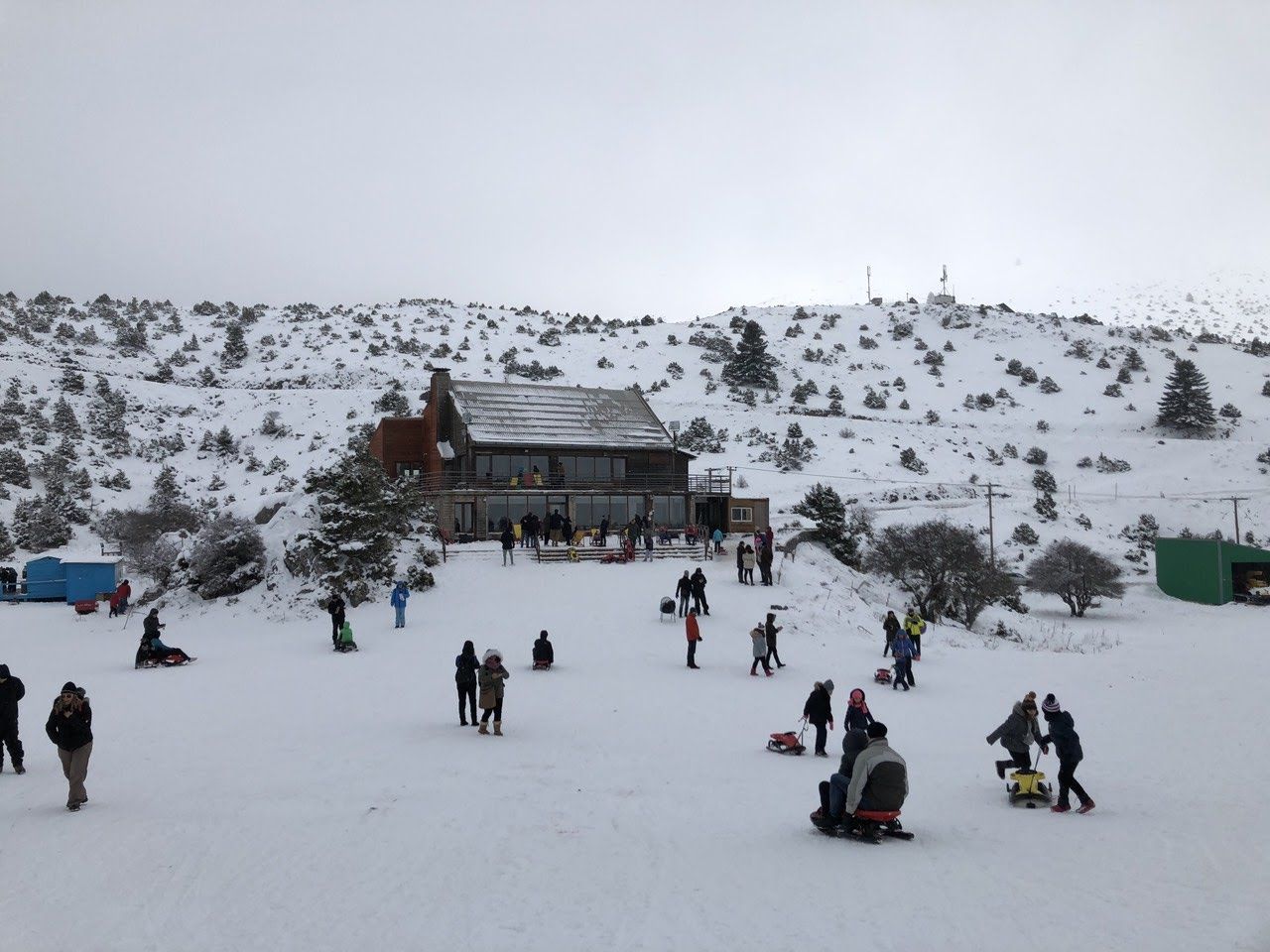 Mainalo has other points of interest too. There is a cave nearby, pretty picturesque villages such as Dimitsana, and the archaeological sites near Tripoli for those looking for ancient history.
Where to stay in Mainalo?
We tried and tested the Kalteziotis Mansion Luxury Hotel & Suites located in Kapsia village, Tripoli. The grounds outside are ideal for children and there is also a playground inside the hotel equipped with games, puzzles, and entertainment team, pillows and slides. The hotel is good for summer too because it has a nice outdoor pool. Don't miss the Kalogris organic winery nearby.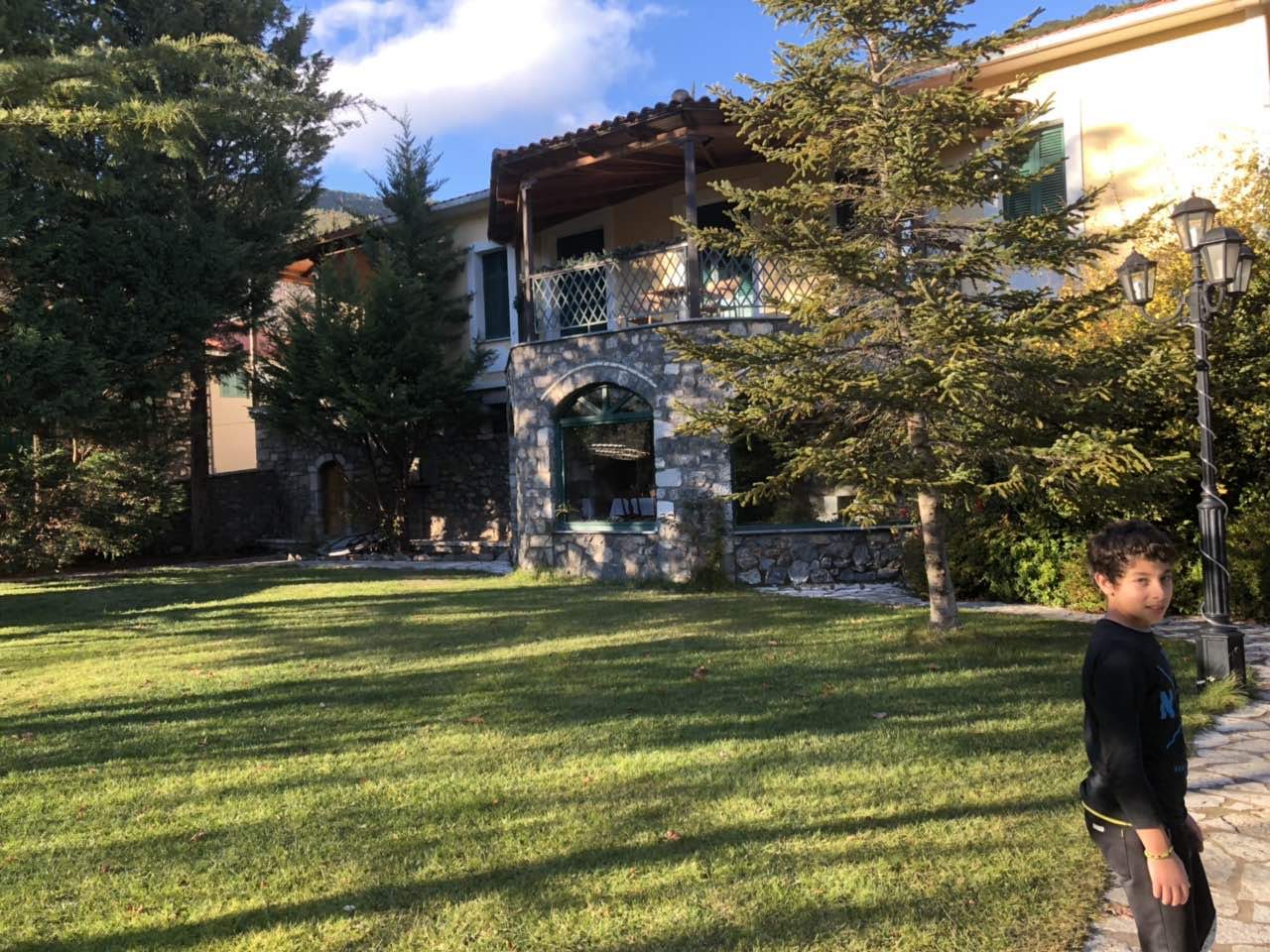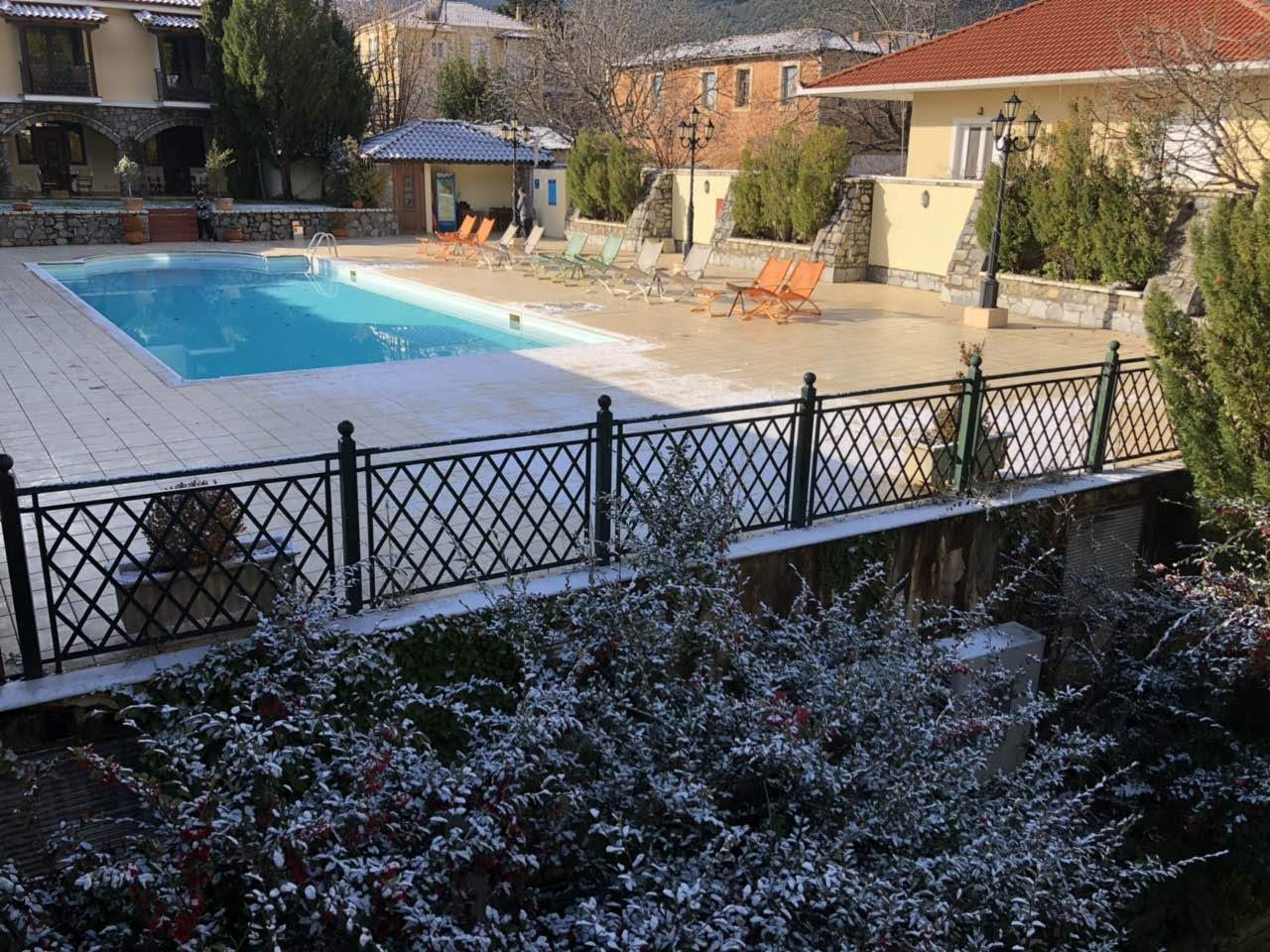 Also recommended by parents is the Natura Vytina Hotel.
"It used Cocomat products. We liked it because there was a lot of space and the kids could go out and play in complete safety. Great breakfasts too!!!"
Here you can find more info and prices Natura Vytina Hotel.
Pelion
Pelion is a large mountain in the southeastern part of Thessaly in central Greece forming a hook-like peninsula in the Aegean Sea. The highest peak is 1,610 meters. The varied landscape and the combination of mountains and the sea make Pelion a place of great natural beauty and ideal for holidays in summer and winter. In summer, Pelion reminds us of a traditional Greek island with whitewashed houses with blue doors.
In wintertime, Pelion is a true winter-worthy place because the mountains of Pelion are considered among the most beautiful in Greece. In Pelion, you can find exotic beaches with turquoise seas as well as traditional mountain villages. The largest close town is Volos with a small airport and a port. Pelion is ideal for hiking, the hiking trails and stone paths pass from springs, gorges, streams, coves and green hills.
Pelion also has a ski/snowboarding center with 7 slopes that operates from December until April. There are ski lessons for children and there is a special beginners slope for the little ones. The highlight of the Pelion ski center is its amazing view that is overlooking the Pagasitic Gulf from one side and the Aegean Sea from the other side.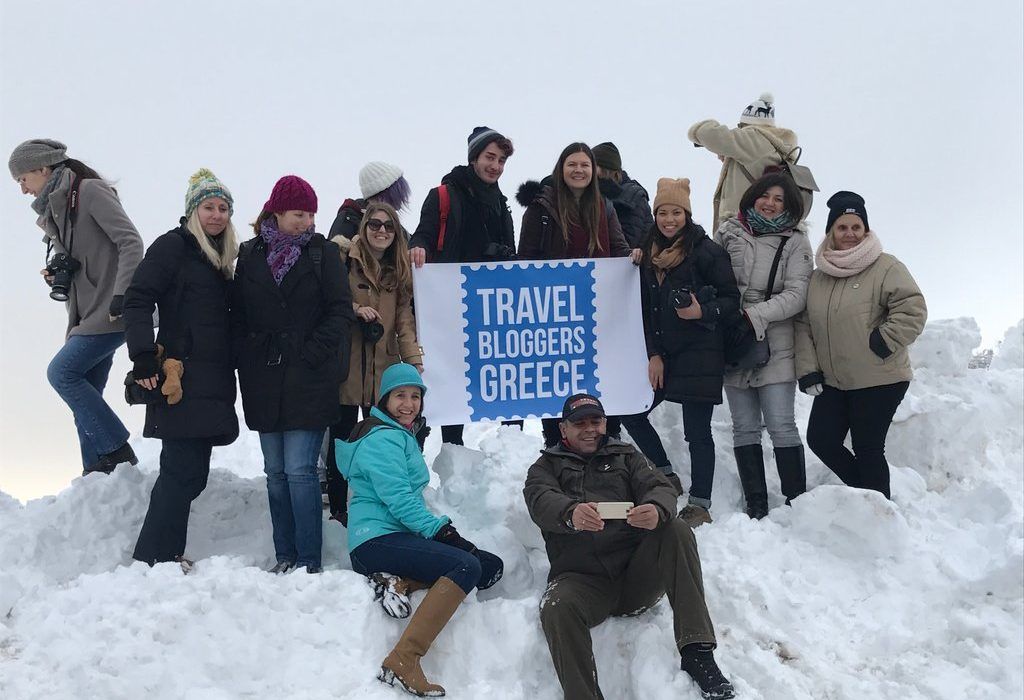 Other family activities in Pelion are a visit to the traditional villages of Makrinitsa, Portaria, Milies, and Tsagarada. Here you can show your children the typical Pelian architecture: stone multi-storied houses, grey stone roofs, and paved paths. Milies Museum of Folk Art is definitely worth a visit. You can also take a ride on the little Pelion train, another must-do activity for visitors to Pelion. The train stops at all the important villages and historical hot spots and the amazing landscape of the area.
I've been to Pelion many times and believe it is one of my best winter destinations for families in Greece. For a Family Travel Guide head over to: Travel to Pelion Greece with Kids
Where to stay in Pelion with family?
I have visited 3 hotels in Pelion. They are described here below. For authentic affordable family accommodation in Pelion, I recommend Hotel Aglaida Apartments in Pelion. A charming group of traditional houses located at a stunning mountain top. Click here for information and your booking at Aglaida Apartments in Pelion.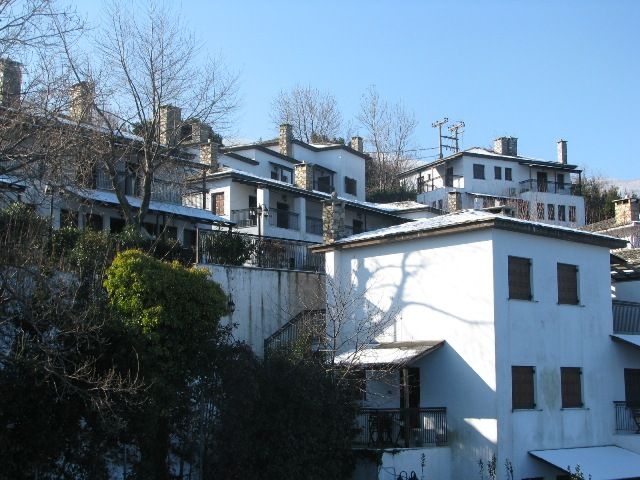 Kritsa Gastronomy Hotel in Portaria hotel is located in the central square of Portaria village in a 3-storey neoclassical building from the 1900s. It features beautiful traditional rooms with breakfast. Kritsa is really well known in the area not only for the hotel but for the restaurant that is housed on the ground floor. I had the chance to eat there on my trip with Travel Bloggers Greece and I loved it. The restaurant offers traditional food of the area, it has impeccable service and great prices. For kids, it is great to run around on the central square in front of the hotel.
I finally recommend the modern Manthos Hotel Resort & Spa in Hania. A luxurious hotel located close to the ski resort, offers spacious rooms, a restaurant where we had a coffee break, an indoor swimming pool and a spa.
Winter destinations for families in Greece: Zagoria
Zagori is not (yet) very familiar with tourists from abroad. The name of the region and municipality in the Greek Pindus mountains in Epirus in northwestern Greece. It has an area of some 1,000 square kilometres and contains 46 famous picturesque villages known as the Zagori villages or Zagorohoria. Zagori is an area of amazing natural beauty with very interesting geology. The 46 secluded villages of Zagori were interconnected by mountain roads and traditional arched stone bridges until modern roads were opened.
Zagoria and its villages are a place where time seems to stand still. And there is plenty to do there. Families can choose between mountain activities such as rafting, canoe-kayak, horse riding, hiking, climbing and mountain biking as well as skiing. Zagori is also great for hiking because there are easy hiking routes for kids. If your children are older and more experienced, you can hire a guide for the remote hiking trails and forested areas.
For more information about Zagori, scroll over to my Family Travel Guide: Travel Epirus with Kids
Where to stay in Zagoria with family?
There are many great hotels and luxury accommodations as well as picturesque boutique hotels in Zagoria. To name a few of the best: Mount Grace Suites and Spa, 5 Senses and Aristi Mountain Resort Hotel and Spa. Find an overview of all the accommodation possibilities in Elati Zagori here. For Metsovounion Zagori, here.
Metsovo
Metsovo is considered one of the best destination for families in winter in Greece. Metsovo is a town in Epirus, in the Pindus mountains. Metsovo is a large regional hub for several small villages and settlements in the Pindus region, and it features many shops, schools, offices, services, museums, and galleries. Metsovo is as pretty as Zagoria (if not prettier) and has more to offer than just snow sports and skiing. Biking and hiking are very popular here and there are family friendly trails.
There are lots to see in Metsovo due to its rich history; public buildings, bridges, churches, and schools. Metsovo is the cultural and tourist centre of the region. Don't miss the Metsovo main square, the nearby artificial lake at the Aoos River and the Pindus National Park. For skiing, you can go to Politses ski resort. A small but complete resort for amateur skiers. The ski resort is located at an altitude of 1,400m and has 5 pistes and 3 lifts.
Where to stay with family in Metsovo?
For stunning views, warm family rooms with fireplaces and luxury facilities, I recommend the Archontiko Metsovou Luxury Boutique Hotel, the Grand Forest Metsovo and the Aroma Dryos Eco & Design Hotel. If you are a wine aficionado as I am, and you want to combine your family stay (family rooms) with some adult winery interest, have a look at the Katogi Averoff Hotel & Winery!
If you are looking for winter destinations or mountain hotels in Greece, you may also be interested in: Montanema Handmade Village Mountain Hotel Greece
Featured photo: Mount Taygetos
Disclaimer: This post contains an affiliate link. This means that should you click on certain links, and then subsequently purchase a product, I will receive a small commission. It costs nothing extra to you but helps keep my site running. Thank you for supporting me in this way.