Last Updated on July 12, 2023 by Celeste.
Are you are looking for the top things to do in Athens with children? Search no more! Athens with kids is amazing. There are so many things to do in Athens with kids. It is an ancient city, but Athens for kids is renewing and transforming constantly.
This is a comprehensive and constantly updated list of things to see and do in Athens with kids. I have personally tried and tested them with my family. To make searching easier, please use the index on top of the article. I hope you find it useful!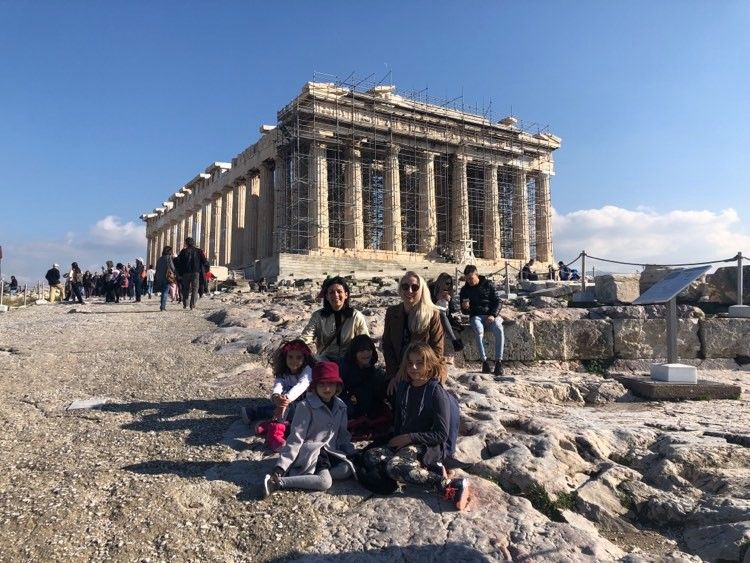 What to do in Athens with children
Athens with children is great! I am very passionate about my adopted hometown. It is such a historic place and there are lots of things to do for families. With perfect weather, good family hotels (some with a pool!) and easy-to-visit activities for children, Athens is one of the best places in Greece for families.
So take the kids, put on some comfortable shoes and join me in exploring one of the oldest cities in the world!
Disclaimer: This blog post contains affiliate links. This means that should you click on certain links, and then subsequently purchase a product, I will receive a small commission.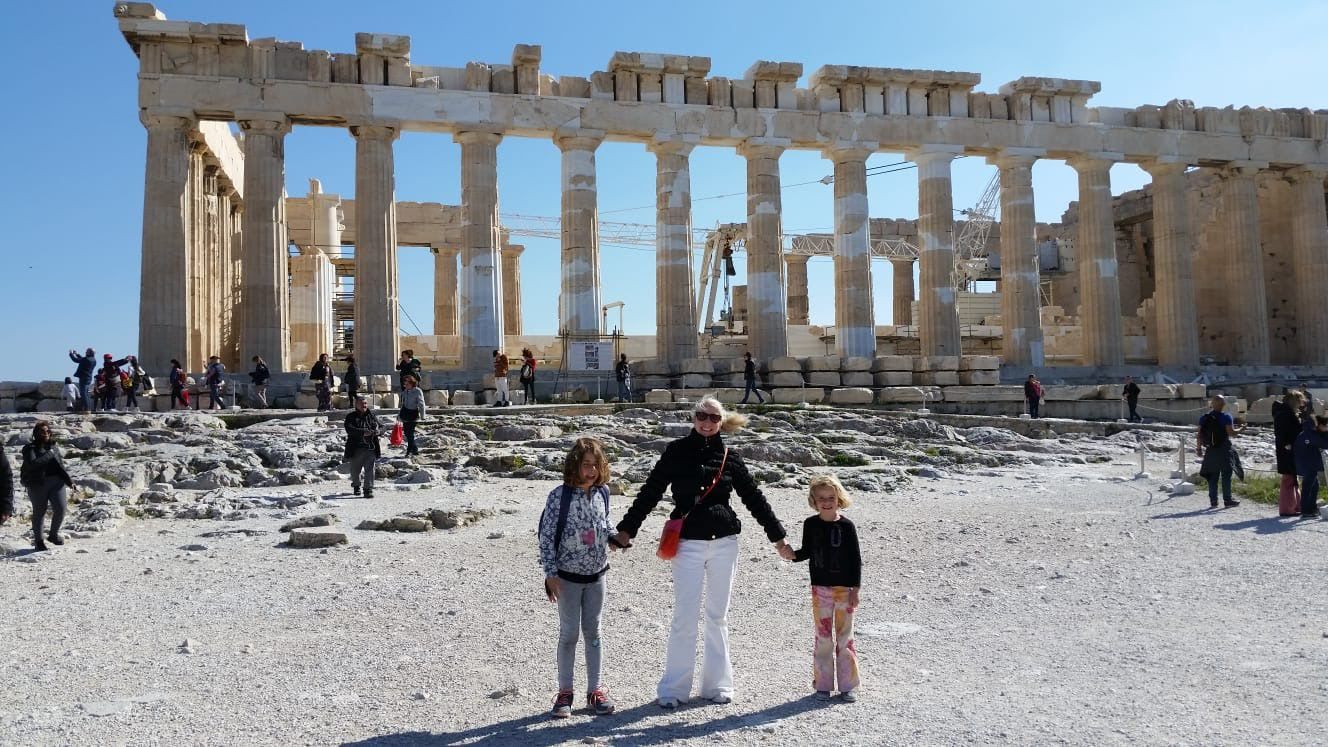 Top things to see and do in Athens with children: Visit the Acropolis
A must-see when visiting Athens with children is the Acropolis. The Acropolis is the most famous monument of Greece and generally, of the ancient world. The Acropolis is suitable for children starting from 3-4 years old; it is not allowed to use strollers inside the Acropolis. In the summertime, don't forget to bring water, a sunhat and walking shoes!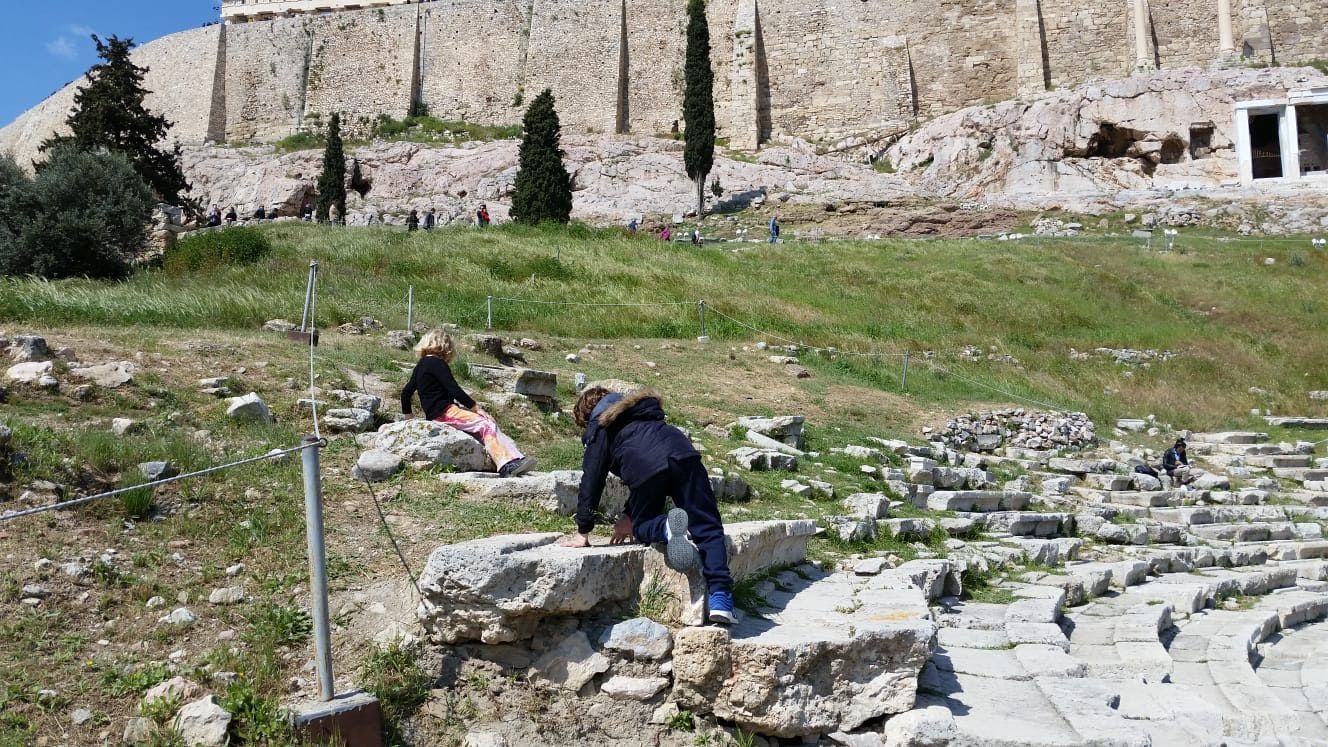 Buy tickets for the Acropolis with Kids
If you just want to visit the Acropolis, you can buy your tickets directly from the entrance. There are two entrances to the Acropolis rock: the main one which is in the west and the side entrance (known as Dionysus Theater entrance), which is located in the south-east. Using the Dionysus Theater entrance you have the opportunity to see all the monuments on the slopes of the Acropolis. Keep in mind that there are long lines at the ticket offices in summer.
For prompt information about the Acropolis timetable and tickets please follow this link: http://odysseus.culture.gr/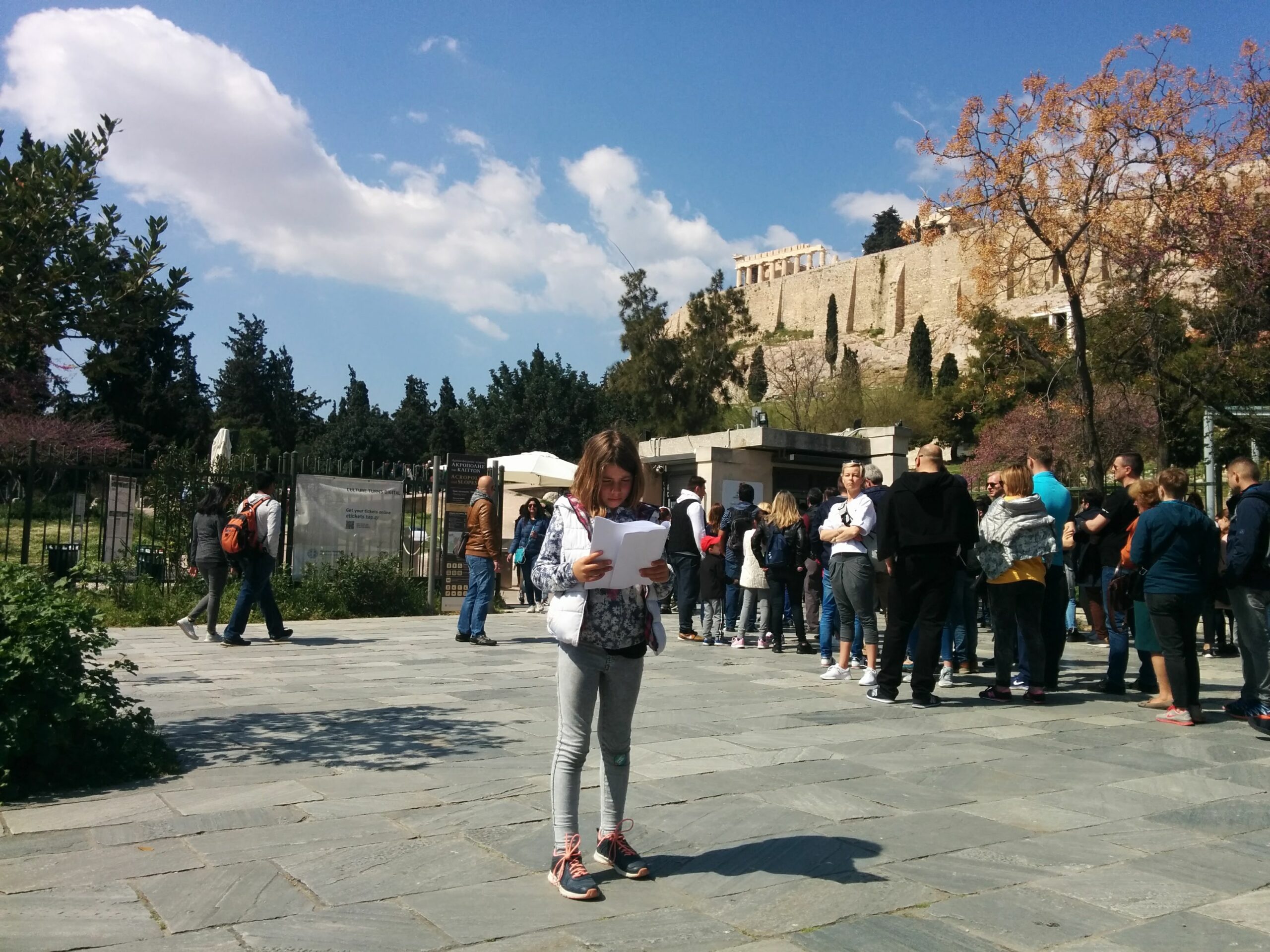 You can also buy your e-tickets from the official e-ticketing service of the Hellenic Ministry of Culture and Sports at www.etickets.tap.gr. Children do not pay an entrance fee to the Acropolis. However, these free admission tickets are exclusively issued at the ticket office of the site you are visiting, upon proof of eligibility. This means that you still need to wait in line.
If you want to visit many monuments, I recommend the combined ticket for entrance to the following archaeological sites: Acropolis of Athens, Ancient Agora of Athens, Archaeological Museum of Kerameikos, Hadrian's Library, Kerameikos, Museum of the Ancient Agora, North slope of Acropolis, Olympieio, Roman Agora of Athens, South Slope of Acropolis. With just one ticket you will see the most important points of interest in Athens.
The crowds are huge between April and October at the Acropolis. If you want to beat them, I recommend that you visit the Acropolis at the opening time (8:00 am). You can also purchase a skip-the-lines guided tour and avoid waiting in line with kids.
Acropolis Guided Tours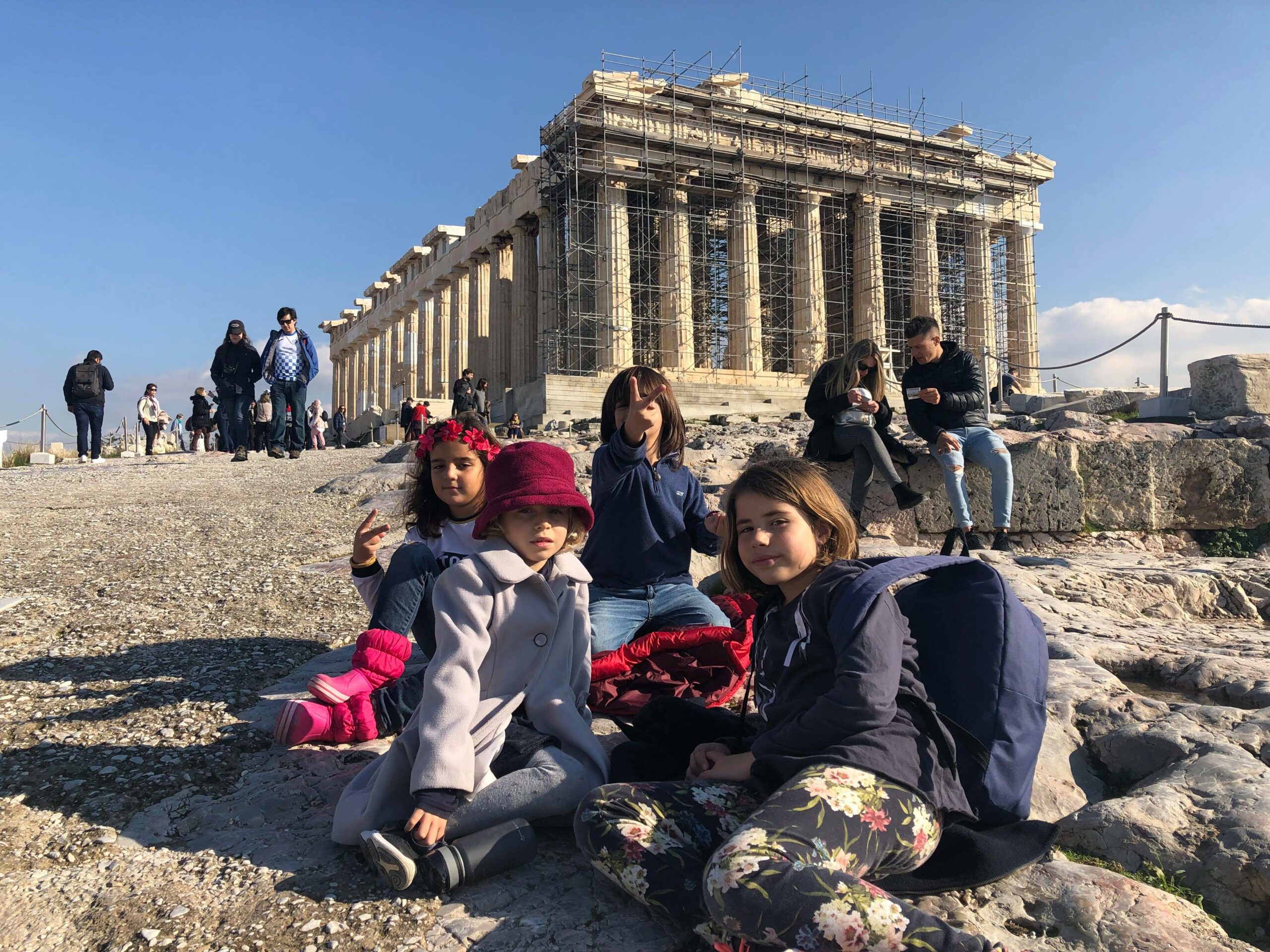 We've reviewed a number of (family) guided tours to both the Acropolis and the Acropolis Museum over the years. You can find several tour reviews on this blog. Our most recent tour was on a sunny November Sunday morning in 2021 with Athenian Tours (picture here below). Our excellent tour guide Alexia took us around the Acropolis Museum and the Acropolis Hill in a 4-hour group tour. There was plenty of time for questions, small breaks, and photo opportunities. We saw the most important monuments of the Acropolis rock and covered the entire collection of the museum.
For more information and for booking this tour, please click here.
Family-friendly guided tours Acropolis and Acropolis Museum
If you are interested in a guided family-friendly tour on the Acropolis and or Acropolis Museum, I would recommend the following tour for families with kids:
Athens: 2- hour Acropolis Small-Group Guided Tour with Entry Ticket and Free Cancellation. This is a small group tour including entrance tickets with priority access making the most out of your experience with kids on the Acropolis. It starts at the meeting point with toilet facilities and Greek delicacies and it also includes the option to stay on the hill to explore further at your own pace or have your guide show you a different route towards the south exit so that you also see the Altar of Asclepius and the Theater of Dionysus, the birthplace of theatre drama.
Click here for more information and booking a small group tour to the Acropolis.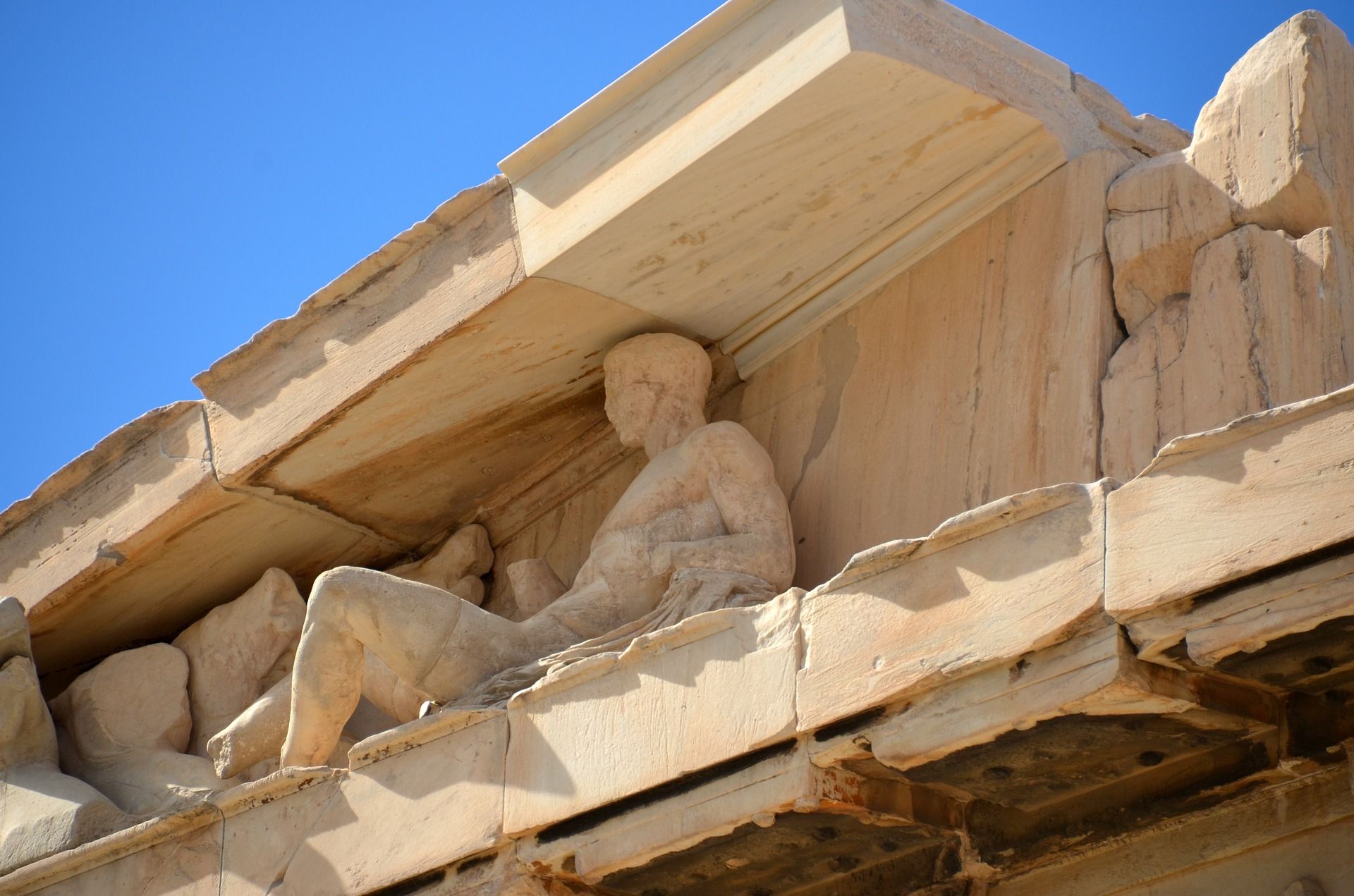 Another shorter kid-friendly tour at the Acropolis that I recommend is Athens: 2-Hour Acropolis Guided Tour for Families. Click here for more information and booking.
Alternatively, for a longer kid-friendly tour at the Acropolis, I would recommend the Athens: 4-Hour Acropolis For Kids Private Guided Tour.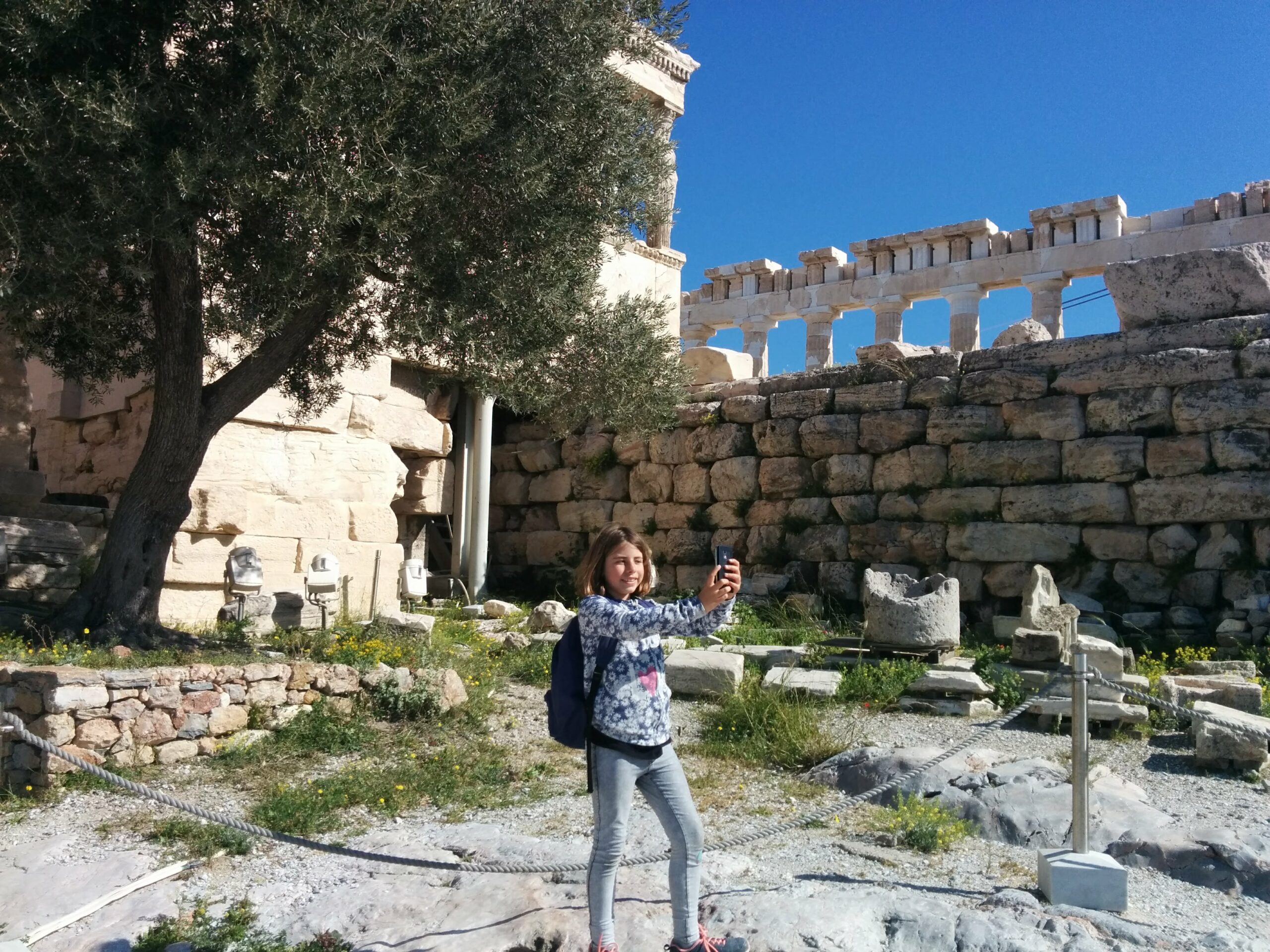 Finally, if you are interested in a shorter tour that combines both the Acropolis and the Acropolis Museum without waiting lines, opt for the Acropolis & Museum: Private Guided Tour without Tickets. Click here for more information and booking.
If you want to prepare for your trip to the Acropolis with kids or if you are unable to travel to Athens, check out this Virtual tour of the Acropolis in Athens by clicking on this link.
The Acropolis Walking Tour with a Dutch guide
If you are looking for exciting family walking tours in Athens, have a look at my interview with Archaeologist Jessica van der Does. A parent herself, Jessica has created exciting tours to the Athenian monuments based on storytelling and Greek Mythology.
Click here for more Acropolis Walking Tours
Visit the Acropolis Museum with Kids
The Acropolis Museum is considered one of the most important museums in Greece and the world. It houses more than 3.000 artefacts from the Acropolis. In a list of things to do in Athens with children, the New Acropolis Museum cannot be missed.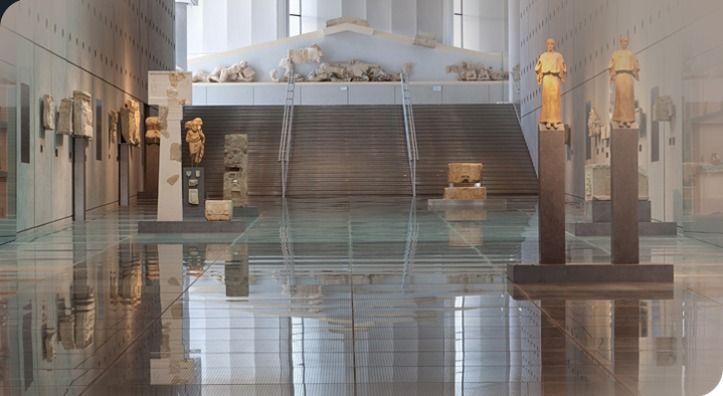 The New Acropolis museum offers family backpacks with an educational program for families, it organizes family tours, there is an educational lab, kid-friendly guides and a number of special family events throughout the year.
Check out the family programs of the New Acropolis Museum here. With young kids, check out the Lego Acropolis model on the top floor. Older children will appreciate the movie about the history of the Acropolis and the book corner.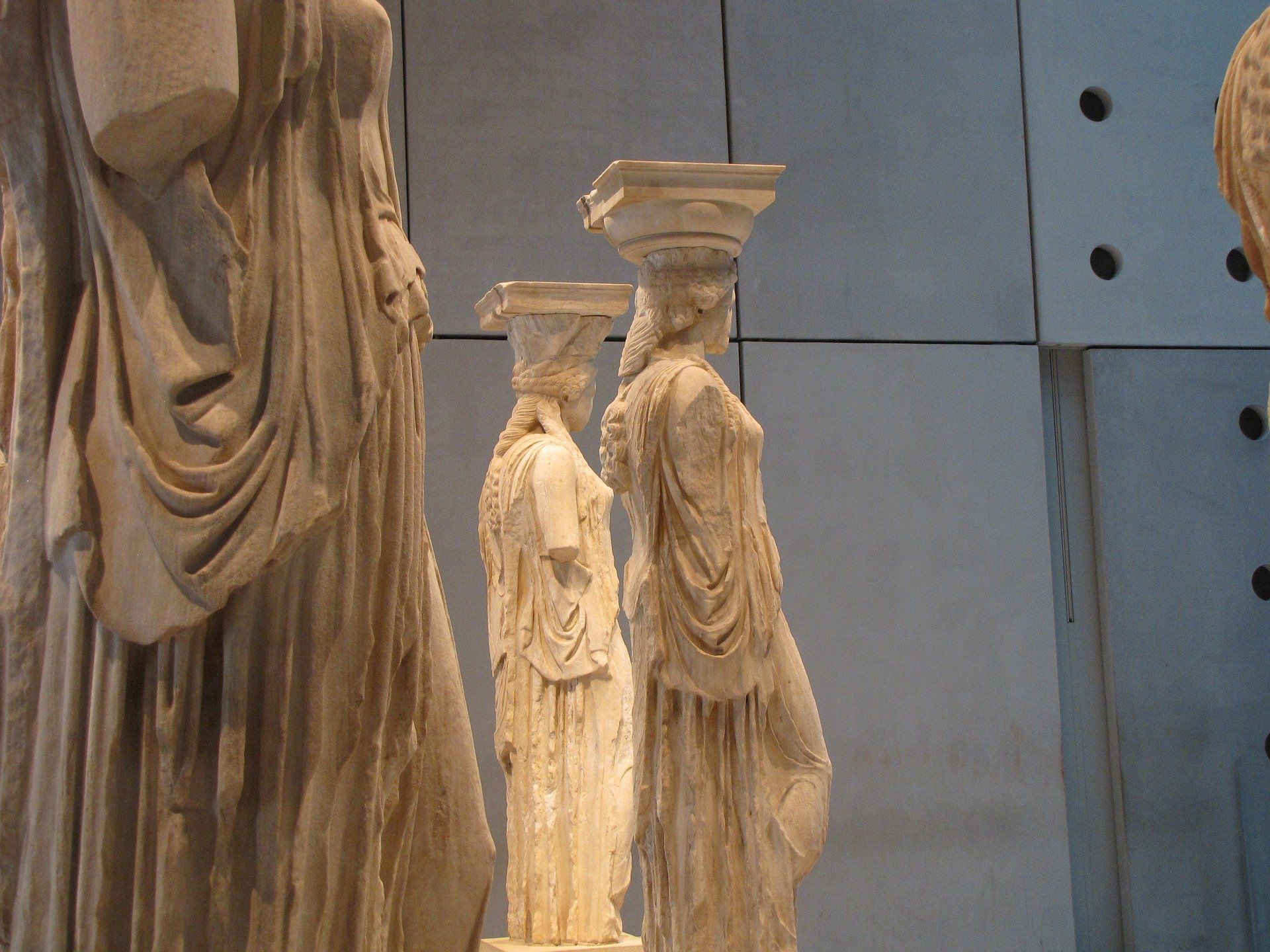 The first-floor museum shop is next to the book corner and sells games, books, toys and other educational materials for kids in several languages. The museum offers strollers free of charge at the cloakroom. There is also a parents room on the 1st floor for changing and feeding your baby. At the 2nd floor is an excellent restaurant with a kids menu.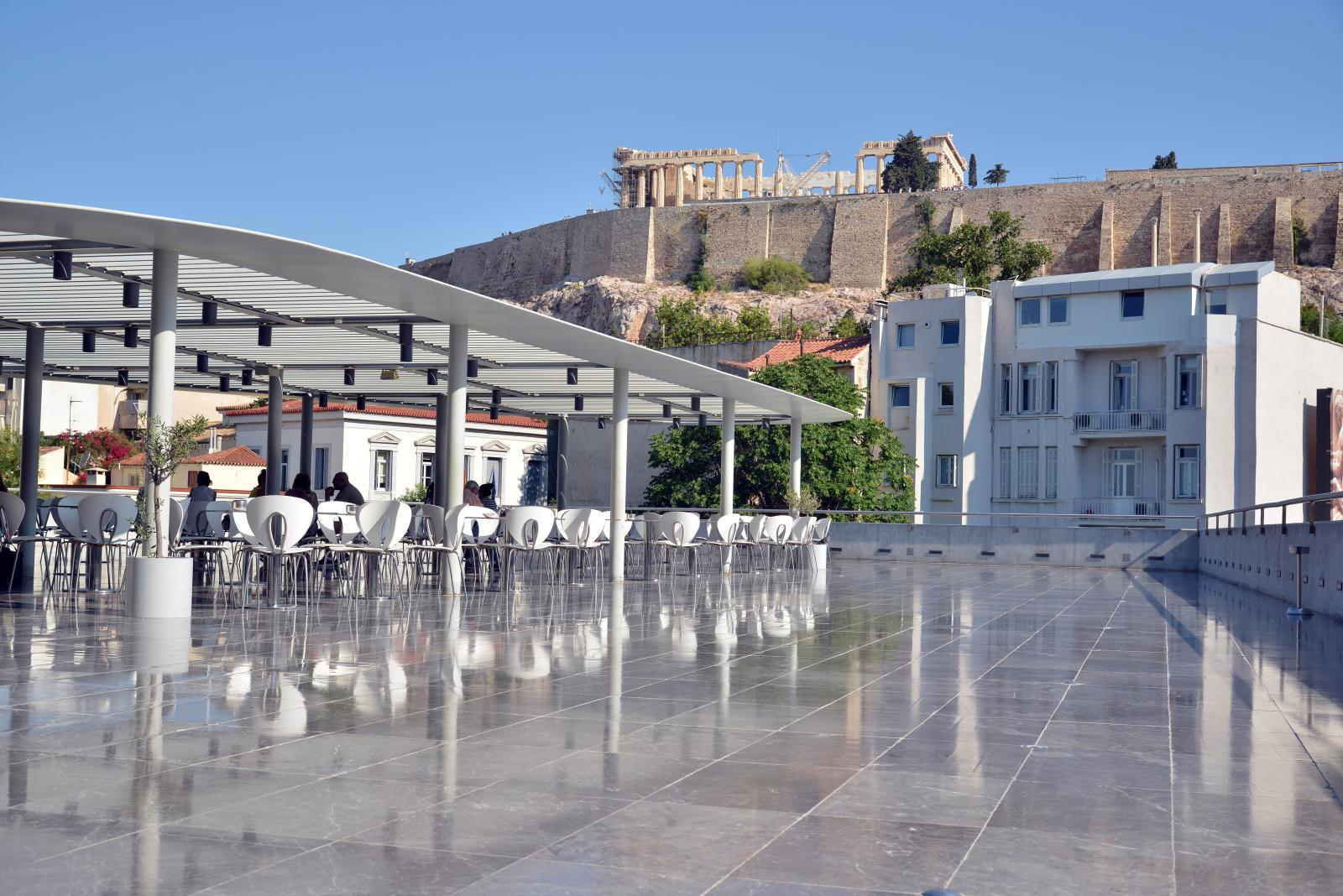 For a guided tour in the museum, I would recommend families to choose for the combined Click her for more information and to book your Athens: Acropolis Tour & Museum.
Acropolis Museum Excavations Tickets
Did you know that in July 2019, the excavations underneath the Acropolis Museum have opened to the public? Visitors, guided by the Museum's archaeologists, can see an ancient Athenian neighborhood as one giant exhibition and will be able to walk through ancient streets. If you want to visit the excavations as well as the museum, it is wise to buy a combined ticket and skip the lines.
Click here for more information and to book your combined skip-the-line ticket for the Acropolis Museum Ticket & Access to Ancient Excavations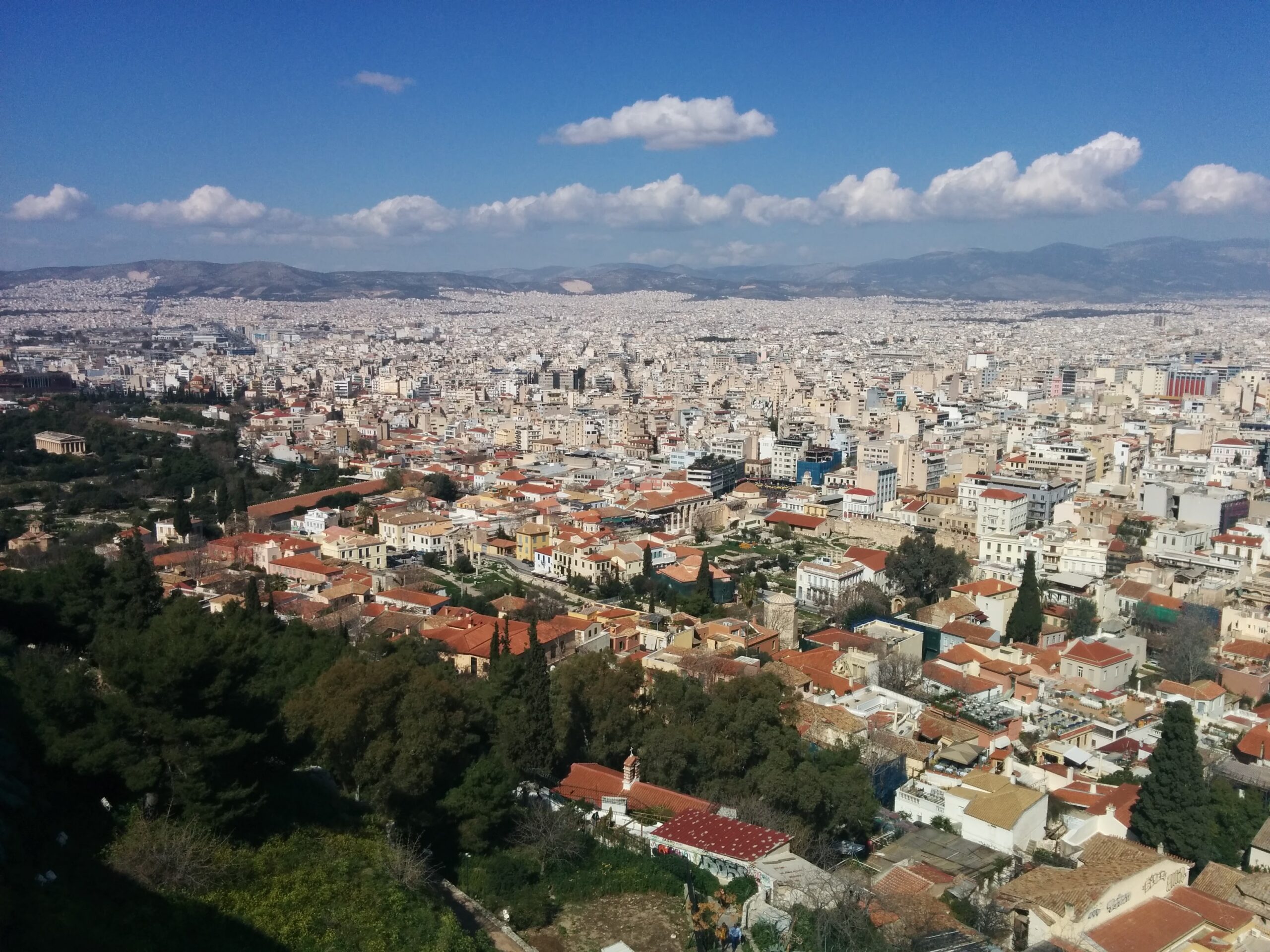 Goulandris Modern Art Museum
The B&E Goulandris Foundation is located in a beautiful building hosting works by European masters such as Cézanne, Degas, Van Gogh, Picasso, Monet and Rodin as well as prominent Greek artists. The museum organizes educational programs and art workshops for kids (from 4 years old) and teens. If you are in Athens and you want to introduce your children to some of the most famous artists, head over to 13 Eratosthenous str.Athens, open daily from 10 am – 6 pm. For registration to the events and activities, have a look at the museum's website or check out a virtual tour.
Creative Family Workshops in Athens
If you want to express your artistic side, have a look at the following ideas: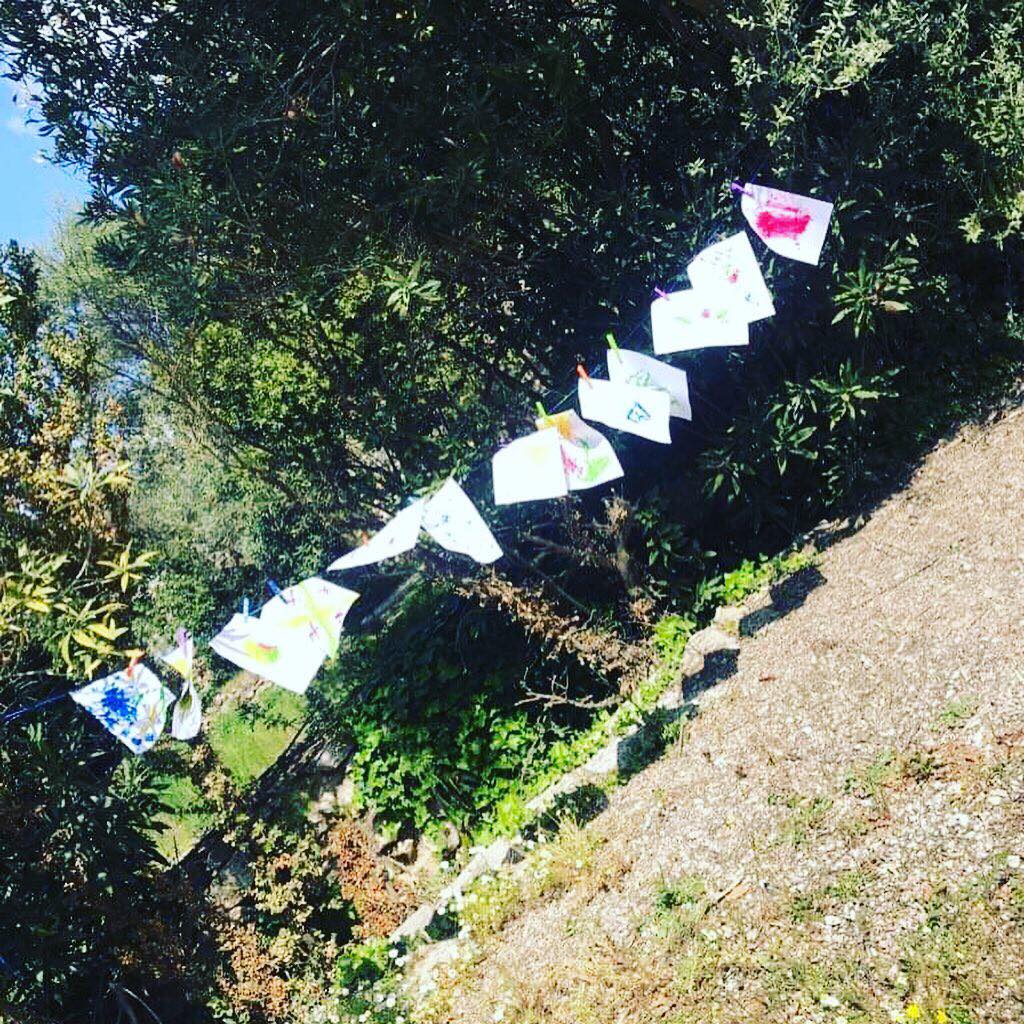 Painting the Parthenon is a 3-hour workshop at Pnyx Hill with a specialized painter. At Pnyx, you will get a short workshop on drawing and painting techniques. Learn about the combination of colours, how to create perspective in your drawings, and admire the architectural masterpiece of the Parthenon. Receive a canvas and all the required material for an unforgettable day, that will let you and your kids create your own souvenir to take back home with you. Click here for more information and to book.
Athens Mythology Tour with pottery. If you kids like pottery, we recommend a Greek Mythology & Pottery For Kids Experience. This creative experience includes a hotel pick-up (for hotels within walking distance from the tour's location), a 2-hour mythological walking tour, a 2-hour pottery workshop, games, and more.
For more information and to book your Greek Mythology and Pottery Workshop, please email [email protected]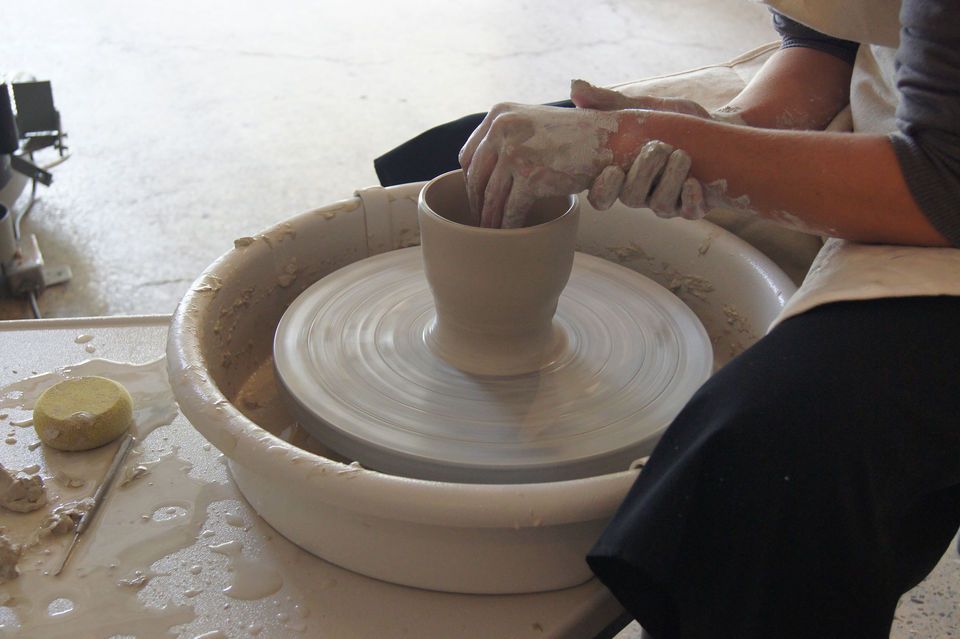 Greek Mythology Tour: Become an ancient Athenian is the most kid-friendly theatre workshop right there at the heart of history. Travel back in time and become an ancient Athenian for a day. Enjoy the most exciting way to discover ancient Athens with this child-friendly experiential game full of fun and a picnic! Click here for more information and booking the Become an ancient Athenian tour
PS. If your kids love Mythology, prepare them for your trip to Greece with some Greek Mythology reading! Click here to find my Best Greek Mythology Books for Kids
Bike Tour in Athens with Kids
We had a lot of fun biking around the ancient monuments on authentic Dutch bikes! With a teen bike for my oldest and a child seat for her sister, my family explored the roads and pavements of the city. We booked the Athens: City Highlights Tour on a Dutch Bicycle.
On this 3-hour guided bike ride, we cycled a beautiful route past the best places in the city such as of Psiri, Plaka, and Monastiraki. We also cycled past the Acropolis, the National Gardens, and the old Olympic stadium. In three hours, you get a good picture of what Athens has to offer. The kids loved it, and so did I!
For more information and booking of the City Highlights Tour, click here.
Food Tasting Bike Tour
If your kids are old enough, you can opt for the Athens 3-Hour Food Tasting Bike Tour by the same above-mentioned company. The tour combines all the above with food tastings at authentic Greek spots!
For more information and booking of the Athens Food Tasting Bike Tour, click here.
Discover Athens on an E Bike
If you feel that a regular bike is too difficult for your family, consider an e-bike tour. There are several companies in Athens renting out e-bikes or organizing group excursions. Some are taking place at the Athens Riviera. Click on this link to find a selection of e-bike tours in Athens.
Museum of Ancient Greek Technology
The Museum of Ancient Greek Technology is great with kids and a must add to your list of things to do in Athens with kids. Children can see, touch and even operate the inventions of the Ancient Greek civilization. What I love about this museum is not only its well-displayed collection (with English and Greek signs) but its several educational activities. The Museum of Ancient Greek Technology Kostas Kotsanas is located in the centre of Athens at 6 Pindarou Street in Kolonaki. Find more information and our experience at the museum here: Museum of Ancient Greek- Technology.
Athens with children: stroll around Plaka
The oldest residential neighbourhood in Athens, Plaka sits in the shadows of the city's ancient ruins, a labyrinth of pedestrian-friendly streets and notable examples of Neoclassical architecture. It is a picturesque tourist-driven area with trendy shops, upscale restaurants, and sidewalk cafes. Traditional Greek Food can be found too, O Thanasis is the most famous of all.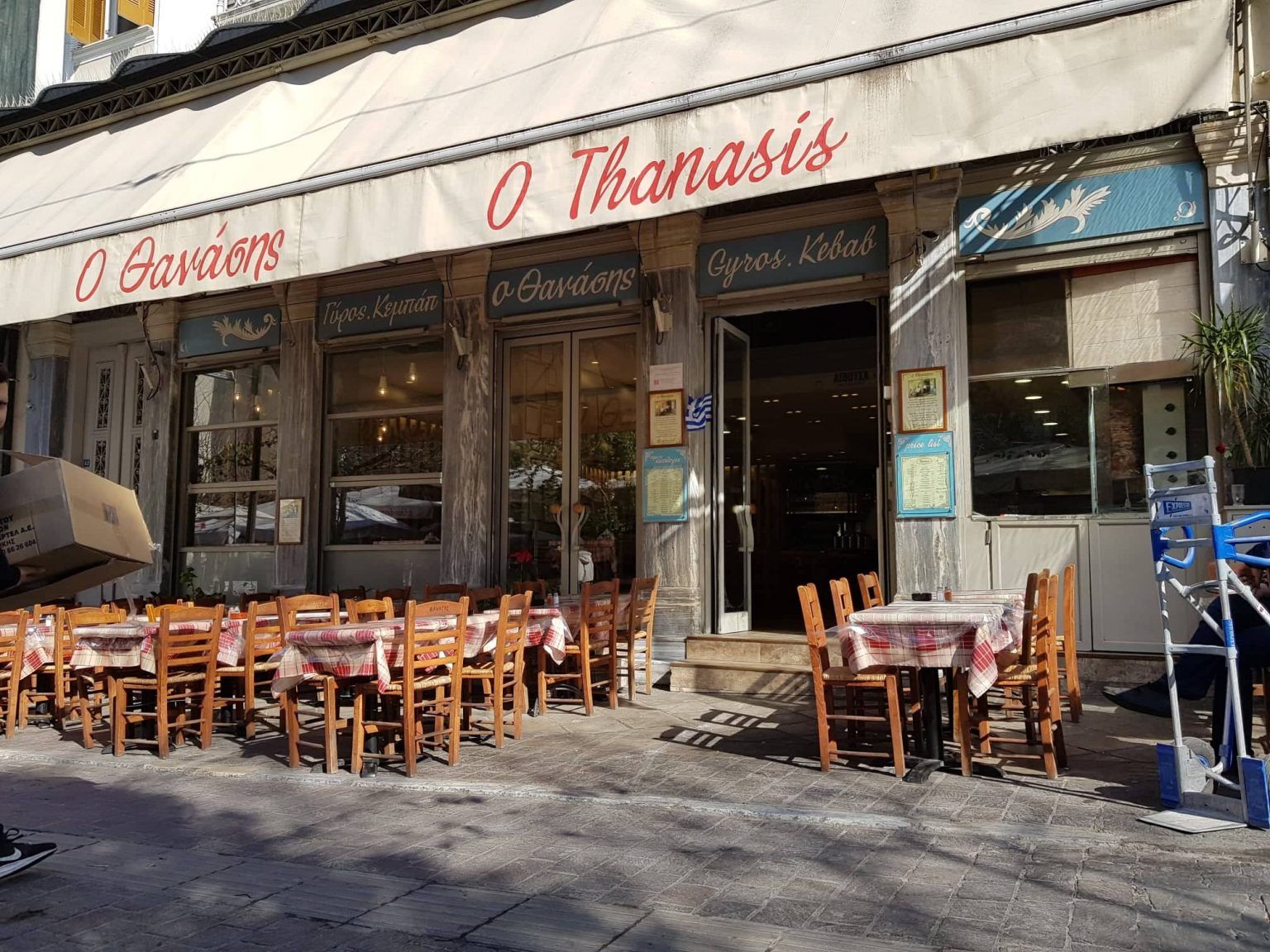 A walk around the historic Plaka area is a favourite excursion when friends or family are visiting from abroad. Winter and summer, any time of the day, my kids love it here. The neighbourhood is car-free and kids can run safely around. My favourite place in Plaka is Lisikrati Square. My kids love playing at the ancient monument, and we parents sit for lunch in one of the restaurants at this green square. For drinks, we go to the historic Brettos Bar in Plaka.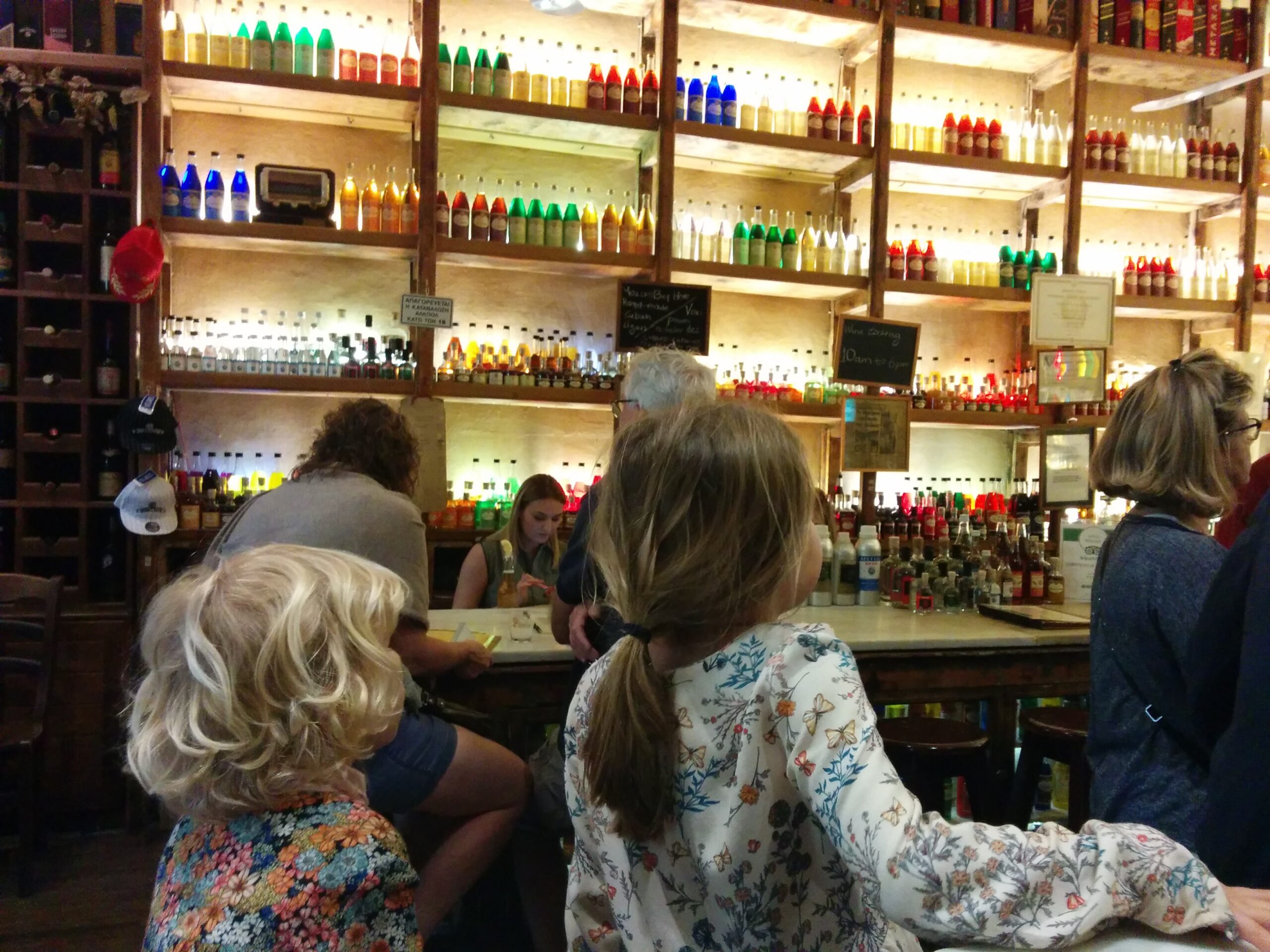 If you like to participate in an organized family stroll around the city, have a look at this Treasure hunt for families.
This tour is with a kids-friendly guide in the secret corners of Athens during a fun interactive tour. There will be lots of games such as riddle-solving, clue-hunting, storytelling, and creative art and crafts activities. For information and booking, please click here.
Visit the National Gallery
The National Gallery collections comprise approximately 20,000 works of painting, sculpture, printmaking, drawing, new media, and decorative arts of Greek art from the post-Byzantine period to date. The collections are chronologically organized. The beautifully renovated building is located at Vassileos Konstantinou Street and is open to the public every day (10:00-18:00) besides Tuesdays.
Children under 12 years old do not pay the entrance tickets. There is a children's workshop every Saturday from 11:00 to 14:00. The activity is aimed at children of preschool and primary education. Kids will learn through more about colors, design, draw and create constructions with different materials. Art unleashes their creative abilities. It helps them get to know and enjoy nature, life, art history, makes them more social, stimulates their self-knowledge and self-confidence.
Head of Children's Laboratory: Kallirroi Marouda
Athens with children: watch the Change of the Guards
In front of the Parliament at Syntagma square lies the Monument of the Unknown Soldier. It is guarded around the clock by two men wearing traditional uniform called Evzones. Every hour takes place the ceremony of the Changing of the Guards. I had a chance to visit the headquarters of the Evzones and learn more about their history, education and current role. Read more about my experience and these special soldiers in this blog post.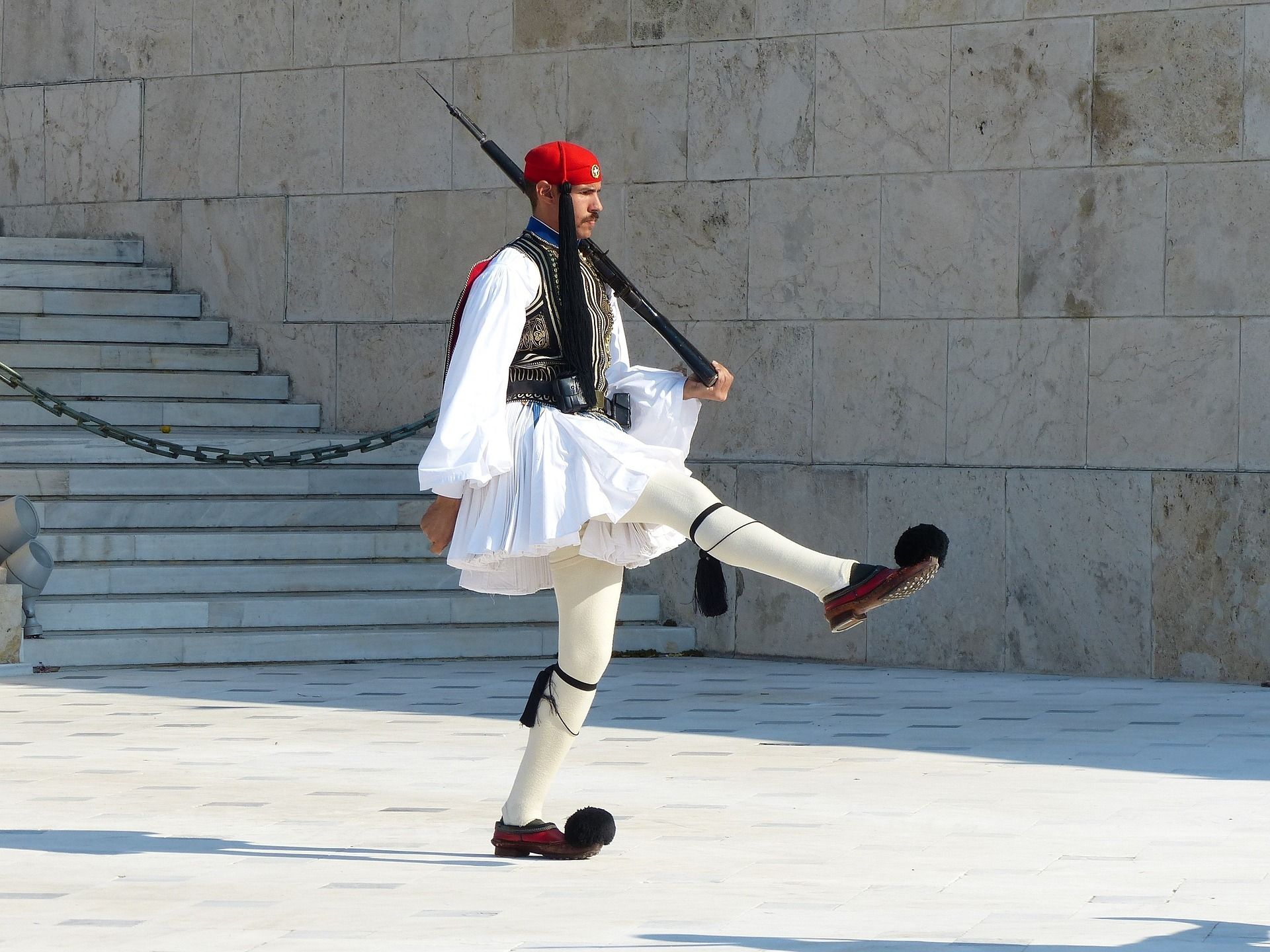 Ride the Athens Street Train
My family also tried the Athens Happy Train, you can read our experience here. Tickets to the train cost 5 (adults) and 3 (children) Euro. Reservations are not necessary. For more info for the 40-minute duration, Athens Sightseeing Tour with the Athens Happy Train check out the website.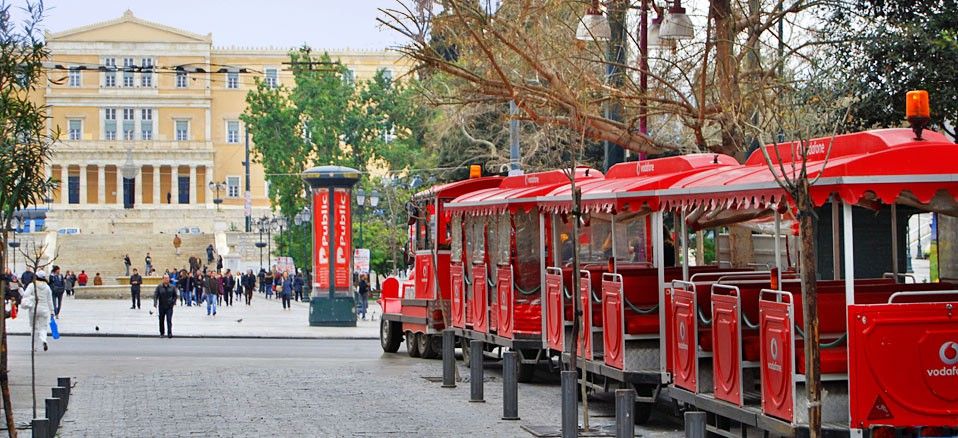 Visit the Hellenic Motor Museum
The Hellenic Motor Museum is for anyone who loves old cars. The Museum occupies 5.000 m2 in a unique building in terms of architecture and design. Its exhibitions are dedicated to the evolution of the car and display more than 110 cars from the 19th and the 20th century. It is located in the heart of Athens, near the National Archaeological Museum.
Click here to buy your tickets for the Hellenic Motor Museum.
Athens Family Walking Tours
A guided walking tour is a good way to discover the city with kids. We have tried several family walking tours in Athens over the years. You can find our experience with these tours here.
One of the most interesting tours was a tour highlighting mythology and monuments in Athens. Click here to read our tried & tested family experience. It was great to walk around the city and to hear the fascinating mythology stories related to the most imposing landmarks. Here you can find more information and prices about this mythology tour.
I can also recommend a private tour for families with young children called the Greek Mythology for Kids tour. Click here for more information and prices.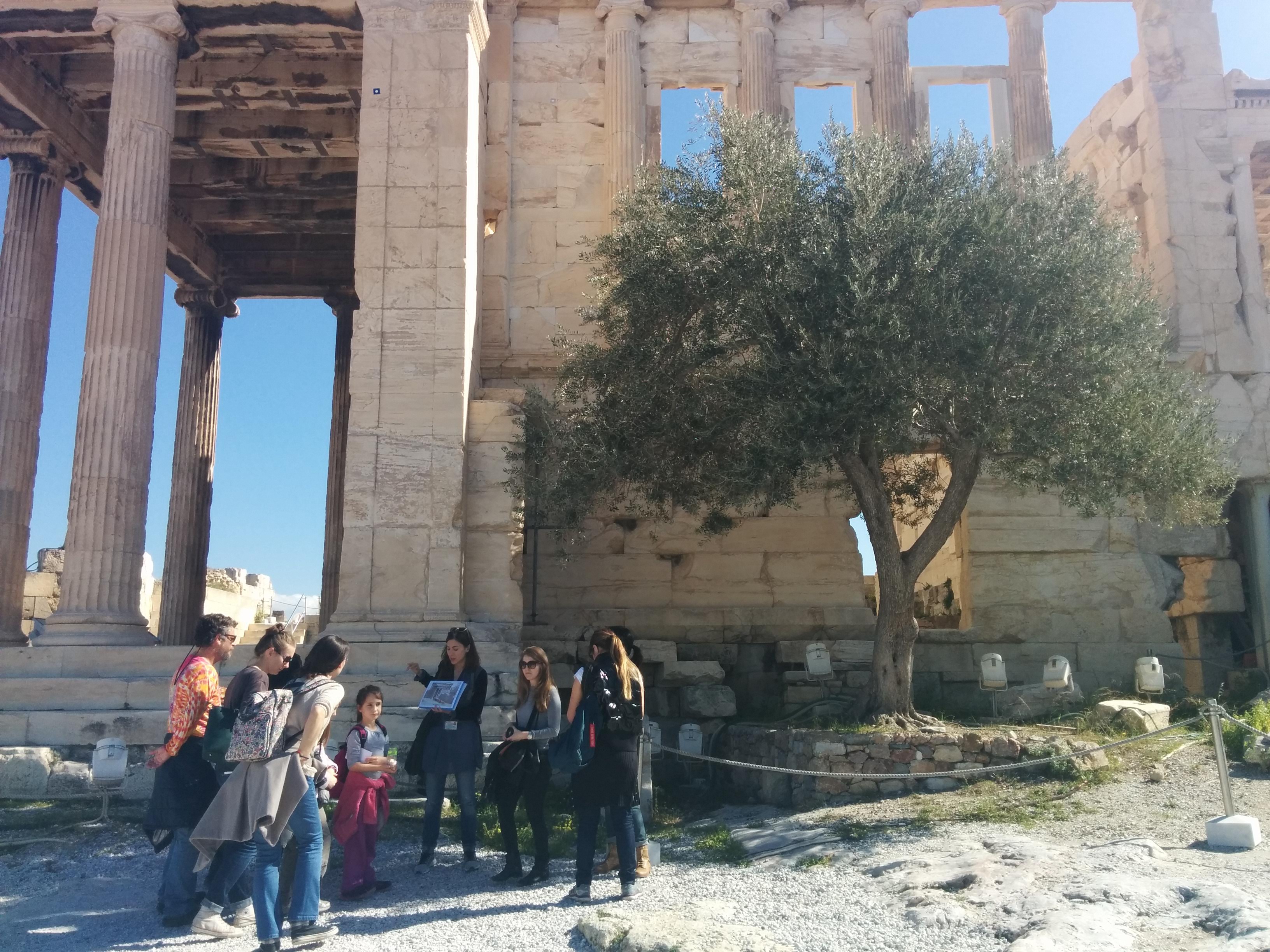 Goulandris Natural History Museum
Goulandris Natural History Museum is not located in the Athens city centre but in the green suburb of Kifissia in the North. Kids love this small museum because they get very close to the collection and will be impressed by the large animals such as the giraffe and zebra. Further, the museum has two beautiful cafes, a courtyard and an amazing gift shop with high-quality souvenirs and art items. Also, check out its GAIA Center.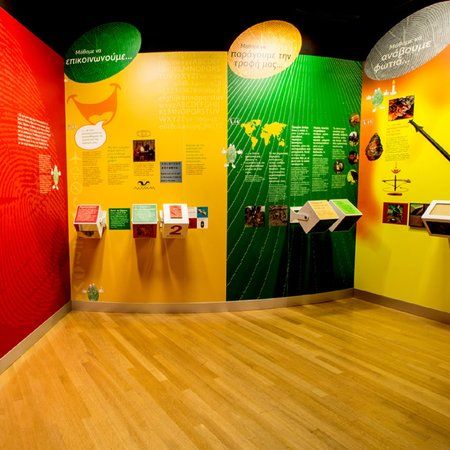 Family Food Tours with Kids
Food tours are a fun and tasteful way to discover Athens. Kids love it and most food tours include enough samples to replace a meal. We tried and tested several food tours. Click here for our experience: Our Family Food Tour in Athens.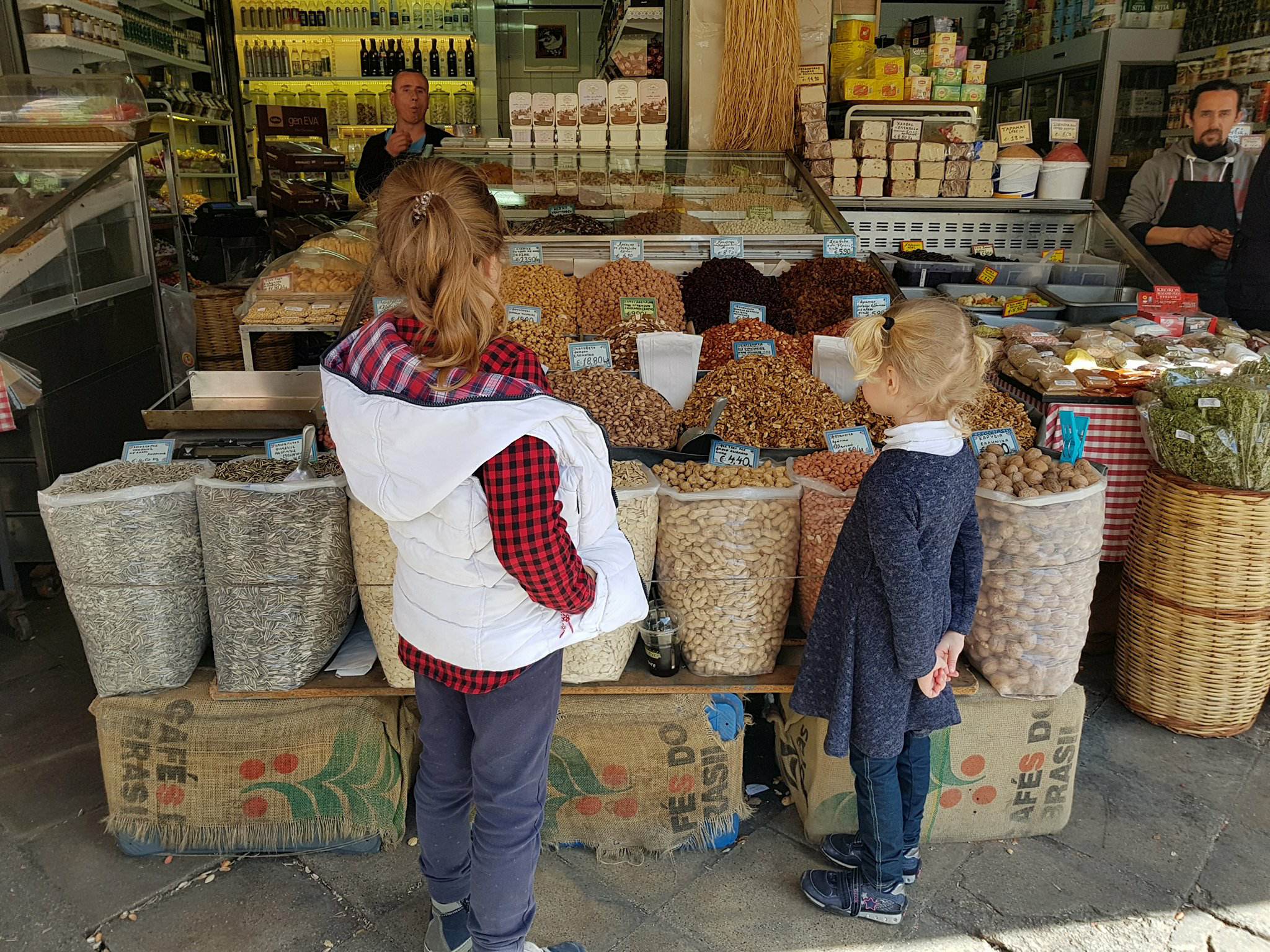 If you are looking for a small group food tour, I would recommend the Athens Food Walking Tour – Small Group by Alternative Athens. I have been on several of their tours. For more information and booking; click on this link: Athens Food Walking Tour – Small Group
If you are looking for a Greek or English language private food and mythology tour for kids in Athens, have a look at our experience by clicking on this post: Food and Mythology Tour for Families. This kids-focussed customized food tour connects ancient Athens with the food of the Gods and combines games with tasting. For more information and booking, please email: [email protected].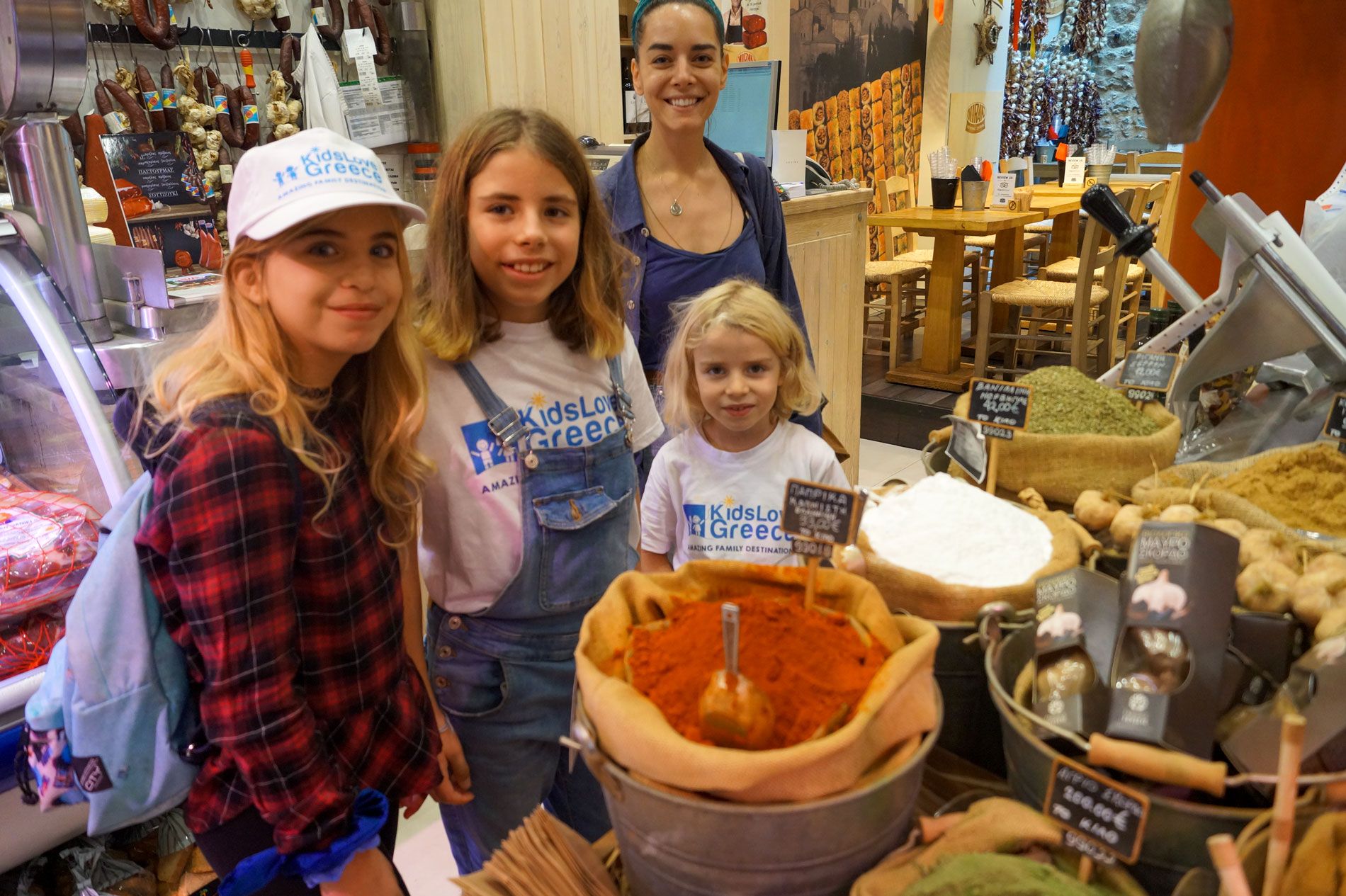 Hellenic Children's Museum
A small but unique museum interactive museum. It is dedicated to kids and helps them learn about the world around them There are sections in which they can play, create structures with building materials, learn about the concepts of supply and demand in the market, or even experiment with food in the kitchen. My 7-year-old daughter especially liked the kitchen and supermarket. The museum is closed during the summer months. For more information about the Hellenic Children's Museum, have a look here.
Take a self-guided audio tour
My oldest daughter and I tried a self-guided audio tour in Athens by Clio Muse. Clio Muse tours are stories at sights in Athens and some of them are designed for young children or teenagers. You just use your Android or iOS device. Do you want to a family audio tour? Clio Muse offers a 15% discount on any Clio Muse tour to the readers of this blog. For more information and on how to claim your discount, please click here.
Visit the Panathenaic Stadium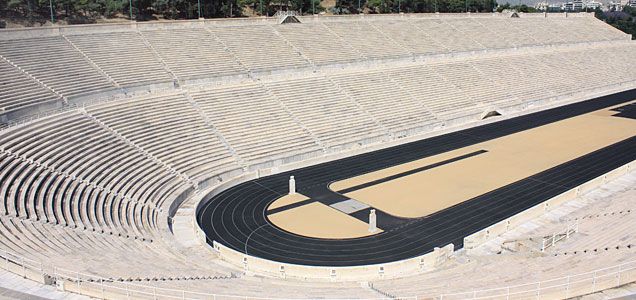 Teach your children everything about the Olympic Games by visiting the Panathenaic Stadium. This classical and cultural monument of Athens is one of the most significant places not only for Athens but for all Greece. The first Modern Olympic Games were held here.
The stadium is open March until October from 08:00 – 19:00 and November – February 08:00 – 17:00. Tickets can be purchased outside the stadium (General Admission tickets 5 Euro, children under 6 years old free entrance). It can get very hot during the day here and there is no shade so an early visit is recommended. The stadium and the square in front of it are great for getting energy out. My kids love running on the tracks and feeling like an athlete. More on this unique marble Stadium: www.panathenaicstadium.gr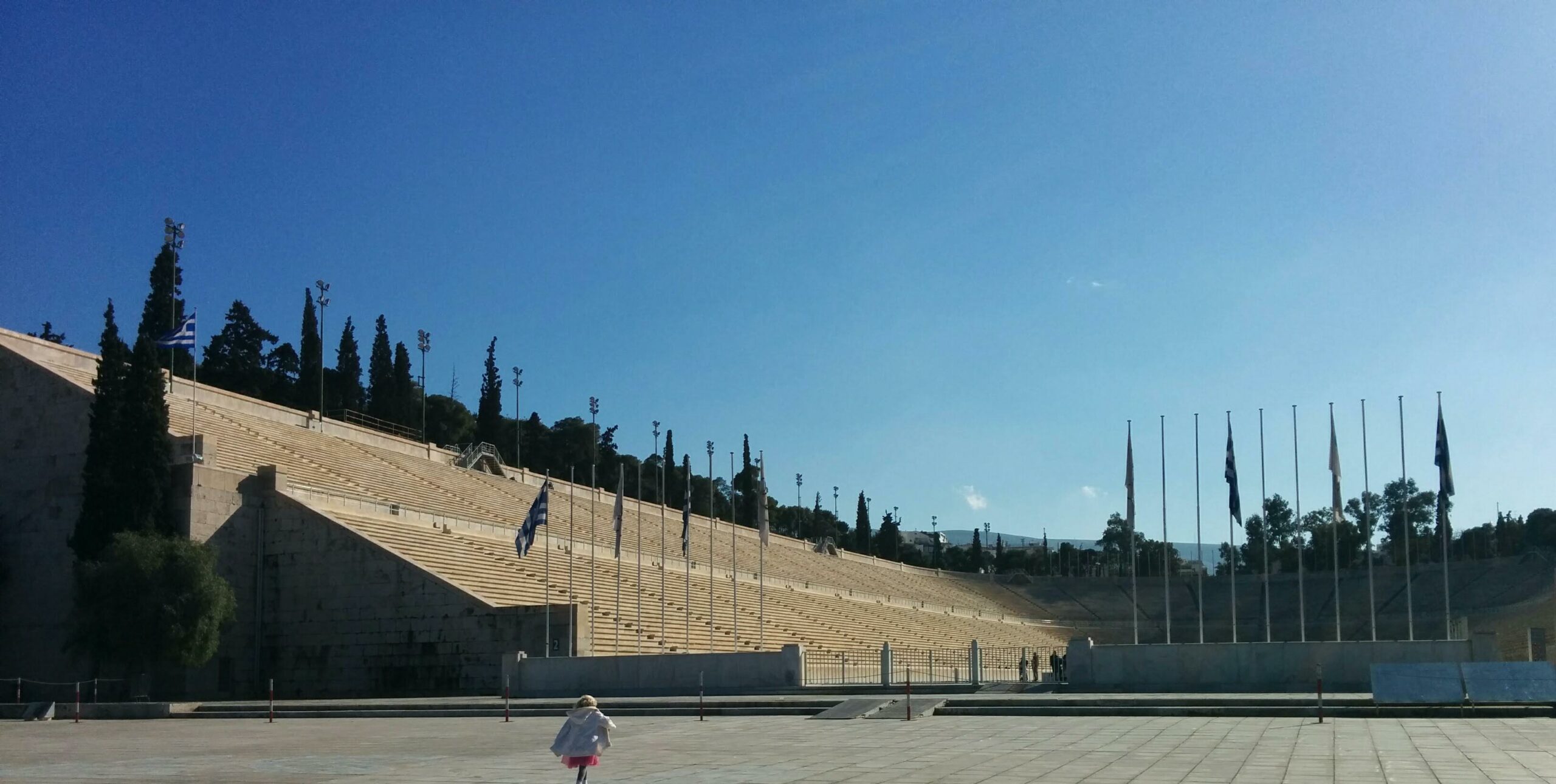 For a guided tour to the stadium and other monuments nearby, I would recommend Athens, Acropolis and Acropolis Museum Including Entry Fees. This 5-hour guided tour includes skip-the-line entrance tickets to both sites and a guided tour as well. It also includes a visit to the Panathenaic Stadium and the Royal Gardens.
Athens with children: Family Olympic Games Workout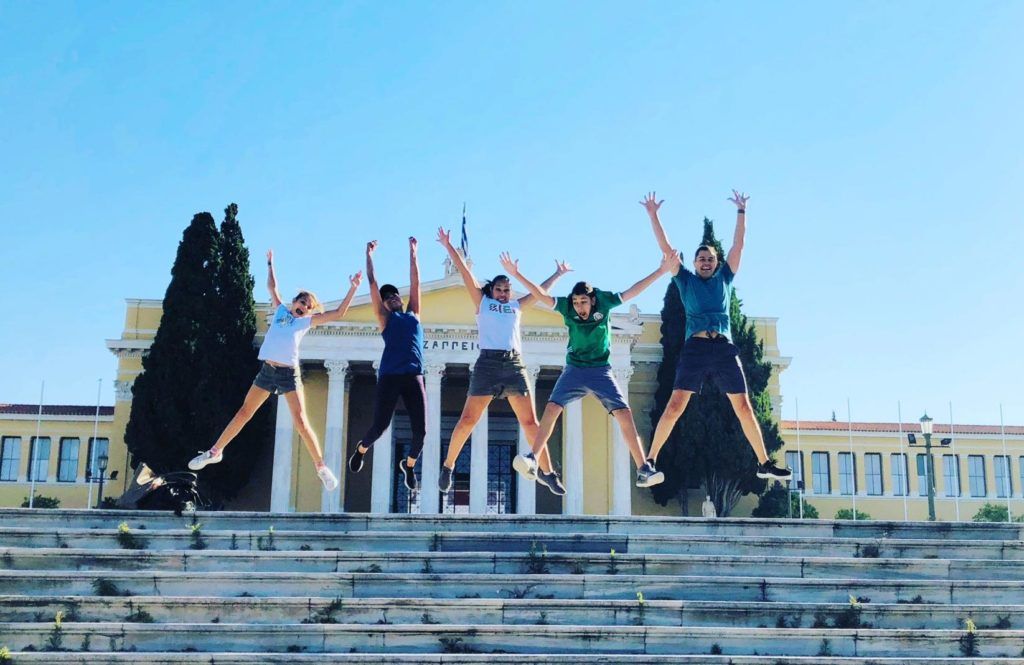 If you want to learn the history of the original Olympics and what it meant to Greek society in an organized way, then head over to the Zappeion, the first modern purpose-built Olympic facility. Here you can participate in a workshop to stretch your muscles and hone your skills at a session at a historic 19th-century gym. Run like a champion in the Panathenaic Stadium, home of the 1896 Olympic Games and become an Olympic athlete! For more information and booking of the Olympic Games Workout, please click here.
The Athens War Museum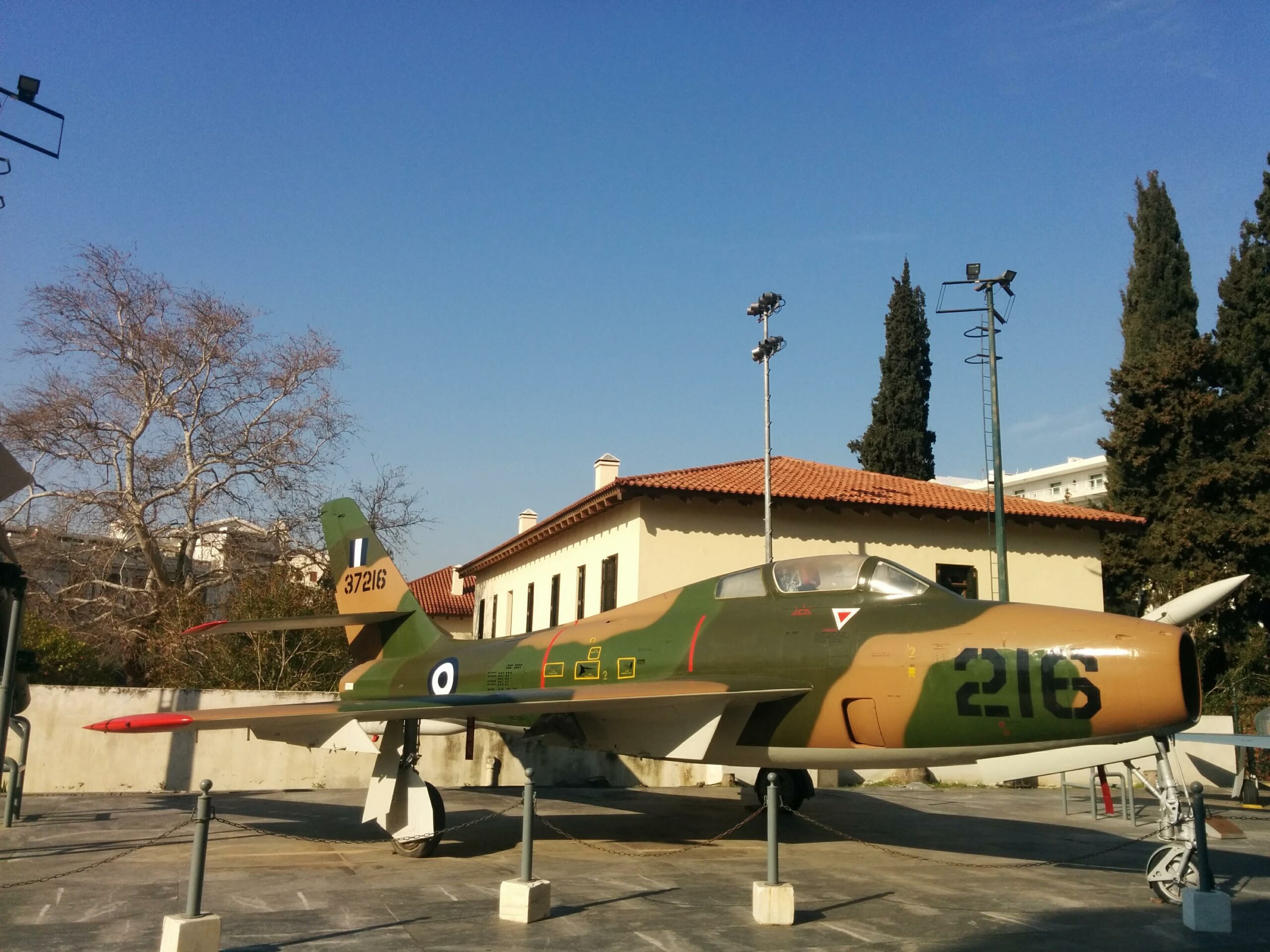 The Athens War Museum displays airplanes from past times as well as arms, uniforms and documents. The museum has apps, games and tours designed for children as well as children's activities on special days. If you do not want to visit the museum inside, a walk through its yard is already an adventure. Your kids will love to see one of the first and oldest airplanes in Greece.
The Byzantine and Christian Museum
I have added The Byzantine and Christian Museum to this list of top things to do in Athens with kids because, besides its interesting collection, it has the most beautiful garden. Although the overwhelming collection of the museum is worth a visit, its courtyard is so full of colours, archaeological findings, and shaded ponds, its a must-visit gem in the busy centre.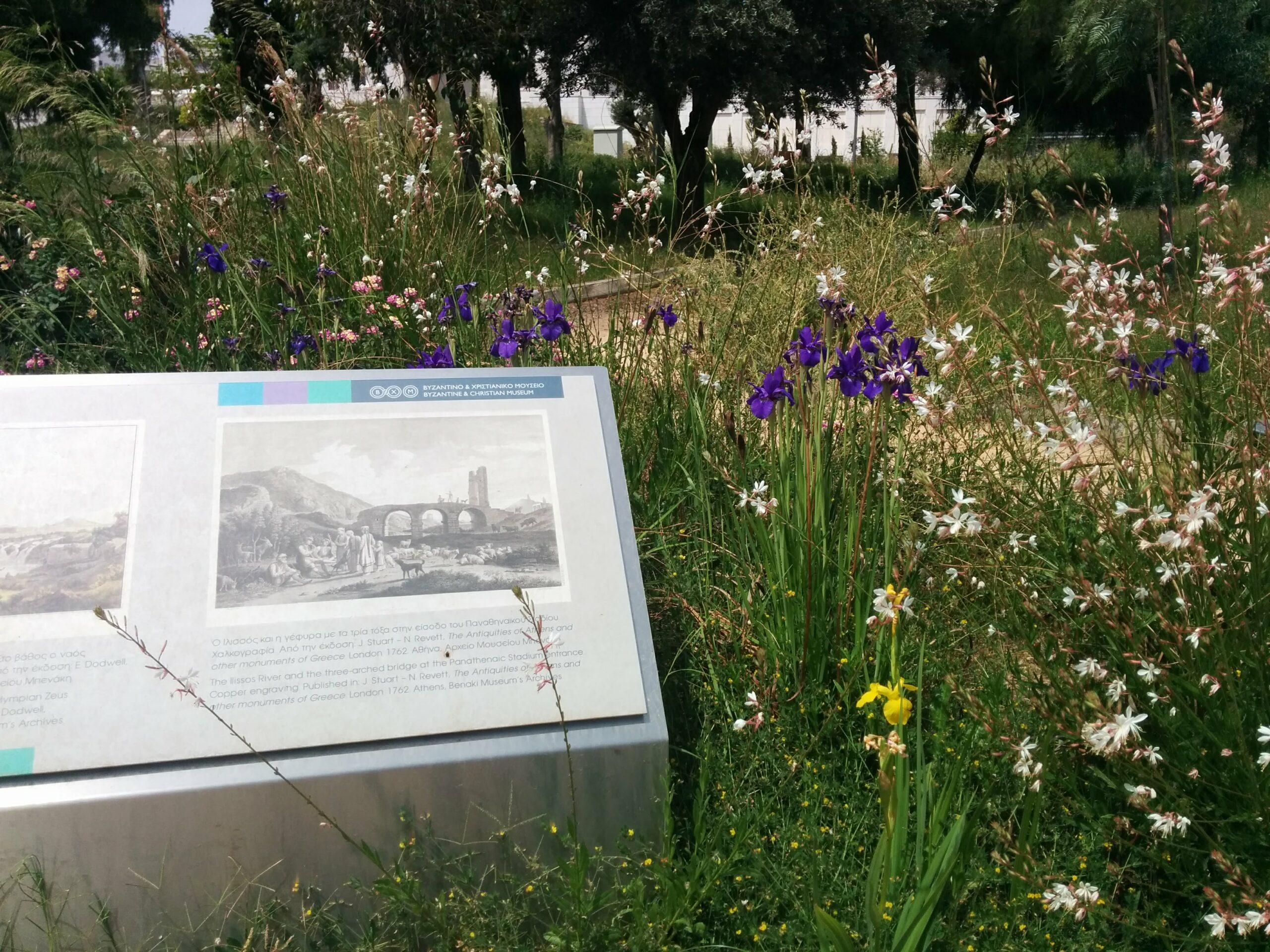 Located near the upmarket area of Kolonaki, the main museum building resembles a Tuscan villa set in a beautiful enclosed courtyard away from the busy main road of Vasilissis Sofias. The museum is next to the Athens War Museum and at walking distance from the Museum of Cycladic Art.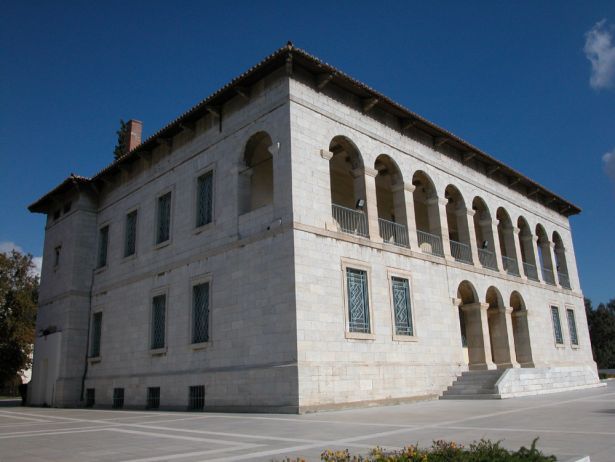 Aristotle's Lyceum Archaeological Site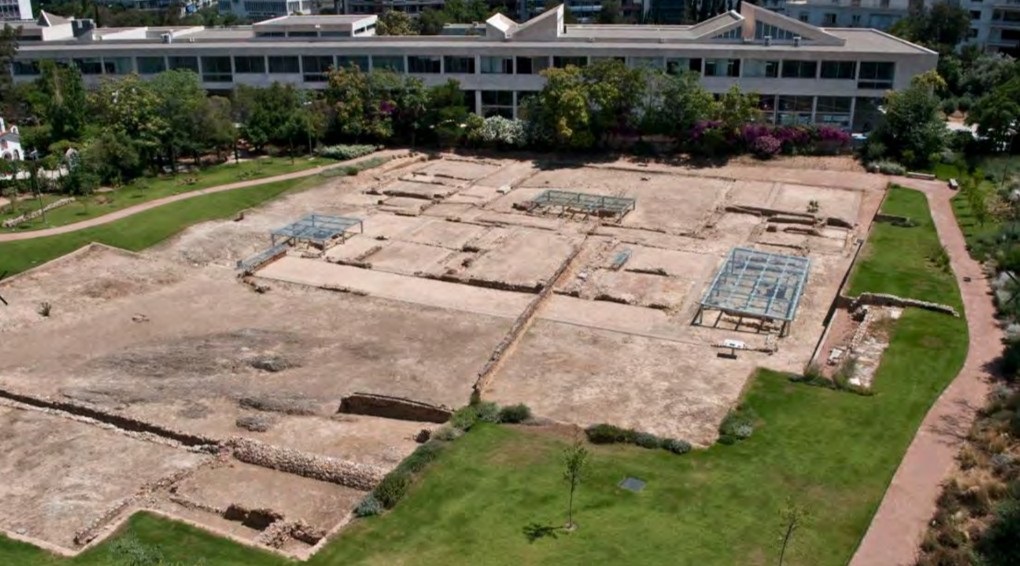 Next to the Byzantine and Christian Museum is the archaeological site of Aristotle's Lyceum. A small site, but worth to have a look at because Aristotle and the Lyceum play such an important story in history. In 2023 a digital information booth will be added to its premises aiming to highlight the work and life of the famous Greek philosopher, as well as the importance of his school.
Bus tour in Athens with Kids
I find the tourist site-seeing buses a great way to discover a city in any country with kids. There is no need to walk or figure things out on your own and it's a great way to see many different monuments in one day. Athens gets very hot in the summer, these busses have air-conditioning and shaded rooftop seats. Do not miss a ride on the bus when you visit Athens with kids, they are a lot of fun!
Buy Tickets for the Athens Hop-on Hop-Off Bus
For families, I recommend the Athens Hop-On Hop-Off Tour. This tour goes along three different routes. You'll travel on an open-top, double-decker bus as you take in the many important sights and attractions of the city. The tour takes around 90 minutes and encompasses central Athens, commencing at Syntagma Square. There is an onboard multilingual audio guide. Buses are wheelchair/stroller accessible and start at Syntagma Square. Duration: 90 minutes. Frequency: every 15 minutes. You can opt for just the city centre or go to the Athens Coast and Piraeus port as well. For bookings and more information about prices, please click here.
You can also combine your bus ride with a skip-the-line Acropolis ticket. The Athens Hop-On Hop-Off Bus & Skip-the-Queue Acropolis Museum offer 1-day ticket for 4 different bus routes, plus one complimentary day to explore Athens, audio commentary in 16 languages, skip-the-queue tickets for the Acropolis Museum, fun train tours around Piraeus, valid from April through October, 2 walking tours around the Acropolis area, valid from April through October and family friendly staff onboard. Click here to purchase your Athens Hop-On Hop-Off Bus & Skip-the-Queue Acropolis Museum ticket
Visit picturesque Anafiotika in Athens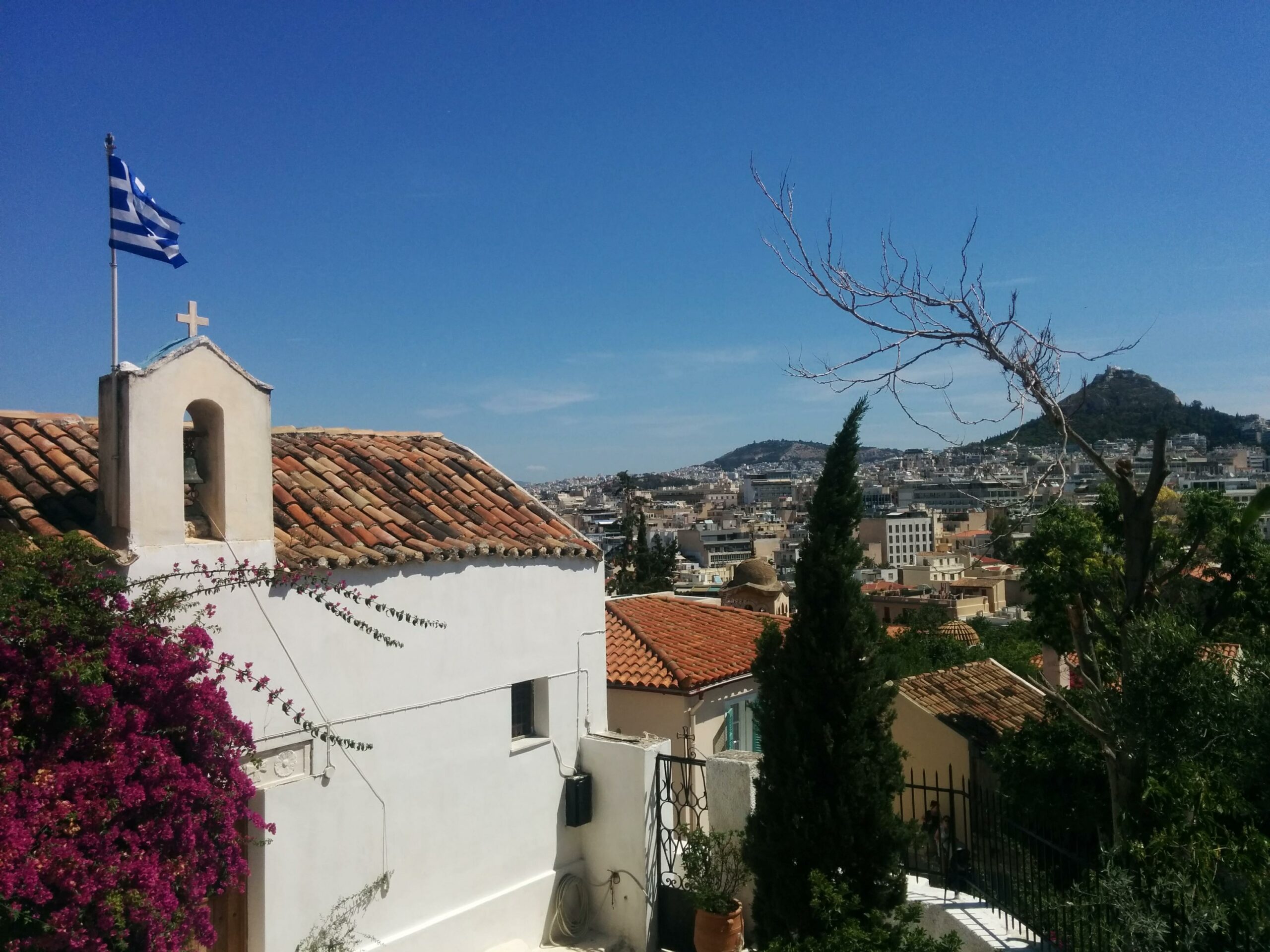 Anafiotika is located in the upper area of Plaka, just under the Acropolis. It is a beautiful area constructed by builders from the Aegean island of Anafi. Think of whitewashed houses and narrow alleys. We love walking here. It is very picturesque, car-free and colourful. It has much shade and is a pleasant place to be with children even in summer. Be careful, it is very difficult to cruise with strollers because of the many steps.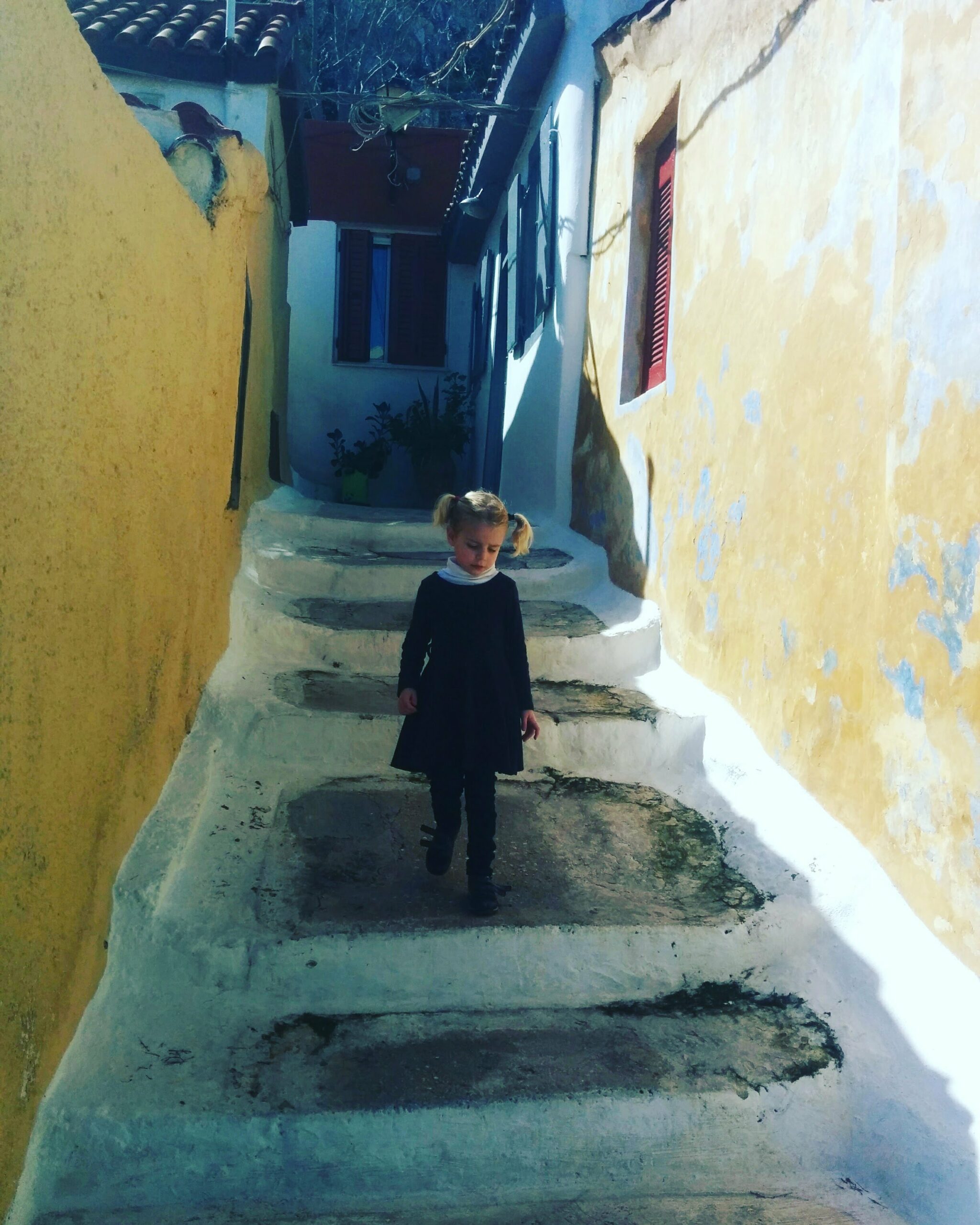 National Archaeological Museum with Kids
Another must-visit when in Athens with children is the National Archaeological Museum. This museum is one of the world's most renowned museums and the largest in Greece. The National Archaeological Museum houses a remarkable collection of excavations from all over Greece. Kids will be impressed by the large statues and exciting objects.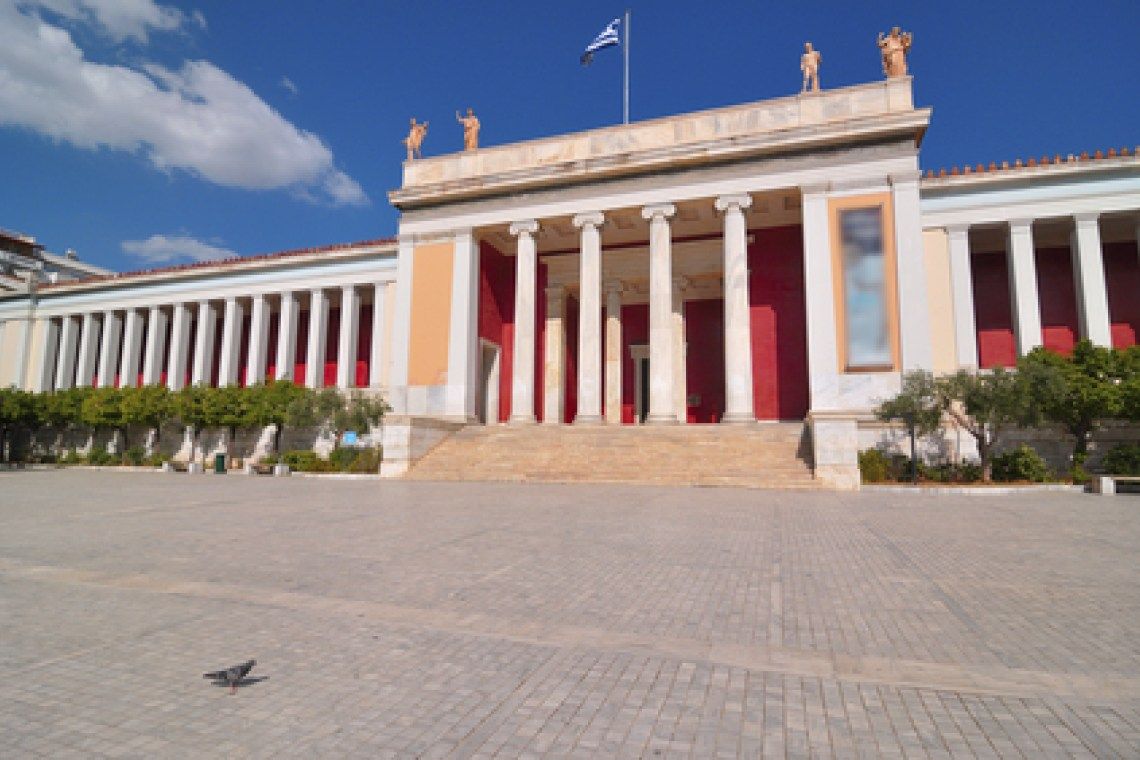 To make the most out of your visit, you can consider a private guide tour. Click here to find my recommended private guided tour for families at the National Archaeological Museum.
You can also opt for a self-guided audio tour at the National Archaeological Museum. Find more information and a discount on the audio app here.
Street Art with Teens
Athens is a street art paradise. Teens will love admiring graffiti and other artworks on buildings and walls in urban Athens. Our street art walking tour took us through the neighbourhoods of Gazi, Keramikos, Psirri and Thiseio. Together with Exarheia, these are the most painted areas in Athens. Read our full tried & tested family experience of the Street art tour here. For families, I recommend the Alternative Neighbourhoods Half-Day Walking Tour.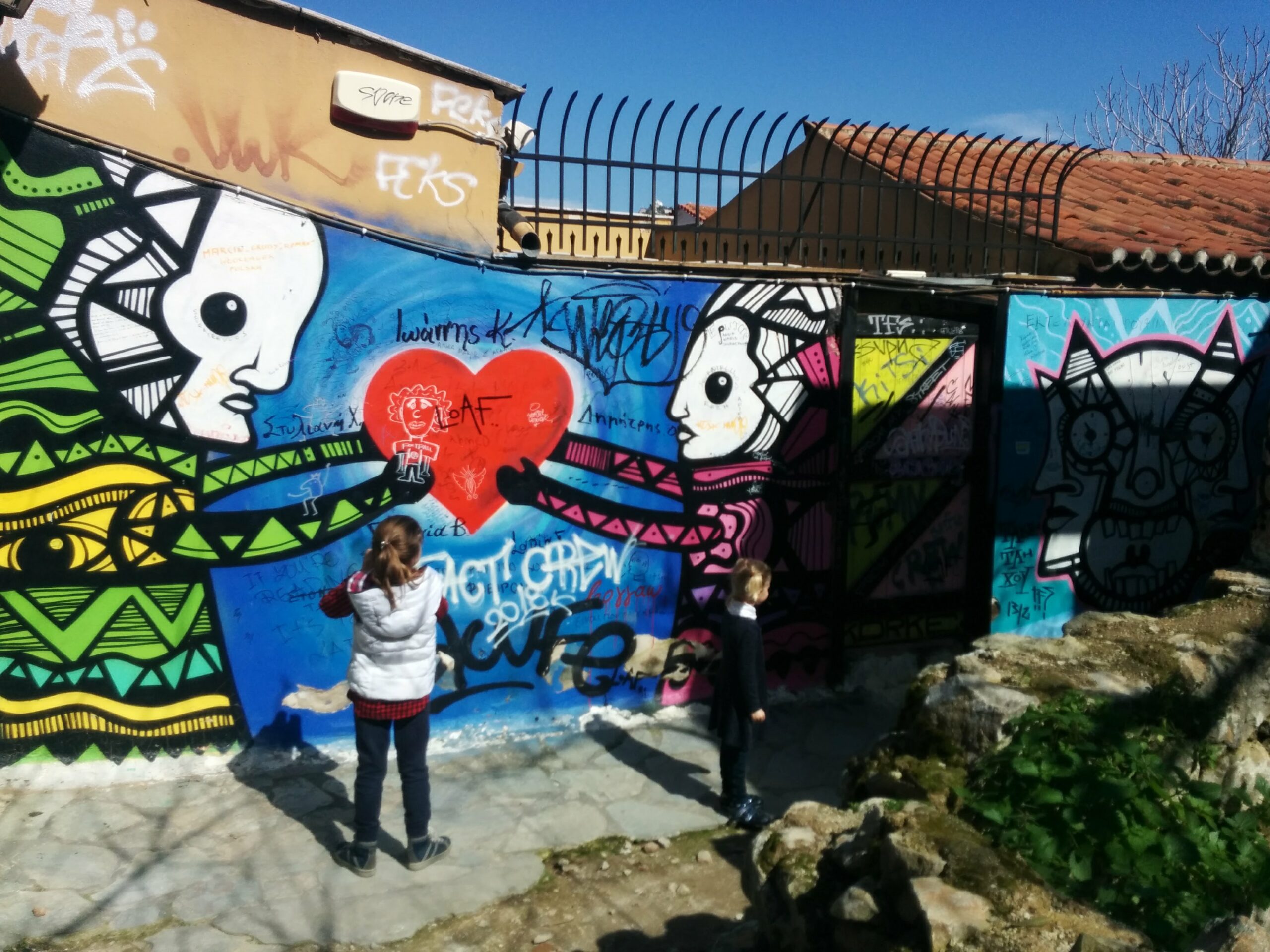 Click here for Things to do in Athens with Teens
Museum of Cycladic Art
The Museum of Cycladic Art in Athens will speak to the imagination of children. The collection shows objects from ancient civilisations of the Cycladic Islands and shows how ancient Greeks lived. This is brought to life with the permanent audio-visual installations, very suitable for children. The Museum of Cycladic Art has family programs in English and activities for kids all year round. For more information, visit the website of the museum here.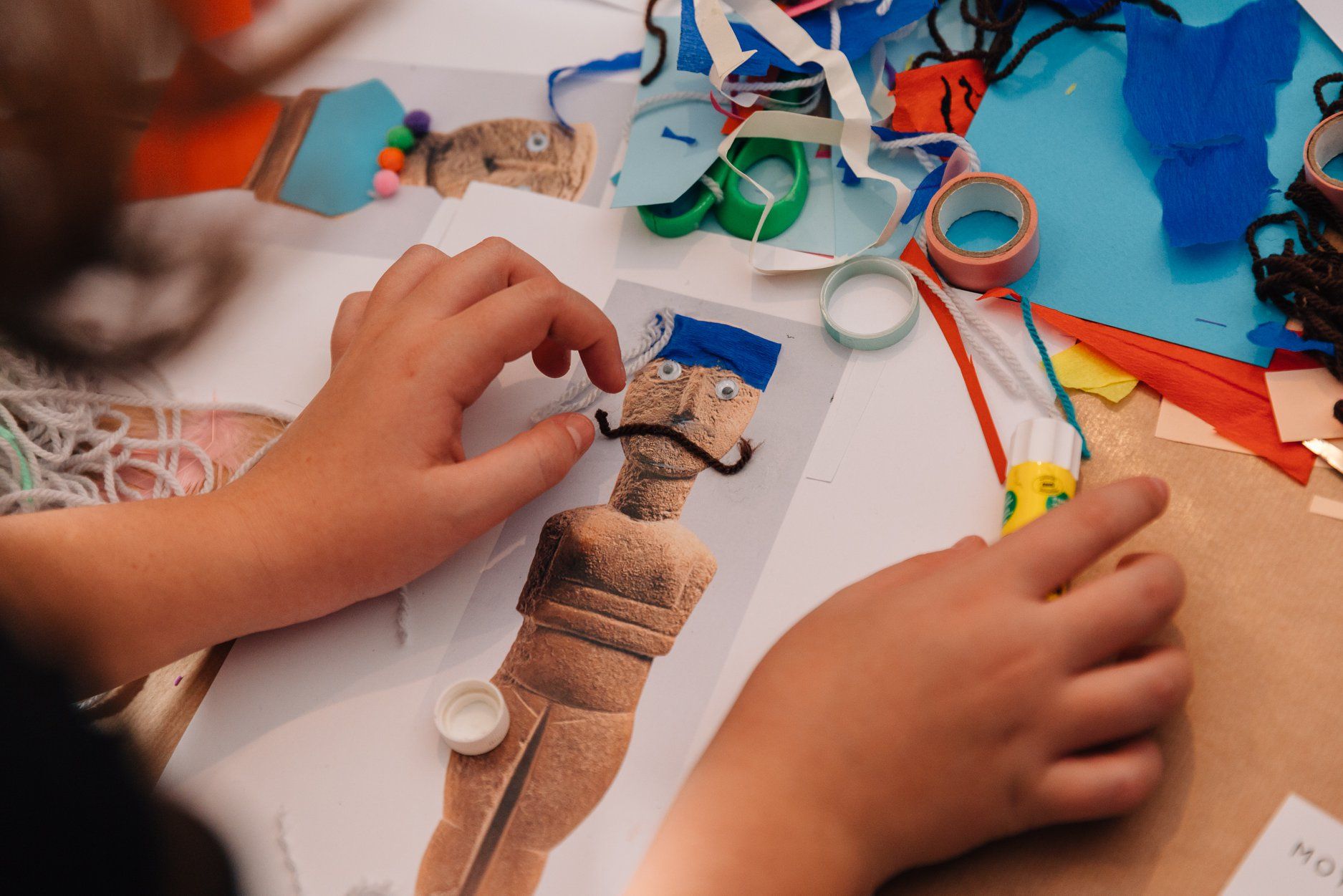 Greek dancing at Dora Stratou Dance Theatre
Children can learn the art of Greek dancing at the living museum of Greek dance which was founded in 1953. At this exceptional garden theatre located on the Philopappou Hill, opposite the Acropolis visitors can enjoy a series of daily performances. The Theatre houses the largest collection of its kind of over 2,000 traditional Greek costumes which have been acquired over a course of 30 years. The theatre offers dance classes for all ages as well as a selection of workshops such as traditional embroidery.
Waterpark fun in Athens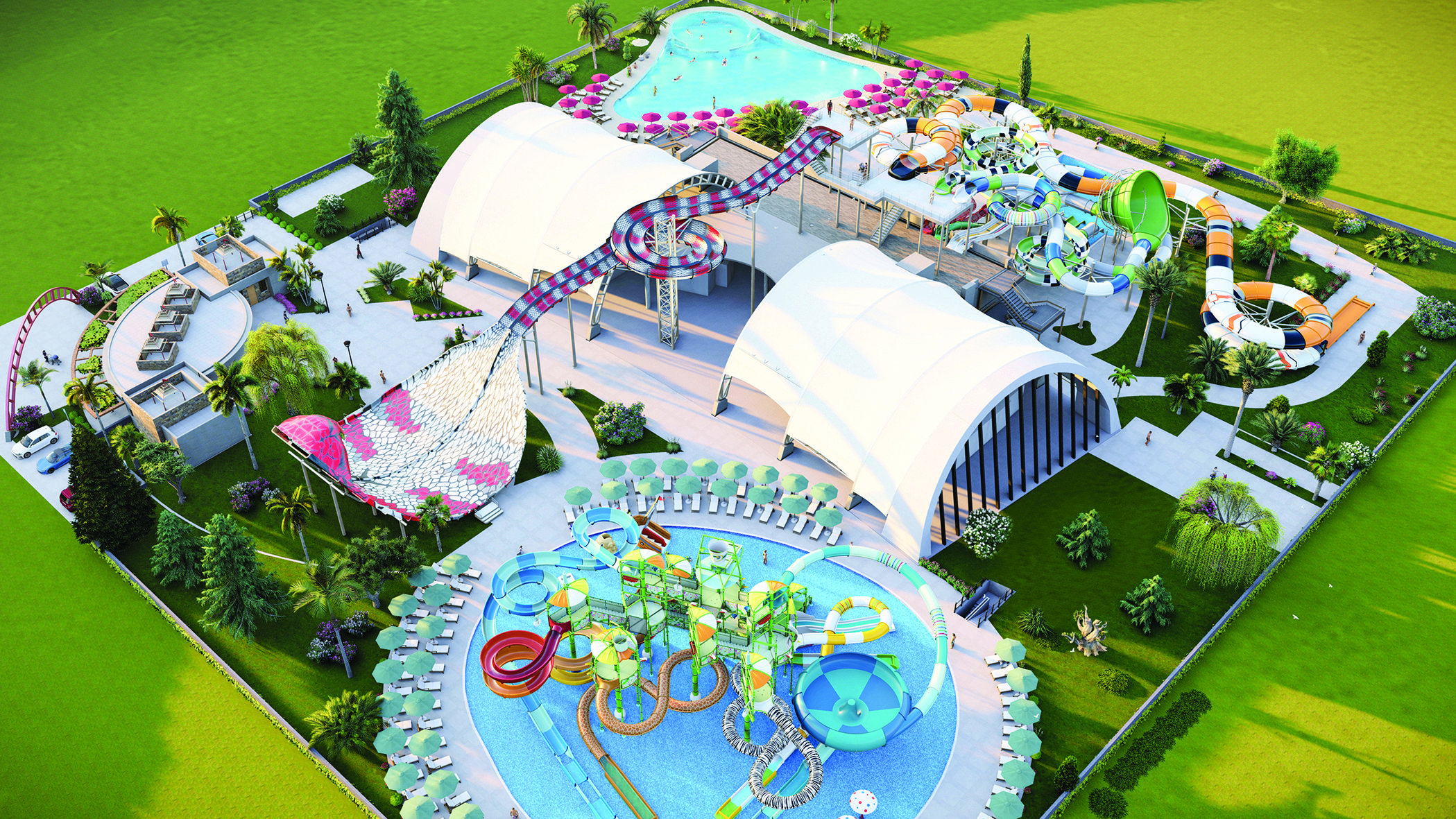 Attika Park Aquapolis is a brand-new water park with animal-themed slides and other creatures next to Attika Zoo. It is the largest water park in Athens. We tried and tested the park in July 2020 and had a great day out.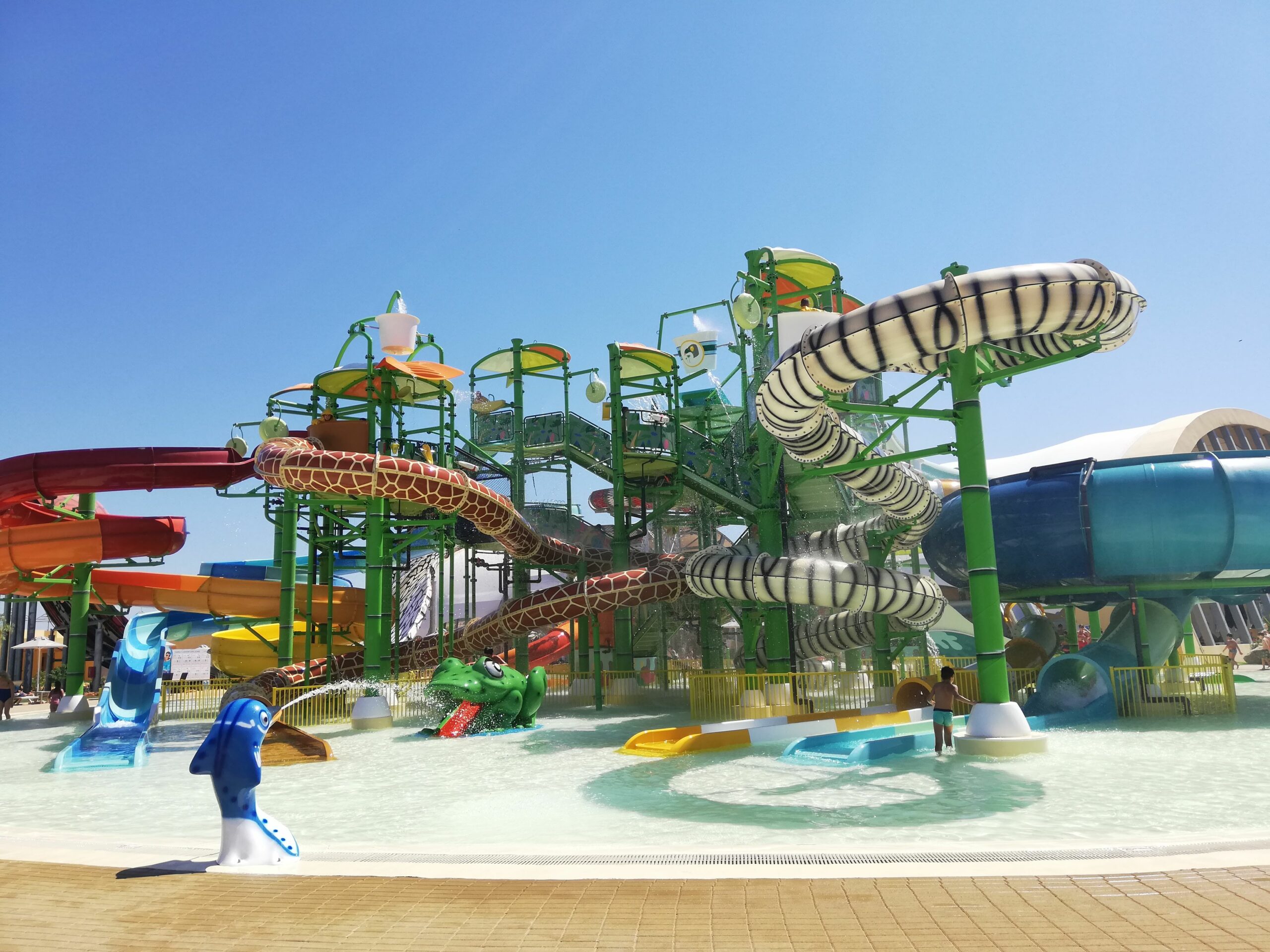 There was enough space for us adults to relax while the kids had fun on the slides, the water tower and in the large swimming pool.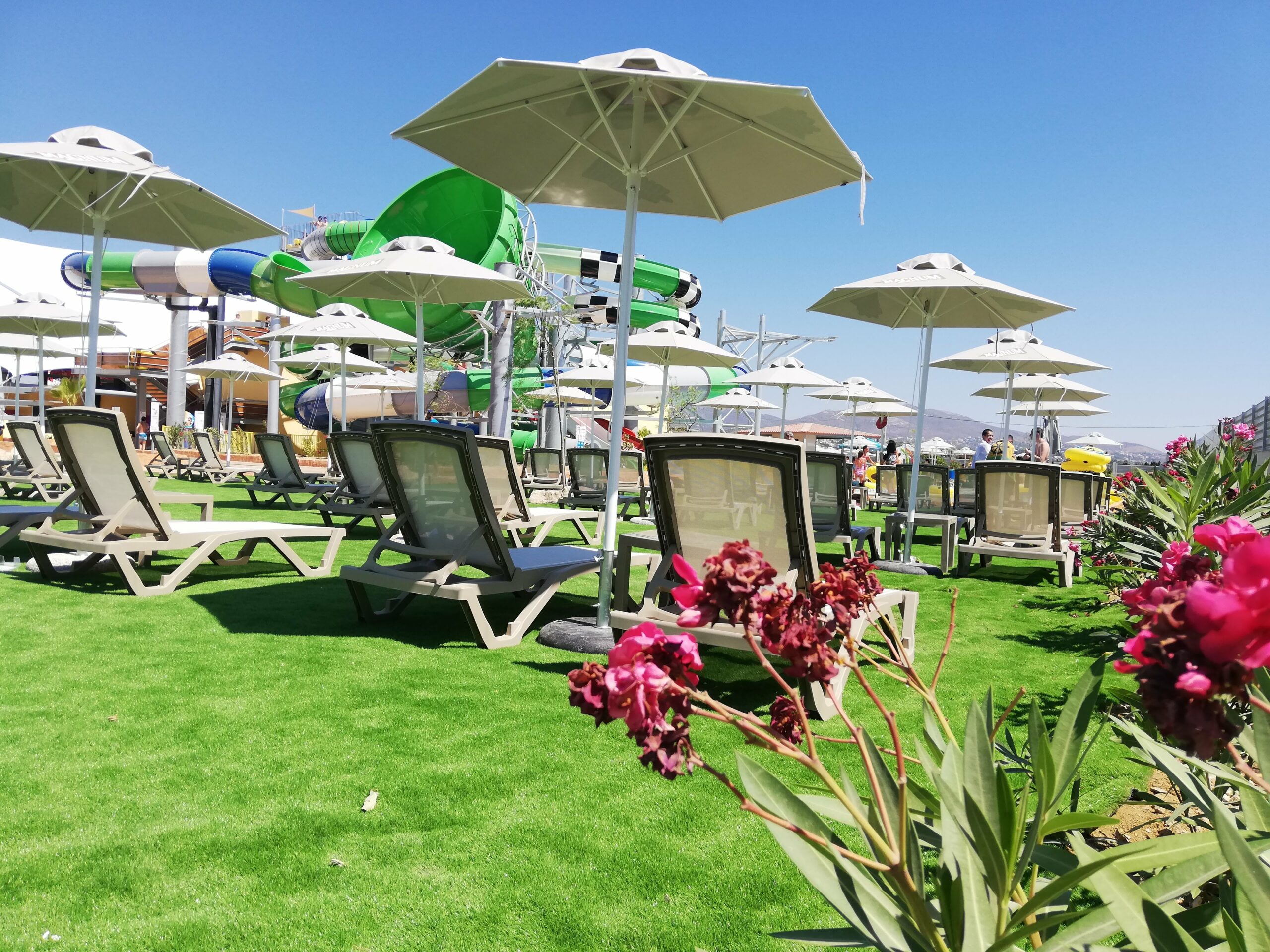 The facilities of the water park are clean, safe and well organized. The park hosts a large cafe and restaurant area as well as a gift shop.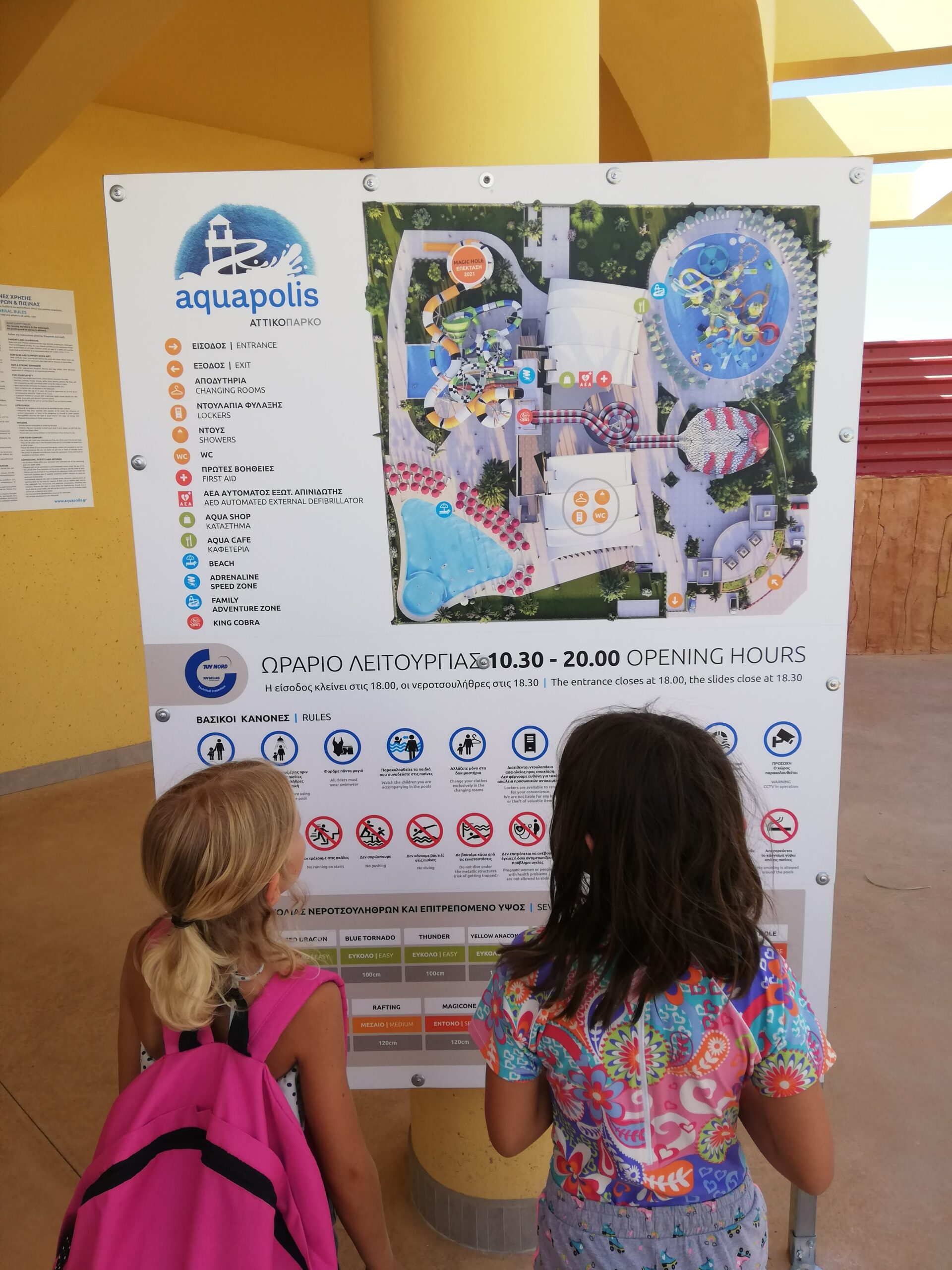 For up to date information, please visit the website here: aquapolis.gr
Top things to see and do in Athens with children: Museum of Illusions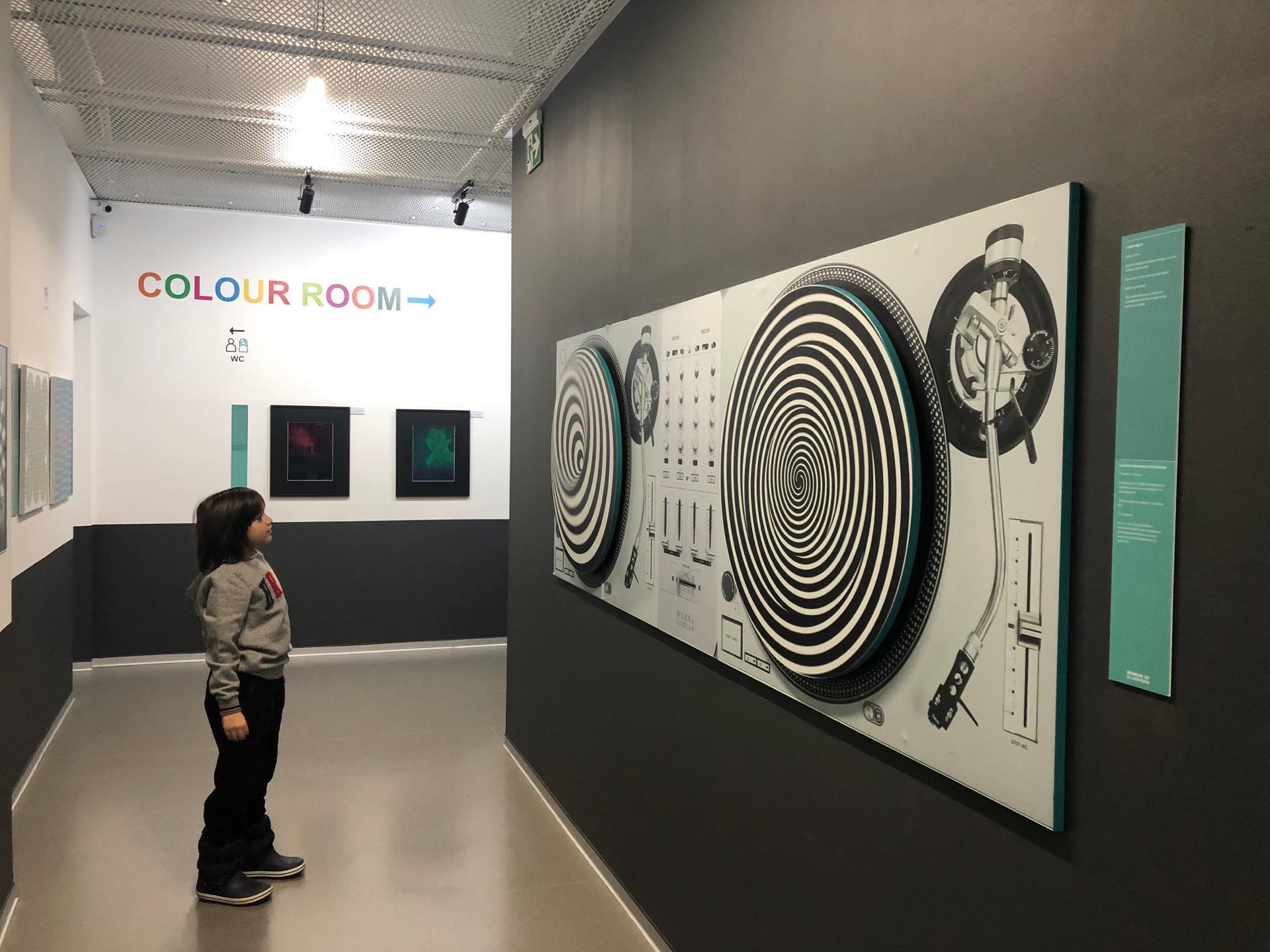 The Museum of Illusion is a relatively new attraction in Athens with children. It brings you into a world of illusions, suitable for all ages. The museum is small but good for an hour of fun and something different from the historical treasures in Athens.
The Museum of Greek Children's Art
Things to do in Athens also includes the Museum of Greek Children's Art. Located in Plaka, this unusual museum exhibits exclusively drawings and three-dimensional artworks created by children 5 to 14 years old. The museum's collections include more than 10,000 drawings and 3D artworks created by children, enriched each year! Have a look and be inspired.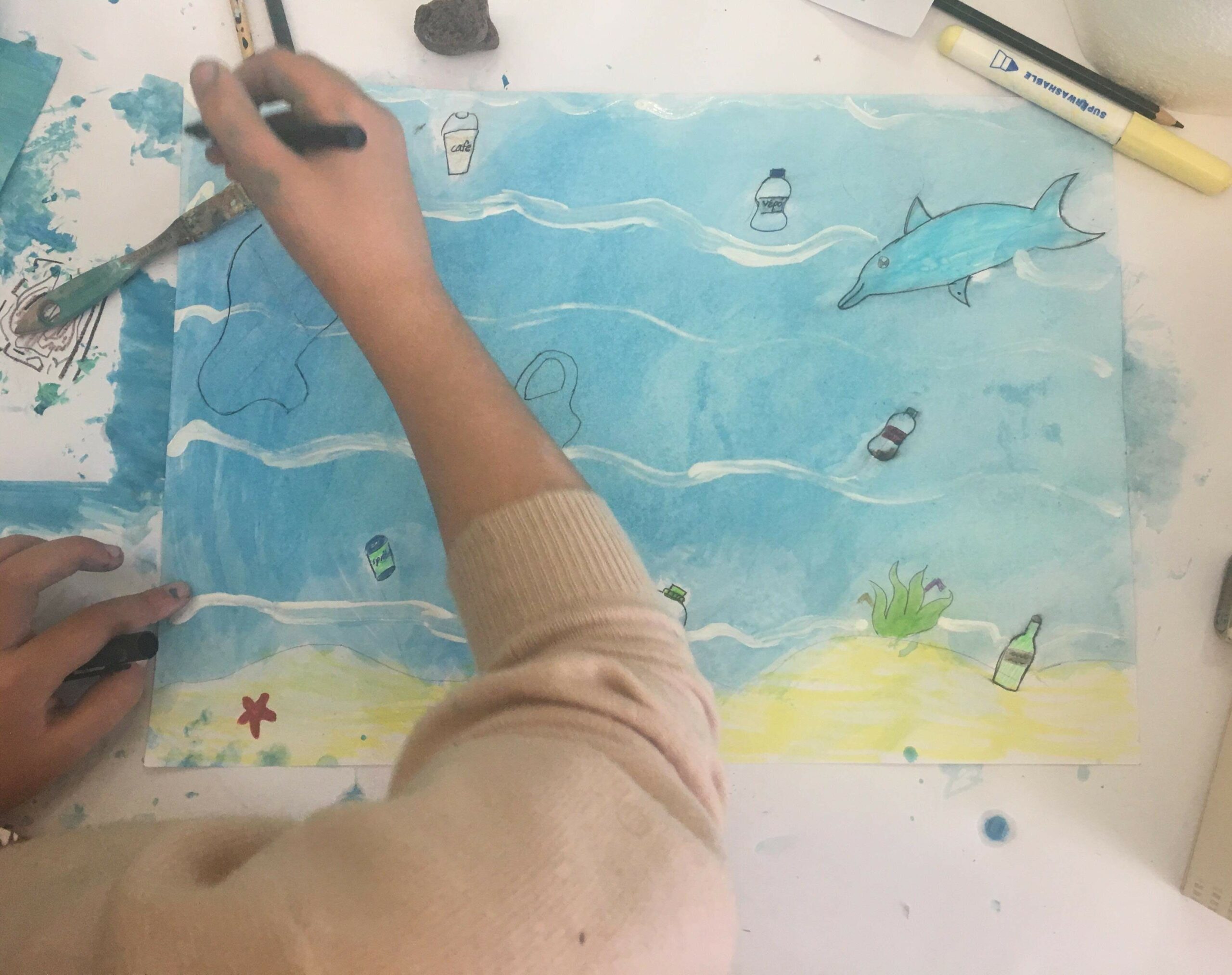 Mind Trap
If you cannot get enough of riddles and mystery, consider an escape room game. Especially suitable for families travelling with older children, Mindtrap Monasteraki is located in a beautiful building on Mitropoleos street. The many game rooms take 2 to 6 players and have intriguing names such as El Patron and Da Vinci Code. Are you ready to play?
Visit the National Gardens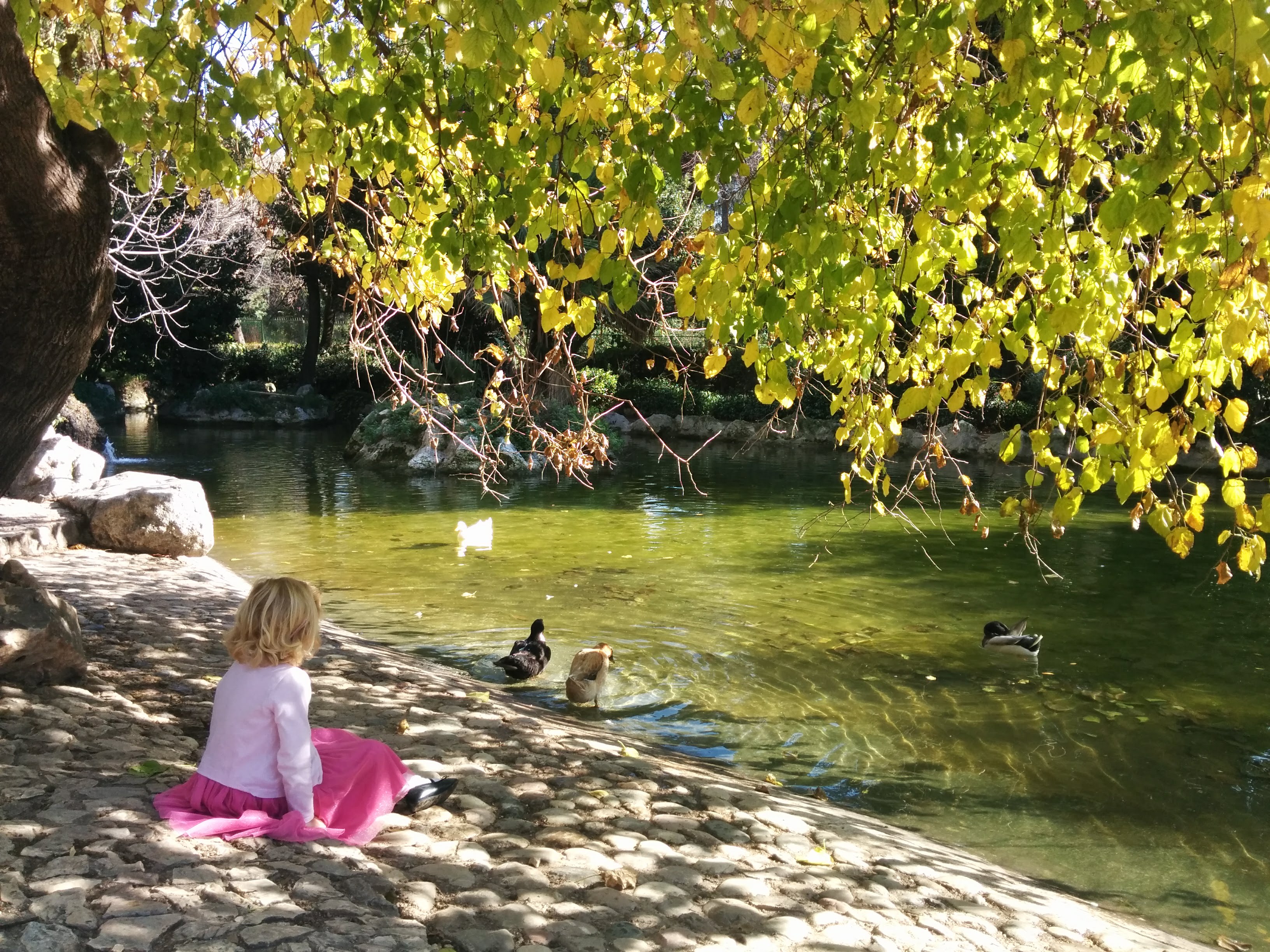 The National Gardens, formerly called the 'Royal Garden', is a public park of 15.5 hectares in the centre of Athens. It is located directly behind the Greek Parliament building (the old palace) and in between the famous monuments of the Zappeion and the Panathenaiko Stadium. We always stop here for a picnic with the children. They love it because of its huge and impressive palm trees at the entrance of the park, for its animals and its paths. Inside the National Garden, you will find, a little farm with animals and birds and a pond with turtles. There is also a playground with a large sandbox in the shade. The National Garden also features a botanical museum, a small cafe, and a children's library. The main entrance is on Amalias Avenue but you also enter the garden from Vasilissis Sophias Avenue, Herodou Attikou street, and the Zappeion park area.
Play Around at Zappeion
The Zappeio area with its beautiful gardens and squares is a great place for a relaxing family day outdoors. It is especially safe for young kids because there are no cars allowed. We love to spent time at Zappeio on Sundays with our kids. You will find street artists, vendors, and lots of children to play with. Zappeio is the name of several buildings and gardens. Its main building dates back to the 19th century. It was designed and created for the revival of the Olympic Games in the modern world. In the gardens at Zappeio are beautiful statues of The Woodworker, The Little Harvester of D. Filippoti, and The Satyr of G.Dimitriadi. The renovated playground at Zappeio includes a multi-purpose play area, climbing frames, a slide, a balance beam, monkey bars, and a roundabout.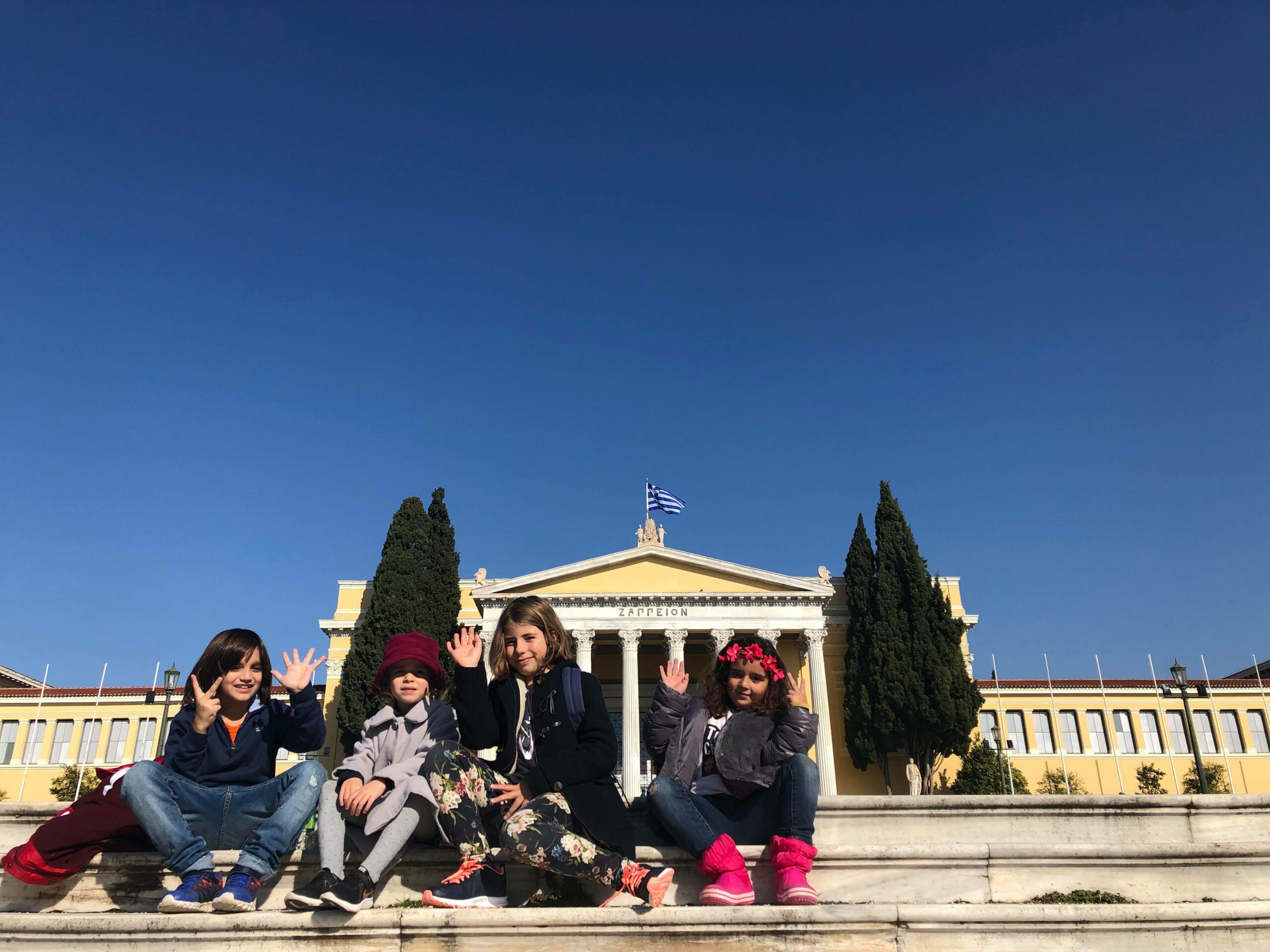 Little Kook Cafe
The most popular place in Athens with children is the fairy tale theme cafe Little Kook in Psyrri. This season, the cute cafe brings to life the magical world of Alice in Wonderland. A unique F&B concept in Athens takes the Greek cafe culture to a whole new level, making it a wonderful place for a great day out with family. Now your kids can enjoy a Mad Hatters Tea Party right in the heart of Athens. More about this special place in my blog post dedicated to Little Kook Cafe.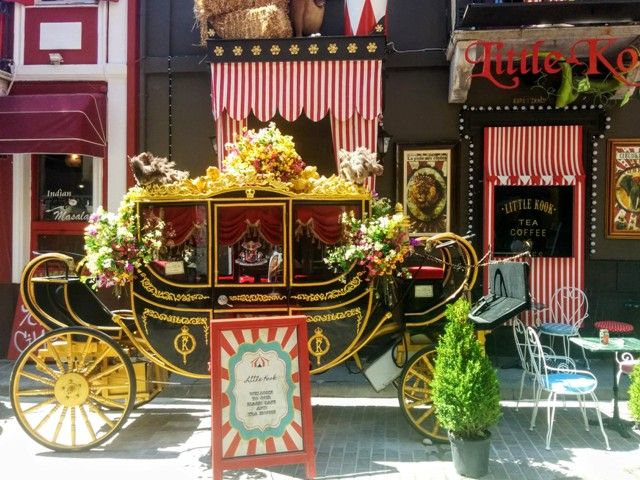 Attica Zoological Park Athens Zoo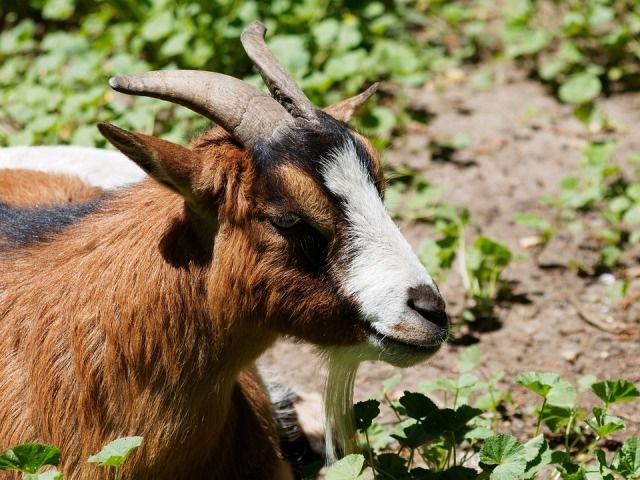 We have been visiting the Athens zoo ever since our kids were babies. The sounds, scents, and colours in an animal park will appeal to even the youngest children. The Athens Zoo is family – and stroller friendly. The Athens zoo is located near the airport outside of Athens centre and can be reached by car from the Attiki Odos. There is a large free of charge parking area. Children under 3 years old do not pay and on 'Stroller Friday' are special offers.
For more information and booking skip the line tickets; please click here.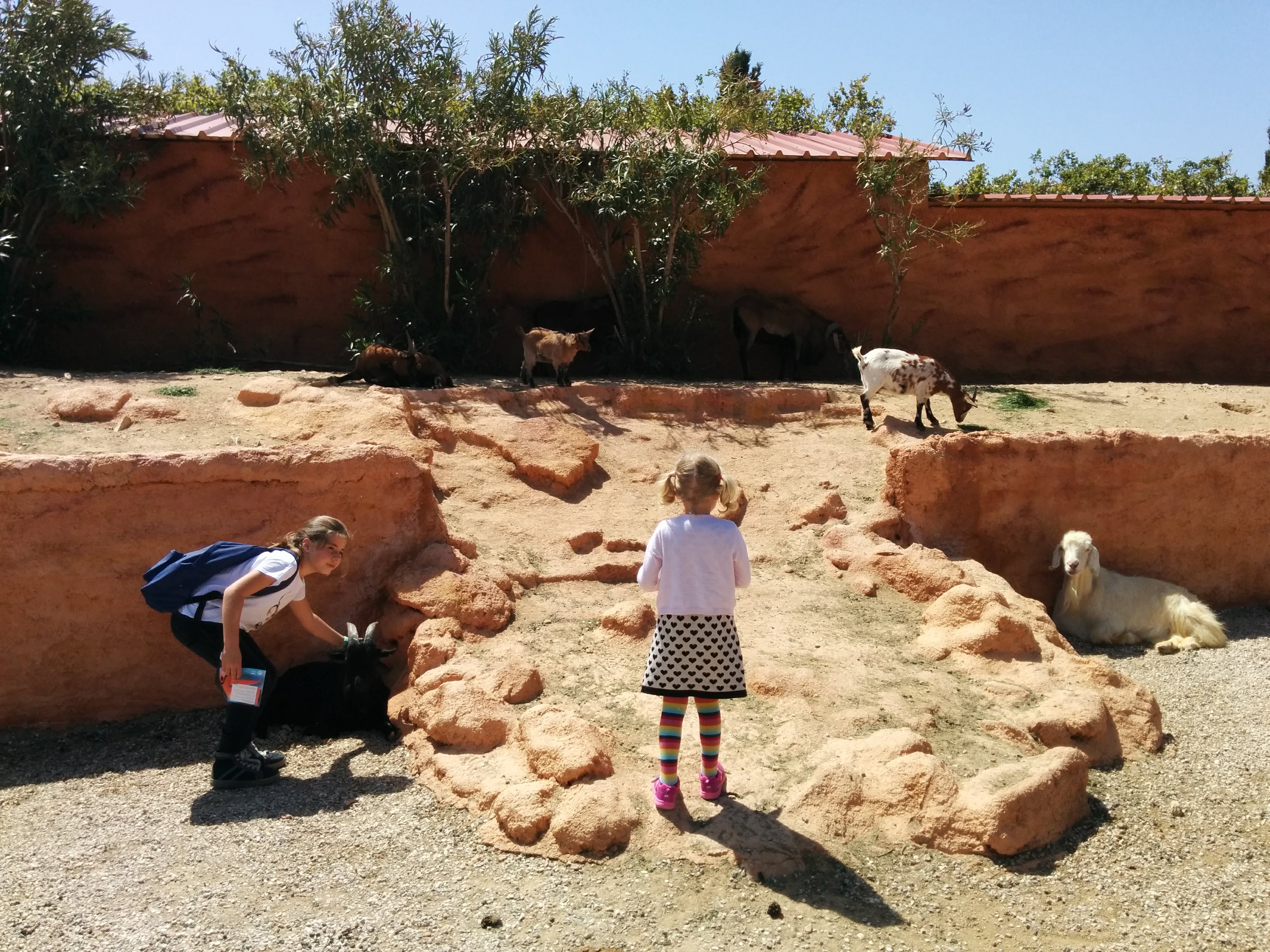 If you are on vacation in Athens, I recommend the value for money day ticket:
Athens: Full-Day Attica Athens Zoological Park Ticket This package includes a skip-the-queue ticket but does not include transport.
If you like animal parks in Athens, have a look here for a top selection of animal parks in Athens.
National Observatory of Athens
Founded in 1842 the National Observatory of Athens is housed in a beautiful historic building, on the hill of the Nymphs, facing the Acropolis. At the Visitor Centre, kids can discover the alluring world of astronomy and explore the historic library of the Observatory which houses a wealth of rare scientific books dating back to the 17th century. You can also learn more about Greek Astronomy and see the Athens starry sky through the Doridis telescope. Various tours are organized in Greek and English. The Visitor Centre is open Monday to Friday from 9am until 2pm.
Playmobil Funpark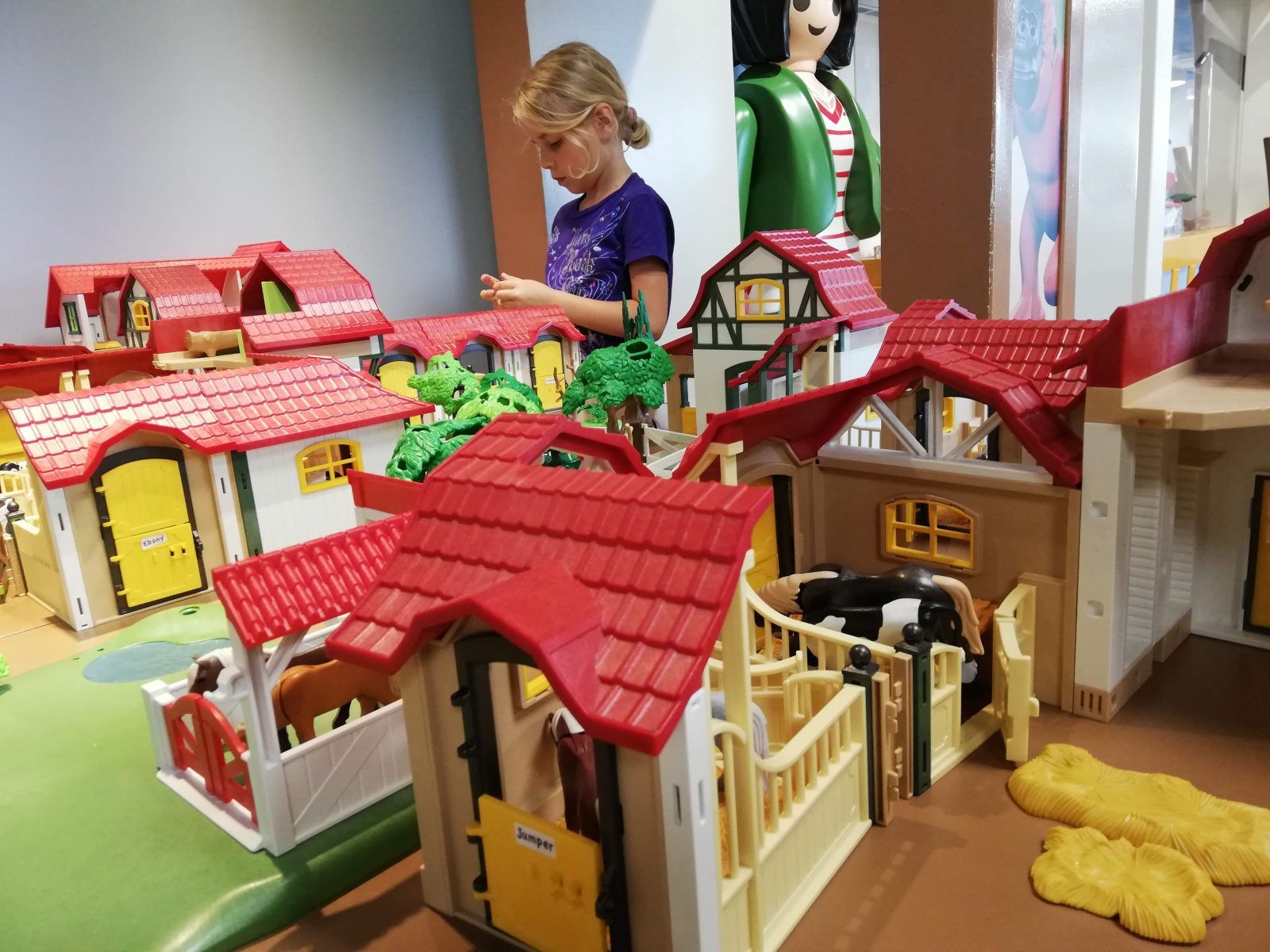 If your children like Playmobil toys as much as mine, then this will be the place to be. What I like most is that there is an enclosed area just for the little ones where they can play with the 'baby' Playmobil. No danger of small pieces here and this makes Playmobil fun park suitable for children starting from 18 months old. There is also a pleasant (non-smoking) cafe and a toy shop. More info on opening hours and tickets here.
Kids Science Park and Athens Aquarium
A brand-new addition to things to do in Athens with children is the recently opened Xplore science park in Golden Hall Mall in Marousi. We visited a few days after the attraction opened and it was a lot of fun. This is a place for Fantasy, Entertainment & Education for the whole family where kids can discover the world around them and learning through games. Click here to ready our experience.
We explored the dinosaurs, the human body, electricity, water/air and more. The kids had a blast! Open all day, 7 days per week.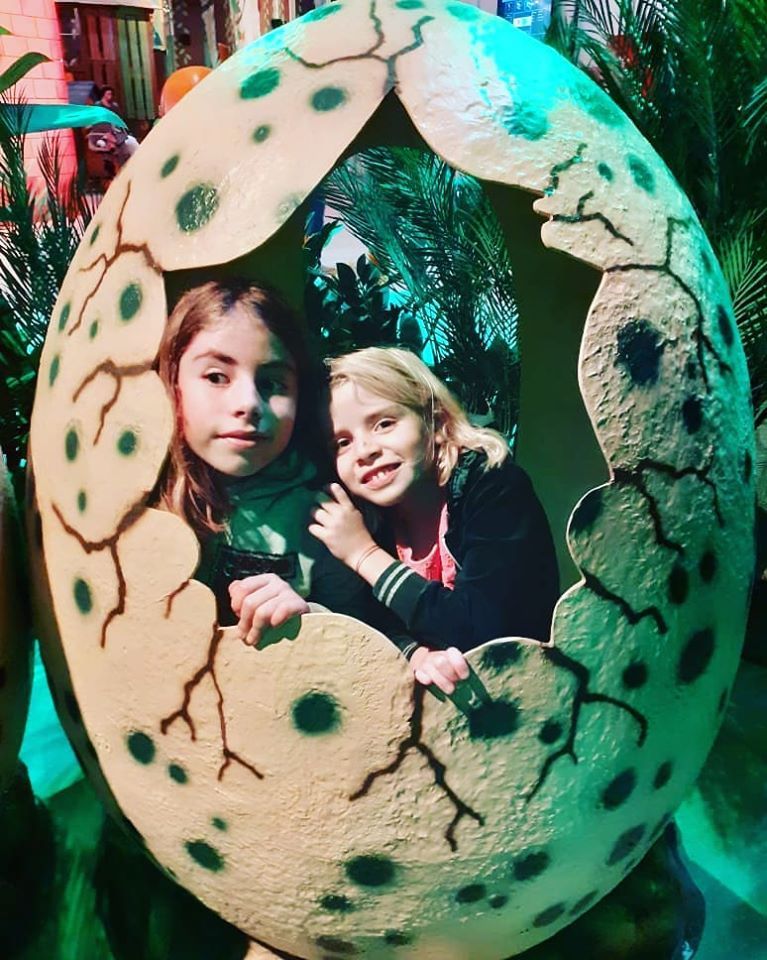 At Oceans kids can see Athens first aquarium. We will take you on a fun journey, exploring a wonderful and mysterious underwater world, full of unique animals and plants. You will encounter over 2000 fish of 140 different species, within 19 tanks.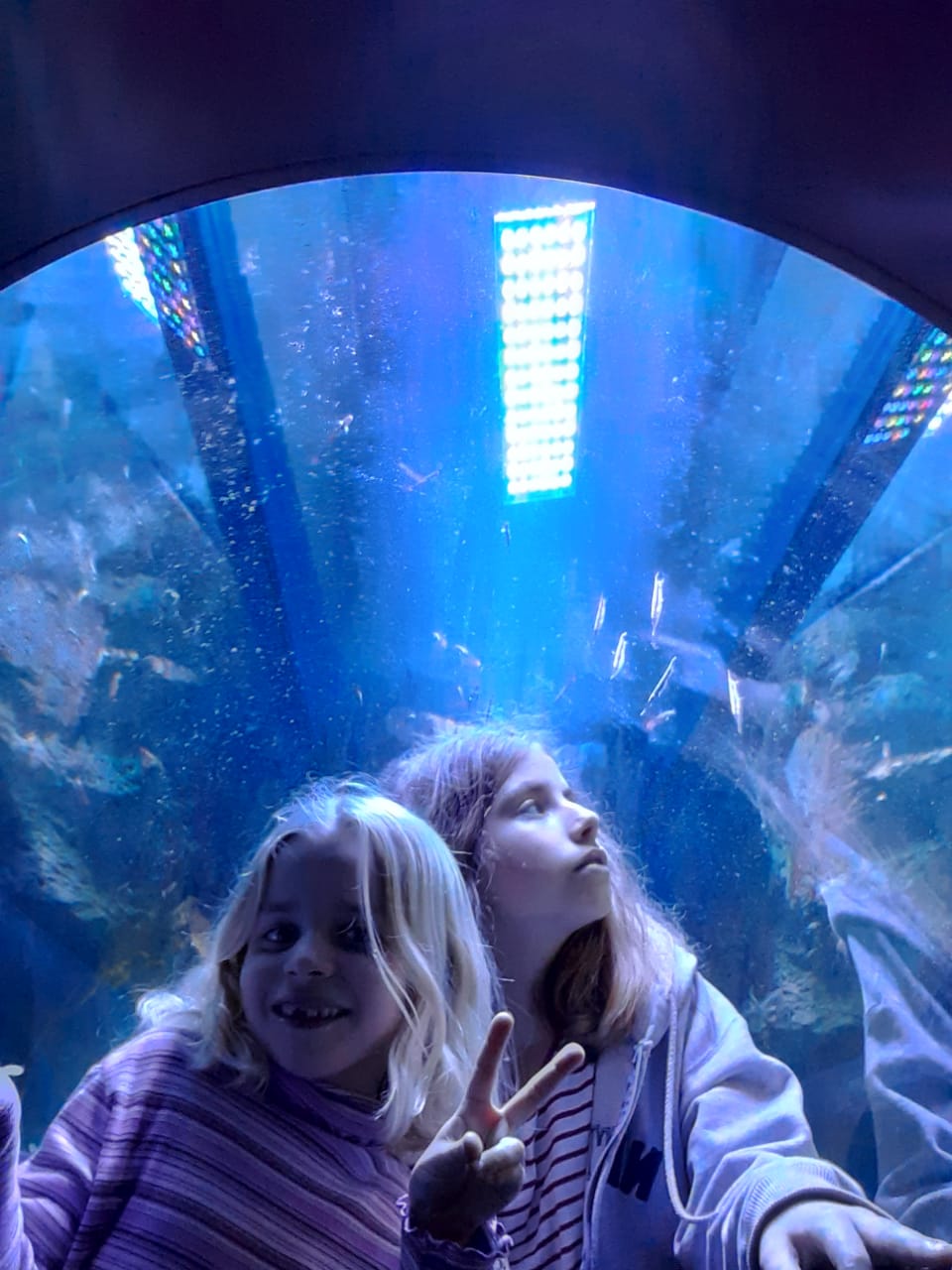 Athens Olympic Museum
The Athens Olympic Museum is also located in Golden Hall. The museum opened in 2022 and features a permanent exhibition with the history of the Olympic Games. Through maquettes, visitors explore the Olympic Games in Antiquity, Ancient Olympia, and the Revival of the Olympic Games, ending with the modern Olympic movement and protagonists. The museum has 3 levels, featuring a shop, lounge, and elegant Cafe-Restaurant for a coffee break or lunch. The restaurant has a beautiful view over the Olympic Athletic Center of Athens.
Opening hours are Monday – Sunday 10:00 – 21:00. More information can be found on the Athens Olympic Museum website.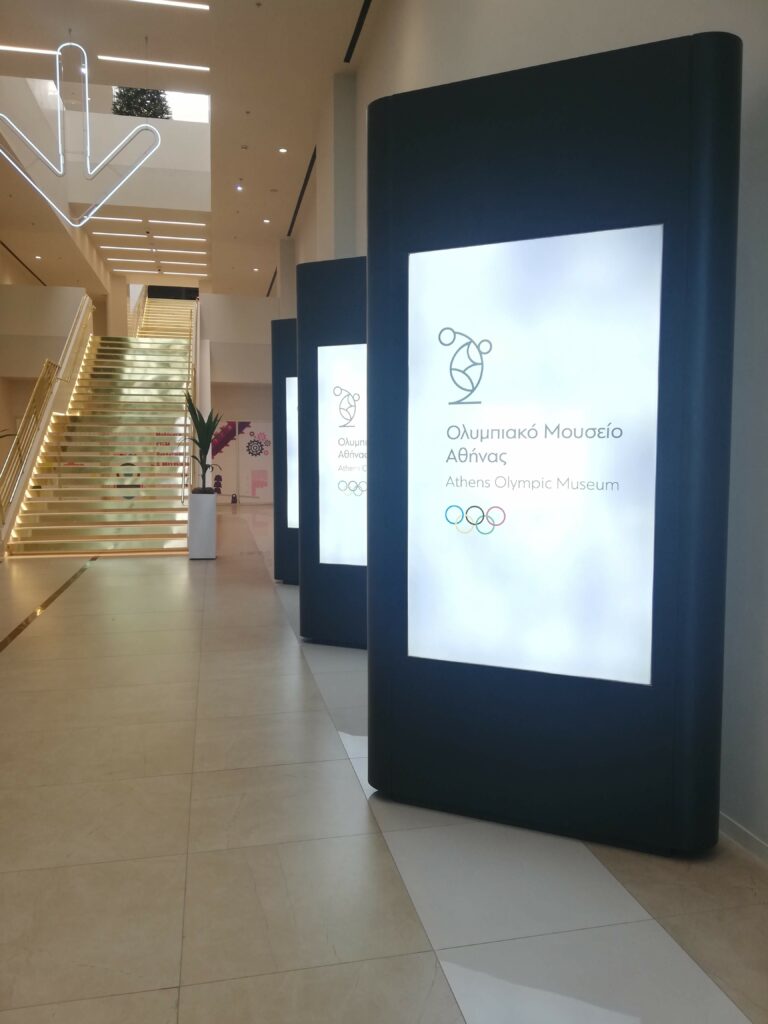 Allou! Fun Theme Park
If your family is looking for the adrenaline thrills of an amusement park in Athens, skip the archaeological sites for the day and head over to Allou! Fun park, the largest in Greece. Feel your heart race on a 40-meter drop, enjoy panoramic views of Athens from the "Panorama" Ferris wheel and take a trip to the stars in the "Star Flyer".
Click here to find more information and to book your of tickets.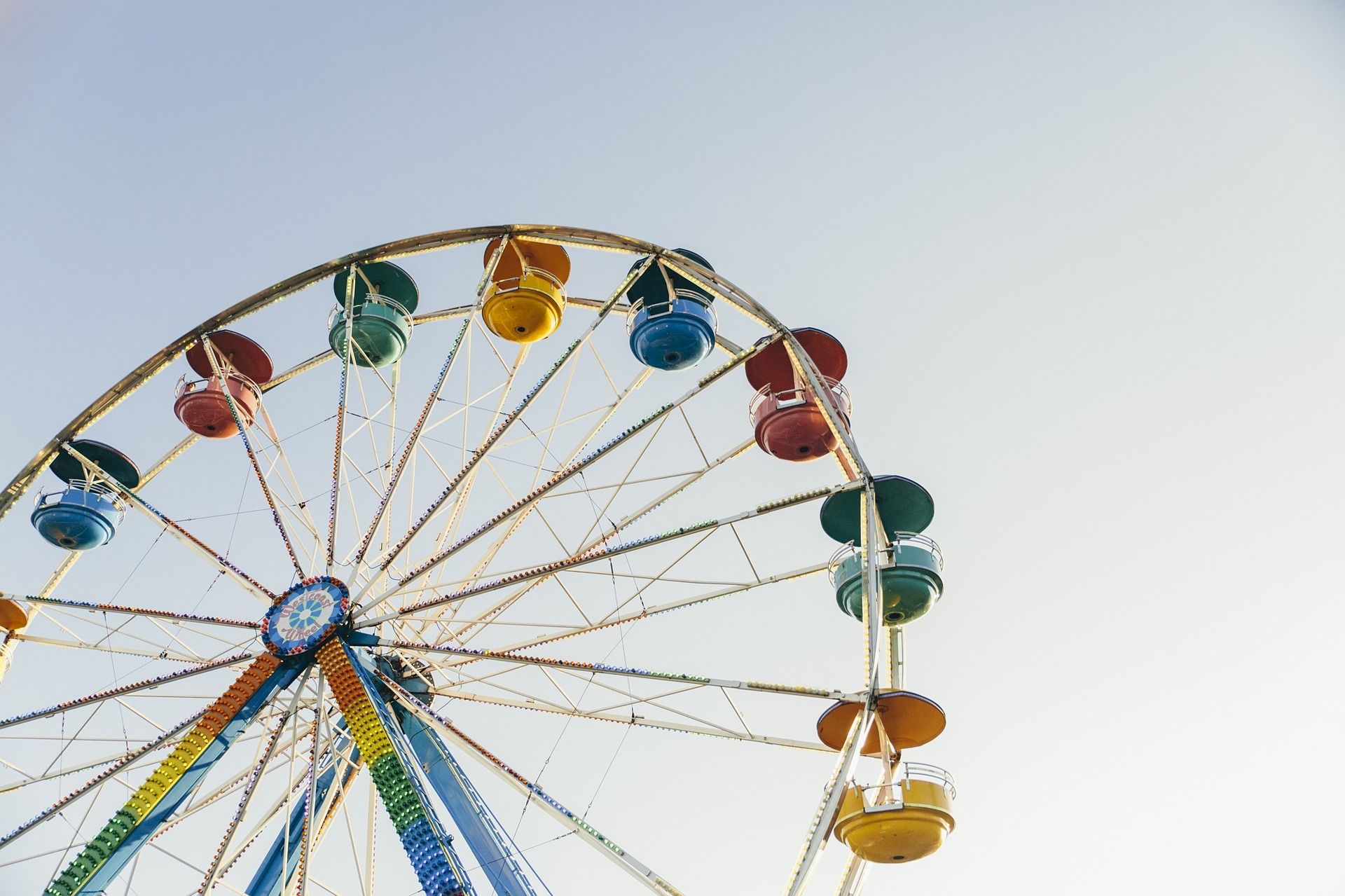 Can't get enough of Athens? Make the most of your stay with a unique Athens Pass. Gain free entry to more than 30 attractions and skip the long queues to the most important sights and museums. Choose between different pass options and save up to 50%. Have a look at the AthensiVenture Card for 30+ Attractions.
Top things to do on the Athens Coast with children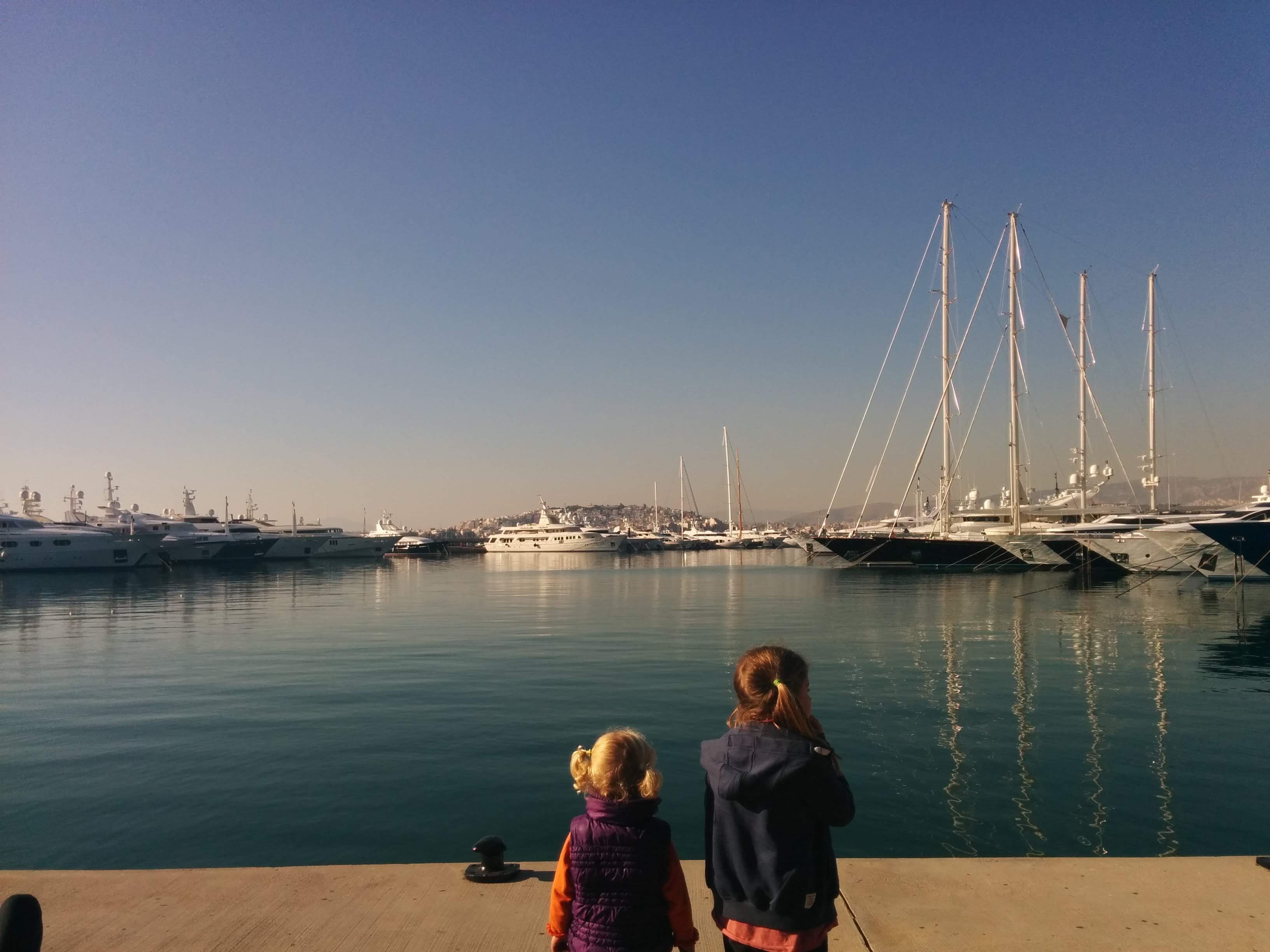 Marina Flisvos
Marina Flisvos is a private marina in Palio Faliro. It is full of beautiful yachts, nice family restaurants and little shops with ice cream, coffee and sweets. I love the are for walking or cycling and there is also a small entertainment park with a soft play area (with an entrance fee) for 1-4 years. Further, you will find an entertainment park with all sorts of entertainment such as boats, cart cars, trains, and electronic games.
Stavros Niarchos Foundation Cultural Centre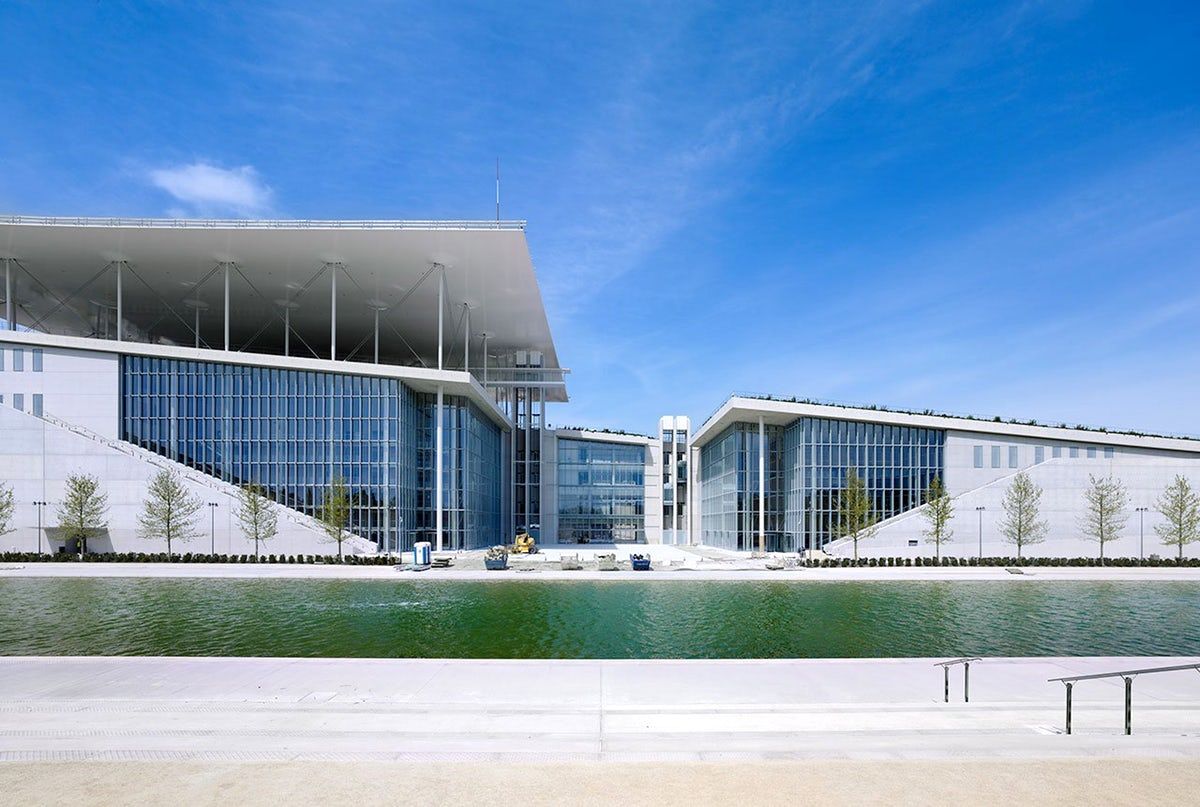 The Stavros Niarchos Foundation Cultural Center combines a unique city park with a multifunctional event building housing the National Library and the Greek National Opera. Being the largest green space in Athens, the park offers playgrounds, botanical gardens, open grass areas for play, festivals, concerts and open-air movies.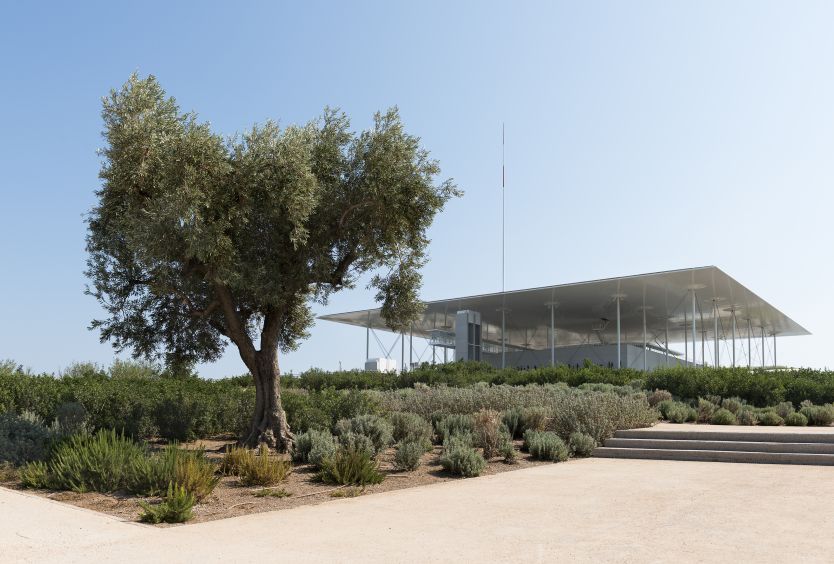 For little ones, the highlight of your visit will be the labyrinth, the wooden climbing toys, experimental outdoor mirrors, the canal with water jets, and the bicycle paths. Rent a kid or adult bike, or bring your own. My kids love the herb garden and the exciting 'Lighthouse', an impressive elevated glass construction overlooking the entire area. In the summer, children burn off excess energy in the outdoor sports fields and large grass areas. In winter there is a free-of-charge ice skating rink.
Benaki Toy Museum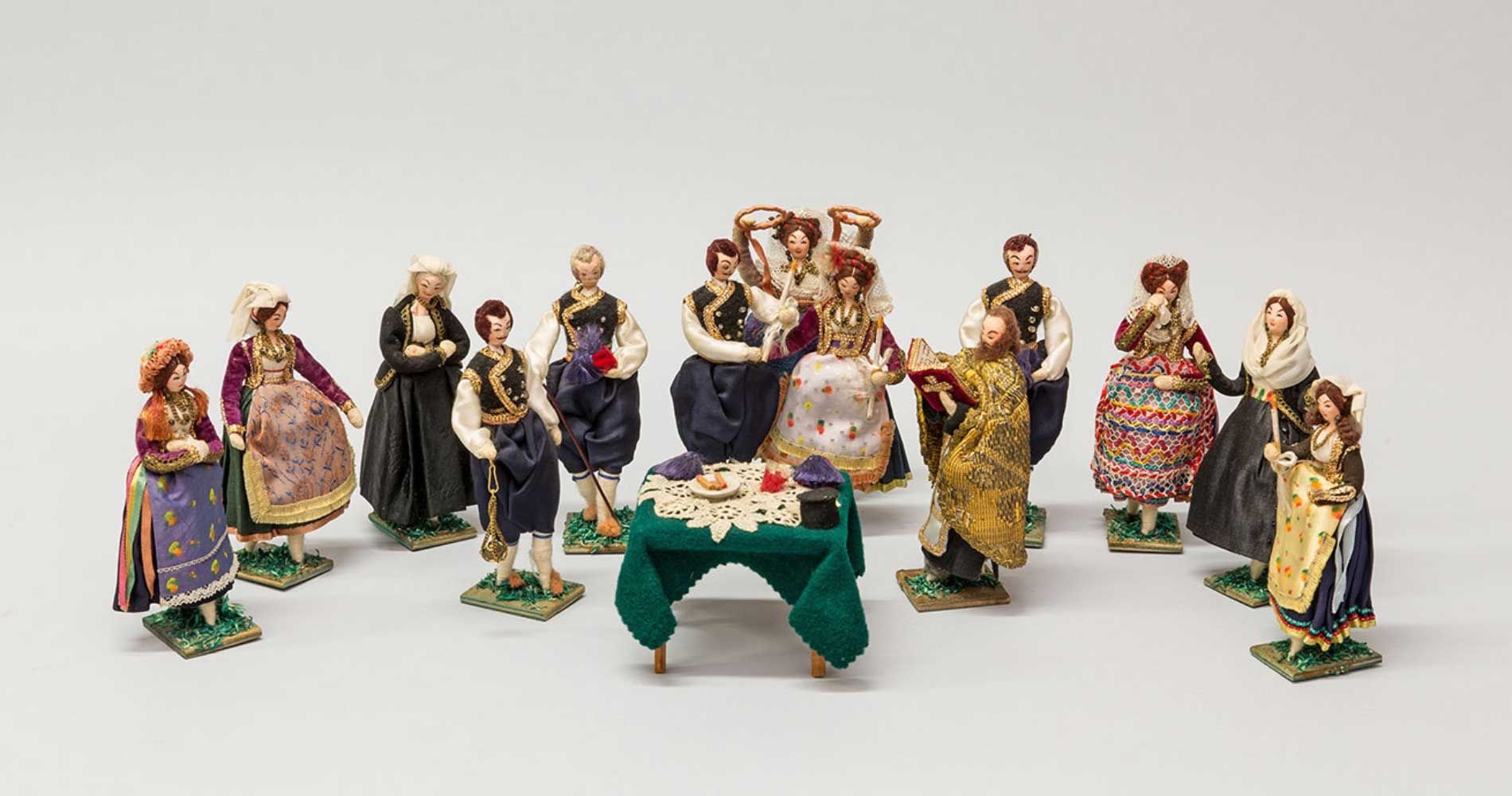 This recent addition to the Athens' cultural scene is housed in an impressive 19th-century villa on the Athens Coast. The building is a fairytale-like castle and houses a remarkable collection of over 20,000 toys, books, clothing and various ephemera associated with childhood from Europe, Africa, Asia and the Americas. The museum is suitable for children starting from 6 years old. Young kids can join but may not be as fascinating. My daughter loves the toys from Ancient Greece. We like to combine this museum with a visit to the Flisvos Marina and the Averoff Battleship, all at walking distance.
Go diving in Athens with Kids
The Athens coast is great for diving. The weather is always near to perfect and the sea is calm, clear and interesting. We went diving with the family-friendly Blue Yard Hub. Blue Yard Hub is a place where love for the sea, respect for the environment and social inclusion have been brought together under one roof. It is a meeting place where the passionate owners introduce you to the Mediterranean Big Blue and all that lies within. My daughter participated in the Padi Discover Scuba Diving program, much recommended if you want to experience diving and possibly continue for the Padi certificate.
Averoff Battleship Museum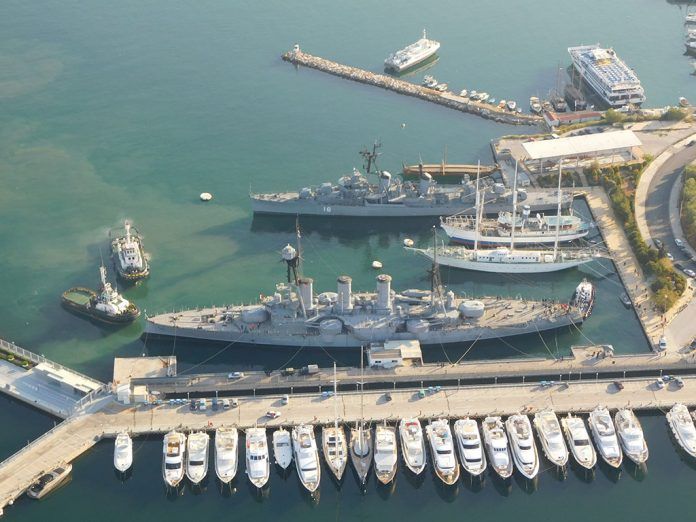 On the edge of Flisvos Marina, next to the modern luxurious boats and some characteristic old ships, you can visit one of the most glorious ships in modern Greek history, the legendary battleship "Georgios Averoff". This ship took part in great naval battles during the Balkan Wars and remained active until World War II. Nowadays, it functions as a museum and at its interior are preserved, among other, the cabins of the captain and the officers, the sailors' quarters, the chapel of Agios Nikolaos and the kitchens. More info about opening times and tickets here.
Evgenidio Foundation Planetarium
This planetarium is reputed to be one of the best in the world. The main attraction is the domed auditorium where you can watch a variety of IMAX films. There is also a library, a computer room and a cafe with a nice courtyard.
Visit a family beach in Athens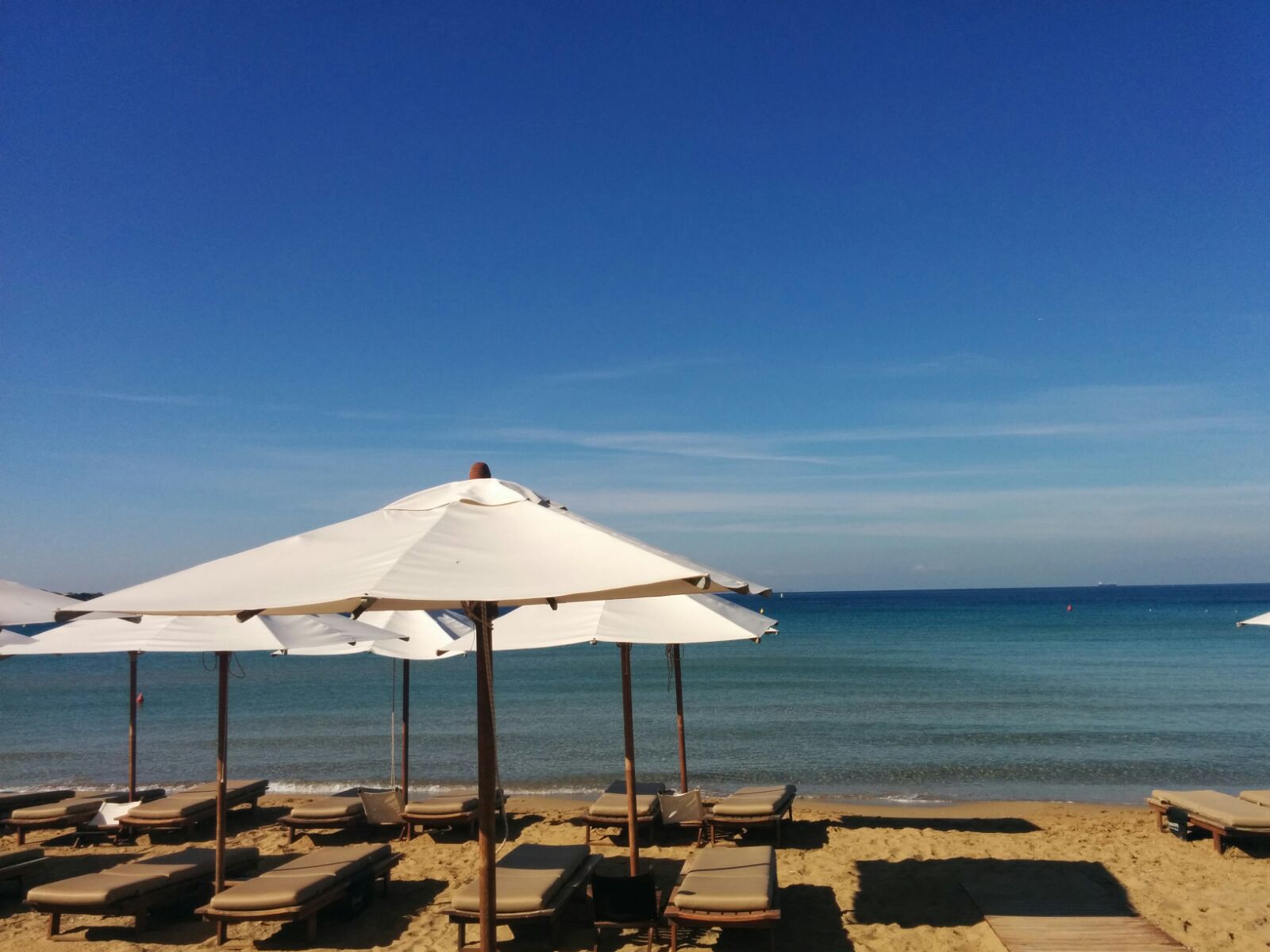 What better kids activity than sand and water play! Athens has some great beaches. I have listed them in Family Beaches in Athens. Astir Beach is one of the most family-friendly. This beach club features a long sandy beach, a crystal clear sea, (water) sports facilities and large grass areas.
Thanks to the calm sea with minimal waves, parents can feel at ease with little ones playing at the water's edge. A beach restaurant and snack corner keep hungry kids happy and the changing rooms, showers and bathrooms ensure that everyone's sand-free for the ride home. Other recommended family beaches in Athens are Grand Beach at Lagonisi Resort and L'Amico in Anavyssos.
Family Lunch in Athens Coast with Children
Indoor and outdoor play spaces make this Glyfada based family concept super kids-friendly all year round. The carpeted outdoor corner with a garden cafe is filled with playhouses and toys. Tots can easily pass the time making their own sweets during baking classes, engage in dance and theatre games or let go of their energy during a treasure hunt. Parents can read a magazine, chill out or enjoy from a large variety of coffees, smoothies, cocktails, health food, burgers and more.
Vouliagmeni Lake with Kids
Lake Vouliagmeni near Athens is a beautiful and unique natural phenomenon. It is a must-see when visiting the Greek capital with your family. You can swim in the lake but it is deep and not suitable for very young kids. At the lake is a spa and wellness centre. There are also toys and a playground for young children and walking paths for hiking at the area. Read on about this special place near the Athens coast in my blog post: Lake Vouliagmeni.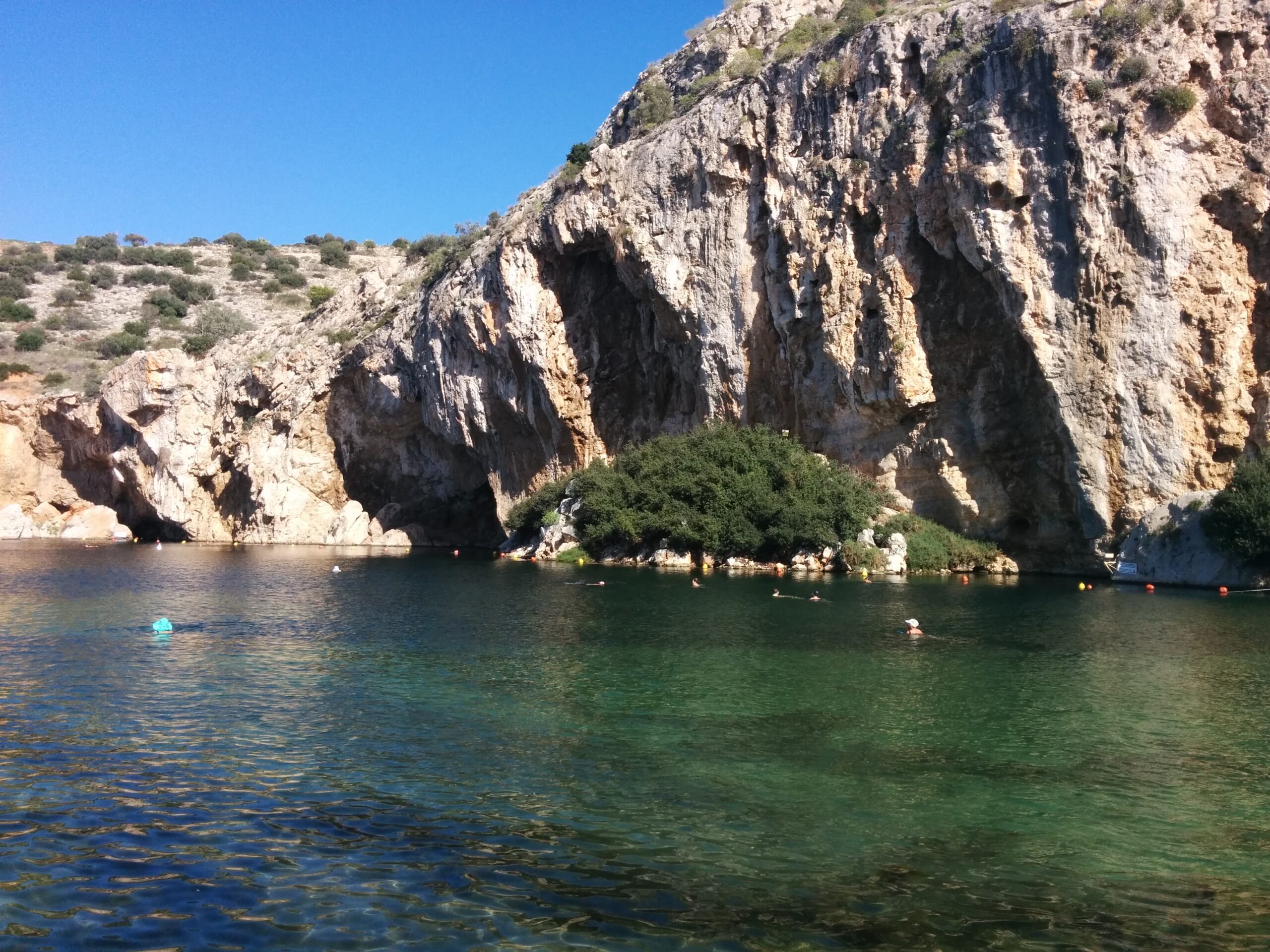 A unique place builds as a large beach house, the House Project- Balux Cafe embraces fun for all ages. Equipped with outdoor playgrounds, a baby playground, a small luna park and lots of grass, this family concept offers endless hours of free play. Parents can relax at the garden picnic tables or inside at the large sofas and lounge chairs, read a book in the library, watch TV or enjoy some sushi in the restaurant.
For babies and tots, there is also a supervised soft play area inside as well as a playroom with board games and a pool table. Maybe my favourite part of this laid-back house concept is the beautiful beach. Enjoy a cocktail while your kids play at the waterfront! Valet parking completes the hassle-free experience at this Glyfada based family paradise.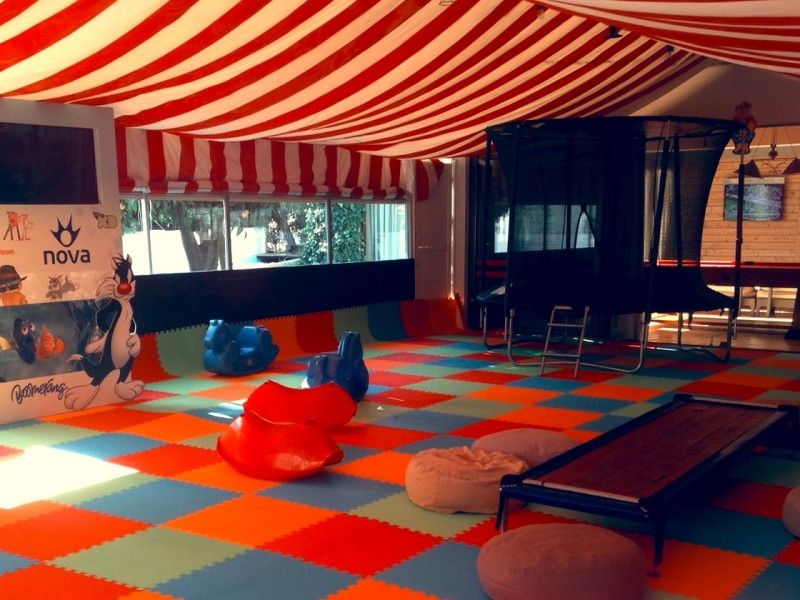 Athens with children: Temple of Poseidon at Cape Sounio
Cape Sounio is located at the southernmost tip of the Attica peninsula overlooking the Aegean Sea. Capes Sounio hosts the world-renowned archaeological site of the ancient temple of Poseidon, the God of the sea. The temple is surrounded on three sides by the sea. History and Mythology are deeply connected at this site and the finds here date from as early as 700 BC.
If you decide to visit the archaeological site in the middle of the summer, the best time would be the morning or the afternoon. Bring water, a sunhat and steady walking shoes. Read more about our experience at Temple of Poseidon and Cape Sounio with Kids.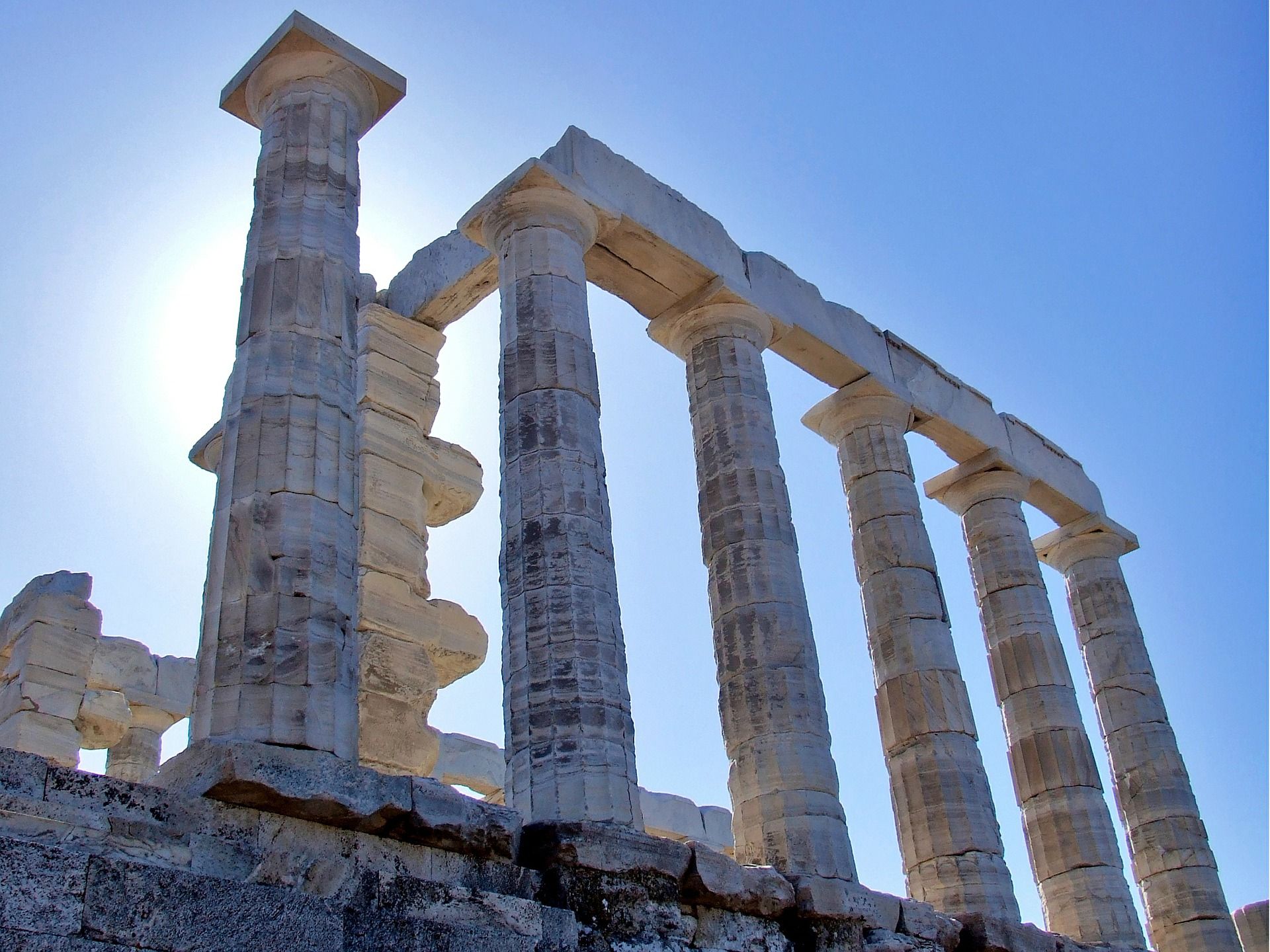 If you want to visit to Cape Sounio part of an organized excursion, I recommend The Athens Riviera Activities & Cape Sounion Private Tour. This tour combines a 4-hour private tour with a pick-up from your Athens hotel in a minivan towards the Attica Riviera with wonderful views over the Saronic Gulf and the rugged cliffs, beaches and villages along the way. For information and booking, please click here.
Turtle Rescue Center Archelon
Your family can support the rescue of injured Greek Caretta Caretta turtles by visiting the turtle rescue center Archelon. Children learn here how sick and injured turtles are cared for. The turtles are kept in large pools and volunteers are helpful in explaining (in English) about the circumstances of each turtle. Don't miss the educational corner with souvenirs. Not recommended for very young children.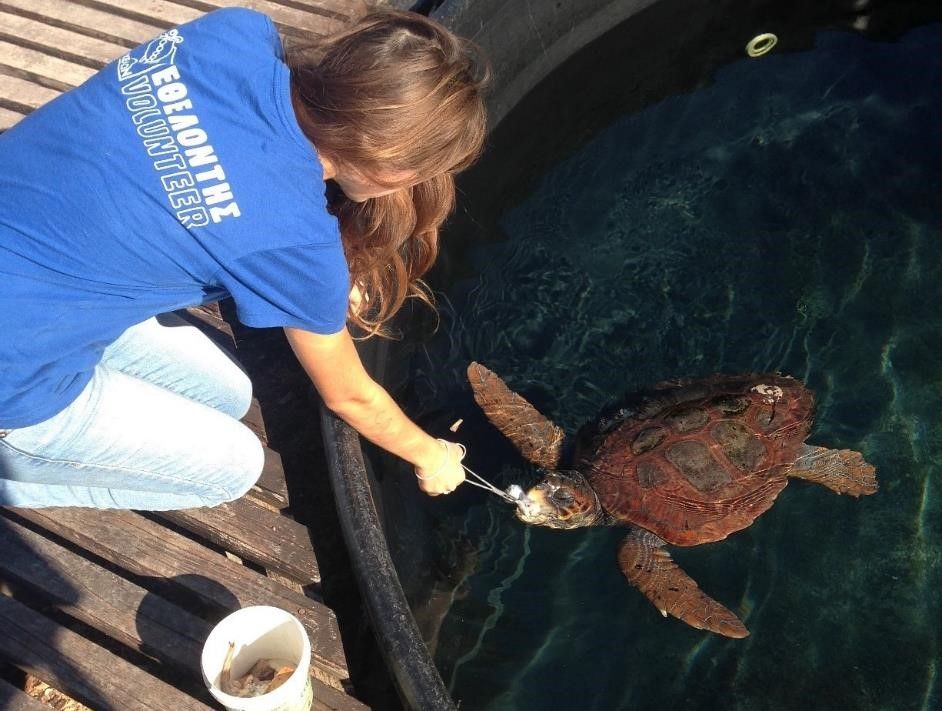 Perivoli Vari Gardens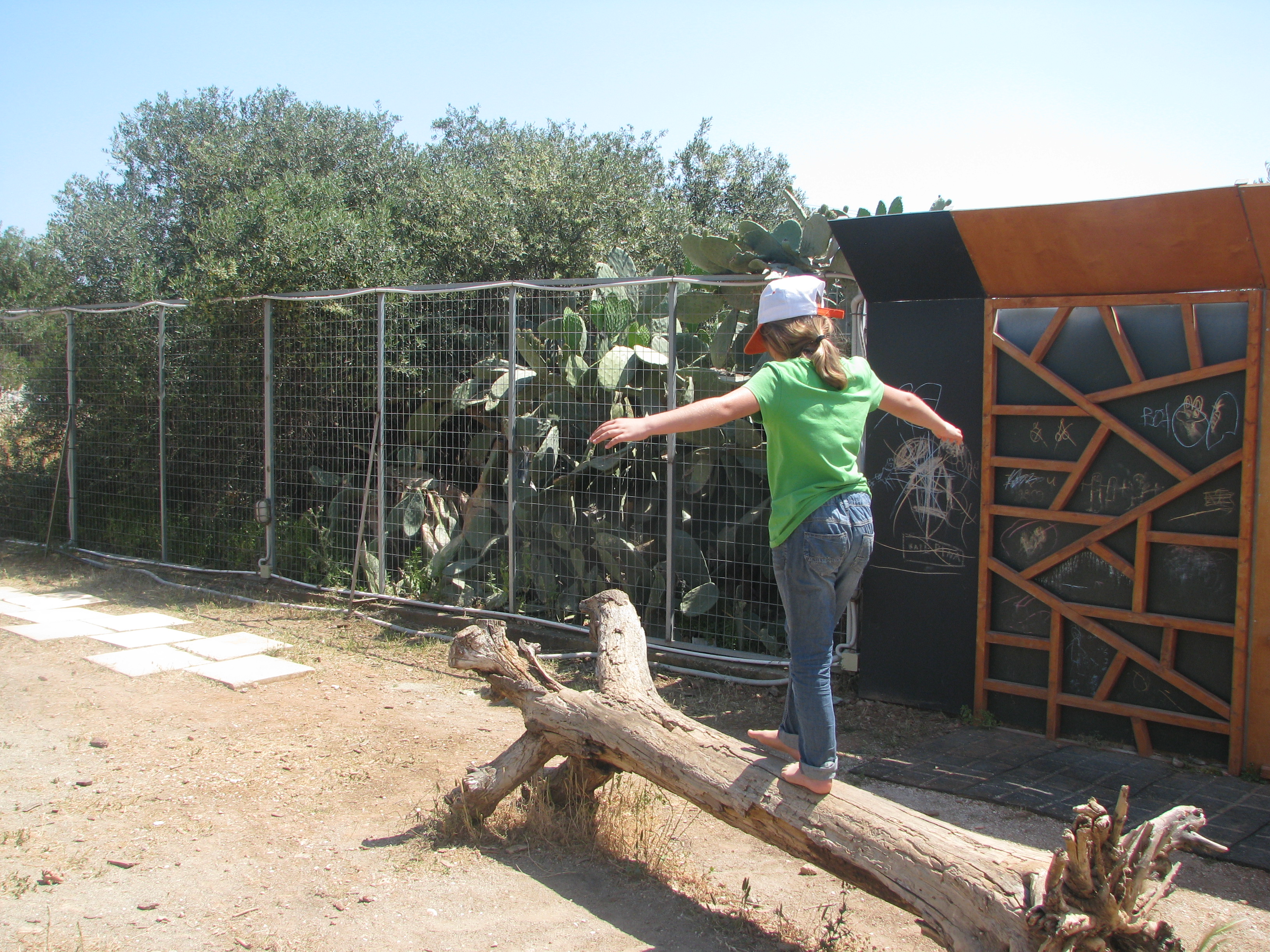 The serene gardens of the urban farm Perivoli in Vari are possibly Athens' best-kept farm secret. No need to bring snacks: the farm to fork restaurant serves healthy local produced breakfast, coffee, snacks, and lunch. Note: Only for kids from 11 years and older.

Hygge House
For a well-deserved break after a day of shopping or exploring, head over to the latest addition to the Athens Coast family scene. Hygge House (pronounced "Hoo-Guh" and the Danish word for 'coziness'!) is a family-friendly daytime restaurant in Glyfada with a supervised indoor playroom with lots of daylight and creative toys, a baby room for changing or nursing, and children's toilets. Whilst kids are happily playing parents can chow down on healthy brunch options or enjoy a smoothie or homemade Mango lemonade. Hygge House is here to stay!
The Ellinikon Experience Park
The Ellinikon Experience Park opened its doors in 2022. This new green retreat offers 70,000 square meters of an urban park with space to play, relax or work out. The park is free of admission and is open Monday to Sunday 17:00 – 23:00. The park features a play forest, fitness area, water fountains with an impressive water show, and a zen garden.
Explore the Athens Riviera by Bus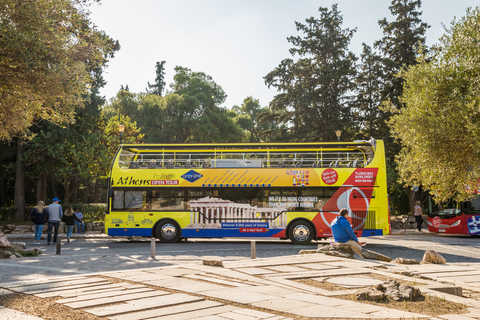 There is a comfortable way to explore the Athens Coast and its highlights. Have a look at the Athens Hop-On Hop-Off Tour with Piraeus & Beach Riviera Line. There are two routes. The first one combines Athens city with the Archaeological Museum of Piraeus and the Planetarium. The second goes to the beaches and Faliro/Flisvos, the Vouliagmeni Lake Beach, and the Temple of Zeus. To book your tickets, click here.
Beyond Athens with Children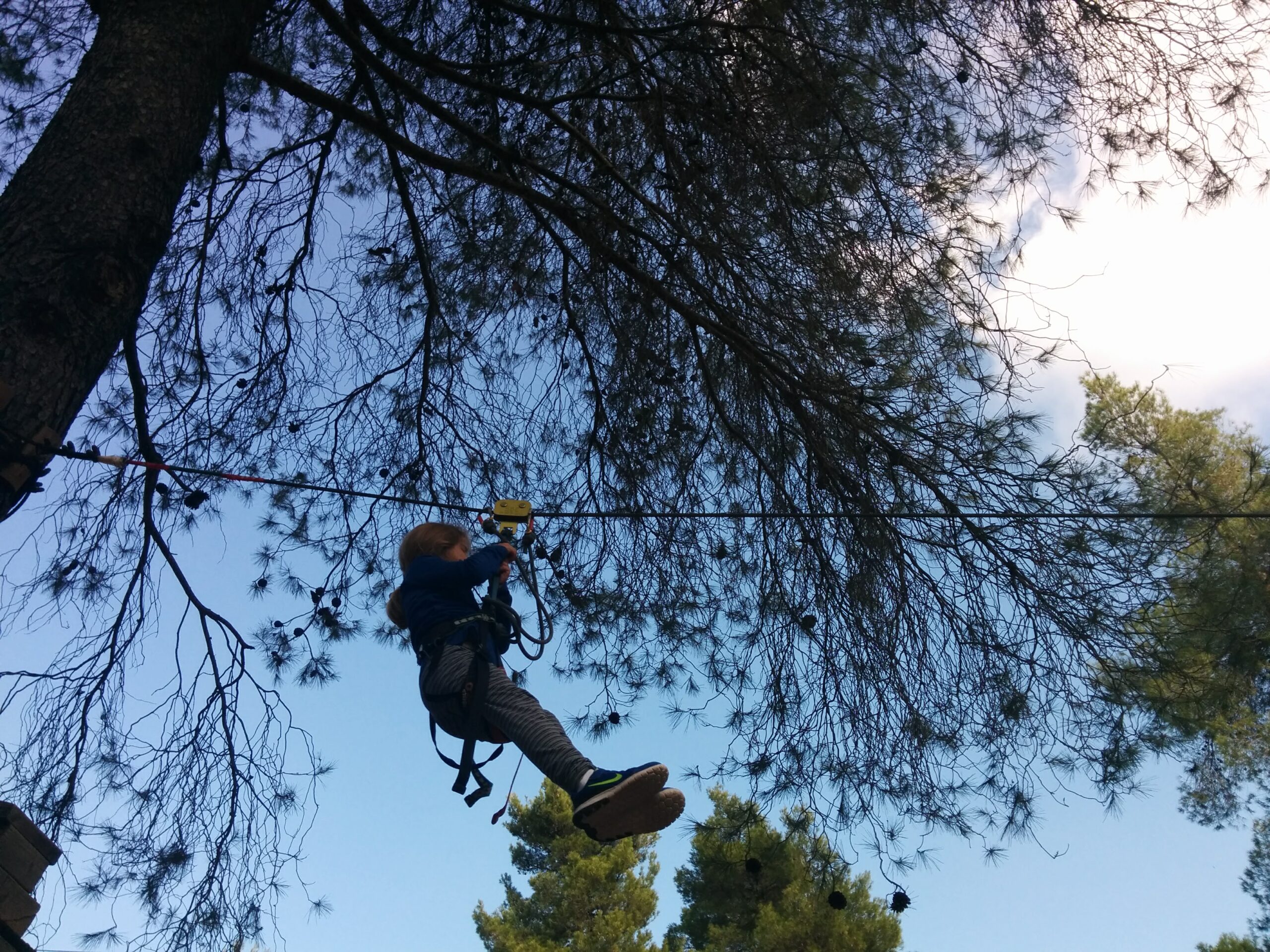 Malakasa Adventure Park
Do you love to be active with your kids outdoors? If yes, you must visit the Adventure Park in Malakasa. My kids love it so much that I havededicated an entire blog post: The Adventure Park great for kids and teens. The climbing park is located near the national road Athens – Lamia at about 40 kilometres from Athens centre.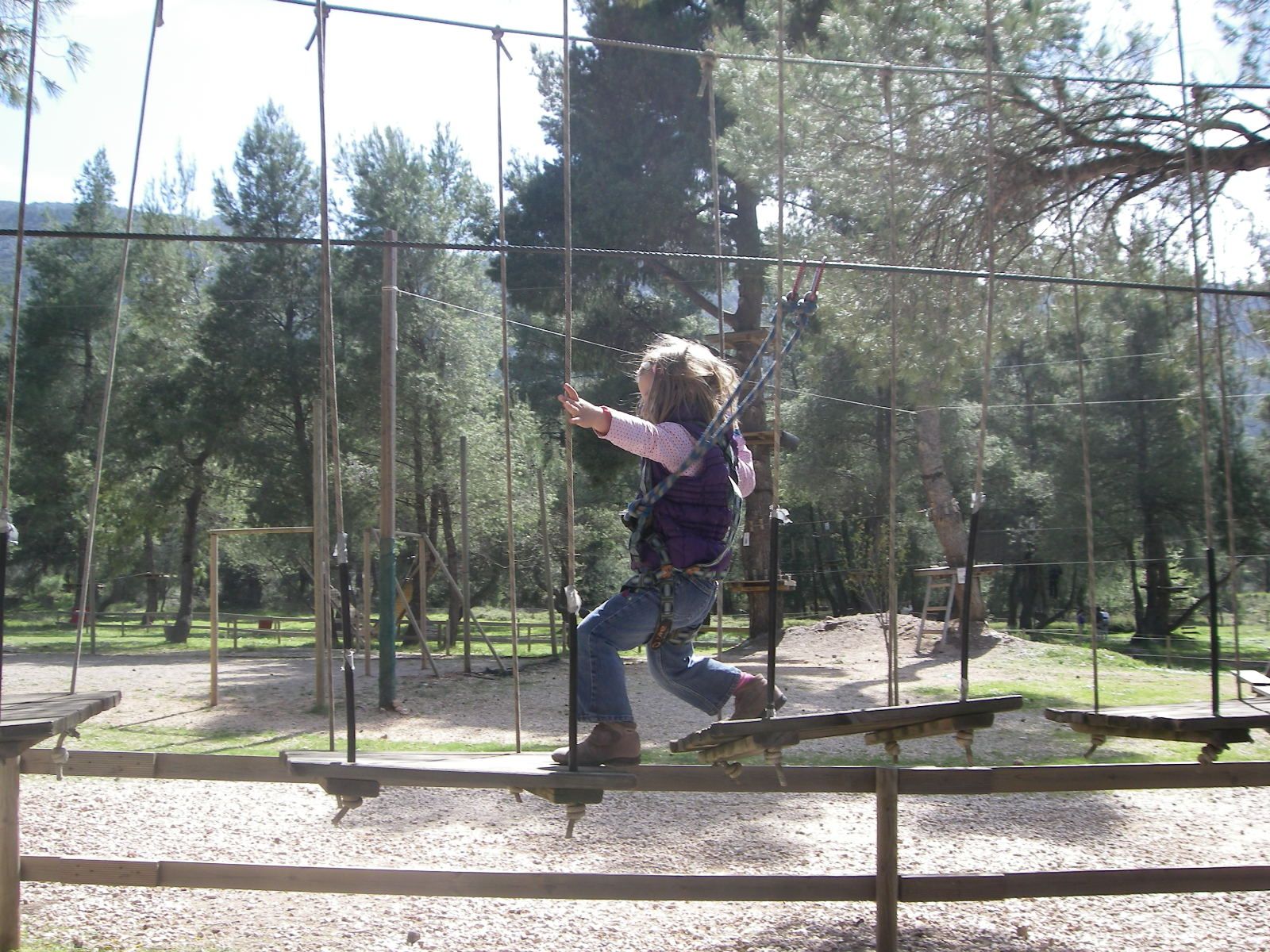 The park is safe, clean and offers much natural shade. To budget the day out you can bring your own picnic basket. Kids can be busy gardening, climb, jump on the trampolines and free play. The park is stroller friendly and even with my baby I used to visit the park. She loved watching the tall trees and the surrounding nature.
Kouvaras Equestrian Club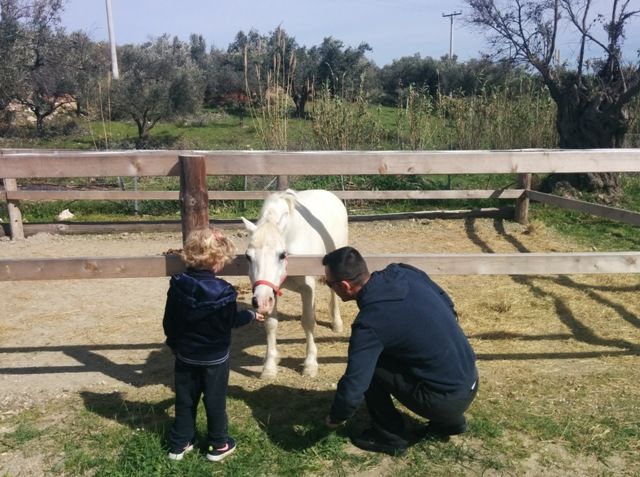 Kouvaras Equestrian Club is located near the small village of Kouvaras in the mountains near Athens. The farm hosts traditional farm animals, lamas and alpacas. Children car ride horses and there is a large playground with play castles and climbing toys. There is lots to see and do. Read our full experience here: Kouvaras Equestrian Club.
Cultural Park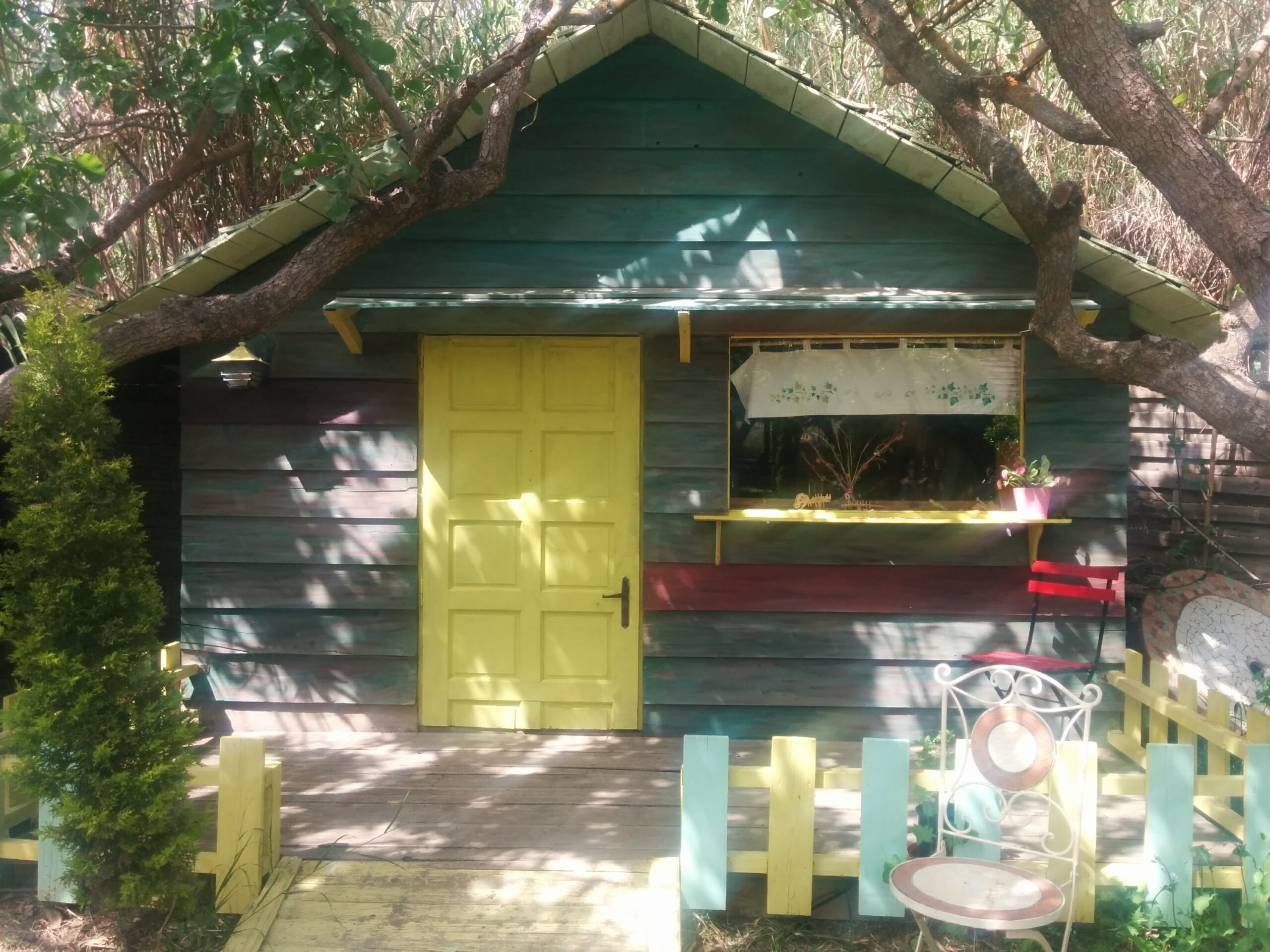 This park is called Politistiko Parko and it is located near Kerateas. I love it because it has a small museum with old crafts, household items and tools.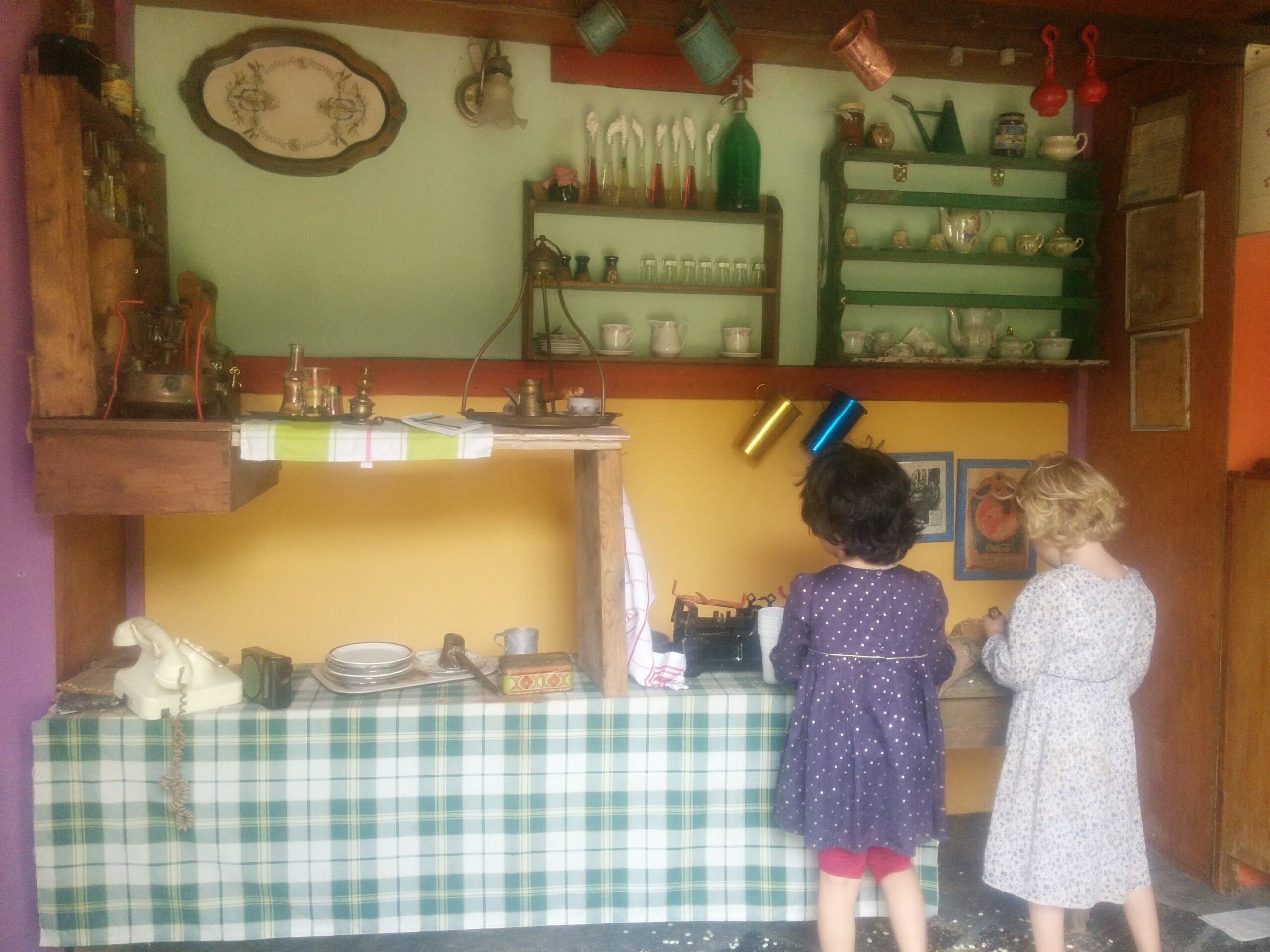 There are farm animals and lots of open spaces for children to free play. We love the many swings, tree houses and trees for climbing. We love the gardens and herbs. One side of the park has a dinosaurs' exhibition. A small shop with snacks and drinks enables you to have a relaxing picnic in nature. Very nice in spring!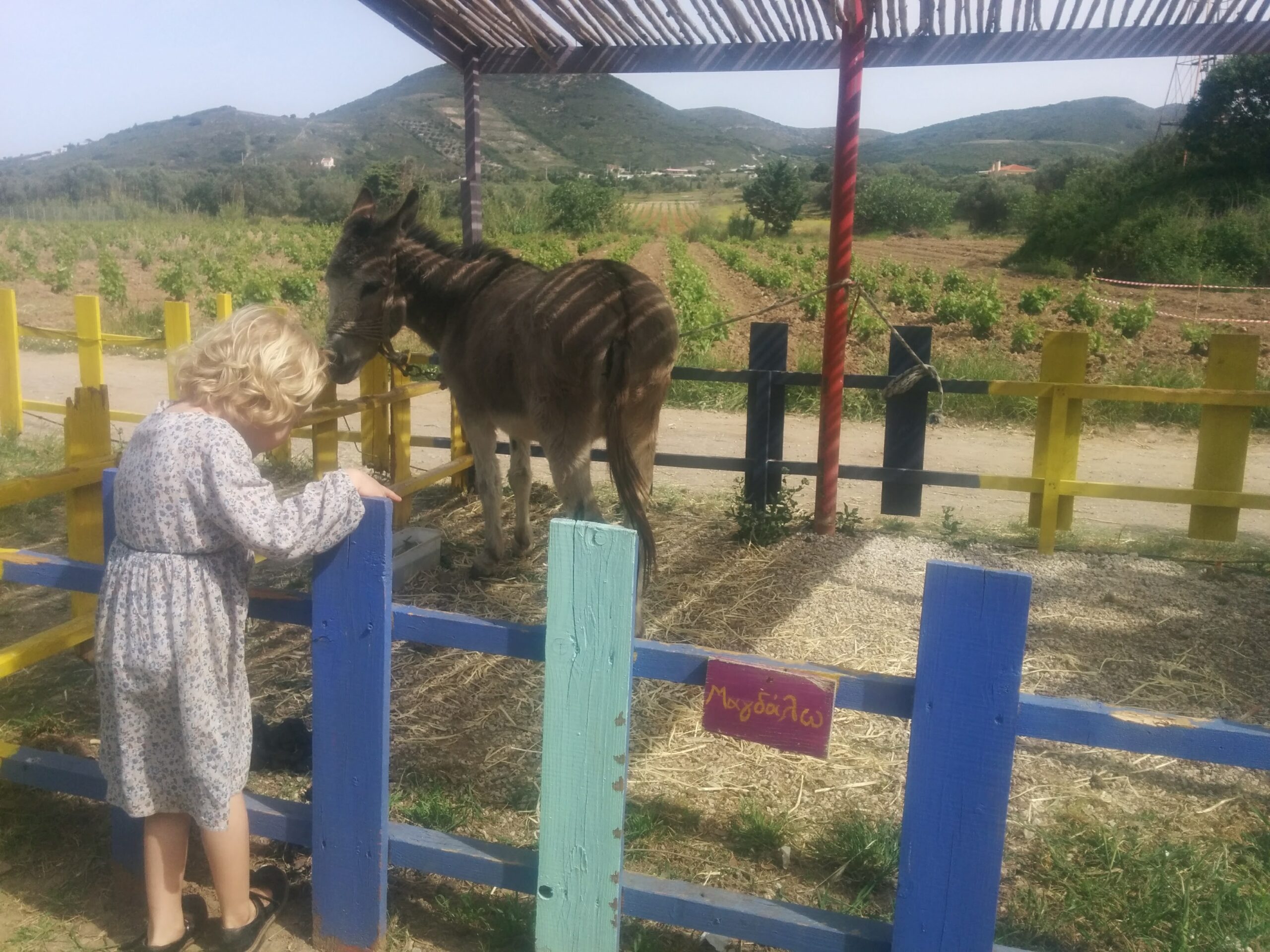 Farmamoo
Update April 2022: There is an entrance fee of 5 Euro per adult at Farmamoo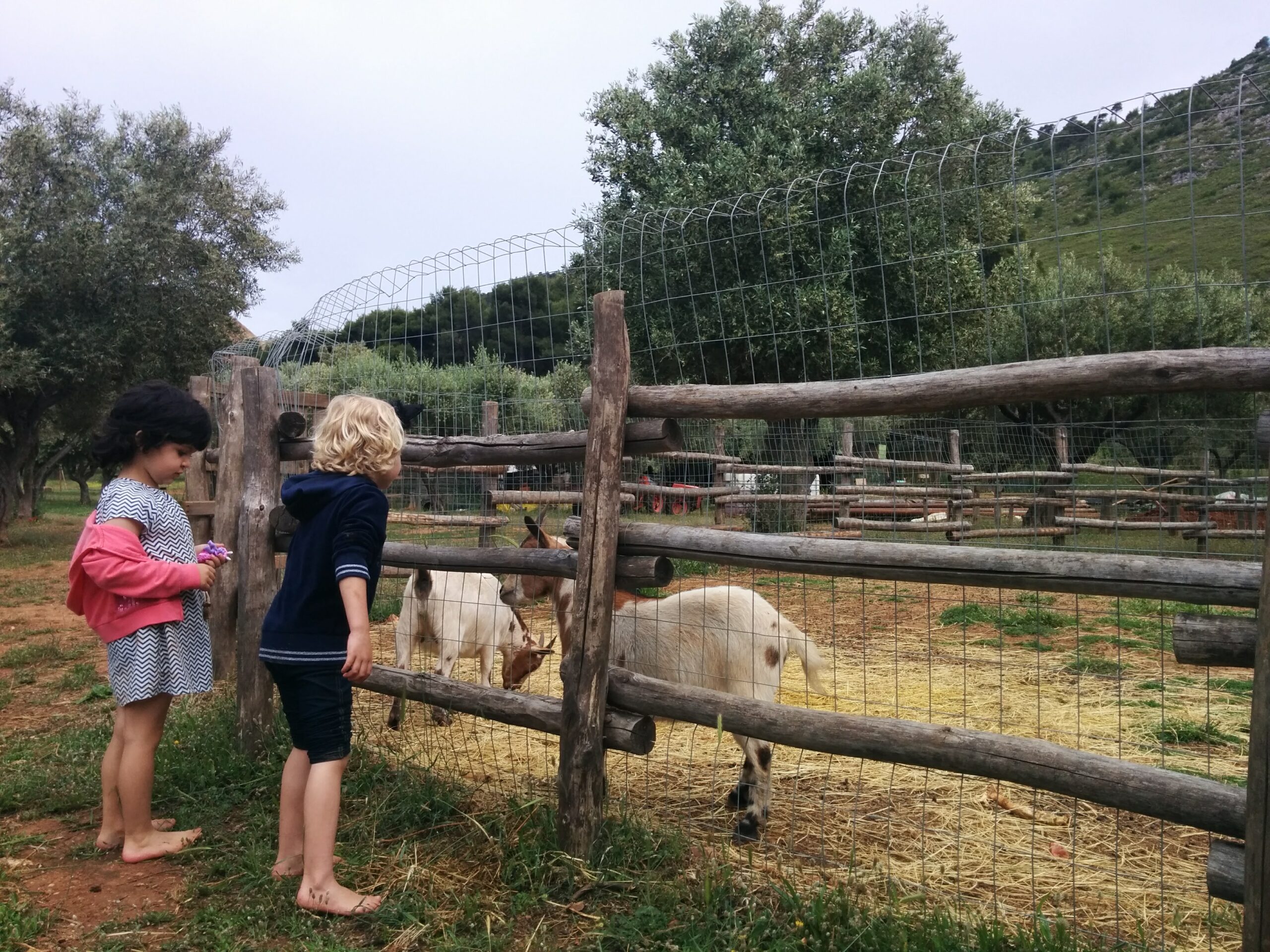 Farmamoo is a real farm where locals and Athenians can purchase a piece of land to grow their own produce. A restaurant with farm-to-table dishes and drinks is available. Farmamoo is located in the Pentelis mountains. If you are wondering what to do in Athens with young kids, this is a great suggestion.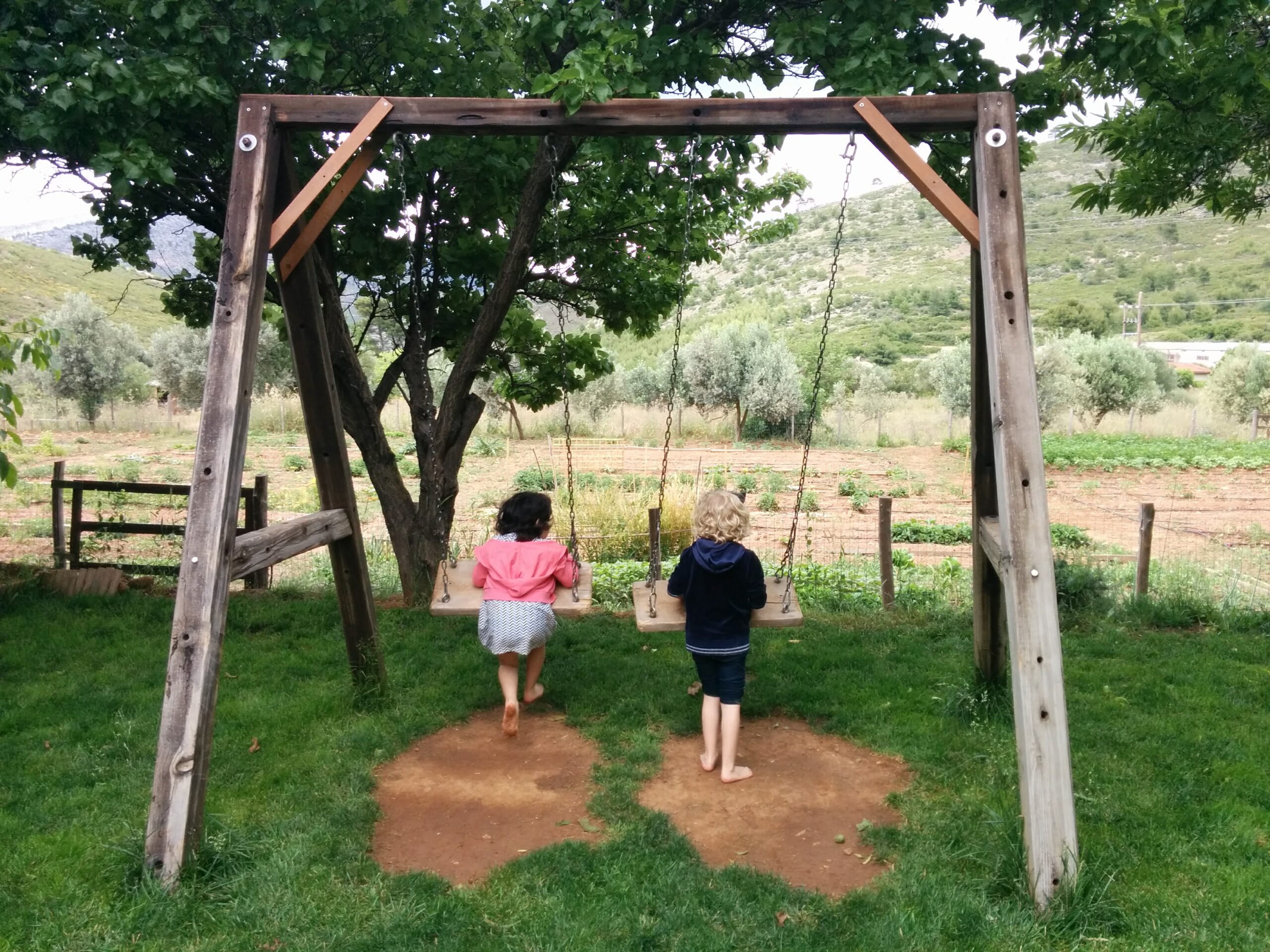 Magic Garden Rafina
More animals can be found at Magic Garden. This special place in the mountains near the sea on the West side of Attica is specialized in miniature therapy horses. Kids love the open spaces and play opportunities. The also like the kid-friendly mini horses.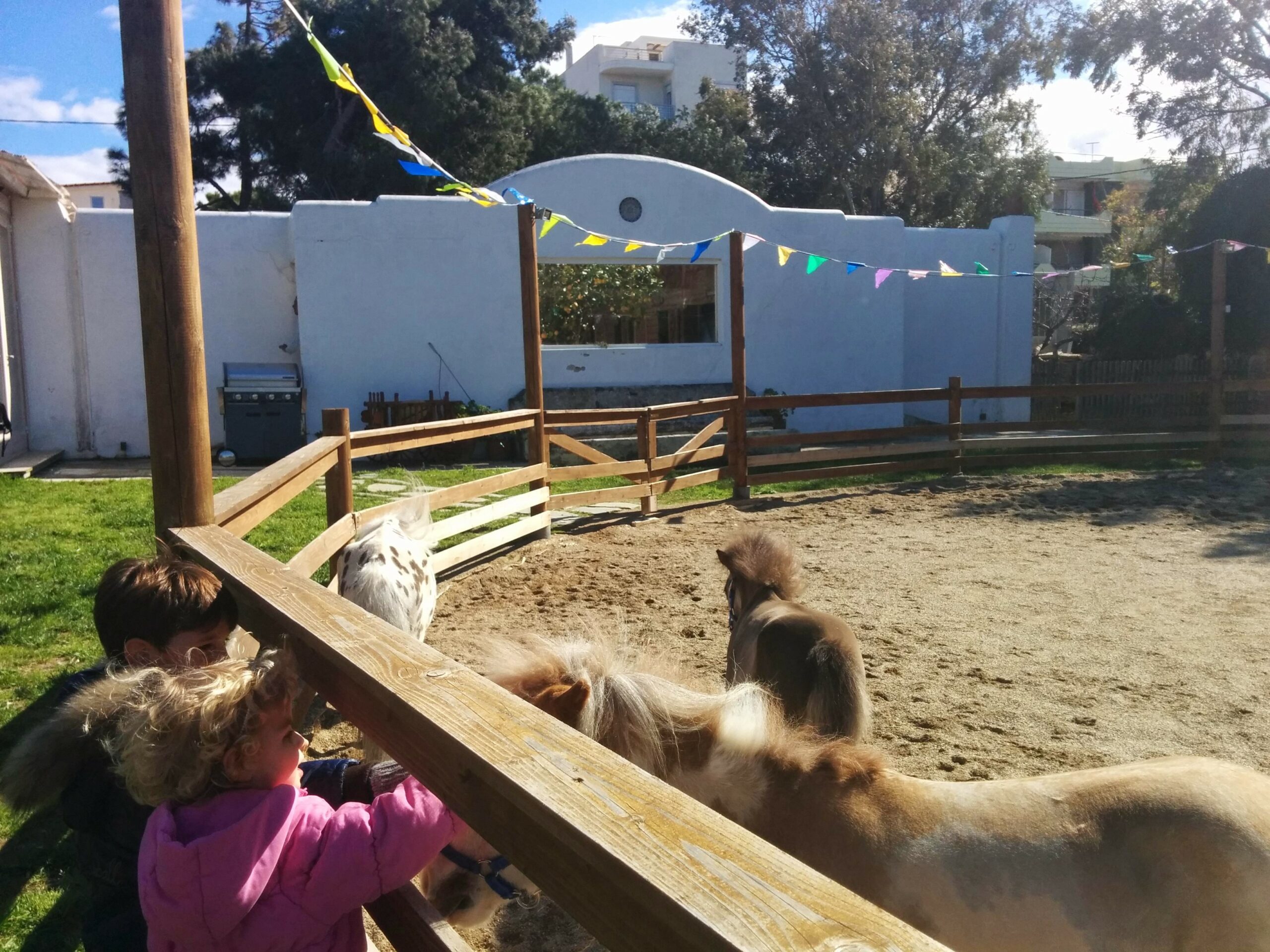 Mountains near Athens
Did you know that Athens is surrounded by many mountains? Some mountains are covered in snow during winter! Parnitha mountain is a beautiful natural area with lush green vegetation, hiking trails and white peaks in wintertime. It is possible to reach the top of Parnitha mountain by cable car, a wonderful excursion with kids.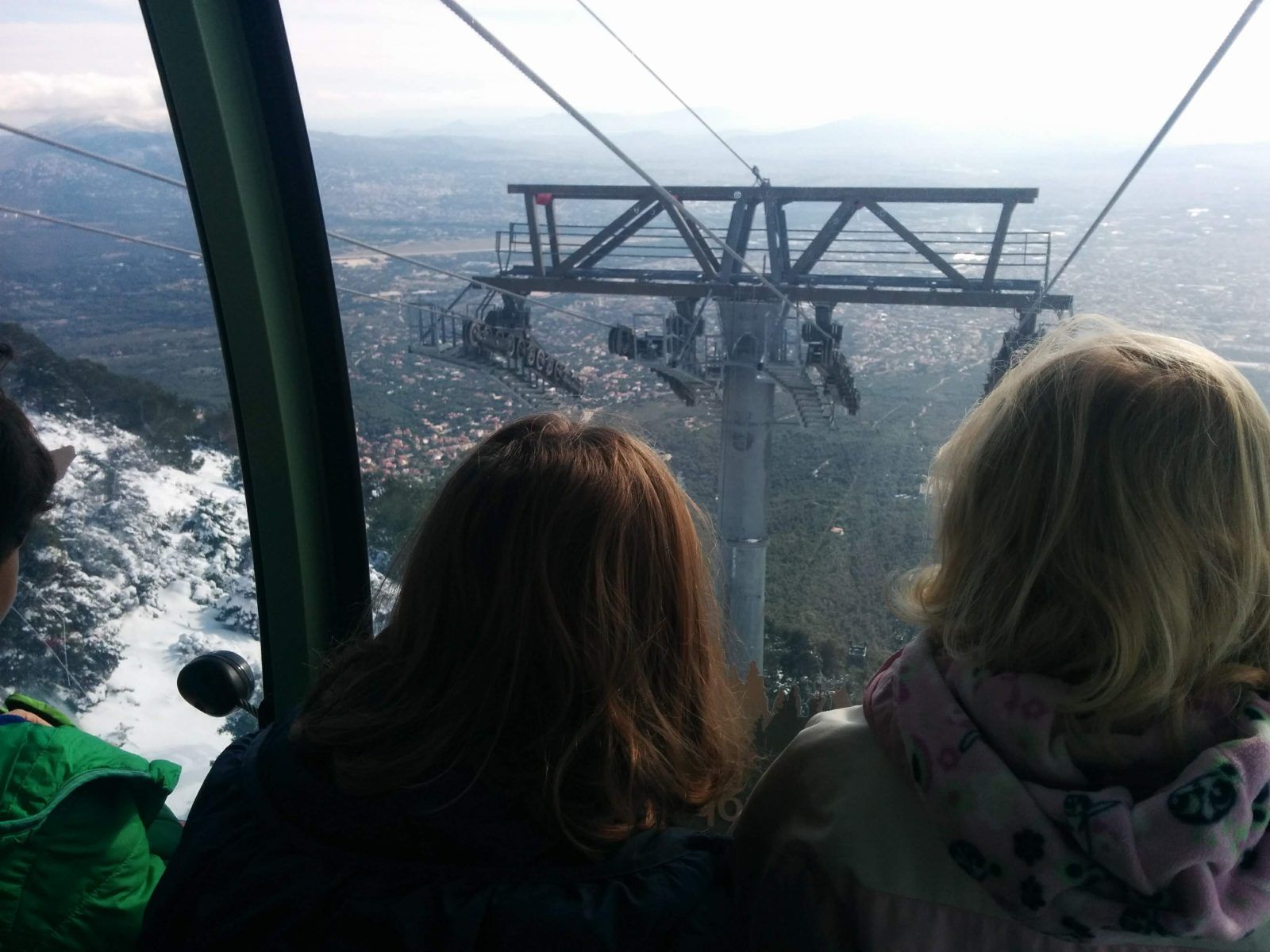 Parnitha is the perfect place for nature and hiking lovers, herb collectors and gambling fans. Everybody finds something interesting on Parnitha Mountain, which is the highest mountain in Attica (1.400 m) and one of the most beautiful in Greece.
If you go by car, follow Athens-Lamia National Road and turn left to Parnitha exit. The road that leads to the top has many turns but the route is amazing. If you do not want to take your car to the top, you can live it on the mountain foot and take the cable car.
For a relaxed family outing, book an organized trip to the mountains! For families with children used to hiking, I recommend Easy Hiking Day in the National Park of Mount Parnitha.
Click here for more information and booking Mount Parnitha with the family.
Best day trips from Athens with Children
If you want to leave the city behind you for a day and escape to the countryside or an island, have a look at my below suggestions.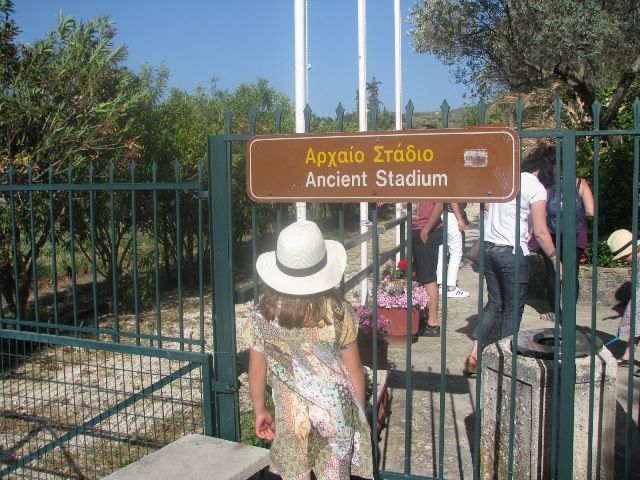 You can combine your stay in Athens with famous historic places located further away. The most popular day trips from Athens are to the historic city of Nafplio, ancient Mycenae, the ancient theatre of Epidaurus, ancient Nemea, Corinth, and its famous canal, and the ancient site of Delphi.
Day trips from Athens: How to get there?
There are several ways to make a day trip from Athens with the kids. Families can book a private -, or group tour and visit the sites by tour bus or with a driver. If you want to have more flexibility, we recommend you hire your own car. For the cheapest car rental in Greece, we recommend the Discover Cars platform. Here you will find the family car of your choice without hidden costs, 24/7 support, and free cancellation policies.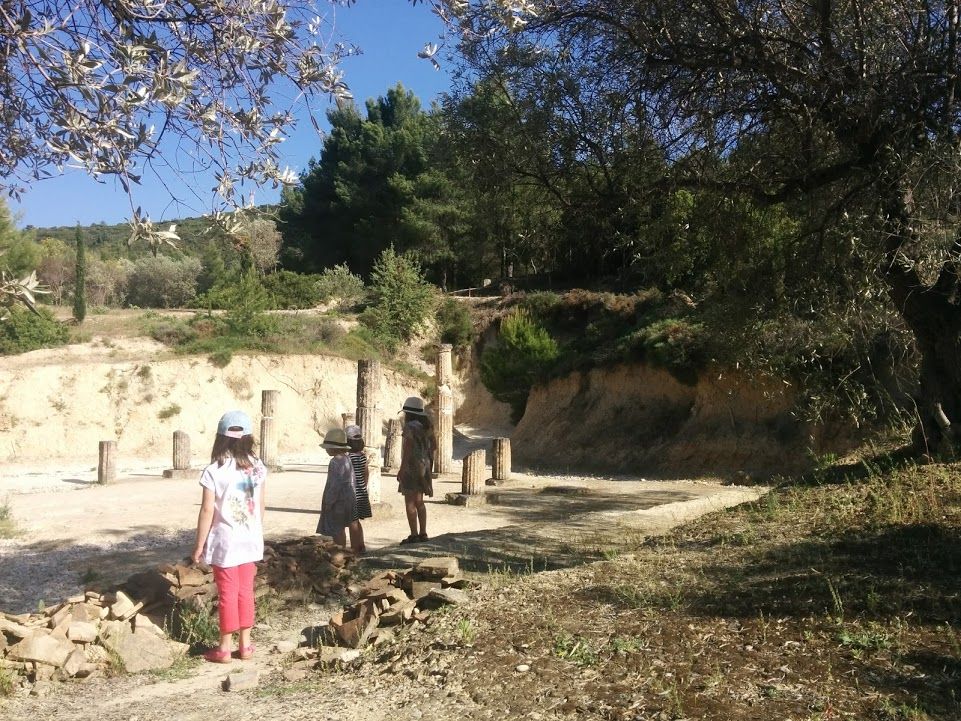 These places are about two hours away from Athens. If Athens is your base, I would recommend doing this in an organized way and not driving there yourself. You may be tired after your visit, especially in the summer.
If reviewed some of these tours and I believe that the Argolis: Full-Day Tour in Mycenae, Epidaurus & Nafplio tour is suitable for families. Click here for more information.
Delphi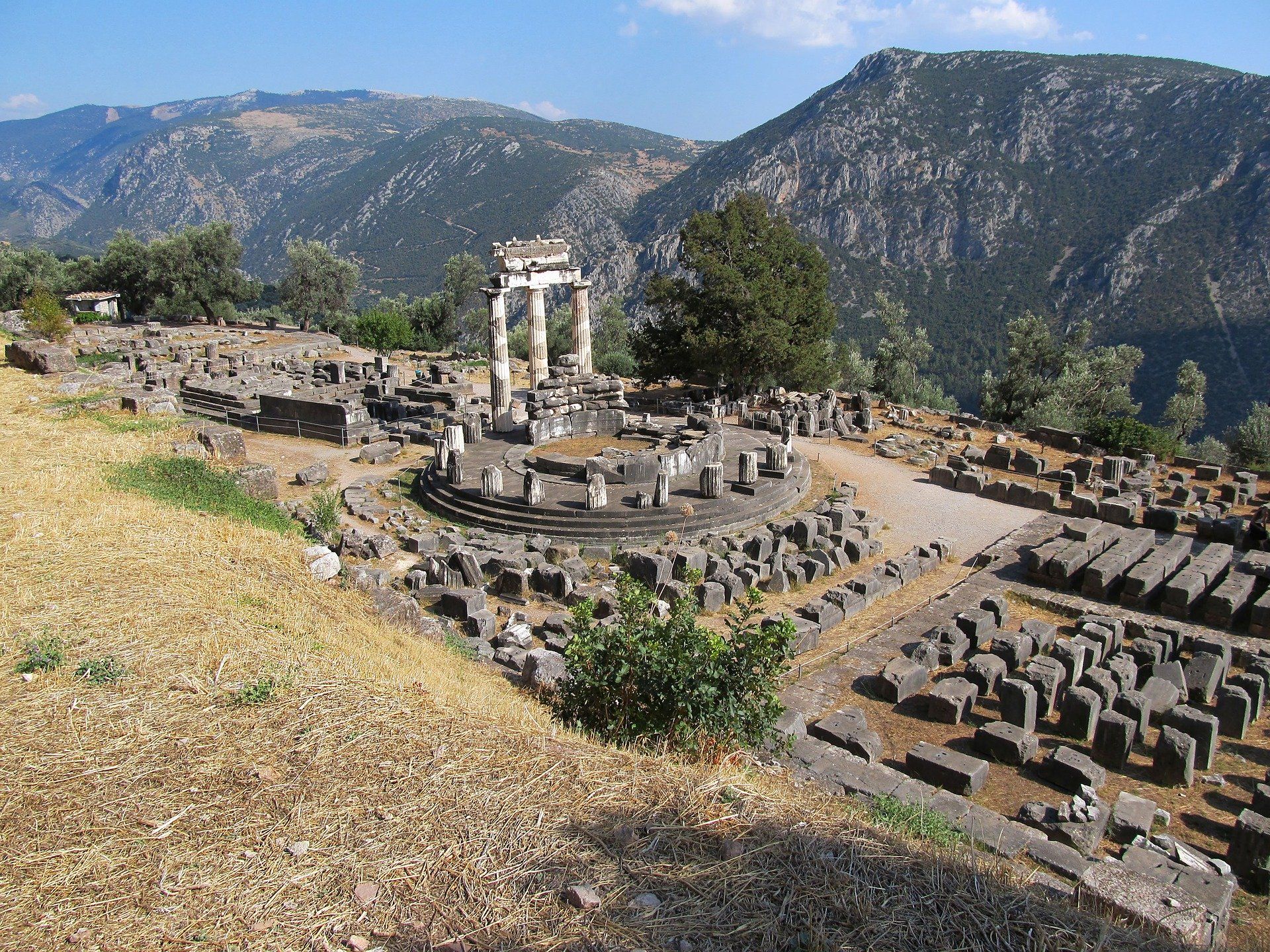 If you wish to visit Delphi, I recommend the Delphi Day Trip From Athens.
Click here for more information and booking for Delphi with the family
Corinth Canal
The world-famous Corinth Canal is a must-visit for anyone to Athens. It is not very far and you can easily go there on your own. But you must be careful because the road at the canal is rather dangerous. There are no traffic lights and the road signs are not clear.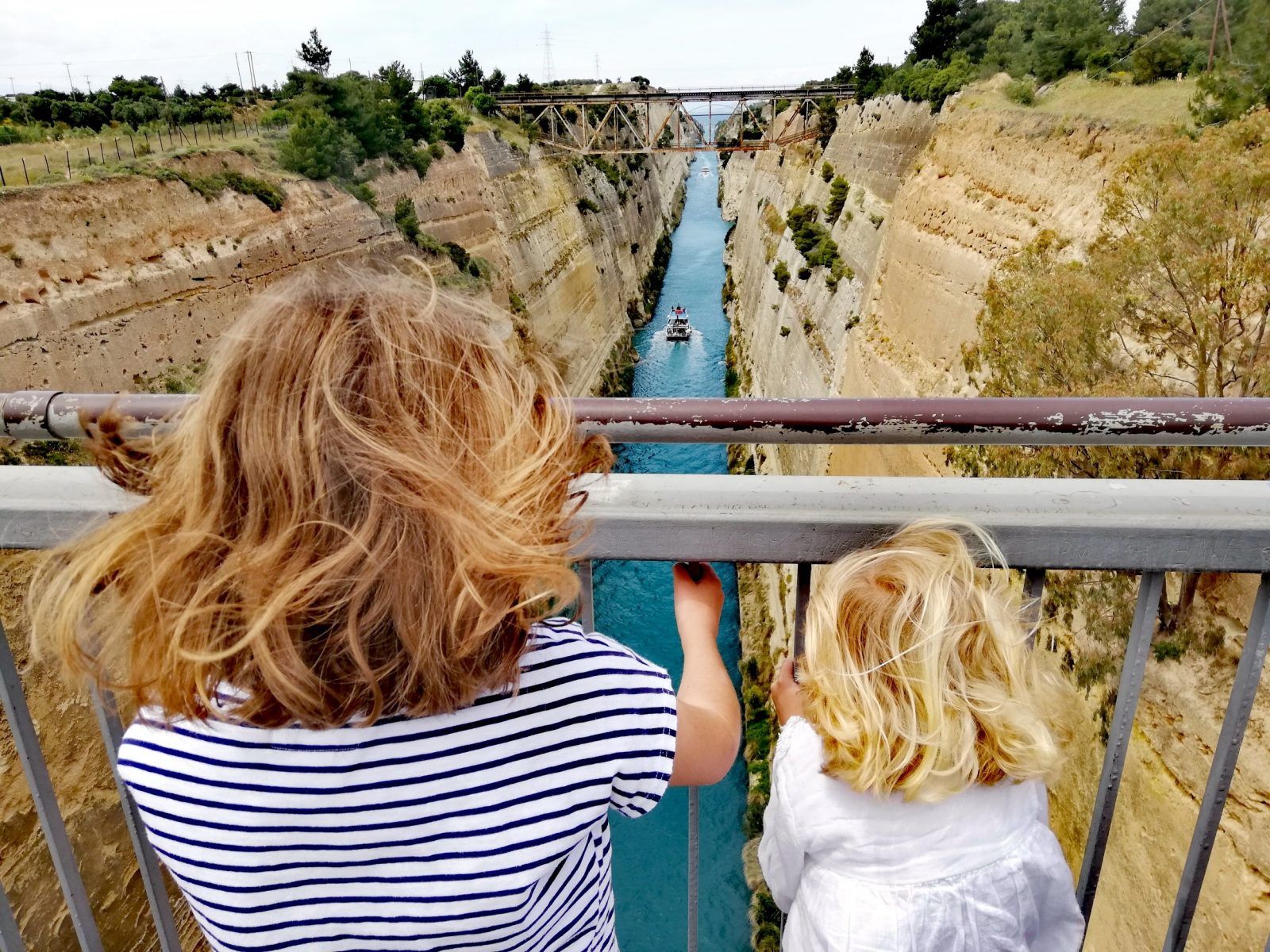 I recommend a group tour to Corinth Canal with a visit to the Ancient Corinth castle. With a guide and driver, this will be a more relaxing experience. I believe that the Corinth Half-Day Small-Group Tour from Athens is suitable for families.
Click here for more information and booking for Corinth with the family.
Visit a winery in Nemea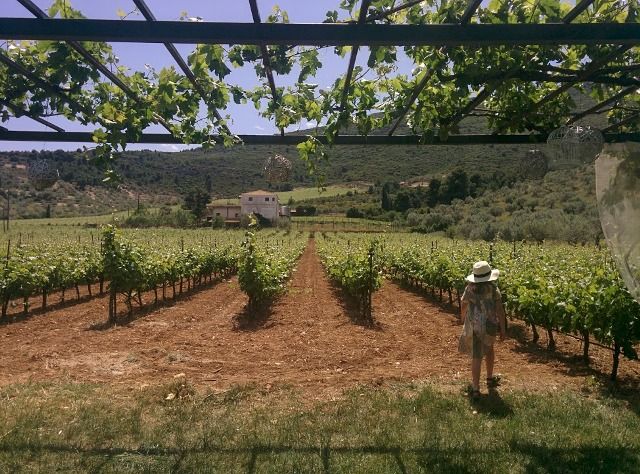 Nemea in the region of Peloponnese is one of the most important wine districts of Greece. It is easy to visit one or more vine estates from Athens on a one-day trip. My kids and I went along with such a family activity, you can read our wine tasting experience here.
My kids loved running around the vineyards and learning more about the process of winemaking. I learned more about Greek wines and indulged in delicious Greek wines and food. When you visit a winery with a tour company, you don't have to worry about drinking and driving!
For a family visit to a vineyard just an hour away from Athens, I recommend the Nemea Winery Private Tour.
Click here for more information and booking for Nemea with the family.
Visit a nearby island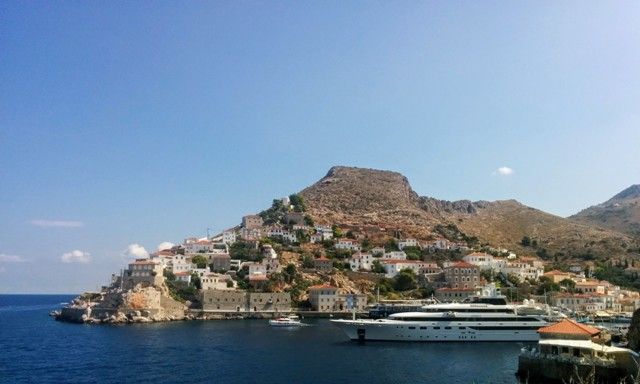 Families visiting Athens for a few days may be interested in visiting some nearby islands as a day trip. It is a great way to escape the cultural overload of the city and experience an island holiday. Relax on board, admire the turquoise sea and seagulls and explore several new places all in one day!
3 Islands in one day cruise
The most well-known are Aegina, Poros, and Hydra. These islands are located less than two hours away from Athens. It is best to book an organized one-day excursion to these islands near Athens. We tried and tested such a one-day-three-islands day trip from Athens and wrote a review. For a value-for-money family-friendly trip to the islands in one day, I recommend Hydra, Poros, and Aegina Full-Day Cruise.
Click here for more information and booking a Hydra, Poros and Aegina Full-Day Cruise
Traditional Wooden Sailing Boat one day cruise
We also tried the traditional wooden sailing boat excursion to Agistri, Aegina and Aponissos. This boat trip offers swimming in beautiful waters, fun on board with music and Greek food, and a chance to visit two of the Saronic islands. A great excursion for a hot summer day!
Click here for more information and booking the Aegina and Agistri Full-Day cruise
Athens with children is great. Don't hesitate to start exploring with the family! Athens is easy to navigate and children are welcome everywhere. Do you need more family-friendly ideas for Athens with kids? Have a look at the Best 10 things to do in Athens Greece with kids
Do you want to read more about fun activities in Athens with children? Have a look at some related blog posts in the Athens, Greece category:
Did you like this post? Pin it for later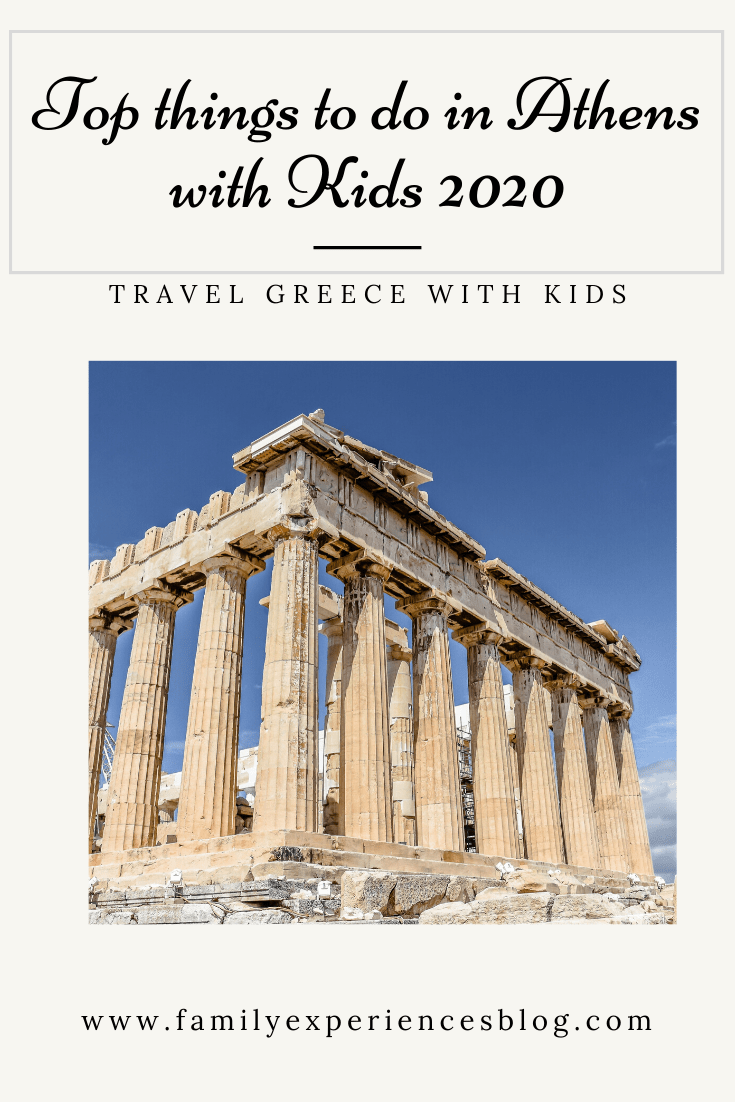 If you want to find out more about Greece for families, stay tuned!
Disclaimer: This blog post contains affiliate links. This means that should you click on certain links, I will receive a small commission. It will not cost you anything extra. But it will help to maintain the blog. Thank you for supporting me this way!