Last Updated on January 24, 2023 by Celeste.
Are you looking for family beaches in Athens? We've got you covered. In this post, we are listing our tried and tested kid-friendly places on the Athenian Riviera and the wider Attica Peninsula. So whether you are living in Athens or on vacation here, these are our favorite family beaches in Athens.
This post was updated in June 2022
The best family beaches in Athens
Greece is famous for its amazing beaches. In fact, Greece has remained among the top three countries in Europe for the excellent quality of its bathing waters, according to the 2021 European Bathing Water Quality report. Based on 2021 data, Greece holds on to the same position as in 2020 – ranking third in Europe with 95.8 percent of all 1.683 sites reported as being of "excellent" quality! Many people believe that these are beaches on the Greek islands. But, a total of 12 beaches in Attica were awarded the Blue Flag in 2021 for their excellent water quality.
Blue Flag Beaches
Another indicator of the quality of the Greek beaches is the Blue Flag accreditation. In the ranking of this worldwide organization, Greece scores second in the world in terms of beaches and marinas! The Blue flag organization is also a good reference for the cleanliness and water quality. Several family beaches in Athens carry a Blue Flag and are very suitable for families.
Are there any beaches for kids in Athens?
Yes, there are many! Generally speaking, most beaches in (wider) Athens are suitable for children. Because they are sandy, and the sea is shallow. The waters around Attica are relatively calm in the summer.
Where are family beaches in Athens?
The best family beaches in Athens are spread along the Athenian Riviera and the southern and the northeastern side of the Attica peninsula. The cleanest family beaches start at Glyfada and end at Cape Sounion. For the North, they start in Marathon towards the North or from Porto Rafti towards the south.
In these areas, you will find family-friendly private beach clubs as well as kid-suitable public beaches. Most of them are organized with chairs and umbrellas and often a beach bar or tavern. At some of these beaches, you will pay for using the chairs and/or umbrella. In others, it is expected that you buy a refreshment or snack from the bar in exchange for the free use of the facilities.
Top beaches for families in Athens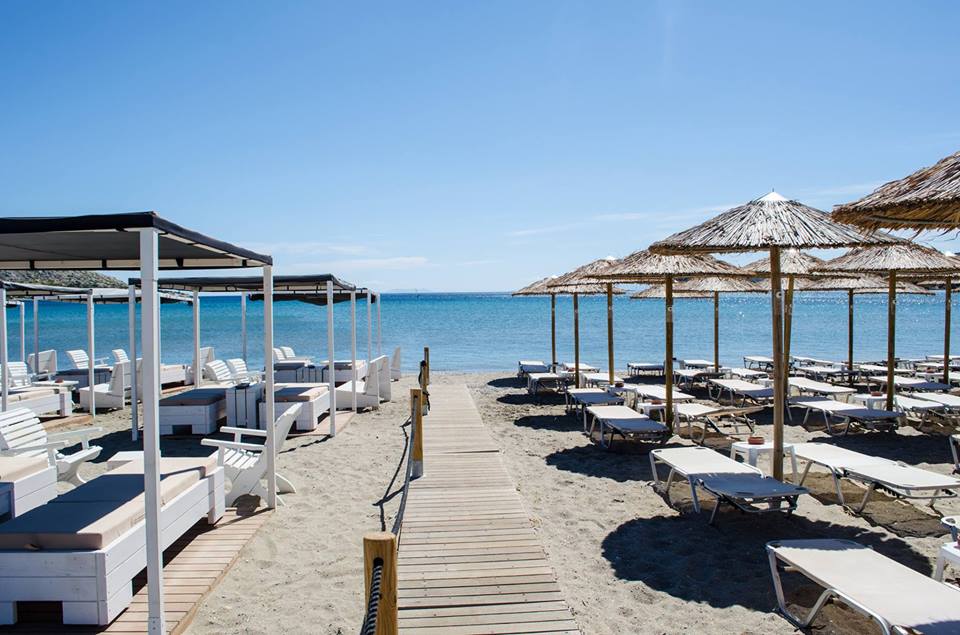 A private beach club with a lounge bar and restaurant in the quaint town of Anavyssos. The beach is clean, the sea is calm, and the kids are welcome. A large parking is near the beach. Read our family experience here.
Update June 2022: Balux is temporarily closed

I do not like the sea at Balux House for swimming but it is ideal for young children to play in the water and the sand. You can have breakfast, coffee or a nice meal while your children are playing right next to your table in the sand. There is a special menu for children. There is also a garden with a specially formed space, called Baluxaki, with many options for play.
Kides can play around in the traditional playground with swings and seesaws, and you can watch them while drinking your coffee in a separate area with picnic-style tables. Or you can visit the little luna park with a bouncy castle, a lake with miniature boats, a carousel, a fun park, and a children's train for an extra charge. Babies can play at the soft play area. There is shade from trees in the playground. At the Balux beach are also a water trampoline and other inflatable toys. Facilities are clean, and valet parking is available.
Golden Coast beach – Marathon, East Attica

This hidden spot is located in between Nea Makri and Schinias in the Marathon area at the Golden Coast hotel. It is a humble sandy organized beach with a canteen (Kalokairaki) but with very clean facilities and lots of toys to play with. It is very easy to reach this beach and there is a large parking right next to it. There are kiddie toilets and showers. The beach is sandy but be careful because the sea has rocks. Nevertheless, my kids easily get in and out of the water here. If you rent a chair with an umbrella you get a coffee or a drink for free. There are snacks and small meals in the canteen. Check the weather forecast before you visit. Because of its location, the weather, and the sea on this side of Attica is different from the Athens Riviera. On some days there can be strong winds and waves.
Schinias Beach – Schinias, East Attica
This beach is located at a distance of 45 km from Athens at the North East side. In summer it can get very busy on the weekends with many young people and music but during the weekdays and off-season, this beach is great for kids. Schinias is a long stretch of sandy beach in the Marathon Bay with clean water organized beach clubs and watersports for kids and teens.
Avlaki Beach – Markopoulo area
The family beaches in Athens get very crowded in summer. This is certainly the case in Avlaki beach. This beach gets very crowded in summer and weekends but is ideal in autumn. It is organized with umbrellas, chairs, showers and snacks. At about a 100 meter distance from Avlaki is the so-called Panorama beach, not organized but very good for families and budget friendly.
Eden Beach – Mavro Lithari, Athenian Riviera
Located on the coastal road to Sounio, this sandy beach with pebbles and rocks is suitable for young children. The water is very clear and the beach has been awarded a Blue Flag. You can opt for Eden Hotel beach or one of the organized beaches.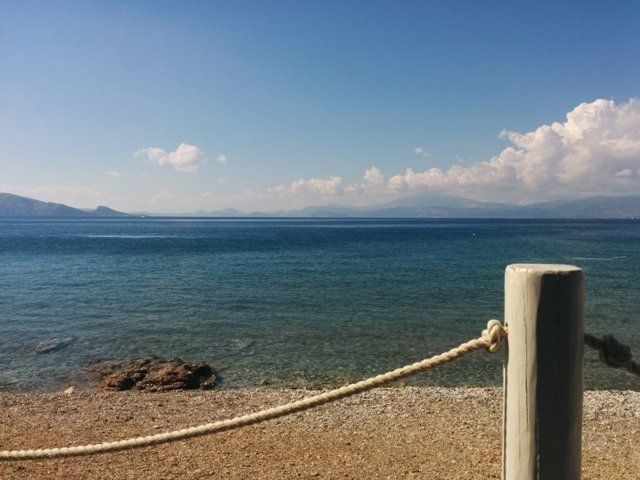 Varkiza, Athenian Riviera
Varkiza is a nice town for a family excursion all year round. There are many taverns and playgrounds and the large beach is sandy with volley courts, water games and open play areas. The best beach for families in Varkiza is Yabanaki beach. Varkiza is a small town and one of the most developed and popular areas in the southern suburbs, quite lively during the summer season.
Voula, Athenian Riviera
Some of the best public family beaches in Athens can be found in Voula. The beaches in Voula are located 18 km south of Athens and are of the most popular in the capital. Very suitable for families with very long sandy beach with cafeterias, taverns, umbrellas and chairs in summer.
Legrena beach
Legrena beach is found along the coastal road that leads to Sounio. It is the last beach before reaching Cape Sounio and the Temple of Poseidon. Legrena is a small but very impressive beach surrounded by cliffs. The water is very clean and clear.
Hotels with family-friendly beaches in Athens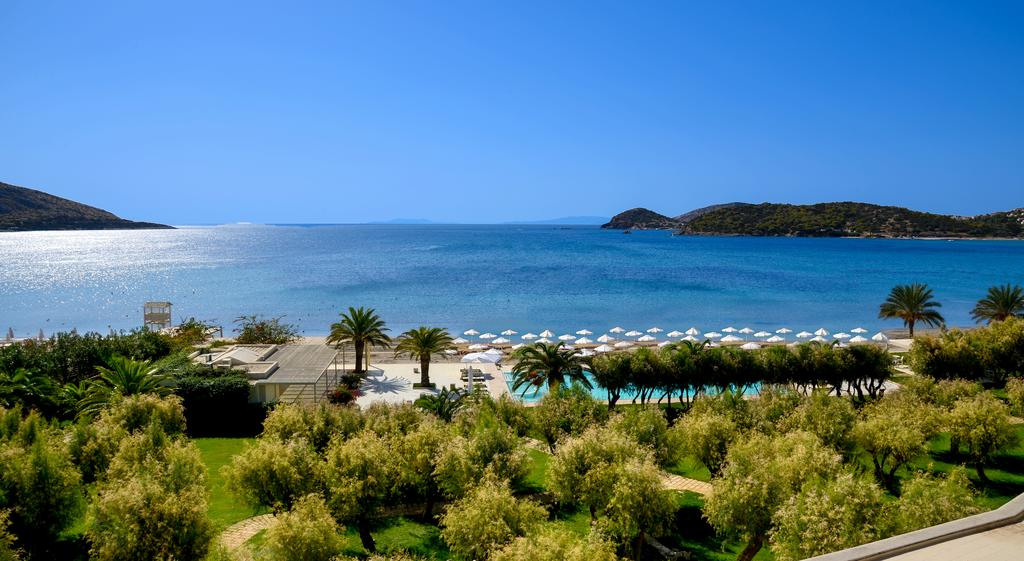 Plaza Resort is located next to L'Amico on the beautiful sandy beach of Anavyssos. This 5-star hotel beach is organized with lifeguards and a pool. Beautiful views and excellent lunch or snack options. The beach is part of the luxury resort. If you want to spend time in Athens admiring the ancient monuments, and have a summer holiday on the beach as well, a stay in Anavyssos is a great solution.
Click here for more information about Plaza Resort and to book your stay.
The premier beach club in Athens with all the facilities that you need for a comfortable day at the beach with kids. The sea is calm and shallow here. Beautiful crowd, comfortable wooden lounge chairs, a play area for the children, a large grass playfield, clean facilities, water sports and family (fast food) restaurants. I love the gazebo's on the beach for extra shade. You don't need to leave your children alone to place an order, use the service buttons at your chair. I love the spa here too for some kids-free me time. And did you know that Astir beach hosts an archaeological site! Very crowded on weekends in the high season but perfectly fine all the other days.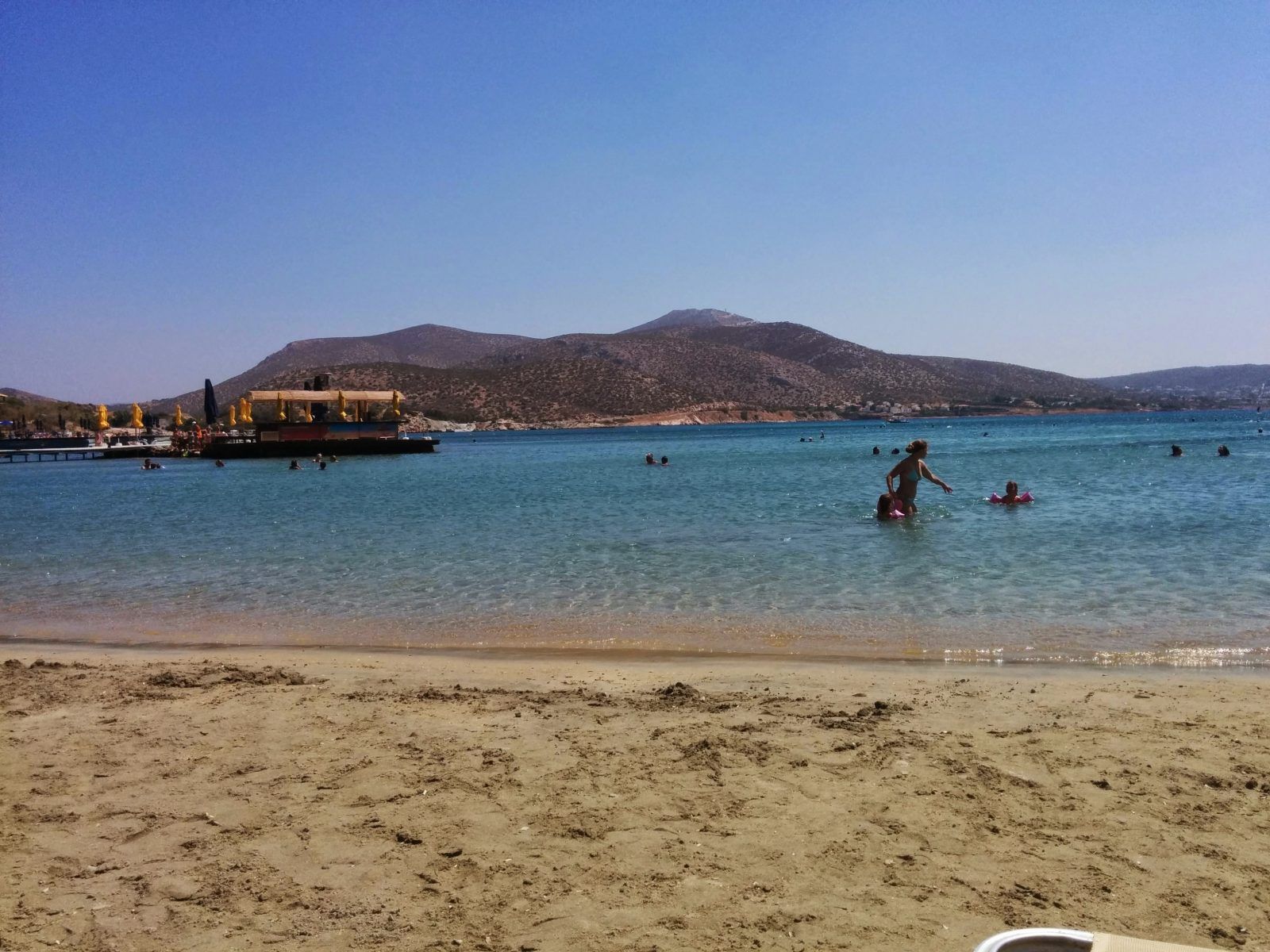 Definitely a personal favorite and very suitable for families with young children. Grand beach Lagonisi is part of the Grand Resort Lagonissi and is located at a 40 km distance Southeast of Athens. Very family orientated and great for young kids because it is very shallow for a very large part. It also has a pool (for members only). Towels are provided, so no need to carry them from home. There is very large parking near the beach entrance. There is a service button in the member area as well as an indoor baby room inside including a soft playground, a place to rest and feed your child. I like the large showers outside. Little fishes near the dock offer hours of fun for my little ones. Good choice of healthy food at the restaurant.
Apollon Beach at Divani Apollon Hotel, Athenian Riviera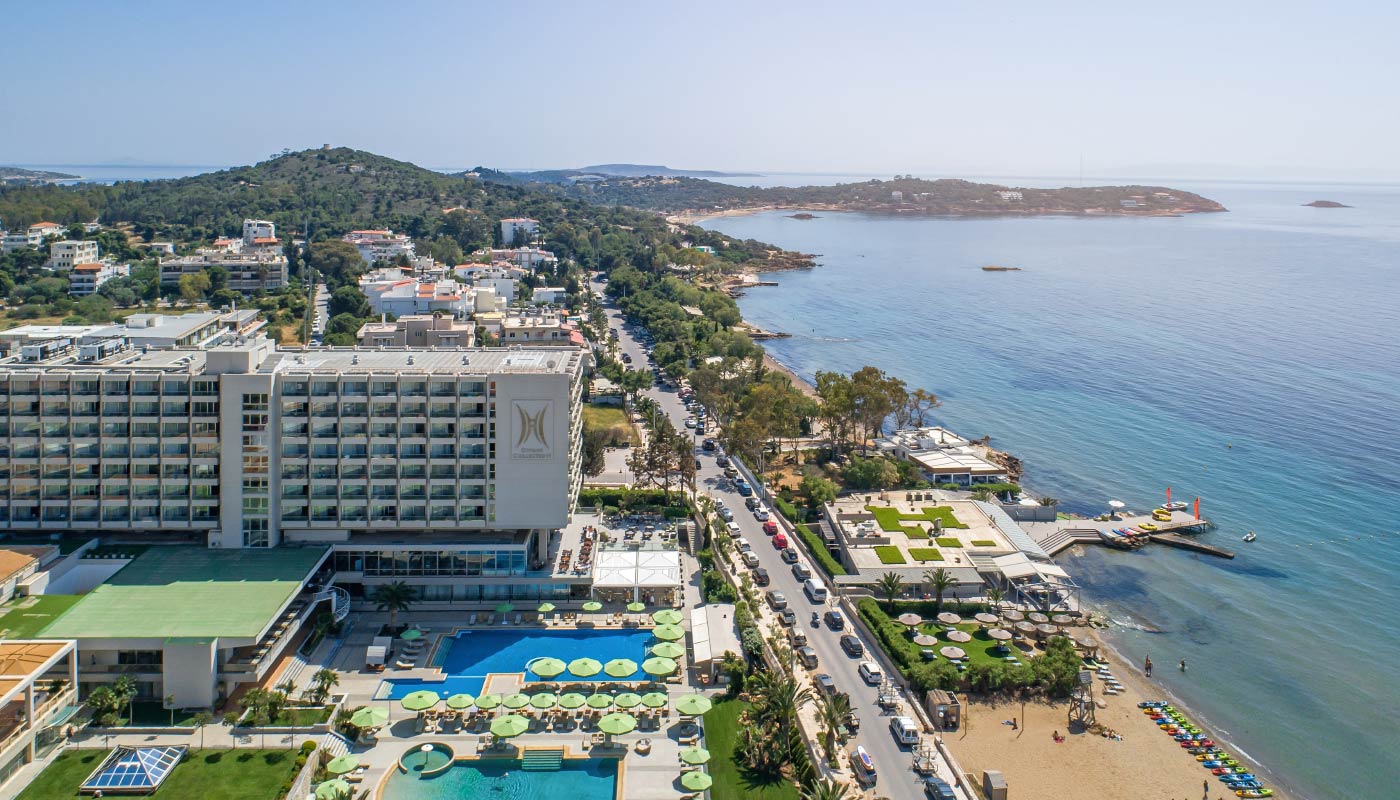 When my daughter was a baby, I used to visit this private hotel beach often. I found it very helpful that I could park my car inside the hotel and that towels were provided. I loved the private little grass area at the hotel beach because it was just large enough for my baby to wander around in the shade or play in the very shallow water. The hotel beach is not very big, that is why I would only recommend for younger children or guests of the hotel.
What are your favourite family beaches in Athens? Let me know in the comments!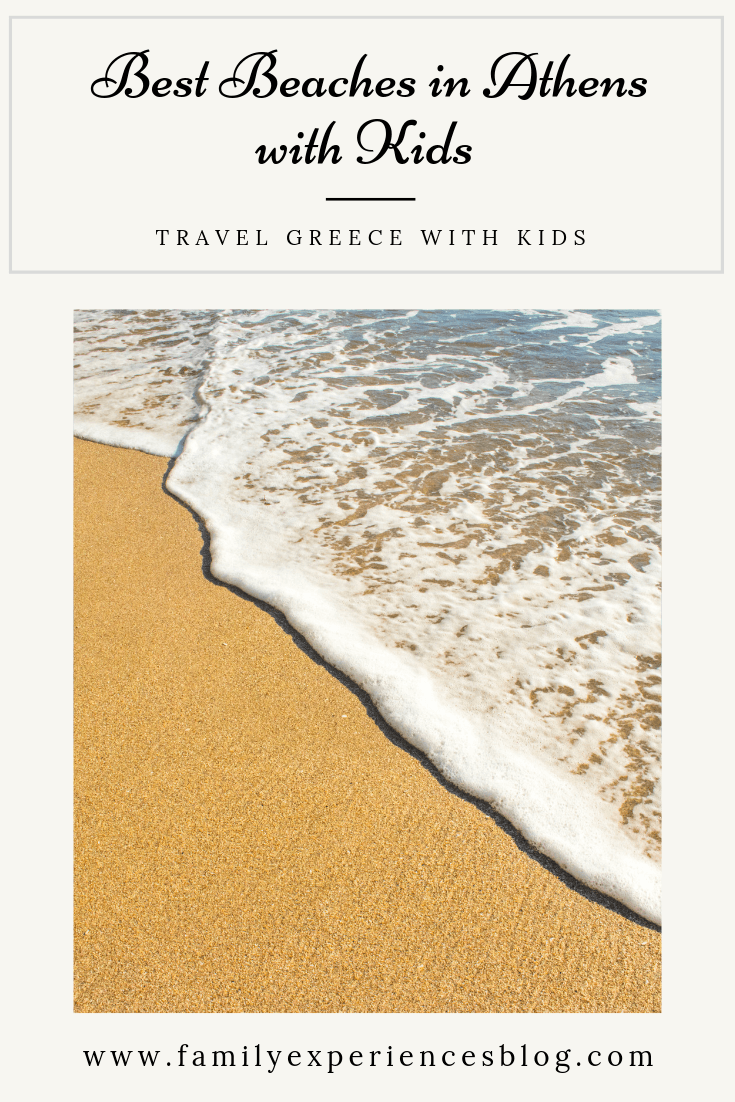 Disclaimer: This post contains an affiliate link. This means that should you click on certain links, and then subsequently purchase a product, I will receive a small commission. It costs nothing extra to you but helps keep my site running. Thank you for supporting me in this way.