Last Updated on January 26, 2023 by Celeste.
Although Greece is famous for its clear blue waters and endless beaches, most children love spending time in a water park. To keep everyone happy, we listed the best water parks in Greece for kids. Because a day out at a water park is guaranteed fun for the whole family!
As a general rule, keep in mind that most water parks in Greece open at the beginning of May
Aquapolis Athens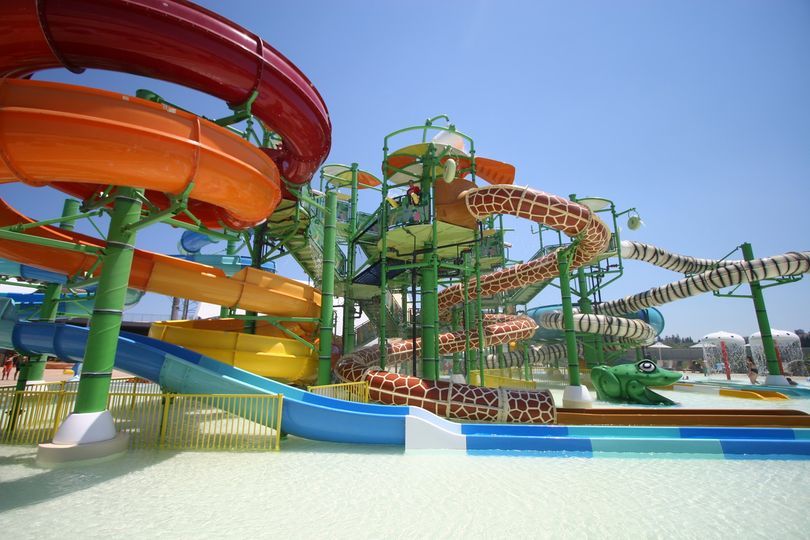 Athens features several swimming pools, but the only real water park is Aquapolis Athens next to the Athens Zoo. Aquapolis opened in the summer of 2021, and we have visited often since. The park is safe and clean, with fun attractions for young kids and teens. The best ride is the Python giant slide, with a view over the zoo animals from the top. You can buy combined tickets for the Zoo and Aquapolis and visit both in one day.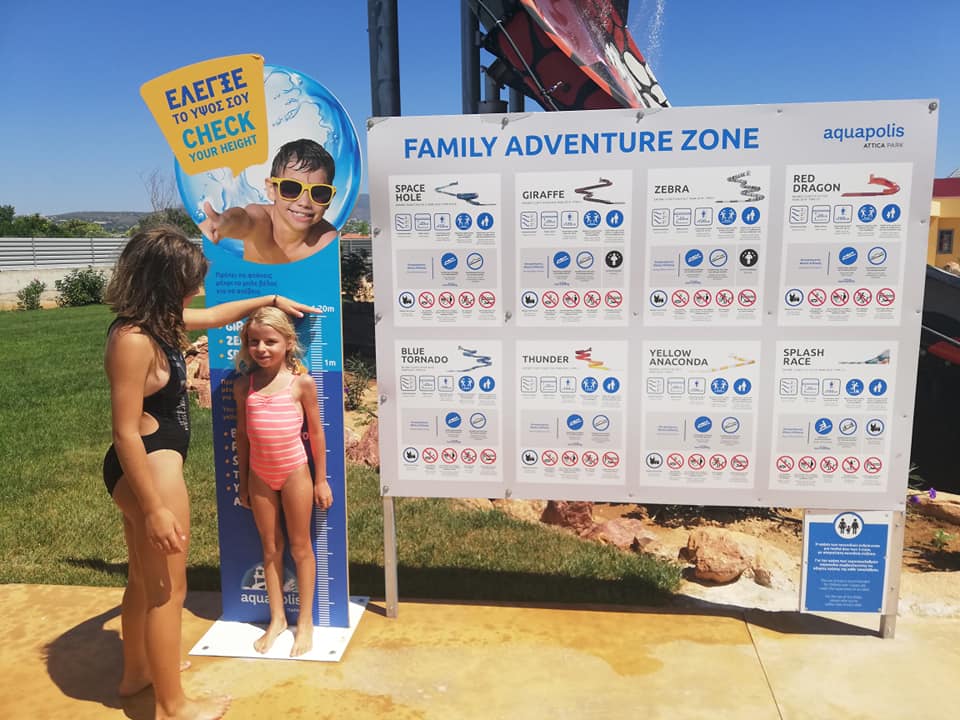 Water park near Athens
Located near the famous Corinth Canal, the Splash waterpark Isthmos is an hour and a half away from Athens city. It is relatively new with large grass surroundings and parking space. The slides and the water games are suitable for younger children and kids up to about 12 years old. Splash Isthmos features slides, a pool, and a lazy river.
Water Parks in Crete
Acqua Plus, Crete
Acqua Plus Crete is one of the most popular waterparks in Crete. The water park is split into two sections connected to each other. The one section is for adults and includes many extreme slides for a high adrenaline rush, and the other section for children. You will also find a spa, a bar, a mini football pitch, a volleyball beach court as well as a gift shop. Click here to buy your skip-the-line entrance tickets for Acqua Plus Crete including an optional transfer from your hotel.
Watercity Themed Waterpark, Crete
Watercity aquatic park is a 2020 Travellers Choice Award Winner from Trip Advisor. The park is in Anopolis, Crete, between Heraklion and Hersonissos. It is very family-focussed with safe toys for children, playgrounds, restaurants and mini-markets where you can buy what you need.
Aqua Creta Limnoupolis, Crete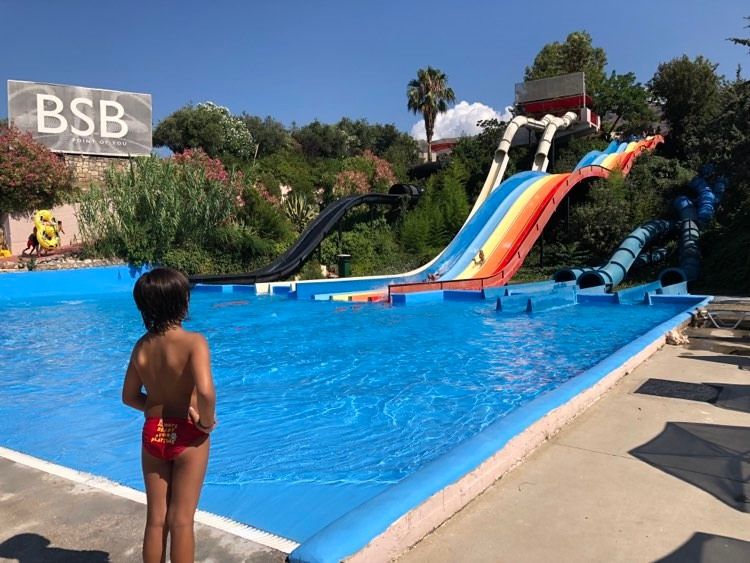 Aqua Creta Limnoupolis is the first water park that I ever visited in Greece, thus it has been around for a while. It is one of the largest parks in Greece, located in beautiful green surroundings. The attractions are suitable for kids of all ages. Your family will love the park's 11 slides and pools including 2 freefall rides, a black hole, a triple twist, a crazy river, a rainbow multi-slide, 2 giant slides.
Water Park in Corfu
Aqualand Corfu Water Park is huge with many slides for thrill-seeking kids and teens. We visited the park some years ago as part of our vacation in Corfu. Young kids will love playing with the water fountains, and parents can join their kids or relax on a floaty in the Greek sun! Click here to buy tickets for Aqualand in Corfu.
For Corfu, you may also be interested in: 10 Things to do in Corfu with Kids
Water Park in Rhodes
The Water Park Rhodes is one of the biggest in Greece. It is located on the coast of Faliraki in between the beach and the Espero hotel. To visit the water park, you can use bus transfers from any location on the island. Inside the park you will find lots of slides, pools, in between medieval Rhodes-inspired castles and pirates!
Water Park in Zante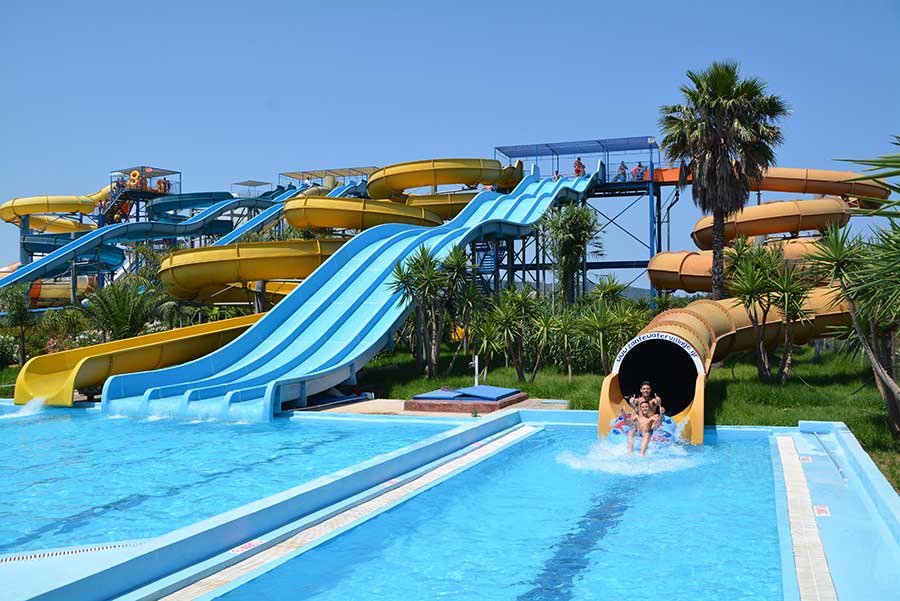 Tsilivi Water Park is situated on the southeast part of the island on a plot of 40.000m2, just 4km from Zante Town. Tsilivi Water Park is not only for water games but also offers other family fun activities such as trampolines, mini golf, and go-carts. Although the park is part of the Aqua Bay Suites Hotel, you can visit the water park without being a hotel guest. Click here to buy a skip-the-line entrance ticket, to the Water Park in Zante.
For hotels with water parks, you may also be interested in: The best hotels with water parks in Greece
Water Parks in Kos
Aquatica Water Park is one of the 25 Best water parks in Europe and one of the 10 best water parks in Greece in 2020 according Tripadvisor. The park is designed in a beautiful way overlooking the sea. It offers a separate area for young kids; Aqua playground is just for kids, therefore, adults aren't allowed. Other attractions are adrenaline rush waterslides, swimming pools, a lazy river, and a Spin Bowl.
In Kos, you can also visit Lido Water Park. Located in Mastihari, just 25 kilometers from Kos town center, the park occupies an area of 75,000 square meters and is features water slides, wave pools, a Lazy River and a Jacuzzi. Click here to buy tickets for Lido Water Park including transfers.
Waterland Thessaloniki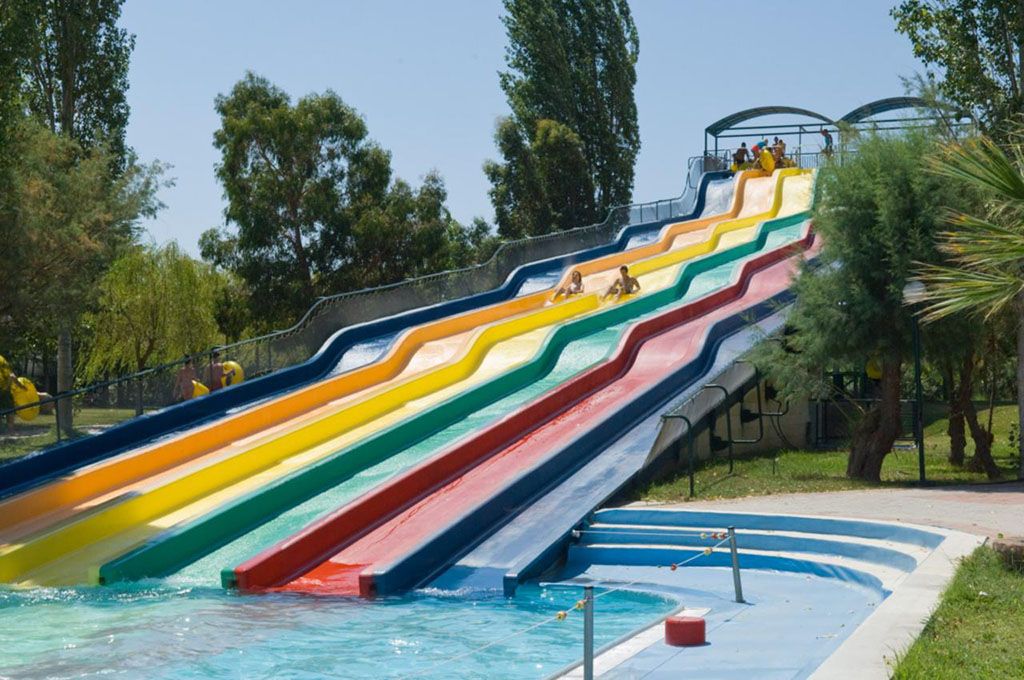 The second-largest water park in Greece is located near Thessaloniki city, and there is a lot to do! In Waterland Thessaloniki, you will find the Funnel, Pirates island, the Crazy River, the Wave pool, the Multi slides, the Simvoli Slides, the kids pool, Zen pool as well as Tarzan 🙂 The park also offers a self-service restaurant, coffee shop, tennis courts, volleyball and basketball courts, and even a zoo!
Are water warks open now?
The water parks in Greece are not open all year. They only operate during the tourist season. For most destinations in Greece, this means that they are open from April until October. In Athens, the water parks open in May and close in September/October.
How to buy tickets?
You can buy tickets for most water parks online. To go to the websites of the water parks, just click on the highlighted names. You can also buy package deals that include skip-the-line entrance tickets and often a transfer from your hotel. You can find the links for such deals in the descriptions of the water parks above.
Holidays in Greece with water parks
Are you planning on a holiday in Greece and do you want to include a water park for your kids? Most kids love water parks so if you pick an island from the above list, you can promise them a day (or more) of water fun. Or, you could even opt for a hotel with its own water park.
Hotels with onsite water parks in Greece
There are several resorts in Greece featuring their own water parks, such as Grecotel Olympia Oasis in the Peloponnese and Capsis Out of the Blue in Crete. Some are exclusively for the guests of the hotel, some allow day visitors. Have a look at this list of our 10 best tried and tested resorts with onsite water parks in Greece:
What to pack for the water park in Greece?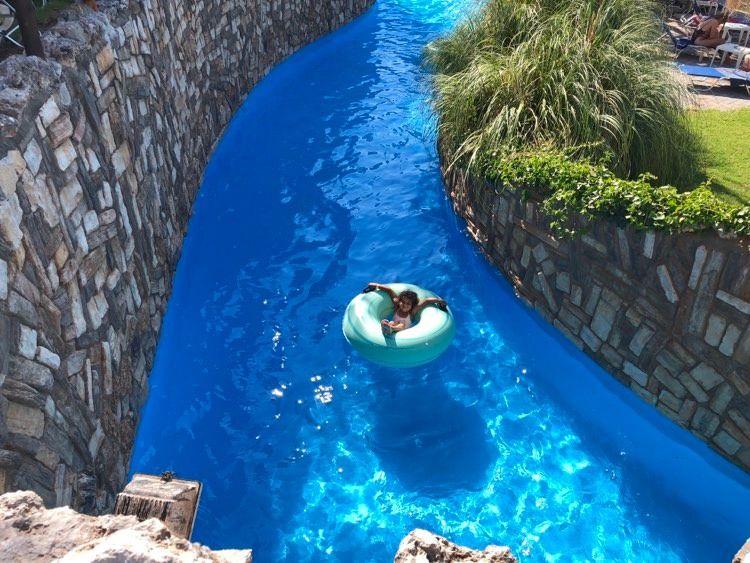 Last but not least, what do you pack for a day at the water park in Greece? Besides the obvious bathing suits and towels, you definitely need flip-flops to avoid burning your feet on the hot tiles. Don't forget to take sunscreen, a hat, and sunglasses, because the Greek sun is extremely strong in the summer. For better sun protection wear a T-shirt or get UV Protection Swimwear tops for the kids. And don't forget your waterproof camera!
Featured photo above this post: Aquapolis Athens