Last Updated on February 1, 2023 by Celeste.
Family Holidays in Greece? If you are planning a vacation to Hellas, this article may help you find your perfect destination for a vacation with the kids. In fact, several places on the Greek islands and the mainland of Greece are among the travel hotspots that the leading UK newspaper, The Telegraph suggests on its "50 fabulous family holidays for 2023" list.
Greece Family Holidays
The Greek destinations on the newspapers' list are divided into five categories, each with its own Greek holiday suggestion. These are the categories: Babies and toddlers; Primary schoolers; Tweens; Teenagers; and All Ages.
From baby-friendly beaches in Crete to 't(w)een-approved' activities in Athens, we've reviewed all of The Telegraph's favorite spots on this blog. So, let's have a look at the newspaper's favorite Greek spots for a family vacation.
Greek destinations for babies and toddlers
The Telegraph lists Crete as the perfect destination for families with very young children, and we cannot agree more. Crete's is a well-developed island with a large choice of family accommodations.
Crete's varied landscape offers multiple relaxing activities for the very young. From a village stroll, a swim at Elafonissi beach, Falassarna or Gramvousa, to a walk around botanical gardens.
Read also:
Vacation in Greece with primary schoolers
For families with primary schoolers, The Telegraph recommends the new all-inclusive Ikos Odisia on Corfu, opening in May 2023. The resort will offer a unique combination of relaxation and dining options for adult family members and a series of activities and water sports, kid's clubs, and pools. Its location is the calm Dassia bay.
At the same beautiful location, we also recommend the all-inclusive Grecotel LuxMe Daphnila Bay Dassia. This luxury resort also offers lots of supervised activities for restless primary schoolers, a kids club with arts & crafts, a swimming pool, tennis courts, and lots of organized games on the sandy beach.
Read also:
Best destinations for Teens and Tweens in Greece
As a mom of a tween and a teen, I love the Telegraph's suggestion for island-hopping to Athens, Syros, Tinos and Andros. It will keep both age groups interested and engaged, while there is plenty of space for alone time too. For hands-on tweens and active families, I would also add sailing to the vacation ideas list.
Teenagers will love visiting Athens and the Athens coast. There are plenty of cool beaches on the Athenian Riviera where teens can socialize and keep away from their parents.
In Athens, teens will love shopping for souvenirs in Plaka or Monasteraki or go to Kolonaki for high fashion. They will also find Instagrammable cafés and lots of street art in the Greek capital.
Read also:
A family holiday in Greece for all ages
For the "All Ages" category, The Telegraph suggests the Sani Resort in Halkidiki with activities including the Chelsea FC Football Academy and Nadal Tennis Center and The Westin Resort Costa Navarino in the Peloponnese which features the Mouratoglou Tennis Center and FC Bayern Football Camp.
I also recommend the Grecotel Olympia Oasis & Aqua Park Resort. This all-inclusive resort (also located in the Peloponnese) features summer camps with an Arsenal Soccer Academy, Discovery Adventures program, Make-up Courses, Be a Model Courses, English lessons, Dance lessons, Photography classes & excursions, and more.
Read also: Our review of Grecotel Olympia Riviera Resort
Families with children of mixed ages will also enjoy the Ionian Islands, because there are lots of different activities to do. In Zante (or Zakynthos), the Peligoni Club is recommended for its camps and water sports, including sailing.
In Kefalonia, the Eliámos Villa Hotel & Spa is the newspapers' favorite spot. This family-friendly five-star sanctuary offers cookery classes and food workshops, and activities such as cycling, canoeing, paddleboarding, and yoga.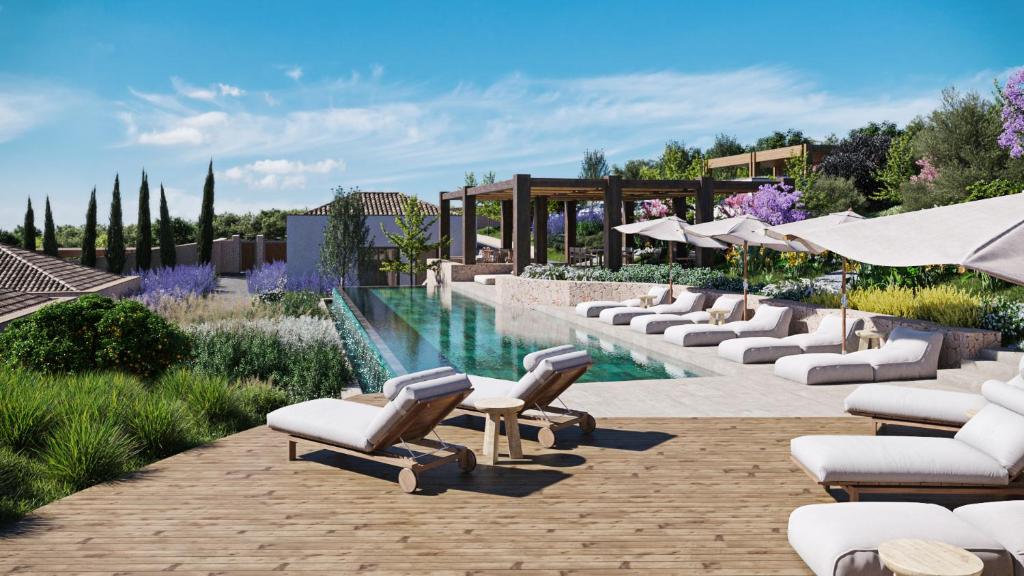 Where to stay in Greece with family
For family hotels and kid-friendly resorts, check out: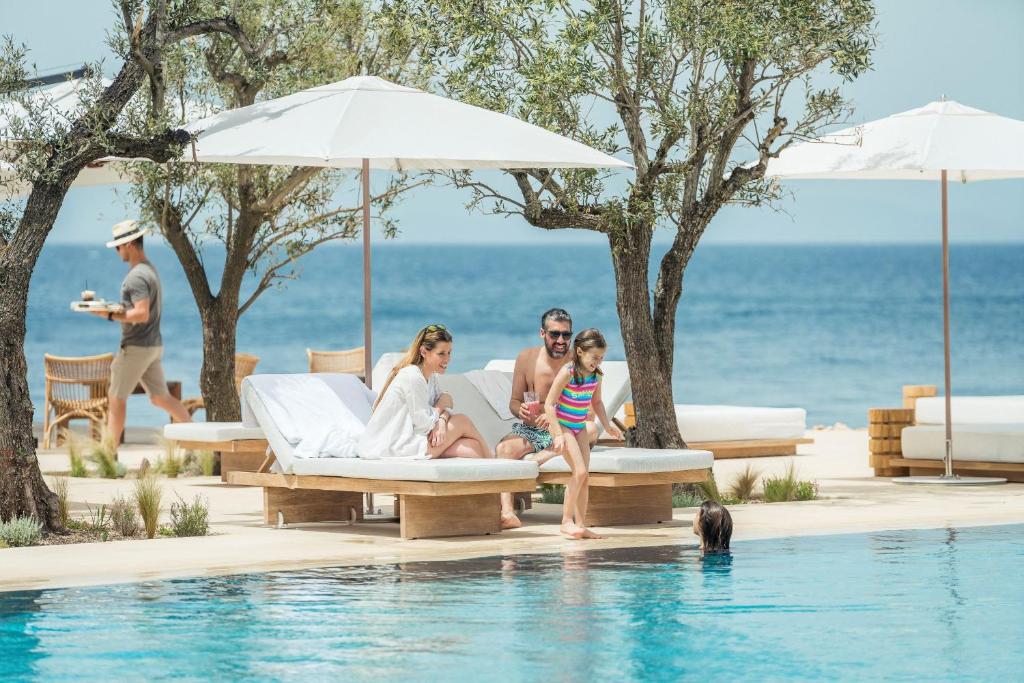 The Best Places in Greece in 2023
Greece is an excellent country for family vacations. The sea is generally calm and warm and most of the Greek beaches are safe with shallow waters and organized facilities. Greece offers a plethora of five-star family resorts, as well as family-friendly hotels. Greeks love children and they are welcome everywhere. If you need more inspiration for great places to visit in Greece with the kids, you may also like:
Are you ready to enjoy a family holiday in Greece?
Featured photo above this post © Grecotel & Resorts | La Riviera & Aqua Park
Children love nature, so they will relish playing on the beach | Click here for our hotel review