Last Updated on May 4, 2023 by Celeste.
Greece is the ultimate holiday destination for millions of people around the world including families. It is easy to understand why; the warm climate, the safe sandy beaches, and the kid-friendly nature of the Greeks have all come together to make Greece an ideal place. The country has a vast variety of different family destinations, but the most popular are the Greek islands. And Greece has no shortage of islands to choose from – there's over 6000 of them!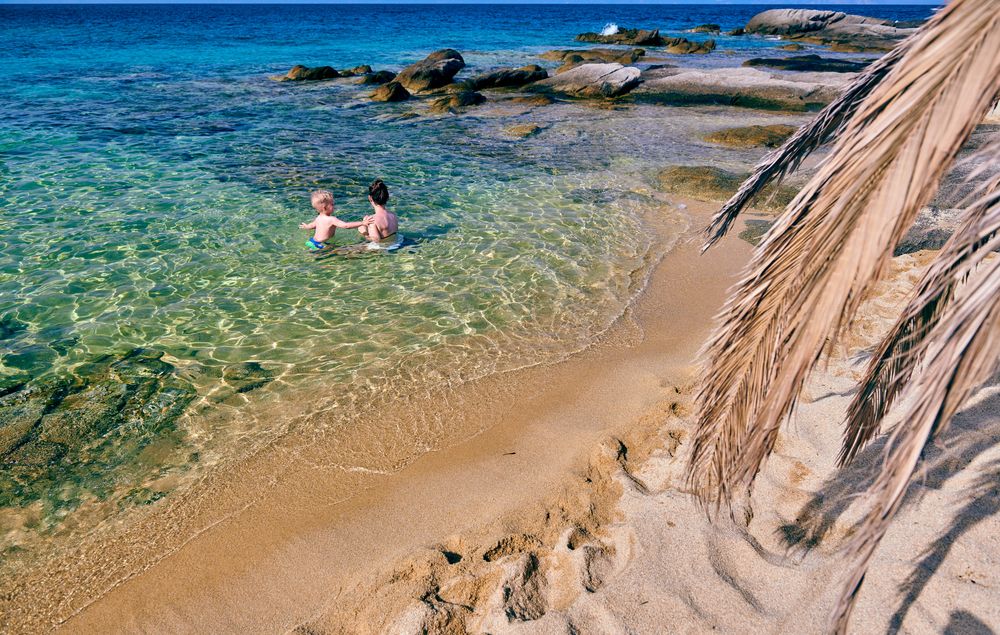 Choosing one can be difficult, especially for those with babies and toddlers. To get you out of trouble, we've done the hard work for you by creating my tried and tested sum up of the best Greek islands (yes, we visited them all!) This list is especially great for families who are visiting Greece for the first time. Sit down and start planning your next vacation to the best islands in Greece for families with young kids!
Best islands in Greece with young kids
Everyone who visits Greece comments on how friendly the people are, and this is especially true of families. Kids are welcomed and treated well everywhere, and family is important in Greek culture. With that in mind, we have to point out that some Greek islands are more family-friendly than others, especially for those traveling with younger kids. This can be due to the infrastructure, beaches, or any number of other reasons.
Below, we have listed the most popular Greek islands people consider visiting when in Greece for the first time. Having visited them all ourselves with our kids (Family Experiences Blog's Anastasia lives with her kids in Crete), we've added our thoughts on why we believe that they are suitable for families with younger kids.
Read also: Tips for traveling with baby
If you want to read in more detail about our tried and tested experiences on the Greek islands mentioned in this list, head over to the island tabs in the destination menu.
Corfu
Beautiful Corfu is one of the greenest and most popular Greek islands and welcomes many visitors each year. Although the island can get crowded during the summer, it is definitely worth a visit with family. Corfu's breathtaking nature and variety of things to do will keep you busy throughout your vacation. The islands has very good infrastructure (including an international airport), a large variety of family accommodation, safe and secluded bays with clean water and golden sand surrounded by lush greenery.
Read also: The Top 10 things to do in Corfu with Kids
Paleokastritsa is the most famous beach resort in Corfu, while other family beaches include Dassia, Agios Gordis, Pelekas, Acharavi, Issos, and Glyfada. They are well organized with family facilities, seaside restaurants, water sports, and beach bars. I also recommend the kid-friendly beaches on the West side of the island; Glyfada and Pelekas. The sandy beach of Saint Gordios is ideal for children, and the resort also has a good selection of taverns and accommodations. It is not far from the airport which is great after you have been traveling with children on a long journey.
The Ionian islands – including Corfu – are not as windy as the Cycladic islands, making their beaches ideal for young kids. You can also check the Ultimate Travel Guide to Kefalonia, by Planes, Trains and Buggies.
Crete
Crete is the largest island in Greece. Due to its size and varied landscape, there is something to see and do for everyone. Crete is especially a Greek island suitable for families with young kids because there is much family-friendly accommodation in Crete, excellent infrastructure, two international airports, and some of the beach beaches in the world. Crete has many excellent hotels and resorts, as well as holiday homes, all great for families.
If you are looking for a safe sandy beach with shallow waters for your young kids to play at, Crete is the place to be. There is no argument that there are fantastic family beaches on the north and south coasts. However, our favorite part of the island in terms of real child-friendly beaches is near Chania, the Elafonisi Beach, Balos as well as Falasarna. Another very good alternative is Plakias and the nearby beaches, as they are all sandy with shallow waters.
What are the best islands in Greece with young kids?
Naxos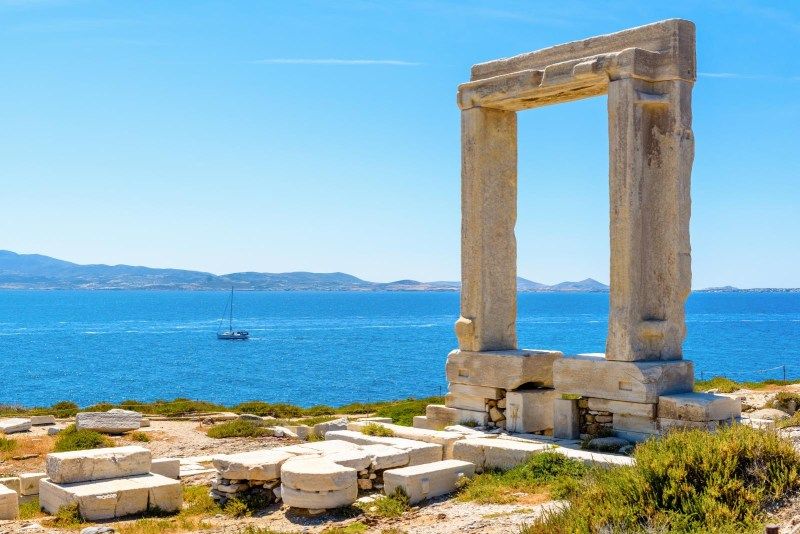 If your idea of the perfect vacation is to simply spend time on the beaches and enjoy that lovely Greek sun, you've got a lot of choices in Naxos island! Naxos is an ideal Greek island for families with young kids because of its endless sandy beaches with shallow waters. Agia Anna, Plaka, and Mikri Vigla beaches are all great suggestions for families with young kids, with dozens more waiting for you to discover. Many have sheltered calm bays.
Naxos is well known as a family-friendly island with lots of kid-friendly hotels, holiday homes, and restaurants. Naxos has a national airport and is well-connected by ferry boats with the other islands in the Cyclades island group.
Mykonos
You may not think immediately of Mykonos when searching for the best islands for families in Greece. This Cycladic gem is well-known for its party scene. However, cosmopolitan Mykonos is lovely and offers an amazing "Cycladic atmosphere", with really nice beaches and picturesque villages.
There are several beaches suitable for young kids in Mykonos, and from our experience, we recommend the following. Kalo Livadi beach, located on the southeastern shore of Mykonos has beautiful golden sand, inviting and with shimmering, crystal-clear turquoise waters, and an amazing view to the Aegean archipelago and Naxos Island. It is one of the longest and most popular beaches, where you can feel the immensity of the sea and the free-spirited wind in combination with excellent facilities and food.
Click here for the top things to do in Mykonos with Kids
In Panormos Beach are good restaurants and kids love the sand dunes, while their parents enjoy the trendy beach club. We particularly like Agrari Beach because it offers a good mix of tourists and locals. Agrari Beach is ideal for kids due to the calm waters, water sports, and the small playground. There is also a café and bar. Avoid the beaches on the Northside of the island can get windy and rough in July and August.
Paros
Paros is an excellent choice for families with young kids. This Cycladic gem near Mykonos has many wide sandy beaches and pretty (mountain) villages such as Lefkes. It is slightly smaller than Naxos and usually a bit busier. Paros is trendy and has a more developed nightlife.
There are not many luxury family hotels or resorts in Paros. For families with young kids, we recommend booking a holiday place, for instance, something similar to these Paros villas rentals. The best beach for families with young kids is Santa Maria beach. Paros national airport has recently been renovated and expanded, and Paros is also well-connected with the other islands in the Cyclades island group.
Rhodes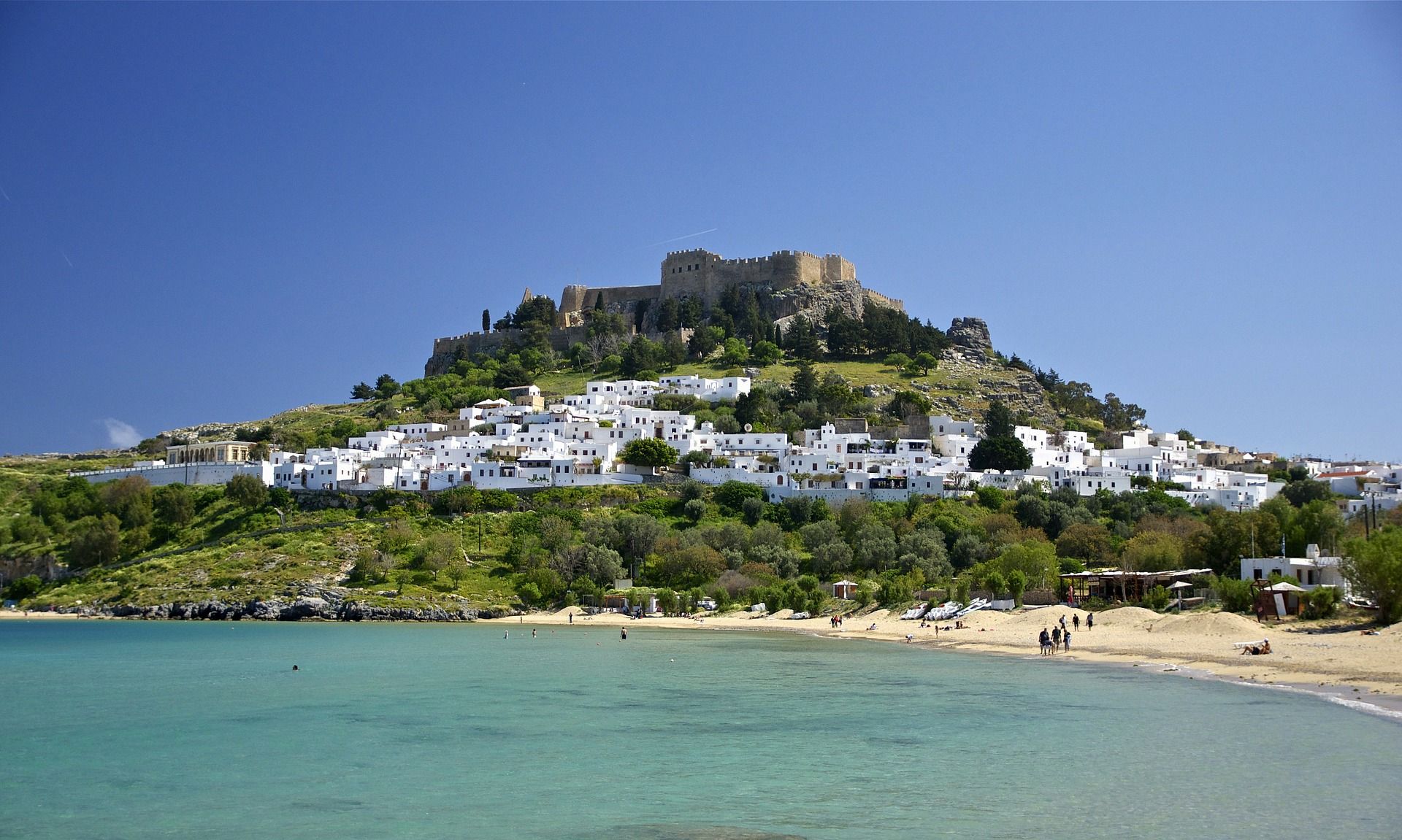 Rhodes is the largest island of the Dodecanese complex in the southeastern Aegean Sea. It's undoubtedly one of the most popular family-friendly destinations in Greece. Its beautiful natural landscape, golden sand beaches, excellent hotel infrastructure, numerous cultural and archaeological sites and picturesque villages, make Rhodes island the perfect destination for families travelling with babies and toddlers.
The coastline of Rhodes is dotted with a dazzling number of beaches suitable for families with younger kids. Around 30min drive from Rhodes Town you will find an iconic and well-organized sandy beach called Tsambika beach with shallow waters, nested in gulf protected from the winds. This beach offers various facilities, including restaurants, sunbeds and water sports. The only thing you need to keep in mind, especially if you are traveling with babies or toddlers, is that it might get very hot on this part of the island, especially during July and August.
Click here for the to-do in Rhodos with Kids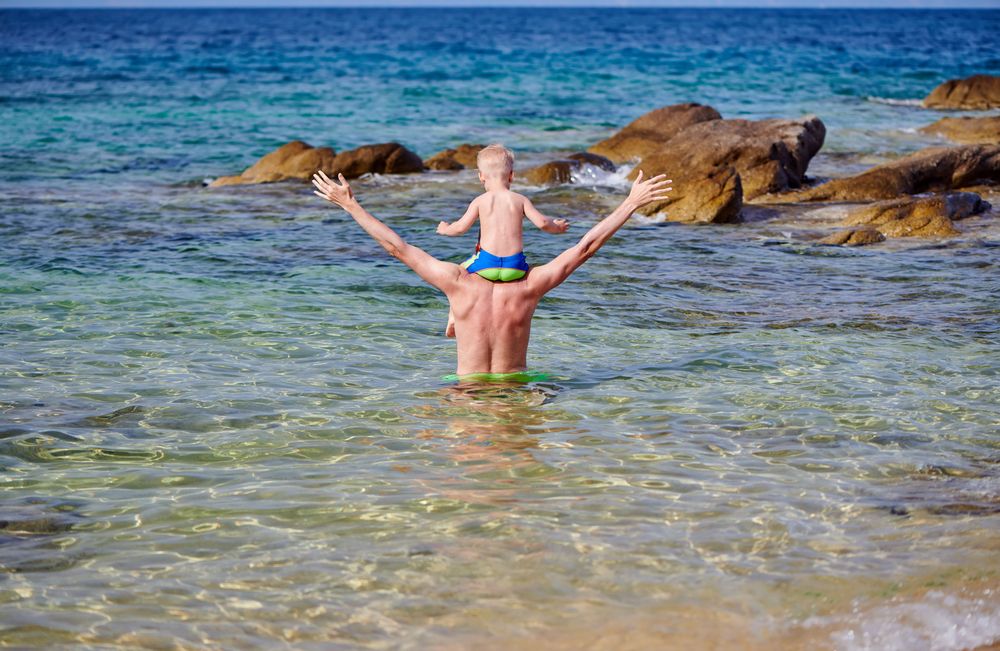 Elli beach is one of the most beautiful beaches of Rhodes and a great choice for relaxation with kids. It is a sandy, well-organized beach with sunbeds, umbrellas, showers, and restaurants. Lindos Beach and Saint Paul's Bay are also recommended for families with young kids. They are both sandy, with shallow crystal-clear waters – ideal for younger kids.
Agathi beach is shimmering golden sand and turquoise, crystal-clear waters create an idyllic environment. In addition, the extremely shallow waters make it a very safe beach for young swimmers. Besides umbrellas and sunbeds, there are also some canteens on Agathi beach, offering snacks, light meals and chilling refreshments. Finally, we recommend Kathara beach near Faliraki. An organized beach with beautiful sand, crystal clear and shallow waters. Scattered rocks around the beach create a natural port and protect it from strong winds.
Did you like this list of the best islands in Greece for families with young kids? If you need any further information or have anything to add, leave us a comment. We would love to hear from you!
Where to stay in Greece and the Greek Islands
For family hotels and kid-friendly resorts check out:
You may also like: