Last Updated on July 7, 2023 by Celeste.
Mykonos is Greece's glamorous island. With whitewashed villages, exquisite resorts and high-end hotels alongside a vibrant evening vibe, if it's luxury you're after then Mykonos is your place. Home to some incredible beaches, and many activities to keep you busy, you can tailor your vacation to this island exactly how you want it to be. There are peaceful laid-back towns, lively strips of restaurants and beach clubs, and everything in between. Below are some of the very best family hotels in Mykonos.
Read also: Top things to do in Mykonos with kids
Best Family Hotels in Mykonos
Mykonos features some of the best hotels and resorts in Greece. Katikies Hotel Mykonos, for example, was among Greece's four luxury hotels and resorts that won FTG's 5-Star Rating. Katikies Mykonos, located above the Agios Ioannis bay on Mykonos, was characterized by FTG as a "tranquil, chic refuge". FTG's inspectors hailed the hotel's offering of stylish suites with a private pool as well as the view of the historic Delos Island from its infinity pools. Katikies Mykonos' Mikrasia restaurant and A.Spa also got praise for their sophisticated culinary variety and individual wellness treatments, respectively.
Last autumn, the hotel was listed among the "15 best hotels in Greece" list of Condé Nast Traveler's Reader's Choice Awards.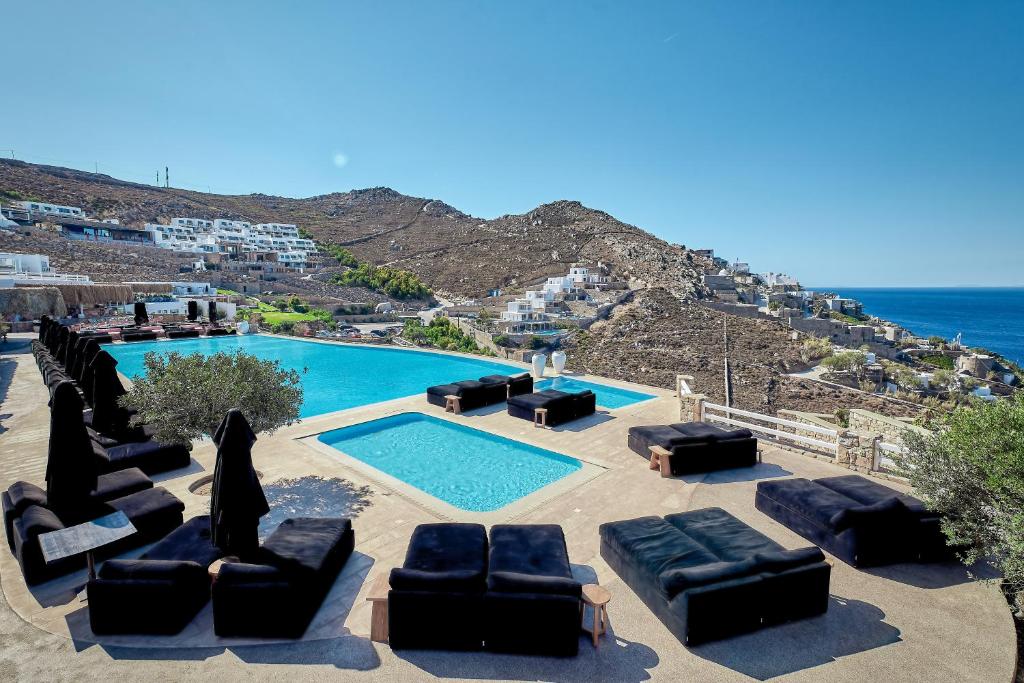 This hotel is in a stunning location on Elia Beach, and offers luxurious rooms and villas decorated in the minimal Cyclades style. It boasts a beautiful infinity pool, a children's pool, a restaurant, and a poolside bar as well as plenty of activities for all the family to enjoy. There is a babysitting service at the hotel, as well as family rooms which make it an ideal family hotel in Mykonos.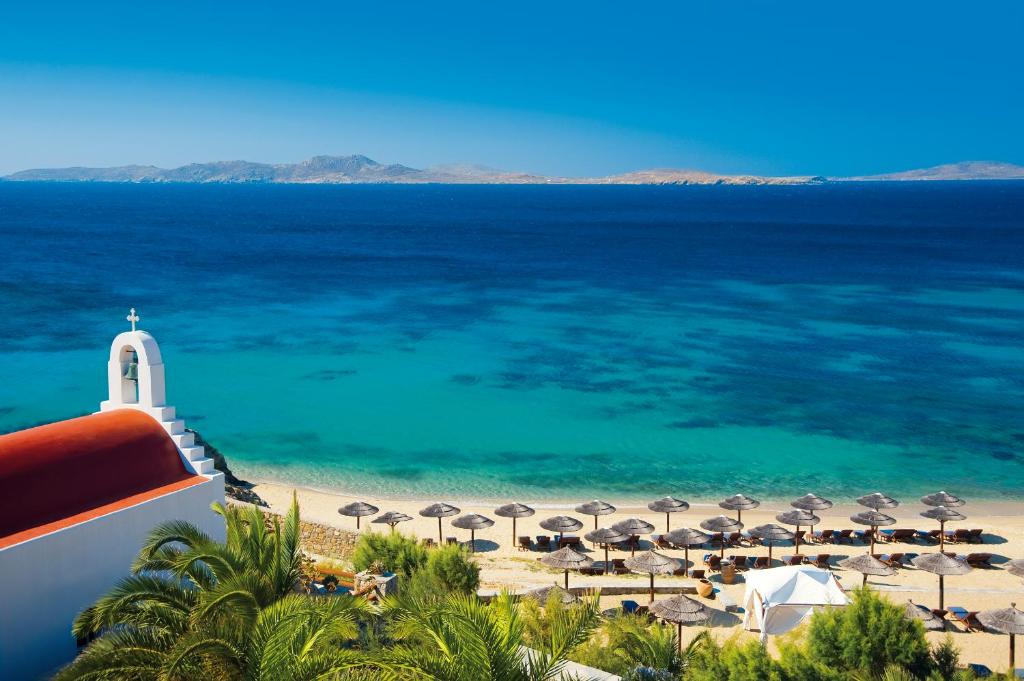 The Mykonos Grand Hotel and Resort is a 5 star oasis located right on Agios Ioannis Beach. The hotel has stunning rooms, all featuring balconies or patios and satellite TV and DVD player.  Guests can choose whether to spend their time relaxing at the pool or perhaps enjoying a game of tennis on the onsite courts. With shuttles from the hotel into town it is easy to access everything there is to do in the area.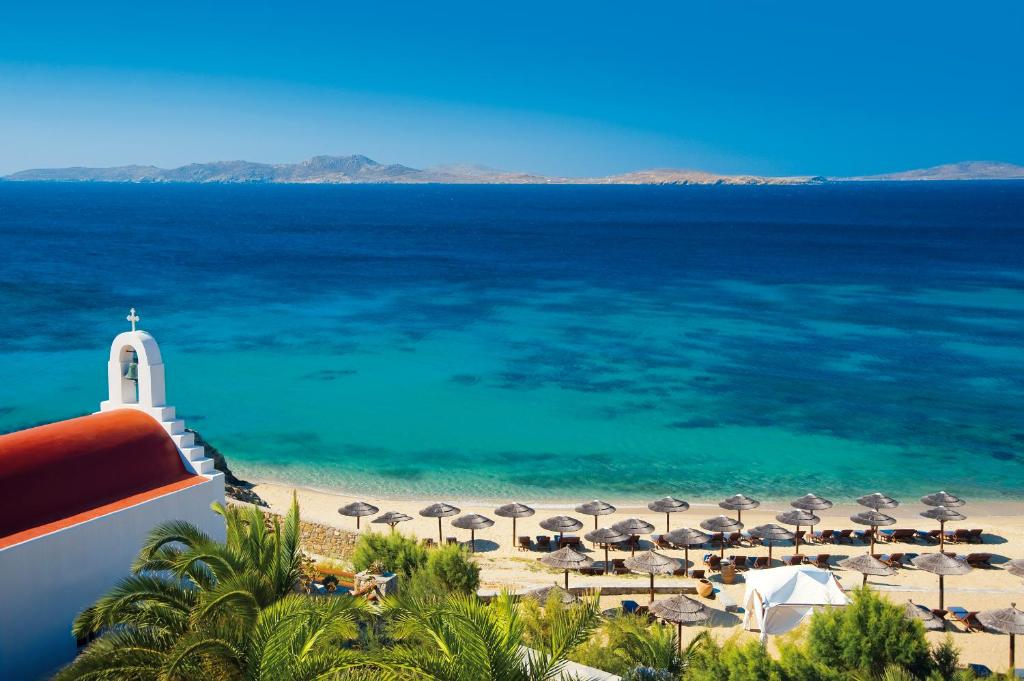 Mykonos Blu, Grecotel Boutique Resort is a stunning hotel that boasts a 2-level infinity pool and stunning sea-view accommodation. It is located on its own private part of Psarou Beach and offers guests free sunbeds. Accommodation ranges from idyllic bungalows to stunning villas, some even have their own private pool or hot tub. Families will appreciate the option of family rooms at the hotel as well as the babysitting service available for an extra charge.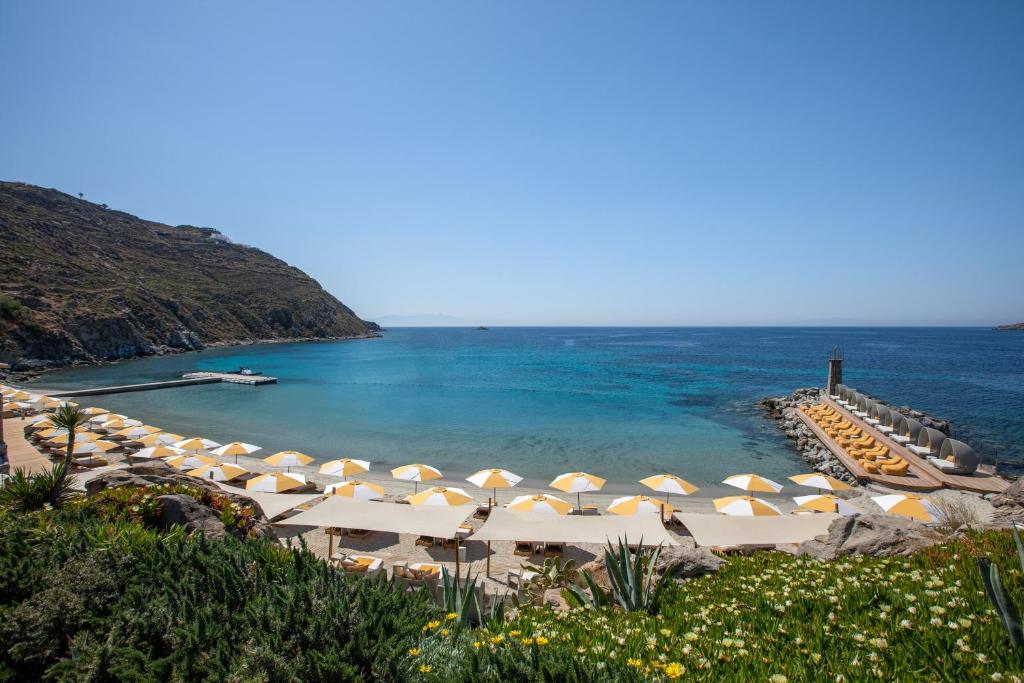 Tucked away on a secluded peninsula overlooking the Aegean Sea, Santa Marina Resort features two restaurants, a beach bar on the private sandy beach, and a fully equipped spa. The resort has 2 infinity pools, a children's pool, floodlit tennis courts and a children's playground. The rooms are modern and open onto their own private balcony. Located within 2.5 miles of Mykonos Town it is a very well located family hotel in Mykonos.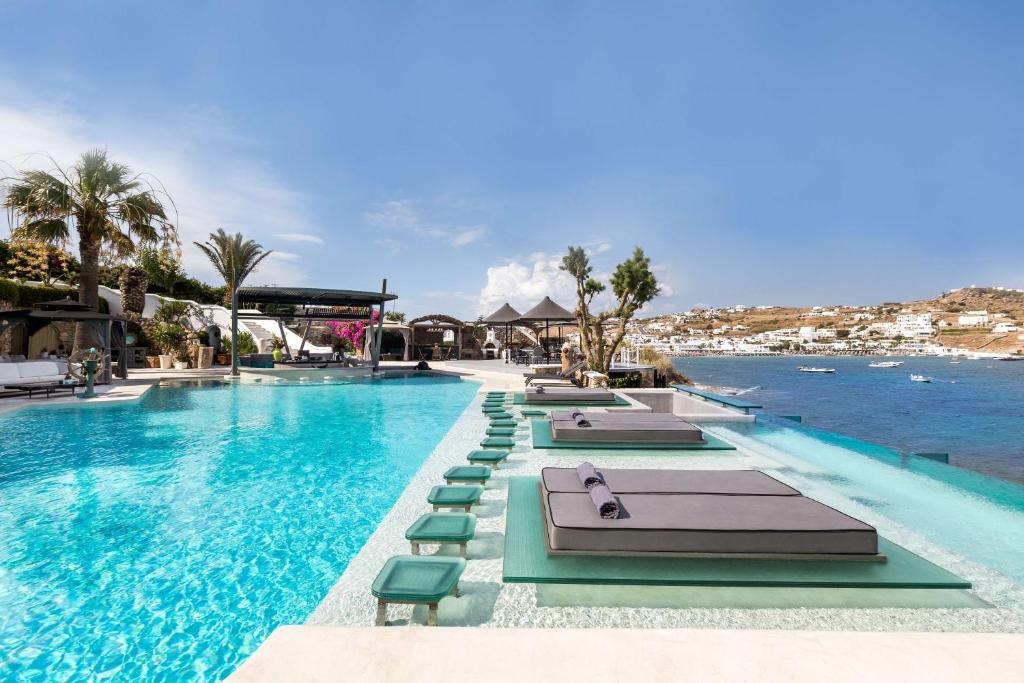 Kivotos Mykonos is an exquisite hotel located on a private beach on the magnificent bay of Ornos, just a 5-minute drive from Mykonos town. It has 2 stunning swimming pools and a fitness center. Accommodation is in the beautiful villas and suites, some that have their own private pool offering that extra level of luxury. The friendly staff, delicious food offerings and perfect location make this a top choice to stay in Mykonos.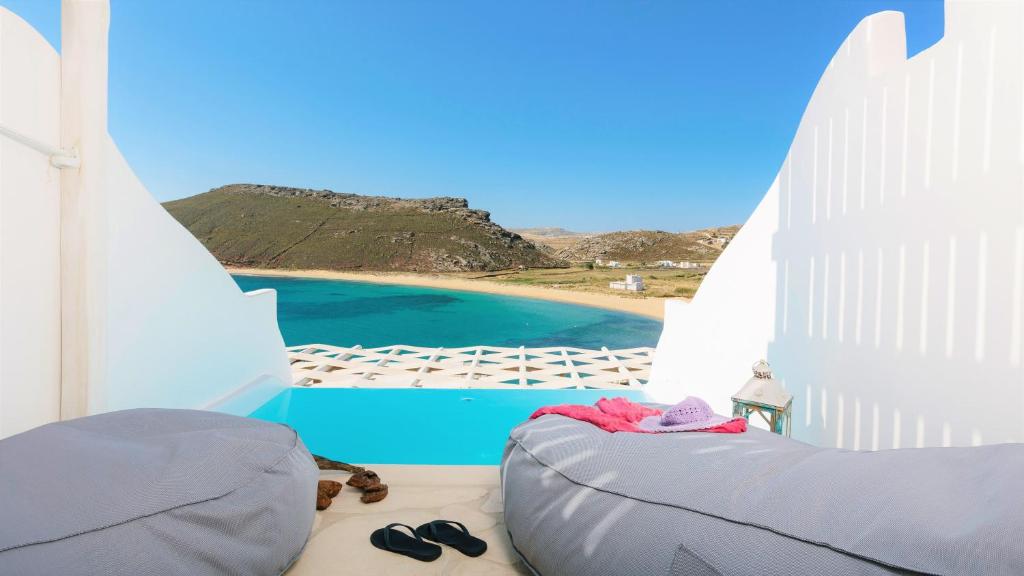 Panormos Village comes highly rated for a family hotel in Mykonos, and it's easy to see why. With its idyllic location and stunning pool, there is something for everyone at this hotel. With breakfast served by the pool, you are never far away from the beautiful views. Accommodation varies from a double studio room to sumptuous suites, some with private pools.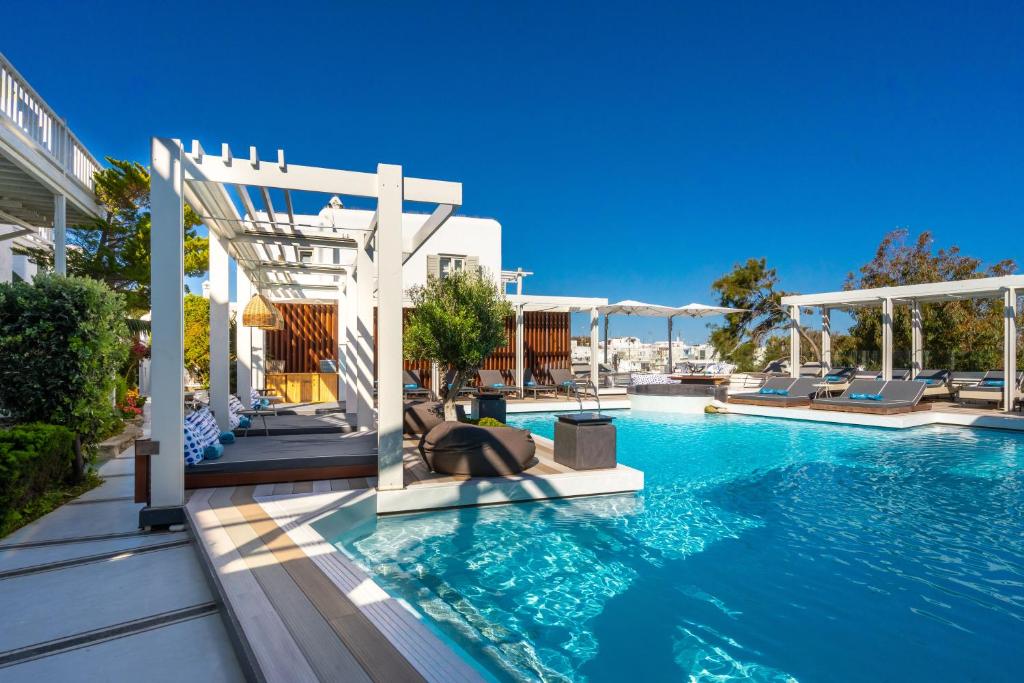 Another excellent hotel for families, the Semeli Mykonos is located in Mykonos Town itself just 550 yards from Megali Ammos beach. It has a heated pool with sunbeds, as well as a buffet breakfast included. Both Greek and Italian cuisine is available to eat on the beautiful veranda overlooking the sea. The rooms at the Semeli Mykonos are luxurious and well-equipped, with a seating area and French doors to the outside.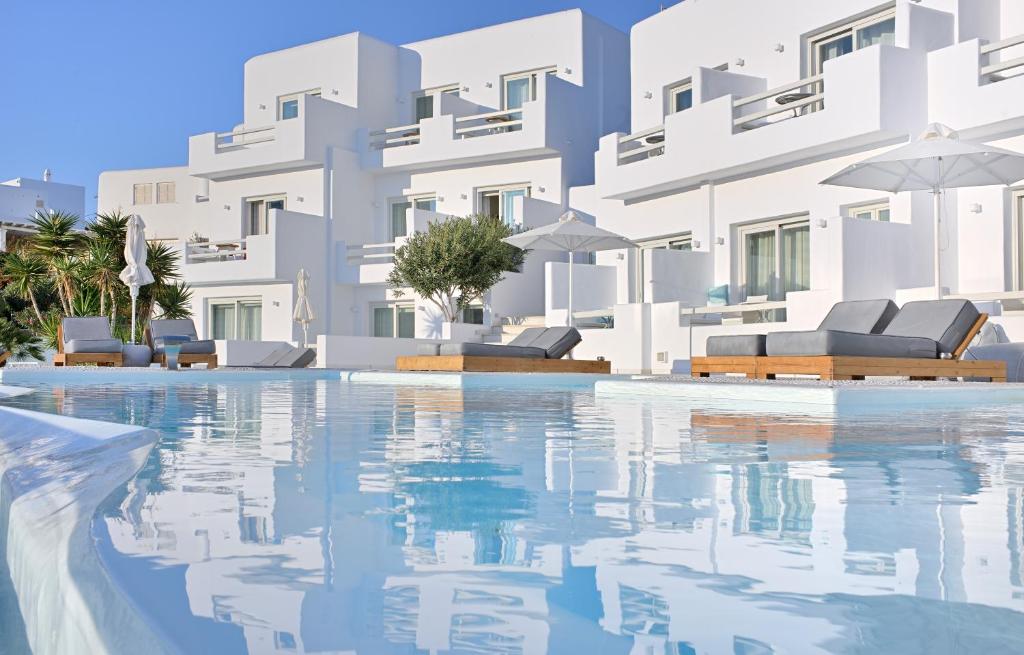 Situated in an excellent location, the Nissaki Boutique Hotel in Mykonos overlooks the stunning Aegean Sea and is only a short walk from the Plantis Gialos beach. The hotel has both an indoor and outdoor swimming pool, and a beautiful open-air restaurant. The rooms are decorated in traditional Mykonos style with whitewashed walls and stone floors. Each has its own private sea-view balcony.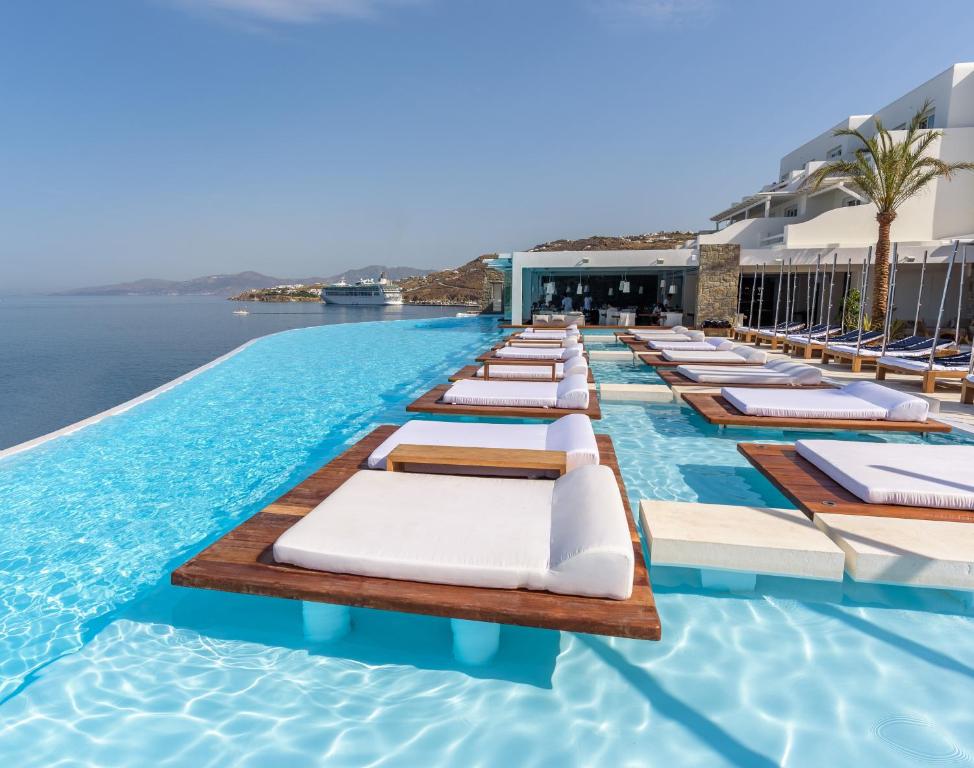 The award-winning hotel Cavo Tagoo features an infinity pool, as well as a fully equipped spa and indoor pool. Rooms are designed in a minimalist and spacious fashion, and some feature a spa bath. All rooms have wi-fi and bathrobes and slippers as standard. The highly recommended breakfast is served each morning and the Cavo Tagoo Restaurant serves delicious Mediterranean cuisine throughout the day. The hotel's 24-hour front desk can arrange for baby-sitting, laundry service and a newspaper delivered to your room door.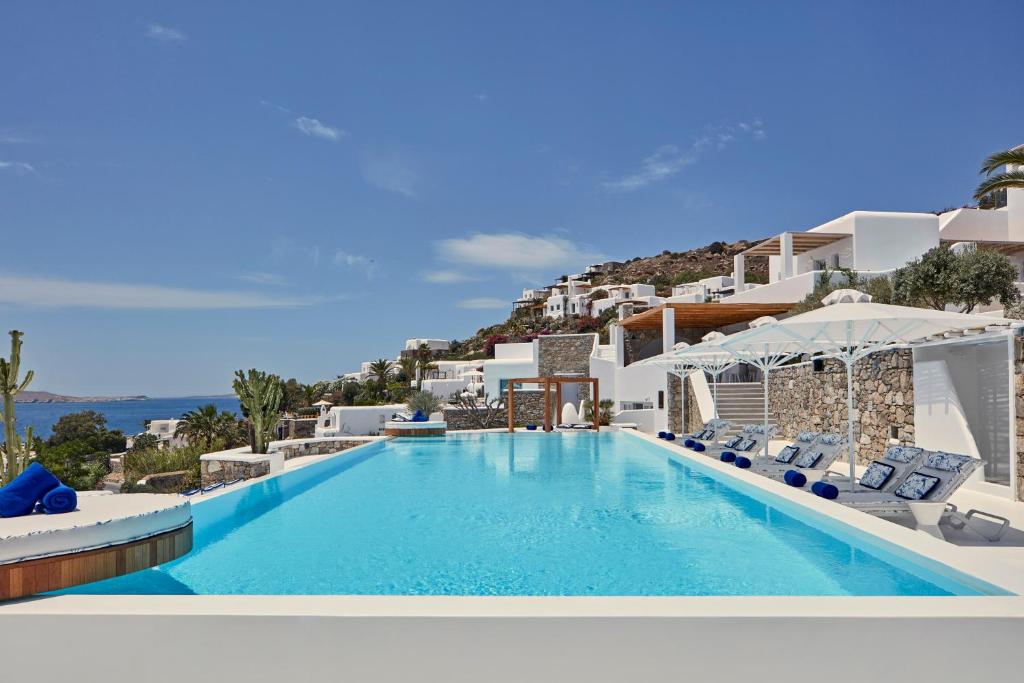 Nuzzled in a gorgeous setting, above the sun-kissed beach of Agios Ioannis in Mykonos, Katikies Mykonos, a member of the Leading Hotels of the World, captures the essence of chic seaside living only a breath away from the shimmering sea. Katikies Mykonos accepts children over the age of 13 years old. The reason that the hotel only welcomes teenagers is for security reasons. The property is built on a cliff and features steep stairs.
To conclude, my personal favorites are Agios Ioannis beach (the sand!) and Ornos (nearby everything), but you'll have to see for yourself where you feel most at home! Are you ready for the ultimate summer vacation with the kids? You may also check the following hotel recommendations tried and tested recommendations for a beach holiday in Greece and the Greek islands: