Last Updated on January 26, 2023 by Celeste.
The idea of this post started when over the years we were approached by other parents – friends, colleagues, and relatives who live abroad – asking questions like 'We'd like to go on a family vacation to Crete but where exactly should we go?' Or 'Do you know any nice hotels in Crete which are kid-friendly?' Because we know the island really very well and have visited many Cretan resorts and hotels over the years, we collected our favorites in our list of the Best Family Hotels in Crete!
Affiliate Disclosure: This post contains affiliate links, meaning we earn a small fee when you book a hotel. (There is never any extra cost to you for using these links).
Crete with Kids – Where to stay
My favorite town in Crete is Chania (beautiful, romantic, charming) and cosmopolitan Agios Nikolaos (great base for East Crete and relaxing). Rethymnon is a smaller, less touristy version of Chania. For a beach holiday, I would pick the seaside family hotels and resorts West of Chania. Elounda is a beautiful high-end beach resort. Heraklion is the capital of Crete with one of the best archaeological museums of Greece and its most famous archaeological site, after the Acropolis.
The Minoan Palace of Knossos (just outside Heraklion) is the top historical monument on the island. In Where to stay in Crete with Kids | The regions of Crete you will find more detailed information about each region, its see & do's, and the best beaches. If you have already decided what region you will stay in, you can find the best family hotels in Crete per region below.
The 10 Best Kid-Friendly Hotels in Crete
Amirandes Grecotel Boutique Resort was designed with families and luxury in mind. Located at a suberb spot with golden sandy beaches, gardens, and palm-fringed lagoons in Gouves, Amirandes Grecotel Boutique Resort features an Olympic-sized seawater pool, a children's pool, and a spa center with an indoor pool, sauna, and fitness equipment. Guests can choose among 10 top-quality restaurants and bars.
Family suites with pools and beautifully decorated family rooms, bungalows and villa's are great for parents with kids. The Spa uses organic plants and extracts from Crete's aromatic herbs. Families will love the on-site sports facilities, such as the tennis courts or the 5×5 football court. A variety of activities and facilities, including a playground, children's pools, and a kid's club, are also available.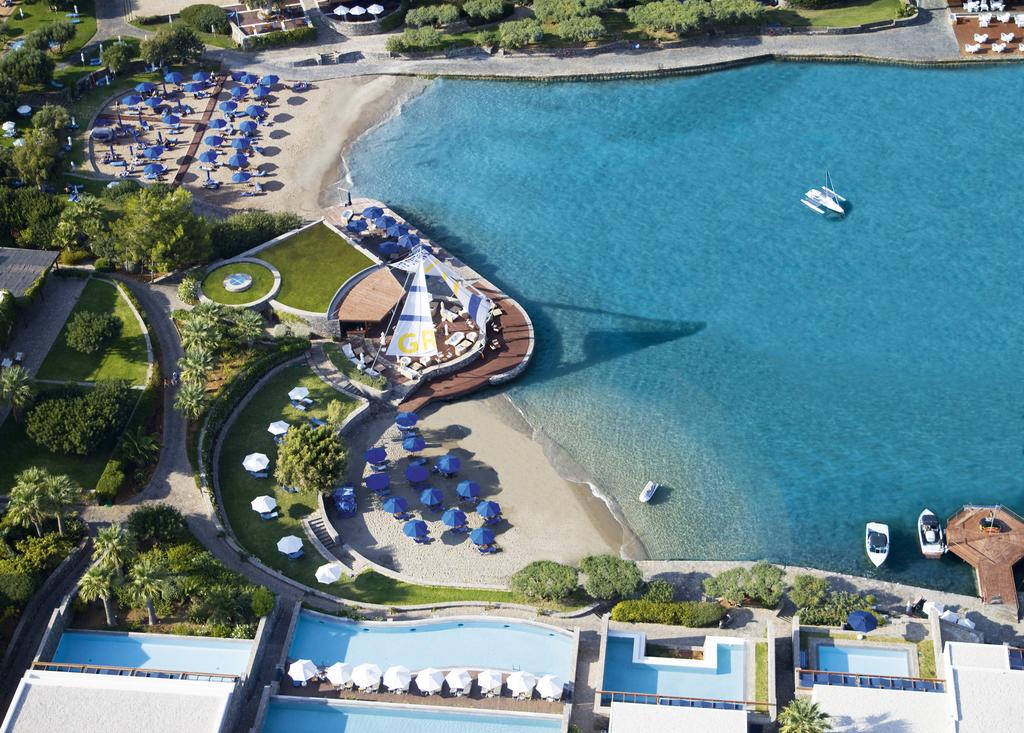 The Elounda Peninsula with its luxury resorts is surrounded by a stunning turquoise bay, just a 15-minute drive from Spinalonga, the former leper's island just offshore from the taverna-filled fishing village of Plaka. The ruins of Knossos are an hour's drive (72 km) to the west, where you'll also find Heraklion airport.
A Member of the Leading Hotels of the World Hotel, beachfront Elounda Bay Palace offers à la carte serving Cretan dishes, while inside there's a buffet place. As for the 3 pools, there's a big main one, an indoor one and a children's pool. Pockets of sandy beach run along the front of the hotel. And it's just a 10-minute walk to Elounda's shops and tavernas.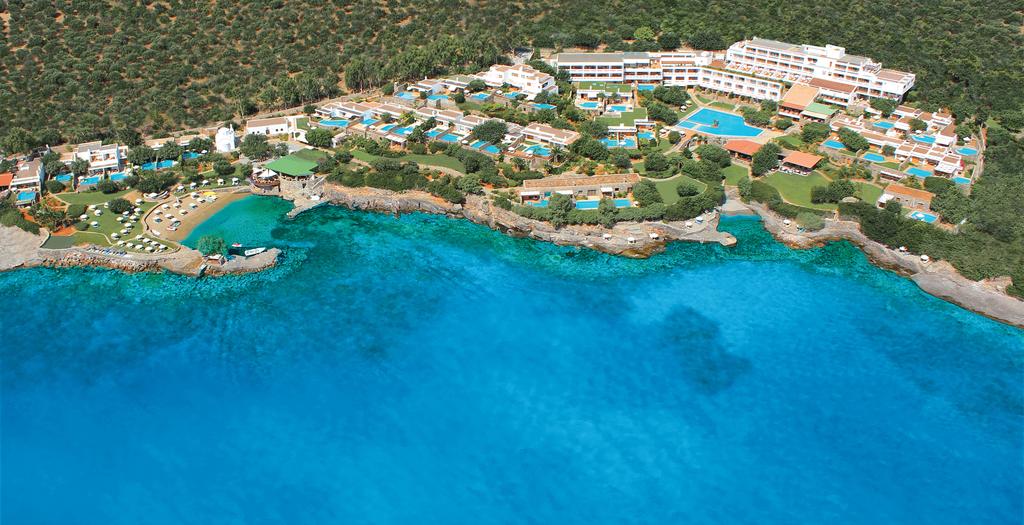 The boutique luxury resort Elounda Mare Relais & Châteaux Hotel consists of hotel rooms (in the main building) en luxury bungalows with pools. With calm quiet bays and small sandy beaches, this resort is chic as well as charming. Families can also use the facilities of the next-door sister hotel Porto Elounda that is only a short walk away.
Porto Elounda is another one of the best family hotels in Crete. The resort offers a spa, kids club, and golf court. Kids can enjoy morning and afternoon sessions in the Kids Club (for ages five and up), the pretty shaded kids crèche (for children starting at 4 months old), and football and baking sessions.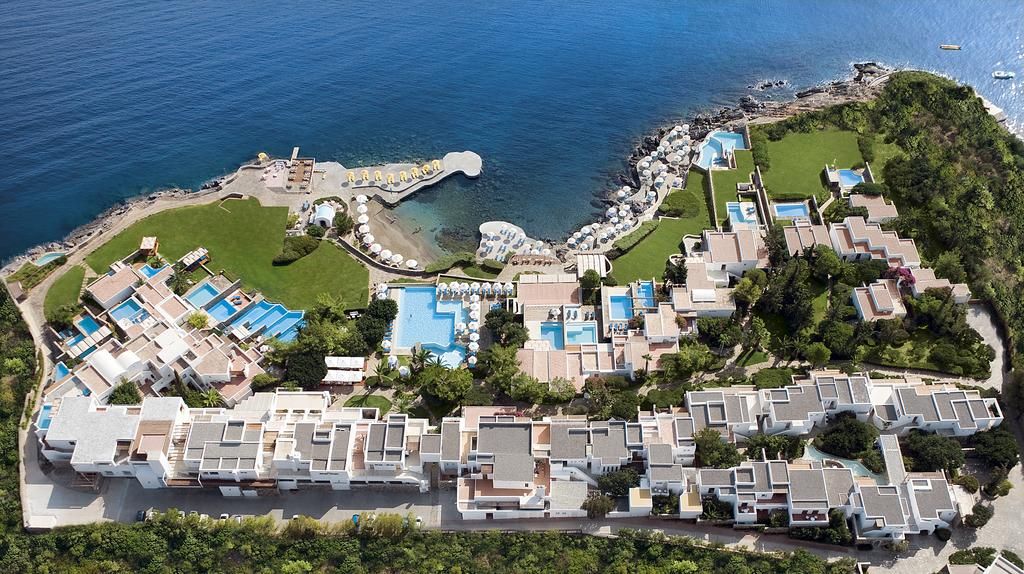 St. Nicolas Bay is conveniently situated in Eastern Crete, on the way from Agios Nikolaos to Elounda, close to the area's most renowned sites and attractions making it the perfect base for your island excursions in East Crete. Parents will love rejuvenating in the spa while kids enjoy the mini club, games room, TV lounge, or seawater paddling pool. The hotel also offers babysitting services!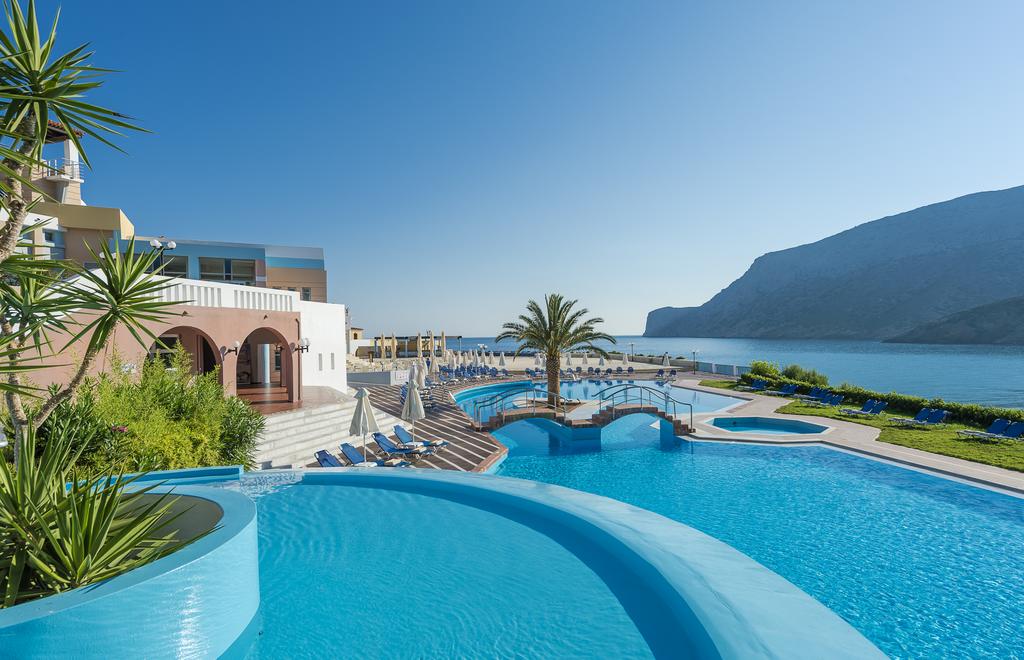 Fodele Beach Hotel is an all-inclusive car-free resort village 25 km west of Heraklion Airport. Carved into the cliffside and overlooking the sea, Fodele Beach & Water Park Resort offers authentic Greek hospitality. The resort village consists of bungalows inside beautiful gardens, guestrooms, a beautiful private beach and the wettest and wildest water rides in Crete.
Families who like to be pampered have come to the right place at LUX ME White Palace, one of the best 5-star hotels in Crete. This chic hotel right on the beach offers a very personalized service, a warm welcome from the entire staff, accompanied by culinary delights in the à la carte restaurants, a great view and family suites and family bungalows with private pools. Kids will love the SWIM UP family guest room, the praline shop, Grecoland Kids Club, Agrecofarm, Kids Dining, and the family entertainment program movies, and Veranda Full Moon & White Nights; the resort's signature color- a poolside party spiced up with a professional show.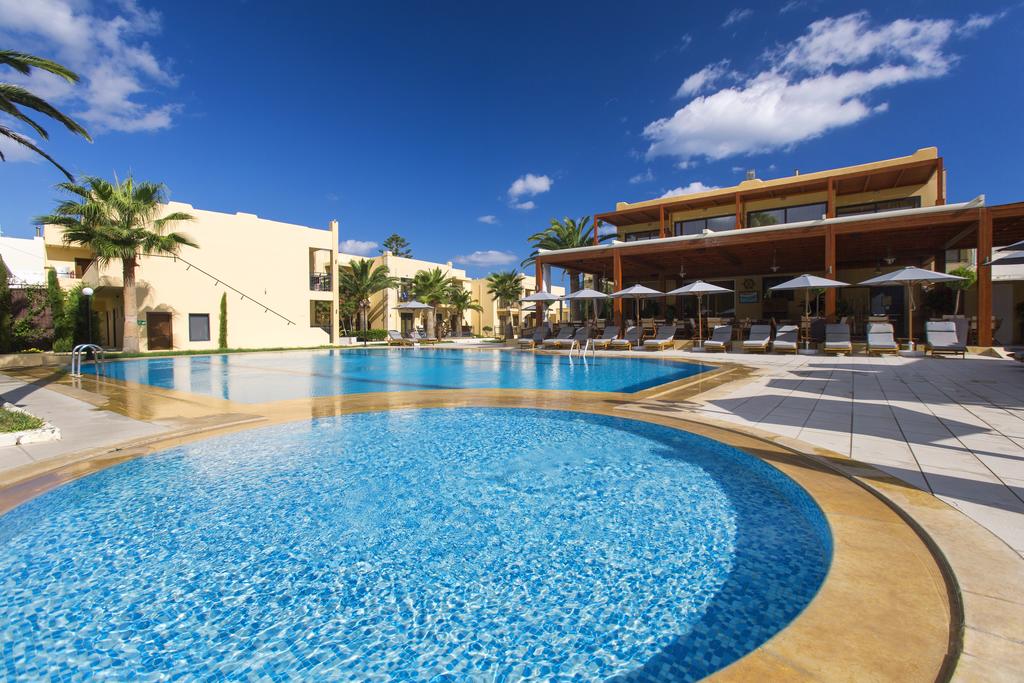 In this list of some of the best family hotels in Crete, we would also add the unpretentious and very comfortable Atlantis Beach Hotel is situated on the boulevard of Perivolia, a more peaceful area of Rethymnon. The hotel faces a fabulous sandy beach of approximately 14 km length with a crystal clear sea perfect for safe swimming. The beach has been awarded the Blue Flag. The hotel features several restaurants, a large pool with a kids pool and a playground. The old town of Rethymnon is at a 20-minute walk distance.
The five star luxury Creta Palace is one of the most famous kid friendly hotels in Greece. With a large choice of family accommodation, Grecoland Kids Club, water park, private long golden sandy beach, spa, and a dazzling Kids & Family Program with an abundance of activities including swimming, water sports, mountain biking, tennis, beach volley, diving and summer camps (Soccer Camp, make up courses, Be a Model, Cooking, Inline Skating) Creta Palace is the place to be if you want to holiday in Rethymnon with kids.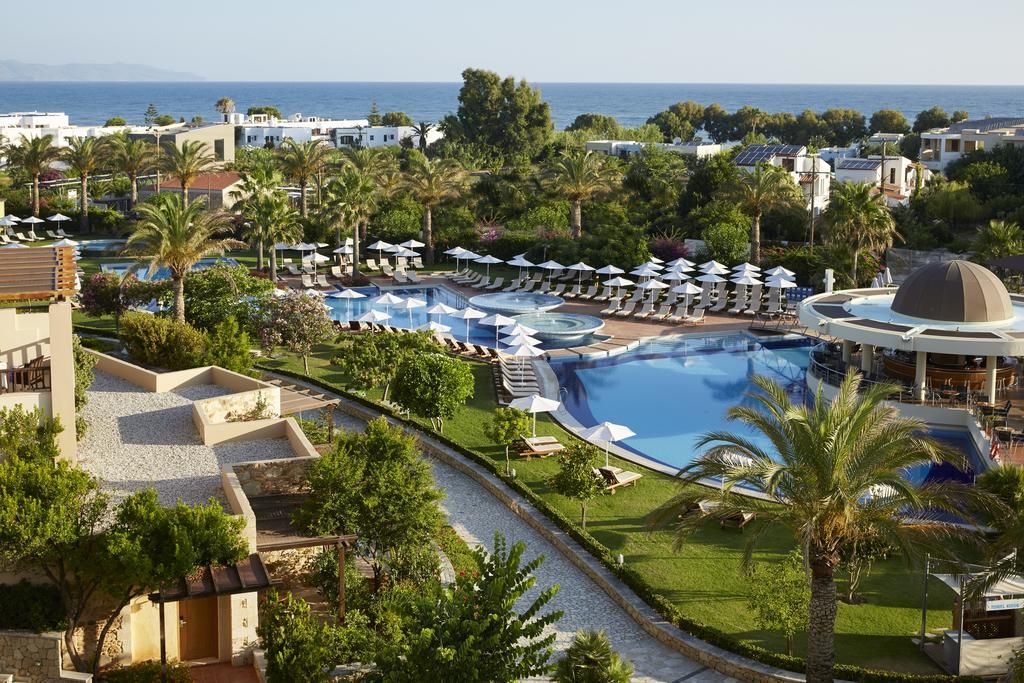 Built within a 35,000-m² area of landscaped gardens, in Platanias, the beachfront Minoa Palace Resort & Spa features 4 pools and a wellness center. Small families will enjoy the bungalows with garden view or the Bungalow Double Twin Rooms with Private Pool as well as the tennis courts and game room. Platanias is a busy seaside resort with lots of fun and activities for families near the historic Old Town of Chania.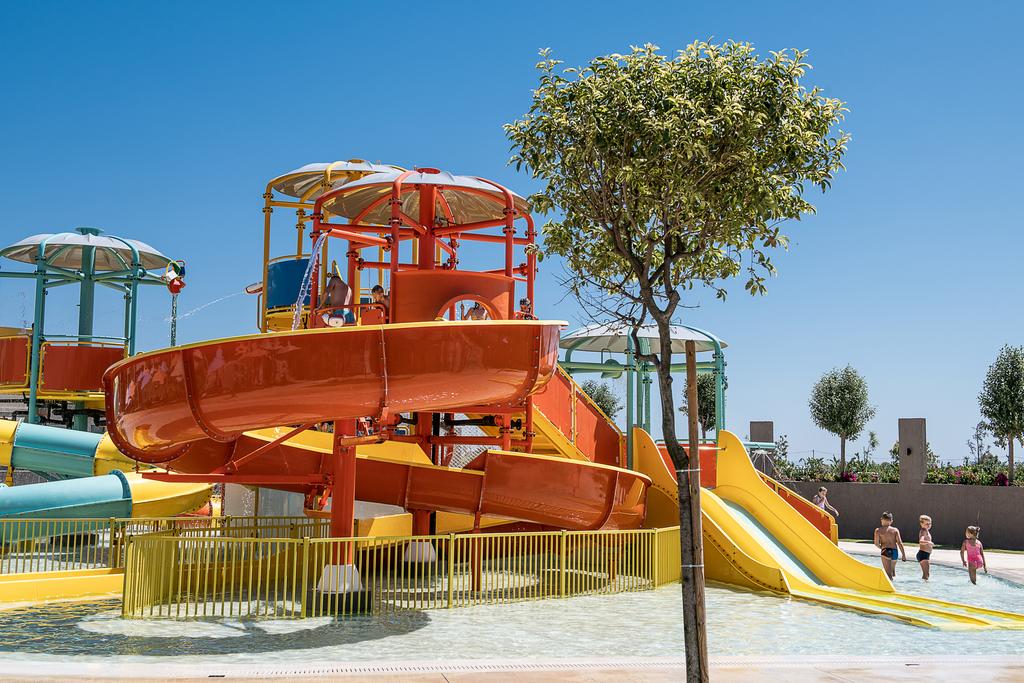 The all-inclusive Euphoria Resort is located in the west of Chania in a quiet area in Kolymvari. The All-Inclusive concept provides family accommodations with a restaurant, free private parking, a seasonal outdoor swimming pool, a water park, kid's playground and a fitness center. Some family suites have their own pool (sharing). The area is popular for golfing and cycling, and car hire is necessary if you want to explore the area with your family.
Best Hotel for Families in Heraklion
Did not find what you are looking for? Have a look at: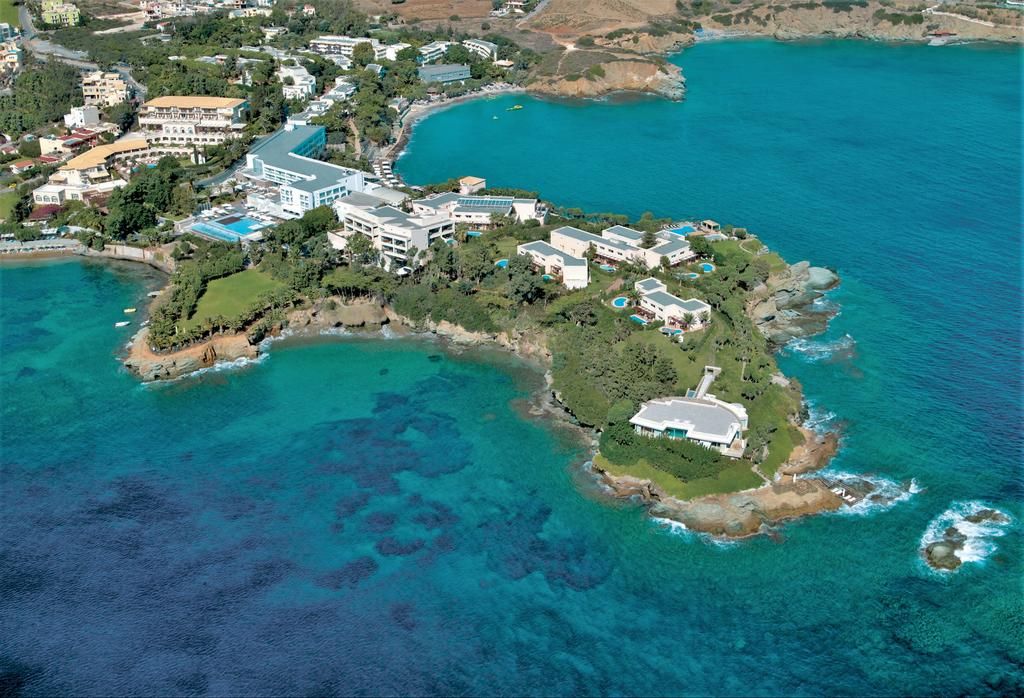 A few summers ago, we had the chance to visit this large resort on the private peninsula of the picturesque Agia Pelagia, West of Heraklion. Impressed with its many kid-friendly pools, waterslides, Escape Room and Minoan Theme Park, we wrote our review in Out of the Blue Capsis. The luxury resorts consist of a hotel, family bungalows, private villas and a spa. There is also a small but safe and sandy beach in a protected calm baby.
Best Hotel for Families in Chania (Old Town)
The family hotels listed below are in the wonderful Chania Old Town and surrounded by shops, restaurants, bars, and cafés.
For families who want to stay inside the historic town of Chania, I recommend the Palazzo Duca on a calm and very quiet pedestrian street. Travellers with kids will love the family rooms, the Coco-Mat beds and the kind staff.
The 15th-century, Venetian-style Doge Hotel is in Chania's centre 50 metres from the Venetian Harbour. Featuring inviting, rustic Junior Suites (family of 4) and split-level Suites (family of 5) with tiled floors, wooden ceilings, wrought iron furnishings, 4-poster beds (some), kitchenettes, fridges and tea/coffee makers.
Family Hotels in Crete for Agro-Tourism
Far away from the lively coastal resorts, Crete boasts several unique rustic havens focused on agri-turismos, giving visitors a taste of island hospitality.
The Lassithi Plateau is famous for its white-sailed metal windmills used to irrigate its lush vineyards and orchards. Up here at an altitude of 850 m, west of Agios Nikolaos, lies the 800 km2 Lasinthos Eco Park. Perfect for families with kids, it is home to wild boar and the endemic Cretan kri-kri, or wild goat. Activities include hiking up to the Diktean Cave (birthplace of Zeus), horse riding, mountain biking, and weaving.
In the mountainside village of Sarhos, south-west of Heraklion, lies Viglatoras. The main draw here is the five cozy Bohemian flats (sleeping two-four), each a double-height space with a living room centering on a fireplace down below, while wooden stairs lead up to a mezzanine level which serves as the sleeping area.
A unique and beautiful accommodation that would be a good enough reason to put this part of Crete on your itinerary.
Enagron centres on a working farm set amid organic vineyards, olive groves and orchards, overlooked by 12 purpose-built stone cottages (sleeping two-six). Activities include botanic walks in spring, hiking on nearby Mount Psiloritis, mountain biking, donkey rides for kids, plus helping on the farm. The restaurant serves tasty food prepared with organic farm products and cookery courses are available.
A beautiful hotel located in a 250 year-old oil press. It offers elegant, period cottages featuring elegant decoration. Guests have access to a sharing outdoor pool with sunbeds, and a lounge. Featuring minimalist decoration with rustic details, all cottages at the Athermigo share a luxurious lounge, and access to a communal kitchen.
Milia lies in a high, narrow valley in the isolated mountains. Dating from the 16th century but later abandoned, this tiny settlement of old stone cottages, built higgledy-piggledy into the sides of a rocky dell with chestnut trees and a stream, was reborn in 1982 when two local friends started an organic farm and began restoring the buildings and 14 cottages (sleeping two-four).
Elia

– Chania
An old olive farm in the hills of western Crete turned into the perfect little hotel or guesthouse for spoiling holidays. Charming accommodation, traditional Greek meals, a great swimming pool and a small spa centre!
If your family would like to live in a stone and wood village cottage, taste natural honey and virgin olive oil, walk on village paths or local countryside, smell the flowers in bloom, say kalimera (good morning) to the locals, Vamos village is the place to be.
Falasarna Villas are two stone villas, 150 square meters each, are built at the foot of the Prophet Elijah. Located 400 meters from the village of Platanos, Kissamos and 45 km from the city of Chania. The premises have been made with respect to the environment and traditional architecture and have the necessary equipment. The location is quiet but not isolated and ideal for families.
Where to stay in Crete?
Hotel reviews
Things to do in Crete with Kids:
Best beaches of Crete
At Family Experiences Blog, we independently select and write about stuff we love and think you'll like too. Family Experiences Blog has an affiliate partnership with Amazon, so we get a small commission from your purchase. Readers never pay more for products. This way we support the blog, run the site and engage with this community we truly love. Thank you for reading!
Featured photo credits above this Best Family Hotels in Crete post: Grecotel White Palace Creperie Gelateria, Juices and smoothies bar Grecotel Hotels & Resorts