Last Updated on by Celeste
Knossos Crete with Kids Tips
The Palace of Knossos is one of the most important ancient attractions in Crete and Greece. There is no other place where Greek ancient history and mythology are so visible and understandable as in Knossos. The excavations at Knossos represent many myths of Greek mythology and even the youngest children will be able to fantasize about King Minos and the Minotaur. Older children will learn about ancient building techniques and have a chance to be educated about the cultural history of Europe. Don't hesitate to visit Knossos Crete with Kids when in Greece. The Palace of Knossos is partly restored. That is the reason why the features give a unique insight into the life of Minoan culture, one that no mere ruins could ever offer. Having said that, it is easy to recognize the original temple features and the archaeologists' restorations.
When you visit the Palace of Knossos with kids, keep the following important tips in mind.
The best time to discover the Palace of Knossos would be in the spring and fall
It can get very busy and hot in the excavations in the summer. There is not much shade around the site, so I would recommend choosing the early morning hours for a visit
Do not forget to bring water before you enter because inside there are no facilities to drink something
The site is not stroller friendly, there are several steps, stairs, and unpaved paths
To avoid long the lines at the entrance, you could opt for a guided tour, order skip- the- line tickets or combine skip-the-line-tickets with a self-guided audio tour
A private tour guide will get your children engaged and show you the site at your own pace
You can also consider group tours that are specially designed tours for kids
For up to date official information about prices and timetables, please follow this link: http://odysseus.culture.gr
E-tickets
You can buy e-tickets for the Palace of Knossos and other monuments in Heraklion at the official website of the Greek Ministry of Culture and avoid waiting lines. You can purchase single-use tickets giving access to a specific site or museum or, where provided, combined tickets for use in several sites and museums.
Recommended Tours for Families
This one hour tour is great for families with young kids. No need to wait in line because the official licensed guide will take you straight to the Minoan Palace. Your family will learn about the ancient civilisation in an engaging story-telling way. There is also the option to book a private transfer from and to your hotel in the Heraklion area. Click here for more information and to book your Family Tour with a private guide
If you want to skip the lines and join a guided tour in a small group, we recommend this Knossos Palace skip the Queue entry tour. This budget-friendly tour takes your family along the ancient palace, the royal residences and you will see the Minoan king's throne. Your kids will be amazed by the House of the Frescoes and its colourful wall paintings. Click here for more information and to book your Knossos Palace Skip-the-Queue Entry with Guided Walking Tour
There are many combination tours available for visiting the Palace of Knossos and the famous Archaeological Museum of Heraklion. For families with young kids, we recommend a short, private tour in order to get the most out of both attractions without it to be overwhelming. This value for money 4- hour tour includes a pick-up with your own licensed guide. You will go through Knossos and after, the driver will take you to the Archaeological Museum of Heraklion where your private tour will continue. Click here for more information and to book your Knossos Palace & Archaeological Museum Private Tour
In this family tour and workshop, you and your family have the chance to learn more about the Palace of Knossos and be creative together. This 4-hour family tour with an English-speaking kid-friendly guide is all about discovering the Labyrinth. With the help of stories and 3D tablets, kids will travel back to Minoan times. They will also learn about the process of creating pots and vases. Under the guidance of a local craftsperson, they will have the opportunity to make their own creations. If you've never tried pottery before, this activity will prove to be a memorable experience, and the kids will absolutely love it! Click here for more information, prices and to book the Palace of Knossos Guided Tour and Pottery Workshop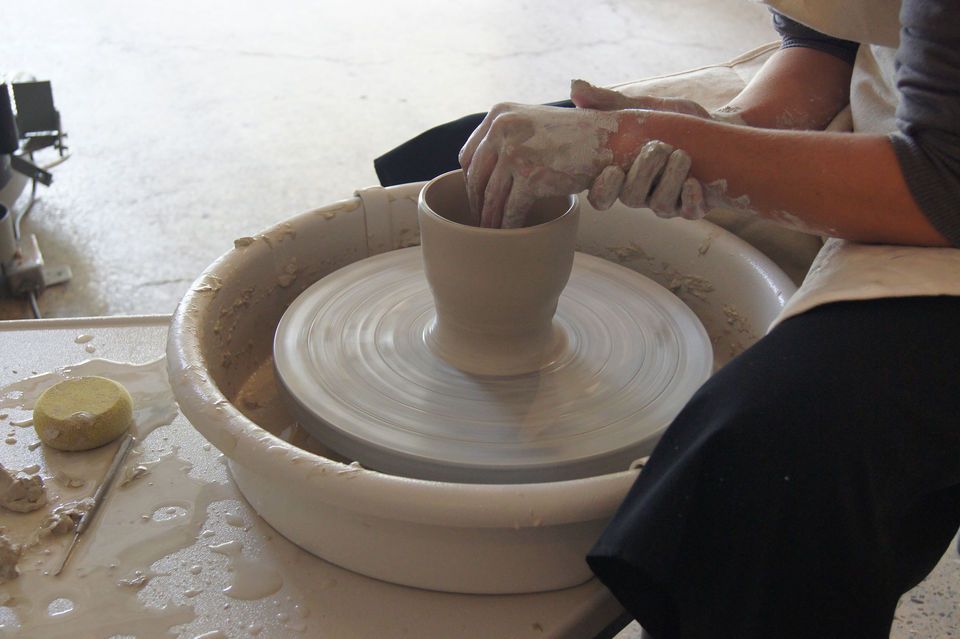 Audio Tour for families
Consider a self-guided audio tour if you don't want to be in a group. We recommend Clio Muse's: Minos' Children: Daily Life in Knossos Tour. This captivating self-guided audio walking tour in Knossos' palace presents the Minoan palace of Knossos from the viewpoint of a child. This son of an aristocratic family in Minoan times spents his life in the meandering corridors and the splendid rooms of the palace, and so he reveals the secrets of daily life in Minoan Crete. Click here for more information on how to get a discount on all Clio Muse Audio Tours for families.
Save your family the hassle of waiting in line and combine your self guided tour with entrance tickets. The Audio Tour combined with Skip-the-line-tickets is great value for money to skip the ticket queue and visit the palace of Knossos without a guide. Just download the audio tour on your smartphone and listen to unique stories about the daily life in Knossos at your family's own pace. Click here for more information and to book.
Local Expert in Crete Anastasia
Family Travel Blogger Anastasia in Crete has often visited the Palace of Knossos and is available to answer any questions you may have. Just leave a comment in the comment box below or write us at info@familyexperiencesblog.com. Anastasia recently took her children to Knossos. She wrote about her experience for Family Experiences Blog in the blog post Knossos, where myths are real.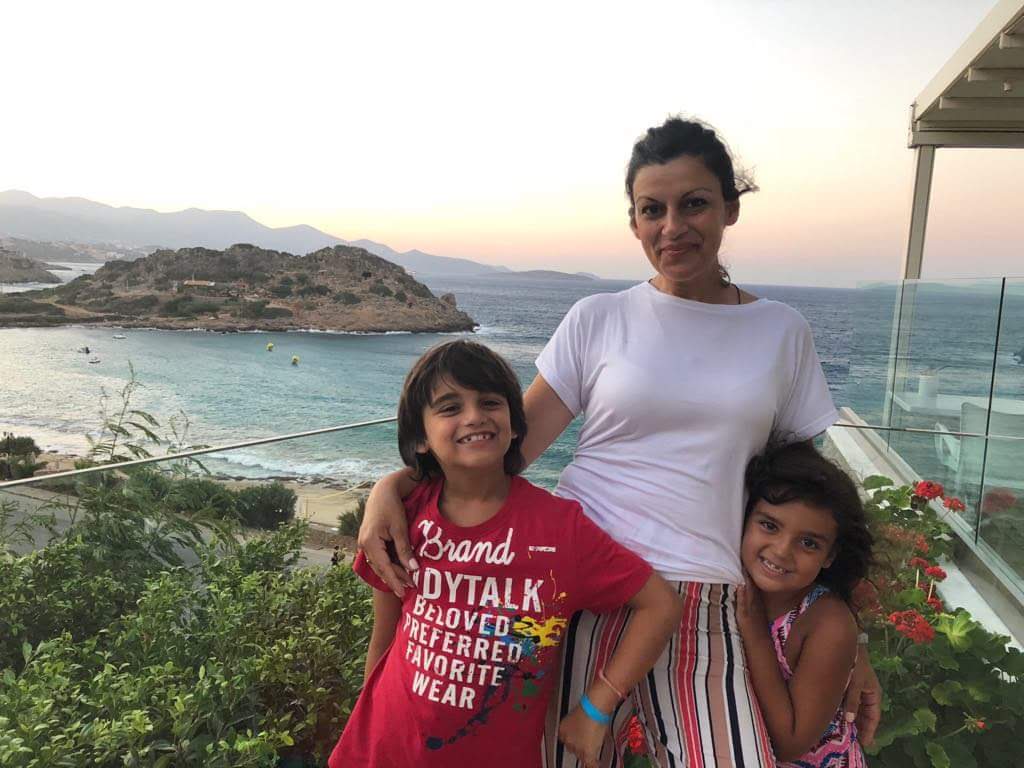 Where to stay?
We recommend tried & tested top luxury family resort Out of the Blue Capsis Elite Resort in Agia Pelagia. The resort is located in Agia Pelagia and hosts family villa's, a kids club, swimming pools, a spa and a real-life Knossos entertainment park for kids including an actual labyrinth! You can read my review here. For more info and prices about Out of the Blue Capsis Elite Resort, please click here.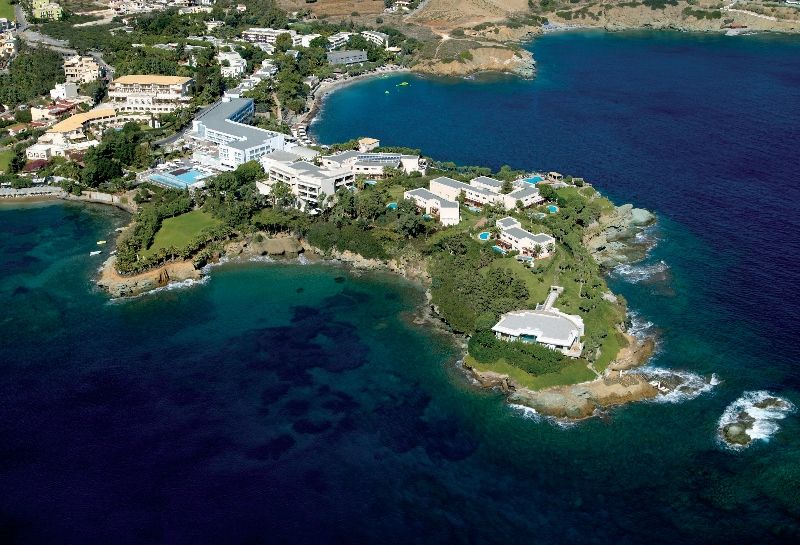 For an overview of all family hotels, prices and availability near the archaeological site of Knossos, click here.
Have you been to Knossos with your kids and what did you like most? Let us know in the comment box below or pin for later!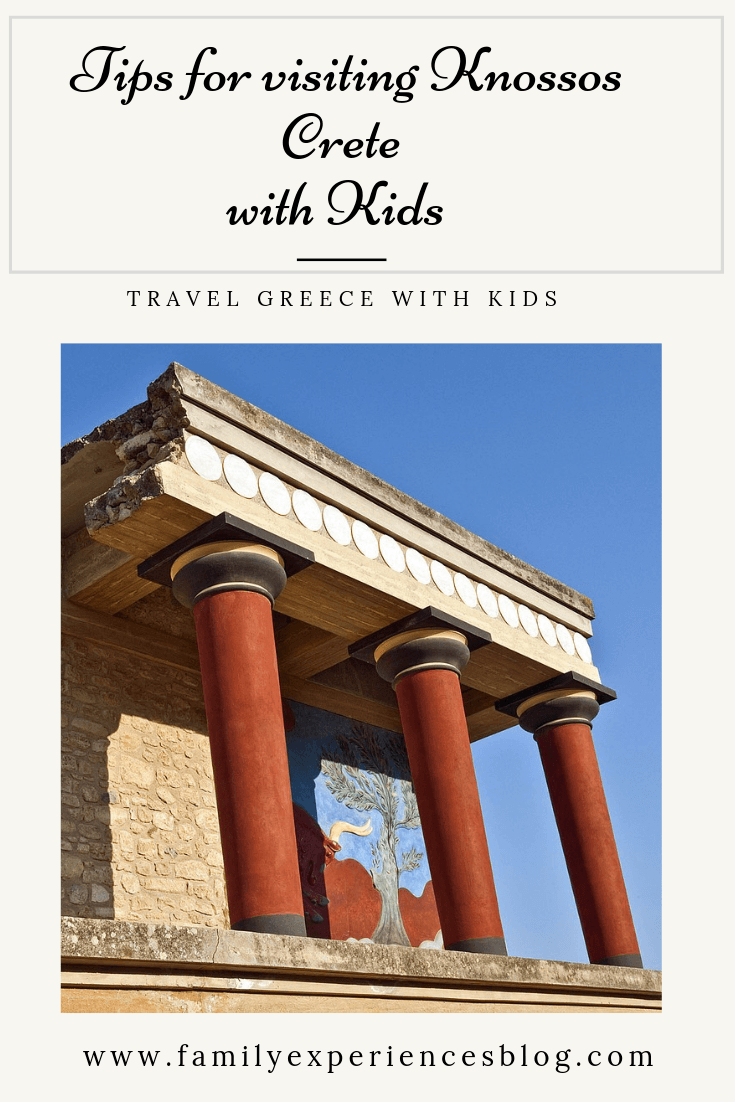 Disclaimer: This post contains affiliate links. This means that should you click on certain links, and then subsequently purchase a product, I will receive a small commission. It costs nothing extra to you but helps keep my site running. Thank you for supporting us in this way.