Last Updated on July 6, 2023 by Celeste.
My kids love Greek Mythology and Ancient Greece. Over the past years, we have been so lucky to be touring most of Greece's archaeological sites and places with an educational, mythology, or historical bent. Introducing children to the Ancient Greeks gives them an understanding of our civilization. The Ancient Greeks invented democracy, theater and made important contributions to philosophy, mathematics, astronomy, and medicine. To help kids understand the dazzling world of the Greeks or prepare for your trip to Greece, I have listed the 10 best Ancient Greece books for kids.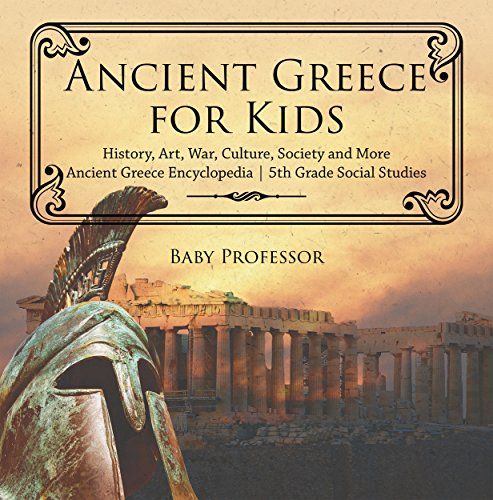 For our travel stories and family guides to places of Ancient Greece such as Delphi, Mycenae, Epidaurus, Knossos and more, have a look at the Travel Greece section.
Ancient Greece
It's believed the first Ancient Greek civilisations were formed nearly 4,000 years ago (approximately 1600 BC) by the mighty Mycenaeans of Crete. The Ancient Greek Empire spread from Greece through Europe and, in 800 BC, the Greeks started to split their land into city-states, each with its own laws, customs and rulers.
Ancient Greece was made up of many hundreds of Greek city-states, grouped together at the southern end of a very large peninsula that jutted out from Europe into the Mediterranean Sea. Thus, Ancient Greece was not a country. It was not an empire but a group of over 1500 independent city-states, each with its own government and its own way of doing things.
Some, like the warrior city-state of Sparta, were ruled by a council. Ancient Athens, the jewel of the ancient Greek city-states, experimented with an early form of democracy. The ancient Greeks were very loyal to their city-state.
The Ancient Greeks
The Ancient Greeks were known for their sophisticated sculpture and architecture. They invented the theatre and they loved watching plays. They worshipped many gods and the statues of these Greek gods and goddesses were placed inside temples, the most famous of which is the Parthenon.
The Parthenon temple in Athens was built for the goddess Athena, the protector of the city. Ancient Greek culture influenced the Roman Empire and many other civilizations, and it continues to influence modern cultures today
Greek Mythology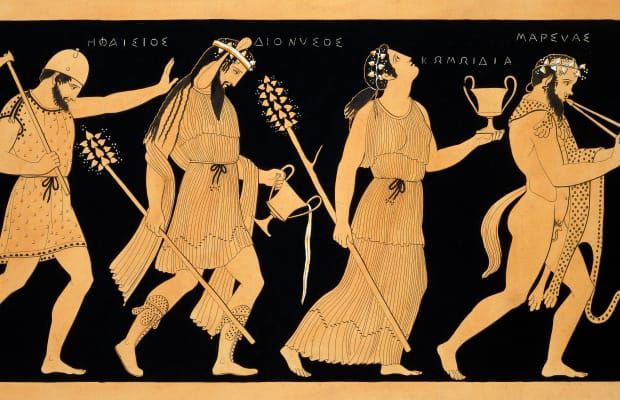 The Ancient Greeks told many stories to help them learn more about their world and to understand the universe. Gods and goddesses featured heavily in these tales, and so did heroes and mythological monsters. Creatures like Cerberus, a three-headed dog that guarded the gates to the underworld; Medusa, a slithery sorceress whose look could turn people to stone; and the Cyclops consisted of all stories known as Greek mythology.
If you love Greek Mythology stories as much as we do, head over to my favourite 10 Stories from Greek Mythology for kids
Travel to Greece
Touring Greece means time to travel to antiquity. When you visit this beautiful country, you have to spend at least a little time with history. And your family does not need to be a history buff to be amazed by Greece's cultural and historical wealth. For me, the best part about exploring Greece with my kids is that you can get up close and personal with history and Ancient Greece.
And you'd be surprised how much even the youngest traveler can understand by visiting Greece's sites and museums! To prepare for that trip, here are the 10 best Ancient Greece books for Kids! For more information on each book; click on the highlighted titles or book covers.
Best Ancient Greece Books for Kids:
Adventures in Ancient Greece teaches kids about the classical world
through the genius way of comics. If your kids love reading comics as much as mine do, the format of this book will definitely appeal to them. The book also has sidebars that read more like a regular text. The storyline is that a boy and his two sisters enter a time travel-travel agency and request to go to the next Olympic Games in the future. By mistake, they are transported to Ancient Greece. A boy gives them a tour of Athens and explains daily life in Ancient Greece. Having done many tours with my kids, I know firsthand that daily life is what young children teach most about history.
Ages: 2 – 6 years
If you were me and lived in… Ancient Greece is the first book of 10 to introduce young children to civilizations throughout time. This award-winning series with its beautiful drawings makes the ancient world understandable for very young children through the eyes of a young person back in time.
Ages: 3 – 8 years
Step into the world of Ancient Greece from Greek Gods, Myths, and Festivals to the birth of the Olympics. DK Eyewitness Books: Ancient Greece is an easy-to-understand all-round guidebook for any family visiting Greece or child interested in learning more about Ancient Greece. A must-have for every household, classroom, or library.
Ages: 8 -12 years
Learn more about Ancient Greece through the lives of its philosophers, lawmakers, and heroes. History can be boring but this book follows the old-fashioned, story-based, traditional route of teaching history – through the stories of heroes and kings. A great way to make Ancient Greece exciting is through its historical figures, and anecdotes about them.
Ages: 8 – 14 years
Ancient Greece and the Olympics is an affordable series of paperbacks for kids studying mythology. It simplifies what can be a difficult subject due to the language and the sheer number of Gods, Goddesses, and characters. Most suitable for school and at home.
Ages: 7 – 10
We love the entire series of History Pockets. They are a successful educational method with hands-on projects teaching kids more about Ancient Greece through fun facts, maps, a timeline, arts and crafts projects, reading and writing connections, and more. Ancient Greece is presented in an easy to understand and exciting way!
Ages: 9 – 11 years
This publication combines the two great civilizations of the Ancient World. If your kids like hands-on activities, fun facts, and trivia, this Classical Kids: An Activity Guide to Life in Ancient Greece and Rome is the perfect book for them to travel back in time to see what life was like in Ancient Greece and Rome.
They do this while having fun with projects such as making a star gazer; chiseling a clay tablet; weaving Roman sandals; making a Greek mosaic; creating Roman jewelry; throwing Greek pottery; casting a vote in a Roman-style election; and much more. They will also learn how these civilizations contributed to our present-day world by participating in art, math, cooking, science, and geography activities. Ideal for ages 6 – 10, the helpful illustrations explain the project steps and can be modified for younger or older children.
For families visiting Athens, Where is the Parthenon, is a must-have. A fun and affordable guidebook to the most famous monument of the Ancient Greek world which has become a symbol of democracy, and modern civilization. Includes black-and-white illustrations and a foldout color map!
Ages: 8 – 12 years
Ancient Greece for Kids – History, Art, War, Culture, Society and More is an encyclopedia about the historic changes of Ancient Greece in terms of its art, war, culture, and society. The wonderful images added to the mix will capture the attention of visual learning.
Ages: 10 – 12 years
Reading this Tools of Ancient Greece book is like visiting a museum of Ancient Greek Technology. It describes the scientific discoveries, athletic innovations, engineering marvels, and innovative ideas created more than two thousand years ago. Through biographical sidebars, interesting facts, fascinating anecdotes, and fifteen hands-on activities, readers will learn how Greek innovations – such as the computer! – and ideas have shaped world history. I love the pictures in this book.
Ages: 9 – 12 years
Click on this link for prices and reviews of these and more Greek Mythology and Ancient Greece Books for Kids
Greek Mythology Books
If you want to understand the Ancient Greeks, an introduction to their gods and heroes is a MUST. That is why I am also including a book about Greek Mythology. This Greek Myths: Meet the heroes, gods, and monsters of Ancient Greece is a bestselling book that should be part of every Greece-loving family's collection.
Ages: 7 – 9 years
Are your kids interested in more Greek Mythology? Have a look at:
Related posts
At Family Experiences Blog, we independently select and write about stuff we love and think you'll like too. Family Experiences Blog has an affiliate partnership with Amazon, so we get a small commission from your purchase. Readers never pay more for products. This way we support the blog, run the site and engage with this community we truly love. Thank you for reading!