Last Updated on January 24, 2023 by Celeste.
Make memories exploring the city of water, eating pasta, and more with these best things to do in Venice with kids.
Our Venetian family journey
If there is one place in the world that I love more than Greece, it is Italy. Italy is my muse, the country that I love unconditionally and that I am very nostalgic about. I love everything about Italy. The history, the art, the food, the sense of fashion, and the language. My name means 'heavenly' in Italian, and Italy is heaven for me.
I also love the people in Italy. My favorite Italian is my father. His roots are in the province Friuli-Venezia-Giulia. My grandfather is from Venice. The dazzling Italian city – referred to as La Serenissima, or City of Water.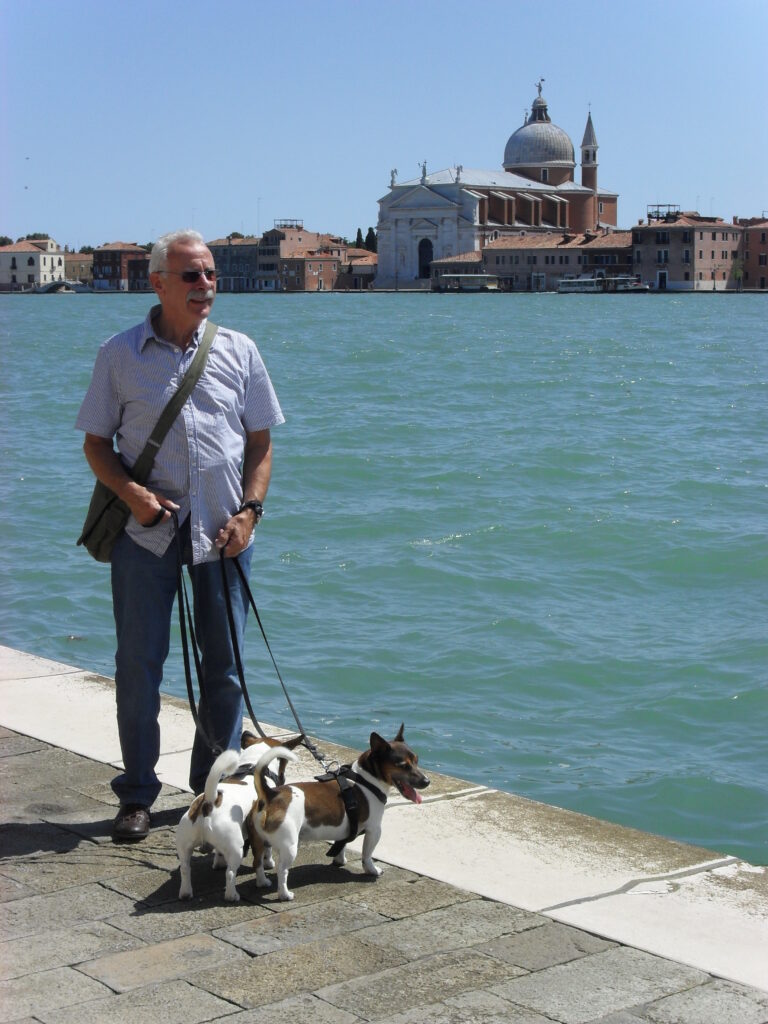 Summer in Venice
I have spent all my childhood summers in Italy, and often in Venice. Venice is always stunning, but visiting Venice as a child is magical! Due to its location in northern Italy, Venice has the perfect climate for summer exploring.
I believe Venice is the perfect destination for families. To help your family navigate everything it has to offer, we've rounded up the 10 best things to do with kids in Venice.
Is Venice a good place to visit with kids?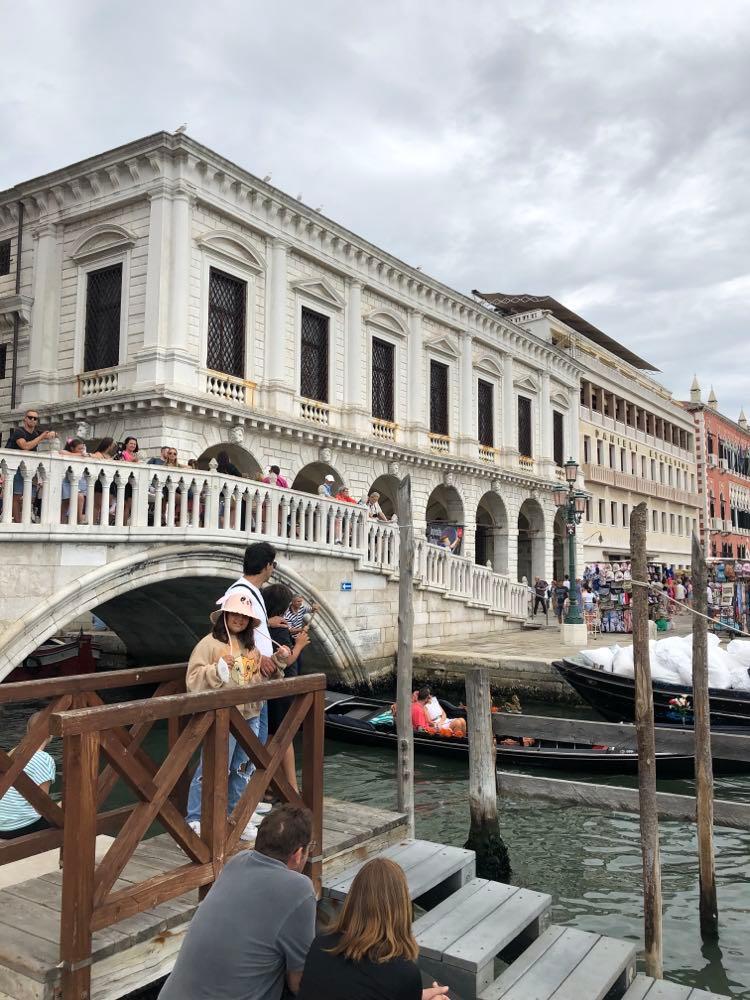 You may wonder if Venice is family-friendly? There are many reasons why I think visiting Venice with kids is a good idea.
Venice is unique and is likely to make a lasting impression on a child. Think of streets made of water, lots of gondolas, pigeons, ice cream, and beautiful houses emerging right from the canals
There are many child-friendly things to do in Venice that are specific to this area and the children will love.
Venice is famous for its fun tradition of carnival. Masks are everywhere and are great fun for kids to see.
Venice is car-free and has many areas the kids can roam freely
Last but not least, Venice is one of the most beautiful places in the world and a bucket list family MUST-VISIT.
10 Best things to do in Venice with Kids
It is hard to find a city that is more visually exciting than Venice, so you're starting off with a big advantage if you're visiting with kids. Every turn in the street brings another surprise. With colorful houses, impressive architecture, and boat-filled canals, there is always something to see for families with children of all ages.
With so much to see and do, it can be difficult to choose. In order to avoid the hordes of tourists, and guidebooks and get a true taste of the area, you'll want to really plan out your top activities with the kids.
This blog's most recent trip to Venice was in June 2022. Natassa visited the city with her 10 and 12-year-old kids and selected the best 10 must-do things for families.
1. Ride in a Gondola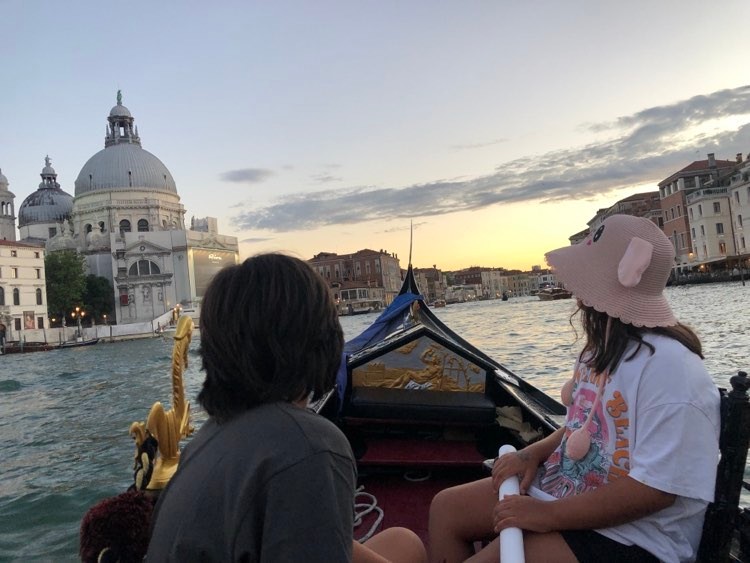 Taking a gondola is usually high on the list of families visiting Venice. You do not need to book in advance, you can get a gondola from pretty much every other bridge in the center.
Just go up to the Gondolier and ask him if he'll take you. There are certain places where there are lots of gondolas, such as in front of Saint Mark's square. Prices start from €80 for a 40-minute ride (up to 6 people).
Riding a gondola is an amazing experience. Click here to book a gondola tour.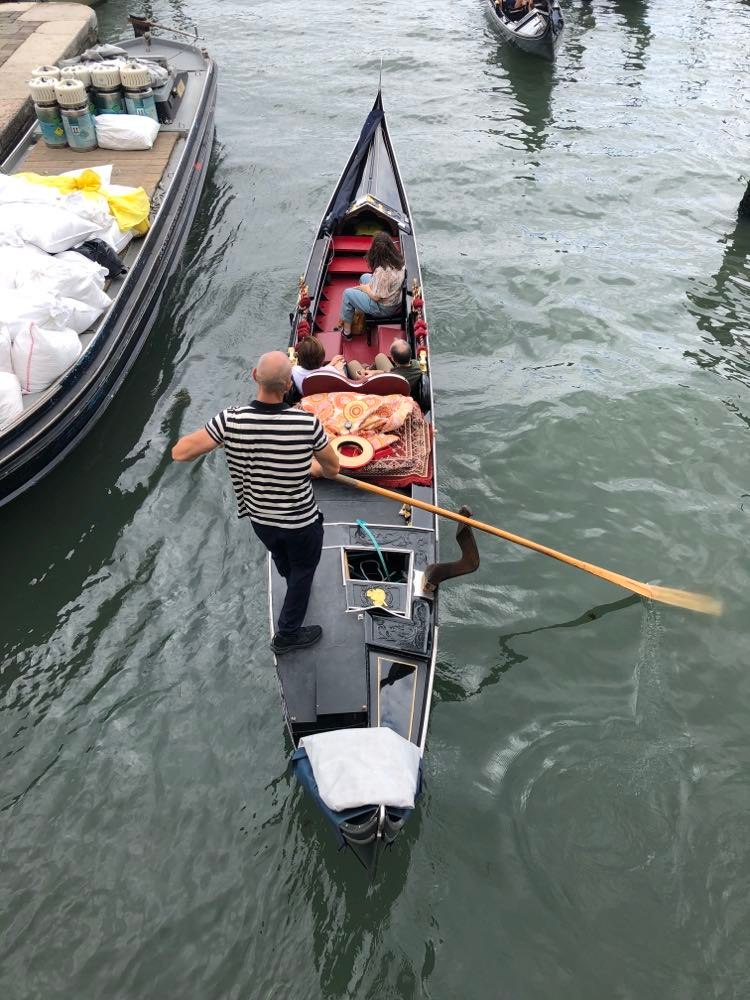 Alternatively, you can opt for the Vaporetto, Venice's water bus system. The vaporetti (plural) is the city's public transportation. These buses take you along the main canals, to the outer islands, and around the lagoon.
Did you know that the canals of Venice and the Venetian Lagoon are full of fish? From one of the city's hundreds of tiny bridges or canal-side walkways, eagle-eyed kids can often spot fish and maybe even throw them some bread.
2. Piazza San Marco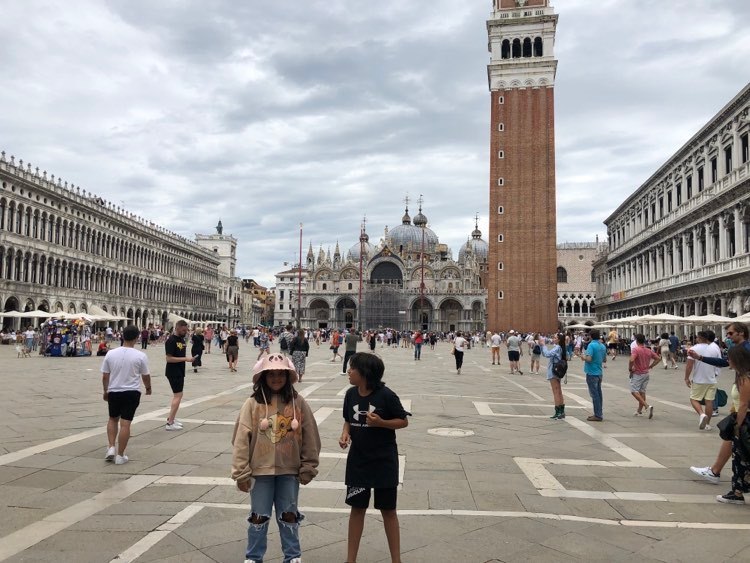 The one thing I will always remember from Venice is the kid-friendly Piazza San Marco or St Mark's Square. In fact, my love for history and art may have started here. There are so many impressive buildings to see, and St. Mark's Basilica has many amazing animals sculpted and depicted around.
Piazza San Marco's Main attractions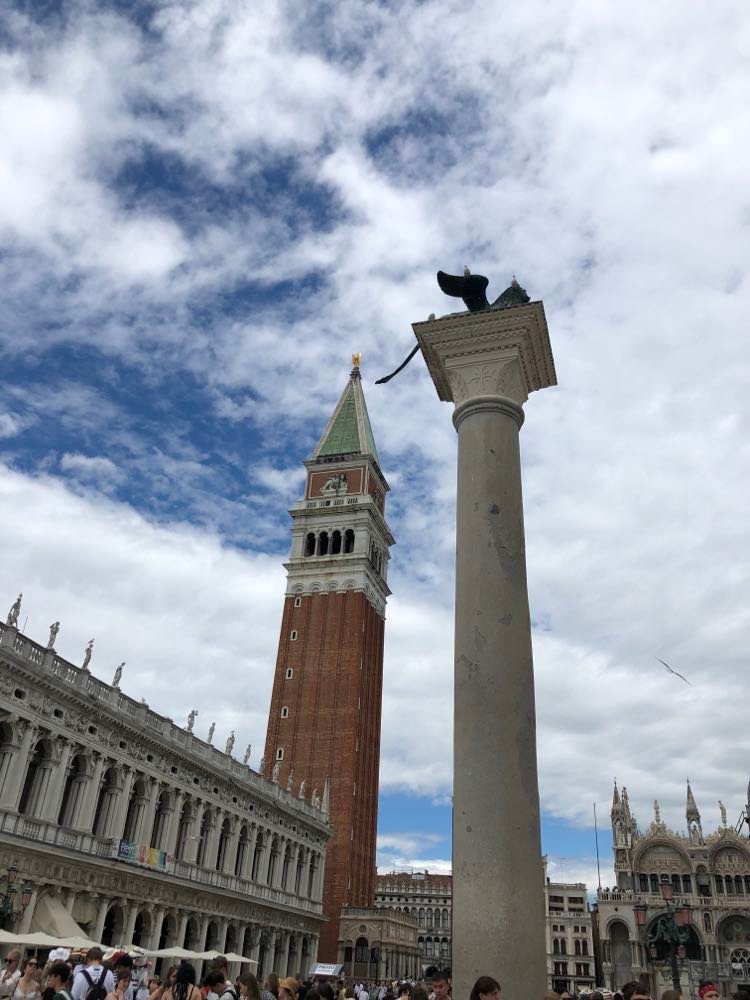 The first thing your kids will notice are the pigeons! You may think that a pigeon is hardly an exciting or quintessentially Venetian thing, but the ones in Venice are different! In fact, there are many local legends that tell the story of how they came here. Other things not to miss in St Mark's Square with kids are:
St Mark's Basilica – discover impressive colors and statues
Climb the top tower – suitable for kids 6
Visit Doge's Palace – interesting for older kids
The Venetian lion – the symbol of Venice and dominating over the square!
Here you can get tickets for a tour of the Palace and Basilica including terrace access.
3. Grand Canal and Rialto Bridge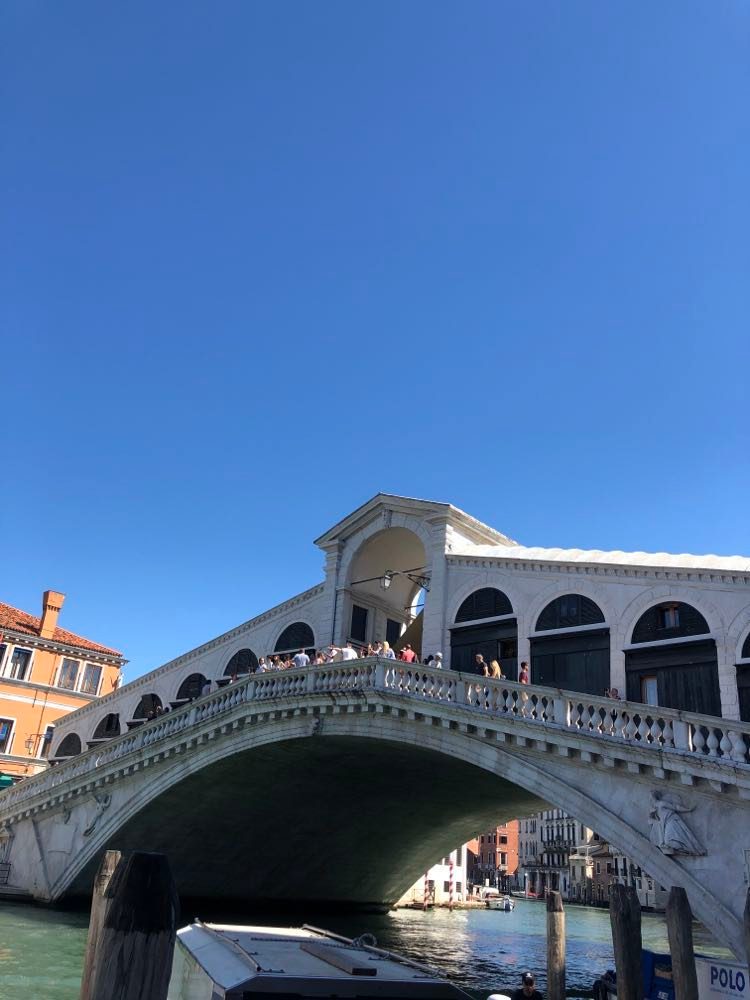 Sharing status with gondolas and lions as one of the symbols of Venice, this elegant bridge dates from 1591 and is the oldest of the four bridges that span the Grand Canal. Kids will love the souvenir shops here, or taste the famous Italian gelato.
If you want to visit the Grand Canal and the Rialto Bridge, you can book a guided tour in Venice here.
4. Campo San Polo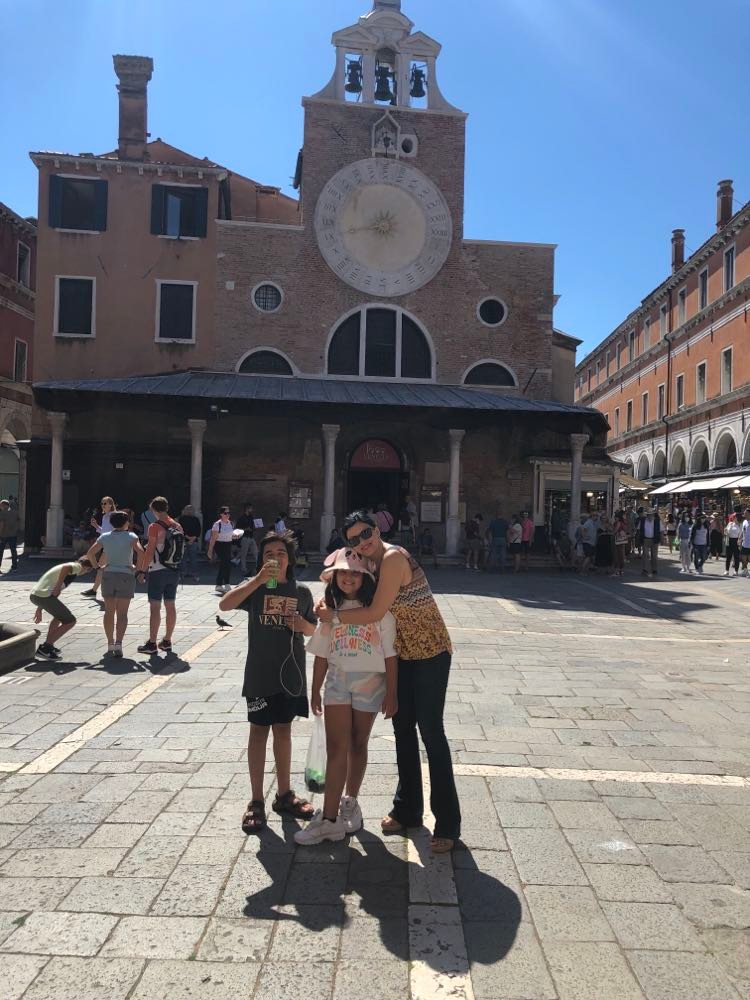 The further you venture from the San Marco area, the more you'll discover the locals' Venice, where life centers around large piazzas, or squares. On these hidden squares, kids can play freely. Campo San Polo and Campo Santa Margherita are two such places to get a feel for how real Venetians live.
Click here if you want to visit Campo San Polo and the other Venice highlights in a guided tour.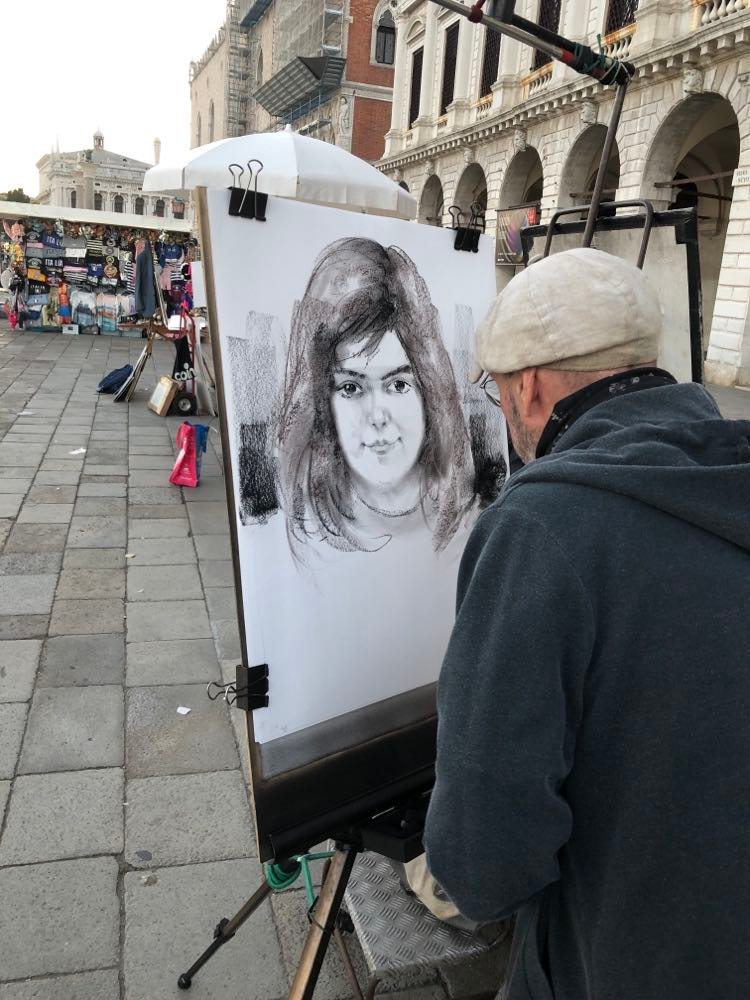 5. Shop for Masks
Carnevale (Carnival) or Mardi Gras, is Venice's biggest masquerade party, and artisans create carnival masks ranging from simple to wildly elaborate and expensive. You can find them everywhere in Venice and kids will love looking at all the colorful items. They can also paint their own at Ca' Macana, one of the city's remaining handful of traditional mask-making workshops.
6. Walk the picturesque streets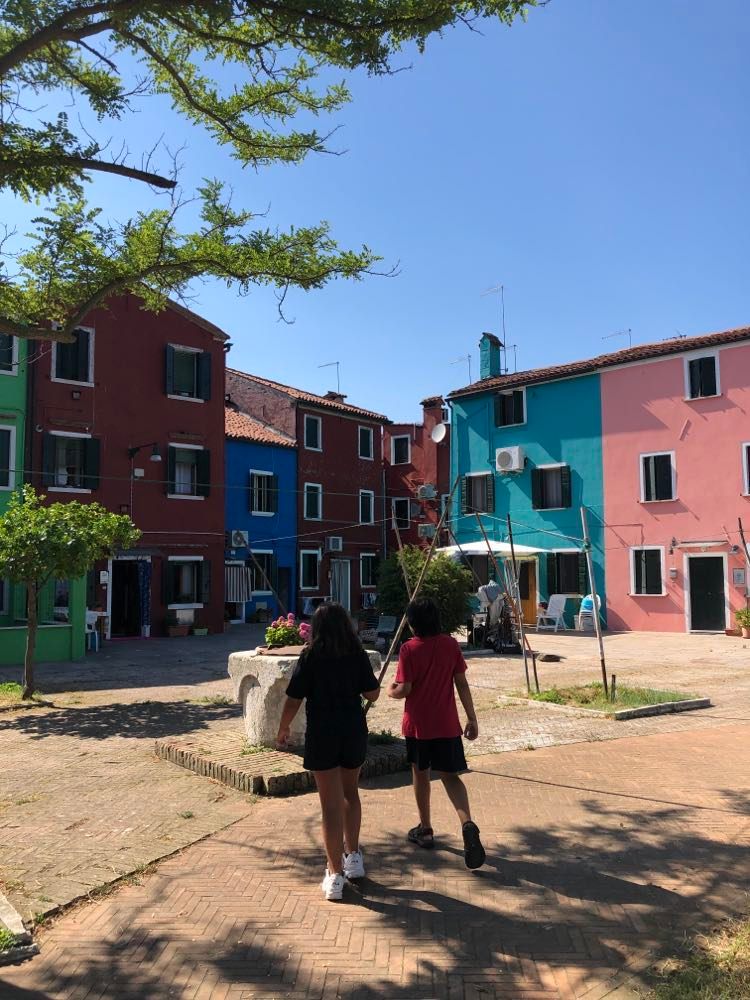 Venice is one large museum, and you do not need to do anything but walk around the picturesque streets to get lost in time and history. Venice is unique because its streets are water, its crosswalks are bridges (and sometimes gondolas), cars and replaced by boats, and you will see picturesque corners with buildings of every color.
There is so much history and culture to discover in Venice, you may want to consider joining a guided family-friendly stroll to discover the hidden secrets of Venice with an Venice expert. Click here to book a short tour in a small group with a local guide.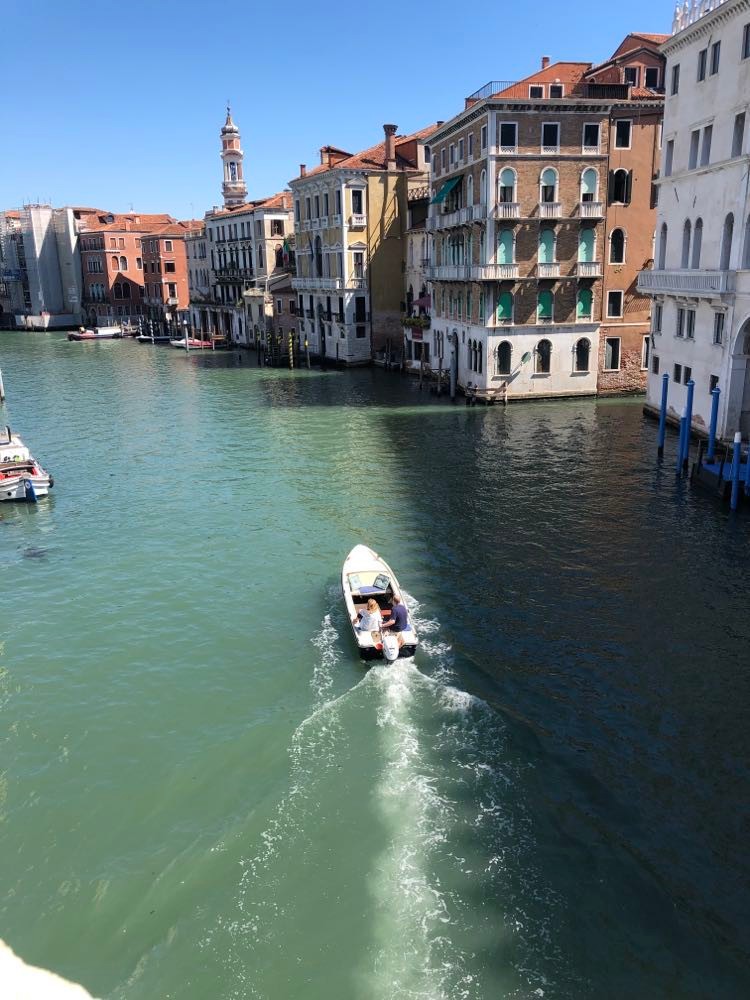 7. Bridge of Sighs (Ponte de' Sospiri)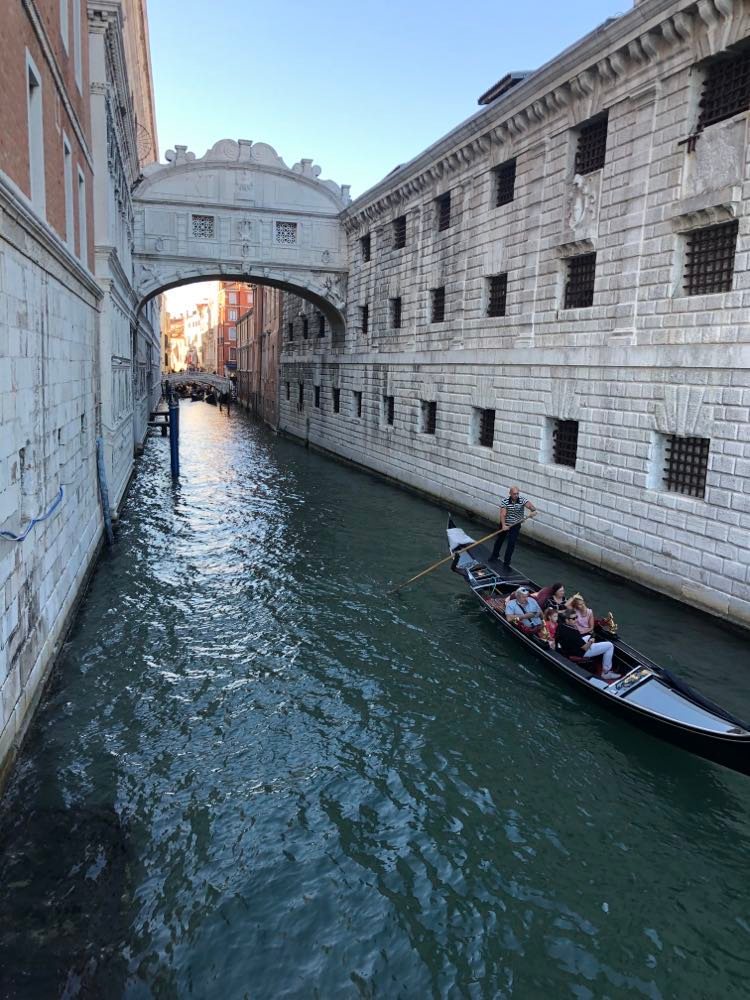 If there is one place that will speak to your kids' imagination, it is the spooky Prison in the Doge's Palace and the bridge of sighs. Called ponte de' Sospiri in Italian, this is one of the most photographed landmarks in Venice, and it has a story children usually like.
I remember my dad pointing it out each time we visited Venice. The enclosed passageway was named for the "sighs" of the prisoners who passed over it. Tradition holds that if a couple kisses while passing underneath the bridge in a gondola, they will enjoy eternal love.
The mysterious Ponte de' Sospiri is part of walking tours around Venice, click here to book your secret Venice tour.
8. Eat Cicchetti or pizza
Love small plates? Venice is the place. Cicchetti is the Venetian name for 'small bites', aka small plates of food served to accompany a drink, traditionally a glass of local wine. Cicchetti are perfect for kids, just like the Greek meze. Choose polpetti (meatballs) in marinara sauce or mozzarella in carrozza, batter-fried mozzarella cheese.
If there is one food that all kids like, it is pizza. Thankfully, Venice has many of them. PS. be careful eating any snack on in piazza San Marco as the seagulls are very naughty, and they may attack your food!
If your children are a bit older, you may consider a Cicchetti Experience. In a small group (max. 6 people) you will visit the Mercato di Rialto, a UNESCO preserved patrimony and one of the most ancient parts of the city. Here, you will see a phenomenal variety of native seafood, converse with locals and listen to the sounds of the market. After, you will leave the market and taste specialty Venetian cicchetti, accompanied with exquisite prosecco at 2 of Venice's most authentic cicchetti bars. You will also cross the picturesque canals by gondola and sit down for a traditional Venetian lunch. Feel like a local family as you experience Venetian culinary traditions and enjoy food as marvelous as the city! Here's how to book.
9. Murano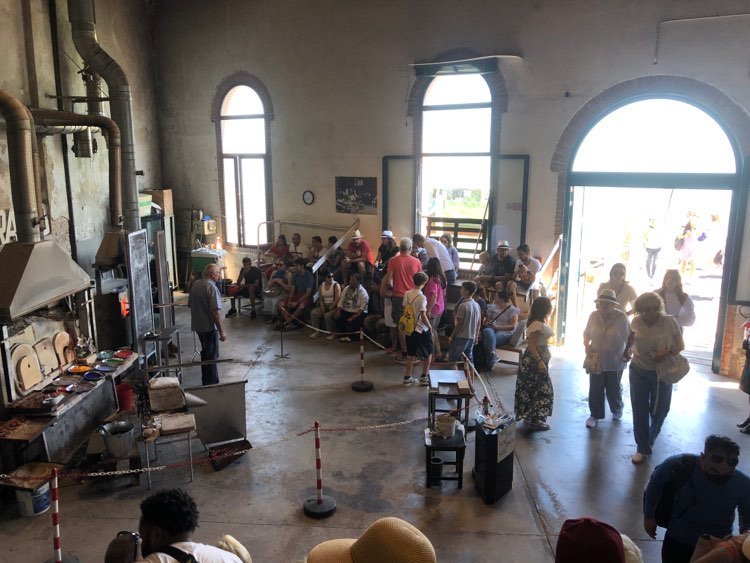 The island of Murano is where Venice's colorful, hand-blown glass has been made for centuries, and where you can still watch artisans craft one-of-a-kind creations from molten glass. My grandfather worked in the glass factories of Murano and that is why it is a very special place for my family. That is why I find it difficult to say a lot about this magical island. Just go and see for yourself!
There are several ways to visit Murano. You can either go on your own by vaporetta or private taxi boat. You can also book a guided tour to the island.
Click here to book an organized visit to Murano.
10. Burano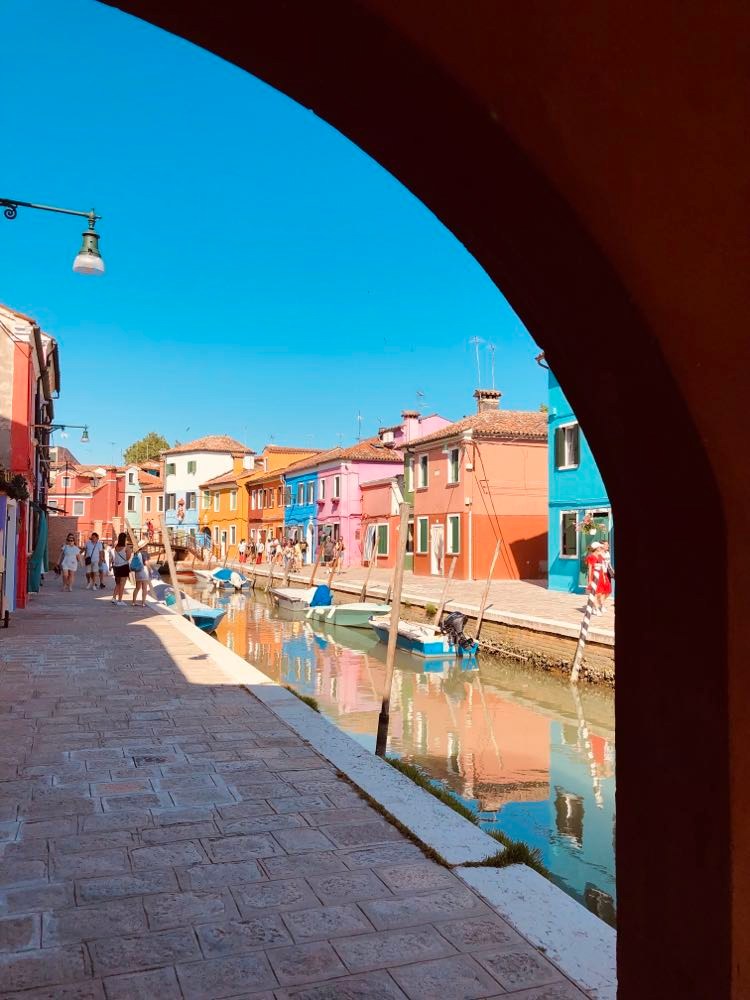 Burano is the second small island in front of Venice, and it is a delight to visit with children. It is especially a nice island to walk around and take lots of pictures. The island is not big, but you can easily spend an hour or two there.
Click here to book an organized excursion to Burano.
Things to do in Venice with kids when it rains
Venice is romantic in the rain however not ideal for walking outdoors. Thankfully, there are many indoor activities for kids on a rainy day in Venice. Some of the best family-friendly things to do in Venice when it rains are: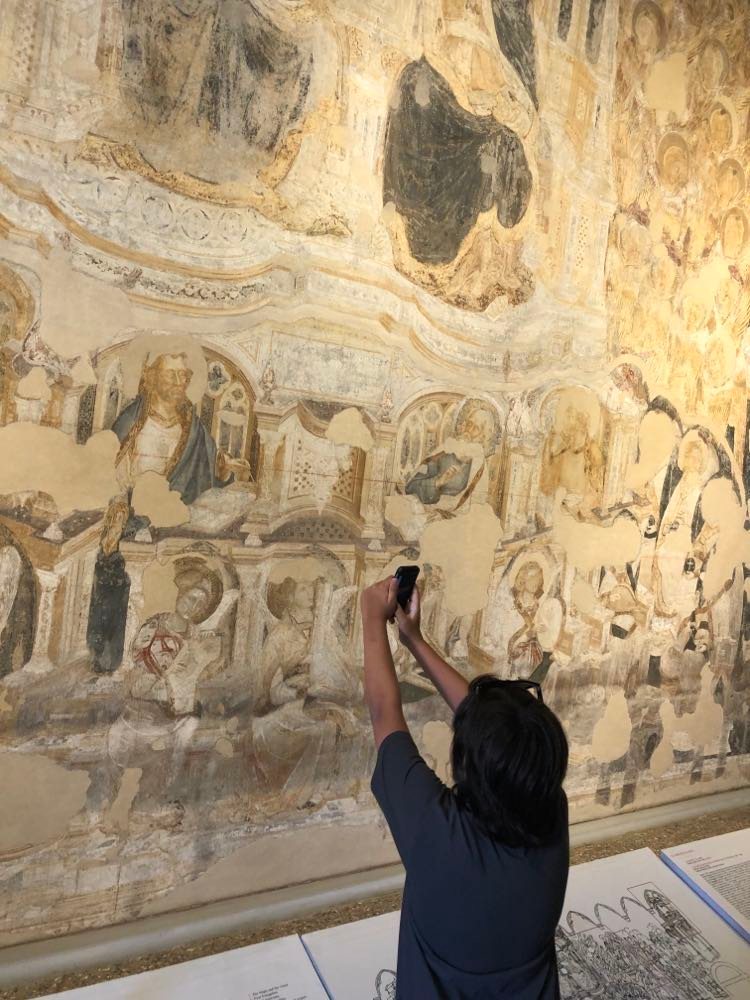 Venice in Winter with children
We have only visited Venice with the kids in the summer. But is Venice with kids nice in the winter? I am about to find out. Because we are soon off for a Christmas trip to Italy and we will stay for 3 weeks. I hope we will be lucky with the weather because Venice in winter is rather cold and humid. As it does not allow for a lot of time in the park or playing outside, I believe that Venice in winter is nice for families with older kids who enjoy visiting museums and indoor attractions.
Stay tuned to this blog post because I will have our winter experience in Venice up soon. This article will be expanded with more information. Eventually, we will create a Family Friendly Guide about visiting Venice with kids: all you need to know. Practical tips for visiting Venice with a baby or toddler, the best things to do in Venice with kids, and the best hotels to stay in Venice and beyond. PS. If you need any accommodation in Venice or beyond, don't hesitate to write me. I am happy to send you my personal recommendations.
Next upcoming trips: December 2023 – January: Venice, February: Friuli, March: Amsterdam, May 2023 – Sicily