Last Updated on September 28, 2023 by Celeste.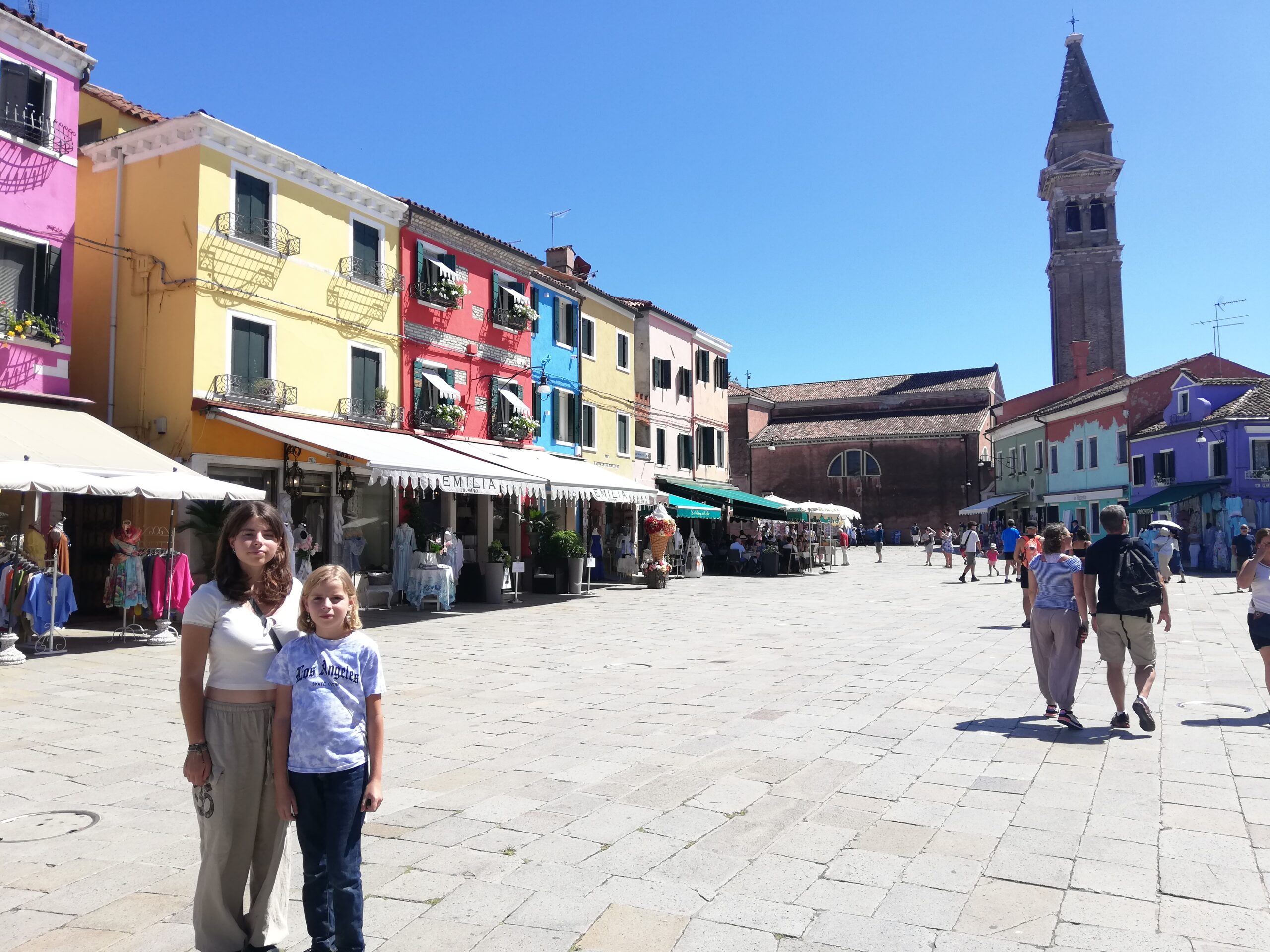 Our summer visit to Burano with the kids was a blast! We loved the colorful houses, the cute shops, and the views of the lagoon. Burano is such a charming and cheerful place, we felt like we were in a fairy tale. We bought some souvenirs and took lots of photos.
Read also: Venice with Kids | The 10 best things to do
Burano with Kids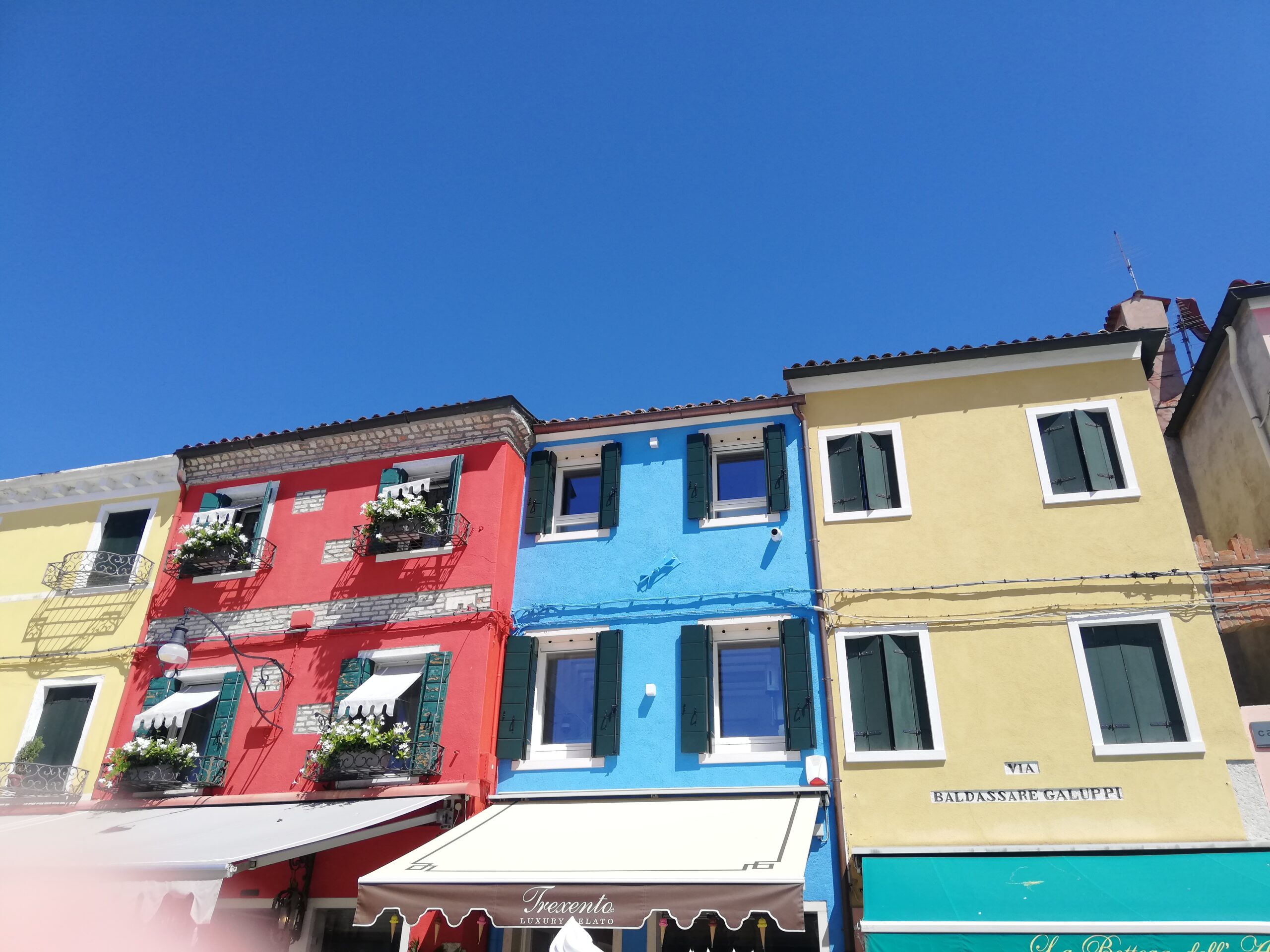 Burano Island is the perfect place if you're looking for a fun and relaxing day trip from Venice. Burano is famous for its colorful houses, lace-making tradition, and delicious seafood. In this article, you will find our tips on how to enjoy exploring Burano Island with kids.
Click here for more Day Trips from Venice
The history of Burano Island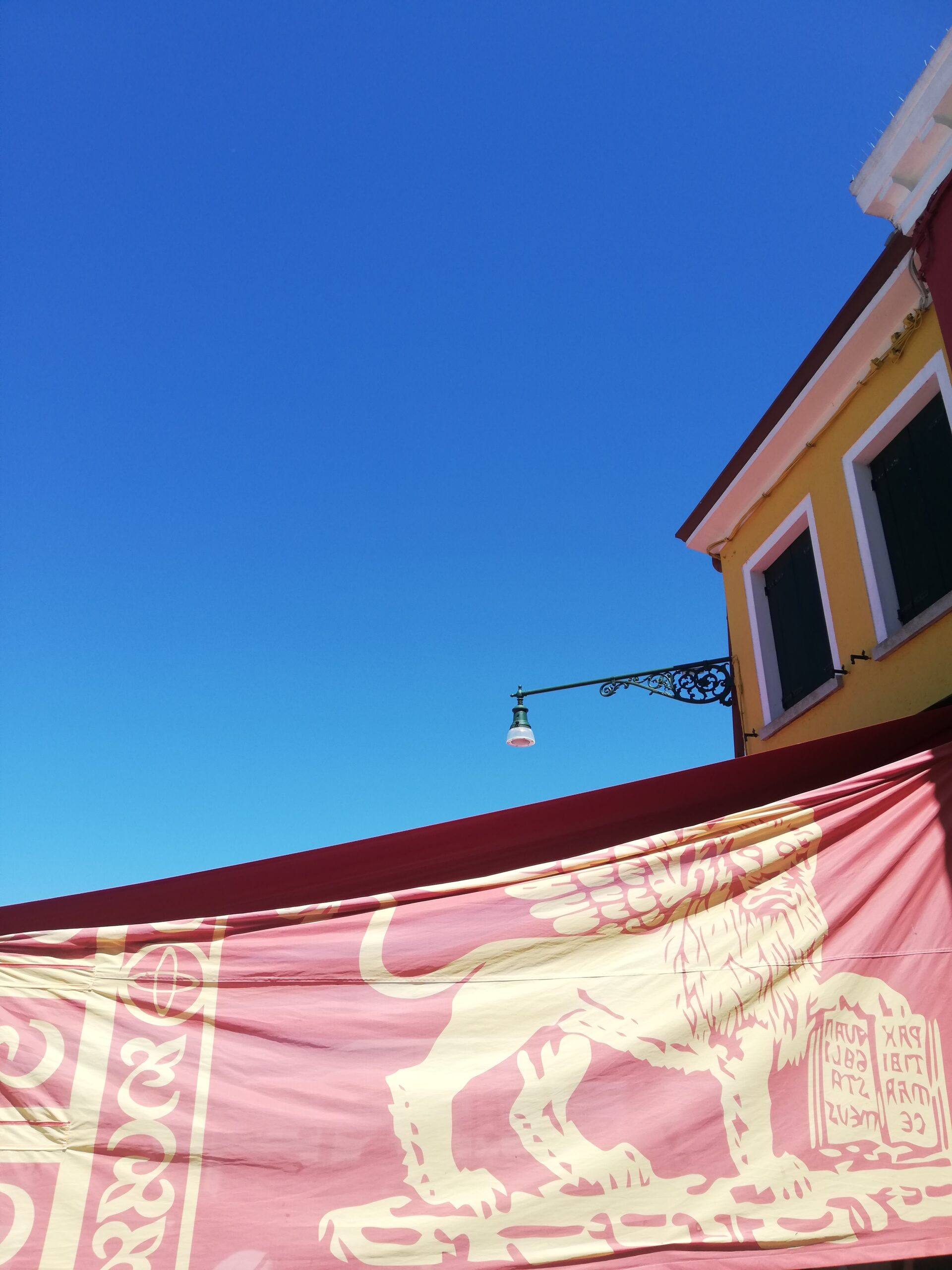 Burano Island has a long and fascinating history that dates back to the Roman times. According to some sources, the island was first settled by the Romans in the 3rd century BC, who named it Boreana after one of the gates of their former city of Altino.
Read also: 10 of the Best Roman Mythology Books for Kids
Later, in the 6th century AD, the island was occupied by people from Altino who fled from the barbarian invasions. They brought with them their fishing and salt production skills, which became the main economic activities of Burano.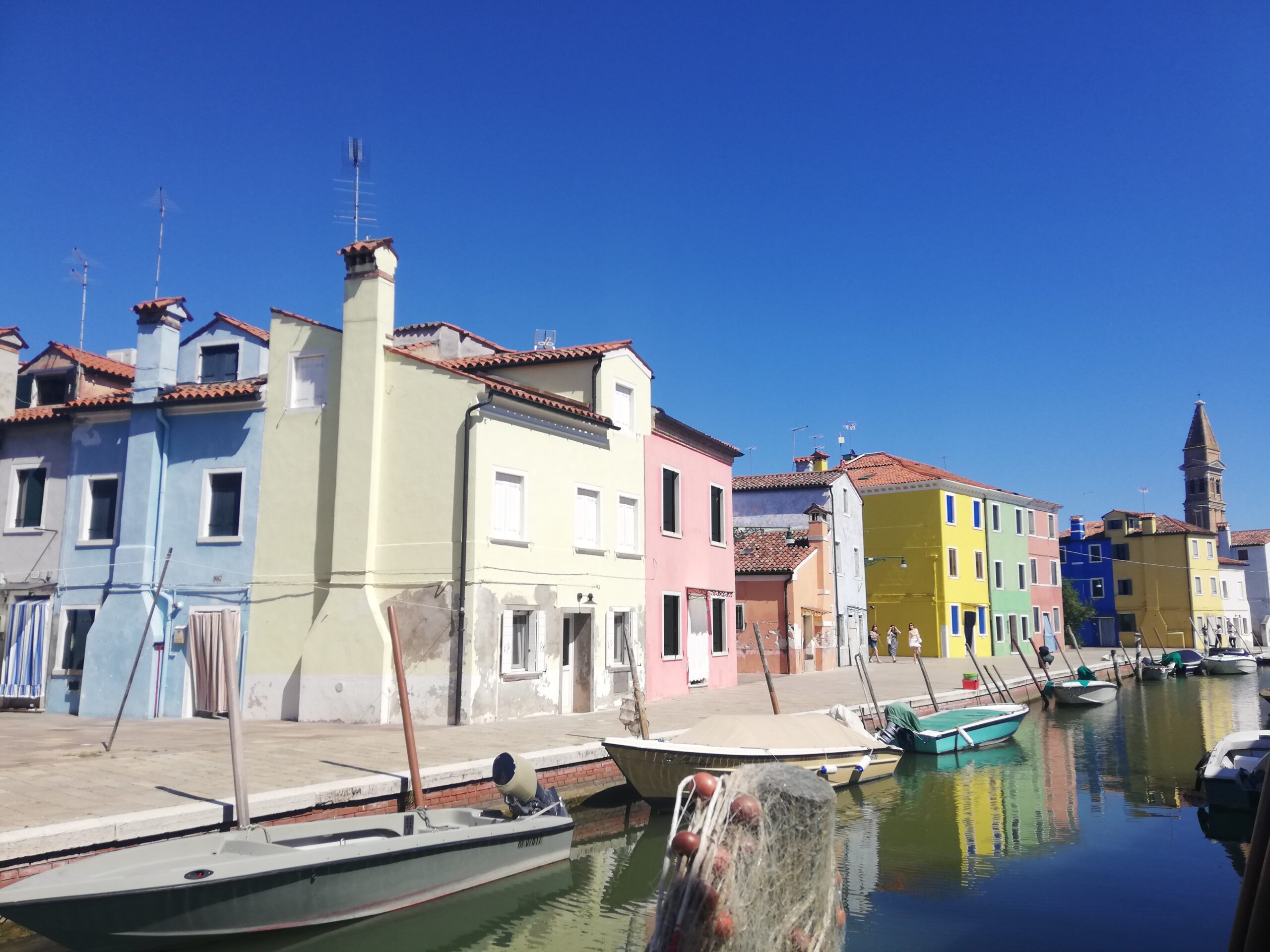 In the Middle Ages, Burano was part of the Republic of Venice and enjoyed some privileges and autonomy. The island was fortified with walls, towers, and bridges to protect it from pirates and enemies. The island also developed its artistic and cultural heritage, especially in lace-making and painting.
Some famous artists who were born or worked on Burano include Baldassare Galuppi, a composer; Giovanni Battista Tiepolo, a painter; and Remigio Barbaro, a sculptor.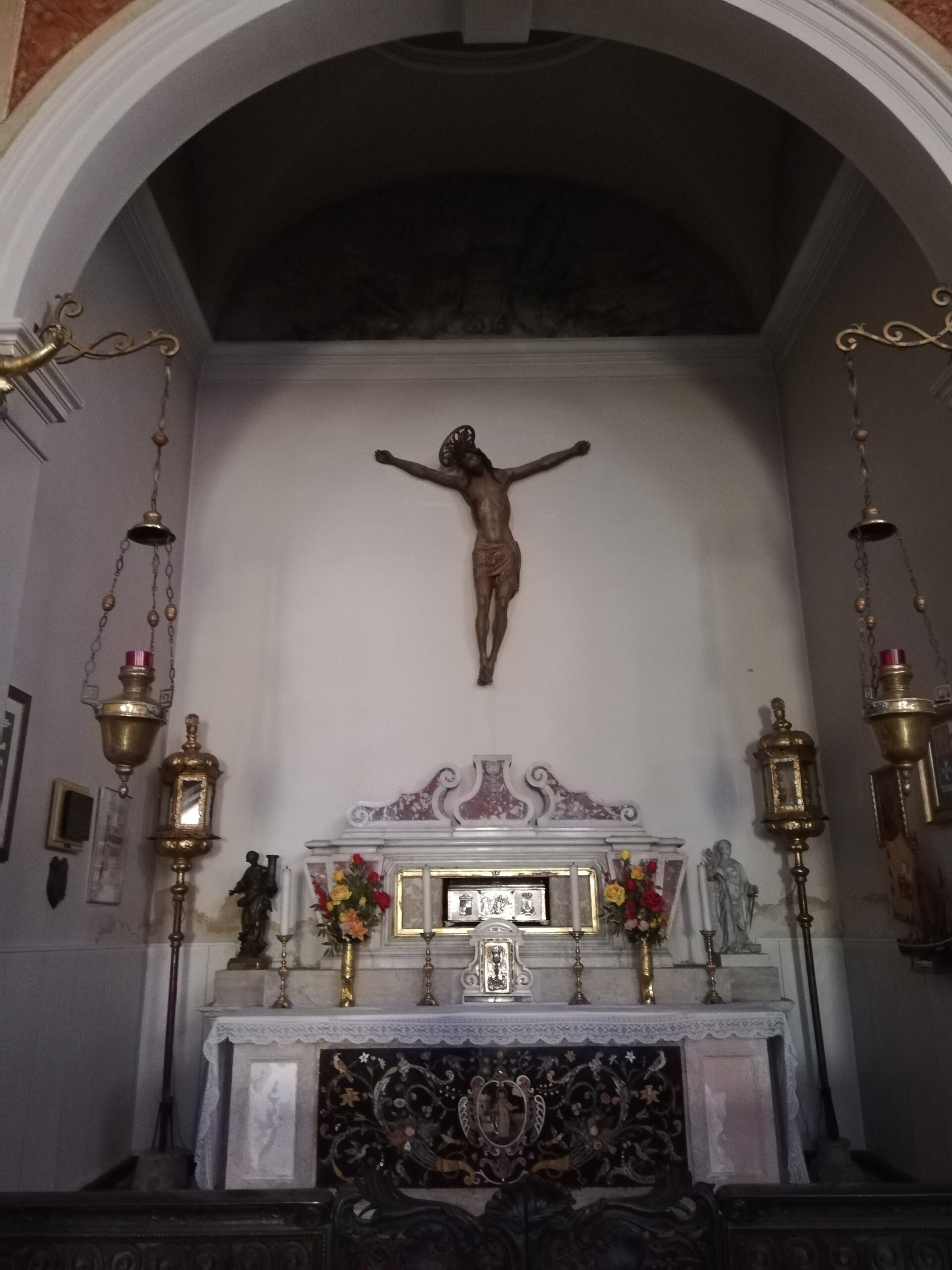 Click here to book a guided tour in Burano and visit all the monuments, the lace museum and secret corners
In the 16th century, Burano reached its peak of prosperity and fame as a lace-making center for Venice and Europe. The lace was made by hand using fine linen threads and intricate patterns. The lace was exported to many countries and used for clothing, accessories, and decorations.
However, in the 18th century, the lace industry declined due to competition from France and mechanization. Lace-making became a domestic craft that was passed down from generation to generation.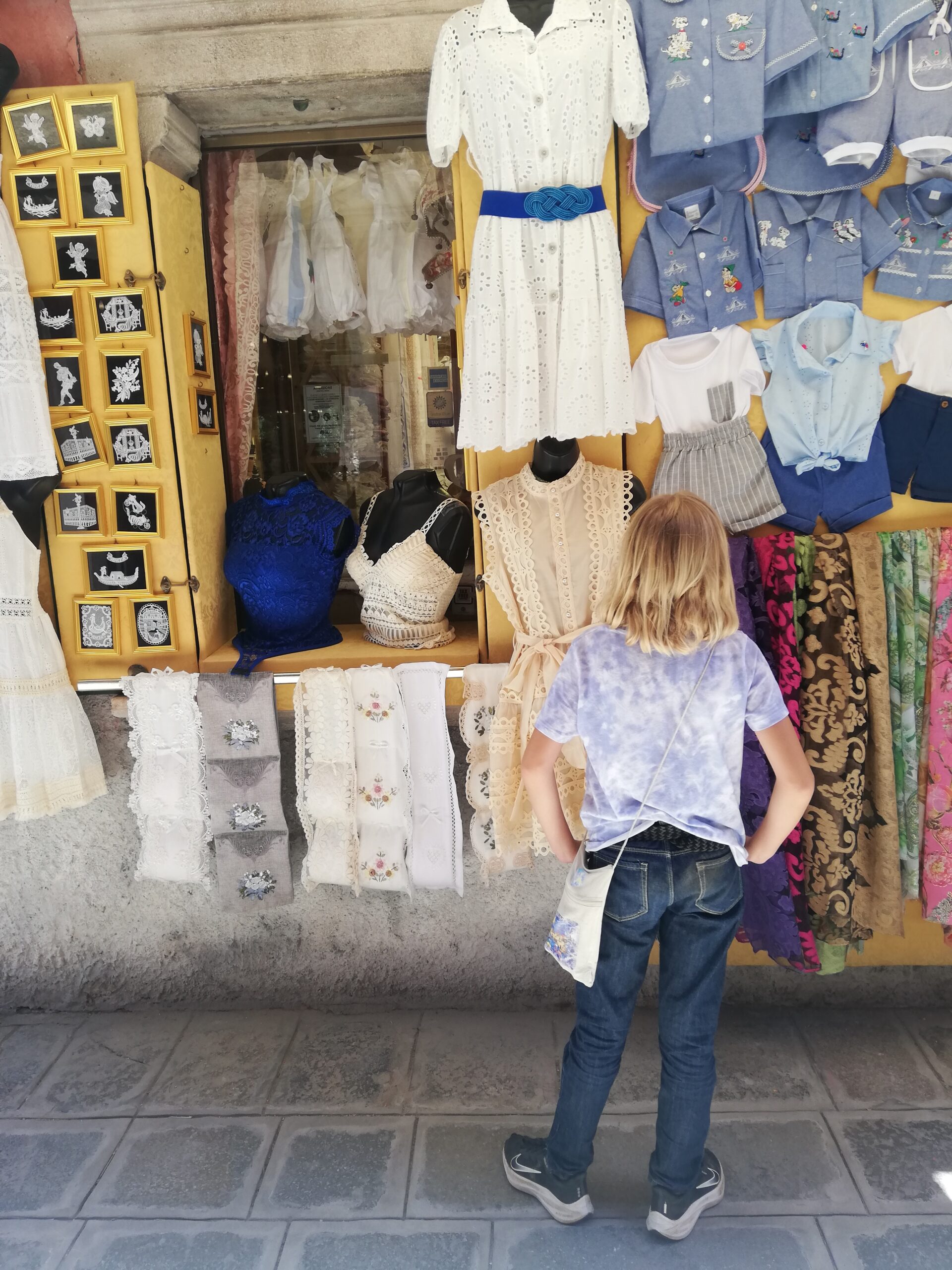 In the 19th century, Burano faced some challenges such as poverty, malaria, and emigration. Many people left the island to seek better opportunities elsewhere. However, some initiatives were taken to revive the lace industry and tourism on the island.
In 1872, a lace-making school was founded to preserve and promote the traditional craft. In 1889, a group of painters called Scuola di Burano established an artistic colony on the island and created many works inspired by its colors and landscapes.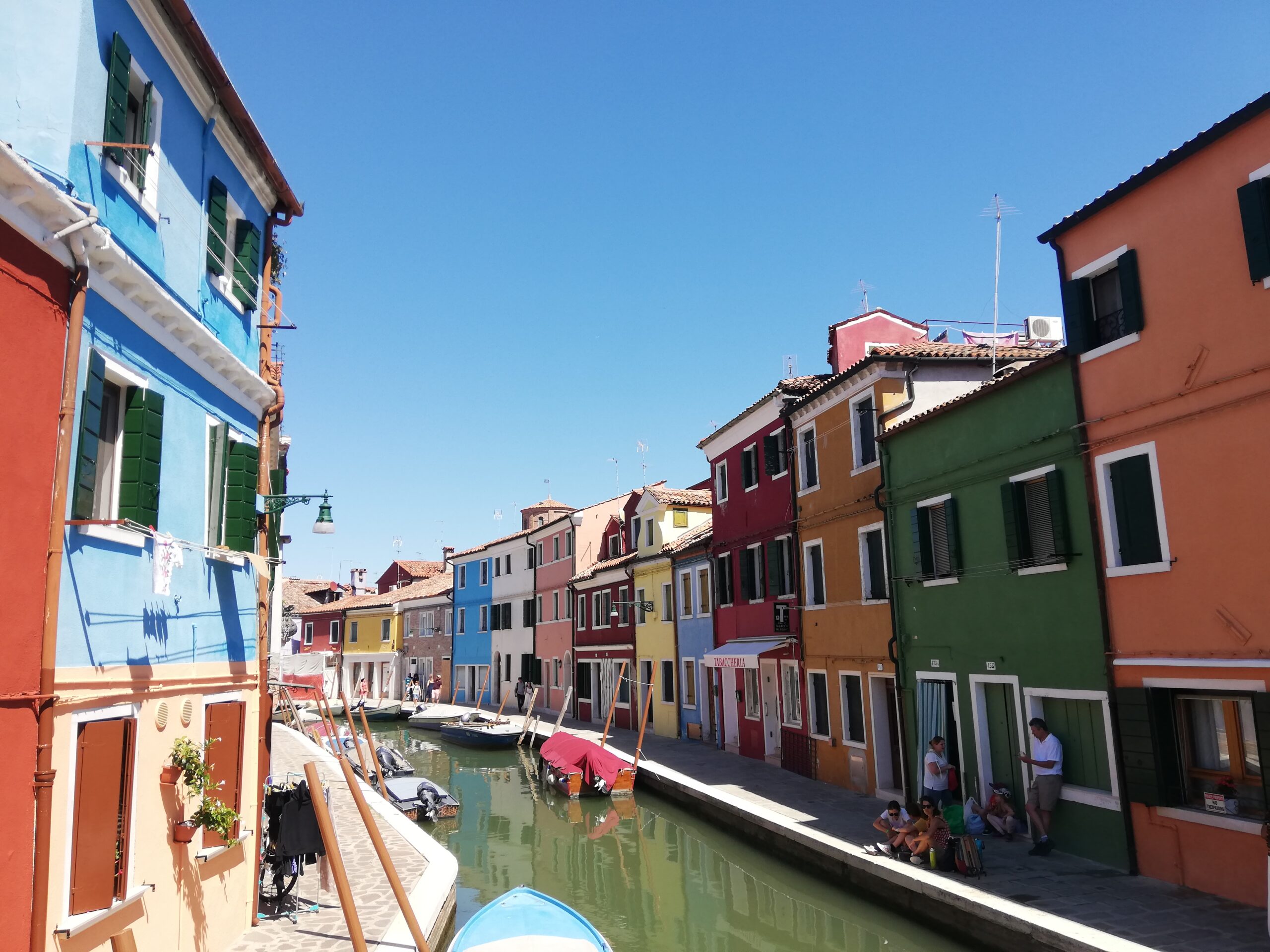 In the 20th century, Burano became more connected to Venice and other islands by vaporetto services and bridges. The island also attracted more visitors who were charmed by its beauty and culture. Today, Burano is one of the most popular destinations in the Venetian Lagoon and a UNESCO World Heritage Site.
How to get to Burano Island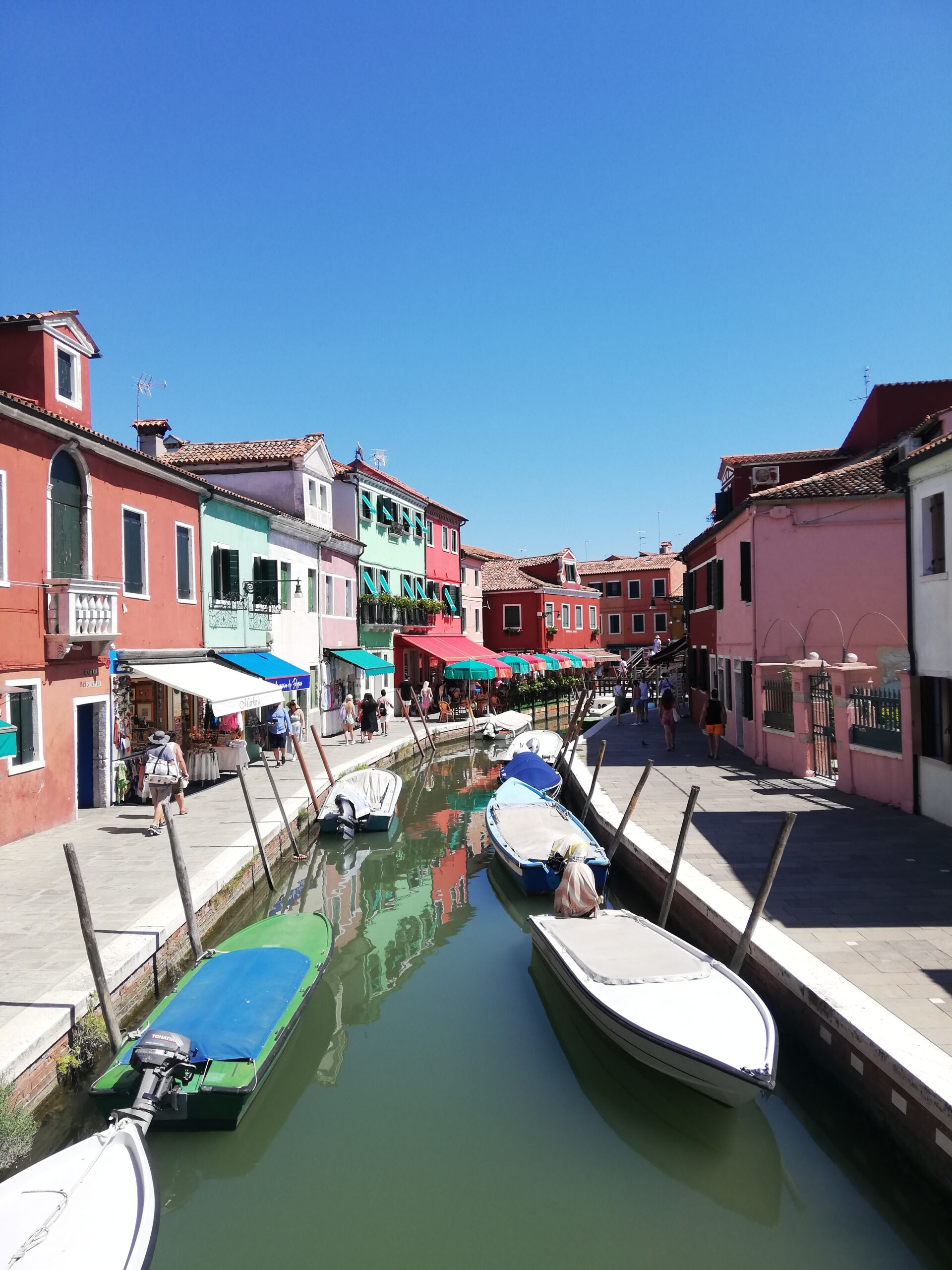 Burano Island is about 40 minutes away from Venice by boat. You can take the vaporetto (waterbus) line 12 from Fondamente Nove station in Venice. The ticket costs 9.50 euros per person and you can buy it at the station or online. The vaporetto runs every 30 minutes and stops at Murano Island and Torcello Island along the way. You can also hop off at these islands and explore them if you have time. On this map you will find all the vaporetto route and the stops.
Click here to buy your Waterbus and Mainland Bus Pass tickets
What to do on Burano with Kids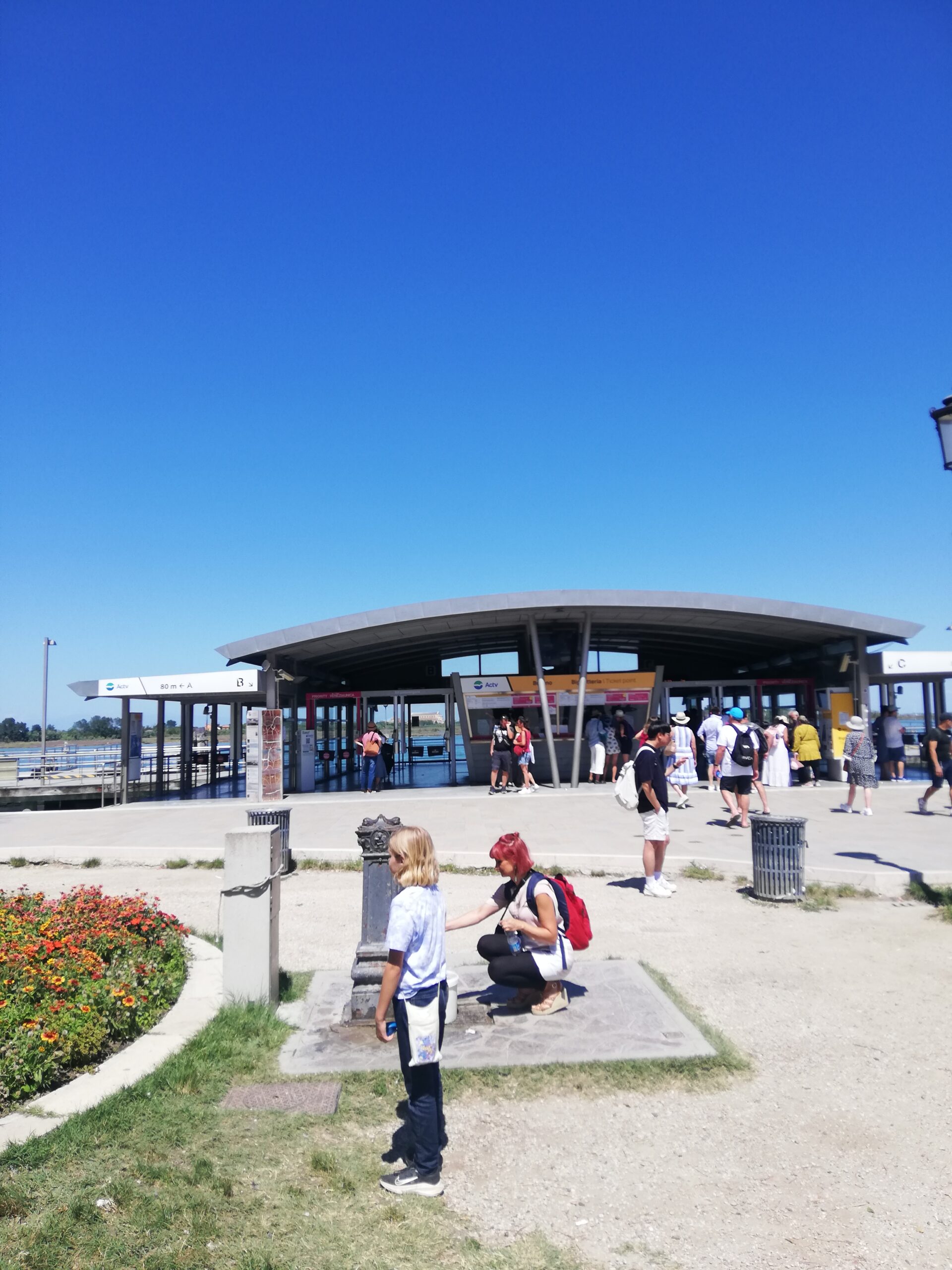 Once you arrive at the Burano, you fill your water bottle at the fountain outside of the vaporetta station. If it is hot, you can take a small break at the park there before you start walking. There is also a city toilet (Bagni comunali) outside of the vaporetta end station. It is time to start exploring the island!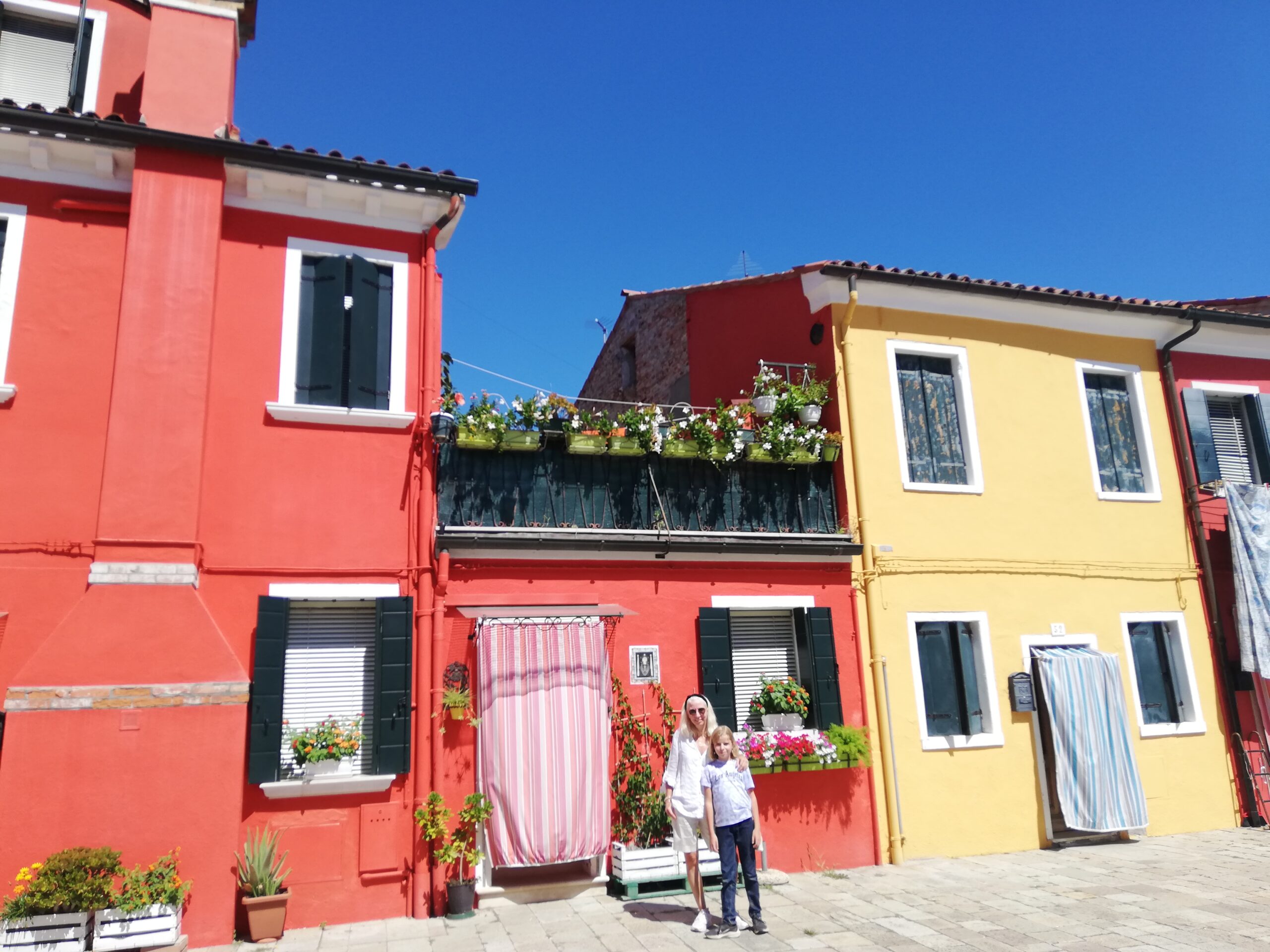 Burano Island is small and easy to walk around. You can admire the colorful houses that line the canals and streets. Each house has a different color and some of them have interesting decorations or paintings on the walls. The colors are said to help the fishermen find their way back home in the fog.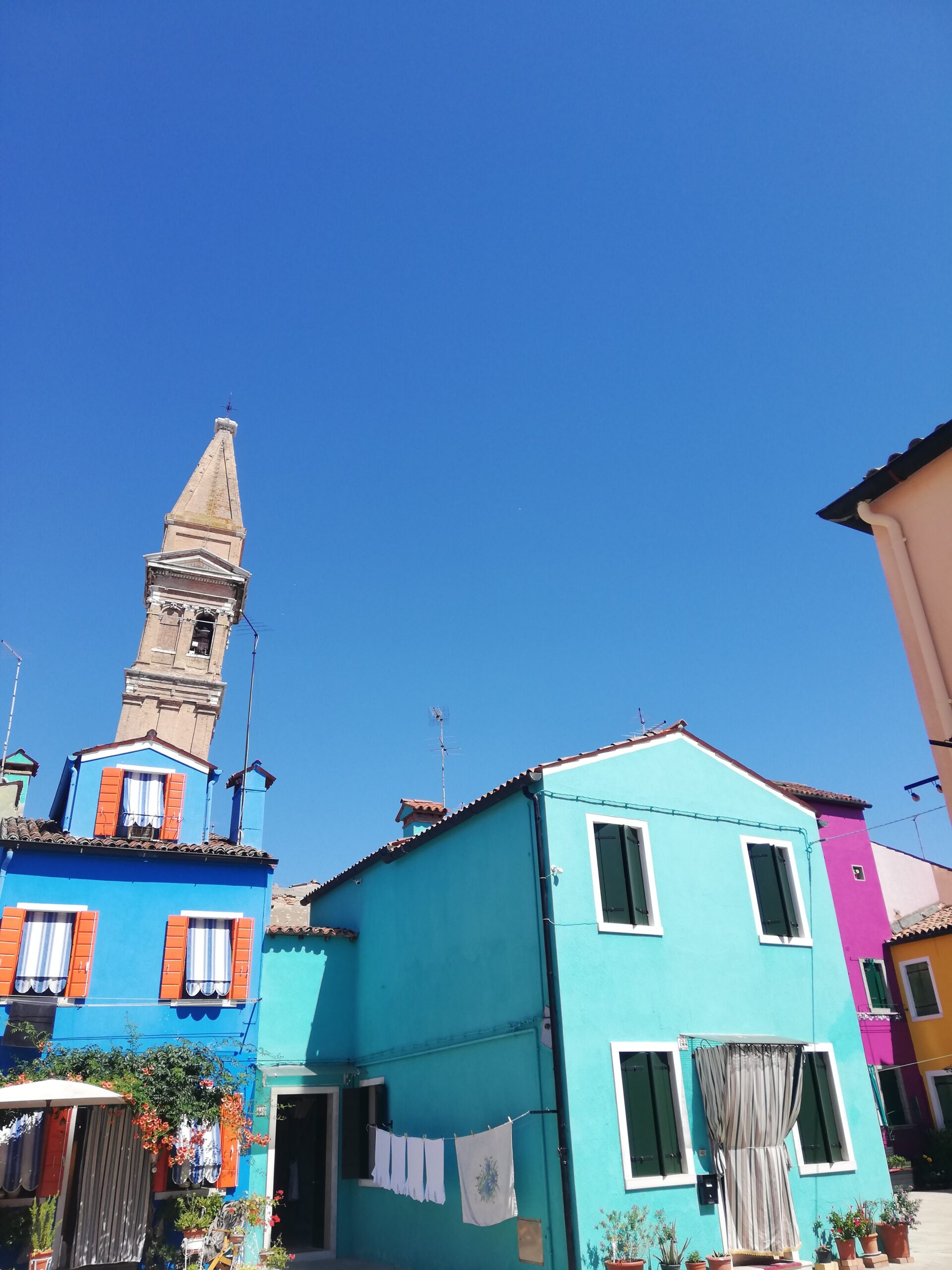 You can also visit the Lace Museum, which showcases the history and art of lace-making on Burano. You can see some beautiful examples of lace from different periods and learn how they are made by hand. The museum also offers workshops where you can try your hand at making your own lace.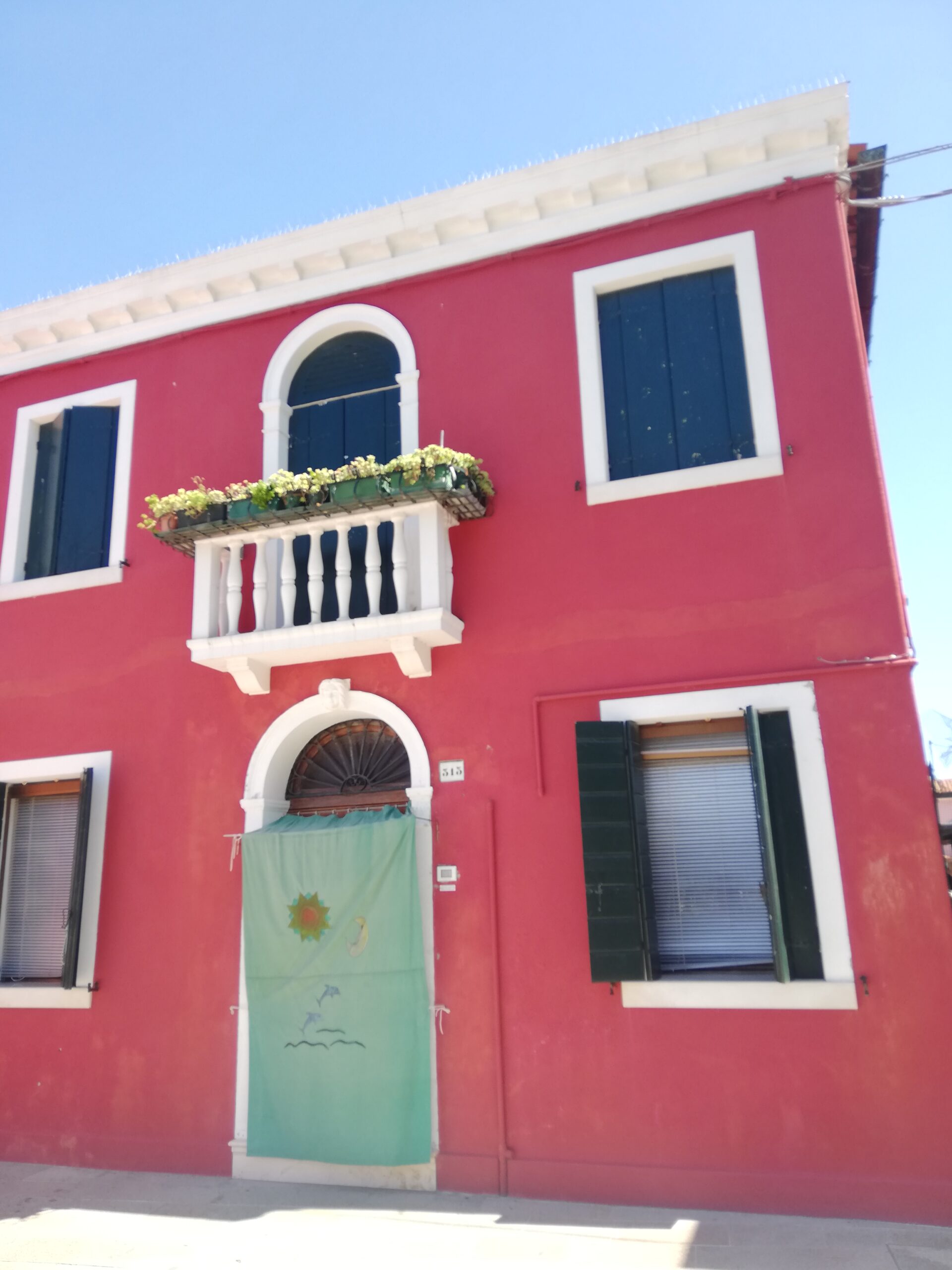 Another attraction on Burano is the leaning bell tower of San Martino Church. The tower is slightly tilted due to the soft soil underneath. You can take some funny photos with the tower as a backdrop.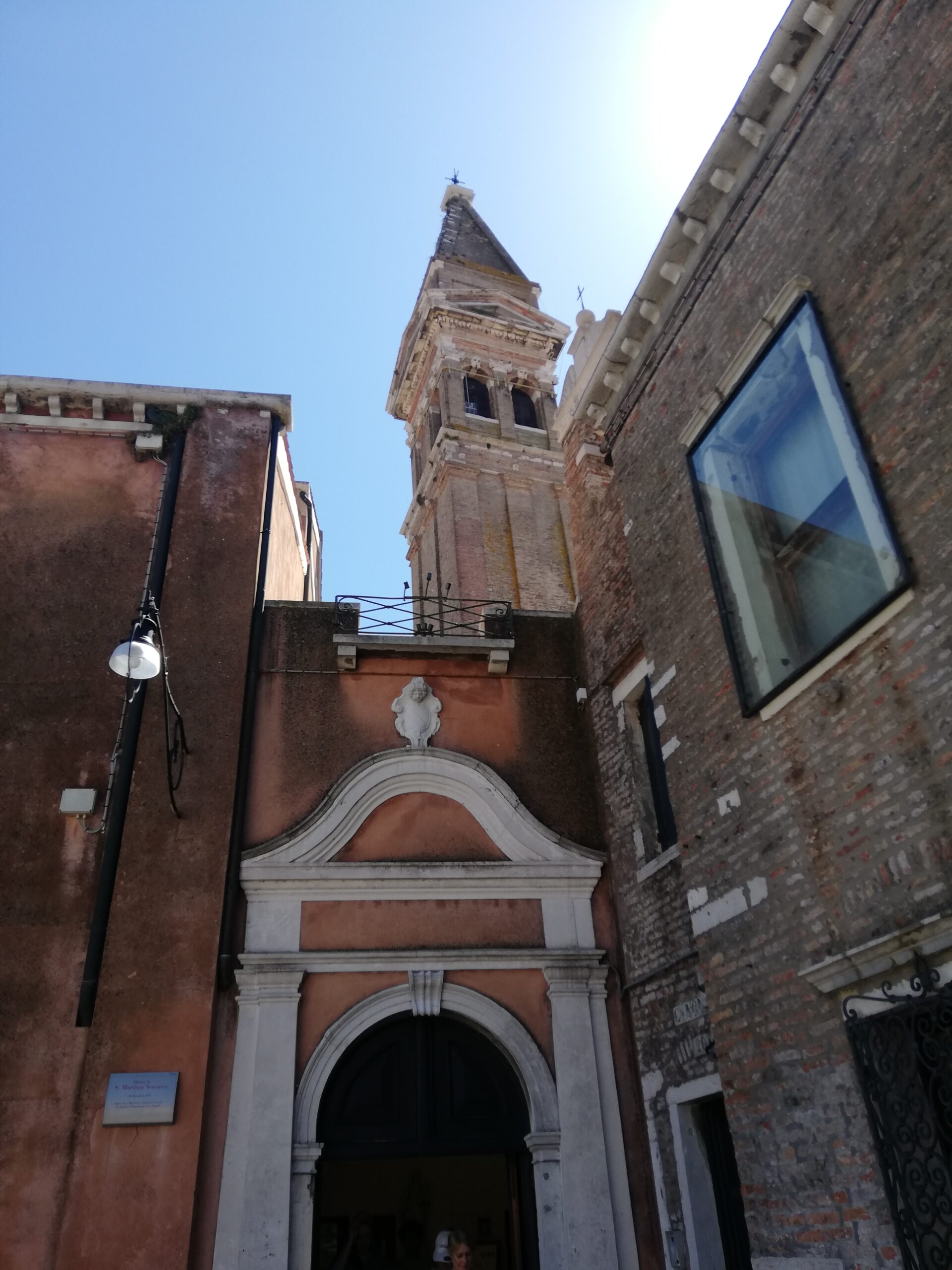 Where to eat on Burano Island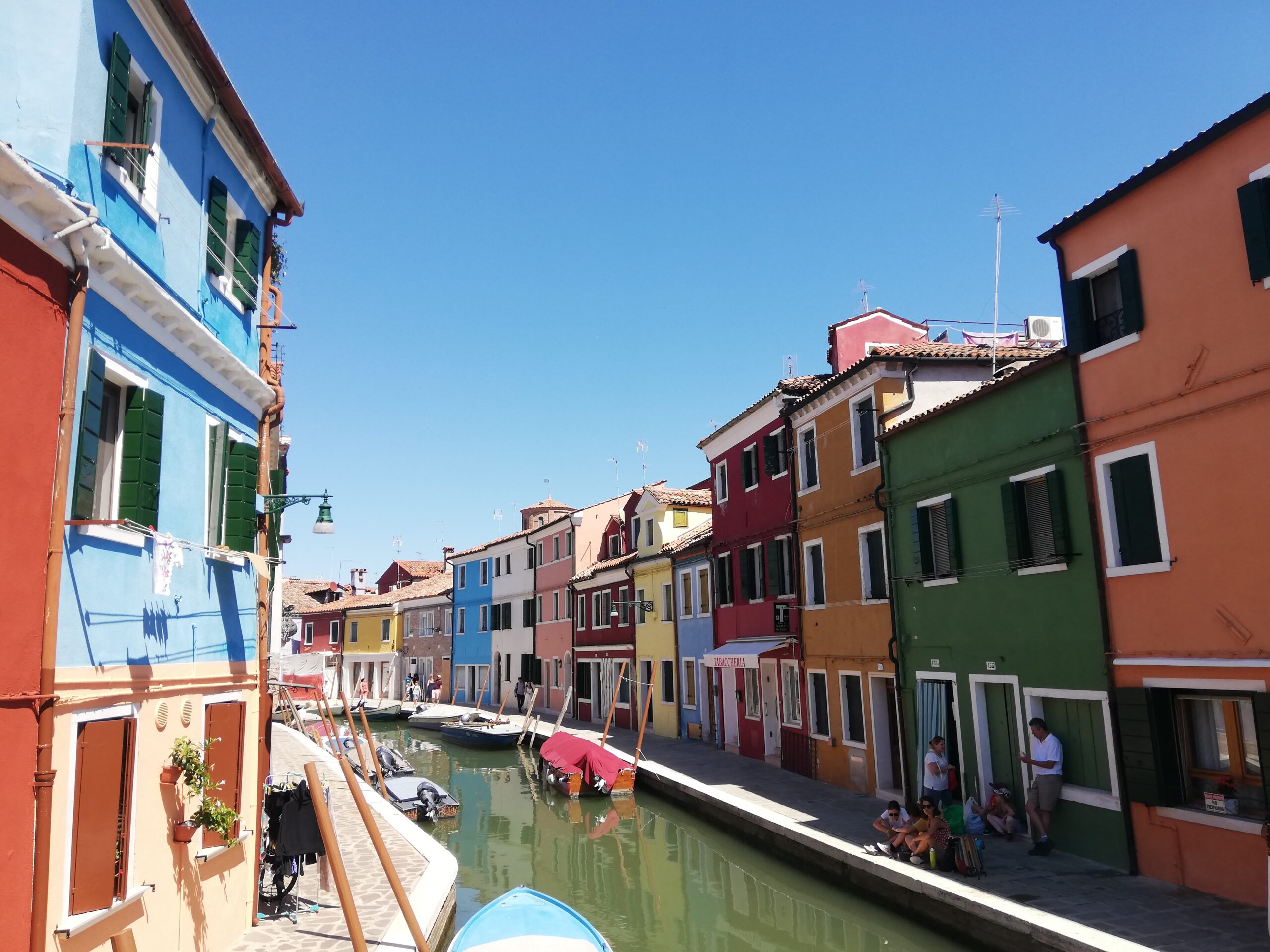 Burano Island is known for its fresh seafood, especially the fish risotto and the fried fish. You can find many restaurants and cafes along the main street, Via Galuppi, or near the waterfront. Some of the popular places are Al Gatto Nero, Trattoria da Romano, and Riva Rosa. You can also find pizza and pasta everywhere, a kids' favorite.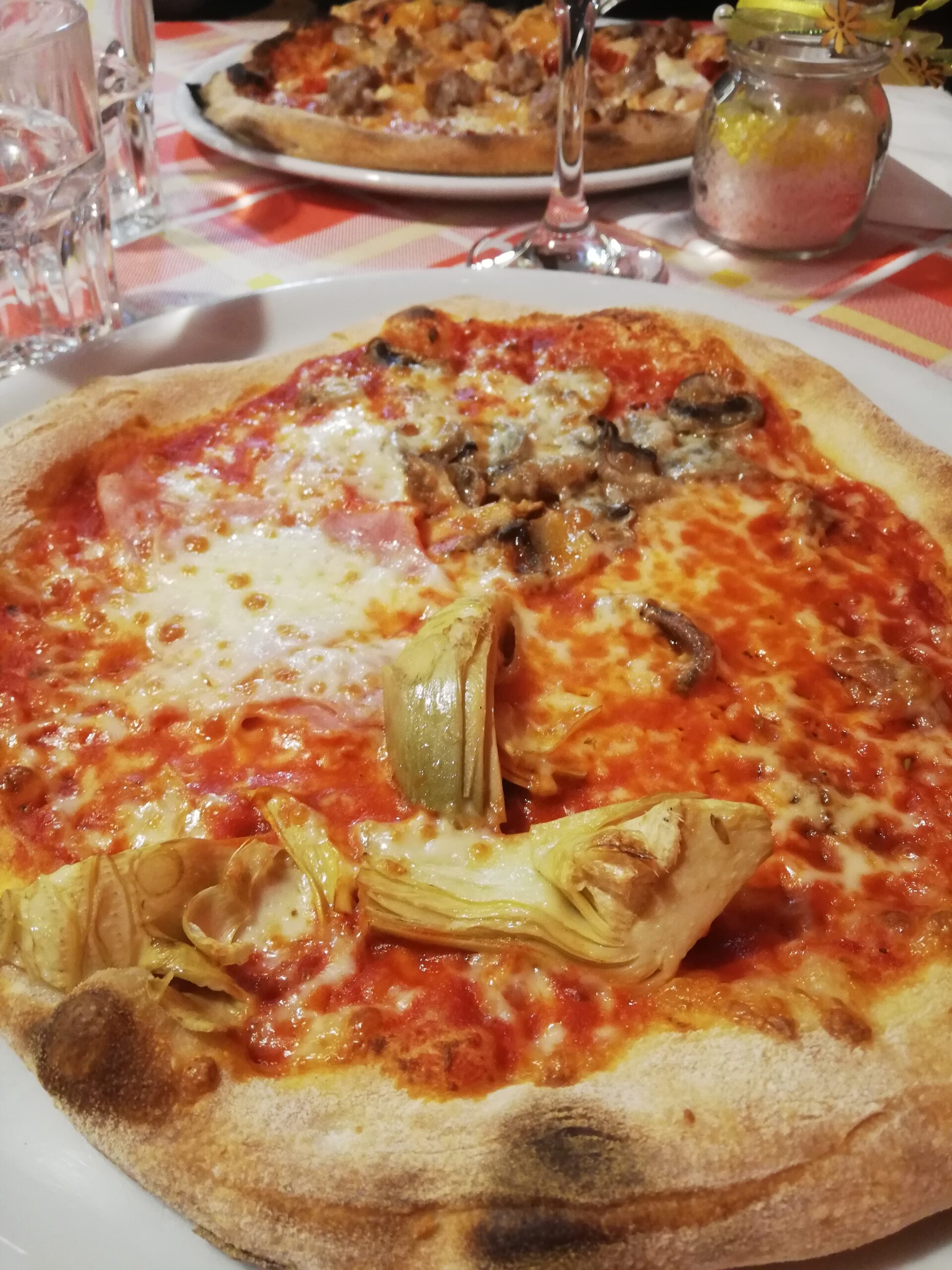 You can also try some local sweets, such as the bussolà (a ring-shaped cookie) and the esse (a S-shaped cookie). These cookies are crunchy and buttery and go well with a cup of coffee or tea. Don't forget to try the famous Italian gelato!
What is the best time to visit Burano Island?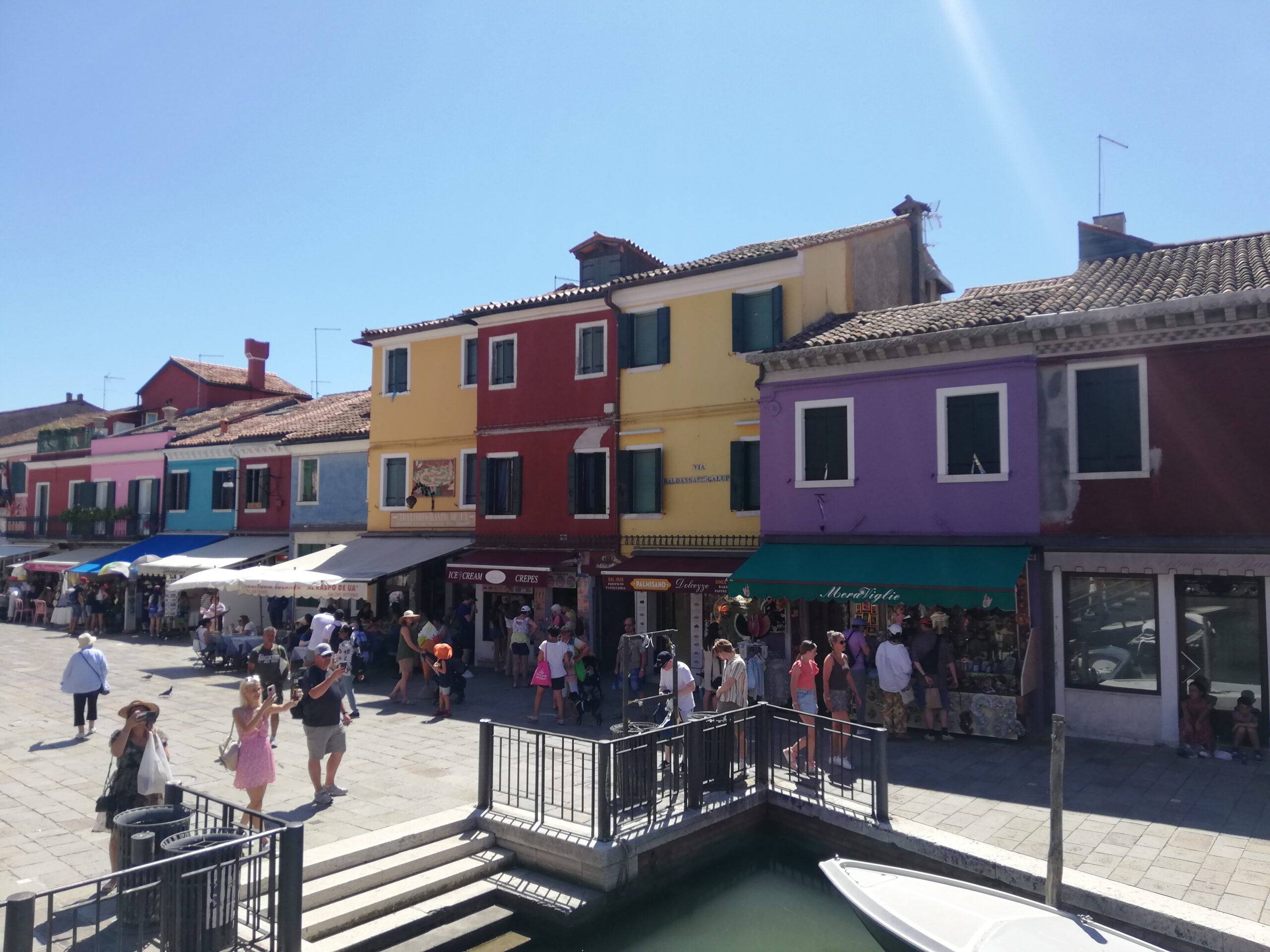 The best time to visit Burano with kids depends on your preferences and budget. If you want to enjoy the warmest weather and see the houses in full bloom, you might want to visit between May and September. However, this is also the peak season for tourism, so you might encounter more crowds and higher prices.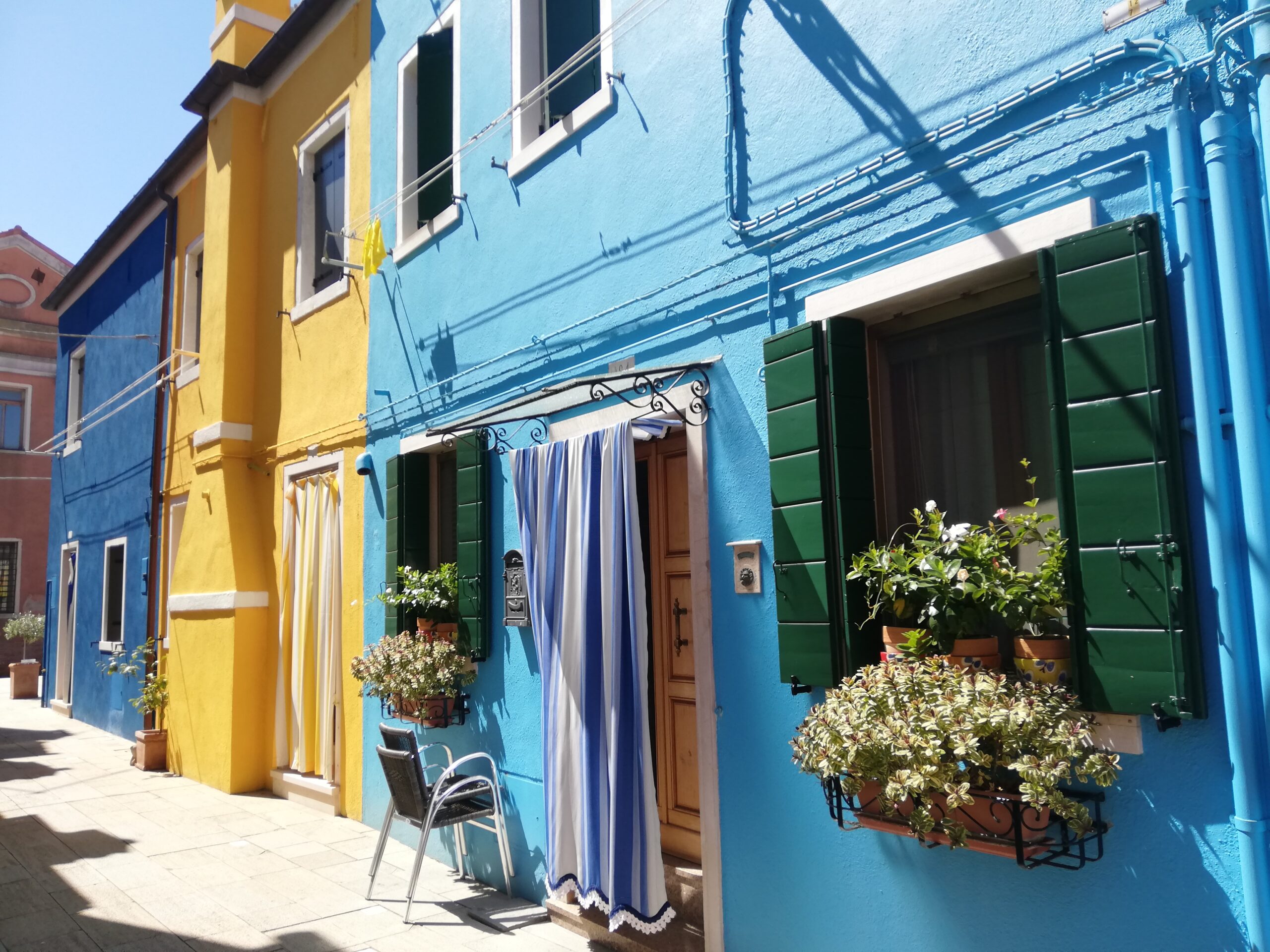 If you prefer a quieter and cheaper experience, you might want to visit in winter. The weather is colder and rainier, but you can still enjoy the charm of Burano without too many tourists. You might also witness some flooding due to high tides, which can create some interesting reflections on the water.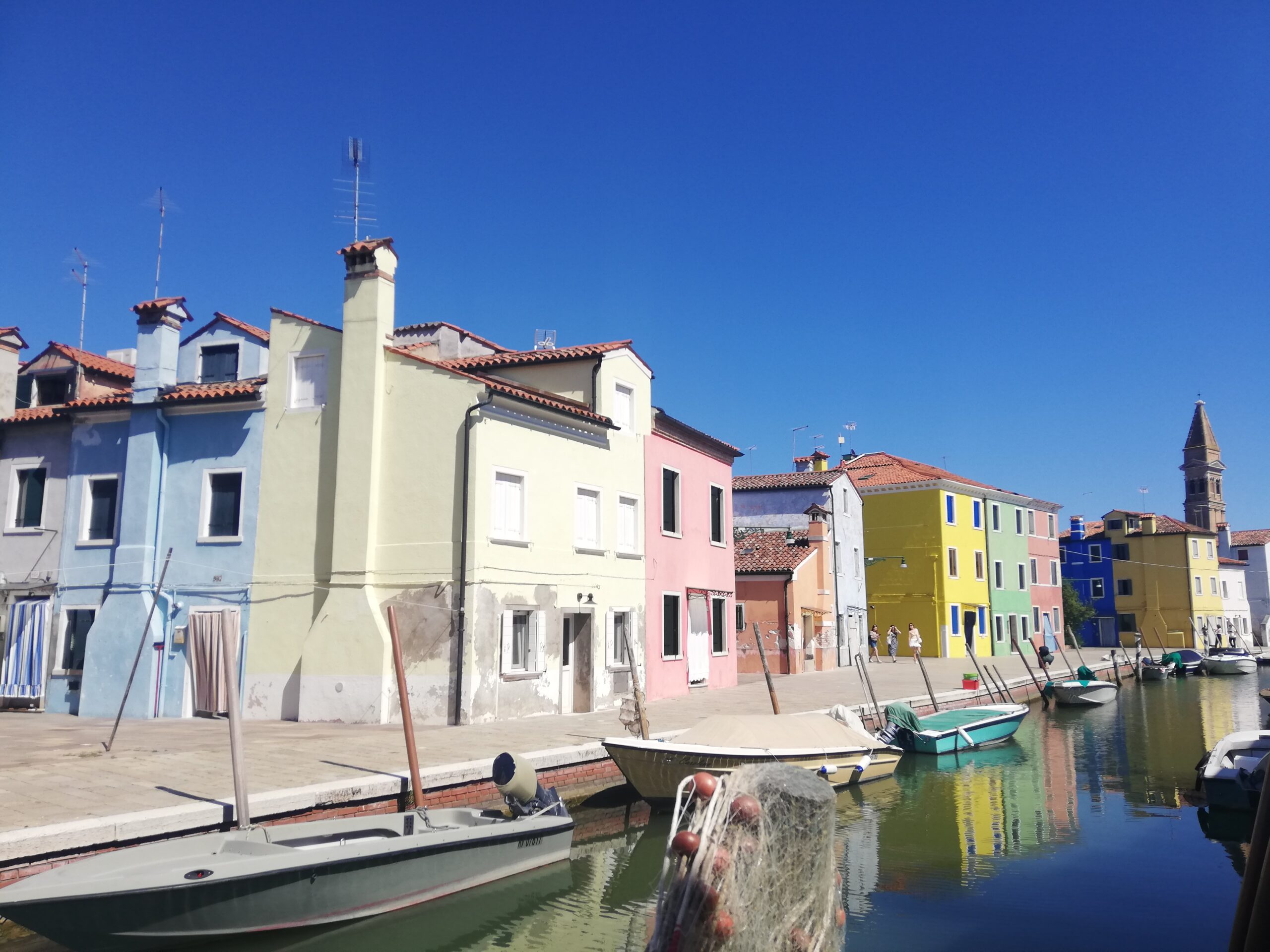 Another option is to visit in spring or autumn, when the weather is mild and pleasant, and there are fewer tourists than in summer. You can also enjoy some festivals and events, such as Carnival or Festa del Santo Patrono in November.
What are the festivals on Burano Island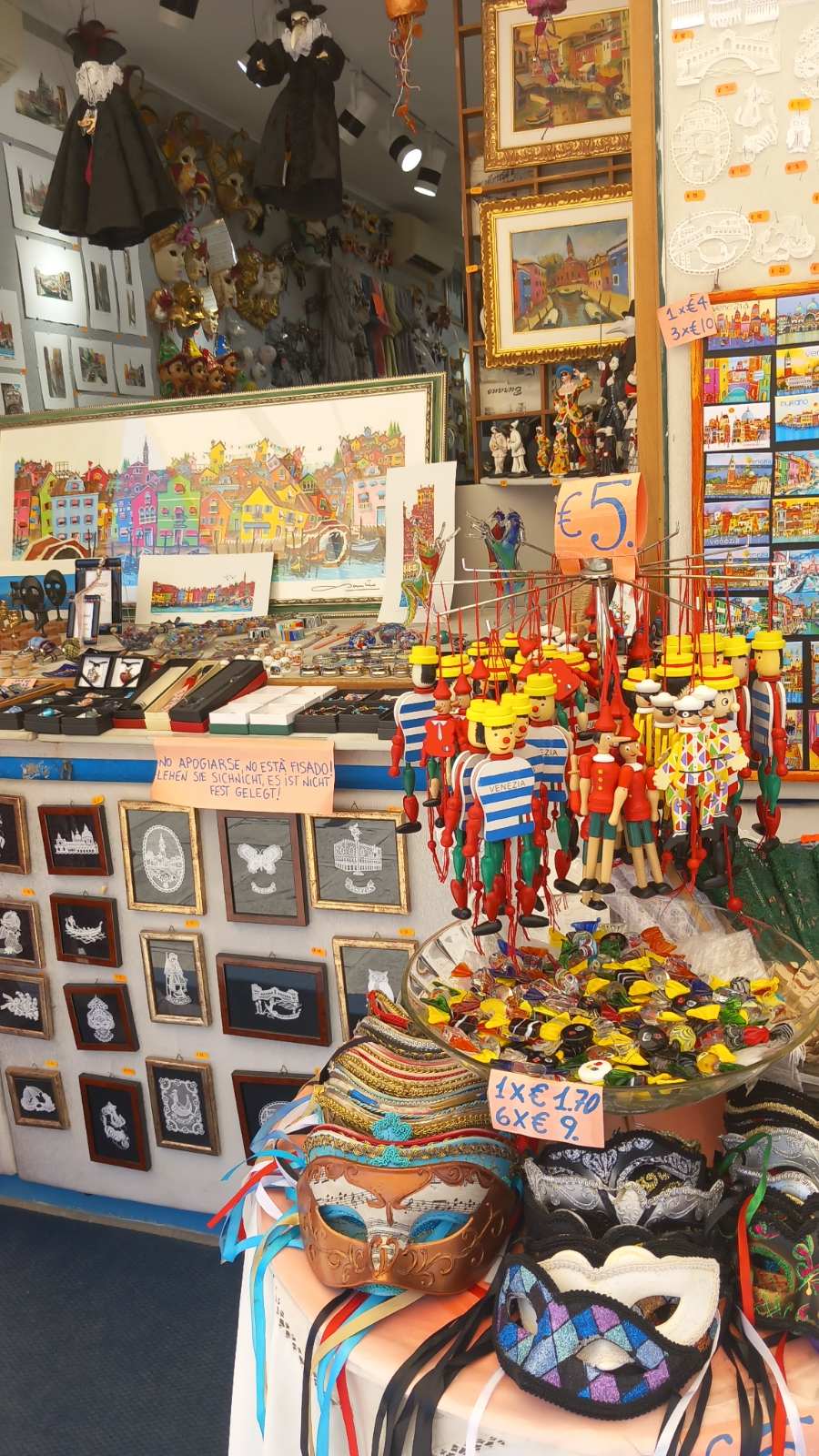 Burano Island has a rich cultural heritage that is celebrated with various festivals throughout the year. Some of the most popular ones that are nice with kids:
Carnival: This is one of the most famous festivals in Venice and its islands, including Burano. It takes place in February or March, depending on the lunar calendar. During this time, people wear masks and costumes and enjoy music, dancing, parades, and parties. Burano has its own version of Carnival, with allegorical floats, children's games, and local delicacies.
Festa del Santo Patrono: This is a religious festival that honors San Martino Vescovo, the patron saint of Burano. It takes place on November 11th every year. The highlight of this festival is a procession of boats decorated with lights that carry a statue of San Martino around the island. There are also fireworks, concerts, and food stalls.
Festa del Pesce: This is a gastronomic festival that celebrates the fishery tradition of Burano. It takes place on a Sunday in May or June every year. The main attraction of this festival is a huge frying pan that cooks thousands of fish for visitors to taste. There are also music performances, games, and exhibitions.
Is Burano safe for young kids?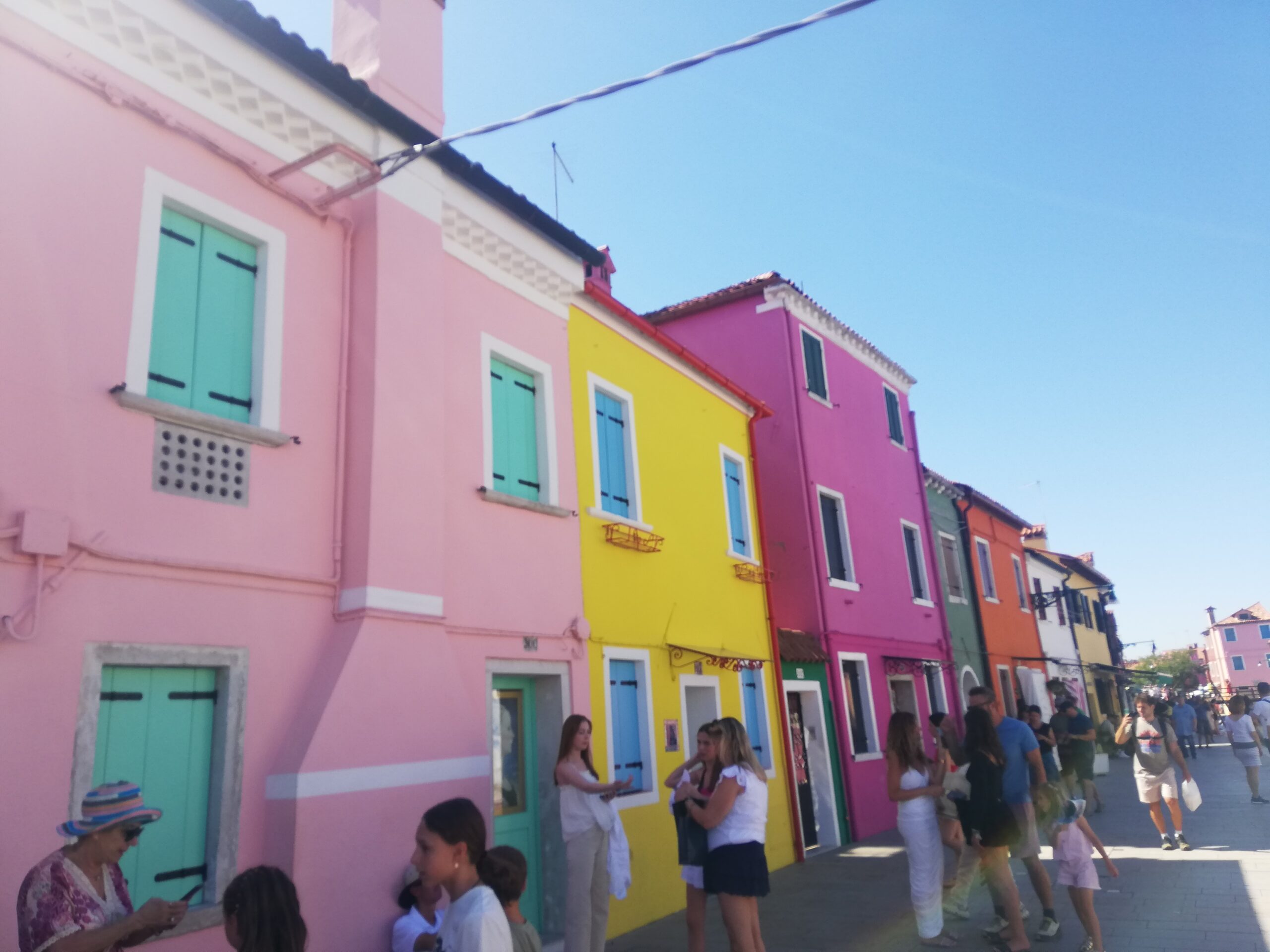 Burano Island is generally safe for young kids. It is a small and peaceful island, and there are no major safety concerns. The island is pedestrian-friendly, with narrow streets and canals, so you can easily explore it on foot with your kids. Just make sure to keep an eye on them and hold their hands when crossing bridges or near the water.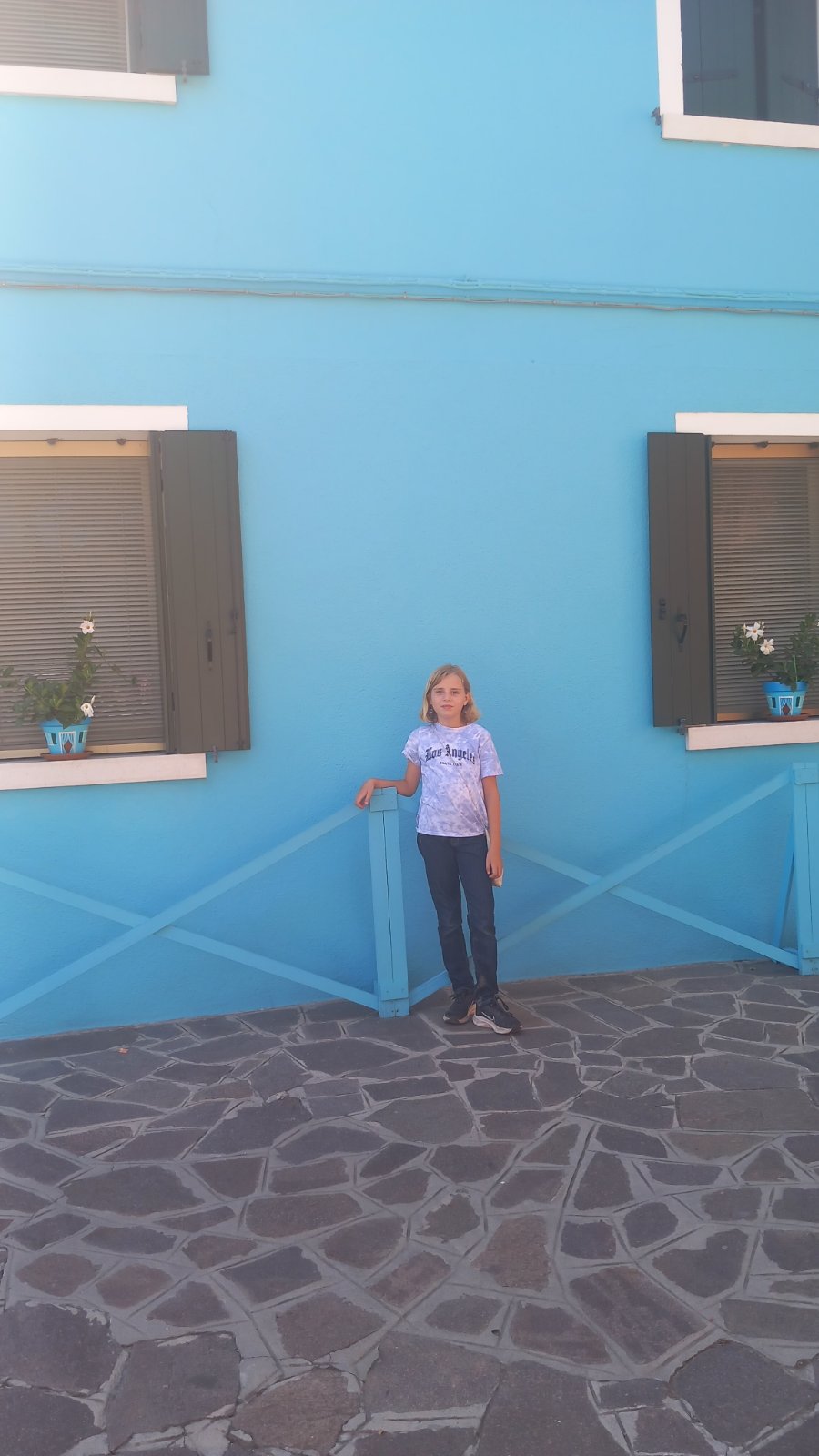 Kids will enjoy walking around and admiring the vibrant architecture. However, it's always a good idea to set some rules and boundaries, especially near the canals, to ensure their safety.
Hotels on Burano Island
Burano Island does not have many hotel options for visitors who want to stay overnight. Most tourists come for a day trip from Venice or other nearby islands. However, there are some accommodation choices on Burano Island, such as: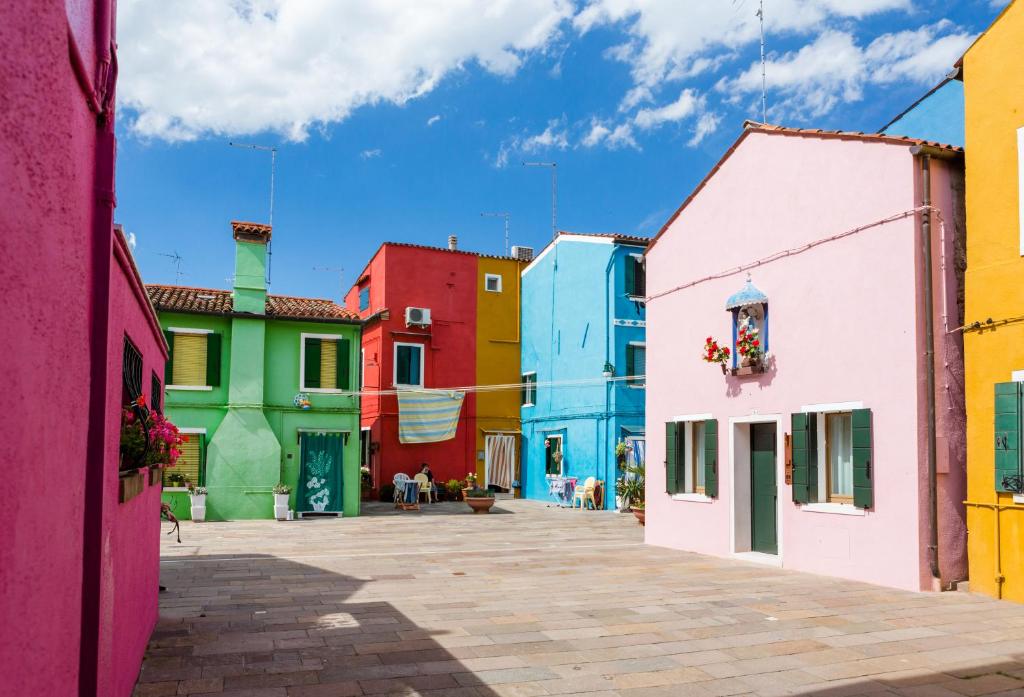 Casa Burano Experience by Venissa: This is a collection of five houses (see picture above) located in different parts of Burano, each with its own local designer furnishings, air-conditioned rooms, and free WiFi. There are family rooms and guests can also enjoy a shared lounge and a complimentary breakfast at the Venissa Wine Resort on Mazzorbo Island.
Venissa Wine Resort: This is a hotel and restaurant located on Mazzorbo Island, which is connected to Burano by a wooden bridge. The hotel offers a suite that fits 3 + 1 persons with views of the vineyard or the lagoon, free WiFi, and a garden. The restaurant serves dishes made with local ingredients and paired with wines produced on-site.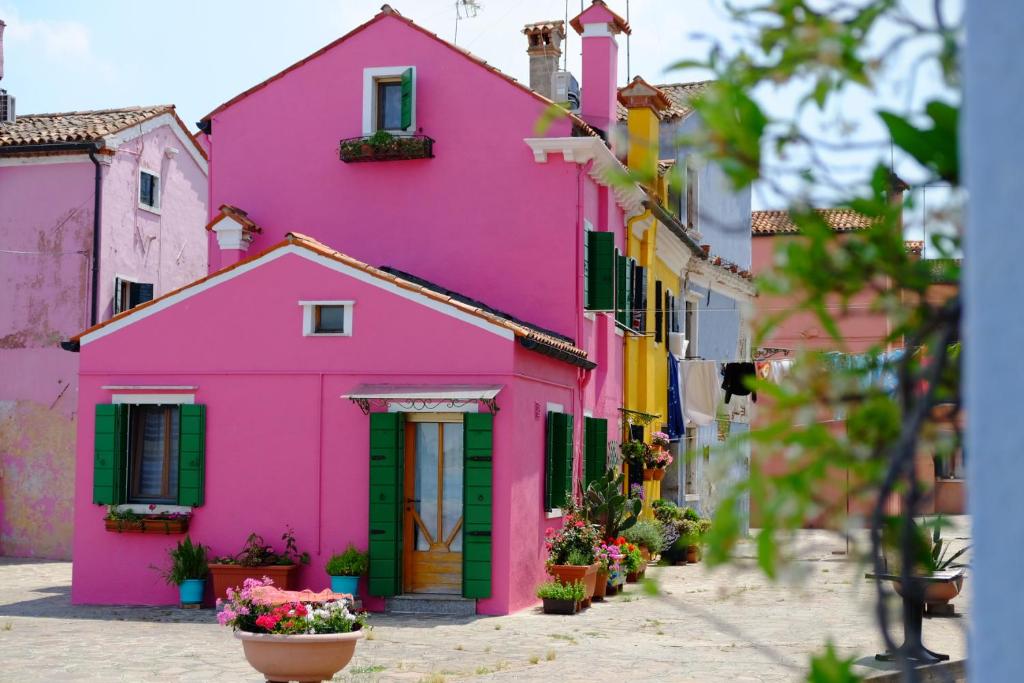 Night Galleria bed & art: This holiday home is funky and creative, offers family accommodation, and is super colorful. There is a seating area and a kitchen. Towels and bed linen are available in this holiday home.
Read also: The 6 Best Family Hotels in Burano, Italy
Other islands in the Venetian lagoon
Burano Island is not the only island worth visiting in the Venetian Lagoon. There are many other islands that offer different attractions, landscapes, and experiences.
Some of the most interesting ones are:
Murano: This is the most famous island after Venice itself, known for its glass-making industry that dates back to the 13th century. You can visit the glass factories and workshops, watch the glass blowers at work, and buy some beautiful glass products. You can also see the Glass Museum, the Basilica of Santa Maria e San Donato, and the Lighthouse Tower. Besides Burano with kids, I believe that Murano is also worth a visit with the family.
Click here to book a boat tour to Burano and Murano with a glass factory visit
Torcello: This is one of the oldest islands in the lagoon, where Venice was founded in the 5th century. It was once a prosperous and populous city, but it declined due to malaria and silting. Today, it is a quiet and green island with some impressive monuments, such as the Cathedral of Santa Maria Assunta, the Church of Santa Fosca, and the Devil's Bridge.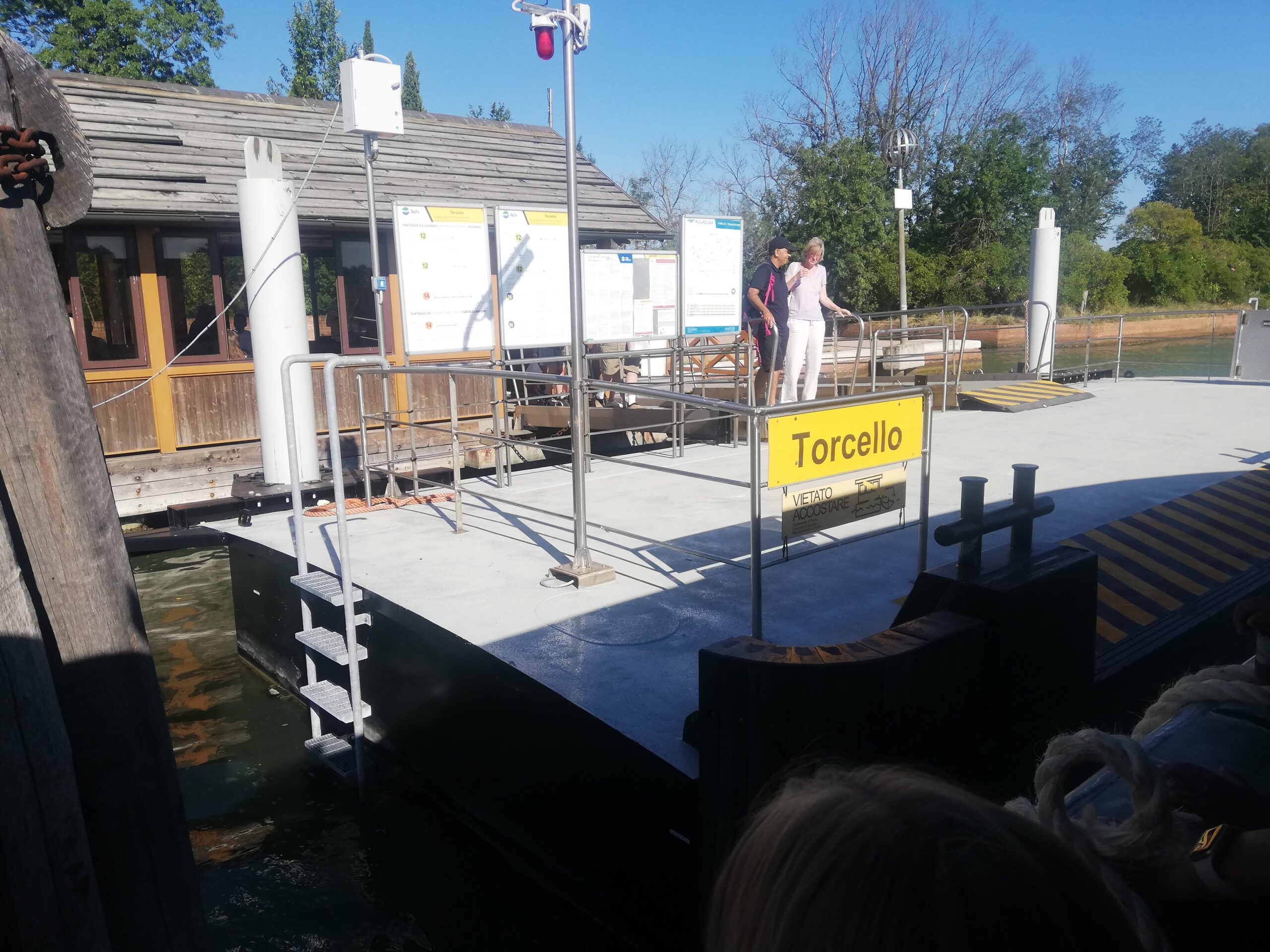 Click here for an organized boat trip to the islands of Burano, Murano, and Torcello
San Michele: This is the cemetery island of Venice, where many famous people are buried, such as Igor Stravinsky, Ezra Pound, and Joseph Brodsky. The island has a peaceful atmosphere and a beautiful Renaissance church designed by Mauro Codussi.
San Giorgio Maggiore: This is a small island facing St. Mark's Square, where you can enjoy a stunning view of Venice from the bell tower of the church of San Giorgio Maggiore. The church is a masterpiece of Palladio and contains paintings by Tintoretto and Carpaccio. The island also hosts the Giorgio Cini Foundation, which organizes cultural events and exhibitions.
Lido: This is a long and narrow island that separates the lagoon from the Adriatic Sea. It is famous for its sandy beaches, elegant hotels, and glamorous events such as the Venice Film Festival. You can also visit some historic sites, such as the Jewish Cemetery, the Church of San Nicolò, and the Fort of San Andrea.
Click here for a private guided tour of Burano and Murano including a transfer
If you want to be as comfortable as possible, you may consider a private guided tour to Murano and Burano. You will make the most out of your visit under the guidance of a professional and have pleasant transportation during your visit.
For a more affordable tour to Burano and Murano, I would recommend you to book a guided tour in a small group.
Click here for a small group guided tour of Burano and Murano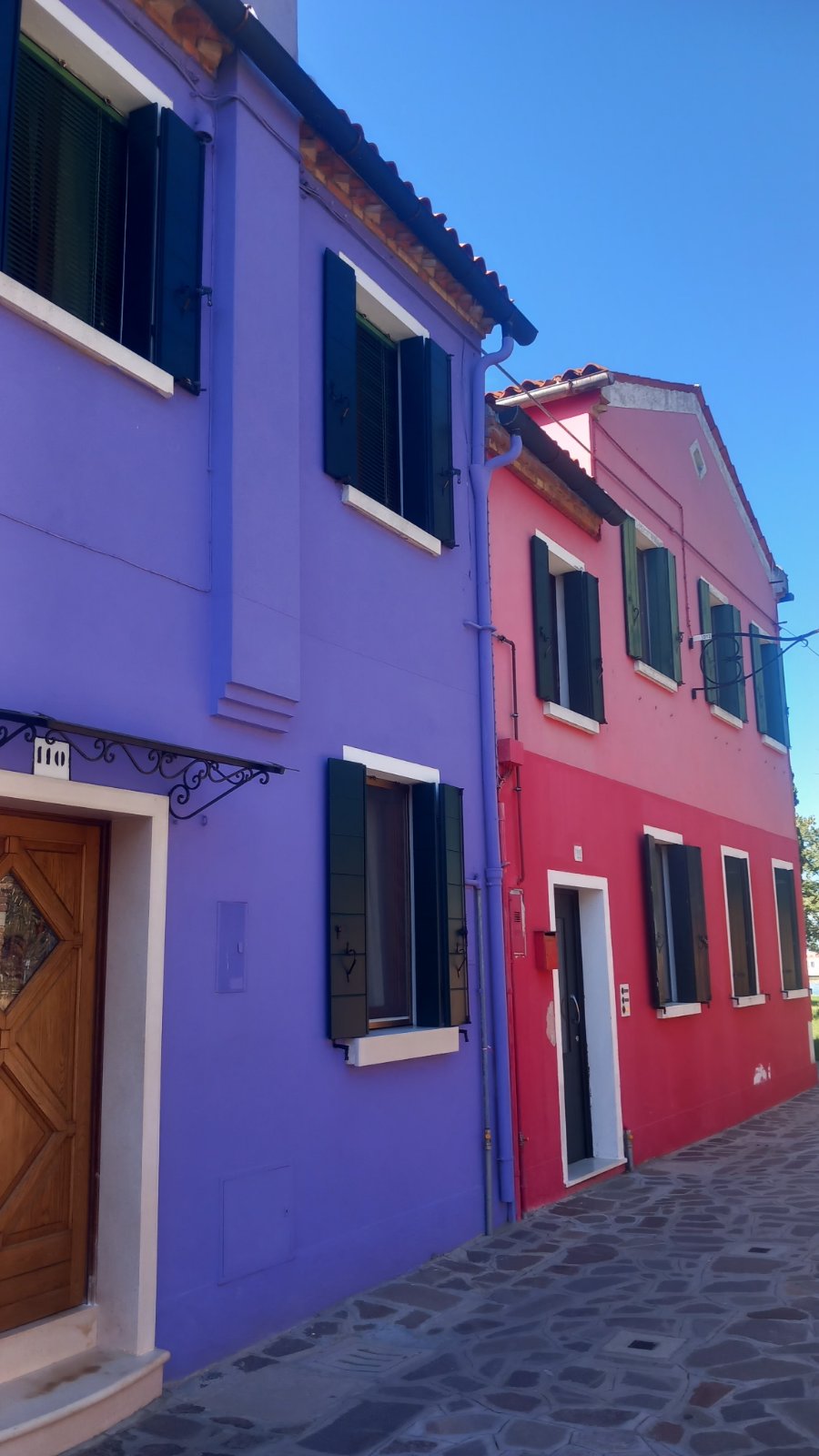 Burano with kids is a great day excursion. The island is large enough to spend a few hours with your kids and enjoy the colorful scenery, the delicious food, and the friendly atmosphere. It's a perfect escape from the crowds and noise of Venice and a chance to experience a different side of Venetian culture.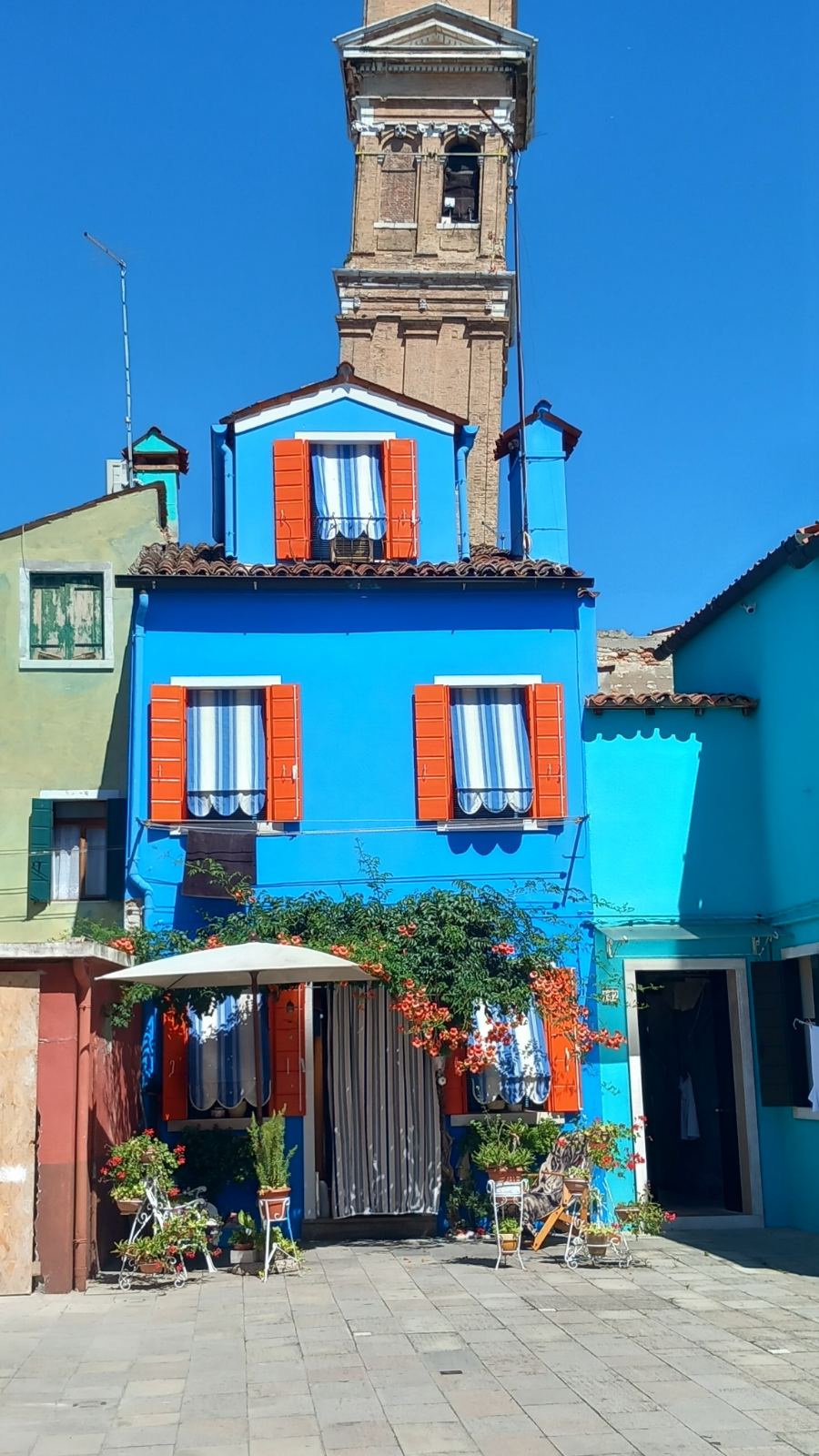 Overall, Burano Island is a safe and family-friendly destination that provides a unique experience for both parents and kids. Just remember to take the usual precautions and enjoy your time exploring this colorful gem in the Venetian Lagoon!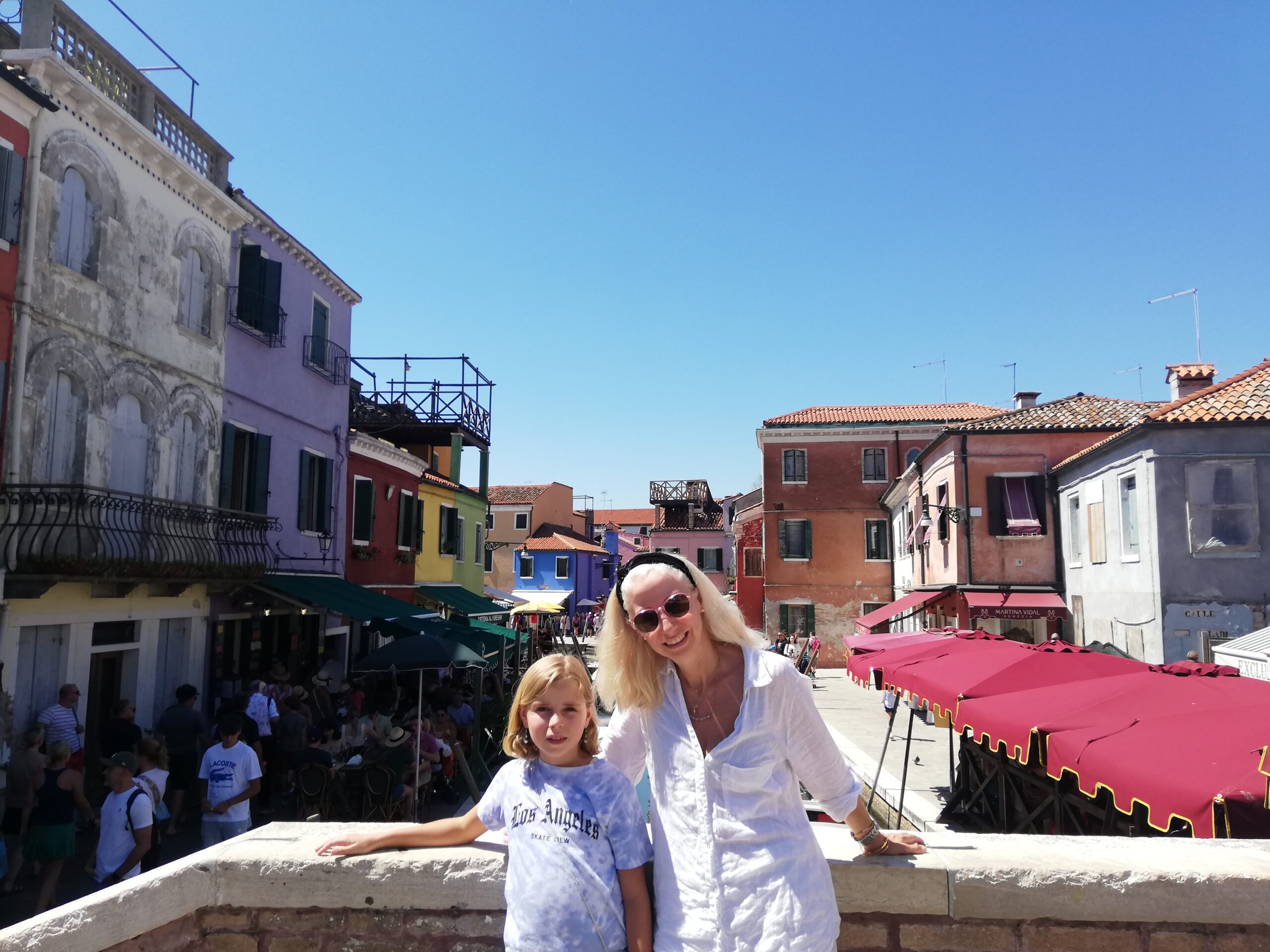 Disclosure — This post contains affiliate links. If you click on such a link, we earn an affiliate commission on the sales of products we link to. We feature only items we genuinely love and want to share. These are the ways we support our website, and allow us to run the site and engage with this travel community we truly love. Thank you for reading!