Last Updated on January 26, 2023 by Celeste.
Do your kids love Greek Mythology as much as mine do? Spark an interest in Greek mythology with these fabulous kids' games and toys that recount the classic stories or use them as inspiration for new and exciting games. From immortal gods, goddesses, and heroes to unusual creatures and demigods, our selection is filled with action, drama, and adventure. Here are our favorite Greek Mythology Toys and Games!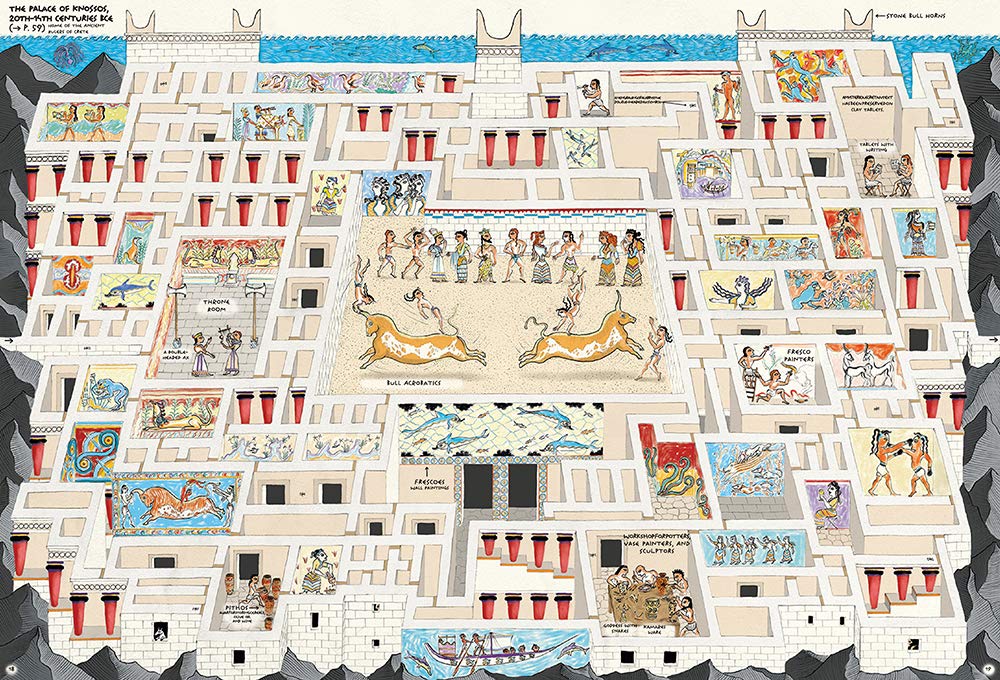 Must-have Greek Mythology Toys and Games for Kids
Click on the highlighted titles or pictures for more information
If you are looking for things to do at home with the kids, have a look at the Parthenon in Athens. Children who love 3D puzzles can try to build their own Parthenon temple, the most famous temple of the ancient world!
Best for ages: 6 and up
Did you know that the Parthenon temple was dedicated to the Greek goddess Athena? She is also the patron goddess of the Greek capital!
Best for ages: 6 and up
Educational Card Game Top Trumps takes you to an exciting, ancient world of heroes, gods and monsters in the brand new Greek Mythology deck. Will you play with foul creatures like the snake-haired Medusa and the one-eyed Cyclops or have brave heroes like Perseus and Odysseus in your hand of cards? If you don't know what to do with kids at home, order your own game now!
Best for ages: 6 and up
Kids who like Minecraft will love these playful figurines of their favorite Greek gods and heroes. A small gift that easily fits in a Christmas stocking or goodie bag.
Best for ages: 6-10
Kids and adults love Lego and this board game brings their toy to life. Create your own Lego game and escape the Minotaurus!
Best for ages: 7 and up
LEGO has been doing the Creator 3in1 series for a few years now. These sets come with three different possible builds that can be done with the LEGO bricks included in the box. This adds a ton of creativity and flexibility to these types of LEGO sets. I like them because there is lots of room for creativity and flexibility to these types of LEGO sets.
Santorini is an abstract strategy board game for 2-4 players designed and released in 2004 by Gordon Hamilton. Inspired by the architecture of cliffside villages on Santorini Island in Greece, and primarily designed for two players, the game is played on a grid where each turn players build a town by placing building pieces up to three levels high. To win the game, players must move one of their two characters to the third level of the town
Best for ages: 8 and up
This Spin Master Santorini game is a great way to balance out skill gaps or introduce new players to the magical world of Santorini!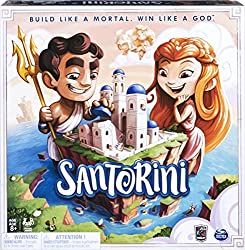 Catch Zeus if you can! The great Greek god has bolted from Mount Olympus and it's up to you to nab this dashing deity. Play cards strategically, adding numbers as you climb up the mythic mountain. Grab Zeus when the total reaches a multiple of 10. Better yet, summon the strength of Apollo, Poseidon, or all-powerful Hera to bring Zeus within your grasp. Reach the top of Mount Olympus with Zeus in hand and you're a mortal among the gods. To play is human. To win, divine!
All products are independently selected by our editors. If you buy something, we may earn an affiliate commission.
Best for ages: 8 and up
A must-have maze brilliant oversize maze book that invites readers to get lost among the twists and turns of beloved Greek myths. Discover the legendary labyrinths and mythologized mazes of ancient Greece in a beautifully designed book of paths and stories. Each turn of a page lands the reader in a new and exciting Greek classic through which to chart a path, learning along the way.
Greek Mythology Toys and Games for Older Kids and Teens
Become a legend by bringing your people to their highest. This is a great 90-minute adventure, development, and conquest game of soldiers, philosophers, and mythological creatures. Here you can recruit troops, build ships, fortresses, and metropolises with the Gods of Olympus and mythological creatures. There are several Cyclades Expansion such as the Titans Expansion. For more information, click on the product link.
Best for ages: 13+
If your kids like to read about Greek mythology, have a look at our Best Greek Mythology Books for kids!
Related posts to (Greek) Mythology for Kids:
Family Experiences Blog is a participant in the Amazon Services LLC Associates Program, an affiliate advertising program designed to provide a means for sites to earn advertising fees by advertising and linking to Amazon.com. All products are selected by us. If you buy something, we may earn an affiliate commission.