Last Updated on January 26, 2023 by Celeste.
Anastasia takes us to Preveli, one of the most beautiful beaches in Crete and listed as one of the best in Greece. What is Preveli beach like with kids? Being a Cretan local mom and experienced traveller, Anastasia is the best person to tell us her family experience! Preveli with kids is a great day out!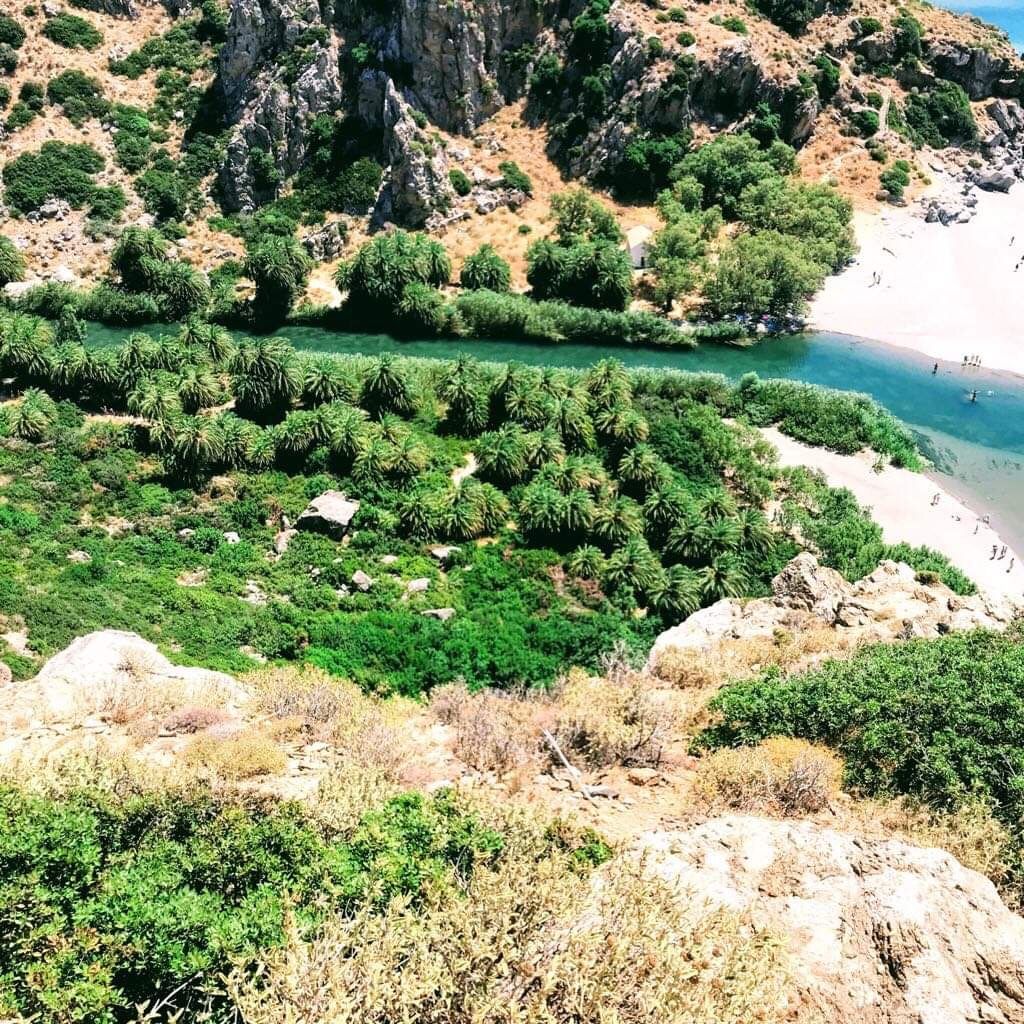 Today I am going to Preveli with kids, one of the most beautiful landscapes of South Crete. They say Crete in an island where you can meet the 5 continents, and it is so true! Preveli will take you to a desert oasis in combination with a crystal clear blue sea.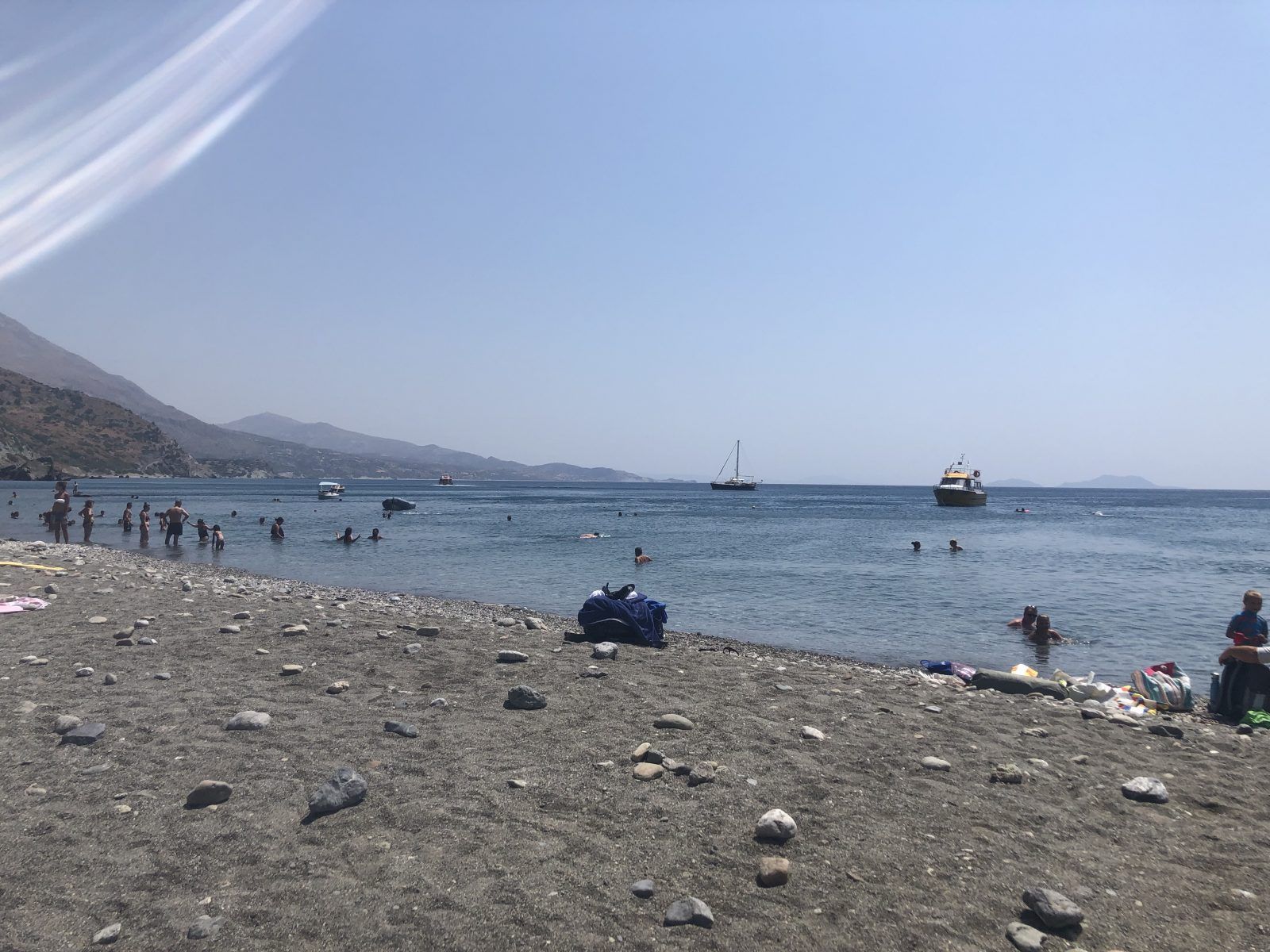 Located in south Rethymno, ten kilometres east of Plakias, Preveli or else called Foinikas is located at the exit of the impressive gorge of Kourtaliotis where flows the river Megalos Potamos.
While driving to Plakias you will cross through this beautiful gorge and you can stop at many spots ideal for photos.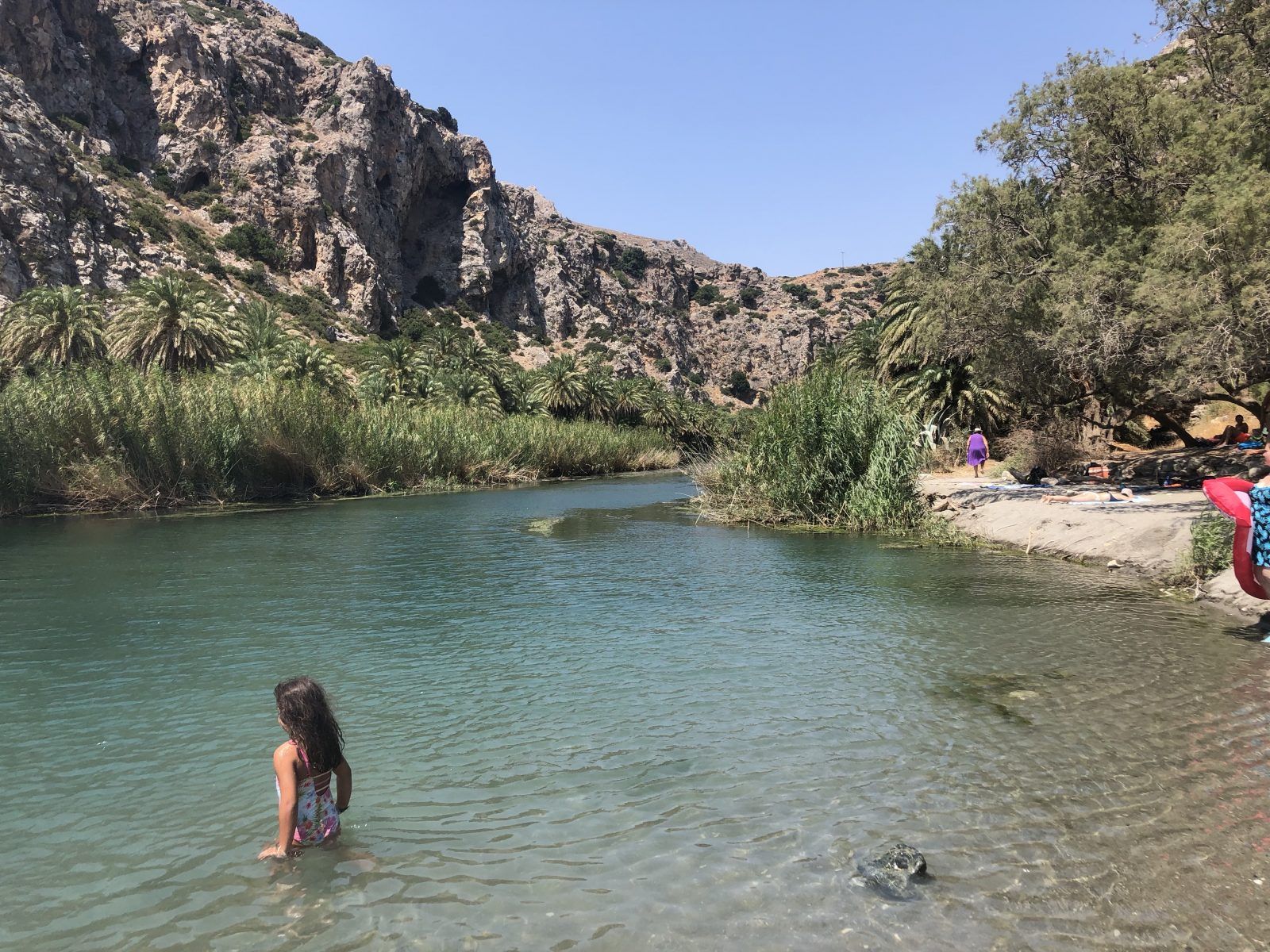 There are two ways you can access the beach. If you drive and simply follow the signs that will take you to the Monastery of Preveli, you will stop at a big parking lot and then you will start descending from the path that will give you amazing views from the top.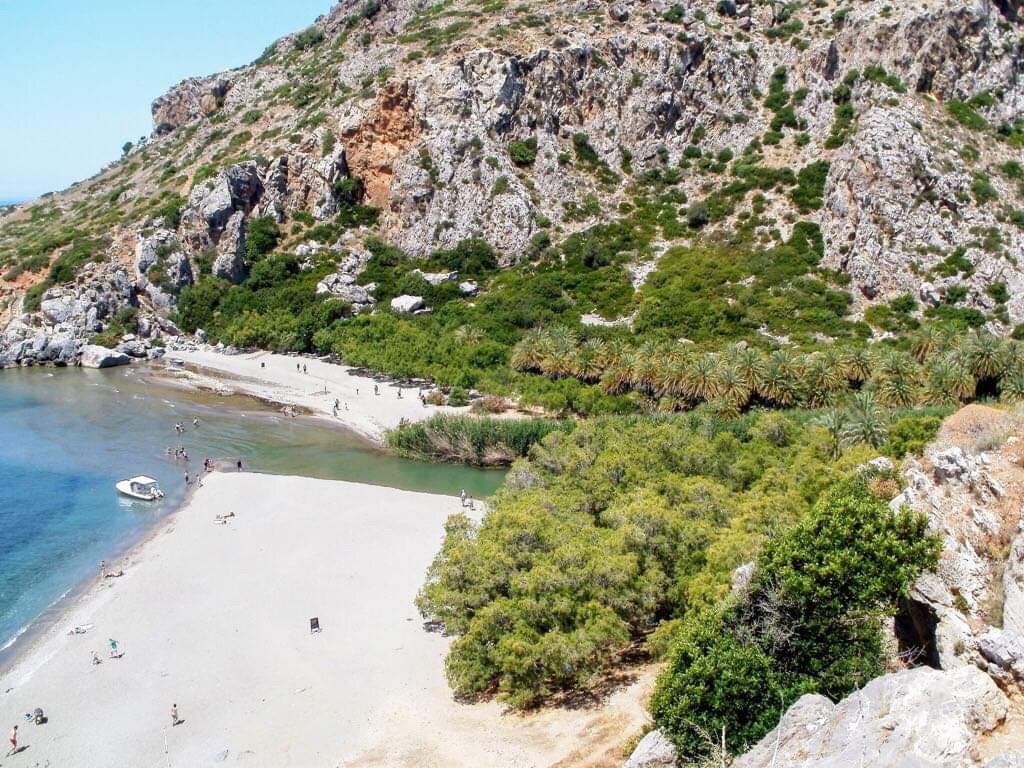 It will not take you more than half an hour to Preveli with kids to reach the beach but the return is a little bit more tiring since the path is a little steep. The second option is the small boat from Plakias which will take you there in half-hour. This is the option we picked as the day was very hot, and we wanted a relaxing weekend.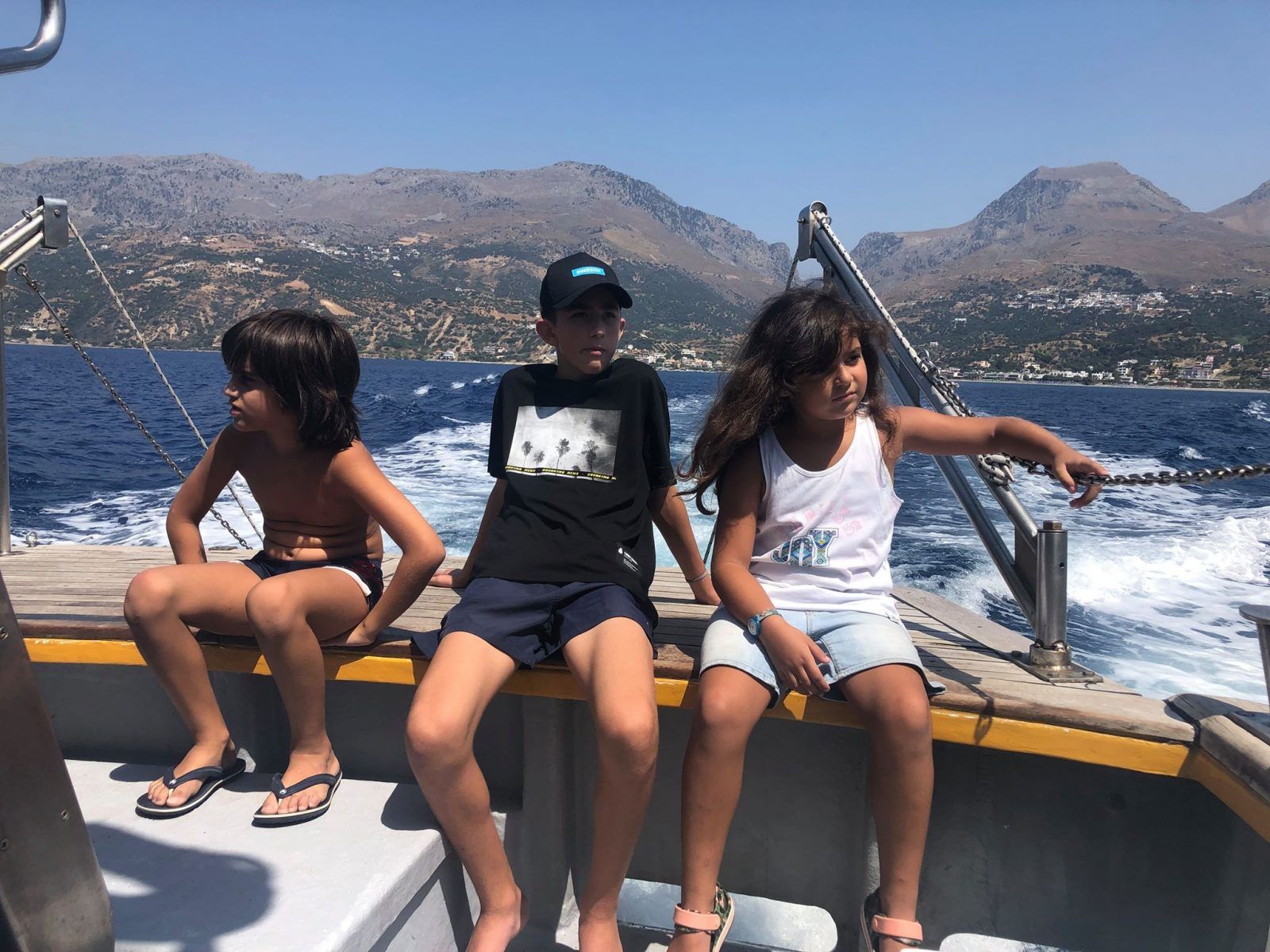 Basic facilities you can find on the beach, considering food, drinks, and snacks. The beach is quite rocky but the water once you are in is so refreshing! Of course, you can also swim at the lake the river creates before meeting the sea.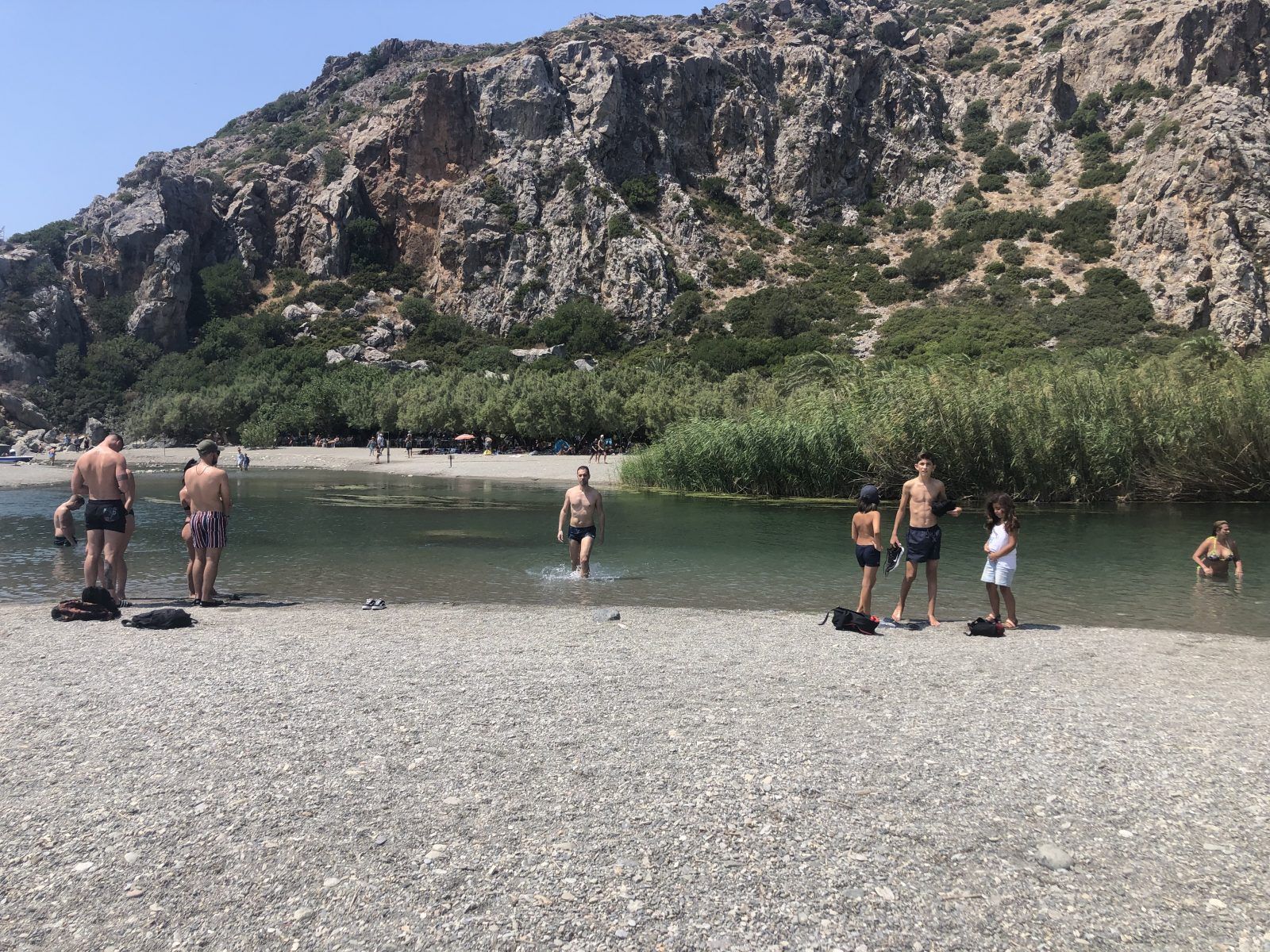 A walk along the river under the beautiful palm trees is a must when in Preveli with kids. The beautiful landscape will take you to a local jungle you will not forget. The kids find it adventurous as they need to climb over the tress and of course swimming in the chilling river with the turtles is a real experience.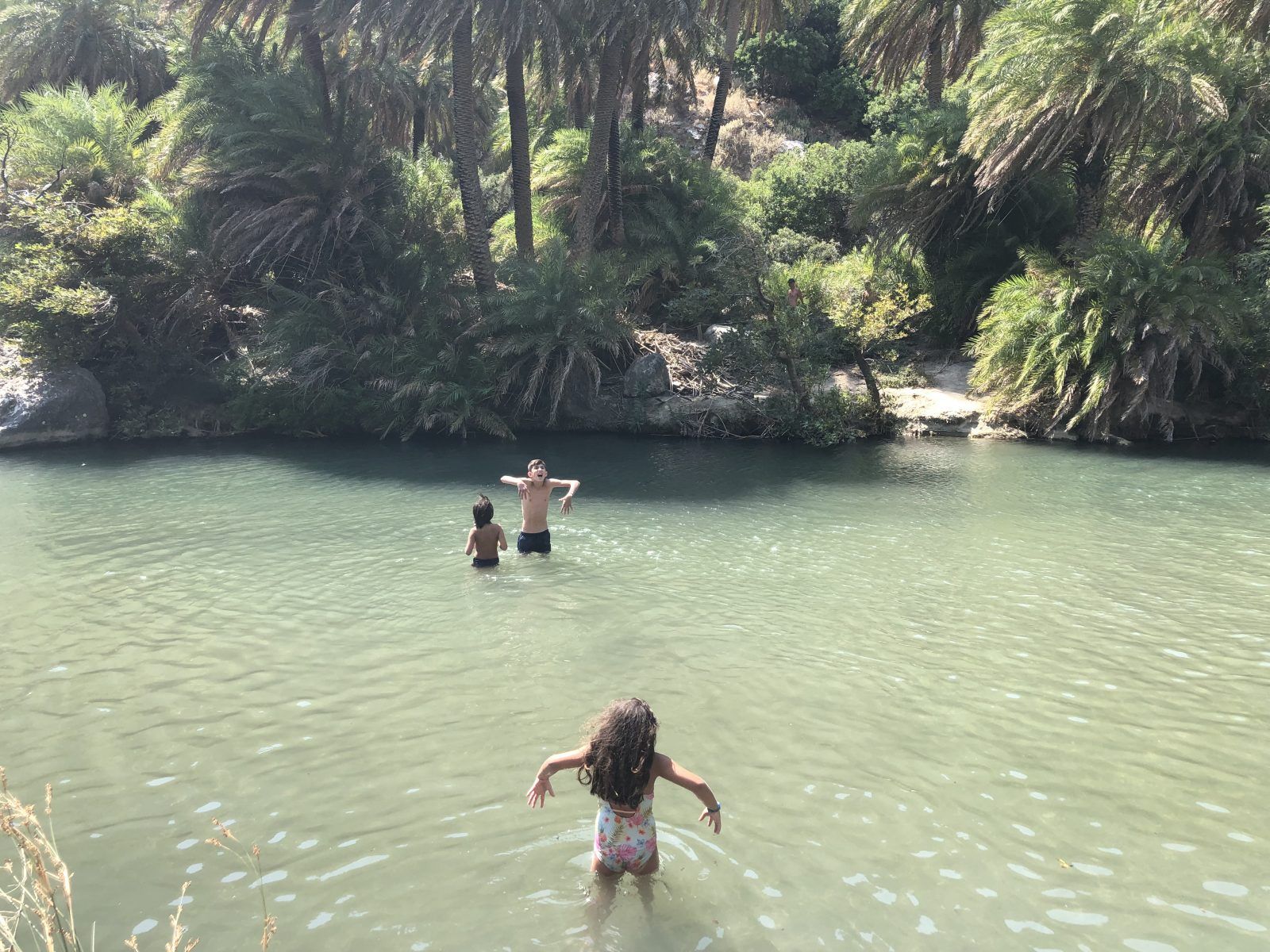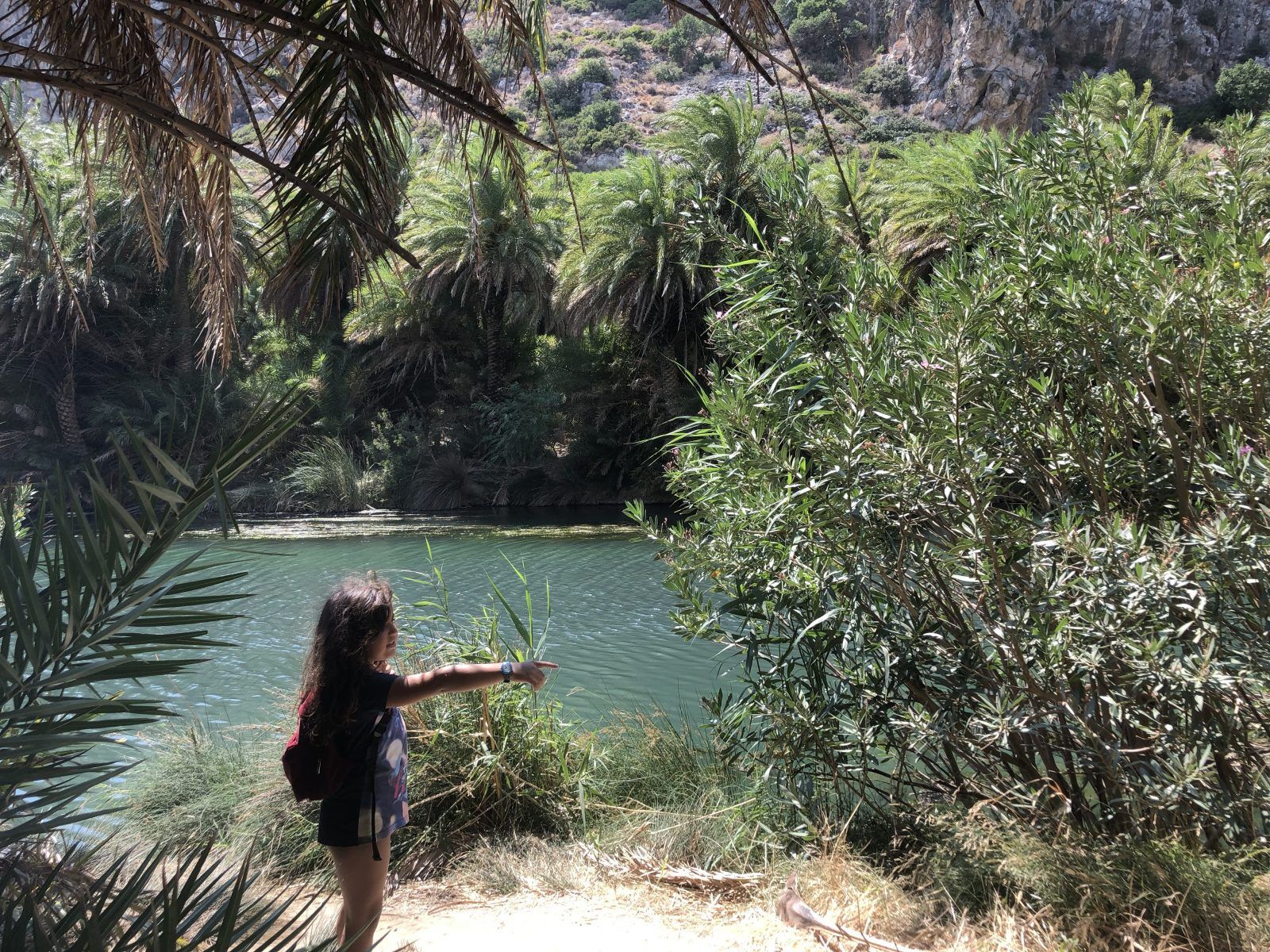 If you do not want to drive and explore on your own, there are several organized day trips from Chania and Rethymnon to Preveli. I had a look at the possibilities and here is what I would recommend.
You can opt for a bus excursion combined with a skip-the-line ticket. With the bus picking you up from your hotel, all you have to do is let yourself and your kids be comfortably be driven to the beaches of Preveli, Soak up the sun at the beaches of Preveli, Damnoni and Plakias and soak up the sun while swimming in the turquoise waters! Many bus excursions stop a the Kourtaliotis Gorge too. For families in Rethymnon, I recommend the guided Plakias and Preveli Beach Full-Day Trip. Click here for more information and booking.
Another family-friendly and value for money option to visit Preveli by bus with guide is the Day Trip to Preveli Palm Beach. This tour combines a swim in the at Preveli beach with the gorge and the beach of Plakias. For more information about this tour and for booking, click here.
If you want to add a visit to the Monastery of Preveli, than have a look at this Damnoni & Preveli Palm Beach Small Group Tour. You will visit the traditional village of Spili and the Monastery of Preveli on a small group day trip from Rethymno. Enjoy family time at Preveli Beach and enjoy lunch in beautiful Damnoni (I wrote about Damnoni in a previous post). Click here for more information and booking.
Adventurous families with older children may want to explore Preveli by car. If that is something you would like, I recommend doing this by jeep such in this Luxury Jeep Safari to South Coast, Palm Beach and Canyons. As this off-road adventure is organized in an air-conditioned, chauffeur-driven Jeep, it's great for families who want to do something different in a comfortable way. Click here for more information and booking.
Crete is full of gems. The more you come the more new things you will always discover. I will do my best to show you as much as I can!
Have a look at my other family experiences in Crete such as our visit to the mysterious labyrinth in the Palace of Knossos. If your kids like mythology, they will love a visit to this ancient palace! And if you like beaches, then do not forget to check out our posts of the most famous beaches in Crete; Balos Lagoon, Elafonissi and Falassarna.
Did you like this post? Pin it!