Last Updated on May 8, 2023 by Celeste.
All Inclusive Hotels & Resorts in Greece | Family Hotels | Luxury Resorts | Family Resorts | All Inclusive | Luxury Family Resorts in Greece | Family holiday resorts Greece | Top family resorts Greece | Greece family resorts 5-star
All Inclusive hotels & resorts in Greece
Dreaming of a perfect vacation in Greece? In this post, you will find some of the best All Inclusive Hotels and Resorts. Over the years, we have visited many all inclusive hotels & resorts in Greece. Including the ones in this list. For many, we have written reviews. One of our favorite family hotel groups is Grecotel. You can find our review on this blog:
We have selected the 3 hotels & resorts in this list based on 3 key family-friendly factors: their accommodation options, their family facilities, and their activities for kids or families.
The Westin Resort, Costa Navarino is located in the Peloponnese region, on the gorgeous Ionian Sea. The resort lies on its own endless golden sand beach. Costa Navarino offers multiple accommodation options to cater to your family's needs. There is a wide selection of family rooms and suites with connecting options, ranging from 39m2 to 80m2. You will find private infinity pools at the ground floor units.
Kids Clubs
There are lots of things to do at the Westin Resort, Costa Navarino. For tiny tots, there's the Cocoon Care Centre (ages 4 months – 3 years). For bigger kids, there's the Sand Castle, with different activities (tailored to ages 4-7 and 8-12). You can choose from half-day, full-day, and even overnight-stay programs. Children in the Sandcastle can participate in activities recreating life in ancient Messenia; construct their own ancient costumes or explore the great outdoors, following in the steps of Heracles.
The hotel also organizes family excursions, water sports like kitesurfing, windsurfing, and stand-up paddling, or mini-tennis, badminton, table-tennis, and golf.
Finally, there is a small Aqua Park that boasts waterslides, waterfalls, and multiple swimming pools. Kids will also find Playstation 3 consoles, pool tables, a bowling alley, and all kinds of indoor sports in this fun paradise.
Click here for more information, prices and to book your stay at the Westin Resort, Costa Navarino
Ikos Dassia, Corfu is a 5* luxury all-inclusive resort located on a long golden sand beach. The resort is ideal for families looking for high-end luxury experiences, tailor-made services, family facilities, and a sophisticated all-inclusive concept. This family paradise is only a short drive from the airport (20 minutes) and the historic Corfu Town is 15 minutes away.
Family-Friendly Accommodation Types
Ikos Dassia features an exclusive beachfront location, these luxurious, ultra-spacious two-floor family villas feature three separate bedrooms, an outdoor jacuzzi, and a large private garden with an outdoor dining space and heated pool. All accommodation styles have spacious balconies, private gardens, and some individual pools. Large families can opt for a stay at a deluxe three-bedroom villa with a private heated pool.
Kids will love the heated outdoor children's and baby pools, as well as the soft sand of the golden beach. There are also beautiful playgrounds at Ikos Dassia. Family facilities also include the Heros Crèche (at extra charge) for kids as young as 4 months up to 4 years. Childcare from 4 years+ is free, as well as the Heros Kids Club for ages 4-12 years and complimentary Just4Teens for ages 13 +.
Ikos Dassia organizes sports events and there is babysitting at the beach (included 30 minutes complimentary/ 4 yrs and over).
Click here for more information, and prices and to book your stay at Ikos Dassia, Corfu
Daios Cove Luxury Resort & Villas is located in a fabulous cove that functions as a barrier to the wind. It is a very peaceful, quiet, and beautiful place. This private bay is on the North-East part of Crete. Daios Cove features 165 private sea-water pools a 2,500-m² spa, and luxurious rooms with spectacular views of the cove and the sea.
There are Daios Cove rooms, suites, and individual villas that offer spacious living areas. Kids will love the recreational amenities at Daios Cove Luxury Resort & Villas including 2 tennis courts, 2 outdoor pools, water sports, and a kids club.
Click here for more information, and prices and to book your stay at Daios Cove
Famous Attractions nearby
Families will also enjoy excursions near Daios Cove Luxury Resort because its location in picturesque Agios Nikolaos is perfect. The island of Spinalonga is just a short trip away, and the village of Plaka can easily be reached on foot. Other places of interest are the Lassithi Plateau and Cave of Zeus.
Related Post For Crete: Our review of All Inclusive Out of the Blue Resort, Crete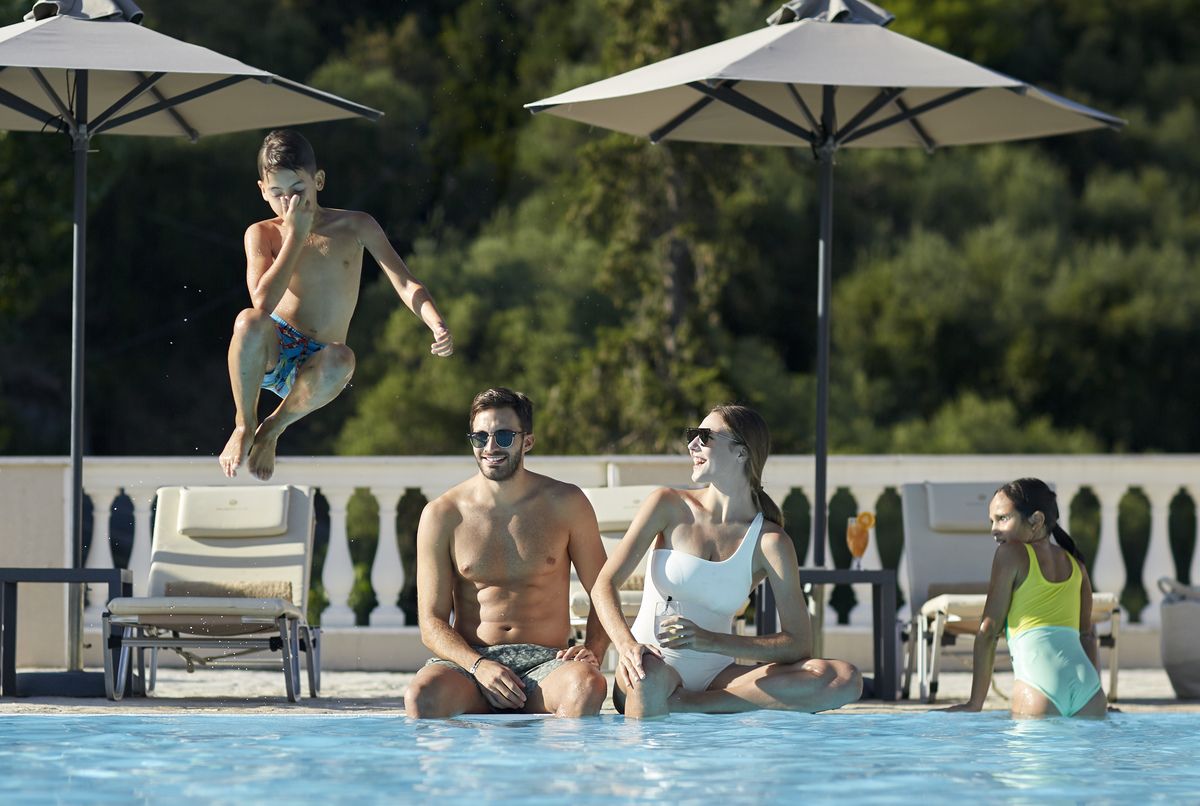 The family-friendly, Marbella Corfu, has launched a new premium all-inclusive in 2023. Guests will be able to relax knowing that meals, drinks, entertainment, and water sports are covered in the overall cost of their holiday upon their arrival at the hotels. The hotel offers the ultimate luxury experience for the whole family.  
The program offers complimentary childcare for children aged between four and 12 years old, unlimited snacks and refreshments throughout the day, and four à la carte dinners per week, as well as a complimentary welcome mini-bar replenished weekly and much more. Guests can relax knowing they have the freedom to choose from a variety of experiences, entertainment and food venues at no additional cost.
Available also at MarBella Corfu is the Signature Suites program. It allows guests who desire an added layer of luxury, to enjoy exclusive benefits during their stay. All three of the MarBella Collection's hotels have been named among the Top 10 Best Resorts in Greece according to Conde Nast Traveller Readers' Choice Awards 2022.
More Family Hotels and Resorts in Greece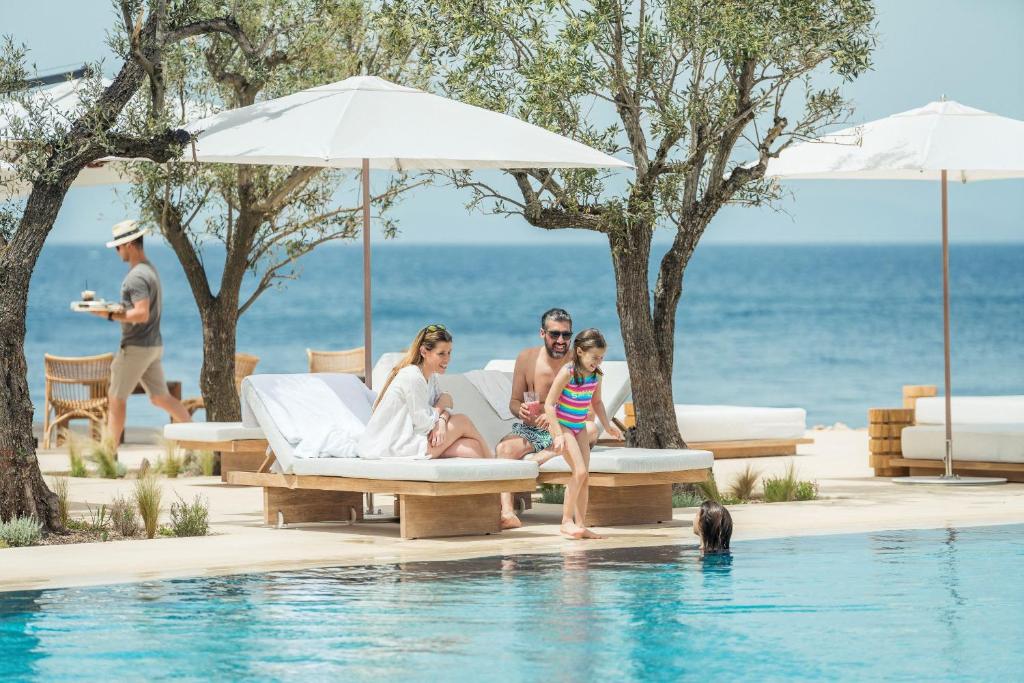 If you are looking for all-inclusive Hotels and resorts in Greece, you have plenty of choices. Generally, Greece offers many family-friendly hotels and accommodations for every budget. Here are some of our best family hotels in Greece.
Hotels & Resorts with Water parks in Greece
Featured photo above this post: Copyright Ikos Dassia