Last Updated on March 22, 2023 by Celeste.
Stretching almost 5 kilometers along the Thermaic Gulf, Thessaloniki is a seaside city with a blend of modern hotels, ancient Greek history, and beaches. Home to some of the best nightlife options in the Aegean you will not tire of things to do on a family vacation to Thessaloniki. There are plenty of family-friendly hotels in the city, ranging from large resort hotels with an outdoor pool, ideal for the summer months, to luxurious hotels in the city center within walking distance to some of the best places to visit in Thessaloniki. The following are some of the best family hotels in Thessaloniki for a visit to this wonderful city.
The 10 Best Family Hotels in Thessaloniki
Are you traveling to Thessaloniki with the kids for a city break or for a vacation in Northern Greece? Also read the 10 Best things to do in Thessaloniki with kids.
1. Hyatt Regency Thessaloniki
The Hyatt Regency Thessaloniki is located only 5 minutes from Macedonia International Airport and is a 5* hotel that is an ideal place for a family trip. There is a large 1,200-square-metre outdoor swimming pool and nearby is the children's pool for the younger members of the family. There is something for everyone at this hotel with various dining options and room service. With free parking, free wifi, and even pet-friendly amenities you are sure to have an enjoyable stay here.
2. Hotel Nikopolis
A modern 5* hotel just a short 15 drive to Thessaloniki City Centre with a large pool ideal for families and spacious contemporary rooms perfect for a family to stay. There is also an indoor swimming pool, sauna, steam room, and 2 tennis courts. Each room is fitted with a marble bathroom with a separate shower and tub, ideal for those traveling with young children. Amenities include Samsung LED TVs with satellite channels, air conditioning, soundproof windows, safes, and minibars. The hotel is known for its friendly staff and beautiful gardens and would be a great option for a family hotel in Thessaloniki.
3. Electra Palace Thessaloniki
Found in the center of Thessaloniki this 5* flagship hotel is a delight to stay in. Families will love the 2 swimming pools (one of which is a rooftop pool), 24-hour room service, and family rooms. Because of its central location in the heart of the city, it is a short distance to many attractions such as Saint Panteleimonas Park, Macedonian Museum of Contemporary Art, and OTE Tower.
4. Colors Urban Hotel Thessaloniki
The Colors Urban Hotel is situated right in the heart of the action so whatever your family would like to do, it will not be far away. Some rooms boast Thermaikos Gulf views, while others overlook the vibrant street right in front of the hotel. The city's entertainment and shopping areas are only a short walk from this luxurious hotel. With family rooms and a highly-rated breakfast, this hotel is an excellent family option in Thessaloniki.
5. Colors Ladadika Thessaloniki
Located just 100 meters from the seafront this beautiful hotel is perfect for those families who want to be close to the vibrant areas of Thessaloniki. The air-conditioned rooms are decorated in lively colors, each with a private bathroom and air conditioning, while some open out to a private balcony. Just steps away from the many tavernas and restaurants of Ladadika, this is a great place to base yourself in the heart of Thessaloniki.
6. Capsis Bristol Boutique Hotel
One of the oldest hotels in the City of Thessaloniki the Capsis Bristol Boutique Hotel is in a quiet location, yet yards from the main attractions. With highly recommended, exceptional breakfasts from previous guests and large rooms, this elegant hotel is very popular with families. Another great perk is the free bicycles available to explore the City.
7. ON Residence
Another wonderful choice of family hotels in Thessaloniki is the ON Residence. Just 350 yards from Aristotelous Square, this hotel has 24-hour room service, a suburb buffet breakfast, and very comfortable rooms. The hotel is allergy-free and is located just 650 yards from the Museum of the Macedonian Struggle. Due to its fantastic location, your family will be close to everything you could want to see, eat or do in the City.
8. S Hotel Boutique Thessaloniki
The S Hotel Boutique Thessaloniki is one of the very best in the City. With new, modern, and spacious rooms it is ideal for families who are visiting the area. The Junior suites are large at 377Sq ft, providing ample space for families to relax. Add to this the very well-regarded breakfast, exceptional staff, and wonderful location it's a fantastic choice for a family hotel in Thessaloniki.
9. The Excelsior Small Luxury Hotels of the World
An exceptional hotel in the center of Thessaloniki The Excelsior is the only member of the Small Luxury Hotels of the World in Thessaloniki. With outstanding decor, luxury rooms, and a balcony in each room this hotel offers Junior Suites which will provide plenty of space for a family. Wonderfully located for shopping or exploring this hotel has so much to offer families looking for a 5* stay in the City.
10. Daios Luxury Living
As close as you can get to the sea without being in it, the Daios Luxury Living Hotel is a 5* oasis offering spectacular panoramas over the Thermaikos Gulf and the White Tower. Every morning, a delicious American Buffet is served in the Vitrina Restaurant, and you are sure to find something for every member of your family. The rooms are clean, comfortable, and very big, making them ideal for families of any size.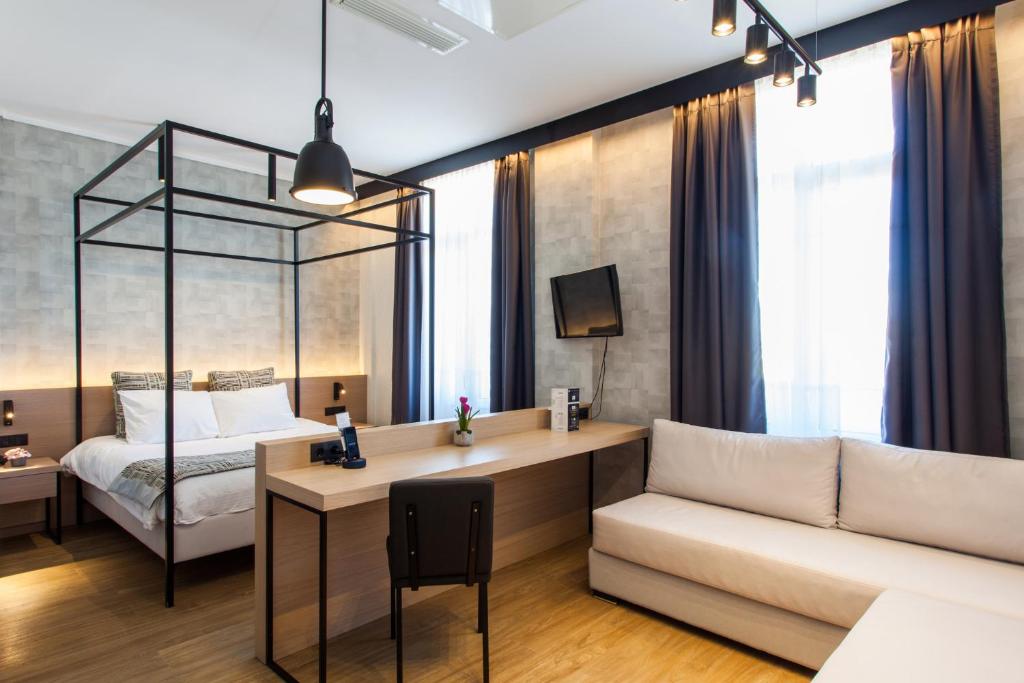 We recently stayed at the Egnatia Palace hotel. It is a centrally located, modern and affordable hotel. The bus to the airport stops right outside of the hotel. The hotel features family rooms, excellent breakfast and a spa. An impression of the room can be found on Family Experiences Blog YouTube channel.
Family Hotels Greece
Thessaloniki has a wide range of family hotels. If you want to see what to check out more family-friendly accommodation, you may also like: