Last Updated on February 15, 2023 by Celeste.
Halkidiki is special to me. My best childhood friend owns a summer house in Kassandra. Ever since high school, I have been visiting her in the summer. When younger, we would spend endless sunny afternoons at the beach bars on Halkidiki's fantastic coastline. Later on, we loved exploring the area with our fiancées. After we got married and had our kids, we kept coming back for beach vacations. Halkidiki is ideal for families. It also features some of the best family beaches in Greece.
Halkidiki in Greece with Kids: Best beaches
Halkidiki in Greece is famous for its crystal clear shallow waters, endless coastline and pine trees reaching the sea. It seems almost impossible to select the best family beaches in Halkidiki. There are more than 60 beautiful beaches in this green part of Greece. Many of them have been awarded by the Blue Flag Organization. In fact, Halkidiki offers the most Blue Flag beaches in Greece.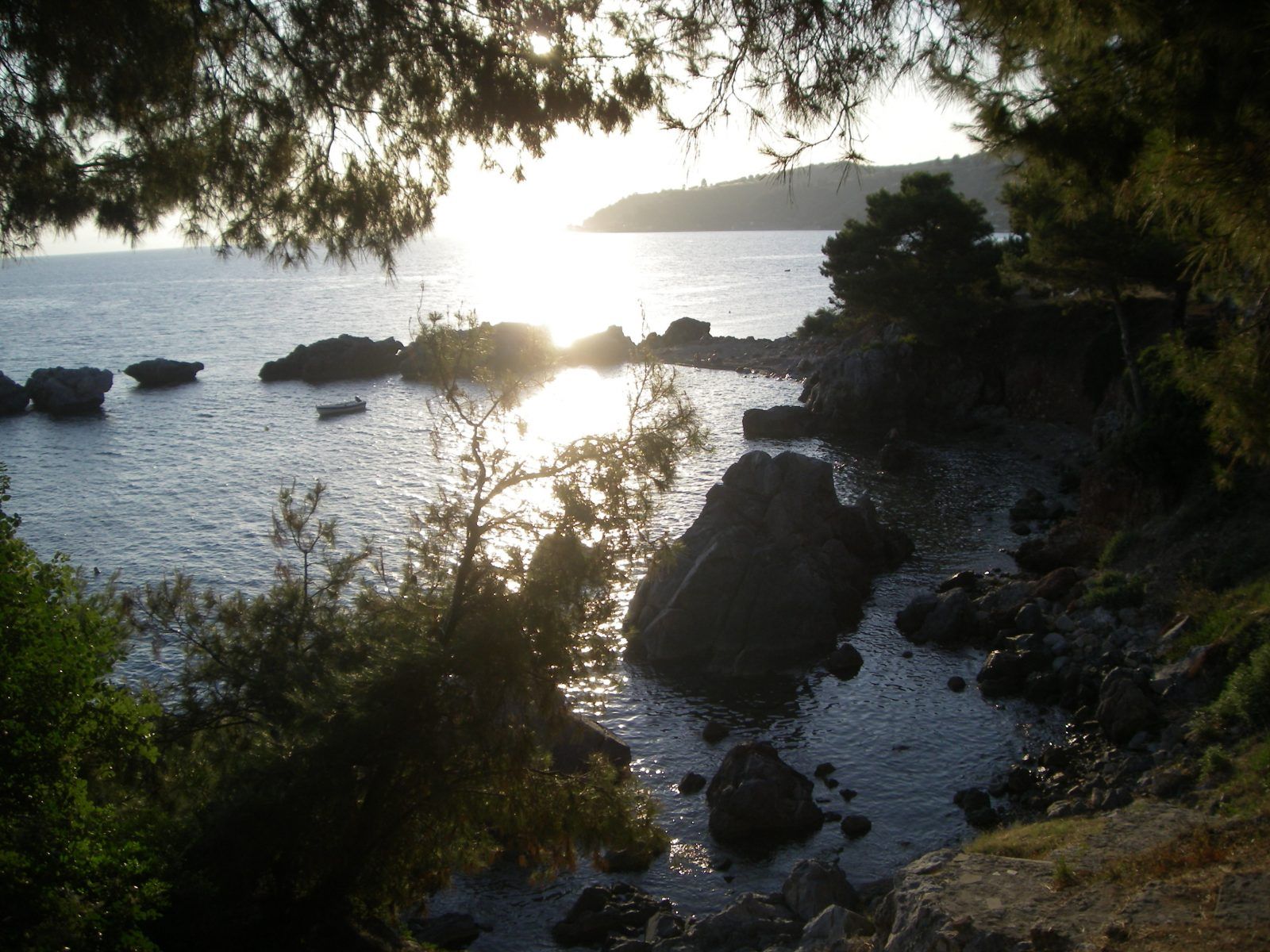 Blue Flag beaches in Halkidiki
You'll see as many as 89 Blue Flags floating in the wind at beaches and marinas here. During my summer holidays in Halkidiki with kids, I have visited many of them. All of them have turquoise waters and very clean waters. I can definitely recommend Halkidiki with kids for the summer holidays.
Kassandra
1. Loutra
In this list of Halikidiki in Greece with kids, I start with Loutra village. Loutra is a small fishing village in Kassandra with many low-budget self-catering apartments and one 4 * hotel. The village is known for its thermal waters and thermal spa. It is great for families who are looking for a low-key and casual destination. Located in a calm bay, the small sandy beach in Loutra is good for young kids. The village has several excellent fish taverns with fresh fish.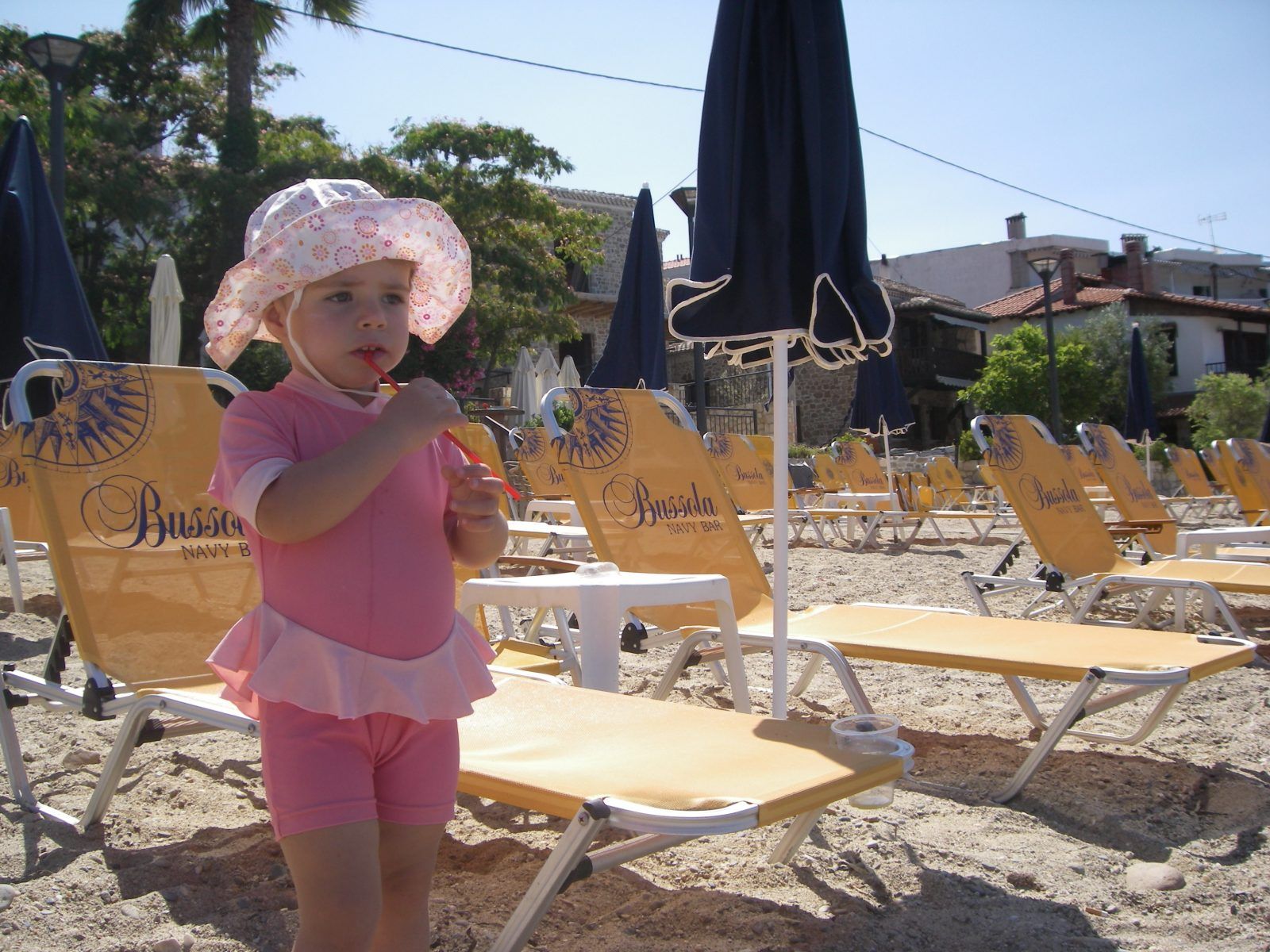 2. Nea Skioni
Nea Skioni is located on the western shore of the Kassandra peninsula, the first part of Halkidiki. The organized Nea Skioni has been awarded the Blue Flag many times. The long clean beach is made of white fine sand and the waters are shallow. The best part of the Nea Skioni beach is the swings and the large playground directly on the beach.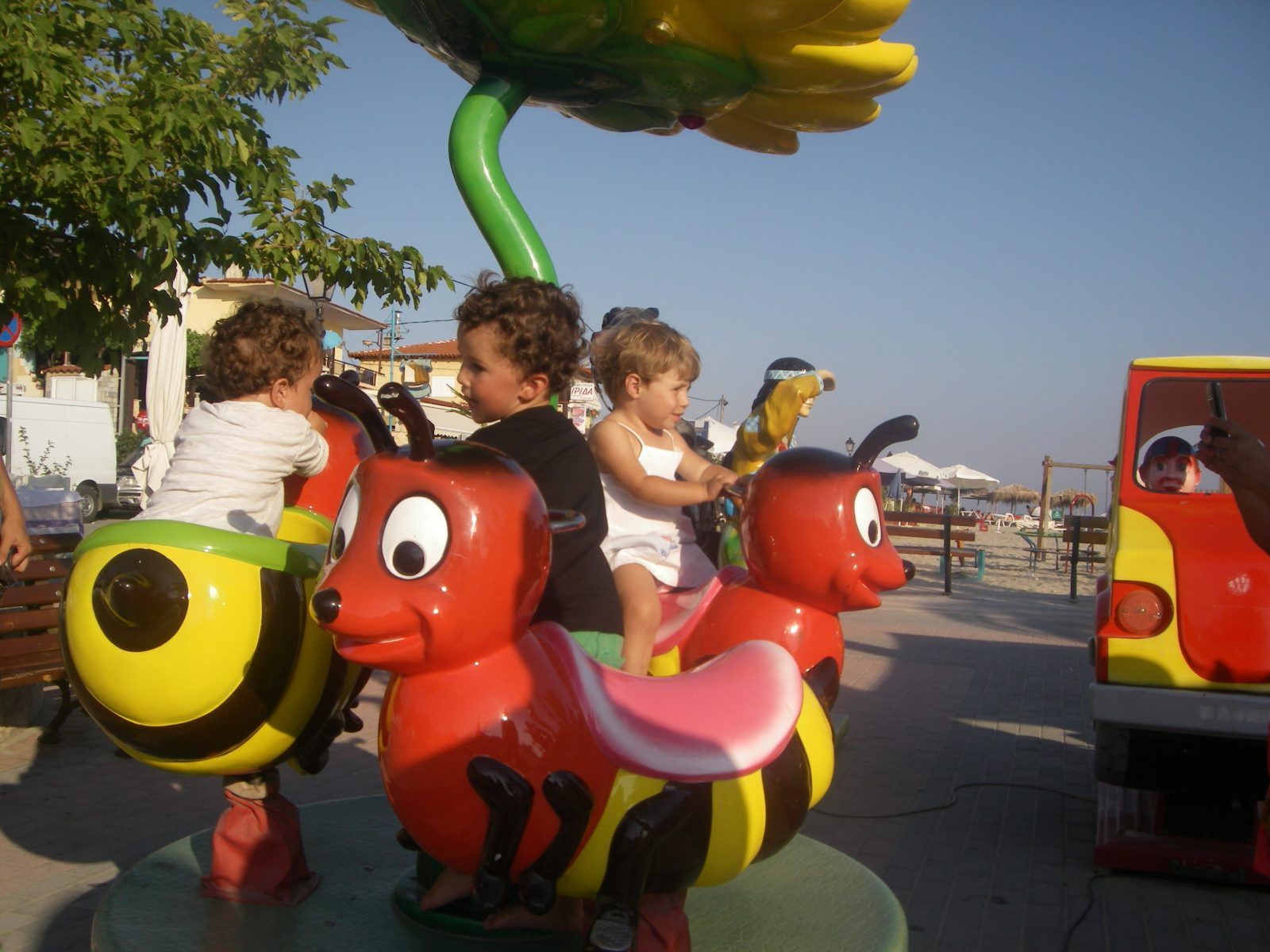 The picturesque port next to the beach (pictured below) is good for a stroll in the afternoon. In summer there is a small fun park located in the port. My kids loved watching the fish in the port and the playground. For adults, the friendly taverns nearby are convenient for kids.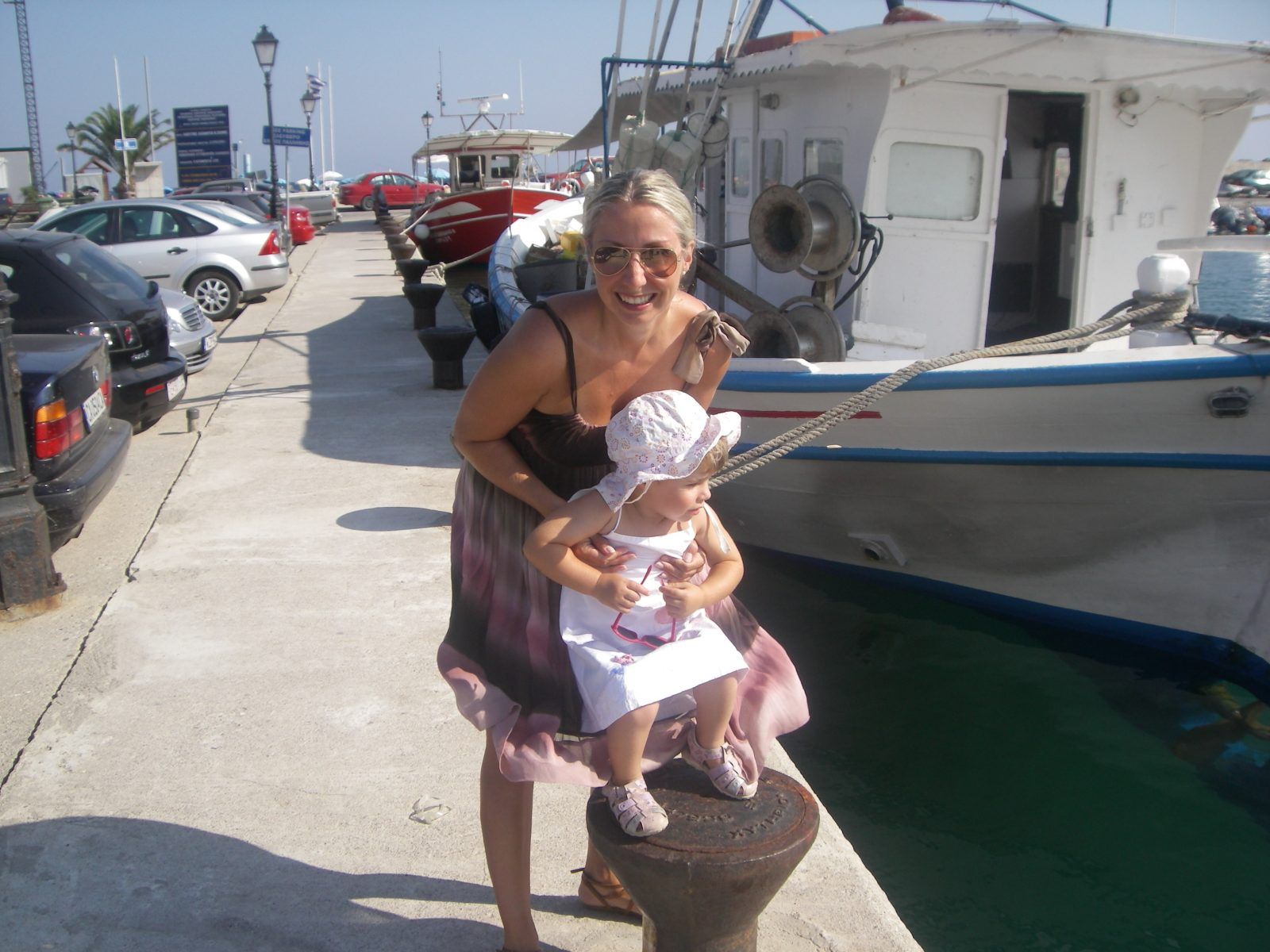 3. Fourka, Skala Fourka
Another top family beach on the western part of Kassandra is the beach at Fourka or Skala Fourka. Fourka beach is 2.5 kilometers long, very wide, and also awarded with a Blue Flag. The beach is organized with umbrellas, chairs, water sports and lifeguard stations. There are many people, but it never feels too crowded because the beach is wide.
The sea is clean and warmer than in other parts of Halkidiki. The sunsets on this part of Halkidiki are breathtaking. Fourka has a beach restaurant with great food. In fact, there are several taverns and beach bars right on the beach for snacks and refreshments. It's easy parking and there are showers on the beach.
Nea Fokea is a popular settlement on the eastern shore of Kassandra with a beautiful organized beach with clear waters, and pine trees stretching to the edge of the water. If you are after a convenient place for a family vacation, Nea Fokea won't let you down. Nea Fokea is dotted with fish taverns, restaurants, and traditional bars. If you have your personal boat or sailing boat, you can dock it in the nearby port. Luxurious hotels, rooms for rent, and other accommodation facilities can also be found in Nea Fokea.
Nea Fokea is a great base for sailing, but you can also consider a one-day boat trip. Kids will love this small group Sailing Cruise around Nea Fokea and its nearby beautiful bays.
4. Xenia
On the East side of Kassandra, Xenia beach at Chrouso is the number one family-friendly beach. We can call this beach the 'Maldives of Greece'. The sea is very clean, warm and has a turquoise color. This is a must-visit if you are in Halkidiki with kids. The sea is shallow for a long part, and you need to walk far in to find deeper parts. This all makes it very suitable for even the youngest children and babies.
The organized beach has white sand and beautiful green surroundings. There are several beach bars with food and drinks on Xenia beach and at some parts, there are water sports for older kids. It is a good beach to take a long walk along the waterfront too. There are plenty of parking spaces, and you can park near to the beach.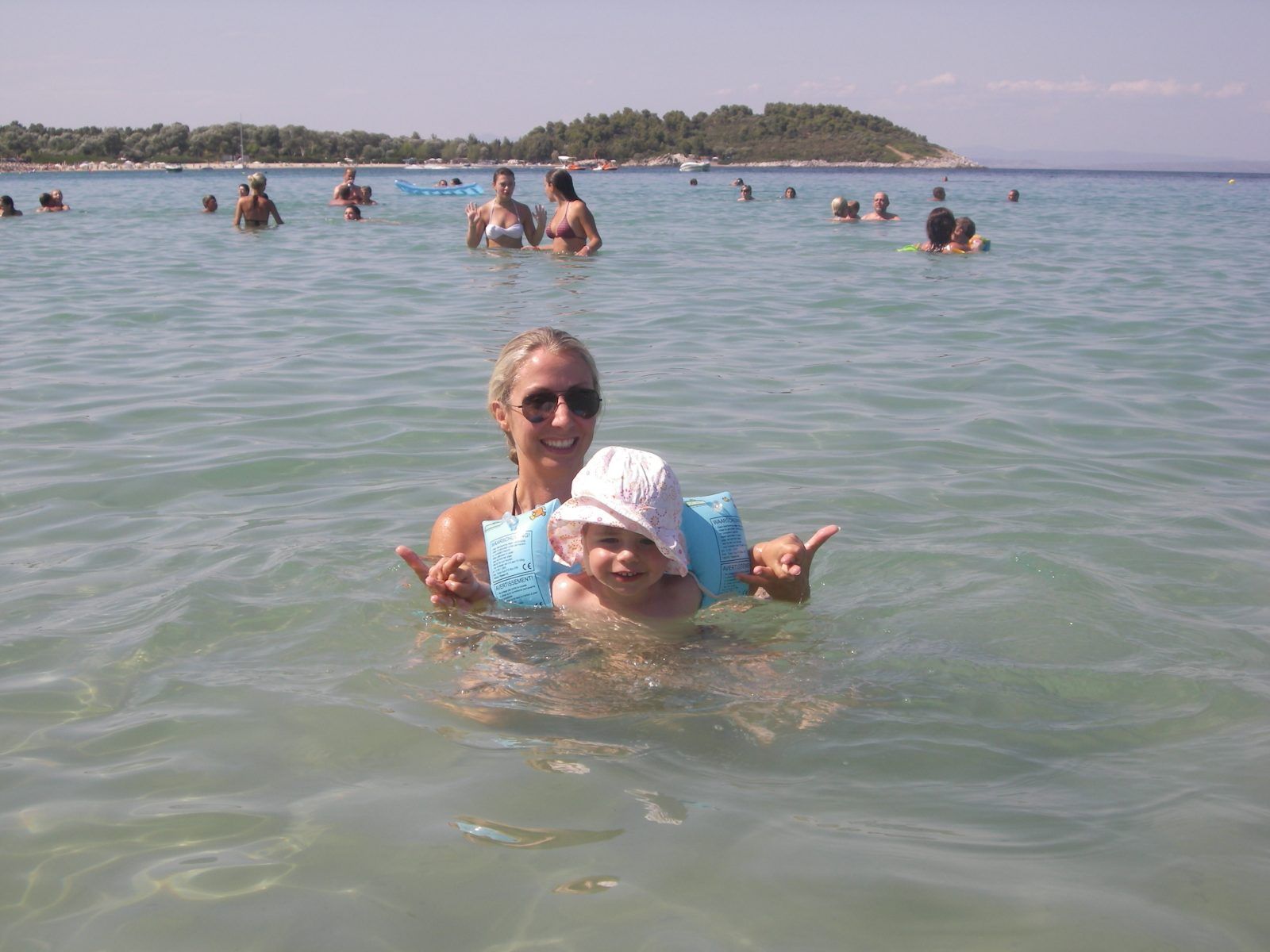 Other beaches on the East side have some pebbles, but mostly they are sand.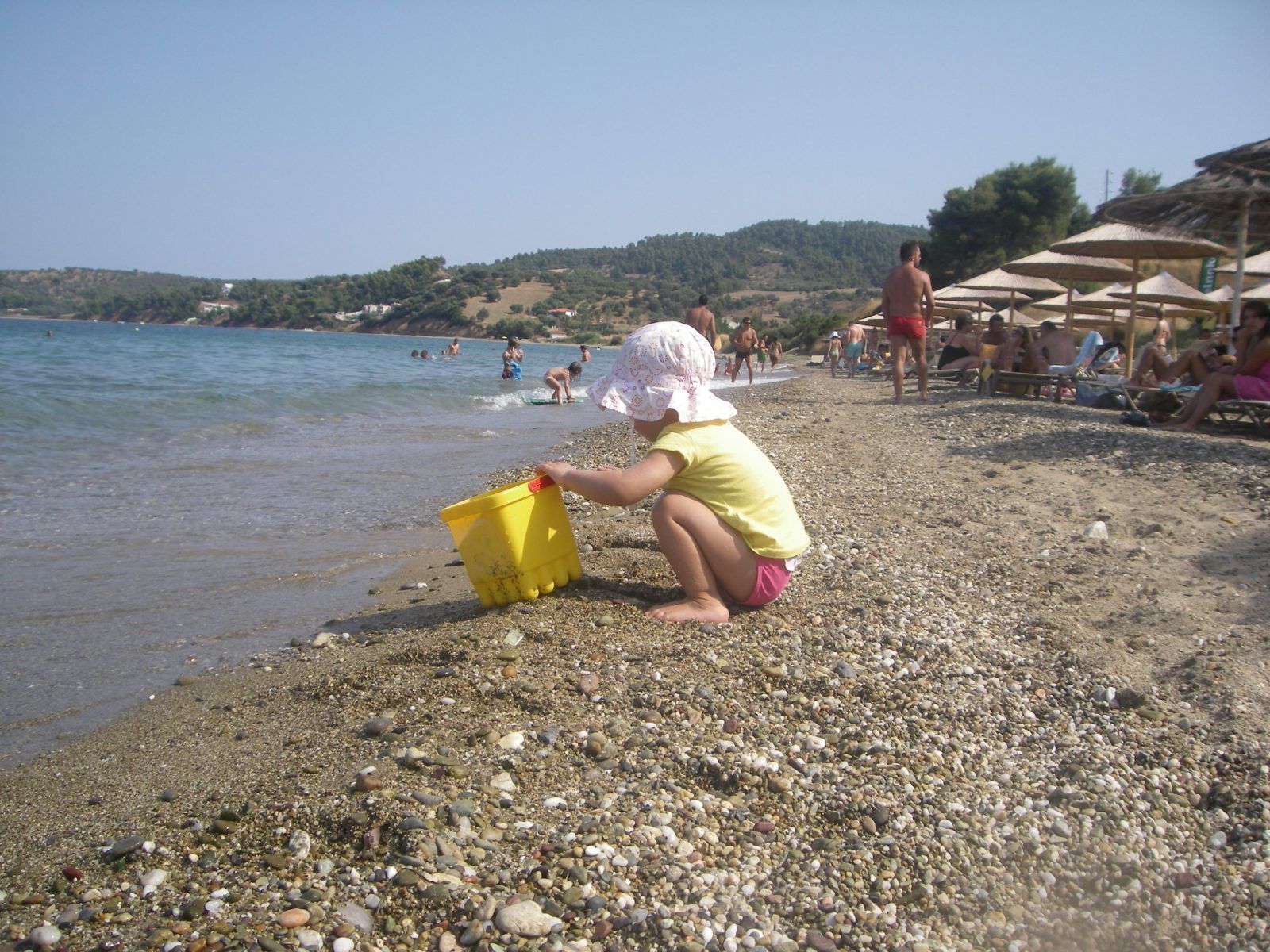 5. Sithonia beaches
The second peninsula of Halkidiki, Sithonia, is quieter, more tropical, and less organized than Kassandra. The best-organized beaches for families on the west coast of Sithonia can be found in the northern part, between Nikitis beach and Marmaras beach. All these have white fine sand and are clean and organized with various facilities. The sea is shallow and safe, but some parts have some small rocks in the sea,  water shoes are recommended here. The sand at the small beach of Koviou is very soft and this continues into the water, so there is no need for water shoes.
On the northeast side of Sithonia Rodia beach (Banana beach) and Lagonisi beach is very good for families. Both have sandy beaches, and crystal clear water and are organized with sunbeds, beach bars, and toilets. Rodia beach provides a shower too and there are trees for shade and grass to sit on. Rodia is great for snorkeling.
The sea at Lagonisi is very calm because the island Diaporos, about a kilometer offshore, protects this beautiful beach from winds and waves. There are no restaurants here. Lagonisi is ideal for families with young children, there are always lots of kids around. It is also a good place to canoe. Be careful, at some parts there are sea urchins in the water.
6. The beaches at Vourvourou
The beaches at Vourvourou are considered some of the best in Greece. Karidi beach is the favorite beach that everybody coming to Vourvourou knows about. This shallow pool-like bay is not just drop-dead gorgeous but it's the perfect family hang-out. Other notable beaches in Vourvourou are Livari beach. Be a happy camper and linger on the camping beaches of Zografou and La Cara. Vourvourou with its nine islands, protected waters like the 'Blue Lagoon' and endless hidden coves is a very special place.
To explore the Diaporos island and the other smaller islets and the lagoon, you can book an organized boat excursion. For families, I recommend the Lunch Cruise to Blue Lagoon & Vourvourou's Islet day trip. It includes a trip with a glass-bottom boat, swimming or snorkeling in the Blue Lagoon by Diaporos island and traditional Greek barbecue on board. There is also a stop at Alikes Beach on Ammouliani.
7. Platanitsi and Sarti
On the Southeast part of Sithonia, you can find sandy beaches at Platanitsi, Sarti and Sykia. The Blue Flag beach at Sarti is a gem and probably one of the best in Greece. It has everything that a family on a beach holiday needs. It is organized, there are water sports, toilets, showers and endless facilities for food and drinks. The kilometres long beach here seems to have no end.
Sarti has one of Sithonia's longest and widest beaches with yellow and white sand. The sea has a sandy bottom. Because of its size, it never feels too crowded here. The direct view across Mt. Athos is very special. You cannot find a better or closer view of Mt. Athos than from Sarti and Sykia. This is another one to be recommended when visiting Halkidiki with kids.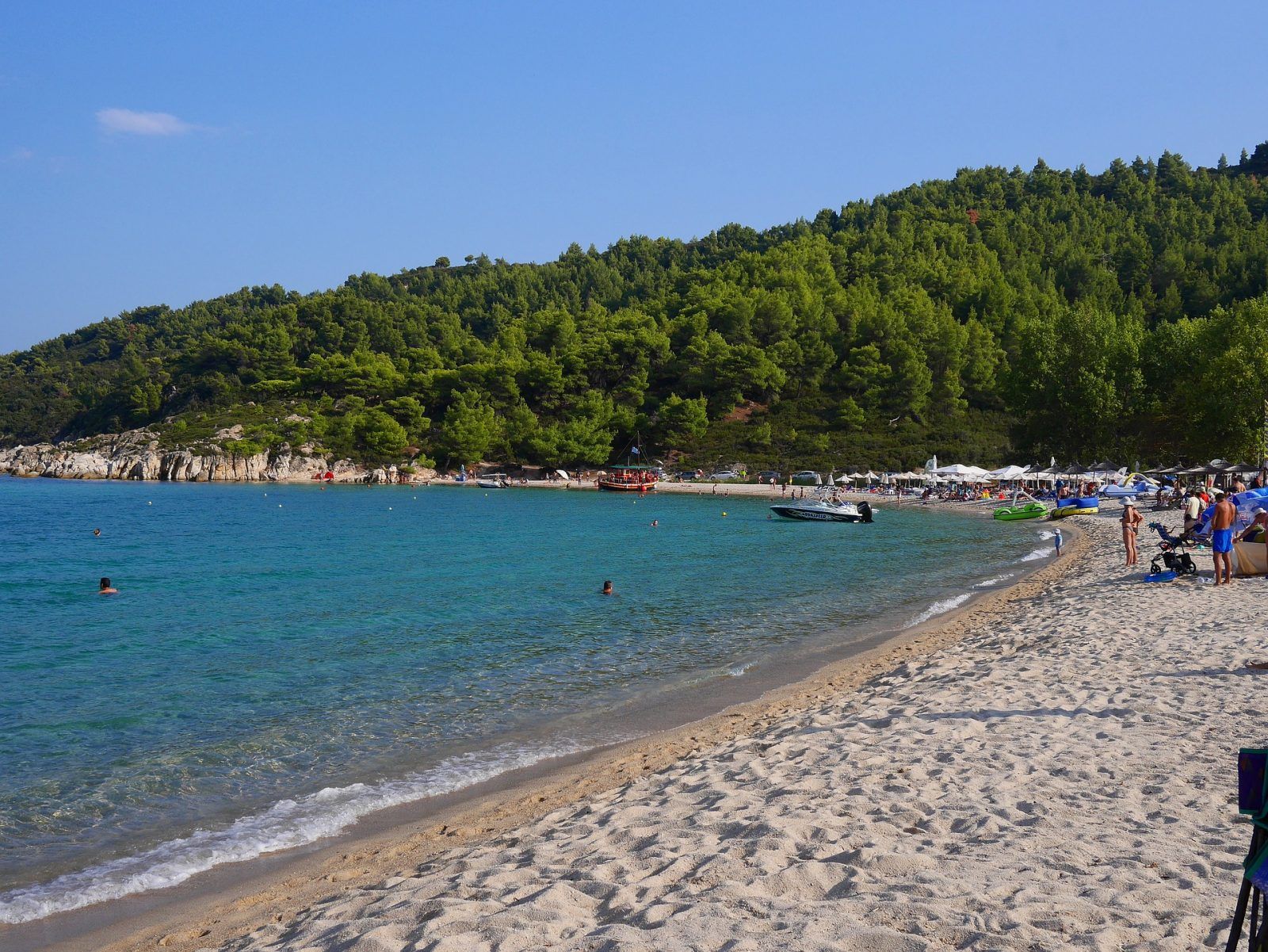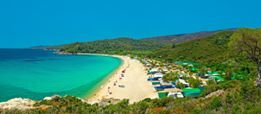 8. Armenistis
If your family likes camping, have a look at the campsite on the beach of Armenistis near Sarti.
9. Sykia
Sykia or Sikia beach also has a Blue Flag classification and is south of Sarti. The sea water here is spotless and clear.  As in Sarti, the beach here is long and wide. But this beach is less organized and less crowded. A plus is the camping on the beach. As mentioned earlier, Sykia has the same beautiful view over Mt. Athos.
Best family hotels in Halkidiki
Sani Beach is one of the most exclusive family resorts in Halkidiki. This 5* resort combines five unique hotels. Though usually Sani Beach Club is recommended as the family hotel within the Sani Resort complex, you could also look at Sani Asterias Suites. The suites are more intimate and ideal for an exquisite family stay. Families can choose from Junior Suites, all the way up to 3-bedroom, 3-bathroom suites with private pools. There are at least five different room types ideal for families. Depending on your budget, decide the one that suits you. Most of the suites have direct access to a beautiful soft sand beach with shallow waters, perfect for children.
The hotel features a babysitting service on the beach, with the first 30 minutes free of charge! Other family facilities include baby equipment (from sterilizers, strollers, and cots to bibs and kids size bathrobes and slippers) baby food, bathrobes for toddlers, toiletries, and special healthy menus. There's a pick-up service from Thessaloniki airport to the hotel with appropriate car seats.
Kids activities at Sani Resort include the Chelsea FCF Football Academy, for children 4yr – 16yr to practice their football skills. If they like tennis, Sani has a Rafa Nadal Tennis Centre. A treetop adventure park complete with zip wires and located in the forest behind Bousoulas beach, and there is also a Bear Grylls Survival Academy. Teens will love the spa: a junior spa menu is offered for all clients between 12 and 16 years old. The entertainment program includes activities such as face painting, outdoor theater, swimming lessons, football matches, and more.
Sani is known for its family-friendly staff and kid-friendly atmosphere, so you could go wrong if you are looking for the perfect family vacation!
Related posts:
Family Holidays in Halkidiki; have you been? Let us know in the comments. Sharing is caring!