Last Updated on March 30, 2023 by Celeste.
Kalamaki Beach Resort with Kids | Hotel Review | Family Hotels Greece
It had been a busy period with the usual school, work, and Easter obligations. I was looking for a family hotel, easy to reach from Athens by car. A quiet hotel for a long weekend escape in May with a restaurant and swimming pool. Somewhere where I could just be in a bathing suit all day and relax. And a place where my kids could play. We found such hotel near Corinth. Our stay at Kalamaki Beach Resort was all about slowing down and spending quality time together.
Location
Kalamaki Beach Resort is located in the Peloponnese near the world-famous Corinth Canal. It is an ideal place for people seeking a base for exploring the treasures of the Peloponnese. This beautiful part of Greece is an all-year-round attraction full of forests, vineyards, numerous archaeological sites, historic towns, monuments, churches and castle cities. Ancient sights like Olympia, Mycenae, Epidaurus, Nafplio and Corinth are easy to reach.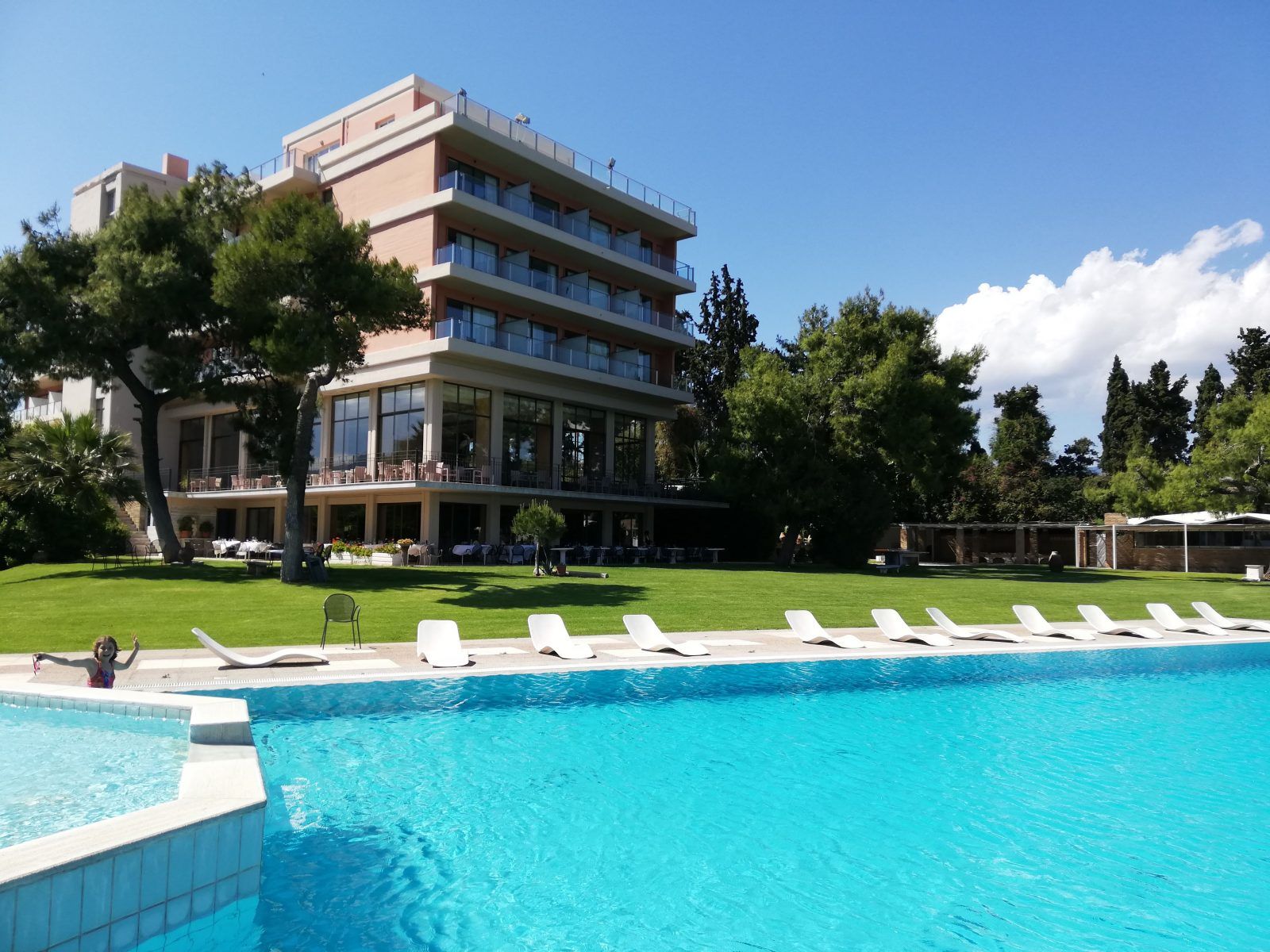 Kalamaki Beach Resort with Kids
The hotel is hidden away in between pines at a quiet bay. We could not see it from the main road, and we loved how green and serene the surroundings were.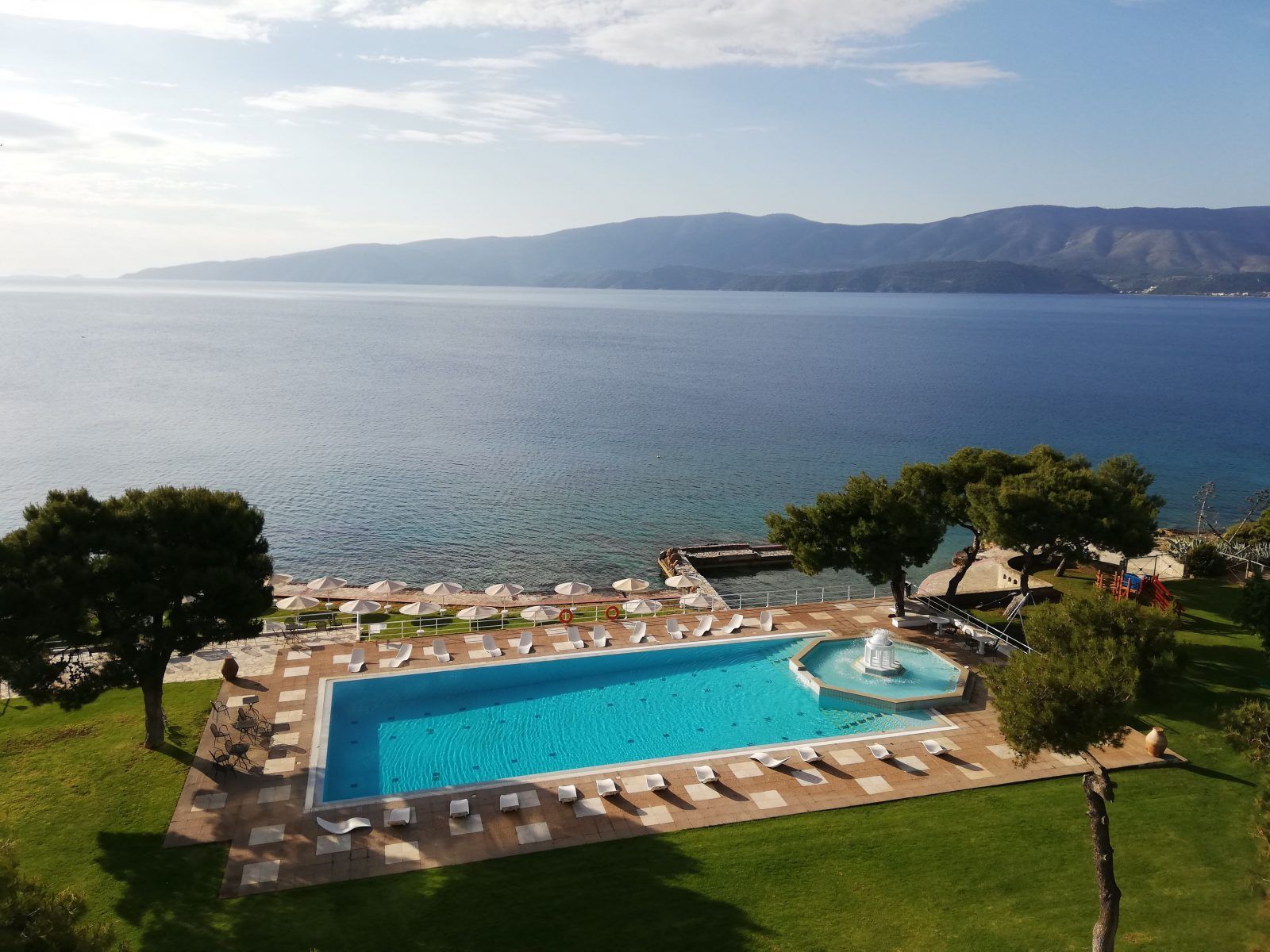 The spacious lobby was very appealing with high ceilings and beautiful views. A comfortable place to read a book!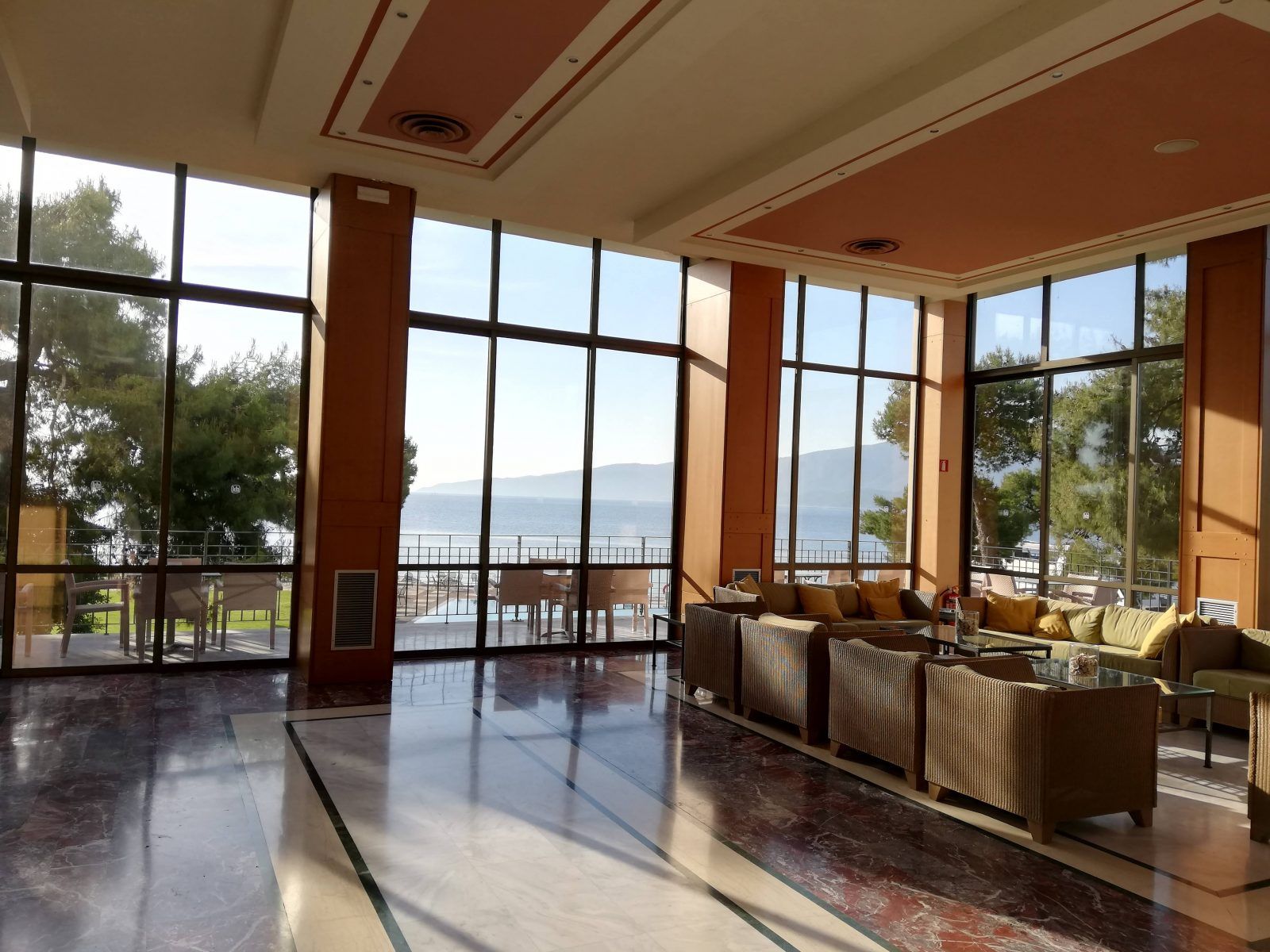 Kalamaki Beach Resort Family Room
Our room was a bit dated but nicely decorated with marine details. The beds were excellent.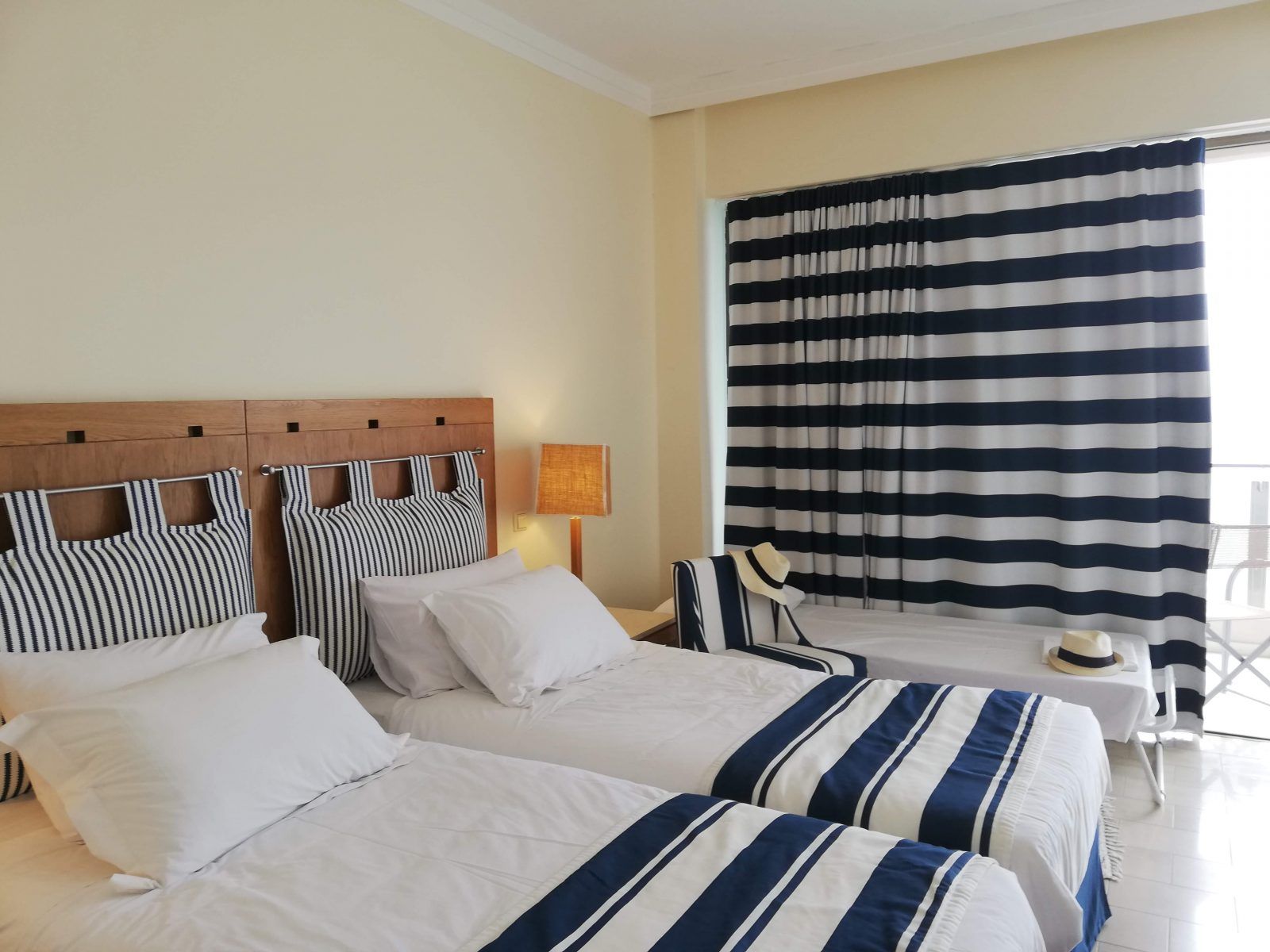 The best feature of the room was its large balcony with stunning sea view.
Each floor of the hotel had details of local folklore and memories of the area's ancient past at display. There is also a mini folklore museum next to the restaurant and pool area.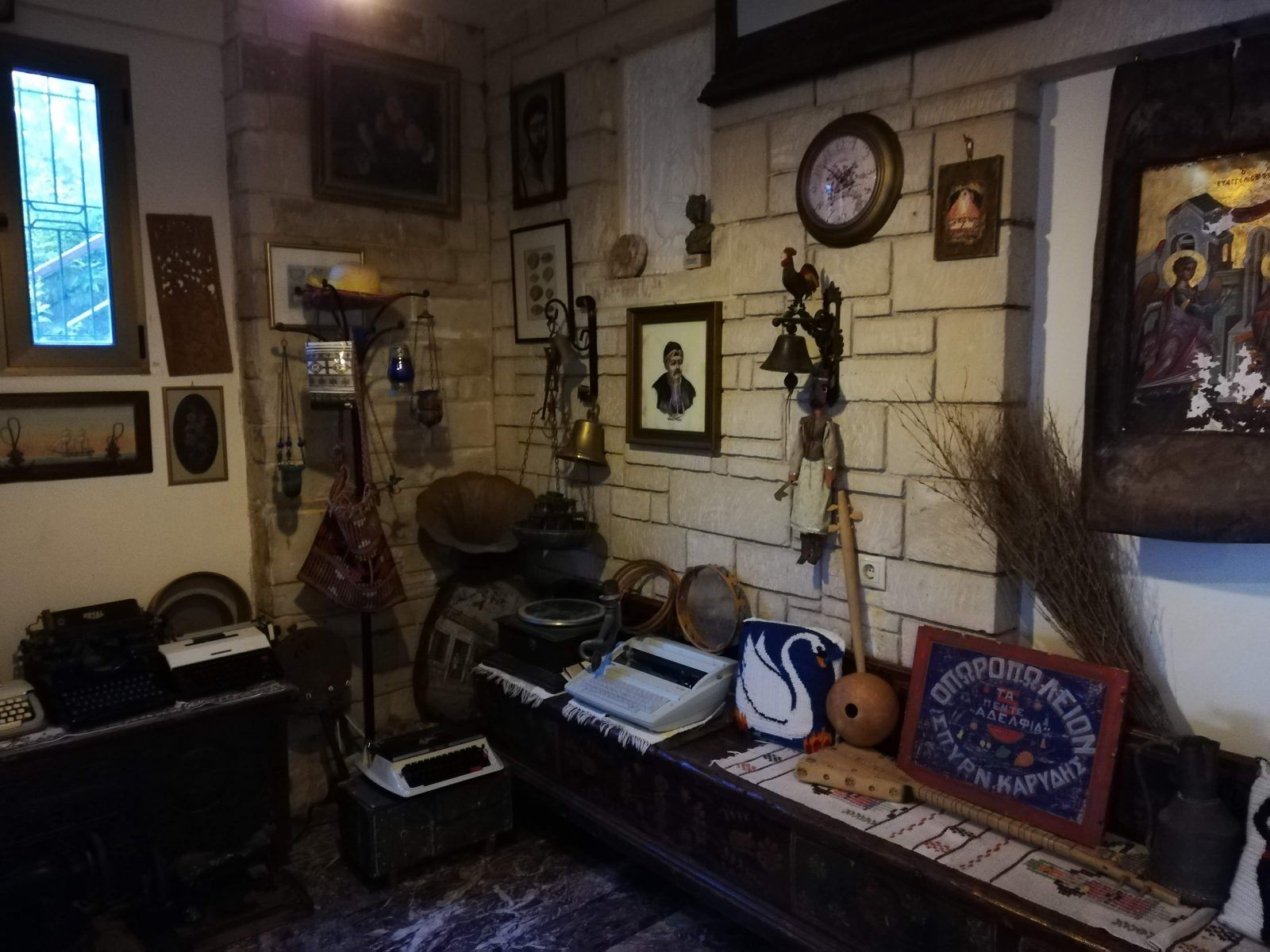 Above the lobby is a small play corner with puzzles, books and games.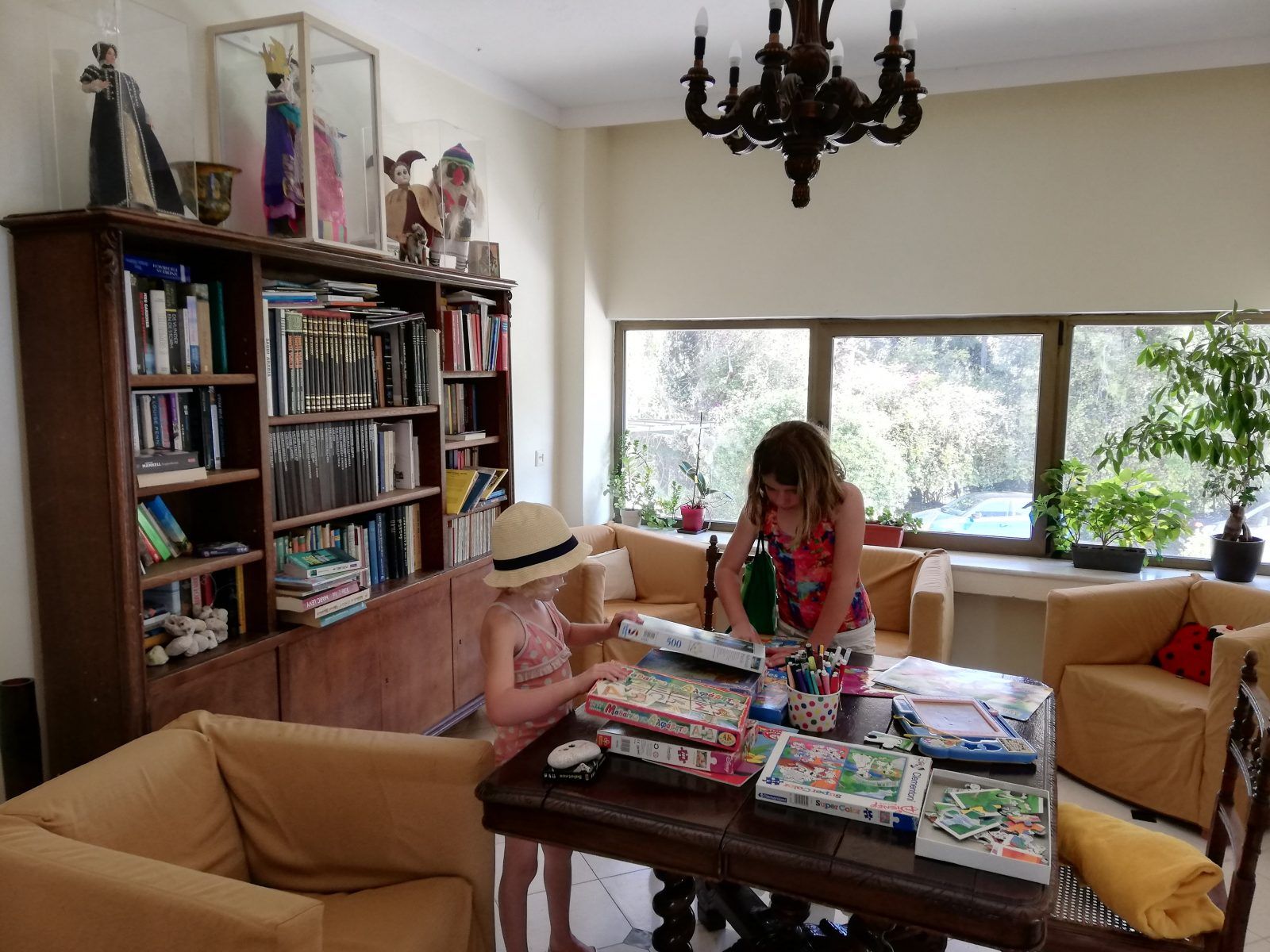 The pool
However, we did not spend much time at the play corner. The large pool was too appealing. Here is where we spent most of our long weekend. As it was early in the season and most guests were on the beach, we had the pool mostly to ourselves!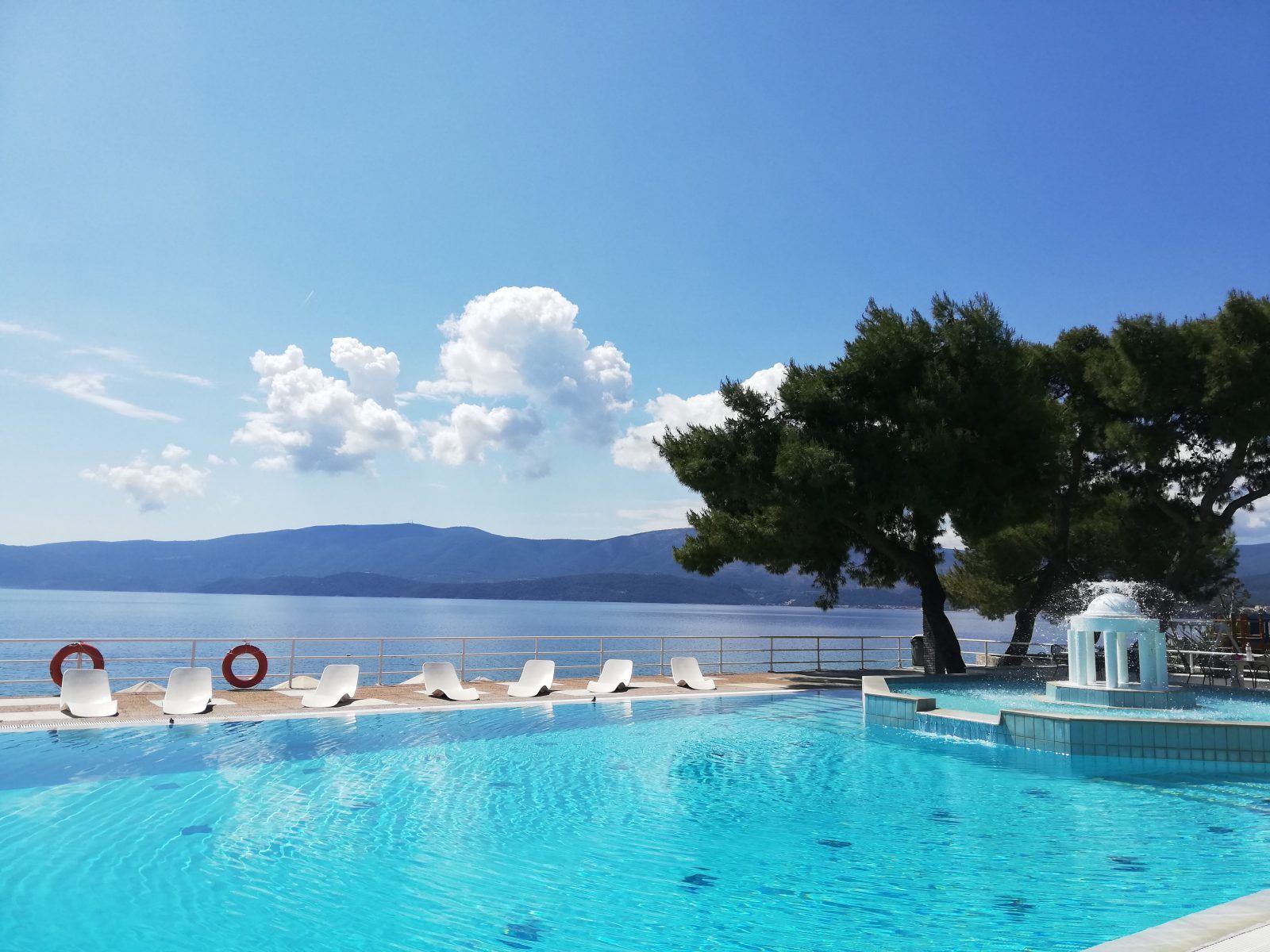 The pool is overlooking the beach and sea and is surrounded by It features a small baby pool with a fountain. I lost count of how many times my kids jumped in the water that weekend.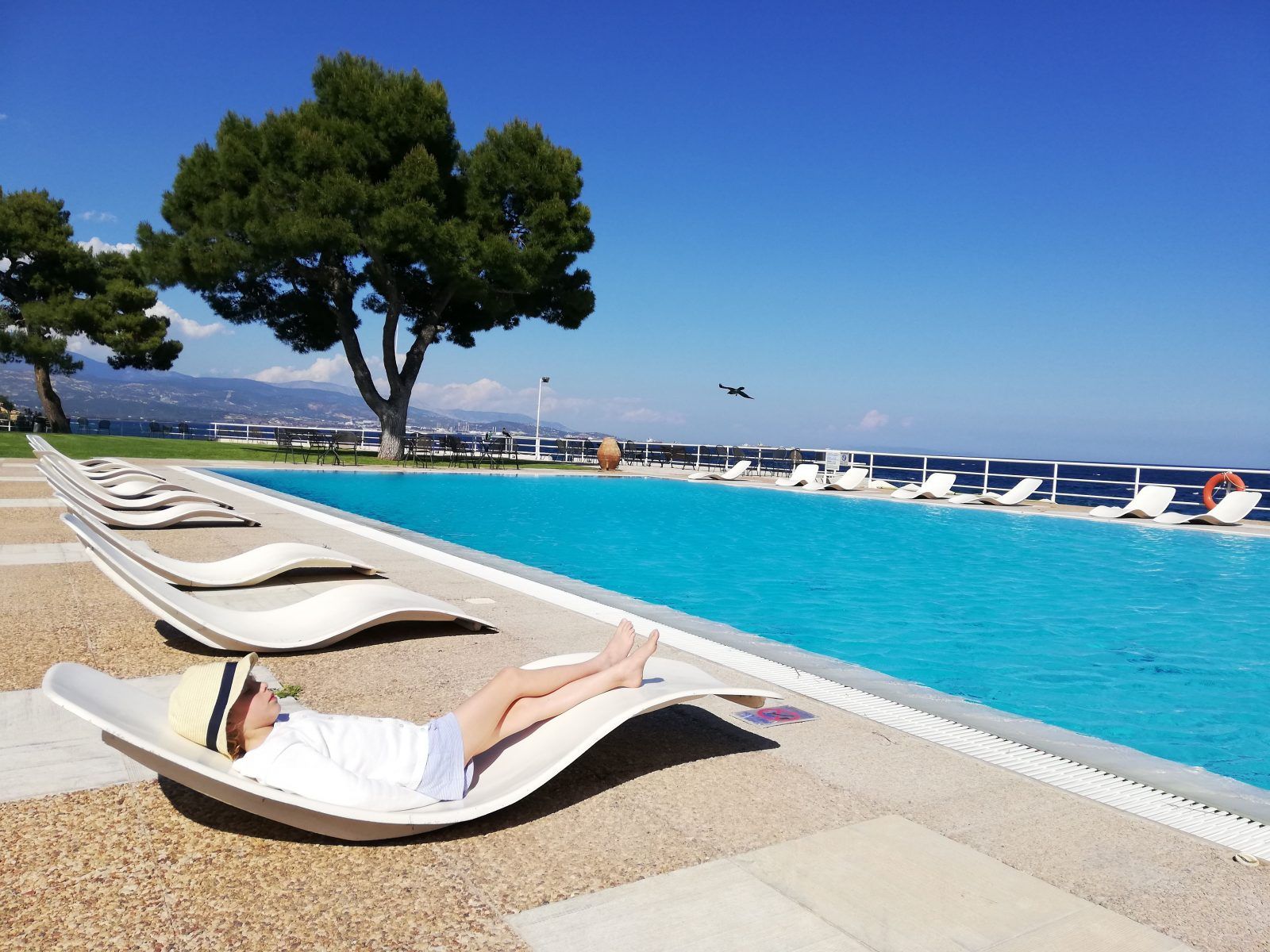 Free outdoor play
The gardens of Kalamaki Beach Resort are very inviting and ideal for long days outside. A beautiful lawn, large trees and colourful flowers with lots of shadow for hot summer days and for letting go of excessive energy.
There are many corners for BBQ, reading and playing. Billiard, table tennis and more. The spaces make the hotel very suitable for families with young kids.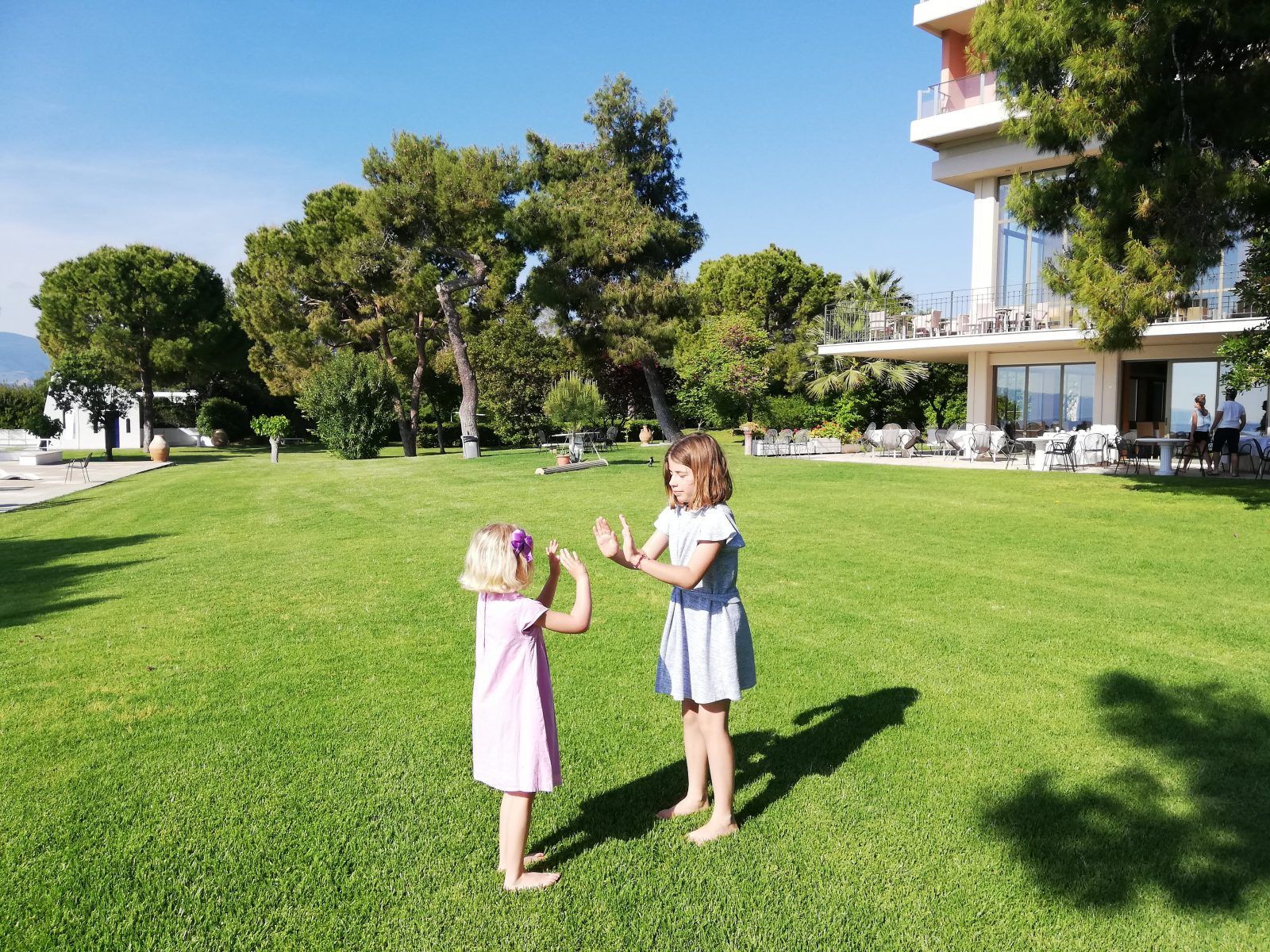 There is a playground near the pool. Whilst I was enjoying a morning coffee next to the sea and pool, my kids were happily swimming away with their new friends. If you need more activity; there is also a tennis court and a volleyball field.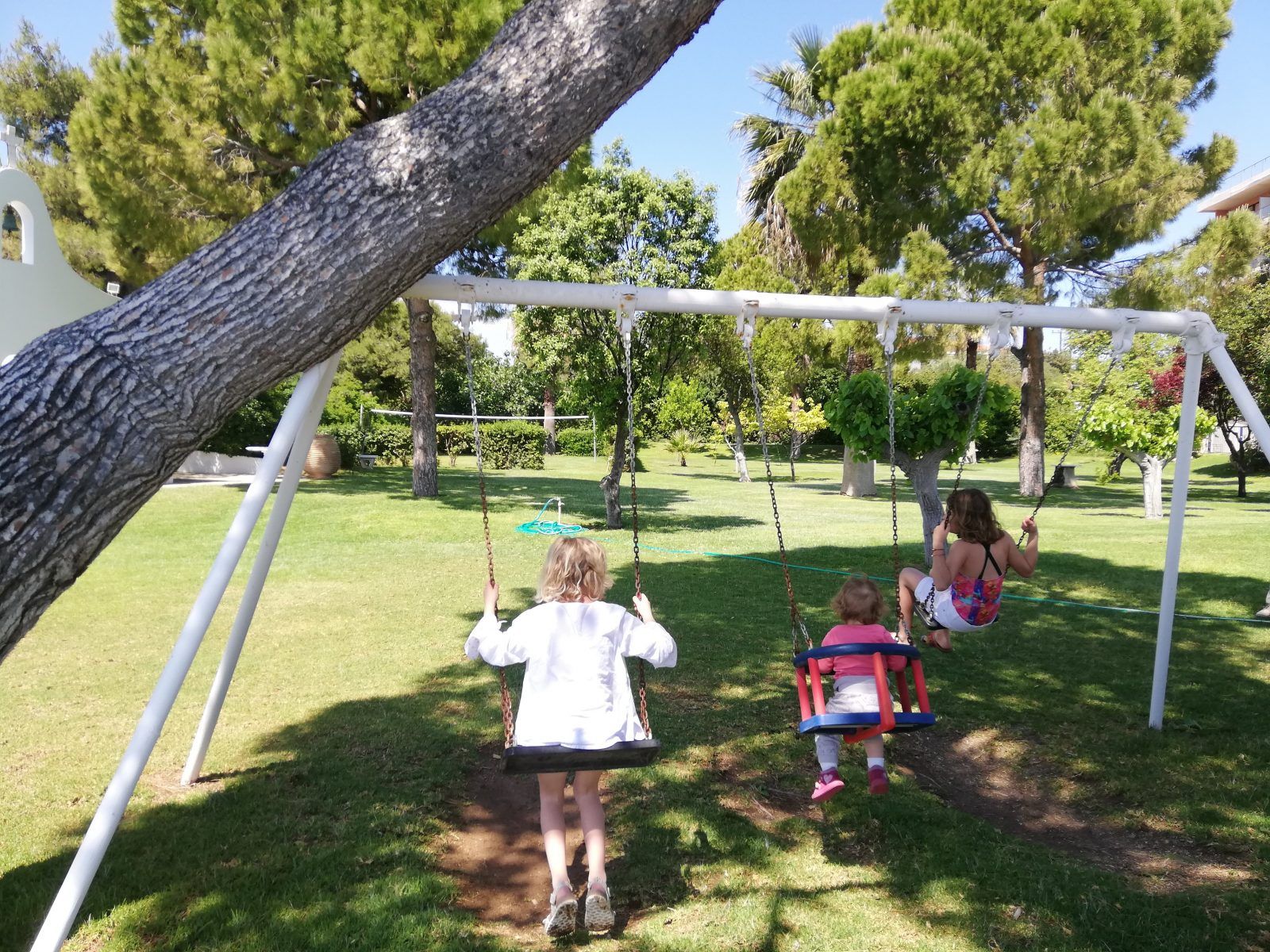 The beach
The hotel features an organized pebbled beach and a large beach with a lawn.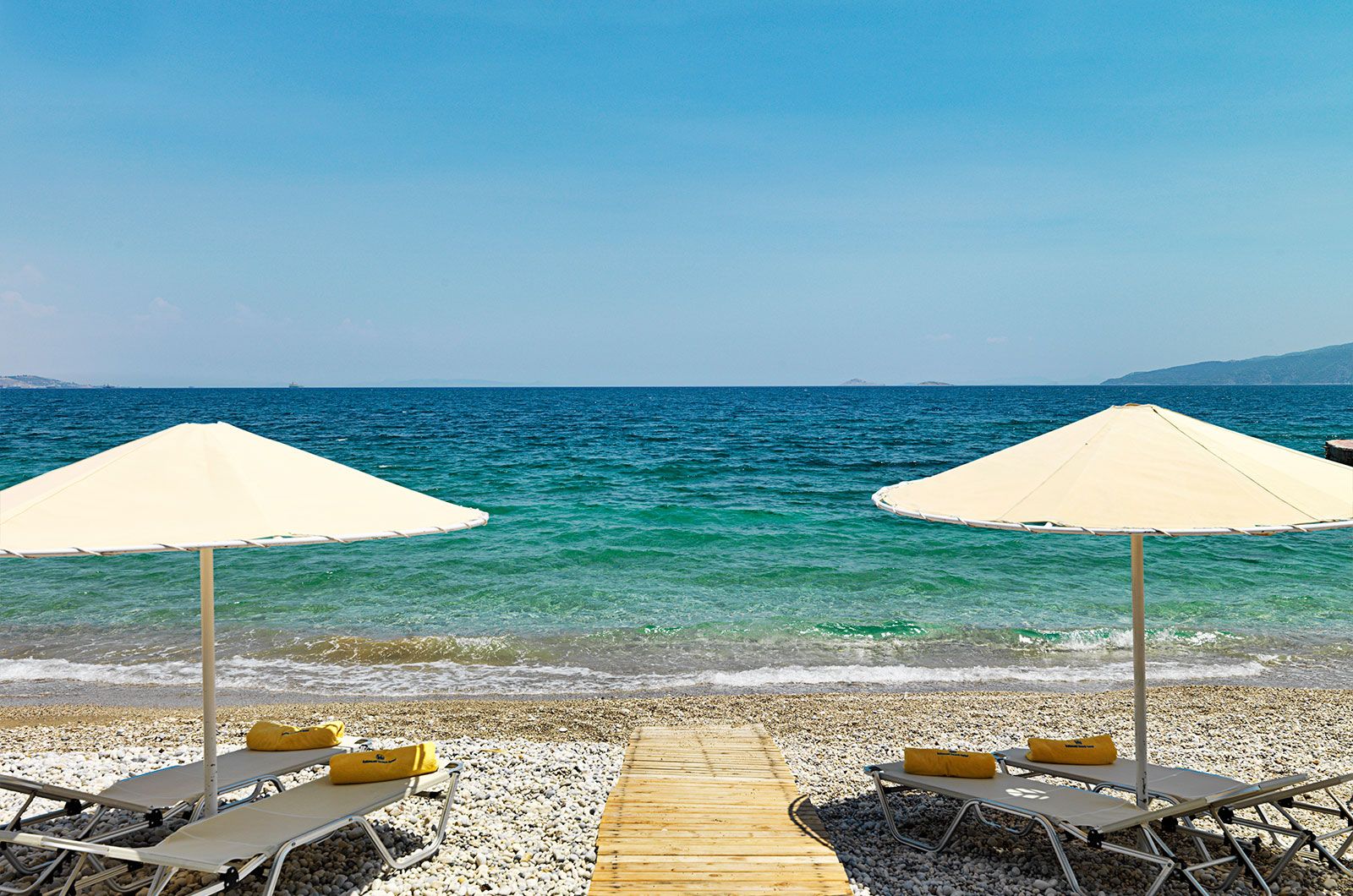 Although my girls are older now, I used to always choose beaches with grass areas where babies can play and relax.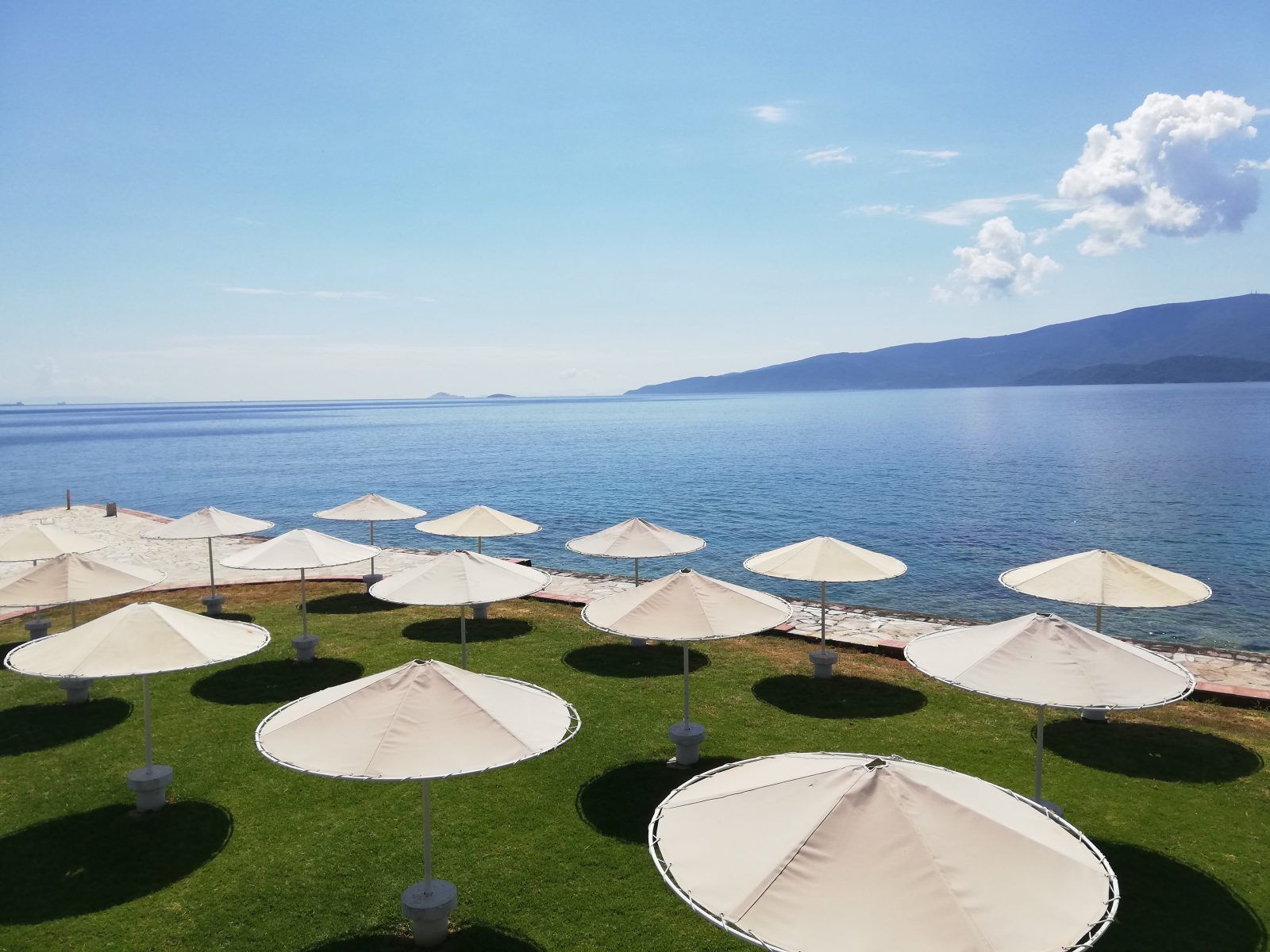 There are showers at the beach and towels are provided. We had a long walk at the beach and played with the pebbles. The hotel is near Athens, and a nearby industrial area was visible on clear days.
The sea, however, seemed very clear and I noticed many sea urchins in the private marina of the hotel, and they are very picky of the water quality!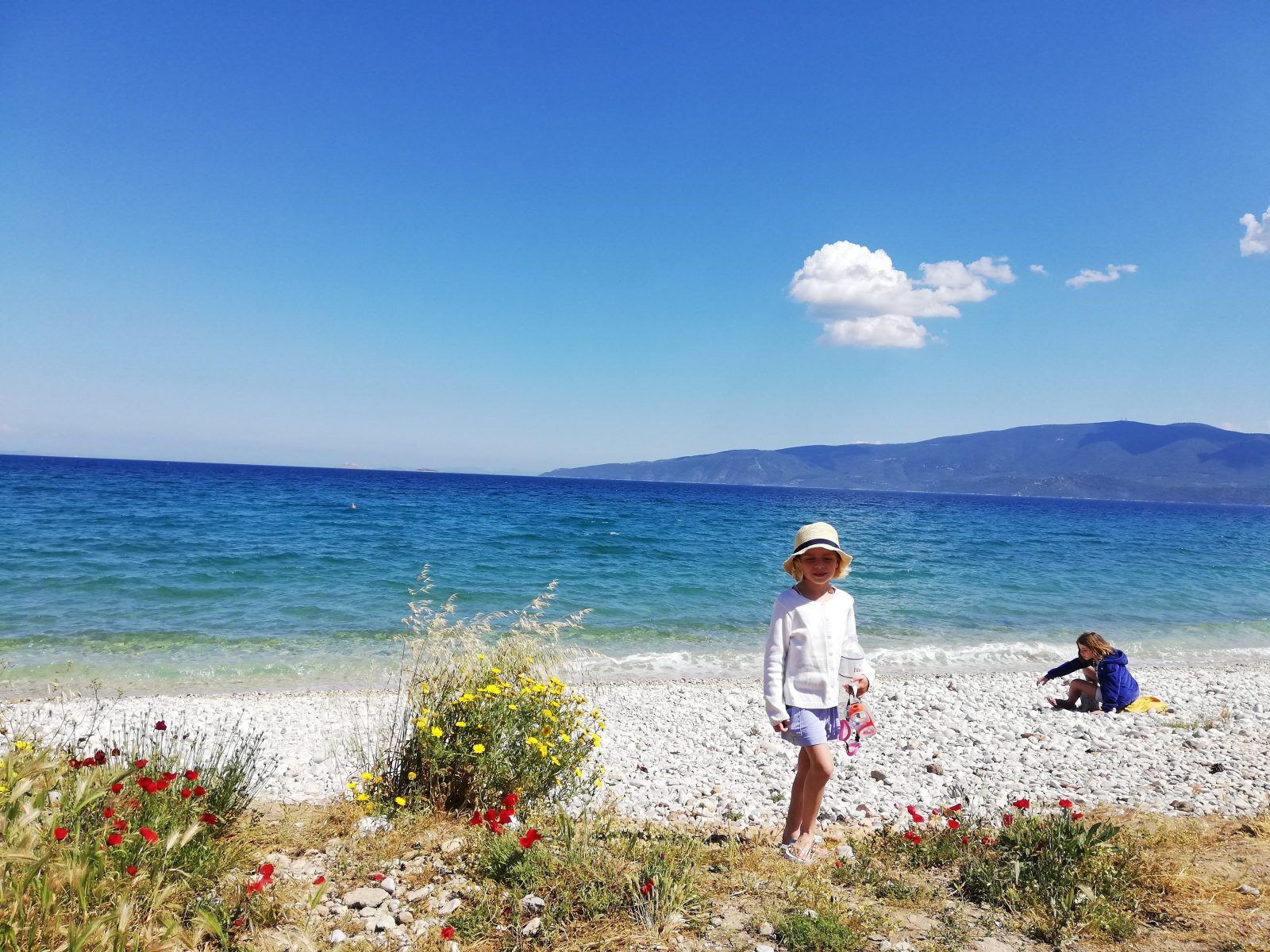 Al fresco dining
The hotel operates on half board basis, thus our buffet breakfast and dinner were included in the room price. I much enjoyed eating outside in the garden. Breakfast had a rich choice of sweets and biscuits, as well as breakfast cereals and grains. The dinner buffet served Greek dishes.
For lunch, the resort operates on à la carte basis, with a variety of options (salads, club sandwiches, pizza, main courses, pies, etc). At night, I had a glass of wine in the bar in the lobby when the children were sleeping upstairs.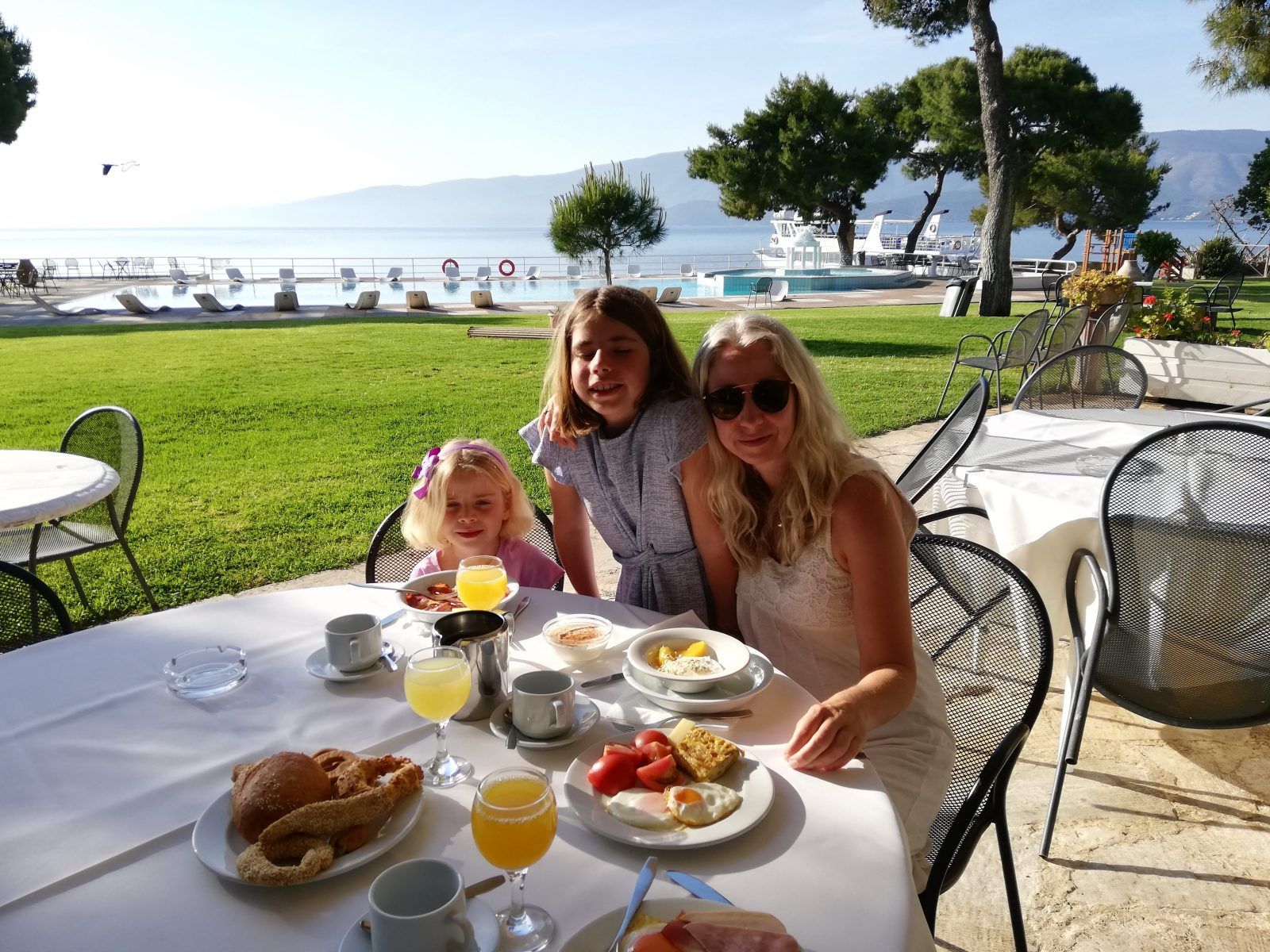 Our experience of Kalamaki Beach Resort with Kids
Kalamaki Beach Resort is a great base for exploring the area of Corinth and the Peloponnese with its many treasures. It is also an affordable and easy solution for a relaxing weekend escape from Athens. From the moment that we arrived, we felt relaxed and rested because of the views and green.

The grass areas are ideal for kids to play at. After 3 days of turquoise waters, pool views and nice walks at the beach, we went back to Athens feeling recharged and rested.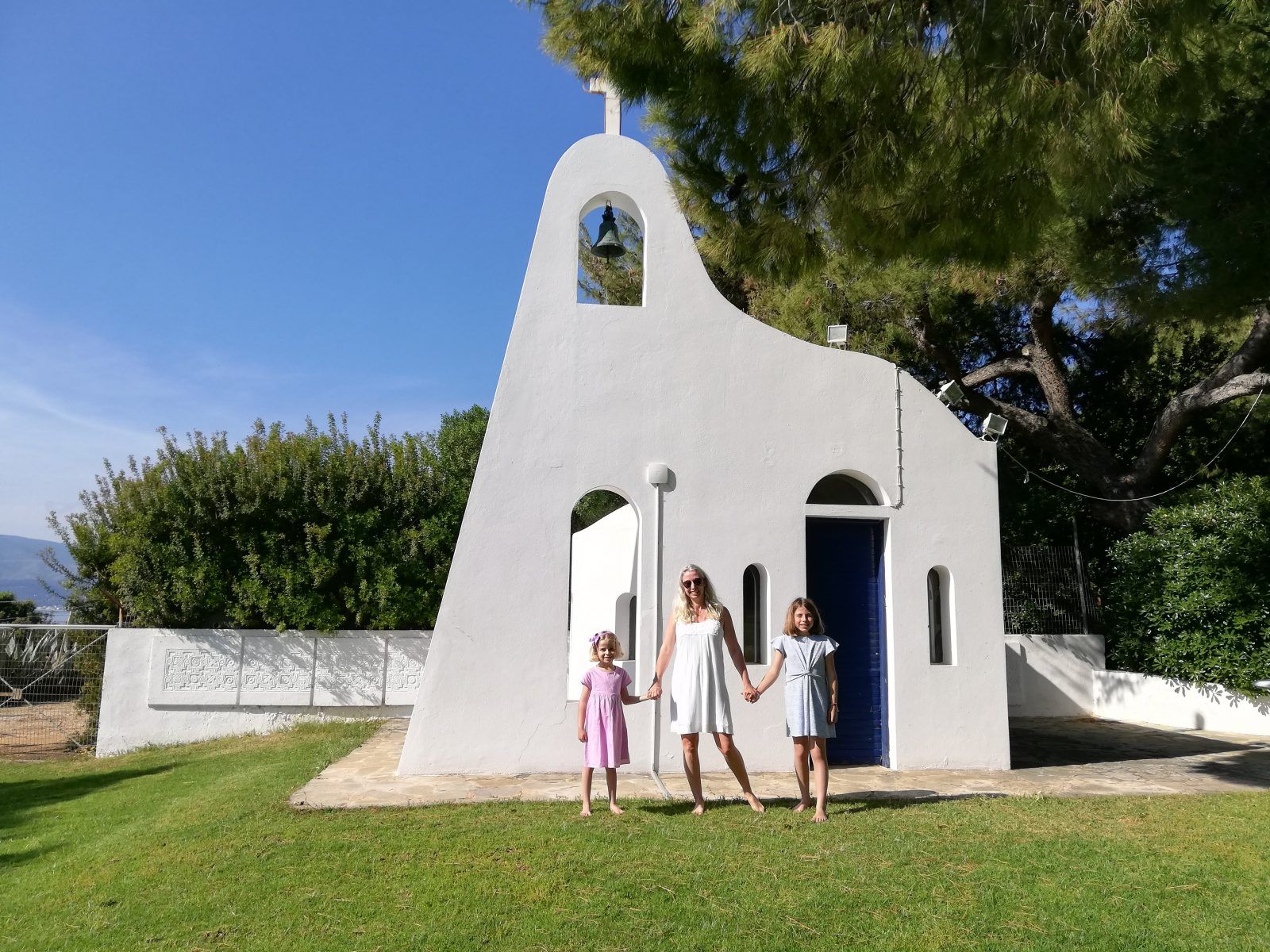 Click here for more information and to book your stay at Kalamaki Beach Resort
How to get there
By car from Athens: 
You can reach Kalamaki Beach Resort by taking the Attiki-Odos highway towards Elefsina>Corinth. Then, cross the bridge of the Canal of Corinth, stay on the right lane. Drive the exit B – 'EPIDAVROS' Continue for 6km on this road with direction Epidavros. On the left-hand side is Kalamaki Beach Hotel.
You need 1 hour by car to reach the hotel from Athens centre. We paid 13.40 Euro in tolls including the Attiki Odos from Athens.
By transfer:
Kalamaki Beach Resort organizes transfers with the hotel's minibus from Athens airport. Travel time is about 1 hour.
Experience Corinth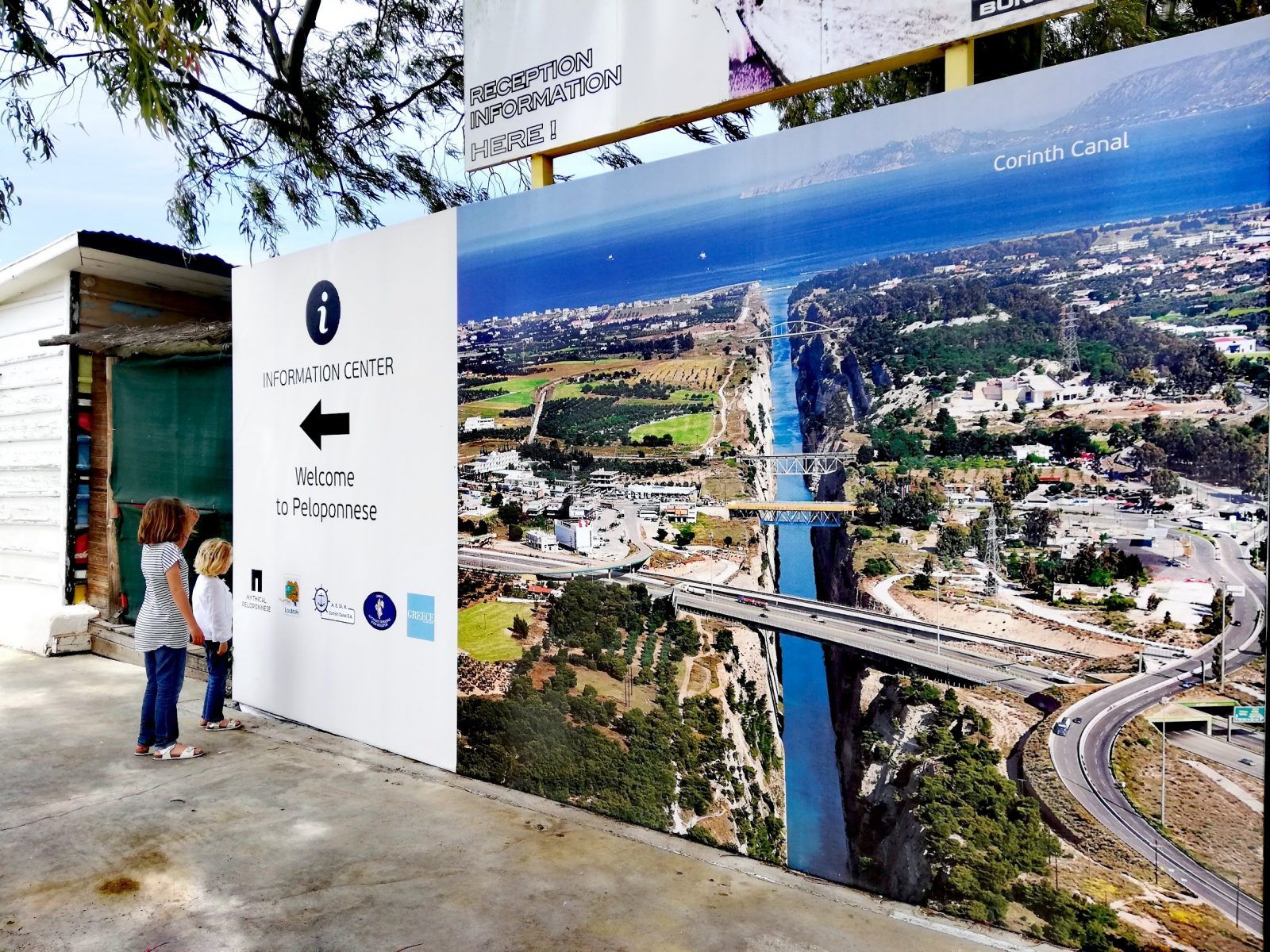 The area of Corinth in the Peloponnese hosts one of the most important attractions of Greece: the Corinth Canal. However, the area is relatively unknown as a holiday destination to foreign visitors. This is likely to change soon as there is lots of local organized initiative going on to promote the area and its treasures.
A year ago, my friend Daphne introduced me to Experience Corinthia, a collaborative organization for the development and promotion of Corinthia as the multi-thematic tourism destination that it is. Have a look at their website for more info.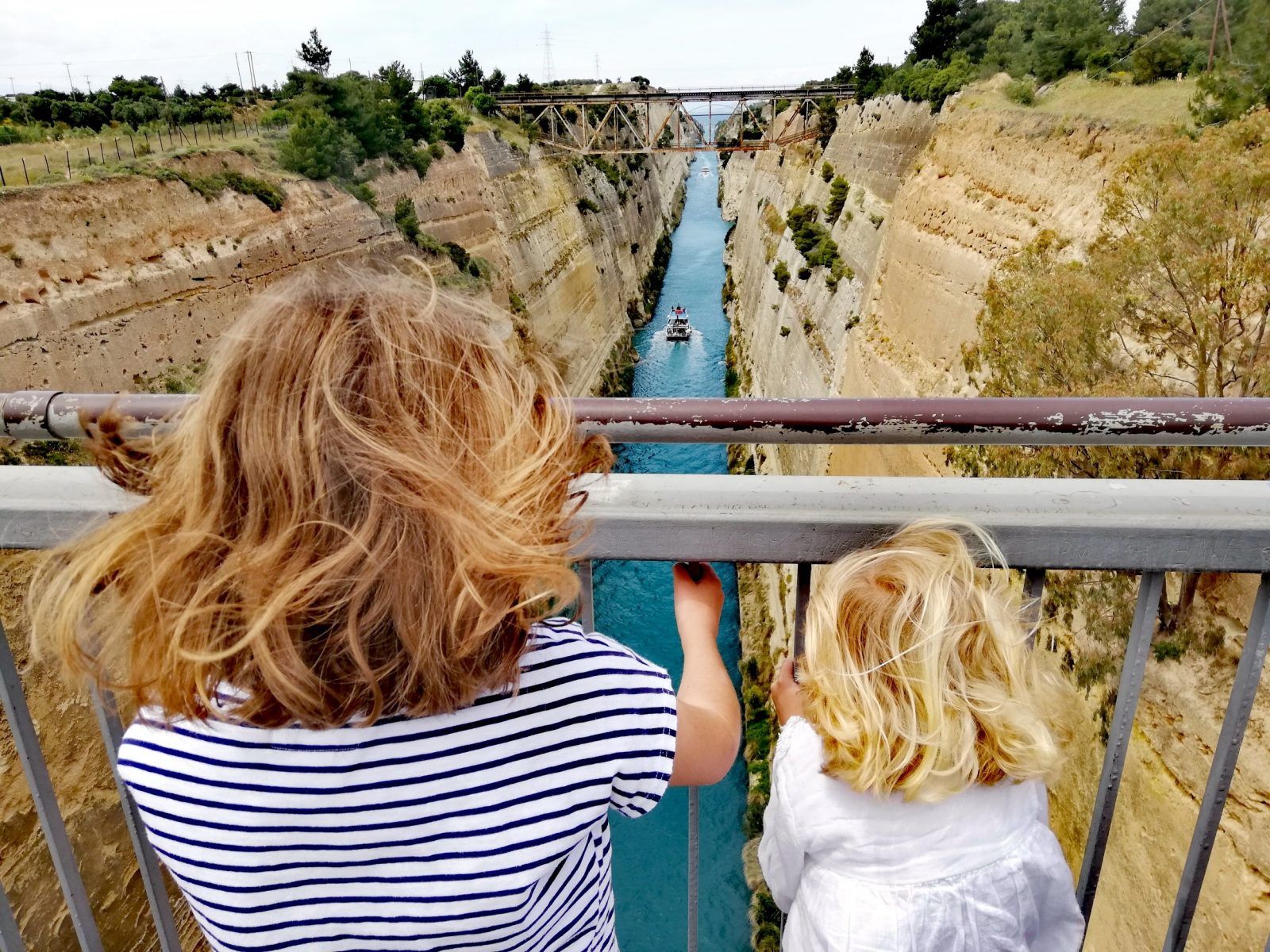 More Family Hotels in Greece
You may also check the following hotel recommendations tried and tested recommendations for a beach holiday in Greece and the Greek islands:
Did you like this post ? Pin it for later!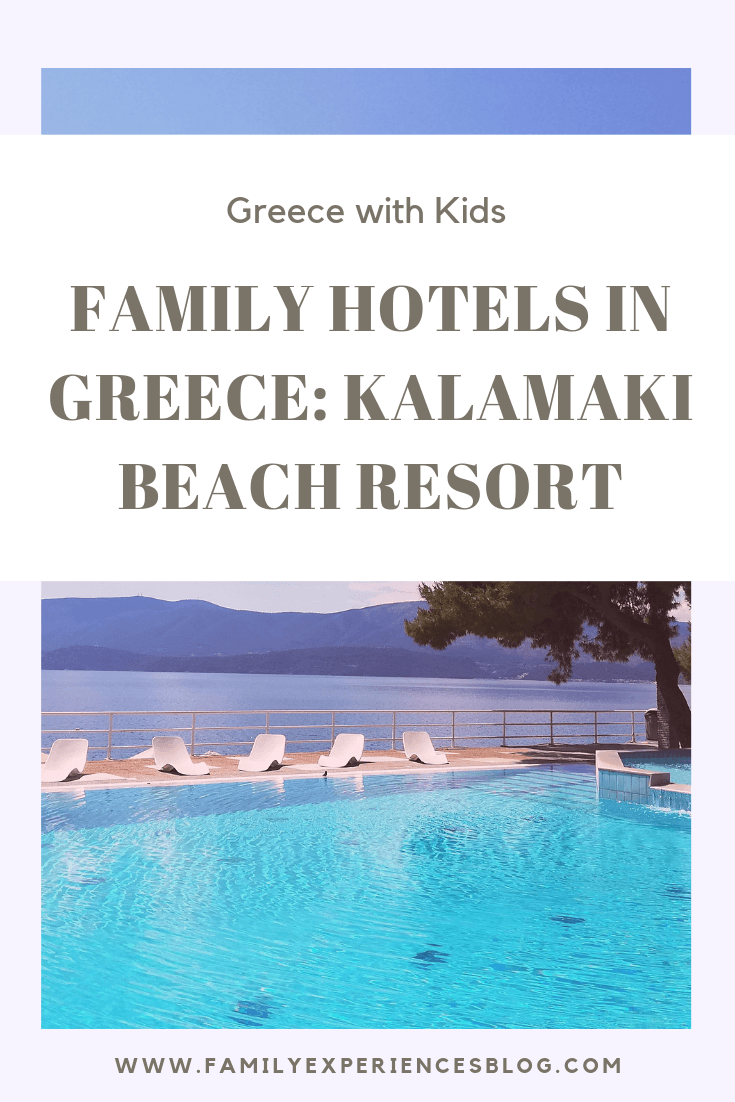 **Although we were guests of the Kalamaki Beach Resort, these opinions are entirely my own. We thank Kalamaki Beach Resort for hosting us. Disclaimer: This post contains an affiliate link. This means that should you click on certain links, and then subsequently purchase a product, I will receive a small commission. It costs nothing extra to you but helps keep my site running. Thank you for supporting me in this way**