Last Updated on August 28, 2023 by Celeste.
Sailing with kids in Greece is something that everyone should experience at least once in their lifetime. A sailing adventure is magical and something that the entire family will enjoy.
Over the years, I have been fortunate to visit many of the Greek islands by private boat. More recently, my family went sailing in the Saronic islands. This post is the result of our experience boating around Greece. Let me inspire you and show you why you should consider a sailing vacation with kids in Greece!
Sailing with kids in Greece
Greece is an ideal country for sailing because of its large choice in destinations. The Greek islands especially are a paradise for a sailing vacation. The numerous unique island groups, their hidden beaches, coves, and their natural beauty are just a few of the reasons why sailing in Greece is a must-do.
The Greek beaches are amongst the best in the world! Crystal clear waters appear deep blues from a distance, stretches of sand ring stunning islands, and the waters are invitingly warm during the summer. If you love the sea and the beach, then you will surely love sailing in Greece!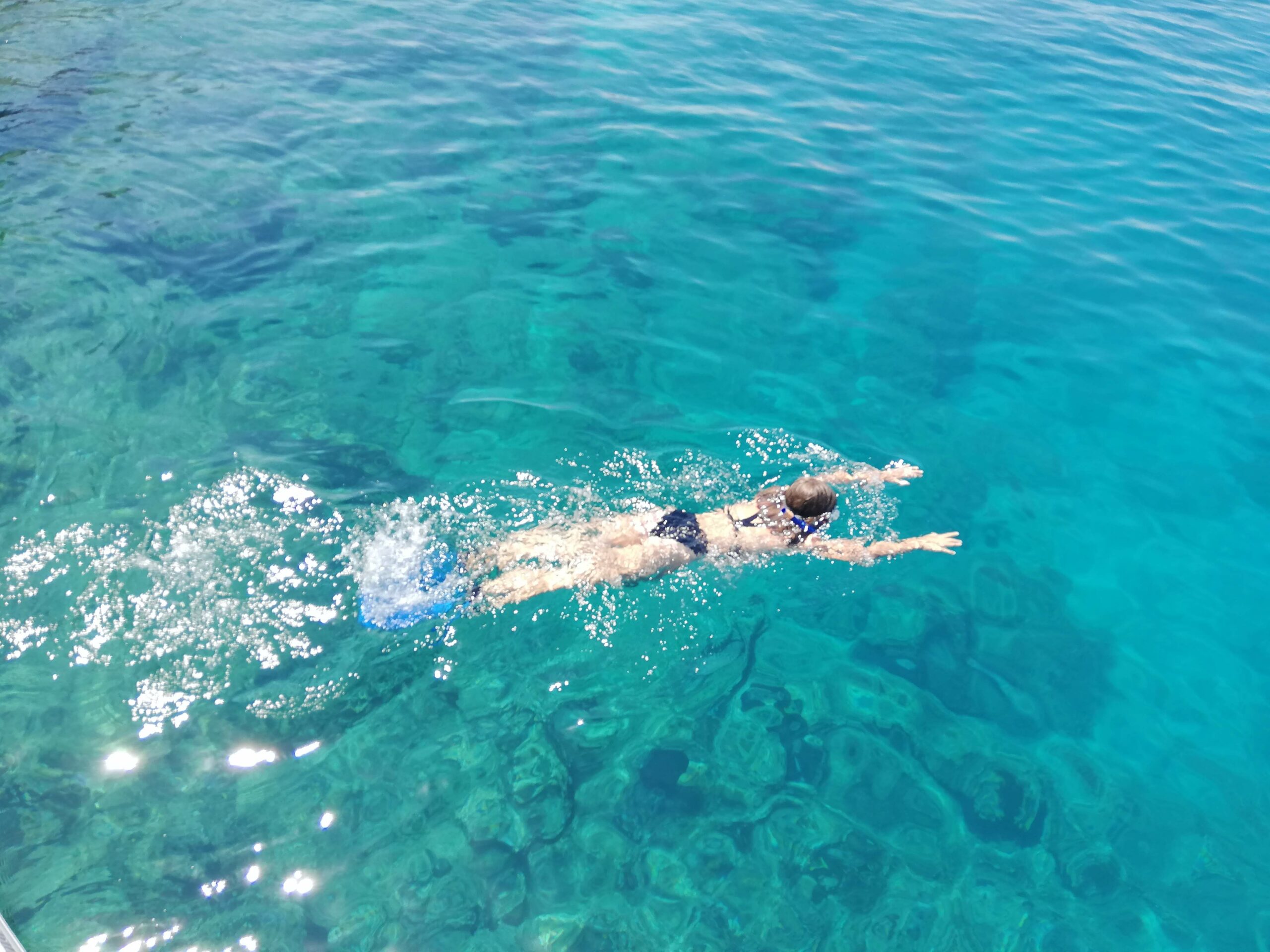 Spending quality time together
Sailing is also a hands-on activity that all the family can enjoy together. Spending quality time together away from daily routines while enjoying relaxing moments surrounded by nature makes sailing an ideal family bonding activity.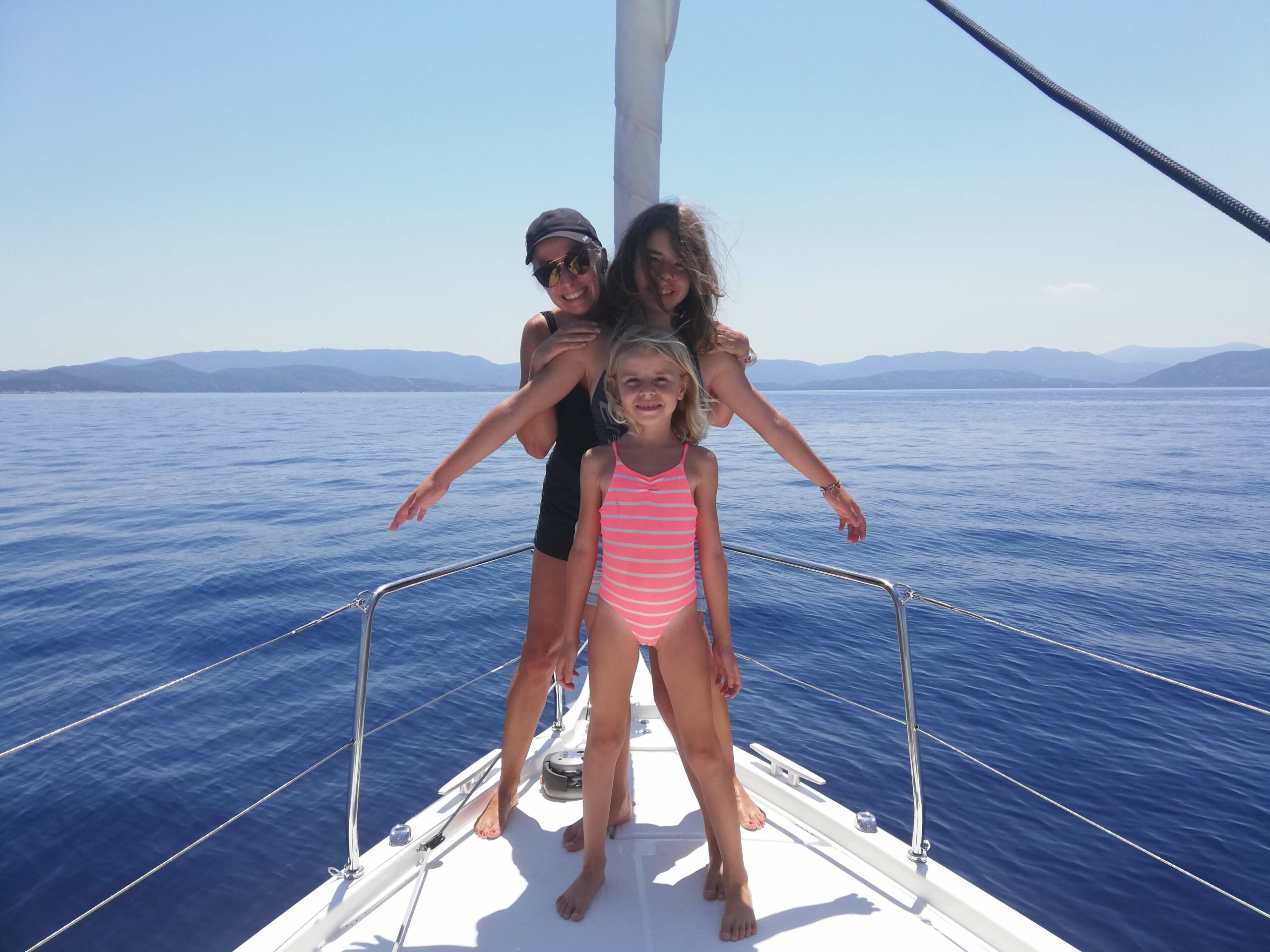 Sailboat charter in Greece
Sailboat charter in Greece means swimming at some of the best places in the world. You and your family can take a dive into the blue queen and live it up to the fullest! After you have enjoyed your swim, you will sail to your next stop for more divine underwater beauty and natural treasures.
Sailing with young kids? Some parents of younger kids don't like the idea of taking kids on a multiple-day sailing trip. Other parents (or any other family members) who love sailing do not want to stay on board all the time. For those people who want to experience sailing but also look for flexibility, there are some great one-day sailing adventure options in Greece!
We've prepared a guide to sailboat charter in Greece which is guaranteed to make you want to plan your yachting experience in Greece. 
Our sailing experience in Greece: The Saronic Islands
Beautiful Hydra and the other islands in the Saronic Gulf are the most easily accessible islands from Athens and an ideal destination for short sailing adventures. You can spend a few days in Athens and sailing in these beautiful islands, all in 5-7 days.
A sailing trip to the Saronic Islands is perfect for families due to the short distances involved and the relatively mild winds in comparison to other sailing areas in Greece. Sailing the Saronics is suitable for kids of all ages and can include plenty of opportunities to swim, soak up the sun, and see the islands.
We started our Saronic Islands sailing trip with Kavas Yachting in the Alimos Marina in Athens. Alimos is the starting point for sailing the Athens Riviera, as well as visiting the islands near Athens (the Saronic Gulf Islands, Salamis and Kea), the Peloponnese and the Cyclades islands.
Our boat was a new Beneteau Oceanis 40.1 feet sailing boat, built in 2020, with 3 cabins (6 berths). This type of monohull is ideal for a 6-person vacation and the price depends on the season and length of the vacation. The boat's interiors was stylish and comfortable and the largest cabin had its own bathroom with WC and shower.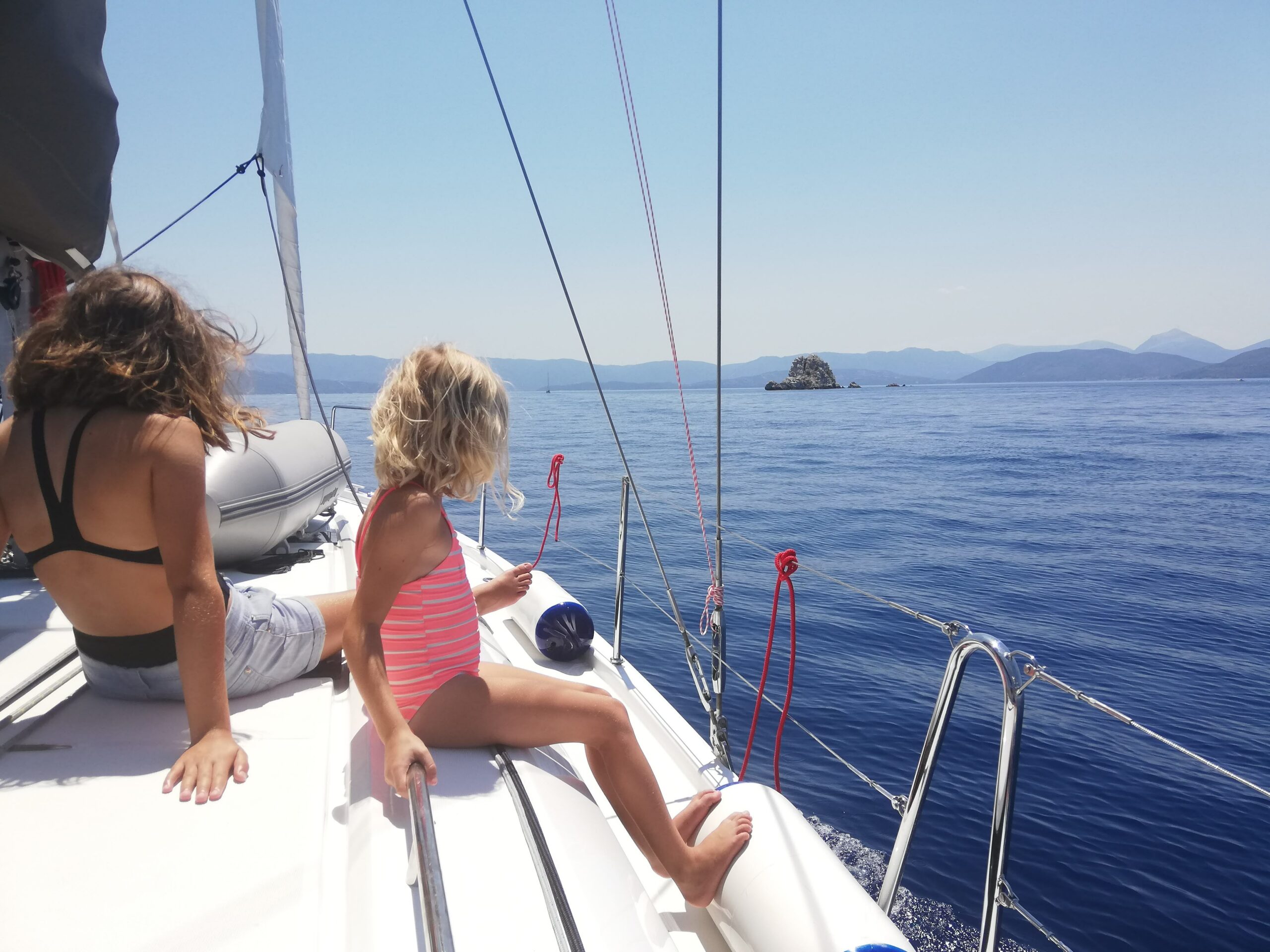 We set sails from the Alimos marina to Poros island.
Sailing in Poros
Poros is only some meters opposite the Peloponnese mainland and separated only by a small channel of the sea. Geographically, it is one of the most interesting islands of the Saronic gulf. Poros is also the greenest of the Saronic islands and is considered one of the friendliest yacht destinations.
If you are planning to stay in Poros and discover the island, have a look at the top things to do in this family travel guide: Poros island Greece Holiday with Kids
"Poros island has a long history in naval background, it offers excellent boating facilities and its crystal-clear waters are easily accessed with a sailing yacht or catamaran."
Poros unique scenery, the calm weather, and its protected little coves are ideal for anchorages.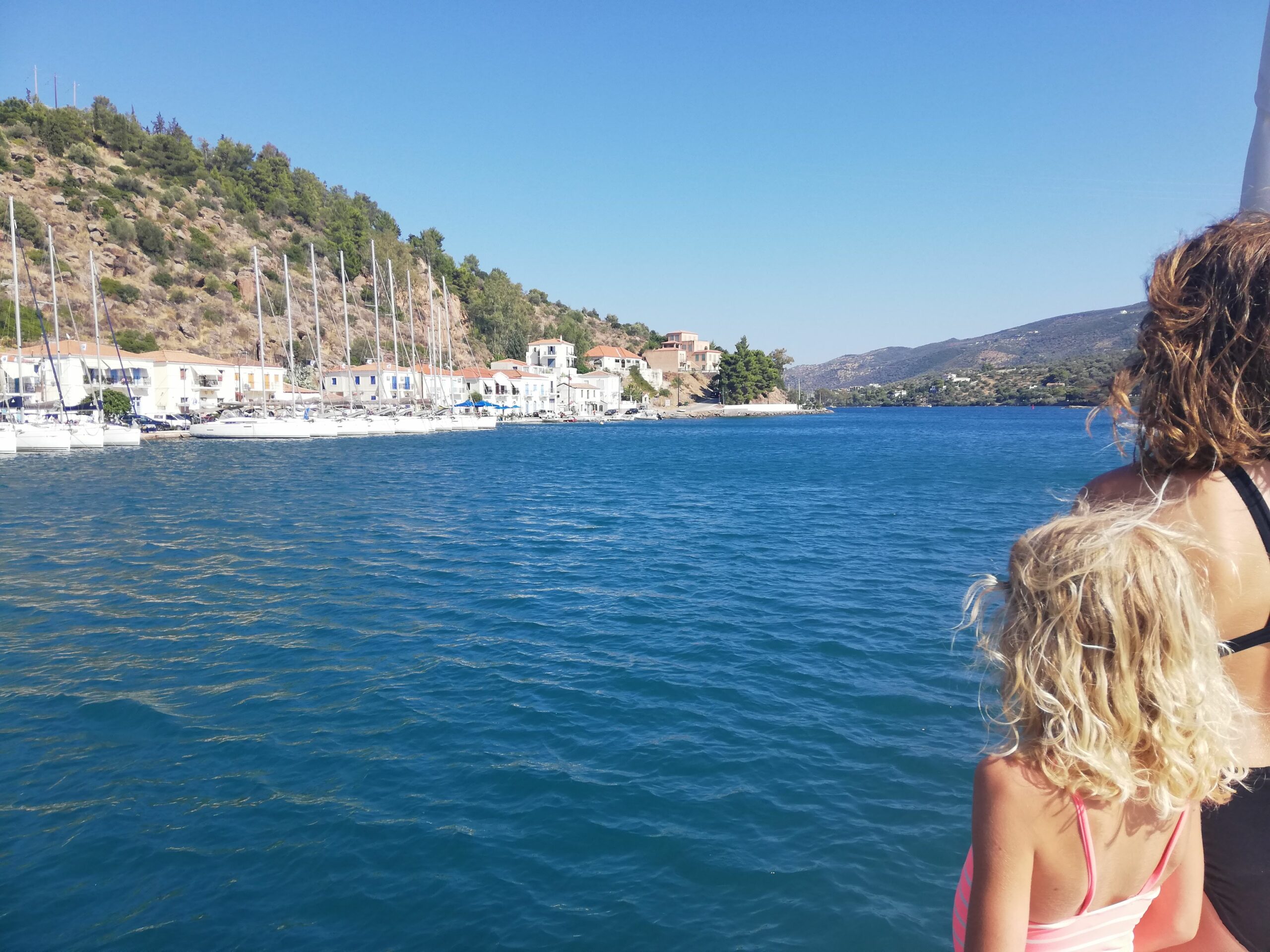 After a swim break in Poros, we continued for Spetses and passed old fortifications, we saw a sea turtle and even a group of dolphins.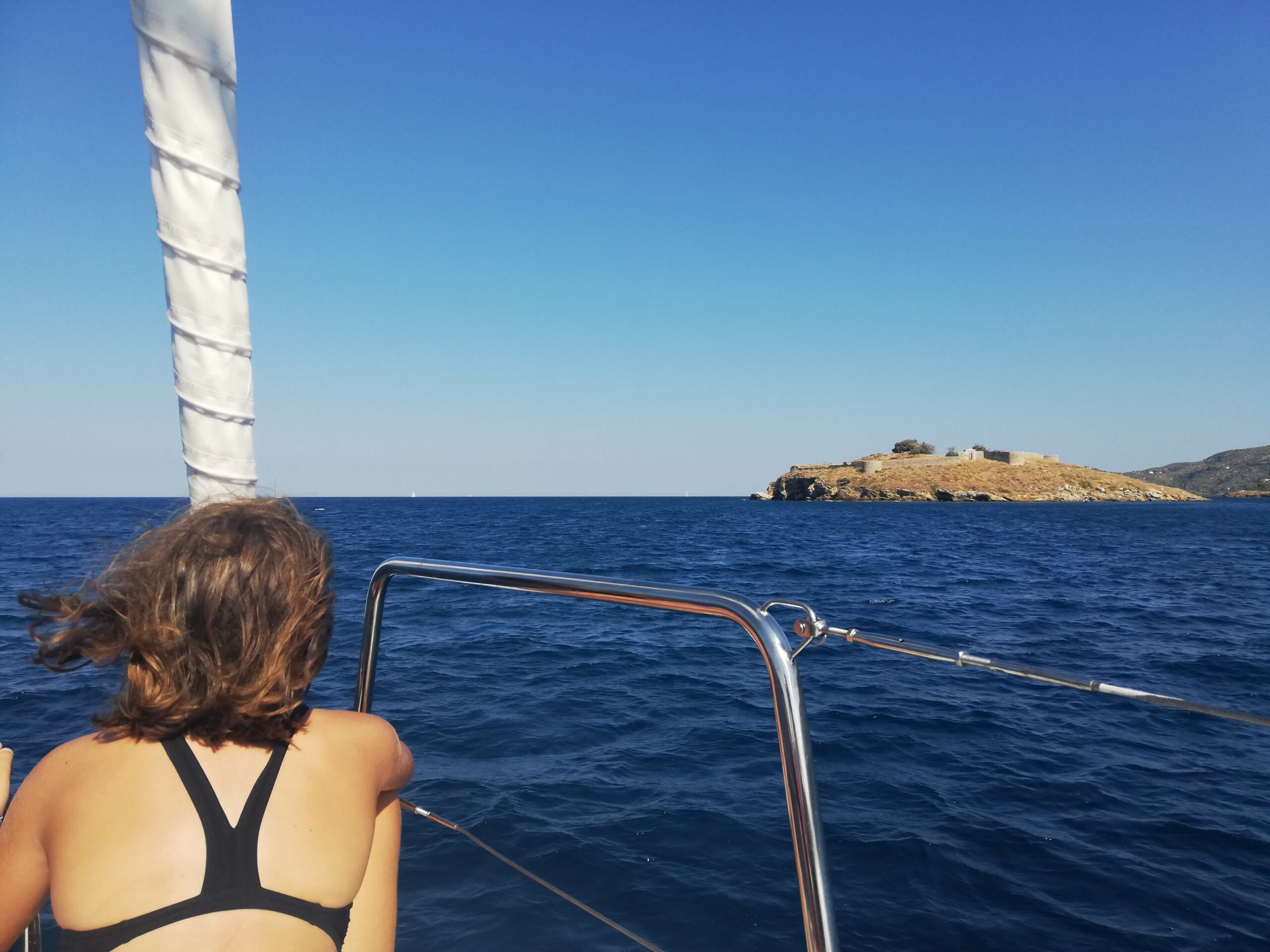 Sailing in Spetses
We arrived in Spetses at the end of our first day. It was time to relax and enjoy dinner. Watching the sunset was a magical experience!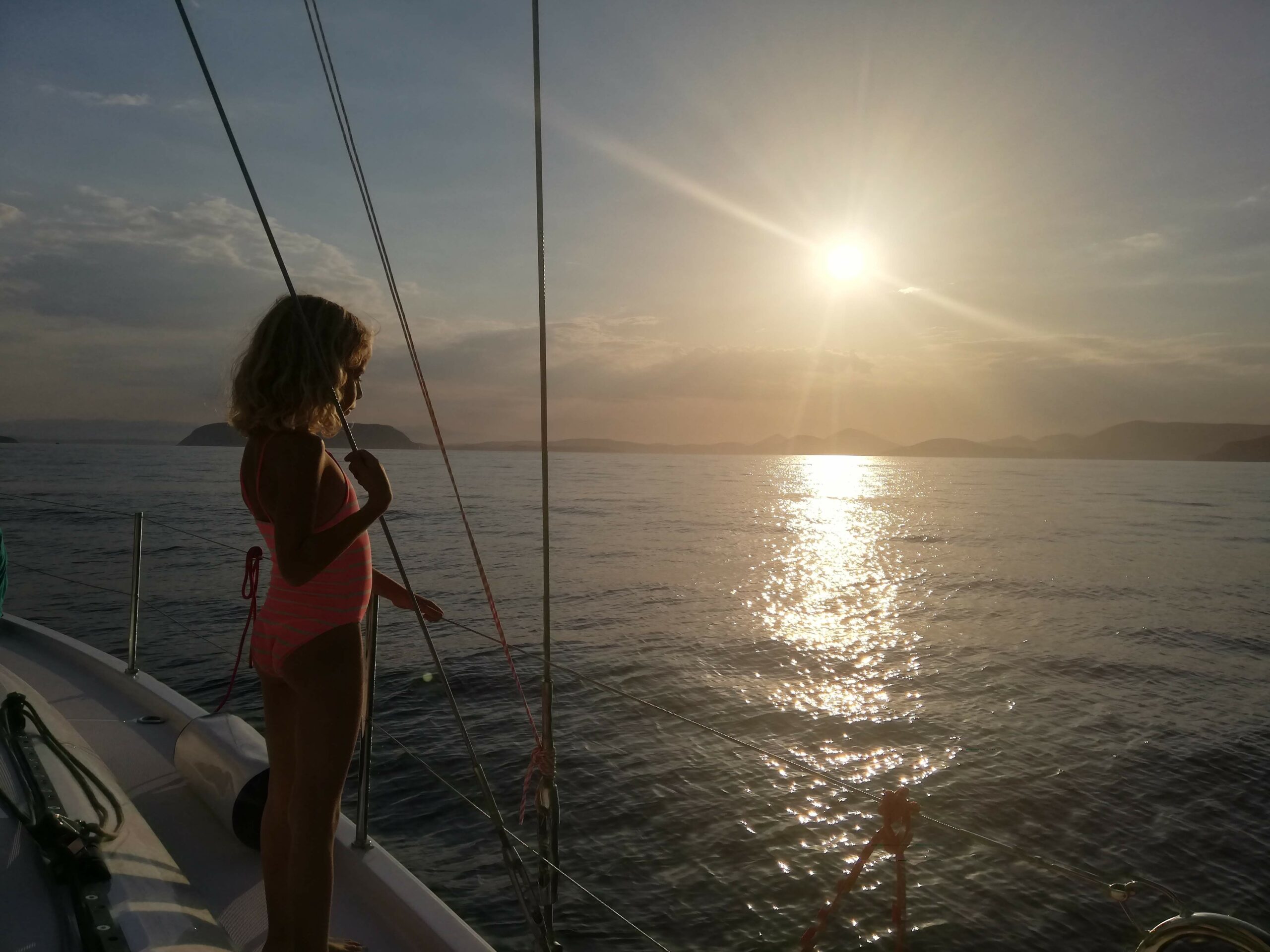 Spetses is a great island for sailing with kids. Although less famous than Hydra, it is similar because of its beautiful neoclassical mansions in its town, its glorious history and its glamorous present. Spetses offers some of the best places for swimming in the Saronic Gulf. Especially on the south side, you can find many landscapes; rocky coves, sandy beaches, green water coves with pine trees and more.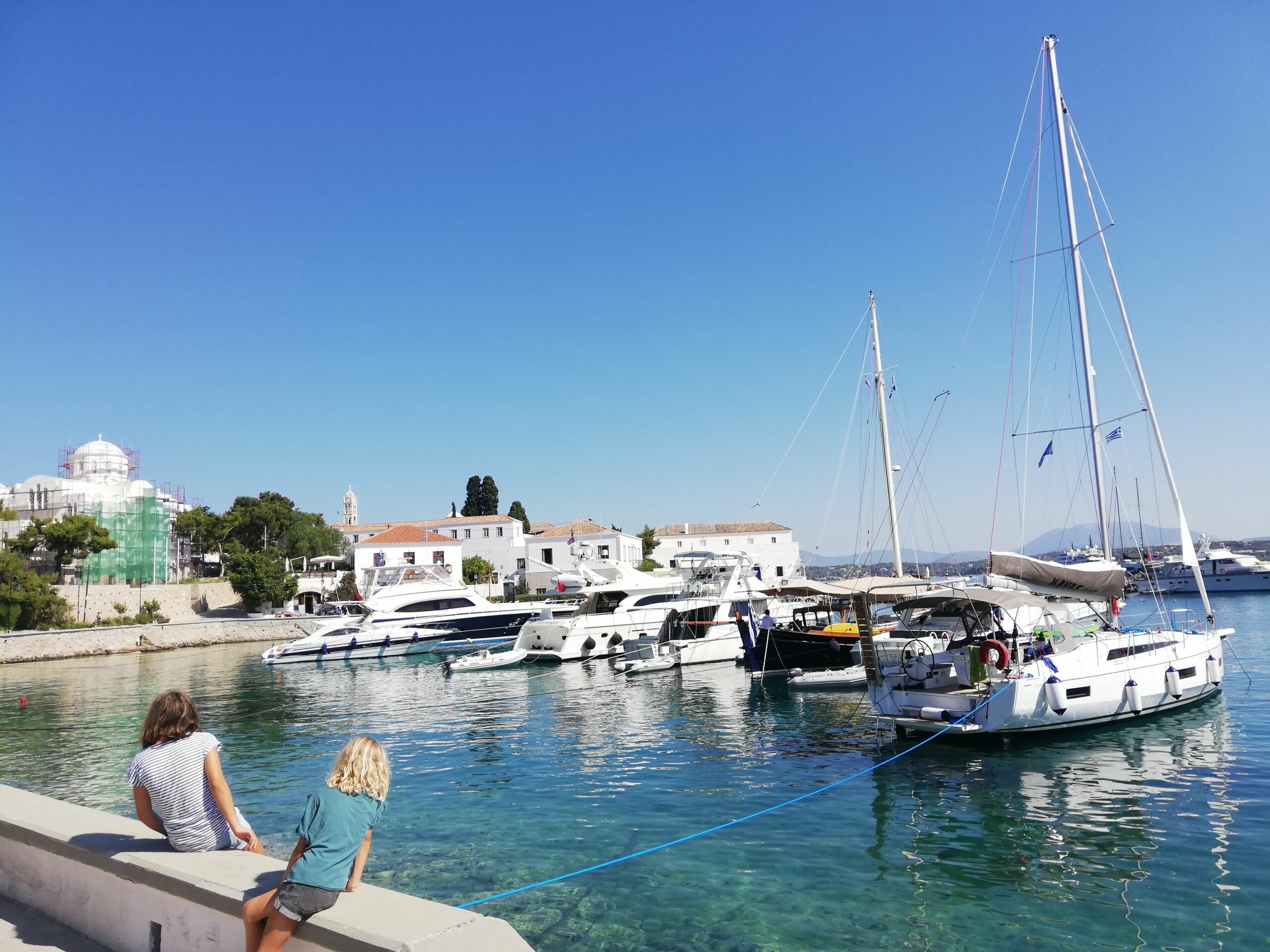 Should you decide to leave your water paradise: Spetses Town is a must-visit! Cars are not allowed on the island and horses are everywhere.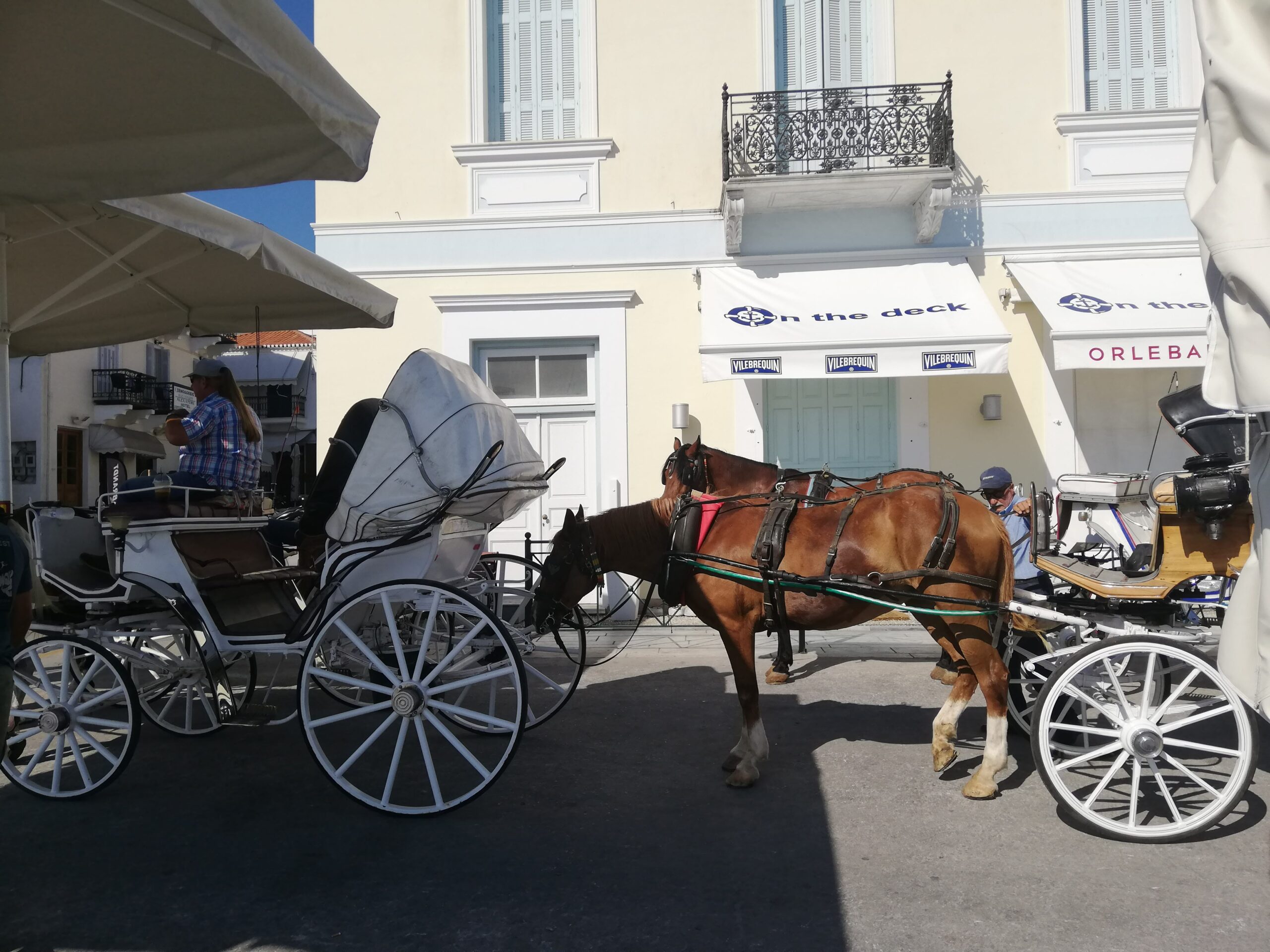 The combination of Spetses' traditional Greek ambiance with a contemporary and cosmopolitan feel, is a winner for all families. We had plenty of time to explore Spetses island before we continued our journey.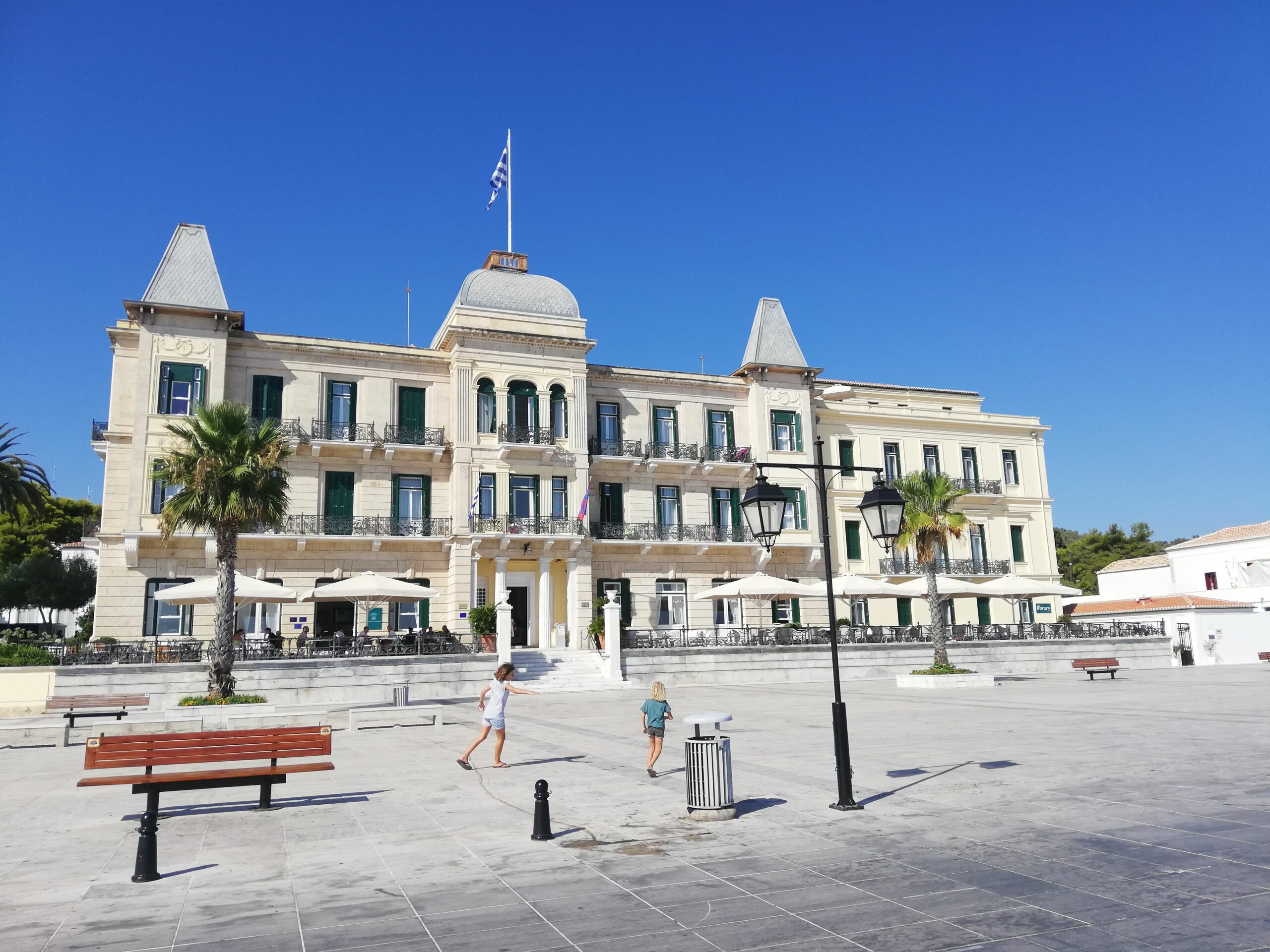 Sailing in Hydra
Our sailing trip also took us to Hydra, a car-free island, probably the most visited of the Saronic Gulf and a personal favorite. Cosmopolitan Hydra island lies between the Saronic Gulf and the Argolic Gulf. It is a very popular sailing area and has perhaps the most beautiful port in Greece.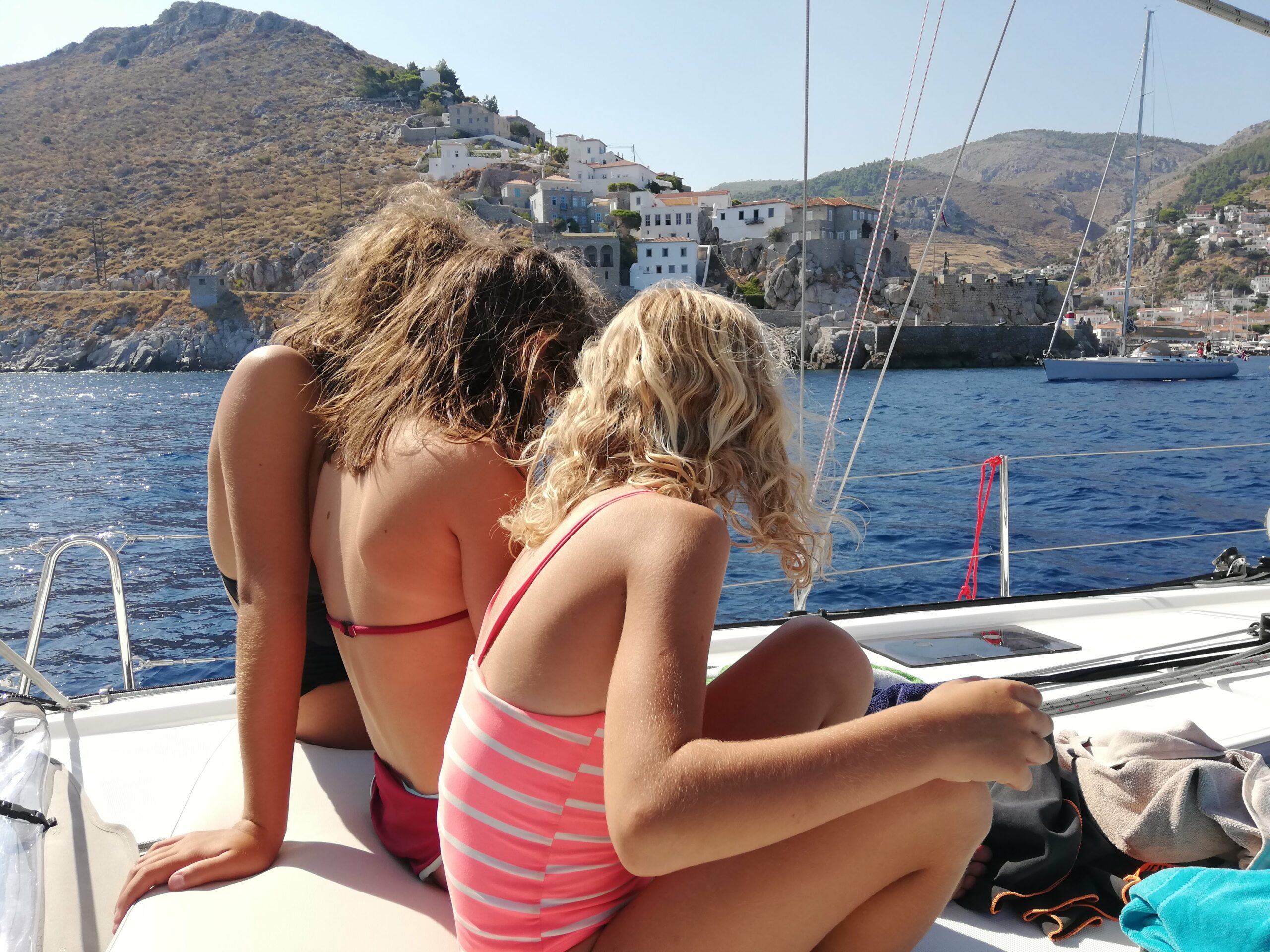 Entering the port of Hydra, you will notice the canons on each side. They are the trademark of the island's character and historical glory. The pretty main town is built as an amphitheater around the port, and there are donkeys everywhere.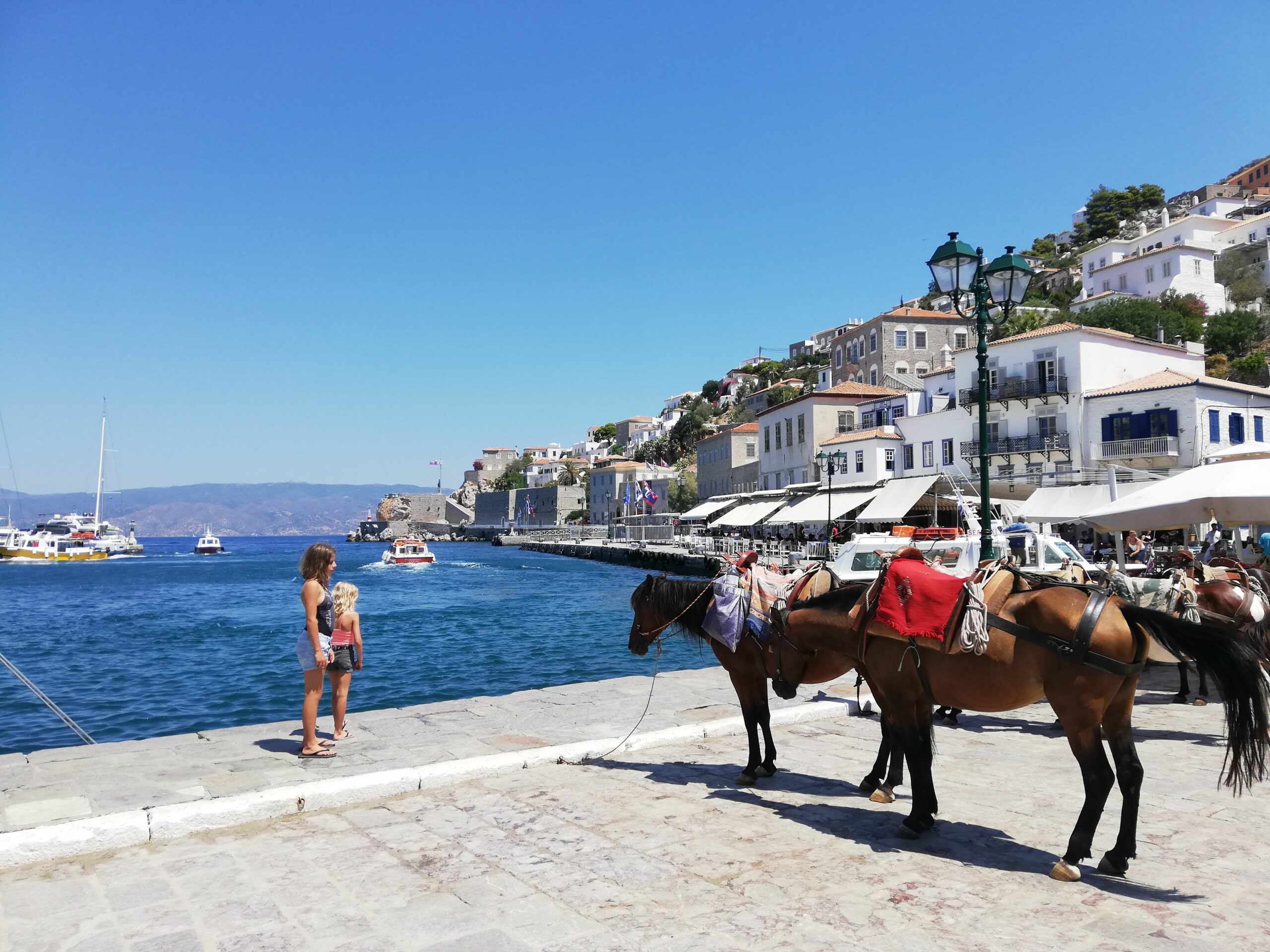 Take some time to explore Hydra and the areas surrounding the beaches of Avlaki, Kamini, Vlychos, and Mandraki. You'll discover a different side of Hydra – less touristy and cosmopolitan, but just as charming. There are private beaches and taverns, and lots of opportunities for swimming, diving, fishing, and hiking.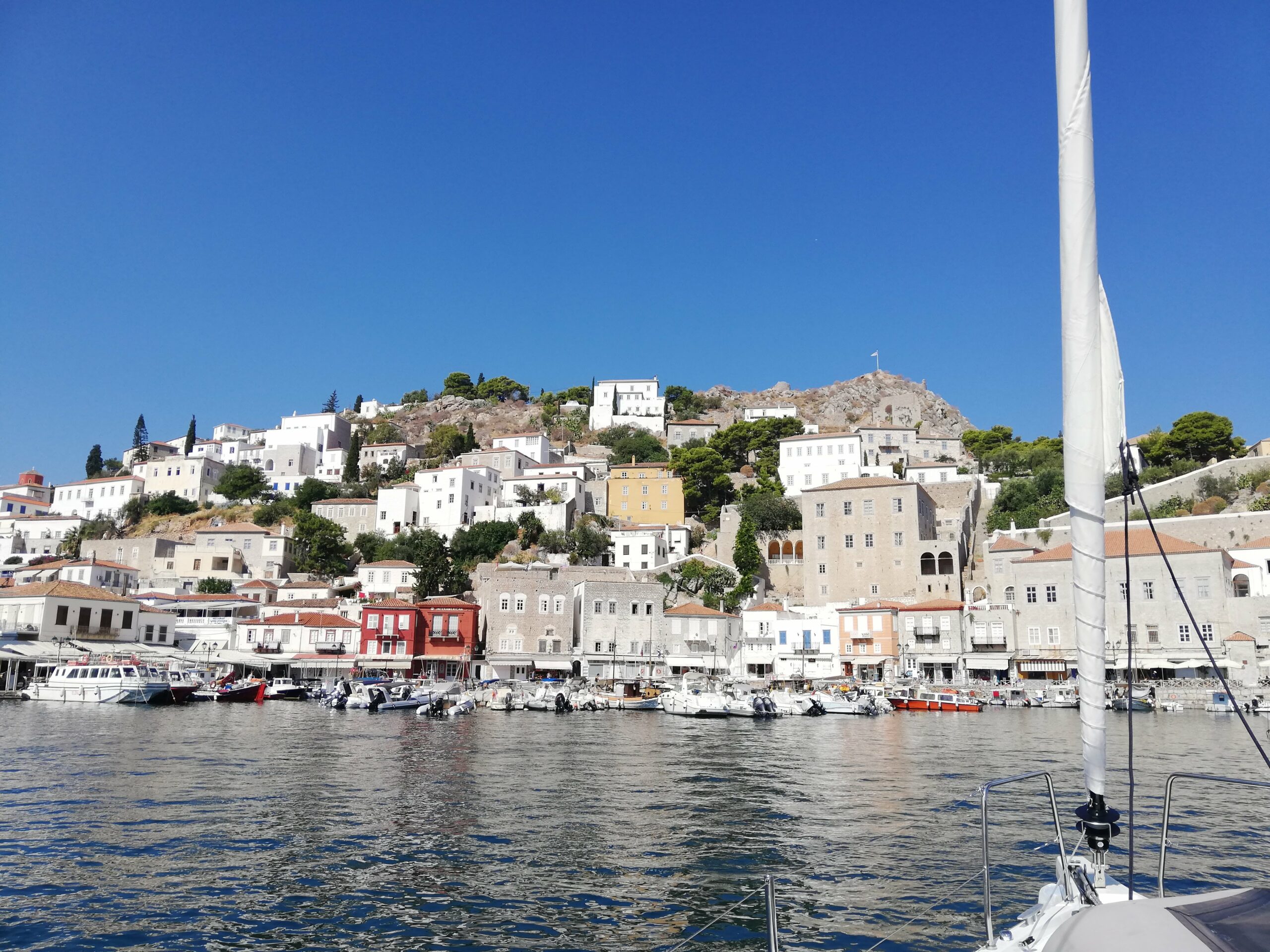 In Hydra, we stayed in a quiet bay near the main port. At night, we visited the beautiful harbor and we strolled around the narrow and winding alleys.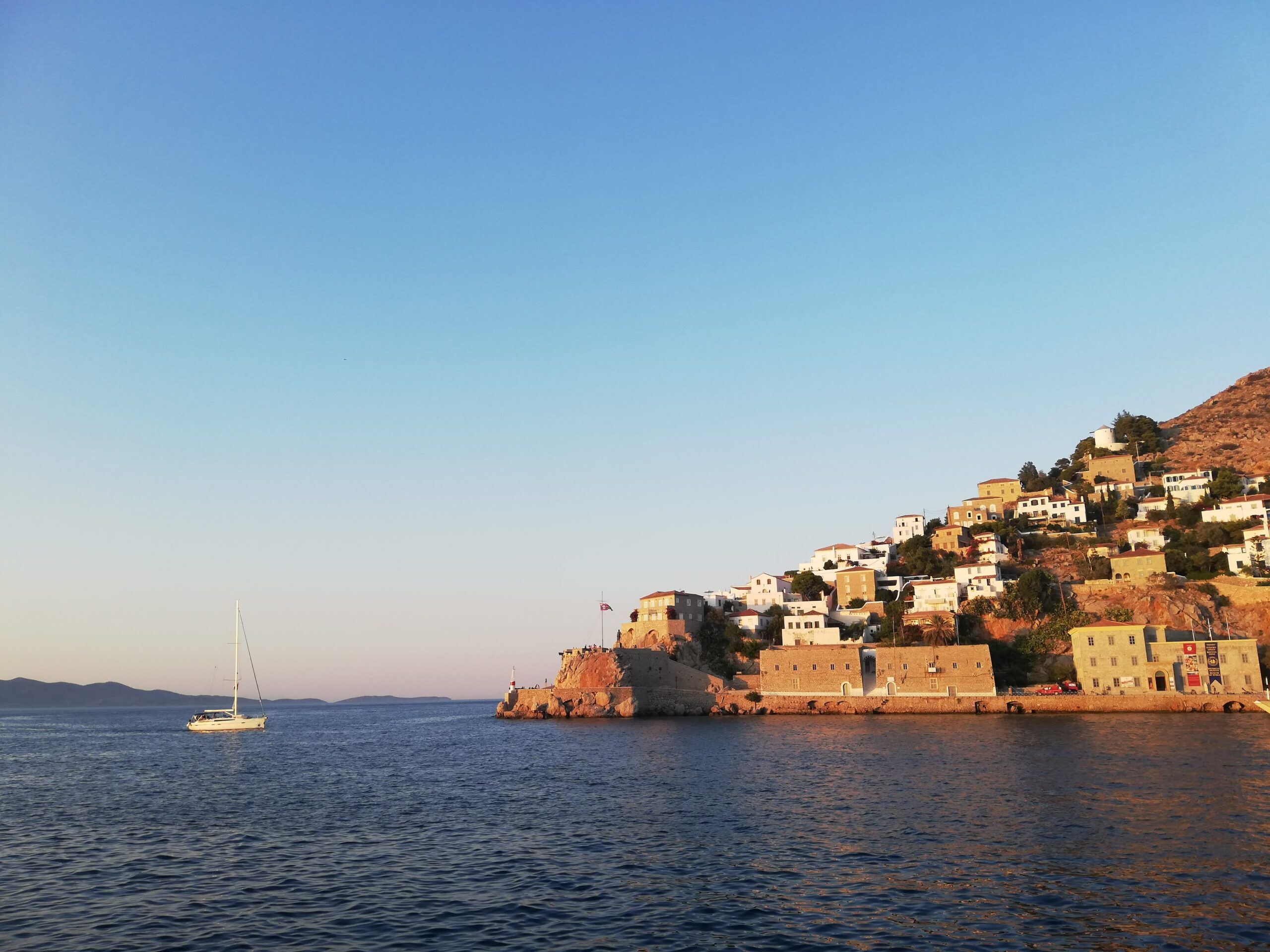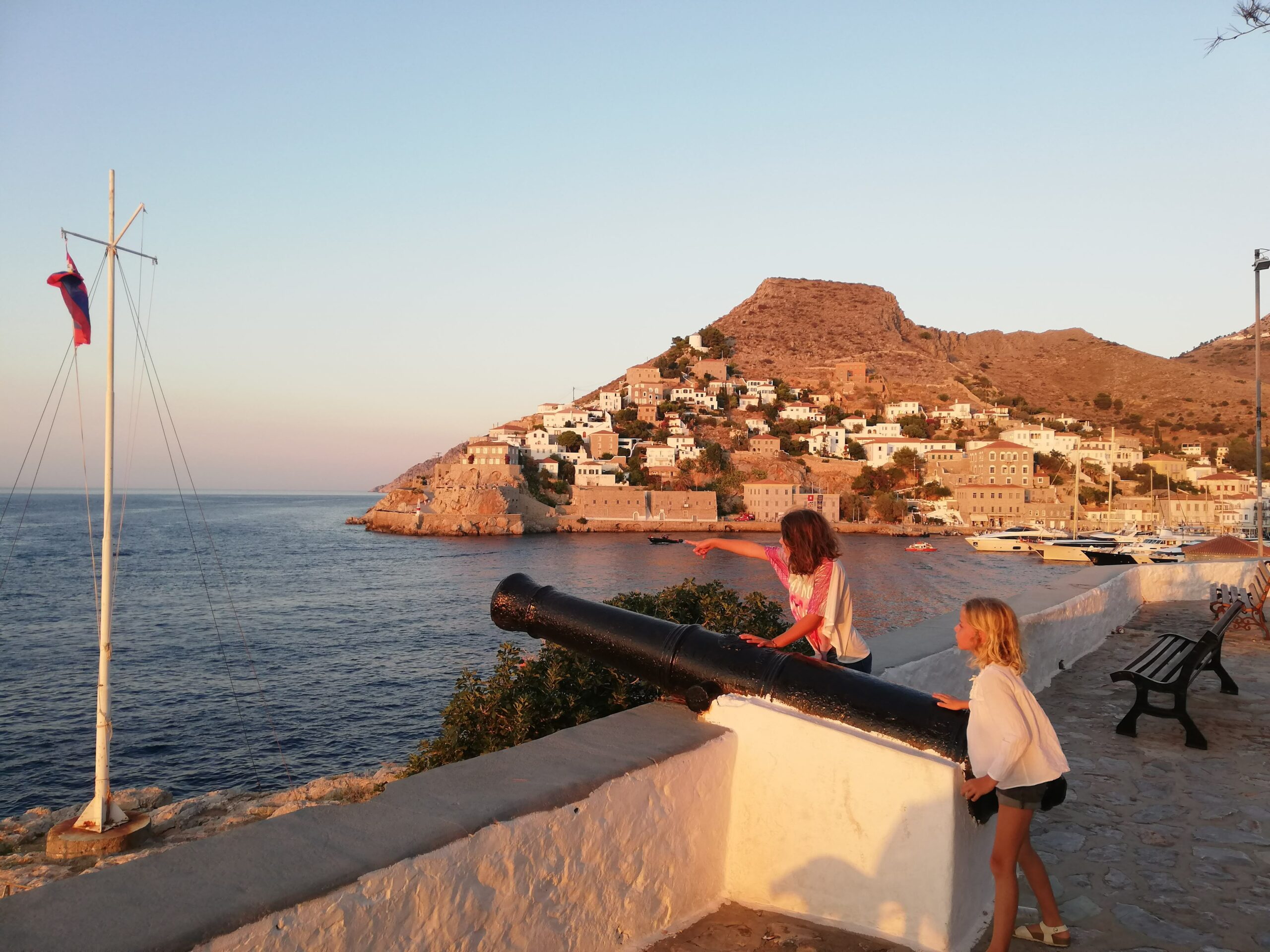 We had dinner in Sunset restaurant, located at the most beautiful spot on the island. While watching the magnificent sunset, we indulged on great Mediterranean dishes, fresh seafood, and great wine with an impeccable view over the sea.
Click here for a Family Travel Guide to Hydra with Kids with recommended restaurants, hotels and beaches.
Sailing with kids brought us to many hidden bays at small islands with safe clear waters for swimming, snorkeling, and water fun.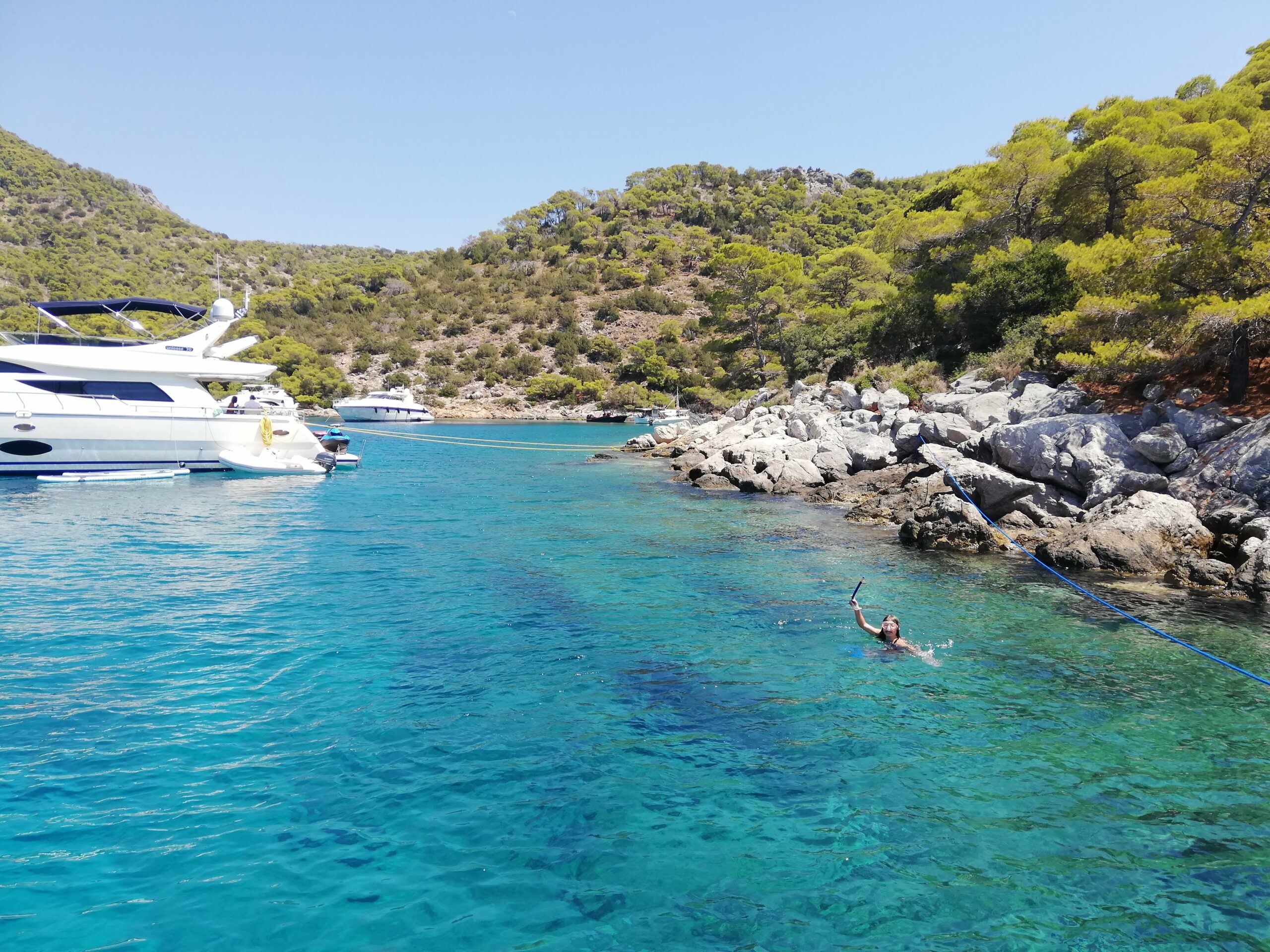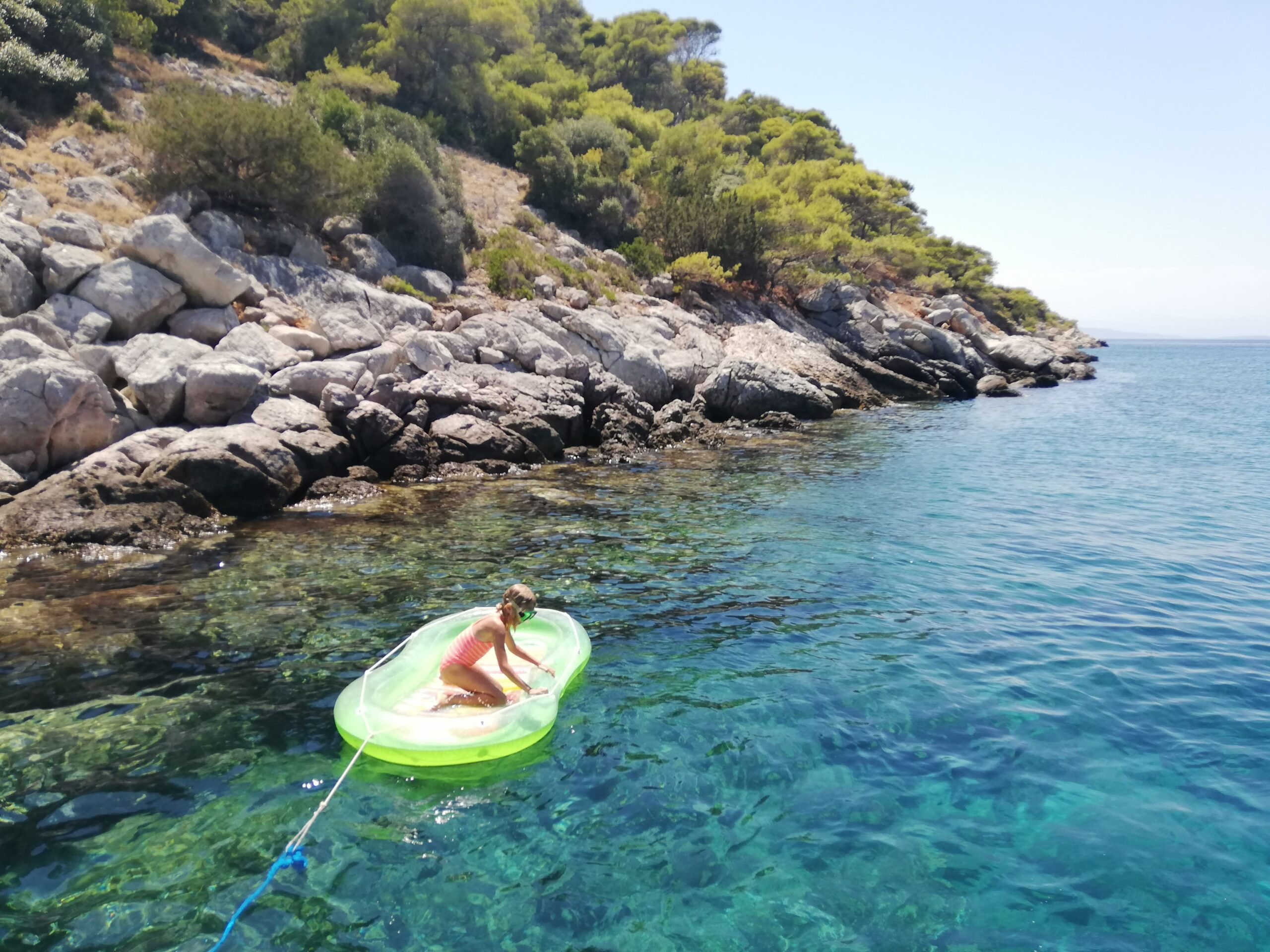 Sailing the Saronic Islands was an unforgettable experience for the kids and adults alike!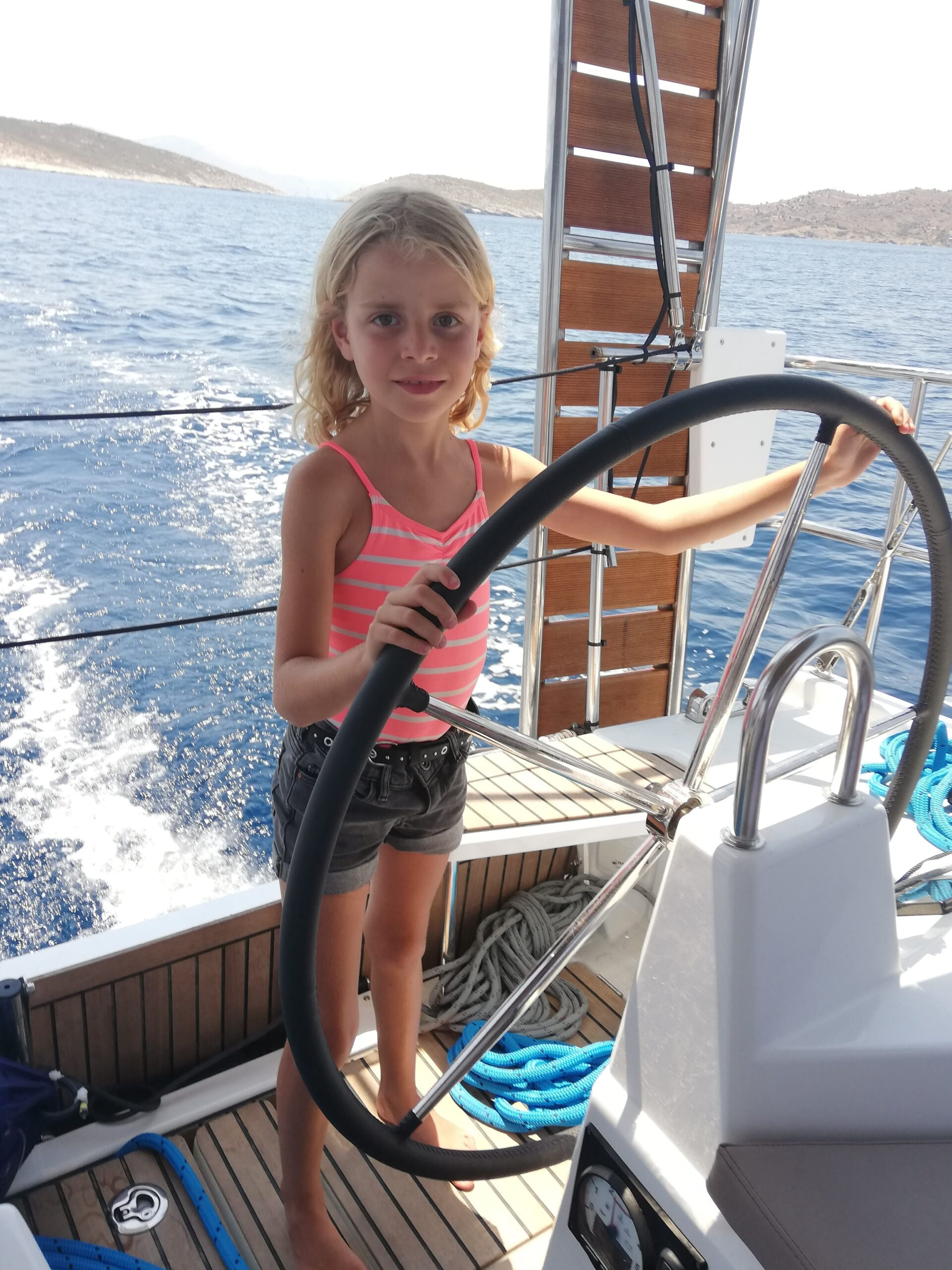 Read More
For more stories about sailing in Greece with children, have a look at: