Last Updated on October 8, 2022 by Celeste.
Beautiful Corfu is one of the largest most popular Greek islands and definitely worth a visit with your family. Corfu with kids offers a variety of activities and things to do that will keep you busy throughout your vacation. Corfu island was recently listed by Forbes as the perfect destination to recharge your batteries combining relaxation, sun and nature.
Things to do in Corfu with Kids
Our Corfu base was Daphnila Bay Dassia, a beach resort at 13 km away from Corfu town on the west side of the island. This was the perfect starting point for things to do with the kids. Here are our favourite things to see and do in Corfu with kids!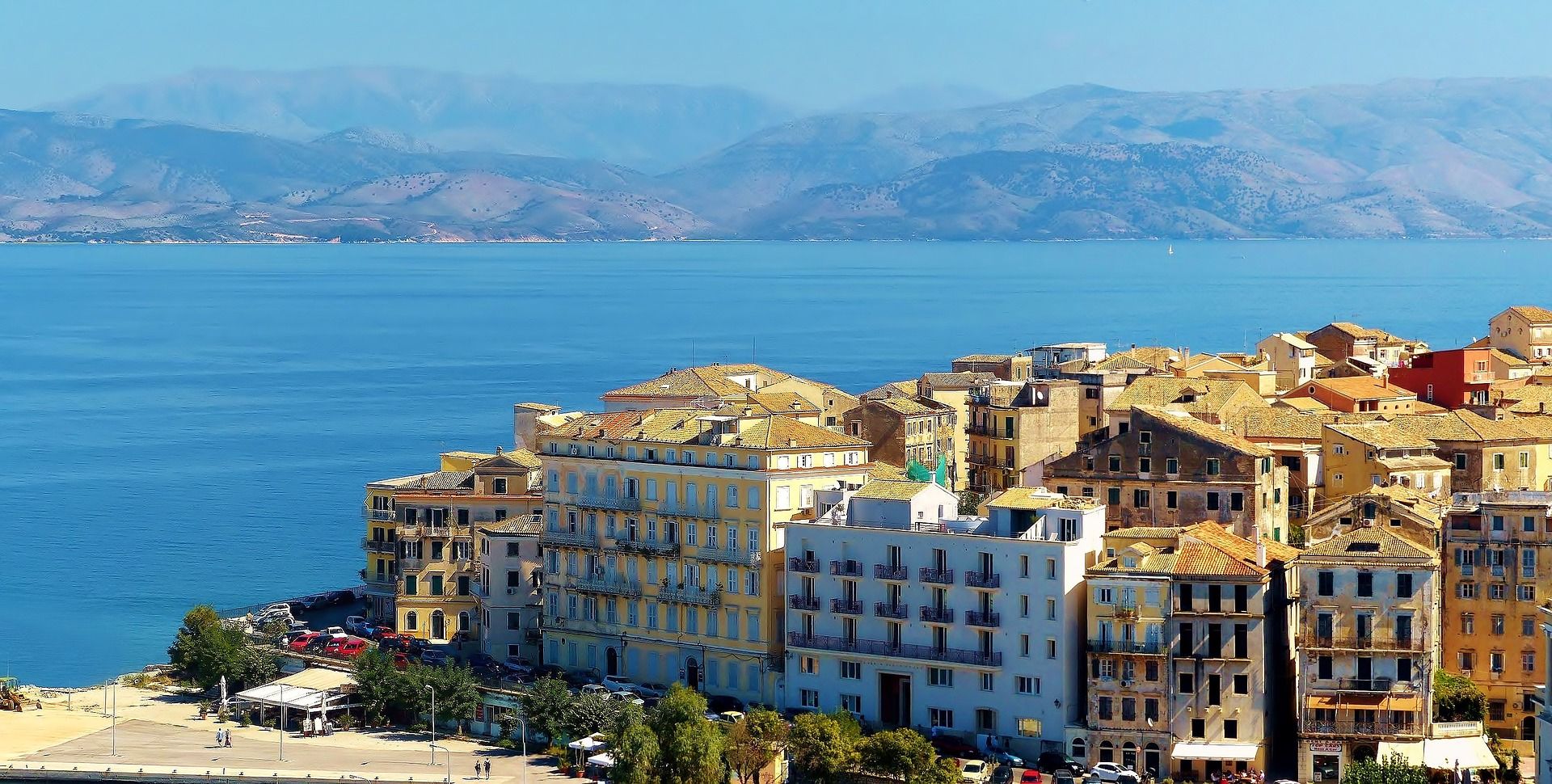 1. Explore Corfu Town
Corfu Town, the capital of the island, is a cultural UNESCO World Heritage Site and one of the most beautiful towns in Greece. Corfu played an important role throughout history. It is strongly influenced by the Venetians, the town resembles an Italian city. Corfu Town is ideal for walking around with kids. My children loved running through the pretty narrow streets and breathtaking squares with beautiful buildings.
If you want to make the most out of your visit to Corfu town and learn a thing or two about its history, I recommend a guided city tour. There are many guided tours available but for Corfu with kids, I would advise to book a half-day tour with a pick up from your hotel.
Click here for more information and to book your Corfu Old Town Tour.
For a relaxed tour around Corfu Town with the kids, you can also opt for a relaxed bus tour. There are many different options, I recommend the open Corfu Old Town and Achilleion Palace combination open-top bus tour.
Click here for more information and to book your Corfu Old Town Bus Ticket.
2. Visit the Achillion Palace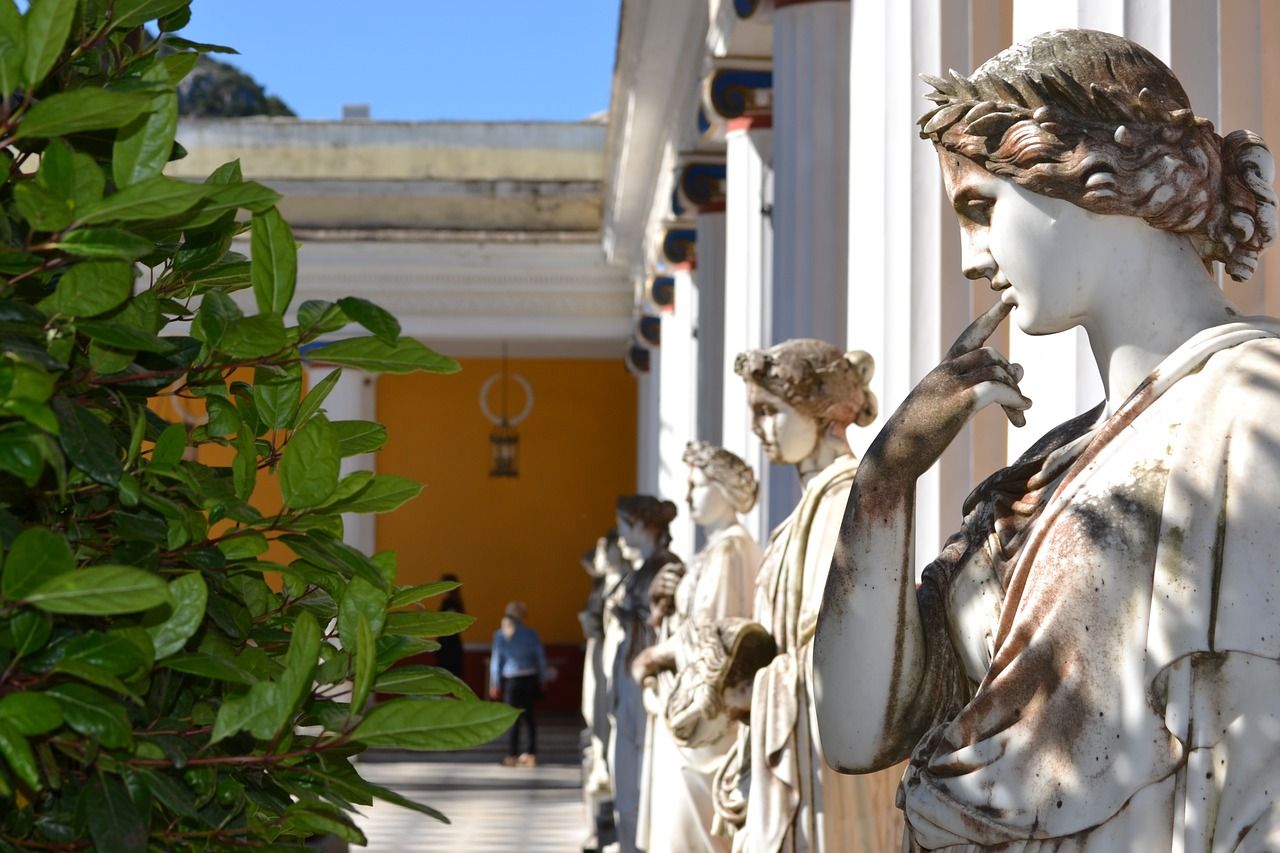 The Achilleion Palace outside Corfu Town was built in 1890 by the Austrian Empress Elisabeth, also known as princess Sisi. Kids will love the beautiful palace and the Imperial garden with its exceptional views of the surrounding valleys and the Ionian Sea. Do your kids like Greek Mythology? The palace is named after the famed Greek mythological hero Achilles and you can see his statue at the garden!
Click here for more information and to book your visit to the Achillion Palace.
3. Fun Activities for kids in Corfu
Corfu offers a lot of activities for kids of all ages. The island's natural beauty, both inland and at sea a great for a bike tour, horse riding or boat trips. There are horse trekking schools on Corfu and you can go fish spotting from a glass-bottom boat!
The Corfu Aquarium displays a variety of Corfu's creatures both of the island's marine life and reptiles such as lizards, snakes, and iguanas. Corfu's famous Aqualand water park is among the most impressive in Europe. Designers of the water attractions worked on projects for Universal Studios and Disney parks!
Click here for more information and to book your visit to the Water Park.
4. Relax at the beautiful Corfu Beaches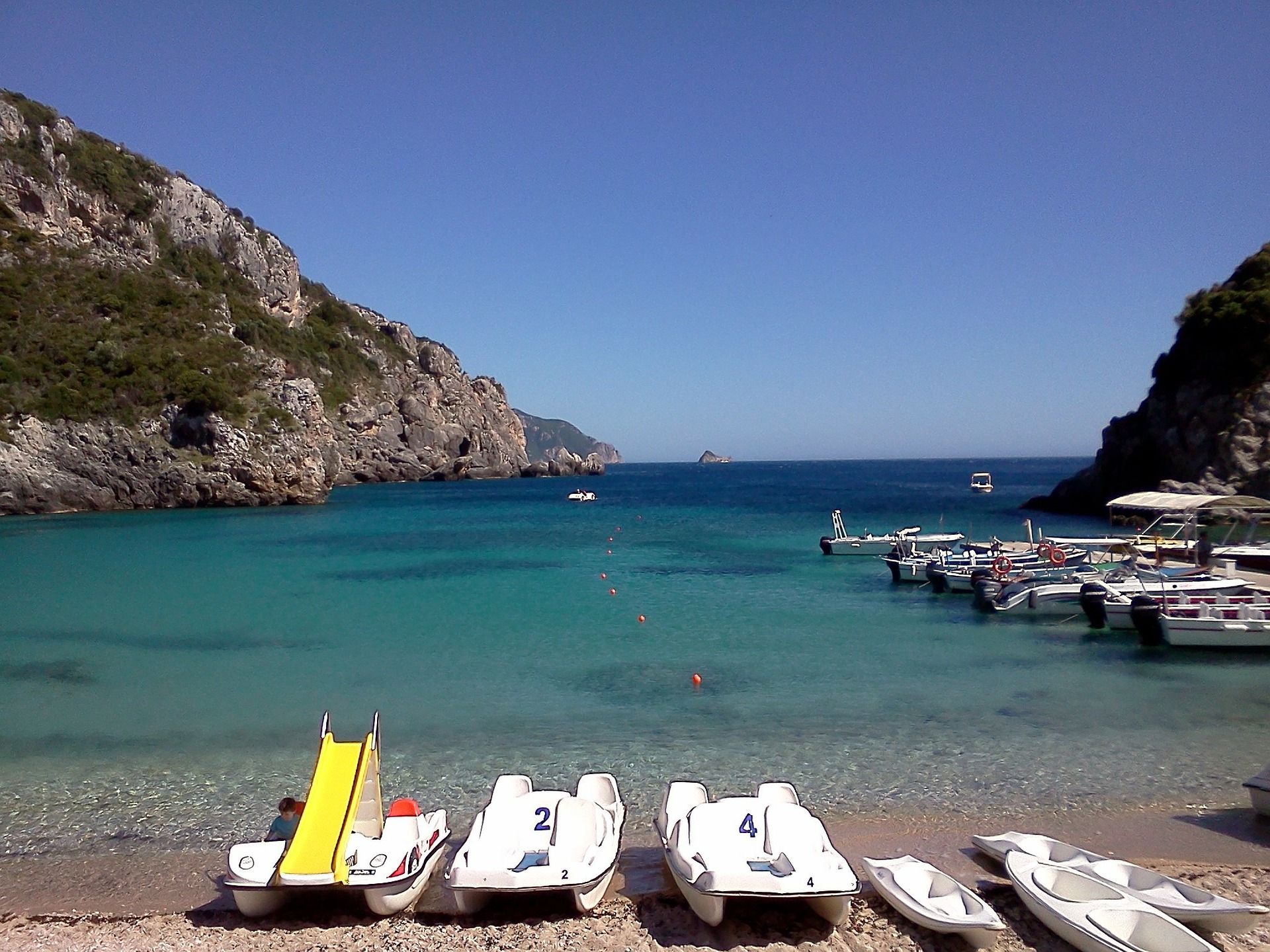 With calm clean waters surrounded by lots of green, the endless sandy beaches in Corfu attract many visitors. The Ionian islands are not as windy as the Cycladic islands, making their beaches ideal for young kids. Paleokastritsa is the most famous beach resort, while other family beaches include Agios Gordis, Pelekas, Acharavi, Issos, and Glyfada. They are well organized with family facilities, seaside restaurants, water sports, and beach bars.
We tried the beaches on the west side of the island; Glyfada and Pelekas. Kids will love the sandy beach of Saint Gordios and the resort also has a good selection of tavernas and hotels.
Things to do in Corfu with kids: 5.Taste delicious food
Corfu may be a Greek island, but it has its own local cuisine with dishes that cannot be found anywhere else in Greece. Corfu's gastronomy tradition is unique because it has been influenced by a variety of cultures such as the British, the French and the Italians. They all have left their mark on the island's gastronomy. Kids will love the local pasta dish called 'Pastitsada' and many amazing desserts.
Some travel companies organize walking food tours around Corfu town, an excellent way to sample great food and learn more about the island.
Click here for more information and to book your Corfu Town Walking Food Tour.
6. Sailing the Ionian islands
Corfu is a great base for exploring the nearby Ionian islands and nearby areas. These islands are world-famous for their breathtaking sandy beaches, beautiful turquoise crystal clear waters. Located close together, they make it easy for island hopping or for sailing from one island to another. Kids will have the experience of a lifetime visiting dreamy Paxos, tiny Antipaxos or peaceful Sivota.
Click here for more information and to book your island hopping to the Ionian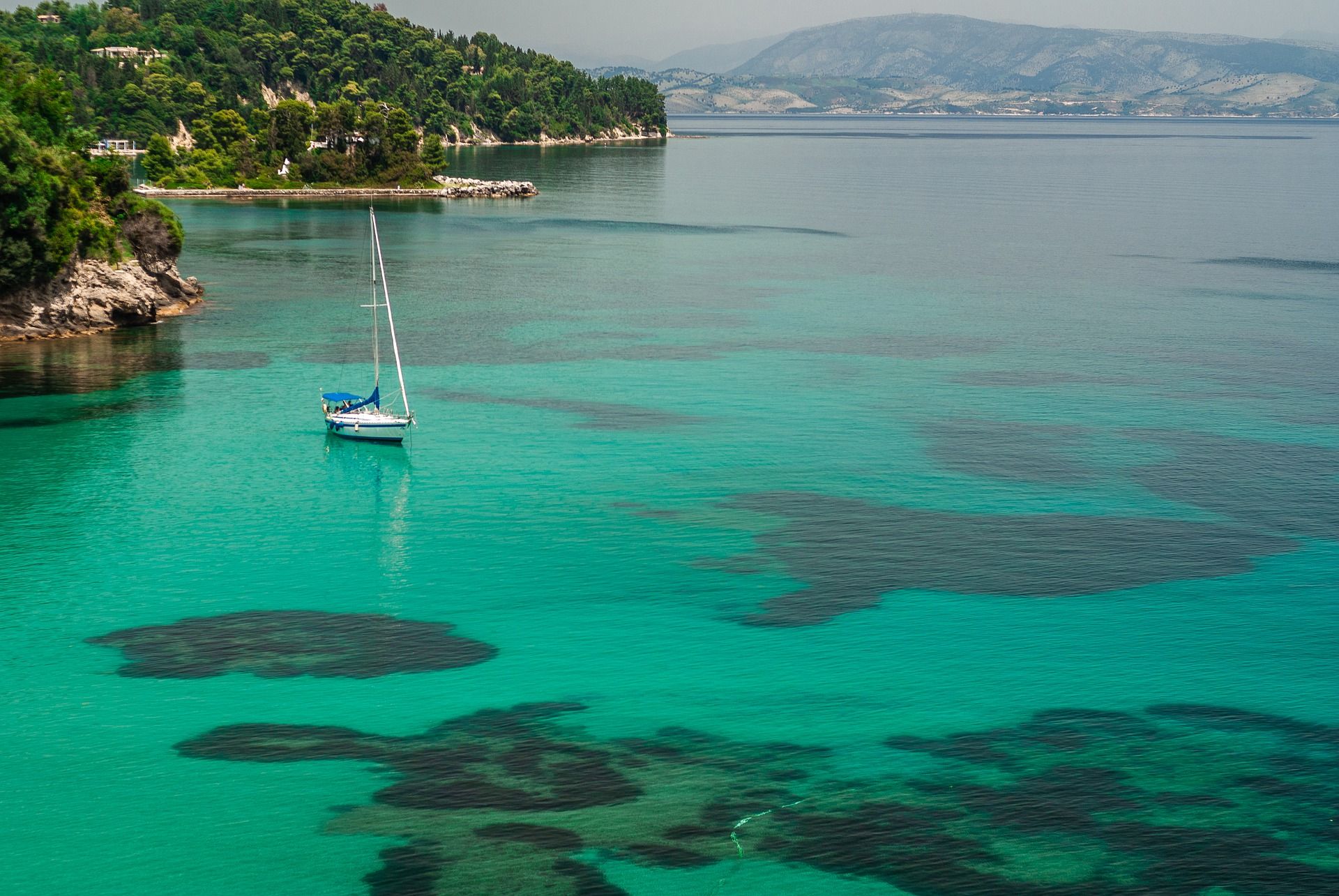 7. Visit picturesque villages
While Corfu Town is the most famous settlement on the island, Corfu has many smaller villages in the inland and along the coastline. The picturesque village of Pelekas is built on a hill overlooking the sea. Its location is quite central and close to the town. The sunset as seen from the top of the hill, known as 'Kaiser's Throne', is definitely not to be missed.
I also recommend Acharavi, Arilla, Nisaki, Saint Gordios, and Gouvia. You can rent a car in Corfu with kids because the island is big and it is easy to explore it with the family. You can also opt for an organized (private) tour if you want to make sure not to miss any of these charming spots.
Click here for more information and to book a Corfu villages tour.
We visited Danilia Village in Corfu. This replica of a traditional Corfiot village was the film set for the James Bond movie "for your eyes only" and the British TV series, "The Durrells".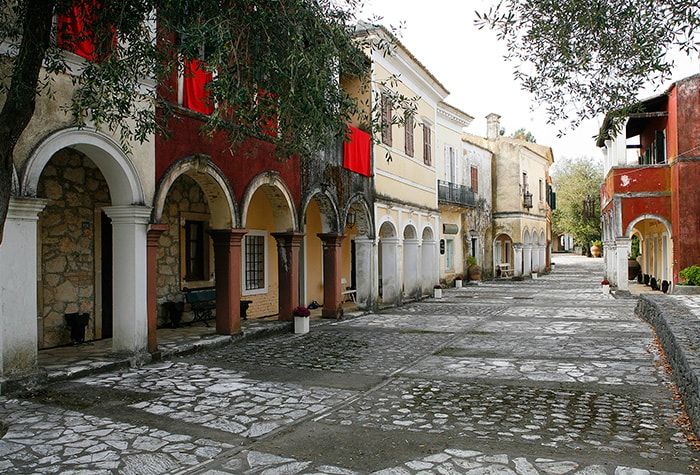 8. Interactive activities for kids
History museum Casa Parlante brings the past to life via animated figures, robotic technology, sounds, and scents and recreates bygone Corfu. Inside a beautiful 19th-century mansion, kids can see how the everyday life of the island's 19th-century nobility used to be.
At the Mavroudis Olive Farm, your family can learn more about the production of olive oil. A museum demonstrates the olive oil extraction process from ancient times through the present day and you can also taste olive oils.
9. Kanoni and Pontikonisi
Kanoni is a small famous part of the Corfu town. It takes its name from the cannon atop the hill; at the base of the hill is the church of Panagia Vlacherna. Pontikonisi is another famous spot in Corfu. It means "Mouse Island", visit it by a five – minute boat ride from the shore.
10. Enjoy a 1-day sailing trip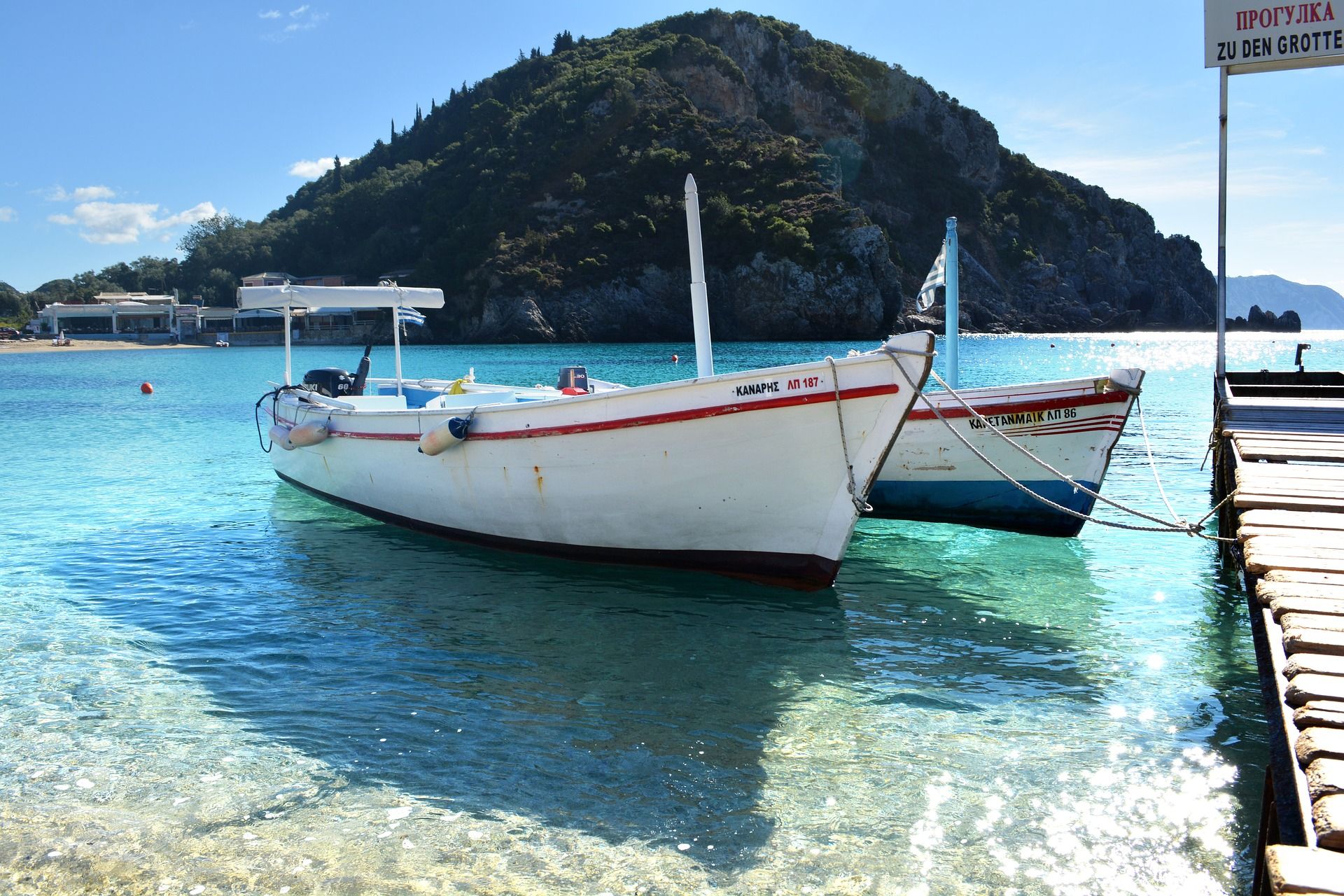 Corfu has amazing waters and kids will love to enjoy a boat ride. Book a one-day family excursion and you will get to explore the island from the sea, enjoy local delicacies and relax in the sun. Kids will love swimming and snorkelling in the secluded bays and coves of Corfu island.
Click here for more information and to book your Corfu boat trip
How to get to and from Corfu airport
To get from Corfu airport to your destination on the island, you can opt for a taxi. There are many taxis outside the airport terminal that can drive your family anywhere on the island.
By Private Mini Van Airport Transfer: You can also pre-book and prepay your pick up online. A professional English speaking driver will be waiting for you with a luxury Mercedes at the airport holding a sign with your name. Avoid stress and get safely to your destination.
Click here for more information and to book your private transfer.
Where to stay in Corfu with Kids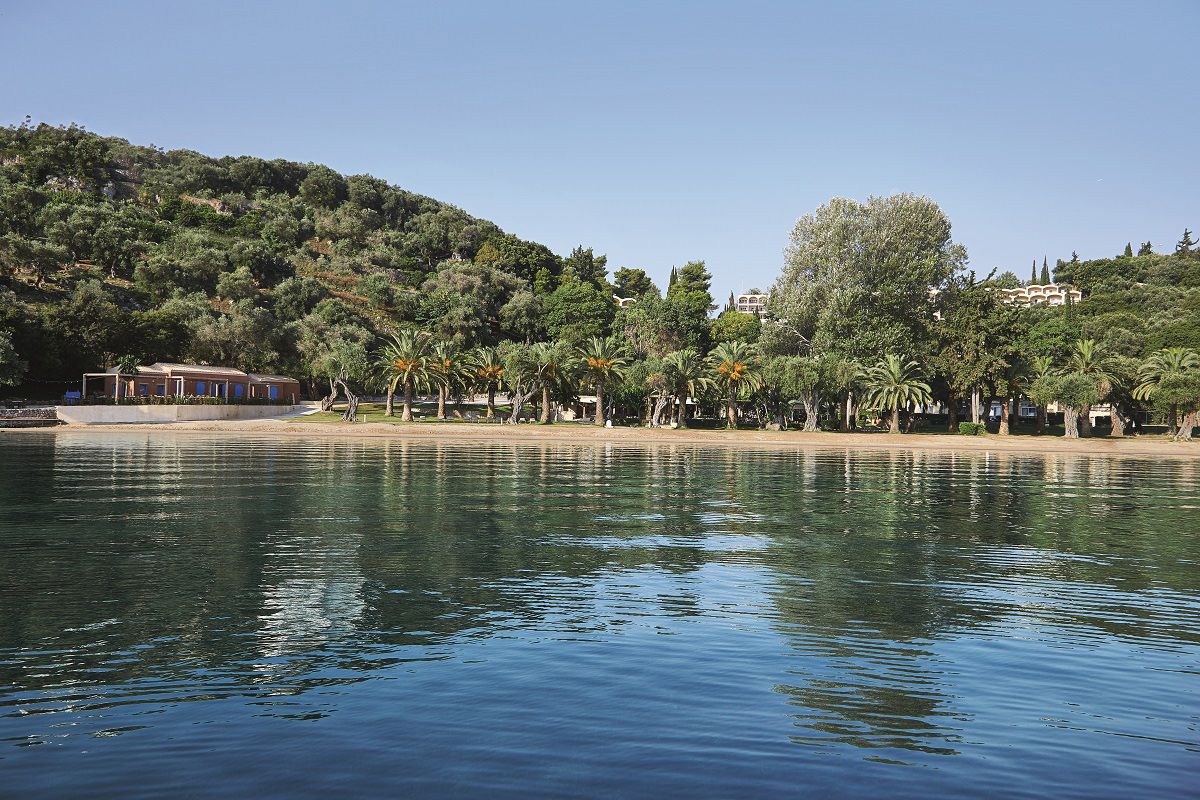 We stayed at the Grecotel luxury beach resort Lux Me Daphnila Bay Dassia near Corfu town. The private beach with calm water was great with kids, and we also enjoyed fine dining experiences. You can read our review here.
Best time to visit Corfu with Kids
The sea is not particularly warm from May to July – at least not for Greek standards. However, from mid of August to October the temperature of the sea rises significantly. The proposed beaches are child-friendly but during summer months, and especially August, a calm sea can easily become choppy due to the so-called 'meltemia', a local summer wind.
Ionian Islands Greece with Kids
Corfu is part of the Ionian islands group. These islands are very green with white beaches and turquoise waters. In this group, Zakynthos and Lefkada are the most suitable for families.
Breathtaking Lefkada is connected with the mainland by a small bridge thus accessible by car. The island hosts some of the most scenic beaches in Greece, often called the "Caribbean of Greece", and an absolute dream destination for families with kids. Laid-back Lefkada is great for sand and water play with babies as well as for windsurfing and kite surfing with older children.
If you want to explore other Ionian islands, have a look at my post about amazing Zakynthos island with kids.
If you want to read more about family travel to Corfu, have a look at these related posts: Lux Me Daphnila Bay Dassia, Danilia Village in Corfu,7 Reason why you should visit Corfu with kids and Fine Dining in Daphnila Bay Dassia