Last Updated on February 13, 2023 by Celeste.
Yes, you can explore Athens with your baby! Athens is a hospitable city and young children are welcome everywhere. My kids are born in Athens, and I believe that it is easier to visit Athens with a baby than with a toddler. So no need to wait until they're older before you explore – especially with these ideas for Athens and tips to start you off.
Things to do in Athens with a baby
This post aims to give you ideas on things to do while in Athens with your baby. The capital of Greece is one of the oldest cities in the world, and a must-visit if you love Greek mythology. But even if you don't, it's a wonderful city to spend a couple of days in – even when you have your baby along.
If you are nervous about visiting the city with a baby, you can also read Travel Tips for Athens with Baby | A Travel Guide 2023. There, you will find more information on baby food, breastfeeding, transport, and where to stay with your baby as well as a 48 hrs itinerary for 2 relaxed days visiting the Athens monuments with baby in tow.
Syntagma Square and the Evzones
My favourite place to start exploring Athens with baby is at Syntagma Square and the Greek Parliament. Baby's in strollers will admire the pigeons and young kids can run around freely on the square. Adults will enjoy the Evzones, or Presidential Guard. An elite ceremonial unit at the Tomb of the Unknown Soldier. These soldiers change shifts every hour by following a very precise saluting choreography and an incredible synchronization. It's absolutely worth seeing!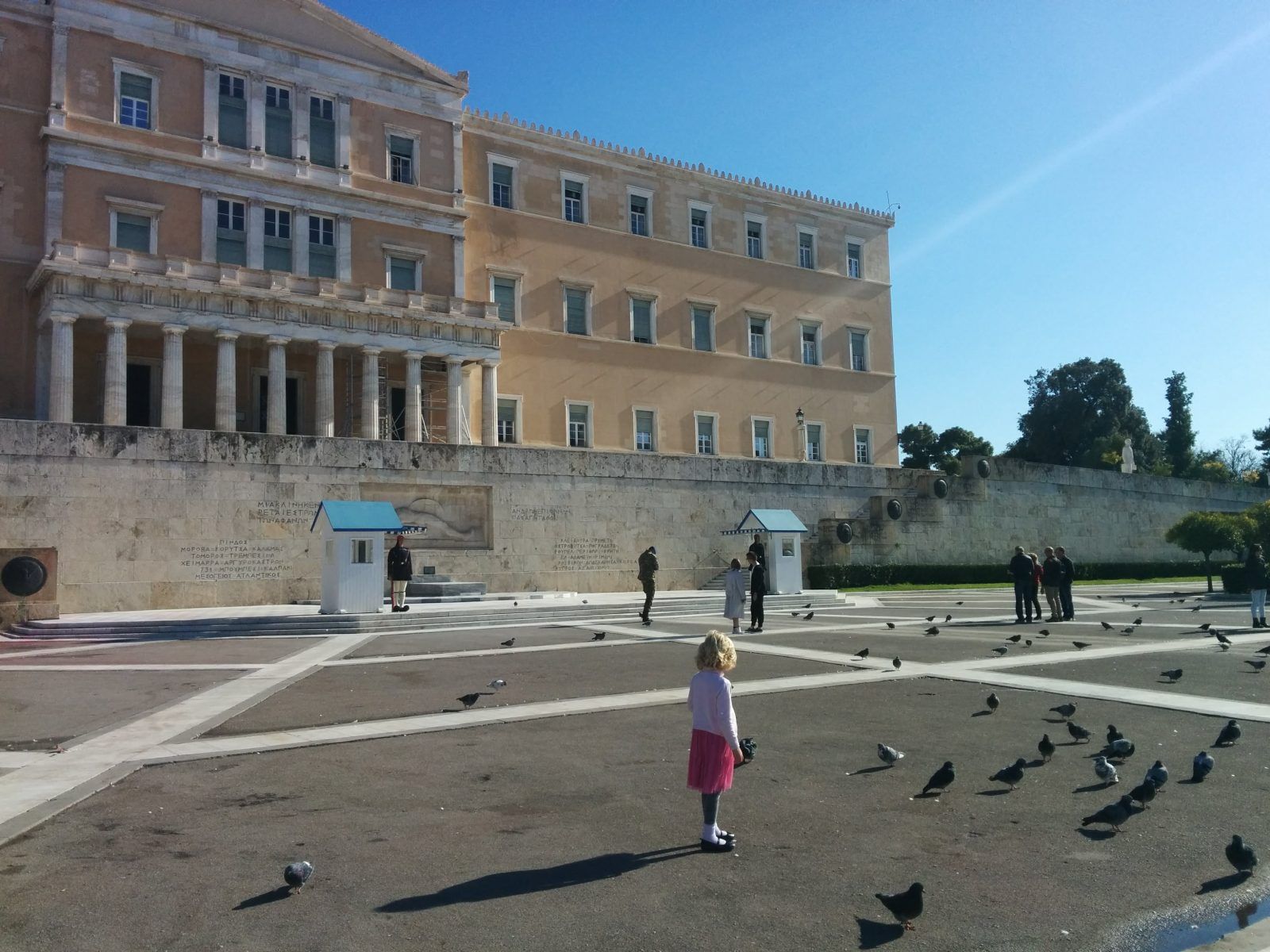 The National Garden
Continue on the pedestrian road towards the National Garden. These former Royal Gardens are a cool oasis in the heart of the city, located behind the Parliament. Here, you will no longer hear the city buzz but enjoy nature. If you bring a blanket with you and find a spot to roll it out on the grass, you will have a wonderful time with your baby. There are large lawn areas where babies can crawl and experiment walking barefoot on the lawn.
Inside the National Garden are many other kid friendly spots. There is a small zoo with farm animals, a pond with ducks, a turtle pond and a playground. Please note that there are not bathrooms in the National Garden and no baby facilities. My kids love the playgrounds with wooden structures and big swings.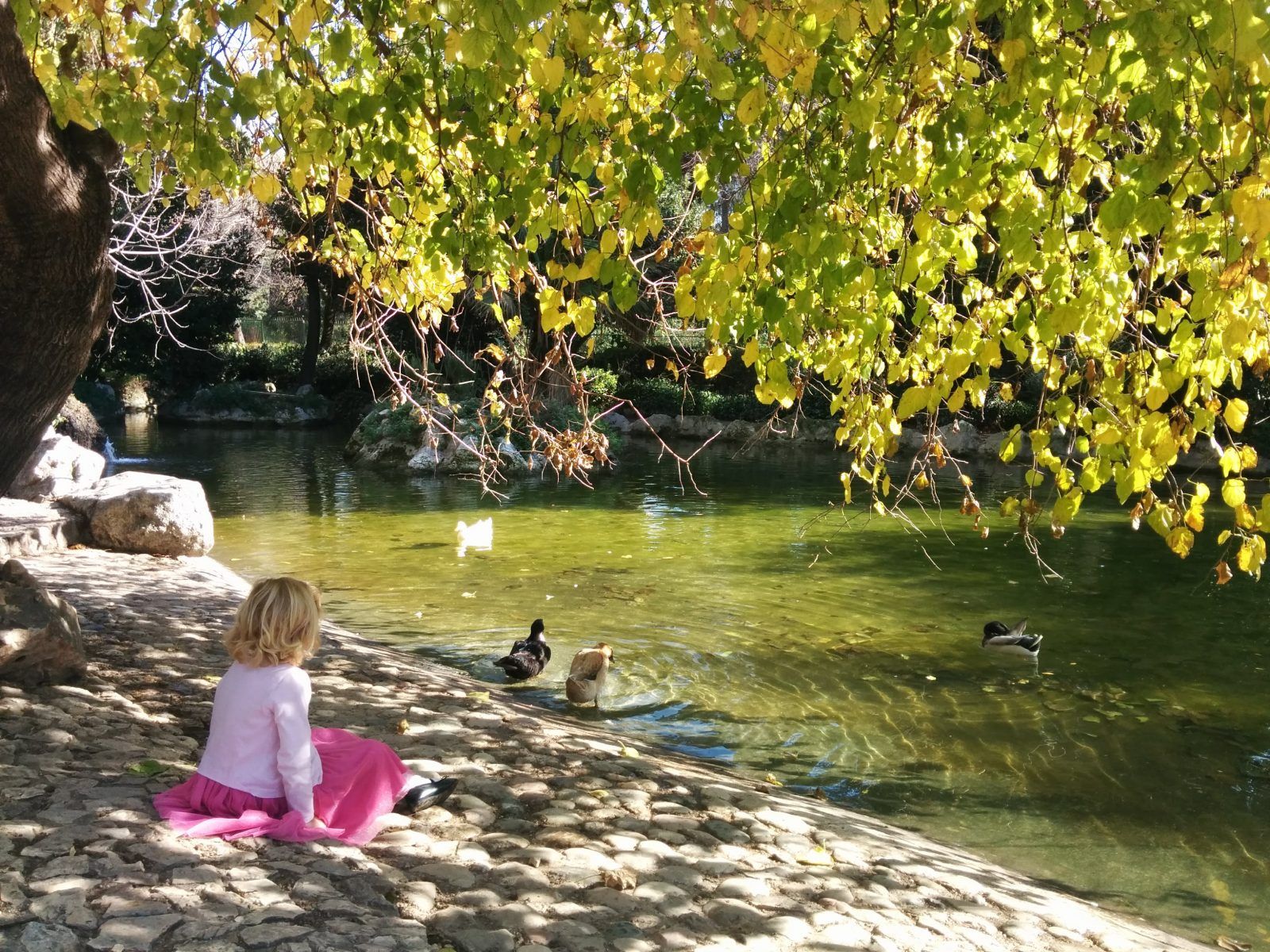 The Acropolis
The Acropolis cannot be missed visiting Athens. And it is possible to visit the Acropolis when you carry your baby in a baby-carrier or sling.
The Acropolis does not have stroller access but it is possible to leave the stroller at the entrance. Be careful, many of the marble and stone steps near the Parthenon are very slippery and steep.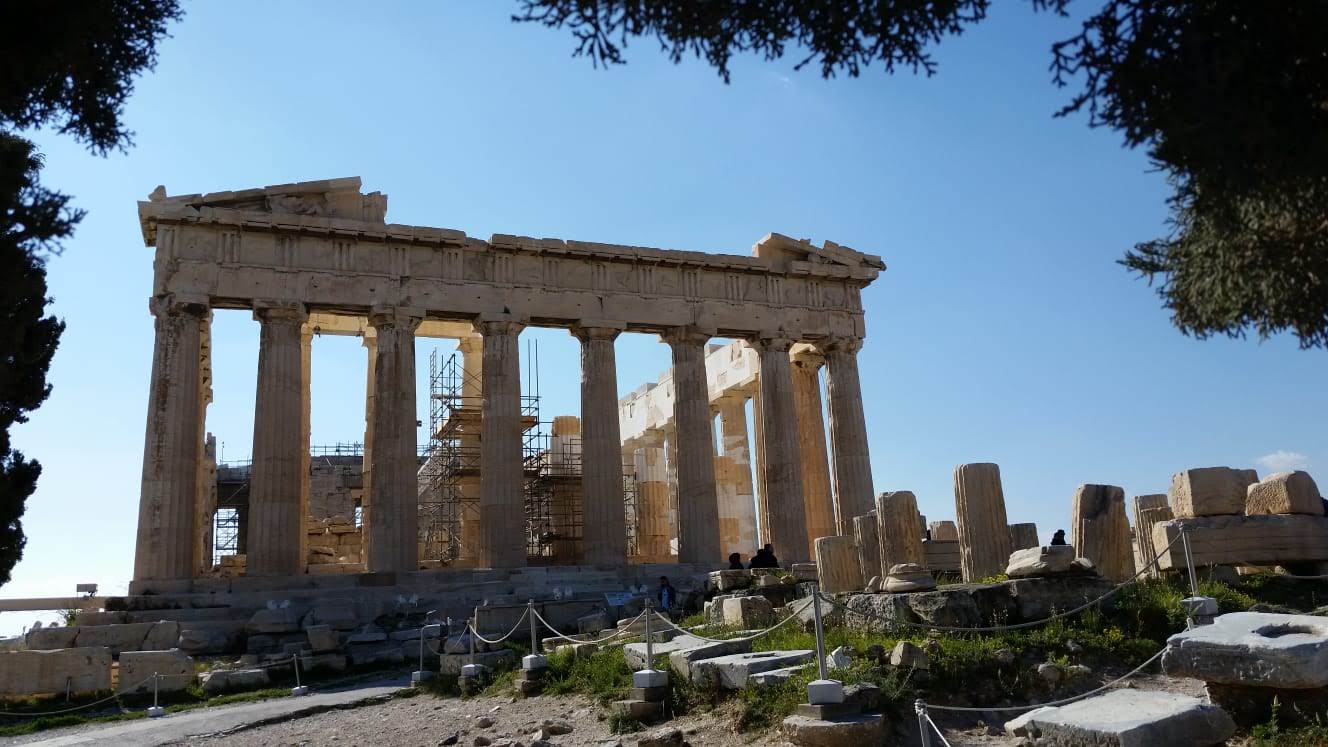 The Acropolis Museum
The Acropolis Museum is well-prepared to welcome families with young kids. There is an elevator, the space is stroller friendly and the museum has a baby changing and feeding room.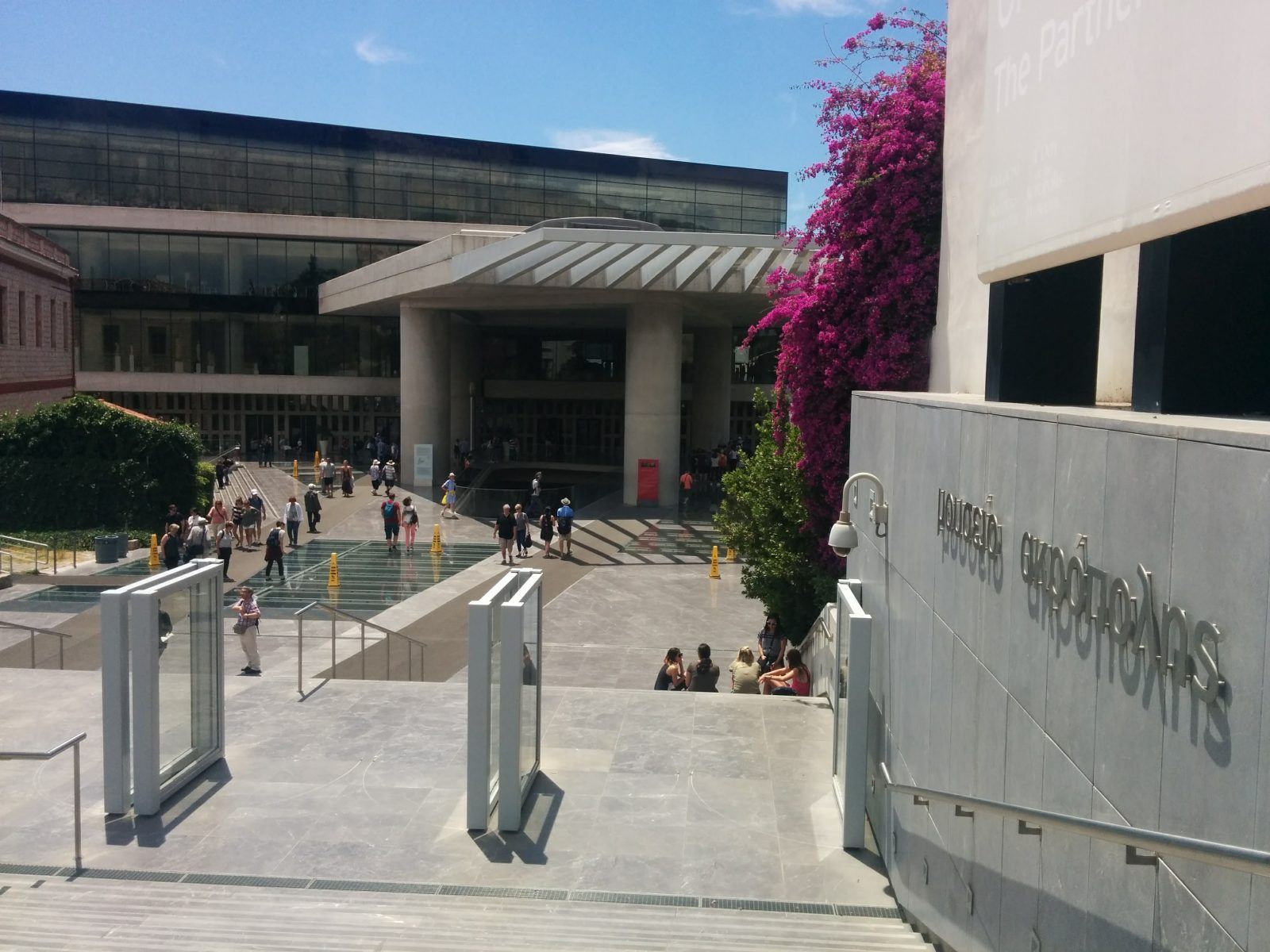 Young kids will love admiring the excavations under the glass floor at the courtyard. These excavations are going to be open to the public in June 2019.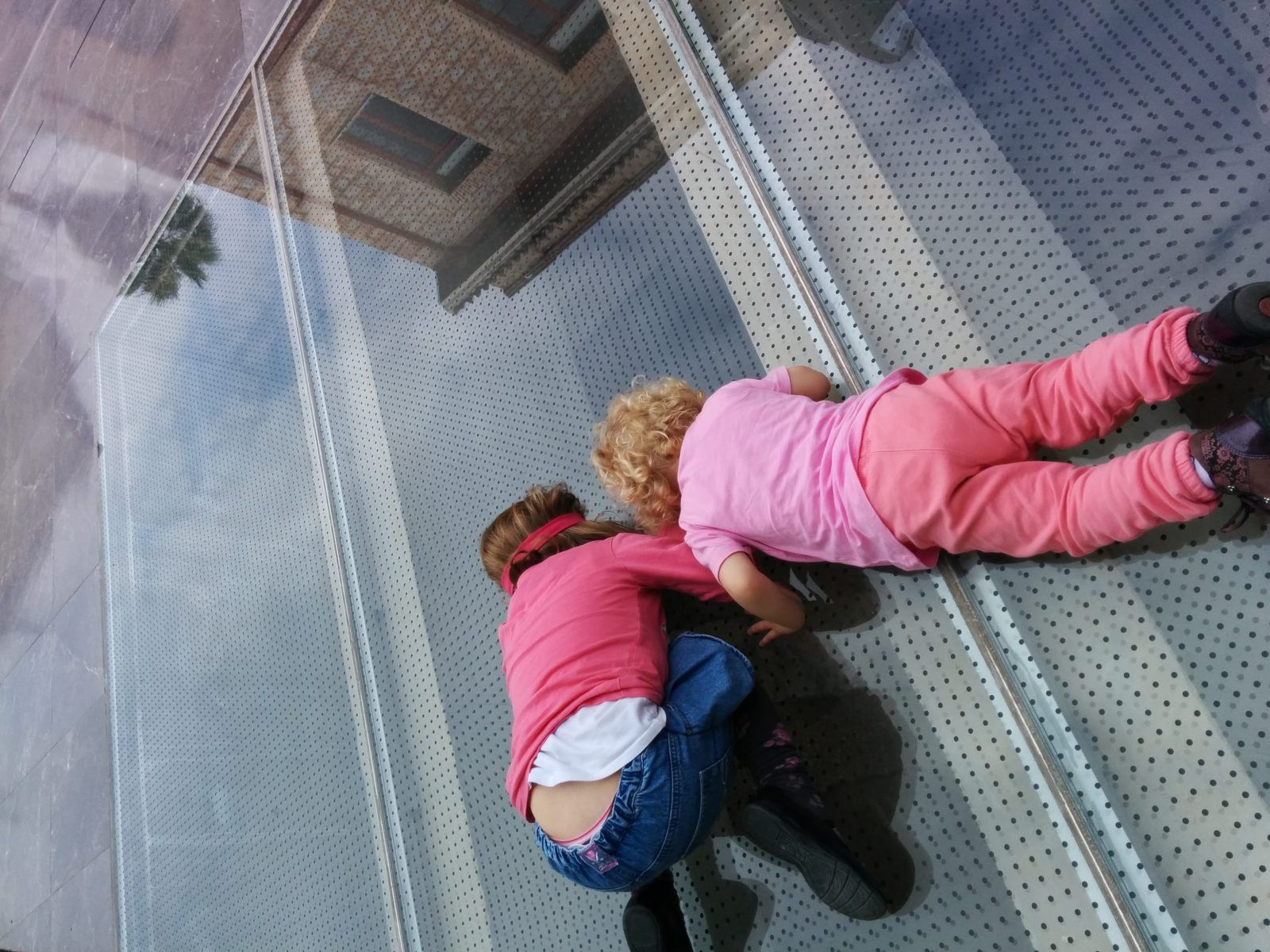 The Acropolis Museum Cafe on the 2nd floor is great for a snack or coffee and there is a kids menu. You can visit the cafe without entering the exhibition. Adults will love the amazing view of the Acropolis Museum Restaurant and young kids can run around or spent time in the reading corner nearby.
Car free Athens
Combine your visit to the Acropolis and Acropolis Museum with a walk over Dionysus Aeropagitou Street. This pedestrian street is car-free and always full of fun things to see such as street artists and musicians. You can also take a break at the Jacqueline de Romilly Square with playground an amazing view of the Acropolis. Other car free pedestrian areas are the picturesque Plaka, Monasteraki and Ag. Irine square.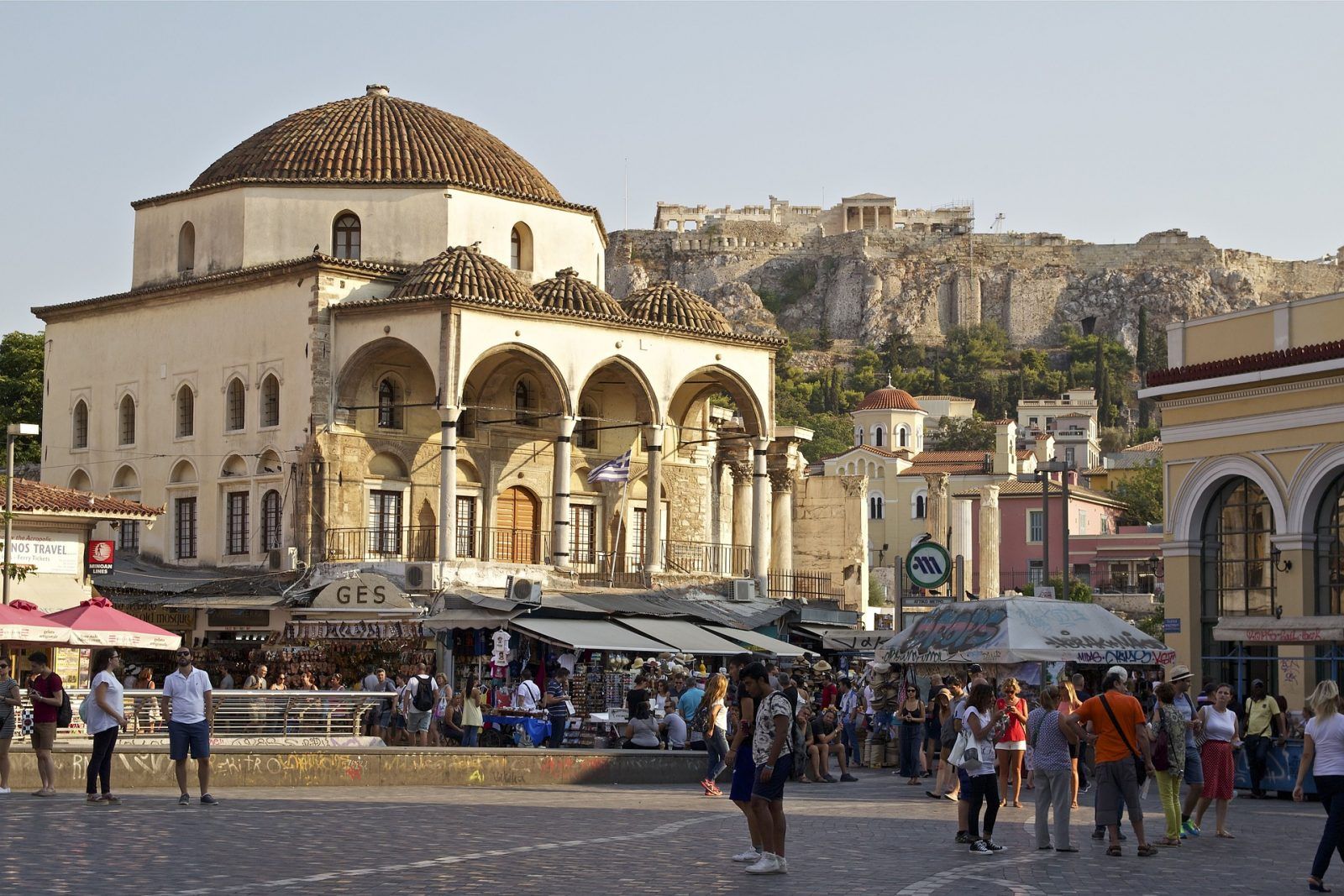 Things to do in Athens with baby: Monastiraki
If you are in a walking mood, follow Ermou street to Monastiraki square. Ermou is one of the first streets of modern Athens. It is a pedestrian zone that connects the Parliament on Syntagma with Kerameikos neighbourhood by passing through the historic Monastiraki and Bohemian Psyri. The first part of the street is full of shops. At the end, before reaching Monastiraki square, you can admire one of the oldest churches in Athens. It's a great place to take a break in the shade of the trees.
Tip for Eating in Athens with Baby
Greeks love children and kids are welcome almost everywhere. Each restaurant in Greece will provide you with boiled water for formula milk and I believe, from personal experience, that breastfeeding is very well accepted here. If your baby drinks formula milk, better than check if your brand is available in Greece. Athens centre has many pharmacies selling formula milk and it should never be a problem to buy milk as these are open all day until late in the evening. Ready made baby food can be found in any supermarket and pharmacy in Athens. In almost any tavern you can order some boiled veggies or fruits for your older child.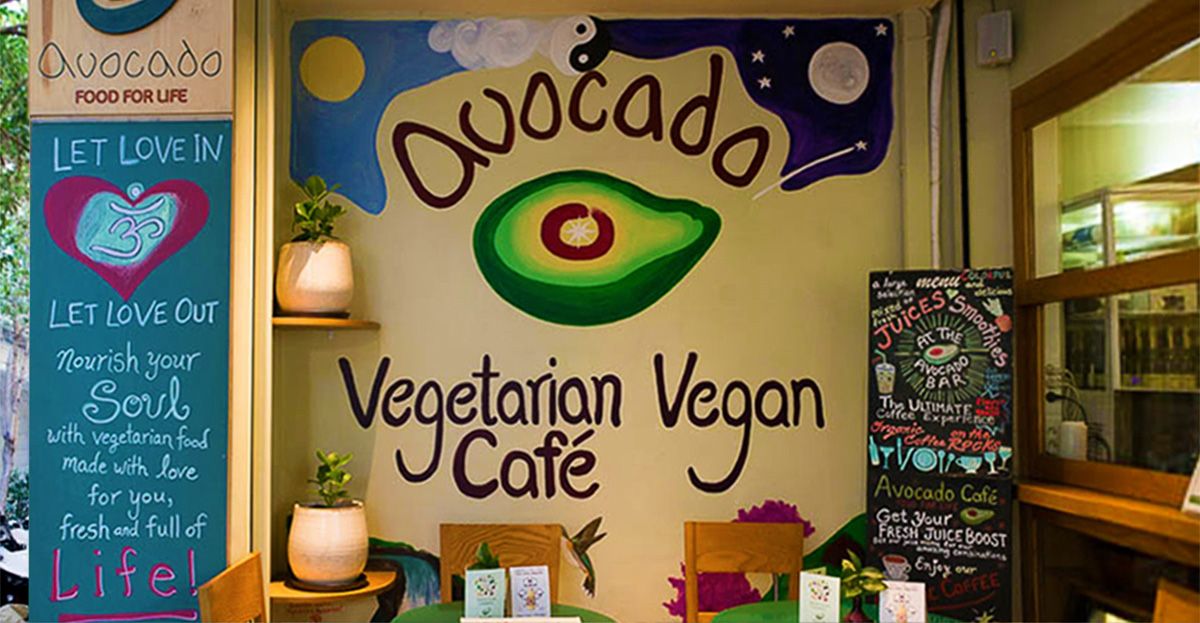 Restaurant Avocado is a small vegetarian restaurant. It serves healthy dishes and Mediterranean meals. The tables are low and you can seat on pillows together with your baby. There is also a changing table in the toilettes.
Tip for getting around
If you are visiting Athens in the summer, I advise you to start exploring early in the morning and continue after 5pm in the afternoon. And don't forget to pack a hat, sunscreen and water.
Athens most important monuments are relatively close to each other. It is possible to walk most of your time in Athens. You can use the fun Athens Happy Train to see some of Athens' most important monument. This wheeled street train starts at Ermou street and goes around the centre. You can take a stroller on board. Another option would be the Bus City Sightseeing that starts at Syntagma.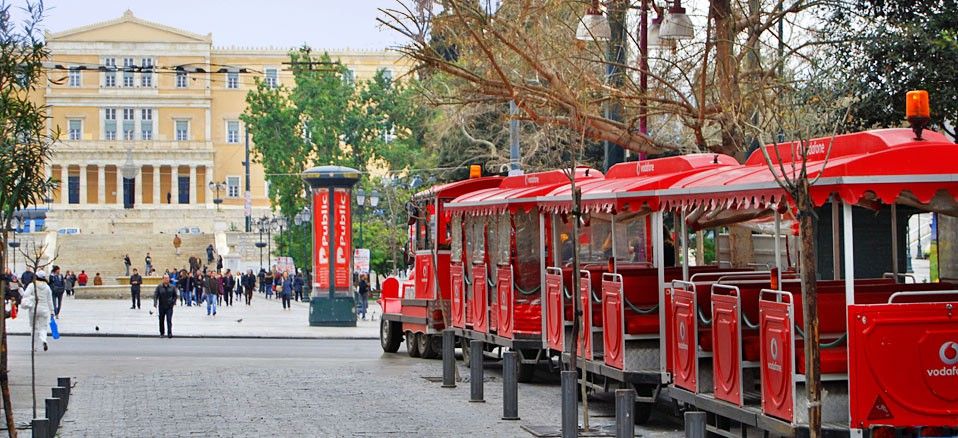 If you are renting a car, make sure that you pre-book a car seat for the baby. For more information, take a look at my post with Travel Tips for renting a car in Greece with kids. The same applies for using a taxi; only use reliable companies that use baby car seats. For relaxed and worry free holidays in Athens and baby equipment rental, have a look at here.
Train, tram and metro are accessible with stroller. The Athenian Metro is relatively new and clean. There are always elevator lifts to get to the platforms with strollers.
Some Athenian roads are cobblestone paved and not very smooth. Having said that, some important tourist areas are car free and offer stroller friendly roads. These are Plaka, Monasteraki, the area around the New Acropolis Museum and the Acropolis, Syntagma and Ag. Irine square.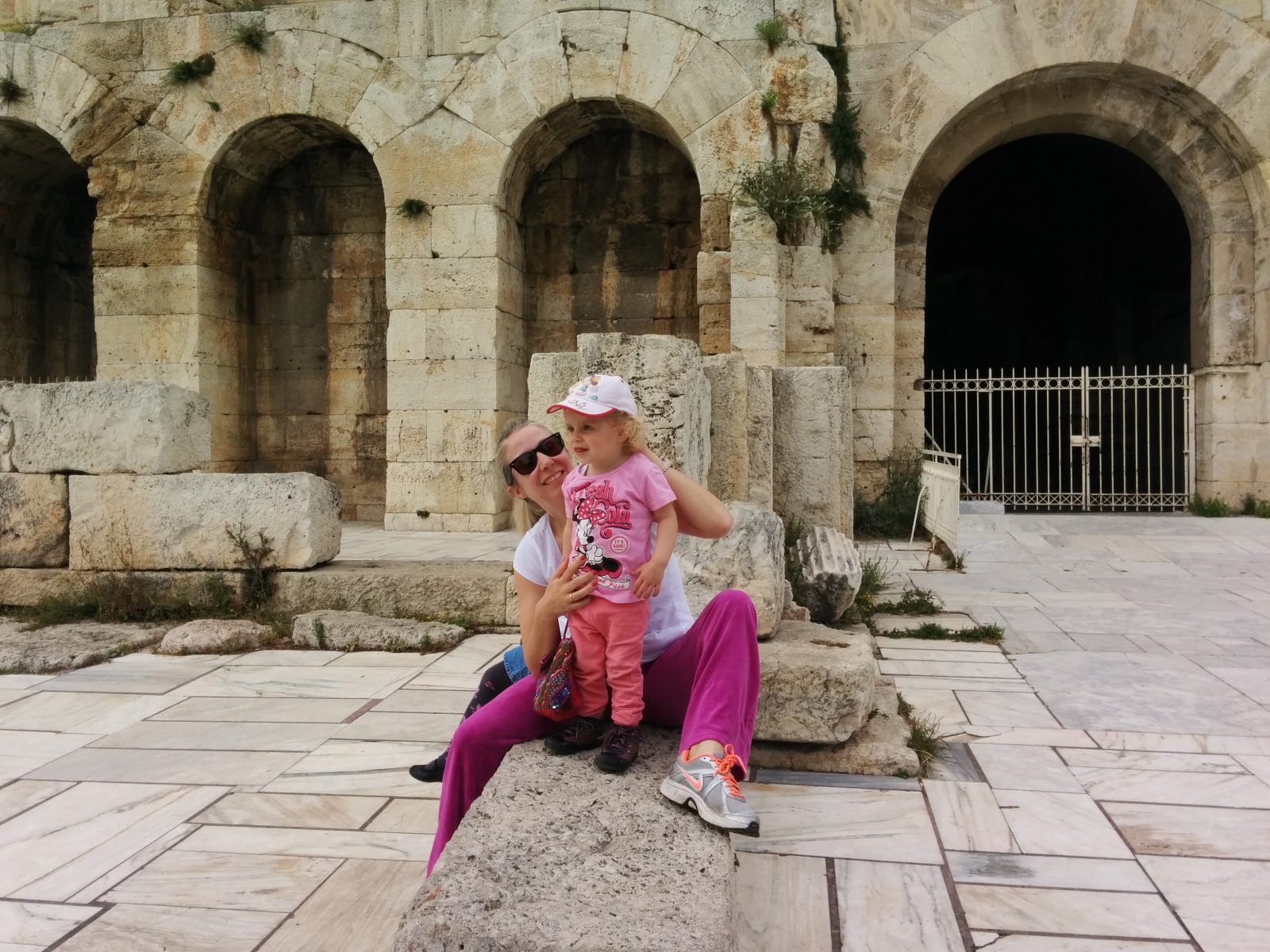 Did you like this post? Pin it!