Last Updated on February 15, 2023 by Celeste.
Both my children were born in Athens. One in the spring, and one in the summer. I guess you could say that I know a few things about navigating the city with little ones. You may have questions about visiting the Greek capital with your infant. This post aims to answer your concerns. It provides you with tried and tested Travel Tips for Athens with Baby.
When to visit Athens, Greece with a baby?
Athens is attractive all year round, but I would avoid visiting in the hot summer with a very young baby. With temperatures over 30 degrees Celsius climbing the Acropolis with a baby strapped to your chest is not tempting Spring or fall would be best (the ideal months are April, May/the beginning of June and September/October).
March is a period between winter and spring that has sunny days, but it can be chilly. The temperature is getting higher, with an average daily temperature of 12 degrees C, but the nights are still cold. Typical March weather includes rain as well.
From the end of May onwards, you will have sun and blue skies. If you do plan on visiting Athens in July or August, it's even more important to be the first one at the gate of the Acropolis (that means 8am sharp) to avoid the crowds and the heat. Have a nap during the hottest hours of the day (12-2 pm) and venture out a bit later in the evening.
Read more: Visit Greece in May.
Transportation in Athens
What is important to take into consideration is transportation in the city. If your hotel is inside the city center, you do not need a car. You can walk to all the historic sites. And you can use public transport or taxis to go around.
Additionally, parking in the narrow streets of Athens can be a real issue – and that's before we even start talking about how crazy the roads and driving are in Athens. But if you are going to stay further out or are planning to explore the rest of Greece, you will need to hire a car.
Read also: Travel Tips for renting a car in Greece
Do babies need a car seat in Greece?
If you are renting a car in Greece, make sure that you book a car seat for the baby with your rental company. According to road traffic laws, the use of special containment and protection means, such as child seats, is mandatory for the transport of minors up to the age of 12 years (booster seat).
This also applies to taking taxis: only use reliable companies (e.g. Uber) that offer baby car seats. No one will check if your 12-year-old is in a seat, but you require a child seat for the baby. Taxi drivers in Greece are not obliged to have a baby seat in their vehicle or even supply one. Have this in mind when planning your travel to Greece with the baby.
Most airlines require you to fly with a car seat, even if you don't have a seat for your baby. If you are gate-checking a car seat, you need to carry it all the way to the gate. You might end up with your baby or toddler in your arms the entire time, even if you purchased a seat.
Read also:
Is Athens stroller friendly?
Athens is not a very buggy-friendly city. The pavements are very uneven, and sometimes do not exist. They can be difficult to maneuver with a stroller. Some roads in the old center are cobblestoned and not smooth.
Having said that, some important tourist areas are car-free and offer pram-friendly roads. These areas are Plaka, Monasteraki, the area around the New Acropolis Museum and the Acropolis, Syntagma, and Saint Irene square.
Train, tram and metro are accessible with a stroller, but it is not ideal. Inside the city, it is best to use a baby carrier or sling.
Read also: Rent baby equipment in Athens
Can you take a pram to the Acropolis in Athens?
Baby strollers are not allowed inside the Acropolis archaeological site due to its uneven terrain and there is no cloakroom, at the side entrance we use to enter. For your own convenience, it is recommended to use a baby pouch instead of a baby stroller.
If you are a parent with two or more infants on your own, you can use the Acropolis elevator. The elevator is located at about 350 m. far from the main entrance of the archaeological site.
Feeding the baby in Greece
I personally found traveling with a baby under 6 months old the easiest period. The baby sleeps most of the day, the baby drinks (mother) milk, and doesn't need food yet, the baby cannot walk yet (no running away either), the baby wears diapers, and doesn't need a toilet yet. A well-organized diaper bag is important.
Read also: Packing tips for traveling with kids
Baby Formula and tap water
If the baby drinks formula milk, then check if your brand is available in Greece. Athens center has many pharmacies selling formula milk, and it should never be a problem to buy milk. These pharmacies also sell baby foods. It is safe to drink tap water in Athens and you can use the tap water in Athens for formula milk.
Alternatively, you can use bottled water which is fairly cheap to buy. Most restaurants are also happy to accommodate your request for hot water to warm bottles for your baby too.
Breastfeeding in Greece
While breastfeeding isn't widely adopted in Greece, there is no law against public breastfeeding and you are unlikely to encounter any problems. Generally, there are no breastfeeding rooms in Greece's restaurants. If you want, you could carry a scarf to give you and your baby some privacy. The general attitude towards breastfeeding in Greece is friendly and if you let staff know in advance, they will try to seat you.
Eating out in Athens restaurants with your baby
As said before, young babies are relatively easy as far as eating. They drink milk or just started weaning, and they do not eat in a high chair yet. Any restaurant in Greece will provide you with boiled water for formula milk and from my personal experience, I believe that breastfeeding is very well accepted anywhere in Greece. Baby food can be found in any supermarket and pharmacy in Greece.
If you need to order some soft-boiled veggies or fruits for your child, it is usually not a problem in Greek restaurants, they are flexible, and they generally welcome children.
Read also: The 30 best kid-friendly restaurants and cafés in Athens
Smoking in restaurants
Although I remember the times when a smoke-free restaurant was a luxury, things have thankfully changed in Greece. Even if it was officially illegal, it wasn't a surprise to see people lighting a cigarette despite a no-smoking sign.
Since 2020, the law has been more sternly enforced and smoking in restaurants is far less common. The restaurants and hotels in the lists on this website are smoke-free.
Bring your own baby changing mat
There are a few restaurants and cafés with baby changing rooms, so be prepared and bring your travel changing mat. Baby facilities may not be as you are used to in your home country. There is usually not much, but babies are welcome everywhere, and you will find that people are always willing to help you.
Look for a hidden corner to change your baby or ask the staff if there is a suitable spot you can use.
Take your time
I cannot stress this enough. When exploring anywhere with kids, be sure to take your time and don't cram too much into your itinerary. While your perfect itinerary may be to visit the Acropolis, the Acropolis museum and the Greek Agora in one day, your baby/toddler may not agree.
Try to include only a couple of sightseeing activities each day and some suggestions if you have more time. Our below itinerary is fine for 48 hours in Athens. This does mean you won't be able to see everything. But it also means you'll keep your baby happy and well-rested. Which in the end makes you happy as well.
Read also: 10 Tips to Travel with Baby for a fun vacation
Where to stay in Athens with baby?
It is best to stay in the center of Athens and close to a metro station. There'll be plenty of walking as you explore, so find a place to stay that's relatively central and near a metro stop. If you then need to head back for any reason, you don't have a long journey ahead too.
Baby-Friendly Hotels in Athens
If you're looking for a family-friendly hotel for your stay in Athens with a baby, check out this list of the best family hotels in Athens. The Grande Bretagne is a great place to start because it is the best in Athens center.
The Grande Bretagne Hotel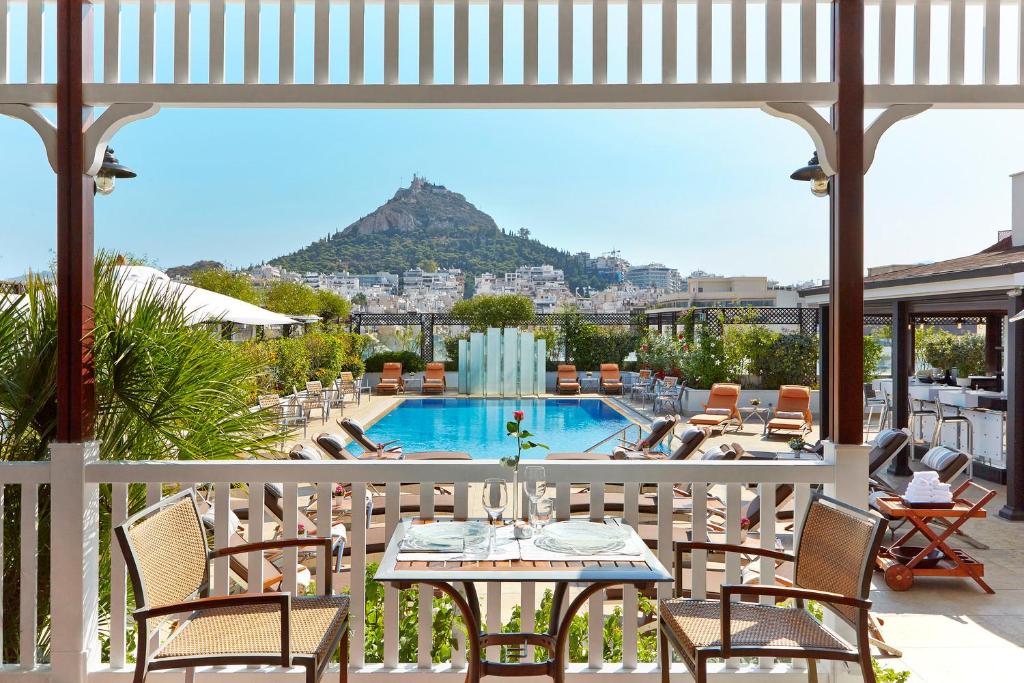 The Grande Bretagne Hotel is located in the very heart of Athens at Syntagma Square. The hotel also offers kids' menus, high chairs, bed railings, and babysitting services. The hotel staff will go out of their way to offer impeccable service, and the concierge can take care of any last-minute requests. Kids will love cooling down in the pool during the summer, and parents will appreciate the grandeur and classic setting of this European gem. If you are looking for top-notch luxury with old-world glamour in Athens, the Grande Bretagne Hotel is your best option.
Click here for more information and to check the latest prices at Grande Bretagne Hotel.
St. George Lycabettus Lifestyle Hotel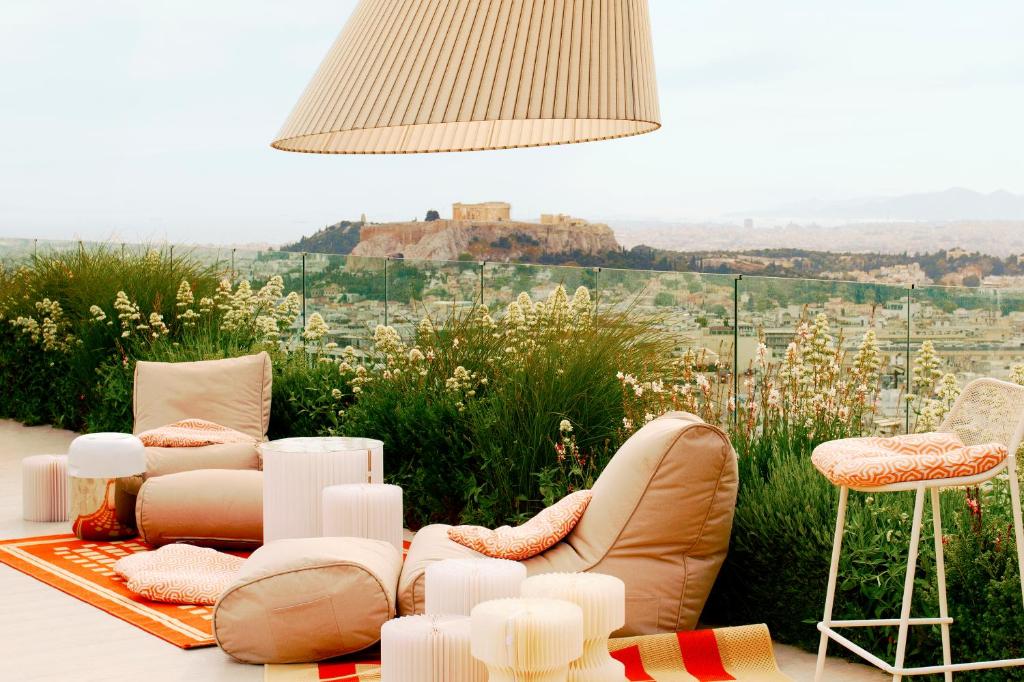 Another lovely place to stay is the St. George Lycabettus Lifestyle Hotel in the Kolonaki neighborhood: 5 minutes from the metro station Evangelismos, it's only around 15 minutes (1km) from Syntagma Square and easy to get to, even when you're carrying around a lot of (baby) stuff and a kids club. Very convenient with babies as you will read from our review here.
Click here for more information and to check the latest prices at St. George Lycabettus and Lifestyle Hotel.
Check more baby-friendly hotels and prices on Booking.com
How to visit Athens in 2 days?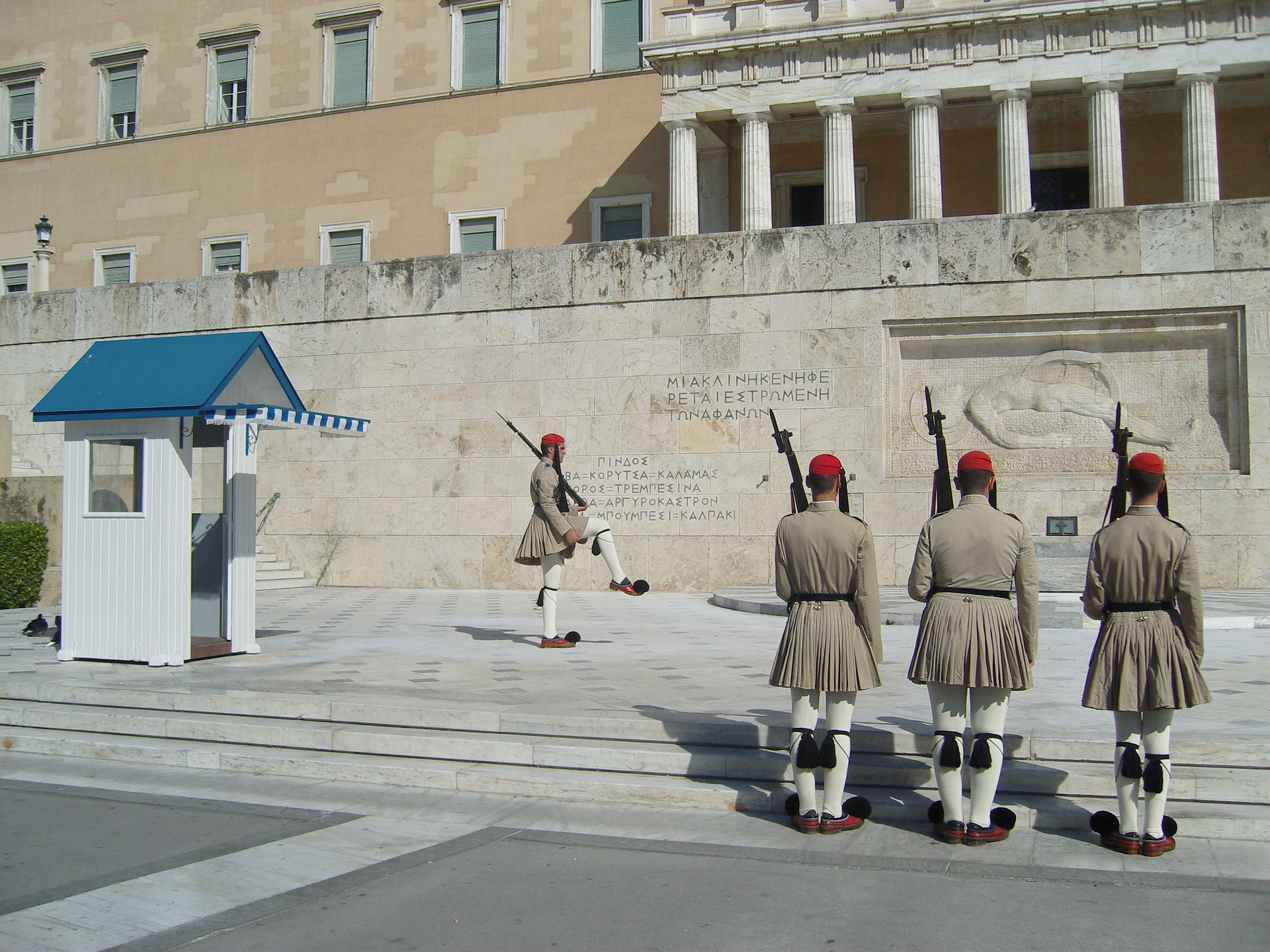 Athens is a big city and there are so many museums and places to visit, planning a trip can feel overwhelming. Especially if this is a (first) family trip. I recommend that you spent at least two days in the Greek capital. That way, you will be able to visit the most important historic sites.
Needless to say, it's impossible to explore every sight in Athens for two days – especially when you're traveling with a baby. But the below itinerary covers off the following key landmarks and some unmissable sights.
Hellenic Parliament
Athens National Gardens
Temple of Zeus
Hadrian's Arch
The Acropolis
Roman Agora
Greek Agora
Keep in mind that you won't be able to see everything in Athens, but that's okay. Instead of rushing from place to place, you'll be enjoying the sites you do visit a lot more.
Itinerary for visiting Athens with baby
Here is a 48-hour itinerary for visiting Athens with your baby. In here, I suggest walks and museum visits around the city's center. Each day you can choose a different itinerary suitable for strollers and babies. In summer, divide the day in two: start your visit around 8am in the morning, have a break around 2pm, and continue around 5pm until later in the night.
Athens Itinerary Day 1:
– The Hellenic Parliament: Begin your journey at the Syntagma square. at the Hellenic Parliament, where Evzones, an elite ceremonial unit that guards the Greek Tomb of the Unknown Soldier, change every hour by following a very precise saluting choreography and incredible synchronization. It's absolutely worth seeing!
– The National Gardens: The National Gardens are an oasis in the middle of the city, located behind the parliament building, you will no longer hear cars but enjoy nature. You can take a blanket with you and find a spot where you can roll it out on the grass, seat, and relax with your baby. There are large grass areas where you can sit and babies can walk and crawl, and experiment with walking barefoot on the lawn. Inside the park, you'll also find a playground.
Family Friendly Lunch in Athens
– Restaurant Avocado (+ bio shop): This is a small vegetarian restaurant (reserve a table at avocadoathens.com – phone: +30 2103237878). Avocado Restaurant serves healthy Mediterranean food. The tables are low, and you can seat on pillows too. There is a changing table in the toilets.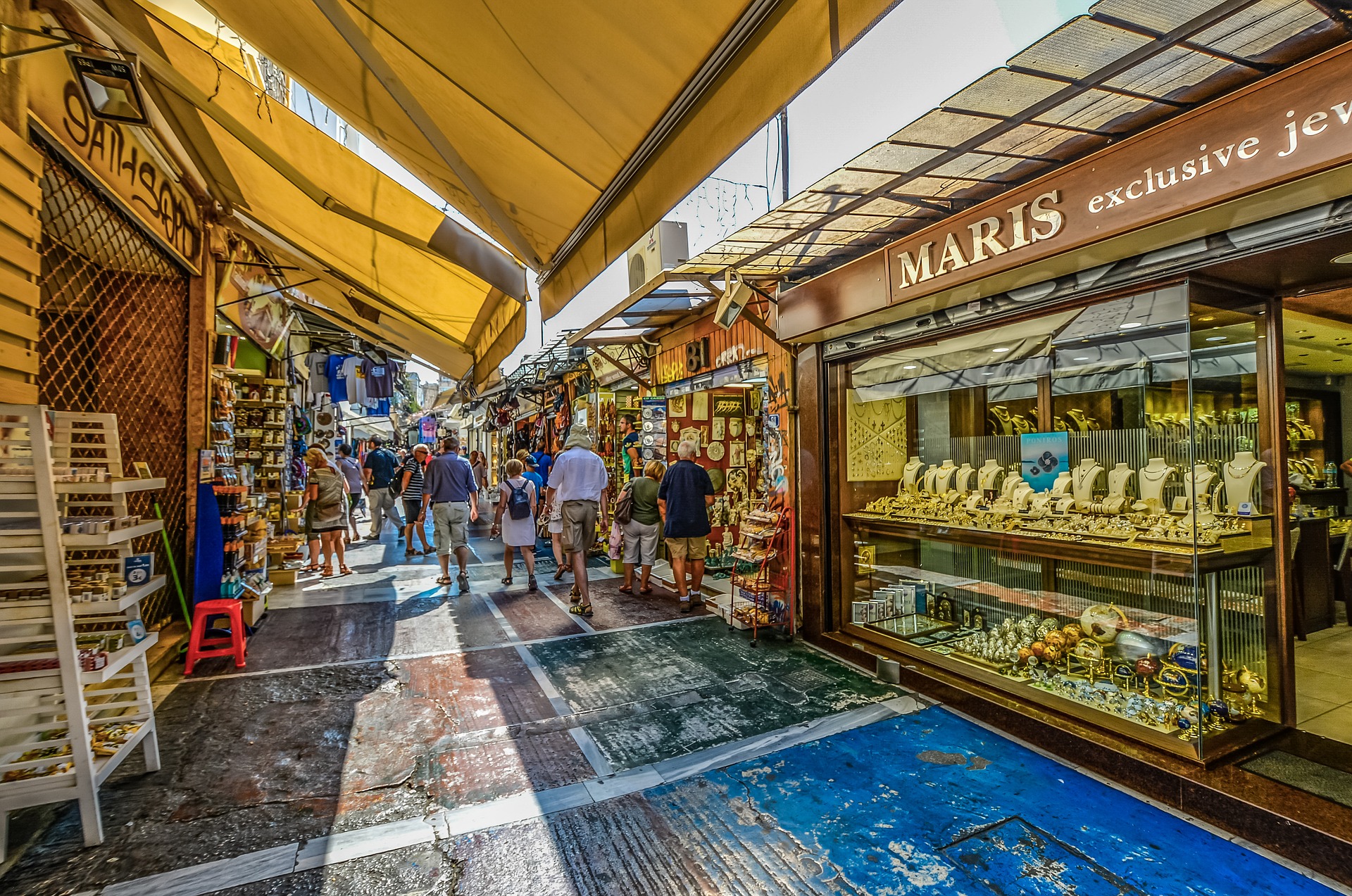 – A walk from Ermou street to Monastiraki square: Ermou, one of the first streets to be designed in modern Athens, is a pedestrian zone that connects the Parliament with Kerammeikos, by passing through Monastiraki and Psyri. If you have enough time, now you can visit the Roman Agora and the Greek Agora.
The first part of the street is full of shops. Just before reaching Monastiraki, you'll have the chance to see one of the oldest churches of Athens, the Byzantine Church of Panaghia Kapnikarea, originally built around the 11th century that stands right in the middle of the street.
Athens Itinerary Day 2:
– Acropolis (no stroller access, it is possible to leave the stroller at the entrance). The Acropolis gates open at 8 am. It is the most spectacular sight of Athens and a must-visit for Athens first time visitors. Note that families can access the Acropolis only by carrying babies in their arms or sling because strollers are not allowed inside. Keep in mind that the major part of marble/stone steps are slippery and steep.

Snack or lunch at Acropolis Museum
– Acropolis Museum Café (for a snack or coffee). You can enter the museum, buy tickets and if you want to relax before visiting, go to the 2nd floor to take a snack or café with an amazing view of the Acropolis Museum Restaurant. There is a changing table on the toilet on the first floor.– Acropolis Museum. The visit duration is approx. 1 hour. There is an elevator, and it is stroller friendly.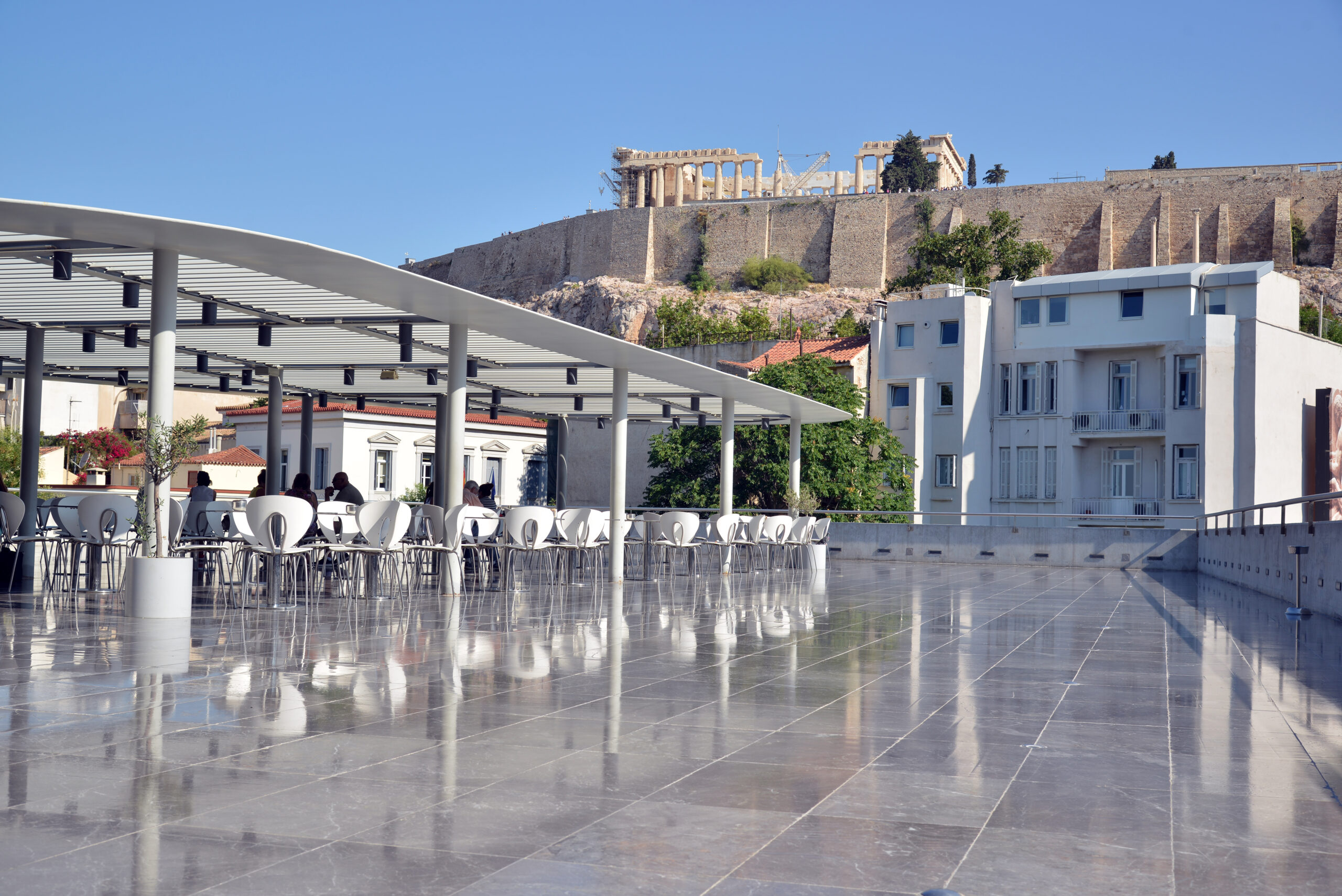 Walk Aeropagitou Street, a pedestrian walk zone, located in front of the Acropolis Museum gate to Thiseio Square.
– Buy a snack at Jacqueline de Romilly Square (and playground) with an amazing view of Acropolis. Alternatively, walk back to the National Gardens from the Aeropagitou Street in the opposite direction and admire the Temple of Olympian Zeus just behind the Hadrian's Arch. From the Temple of Zeus you have a beautiful view of the Acropolis.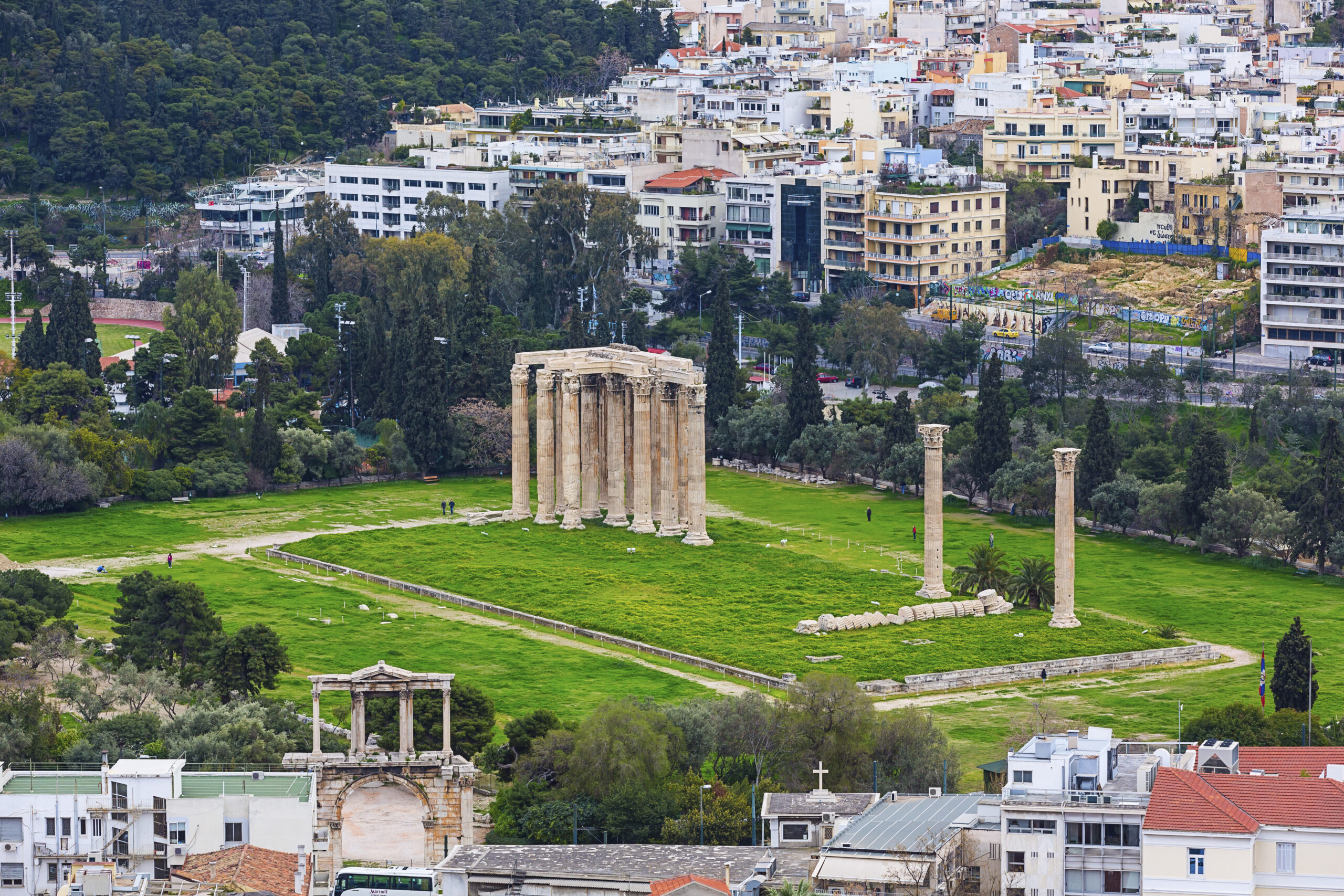 Tip: If you are to follow this itinerary and visit the sights listed, the most economical option is to buy a combination ticket. This ticket costs €36 per adult and is valid for 7 archaeological sites: the Acropolis, Ancient Agora, Roman Agora, Temple of Zeus, Aristotle's School, Hadrian's Library, and Kerameikos Ancient Cemetery
The ticket is valid for 5 days and also gives access to several other sites. So if you plan to spend more time in Athens, the combination ticket is an even better deal.
You can also buy the 6 combination ticket including downloadable audio guides. For entrance to just the Acropolis and the Acropolis Museum with audio guides, I recommend the Acropolis and Acropolis museum entry tickets.
More Things to do in Athens with baby
Athens has a good public transport network, and much of it is very family-friendly. It links to the airport, so you may find you need it for at least this journey unless you have a transfer arranged.
A lot of the attractions in the two-day itinerary are walkable, but you're likely to want to rest your feet a little as you explore too. There's also a hop-on hop-off bus in Athens, with four routes and tickets valid for two days, plus a combined ticket for 48 hours which gives entry to the main attractions of Athens and the bus tour. Children under four go free.
You can find tips for things to do in Athens in our article Things To Do in Athens with a Baby – A family itinerary 2023.
Did you like this post about visiting Athens with baby? Let us know in the comment section or email if there is any information that you need us to add.
Related posts
Check out my complete Guide to Athens with kids here or for more inspiration for family holidays in Greece, check out my posts on Zakynthos, Santorini, Mykonos, Corfu, and reasons to go Greek island sailing with kids
Disclosure: This post contains affiliate links – any purchases you make are unaffected but I may receive a small commission