Last Updated on September 10, 2020 by Celeste
May is a great month to visit Greece with kids. It's not that hot yet, the beaches are less crowded than in the summer and the country is colourful and green. Read on and find out why we believe that you should consider May for your family vacation. We have listed the 5 reasons why you should visit Greece in May!
Reasons Why you should visit Greece in May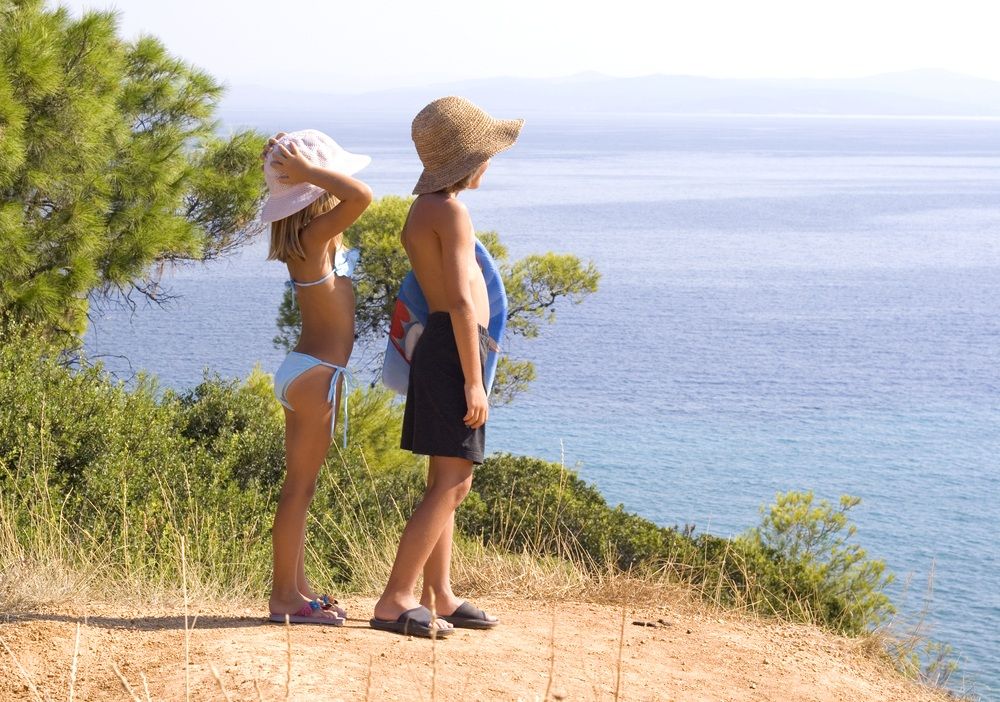 1 Greece in May is less crowded
During the hot summer season, popular Greek destinations can get very busy. The queues for the Acropolis are longer and the alleyways of the islands are filled with people. In May, the Greek islands will be a relaxing oasis with no crowds to spoil your stay. May is also the best month to enjoy some of Greece's best beaches. It is possible to visit museums and do less busy souvenir shopping. Dining in restaurants will imply no rush and your family can enjoy at their own pace.

2 May is great for family activities
From early May onwards, the sun shines almost without fail. The average temperature is 20 degrees C (75 degrees F) but can climb above 30 degrees C (86 degrees F). The sea might be a bit colder than at the height of summer, but it is no less glorious. May temperatures offer children the most idyllic conditions to enjoy sand and water play or even a dive or two. The nights are cool and excellent for a good night's sleep. May is ideal for visiting archaeological sites and monuments out of the midsummer temperatures. It is also perfect for outdoor adventures such as biking, kayaking or walking.
3 Nature is at its best
Compared to the dry summer landscape, mainland Greece and its islands turn into a green tapestry dotted with herbs and wildflowers in spring. The alleys of the islands are full of colourful flowers and bushes. Hills and mountains literally buzz with life as butterflies, bees and migratory birds work for the unique Greek ecosystems. The incredible bouquet of natural fragrances that are carried on the breeze only heightens the spectacle. Greece in May is paradise!

4 Enjoy Greek Hospitality
When every hotel, restaurant and beach is overflowing with customers, it can be hard to get that sense of the unique Greek personal touch that makes Greece so special. For the locals on the Greek islands, the summer is a hectic time with lots of work. But in May, your family will find a different vibe and a natural rhythm with regular local celebrations. Visiting Greece before the tourism seasons fully hits its peak allows you to really experience Greek culture and life.
5 Greece is more affordable in May
If you spend your family holidays in Greece in May, you will notice that prices are lower, especially in popular summer destinations. There are many Greek islands that you can visit in May and the hotel rates are different compared to the summer. In May, air-fares are cheaper as well, both domestic and international. Generally speaking, Greece is more affordable for families in May.
Have you been to Greece in May? What are you waiting for!
This article was first published at Kids in Greece, premium childcare services for family holidays and at home.
Related posts: