Last Updated on January 26, 2023 by Celeste.
Greece is an excellent destination for a family sailing vacation. The weather conditions are good, the sea is generally safe and calm with crystal clear waters, and there are thousands of Greek islands to explore. If you consider a family sailing vacation, you will find this post useful. Because here you will read our 10 tips for sailing in Greece with kids.
Sailing with Kids
Having children aboard will take sailing to a whole new level, even if you're an experienced sailor who's been to port all over the globe. Life is the same way. Our children spend their time asking us questions, causing us to rethink every routine, and causing us to double-check everything because, well, just in case. This is particularly true when sailing. How do you ensure that you don't cause harm? Can you ensure that they follow the most elementary procedure? What do you do to prevent them from getting bored during the process? You need to ask all of these questions prior to your sailing vacation. Besides preventing accidents and mishaps, crew members ensure everyone has a good time. A sailing holiday is all about having fun. Check out some sailing tips from parents who experience sailing with their young kids.
Here you can read about our latest sailing experience in Greece
10 Tips for sailing in Greece with kids
1. Engage your children in conversation
When children don't want to obey their parents' instructions, parents find that talking rationally helps win them over. Make sure that they understand why safety features are so important and why they must obey their instructions. They can always be rewarded with ice cream later because ice cream always works!
2. Choosing a yacht
Consider a yacht that can accommodate a whole family. Your children can be protected from the harmful rays by using a catamaran since it also offers shade. Make sure you pack a lot of sunscreen, hats, and sunglasses!
3. Netting for safety
In the event that one of your children loses their balance while on the boat, safety nets give you a measure of peace of mind.
4. Wearing life jackets
The life jackets provided by yacht charters might be suitable for children, but they are not the right fit. As a result, your children might become irritated and insist (rather vehemently) that they be taken off. You can buy them from home and then test them before you leave for your sailing trip.
5. Sailing in Greece with kids: on the Boat
Every area of the boat should be explained to the kids. In addition to making instruction easier, this will also get them interested in it.
6. Remove all loose sheets, lines, and other clutter
Keep everything neat and tidy to prevent tripping. Alternatively, you could…
7. Educate them
Instead of making this into a lesson, why not teach them how to put things away on a boat? It would also make a great knotting lesson!
Here you can read more about the benefits of teaching kids to sail
8. Itinerary
If you have already decided on an itinerary, why not ask your kids for suggestions for next time? Let them see your route on the map. You'll probably get good results. Soon they'll feel like pirates.
9. Spot the clouds or gaze at the stars
Throughout the day, name and describe different kinds of clouds. They can draw pictures of the clouds. You may enjoy gazing at the stars at night through a small telescope. You won't be bored, I promise.
10. Involve them in the process
Make sure your kids are involved in every aspect of the trip, whether it's steering, tying knots, or mapping the route. A boat ride with instructions not to touch anything or move at all is quite unpleasant. Take coloring books and snorkeling gear with you. Teach them to spot buoys and what they mean.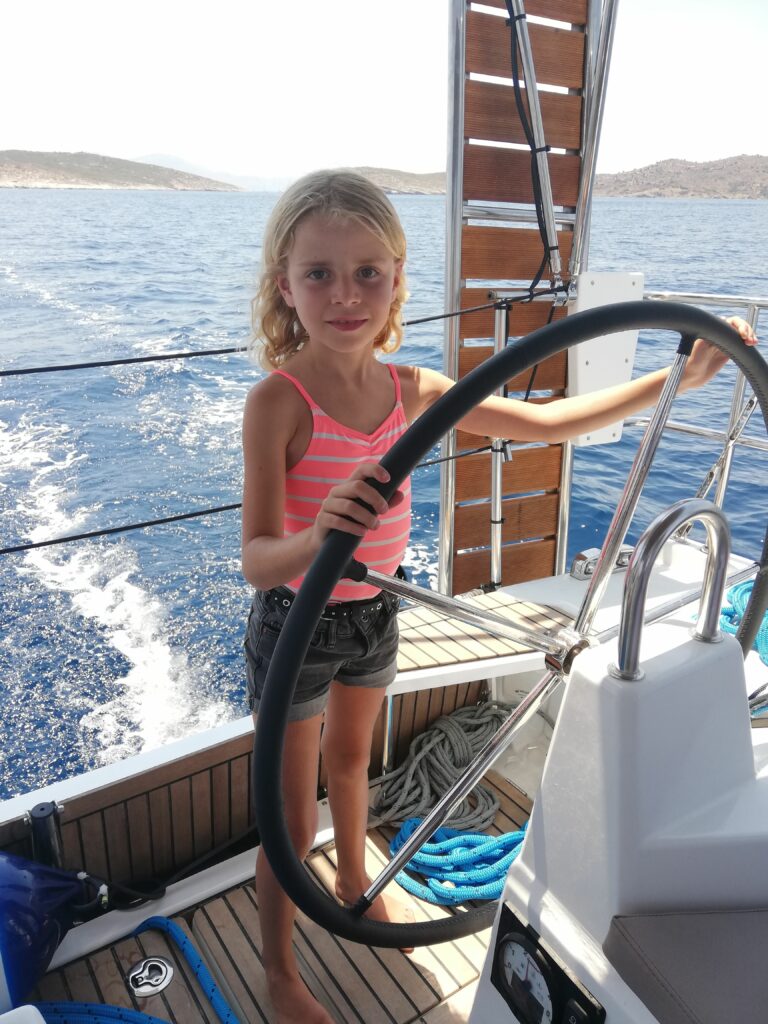 In addition to these sailing tips, you should also remember to pack anything you would take with you on holiday. You can rest assured that your kids will fall asleep straight away as the night falls, with all the fun and adventure they'll be having. A glass of wine will then be yours to enjoy. Let's toast!
Book your sailing boat in Greece with Sailo
Sailo is the global online booking platform for boat rentals and yacht charters that connects people who want to rent boats with boat owners and charter companies. Sailo offers boat rental across the Greek archipelago, from Corfu to Rhodes. Some of our most popular boat rentals from Athens starting. By picking up a yacht charter in Athens, you'll be able to explore the Greek islands at your leisure. Sailing from Athens means you'll be able to explore the nearby Saronic Islands from the comfort of your own yacht charter and even venture to the Cyclades Islands. Some of the most famous islands waiting for you to explore by yacht rentals in Mykonos, Naxos, Santorini, and Kythira. So browse Sailo for your perfect yacht charter and plan your sailing trip around the Greek Islands.
Click here for more information and booking your boat rentals and yacht charters
Sailing in Greece with children
Did you enjoy this list of tips for sailing in Greece with kids? you may also like:
This post contains an affiliate link for booking platform Sailo. Family Experiences Blog earns an affiliate commission on the sales of products we link to. Please note that we feature only items we genuinely love and want to share. The affiliate is an arrangement between the retailer and Family Experiences Blog (readers never pay more for products). These are the ways we support our blog, and allow us to run the site and engage with this community we truly love.