Last Updated on February 15, 2023 by Celeste.
Santorini is the most photographed and most recognizable island of Greece. It is famous for its steep cliffs, picturesque cubbed houses and the azure blue sea around it. Santorini lies in the Aegean Sea and belongs to the Cyclades island group.
The island was created during the eruptions of the volcano in the middle of the islets. On the main island, several villages were built spectacularly on and against the steep rocks. The beaches are on the east and south, they have black and brown sand with a volcanic origin.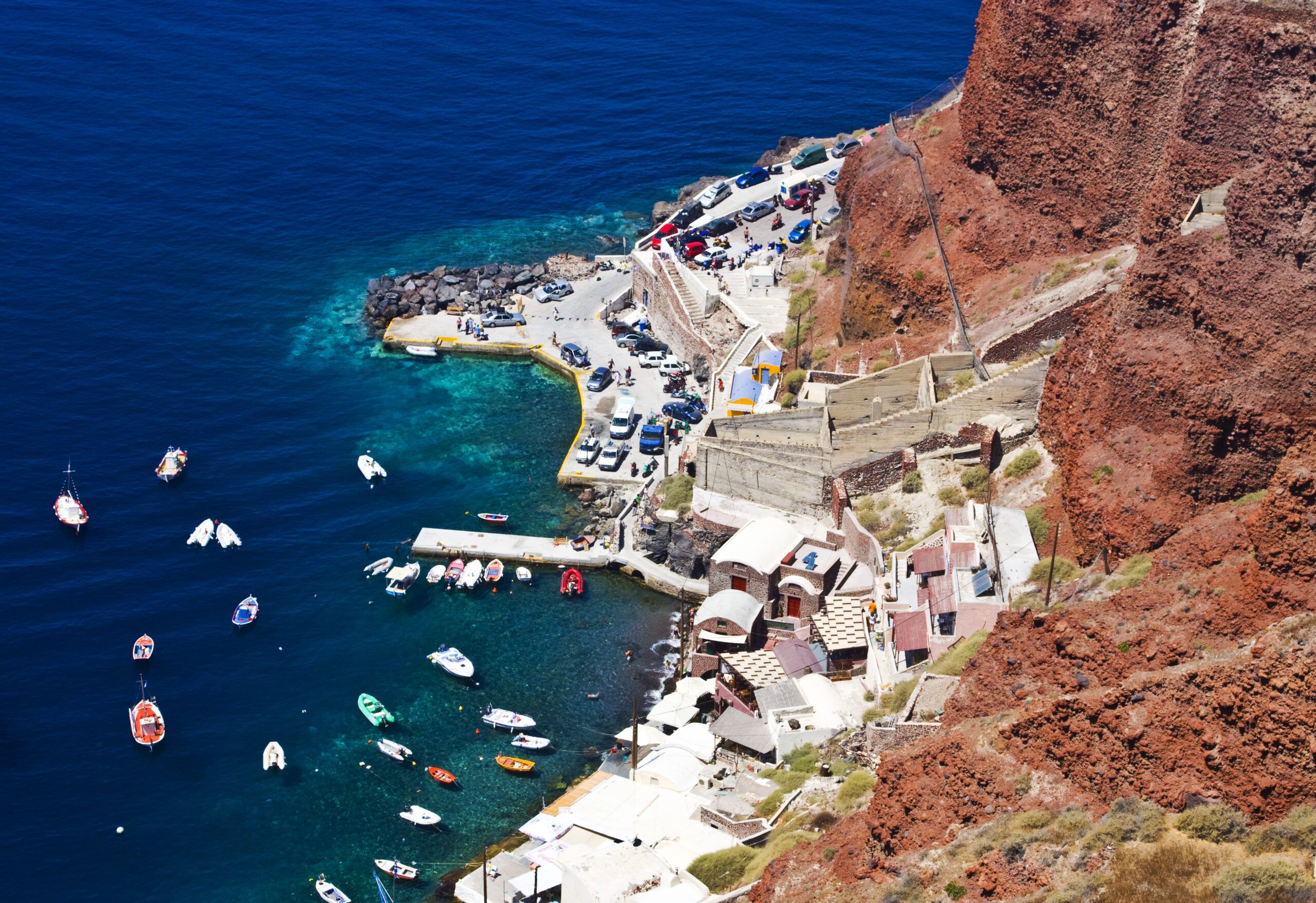 Due to its narrow streets with steps and cliffs, Santorini is not directly considered a family suitable island. And although it is indeed difficult to navigate Santorini with a stroller, I would still recommend this gem for families. Santorini has excellent family resorts and there are many things to see and do with children. In fact, Santorini is a must-visit for all ages.
I would avoid the crowded summer months of July and August. But in spring or autumn, a holiday on Santorini island with kids is ideal. I visited Santorini twice, both times in September. This time of year, the island is still warm and summery. We stayed at the Vedema Luxury Collection Resort. There are many steps at this hotel thus not so suitable for young kids.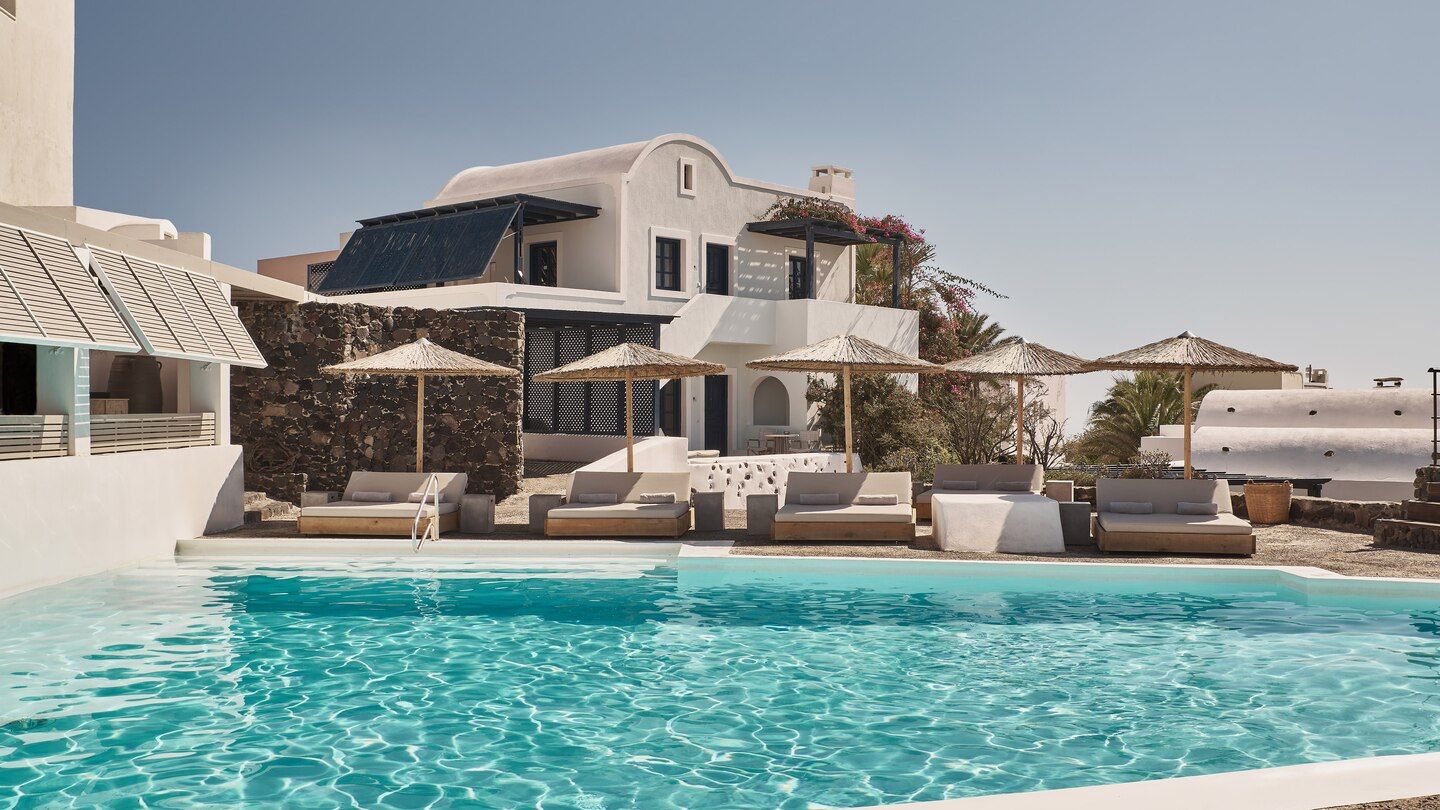 Here you can find more information and prices for the Vedema Luxury Collection Resort.
Beaches
The family-friendly beaches are on the east side of Santorini. Here are also two Blue Flag beaches. The Blue Flag means that the beach is well maintained and organized. Monolithos beach is the best for families. It has a calm and shallow sea and a playground. The water here is calm, shallow and the sand black. Monolithos is very famous among locals and families, so it is often full of children. There is a basketball court and a football pitch for older kids, while younger ones can play in a nice playground area.
Perissa is another family-friendly beach, and so are the hotels (with swimming pools) here. The beach of Kamari has black sand. This sand and the small pebbles get very hot midday, it is better to visit this beach during the morning or afternoon. Your children should wear slippers or water shoes here. I loved the deep blue colour of the sea here.
To the West, you come across the southern coast of Red Beach, also known as Kokkini beach. Kokkini means 'red' in Greek, because of the red-brown colour of the lava here.
Things to do on Santorini island with kids
Besides water fun, there is more to experience on Santorini island with kids. But the island gets very hot in the summer and it is therefore advised to plan your family excursions in the morning or afternoon.
Akrotiri
If you are interested in archaeology, at Akrotiri, north of Red Beach, you can visit the remains of a historic city. Akrotiri is an archaeological site of a Minoan civilization that dates back 6,500 years. Here they call it "prehistoric" because it pre-dates true writing, but this isn't a settlement of the usual cave-man idea of pre-historic. These people had 3-story buildings and indoor toilets through pipes in their walls, and really beautiful frescoes, all of which were preserved when the settlement was buried in ash when the volcano erupted.
To visit on your own; please follow this link: http://odysseus.culture.gr
Although some parts of the grounds are labelled, it is not easy to understand the history of the site. For the best experience at this archaeological site with children, I would recommend a private guide or a guide with a skip-the-line private tour.
Vineyards
The wines of Santorini are world famous and if you want to teach your children about the cultivation of the vineyards and wine-making, you can take them to the Santorini Wine Museum at the Koutsogiannopoulos winery.
For parents, I recommend doing a wine tour or combined wine and food tour. For prices and options, have a look here.
I would especially recommend the Santorini Guided Winery Tour including 45 minutes in each Santorini winery, including a detailed tour and wine tasting, appetisers and tastings of different wines and a wine tasting tutorial.
For families with children, you should choose the Santorini small group tour with Wine Tasting.
Museums
The Tomato Industrial Museum is dedicated to Santorini's most important agricultural product. This museum is a former factory turned museum and is tracing the history of Santorini's tomato paste industry.
There is also a Naval Museum in Oia. Captain Antonis Dakoronias started collecting items that reveal the naval history of the island in 1951, and in 1956 the Maritime Museum was founded. It is housed in a captain's home since 1990. It has one of the richest collections of exhibits in Greece, displaying rare figureheads, mariners' chests, naval equipment, models of old and newer ships belonging to Santorini residents, watercolors of old sailboats, as well as photographic material and a book collection.
In the Museum of Prehistoric Thera you will see finds from the excavations at Akrotiri, the earlier excavations at Potamos and rescue excavations at various other sites on the island.
Atlantis Books Bookstore
A must visit for kids and adults that love books is the Atlantis Bookstore. This unique bookstore is located on the main marble street of Oia overlooking the Santorini caldera. The little bookstore hosts literature in English, French, Italian, Spanish, German, Chinese and Greek.
Walk and Lighthouse
Older children will enjoy the beautiful walk of 10 km from Thira to Oia. This takes about 2 hours. The best thing is to arrive in Oia just before sunset because Santorini is famous for the sunset at this place. The Akrotiri Lighthouse is another great walk. This lighthouse is one of the oldest in Greece.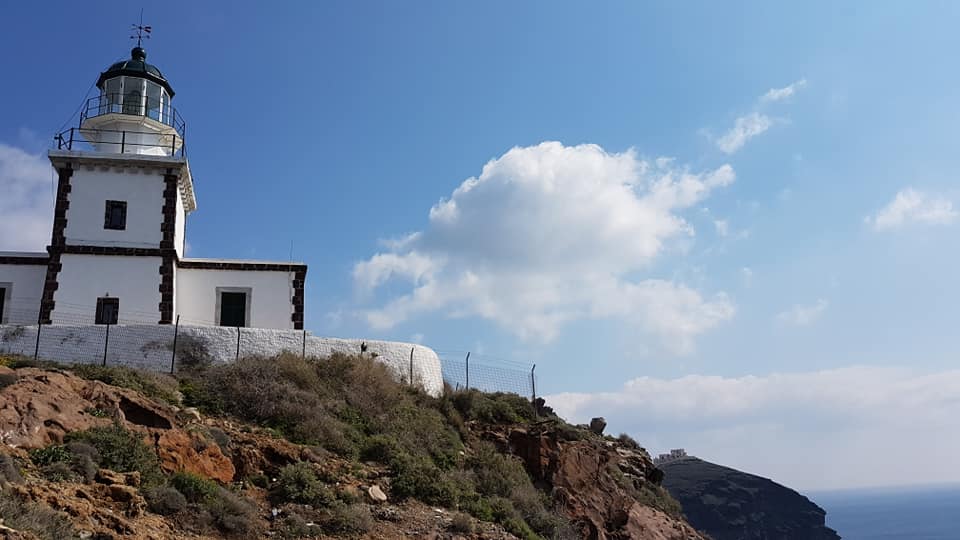 Bus Tour
To tired to walk. There are many bus tours offering a comfortable way to explore Santorini. Have a look at some of the most suitable bus tours for families in Santorini here. I would recommend the Minibus Panoramic Tour for families. This tour is ideal for kids because it is a relatively short tour. Enjoy the comfort and flexibility of a minibus as you are driven around the narrow streets of Santorini.
Boats
A boat trip in Santorini is a must-do. There are many boat tours covering different parts of Santorini and the Volcano. Here is a list of boat tour options covering the most important sights of Santorini.
Souvenir shopping
With younger kids, wandering the whitewashed streets of Oia to look for souvenirs and to admire local arts and crafts is the best thing to do.
Volcano
Finally, a visit to the volcano cannot be missed. This excursion is only suitable for kids who walk easily and I would say, starting from 8 years old. You can take a day boat trip to sail around the island or visit the actual volcano island and its active craters. A path takes you to the top where you can see smoke coming out of the craters and smell of sulfur. It will take you half an hour to reach each way. There is no shade here and it is very hot in the summer. Always bring a sunhat and water.
For families with older children who want to visit the Volcano, I recommend the Volcanic Island with Palea Kameni hot springs. This tour includes a boat trip to the small islands that are home to volcanos, hot springs and traditional villages. There is a stop at Nea Kameni and take the path to the crater of the active volcano. There is also a stop at Palea Kameni for a swim in the hot springs. More stops at Thirassia, Manolas and Armeni. The tour takes is 6 hours. Santorini island with kids may sound like a challenge but if you pick the right tours and don't plan to many excursions, you will have a great family experience!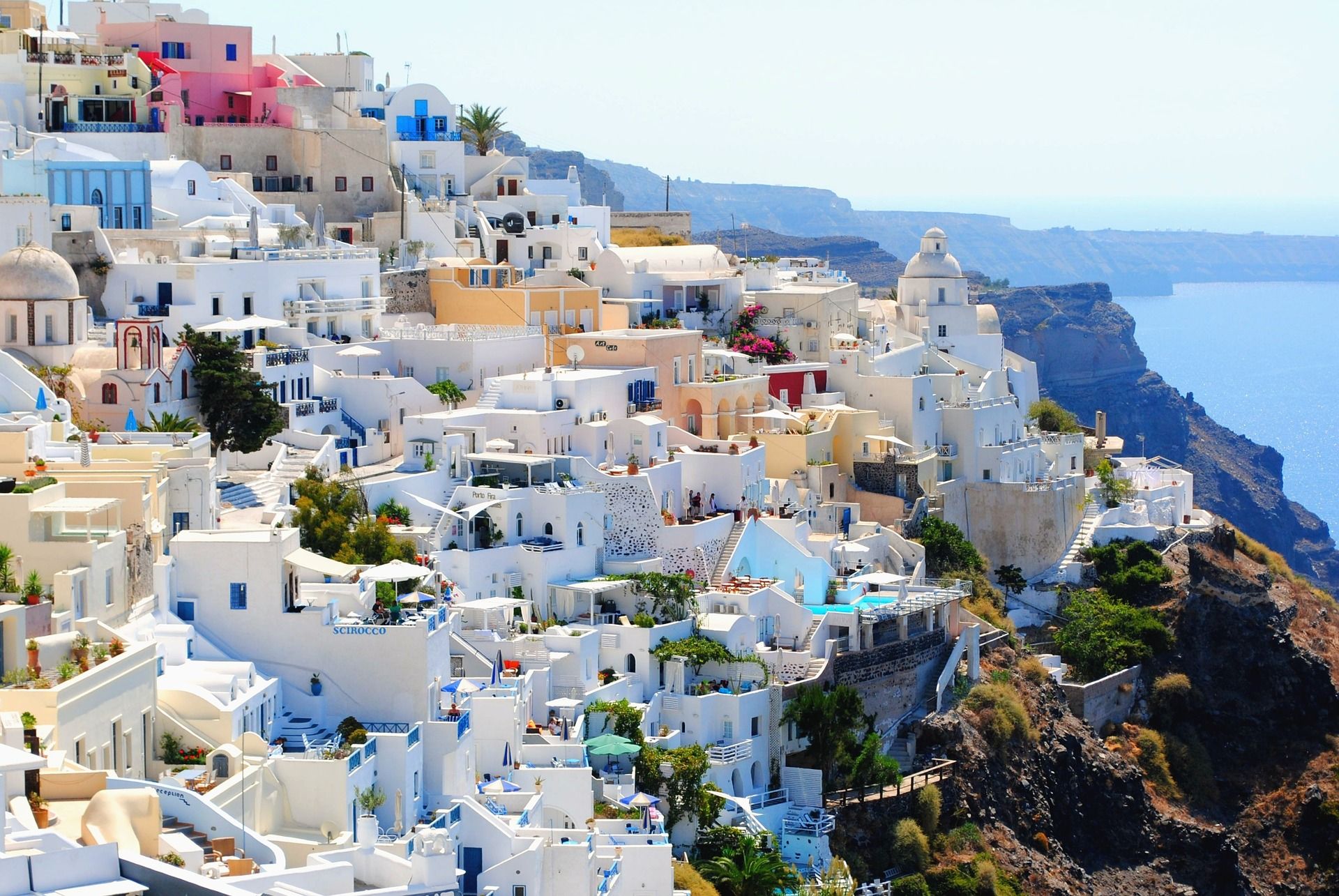 Travel Tips for Santorini with Kids
Kids will love exploring the narrow streets of Santorini to find its many hidden treasures. But, as I mentioned before, Santorini can get crowded and it is easy to lose track of your children, especially when you visit Oia in summer-time. The western part of the island is rocky where huge cliffs and deep waters make it difficult or kids to swim. If you do decide to swim in Oia, stay close to your children because the water gets dramatically deep just after a few meters from the shore. Santorini is dry and hot in the summer. Don't forget to bring good walking sandals and sunhats.
Where to stay in Santorini with kids
I have selected the best hotels for families in Santorini with kids. The list can be found in Best family hotels Santorini with kids here.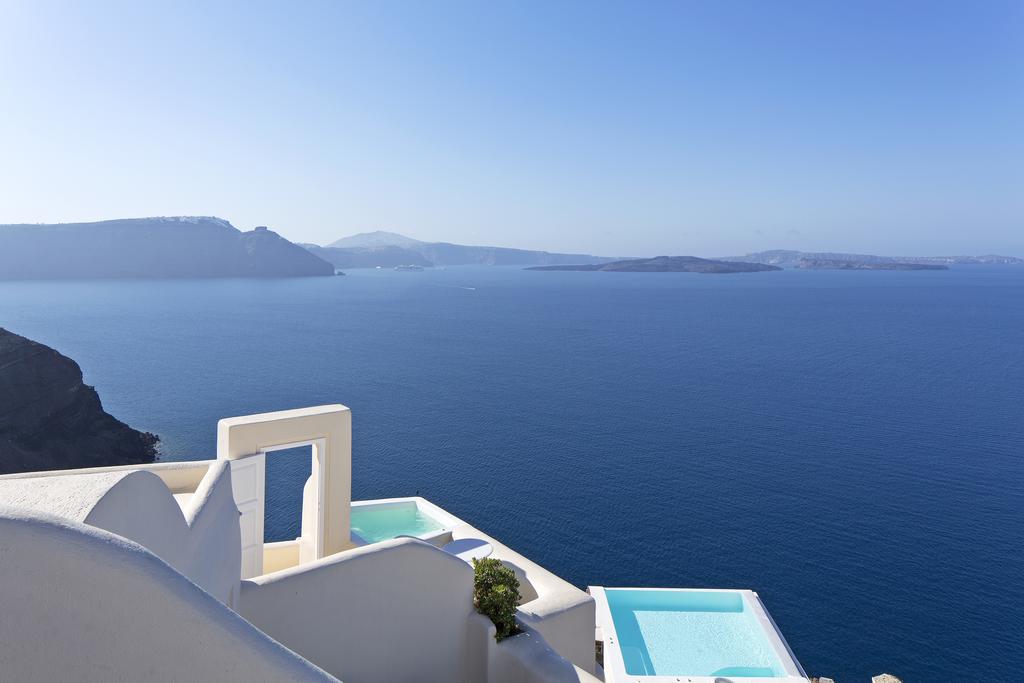 How to get to Santorini island with kids
You can reach Santorini by plane and boat, the island has an airport and two ports. The harbour on the west coast, Skala, is where the big cruise ships arrive. The other, Athinios port, is used for yachts and ferry boats.
Flying directly to Santorini is the quickest and easiest way. You can fly to Santorini from Athens or directly from most cities in western Europe such as London, Manchester, Paris, Amsterdam, Rome, Naples and Venice. You can also fly into Athens and book a domestic flight to Santorini.
Ferry
You can opt to travel by ferry from Athens to Santorini. Boats leave from Piraeus ferry port. The trip from Athens to Santorini takes 5 hours on a highspeed ferry and 8 hours on a conventional ferry. Views, as you enter the caldera, are wonderful. For tips about ferry boat travel with kids, have a look at this post about ferry boat travel with kids in Greece.
Here you can find more information about ferry boat schedules and prices
How to get from the Santorini airport to Fira, Oia, and the rest of the island
Hotel Pickup – If your hotel offers free pickup and drop-off be sure to take advantage.
Taxi – The easiest and quickest way for your family to get into Fira and to the rest of the island is by taxi. There will always be taxis available at the airport though it can involve a wait. It costs about 15 euros to Fira and 20 to 25 euros to go to the rest of the island.
Rental Car – If you're planning to rent a car in Santorini it's best to pickup at the airport on arrival and then save yourself the cost of transportation to your hotel. But, if you're arriving at night I wouldn't recommend dealing with finding your hotel (and parking) in the dark. Just taxi to your hotel then get your rental car the next day.
How to get from the ferry port in Santorini
All ferries arrive at Athinios port.
Hotel Transfer – Many hotels provide transportation from the port to their hotel. For some it's free, for others it's charged at a rate similar to a taxi or a bit more.
Taxi – There will usually be taxis waiting as ferries arrive but if it's late at night you might want to arrange pickup in advance. It costs about 15 euros from the ferry port to Fira, 25 euros from the ferry port to Oia, and somewhere in-between to go anywhere else on the island. A taxi ride from the port to Fira takes about 15 minutes.
Have you been to Santorini island with kids? If you haven't, do schedule a visit. Santorini is one of the most beautiful places in the world and a must visit!
Did you like this post about Santorini island with kids? Pin it for later!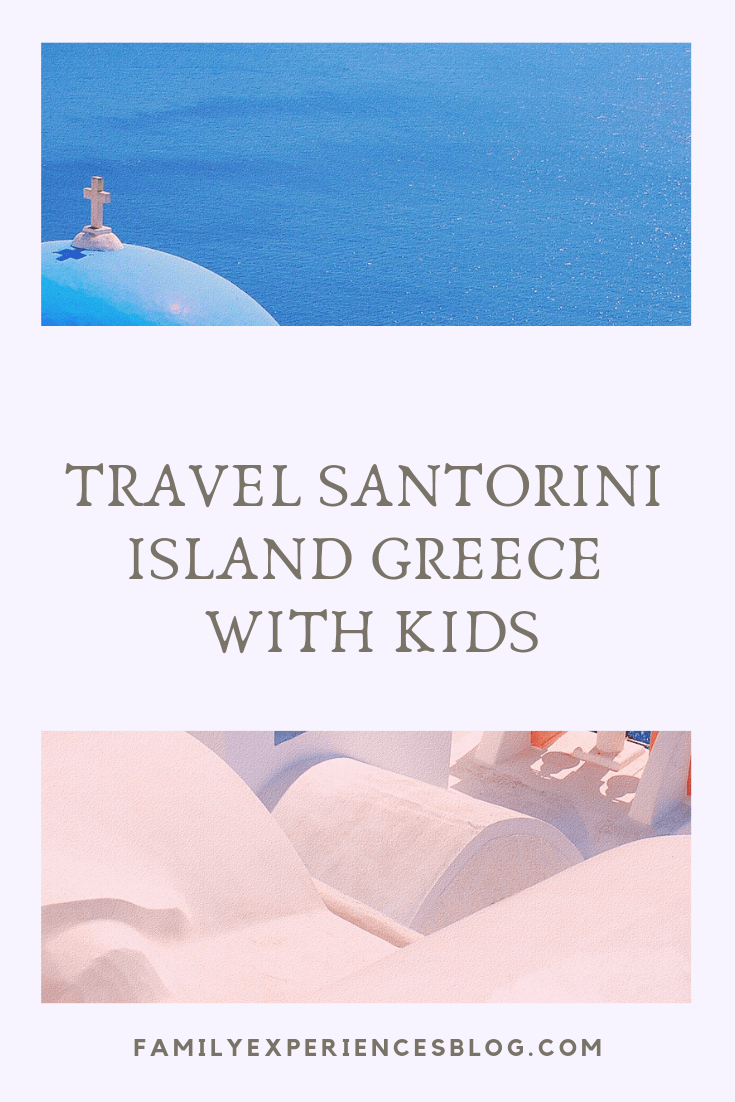 Related: Visit Santorini with Kids in Autumn
Nearby: Where to stay in Crete with Kids
Disclaimer: This post contains an affiliate link. This means that should you click on certain links, and then subsequently purchase a product, I will receive a small commission. It costs nothing extra to you but helps keep my site running. Thank you for supporting Family Experiences Blog in this way.