Last Updated on October 8, 2022 by Celeste.
The iconic 5-star St. George Lycabettus Boutique Hotel is a classy hotel with old-world charm and considered a landmark in Athens. The hotel is well known for its sky bar, its Art gallery, its events and pool club. Read on and find our review of this family hotel in Athens!
St. George Lycabettus Boutique Hotel
It is located in the heart of the Greek capital in the chic Kolonaki area and nestled against the green slopes of the Lycabettus Hill. The hotel offers a breath-taking panoramic view over Athens, the Acropolis and the Saronic Gulf. At night, it is also one of the most romantic spots in the city. It is also very near to charming shops, galleries, museums, restaurants and everything else that the Kolonaki neighborhood has to offer. You can easily walk to all the important historic sites in Athens too.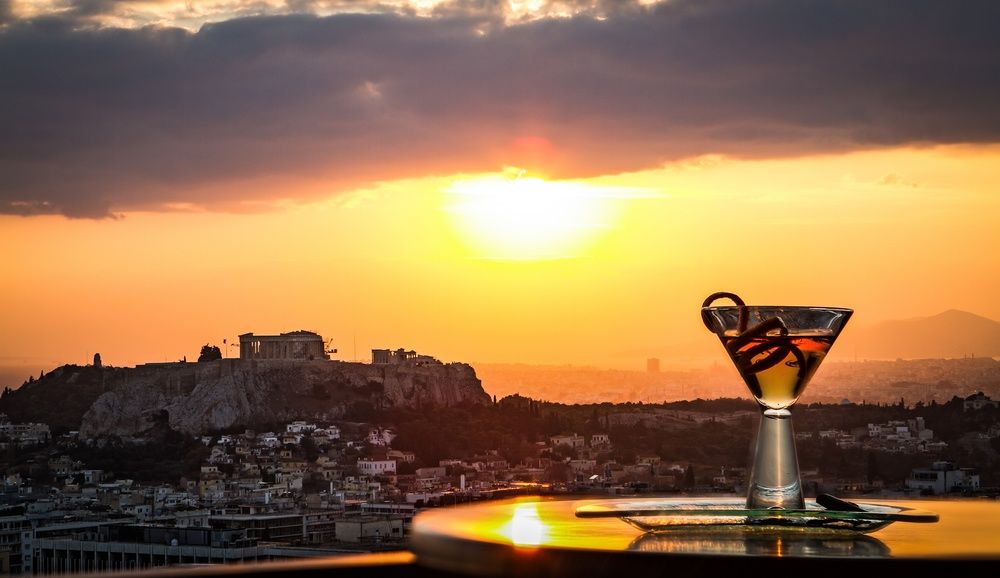 Bar and Restaurant
St. George Lycabettus Boutique Hotel features award-winning restaurants 'La Suite Lounge' and 'Le Grand Balcony', both with amazing views straight on the Parthenon. We often go for dinner or drinks with friends and also visit the art gallery for events and gatherings.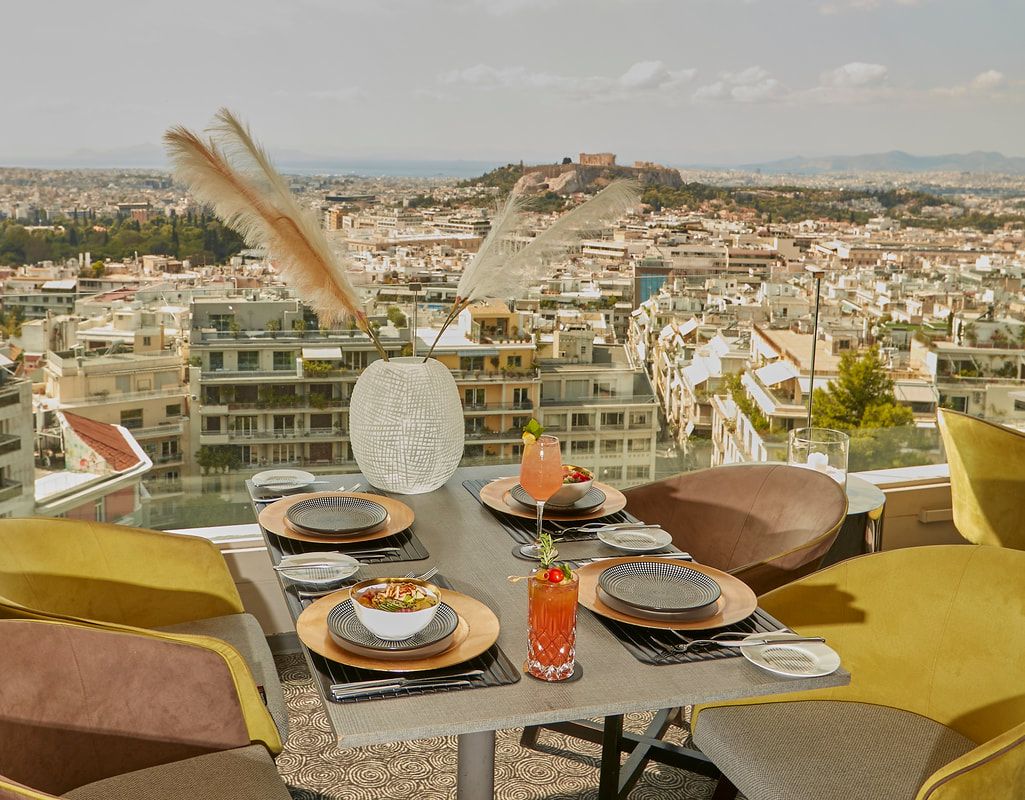 Family Package
St. George Lycabettus Boutique hotel offers a Happy Family Package. This package includes family privileges such as a welcome gift for the children, free tickets to the Athens Happy Train and free kids' movies. Curious about this unique concept, we decided to stay for the night. This is my review of our experience in November 2016. Part of the Happy Family Package are free kids' movies in the hotel cinema. The screening room is also suitable for other events such as kids' birthday parties.
Our experience at St. George Lycabettus Boutique Hotel
Our first experience of this family weekend was warm and welcoming. The valet parking attendant (valet parking in the hotel's private underground garage with a discount for families – no need to park at the packed streets of Kolonaki!) was extremely helpful with my children and our luggage. The kids received a little teddy bear and a juice at the reception.
Our Exterior View Suites with connecting wall was located on the third floor with – to my opinion – the most amazing view one can possibly find in a hotel Athens. The Exterior View Suite is approximately 35-40m2 and overviews the city and the green Lycabettus hill. The rooms were connected with a thick sliding wall that could be opened and closed easily. Both rooms had their own entrance door, bathroom (with bathtub and massage showers), private balcony and little a hallway.
There was plenty of space for our luggage and there was a kettle with a large choice of teas and (Greek) instant coffee. We had a good sleep thanks to the comfortable beds and blinds and curtains.
Another room type that is suitable for families is the Eco Chic room. This room has a different setup with Coco-Mat mattresses and a shower in the bathroom instead of a bathtub. The private balcony faces the city and the Acropolis. The colors and innovations are different from the Exterior View Suite, they are minimal and clean.
What I liked most in my suite? The view on the pine tree forests of the Lycabettus hill. And when the children slept safe and comfortable in their own room, I enjoyed a beautiful moonlit view of the city and the Acropolis.
Outdoor swimming pool
It was too cold to swim in November but for your summer visit you should know that there is an outdoor swimming pool on the rooftop of the hotel, again with spectacular views. Here is also a pool bar, gym, spa and hair salon.
St. George Lycabettus Boutique Hotel hosts an art gallery with Greek and international contemporary art and design from both newcomers and well-established artists. In the past, the girls followed a series of art classes here. You can find the reviews of these art classes here.
Family Brunch
On Sundays, St. George Lycabettus Boutique Hotel serves a Family Sunday Brunch in the La Suite Lounge on the 6th floor. Of course, we did not miss out on that. You can find more about this lunch in my review here.
The staff in the dining areas and everywhere else was very kid-friendly. The restaurants and bars are cosy with comfy chairs and sofas, divided in several corners. Private dining in your (family) room is also an option.
The La Suite Lounge bar is the perfect place for a glass of wine or cocktails on a hot summer evening and to enjoy the sunset over Athens. The bar is not typically for kids, but we have been treated very nicely during our weekend there when we had dinner and drinks on Saturday evening with friends from Athens.
Our Experience at St. George Lycabettus Boutique Hotel
Would I come back to St. George Lycabettus Boutique Hotel? YES! The hotel combines luxury and class with family friendliness at my favorite area in Athens. If you want to spend your weekend getaway or holiday in a spa hotel in the Greek capital and enjoy stunning views on a fantastic location surrounded by a super kids-friendly staff, the St. George Lycabettus Boutique Hotel is the right place for your family.
Related posts
For art classes and art workshop at St. George Lycabettus Hotel, please read Athens Art Workshops at SG Art Gallery
In search for Family Spa and Wellness in Greece, my daughter and I spent an entire day at the hotel's spa. Find out more in Spa with Kids Aegeo Spas.
After our visit in November 2016, an additional kids club has opened on the ground floor next to the Gallery. You can read all about this new feature in my post called Kids fun, parents relaxation!
More information: St. George Lycabettus Boutique Hotel. 2 Kleomenous Street 106 75 Athens Greece. Tel: +30 210 7416 000. www.sgl.gr.
We were invited by the St. George Lycabettus Boutique Hotel. As always, all thoughts and opinions remain my own