Last Updated on January 24, 2023 by Celeste.
Mama, when will it snow? A question that is heard a lot these days. It is January, and my kids rightfully remember that January could possibly mean snow in Athens! The Greek news is also speculating about the first snow for 2023. In fact, snow has already fallen in the colder parts of Greece. Temperatures in mountainous areas in northern Greece dropped to almost -8 degrees. So if you wonder, does it snow in Greece? Yes definitely!
Does it snow in Greece?
It does snow in Greece in many areas, some of them regularly! According to the Climate Atlas of Greece (by the Hellenic National Meteorological Service) many parts of Greece including the areas of Macedonia and Thessaly have a so-called semi-arid climate. These parts have high mountains, like the Pindus and Rhodope mountains. In this climate type, the winter is harsh, with abundant snowfalls. To give you an idea of the temperatures: the coldest was measured at −27.8 °C (−18.0 °F) in Ptolemaida.
How often does Greece get snow?
Besides snow in Macedonia and Thessaly, there is often snow in other parts of the mainland. And we see that the days of snow are increasing due to climate changes. While it is relatively rare for the islands to see snow, we can see an increase in frequency here too.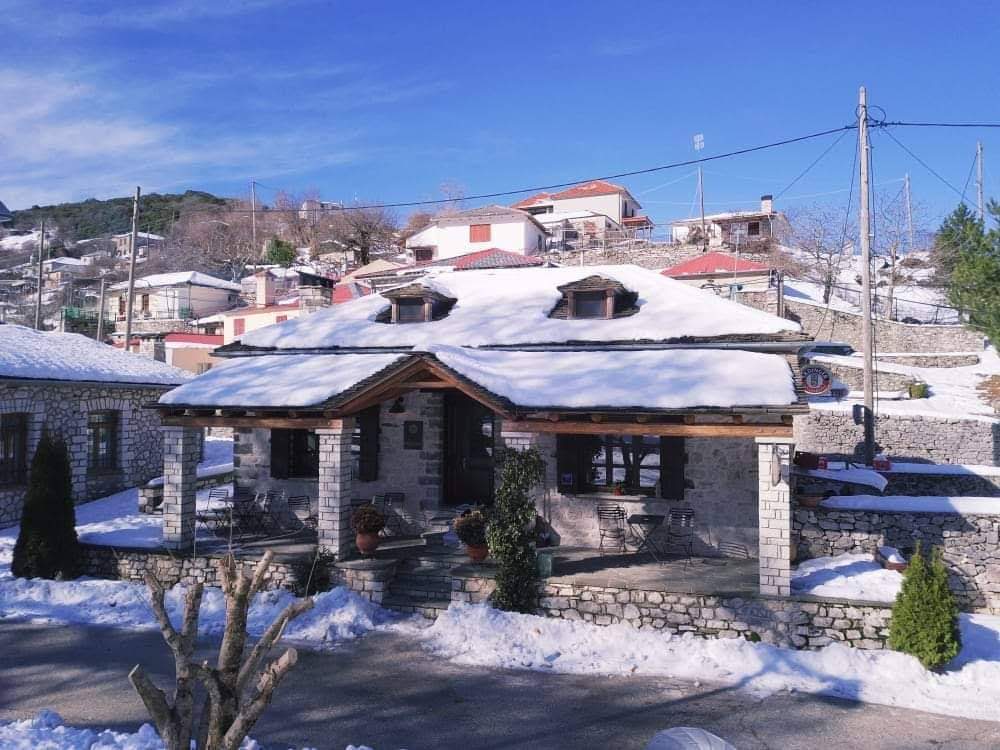 Crete Island
Crete always has snow on its mountain tops, such as the White Mountains (pictured below) and Mt. Psilorites.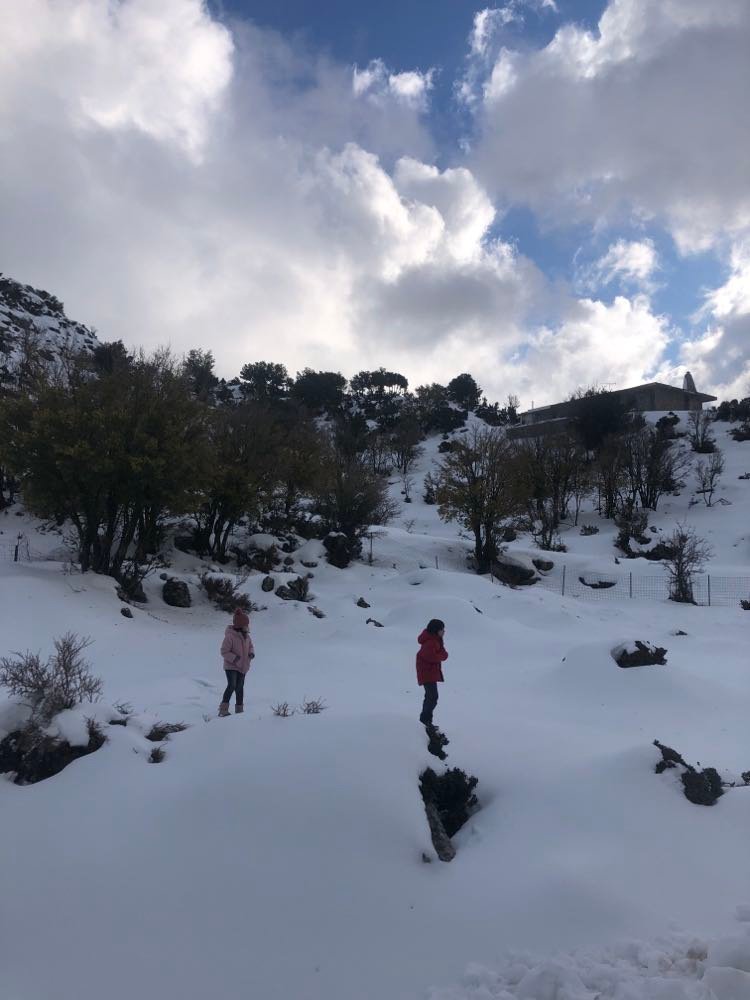 Did it snow in Athens, Greece?
In the last couple of years, we've had a lot of snow in Athens. It is not as unusual as you may think. Imagine that in the years 1900 to 1983, Athens only got four years without a single snowfall. I remember snow in Athens in 2006 and 2008 closing the Athens airport. Sudden heavy snowfall across much of Greece had grounded dozens of flights and forced ships to remain docked in ports.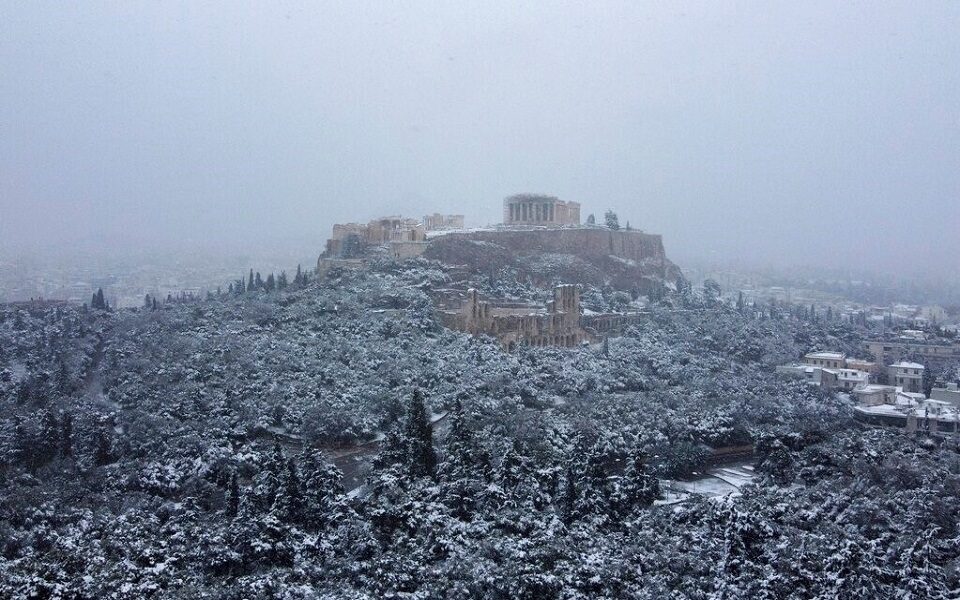 How much snow does Athens get?
Usually, snowfalls in Athens are significant enough in the northern suburbs rather than central Athens. But there are definitely years when it snowed heavily in the heart of Athens, enough for traffic disruptions and school closures. The most snow was in 2022, a great break from the corona pandemic period, with kids around Athens throwing snowballs at each other and enjoying the winter wonderland.
Where can I see snow in Greece?
If you live in Athens, the easiest day trip would be to Parnitha mountain. But you could also drive a bit further, to Parnassos, Mainalon or Kalayvrita. There are ski and snow buses from several points in the city as well. For a guaranteed snow break, go to Northern Greece, to places like Metsovo village in Epirus or Meteora in Central Greece.
Where are the ski resorts in Greece?
Many people are completely unaware that Greece has some excellent skiing facilities dotted around the country in the rugged, mountainous areas. Did you know that Greece has some of the most popular skiing resorts in the Balkans and is considered by connoisseurs as an exquisite winter vacation destination?
Parnassos Snow Center
Mount Parnassos is perhaps the most famous, and it is a favorite with Athenians, who head to the slopes during the winter for skiing and snowboarding. Parnassos is located in central Greece near the village of Arachova. Parnassos is one of the two main ski resorts in Greece and has 19 ski runs of varying difficulty.
Kaimaktsalan Ski Resort
The second of the two most important ski resorts in Greece is the Kaimaktsalan Ski Resort, considered one of the best in Europe. It is located on Mount Kaimaktsalan in Macedonia, at the border between Greece and the country of North Macedonia. It has excellent facilities, a wide range of ski runs, and support for all skill levels of skiers as well as professional skiing and competitions.
Pelion Ski Resort
The Pelion Ski Resort is on Mount Pelion at an altitude of 1500m. The ski resort is located just 2kms away from the village of Chania and there is a daily bus service from the city of Volos. The center has 7 slopes (with different levels of difficulty) and five lifts, including two rail lifts. There is a beginner's slope and apart from skiing, kids can also try snowboarding.
Read more: Travel Pelion, Greece with Kids
Kalavryta Ski Center
Together with the Parnassos Snow Center, the Kalavryta Ski Center are the two closest to Athens, only around 200 km away. Kalavryta Ski Center is located on Mt. Helmos. Kalavryta ski resort boasts 12 ski runs (2 difficult, 2 intermediate, 6 easy & 2 very easy) of 20 km in length, 2 chair lifts and 5 ski lifts, special grounds for snowboarding and extreme games, and other winter attractions, such as a special moguls ski run, and a snowboard park.
Mainalon Ski Center
Located in the Peloponnese, just like Kalavryta, on Mount Mainalon, is the Mainalon Ski Center, one of the oldest in Greece. Situated at an elevation ranging from 1,550 to 1,770 m, the ski centre is equipped with eight ski runs of 5.5 km in length (for beginners, advanced skiers, and experts), four lifts, a snowboard, and a snowmobile park. The area is especially family-friendly and suitable for young kids.
Winter destinations in Greece
Now that you know that it does snow in Greece, I may be able to convince you to visit for a winter vacation? It is a great time to explore the countryside and see a different side of Greece than you might normally get on a sun, sea, and sand holiday. Wondering where you should go? Here are our top suggestions for the best winter destinations for families in Greece.