Last Updated on April 24, 2023 by Celeste.
Did you know that Milos Island made it to the list of CNN's Traveller's "10 of the world's most beautiful islands"?! Read on about the best beaches in Milos island!
Beaches in Milos Island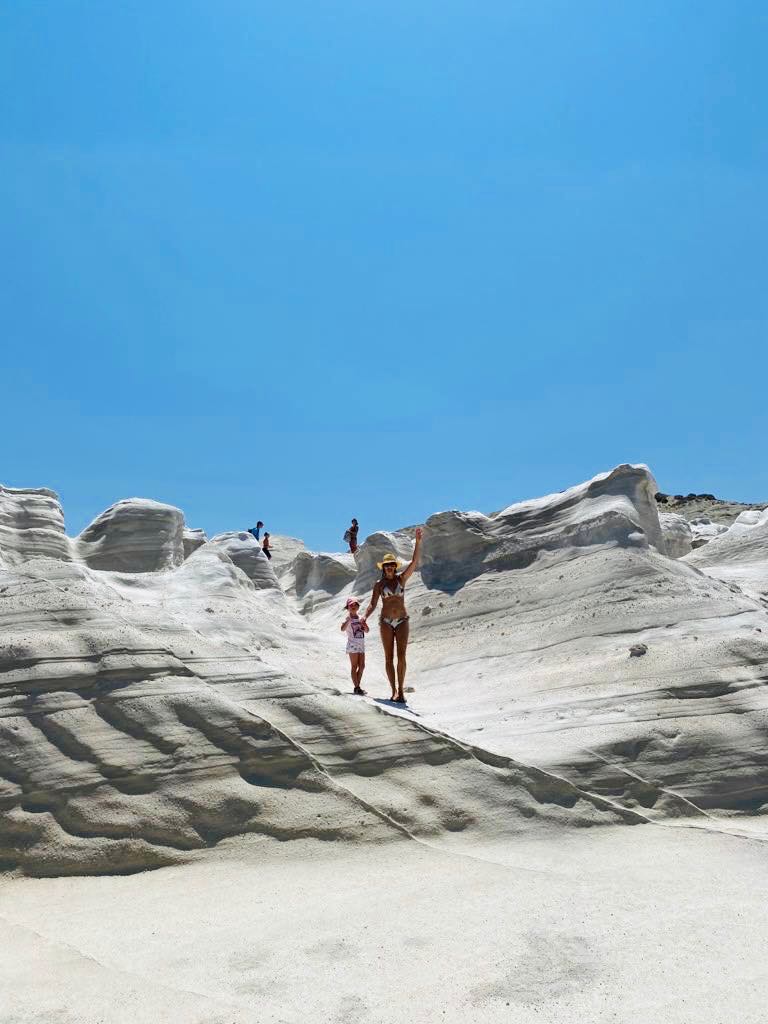 Milos is blessed with over 70 beaches, and whilst some of them can only be reached from the sea, there are plenty that you can get to yourselves! Whether you decide to use the island bus service to get around or rent a car, make sure to visit Sarakiniko, Paleochori, and Agia Kyriaki beaches at the very least!
1. Agia Kyriaki Beach
Agia Kyriaki is the most family-friendly, especially with younger children. It is not the most famous beach on Milos island, but it is relatively quiet with shallow waters, and some shade. You can find a tavern nearby for food and drinks, or hire sunbeds and umbrellas at the beach.
2. Kleftiko Beach
Kleftiko beach is famous for its beautiful rock formations, unique to the island. Kleftiko is not really a beach, but a bay. You can visit it by boat tour and swim in the crystal clear waters.
3. Provatas Beach
Provatas Beach is an organised, Blue Flag beach with plenty of shade and sunbeds. The beach can get busy in the summer, but if your hotel is nearby, you will find it a very convenient place.
4. Sarakiniko Beach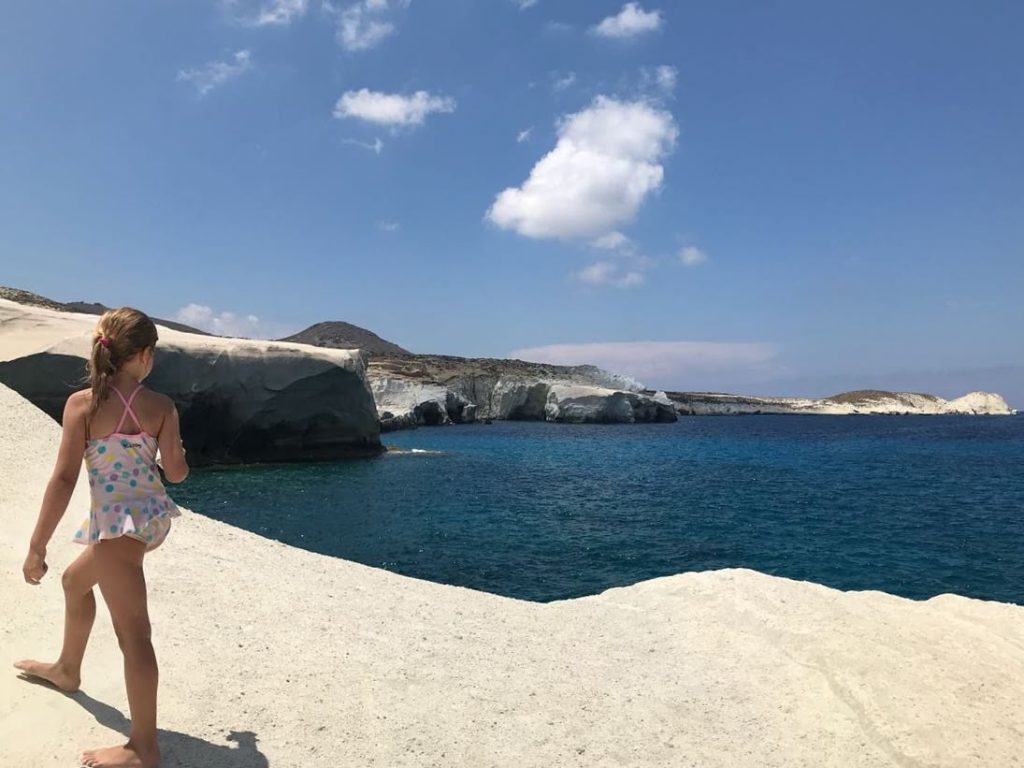 Sarakiniko Beach is one of the most famous beaches in Greece. You can recognize it by its almost lunar surface-like white landscape. Perfect for jumping off the rocks!
5. Thiorichia Beach
This sandy beach is very special because of its old sulfur mine and the strange landscape. We recommend it for families with older children or teens because it is not organized, and you need to bring your own shade and water. You can visit Thiorichia Beach by boat or by 4-wheel drive.
Exploring the beautiful beaches in Milos by boat
If you want to make the most out of the best beaches in Milos with kids, I recommend you book an organized boat tour around the island that includes these beaches. Many of these boat tours on Milos stop for lunch and swimming. It is a great day out for families.
You can also consider a family sailing trip around the island. Finally, for active families, we recommend going kayaking around Milos, the waters are ideal. It is very easy to visit the most beautiful spots and beaches this way.
Visit Kimolos Island
Families looking for a Greek island that has some of the best beaches in Greece should definitely consider visiting Milos. Can't get enough of the amazing beaches on Milos Island? Visit nearby Kimolos during a private boat day-trip. You can also rent your own boat. The beaches are as beautiful as Milos, you will not be disappointed!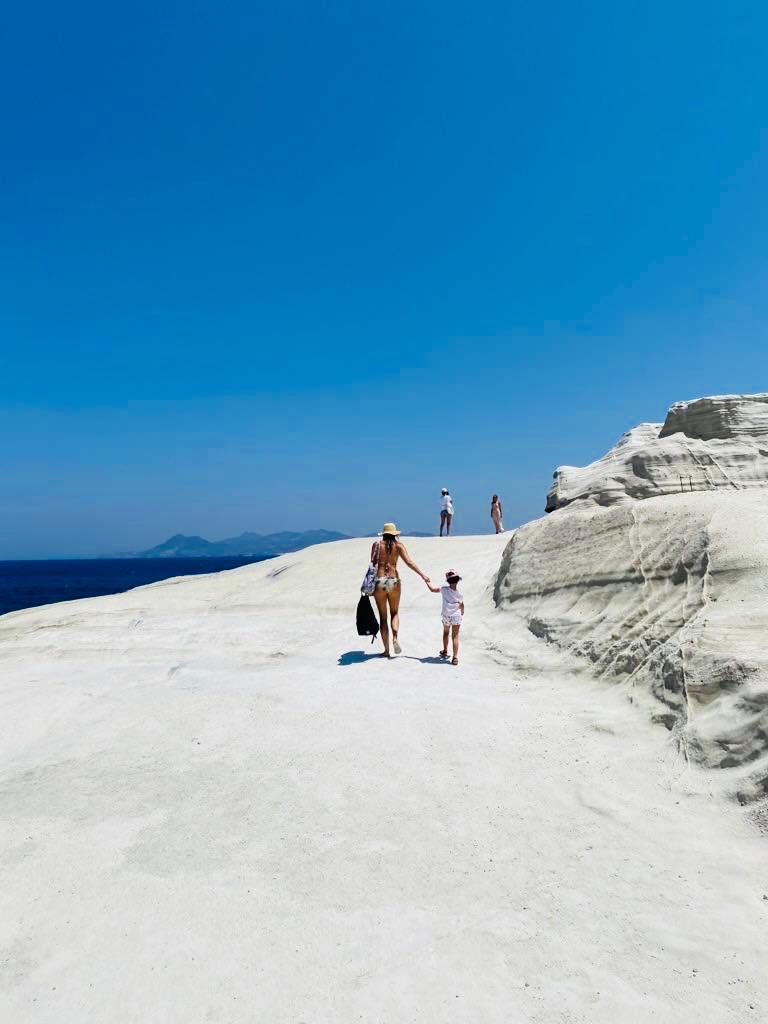 Did you like this post about the best beaches in Milos Island? Also check our list of tried and tested family hotels, resorts, and family apartments in Milos. Do you have any recommendations for accommodation or experiences? Lets us know in the comments. We would love to include your tips and help other parents!
Related Posts
This post contains affiliate links with Get Your Guide. If you book an organized tour with Get Your Guide through this blog, it will not cost you anything extra. But we receive a small commission. It allows us to keep the blog running. Thank you for supporting us in this way!